With its position at the junction of six roads, the hilltop Cotswold town of Stow-on-the-Wold has been tempting weary travellers to stop off for refreshments for centuries. And it's still a great place to come if you're looking for a characterful Cotswold pub to enjoy a drink or a meal in.
Our round up of the best pubs in Stow-on-the-Wold features a mix of traditional and contemporary options, as well as a few extras in surrounding villages. Pick from open fires, real ales, summer terraces and delicious dining to find the one that suits you. And they're all dog friendly too.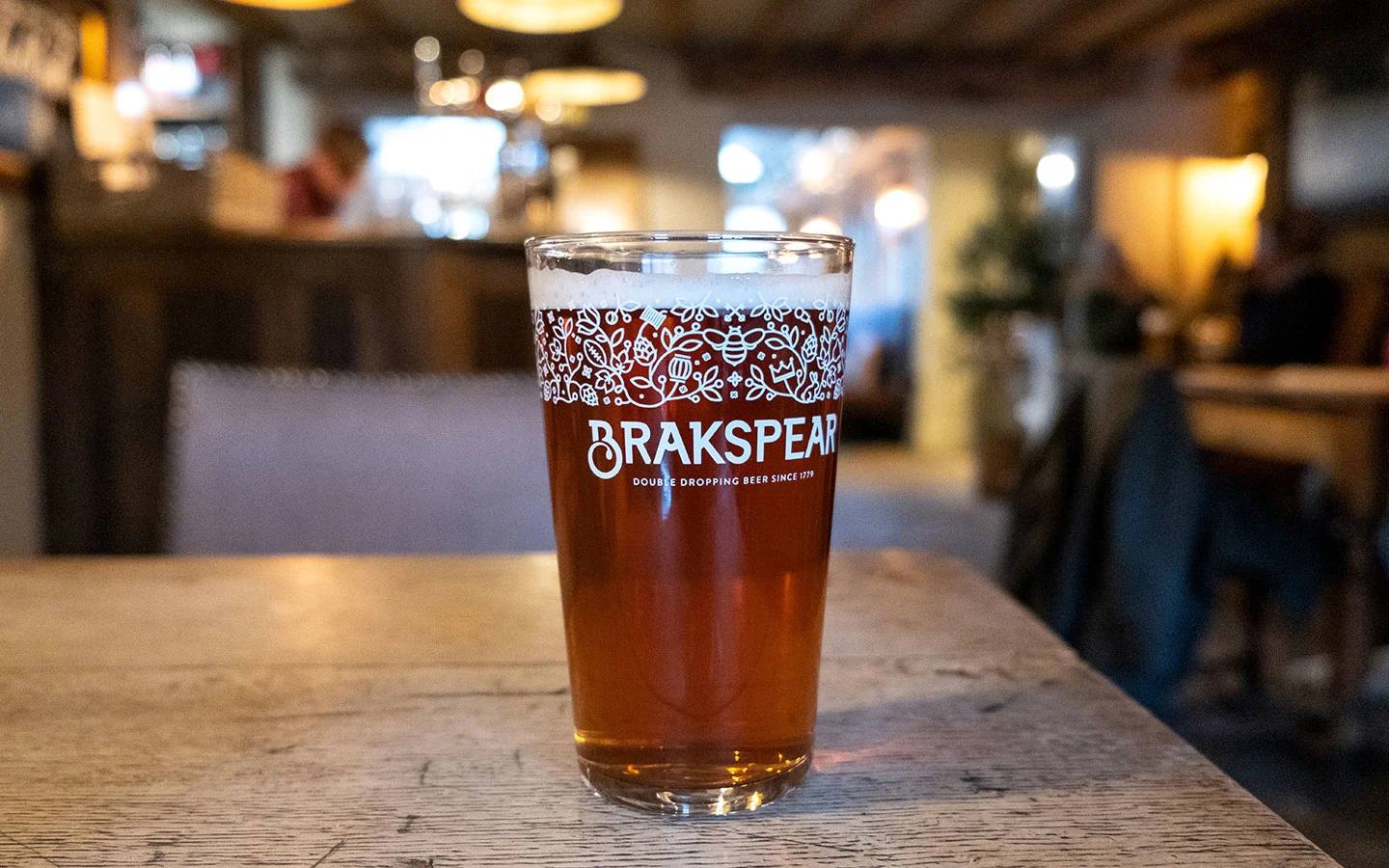 6 of the best pubs in Stow-on-the-Wold
The Porch House
The Porch House pub in Stow-on-the-Wold has an impressive historic pedigree. It might even be the oldest inn in England, with timbers used in the building carbon dated to the 10th century. It was originally built in 975 AD for the Saxon Duke Æthelmær as a hospice for pilgrims.
This Grade II-listed building is bursting with character, with original flagstone floors, stone walls, wooden beams and crooked staircases. Look out for the scratches above the fireplace in the main dining room – they're 'witch marks' which were made to ward off evil spirits.
At one point the pub was split into separate buildings, and the two parts still have very different feels. On one side is the more formal restaurant, with leather chairs, antlers, clocks and curios giving it a vintage gentleman's club feel. And on the other is the pub with low ceilings hung with hops and roaring fires in winter. There's also a light, bright conservatory, as well as a terrace.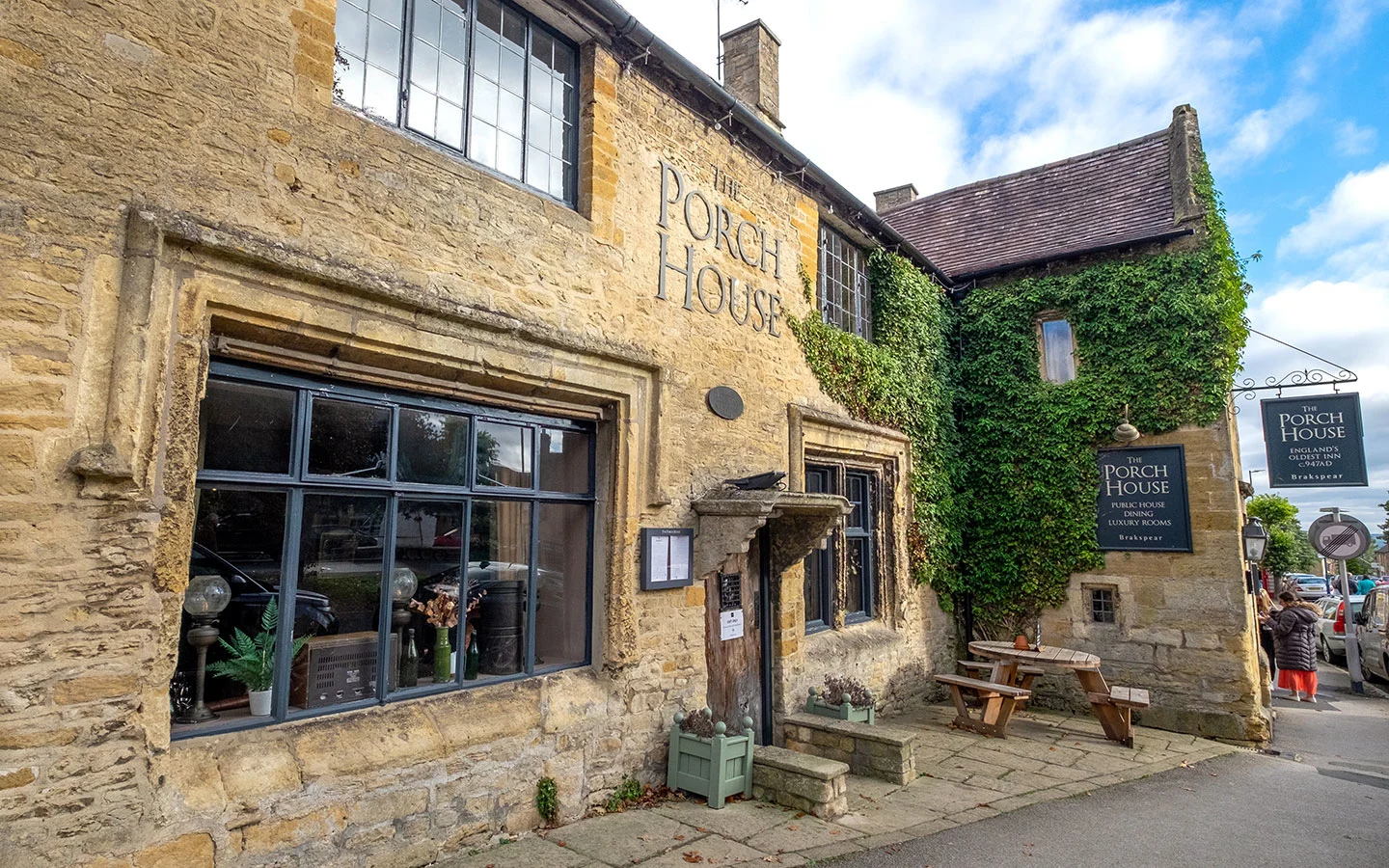 Upscale pub food is available daily from 12pm–3pm and 5pm–9pm (12pm–8pm on Sundays) – expect côte de boeuf and sesame-coated tuna alongside burgers and fish and chips. The pub is run by the Brakspear brewery so serves their ales alongside a selection of wines and spirits.
You can also spend the night in one of the pub's 13 bedrooms,* which come in various shapes and sizes, some with roll-top baths and antique furniture. Two bedrooms are dog-friendly, as is the bar area. The Porch Inn is a popular place so book ahead, with the historic character making it a favourite with overseas visitors – as well as one of our top pubs in Stow-on-the-Wold.
Address: 1 Digbeth Street, Stow-on-the-Wold GL54 1BN. Dog friendly? Yes.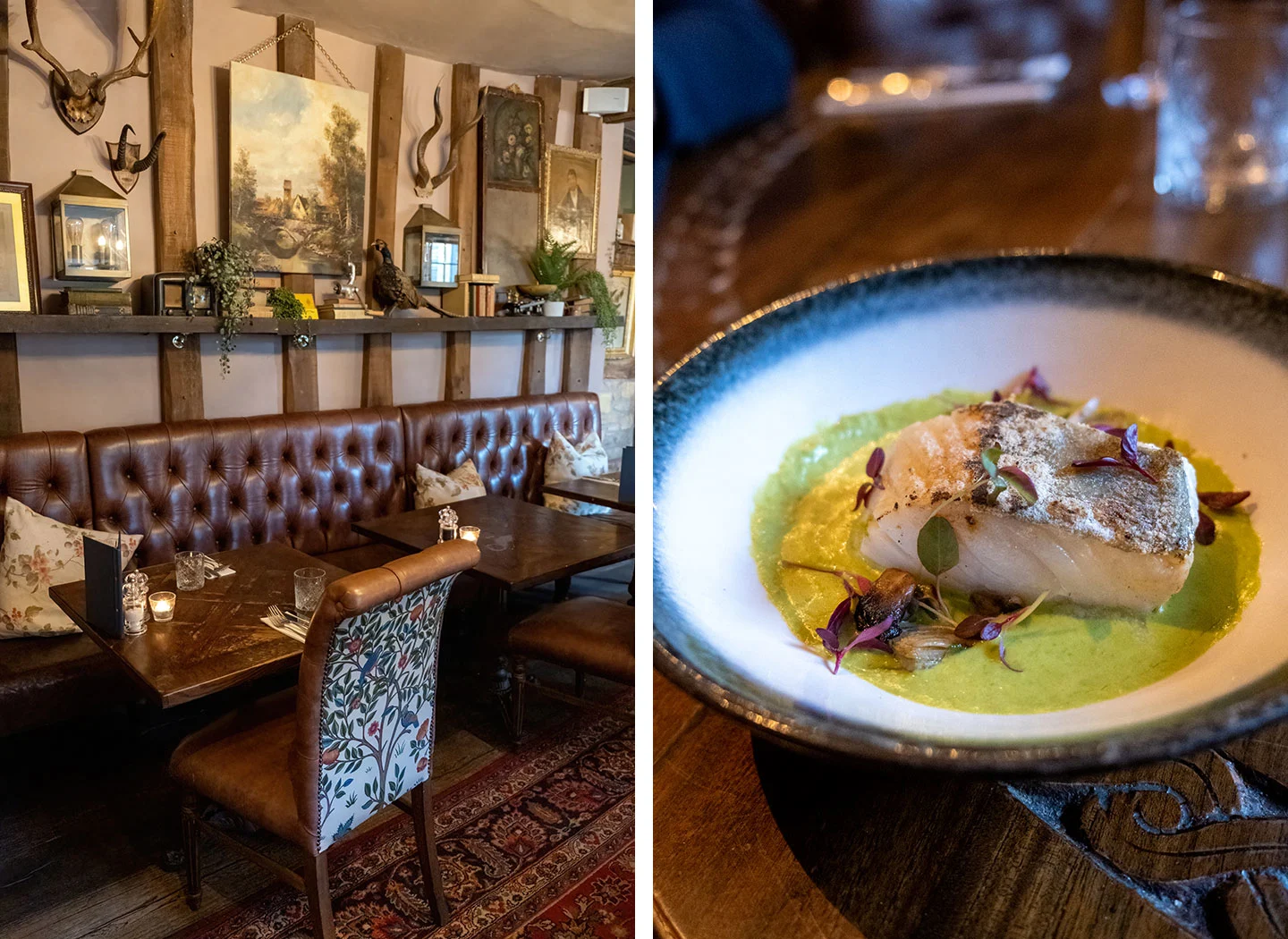 The King's Arms
The King's Arms is another historic Stow pub, this time a 500-year-old Cotswold stone coaching inn overlooking the Market Square. The pub's past visitors include King Charles I, who spent the night here on his way to fight at the Battle of Naseby in 1645. And it's rumoured to be haunted by the ghosts of Civil War soldiers killed in the bloody Battle of Stow-on-the-Wold in 1646.
Downstairs in the pub you'll find rustic wooden tables and floors, a woodburner and quotes painted on the walls. And there are usually a few local characters propping up the bar too. Upstairs there's a more formal restaurant and bar area, with painted vintage tables and leather seats.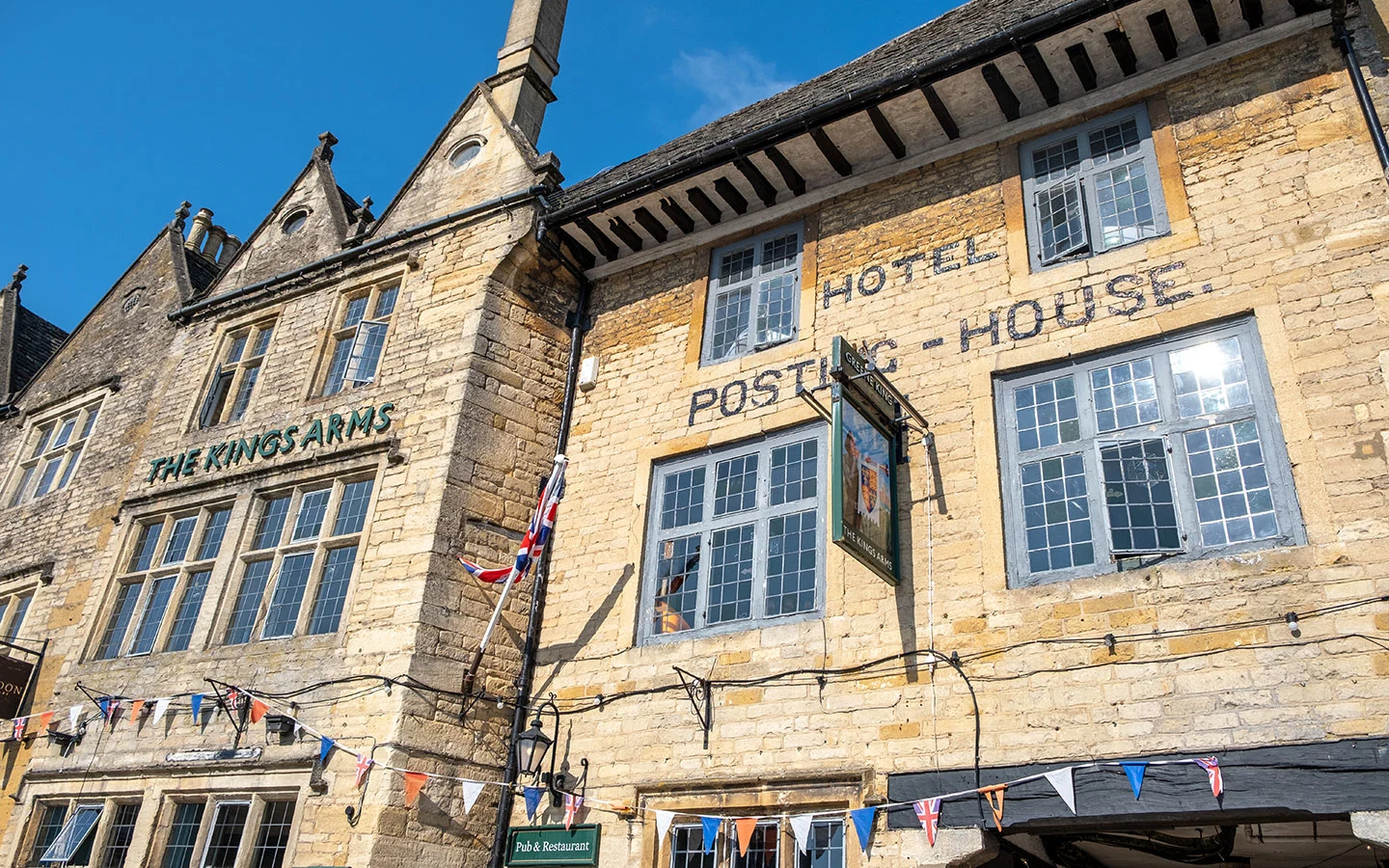 Gastropub-style dishes like slow-cooked pork belly and puff pastry pot pies are available from 12.30pm–2.30pm and 5.30pm–8pm (8.30pm Fridays and Saturdays). Portions are big – but just say if you'd rather a smaller plateful to help reduce waste. They also do toasted paninis and a 'build your own salad' option if you fancy something lighter, and there's a separate kids' menu.
Much of the produce used is sourced from within the Cotswolds, including the meat which comes from RD Walkers in Moreton-in-Marsh. Look out for special deals like pie and a pint on Wednesdays and steak night on Thursdays. The pub also has seven en-suite bedrooms,* which are split between the main building (accessed via a steep staircase) and a converted stable block.
Address: Market Square, Stow-on-the-Wold GL54 1AF. Dog friendly? Yes.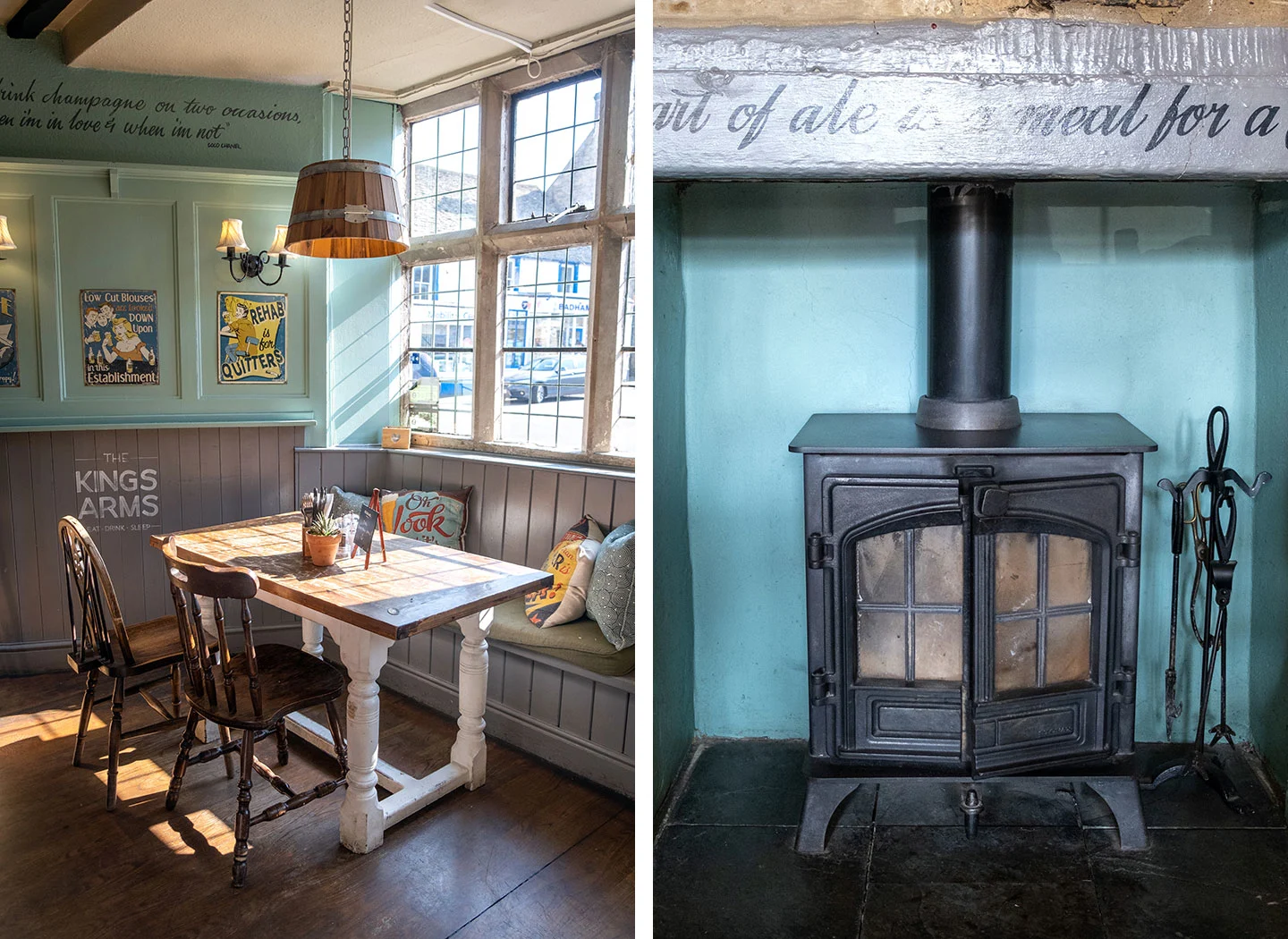 The Queens Head
Donnington Brewery have been brewing beers in a former water mill near Stow-on-the-Wold since 1865, and they now run 19 pubs across the Cotswolds, including The Queens Head on the edge of Stow's Market Square. (If you're up for a challenge, 15 of their pubs are linked by a 62-mile walking route called the Donnington Way, which is the ultimate long-distance pub crawl!)
The Queens Head is a traditional pub that's popular with locals as well as visitors looking for a 'proper' Cotswold pub. It's a friendly place where you – and your dog – are guaranteed a warm welcome. The building dates from the 17th century with a stone-walled front bar and a snug, smaller back bar with high-backed wooden settle benches, beams, barrels and tankards.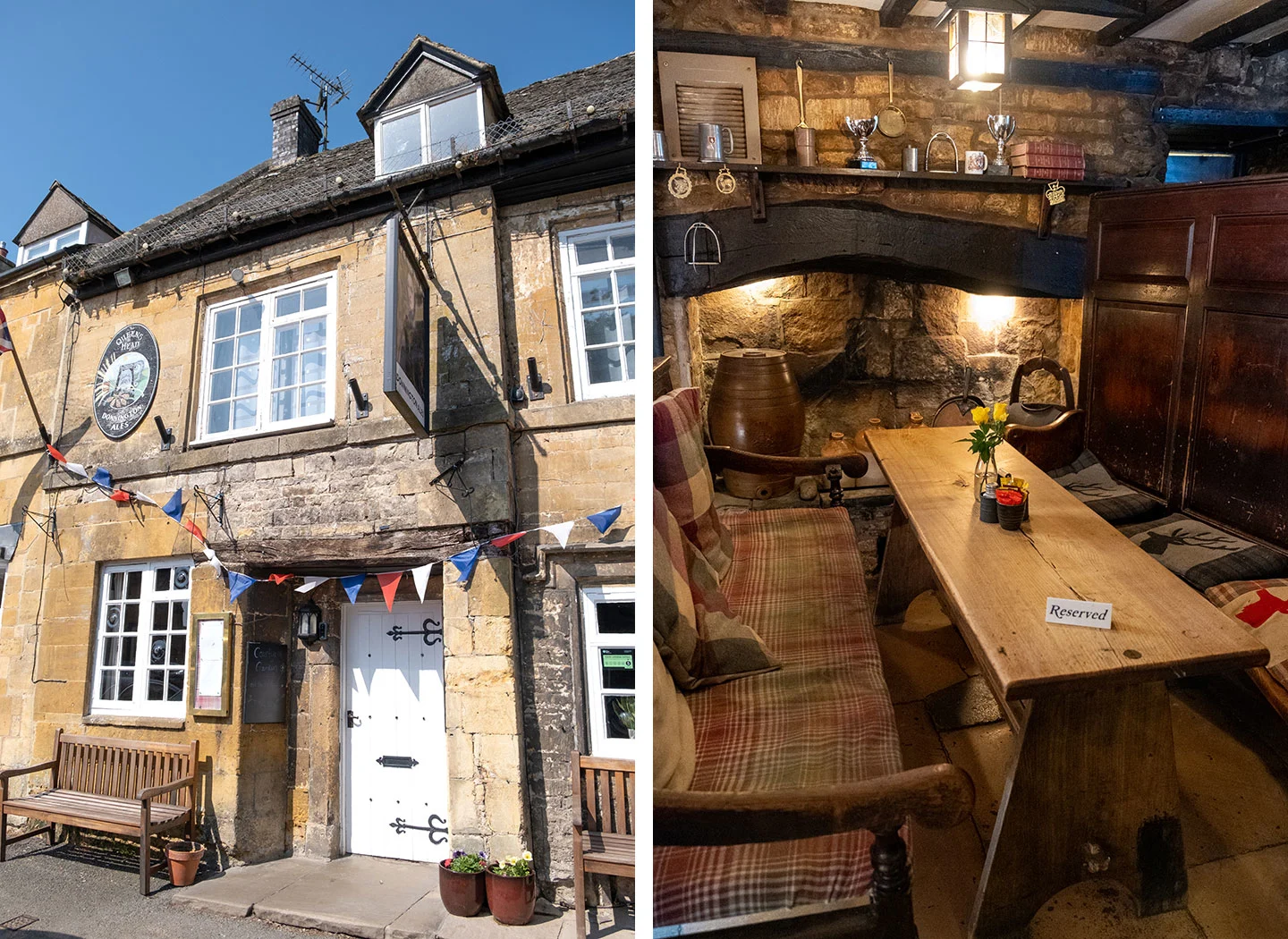 There's a selection of good value, well-cooked pub food available, which is served for lunch and dinner daily except Mondays. Hearty dishes like braised lamb shanks, sausage and mash and fantastic homemade pies feature – though the menu is a bit light on vegetarian options.
The Queens is one of the best pubs in Stow-on-the-Wold for beer lovers, featuring in multiple CAMRA Good Beer Guides. As well as Donnington Brewery ales on tap there are bottled beers, lagers, wines and spirits. There's also a suntrap courtyard garden for summer evenings.
Address: Market Square, Stow-on-the-Wold GL54 1AB. Dog friendly? Yes.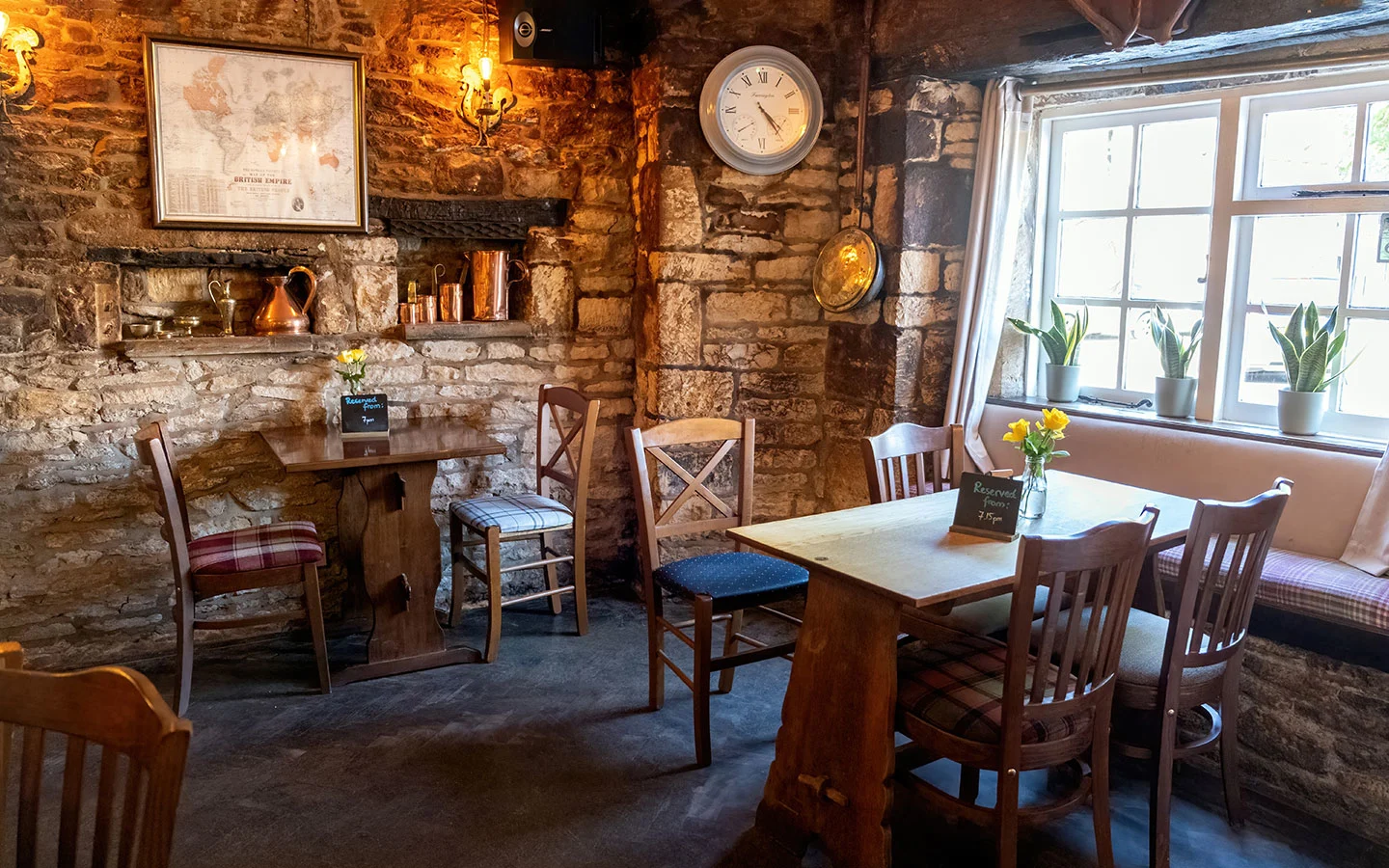 The Bell at Stow
The charming, creeper-clad Bell at Stow pub sits on the edge of town, and is one of a group of inns run by Youngs Brewery which put a modern spin on a traditional pub setting. Inside there are beams and flagstone floors, but it's light and spacious, with splashes of colour from cushions and artworks. It's a popular place for a meal but you're welcome to call in for a drink too.
A seasonal menu mixes pub classics like chicken kiev and battered haddock with more unusual options like trout nicoise and Thai mussels. Food is available from 12pm to 9pm (until 9.30pm Thursday–Saturday), and they also serve cooked and continental breakfasts before 10am.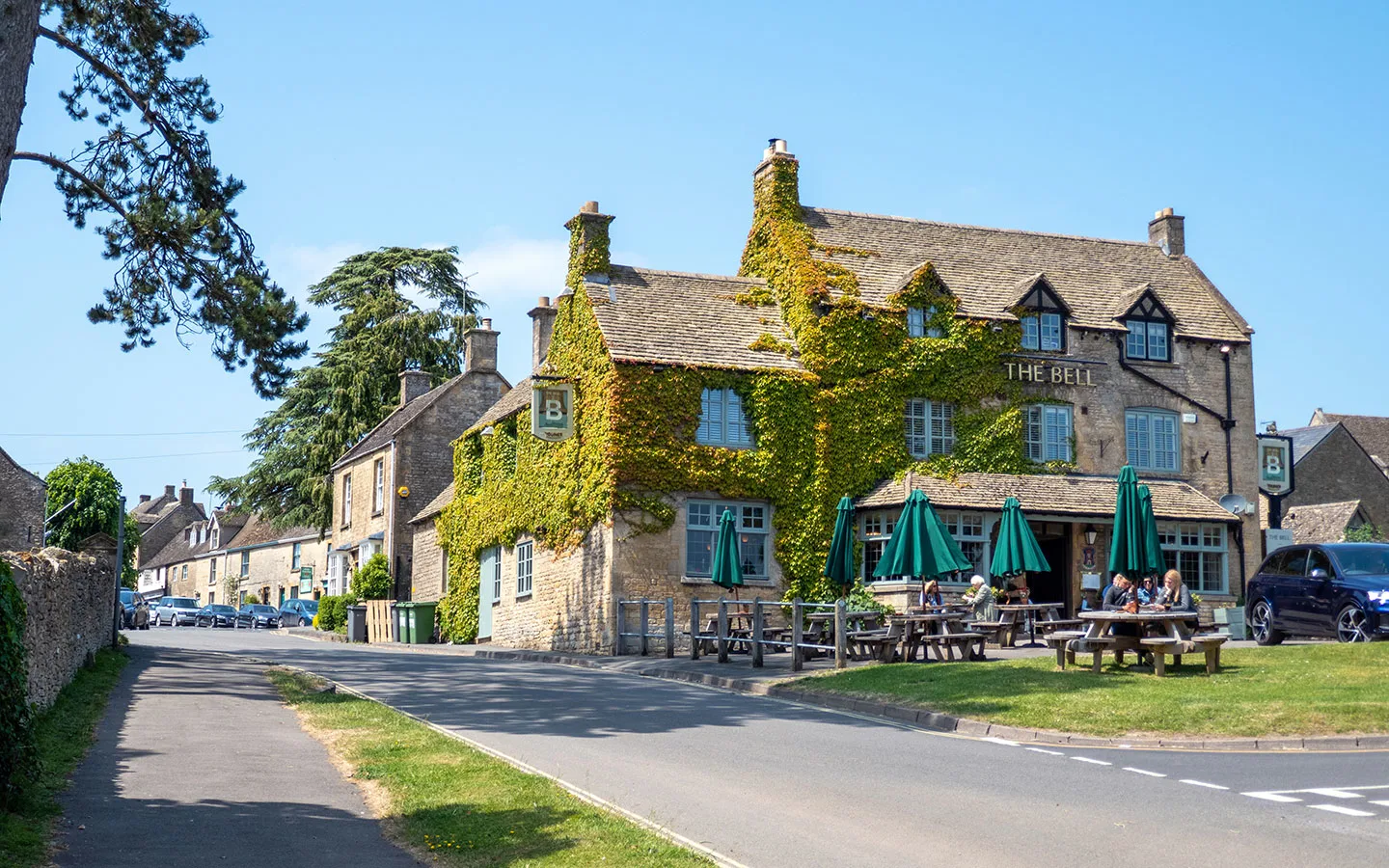 The Bell is also one of the best pubs in Stow-on-the-Wold for Sunday lunch, with a vegan truffled cauliflower and potato hash available alongside the usual roast pork, beef and chicken, served with all the trimmings. If you don't want to move far after lunch, the Bell has 14 smart double and twin bedrooms* in the pub and a nearby townhouse, including several dog-friendly rooms.
If you're visiting in summer, there's a big beer garden out front where you can soak up the sunshine (though you do get a bit of noise from passing cars). But whatever time of year you visit, the relaxed feel and hospitable welcome make The Bell one of our top Stow pub picks.
Address: Park Street, Stow-on-the-Wold GL54 1AJ. Dog friendly? Yes.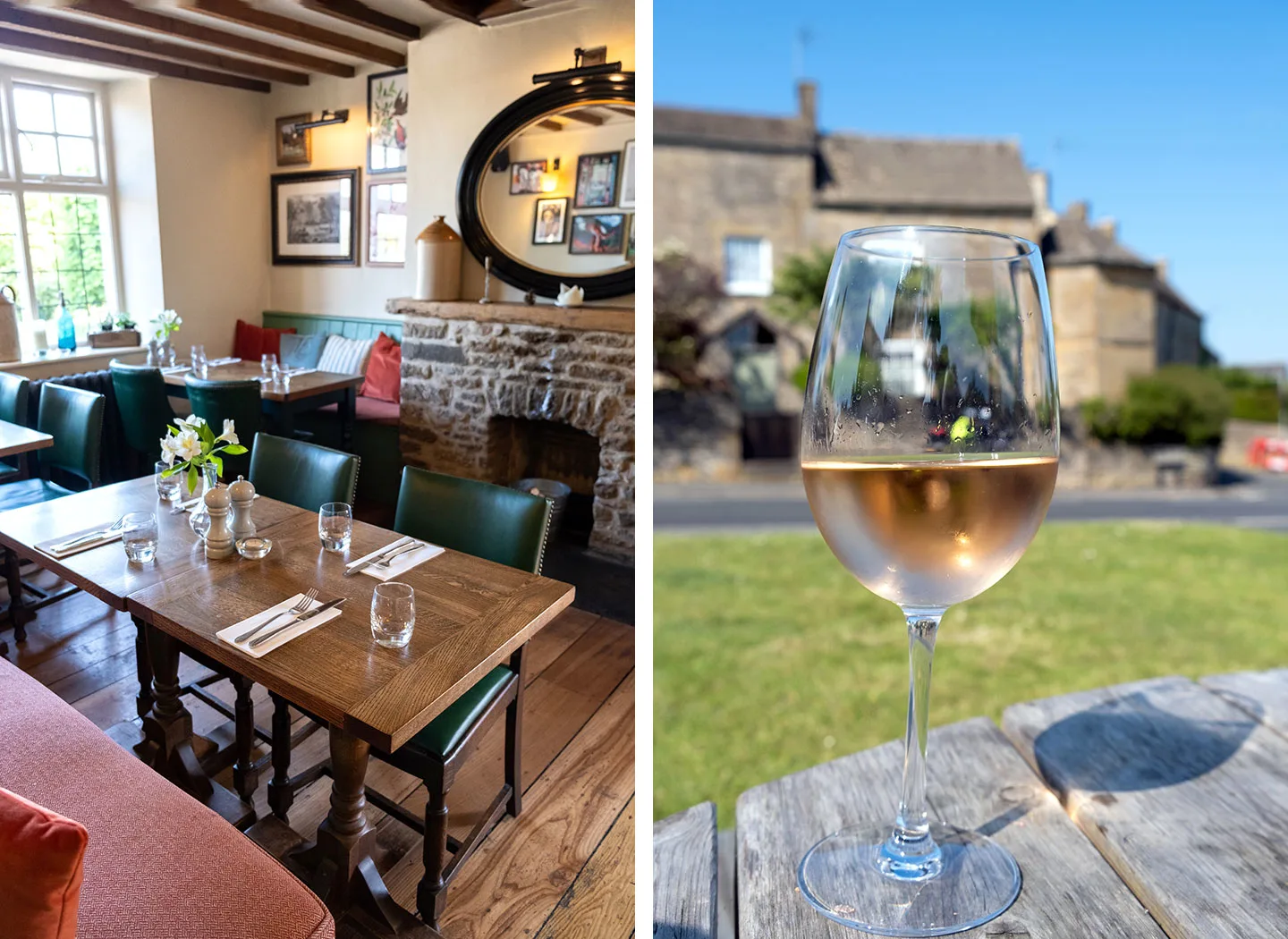 The Old Stocks Inn
Seventeeth-century former coaching inn The Old Stocks takes its name from its location on Stow-on-the-Wold's village green, next to the medieval wooden stocks where local wrongdoers were punished. It's a mix of pub, restaurant and boutique hotel, with a 'luxurious but unstuffy' feel.
The Old Stocks was fully refurbished to showcase its historic Cotswold stone walls and wooden beams, combined with bright coloured fabrics for a chic contemporary look. It was originally three separate buildings knocked into one, and they've made the most of the quirky layout.
Head to the bar for craft beers from Warwickshire's Purity Brewery, a well-curated wine list or expertly crafted cocktail. Or treat yourself to lunch or dinner in the restaurant, with creative dishes like pork cutlet and pig cheek pie, and truffled herb gnocchi – as well as a classic Sunday lunch.
You can spend the night in one of the 16 bedrooms,* and they also have cottages to rent. Dogs are welcome to stay in the garden rooms and join you in the bar, garden and library (though not the restaurant). This stylish Stow-on-the-Wold pub is a great spot for a special stay or meal.
Address: Market Square, Stow-on-the-Wold GL54 1AF. Dog friendly? Yes.
The Sheep on Sheep Street
The Sheep on Sheep Street is run by the same Brakspear group as the nearby Porch House, but has a totally different feel, swapping traditional charm for a contemporary, younger vibe. Not that you'd know it from the outside though with its classical honey-coloured 17th-century exterior.
Inside it's surprisingly bright and open, with leather and velvet fabrics in shades of blue and grey, modern light fittings and a buzzy feel, particularly on weekends. The dining area takes up much of the space, and it does feel more like a restaurant than a pub. But you can pull up a stool at the bar while the bartenders whip you up a cocktail using their extensive range of spirits.
Ales, wines and alcohol-free beers and spirits are also available. Food is served all day, other than 3pm–5pm on weekdays. Dishes include burgers, steaks and salads, with vegetarian, vegan and gluten-free options. But their delicious, crispy wood-fired sourdough pizzas are the star attraction.
The Sheep's 22 bedrooms* are a bit more traditional, with stone walls, antique furnishings and beamed ceilings. And there's a big garden terrace, complete with blue and white beach huts for up to six which you can book if it rains for that authentic British summer holiday experience.
Address: Sheep Street, Stow-on-the-Wold GL54 1AU. Dog friendly? Yes.
More great pubs near in Stow-on-the-Wold
Not enough pubs in Stow-on-the-Wold for you? If you don't mind travelling a bit further afield then there are also some lovely Cotswold pubs in the towns and villages surrounding Stow. Here's our pick of a few more pubs near Stow-on-the-Wold which are worth checking out.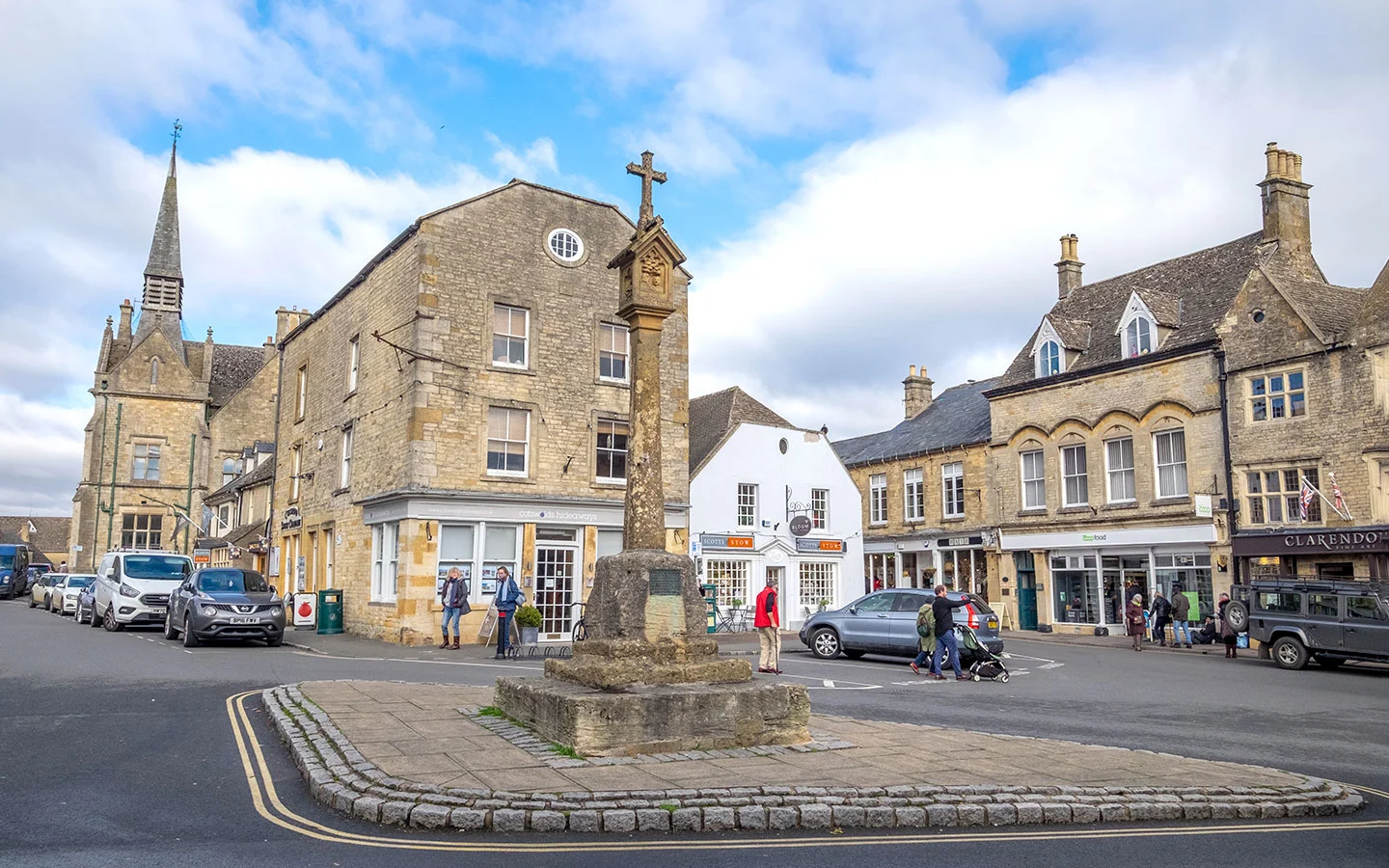 The Golden Ball Inn, Lower Swell (1 mile)
The Golden Ball Inn is another Donnington Brewery pub in the tiny village of Lower Swell – which you can walk to on our 5.3-mile circular walk from Stow via Lower Swell and Maugersbury.
It was built in the 17th century and has been a pub for over 100 years, now run by a friendly mother and daughter team. Dogs and families are welcome, with wood fires in winter and a lovely garden in summer. Donnington Brewery's BB and Golden Ale are available on tap, and there's a seasonal food menu which includes fish and chips in Donnington beer batter (closed Mondays).
Address: Lower Swell, Cheltenham GL54 1LF. Dog friendly? Yes.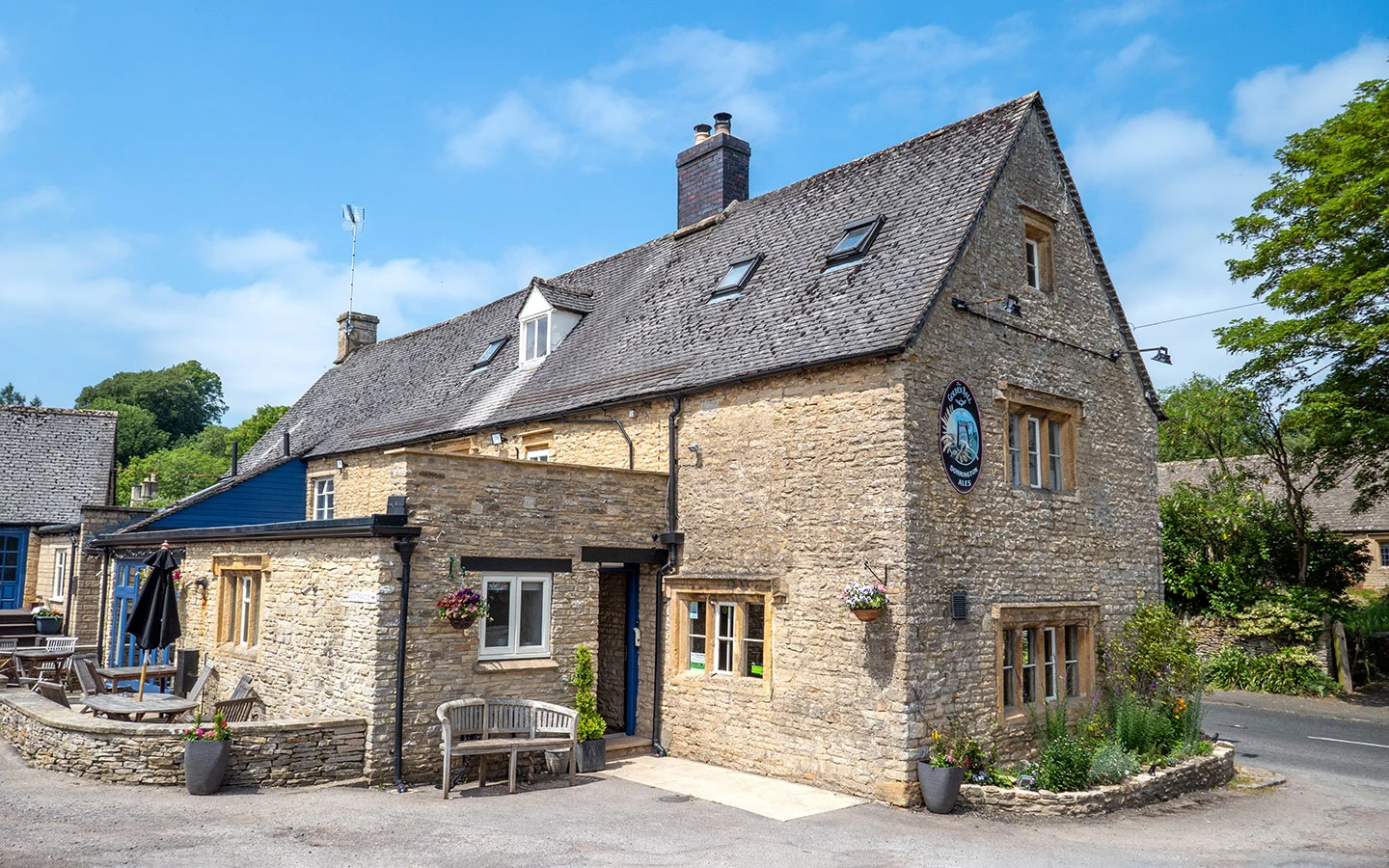 The Fox Inn, Broadwell (2 miles)
Fans of 1950s detective TV series Father Brown might recognise The Fox Inn in Broadwell as the Red Lion in the show. In real life it's a cosy Donnington Brewery pub overlooking the village green. They serve up simple pub food using ingredients from local butchers, fishmongers and farmers, including tasty bar snacks like Scotch eggs and scampi (closed Mondays/Tuesdays).
Address: Broadwell, Moreton-in-Marsh GL56 0UF. Dog friendly? Yes.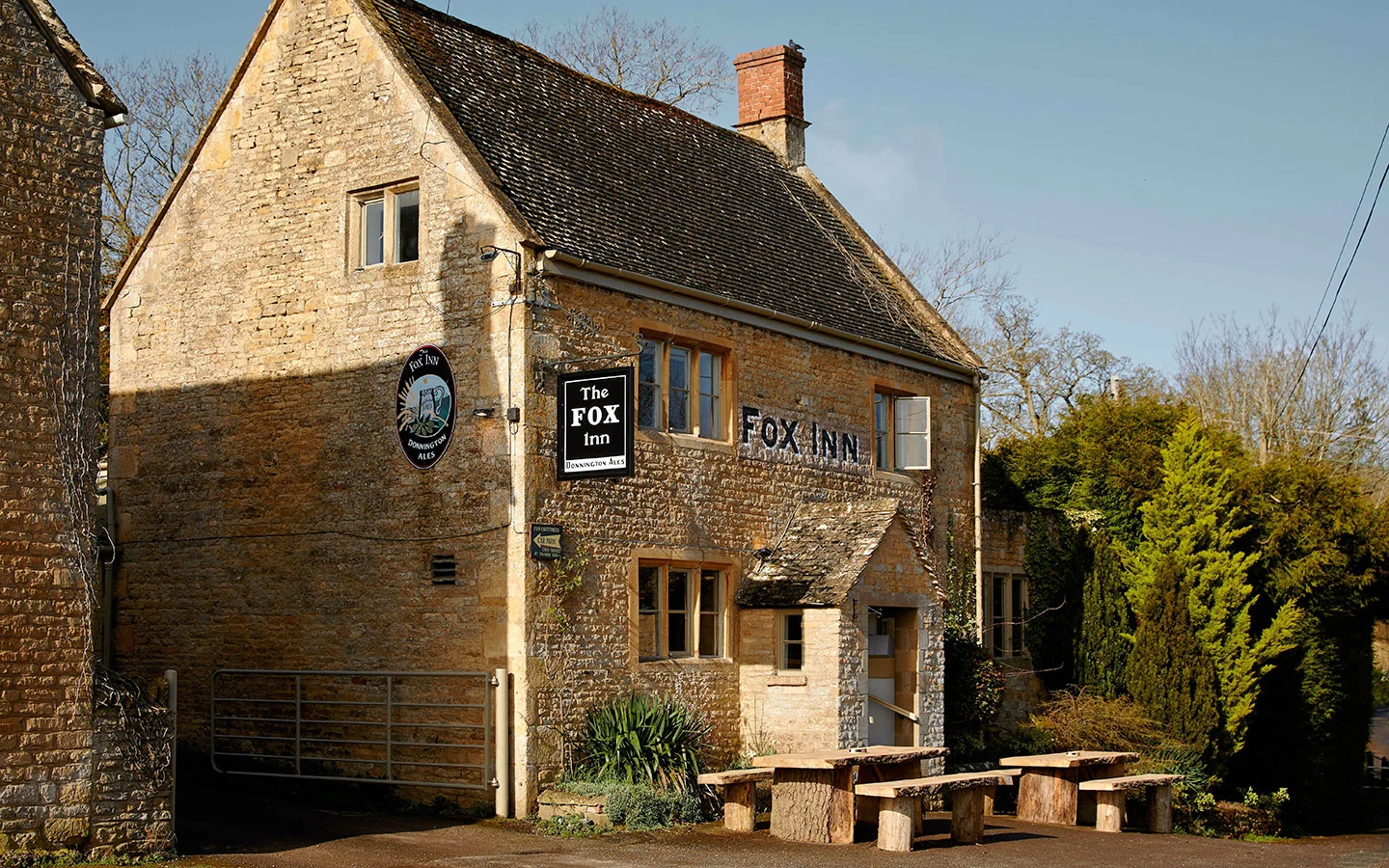 The Fox at Oddington (3 miles)
The similarly named Fox at Oddington is a recent acquisition by Daylesford Organic. This 'pub with rooms' has been completely revamped, with rustic luxury interiors. Expect high-end (and pricey) pub food, with small plates and wood-fired pizzas as well as more traditional offerings like Sunday lunch. Or enjoy local wines and ales alongside craft beers and cocktails in the bar.
Address: High Street, Lower Oddington, Moreton-in-Marsh GL56 0UR. Dog friendly? Yes.
Save for later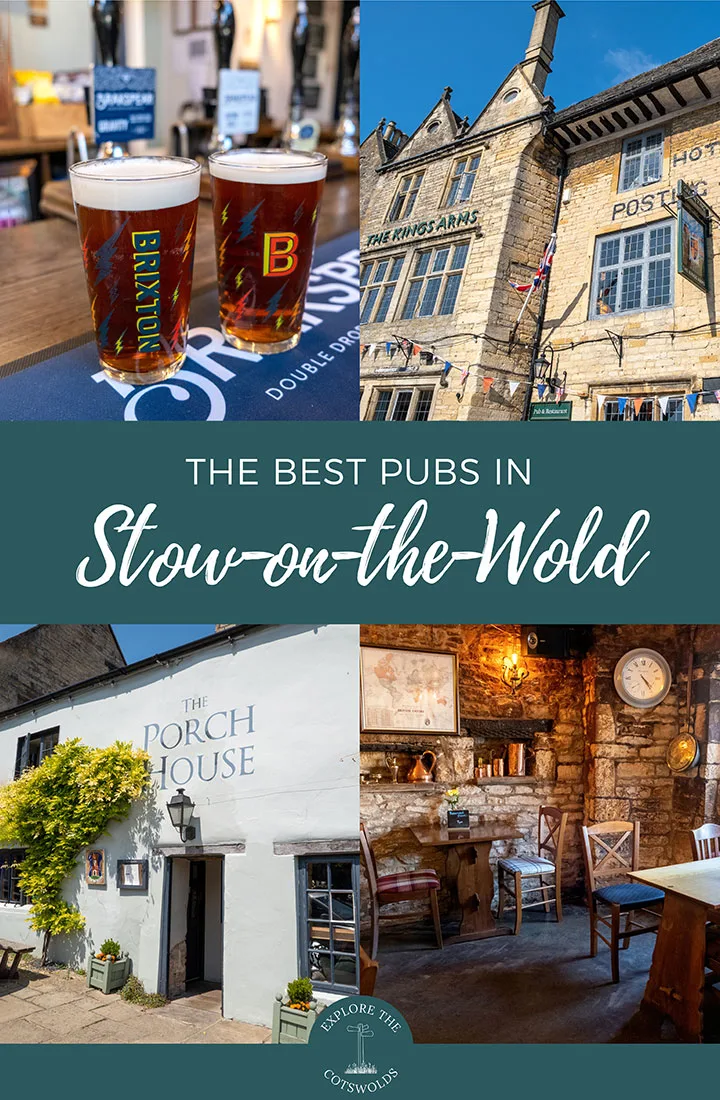 * This site contains affiliate links, where I get a small commission from purchases at no extra cost to you.