The Gloucestershire market town of Moreton-in-Marsh has been welcoming travellers for over 1700 years, since the Romans built the Fosse Way. Known for its popular Tuesday markets and the annual Moreton show each September, Moreton's position on a mainline train route from London makes it a convenient base for exploring the Cotswolds. So discover the best things to do in Moreton-in-Marsh, as well as where to eat, drink and stay, with this insider's guide from our local expert.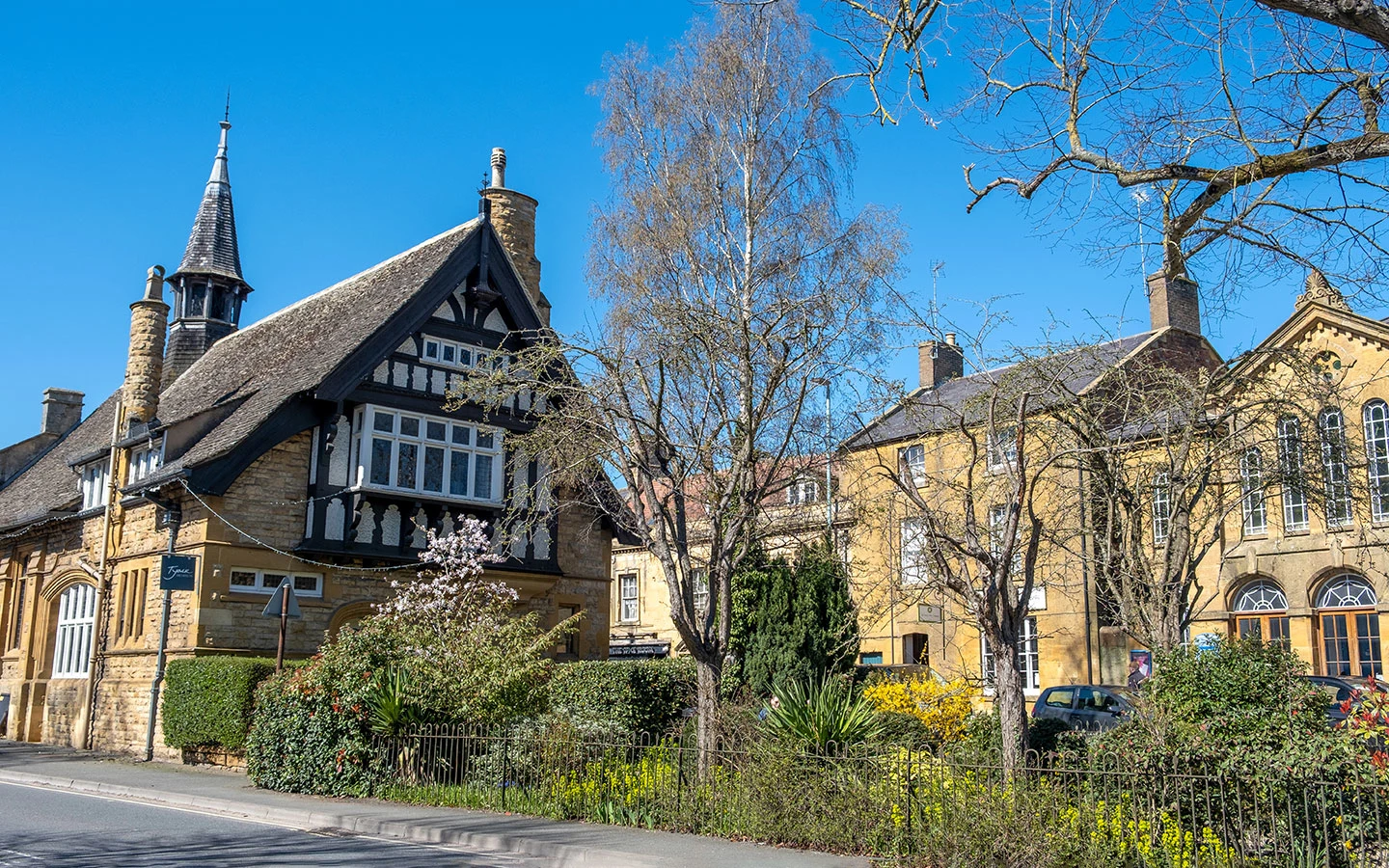 Moreton-in-Marsh's history
The town takes the first part of its name from the Saxon word 'mortun', meaning 'farmstead on the moor'. But the second part could be from either 'hennemerse' (haunt of wild fowl) or the medieval term 'march' (boundary).
Moreton-in-Marsh lies along the Fosse Way, the Roman road connecting Exeter and Lincoln which was built in the 1st and 2nd centuries AD (now the A429). But there are remnants of earlier occupation during the Bronze and Iron Ages. Moreton is first mentioned as a Saxon settlement in 557 AD, and after the Norman Conquest it became the property of Westminster Abbey.
An enterprising abbot recognised its position on a crossroads between the Fosse Way and London to Worcester road made it an ideal stopping point, so the High Street was widened and Moreton was given a charter, first to allow it to hold markets and later to also have town fairs.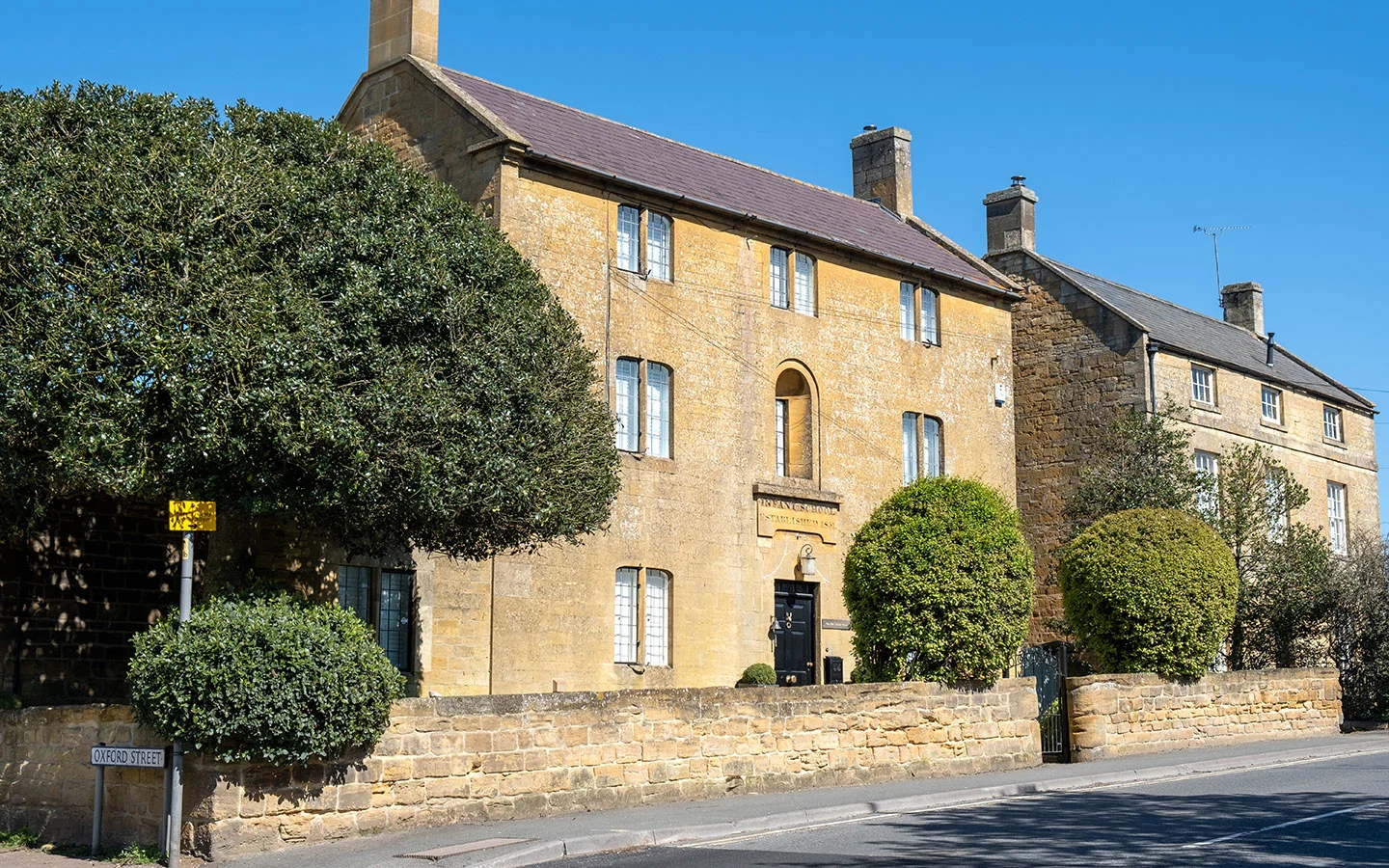 During the English Civil War, King Charles I stayed in The White Hart Royal Hotel in Moreton on two occasions, in 1644 and 1645. Rumour has it that he didn't pay his bill, but no one knows for sure. You can see a copy of his death warrant on display in the entrance lobby though.
The White Hart was one of a series of coaching inns which sprung up around the town, catering to passing travellers, and the economy thrived in the 18th century thanks to the wool industry. A horse-drawn tramway was built between Moreton and Stratford-upon-Avon in 1826, which later became a rail line. And an RAF base was built on the edge of town during the Second World War.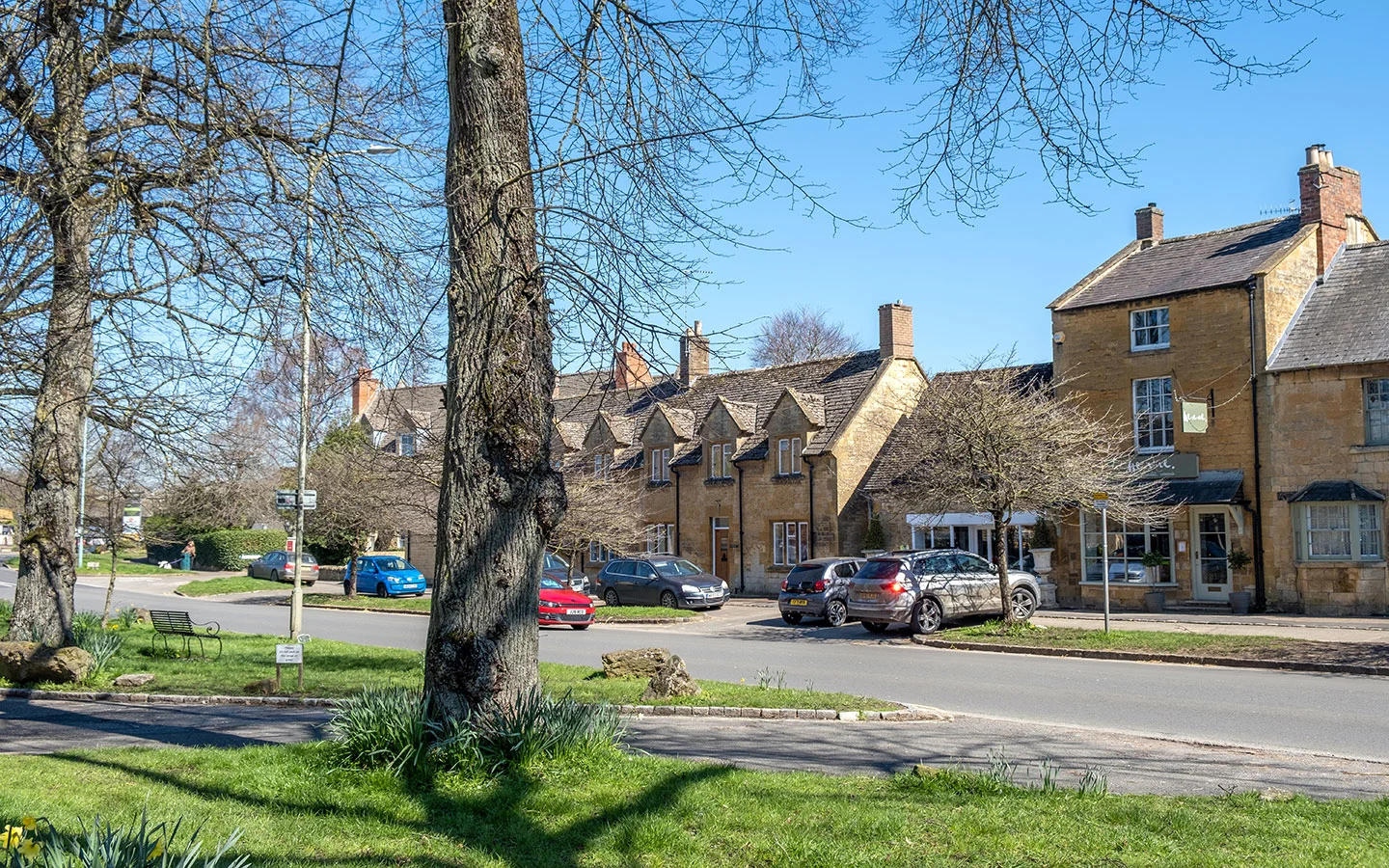 Map of Moreton-in-Marsh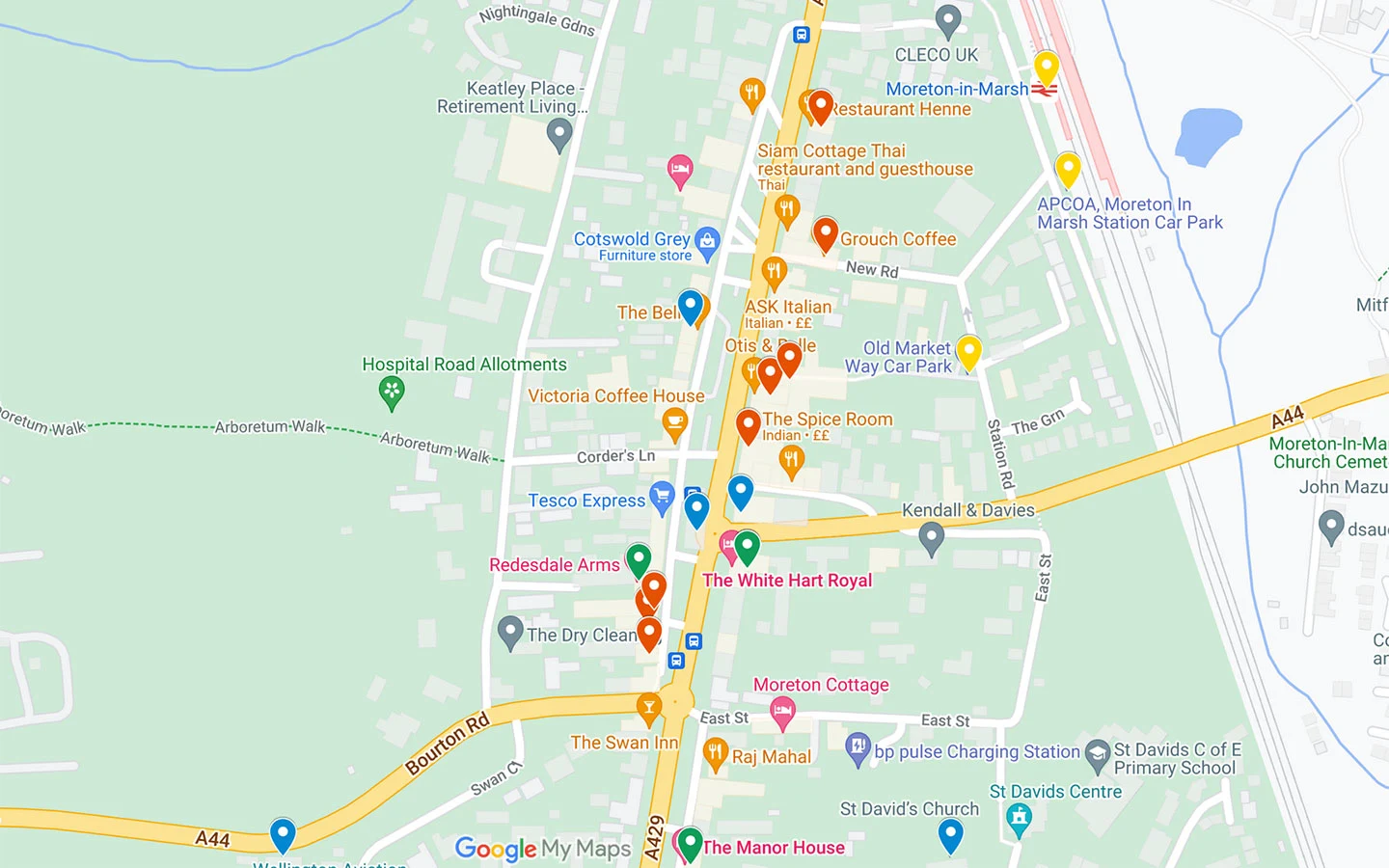 Things to do in Moreton-in-Marsh
High Street
Take a walk down the High Street and you can see some of Moreton-in-Marsh's most impressive historic buildings, many of them dating from the 17th–18th centuries. The grand Grade II-listed Redesdale Hall was built in 1886 for Algernon Freeman-Mitford, the 1st Baron Redesdale and grandfather of the infamous Mitford Sisters, as a market house and town hall.
The hall was the subject of a painting by LS Lowry, who visited in the 1940s – which was bought by singer Elton John after he used Redesdale Hall as a venue to launch a new record label in 1973.
There's also the 16th-century Curfew Tower, one of the oldest buildings in town where a bell was sounded nightly until 1860 to warn people of the risk of fire. It was also used as a lock up, and you can see a replica board inside showing the tolls charged at markets and fairs in 1905.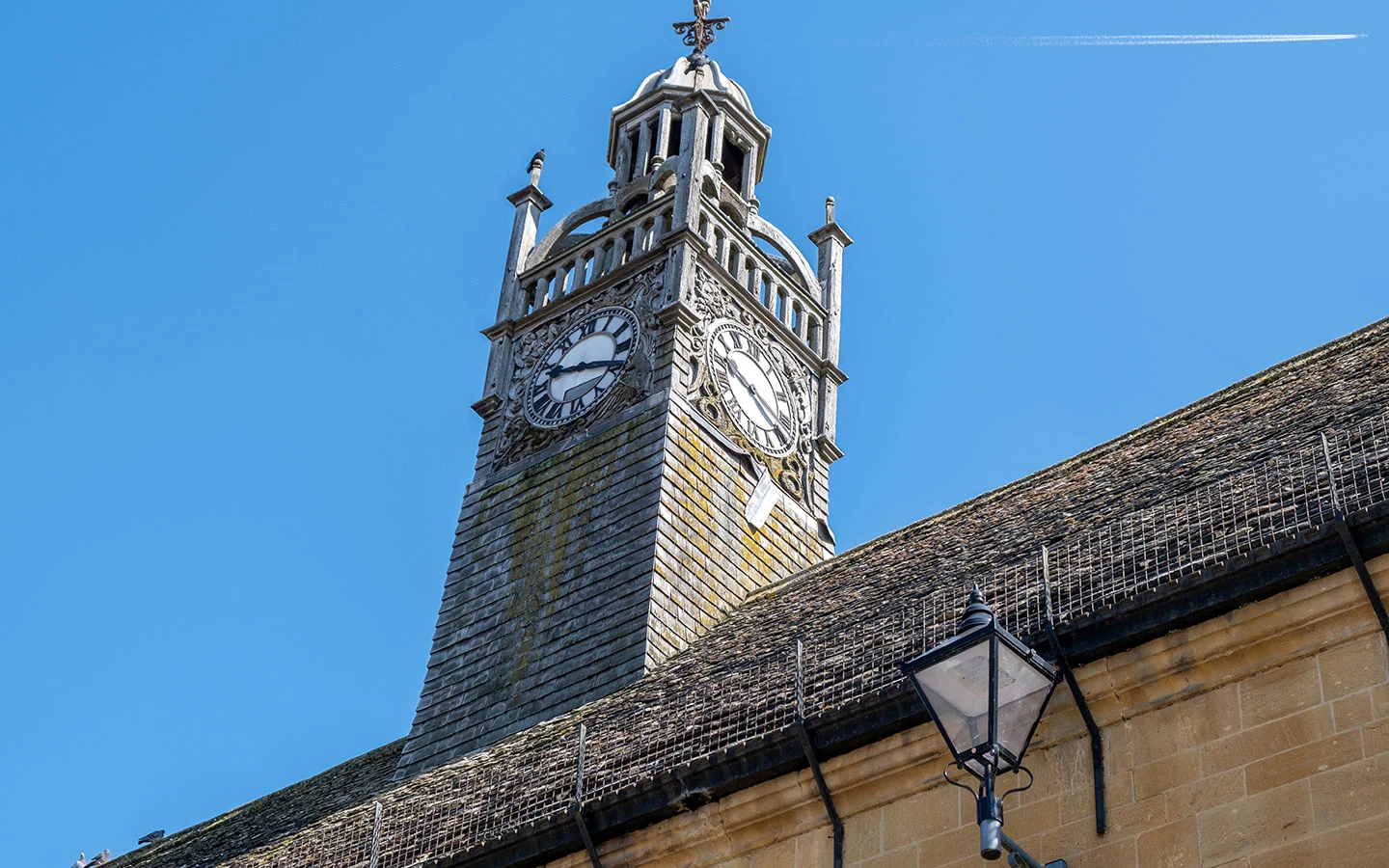 Tuesday market
The Tuesday market is one of the most popular things to do in Moreton-in-Marsh – and the largest street market in the Cotswolds. Moreton was first grated its market charter in 1227, and in 1638 King Charles I granted the town another market charter, which is still in operation today.
The market starts around 9am and runs into the afternoon, normally finishing around 3pm. There are over 200 stalls, selling everything from food and drink to clothing, leather goods, books, clothes, antiques and homewares. It's a great place to browse and pick up a few bargains.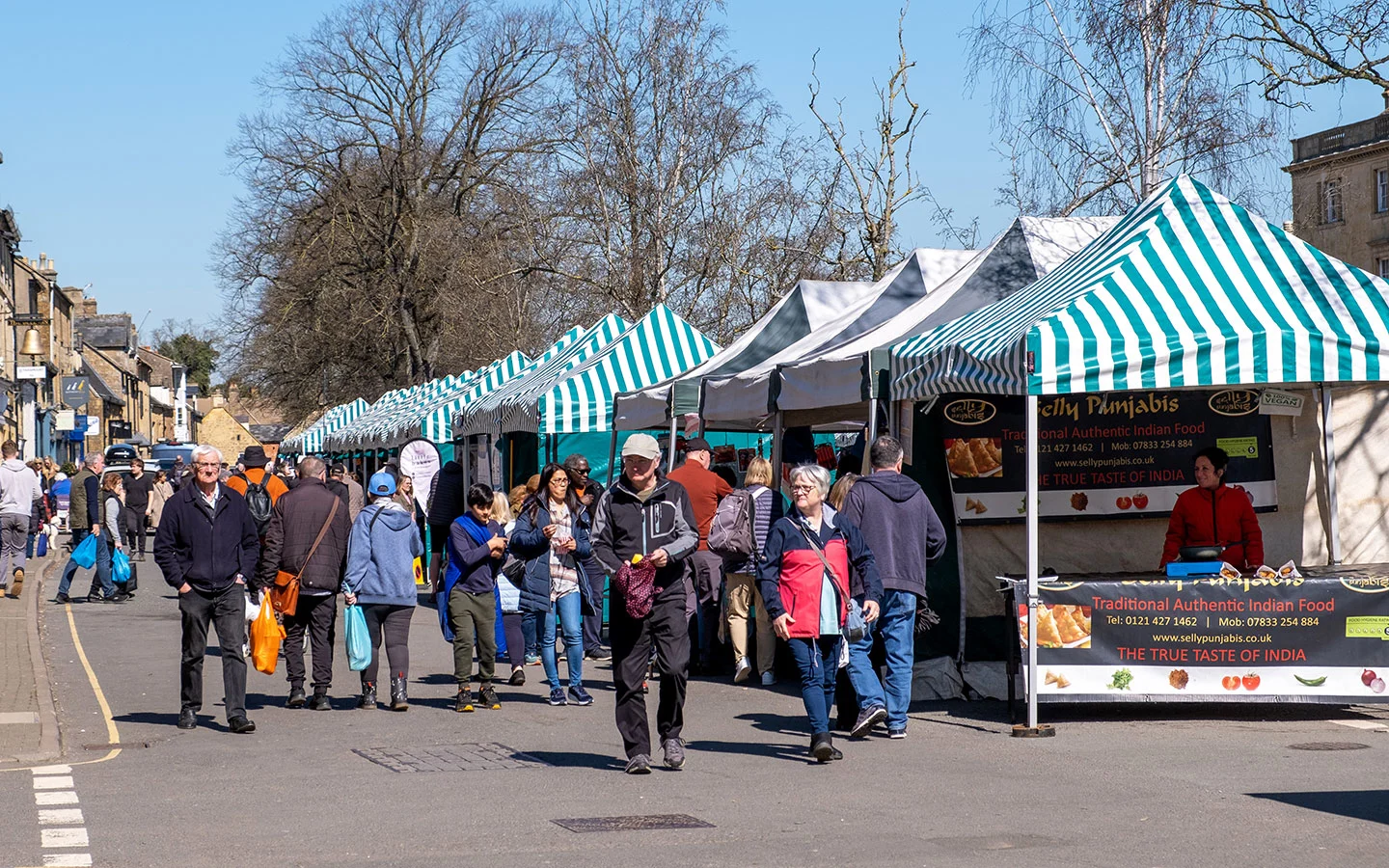 St David's Church
St David's Church is the third church built on the same site, with the oldest dating from the 13th century. The current church was built in 1858 by Joseph Gill from nearby Bourton-on-the-Hill, who raised the nave, built the chancel and replaced the Tudor tower with a 35-foot-high spire.
Inside you can see stained glass windows, memorial tablets commemorating past Morton residents, and a stone pulpit from 1858 decorated with motifs that signify local industries from the time.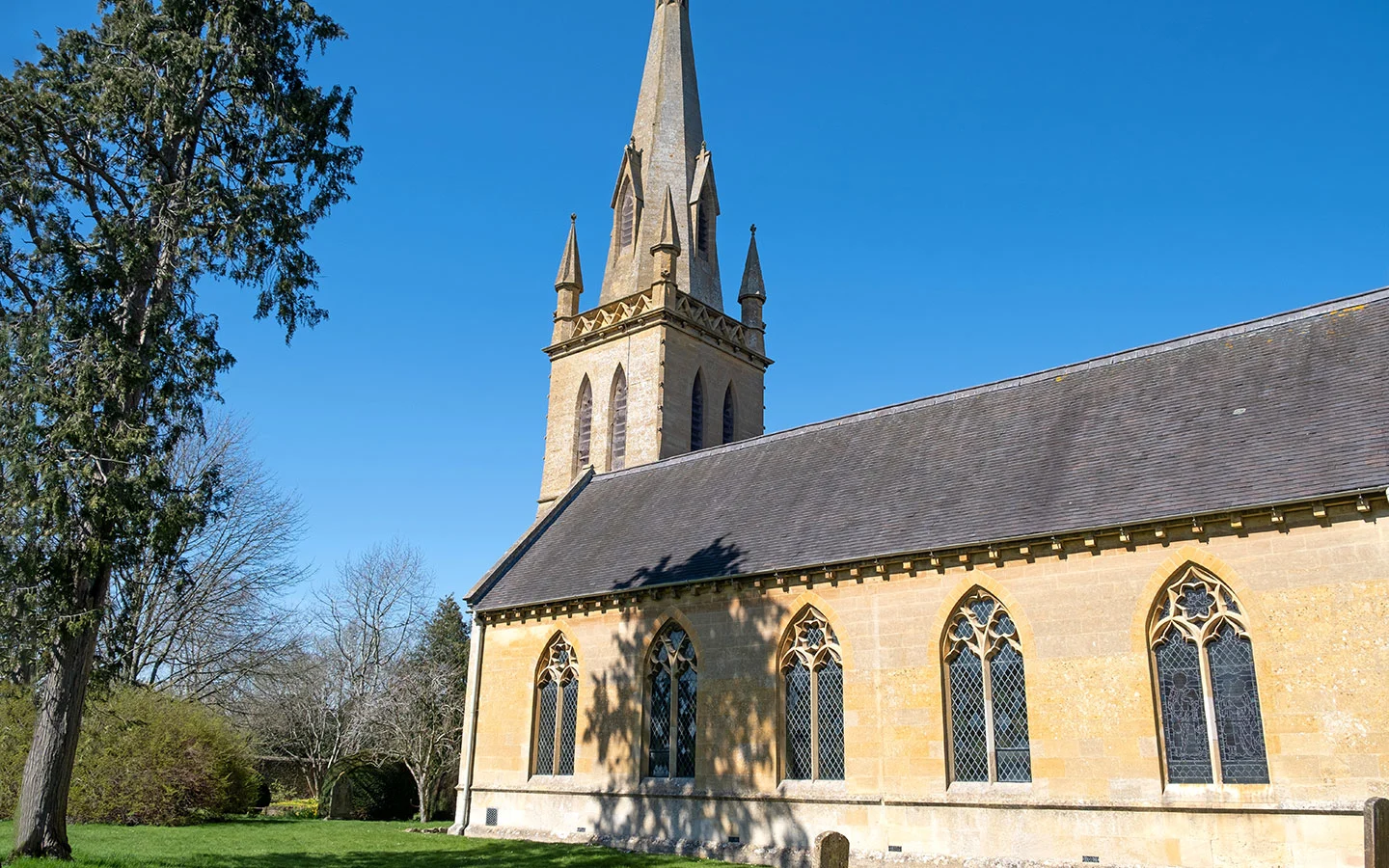 Tolkien connections
Literature fans might like to explore Moreton-in-Marsh's links with author JRR Tolkien, who was inspired by several places around the town when he was writing The Lord of the Rings.
The Bell Inn pub on Moreton's High Street was the inspiration for the 'Prancing Pony' in Bree, Middle Earth's most famous pub. Tolkien's brother lived in Evesham, so when he was an academic in Oxford they would meet up in the Bell Inn in Moreton. There's a map of Middle Earth above the table they used to sit at, and a plaque from the Tolkien Society outside the pub.
Just outside Moreton, the Four Shire Stone marks the point where the countries of Warwickshire, Oxfordshire, Gloucestershire and Worcestershire once met (Worcestershire's boundary was moved in 1931). This 16th-century pillar is through to have inspired Tolkien's Three-Farthing Stone, where the borders of the Eastfarthing, Westfarthing and Southfarthing of the Shire came together.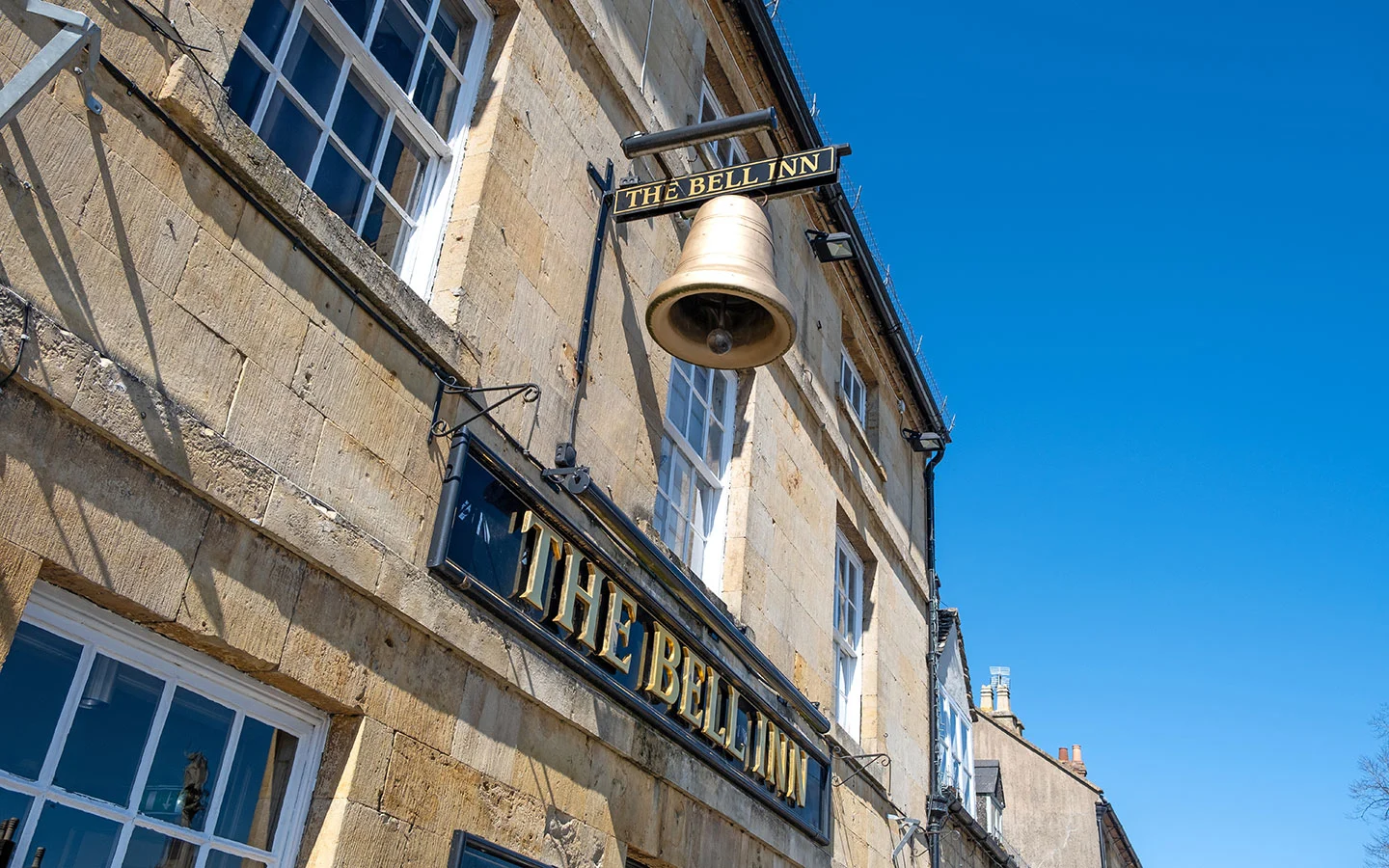 Wellington Aviation Museum
The Wellington Aviation Museum is a treasure trove of RAF memorabilia and aviation art, located in an old Victorian school building a five-minute walk from the High Street. This private collection is open to visitors on Sundays from March to November (entry £3 adults, free for under 15s).
It takes you through the history of RAF Moreton-in-Marsh, a Second World War airbase on the edge of the town which was used for training on Wellington Bomber planes. The airfield closed in 1948 but has been memorialised at the museum, which shows how the war impacted Moreton.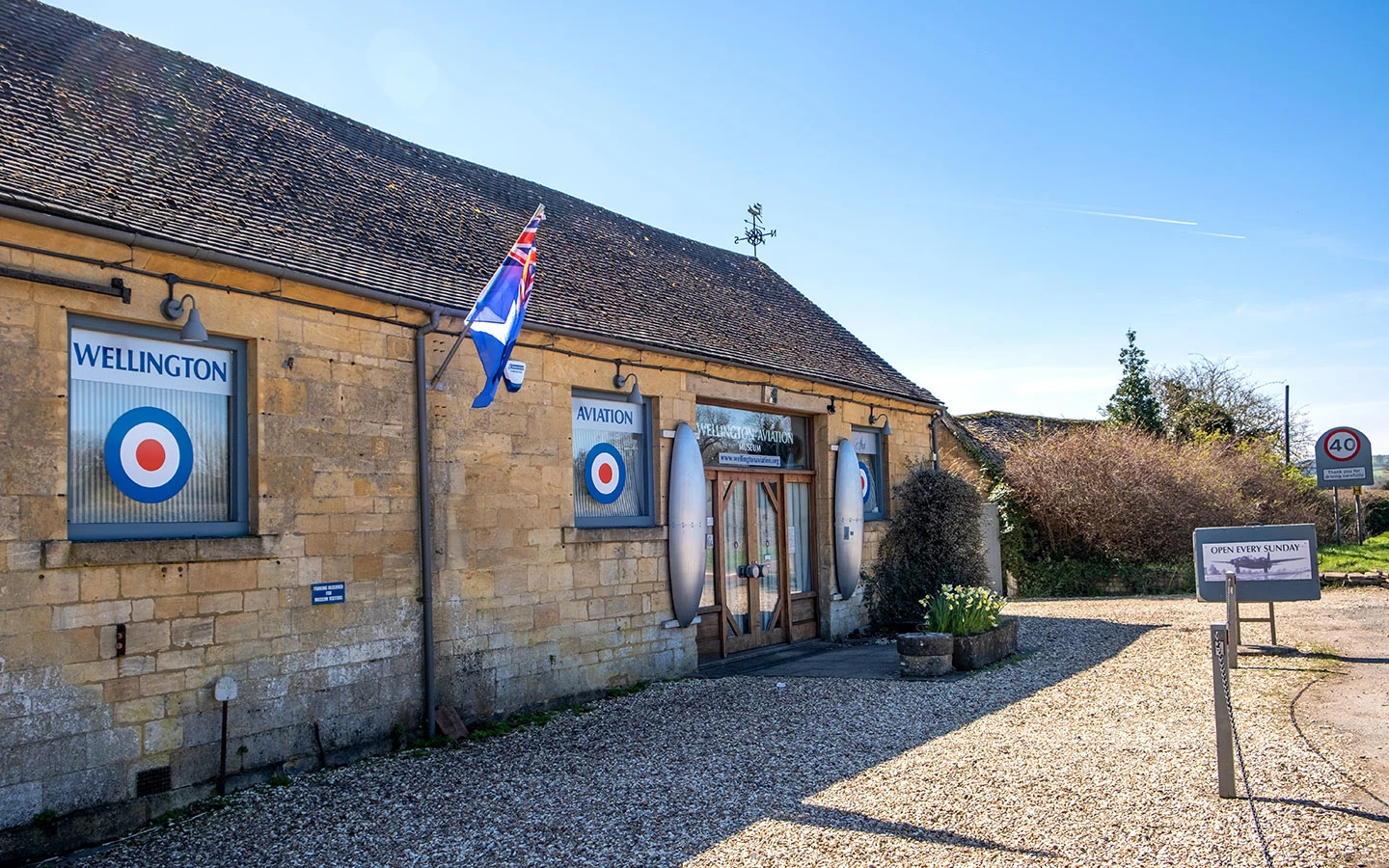 Bourton House Garden
There are also several gardens and country houses within walking distance of Moreton which you can visit. Bourton House Garden is an award-winning, three-acre garden surrounding an 18th-century Cotswold stone manor (open April–October, entry £9 adults, free for under 16s).
Over the years the garden has been transformed from a neglected wilderness to a beautiful space with sculpted topiary, water features, elegant terraces, sculptures, a shade house and plenty of colourful blooms. There's also a café in the old tithe barn where you can stop for tea and cake.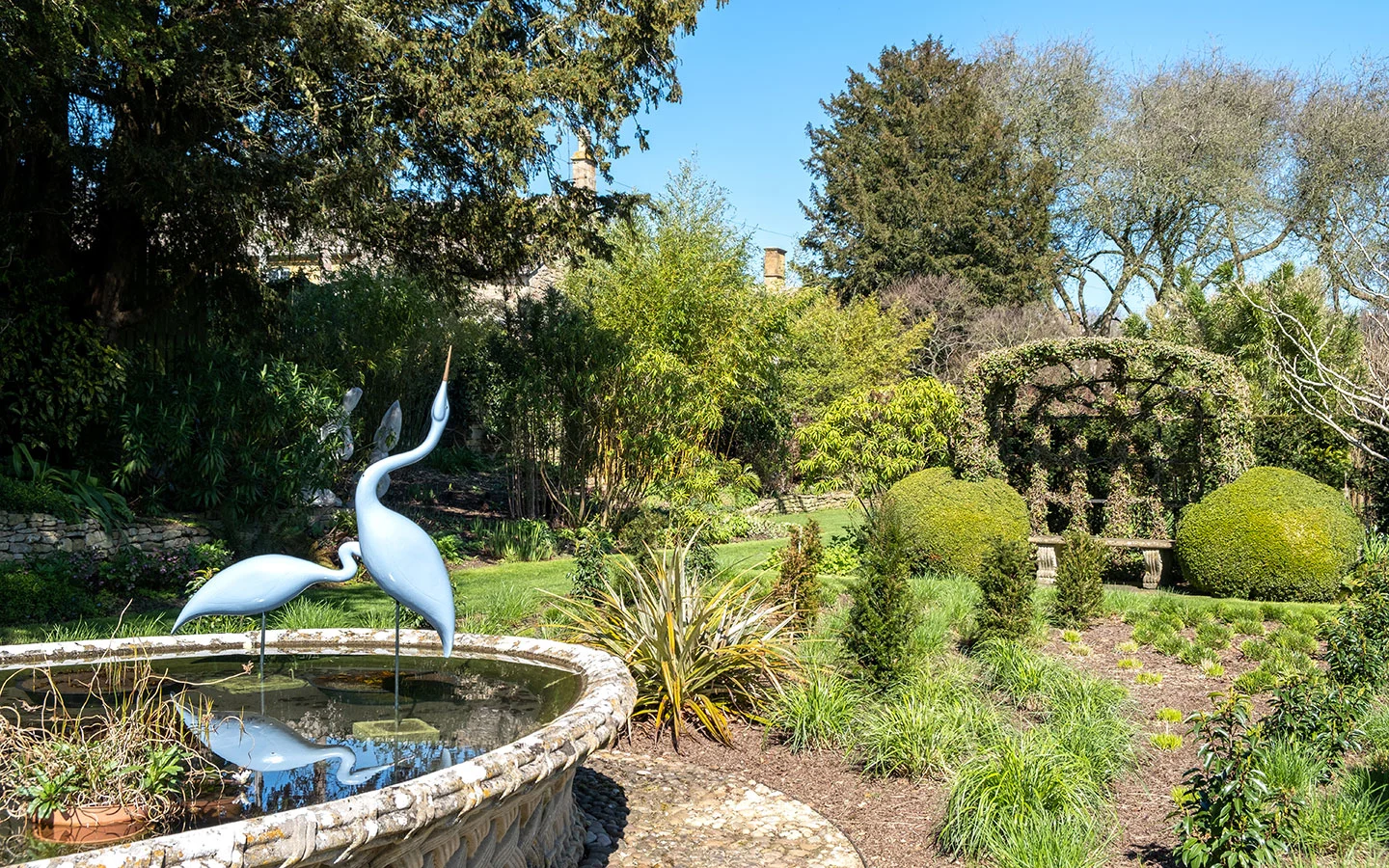 Batsford Arboretum
Just a few minutes away from Bourton House, Batsford Arboretum has a spectacular collection of trees and shrubs from around the world, spread across 60 acres of parkland (entry £9 adults, £8.10 concessions, £3.15 children aged 4–16). It was founded in 1886 by Algernon Freeman-Mitford – who also built Moreton-in-Marsh's Redesdale Hall – and inspired by his travels around Asia.
There's something to see year-round, but the arboretum is especially popular in spring for the cherry blossoms and magnolias, and in autumn for the colourful red, orange and gold leaves. There are also art workshops, seasonal trails and a garden centre where you can pick up plants and tools.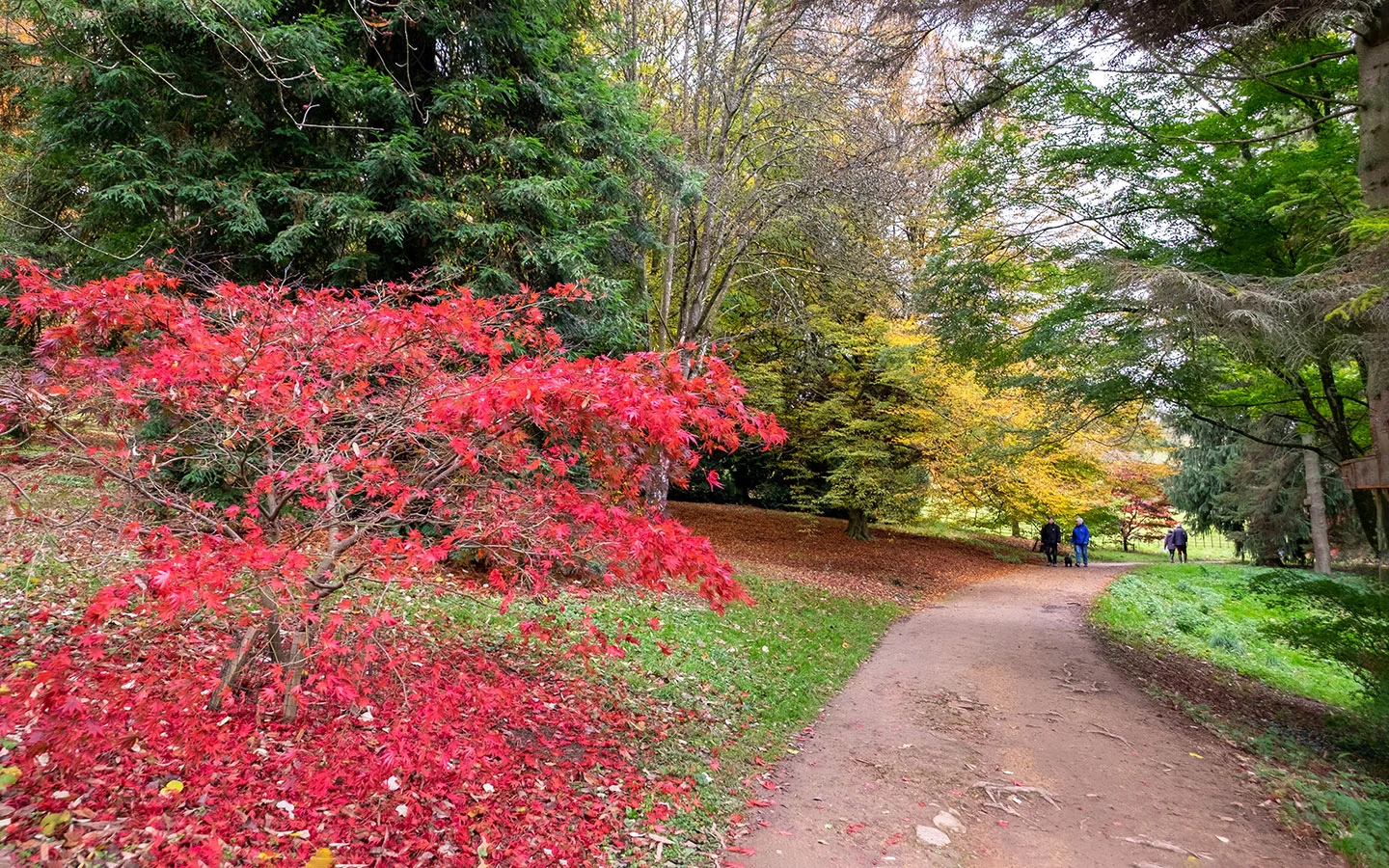 Cotswold Falconry Centre
Right next door to Batsford Arboretum, the Cotswold Falconry Centre is one of the UK's leading centres for birds of prey and falconry (entry £12 adults, £10 concessions, £6 children aged 4–15). It was founded in 1988 with a focus on conservation and breeding. There are now over 50 species of birds like owls, eagles, vultures, hawks and falcons – including some endangered species.
You can visit the aviaries and see daily flying displays, or pre-book special experiences (for an extra cost) which let you get up close to their owls or try out flying a hawk for yourself.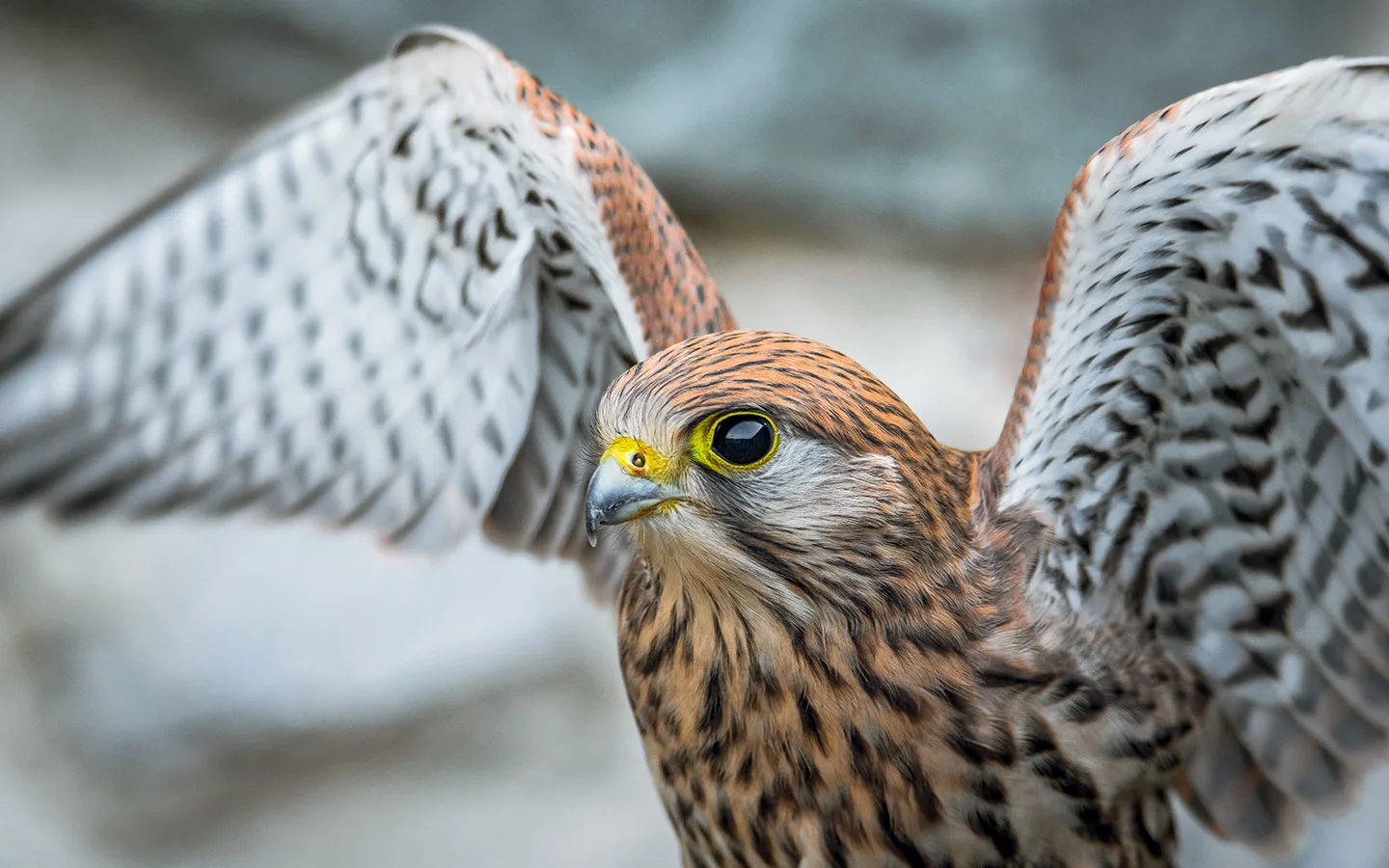 Sezincote House and Gardens
Sezincote House is a piece of India in the Cotswolds (gardens £7.50 adults/£2.50 children under 16 or house and gardens £12.50 adults/£7.50 children – house open May–September only). This unusual property was built in Hindu and Muslim style, complete with an onion dome roof.
It was designed by Samuel Pepys Cockerell – who'd never actually been to India – and is said to have influenced the design of the Brighton Pavilion after the Prince Regent paid a visit in 1807. The house is surrounded by landscaped gardens which are also Indian-inspired, with a curving conservatory, pavilion, water gardens, fountains and statues of elephants, snakes and Hindu gods.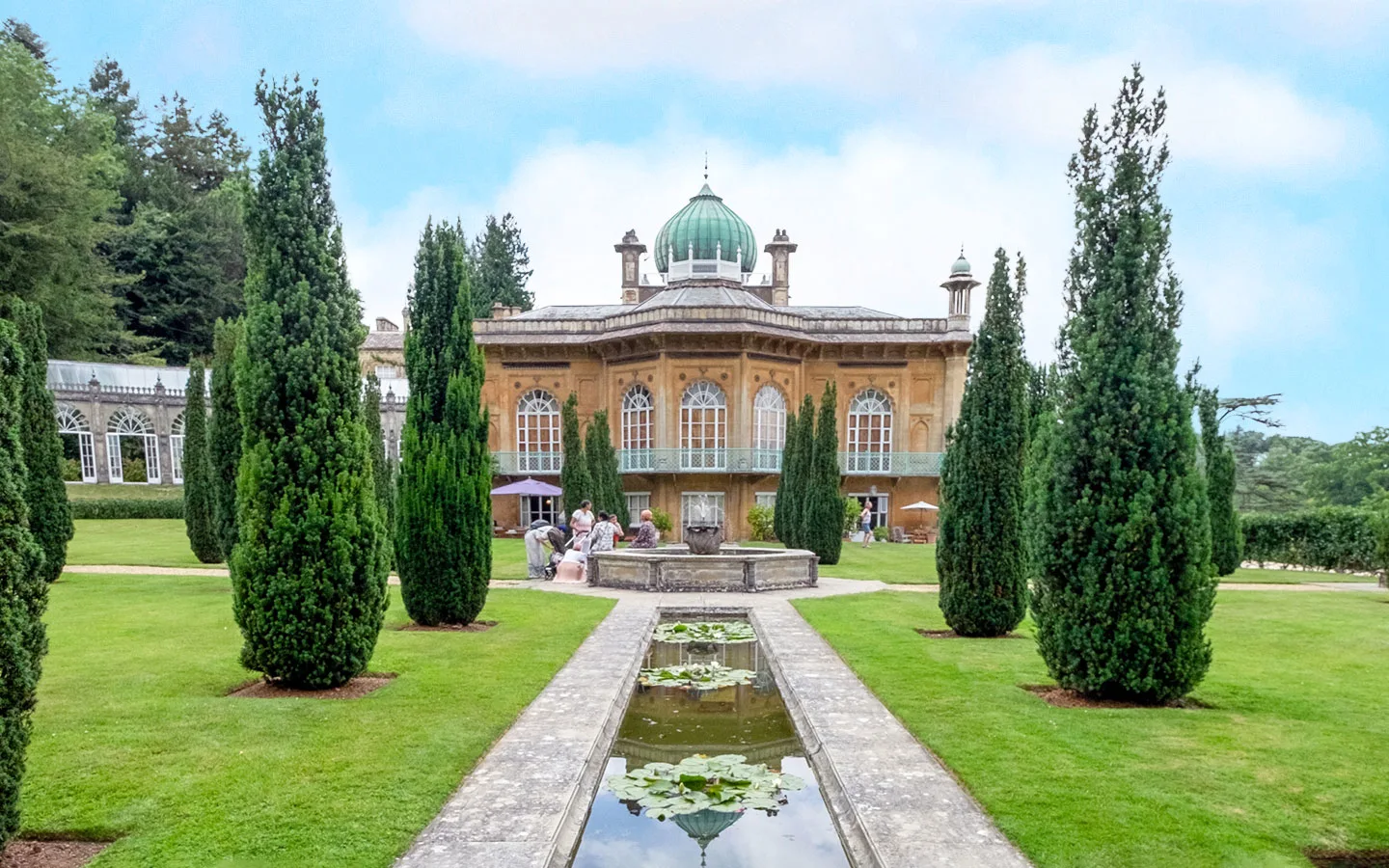 Walks from Moreton-in-Marsh
Moreton-in-Marsh is on the Monarch's Way, a 625-mile long-distance walk following the route taken by King Charles II after his defeat in the Battle of Worcester in 1651. You can follow a stretch of it on a 7-mile circular walk from Moreton to Longborough, where it picks up the Heart of England Way and runs past Sezincote House and on though the village of Bourton-on-the-Hill.
You can also walk from Moreton to Batsford Arboretum along the Monarch's Way, which is 1.7 miles each way. Or head south on a 6-mile one-way route though Longborough, Donnington and Broadwell to Stow-on-the-Wold, where you can catch the Pulhams 801 bus back to Moreton.
Things to do near Moreton-in-Marsh
Just south of Moreton-in-Marsh is the village of Longborough (3 miles), which hosts an annual opera festival each summer. And to the east is National Trust site Chastleton House (4 miles), which was built in 1612 and has been preserved as a time capsule over the last 400 years.
Stow-on-the-Wold is 4.5 miles to the south, where you can visit another site with a Tolkien link – St Edward's Church with its Yew Tree Door. You're also close to the villages of Blockley (4 miles), which like Moreton-in-Marsh has been used as a filming location for TV series Father Brown. And Donnington (5 miles), where you can take a tour of the historic Donnington Brewery.
The town of Chipping Campden (6 miles), the Daylesford estate and farm shop (6 miles) and Broadway and the Broadway Tower (10 miles) are also within easy reach of Moreton.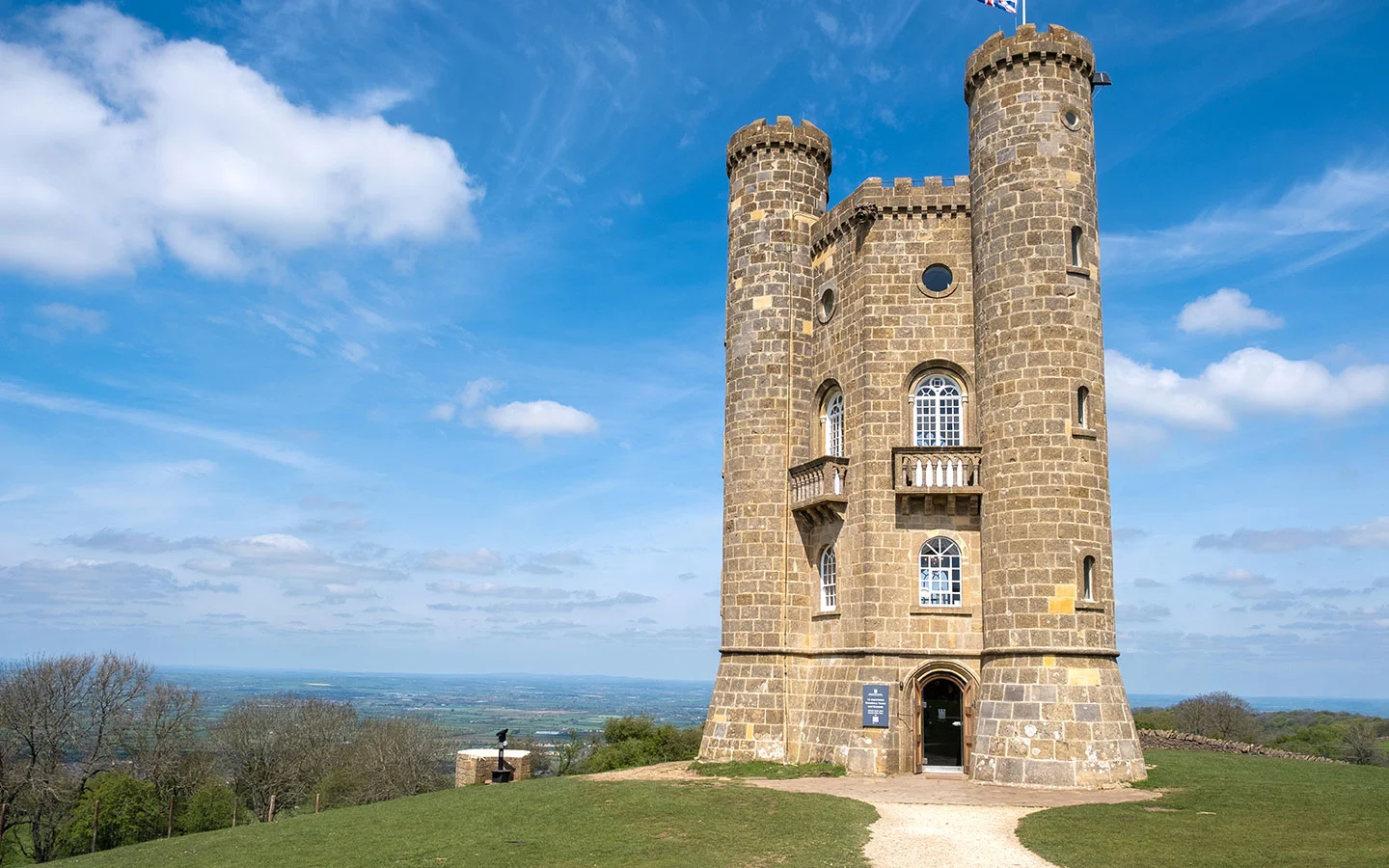 Places to eat in Moreton-in-Marsh
Cafés and delis
Moreton-in-Marsh has a good selection of places to stop for coffee and cake. Grouch Coffee started life as a pop-up coffee stall in a tuk tuk but has now found a permanent home on New Road near the train station. The owners are passionate about coffee, with their house blends of beans also available to take home. And there's a selection of tasty cakes and traybakes to go with it.
Otis & Belle is an artisan bakery at the entrance to the Old Market Way Arcade (with a second branch in Stow-on-the-Wold). Baker Will learnt how to make elegant French patisserie at Le Cordon Bleu, with crosissants, cruffins and pain au chocolats alongside a range of sourdough breads.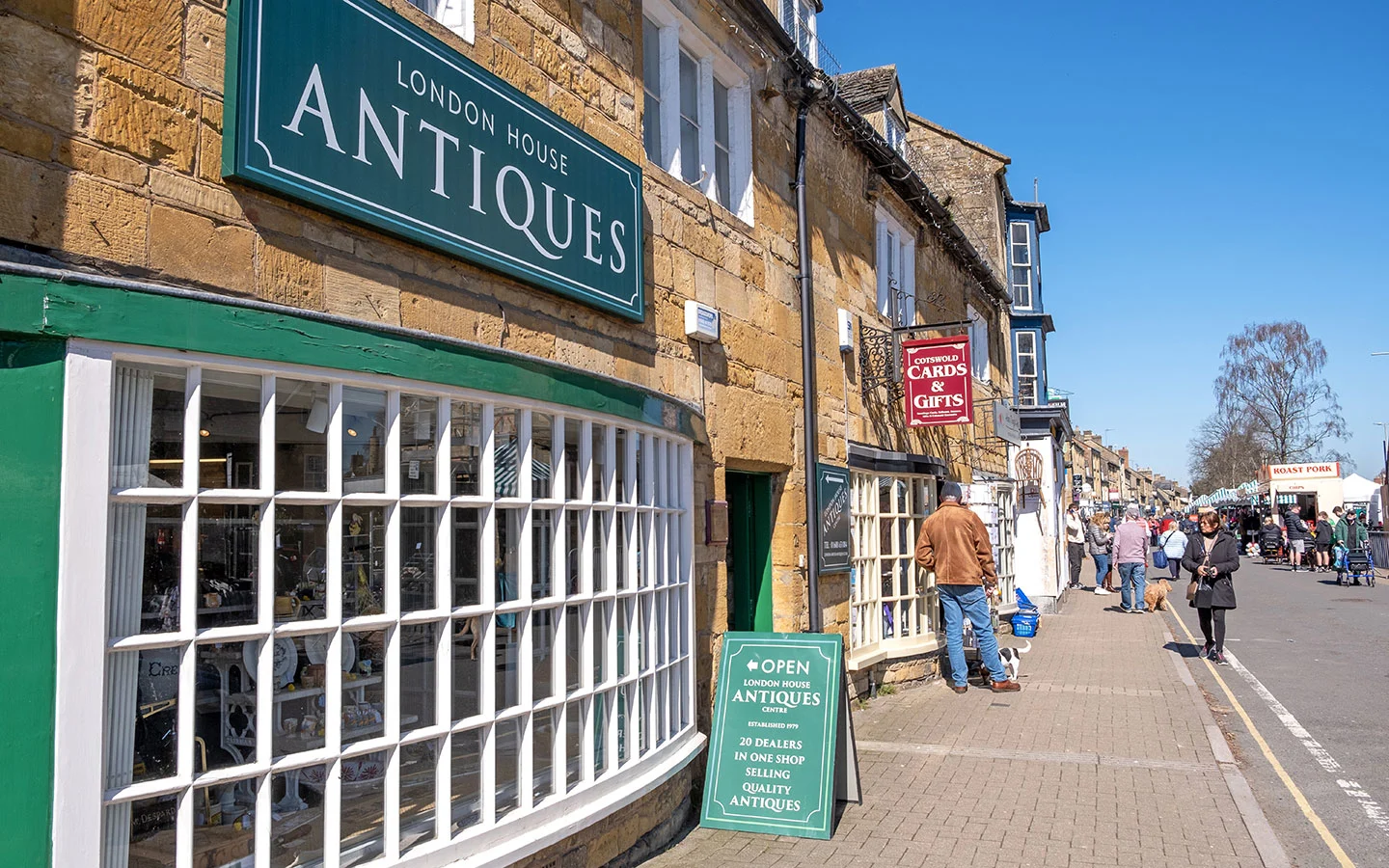 Rixy's Cotswold Tearoom on the High Street is a good spot for breakfast, with everything from a Full English to American pancakes with bacon and maple syrup. They also serve lunch and afternoon tea, and there's a selection of gluten-free cakes, scones and sausage rolls. Dogs are welcome.
You can also choose from over 120 cheeses, including a good selection of local ones, at The Cotswold Cheese Company. Or call into Moreton Wine Merchants to choose a bottle to take away or enjoy wines by the glass and cheese and charcuterie platters in their wine bar.
Pubs and restaurants
Restaurant Henne showcases the best Cotswold produce, with an emphasis on local, seasonal and ethically sourced food. Their six-course tasting menu (available with paired wines) is perfect for a special occasion, featuring dishes like hand-dived scallops, Cotswold venison and Cornish lobster agnolotti. Though as it's a fairly, small intimate space, you do need to book ahead.
The historic White Hart Royal Hotel serves lunch, dinner and afternoon tea, with a seasonal menu using produce from Gloucestershire and the Cotswolds. You can eat in the dining room or the casual bar area, which has a cosy fire in winter. As well as a main menu featuring risotto, burgers, steaks and salads, there are sandwiches available at lunchtimes and a children's menu.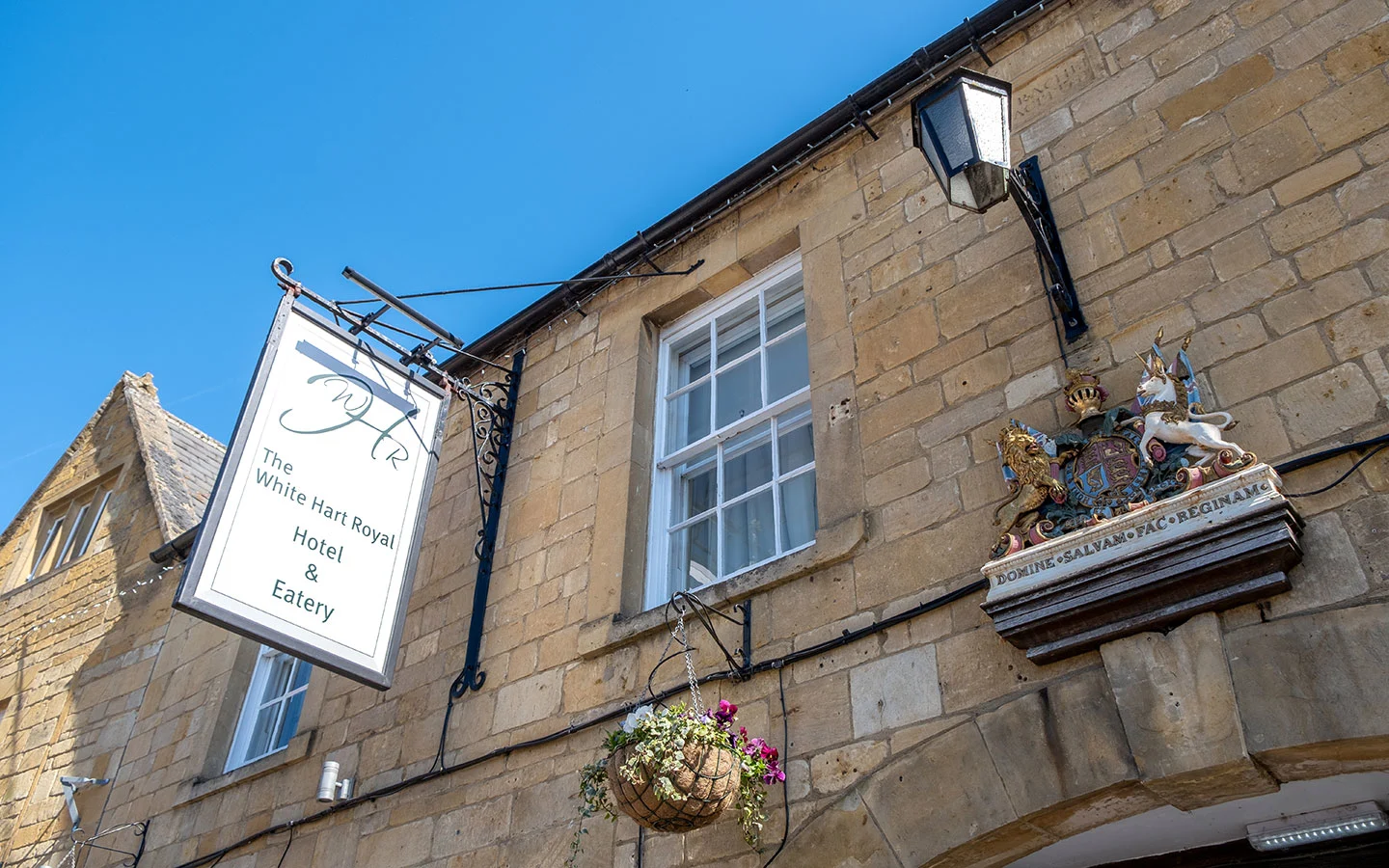 The Black Bear is a traditional Cotswold pub, serving a range of Donnington Brewery's real ales. Their 'big menu' is available for lunch and dinner, with hearty portions of classic pub food including beef and ale pie, beer-battered fish and chips, ploughman's lunches and Sunday roasts.
Or Sakura Bistro is a family-run restaurant with a healthy menu of create-your-own poke bowls as well as dishes like mussels and fries, Thai Green curry and flatbread wraps – with vegan, dairy-free and gluten-free options available. They also mix up a good smoothie or cocktail.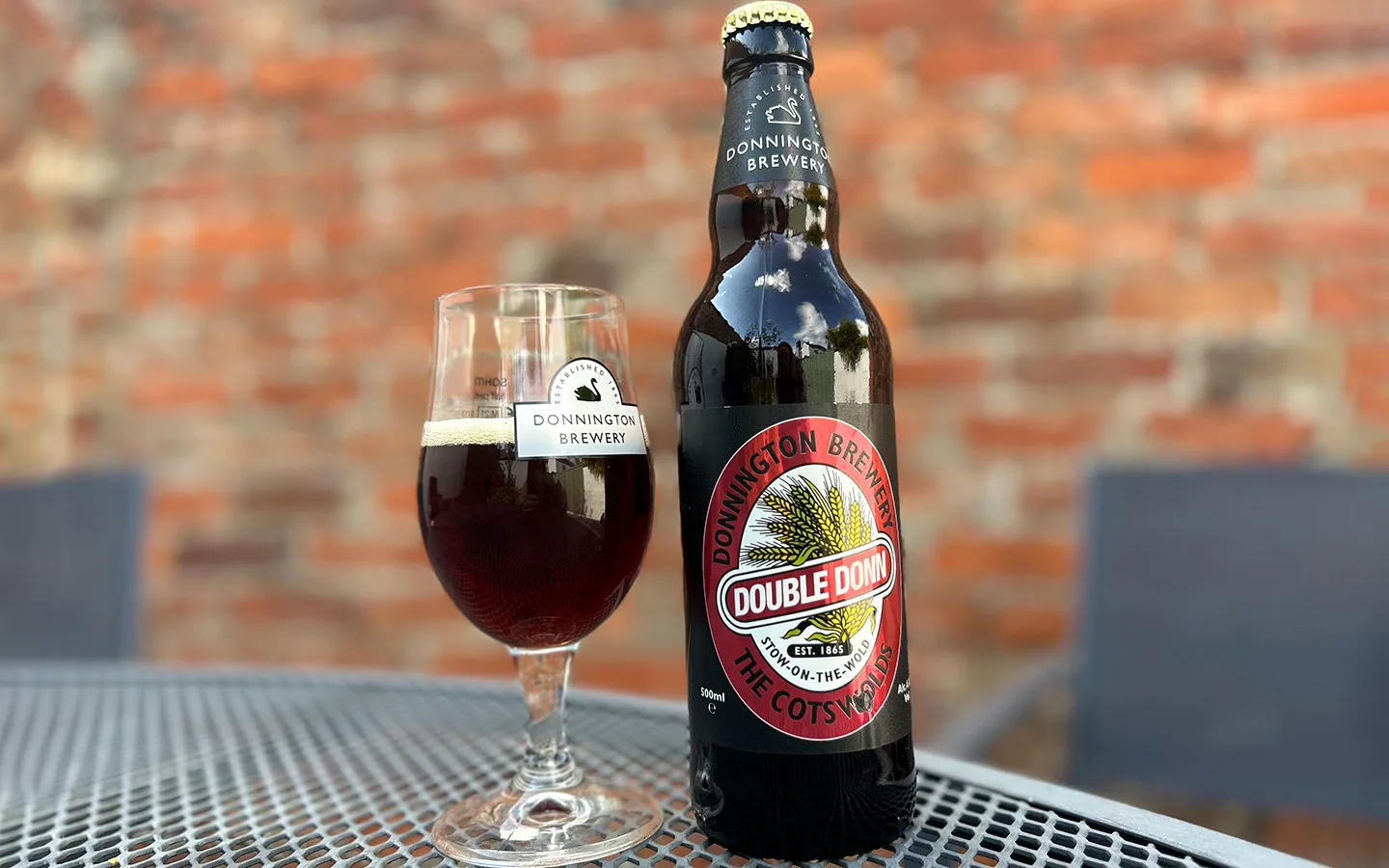 Where to stay in Moreton-in-Marsh
The four-star Manor House* is a 16th-century country house hotel on the High Street. It has 35 bedrooms – some have four-poster beds or freestanding baths and several are dog-friendly. There's a bar, brasserie and two AA Rosette restaurant plus plenty of places to relax, from the library and lounge with open log fire to the peaceful walled garden with its 300-year-old mulberry tree.
Or stay in a room where Charles I or JRR Tolkein once slept at The White Hart Royal.* This 16th-century coaching inn has stylish en-suite bedrooms ranging from small doubles to deluxe rooms with separate lounges. There's a bar and restaurant, and a cooked breakfast is included.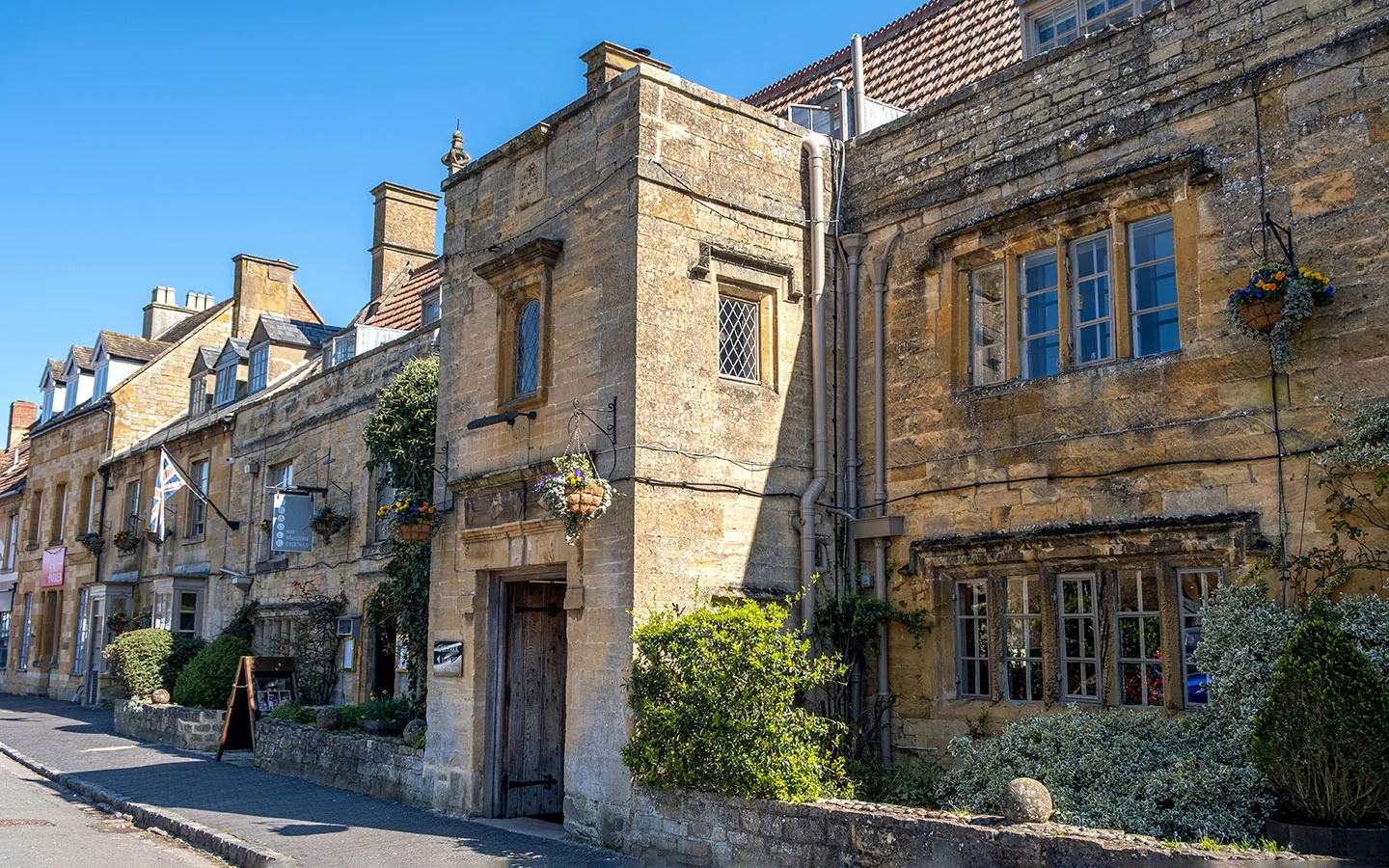 The Redesdale Arms Hotel* is another historic coaching inn, this time built in 1650 with characterful Cotswold stone walls and oak beams. Its 34 bedrooms are split between the main building and a converted stables, with a mix of doubles, twins, family rooms and junior suites.
If you prefer self-catering, Century House* is a Grade II-listed holiday cottage with views of St David's Church. It has three bedrooms and can sleep up to eight people. There's lots of historic charm, an open-plan lounge/diner with woodburner, well-equipped kitchen and courtyard.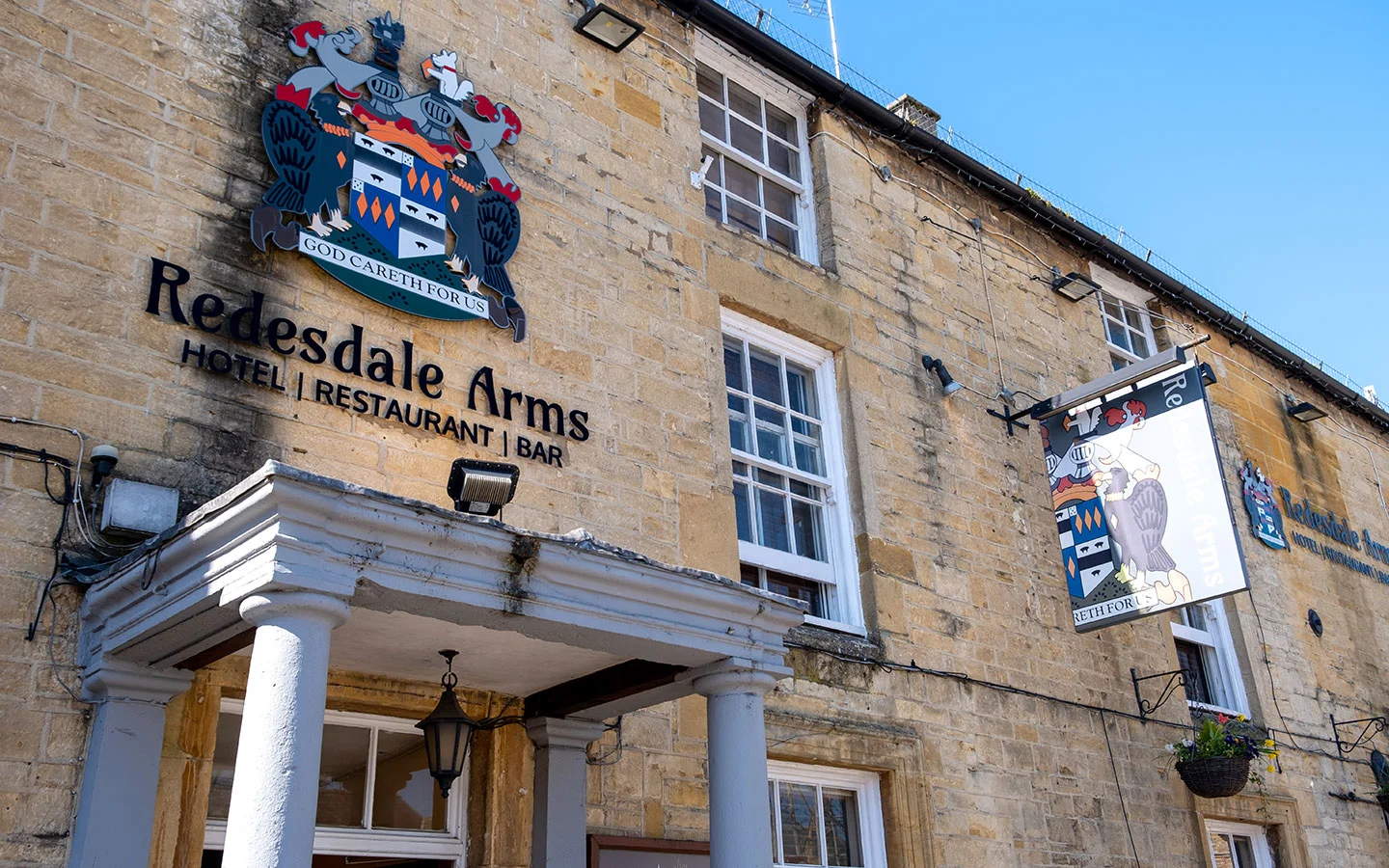 How to get to Moreton-in-Marsh
Moreton-in-Marsh by car
Moreton-in-Marsh is located at the junction of the A429 (with Stow-on-the-Wold 4.5 miles to the south) and the A44 (with Broadway 10 miles to the west and Chipping Norton 8.5 miles to the east).
Pay and display car parking is available at the Old Market Way Car Park (GL56 0JY), which has two electric vehicle charging points, and at the train station (GL56 0AA). There's also some free on-street parking along the High Street, though this is restricted during the Tuesday market.
Moreton-in-Marsh by public transport
Moreton-in-Marsh is easy to get to by public transport as it has a mainline train station with direct connections to London Paddington (1.5 hours) and Oxford (35 minutes). Or you can change at Worcestershire Parkway for trains to Cheltenham and Birmingham. You can also reach Stratford-upon-Avon using the Pulhams 51 bus, which takes 50 minutes (excluding Sundays).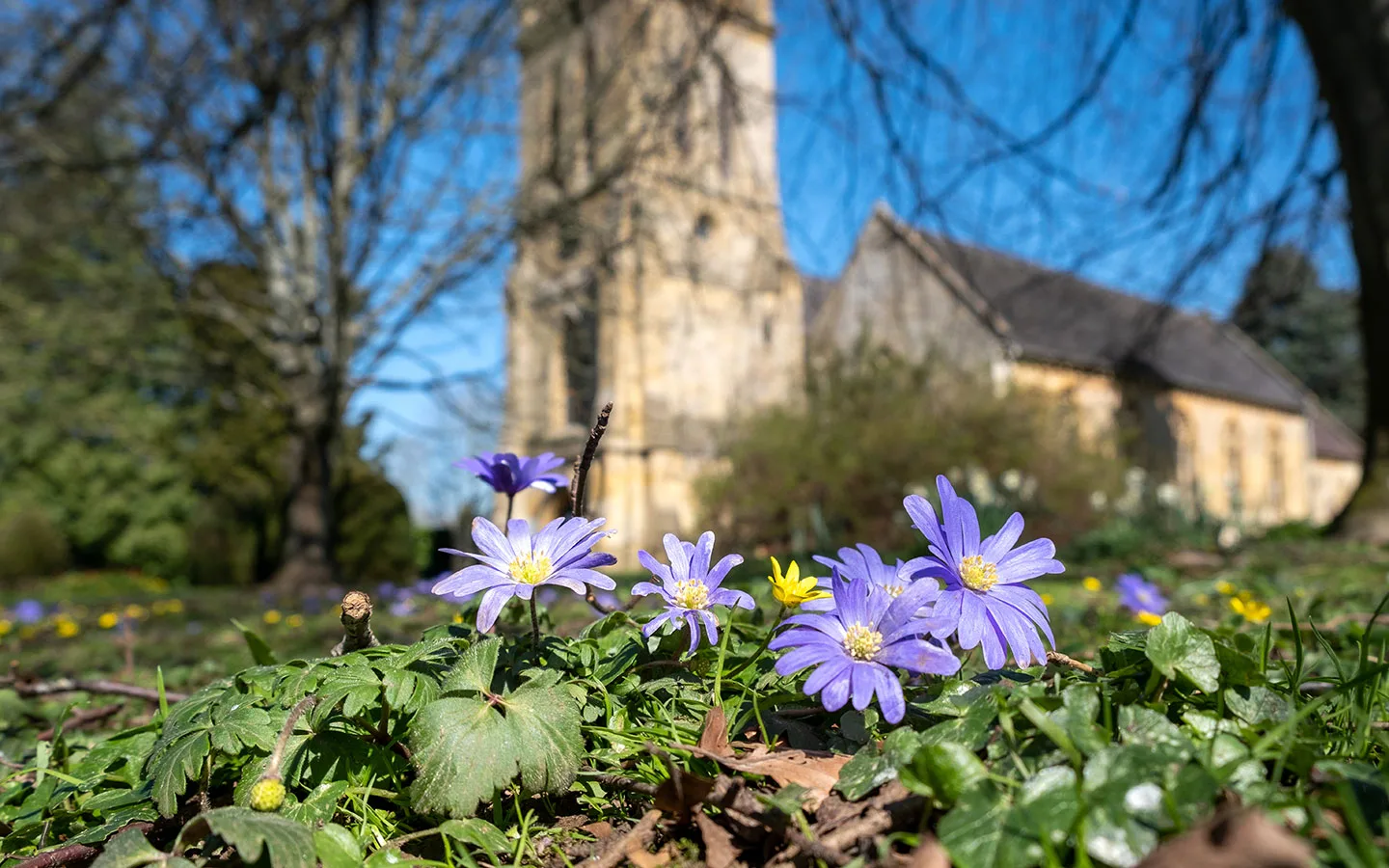 Save for later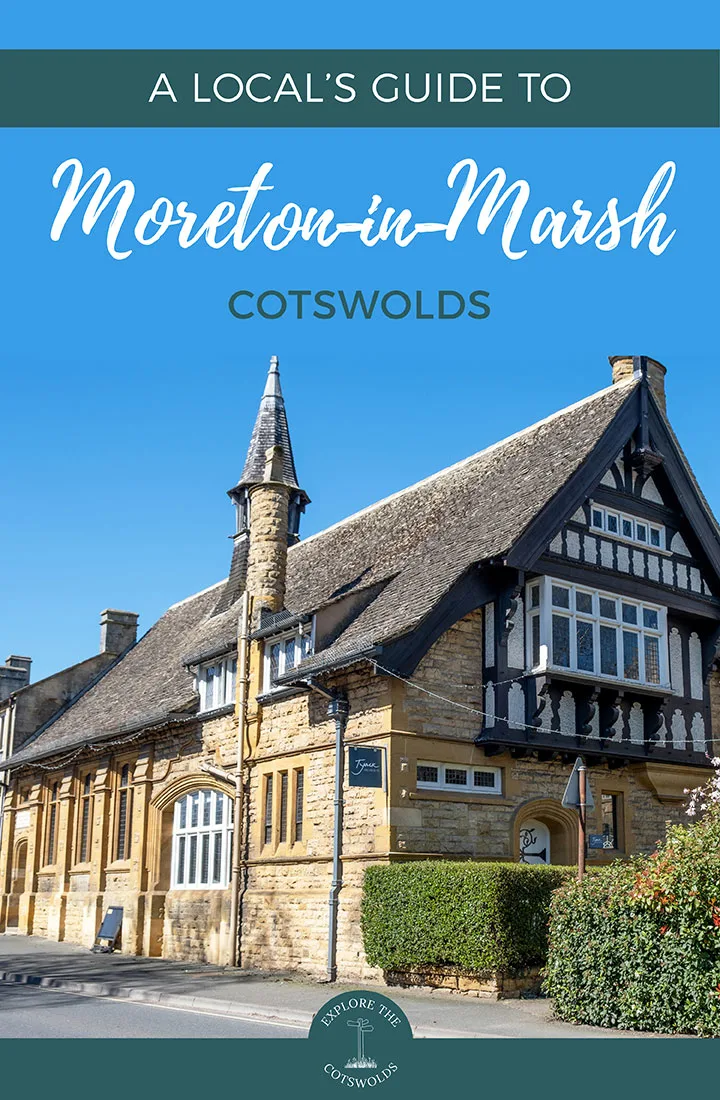 * This site contains affiliate links, where I get a small commission from purchases at no extra cost to you.