The highest of the Cotswold towns, hilltop Stow-on-the-Wold lies in the north of the region and is surrounded by pretty villages and rolling countryside. This historic wool town is known for its Market Square, its antique shops and its great selection of traditional pubs and inns – making it a Cotswold must-visit. So discover the best things to do in Stow-on-the-Wold with our local expert Kate, who gives us an insider's guide to visiting this charming Cotswold market town.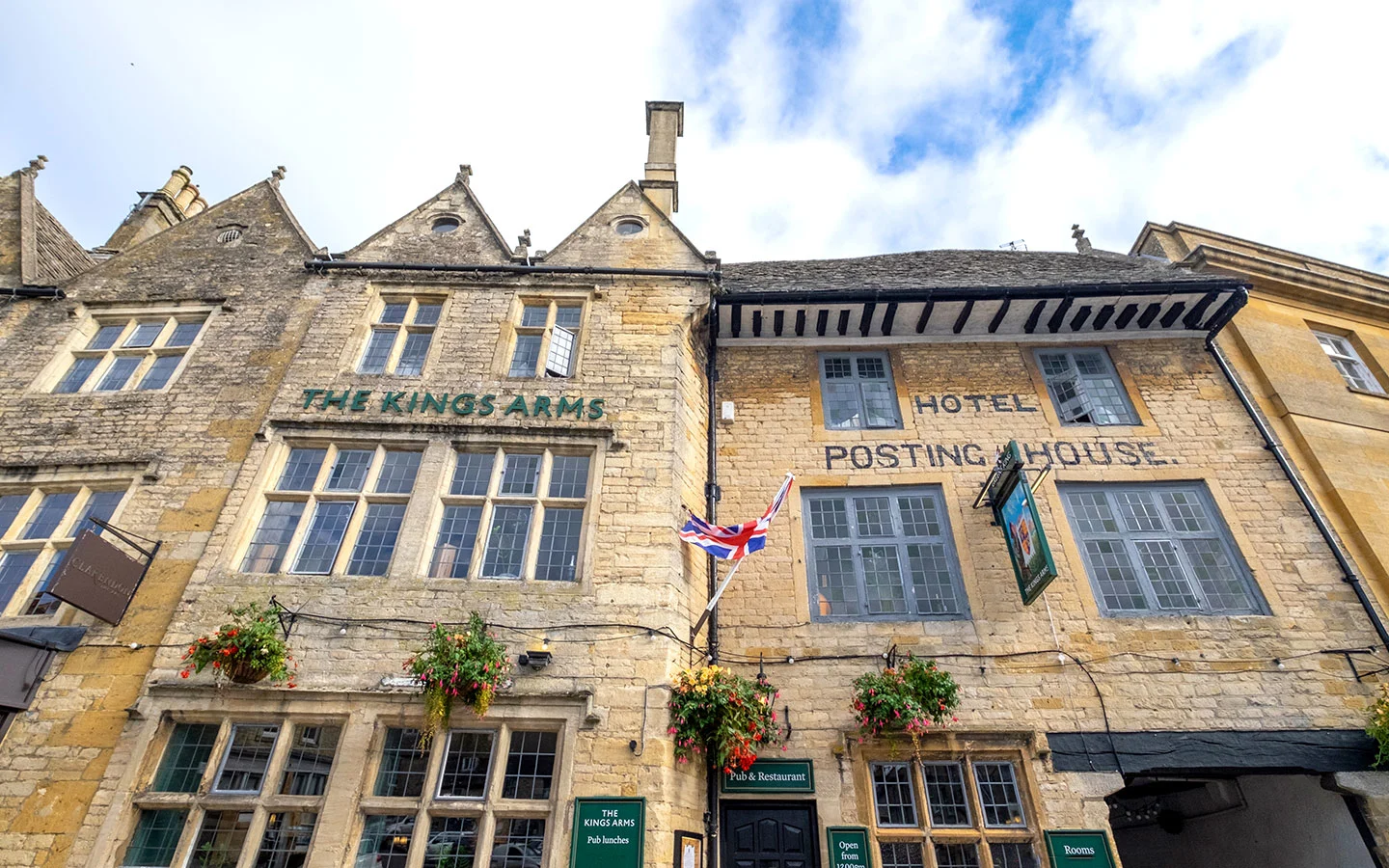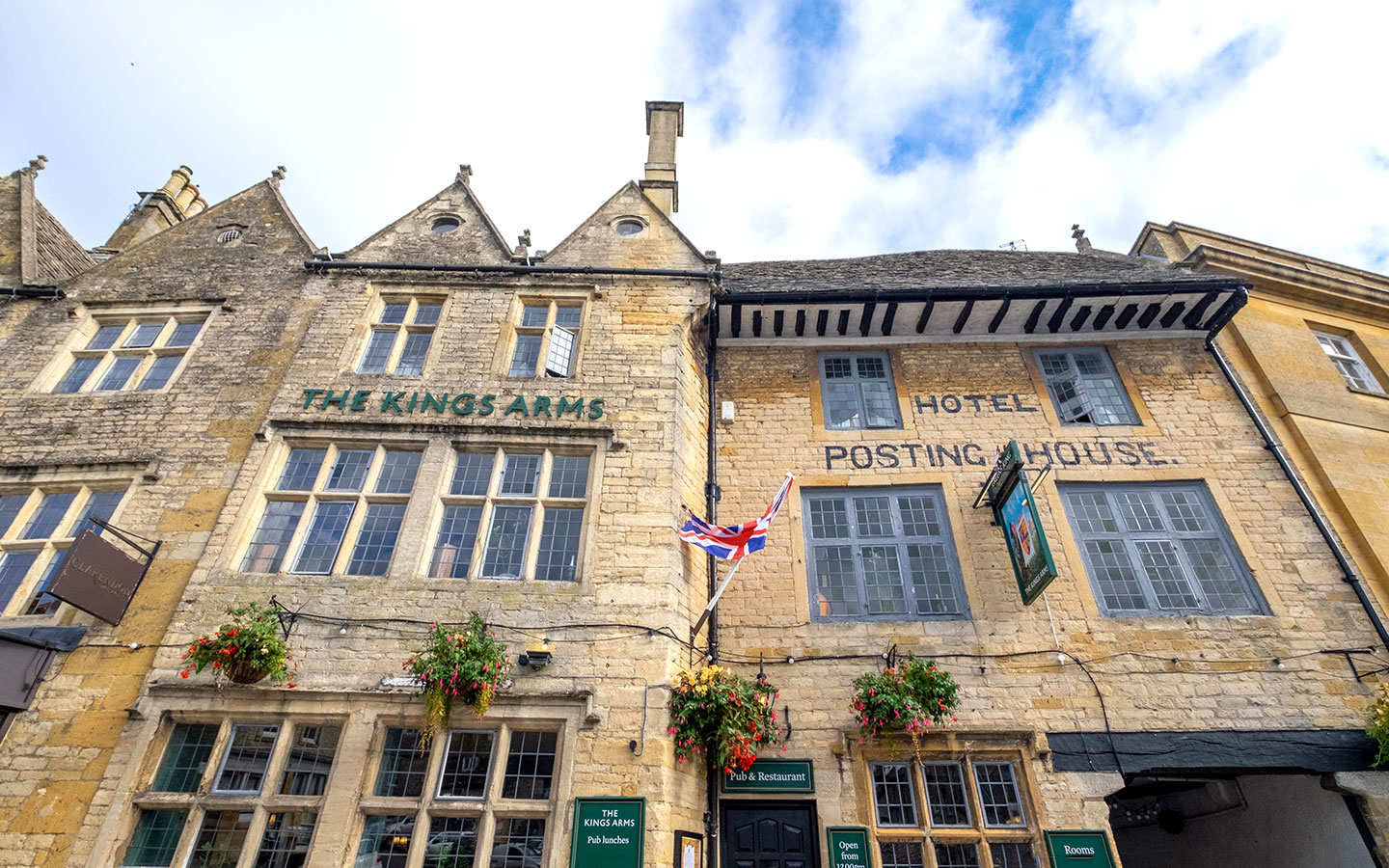 Stow-on-the-Wold's history
Stow-on-the-Wold is the highest town in the Cotswolds at 800 feet, and its hilltop location was once the site of an Iron Age fort. During the Saxon era, a missionary named Edward lived as a hermit in the town and gave it its original name – St Edward's Stowe (old English for 'holy place'). Later the word 'wold' or hill was added to make it Stow-on-the-Wold – holy place on the hill.
Stow-on-the-Wold's location at the junction of six roads, including the Roman Fosse Way from Exeter to Lincoln, helped it become an important trade centre.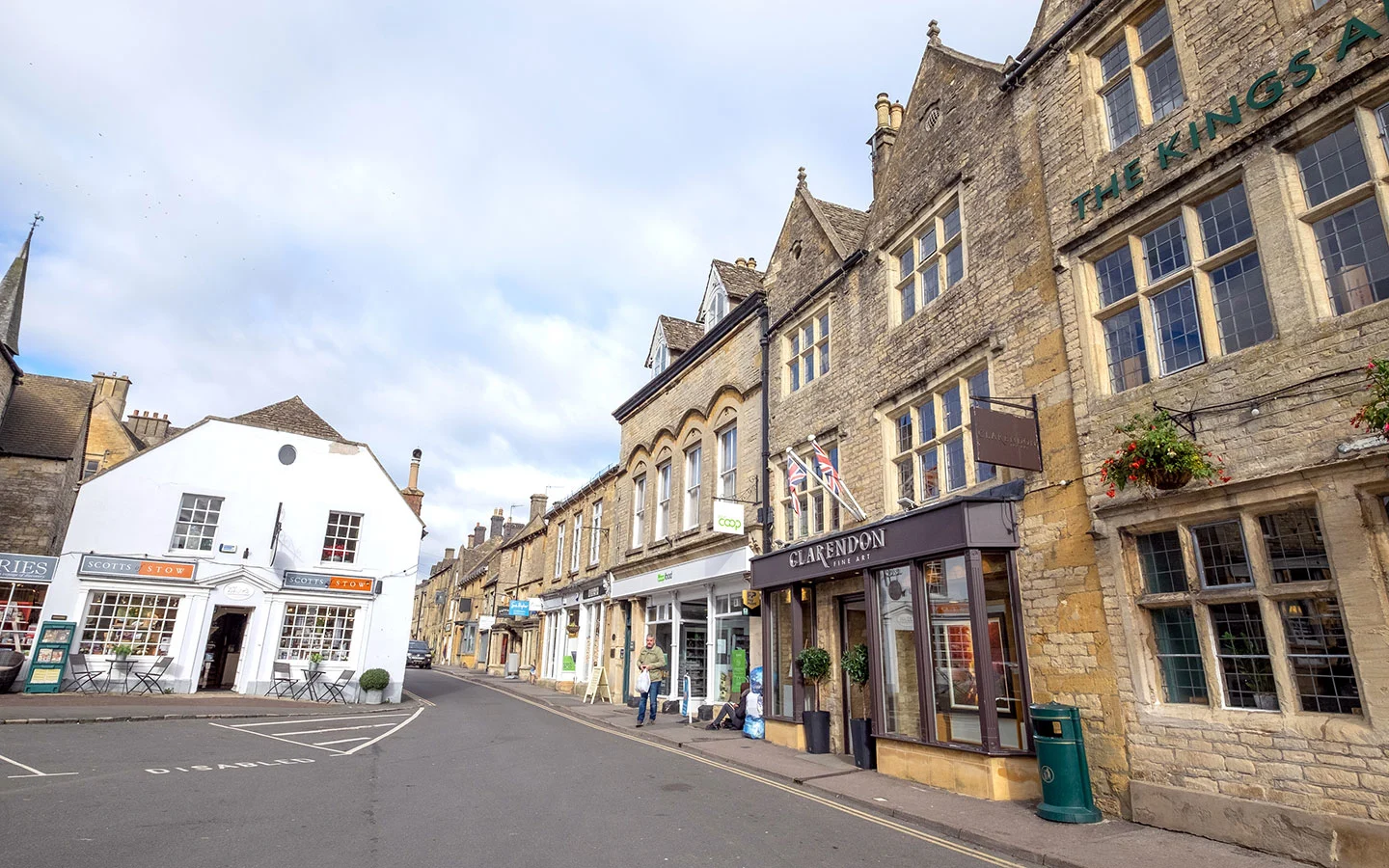 In 1476, Edward IV awarded a charter to Stow to hold two annual fairs – on 12 May and 24 October. These charter fairs grew into major events for the wool trade, with thousands of sheep brought into town to sell, and Stow's importance grew. Once the wool trade declined horse fairs were held instead, and the town still hosts annual Gypsy Horse Fairs around the same dates.
Stow-on-the-Wold's St Edward's Church also played a significant role in the English Civil War. The Battle of Stow-on-the-Wold took place on 21 March 1646 when the Parliamentarians overwhelmed the Royalists in nearby Donnington. The Royalists fled back to Stow, where legend has it Digbeth Street ran red with blood, and over 1000 survivors were imprisoned in the church.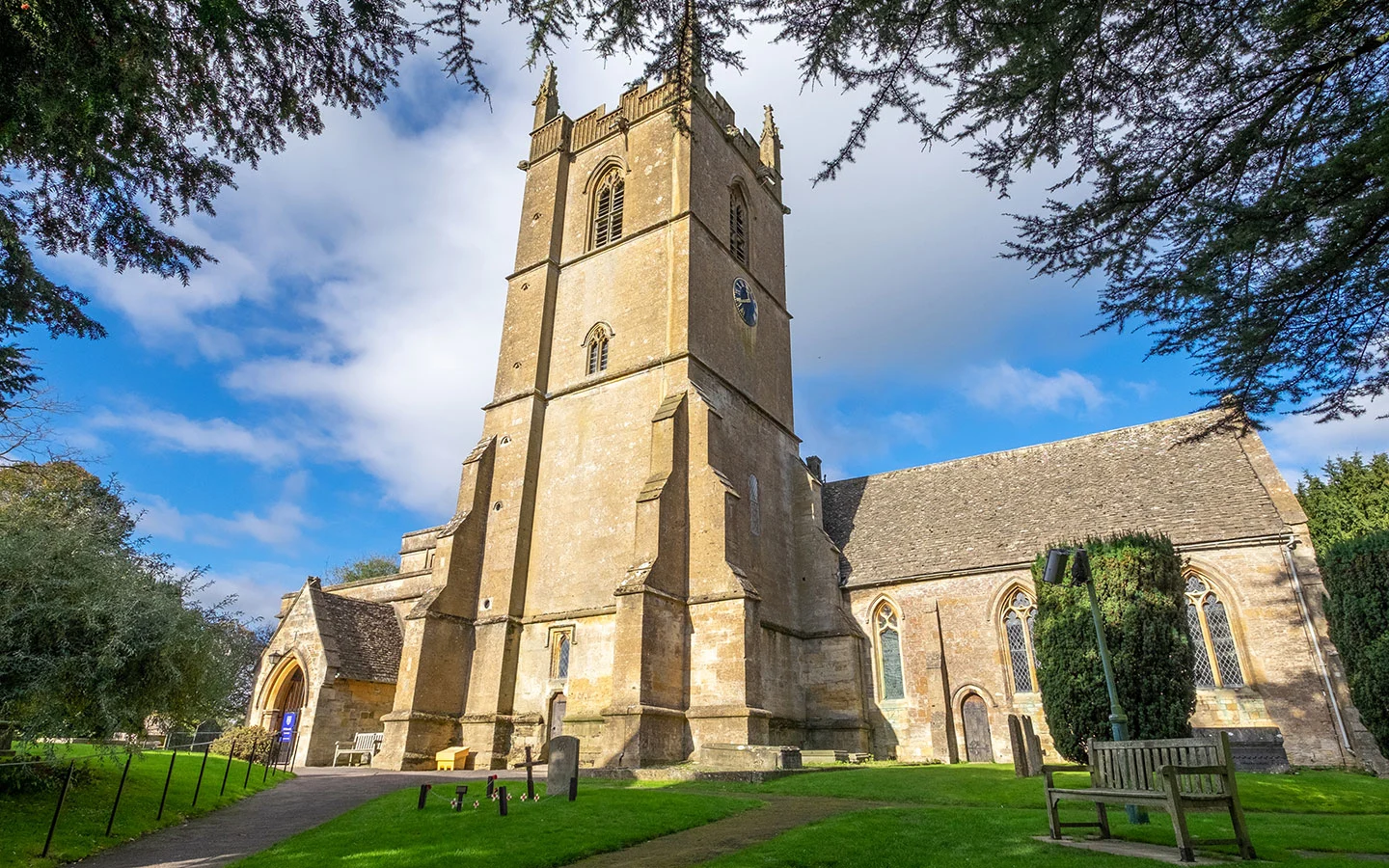 The best time to visit Stow-on-the-Wold
Stow-on-the-Wold gets the best weather in July and August, when average high temperatures reach 23ºC (73ºF). But summer is also the busiest season in the Cotswolds with coaches full of day-trippers, so it gets very crowded and parking can be difficult – visit early or late in the day to avoid the worst crowds and make sure to book accommodation and restaurants in advance.
Spring and autumn are quieter with good weather for walking, though pack a coat and umbrella in case of rain showers. Stow's hilltop position also means it can be windy – as was memorialised in the 18th-century rhyme "Stow-on-the-Wold, where the wind blows cold". Winter is usually grey and chilly, but there are festive events like the Christmas tree festival to enjoy.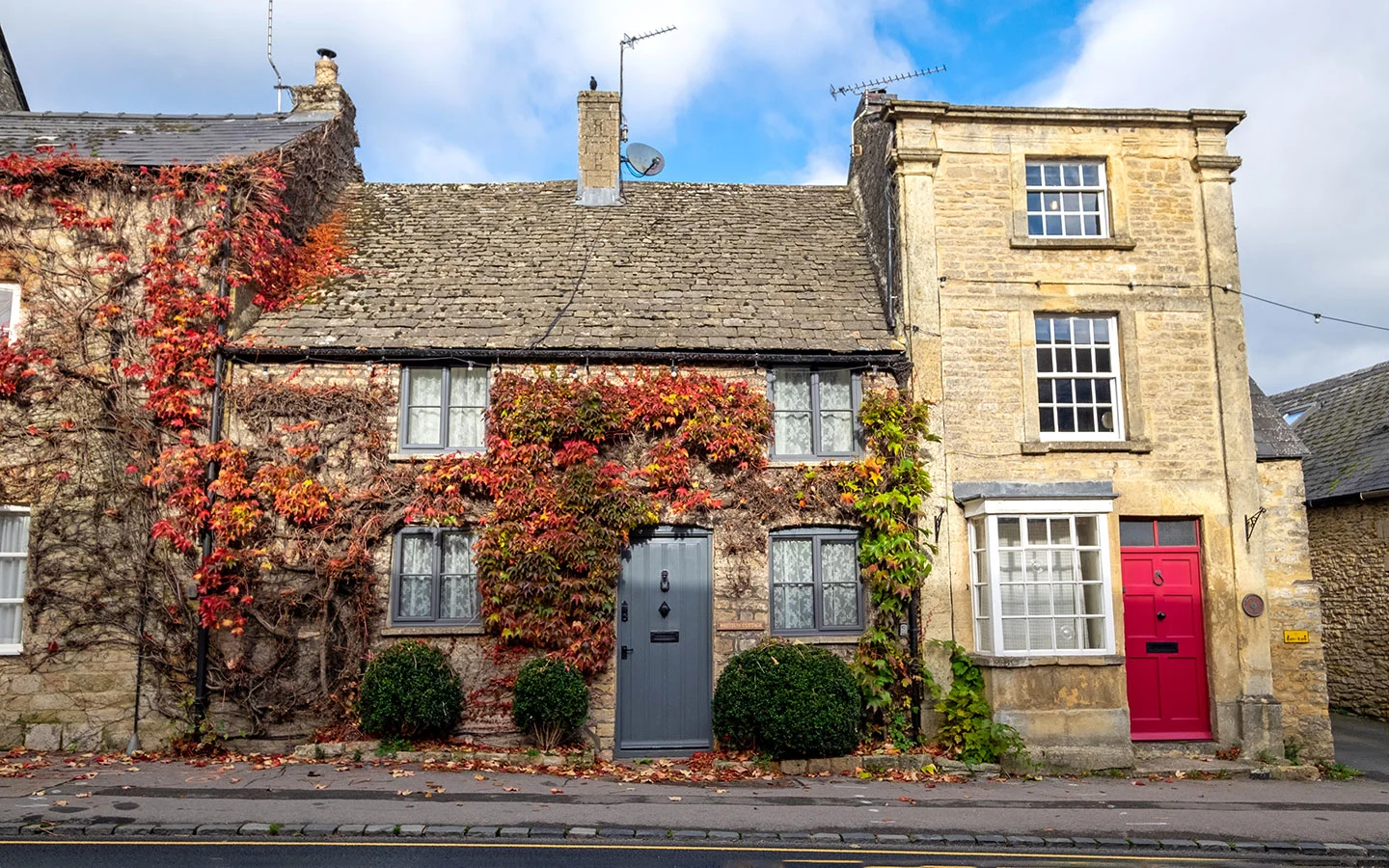 Map of Stow-on-the-Wold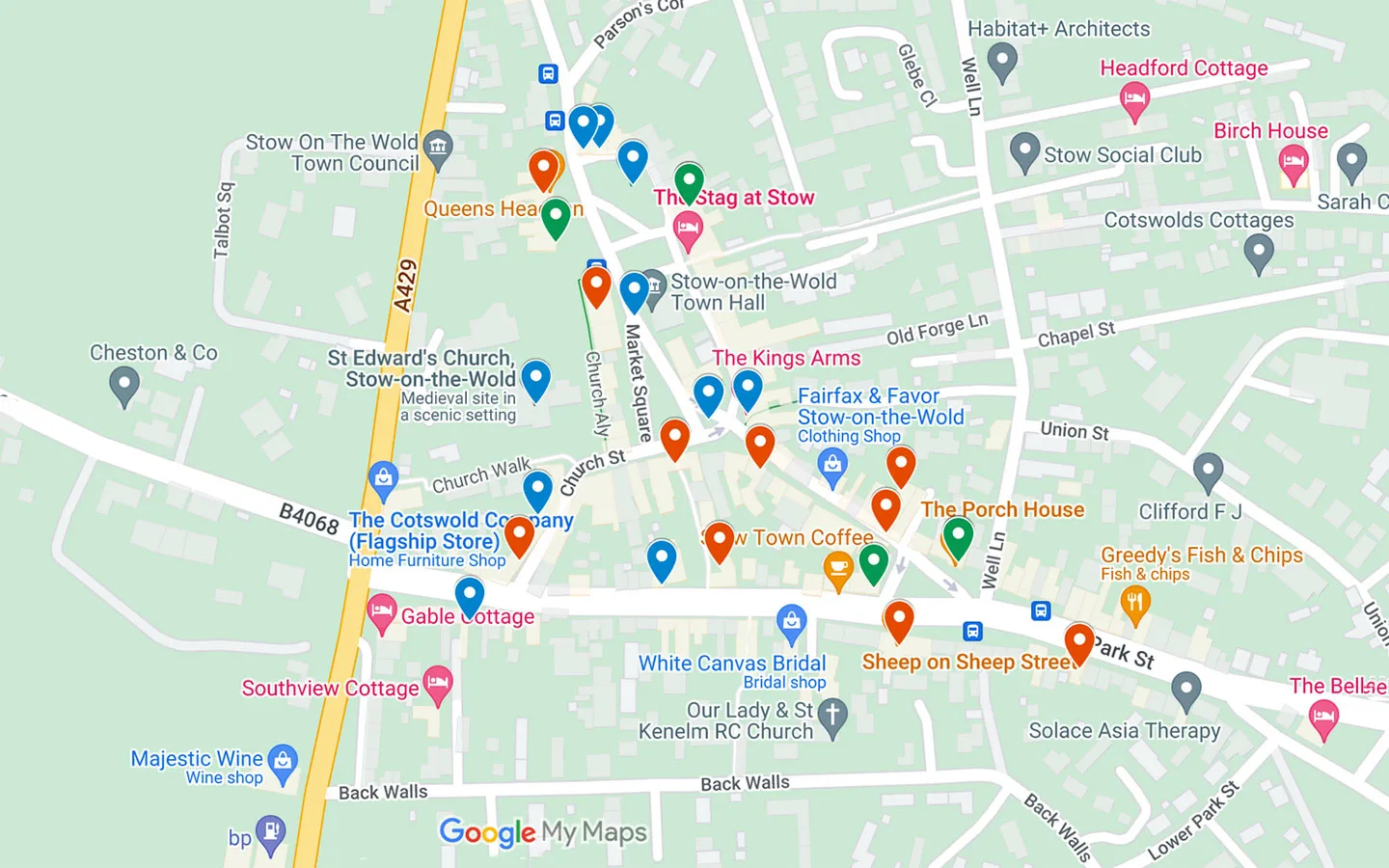 Things to do in Stow-on-the-Wold
The Market Square
The historic heart of Stow-on-the-Wold is its impressive Market Square, which has been hosting regular markets since 1107. In Stow's wool trade heyday, over 20,000 sheep changed hands here. Look out for the high-walled, narrow alleyways leading off the square – they were known as 'tures' and were used to funnel sheep to market from pastures in nearby Sheep Street.
The Market Square is surrounded by many 16th-century golden stone buildings which now house antique shops, art galleries, gift and interiors shops. There are also reminders of Stow's history, like the medieval wooden stocks on the green, which were originally used to punish criminals, whose wrists and ankles were bound while passers by hurled insults and rotten food.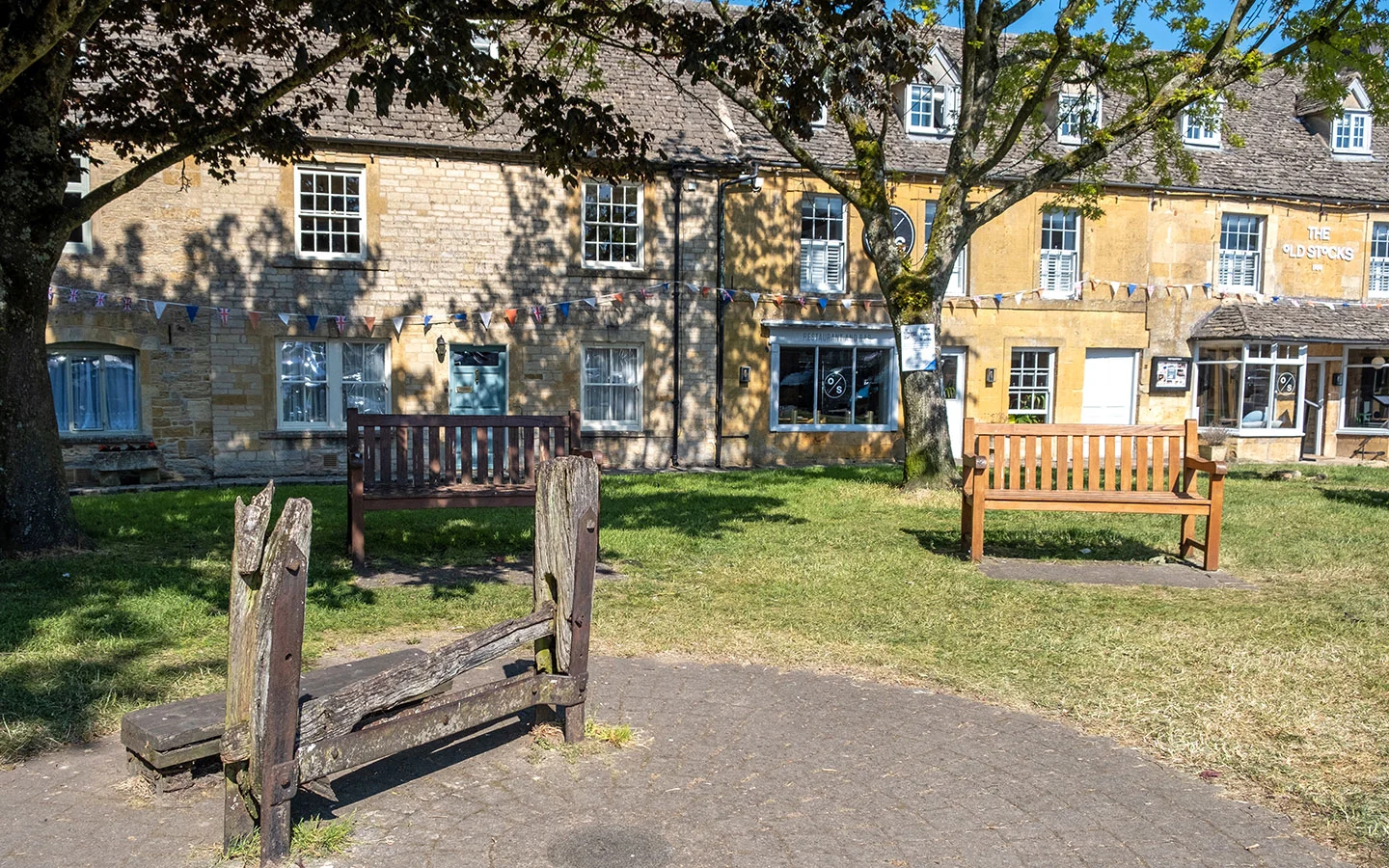 There's also the Market Cross, which was built as a reminder for merchants to trade fairly, the 15th-century Crooked House on the west side of the Market Square, and the 500-year-old King's Arms, where it's said Charles I spent the night on his way to the Battle of Naseby in 1645.
The Market Square has still kept its original role too, hosting a monthly farmers' market.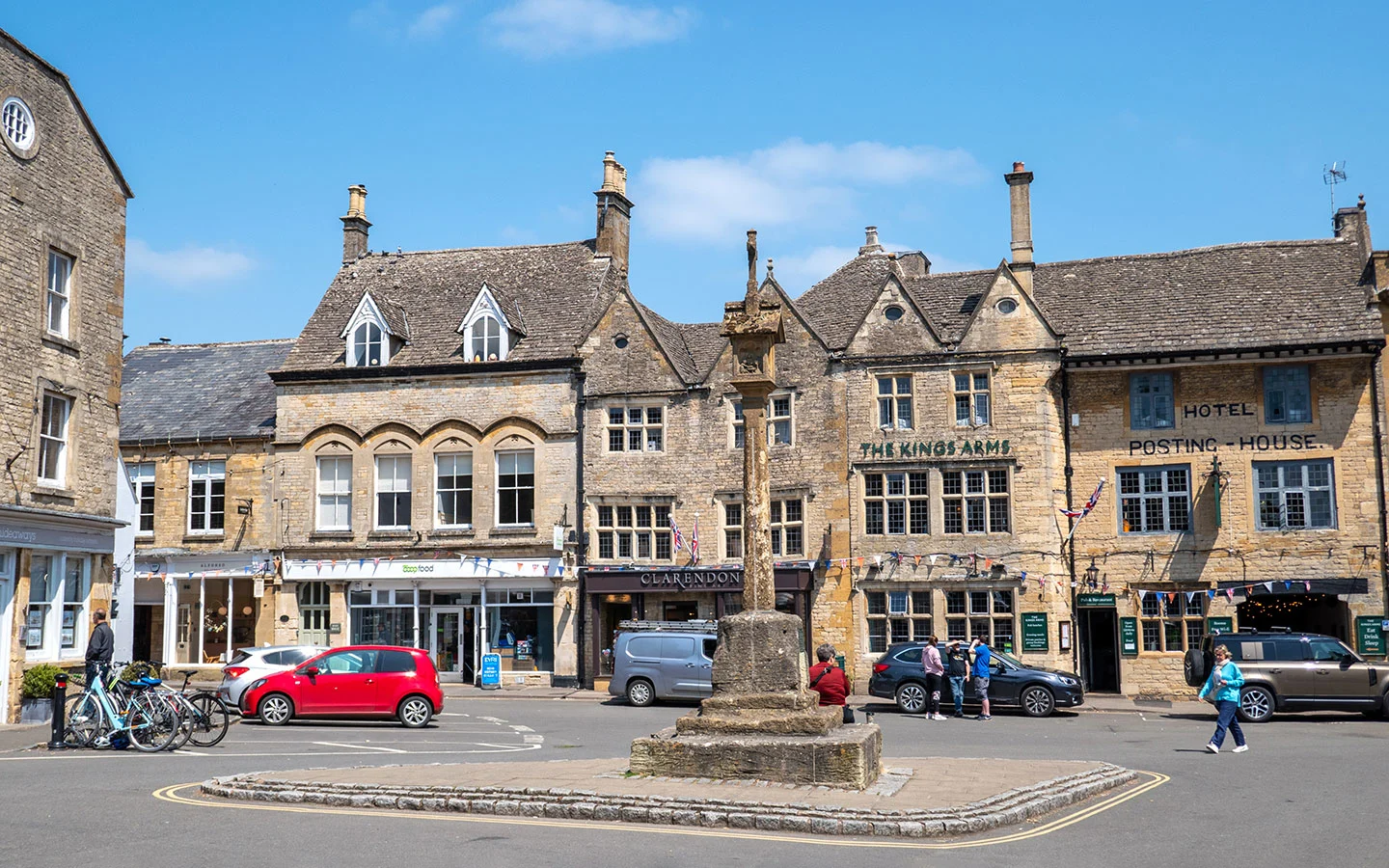 St Edward's Church
Stow's St Edward's Church dates back to the Middle Ages, but the building you see today is mixture of elements from the 11th century to Victorian period. It is named after the town's patron saint, who gave it its original name Edwardstow. Inside you can see a memorial to Royalist soldier Captain Hastings Keyte and a painting of the Crucifixion by Flemish artist Gaspar de Craeyer.
But it's the church's north entrance which has become one of the top things to do in Stow-on-the-Wold. The Yew Tree Door – a thick wooden door studded with nails and surrounded by gnarled oak trees – looks like a gateway to another world. It's rumoured to have inspired JRR Tolkien to create the Doors of Durin in the Lord of the Rings trilogy, but no one knows for sure.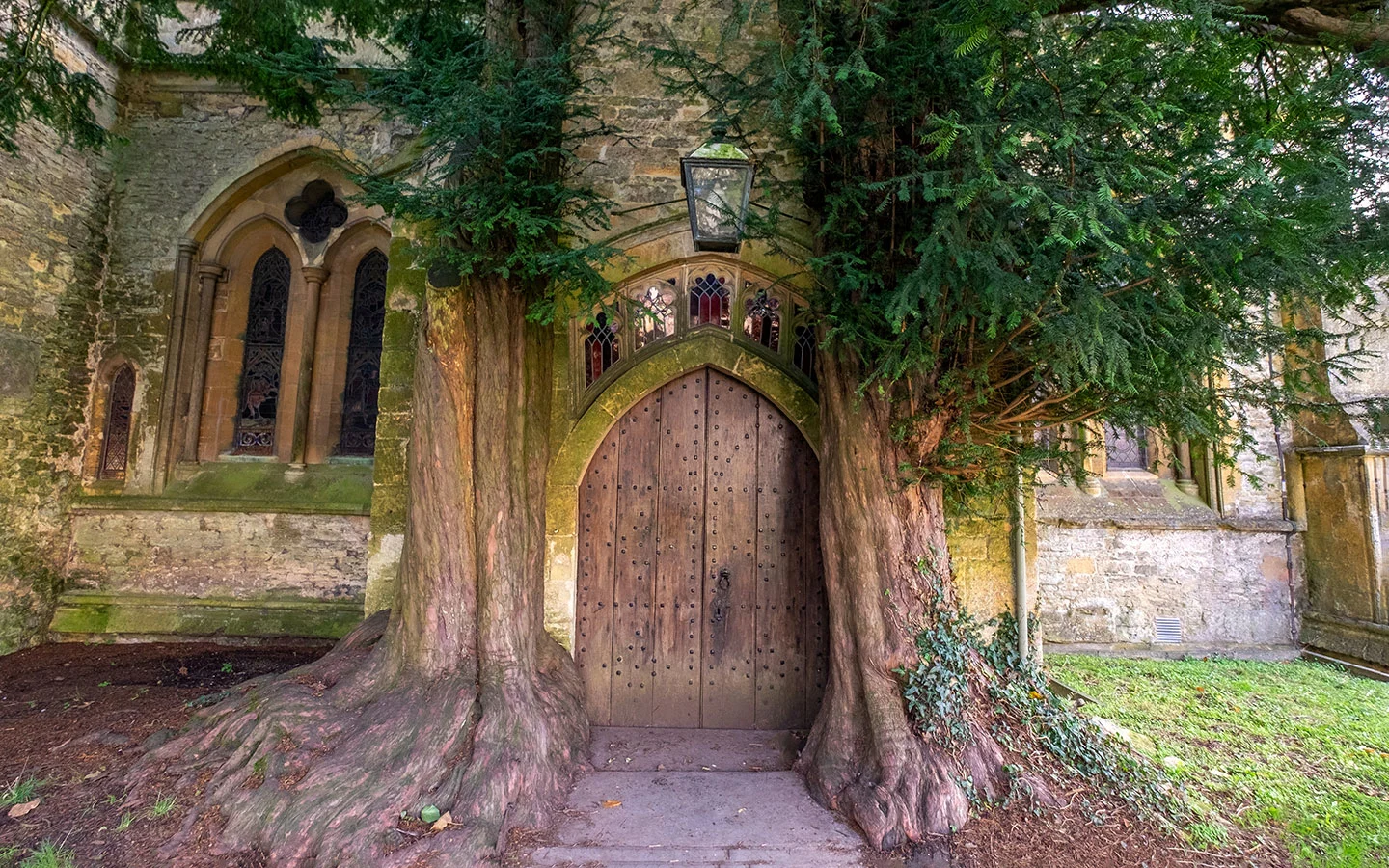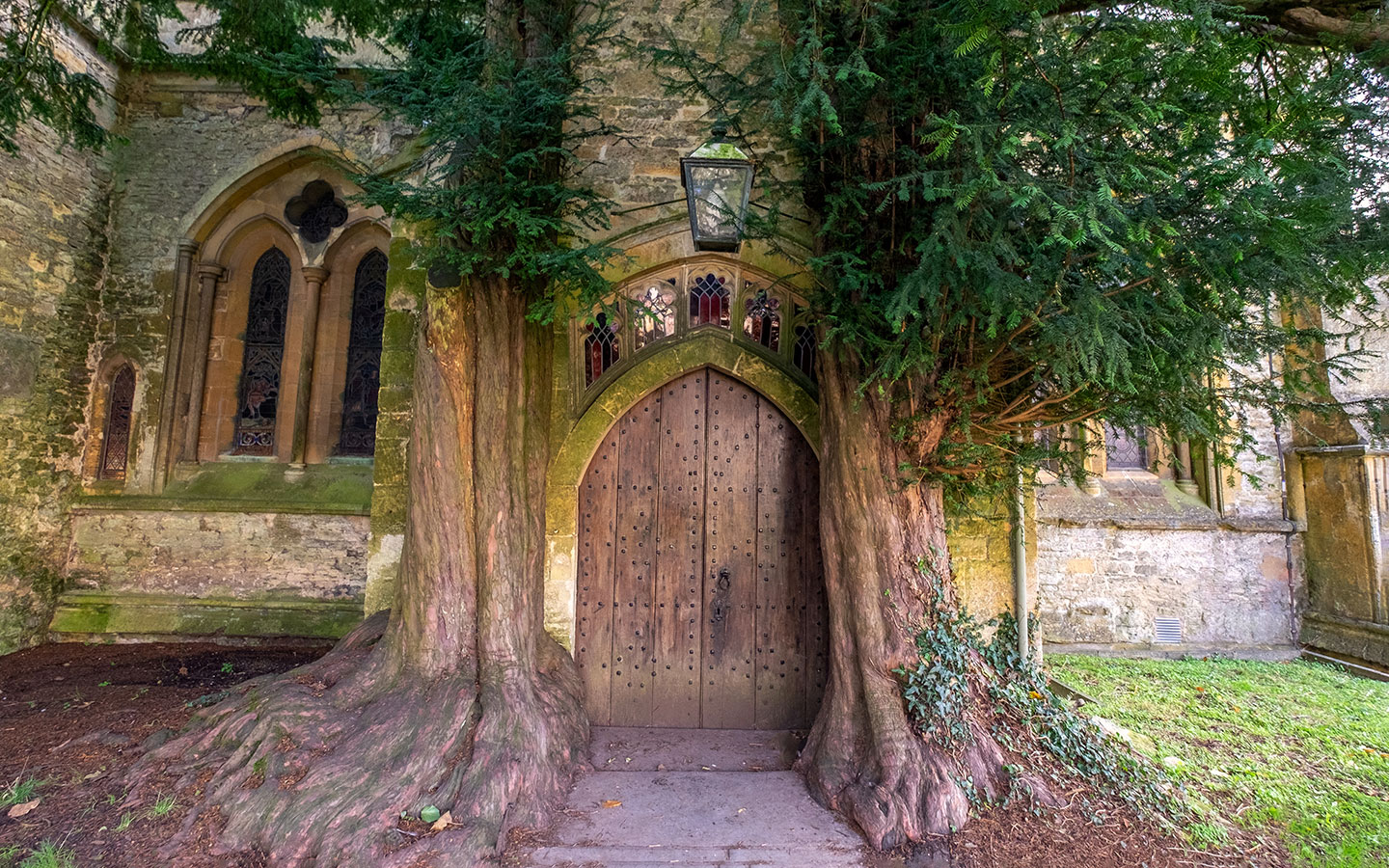 History tours
If you want to learn more about the history of Stow-on-the-Wold, the Stow Civic Society run guided walks on Sunday mornings at 10.30am between the start of April and the end of September. The tours cost £5 per person, start from next to the stocks and last around 90 minutes.
They're run by members of the Civic Society who have a wealth of local knowledge, taking you through the town's history – from the wool trade to the English Civil War – and sharing the stories behind local landmarks and characters as you walk around the Market Square.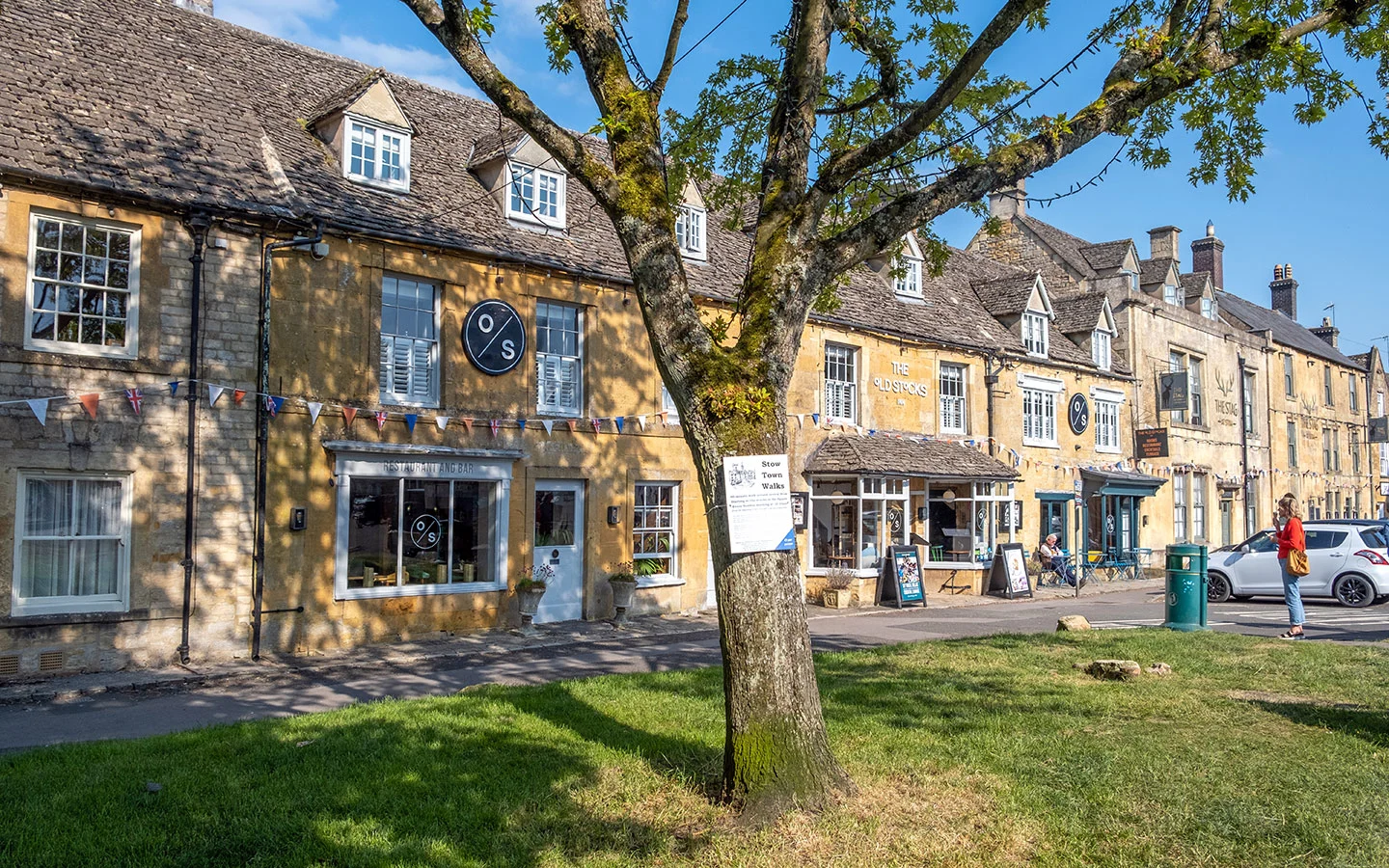 Art and antique shops
Stow-on-the-Wold has developed a reputation as one of best places in the Cotswolds to shop for antiques. There's a wide selection of antique emporiums around the Market Square and on Sheep Street to browse for treasures. Stores like the Tara Antique Centre and Tudor House show off finds from a selection of different dealers, and Styles of Stow specialise in antique clocks.
There are also several art galleries around town where you can find contemporary British painting and sculptures, including the Red Rag Gallery on Church Street and the Fosse Gallery.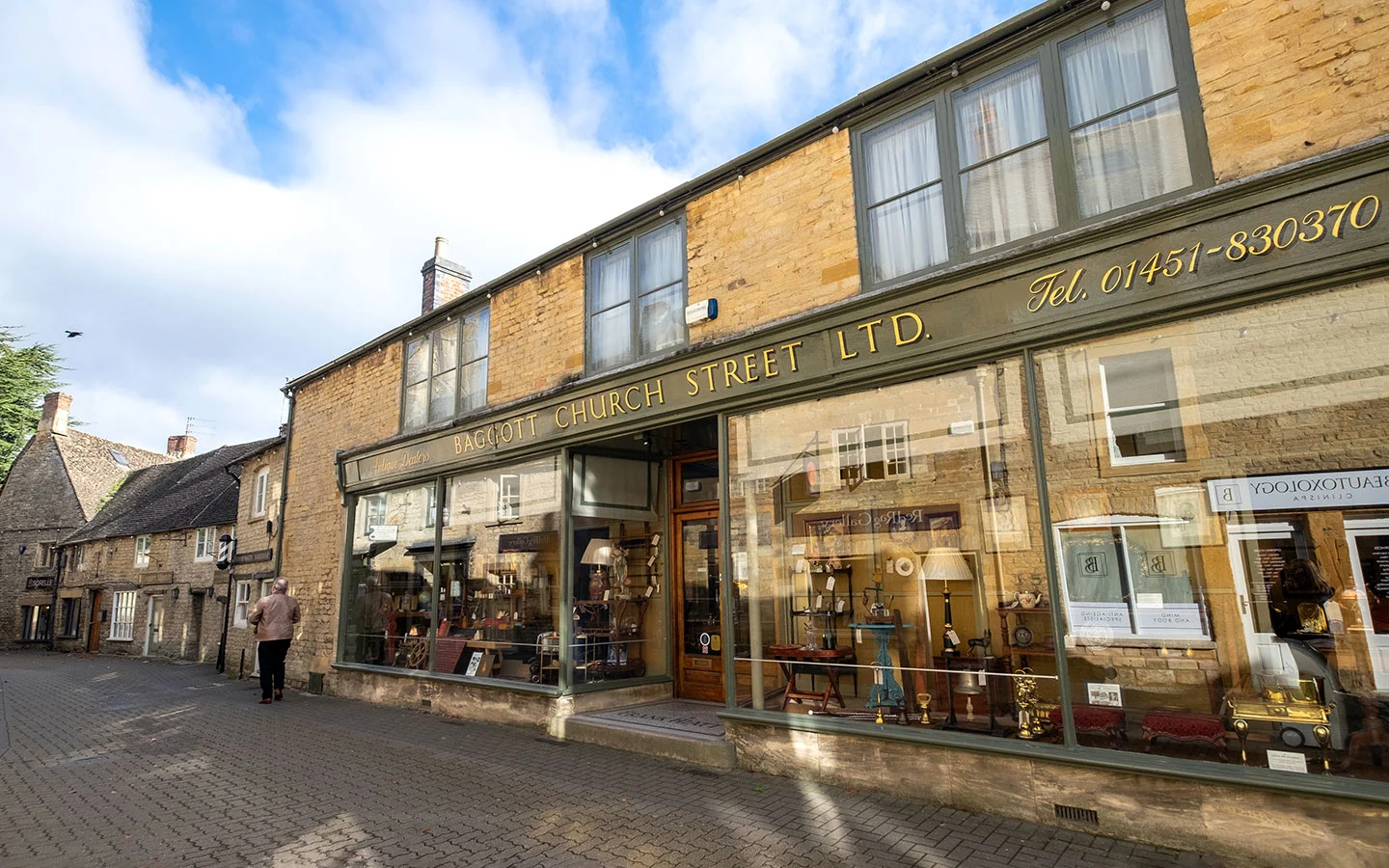 Featured business: Red Rag Gallery [AD]
Red Rag Gallery is directly off Market Square, a few moments along Church Street. The gallery is deceptively spacious, having been created by merging three 17th-century cottages. Over the past 20 years, it has gained a reputation as a leading international contemporary art dealer, specialising in living British artists with a strong interest in Scottish work.
Red Rag represents 70 artists, chosen for the quality of their work and potential longevity, ranging from emerging talent to those with international reputations. The gallery stages a new exhibition each month, which means there is always something new to see or buy.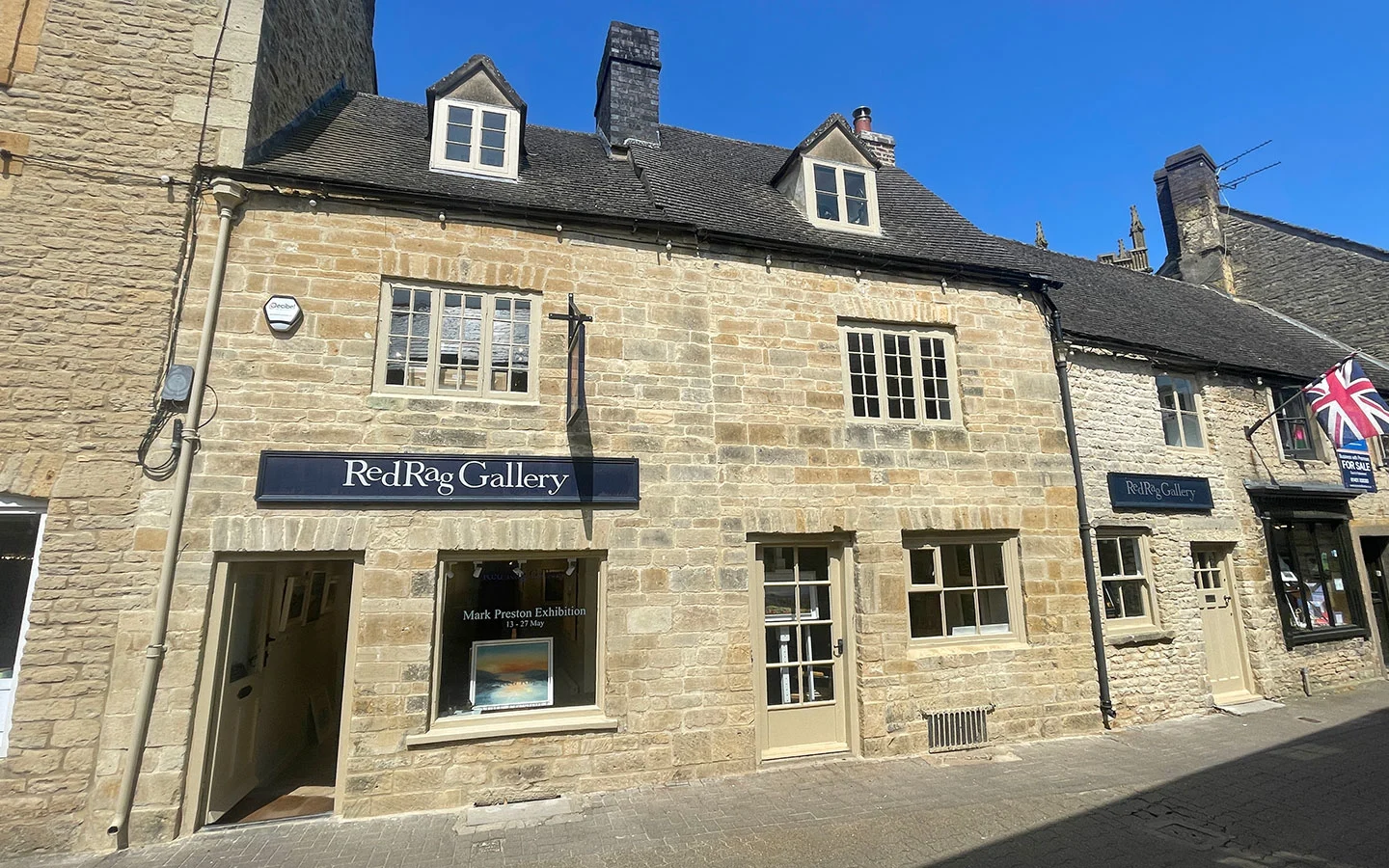 Walks from Stow-on-the-Wold
Stow-on-the-Wold is surrounded by beautiful Cotswold countryside perfect for walking. One of the most popular Stow walks is the 4.2-mile route to Bourton-on-the-Water via Lower Slaughter. It's a great way to visit three of the Cotswolds' most popular spots, with bus connections back to Stow – or you can make it a circuit with a 6.1-mile return walk via Wyck Rissington and Icomb.
There's also a lovely 5.3-mile circular route from Stow-on-the-Wold which runs along the River Dikler and then through the villages of Lower Swell and Maugersbury.
Or if you want a bigger challenge, Stow is also on the route of several long-distance walks including the Gloucestershire Way (94 miles), the Donnington Way which connects 15 Donnington Brewery pubs (62 miles), and the Monarch's Way from Worcester to Shoreham (589 miles).
Things to do near Stow-on-the-Wold
Stow-on-the-Wold is in a great position for exploring the Cotswolds, within easy reach of popular towns and villages including Bourton-on-the-Water (4 miles), Upper and Lower Slaughter (3 miles) and foodie favourites Kingham (5 miles) and Daylesford Organic (4 miles).
Cotswold Farm Park (5 miles) is one of the area's top family attractions. It's owned by Countryfile presenter Adam Henson and helps preserve over 50 historic rare breeds of British farm animals. There are demonstrations, farm safaris, feeding and petting sessions for kids, as well as seasonal events like spring lambing, summer glamping and a Christmas light trail.
Stow is also within easy reach of the Batsford Arboretum (6 miles), as well as the beautiful gardens of Bourton House (5 miles) and Indian-inspired Sezincote House and Gardens (7 miles) which are close by. And the fascinating Chastleton House National Trust property, preserved as a time capsule of family life over the last 400 years, is just six miles away.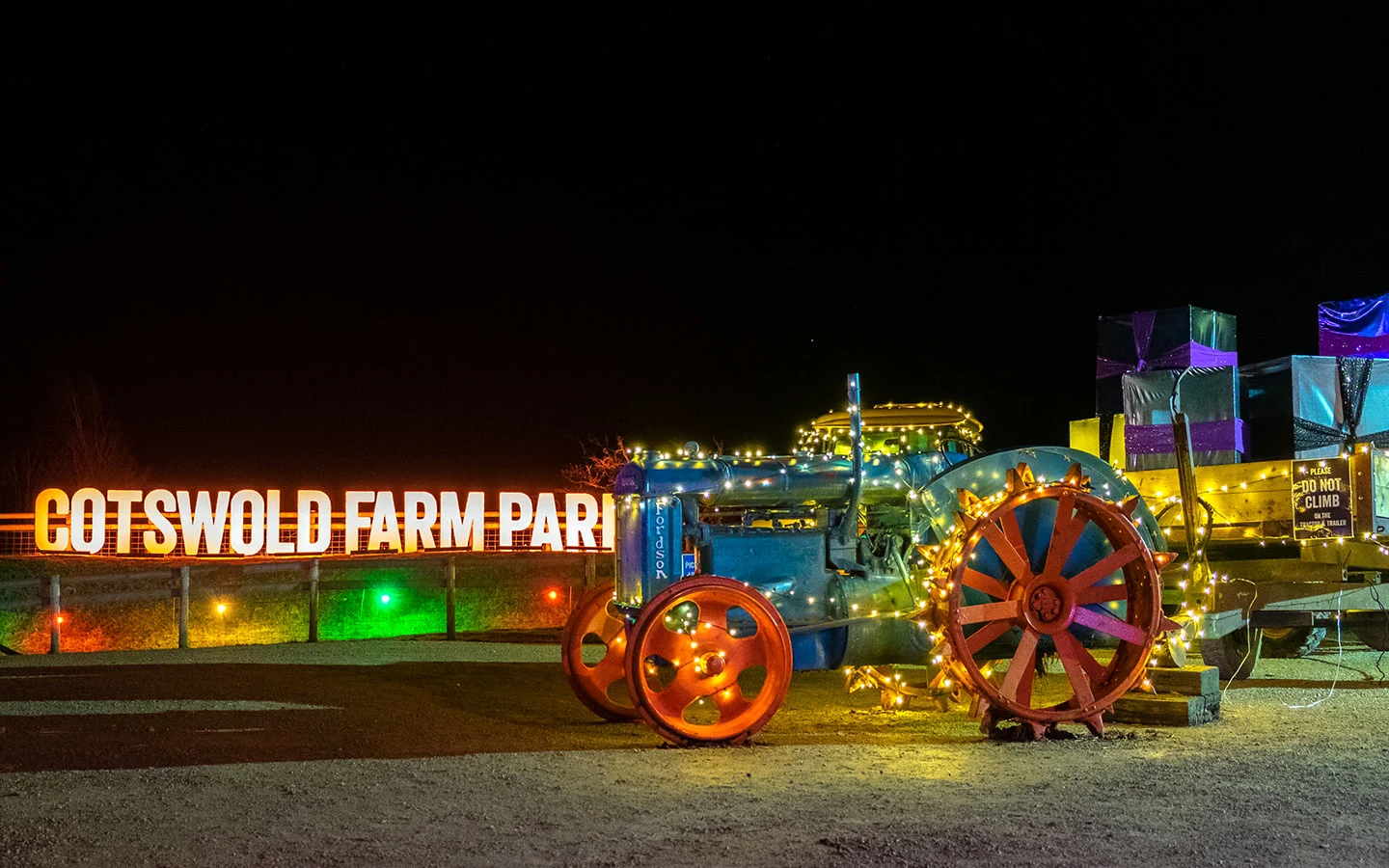 Places to eat in Stow-on-the-Wold
Cafés and delis
The Hive is a friendly, welcoming café on Digbeth Street. They do a fantastic brunch, with everything from a sausage sarnie to a Full English or smashed avocado, chilli jam and poached eggs – and it's available until 2.30pm on Sundays so you don't have to get up too early.
Stow-on-the-Wold has a host of traditional English tearooms where you can call in for tea and cake, or treat yourself to a full traditional afternoon tea with sandwiches, scones and dainty pastries. Huffkins bakery and tea room is part of a small chain around the Cotswolds, located in a 17th-century building in the Market Square and known for its own-blend tea and lardy cakes.
Our other favourites include the Old Bakery Tearoom on Digbeth Street for their delicious scones. And Coach House Coffee for their cosy feel and range of gluten-free cakes.
If you're self-catering or fancy a picnic, there are a good selection of delis and takeaways around Stow. The Cotswold Cheese Company stocks over 80 artisan cheeses sourced from around the world. D'Ambrosi Fine Foods offers chef-prepared meals to take away. And Cotswold Baguettes sells hot and cold baguettes and jacket potatoes, all packed with tasty fillings.
And if you're visiting Stow-on-the-Wold on the second Thursday of the month (or the second or last Thursday of the month between April and September), don't miss the Stow Farmers' Market. The market takes place from 9am–1pm in the Market Square, with oils, chutneys, jams, bread, meats and cheeses on sale, all available to buy direct from local producers.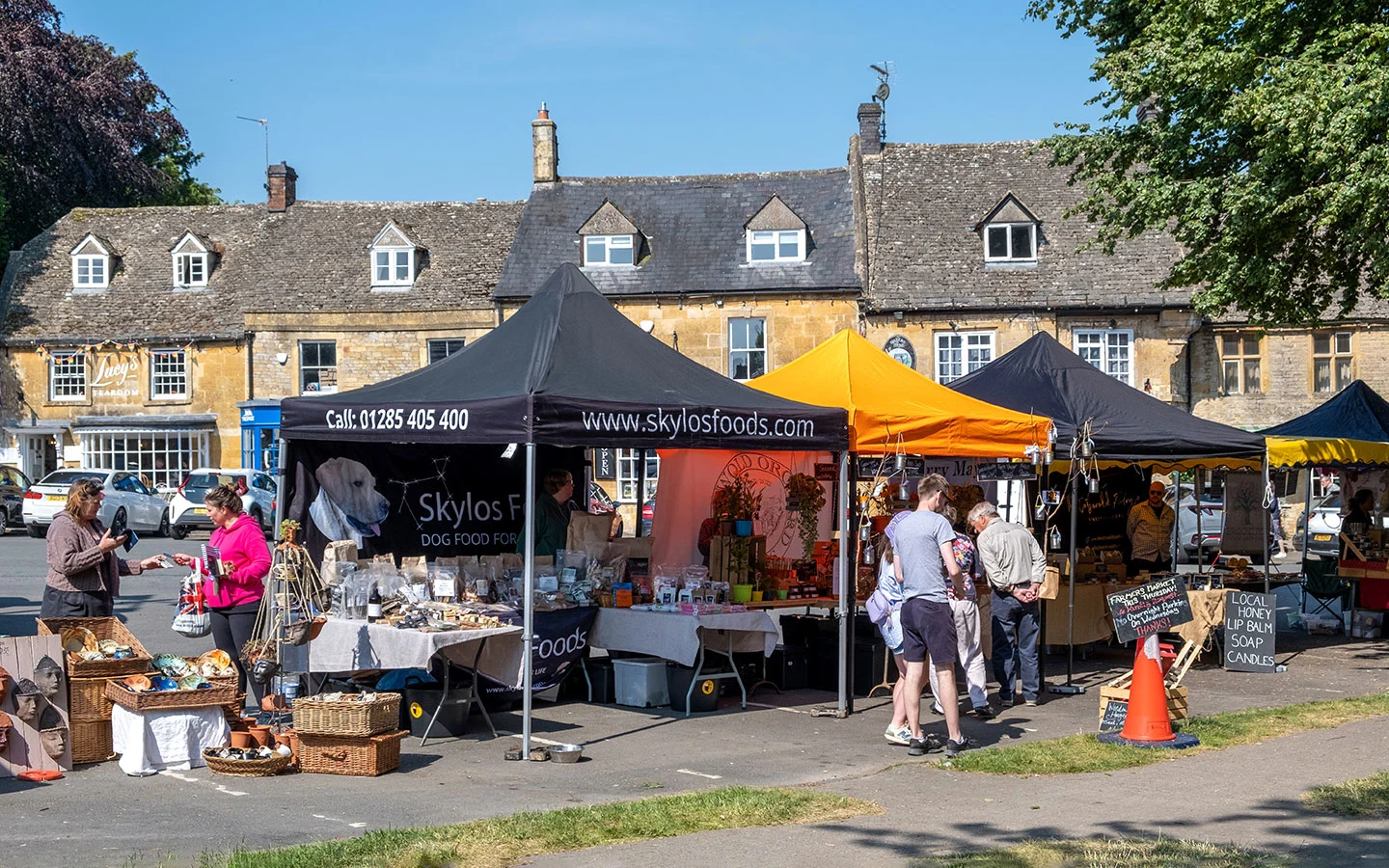 Pubs
Stow also has plenty of character-filled historic pubs. The Porch House is said to be the oldest inn in Britain, with wooden beams carbon-dated to over 1000 years old. Look out for the 16th-century stone fireplace carved with 'witches' marks' to ward off evil spirits. There's a mix of eating and drinking spaces, serving elegantly presented British dishes using locally sourced produce.
The Queens Head in the Market Square is run by Donnington Brewery and serves their real ales as well as a good-value traditional pub food menu including steak and ale pie, ham and eggs, and sausage and mash. There are cosy fires for winter and a beer garden in summer.
More restaurant-style is The Sheep, located in a historic Cotswold building on Sheep Street which has been decorated in a colourful, contemporary, light and bright style. It's especially known for its fantastic crispy, wood-fired sourdough pizzas but also does a good Sunday roast lunch.
Read more: The best pubs in Stow-on-the-Wold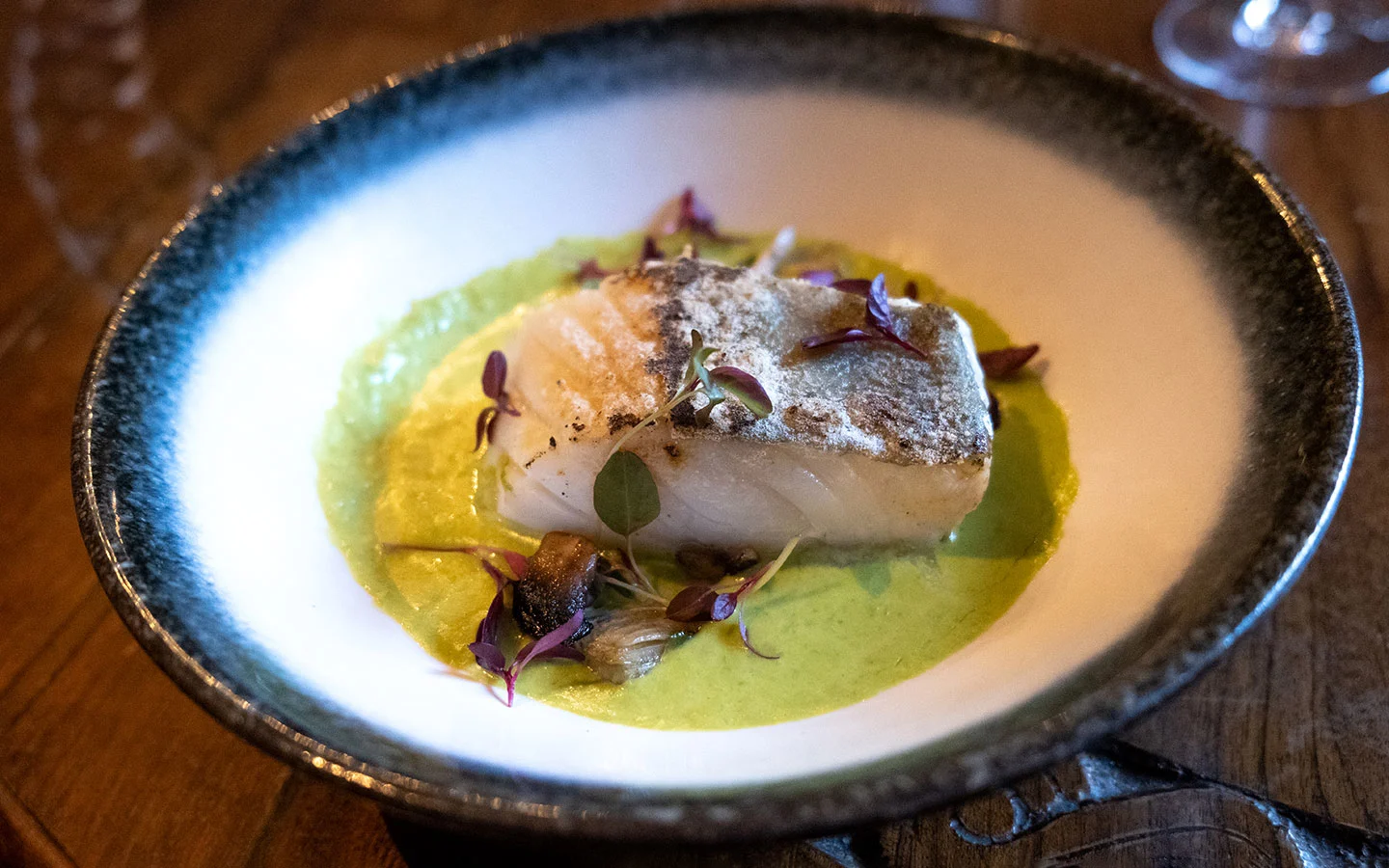 Restaurants
The Old Stocks Inn serves modern British cuisine using local, seasonal ingredients. Their six-course Taste of the Cotswolds tasting menu showcases the best regional produce and comes with optional matching wines. There's also an à la carte dinner menu with a choice of two or three courses, Sunday lunches and an inventive cocktail menu and drinks selection.
Alexiou's brings a taste of the Mediterranean to the Cotswolds. Owners Aris and Cleo serve up dishes that are inspired by their Greek Cypriot heritage, including moussaka, stifado, koftas and Greek salad, in a relaxing courtyard space tucked away in pretty Talbot Court.
The Old Butchers is a former butcher's shop on Sheep Street which has been transformed into a cosy family-run restaurant. Despite the name, the restaurant specialises in fish and seafood, with dishes like Dover Sole Meunière, Cornish mussels and grilled or baked lobster.
Where to stay in Stow-on-the-Wold
The Porch House* has been welcoming guests to Stow for eleven centuries. It comes with plenty of historic features like beamed ceilings, crooked staircases and flagstone floors. The 13 bedrooms range from compact cosy rooms to a two-floor suite with roll-top bath and antique furniture.
The Old Stocks Inn* is a former 17th-century coaching inn next to the village green and medieval stocks which give it its name. Three terrace houses have been combined and given a Scandinavian-style makeover with velvet sofas and colourful walls. There are 16 bedrooms plus a three-bedroom self-catering cottage a short walk away, and the garden rooms are dog-friendly.
For a traditionally English bed and breakfast experience, Lucy's Tearoom* in the Market Square also has two cosy en-suite bedrooms in a converted barn – named Darjeeling and Earl Grey in homage to a good cuppa. And a big home-cooked breakfast in the tearoom is included.
Or for something a bit different, you can rent a penthouse apartment in a former Methodist church next to Stow's clocktower. The Clock Tower Stow* is a light, airy and spacious apartment overlooking the village green which sleeps four in two en-suite bedrooms. The big open-plan kitchen/lounge comes with wooden beams, exposed stonework and underfloor heating.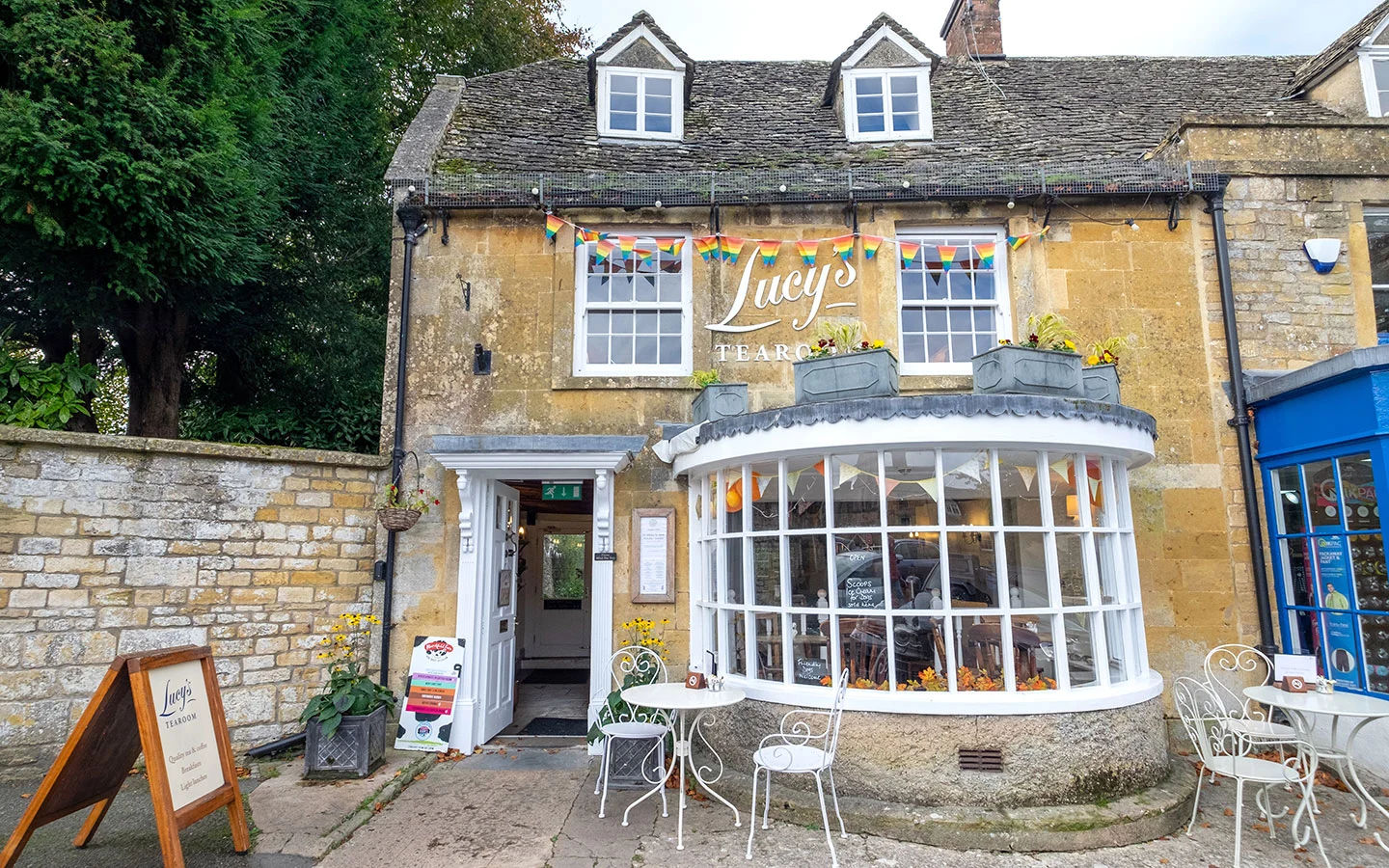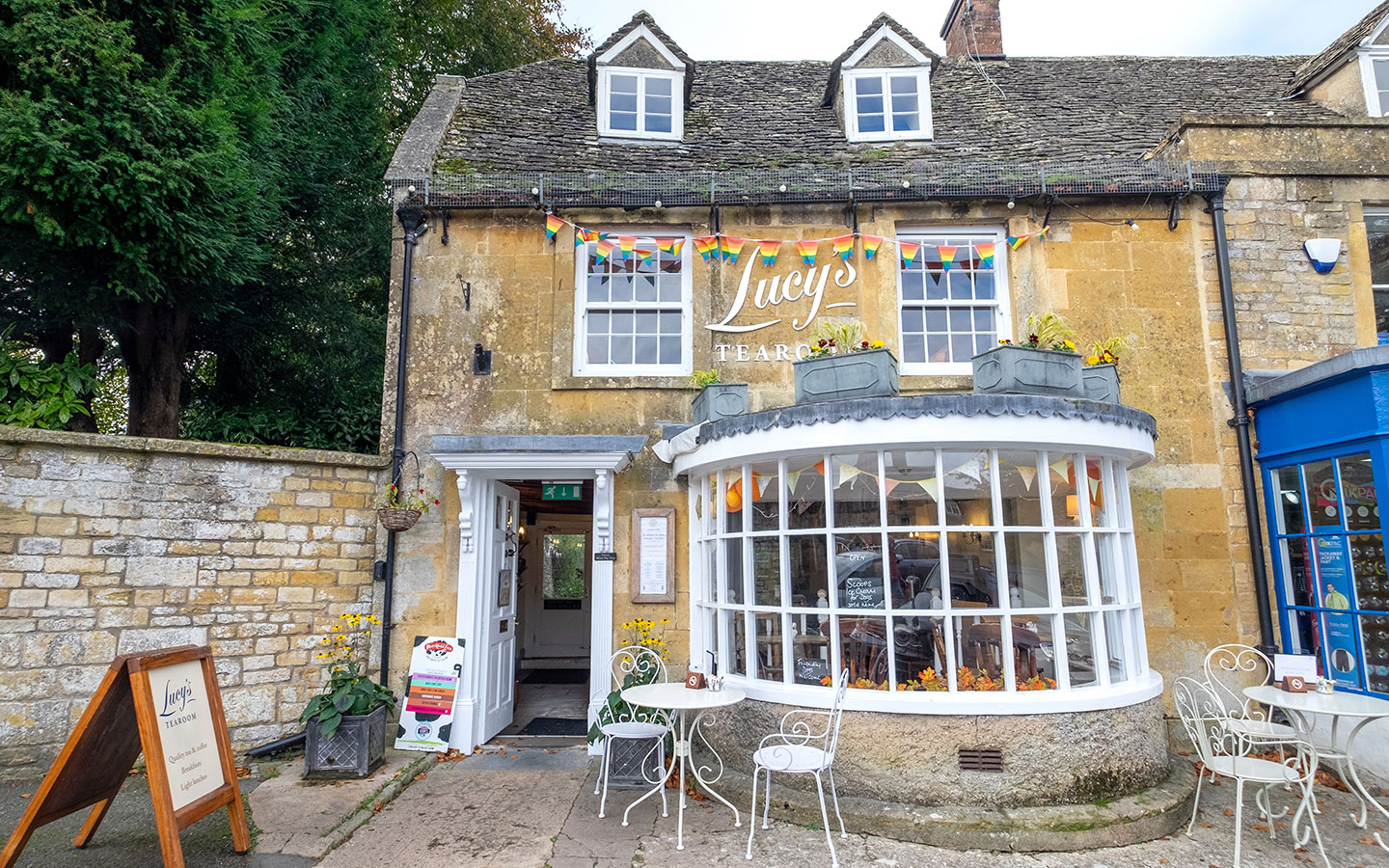 How to get to Stow-on-the-Wold
Stow-on-the-Wold by car
Stow-on-the-Wold lies on the A429 around four miles north of Bourton-on-the-Water. You can also take the A424 to the south, which connects Stow to Burford and on to the M/A40 to Oxford and London. Or Junction 9 of the M5 near Tewkesbury is around 30 minutes to the west.
There is free car parking in Stow-on-the-Wold's Market Square, but it gets very busy and is limited to two hours. There is also the larger free Fosseway car park next to Tesco to the north of town (GL54 1DN) and a pay and display car park on Maugersbury Road (GL54 1HH).
Stow-on-the-Wold by public transport
The nearest train stations to Stow-on-the-Wold are in Kingham and Moreton-in-Marsh, both of which are on a direct line from London Paddington. You can reach Stow on the Pulhams 802 bus from Kingham or the Pulhams 801 from Moreton-in-Marsh, both of which take 15 minutes (though bus services on Sundays are limited and only run between May and September).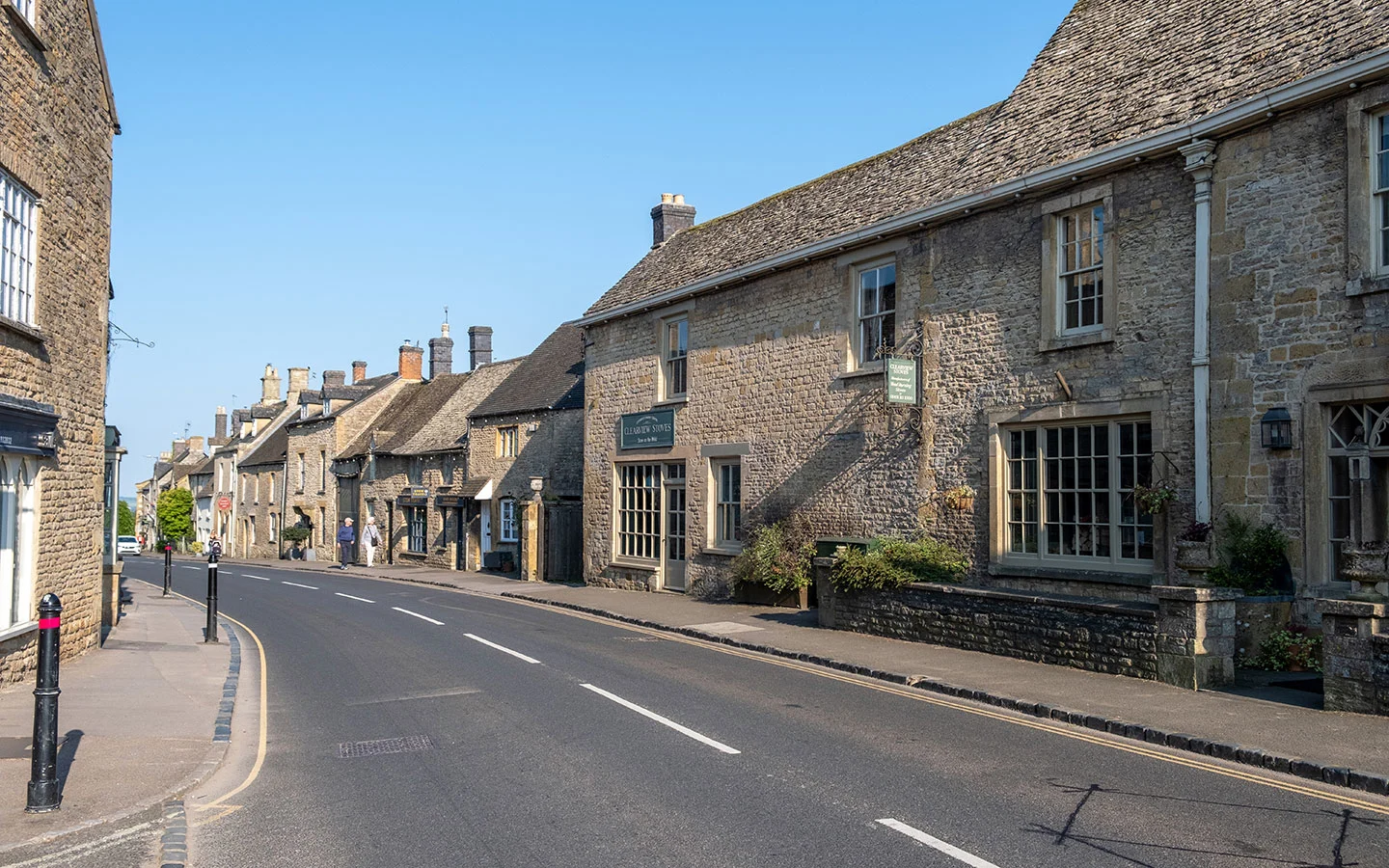 Save for later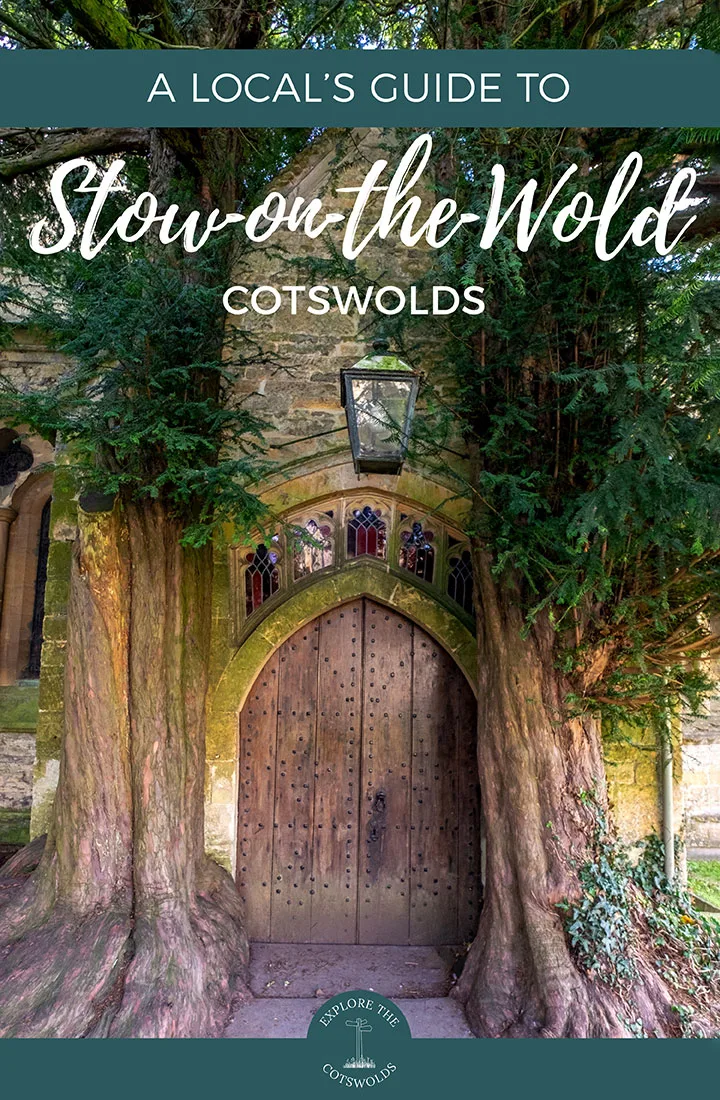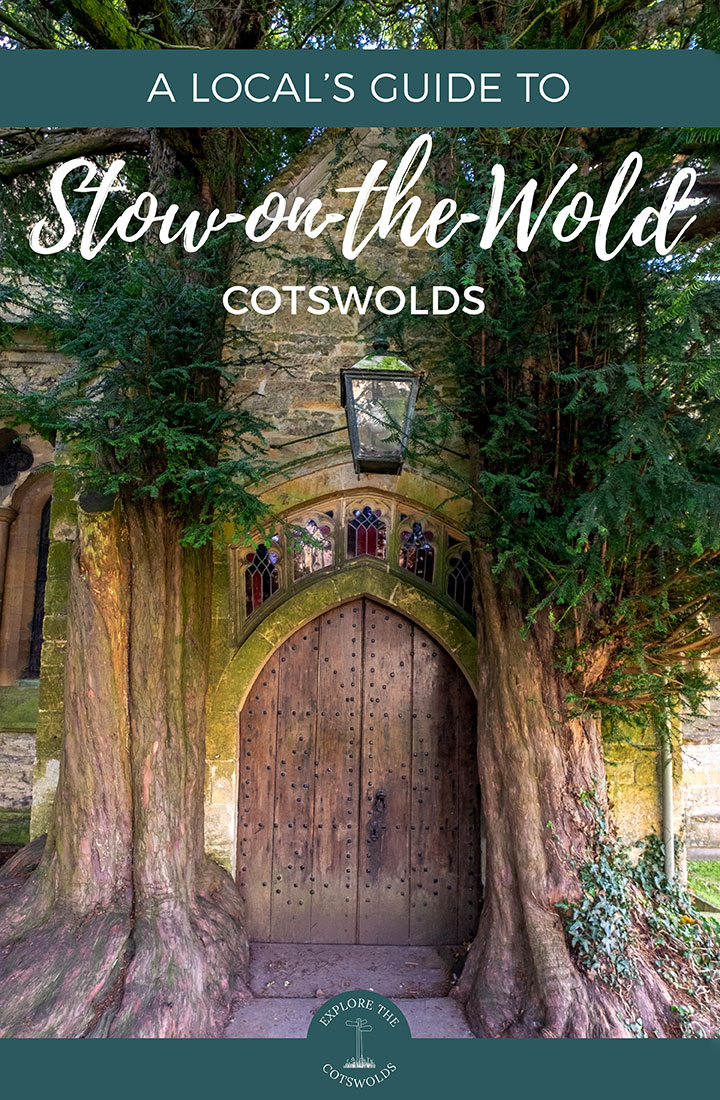 * This site contains affiliate links, where I get a small commission from purchases at no extra cost to you.