With hillsides covered in vines surrounded by tranquil countryside, you'd be forgiven for thinking you'd been transported to the South of France rather than being a few miles south of Stroud. But Woodchester Valley Vineyard has brought wine-making to the Cotswolds. This award-winning winery has been creating delicious wines for the last 10 years, and opens up to visitors for a Cotswolds wine tasting and tour which makes a great day out for wine lovers.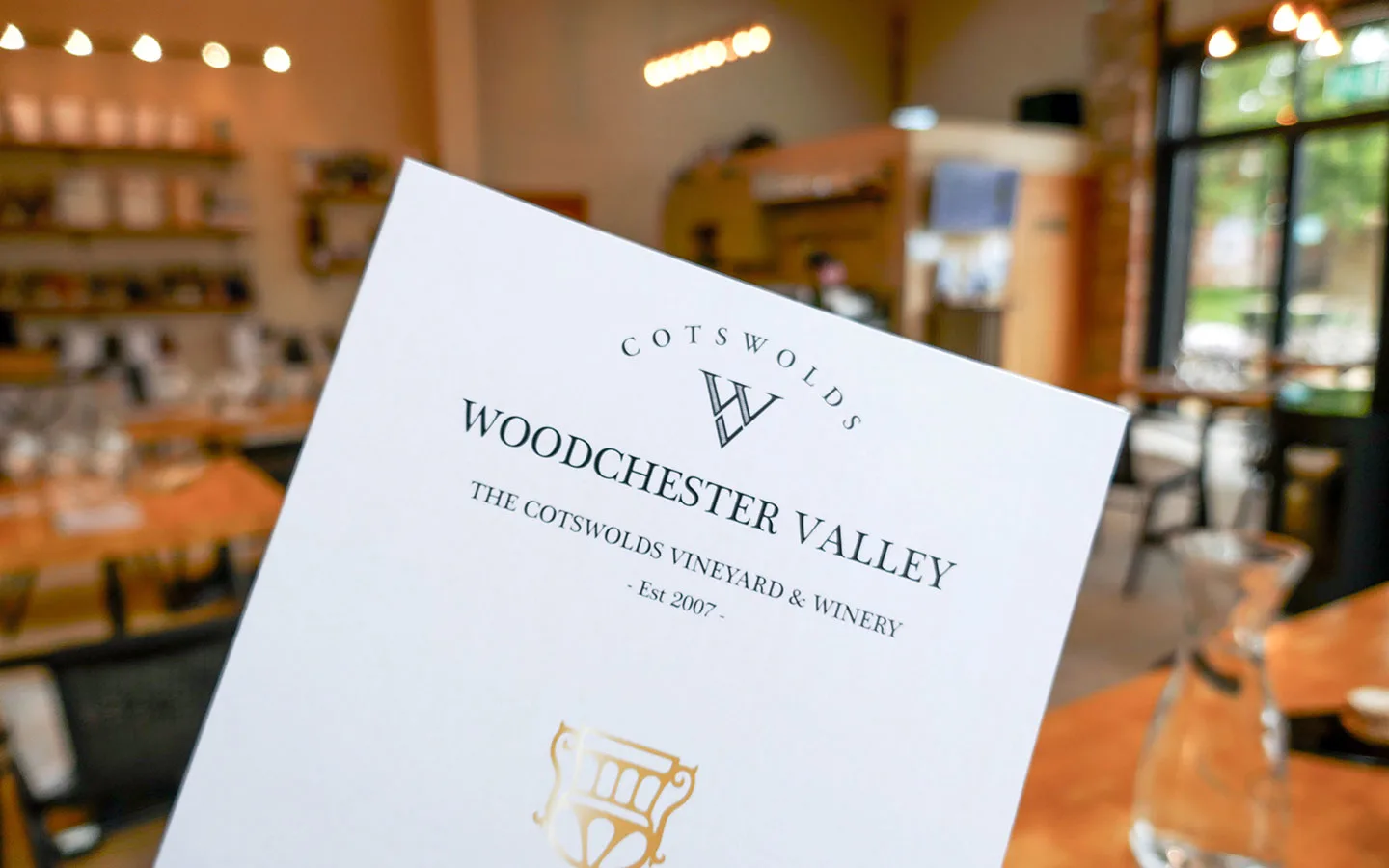 About Woodchester Valley Vineyard
It's not all that long ago that it was unusual to see grapes growing in the UK. But the UK wine industry is on the up, with over 197 wineries and 897 vineyards now located across the country. In 2021 over 9.3million bottles of wine were produced in the UK, which is best-known for its white and sparkling wines, who've given Champagne a run for its money in blind tastings.
Woodchester Valley Vineyard is a family business established in 2007 by Fiona Shiner when she decided to try planting an acre of vines on the site. But there's a lot longer history of wine-making in the region. Two acres of vines were recorded at 'Stanhaus' in the Domesday Book of 1086. And the area's Roman history means its possible that wine-making goes back even further.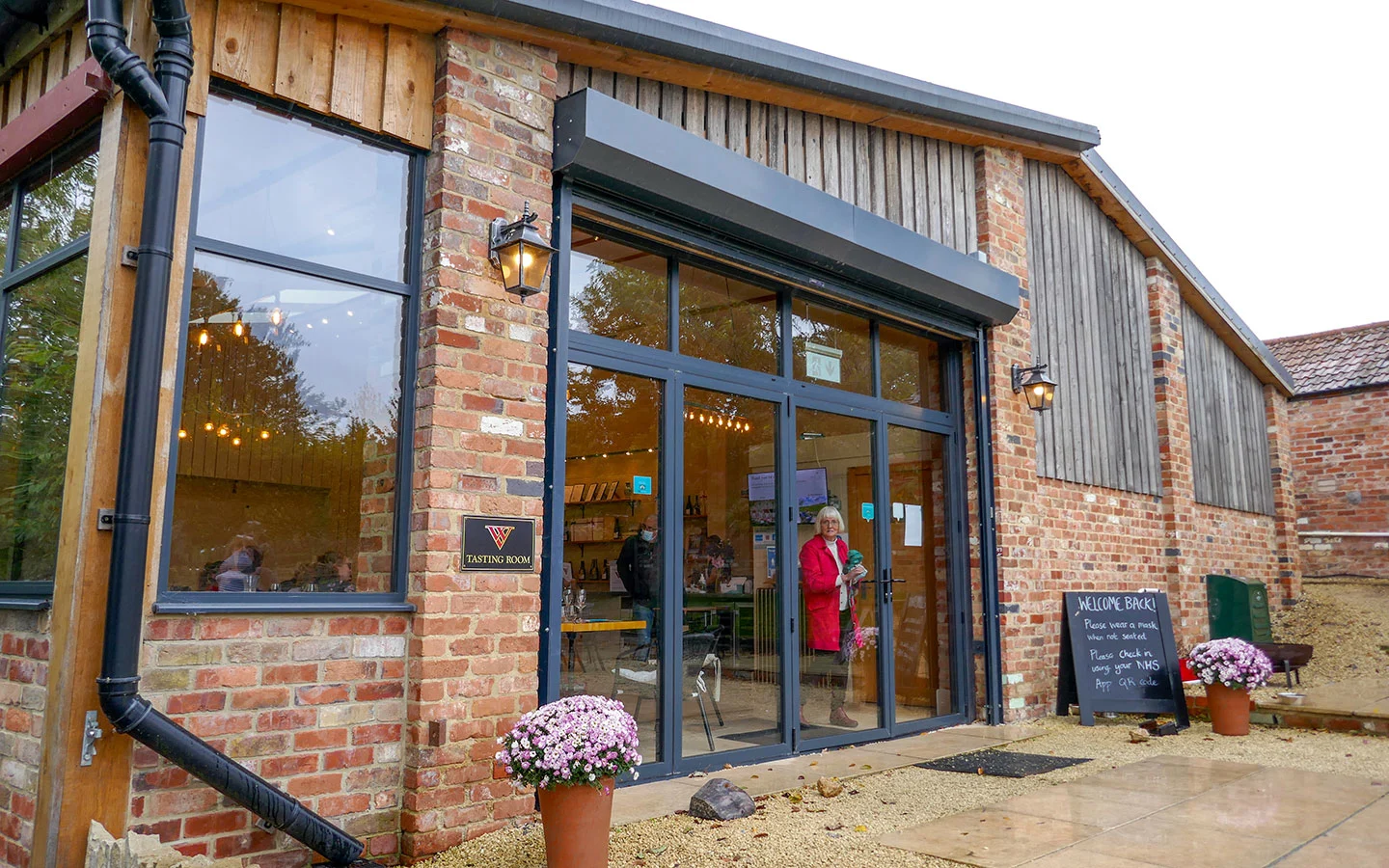 Today Woodchester Valley has 55 acres of vines on three sites in the Stroud Valleys – Stonehouse, Amberley and Woodchester. Each site has a different soil, slope and aspect so is suited to growing different grape varieties. They currently grow 11 different varieties, with some famous ones like Sauvignon Blanc and some more unusual varieties well-suited to the UK climate.
Originally Woodchester Valley grew their grapes and had them made into wine elsewhere, but in 2016 they opened their own winery and now make their wines on site, which have won multiple awards. You can learn about how they're made and try them out on a tour and tasting – or if you just want to pick up a bottle, there's also a cellar door shop on Stroud's Bath Road.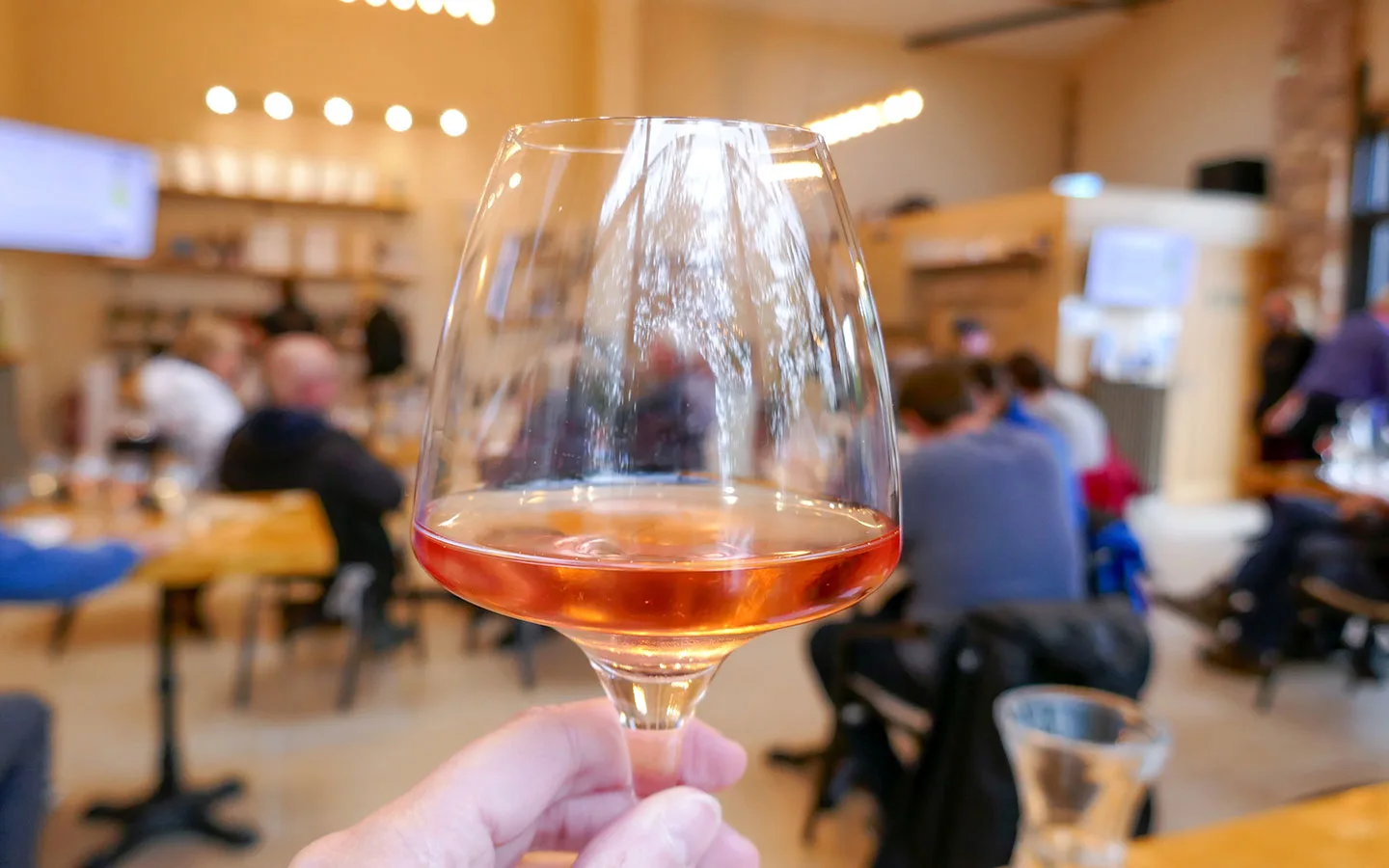 Woodchester Valley Vineyard's Classic Vineyard & Winery Tour
Woodchester Valley's tasting room opened in 2017 and is a light an airy space on the edge of the their Woodchester vineyard. The remote location means it's easiest to reach by car, so it's a good trip to do in a group so only one person has to drive and the rest can enjoy the tastings.
Our visit to the vineyard coincided with the start of the harvest – which is one of the busiest times of year at the winery. Unfortunately the weather on the day was a bit less autumn in Bordeaux and a bit more England in the drizzle. But the wine made up for it and the tasting room was warm and cosy, with a wood-burner to keep visitors warm on any really chilly days.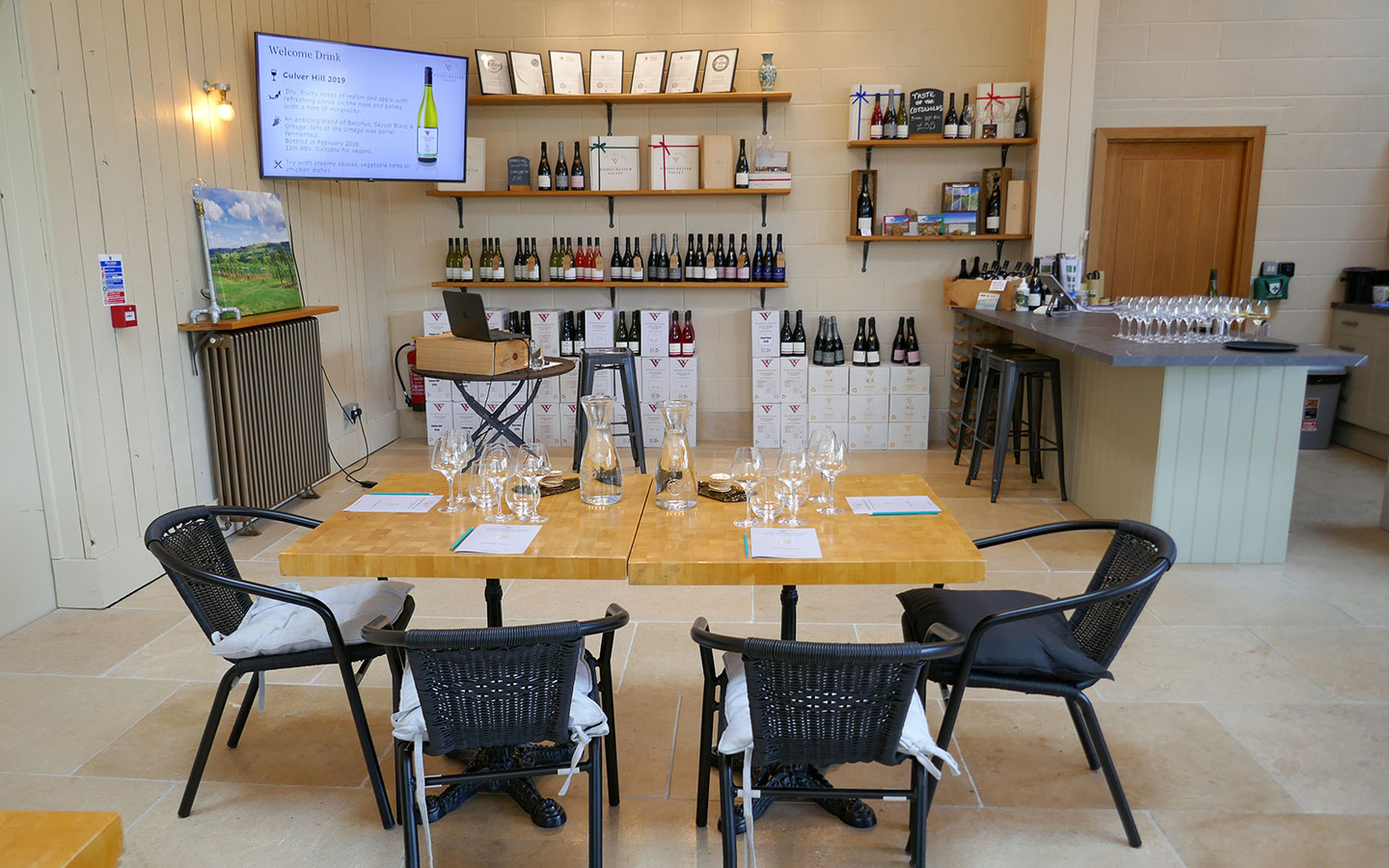 Our Cotswolds wine tasting and tour started with a welcome glass of Culver Hill 2019, a crisp dry white that would make a good aperitif. Our guide gave us an introduction to English wine and took us through the history of the winery before we headed out into the vines – umbrellas in hand.
The latitude of the Cotswolds means it's on the edge of the limits for grape growing, so the success of each year's crop is dependent on the weather. Not enough sun or too much rain and the crop won't ripen. Grapes are susceptible to frost too, and on cold nights thousands of candles known as 'bougies' are lit among the vines, creating a beautiful sight on a frosty night.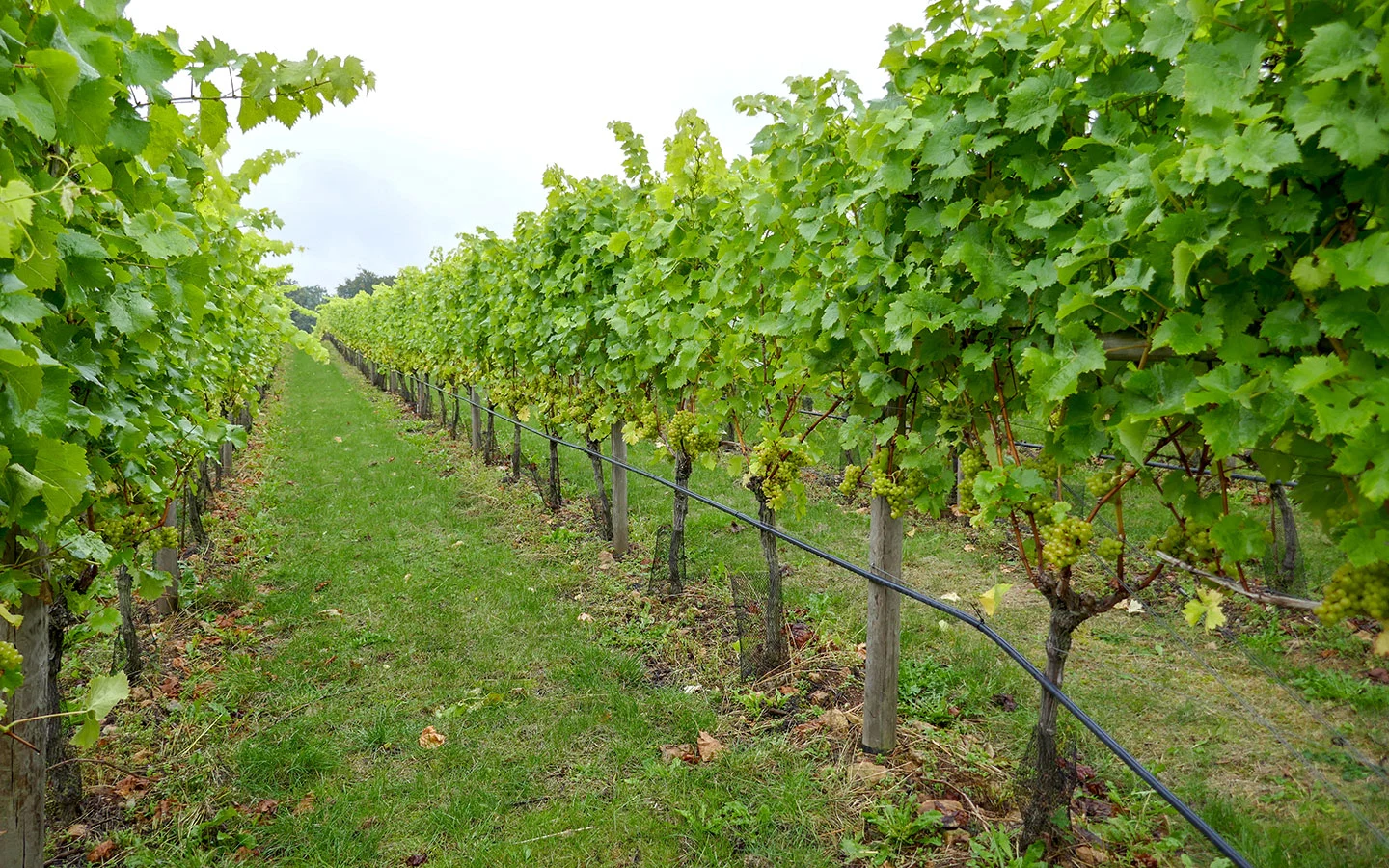 You also need to keep your grapes safe from pests. Deer eat grapes but there's also a mini electric fence along the edge of the vines to protect them from a more unexpected predator – the badgers who stand on their back legs and munch their way along each row.
We then moved into the shelter of the winery to learn what happens once the grapes are harvested. Woodchester has a mix of stainless steel tanks and wooden barrels to give a different flavour to their wines. And they make their sparkling wines using the Champagne method – thanks to local boy Christopher Meret from Winchcombe who invented it before Dom Perignon.
Back in the tasting room, we finished off the tour with four more wine samples – a still white using Bacchus grapes, a dry rosé made with Pinot Noir and Regent, then a sparkling rosé and a Reserve Cuvée sparkling which tasted like a smoother version of Champagne. All of their wines are suitable for vegans, and use a potato protein to clarify them rather than the usual milk protein.
English wine has come a long way in a short time, and although its smaller-scale production means it can be more expensive than the average supermarket bottle, visiting places like Woodchester Valley Vineyard shows the craftsmanship, care and attention which goes into making each bottle, and we couldn't resist picking up a few bottles to toast this year's harvest with.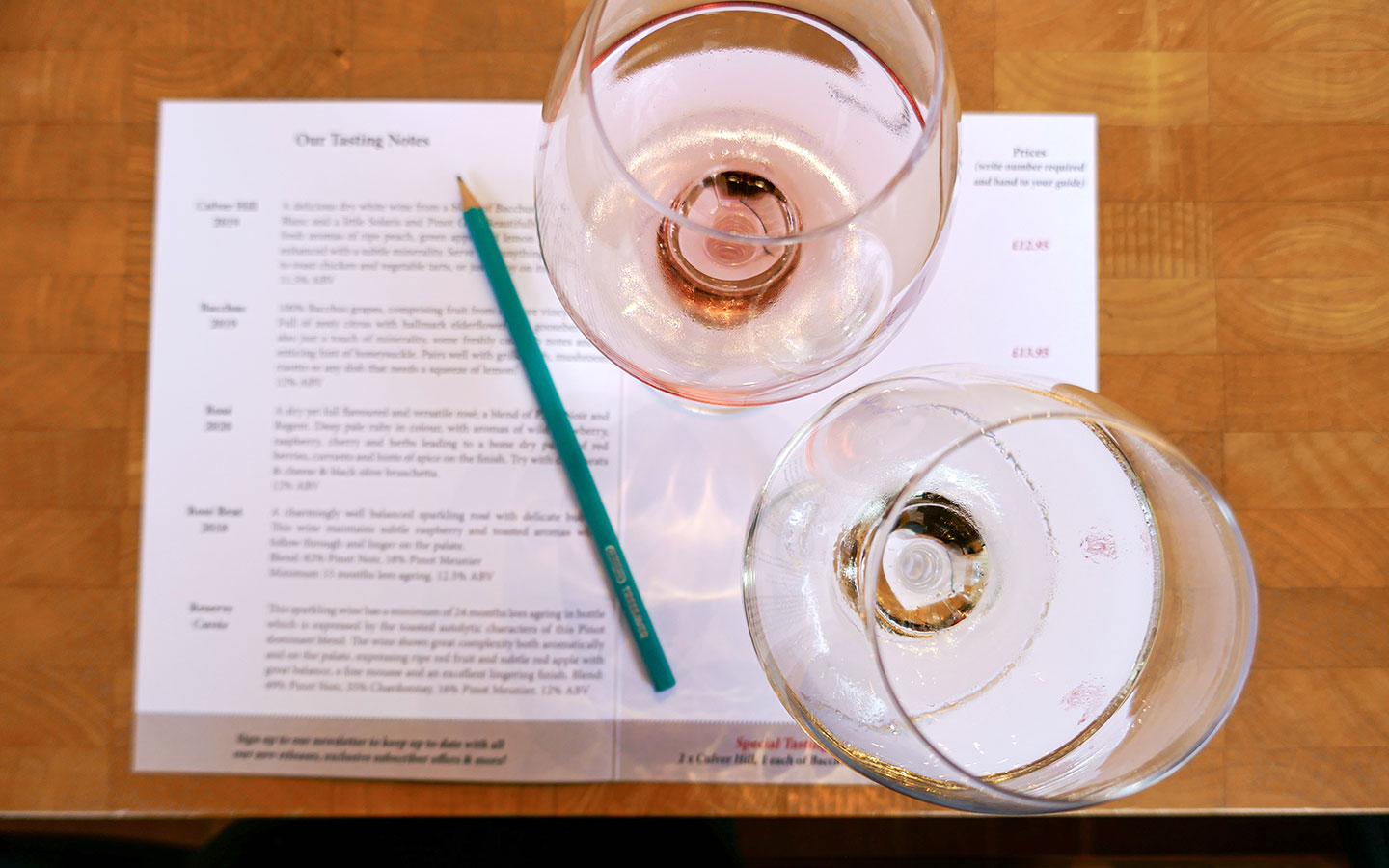 What else to see near Woodchester Valley Vineyard
Woodchester Valley Vineyard is only a mile away from the small town of Nailsworth, which was once an important centre for the Cotswold wool trade and is now known for its independent boutique shops and restaurants. And Stroud is 3.5 miles away, with its fantastic Farmer's Market on Saturdays, the Museum in the Park and walks along the Stroudwater Canal.
If you want to get out into the countryside, National Trust Minchinhampton and Rodborough Commons are a few miles from the vineyard, with walking routes and views over the Stroud Valley. And don't miss ice creams from Winstone's on Rodborough Common on a sunny day.
It's also only five miles to the secluded wooded valley of Woodchester Park, home to the spooky abandoned Victorian Woodchester Mansion as well as three marked walking routes. And the Cotswold Way runs right through Woodchester Valley's Stonehouse vineyard.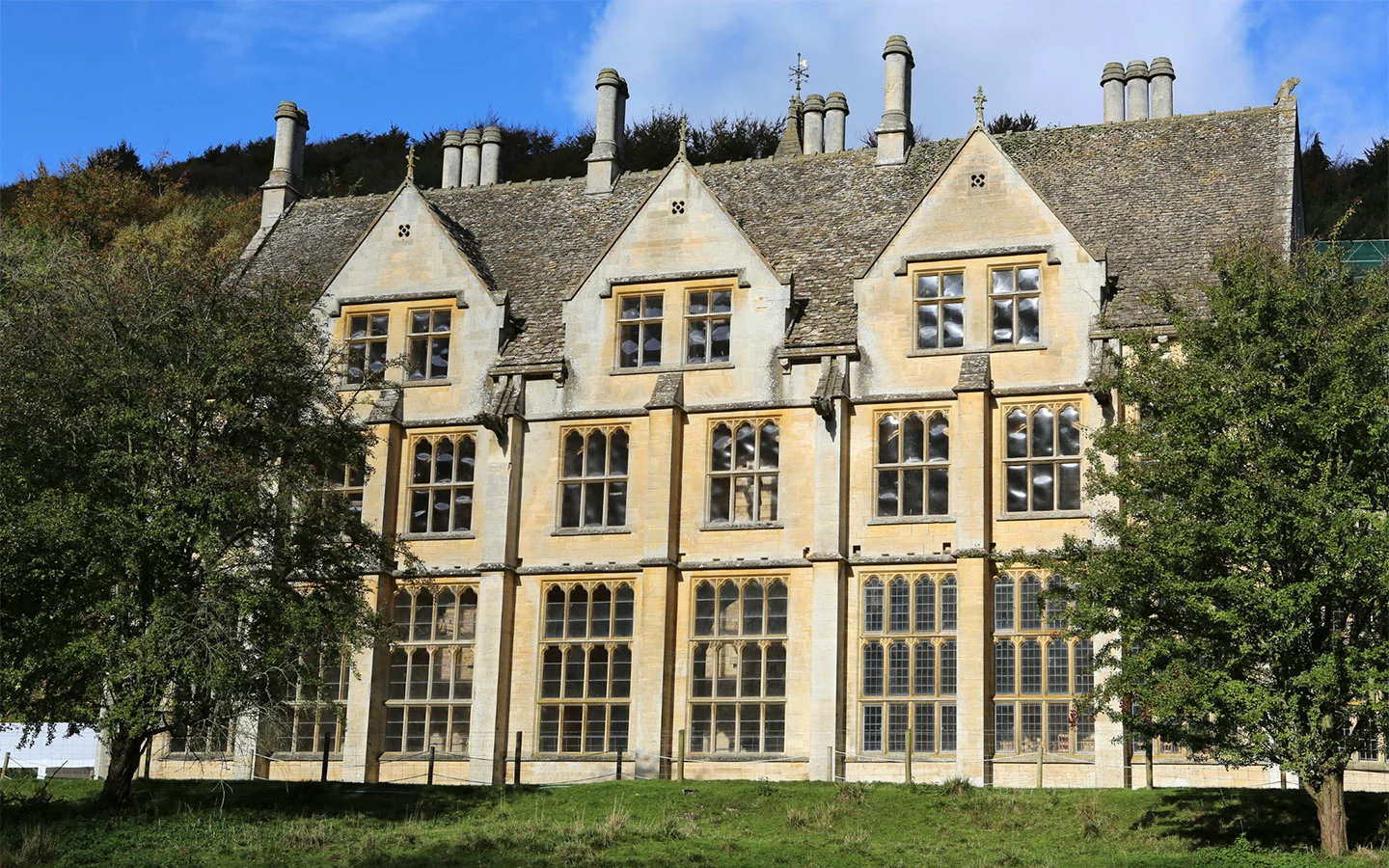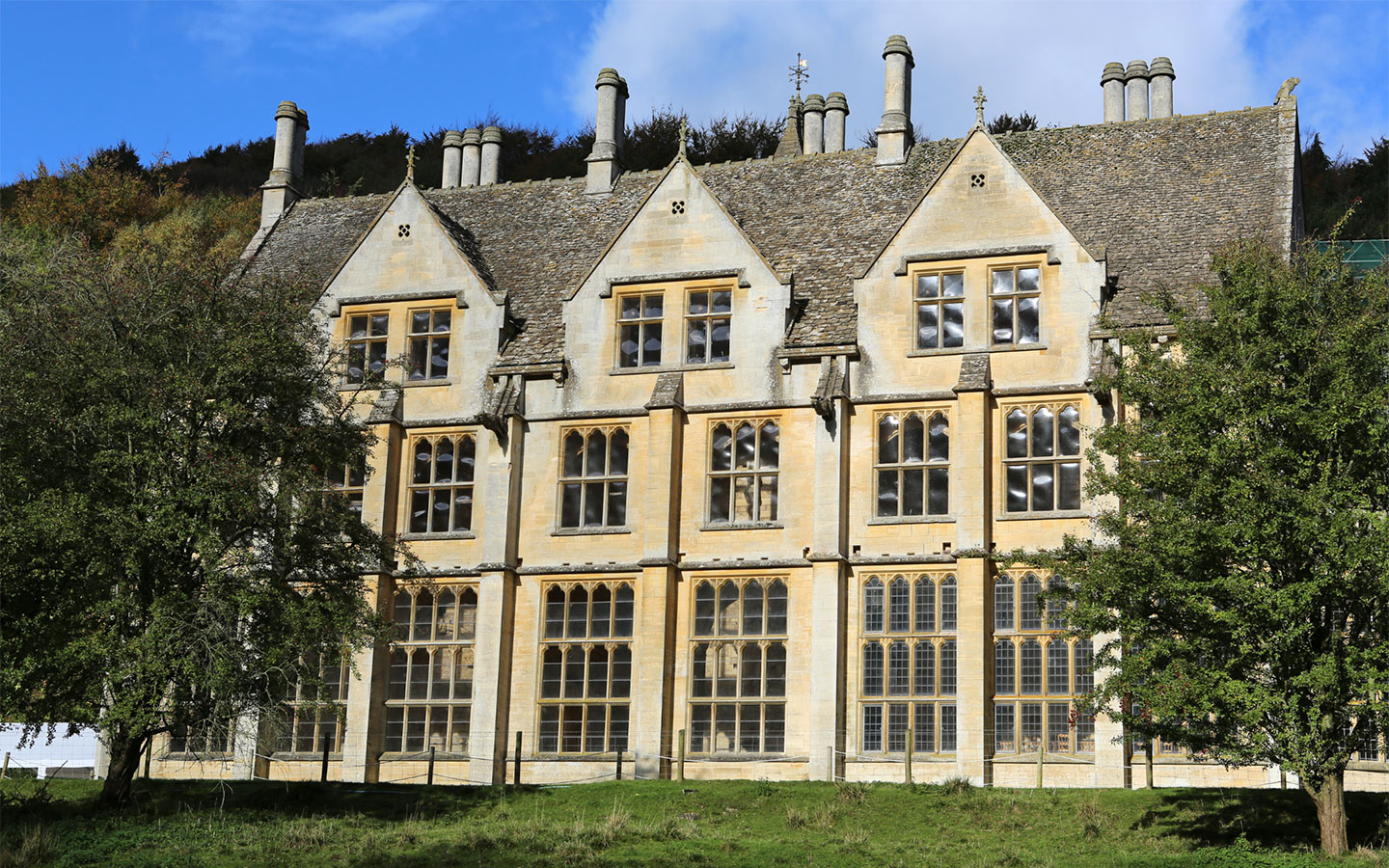 Where to stay near Woodchester Valley Vineyard
The vineyard has its own accommodation so you can stay right among the vines. There are three Vineyard Barn guest rooms which sleep two with an en-suite bathroom, gas log burner, underfloor heating and terraces overlooking either the Woodchester vineyard or the Stroud Valley.
There are also two larger properties. The Retreat farmhouse sleeps four in two bedrooms and Woodchester Valley House is a six-bedroom, five-bathroom house which sleeps 12–14.
Also nearby are the Amberley Inn*, 1.5 miles away from the vineyard. This traditional Cotswold inn on the edge of Minchinhampton Common has 13 bed and breakfast rooms. It dates back to 1820 with lots of character, log fires, real ales and pub food. Dogs are welcome.
Just over two miles from the vineyard, The Bear* on Rodborough Common is a 17th-century former coaching inn turned boutique hotel. It has 44 rooms which mix historic features with contemporary décor, and has an award-winning restaurant and two bars. It's also dog-friendly.
The details
How to get to Woodchester Valley Vineyard
Woodchester Valley Vineyard is located on the edge of the village of South Woodchester, around 3.5 miles south of Stroud. If you're travelling by car, the address is Convent Lane, Woodchester, Stroud GL5 5HR – access is via hilly, single track roads so drive slowly.
If you're travelling by public transport, there's a train station in Stroud, where you can get a taxi to the vineyard. Or the Stagecoach 63 bus from Gloucester to Forest Green via Stroud stops at the bottom of St Mary's Hill near the vineyard shop, a 20-minute walk from the winery.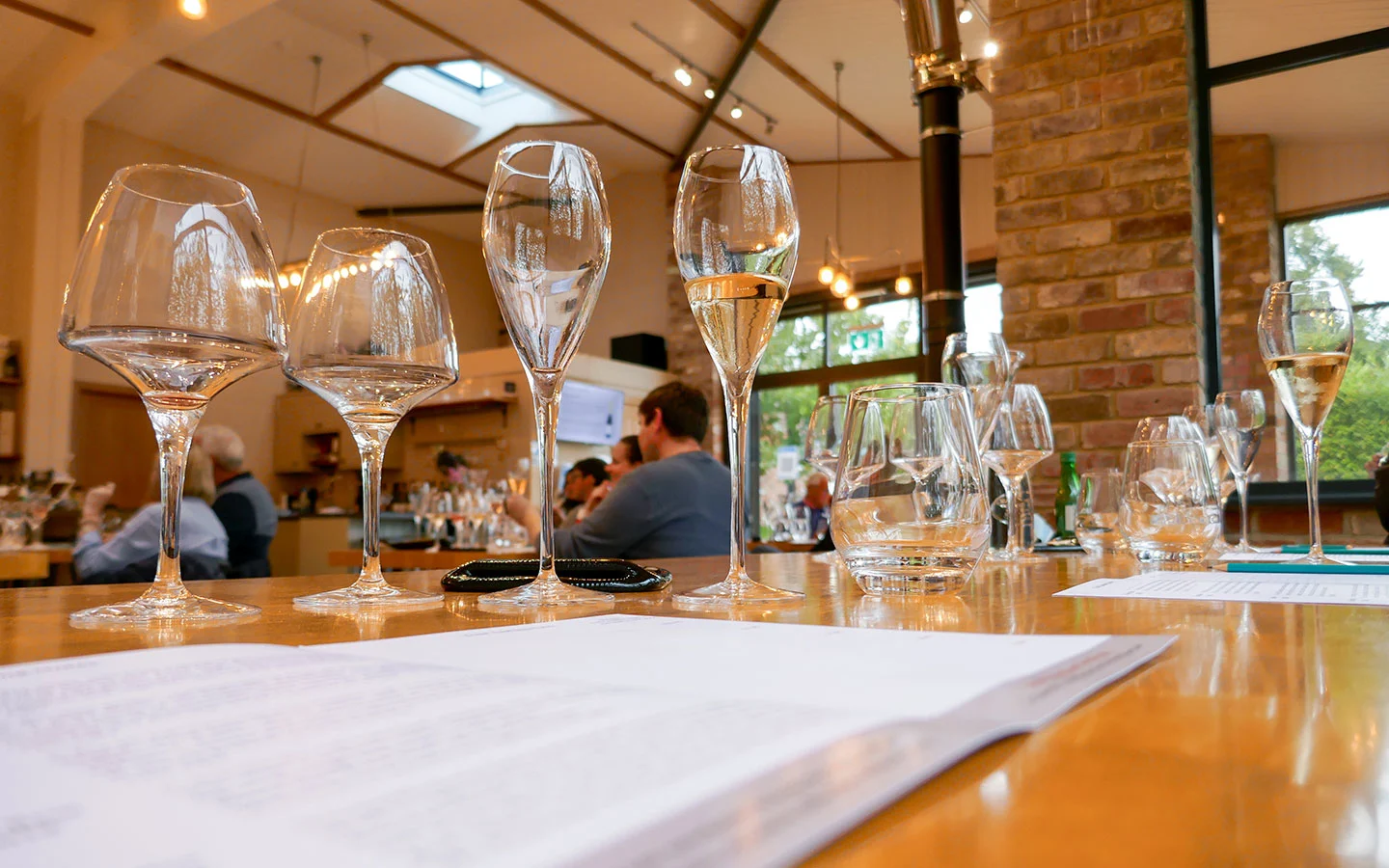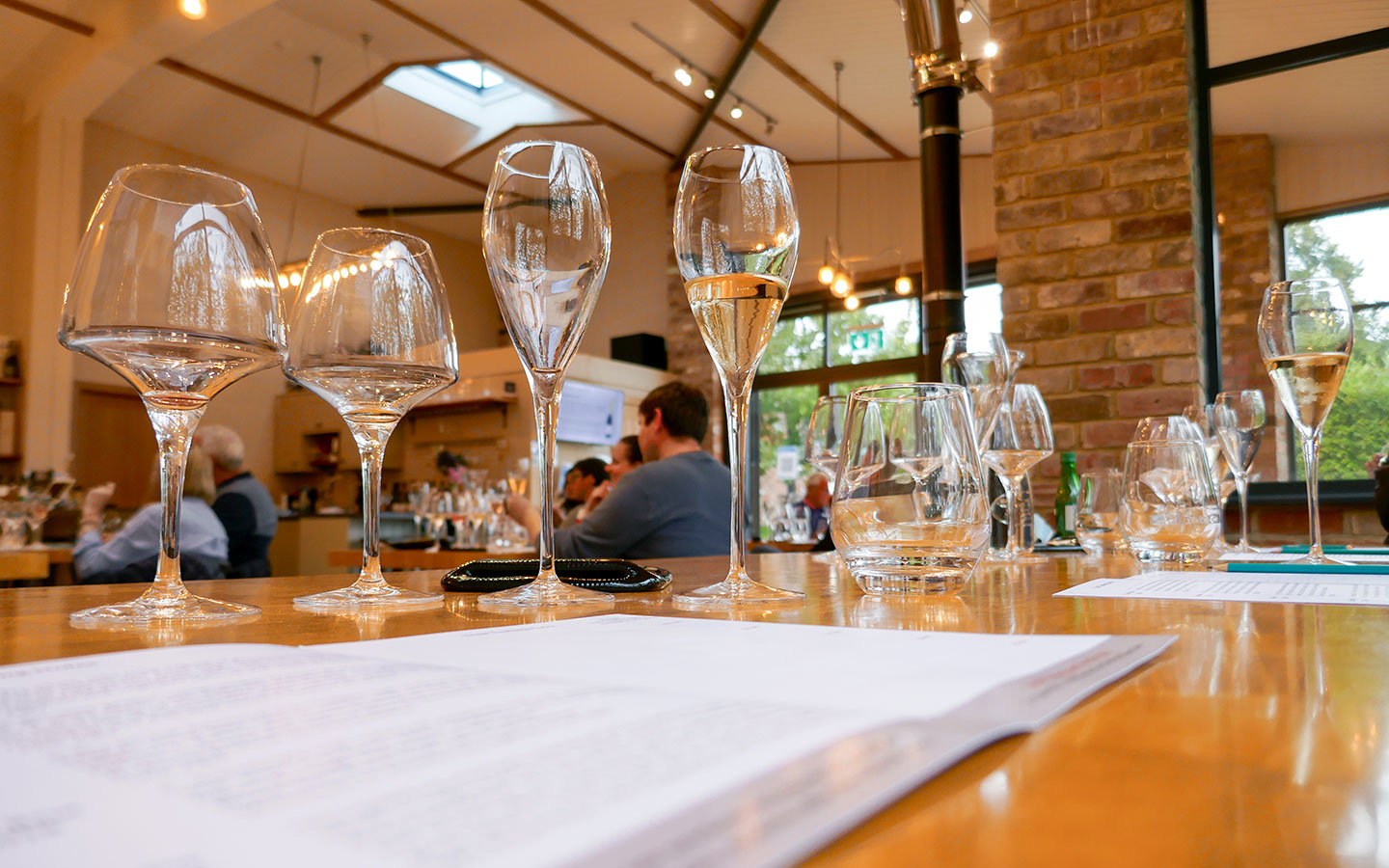 Woodchester Valley Vineyard tours
Woodchester Valley Vineyard offers several different tours, tastings and events, which are for over 18s only and must be pre-booked in advance. The Classic tour lasts 1 hour 45 minutes, costs £25 and is available on Tuesdays to Saturdays (daily in summer). The Sparkling tour lasts 1 hour 45 minutes, costs £30 and is available on Fridays and Saturdays (Thursdays to Sundays in summer).
There are also regular events, including sparkling wine tastings with afternoon tea, vineyard dog walks, cheese and wine evenings, Friday fizz and chips and a vineyard geology walk.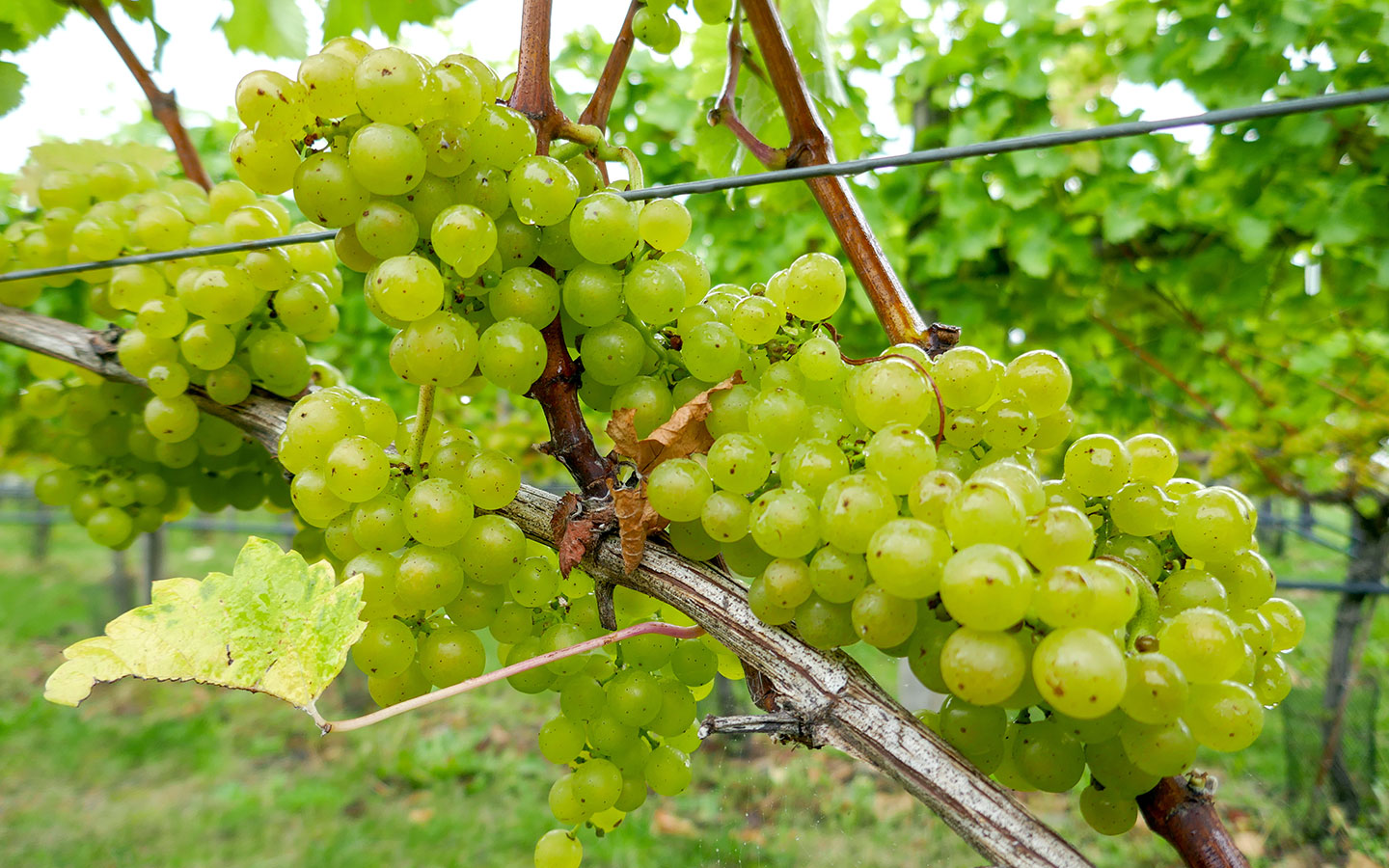 Save for later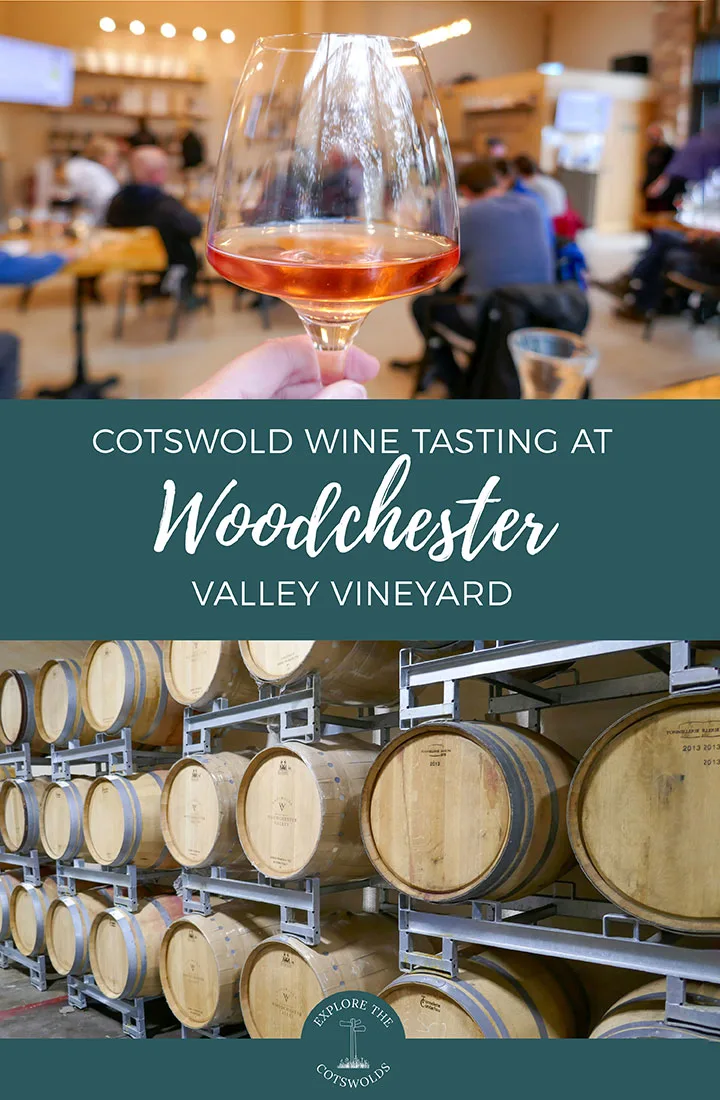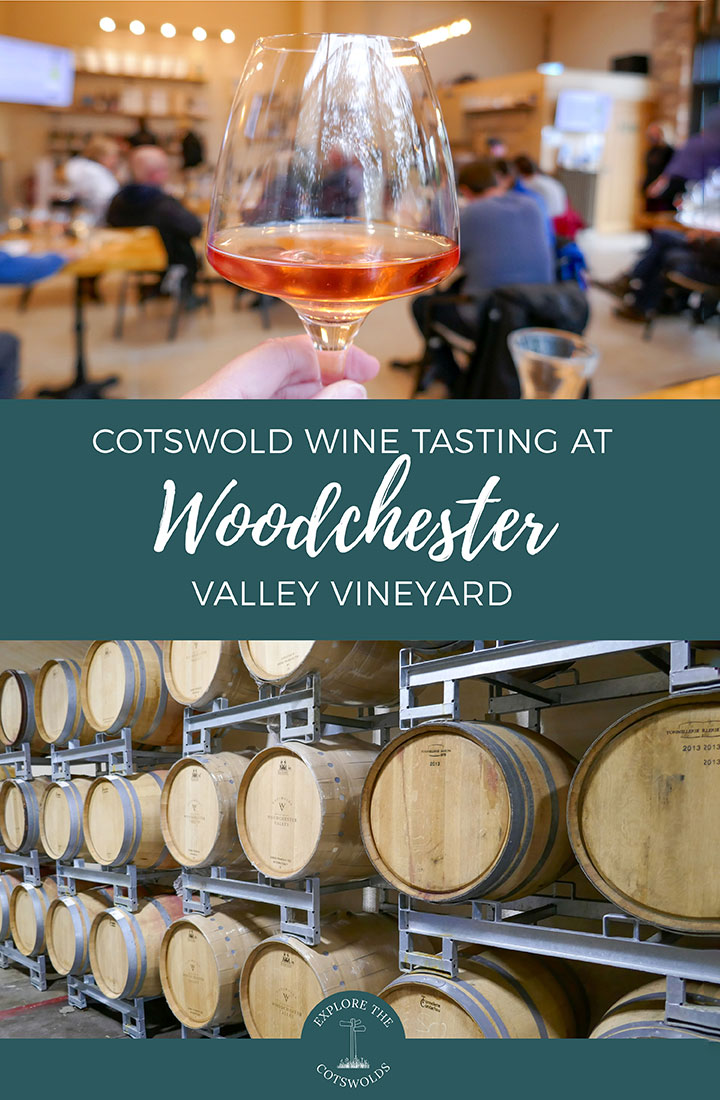 * This site contains affiliate links, where I get a small commission from purchases at no extra cost to you.