Founded in 1895, the National Trust was the idea of three people who wanted to protect the heritage of England, Wales and Northern Ireland for everyone to enjoy. Since then it has expanded to cover 500 historic houses, castles, gardens and monuments, as well as 248,000 hectares of land and 780 miles of coastline. And among them are 24 Cotswold National Trust sites for you to visit.
This post gives you a rundown of all the National Trust sites in the Cotswolds and nearby, with what to see and where they are, as well as how to get free entry to all UK sites as a member.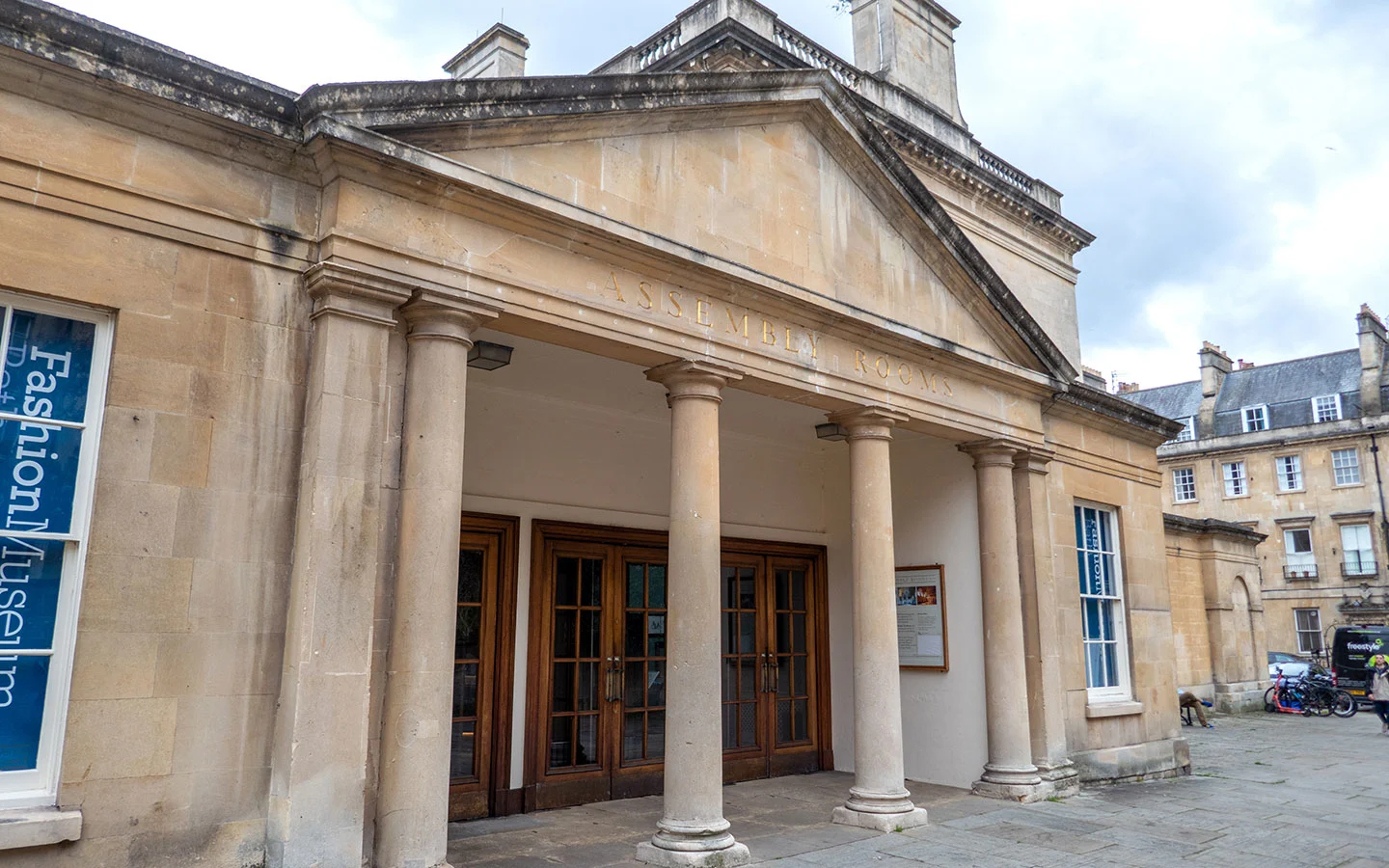 National Trust sites in the Cotswolds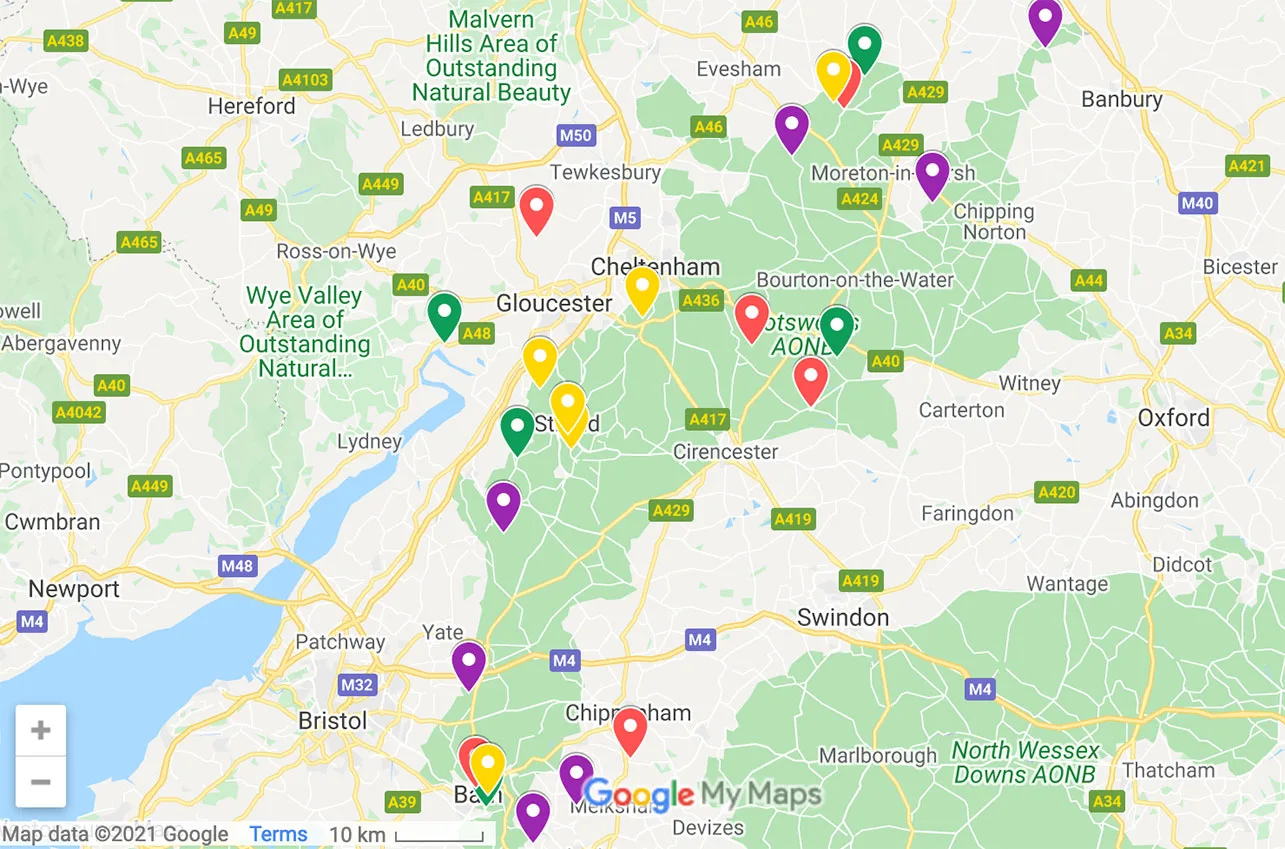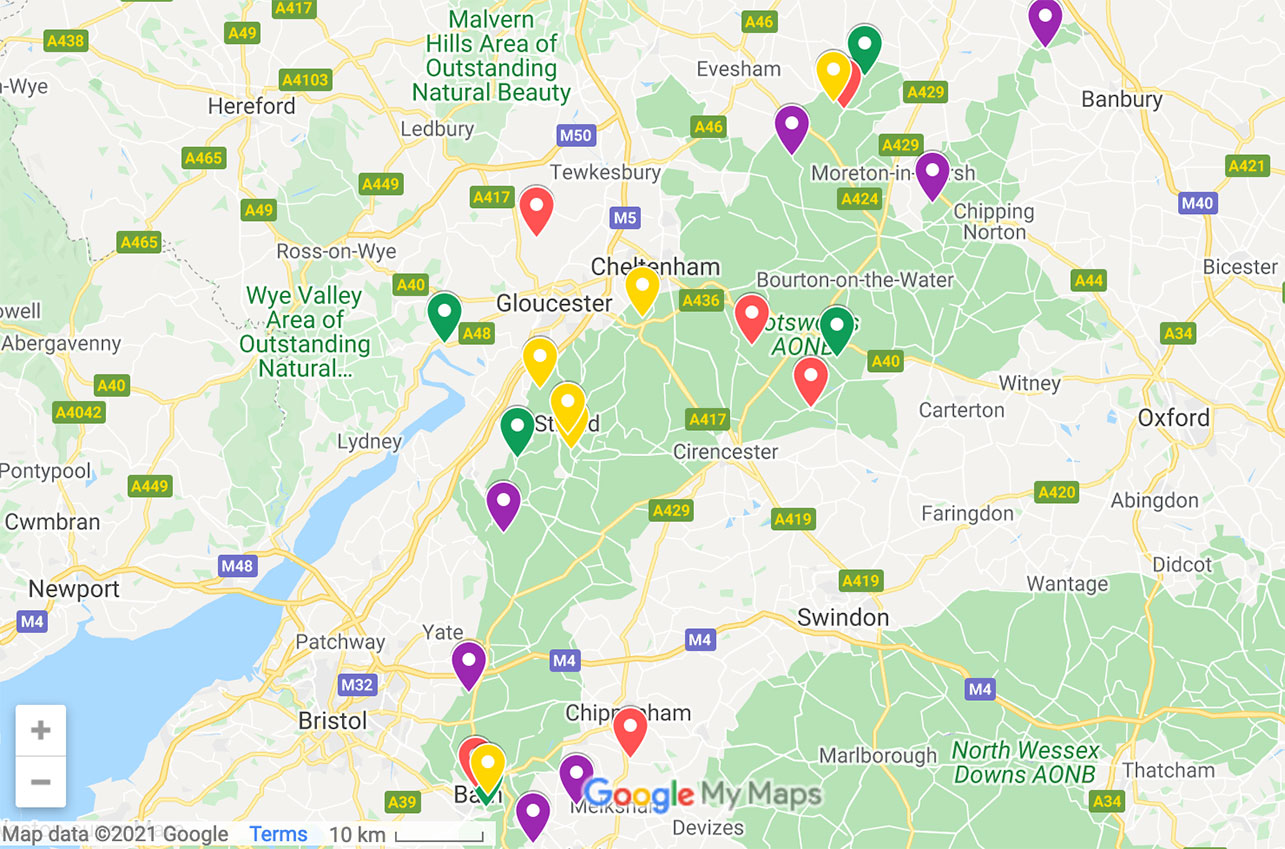 Country houses and manors
Chastleton House
Chastleton House near Moreton-in-Marsh was built between 1607 and 1612 by a prosperous wool merchant, and owned by the same family until 1991. Over that time it'd hardly changed inside, leaving the house as a time capsule of 400 years of family life. And it's been left largely that way since, so you can see the faded interiors and the lawn where croquet was invented.
Entry £12 adults/£6 children. Address: Chastleton, Moreton-in-Marsh, Oxfordshire GL56 0SU
Dyrham Park
Dyrham Park is one of the best-known National Trust sites in the Cotswolds. This 17th-century stately home north of Bath was built for diplomat William Blathwayt and contains some of the treasures he found on his travels, from Dutch Delftware to fine art. Its lavish interiors also featured as a film location for The Remains of the Day (1993) and the 2021 adaptation of The Pursuit of Love. The house is surrounded by 270 acres of ancient parkland along more with formal gardens.
Entry £17 adults/£8.50 children. Address: Dyrham, South Gloucestershire SN14 8HY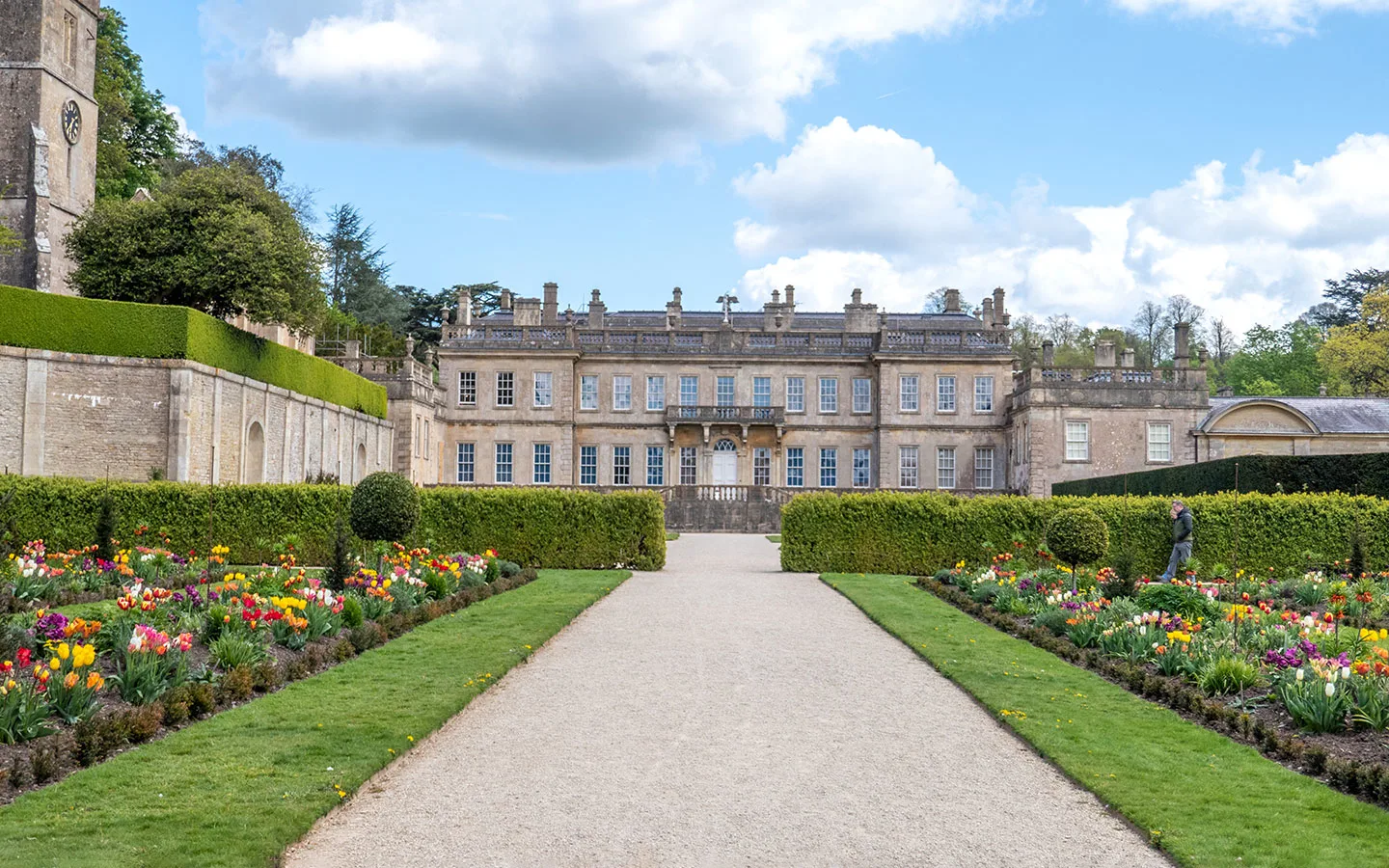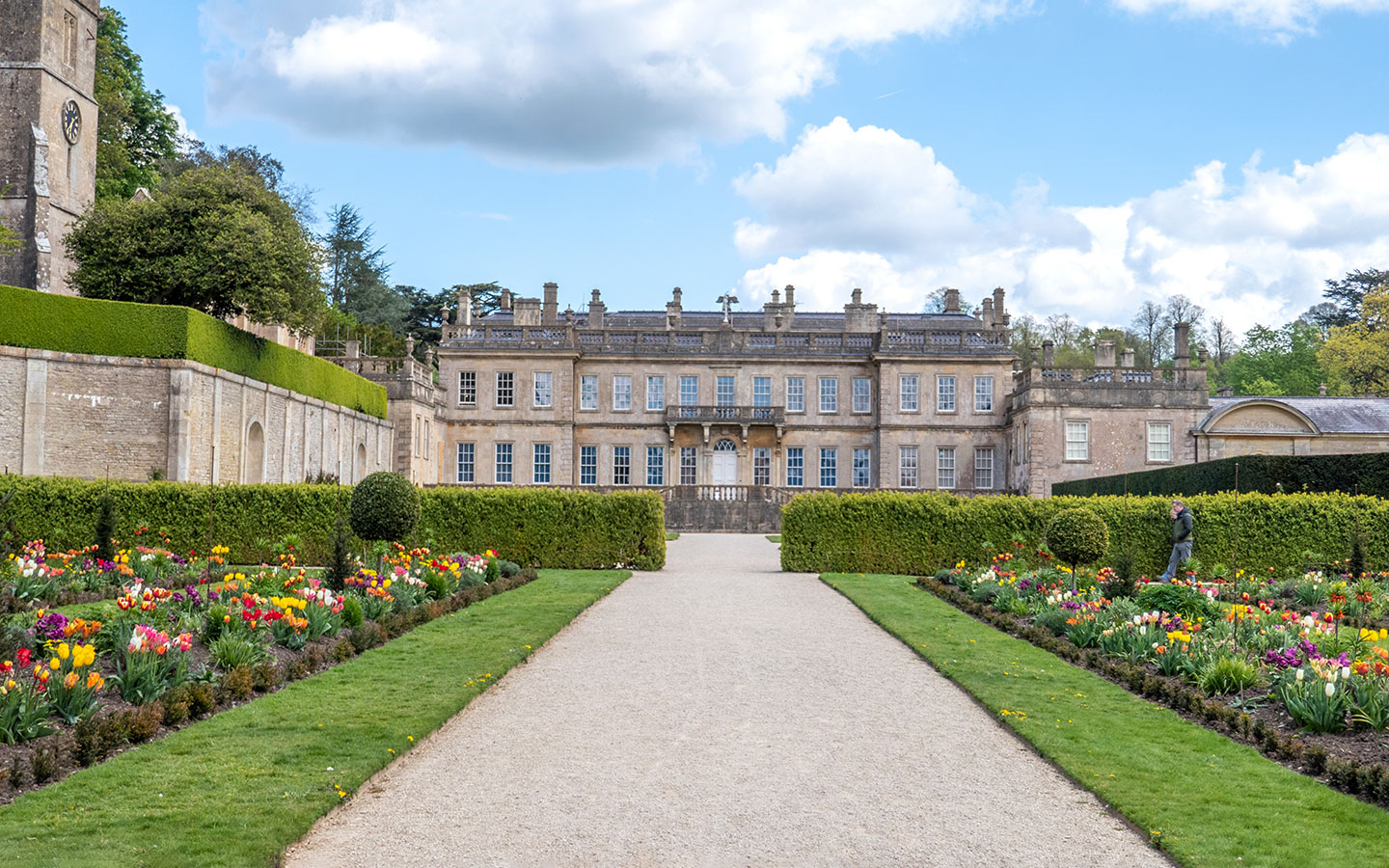 Newark Park
Newark Park stands on a ridge, looking out over the Cotswold escarpment and surrounded by unspoilt countryside. It started life as a Tudor hunting lodge, built for a courtier to Henry VIII, before being transformed into a grand country house. After falling into disrepair it was painstakingly restored by a Texan architect in the 1970s. The interiors are an eclectic mix of period furniture, curios and modern art, with gardens spread over three levels and 700 acres of grounds.
Entry £12 adults/£6 children. Address: Ozleworth, Wotton-under-Edge, Gloucestershire GL12 7PZ
Great Chalfield Manor and Garden
Great Chalfield is a medieval manor house amidst the Wiltshire countryside. It was built in the 15th century and restored in Arts and Crafts style in the early 1900s by local businessman Robert Fuller, whose descendants live there. You can visit the gardens which are decorated with lily ponds, gazebos and topiary, and the adjacent Parish Church, or take a guided tour of the house.
Entry £12 adults/£6 children (house and garden). Address: Near Melksham, Wiltshire SN12 8NH
Snowshill Manor and Garden
Home of eccentric Edwardian architect, artist, poet and collector Charles Paget Wade, Snowshill Manor and Garden in the pretty village of Snowshill dates to the 16th century. It was donated to the National Trust by Wade with over 22,000 objects he'd collected – from the everyday to the extraordinary – based on his motto 'Let nothing perish'. As well as viewing its collection the manor also has a terraced Arts and Crafts-style garden complete with its own model village.
Entry £13 adults/£6.50 children. Address: Near Broadway, Gloucestershire WR12 7JU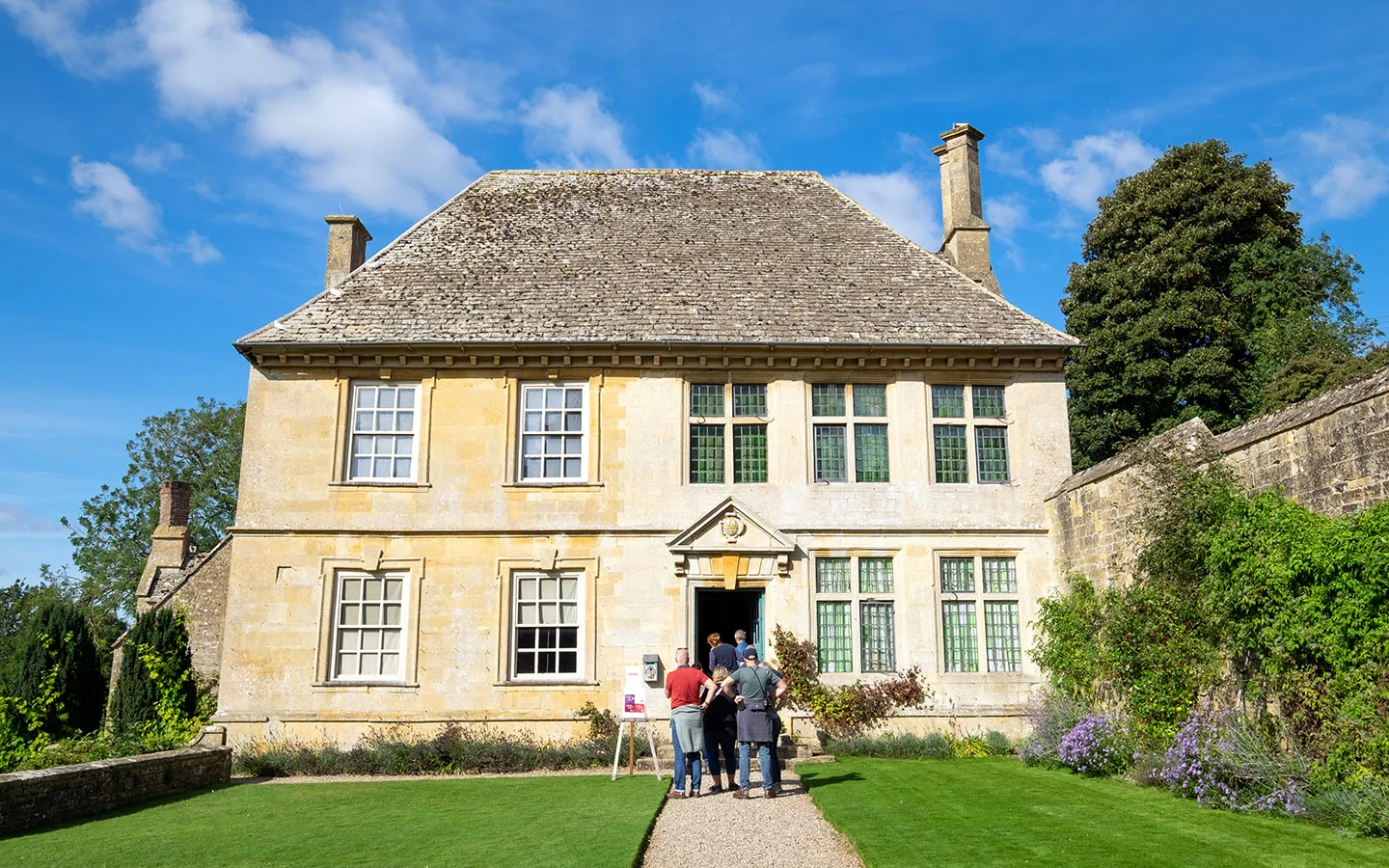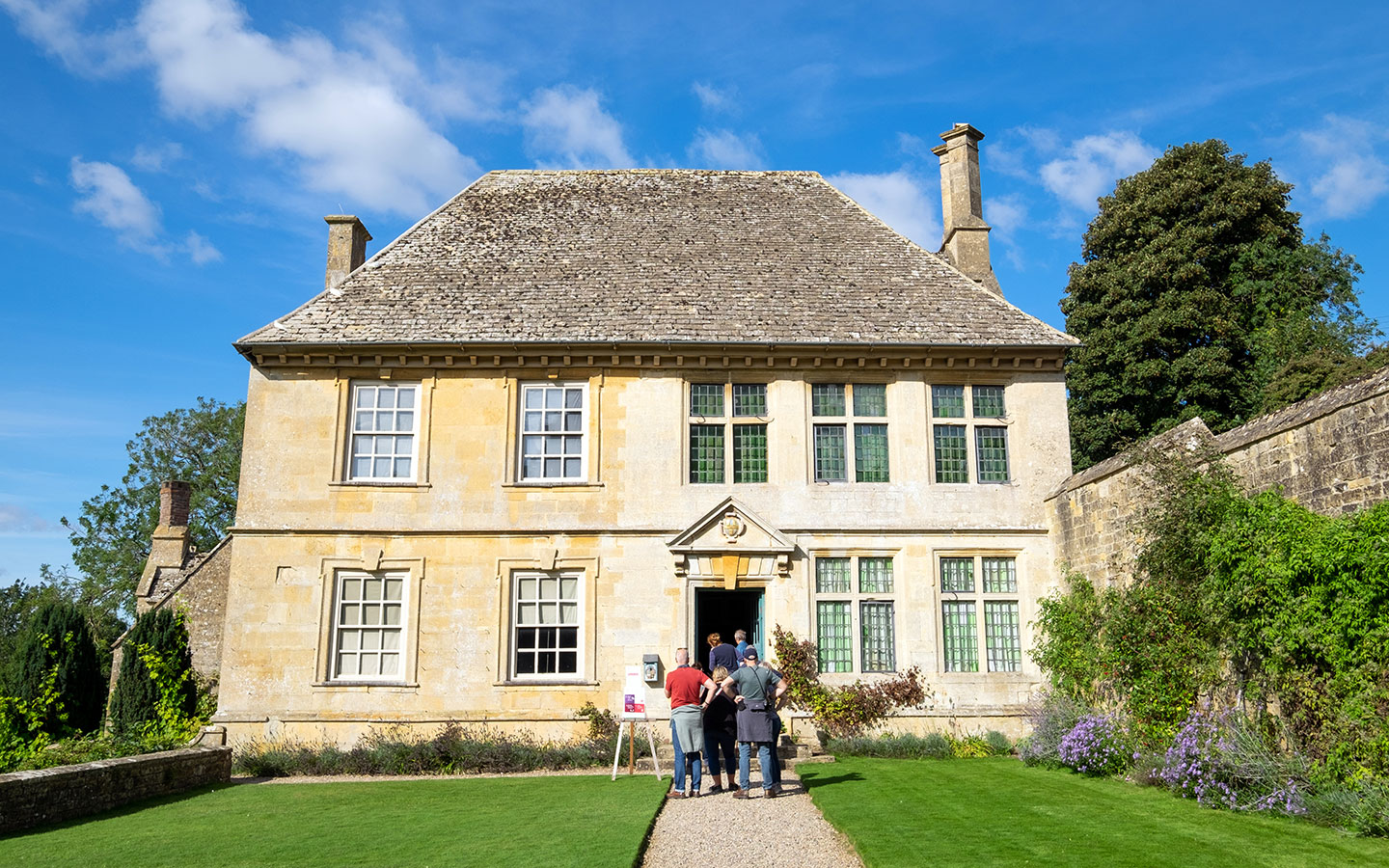 Upton House and Gardens
Upton House and Gardens on the Warwickshire–Oxfordshire border was the honey-stone country home of Lord and Lady Bearsted in the 1930s. Lady Bearsted commissioned Kitty Lloyd-Jones, one of the first female garden designers, to transform the garden into a colourful display set over a series of terraces. The Bearsteds also redecorated the house, which is on display in period style with their collections of English and French porcelain, furniture and impressive 20th-century artworks.
Entry £14 adults/£7 children. Address: Near Banbury, Warwickshire OX15 6HT
Westwood Manor
Historic Westwood Manor is a 15th-century stone manor house located just south of Bradford-upon-Avon. It has original Gothic windows, Tudor panelling and Jacobean plasterwork ceilings. Inside there is period furniture and displays of musical instruments and tapestries from the 17th and 18th century, and there's also a modern topiary garden and pools home to Great Crested Newts.
Entry £10 adults/£5 children. Address: Westwood, near Bradford on Avon, Wiltshire BA15 2AF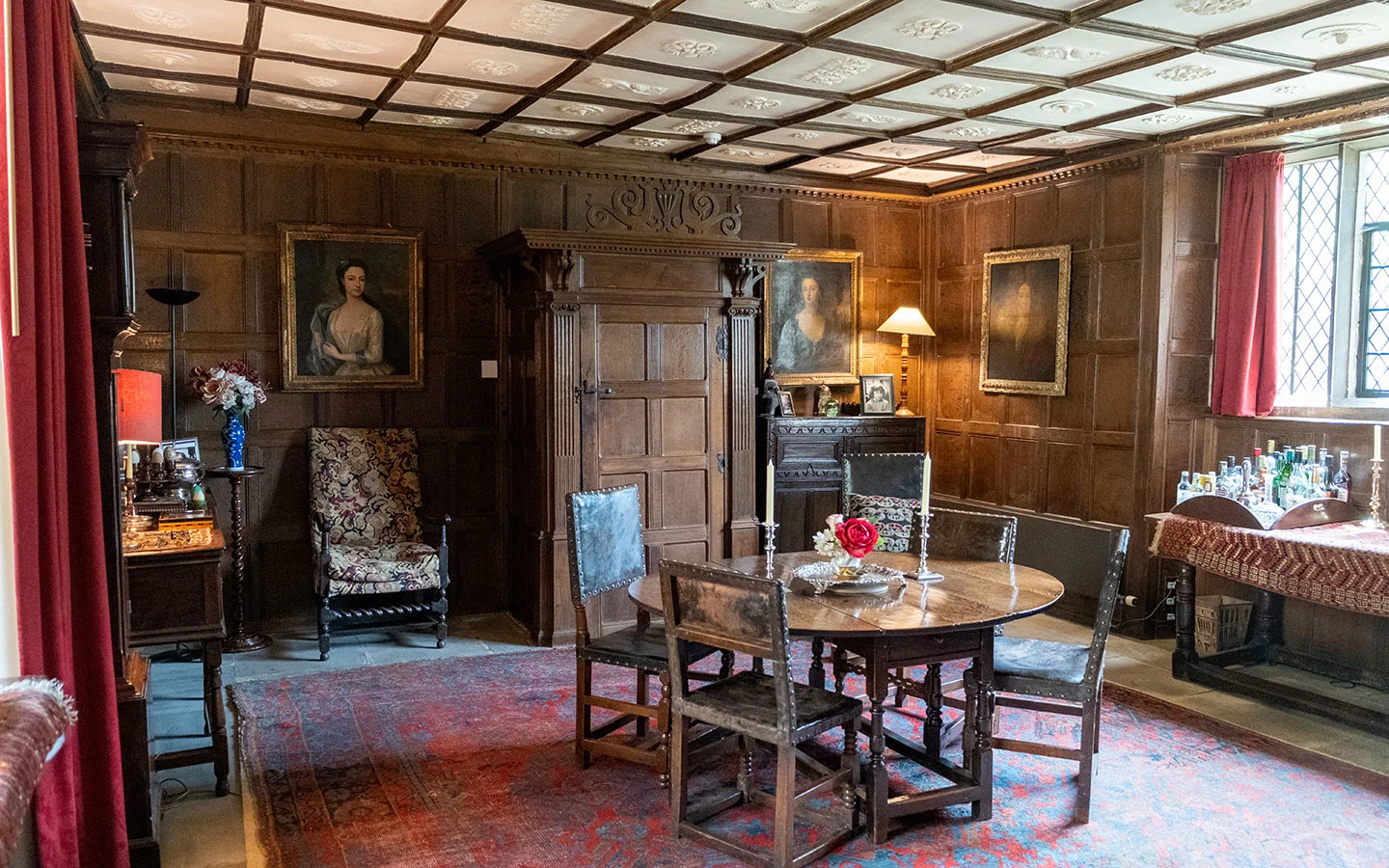 Parks and gardens
Westbury Court Garden
Westbury Court Garden is the UK's only surviving Dutch-style water garden, located just west of the Cotswolds close to the River Severn. It was laid out between between 1696 and 1705 and incorporates canals, neatly clipped hedges and original fruit and vegetable gardens.
Entry £8.50 adults/£4.25 children. Address: Westbury-on-Severn, Gloucestershire GL14 1PD
Hidcote
This Arts and Crafts-inspired garden near Chipping Campden was created by American horticulturist Major Lawrence Johnston in the 1910s after his mother bought the manor house. He started the garden from scratch and wanted to create a feeling of 'outdoor rooms' with different themes, separated by walls and hedges. It's planted with rare plants gathered on his travels, mixed with topiary, sculptures, ponds and fountains to create one of the area's best-loved gardens.
Entry £18 adults/£8 children. Address: Hidcote Bartrim, Gloucestershire GL55 6LR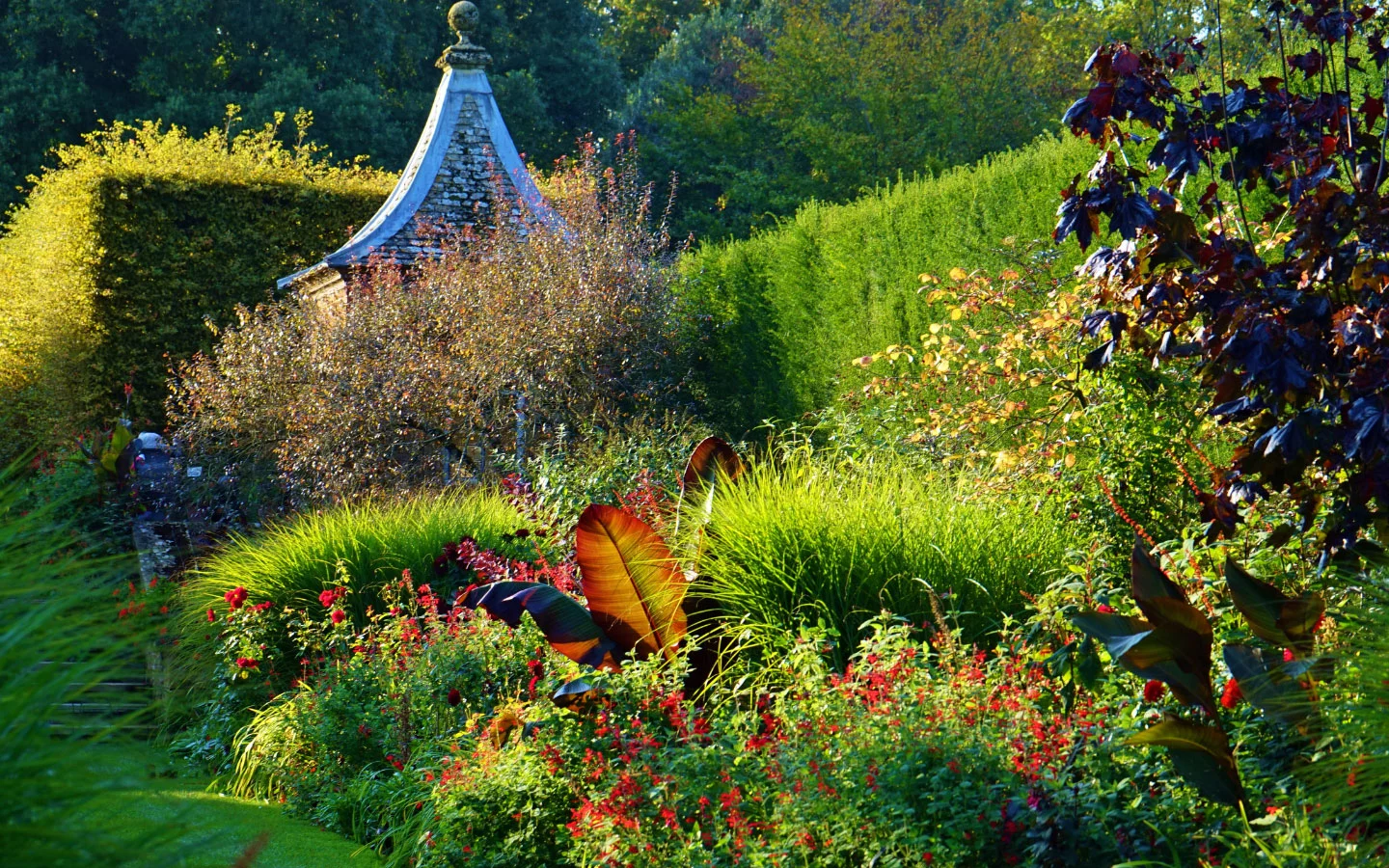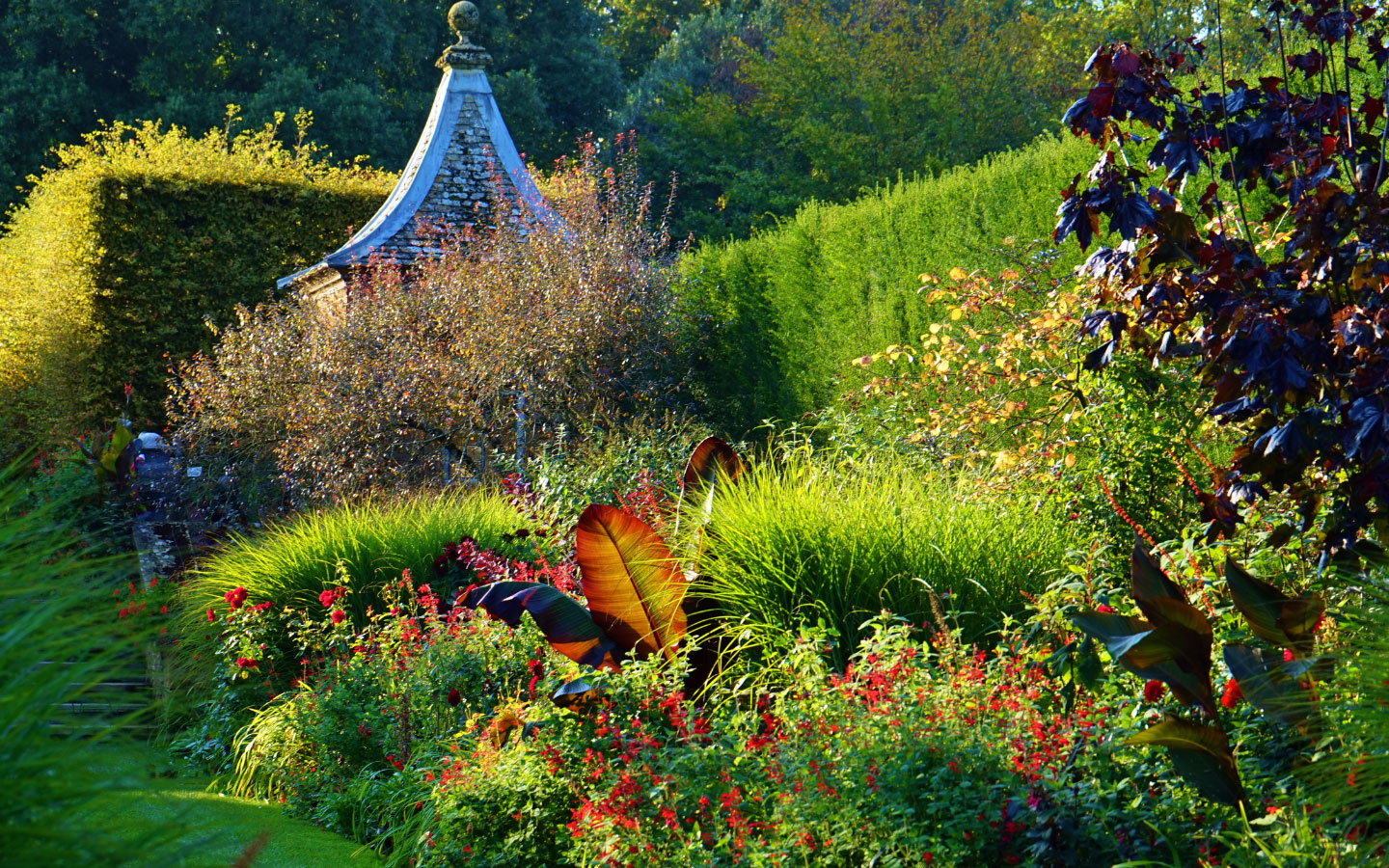 Lodge Park and Sherborne Park Estate
Lodge Park is a rare surviving 17th-century grandstand, which was built by John 'Crump' Dutton to entertain his guests while they gambled on deer coursing – a sport where deer were chased by hounds. Later Lodge Park was remodelled into an elegant house before being restored by the National Trust. It's surrounded by the grounds of Sherborne Park Estate, with three walking routes, a sculpture trail, great bird-watching and wildlife in the nearby water meadows.
Entry £11 adults/£5.50 children. Address: Aldsworth, Gloucestershire GL54 3DT
Woodchester Park
The peaceful, secluded wooded valley of Woodchester Park near Stonehouse surrounds an unfinished Victorian Gothic-style mansion (the house isn't run by the National Trust but self-guided tours are available). The park includes five lakes, acres of woodland, a disused quarry and a 19th-century boat house, and there are three marked walking routes to help you explore.
Free entry. Address: Nympsfield, near Stonehouse, Gloucestershire GL10 3TS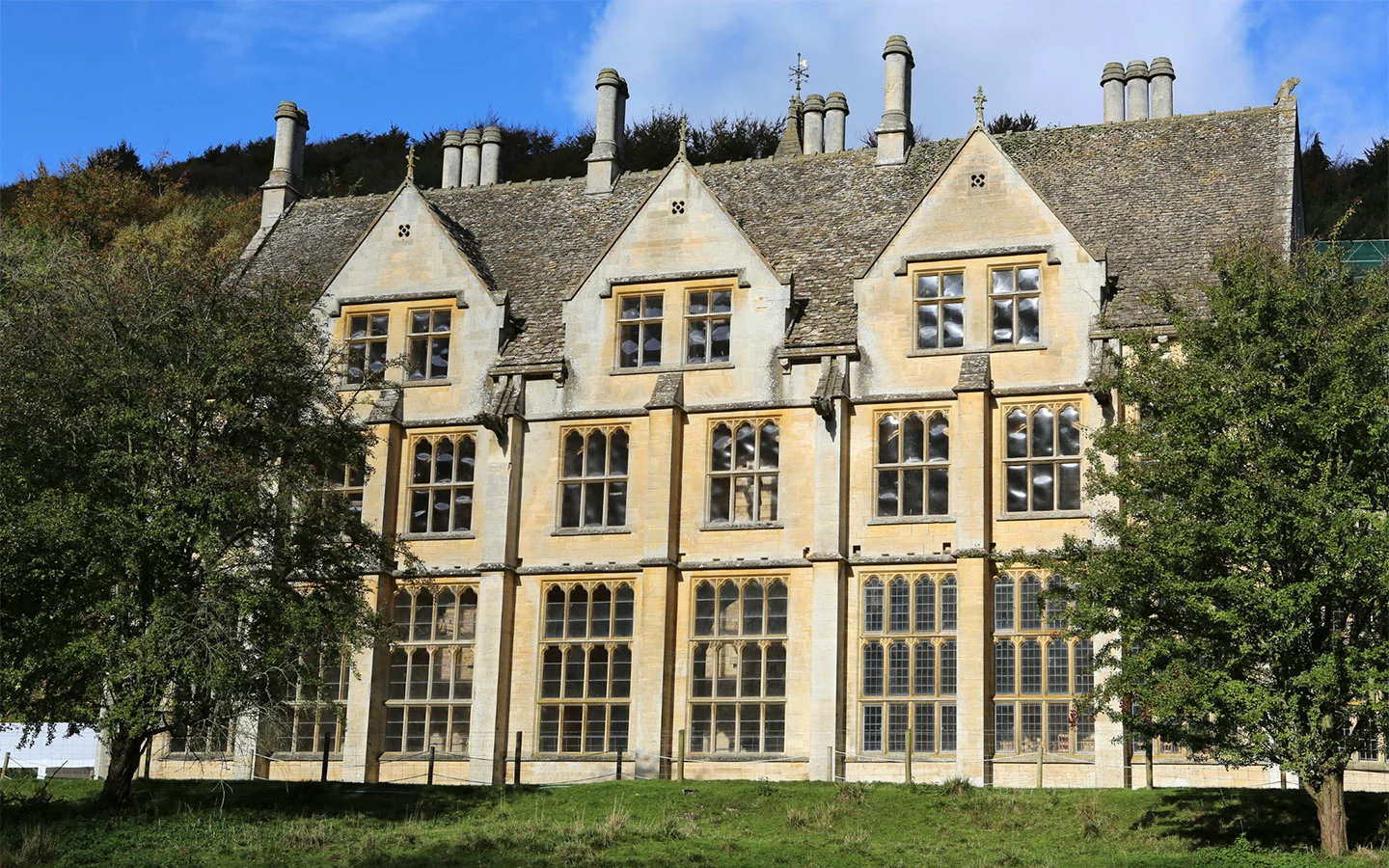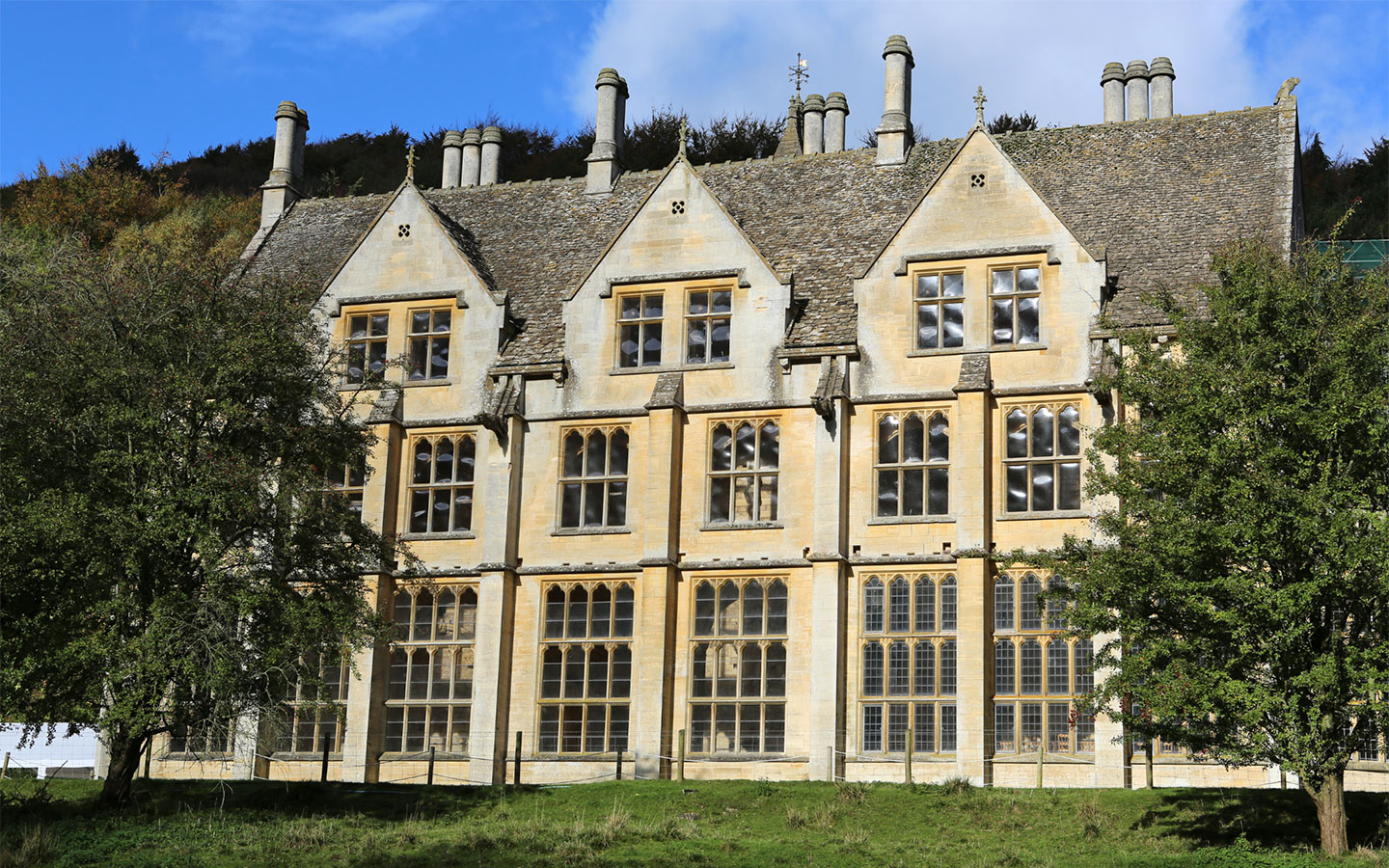 The Courts Garden
During the height of the wool trade in nearby Bradford on Avon, The Courts was the site of a cloth mill. But later Lady Cecile, wife of owner Major Clarence Goff, created a series of English country garden rooms inspired by the work of Gertrude Jekyll, with water gardens and herbaceous borders surrounded by neatly clipped hedges, an arboretum, vegetable garden and orchard.
Entry £11 adults/£5.50 children. Address: Holt, near Bradford on Avon, Wiltshire BA14 6RR
Prior Park Landscape Garden
Set in a valley overlooking Bath – and close to the Bath Skyline Walk (see below) – Prior Park Landscape Garden was designed in the 18th century by poet Alexander Pope and garden designer Lancelot 'Capability' Brown. Its covered Palladian bridge is one of only four of its kind in the world, and there's also a grotto, Gothic temple, walks, picnic spots and great views of the city.
Entry £9 adults/£4.50 children. Address: Ralph Allen Drive, Bath, Somerset BA2 5AH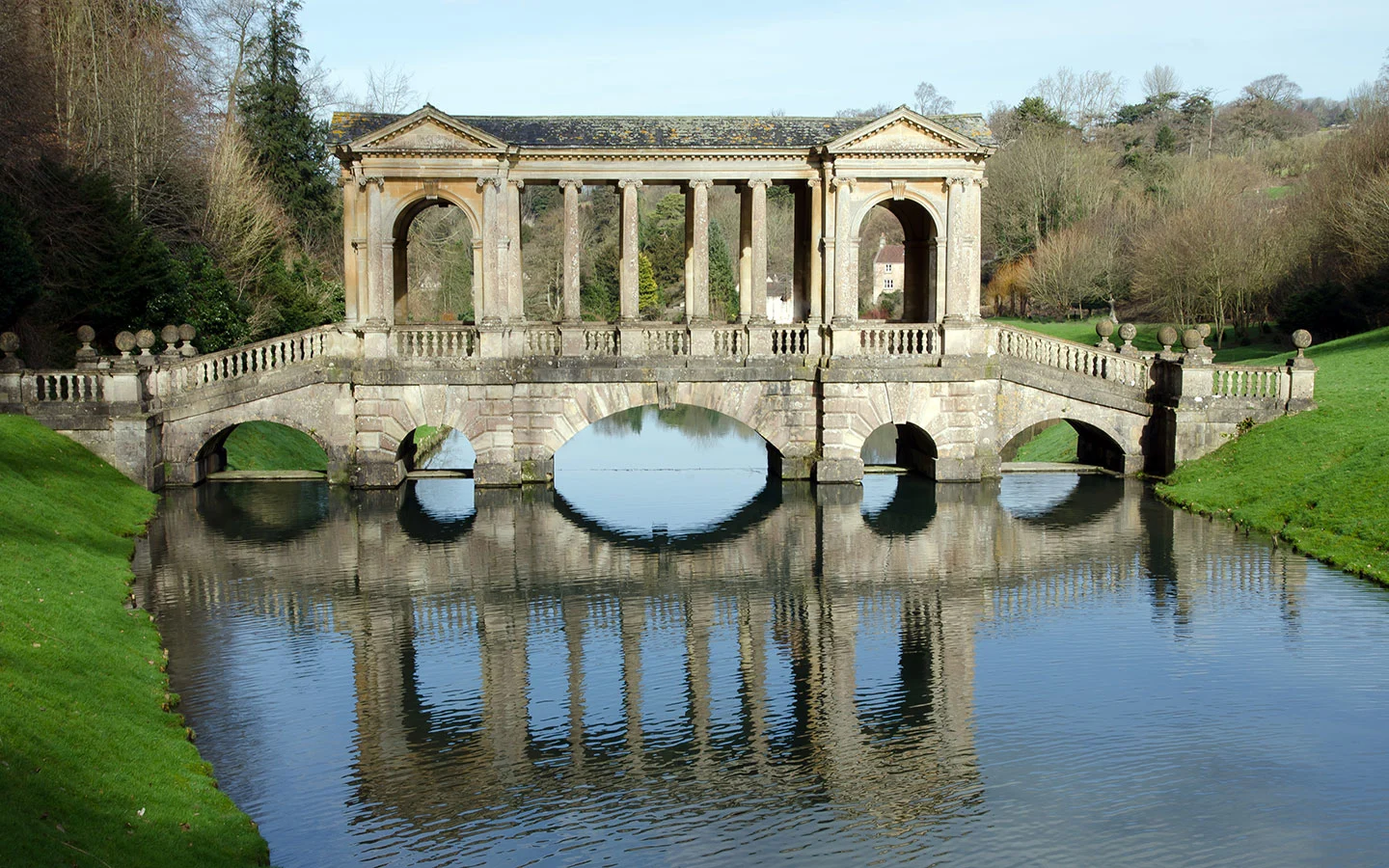 Historic sites
Bath Assembly Rooms
Once the heart of fashionable Georgian society, the Bath Assembly Rooms were built in 1771 and said to be 'the most noble and elegant of any in the kingdom'. They were used for social gatherings, with rooms dedicated to dancing, tea-drinking and playing cards. Today the Assembly Rooms are still used to host events, as well as being home to the Bath Fashion Museum.
Free entry (when not being used for events). Address: Bennett Street, Bath, Somerset BA1 2QH
Bibury
The village of Bibury was described by William Morris as 'the most beautiful village in England' and is set along the banks of the River Coln, surrounded by the tranquil Rack Isle water meadows. At the heart of the village is picture-perfect Arlington Row, a row of stone cottages which were built around 1380 as a monastic wool store and later converted into weavers' cottages. Bibury is now run by the National Trust, and the cottage at number 9 is available to rent as a holiday let.
Free entry. Address: Bibury, near Cirencester, Gloucestershire GL7 5NP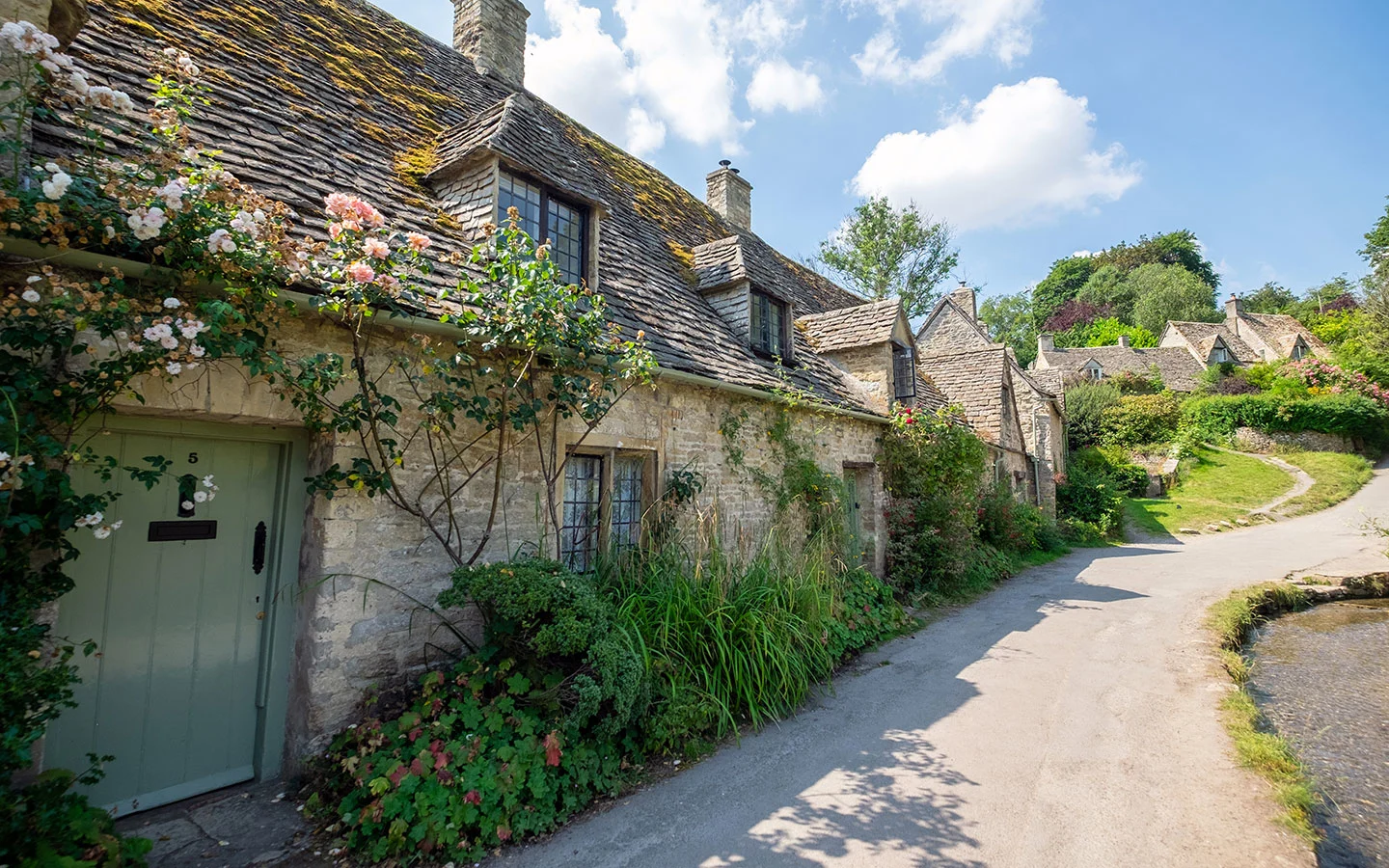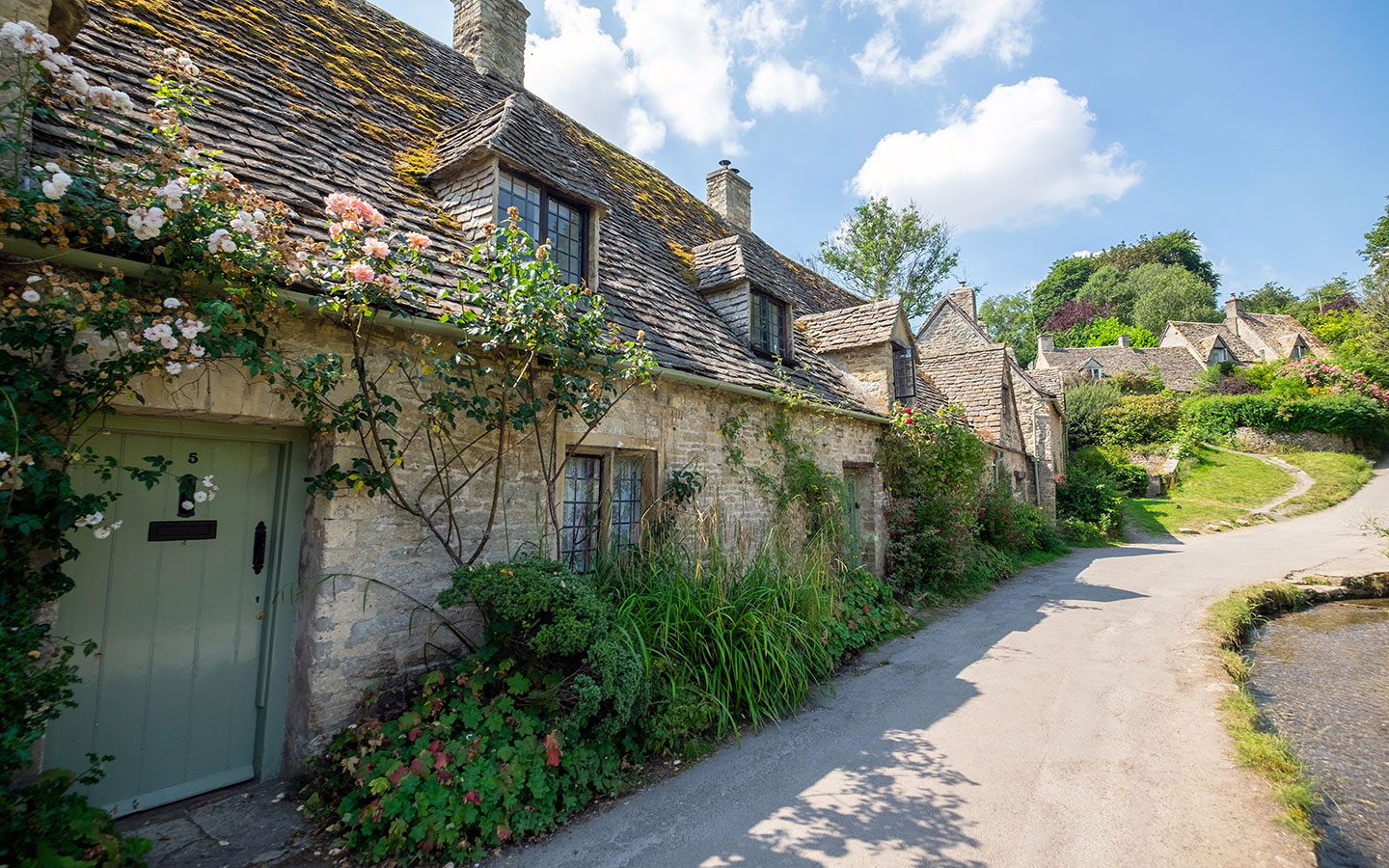 Ashleworth Tithe Barn
This 15th-century barn with a stone tiled roof lies in a beautiful setting by the River Severn. It was originally built to store food given to the church when the land was owned by Bristol Abbey, then later used by a local farmer for his cattle before being taken over by the National Trust.
Free entry. Address: Ashleworth, Gloucestershire GL19 4JA
Chedworth Roman Villa
Chedworth Roman Villa is one of the largest Roman villas in Britain, known for its elaborate mosaics. It was the home of a wealthy family in the 4th century and included underfloor heating, two heated bath houses and a nymphaeum (sanctuary to water nymphs). As well as the villa ruins there's also a museum displaying artifacts like jewellery, pottery and tools discovered during excavation.
Entry £12 adults/£6 children. Address: Yanworth, near Cheltenham, Gloucestershire GL54 3LJ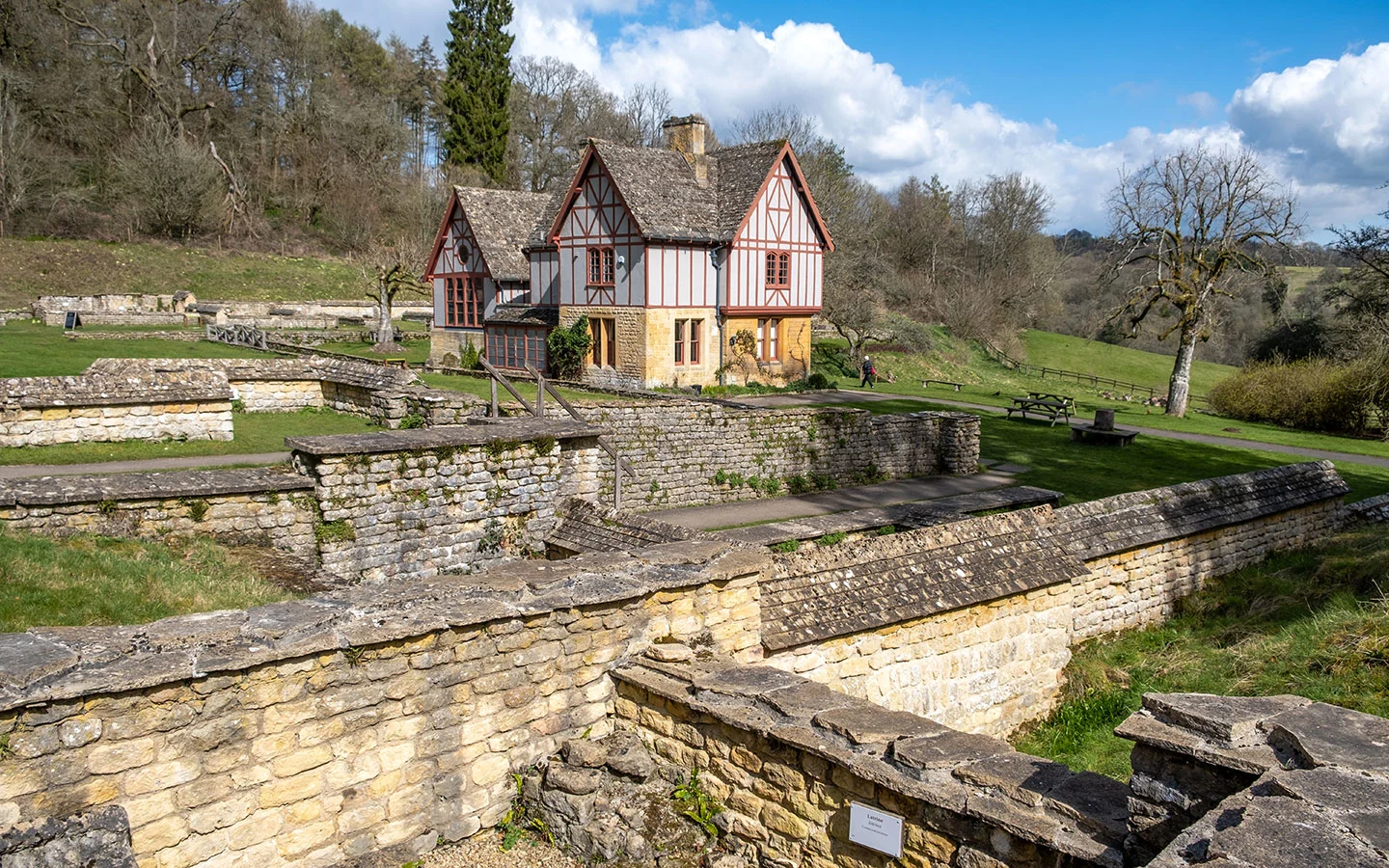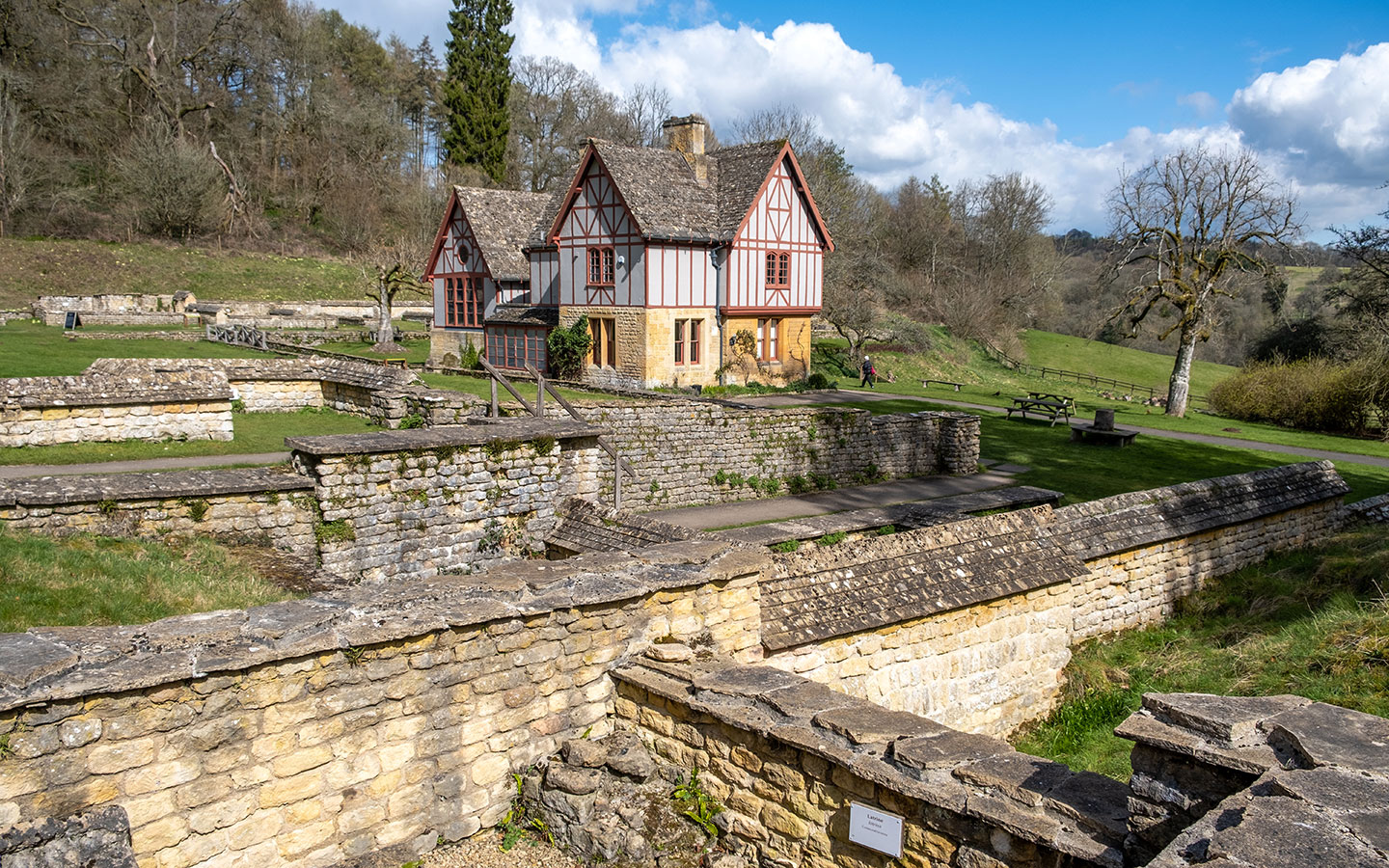 Chipping Campden Market Hall
The 400-year-old market hall stands at the heart of Chipping Campden's historic town centre. It was built in 1627 by Sir Baptist Hicks to provide market traders with shelter from the elements, and is still used by sellers today. It was almost sold and dismantled to move to America in the 1940s, but local residents raised enough money to buy it and donated it to the National Trust.
Free entry. Address: High Street, Chipping Campden, Gloucestershire GL55 6AJ
Lacock Abbey, Fox Talbot Museum and Village
The picturesque village of Lacock is just outside the official Cotswolds boundary in Wiltshire. Its historic buildings make it a favourite location for films and TV series including Harry Potter and Downton Abbey. Lacock Abbey is a former nunnery turned country house with sections dating from the medieval period to the 18th century. There is a also museum of photography dedicated to William Henry Fox Talbot, Lacock resident and inventor of the photographic negative.
Entry £17 adults/£8.50 children. Address: Lacock, near Chippenham, Wiltshire SN15 2LG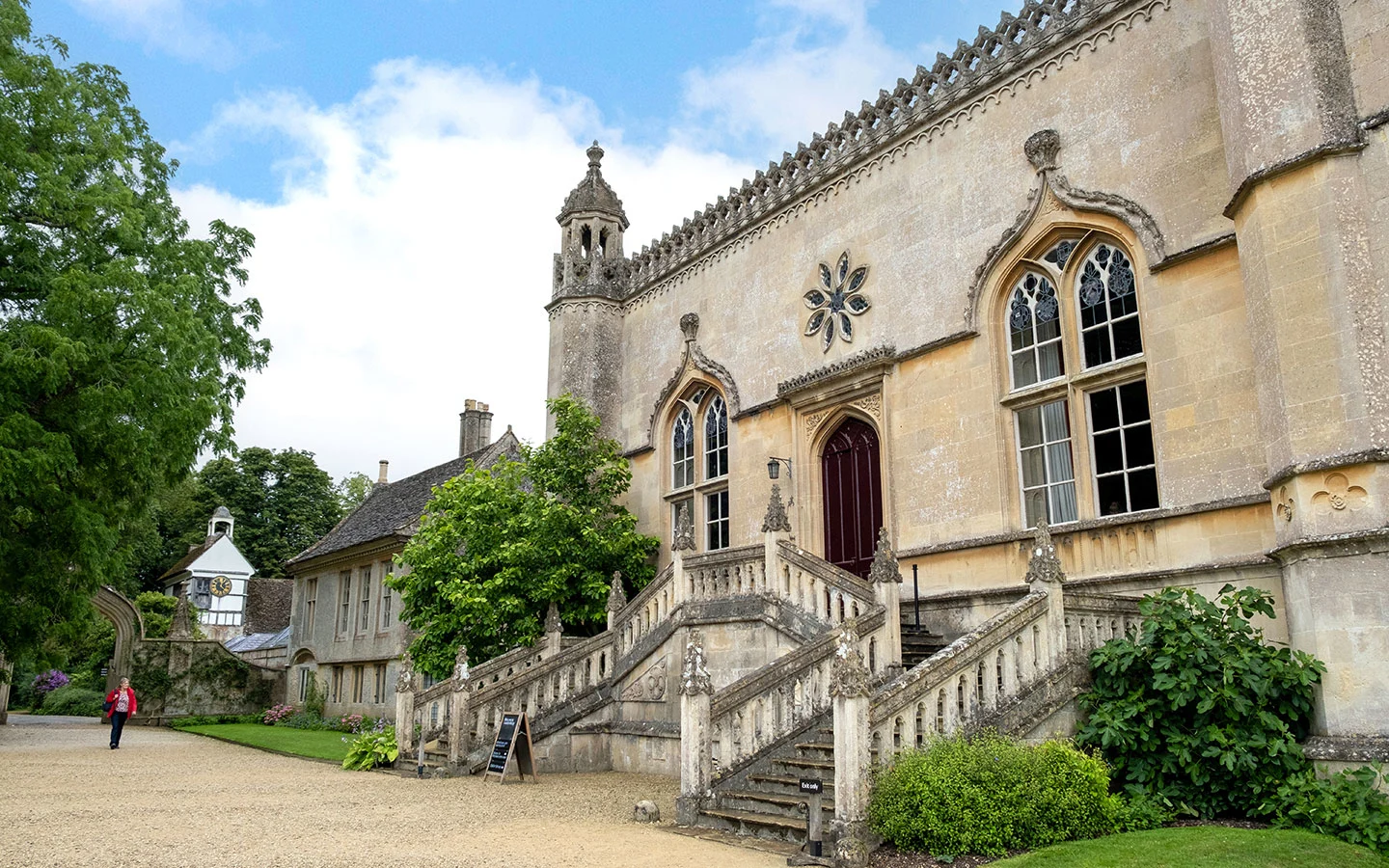 Viewpoints
Bath Skyline
The Bath Skyline Walk starts in the city centre and takes you up into the hills around Bath, running through meadows, ancient woodlands and secluded valleys with views of the historic city skyline. There are three different circular walks – the full 6-mile Bath Skyline Walk, the 3-mile Walk to the View or the 2-mile Family Discovery Trail – which are all also dog-friendly.
Free entry. Address: Southeast of the city of Bath, Bath and NE Somerset
Crickley Hill
South of Cheltenham, Crickley Hill Country Park is jointly managed with the Gloucestershire Wildlife Trust. This Site of Special Scientific Interest is a habitat for birds, insects and mammals, with pretty wildflowers growing on its limestone grassland. There are several circular walking routes, with views out across the Severn Vale, as well as the remains of an Iron Age hill fort.
Free entry. Address: Birdlip, Gloucestershire GL4 8JY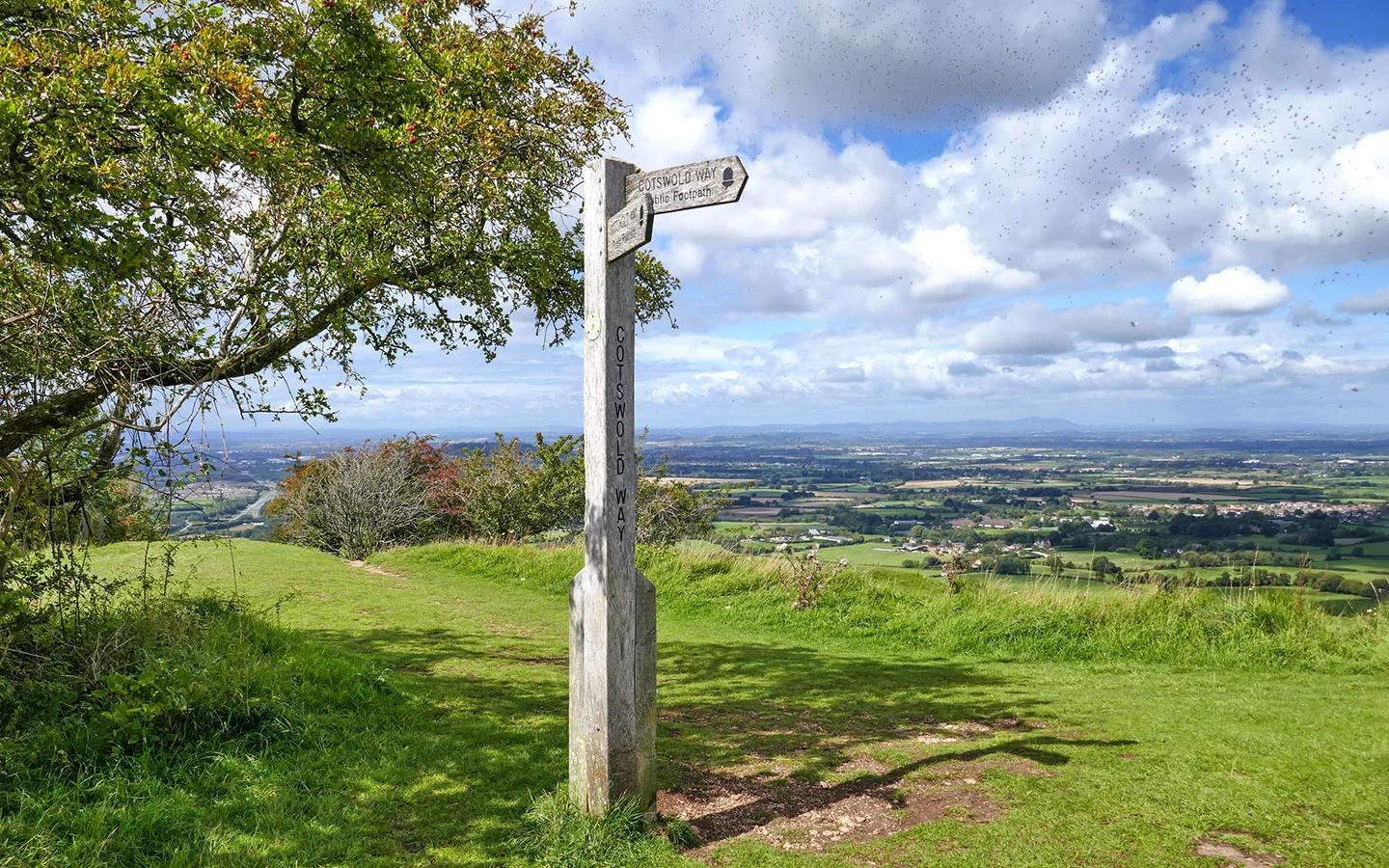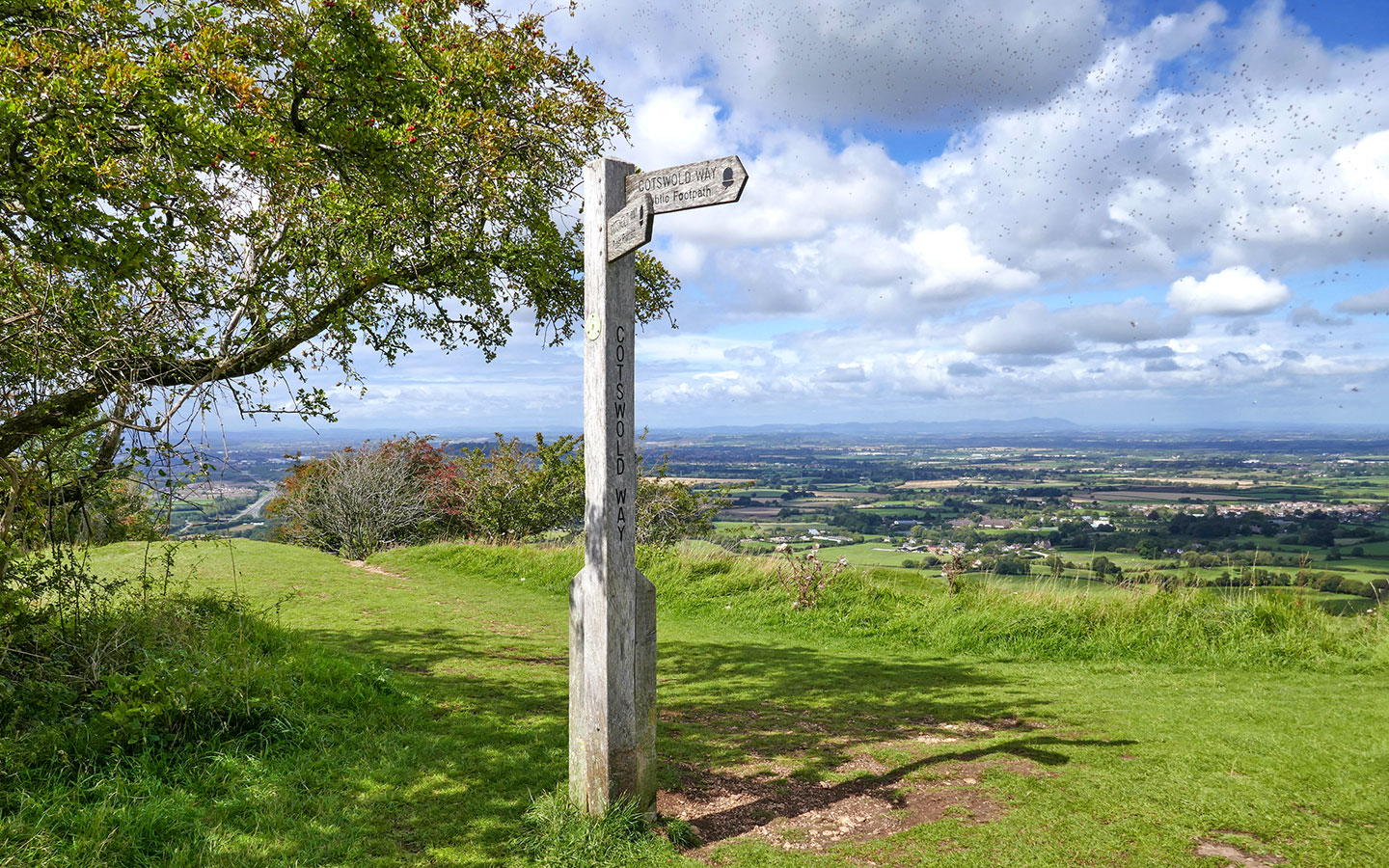 Dover's Hill
Dover's Hill lies just to the north of Chipping Campden, connected to the town along a 1.5-mile stretch of the Cotswold Way. This natural amphitheatre was the site of the original English Olympic Games which were started by Robert Dover in 1612, and now hosts the annual Cotswold Olimpick Games each June, which features quirky events like tug of war and shin-kicking.
Free entry. Address: Chipping Campden, Gloucestershire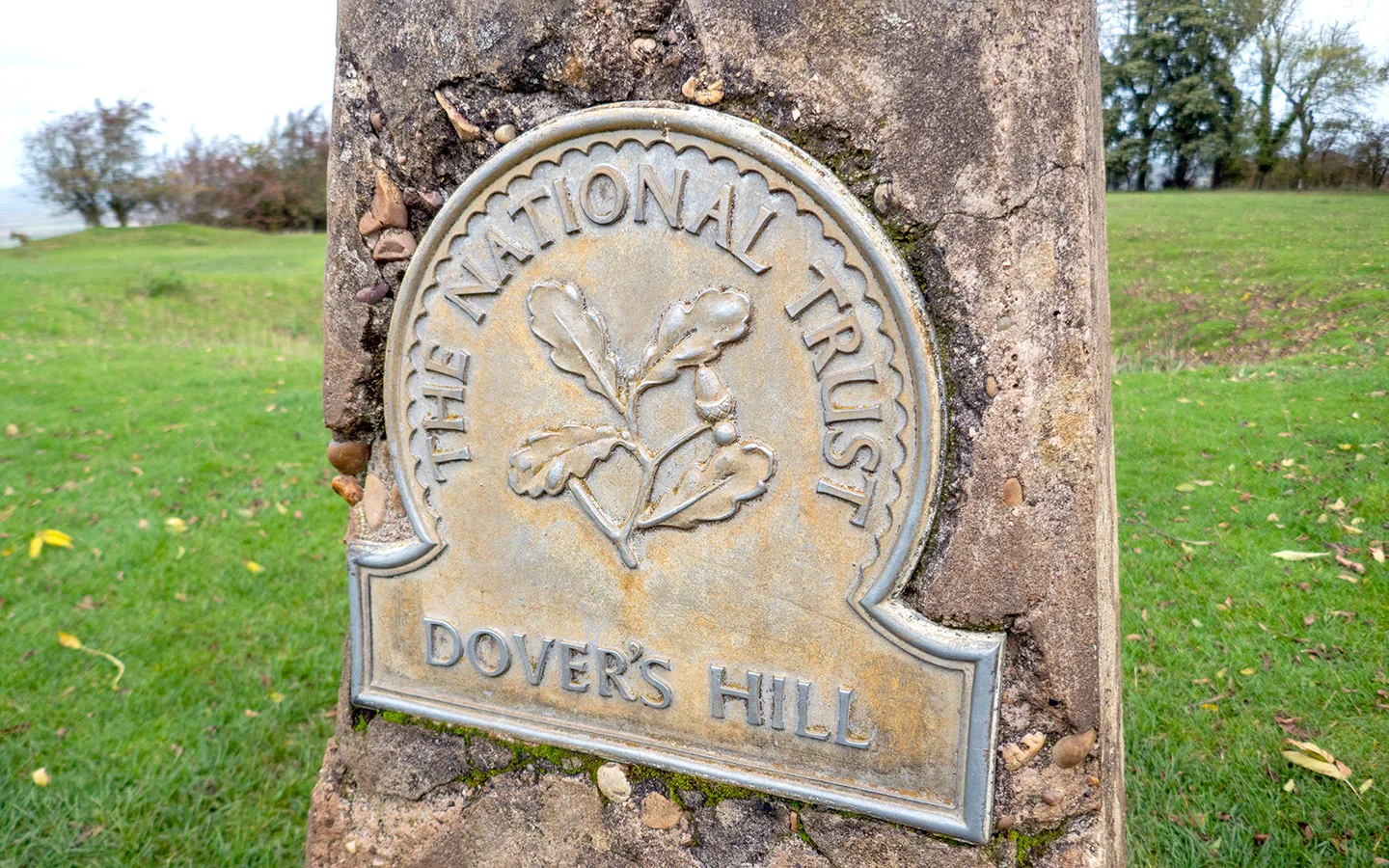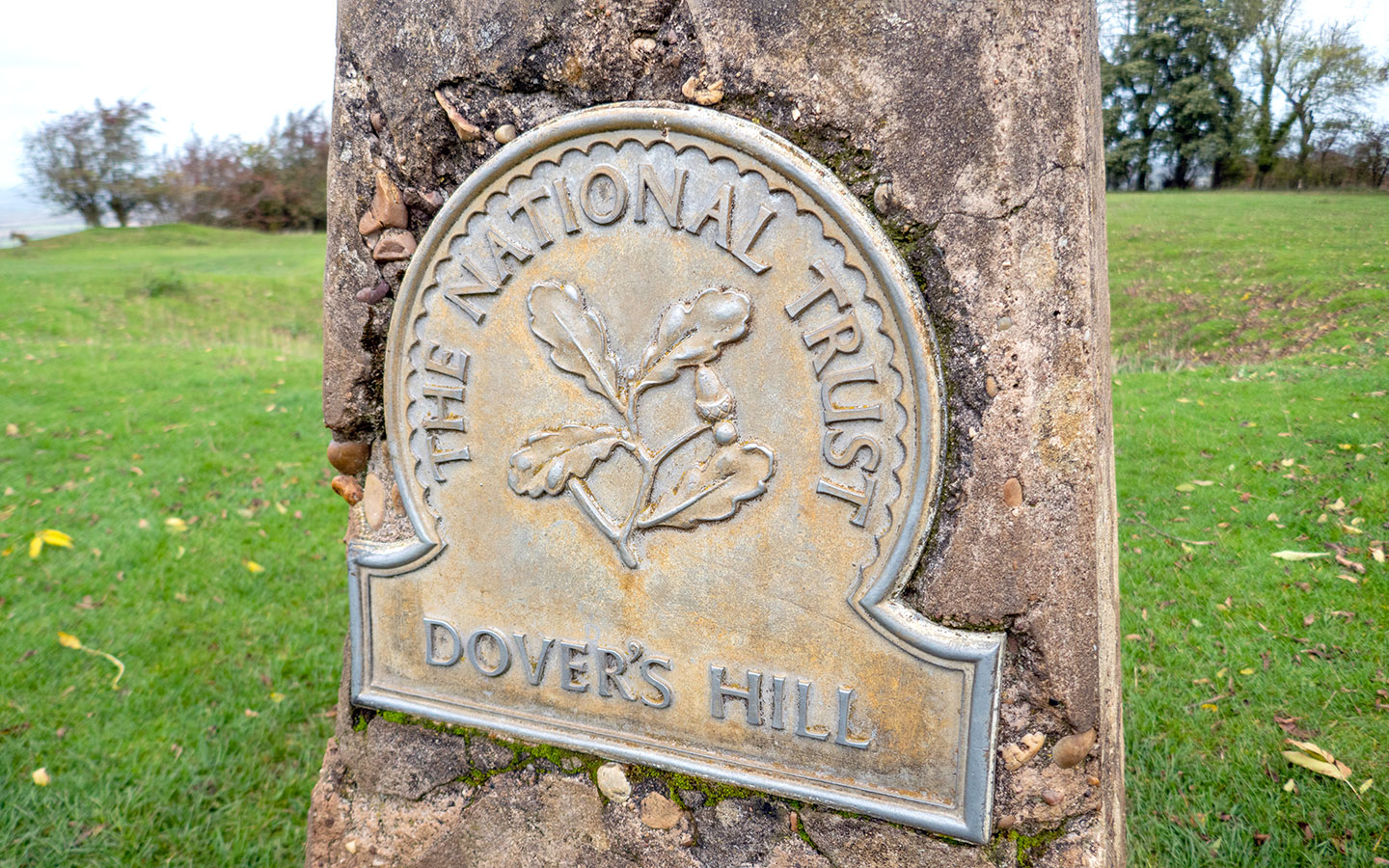 Minchinhampton and Rodborough Commons
These two historic commons look out over the Stroud Valley and Severn Estuary. Minchinhampton Common is one of the area's largest grassland commons, with the remains of prehistoric field systems, burial mounds and defensive earthwork. And Rodborough Common is known for its butterflies and wildlflowers, particularly the purple orchids which bloom in May.
Free entry. Address: Near Stroud, Gloucestershire
Haresfield Beacon and Standish Wood
This site north of Stroud mixes ancient woodland and open grassland with views towards the Forest of Dean and Brecon Beacons. It's a habitat for many plants and wildlife, with bluebells filling Standish Wood in spring and kestrels overhead. There are also archaeological features including a long barrow and hill fort, with a 4.8-mile circular walking route taking in the highlights.
Free entry. Address: Near Whiteshill Village, Stroud, Gloucestershire GL6 6PP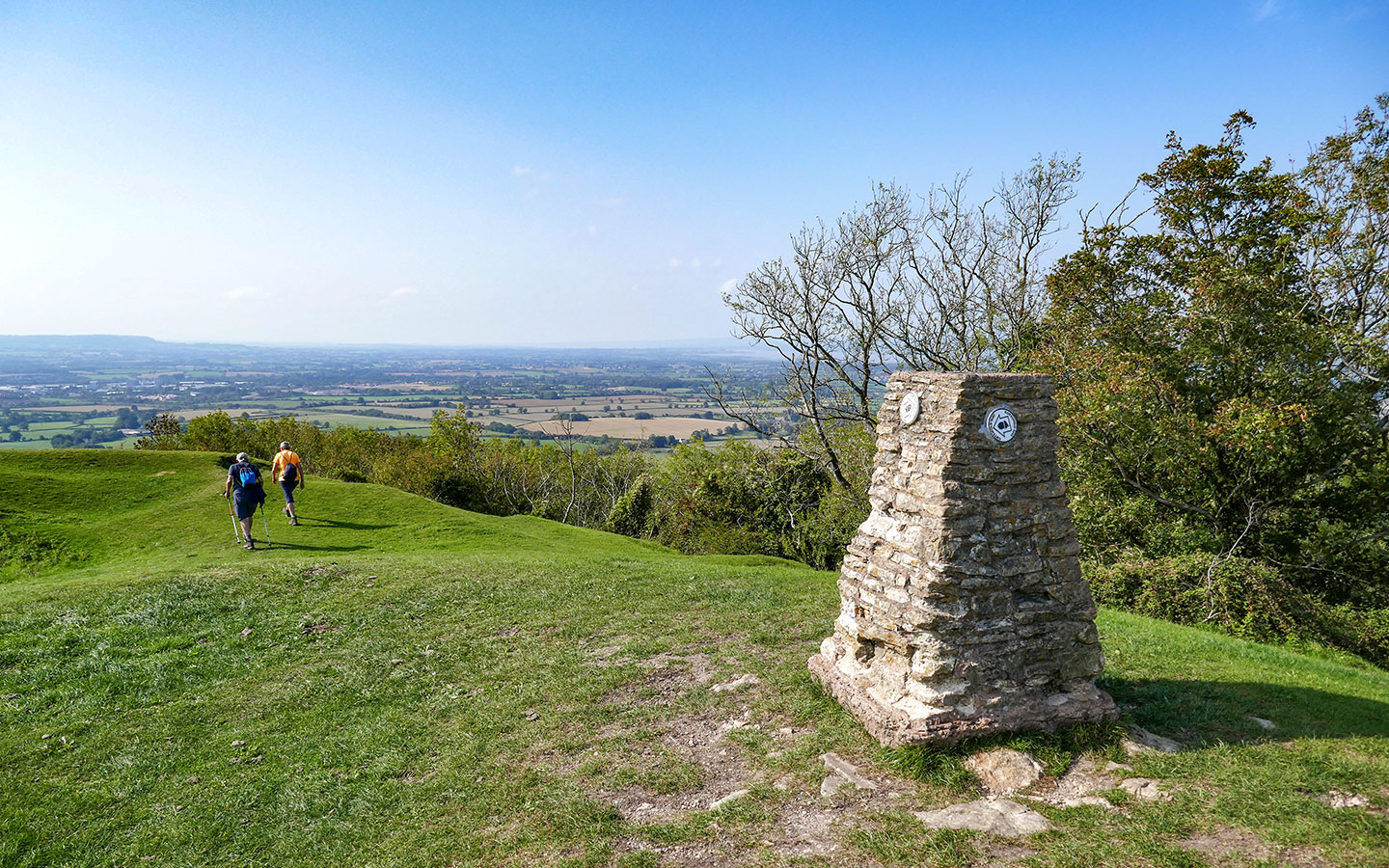 Further afield
Avebury
The World Heritage Site of Avebury lies 25 miles south of Cirencester and is home to the world's largest prehistoric stone circle, used as a ceremonial site during the Neolithic period. There is also Avebury Manor, which was recently renovated with rooms laid out in five different styles – Tudor, Queen Anne, Georgian, Victorian and 20th century – and is surrounded by gardens. And the Alexander Keiller Museum has displays on Avebury's history and archaeology.
Free entry to the stones, £12 adults/£6 children for the manor and gardens. Address: Near Marlborough, Wiltshire SN8 1RD
Cheddar Gorge
Around 24 miles south-west of Bath, Cheddar Gorge in Somerset is Britain's largest gorge, stretching over three miles long and 400 feet deep. It was formed by melting glaciers in the last Ice Age which cut down through the limestone rocks. The north side of the gorge is owned by the National Trust and there's a 4-mile walk along the clifftop which has views of the Somerset levels and Glastonbury Tor – and look out for the wild goats and Soay sheep who roam the gorge.
Free entry. Address: The Cliffs, Cheddar, Somerset BS27 3QE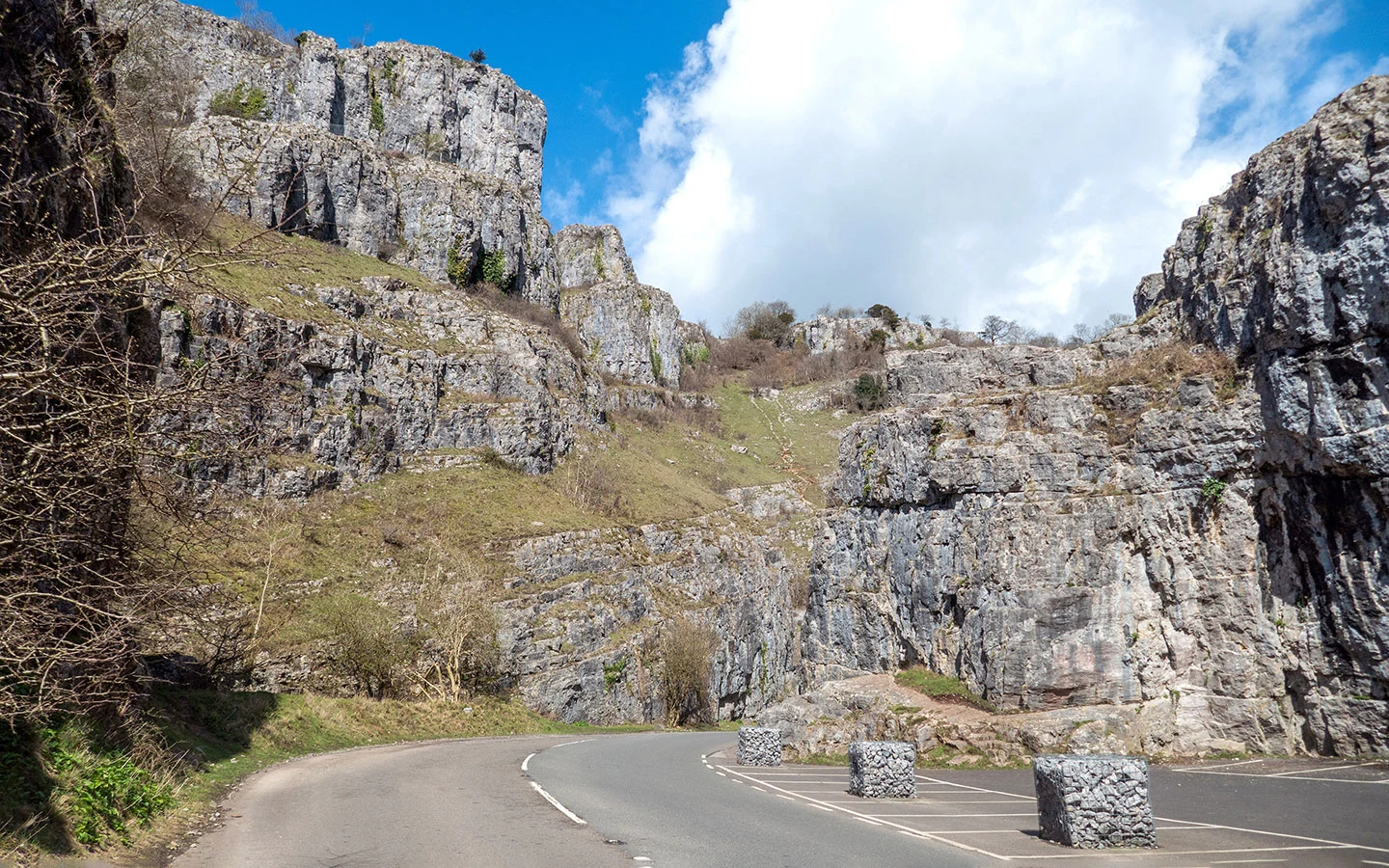 Charlecote Park
Charlecote Park is a country house in a deer park, located on the River Avon five miles east of Stratford-upon-Avon. It was originally built in the 16th century by the Lucy family who still own it today, though most of what you see now is Victorian, when owner George Hammond Lucy extended the house and filled it with items collected on his travels through Europe.
Entry £13 adults/£6.50 children. Address: Wellesbourne, Warwick, Warwickshire CV35 9ER
Croome
Owned by the Coventry family since the 16th century, Croome in Worcestershire has an unexpected history. At its heart is the impressive Croome Court, built in the 18th century for the 6th Earl of Coventry among acres of parklands. It used as a secret airbase during the Second World War, and you can learn more at the RAF Defford Museum as well as exploring the house and grounds.
Entry £14 adults/£7 children. Address: Near High Green, Worcester, Worcestershire WR8 9DW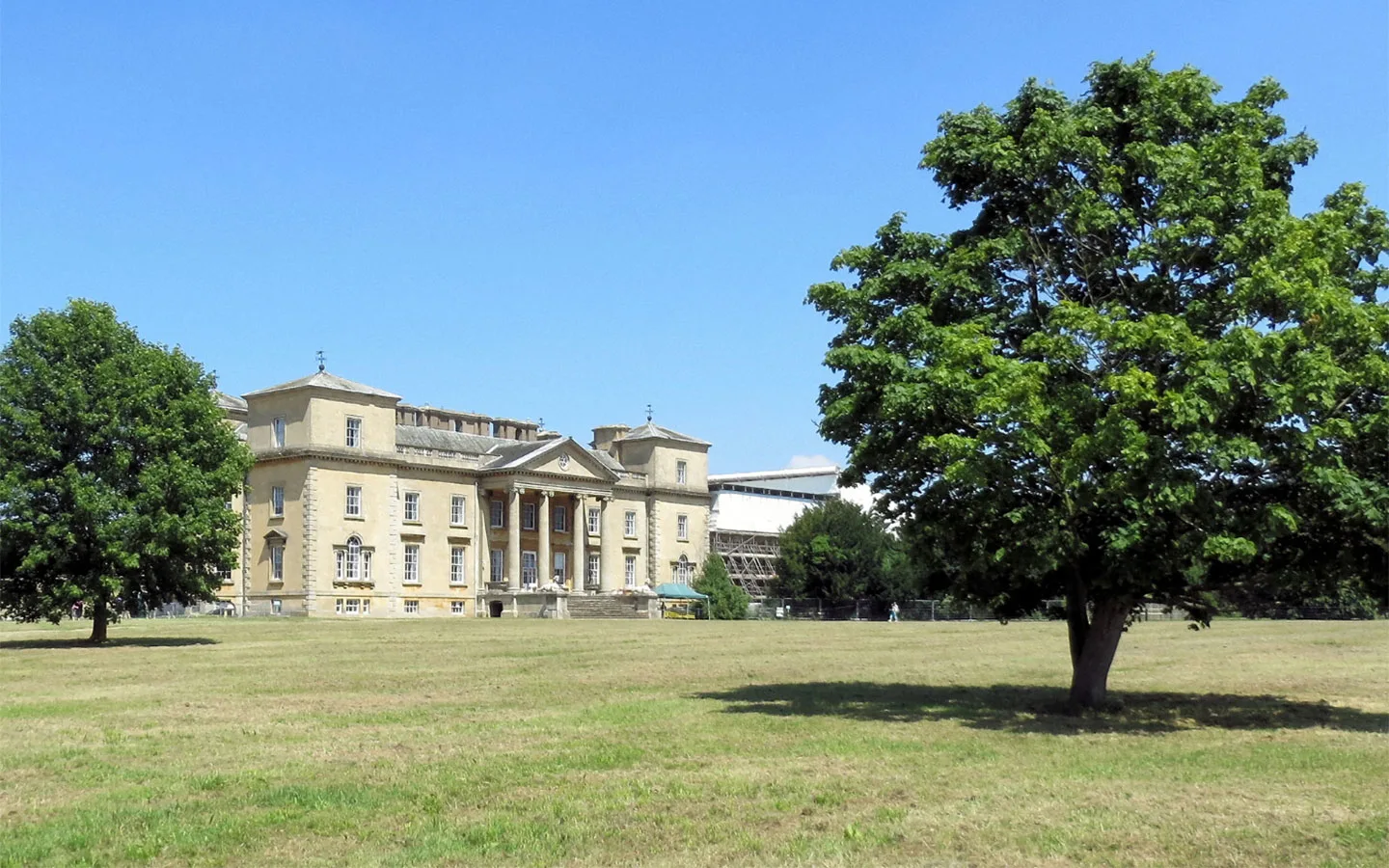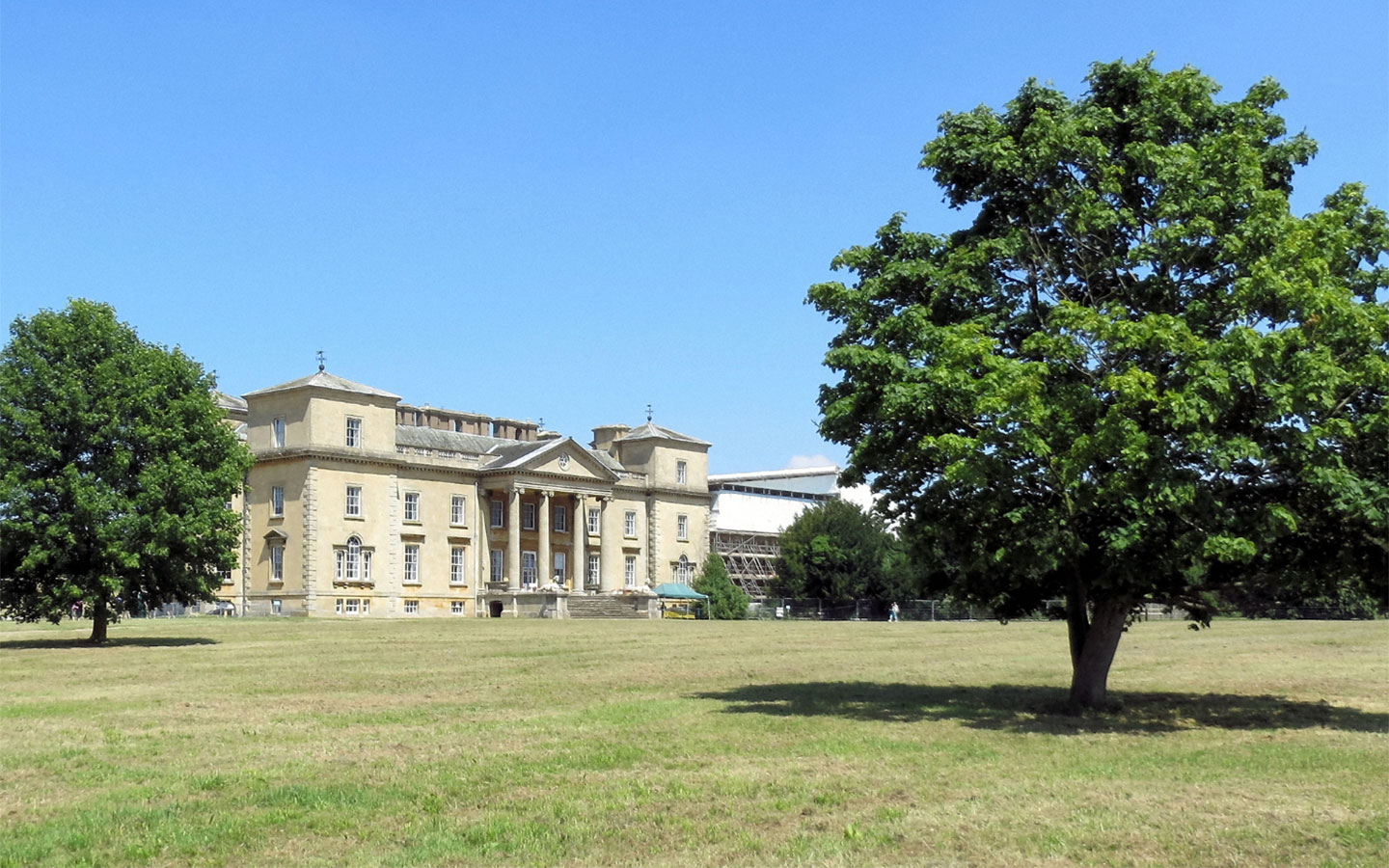 National Trust membership gets you free entry and free parking at all of their sites across in England, Wales and Northern Ireland, not just the Cotswolds. Annual membership helps support the charity as well as making a great gift. It costs £84 a year for adults over 26, £42 for young people aged 18–25 and £10 for children under 17. There are also joint, family and lifetime memberships available.
Save for later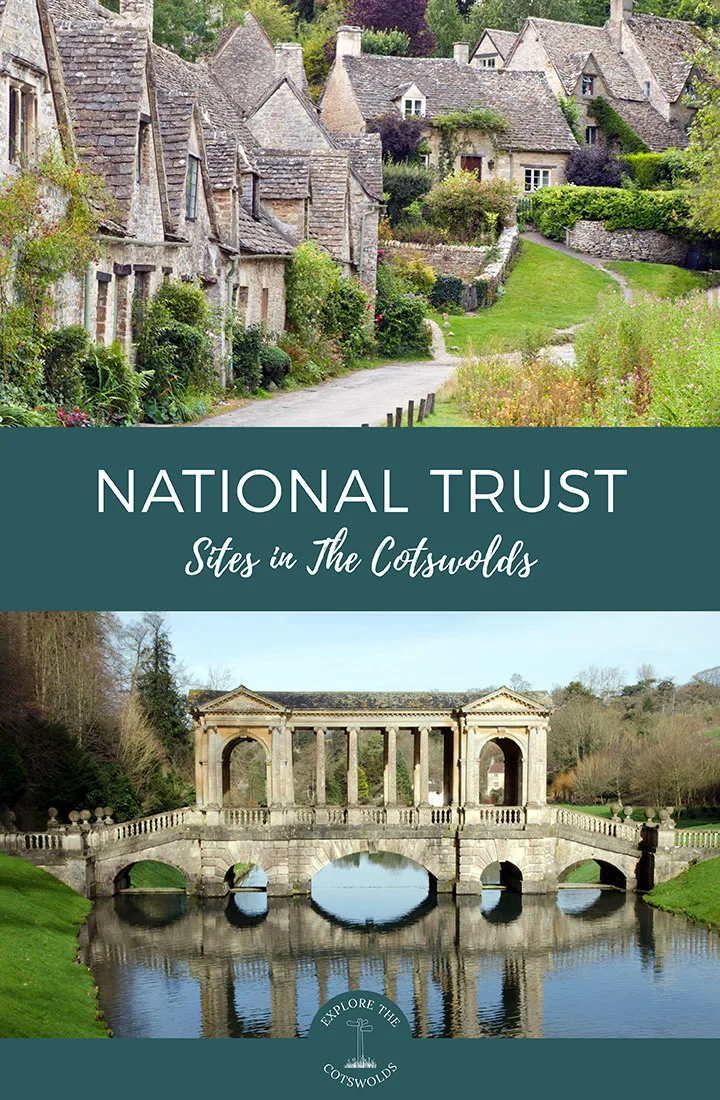 * This site contains affiliate links, where I get a small commission from purchases at no extra cost to you.