At the far south of the Cotswolds, the Wiltshire town of Bradford on Avon shares the same Cotswold stone charms as nearby Bath, but without the crowds. The town has a scenic waterside setting alongside both the River Avon and Kennet and Avon Canal, historic buildings ranging from Saxon churches to 18th-century mills, and plenty of independent shops and restaurants. So discover the best things to do in Bradford on Avon with this insider's guide from our local expert.
Bradford on Avon's history
There's been a settlement around the 'broad ford' across the River Avon which gave Bradford on Avon its name since the Iron Age. And the remains of a large Roman villa, complete with original mosaics, has been discovered in the playing fields of St Laurence School on the edge of town.
The Saxons built the Church of St Lawrence and a wooden bridge across the ford, which was later replaced by a stone Norman packhorse bridge – part of which is still standing today.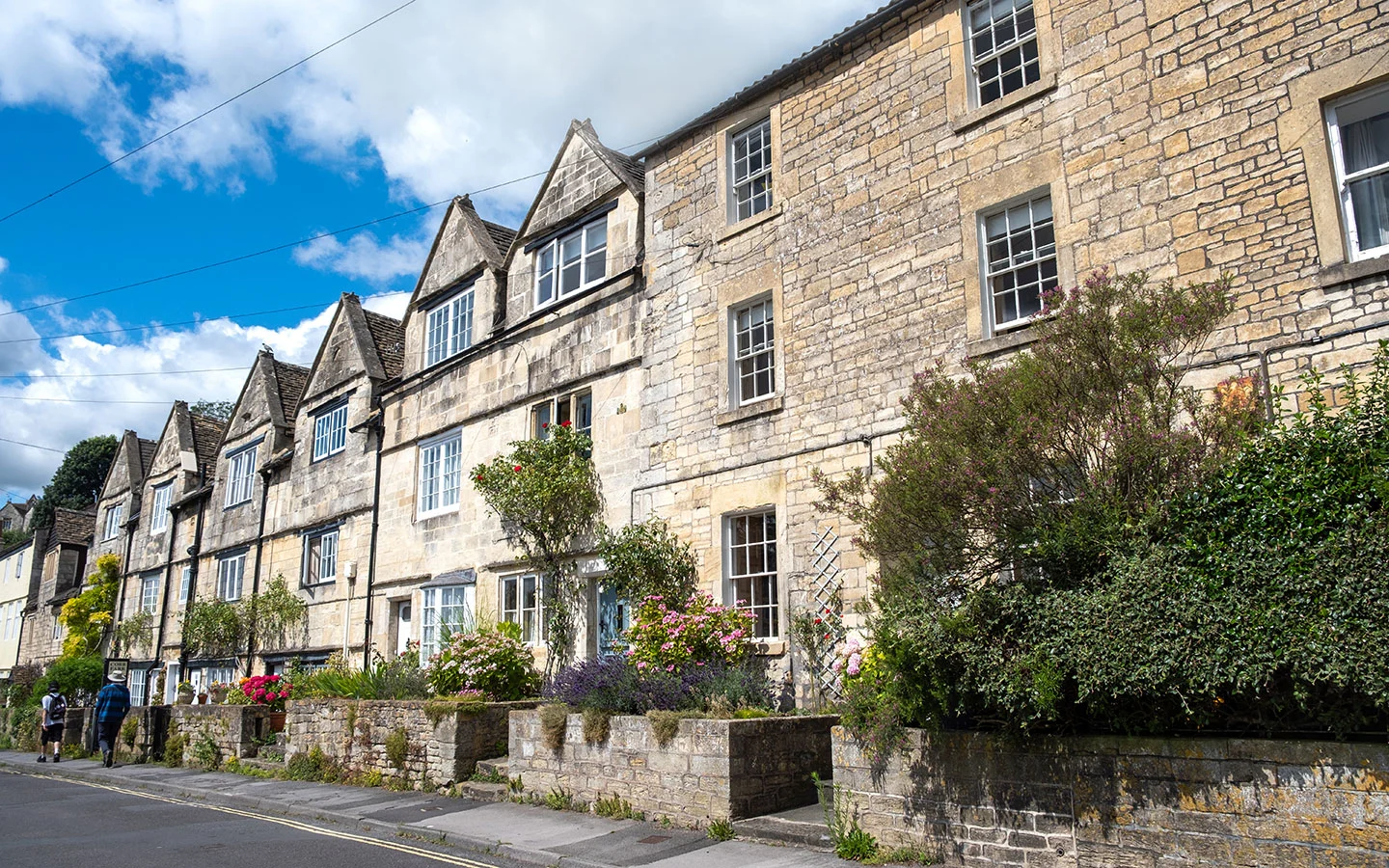 Bradford on Avon's position on the River Avon made it an important centre for wool and weaving from the 14th century and helped it grow into a prosperous town. During a 17th-century boom, many grand houses for wealthy clothiers and weavers' cottages were built. And when the Industrial Revolution began, workers moved from their houses into new factories along the river.
Over 30 mills were built in Bradford on Avon in the 18th century, which used water and steam to power the looms. The cloth industry eventually moved to Yorkshire, and the last mill closed in 1905. Some were used as rubber factories until the 1990s, and others converted to flats.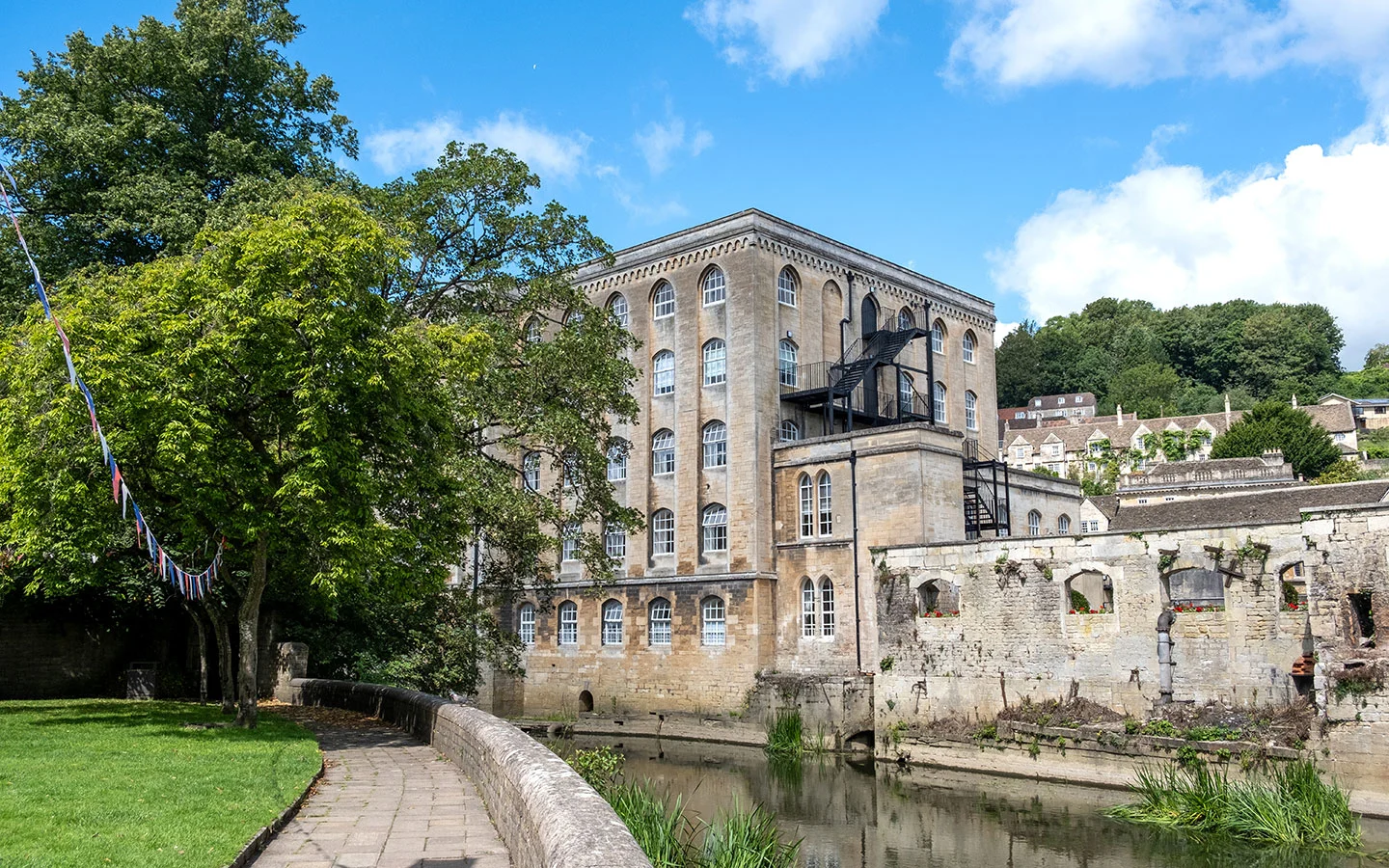 Map of Bradford on Avon
Things to do in Bradford on Avon
The Town Bridge
Bradford on Avon's most famous landmark, the oldest part of the Town Bridge dates back to the 13th century. You can see the two original arches at the south end which have pointed Gothic arches, instead of the rounded arches added when the bridge was widened in the 18th century.
There's a tiny former pilgrim chapel partway along the bridge, with a weather vane in the shape of a fish on top. It was later used as a mini lock up, where local undesirables were held before they went before a magistrate – prisoners were said to be 'under the fish and over the water'. It's not generally open to the public, other than during occasional Heritage Open Days events.
The Tithe Barn
At over 50 metres long and with a spectacular roof made of oak beams, Bradford on Avon Tithe Barn was one of largest medieval barns in England. It was built in the 1330s for Barton Grange Farm, owned by the nuns of Shaftesbury Abbey, to show off their wealth and power. And was used to collect tithes – taxes paid to the church as a percentage of the crops harvested.
After years as a storage barn for a succession of landowners and tenant farmers, it was taken over by English Heritage. It's free to visit, and you can also explore neighbouring Barton Farm Country Park as well as the art and craft shops and café in old farm buildings around the barn.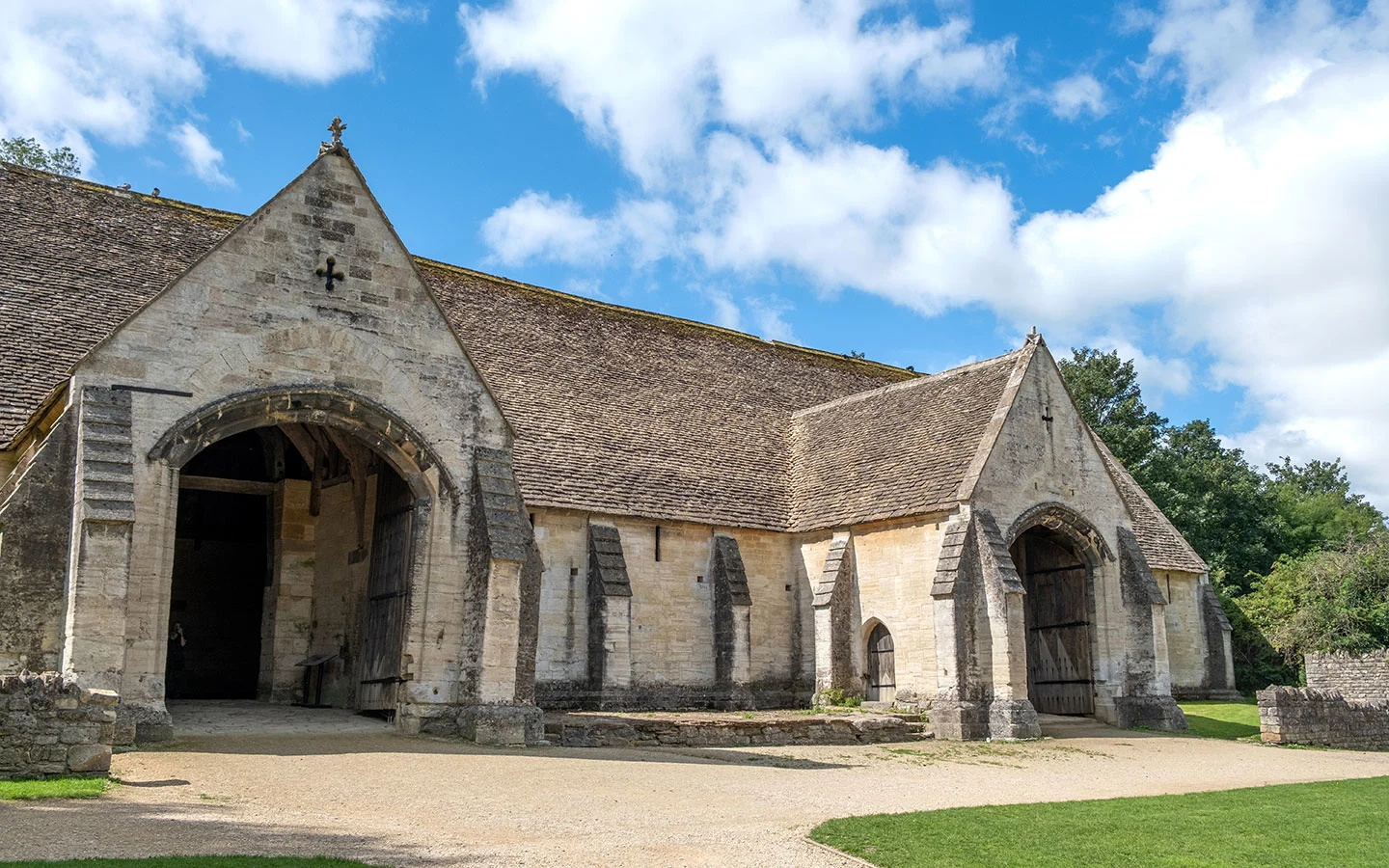 The Shambles
Bradford on Avon has a great selection of independent shops, and one of the prettiest streets to browse is The Shambles. This cobbled street connects Market Street and Silver Street, and has the town's only timber-framed building as well as others dating from the 15th century. And keep an eye out for the rare monogram of Edward VIII on the front of the Post Office building.
The Shambles was once the site of the town's medieval market, and it's now a quaint pedestrian street with shops and cafés, including Bloomfield greengrocers, Es & Me Books, Strawberry Blue gift shop and The Bolthole, where you can sit outside with a coffee and cake.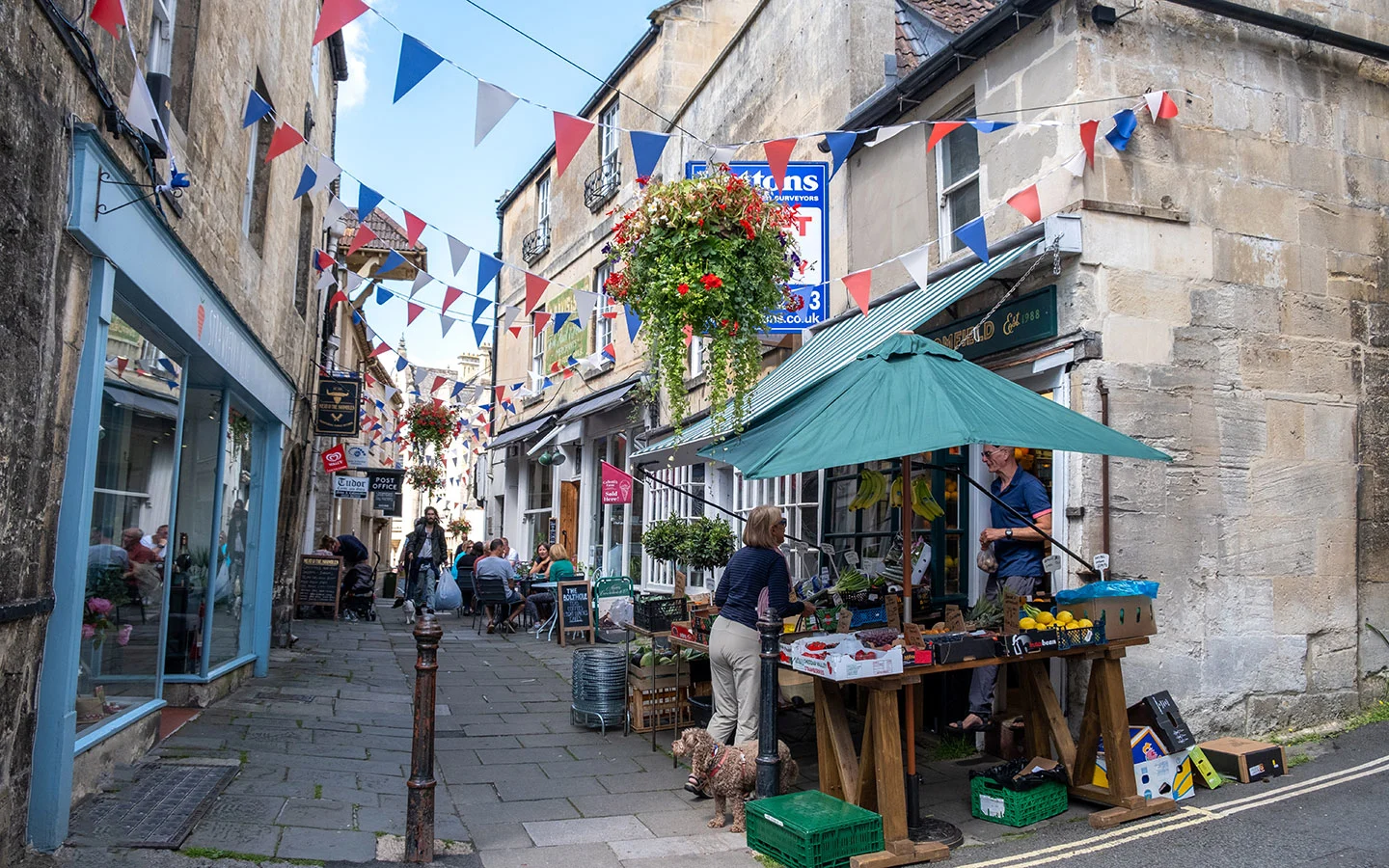 St Laurence Church
St Laurence Church is one of the most complete Anglo-Saxon churches, thanks to it being forgotten about for hundreds of years. It's not sure when the church was built exactly – it could have been for Saint Aldhelm around 700 AD or for the Shaftsbury Abbey nuns in the 11th century. But it was later hidden among other buildings, before being used as an ossuary and school.
Two carved carved stone angels were spotted during repairs in 1856 and Canon William Frampton, vicar of the nearby Holy Trinity church, recognised it as a Saxon building with its unusual tall shape with narrow, small windows. And since then it has been restored and reopened.
The Chapel of St Mary Tory
Another interesting church in Bradford on Avon is the Chapel of St Mary Tory. It takes its name from 'tor', the Latin word for hill, after the steep hillside it was built on. It was a chapel and resting place for pilgrims in the 15th century, before being restored from a ruin in 1887.
As well as beautiful stained glass windows, there are great views out over the town and out as far as the Westbury White Horse on Salisbury Plain. You can also see the picturesque Cotswold stone cottages running along the hillside, which were originally built for cloth weavers.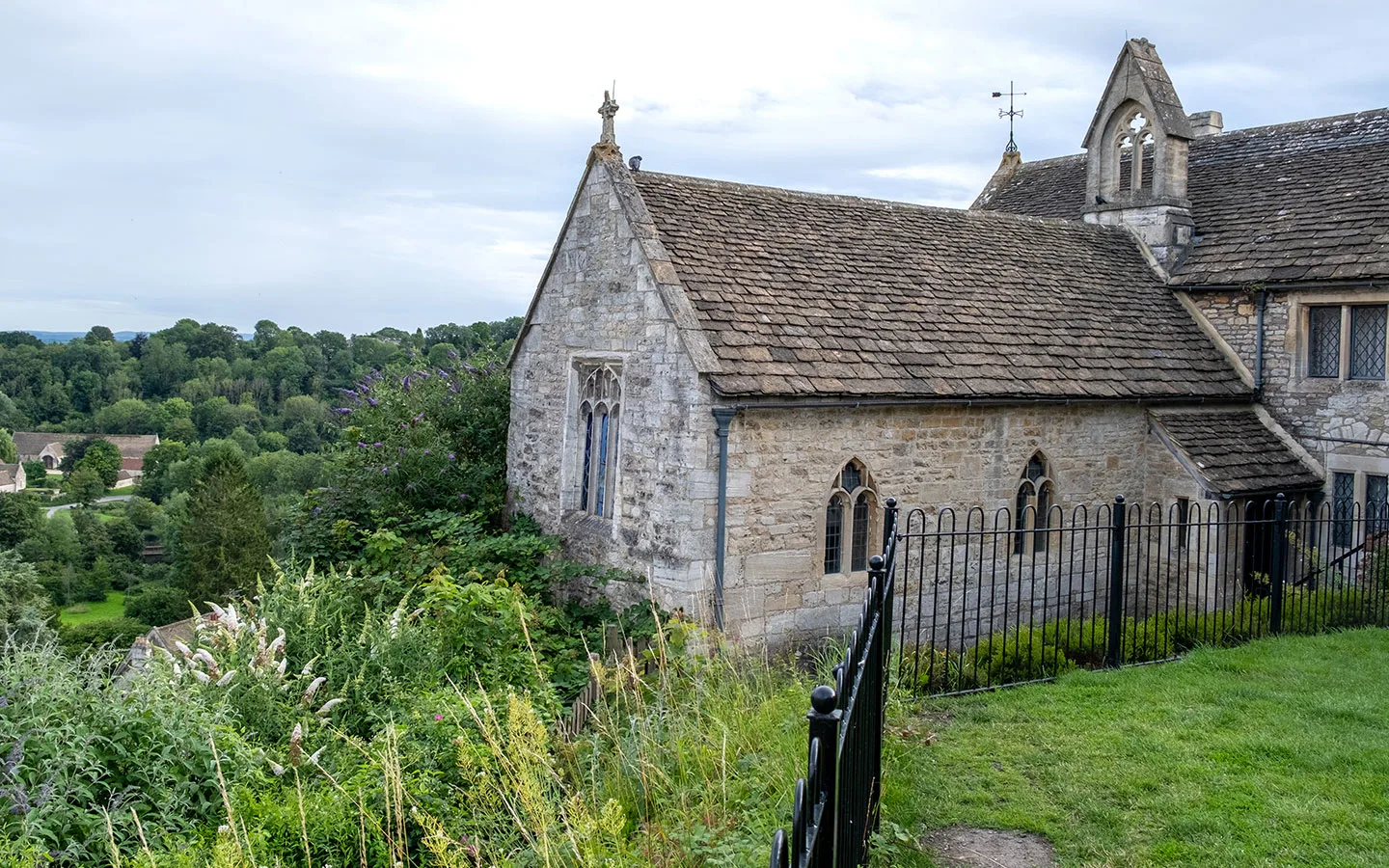 Bradford on Avon Museum
The Bradford on Avon Museum is a small, volunteer-run museum located above the library. It's free to visit and is a good way to find out more about the town's history. There's a mix of fossils and archaeological finds, old photographs, paintings and artefacts from the different trades and industries that worked in Bradford on Avon, including the mills and rubber factories.
One of the most interesting exhibits is a replica of a Victorian chemist's shop. It opened as a pharmacy on Silver Street in 1863, and many of the original fixtures and fittings were kept by the building's later owners, meaning it could be recreated in its vintage glory inside the museum.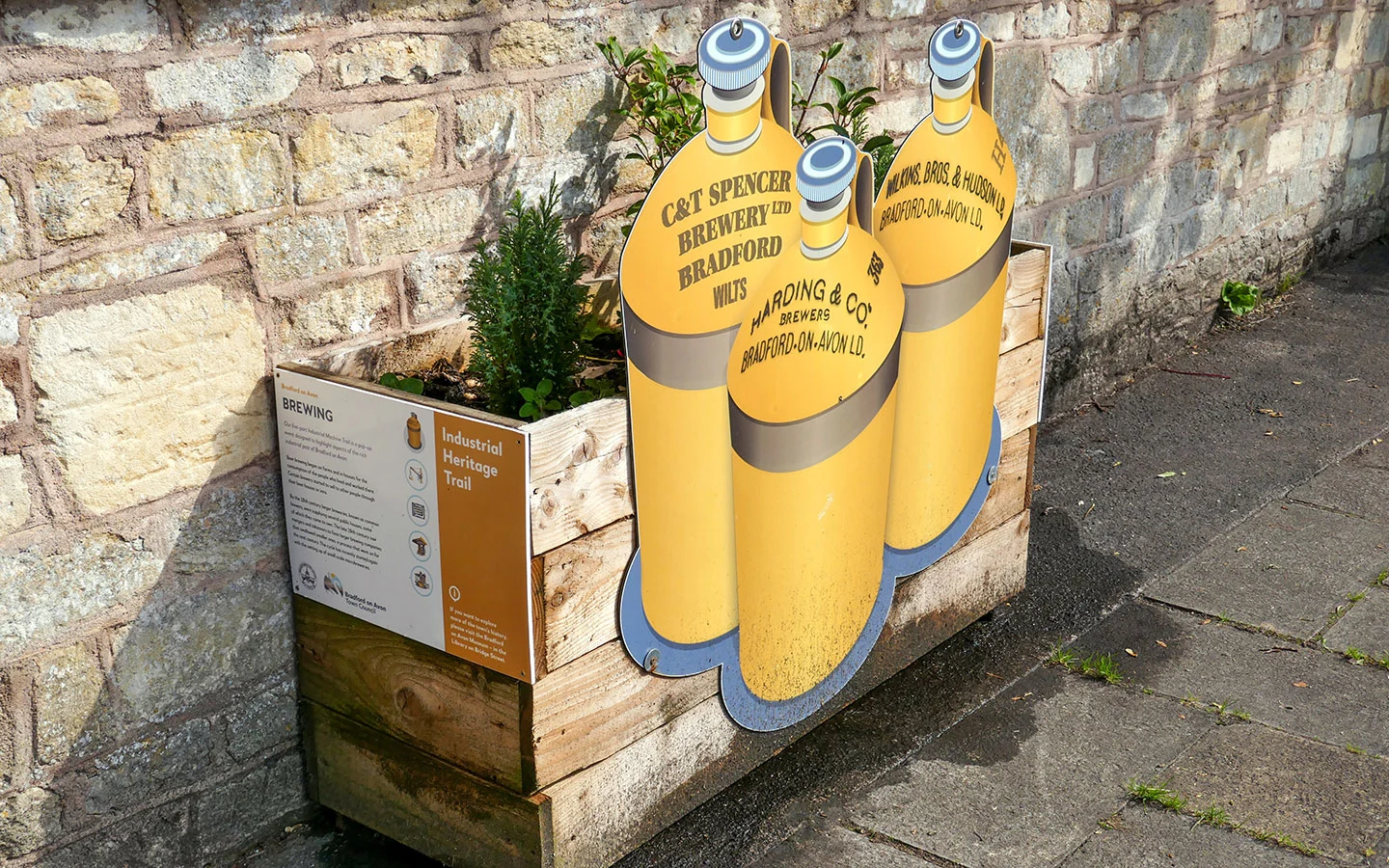 The Kennet and Avon Canal
The Kennet and Avon Canal runs for 87 miles between London and Bristol – with a man-made section of canal connecting two rivers. It was built between 1794 and 1810 for transporting goods, but once the Great Western Railway opened in 1841 it lost traffic and fell into decline.
Today walks along the towpath and trips on the canal by boat, kayak or paddleboard are some of the most popular things to do in Bradford on Avon. Head to the wharf, once the busiest on the entire canal during the 19th century, to watch the boats and visit the Canal Trust Café.
You can also take a guided trip on the canal on board the Barbara McLellan (normally available Wednesdays, Saturdays and Sundays from April to October). Or get out on the water yourself with day hire of a boat from Sally Narrowboats or a canoe from the Lock Inn.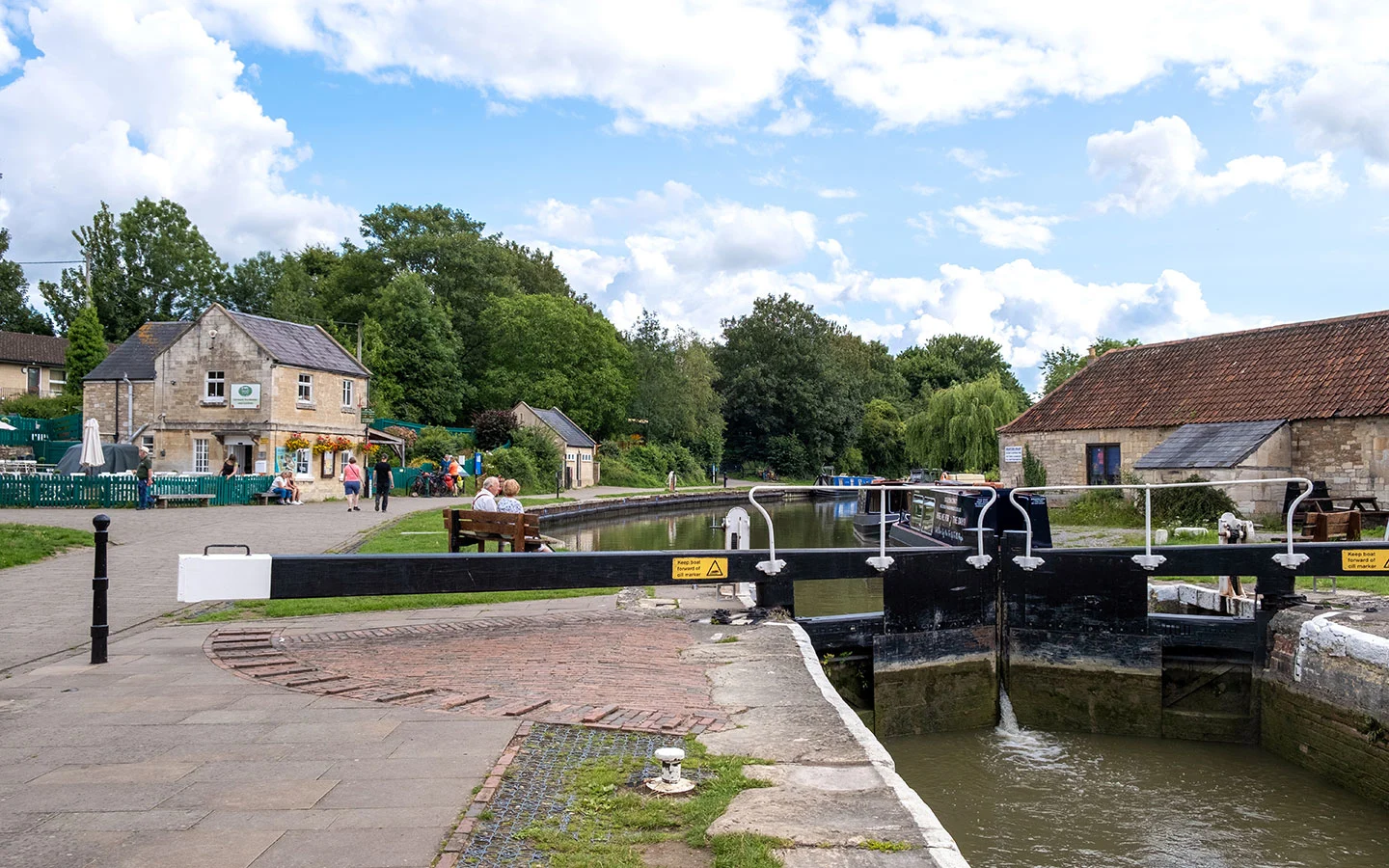 Walks from Bradford on Avon
There are some lovely, gentle walks from Bradford on Avon along the canal towpath or riverbank. It's an easy 1.6-mile stroll to Avoncliff, where the Avoncliff Aqueduct carries the canal over the River Avon. You can stop off at the No 10 Tea Garden or Cross Guns pub before either walking back to Bradford on Avon or catching the train – the journey only takes a few minutes.
Or you can continue to Bath, either following a 7.5-mile route along the canal as far as the Dundas Aqueduct then up and over Claverton Down for panoramic views over Bath. Or you can walk the full distance from Bradford on Avon to Bath along the canal in around 10 miles.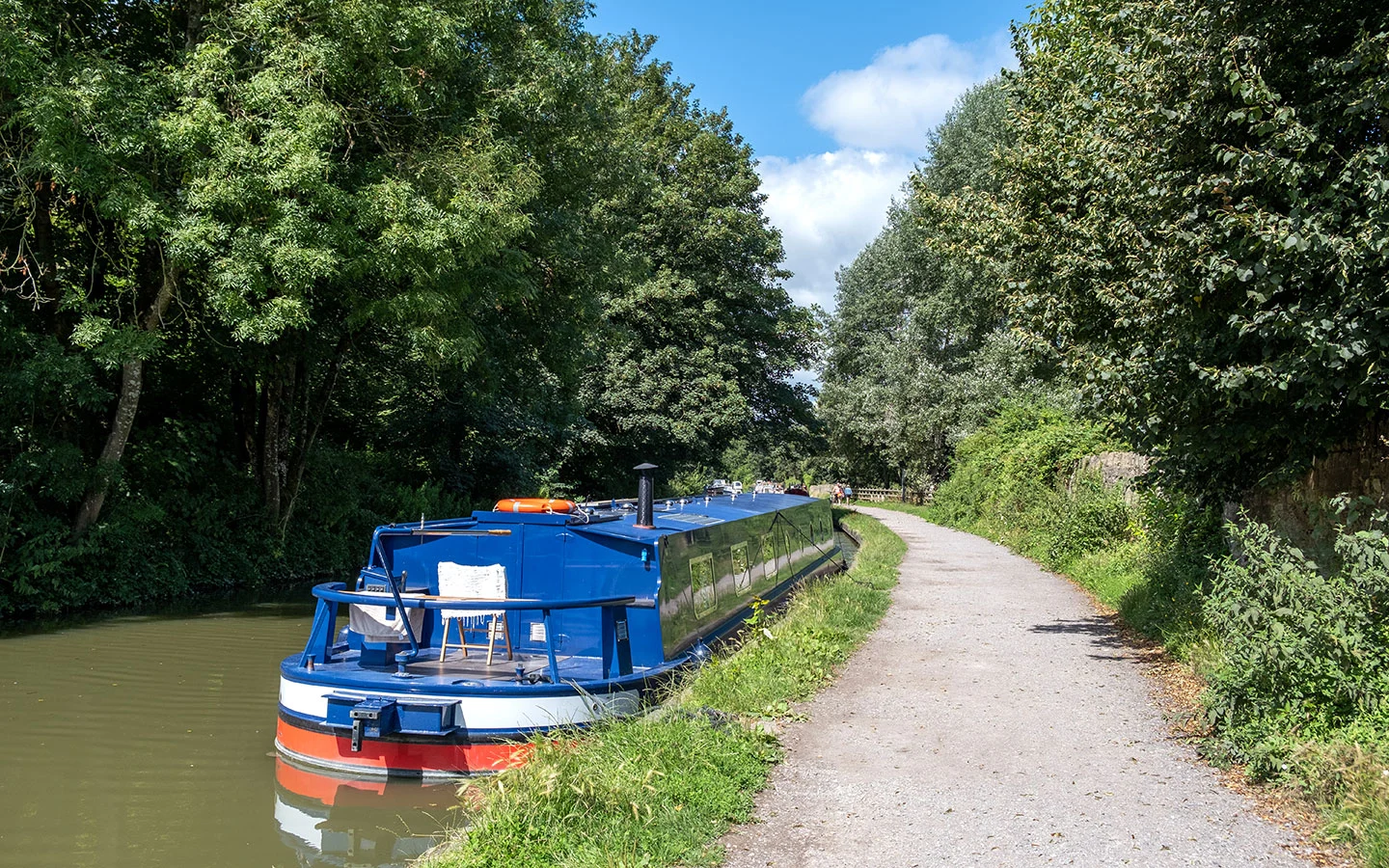 Things to do near Bradford on Avon
There are several country houses and gardens within a few miles of Bradford on Avon. To the south there's the romantic, Italian-style Iford Manor Gardens (3 miles), and 15th-century Westwood Manor house (2 miles). Or to the east are Great Chalfield Manor with its Arts and Crafts garden (3 miles) and The Courts Garden (2.5 miles), a traditional English country garden.
You're within easy reach of Bath (8 miles) with its Georgian architecture, thermal spas and museums. And the National Trust village of Lacock is 9 miles away, where you'll find the Fox Talbot Museum of Photography and nunnery-turned-manor house Lacock Abbey. Families can also pay a visit to Fairfield Animal Centre (4 miles) near Trowbridge to meet the animals.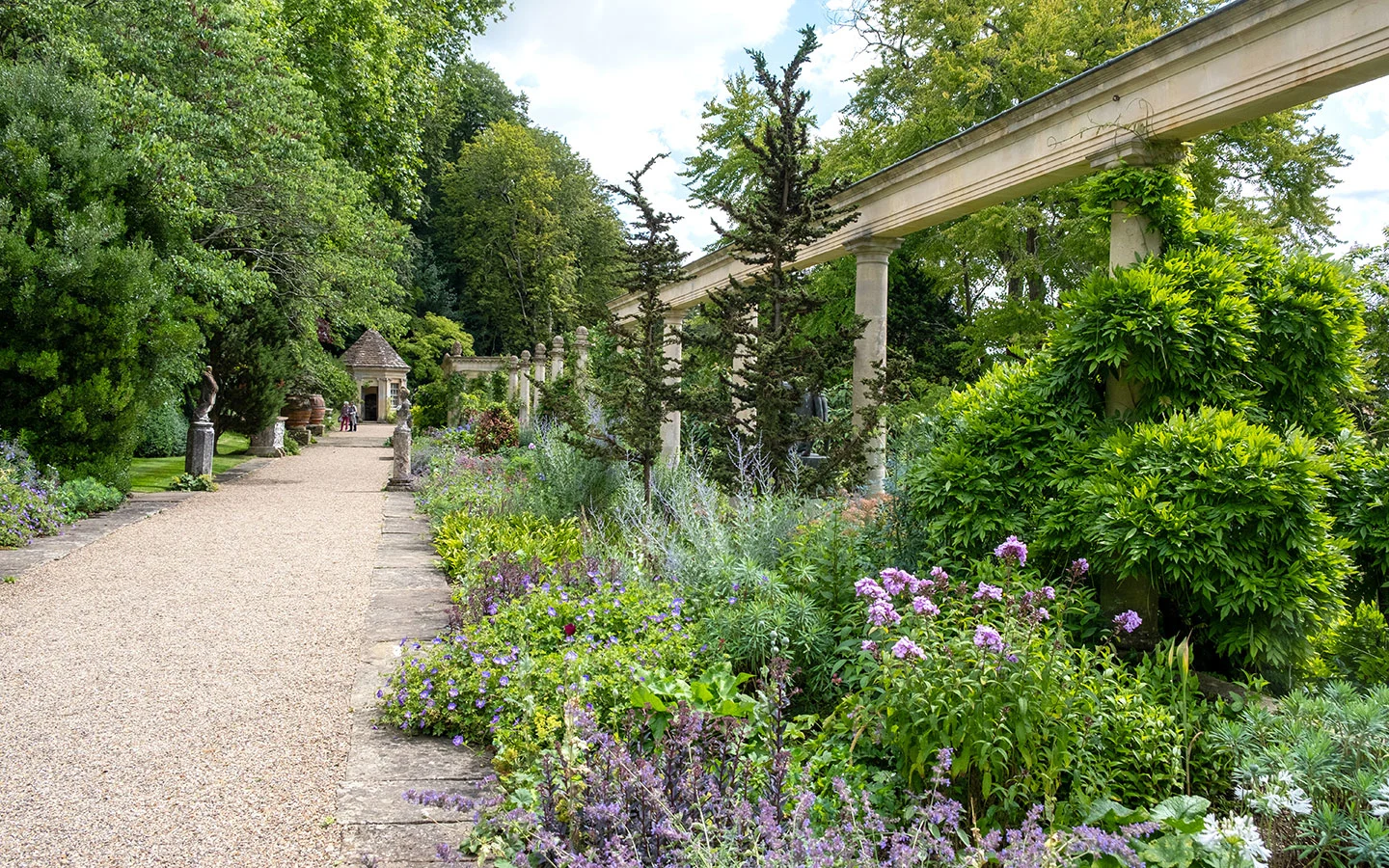 Places to eat in Bradford on Avon
Cafés and delis
The Bridge Tea Rooms is one of Bradford on Avon's most photographed spots. This quaint cottage was built around 1502 and has been a tailor's and a blacksmith's. It's still got plenty of historic charm, with wooden beams and waitresses dressed in Victorian-style outfits – as well as having its own ghost. Their afternoon teas, served on bone china tea sets, have won awards.
The Canal Trust Café at Bradford on Avon Wharf is a welcoming, dog-friendly spot which does a brilliant breakfast bacon bap as well as sandwiches, scones and homemade cakes.
If you want to stock up on tasty delicacies, The Cheese Shop is run by Frenchman Christophe who's sourced a range of fantastic cheeses as well as charcuterie, pâtes and olives from the deli counter. There's also a weekly market on Thursdays in the Bridge Street car park by the river from 8am–1pm, where you can buy fruit and vegetables, seafood, plants and crafts.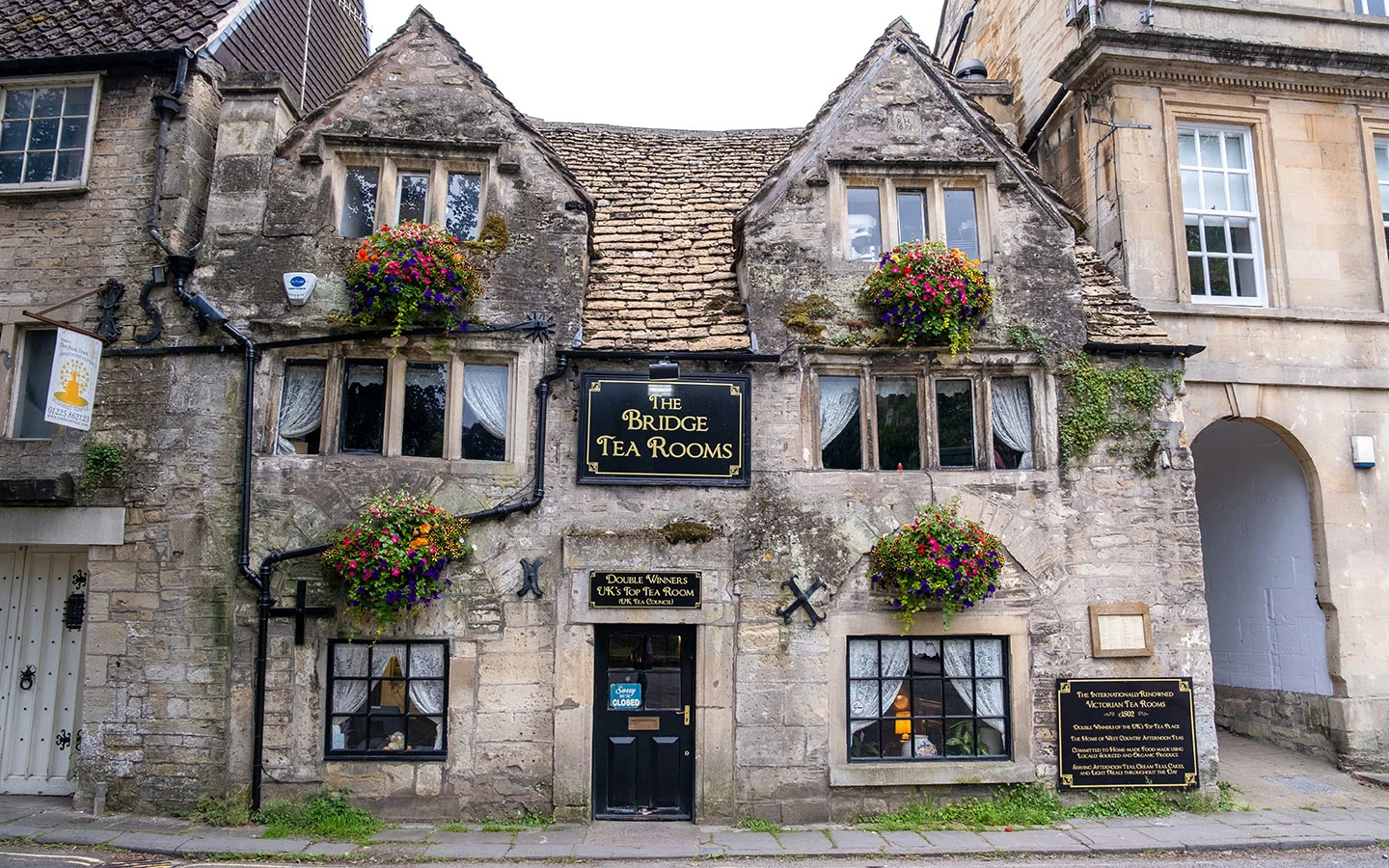 Restaurants
The Weaving Shed brasserie is right next to the river. It has a light and airy dining room, or a big courtyard for sunny days. As much local and seasonal produce as possible is used, with refined British dishes like rump of spring lamb and salt and pepper Cornish squid on the menu.
Just around the corner, Pablo's Tapas brings a taste of Spain to Bradford on Avon, with delicious fresh, authentic tapas – from tortillas to gambas, Padron peppers to salt cod fritters. It's a great place to visit with friends and order a selection of dishes, with plenty of gluten-free options.
Fans of Italian food are in luck, with two local options. Ravello is set inside a 17th-century listed building by the Town Bridge. They serve elegant, classic Italian dishes including a selection of pastas and risottos. Or Pizzeria Amici is run by a family whose grandfather came from Tuscany to Bath in 1951. They specialise in crispy stone-baked pizzas – which are also available to take away.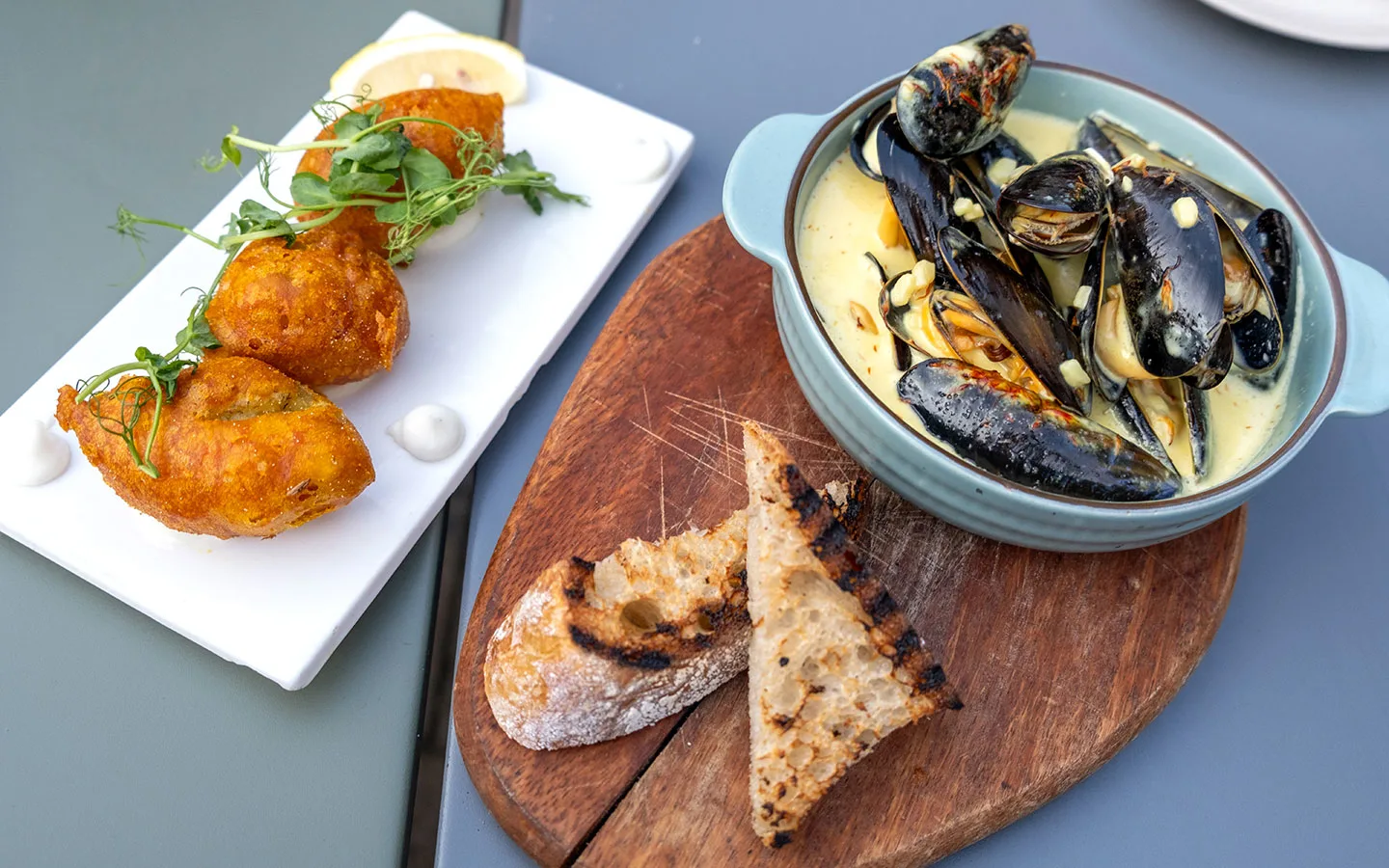 Pubs and bars
The Bunch of Grapes is a family-run Bradford on Avon pub and restaurant, who source much of their produce and drinks from suppliers around the southwest. There's a range of food options from bar snacks to five- and seven-course tasting menus, plus a fab Sunday lunch (including vegetarian and vegan versions). The same team also run the nearby Bunch of Bakes bakery café.
The Dandy Lion is a cosy pub with wood panelled bar and vintage-style artworks close to The Shambles. They serve Wadworth ales as well as wines and spirits, with high-end pub food like aubergine parmigiana or glazed beef available in the bar or upstairs dining room.
The waterfront deck at The Lock Inn is the perfect place to spend a summer's day. It's a colourful, relaxed spot right on the canalside where families and dogs are welcome. They serve breakfast, lunch and pub food like fish and chips, pies and burgers, as well as ice creams.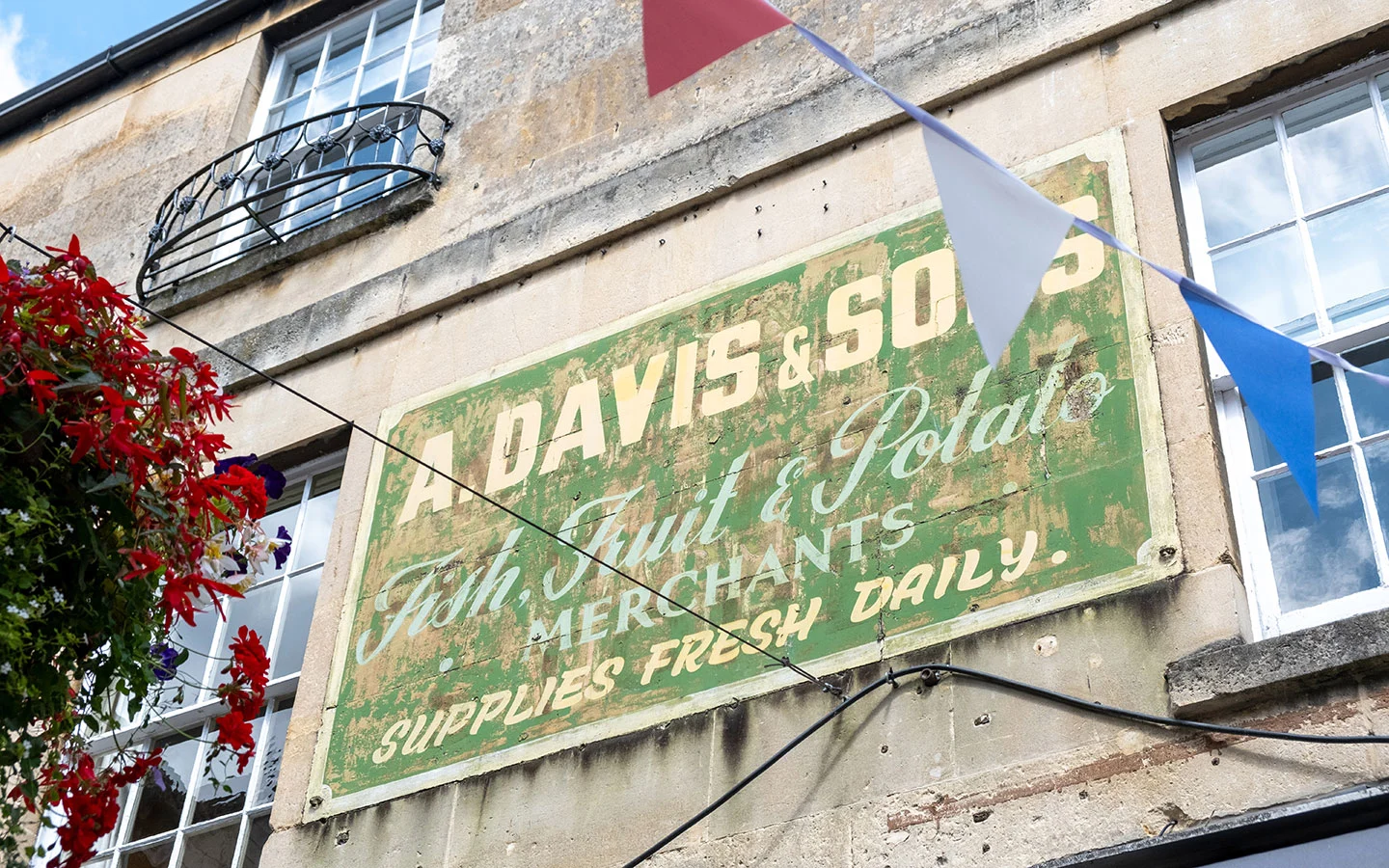 Where to stay in Bradford on Avon
Timbrell's Yard* is a boutique hotel next to the River Avon, decorated in rustic style with quirky vintage details. The 17 rooms are split between a historic building with wooden beams and roll-top baths, and light-filled mezzanine rooms with river views. There's also a bar and restaurant.
Widbrook Grange* is a Georgian farmhouse-turned-hotel 1.5 miles or a 25-minute walk outside Bradford on Avon. It mixes historic features and stylish modern design, with 19 rooms and suites – including dog-friendly rooms. They also have an indoor pool and gym, and you can book in-room spa treatments. And there's a restaurant and bar with an impressive gin selection.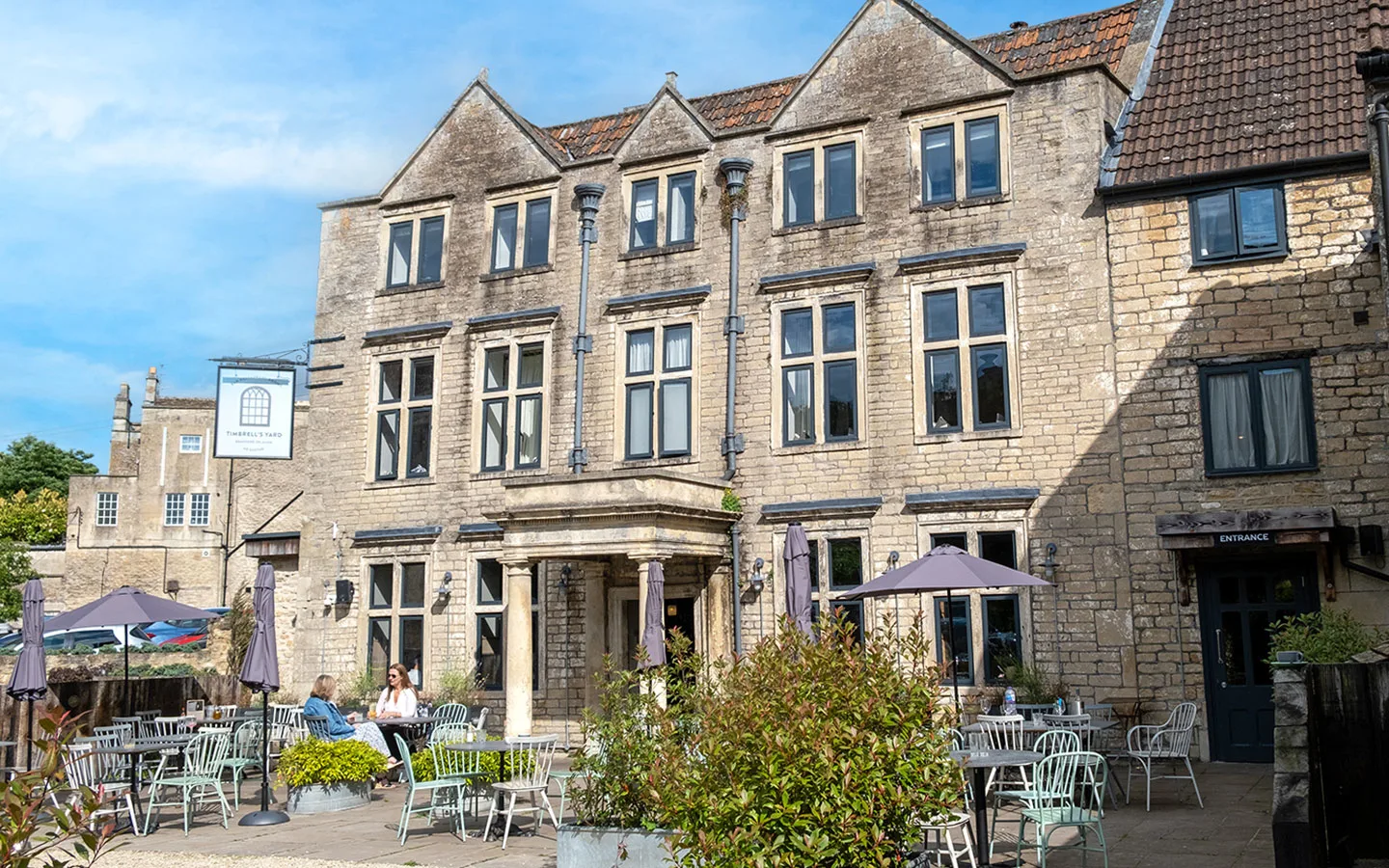 Priory Steps is a traditional bed and breakfast in a pretty flower-decked building created from six 17th-century weavers' cottages. There are five en-suite bedrooms and three self-catering apartments, many with panoramic views over the town. And guests can also use the gardens.
Or you can rent a three-bedroom character cottage through Bath Luxury Stays. It's set over four floors, with a kitchen-diner at the bottom, then a lounge with fireplace, and bedrooms and a bathroom up a stone spiral staircase. It's all recently renovated and smartly furnished.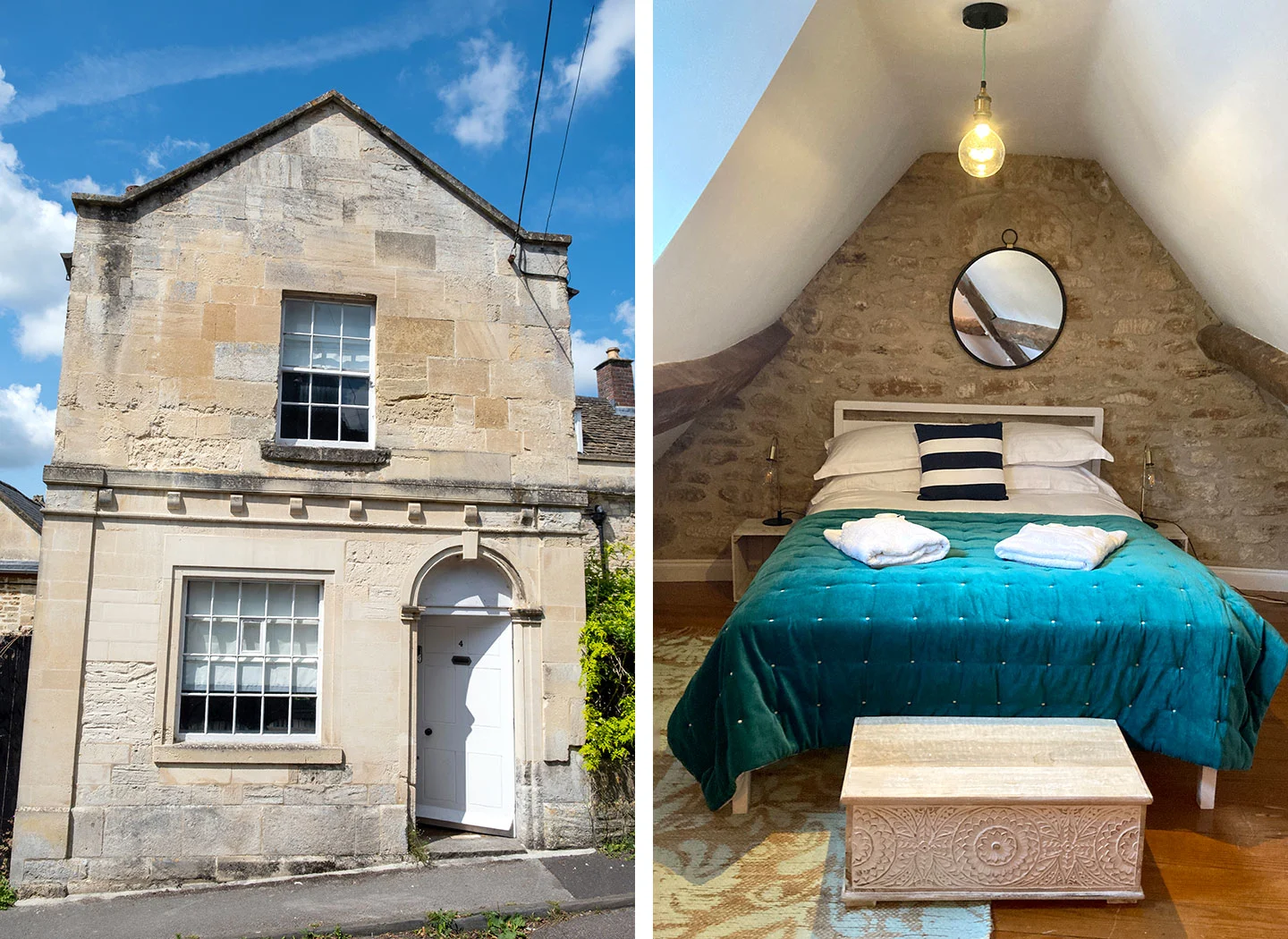 How to get to Bradford on Avon
Bradford on Avon by car
Bradford on Avon is eight miles east of Bath via the A363 or B3108. It's also easy to access from the M4 or M5 motorways. There is a pay and display car park at the train station (BA15 1DQ), with two separate zones – A for short stays under three hours and B for all-day parking. Or overnight parking is available at the Canal and River Trust Car Park by the wharf (BA15 1BX).
Bradford on Avon by public transport
Bradford on Avon is very easy to get to by public transport as it has a mainline train station. Direct trains run frequently to Bath Spa (11 minutes), Bristol (30 minutes) and Salisbury (45 minutes). And you can change in either Bath or Westbury for trains on to London. There's also the First Bus D1 service between Bath bus station and Bradford on Avon, which takes 40 minutes.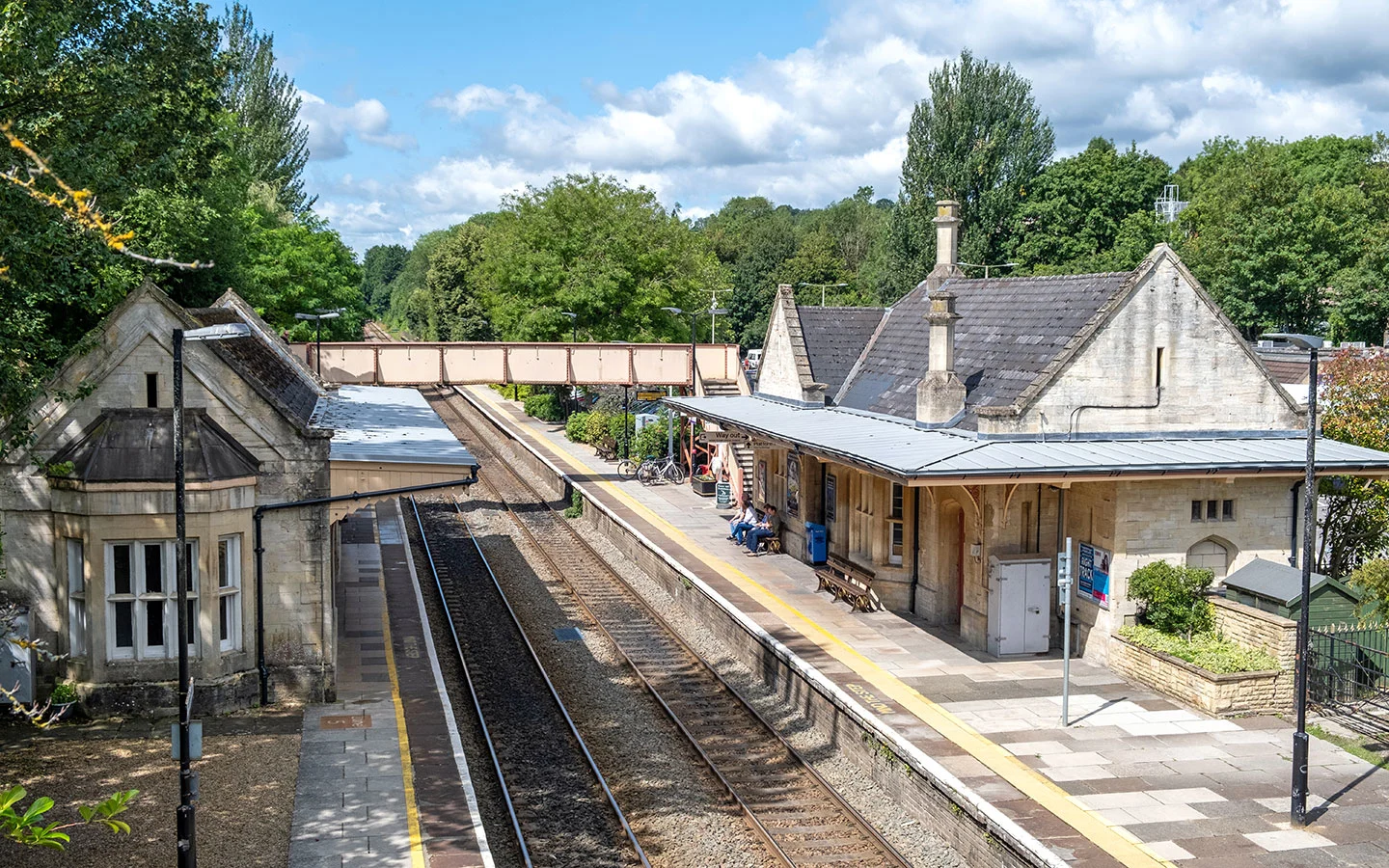 Save for later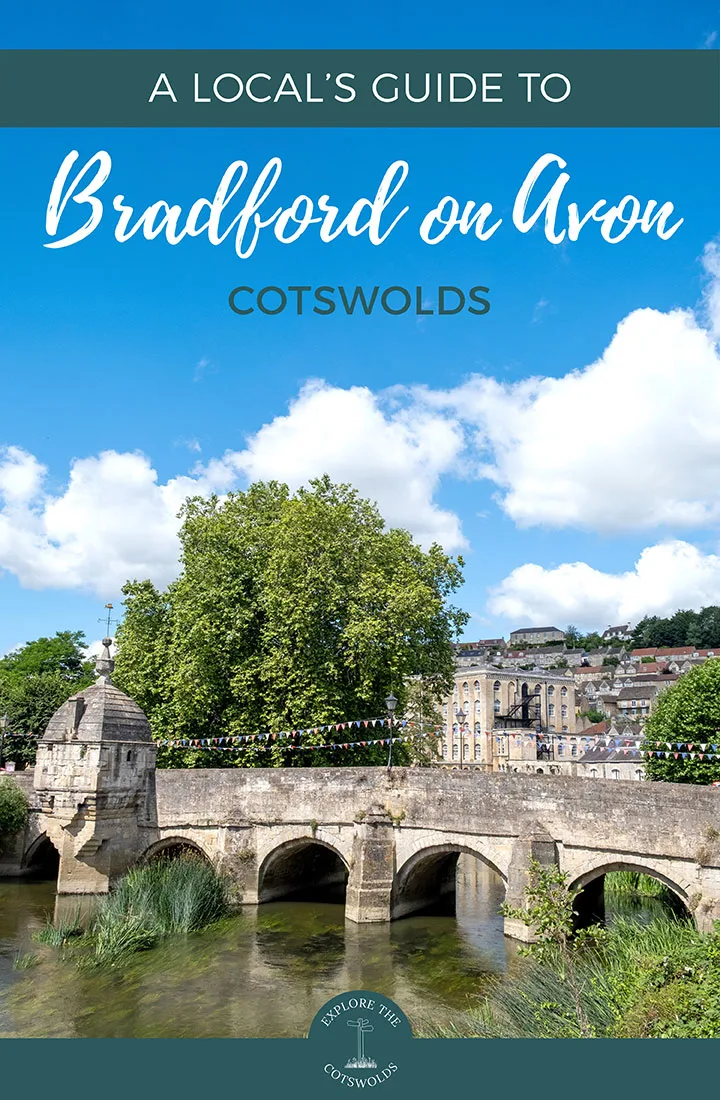 * This site contains affiliate links, where I get a small commission from purchases at no extra cost to you.