The twin villages of Lower and Upper Slaughter lie along the banks of the shallow River Eye, a few miles north of Bourton-on-the-Water. With its flower-draped cottages, stone footbridges and picturesque water mill, the small village of Lower Slaughter hasn't changed for more than a century, with no building work taking place here since 1906. So head back in time to this beautiful Cotswold village as our local expert shares their tips on the best things to do in Lower Slaughter.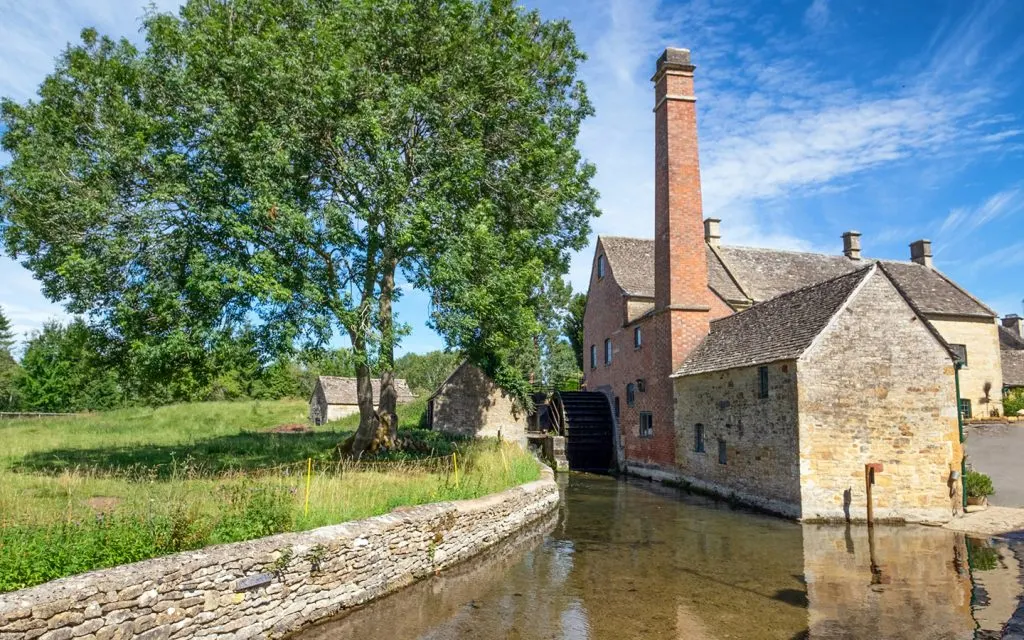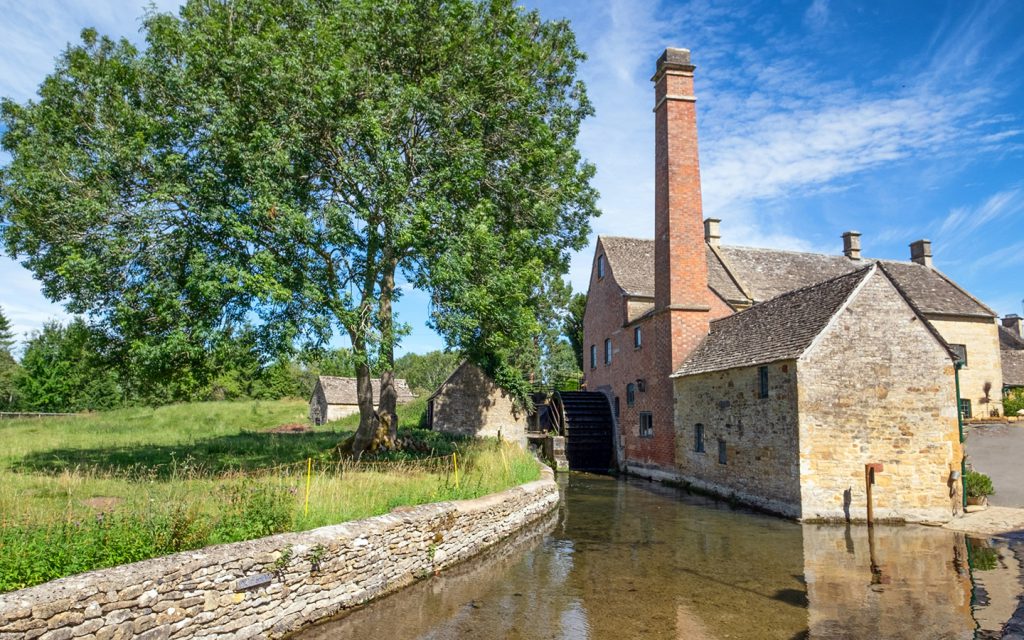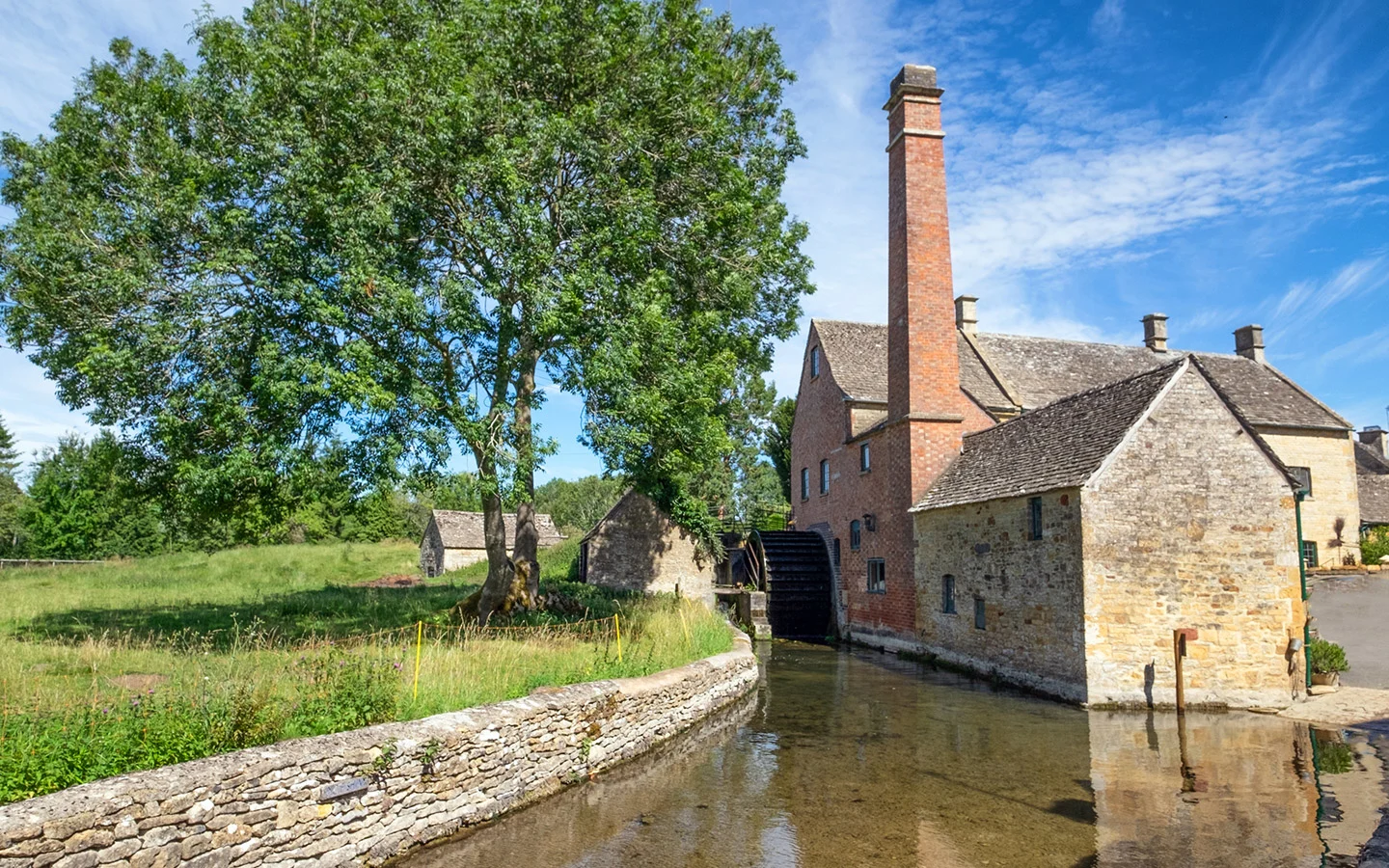 Lower Slaughter's history
The Slaughters get their less-than-appealing name from the Old English word 'slothre' meaning muddy or miry place, rather than anything more sinister.
And although the River Eye – which is more like a stream than a river – runs right through the centre of Lower Slaughter, you won't usually find too much mud around today. The river is at the heart of the village, and there's been a mill in Lower Slaughter since the Domesday Book was published in 1086, when Lower Slaughter was listed as 'Scolstre' and had 32 households.
The village gained a church in the 13th century, followed by a manor house in the 17th century, which is when many of the houses you see today were built using traditional Cotswold stone. Although the village doesn't have many attractions as such, its unspoilt nature makes it a favourite with visitors – and it's a popular filming location, including for the 2020 film Emma.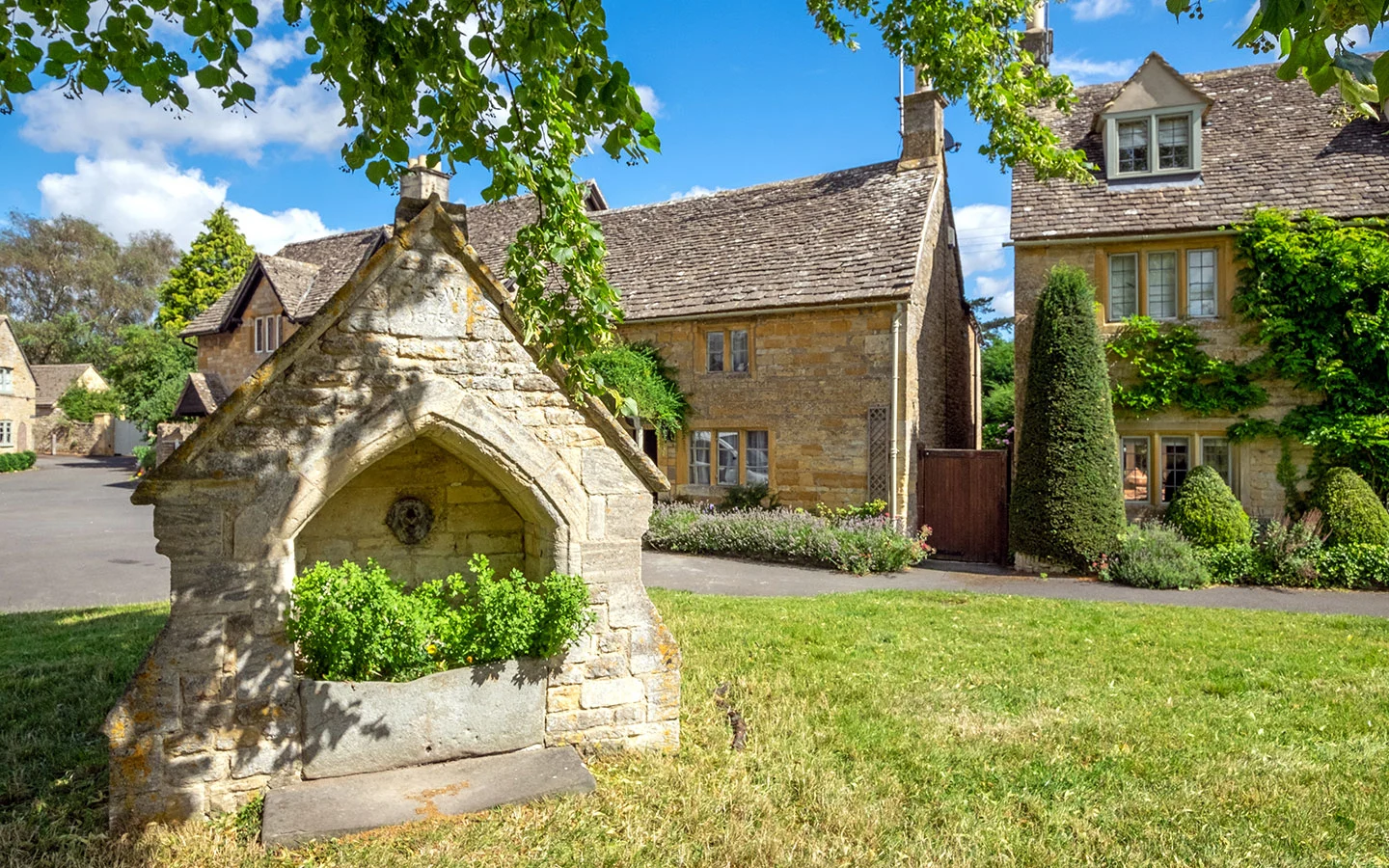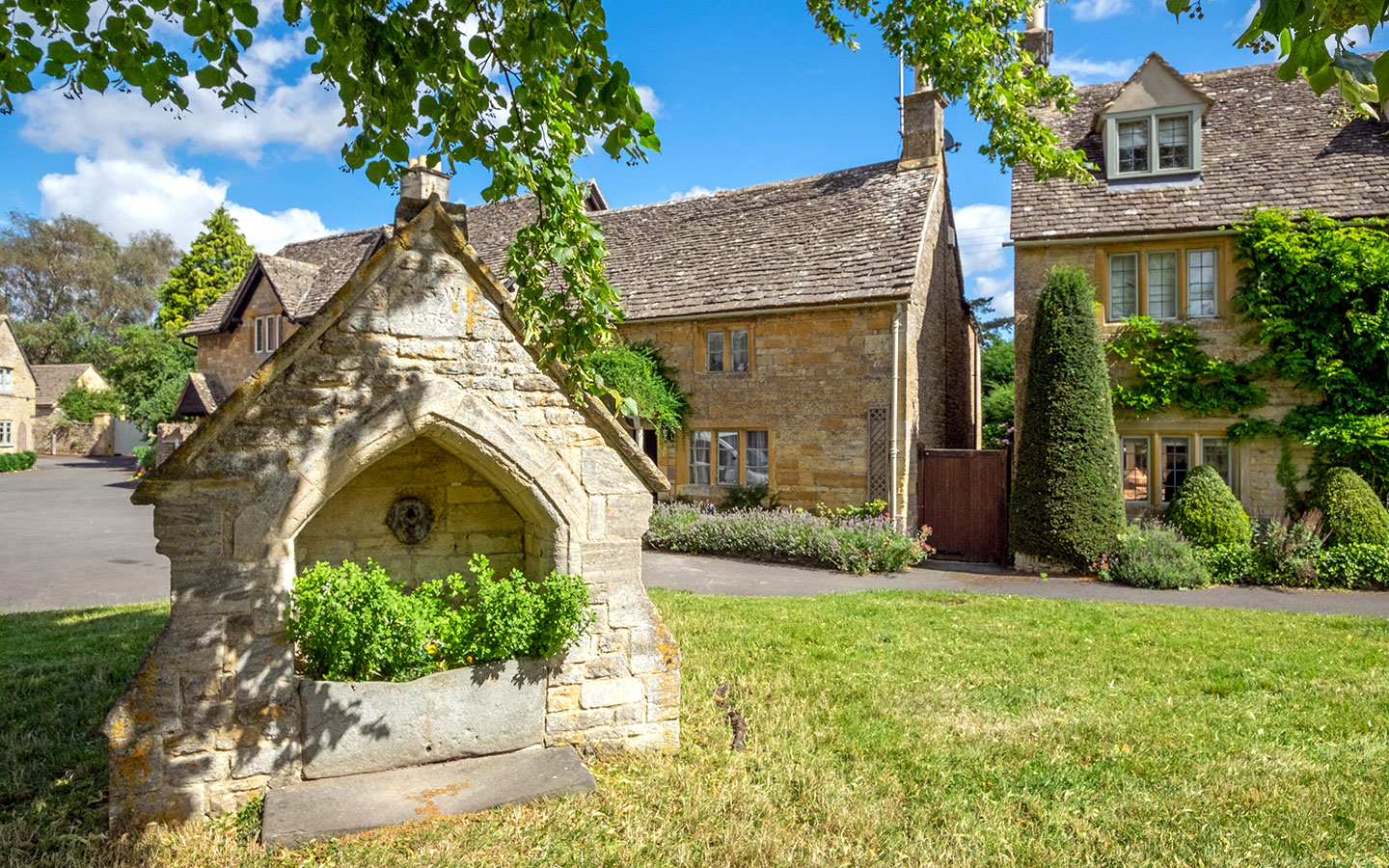 Lower Slaughter map
Things to do in Lower Slaughter
The Old Mill
The Old Mill is the most distinctive building in Lower Slaughter, with its red brick standing out from the Cotswold stone of the rest of the village and the water wheel reflected in the river below. Although the original mill was mentioned in the Domesday Book, the current mill was built in the 18th century – which makes it one of Lower Slaughter's newest buildings.
The mill ground flour until 1958, when Joseph Wilkins became the last of four generations of millers in Lower Slaughter. The mill was later used as a post office before opening as a museum in 1995. The museum unfortunately closed in 2023, so we're waiting to see what happens to it next.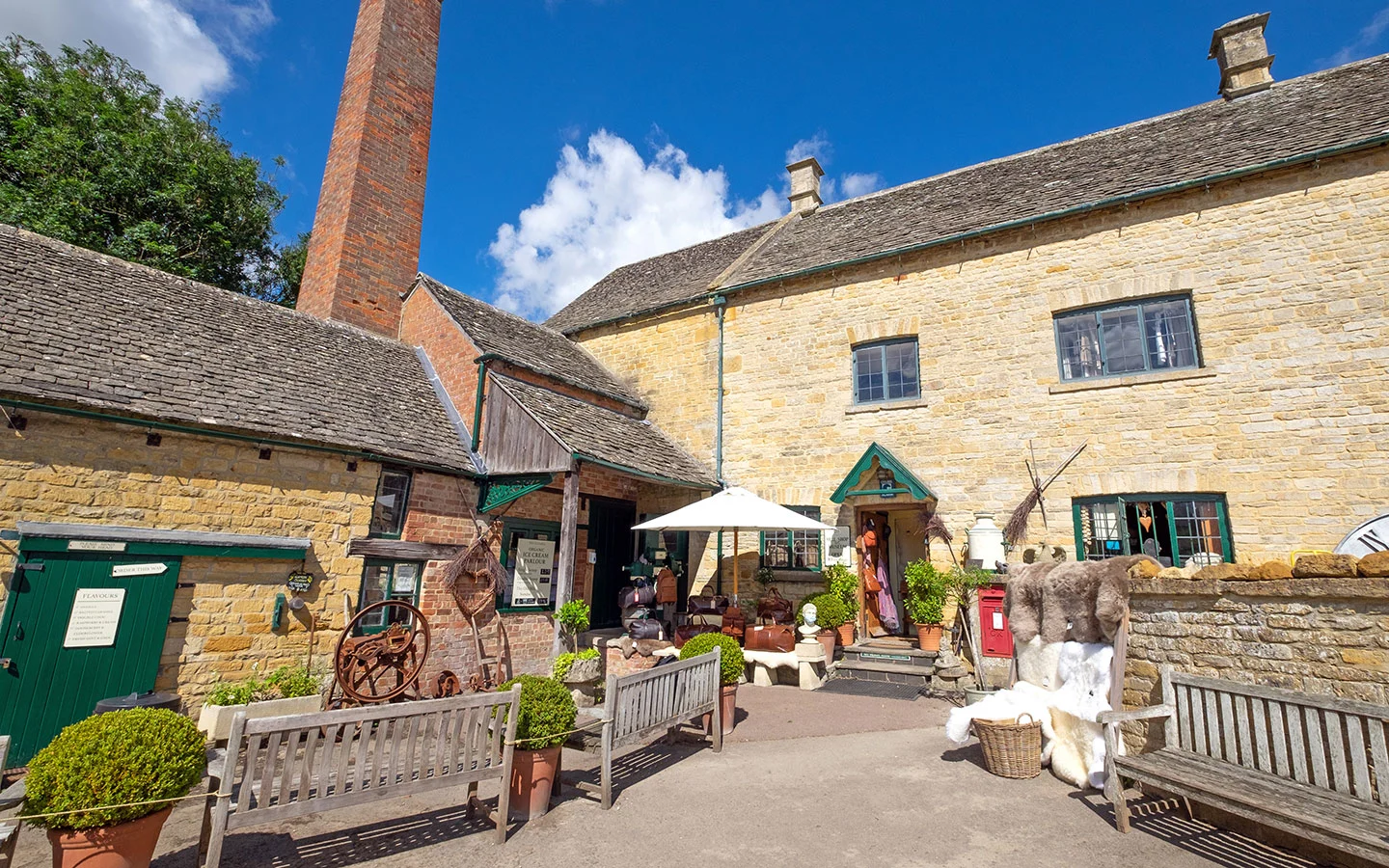 Copsehill Road
Take a walk along Copsehill Road and admire the scenic views – it's been voted the most romantic street in Britain with its pretty cottages, stone bridges and irises growing on the water's edge. Copsehill Road is also home to Lower Slaughter's Victorian village hall. This was originally built as a reading room in 1887, but now hosts events, and you'll often find exhibitions by local artists.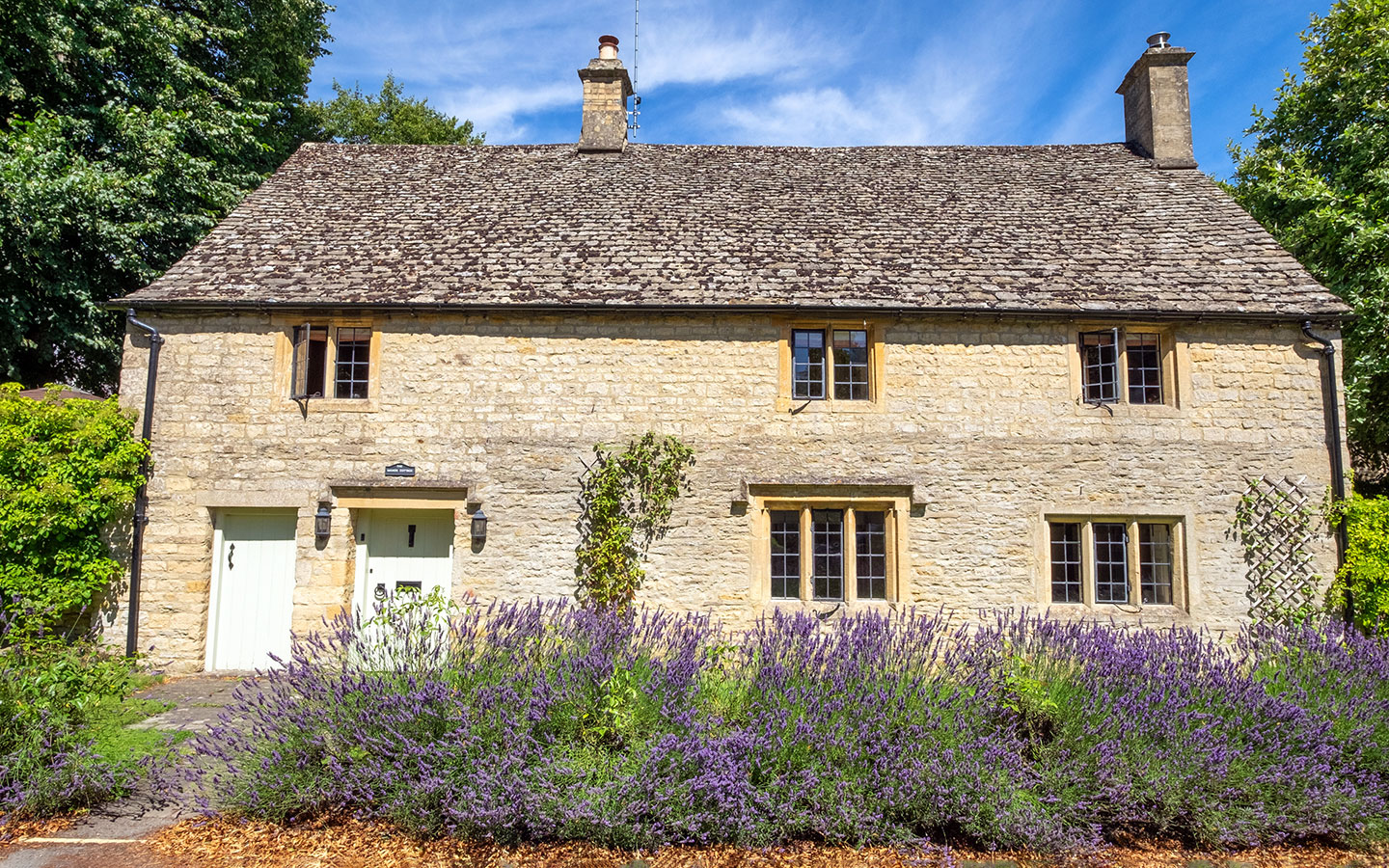 The Slaughters Manor House
There's been a manor house in Lower Slaughter since 1004 AD, which was later turned into a convent for nuns from the order of Syon. In 1611 the manor was granted to Sir George Whitmore, the High Sheriff of Gloucestershire, whose descendants lived in it until the 1960s.
Since then the manor has been completely renovated and converted into a luxurious five-star hotel. It's the perfect place for a decadent romantic weekend in the Cotswolds. But if – like us – a stay is a bit out of your price range, you can still call in for drinks or a meal to look around.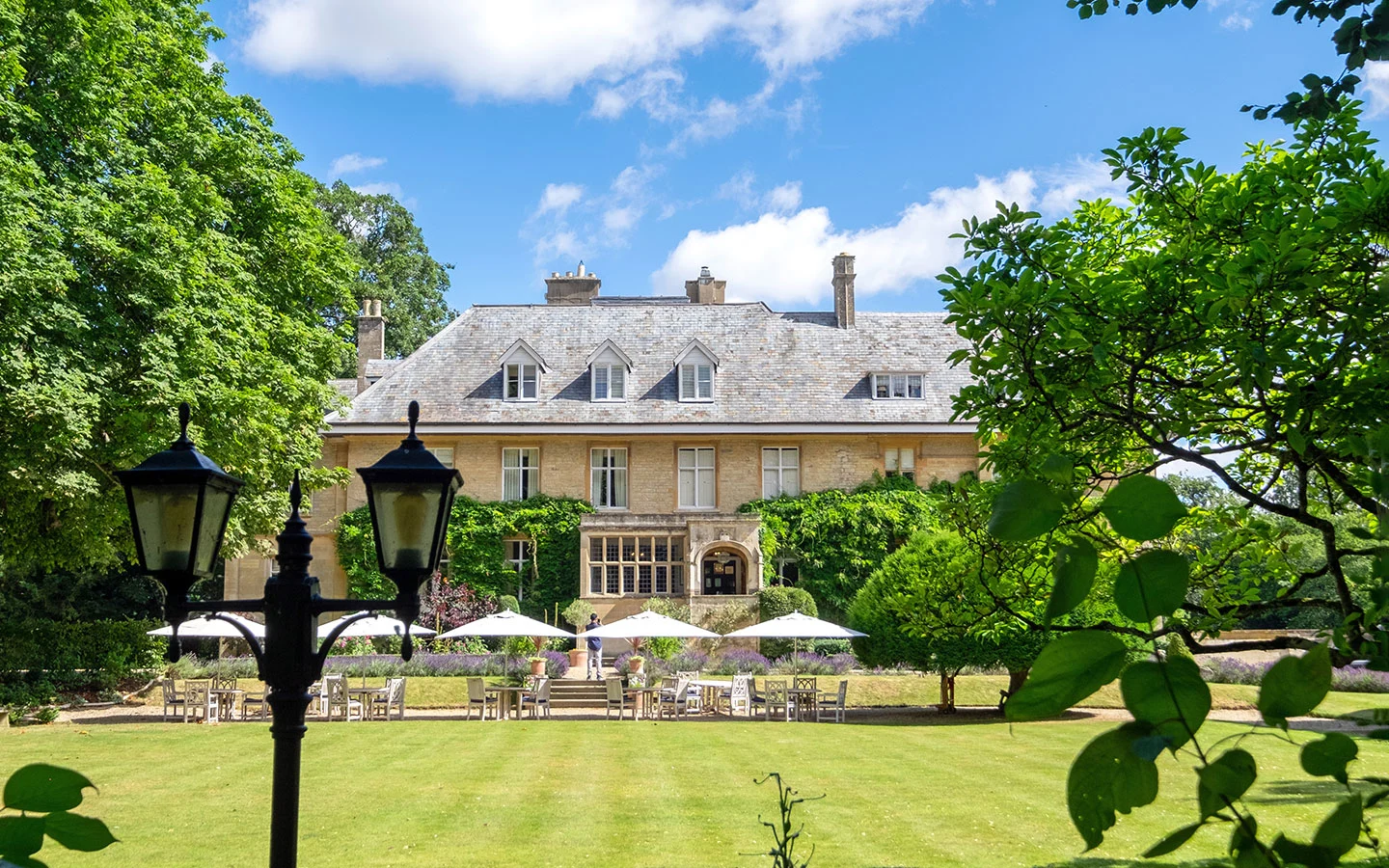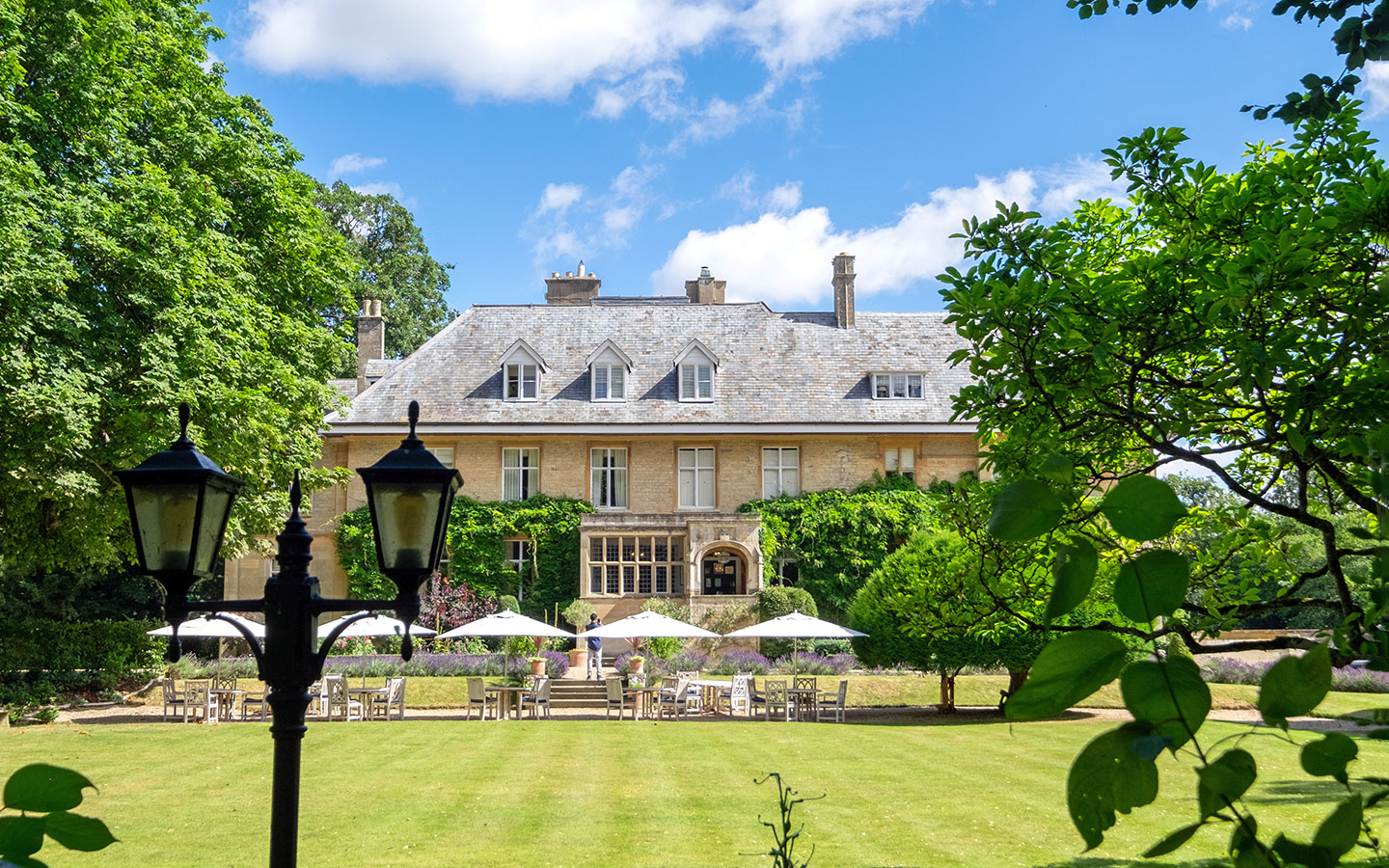 St Mary's Church
Lower Slaughter's village church St Mary's was built in the 13th century, but it was heavily restored in 1867 by the Victorian architect Benjamin Ferrey. You can still see some of the original stonework though, as well as the later Cotswold stone roof, chancel, nave and organ chamber.
Head inside and you can see some 17th-century memorials which are dedicated to members of the Whitmore family – former owners of the manor – as well as colourful stained glass windows.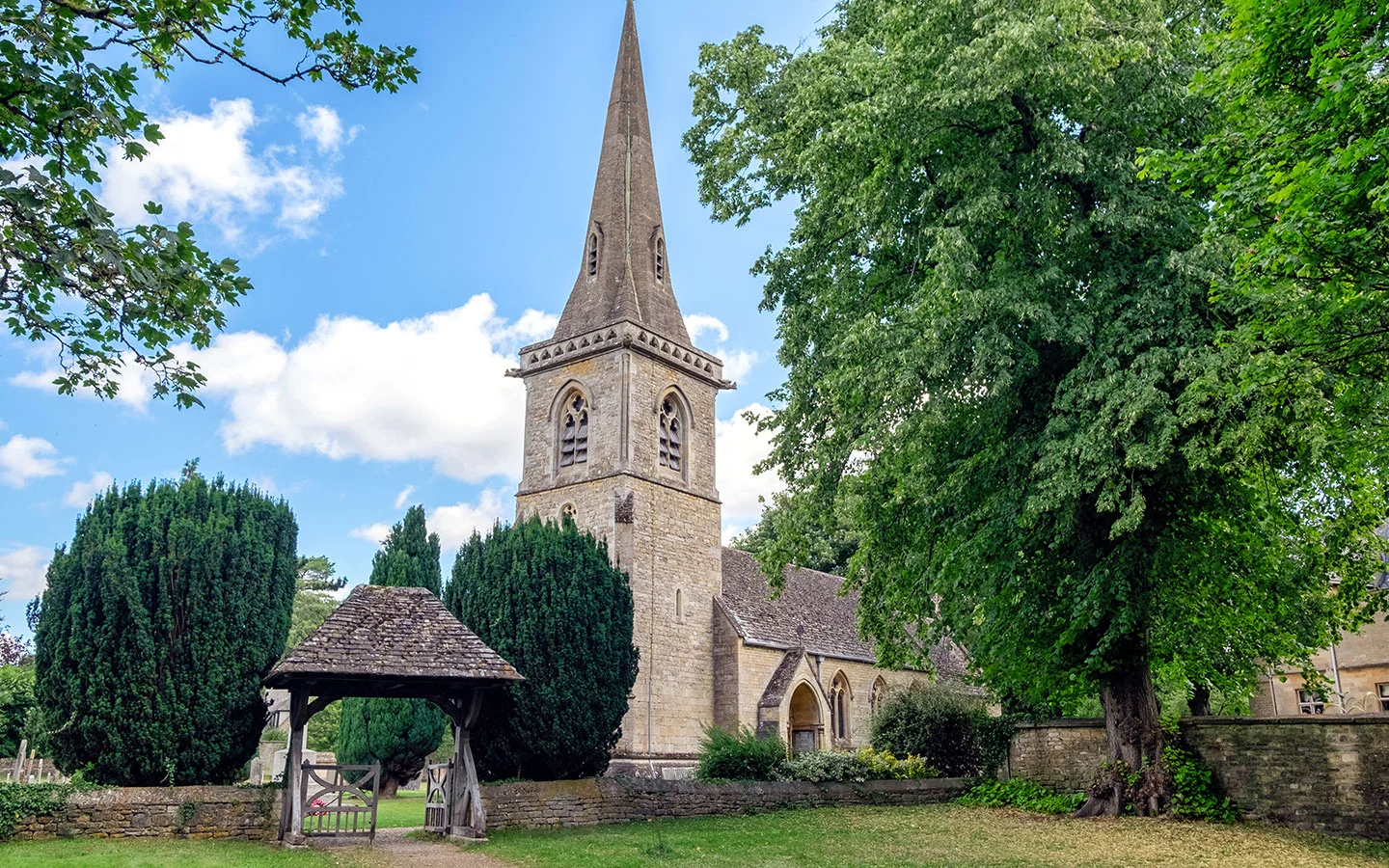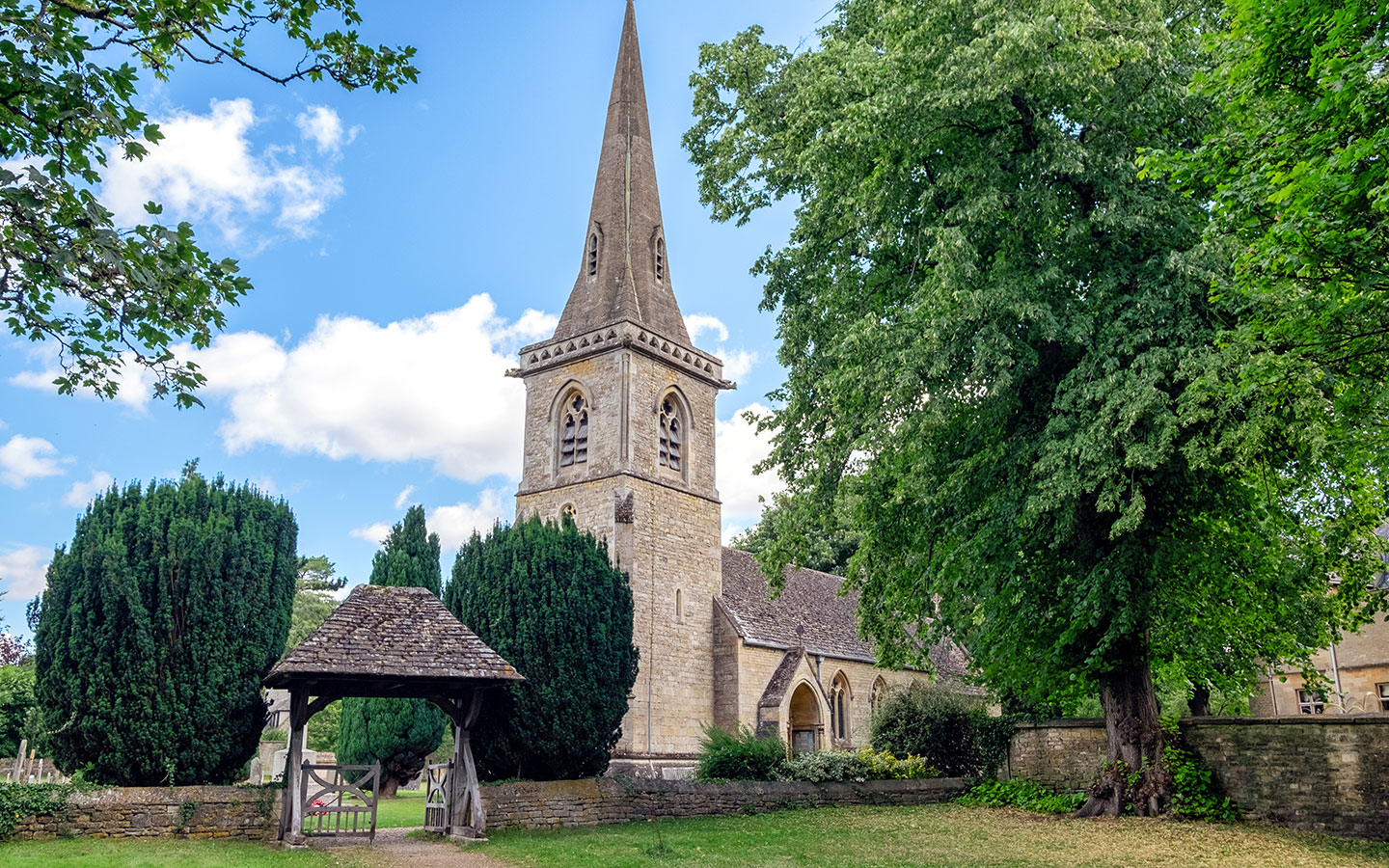 Walks from Lower Slaughter
Lower Slaughter is linked to neighbouring Upper Slaughter by a one-mile path, which takes around 25 minutes each way to walk. This peaceful waterside stroll is one of our favourite things to do in Lower Slaughter. The path is well marked, starting just past the Old Mill and following the River Eye before running across fields and over a stone footbridge into Upper Slaughter.
It's also only 1.5 miles or a 35-minute walk from Lower Slaughter to Bourton-on-the-Water. Or you can visit Lower Slaughter, Upper Slaughter and Bourton together on the 5.4-mile Bourton-on-the-Water to the Slaughters circular walk. Part of the walk follows the Warden's Way, a 13.5-mile walking route which connects Bourton-on-the-Water with Winchcombe.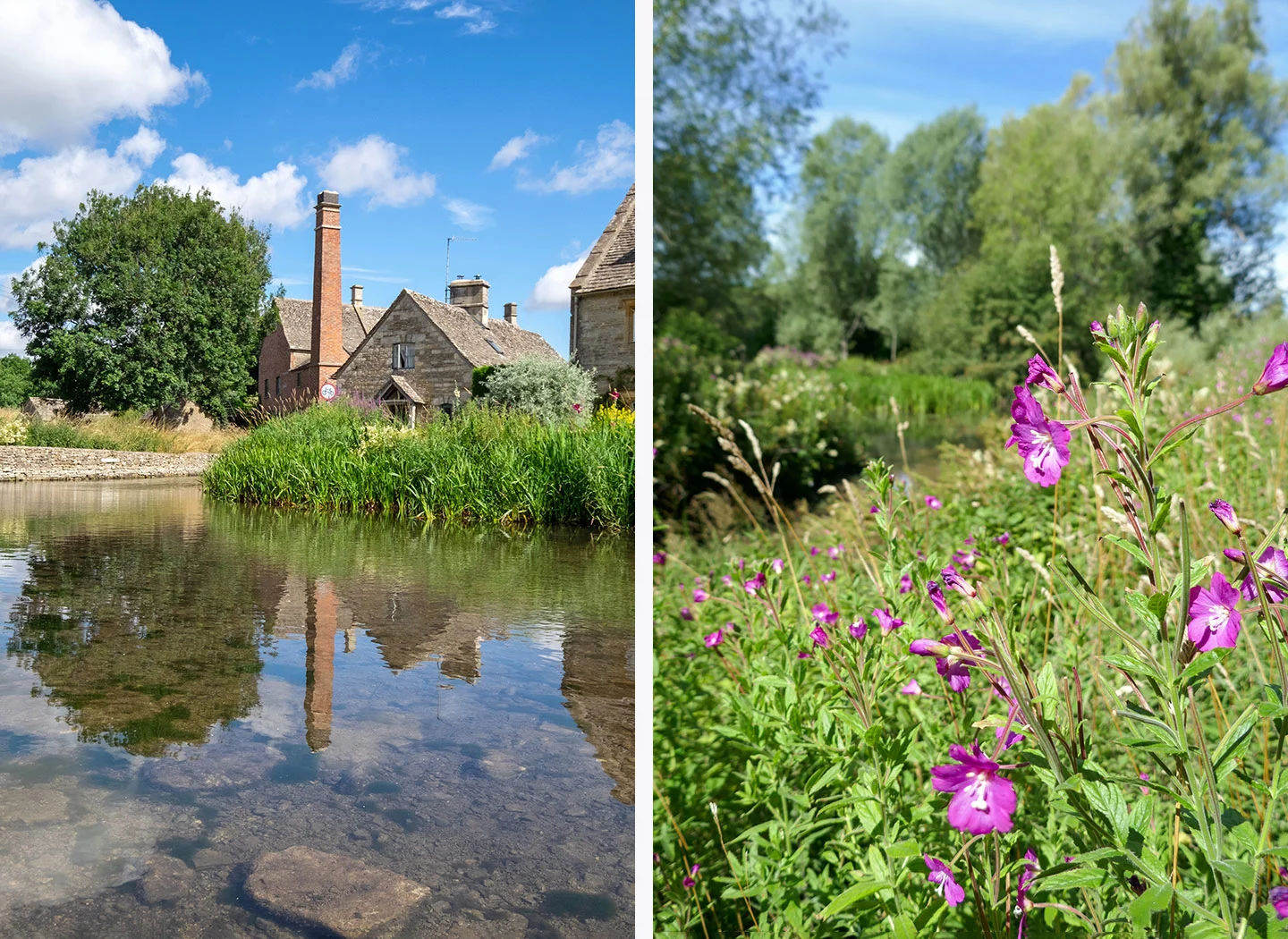 Things to do near Lower Slaughter
As Lower and Upper Slaughter are so small it's easy to combine the two in one visit, and you're also within easy reach of other Cotswold towns and villages. Bourton-on-the-Water (2 miles away) lies on the River Windrush with waterside cafés and pubs, the Cotswold Motoring Museum, and family-friendly attractions like the Model Village, Dragonfly Maze and Birdland.
Cotswold Farm Park (6 miles) is another local family favourite, with rare breed animals to pet and feed, farm demonstrations and safaris. Or visit Stow-on-the-Wold (3.5 miles) for its antique shops, historic market square and St Edward's Church with its much-photographed doorway.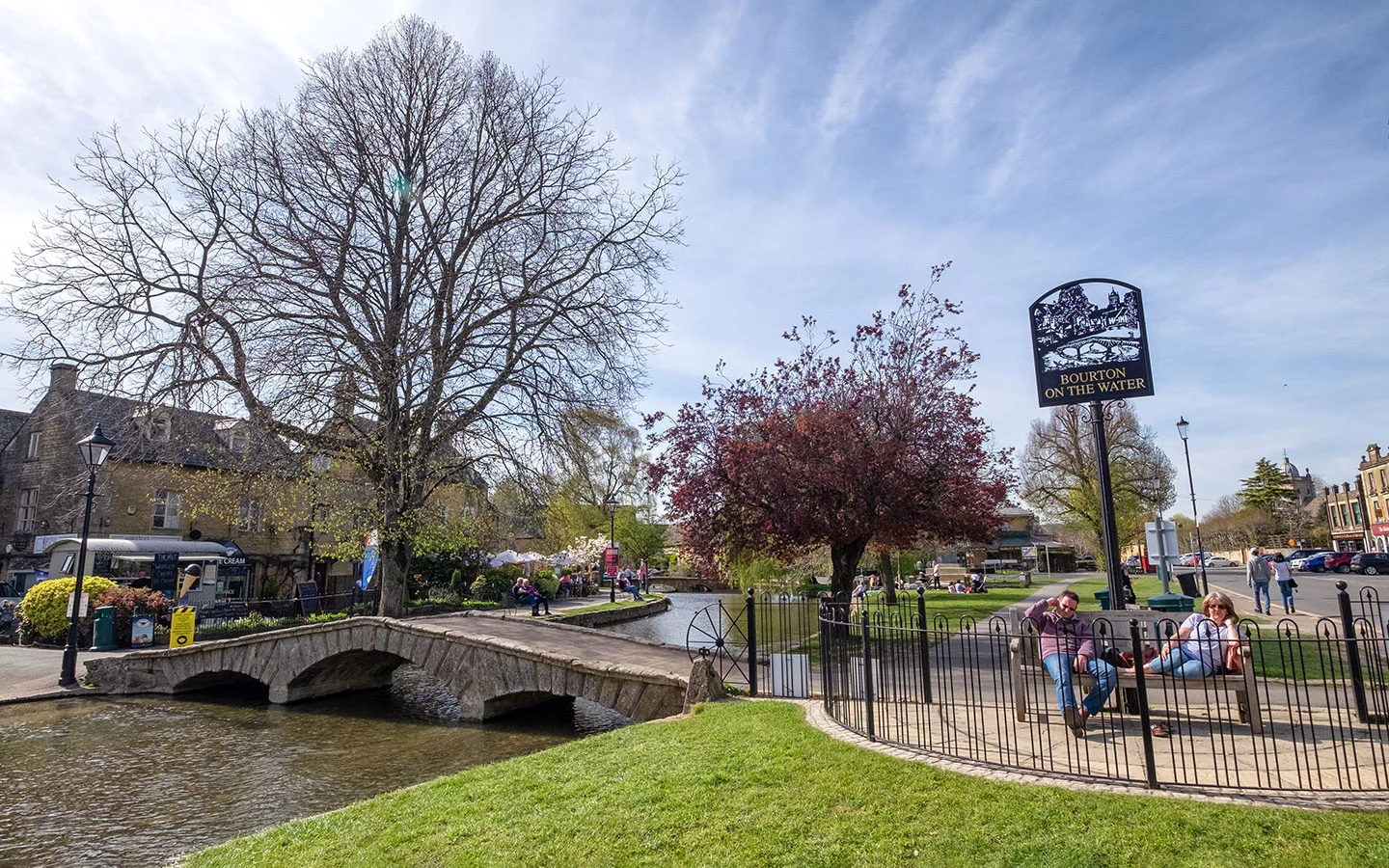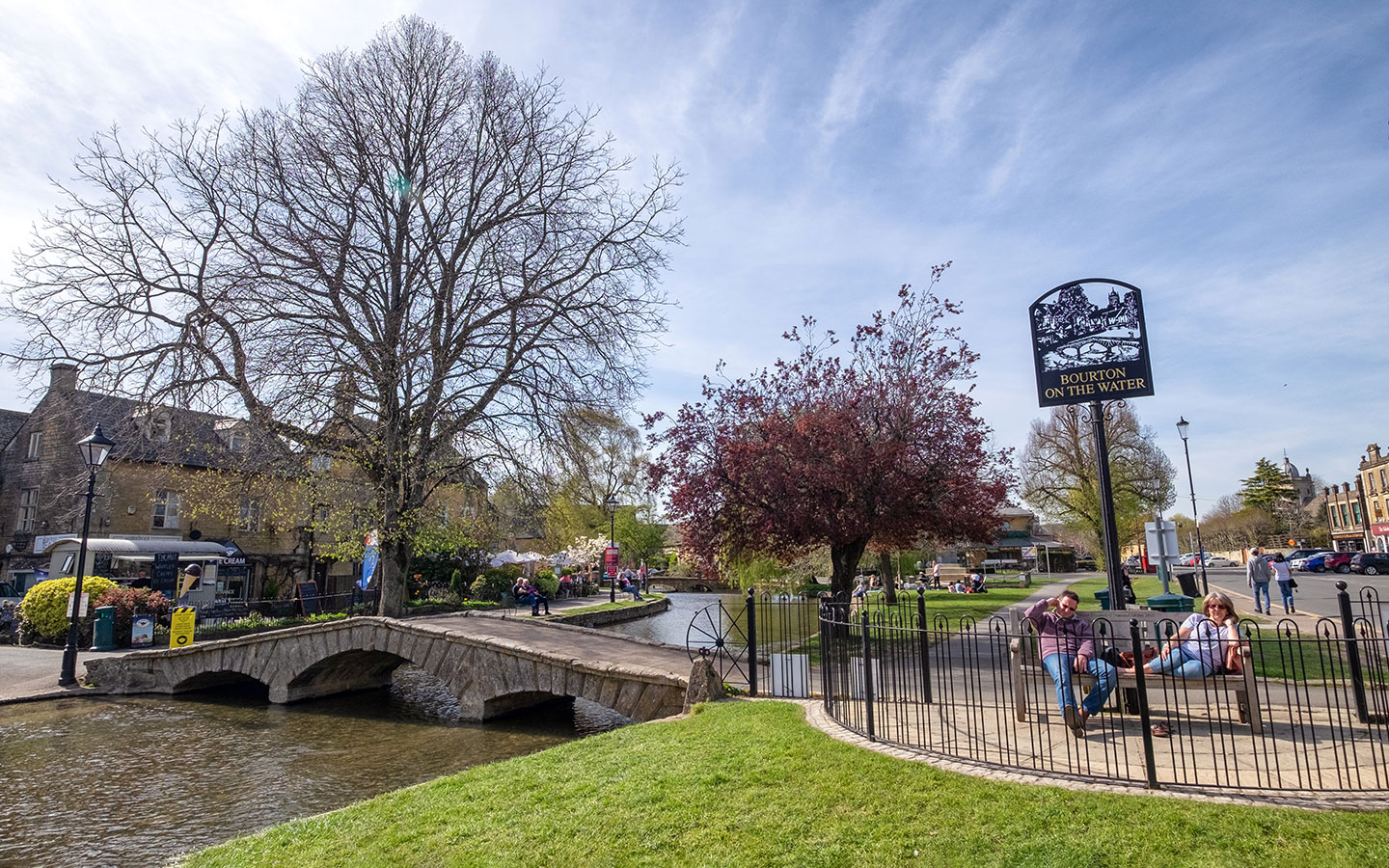 Places to eat & drink in Lower Slaughter
The Slaughters Country Inn* is a traditional country pub which serves classic pub food, including a good Sunday lunch, and has a selection of local ales on tap. They also do tasty sharing platters of meats, cheeses, breads and homemade pickles, along with afternoon teas.
Or if you're looking for something special, The Slaughters Manor House* has an award-winning restaurant which specialises in sourced locally or foraged Cotswold produce. As well as their dinner menu – with dishes like Herdwick lamb and salt-aged beef – they have an all-day menu with sandwiches and salads, afternoon tea and luxury picnic hampers made to order.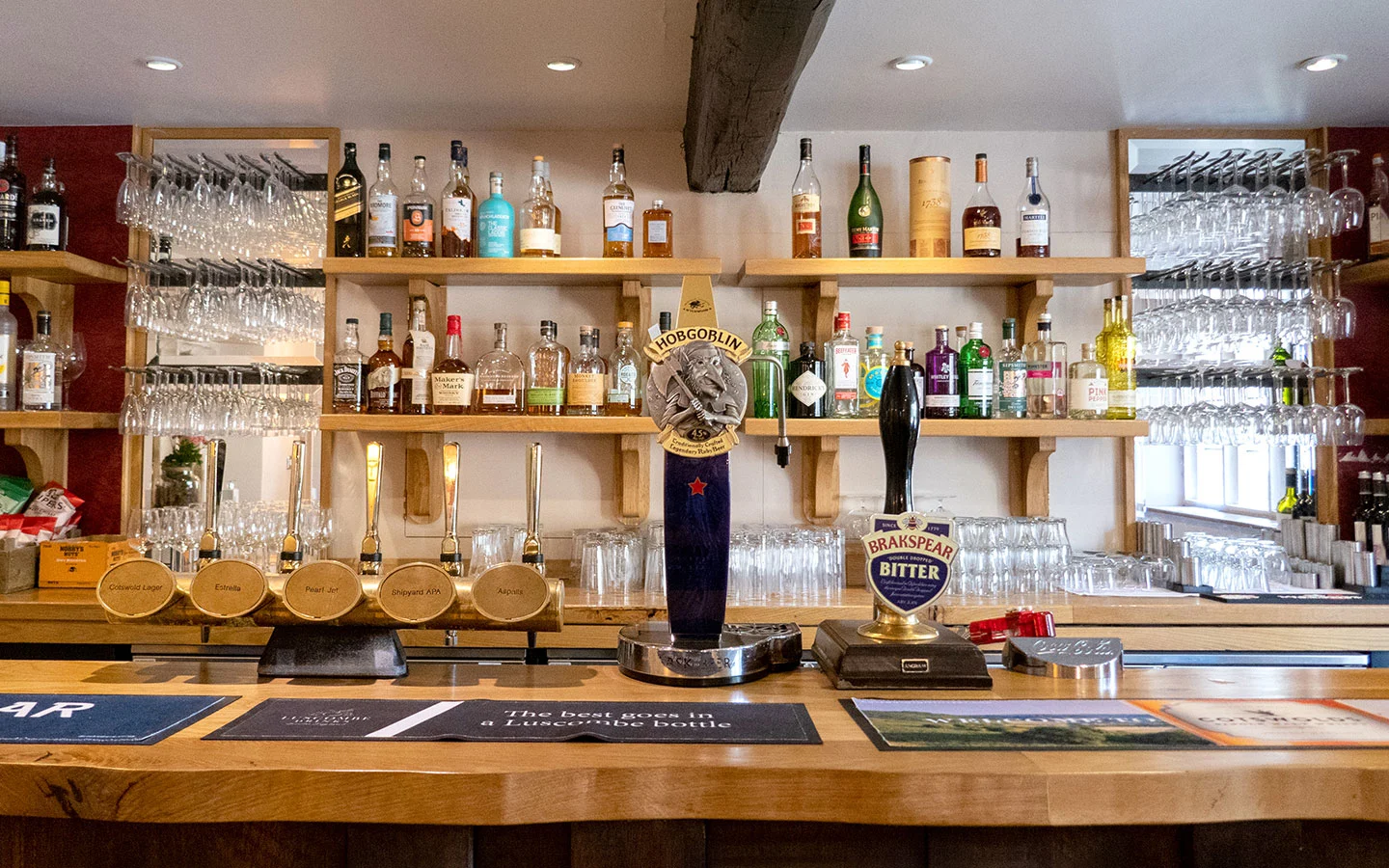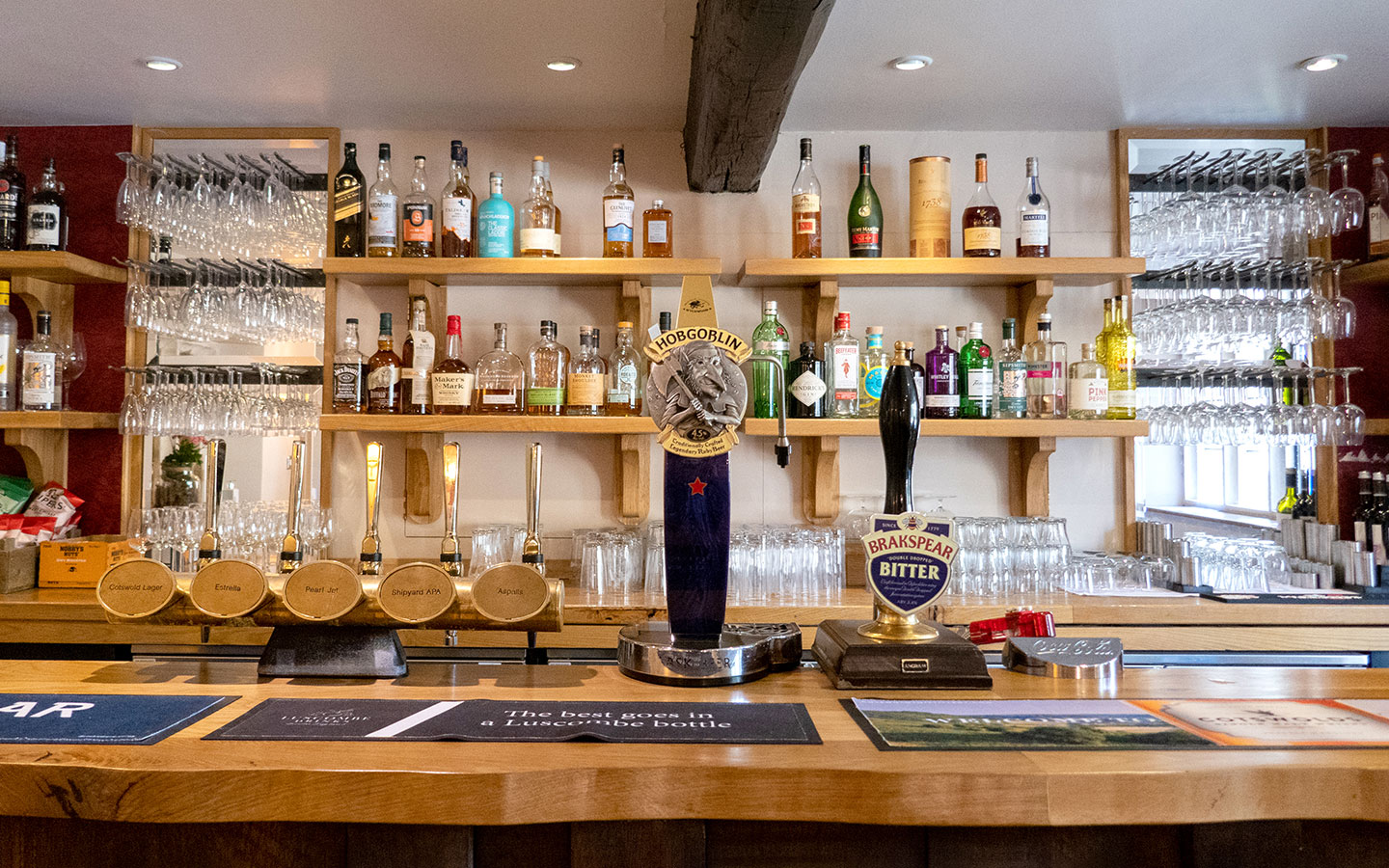 Where to stay in Lower Slaughter
With a mix of traditional country house style and contemporary interiors, The Slaughters Manor House* is the most luxurious accommodation in Lower Slaughter. There are 19 rooms, ranging from classic doubles to the romantic 'Valentine' garden suite with twin rolltop baths and a private garden. The hotel is set in five acres of landscaped gardens, and has its own croquet lawn.
The Slaughters Country Inn* is run by the same owners as the manor, but has a more relaxed, country inn feel. There's a garden terrace for the summer and log fires, sofas and piles of books and board games in the bar in winter. The inn has 25 guest rooms as well as six cottages which sleep two adults and two children, with highchairs, cots and baby monitors available.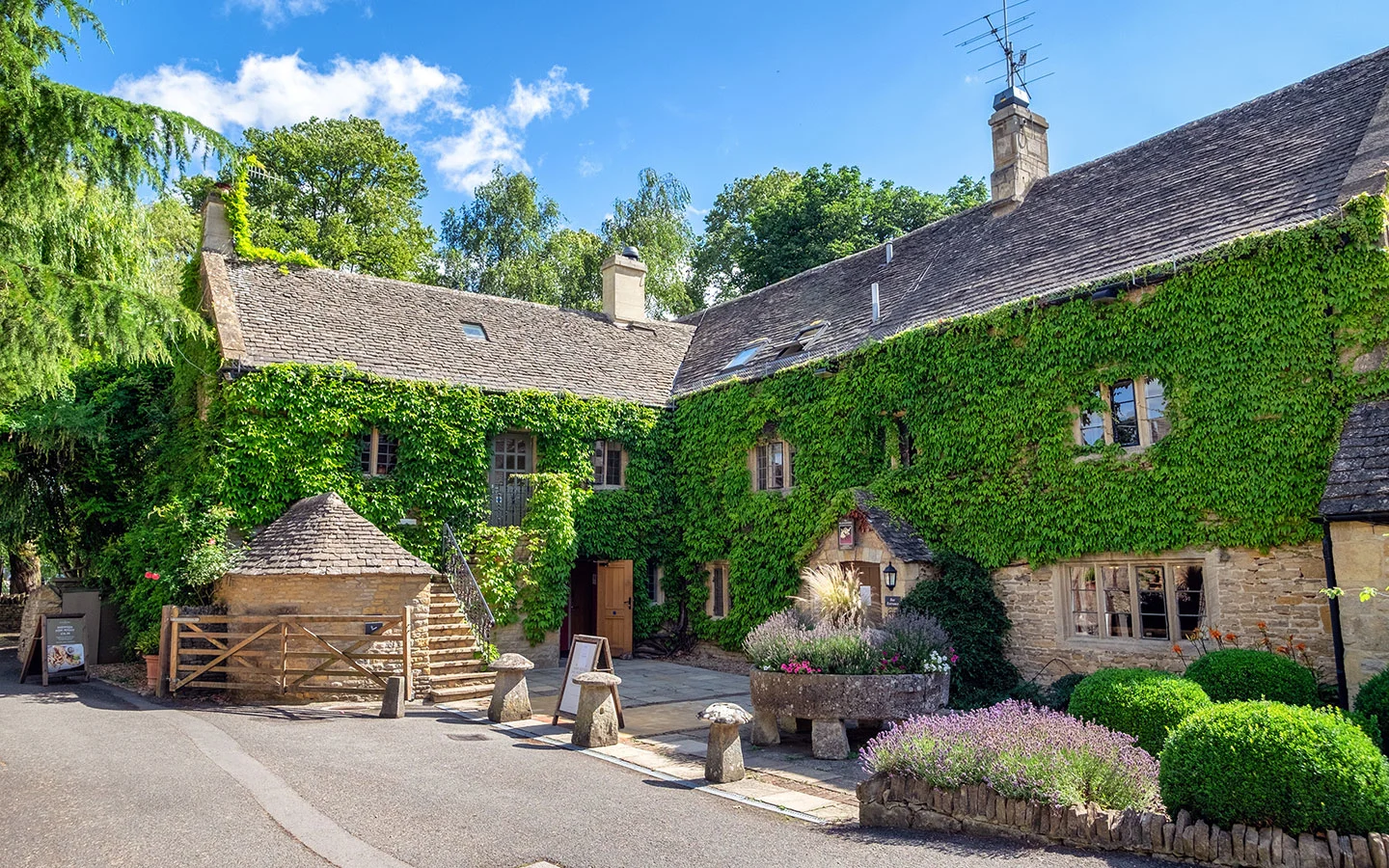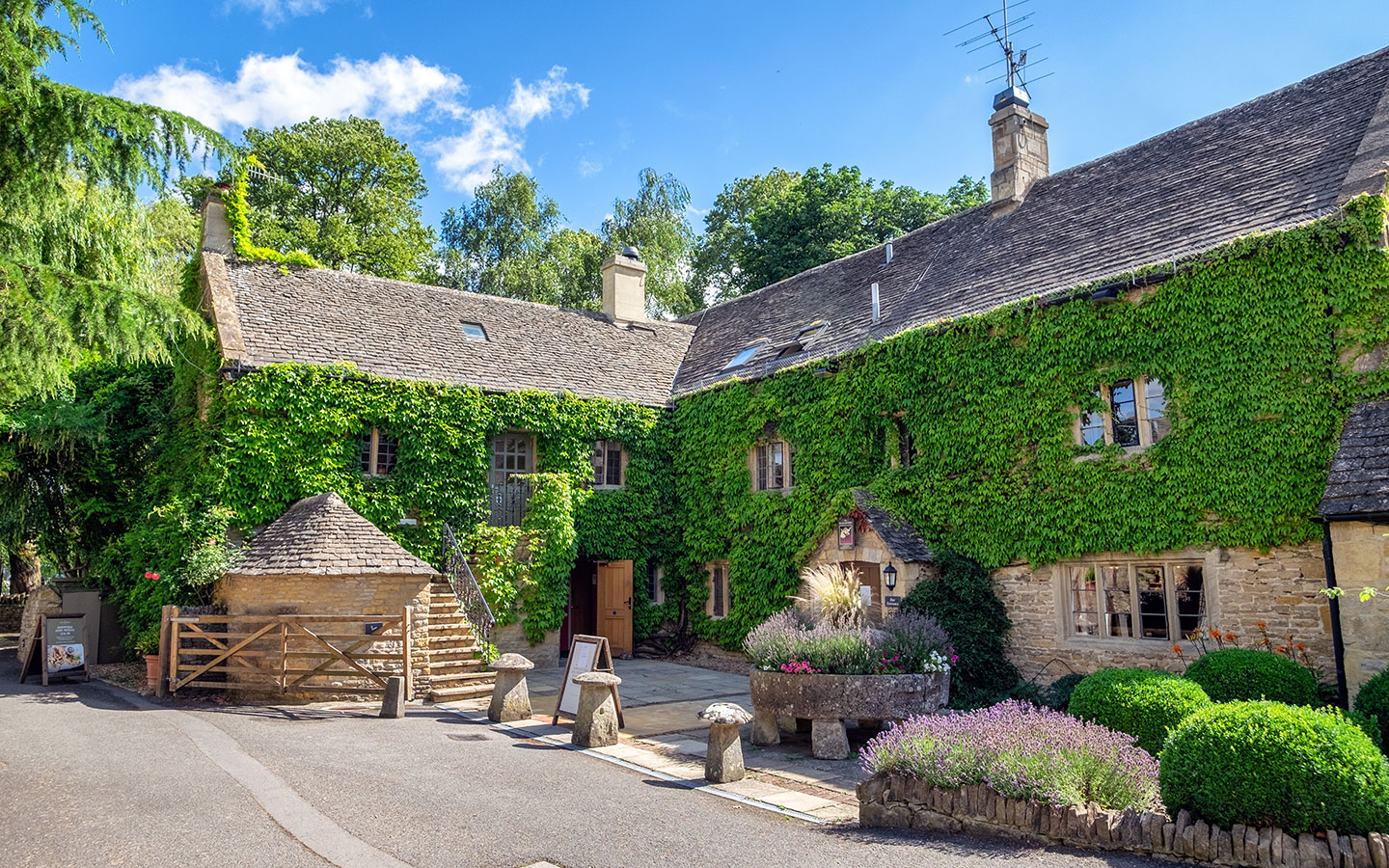 There are also a few self-catering cottages in Lower Slaughter. As you'd guess from the name, Church View* overlooks St Mary's Church. It dates from the 17th century and has original features like an inglenook fireplace, exposed beams and flagstone floors. The cottage sleeps eight in four spacious bedrooms, with a walled garden and a lawn garden with seating outside.
Or Thimble Cottage* is a traditional stone cottage close to the Old Mill which sleeps two. It has a patio outside and a woodburner inside, with plenty of character from its original beams, thick stone walls, deep windowsills and a rolltop bath. Dogs are welcome for an extra £20 per week.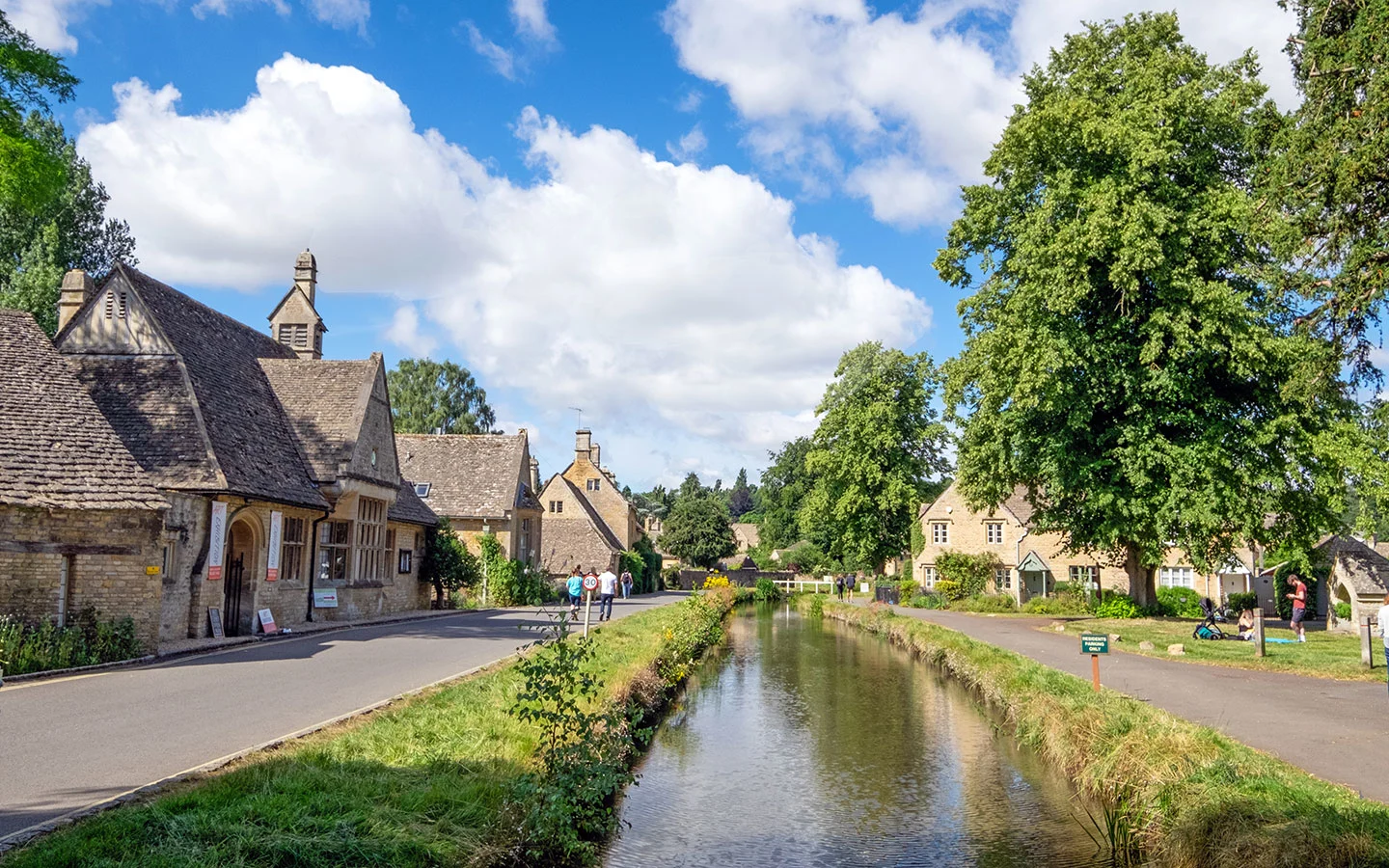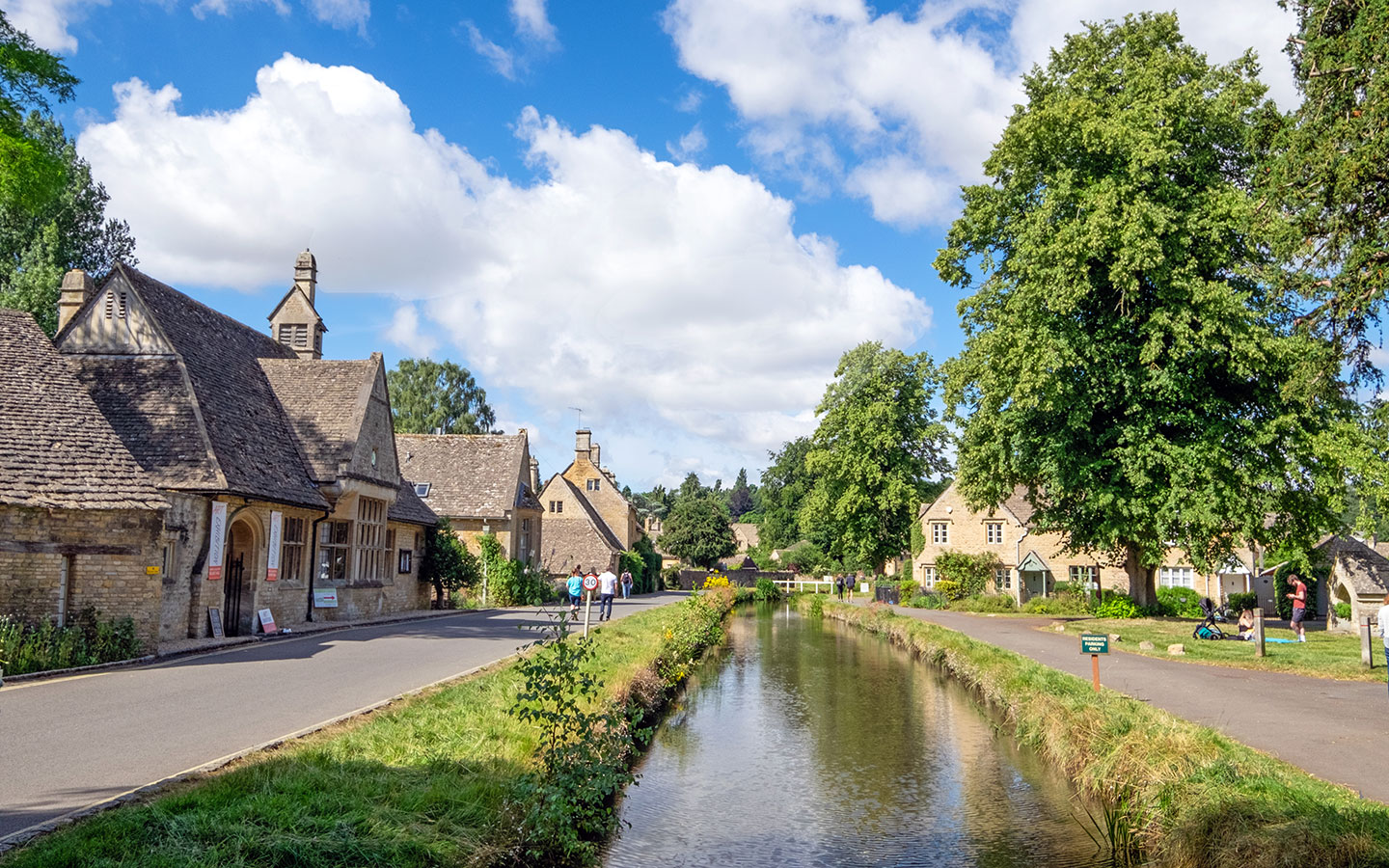 How to get to Lower Slaughter
By car
Lower Slaughter lies off the A429 (The Fosse Way), two miles north of Bourton-on-the-Water and 3.5 miles southwest of Stow-on-the-Wold. The roads around Lower Slaughter are narrow, so be careful if you have a large vehicle. There's no car park in the village but there is roadside parking opposite The Slaughters Manor House, but it's limited and fills up quickly on weekends.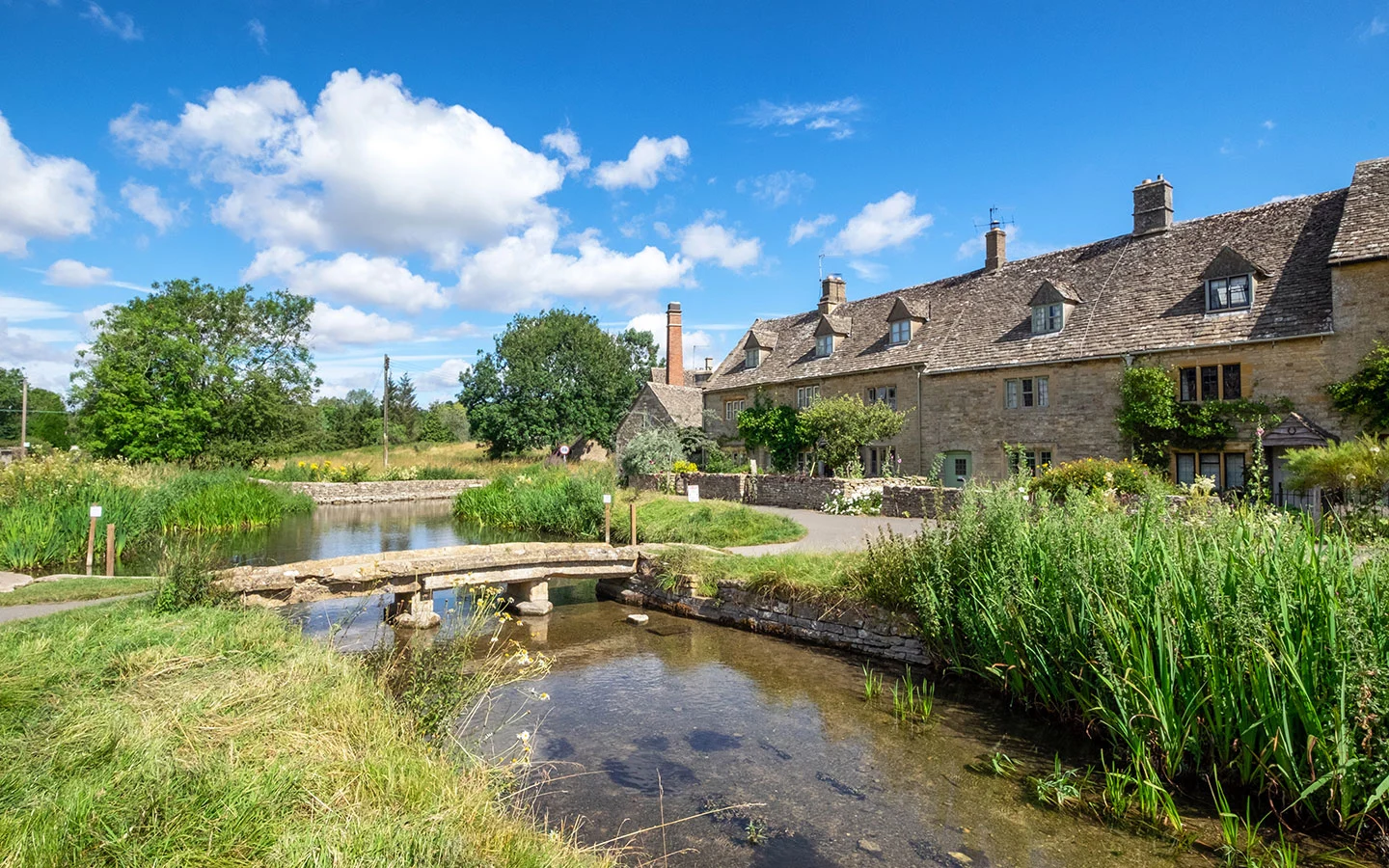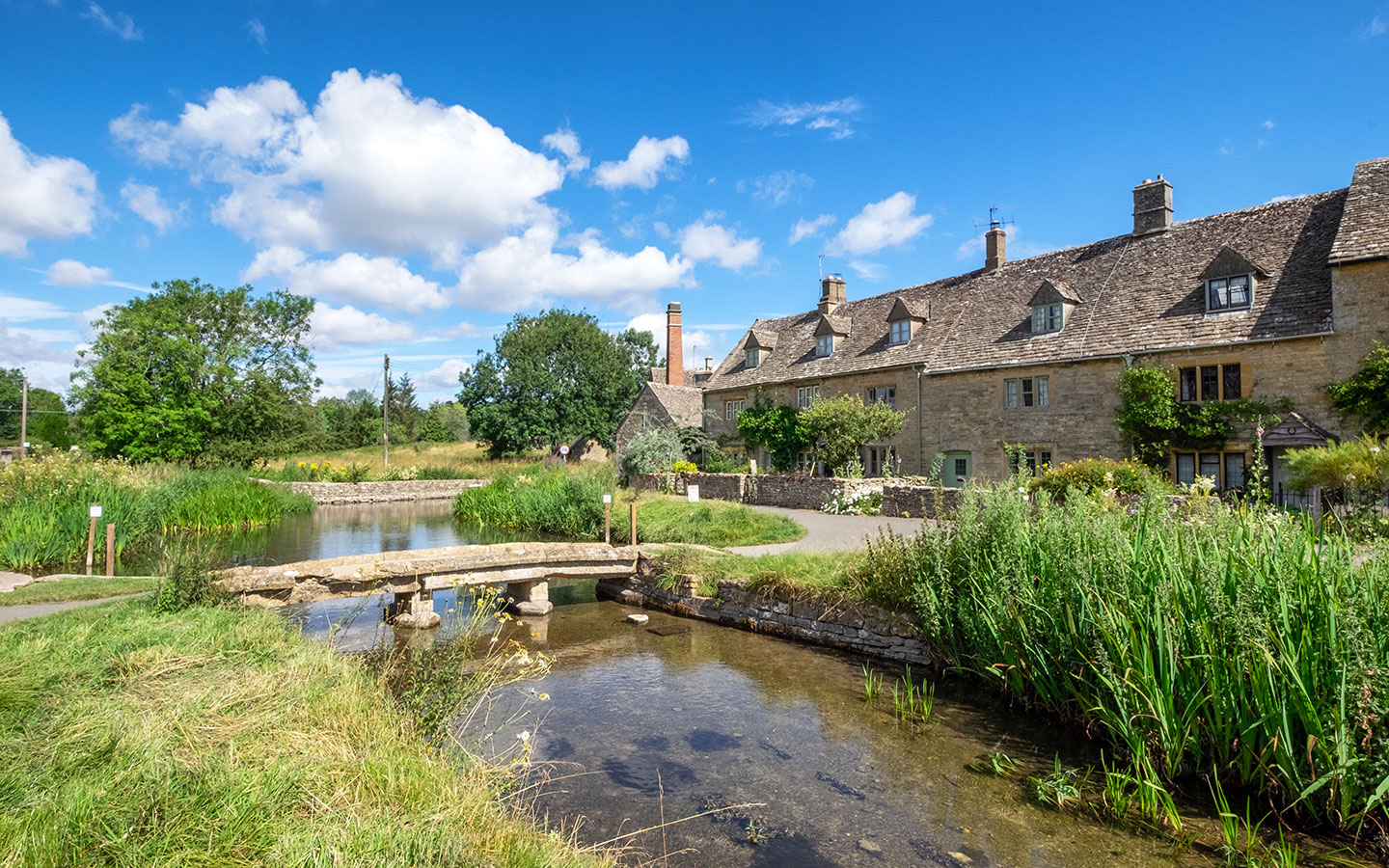 By public transport
There are no buses into the village, but the Pulhams 801 bus stops at Slaughter Pike on the Fosse Way, about a 10-minute walk away. The 801 connects to Moreton-in-Marsh in just over 20 minutes, or less frequently to Cheltenham in around an hour, where you can catch a train.
You could also take the Stagecoach 802 bus from Kingham to Bourton-on-the-Water in just under an hour. From Bourton you can take a taxi to Lower Slaughter, or it's a lovely 1.5-mile walk.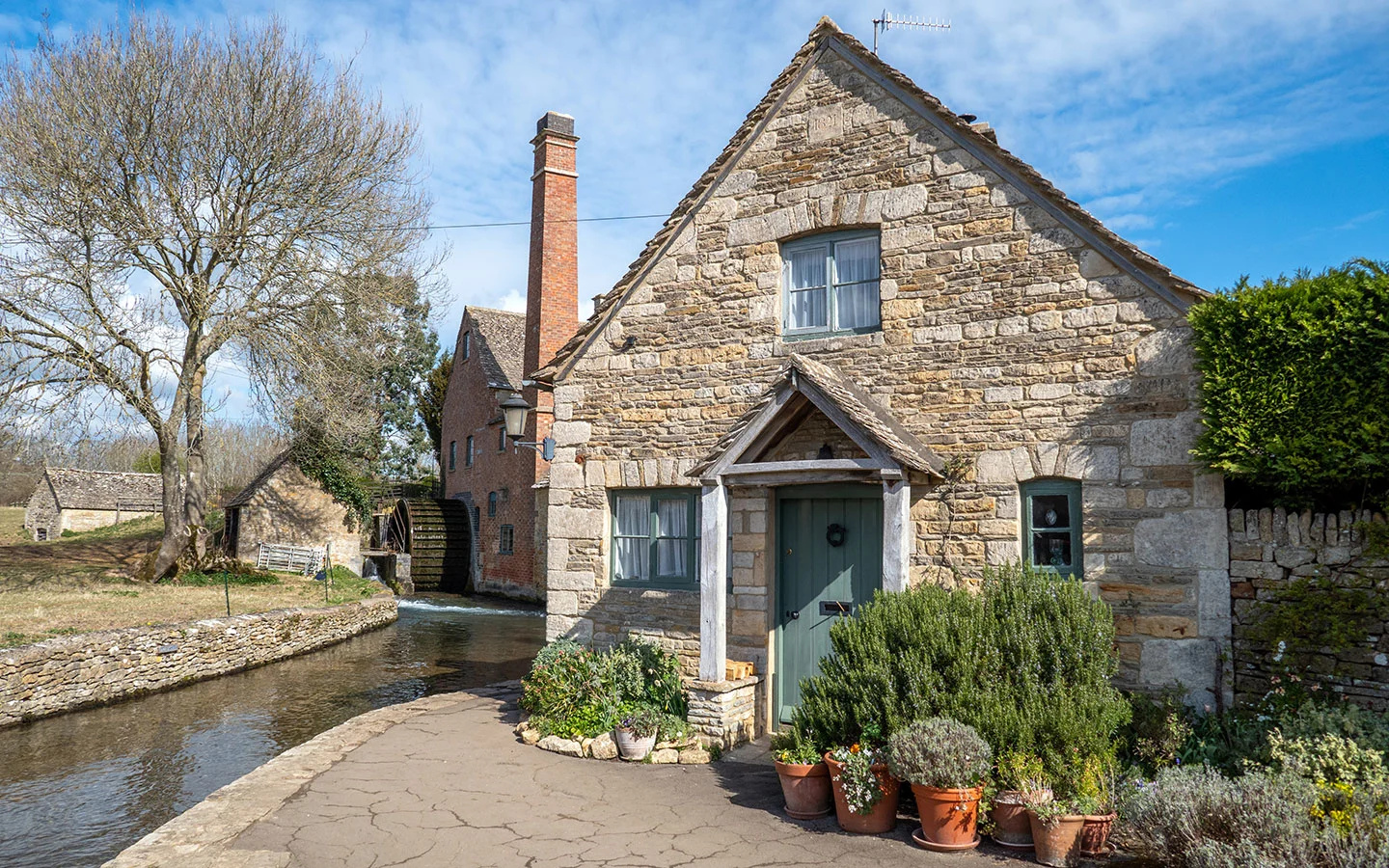 Save for later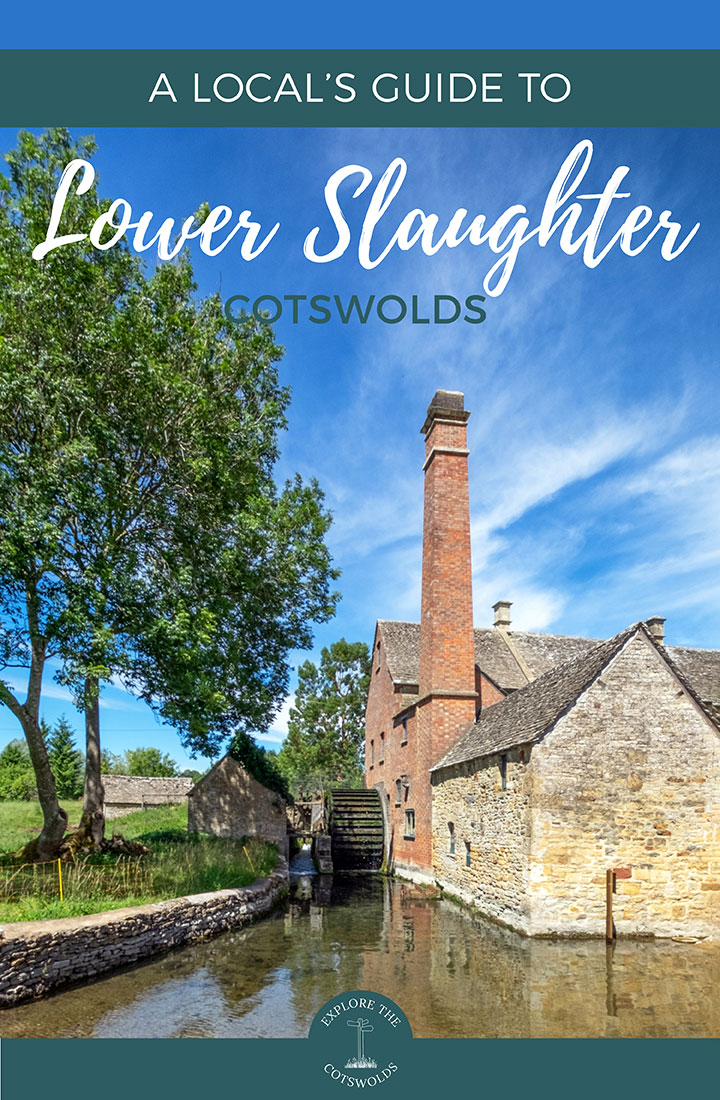 * This site contains affiliate links, where I get a small commission from purchases at no extra cost to you.