Add a touch of sparkle to the festive season this year with a Cotswolds Christmas light trail. With castles, museums, forests and farms all draped in colourful lights, these light trails have become an annual Christmas tradition. So wrap up warm (and bring an umbrella just in case), grab a hot drink and explore one of these six fabulously festive Christmas light trails in The Cotswolds.
Christmas light trails in The Cotswolds 2021
Sudeley Castle Spectacle of Light
On the outskirts of Winchcombe, the ruins of 15th-century Sudeley Castle make an beautiful backdrop for the annual Spectacle of Light event, with a Christmas light trail running though the castle grounds. Sudeley has an impressive royal pedigree – it hosted kings and queens and was home to Henry VIII's sixth and final wife, Katherine Parr, who is buried in its church.
Sudeley has been running the Spectacle of Light since 2016, and each year the trail has a different theme. New exhibits for 2021 include the Light Curve and Carpet of Colour, along with sparkling water features, lanterns and light beams, a flickering field of fire, colourfully lit trees and illuminated castle ruins, all set to music to add to the atmosphere.
The light trail takes around 60-75 minutes to walk, and there are stalls selling festive food and drink on the castle terrace just after halfway (though it gets busy so prepare to queue).
Open on selected evenings from 26 November–30 December 2021. Entry £22 adults/£11 children under 15, with discounts if you book before 25 November (advance booking required).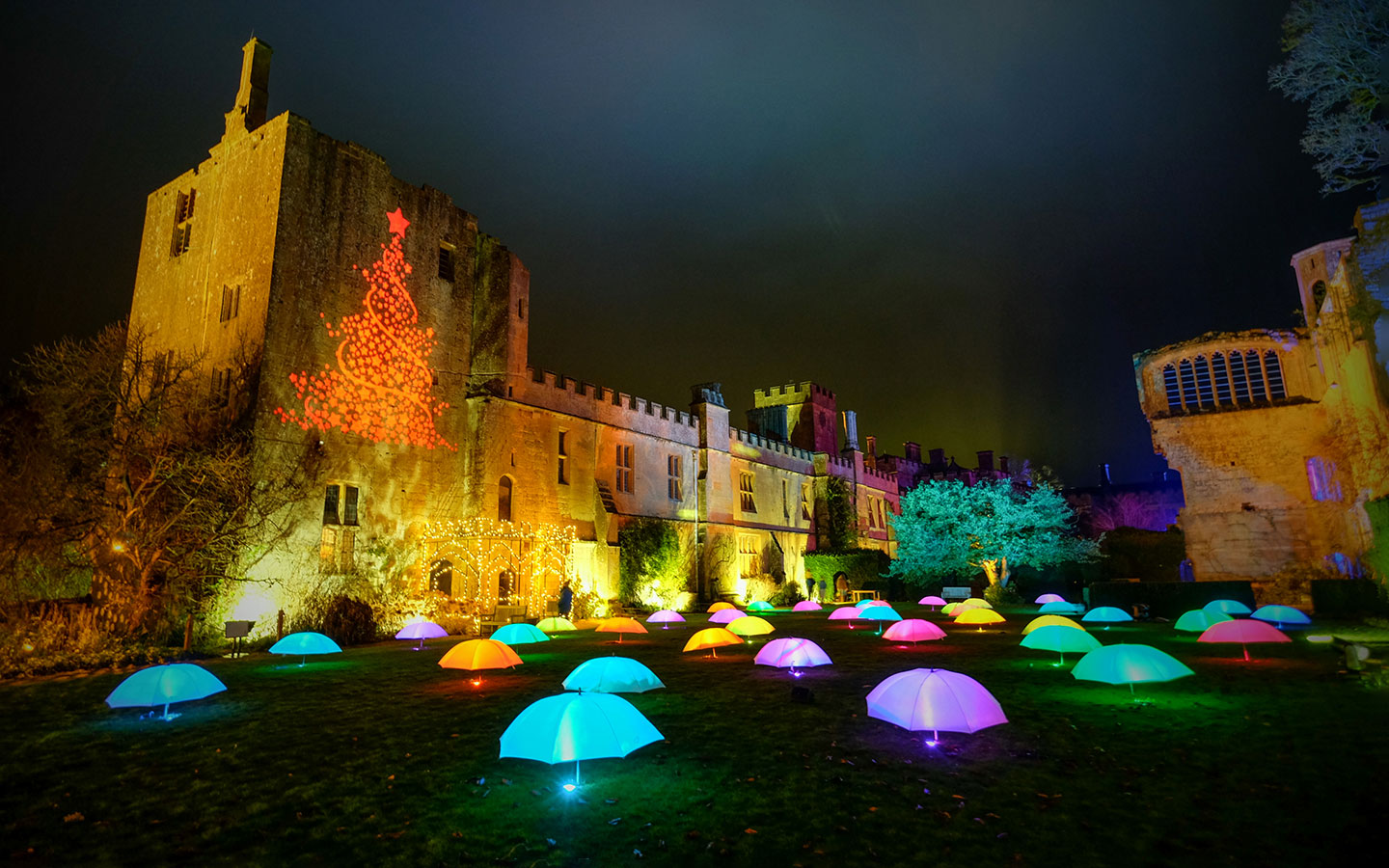 Westonbirt Arboretum Enchanted Christmas
Westonbirt Arboretum near Tetbury swaps the colours of its autumn leaves for the sparkle of Christmas lights this winter at their Enchanted Christmas light trails in the Cotswolds. The Arboretum has over 18,000 trees and shrubs spread across 800 acres – and somewhere out there among them are Father Christmas' missing reindeer, who ran off after a storm.
This year's display takes you through the trees on a mission to track down the lost reindeer, with colourful trees, clever visual effects and interactive displays for kids. Along the way there's talking trees, glittering disco balls and magical elves – and keep an eye out for Father Christmas.
The trail is around a mile long (plus there's a reasonable walk to get to the start from the car park) and takes around 45–90 minutes to complete. There's no fairground this year but there are food and drink stalls along the way and in the Christmas village at the start and end.
Open on selected evenings from 26 November–21 December 2021. Entry £18 adults/£16 students/£9 children under 18 (advance booking required).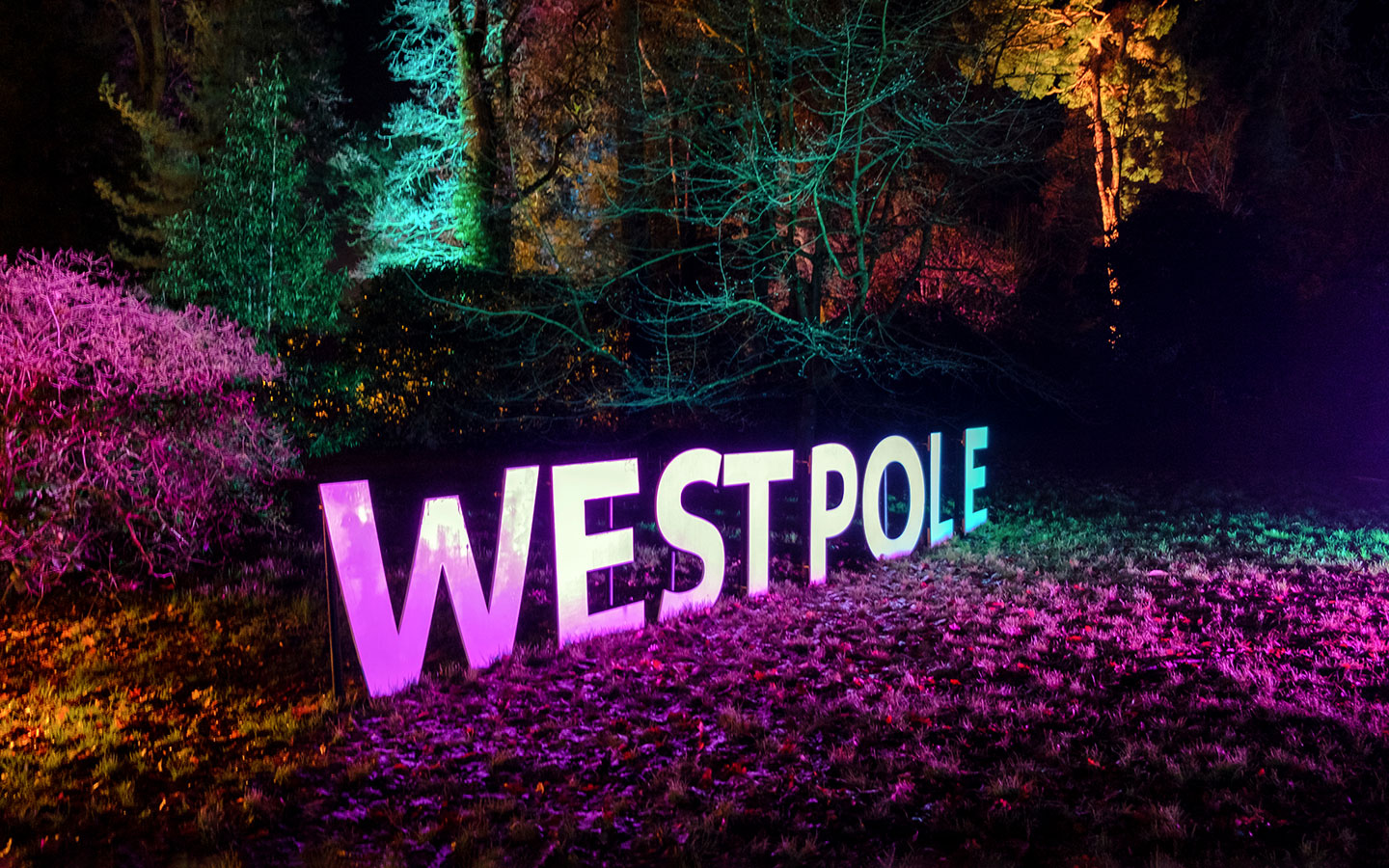 Blenheim Palace Illuminated Light Trail
Residence of the Dukes of Marlborough, birthplace of Winston Churchill and UNESCO World Heritage Site, Blenheim is a palace on a grand scale. And each Christmas it opens up for special festive events, including an Illuminated Light Trail through the palace gardens. The trail winds through woodland, with giant light sculptures, projections and lasers set to music.
Each year there's a mix of old favourite and new installations, from flickering flames in the fire garden and dancing lakeside reflections to the ever-popular (and highly Instagrammable) tunnel of light made with over 100,000 tiny light bulbs. Along the way street food stalls sell tasty treats.
You can also add on a visit to the palace itself, which is decorated with a Nutcracker theme this year, including giant gingerbread men in the Kingdom of Sweets, an enchanted music box and a glistening Land of Snow. The palace's annual Christmas market also returns for 2021.
Open on selected evenings from 19 November 2021–2 January 2022. Entry £22.50 adults/£16 children under 18, plus parking is an extra £10 (pre-booking advised). Palace tickets sold separately.
Cotswold Farm Park Enchanted Light Trail
The Enchanted Light Trail at Adam Henson's Cotswold Farm Park is back for 2021 after a great first year. The park is open after hours for this family-friendly event, which gives you the chance to experience the Cotswold Farm Park in a whole new way, filled with colour, light and sound.
The Enchanted Light Trail takes around 60–90 minutes to walk, and runs from the visitor centre area to the park's boundaries and back. Along the route there are light displays inspired by different animals, as well as some real animals to feed and a magical illuminated woodland.
There are crackling fire pits and hot drinks to keep you warm, as well as a café and a gift shop at the end of the trail selling Christmas cards, decorations and gifts made by local crafters.
Open on selected evenings from 26 November 2021–1 January 2022. Entry £19.50 adults/£18.50 seniors/£14.50 children aged 4–15/£9.50 children aged 2–3 (advance booking required).
Bath American Museum Enchanted Garden of Light
New for 2021, Bath gets its first Christmas light trail with the Enchanted Garden of Light at the city's American Museum and Gardens. The museum is based in historic Claverton Manor and surrounded by 30 acres of grounds with spectacular views over the Limpley Stoke Valley.
The Enchanted Garden of Light sees the museum, gardens and woodland emblazoned with seasonal colour. Visitors follow an hour-long trail lit by sparkling reindeer, through tunnels of light and past illuminations set to music. Along the way food and drink stalls sell American festive favourites like spiced apple, hot dogs, roasted chestnuts and hot chocolate.
The museum is also decorated for Christmas with homemade decorations and a Christmas tree filling the atrium, and there's Christmas shopping at the Christmas Coach House.
Open 9–12, 16–24 and 27–31 December 2021. Entry £20 adults/£14 children under 15 (with discounts if you book two weeks or more before the event). Museum tickets sold separately.
Christmas at Longleat
This year, Longleat is swapping its usual Festival of Light winter lantern spectacular for a new Christmas at Longleat event. This combines a winter safari with a whole host of other festive attractions, including carols and storytelling with birds of prey at the Longhouse.
Among the highlights are projections lighting up the historic frontage of Longleat House, 100 illuminated Christmas trees, a tunnel of light and sound, a hedge maze draped in twinkling lights and a 20-metre Enchanted Christmas Tree serenading visitors in the Stable Yard.
You can also upgrade your ticket to add the Santa Train, which departs from Longleat Central Station and transports kids to a magical grotto where they can meet Father Christmas.
Open on selected evenings from 6 November 2021–3 January 2022. Entry £39.95 (peak)/£36.95 (off-peak) adults and £29.95 (peak)/£27.70 (off-peak) children (advance booking required).
Save for later