Local coronavirus restrictions may cause temporarily closures, reduced opening hours or require advance booking – please check attraction websites for most up-to-date information.
With frosty mornings, pretty villages decked out in twinkling lights, Christmas carols, cosy fires and the smell of pine, Christmas is a great time to visit the Cotswolds. Whether you're planning a Christmas break to the region or live locally and want to get into the festive spirit, although we might not have as many events as usual in 2020, there are still plenty of reasons to spend Christmas in the Cotswolds – so here are a few of our top things to do this December.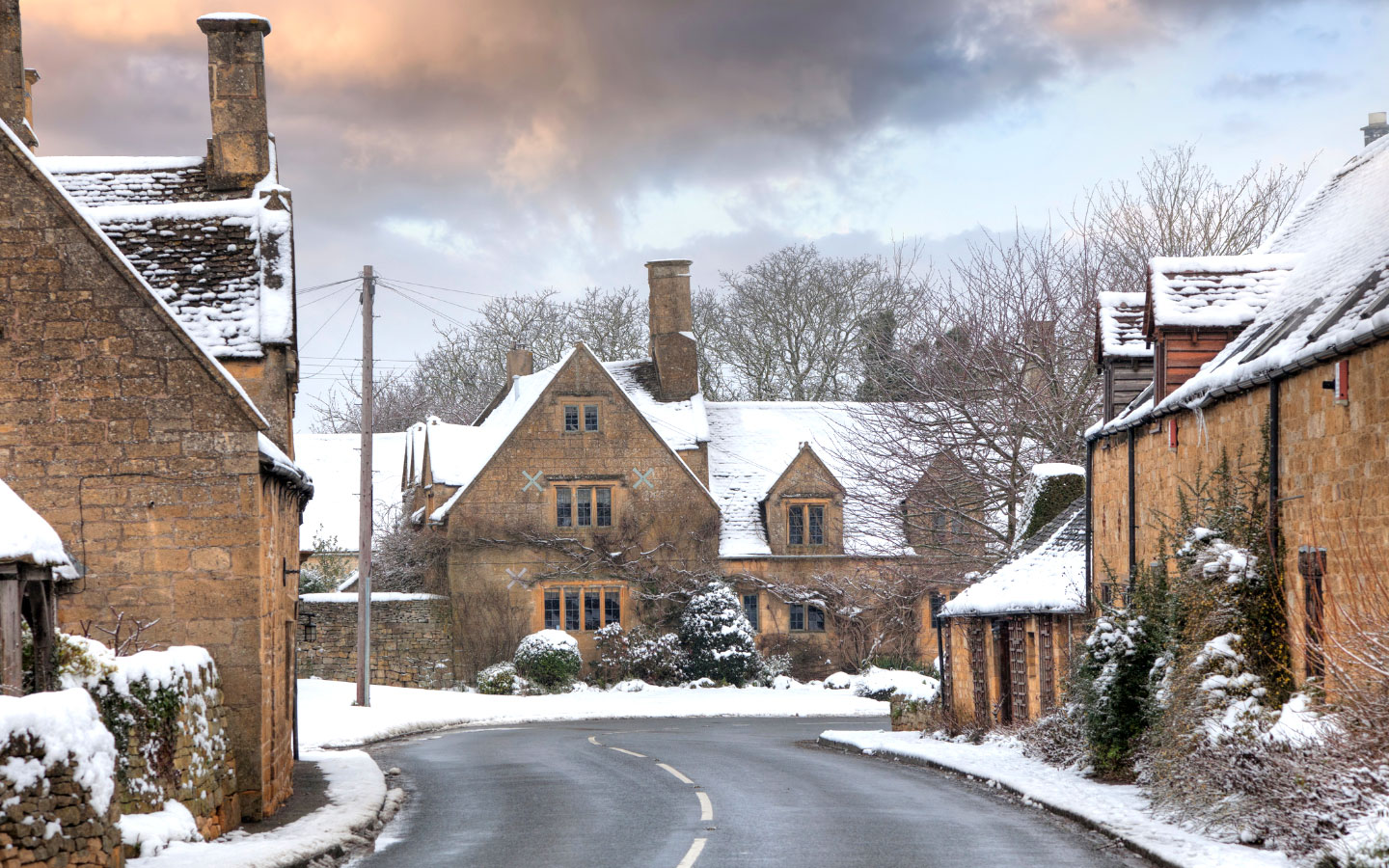 Follow a Christmas light trail
Grab a hot chocolate or spiced apple and explore a magical illuminated light trail this Christmas. With sparkling light displays set to music, these trails through the Cotswolds' grand gardens and outdoor spaces are more popular than ever – being outdoors with timed slots to allow people plenty of space helps make them a low-risk way to get in the festive spirit.
This Christmas there's a selection of Cotswold trails to choose from. Walk through illuminated trees at Westonbirt Arboretum's Enchanted Christmas (4–22 December 2020) or enjoy the grand backdrops of Blenheim Palace for the Illuminated Light Trail (4 December 2020–10 January 2021) and Sudeley Castle for the Nutcracker-themed Spectacle of Light (4–30 December 2020).
There's also a new family-focused Enchanted Light Trail at Cotswold Farm Park (3 December 2020–1 January 2021). And if you don't mind travelling a bit further afield, Longleat's Land of Light (3 December 2020–10 January 2021) replaces its usual lantern festival, and Malvern Winter Glow is new at the Three Counties Showground (9 December 2020–3 January 2021).
Read more: 5 fabulously festive Christmas light trails in the Cotswolds
Take a ride on a steam train
A ride on board the Gloucestershire Warwickshire Steam Railway is a trip back in time to the golden age of rail travel. The route takes you on a 28-mile round trip through the Cotswold Hills, with vintage carriages hauled by an original steam locomotive – the sounds and smells on board transport you back to the days when train was a lot more glamorous.
Their pre-Christmas Santa Experience trains are fully booked, but there are also 'mince pie specials' running from 27 December 2020 to 3 January 2021, departing from Toddington and visiting Broadway and Cheltenham Racecourse before returning to Toddington.
You can book a private compartment which seats up to six people or individual tickets for one/two people in the open compartments. The buffet car is closed during the journey at the moment but opens up when the train stops with hot and cold drinks (including the special Rail Ale made by Donnington Brewery in Stow-on-the-Wold) and of course mince pies.
Spend a night at the panto
Christmas just wouldn't be the same without a trip to the panto (oh no it wouldn't…). With its colourful mix of singing, dancing, over-the-top sets and audience participation, the Christmas panto is a family tradition. 2020's restrictions have made things tough for theatres, but Cotswold venues have risen to the challenge with innovative new shows this Christmas.
In Cheltenham, the Everyman Theatre is hosting Tweedy's REDUCED Pantomime (That Might Go A Bit Wrong!), a slimmed-down panto which promises plenty of 'pandemic pandemonium' (4 December 2020–3 January 2021). The Barn Theatre in Cirencester is telling the much-loved story of little boy who refuses to grow old in Peter Pan (21 November 2020–3 January 2021).
At the Roses Theatre in Tewkesbury, (Almost) A Christmas Carol is a 'one-hour, two-person, three-ghost' comedy take on Charles Dickens' Christmas classic (12 December–2 January 2021). The Stratford Playhouse is putting on Jack and The Beanstalk (18–31 December 2020).
And finally, Horrible Histories are taking over Cheltenham Racecourse on 21 December 2020 for their 'car park panto'. Described as the world's first drive-in Christmas show, Horrible Christmas is a hair-raising adventure through the history of Christmas.
Visit a country house or garden
Christmas might be a bit smaller than usual for most of us this year, but you can still experience Christmas on a grand scale at the several palaces, country houses and gardens in the Cotswolds, which are open for special Christmas events.
Most National Trust properties are closed this winter, but you can still visit many of their gardens (prebooking required). Dyrham Park, Upton House, Charlecote Park and the village of Lacock all have Peter Rabbit-themed winter adventure activity trails for kids. Lacock also hosts an annual community Christmas tree festival and Dyrham Park has a poetry trail and wishing tree.
Blenheim Palace is hosting A Traditional Blenheim Christmas (2 December 2020-3 January 2021), with the palace state rooms decked in festive finery and a Marlborough Mice Trail for younger visitors. And Batsford Arboretum is hosting the Big Batsford Elf Hunt (1 December 2020–3 January 2021), a treasure hunt to find elves tucked away around the gardens.
Treat yourself to a night away
Many of us have missed out on holidays this year, but with things opening up again in December, why not escape for a night or two to one of the Cotswolds' historic hotels? Many of them are beautifully done up for Christmas with lavishly decorated trees and roaring log fires.
If you want to get away for the big day, there are some high-end Christmas packages available with all the trimmings. Enjoy a winter BBQ and Boxing Day quad biking at The Fish Hotel*, carol singing and a Christmas hamper at The Lygon Arms* in Broadway's Christmas House Party, or go all out with a festive afternoon tea, Champagne carols and a Boxing Day hunt followed by black tie dinner and casino night at the Lords of the Manor* hotel in Upper Slaughter.
If Santa's not feeling quite that generous this year, there are also some good deals around either between Christmas and New Year or straight after New Year's Day – sign up to hotel mailing lists or sites like Secret Escapes to get notified of any bargains.
Warm up with a wintery walk
We're pretty spoilt for choice when it comes to walking routes in the Cotswolds. So if you're looking to work off the Christmas pud with a winter walk, here are a few of our favourite local walks. Just south of Cheltenham, Crickley Hill Country Park has spectacular views out over the Cotswolds, and there's a 3-mile circular route around to top to take it all in.
From Broadway there's a 4-mile circular walk along a stretch of the Cotswold Way to the fairytale Broadway Tower – another great spot for Cotswold views – and through the deer park before descending back down to the village. Or you can take a 4-mile route from Bourton-on-the-Water along the River Windrush to Lower Slaughter then on to Stow-on-the-Wold.
You can also follow the start of the Cotswold Way from Chipping Campden for the 3-mile circular walk to the viewpoint at Dovers Hill, where you can see as far as the Black Mountains in Wales on a clear day. Or you can walk 5.5 miles (mostly downhill) from Cleeve Hill down to the village of Winchcombe, passing Sudeley Castle and Belas Knap Neolithic burial ground.
* This post contains affiliate links – find out more.
Save for later