With wooden chalets draped with sparkling lights, colourful Christmas decorations, locally made gifts and crafts, and the smell of mulled wine and roasted chestnuts – Christmas markets have become an annual tradition. And there are a host of Christmas markets in the Cotswolds which add an extra dose of sparkle to the region's towns and villages. Our guide to Cotswold Christmas markets in 2022 takes you through the markets not to miss, from big names to smaller events.
Christmas markets in the Cotswolds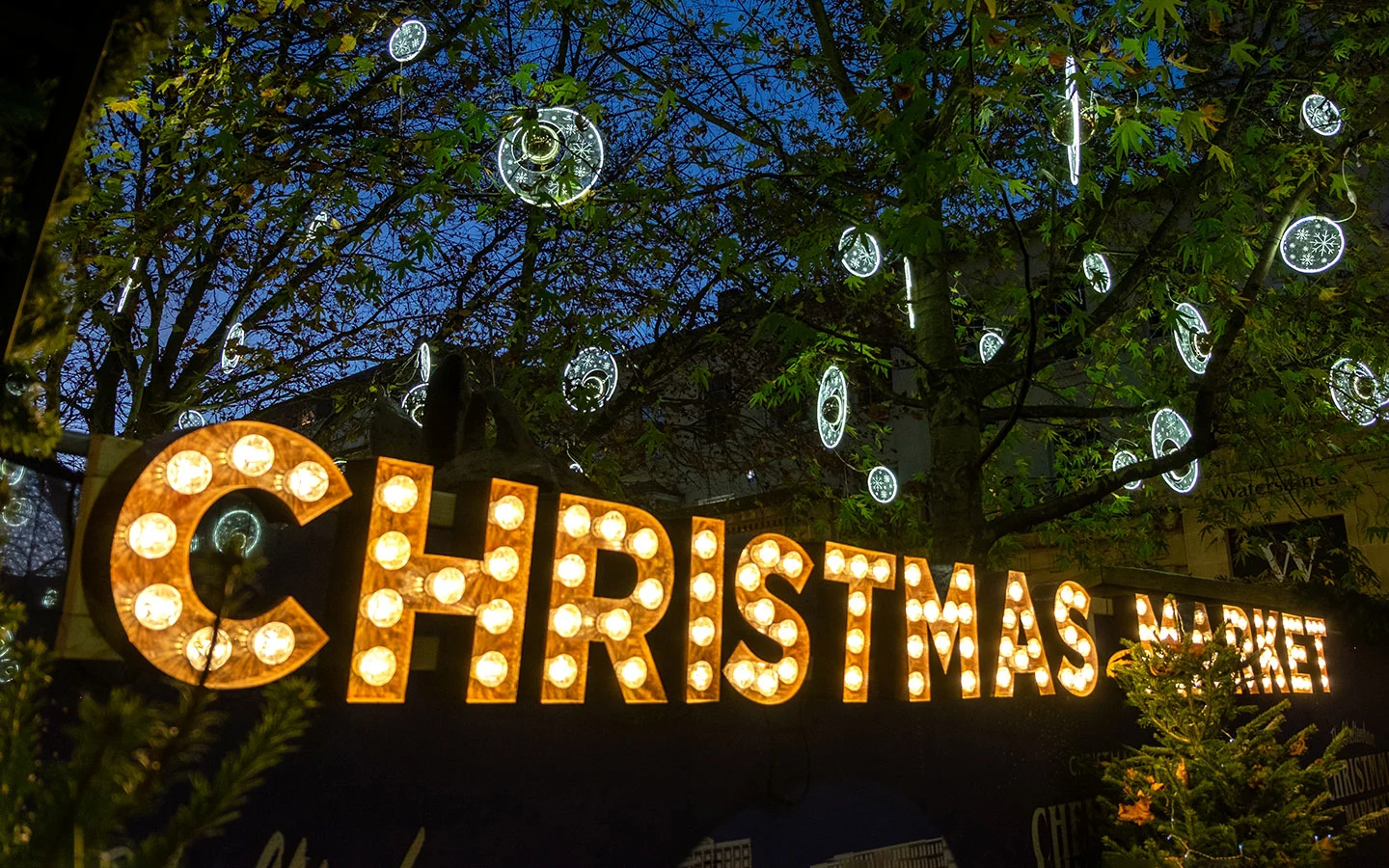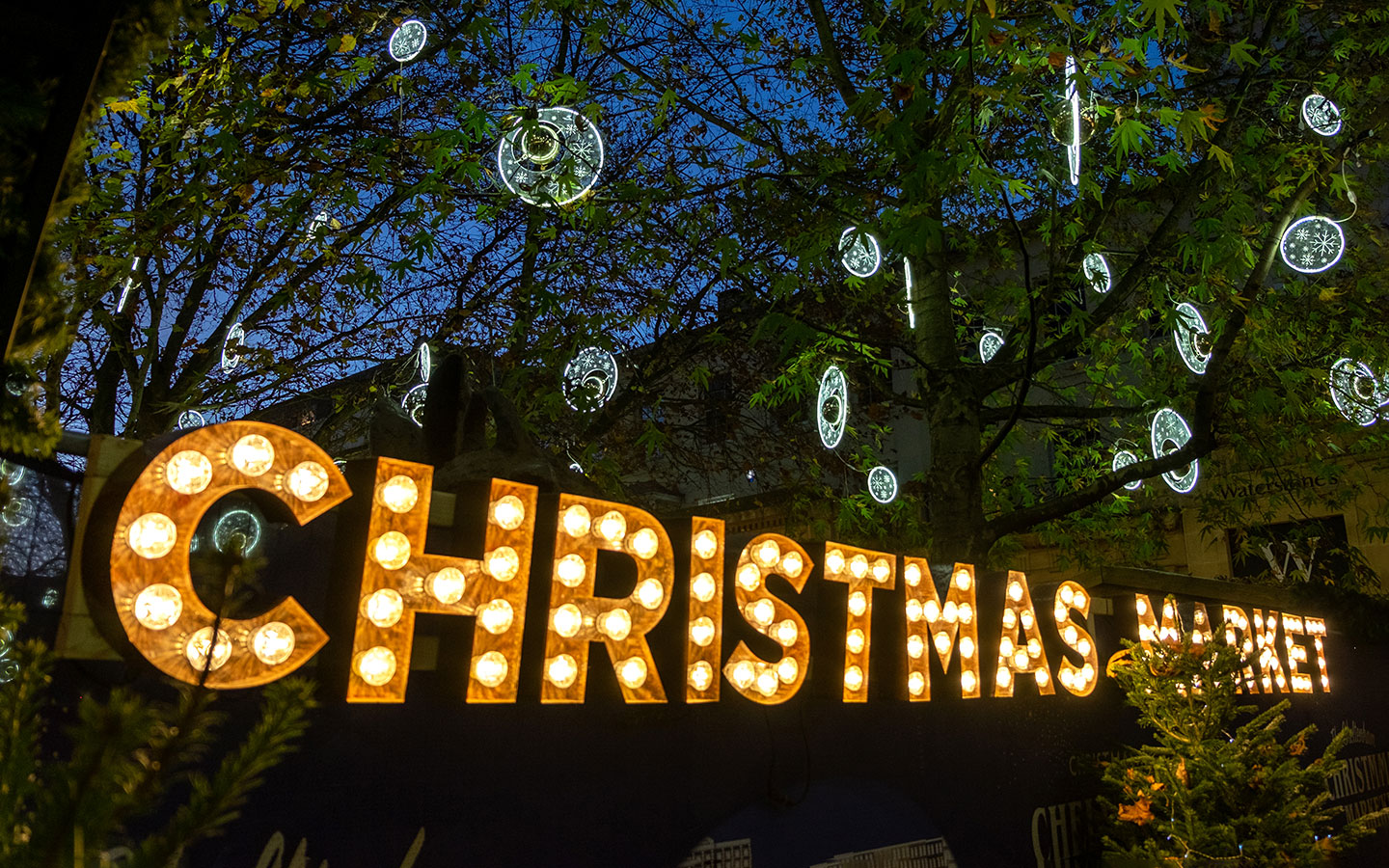 Bath Christmas Market
Thursday 24 November to Sunday 11 December 2022
After a two-year absence, the Bath Christmas Market is back for 2022 and celebrating its 20th anniversary. The UNESCO World Heritage listed historic streets around Bath Abbey are given a Christmas makeover, with over 150 wooden chalets selling crafts from around the southwest and beyond, including pottery, jewellery, candles, knits, artworks and glassware.
There are also food and drink stalls, and pop-up chalets on Bath Street and Christmas carts on Green Street to help highlight some of the area's smaller businesses. The market helps raise money for charity, and is trying to be more sustainable by reducing single-use plastics.
You can also celebrate Christmas in Bath with a spin around the Bath on Ice skating rink in Victoria Park, follow the Christmas light trail at the American Museum and Gardens, warm up at the Thermae Bath Spa or visit the Roman Baths and have afternoon tea at the Pump Rooms.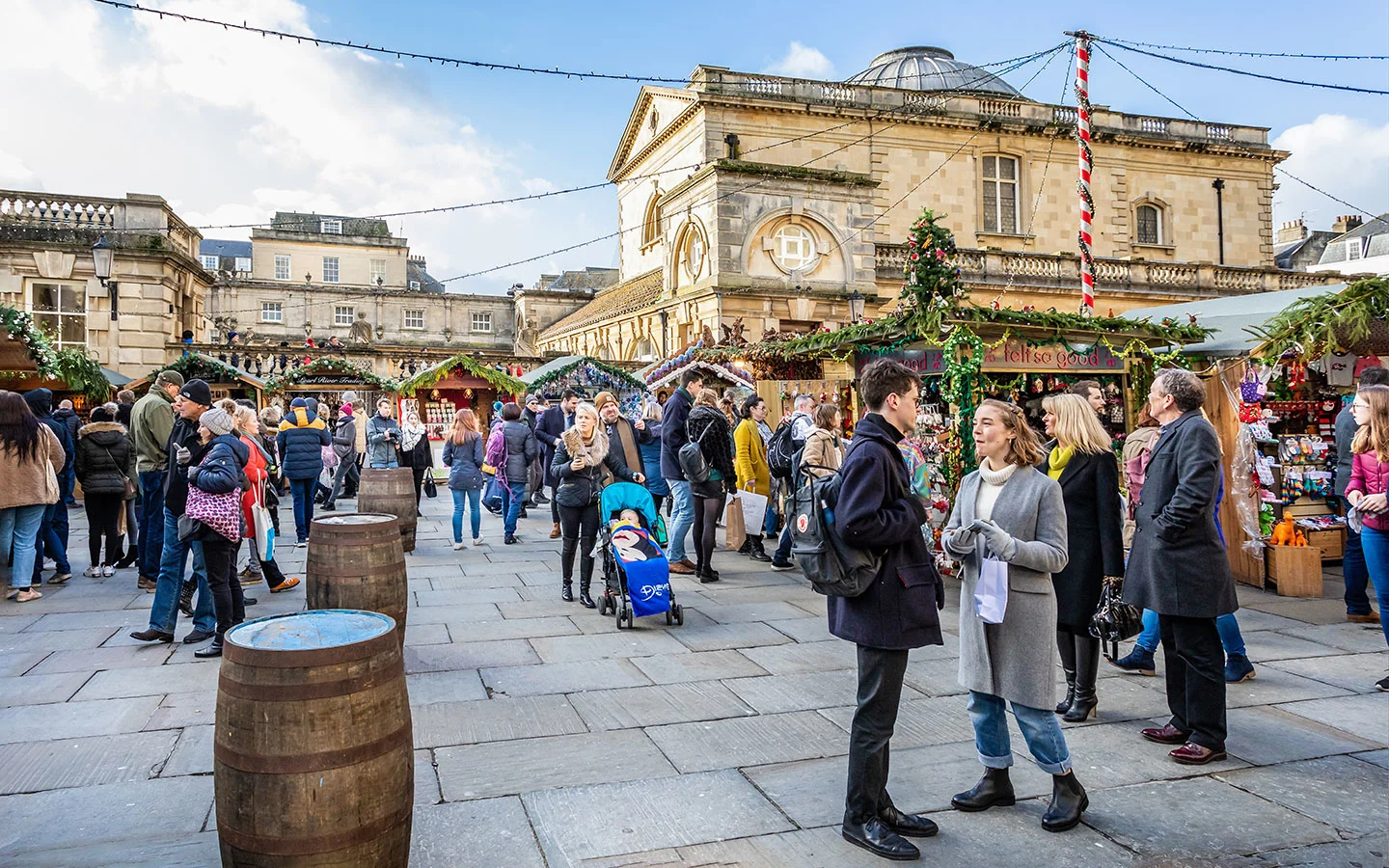 Cheltenham Christmas Market
Thursday 8 December to Friday 23 December 2022
Cheltenham's annual Christmas market also returns this year, with stalls lining the Promenade and Long Gardens. There are a range of Christmas gifts and decorations for sale. There's also a food section where you can pick up a warming hot chocolate or a mug of mulled wine or cider, and fill up on foodie treats like waffles and crêpes, exotic burgers and German sausages.
As well as the main market, there's also a Pop Up Christmas Market on 2–4 December focusing on independent traders who'll be selling food and drink, crafts and gifts. And there are artisan markets featuring local creatives at Pittville Pump Room on 26 November 3, 4, 21 and 22 December.
You can also get into the Christmas spirit in Cheltenham with a trip to the panto at the Everyman Theatre – this year's show is Dick Whittington and His Cat Tweedy. Kids can follow the Nutcracker Christmas Trail through the town, and there's also a Christmas Wine Festival.
Cirencester Christmas Markets
26-27 November, 3–4, 11, 18 and 20–22 December 2022
This year there are a series of different Christmas markets in Cirencester, starting with the Advent Market on 26–27 November. There will be over 100 stalls selling food, drink and gifts, stretching along the length of the Market Place and into Cricklade and Castle Streets. And the streets will be decorated with lights and Christmas trees, with live music and carol singing.
On 26 November the town's Christmas lights will be switched on at 4pm, with silent fireworks, light projections and falling snow. And after that there are Christmas gift markets on 3–4, 11, 18 and 20–22 December, as well as farmers' markets and the normal Charter Markets.
You can also see The True Adventures of Marian and Robin Hood! panto at the Barn Theatre and admire 35 beautifully decorated Advent trees in Cirencester Parish Church.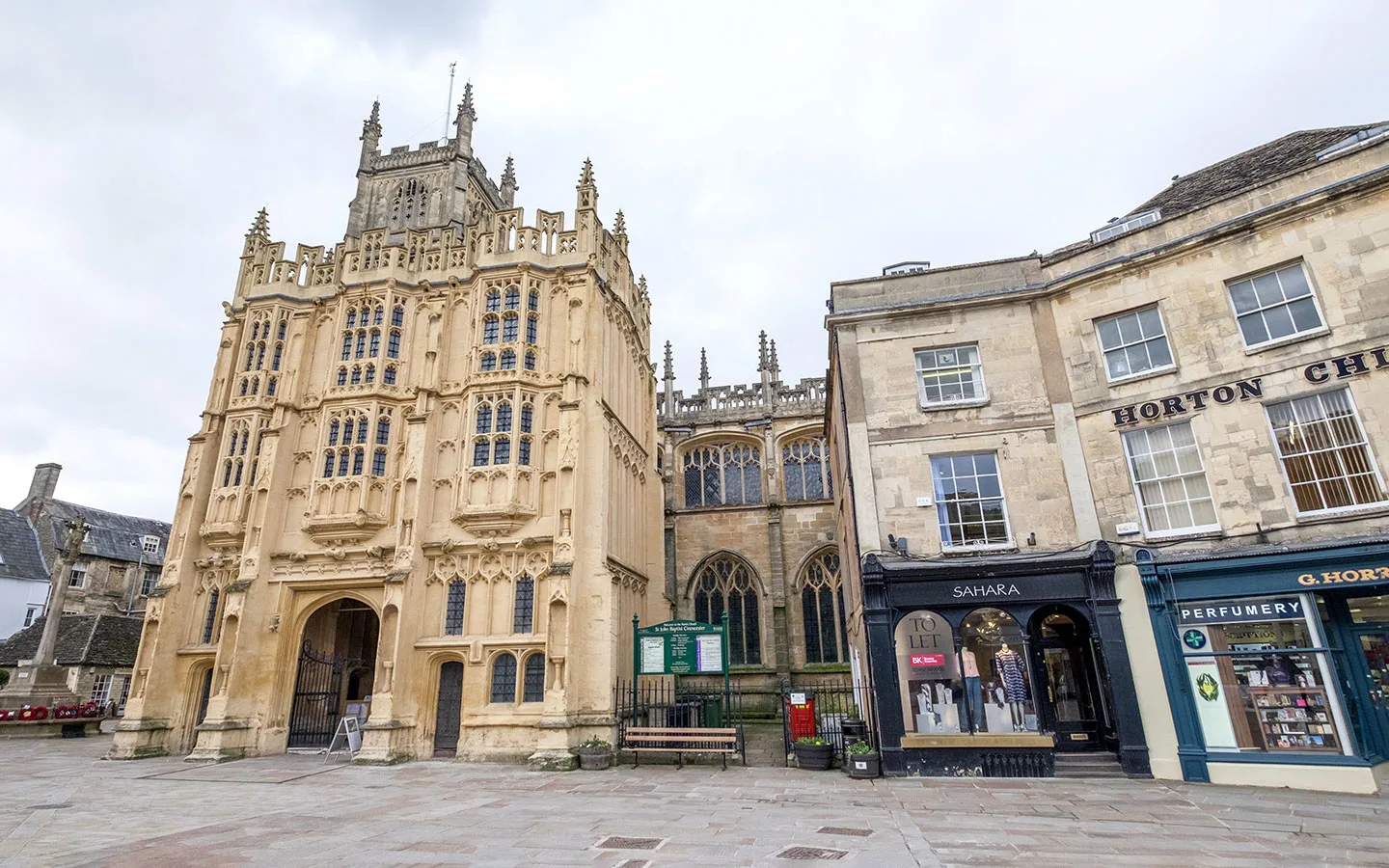 Stroud Christmas Markets
Wednesday 21 to Saturday 24 December 2022
When Christmas is fast approaching, Stroud's Christmas Markets are a great opportunity to finish off your Christmas shopping with some locally produced presents. There will be an eclectic and unique mix of crafts, gifts and foods on sale at Cornhill Market Place on 21–23 December.
Then Stroud's award-winning farmers' market is back for a festive edition on 24 December from 9am–2pm if you want to stock up on the freshest produce for your Christmas dinner.
Blenheim Palace Christmas Market
Friday 18 November to Sunday 18 December 2022
The prize for the Cotswold Christmas market with the grandest backdrop has to go to Blenheim Palace, the 18th-century palace in Oxfordshire built for the Dukes of Marlborough. Around 70–80 wooden chalets fill the palace's Great Court, with local designers and makers selling homewares, jewellery, leather goods, textile and ceramics, as well as delicious food and drink.
The market is part of the Christmas at Blenheim event, which also includes an illuminated light trail through the palace grounds, Christmas afternoon teas in the Orangery, and interiors transformed into the Kingdom of the Snow Queen by frosty trees and shimmering crystals.
The market is free to visit, but if you're arriving by car you need to book and pay for parking via their website, which costs £10 plus a £2.50 booking fee (or you can get to the palace by public transport using Stagecoach buses S3 and 7 from Oxford or the 233 bus from Burford).
One-off Cotswold Christmas markets
As well as the longer events, there are also several towns and villages which have one-off Christmas markets in the Cotswolds, often as part of their Christmas lights switch-on events. These markets are on a lot smaller scale, but have tons of charm and beautiful scenic backdrops.
Moreton-in-Marsh Christmas Market
Saturday 26 November 2022, from 9.30am
Moreton-in-Marsh's Christmas market runs throughout the day, so you have plenty of time to get your Christmas shopping done, with over 75 stalls selling gifts and curios, seasonal food and drink. When the sun goes down the town's Christmas lights are switched on by VIP guest Father Christmas, who'll be meeting local children in his grotto in Redesdale Hall. And the event hopes to raise funds to buy a new set of Christmas lights to decorate the streets of Moreton next winter.
Malmesbury Late-Night Shopping
Friday 2 December 2022, from 6pm–9pm
At the late-night shopping event, in Malmesbury, shops around the town will stay open late and there will be a selection of indoor and outdoor market stalls in the Upper High Street, Market Cross area and Town Hall. As well as craft stalls, street food and mulled wine, there will be entertainment for all the family with Santa's Grotto, fairground rides for kids and carol singing.
Tetbury Christmas Market
Friday 2 December 2022, from 5.30pm
The streets of Tetbury will be lit by a festive lantern parade this Christmas as part of the Christmas Fair and Market. There will be market stalls selling crafts, gifts, food and drink, and a brass band, Christmas carolers and Santa's Grotto to add even more seasonal cheer. The Tetbury Goods Shed is also holding their own craft fair featuring local makers on 3 and 4 December.
Chipping Campden Christmas Market
Saturday 3 December 2022, 12pm–6pm
Chipping Campden Market Square is even more picturesque than usual as it's transformed into winter wonderland for the town's Christmas market, which also includes the Christmas tree lighting ceremony at dusk and a special appearance from Father Christmas. The High Street is closed to traffic, with stalls selling crafts, toys, gifts and food in the Market Square and Town Hall.
Christmas Under the Edge
Saturday 3 December 2022, 4pm–8pm
Christmas Under the Edge in Wotton-under-Edge brings the Christmas spirit to the town's Long Street and Market Street. There will be craft and food stalls, and shops in the town centre will stay open late. You can warm up with Christmas teas at the Town Hall, see St Mary's Church lit by candlelight and meet Santa, enjoy fairground rides and musical performances.
Winchcombe Christmas Festival
Tuesday 6 December 2022, 5pm–8pm
The bustling Winchcombe Christmas Festival is back after a two-year absence, with shops around town staying open late for the event, and over 50 market stalls selling festive gifts and food, with mince pies and punch while you shop. The streets of Winchcombe are decorated with over 70 real Christmas trees and there's entertainment from carol singers, Morris dancers and street performers. You can also add on a visit to the Spectacle of Light at nearby Sudeley Castle.
Christmas in Chippy
Sunday 11 December 2022, 12.30pm-5.30pm
Chipping Norton is holding a community event to raise money for the Thrive North Oxfordshire charity. There will be 75 stalls along the High Street, Market Square and Middle Row, selling gifts and decorations from wreaths to pottery. There are also food stalls, a funfair, live music performances, a Christmas lantern procession and a giant snow globe and reindeer sleigh.
Nailsworth Community Christmas Goodwill Evening
Sunday 11 December 2022, 2pm-7pm
Finally, the last of our Christmas markets in the Cotswolds is the Goodwill Evening, run by the Nailsworth Chamber of Trade and Commerce. The town's bus station is transformed into a Christmas market with over 50 stalls, decorated with twinkling Christmas lights and festive greenery. Keep warm with roasted chestnuts, mulled wine and street food, listen to Christmas carols and musical entertainment and mail your Christmas wish list in Santa's special postbox.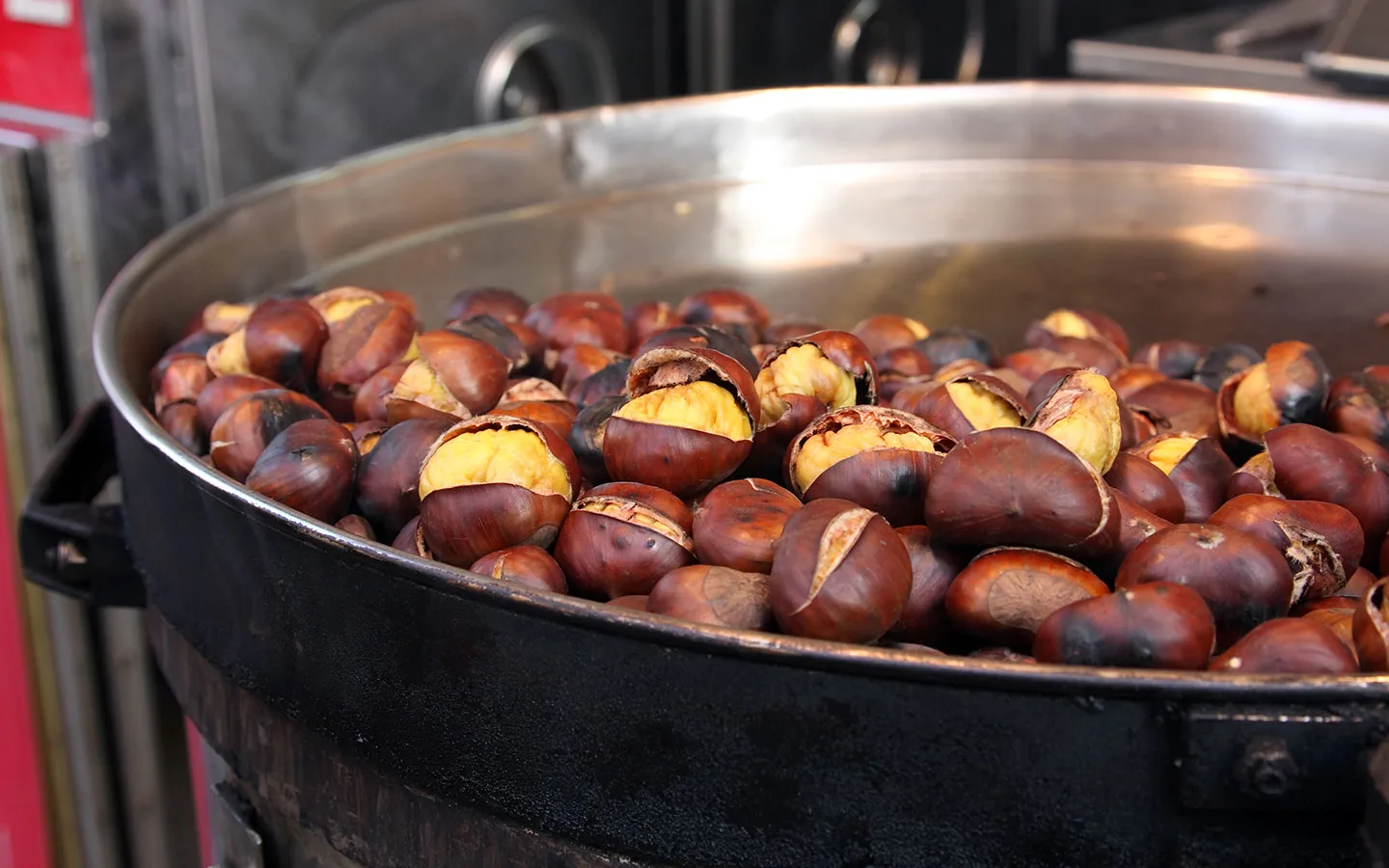 Christmas markets further afield
You can also find Christmas markets near the Cotswolds in:
Save for later
* This site contains affiliate links, where I get a small commission from purchases at no extra cost to you.