Set on a hill overlooking one of the Five Valleys between Stroud and Gloucester, Painswick is known as the 'Queen of the Cotswolds'. This well-preserved historic wool town is famous for its legendary yew trees and ornate Rococo Garden, and is surrounded by miles of green fields and rolling hills perfect for walkers, including the hilltop Painswick Beacon. So discover the best things to do in Painswick, with tips on where to eat, drink and stay from our local expert Danni.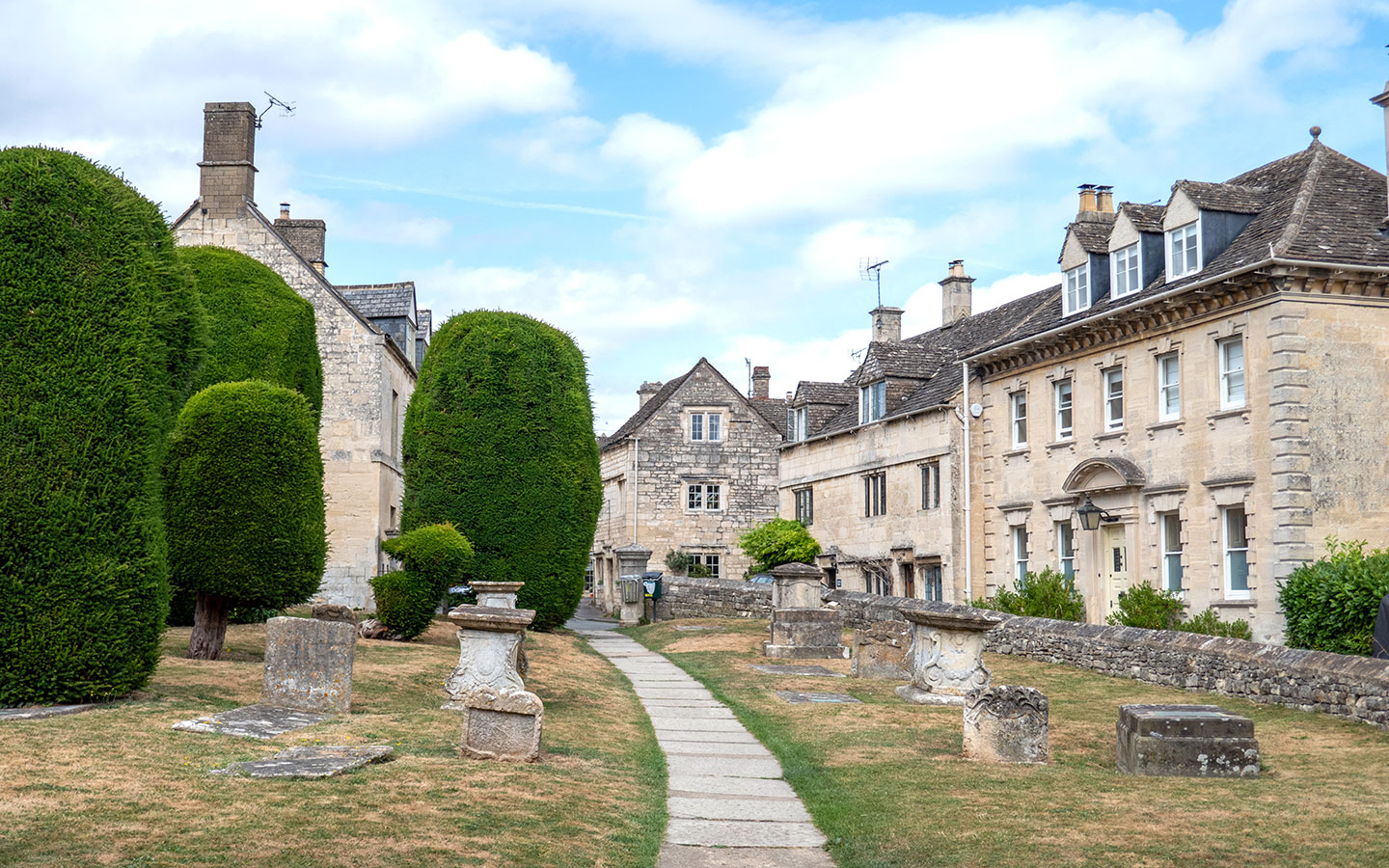 Painswick's history
The history of Painswick dates back to the Iron Age, when Kimsbury hill fort was built on Painswick Beacon. Local monastery Prinknash Abbey was established in the 11th century and the first mention of Painswick is in the Domesday Book of 1086 – appearing as 'Wiche', meaning dairy farm.
The town isn't known as Painswick until 1237, and it's thought the rest of the name comes from a previous Norman Lord of the Manor, Pain Fitzjohn, who was a prominent figure in the area in the 12th century – making it 'Pain's Wyke', which later became Painswick.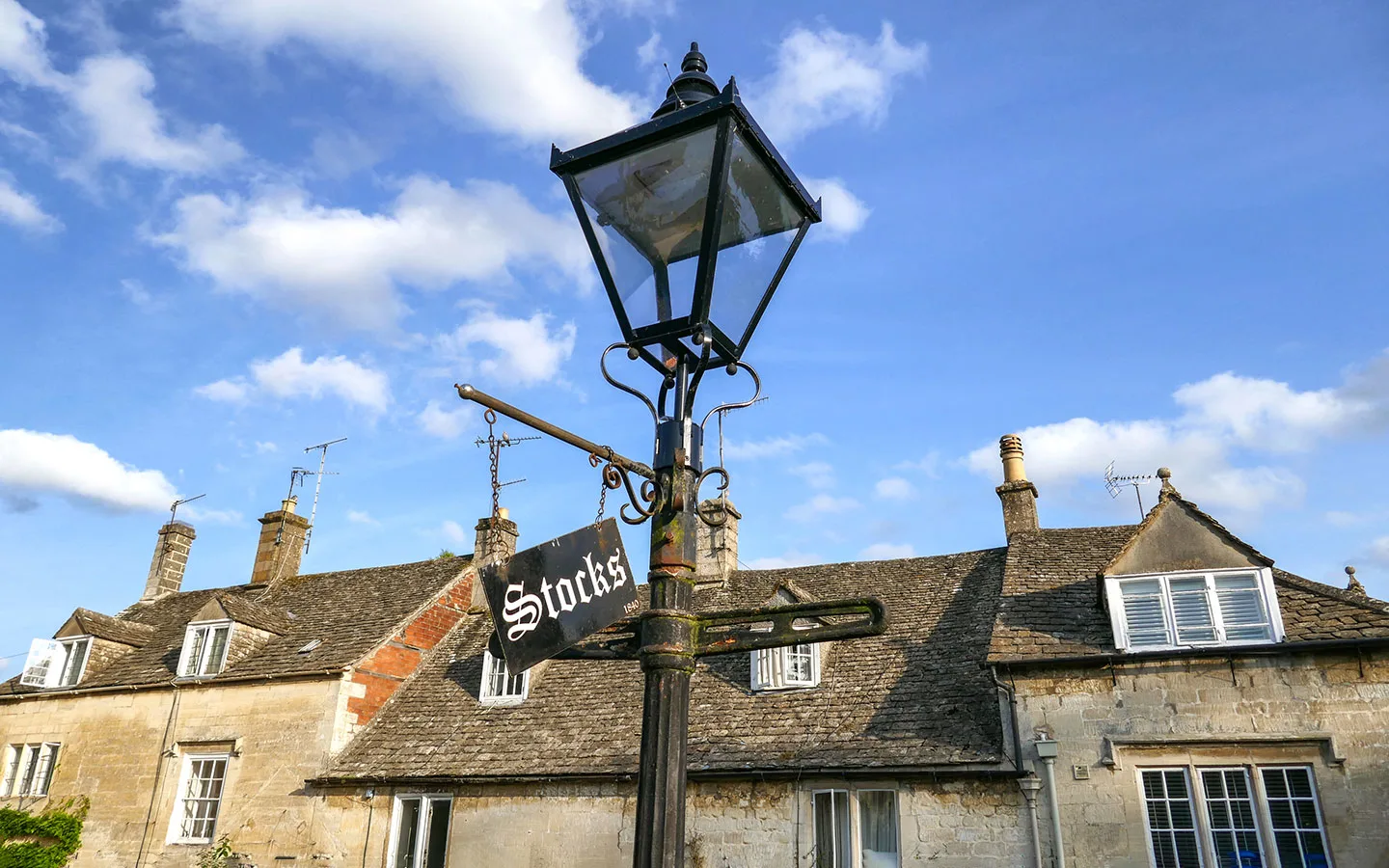 Despite its sleepy feel, Painswick has seen its fair share of action. During the English Civil War (1642–45), nearby Gloucester was an important Parliamentarian stronghold so was surrounded by Royalist troops. When the Siege of Gloucester broke out in 1643, the Royalist army moved on to Painswick, with King Charles I spending the night at the Court House Manor.
You can still see damage caused by Royalist troops at St Mary's Church – there is graffiti on one of the columns and two cannonballs scarred the tower.
Like many other Cotswold towns, Painswick grew rapidly in the 17th–18th centuries thanks to a thriving wool and weaving trade, and many of the elegant buildings you see today date from this period. It's also the birthplace of Thomas Twining, who went on to found Twinings tea.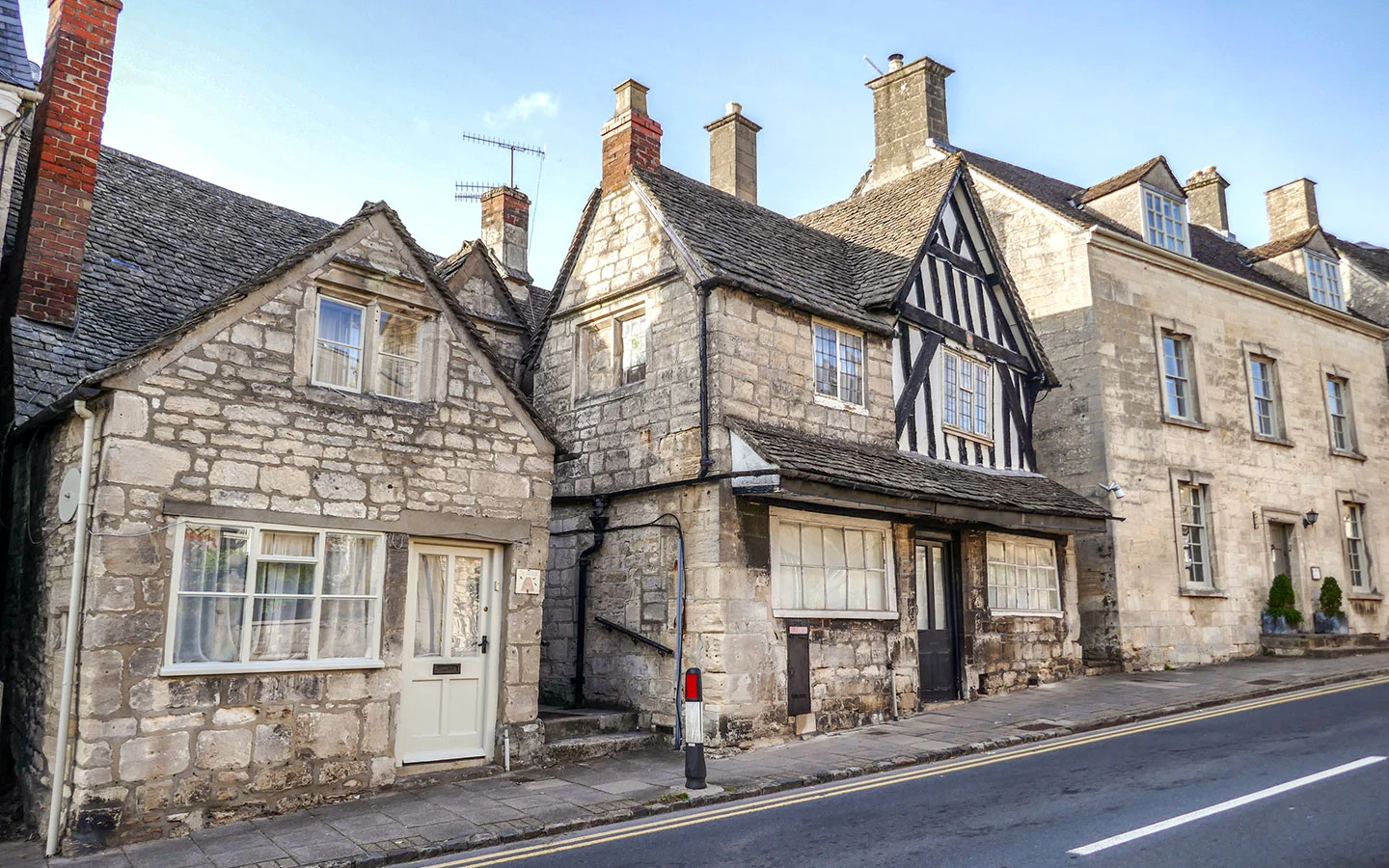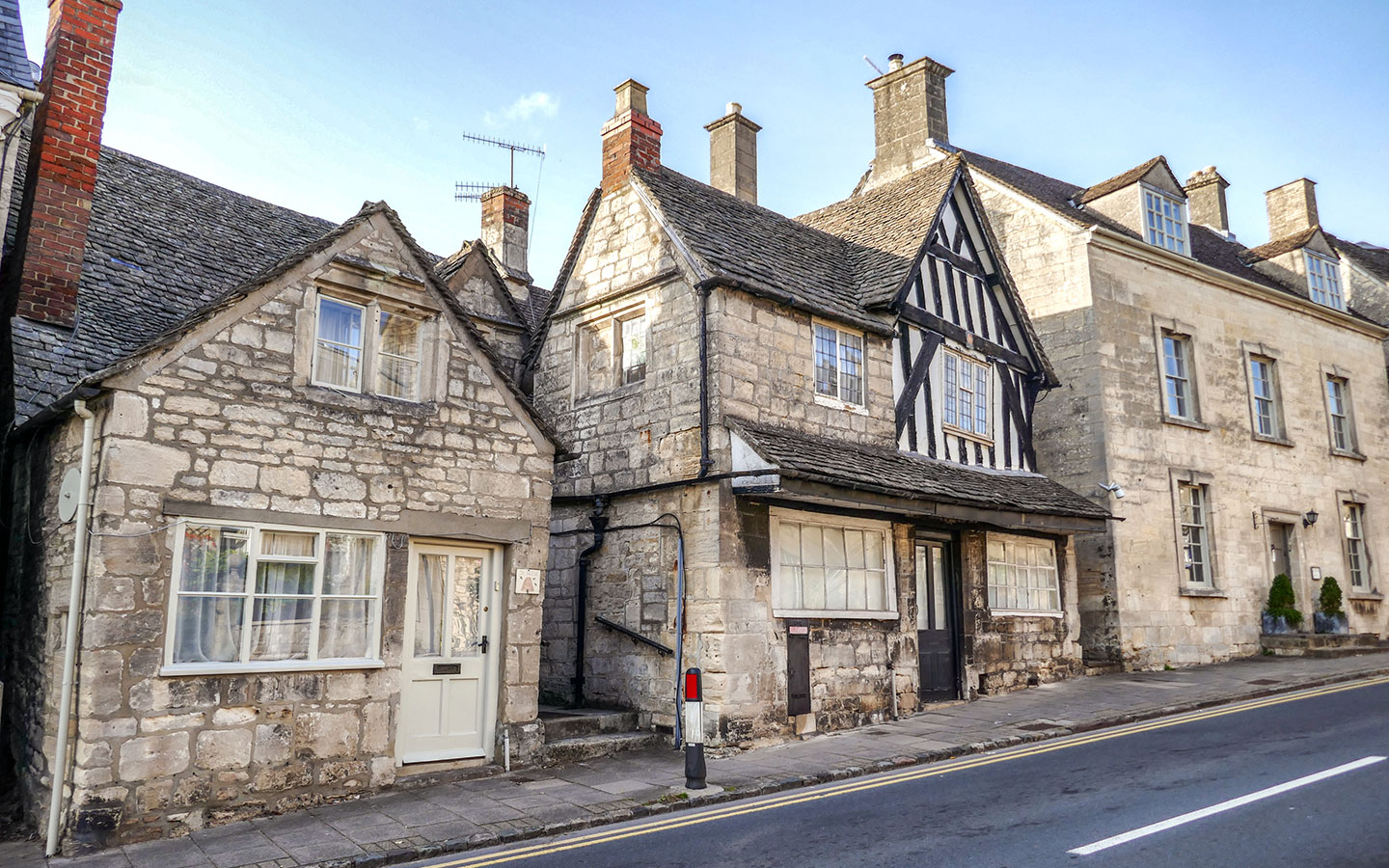 Map of Painswick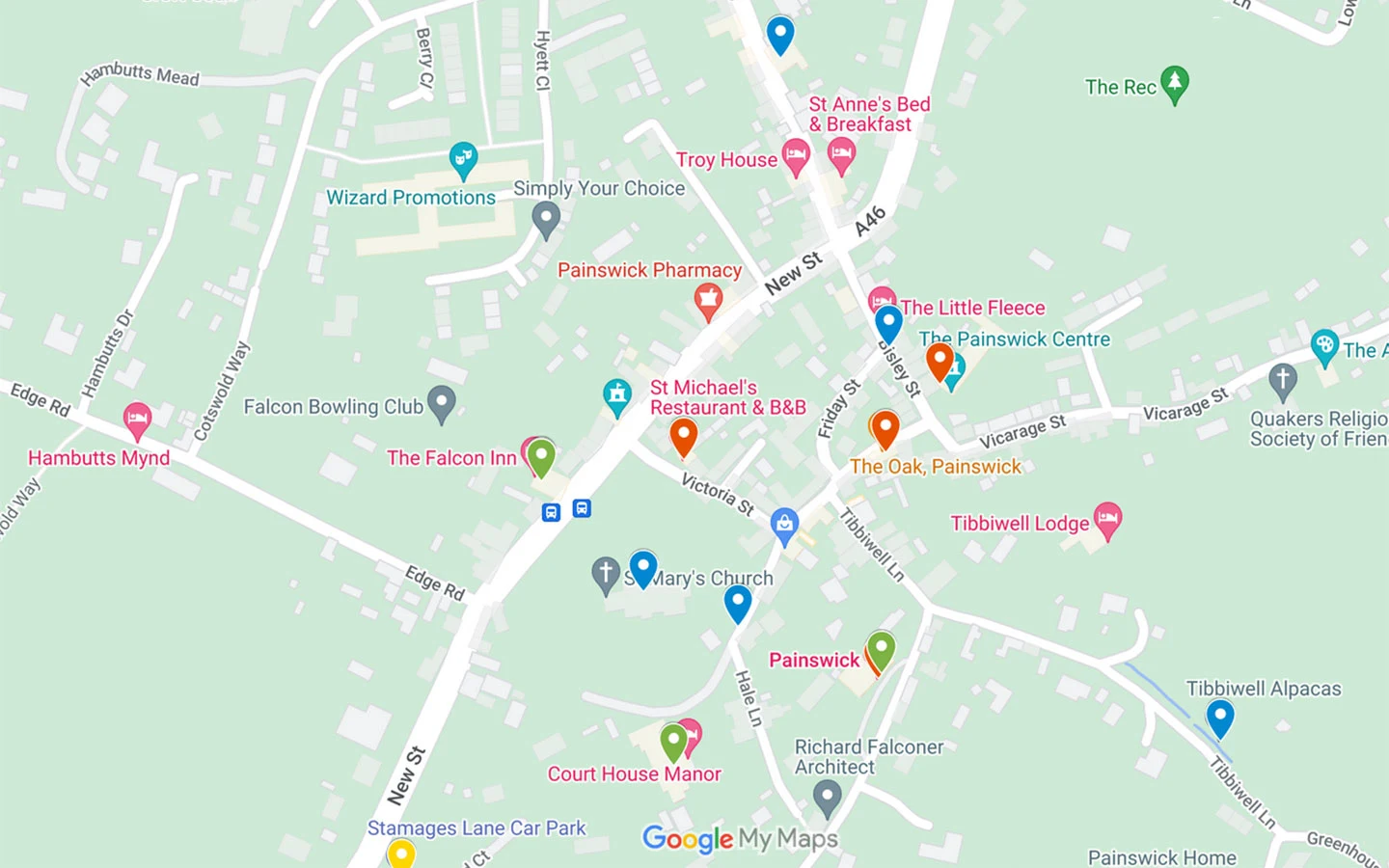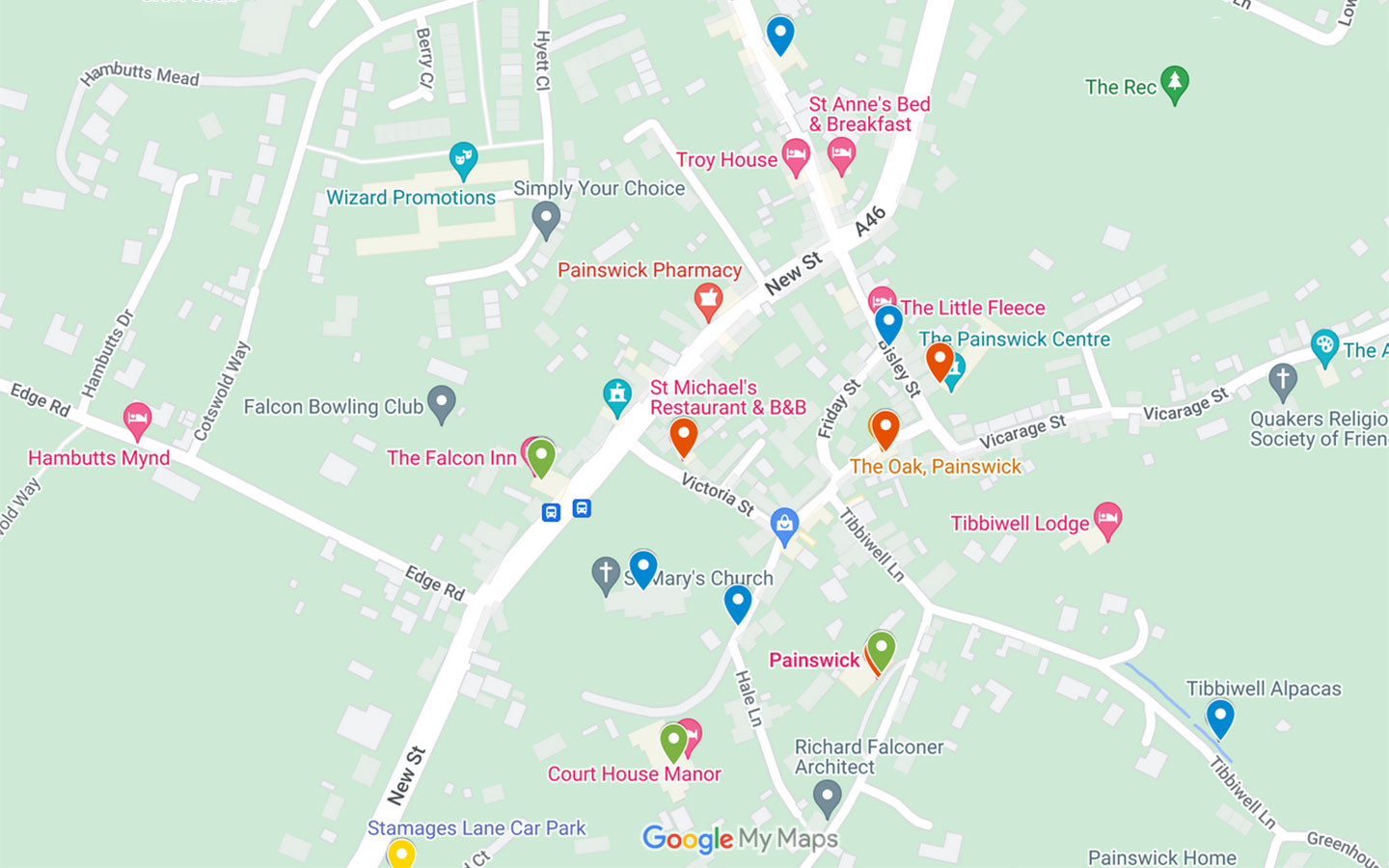 Things to do in Painswick
St Mary's Church
St Mary's Church in Painswick is steeped in history, and it's thought a church has stood on this spot since Saxon times. The oldest part of the church still standing is St Peter's Chapel, which was built around 1377 and dedicated to the patron saint of the De Laci family – then Lords of the Manor. Later additions include the tower, nave, galleries and the present High Altar from 1546.
The original spire was erected in 1632, but it's been rebuilt more than once since then, including after just 12 years when it was besieged by Royalist troops with cannons and firebombs. You can still see bullet marks on the tower today. Then head inside to see the 300 embroidered kneelers depicting biblical scenes, historical events, animals, birds and memorials to local people.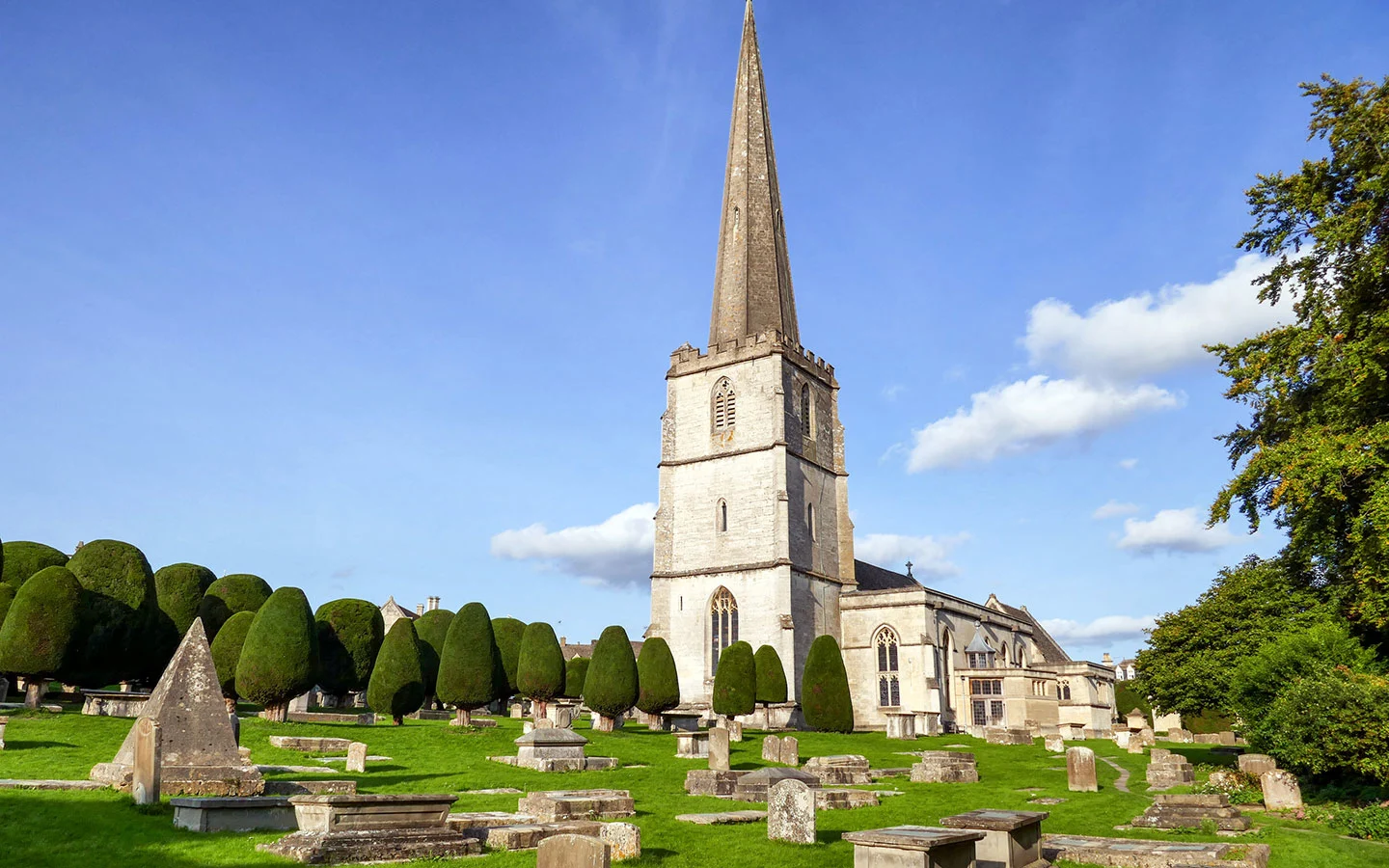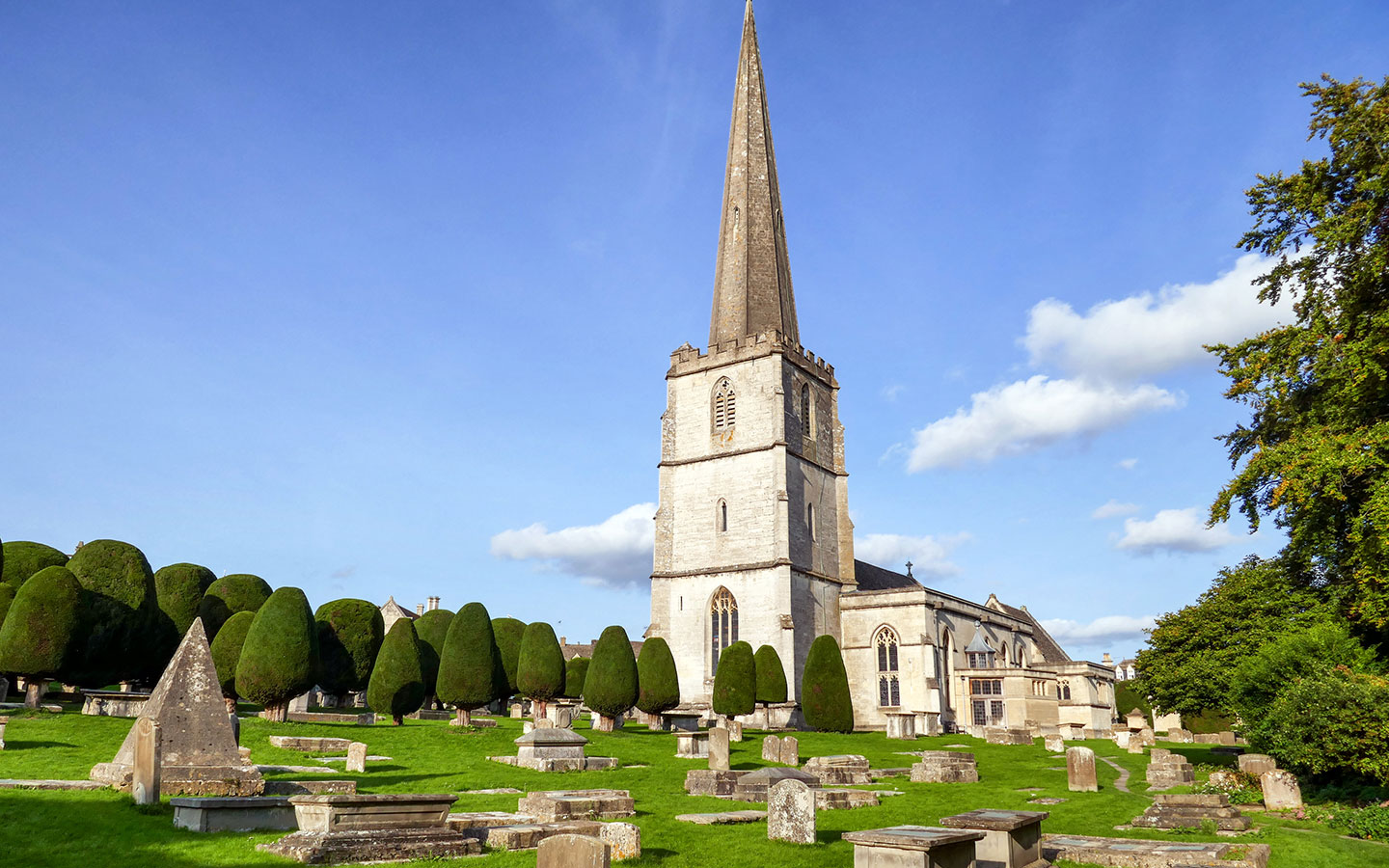 The yew trees
When visiting the church, make sure to spend time in the beautiful grounds that historian Alec Clifton-Taylor once described as 'the grandest churchyard in England'. Alongside the unique ledger tombs from the early 18th century, St Mary's Churchyard is famed for its yew trees.
Yew trees, symbolising rebirth and regeneration, have long been associated with graveyards. Most only have one or two, but Painswick has 99 – or does it? Many have counted them and no-one seems to agree on how many there are, and it's said the Devil would never allow a 100th yew tree to thrive (though an extra tree planted to celebrate the Millennium is still doing well).
If you're visiting in late September, the annual Clypping Festival – not to be confused with clipping of the yew trees which happens twice a year – sees the local community coming together to encircle and clyppe (an old English word for embrace) the church. This celebratory weekend also involves the Painswick Feast where you can try Puppy-Dog Pie (no actual dogs involved!).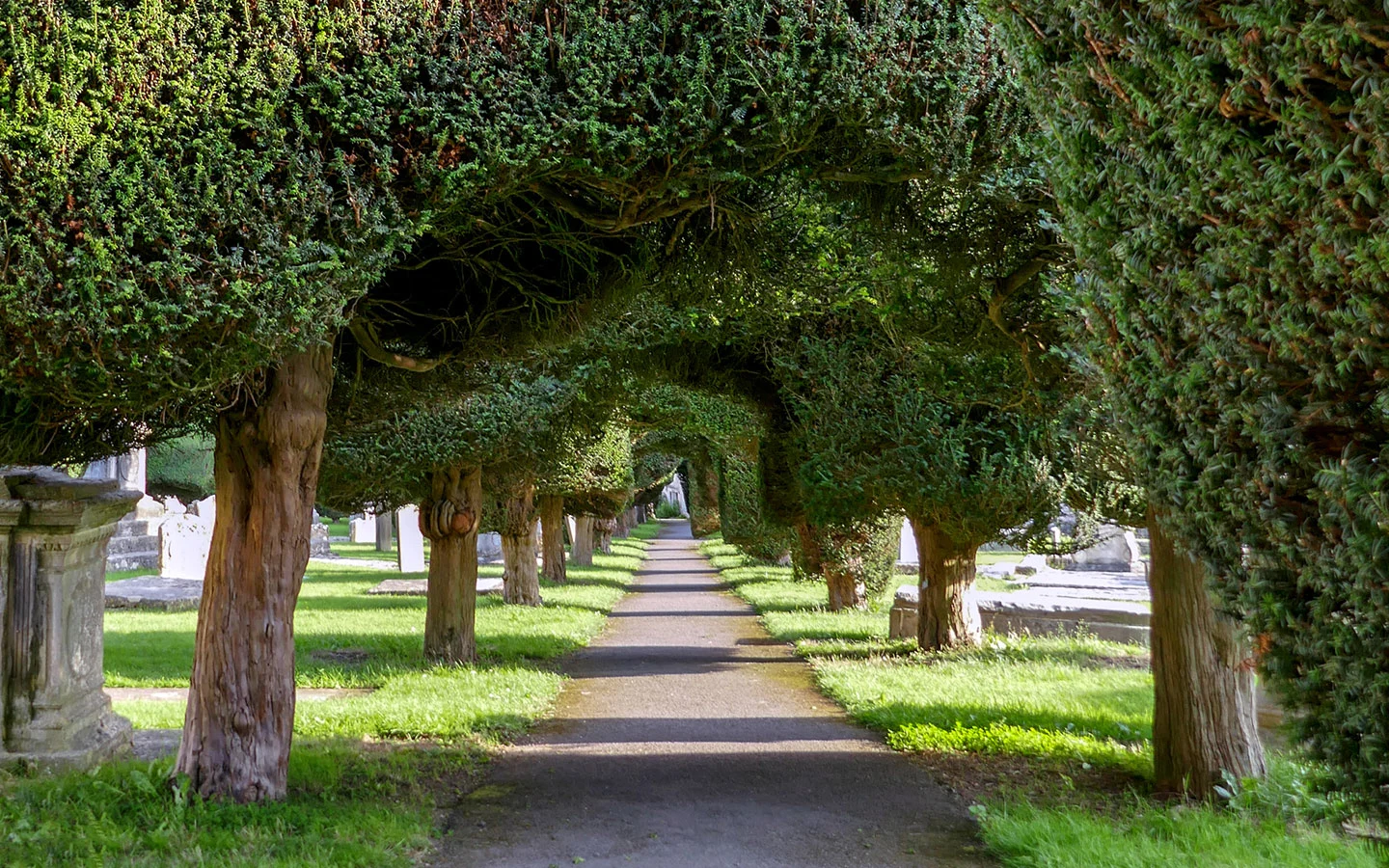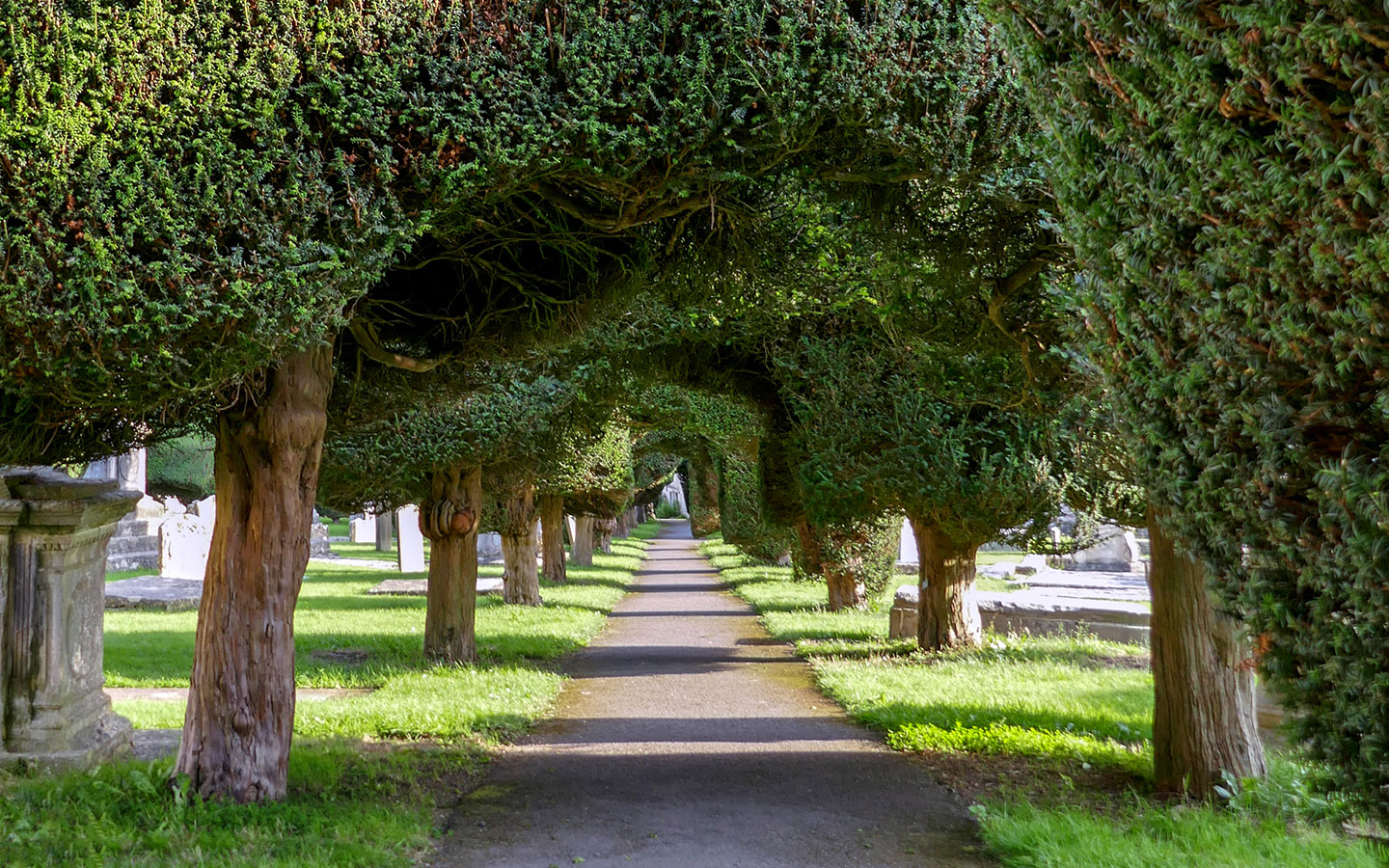 Painswick Heritage Trail
Painswick has plenty of historic narrow streets to amble down, and one of the best ways to experience them is on the Painswick Heritage Trail. Photos show what Painswick once looked like and notes give you a glimpse into the lives of the people and events in Painswick's history.
Make sure you stop on St Mary's Street where you can see a set of rare 19th-century spectacle stocks. Bisley Street has some of the oldest buildings in Painswick, with 'donkey doors' built big enough for donkeys to get through with baskets of wool during the wool trade days.
The half-timbered building on New Street dates from 1478, and is the oldest known building in Britain housing a post office. And the John Ashton Beer Collection is a museum of Arts and Crafts design in the former Christ Church on Gloucester Road (normally only open Saturday).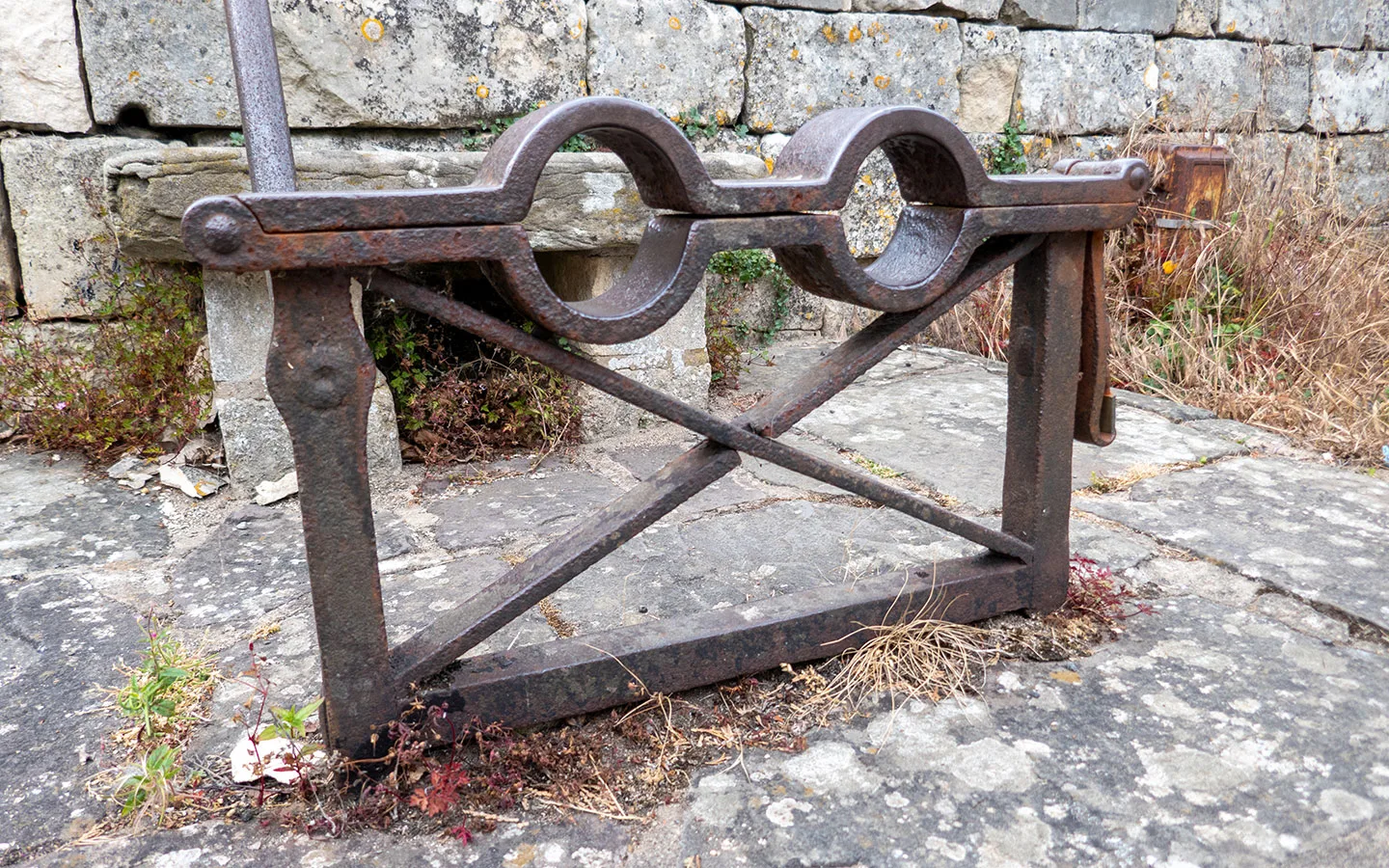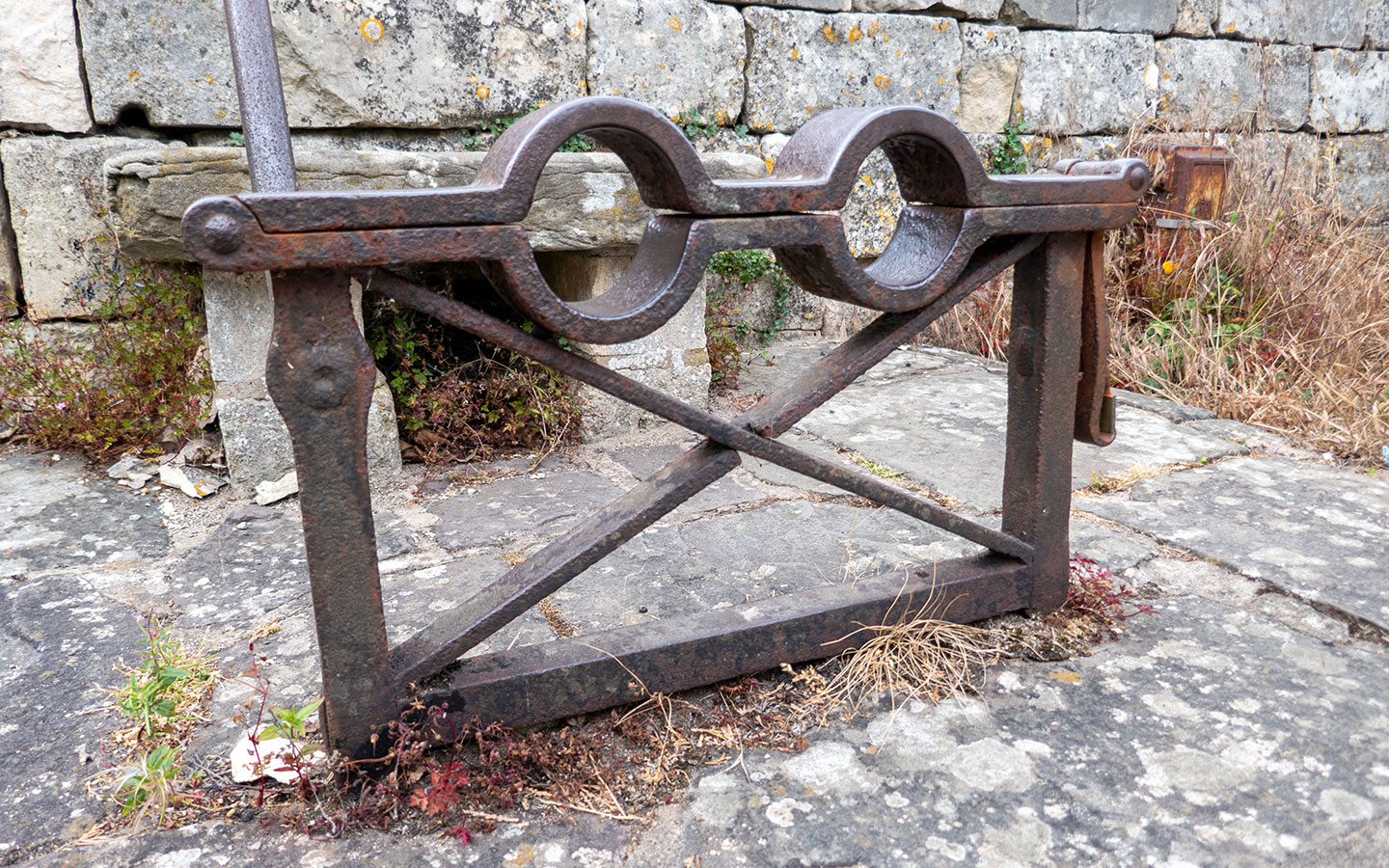 Painswick Rococo Garden
Characterised by its ornamental decoration and asymmetry, Painswick is home to the only surviving, complete Rococo Garden in the UK. Designed in the 1740s as a fanciful pleasure garden for a wealthy landowner, the gardens have winding paths, hidden follies and picturesque viewpoints.
After the gardens were abandoned in the 1950s, garden historians and then-owners Lord and Lady Dickinson worked tirelessly to restore them to their former glory. Today they're one of the best places to see snowdrops in the Cotswolds, but are also colourful year-round, with a brilliant kids' play area, seasonal nature trails, theatre shows and a café – and dogs are welcome.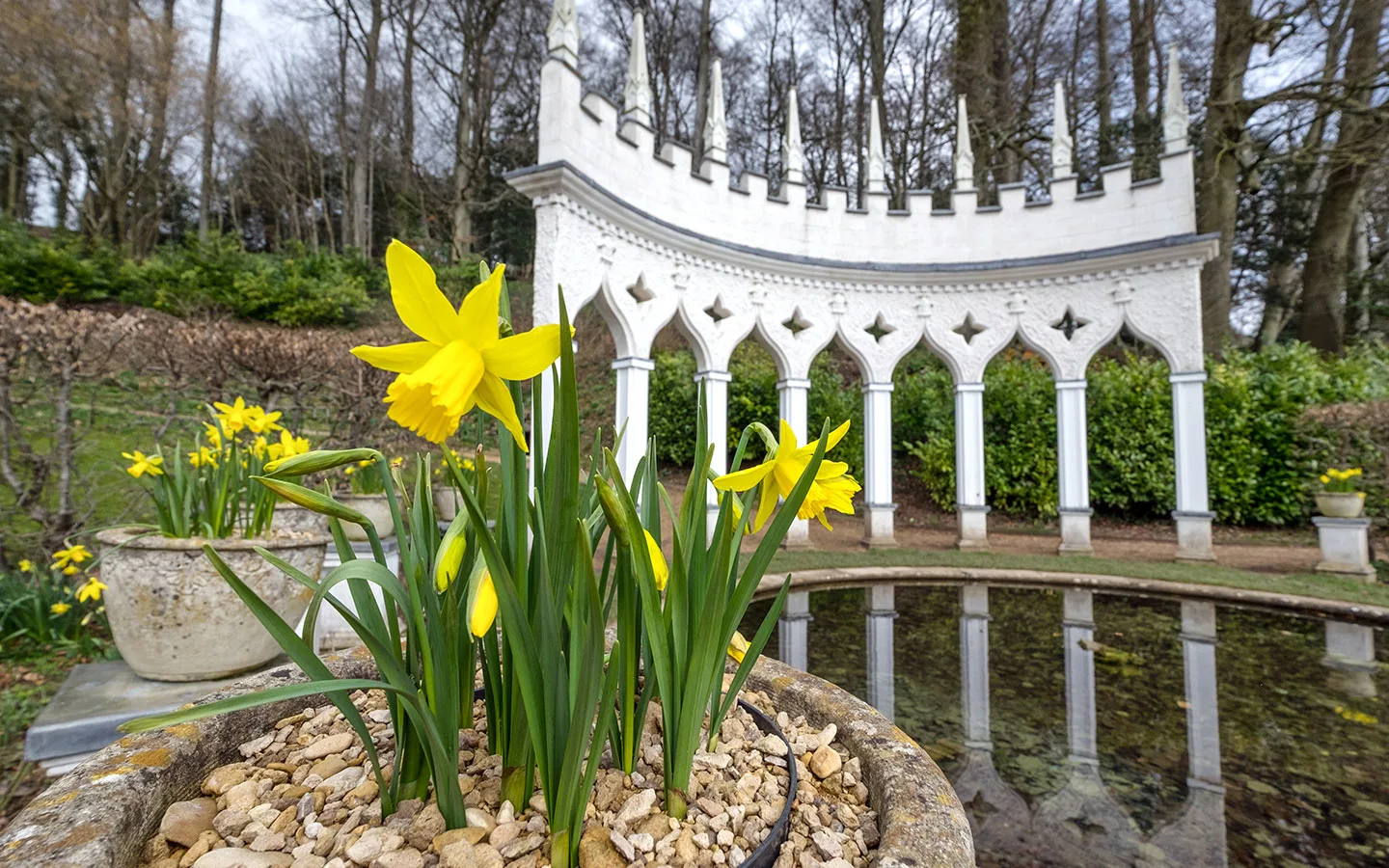 Tibbiwell Alpacas
For one of the more unusual things to do in Painswick, why not take an alpaca walk with Tibbiwell Alpacas? These fluffy mammals are similar to llamas and come from South America. Walks are run by a local couple, and start with an informative chat about the alpacas and a chance to get to know their different personalities before taking them on a walk through Painswick.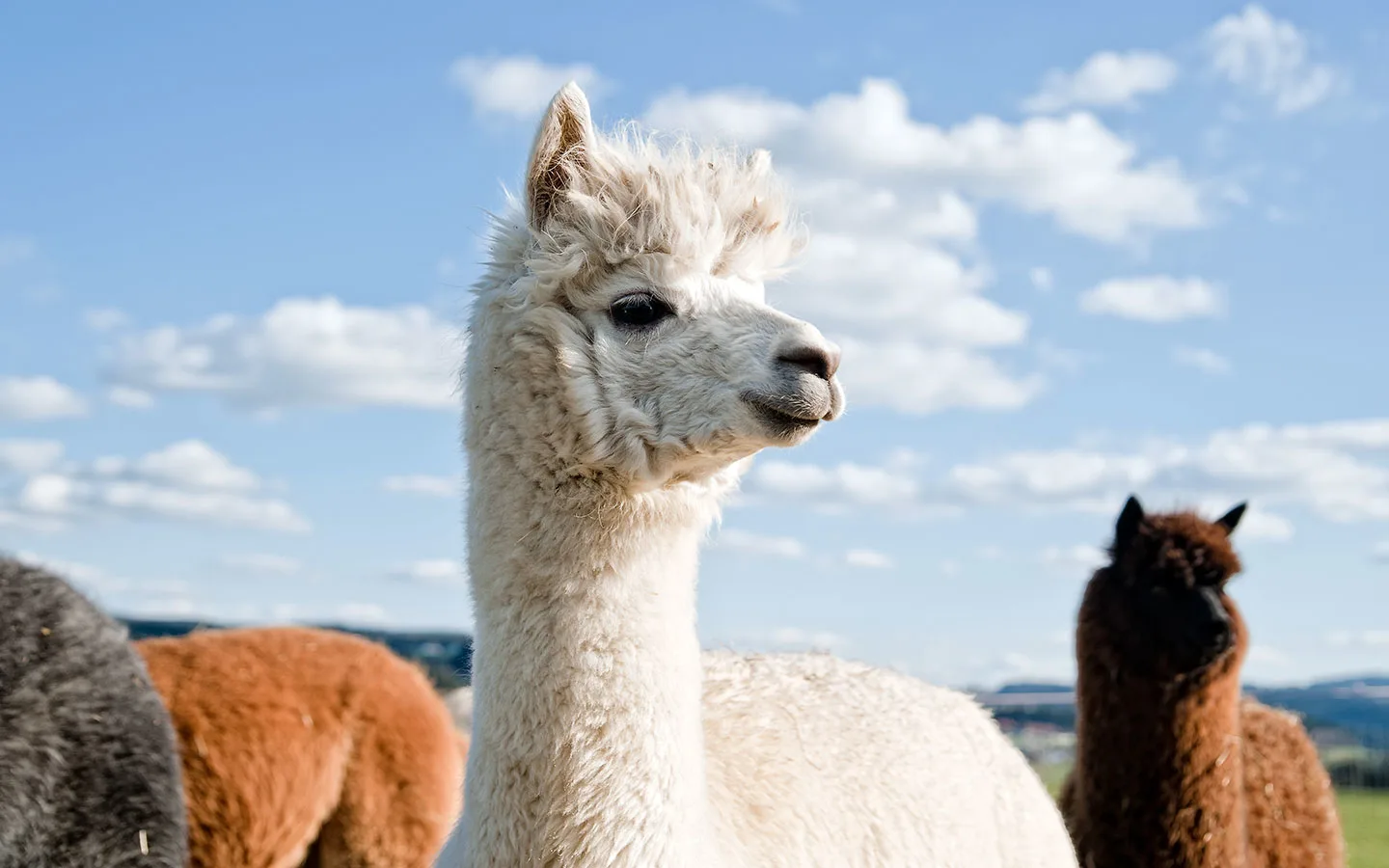 Painswick Beacon
Just over a mile north of the town, Painswick Beacon is one of the best places to soak up a 360-degree panoramic view of the Cotswolds. The beacon is 283 metres high and is located on the site of an Iron Age hill fort. On a clear day you can see as far as the Malvern Hills in one direction and the Forest of Dean and Brecon Beacons in the other. It's also a great spot for stargazing.
Parking is available at the bottom of Painswick Beacon (GL6 6SU) or it's around a 30-minute walk north of the town. The walk to the top is fairly short but there are some steep sections, and it's next to a golf course so watch our for stray golf balls! You can also extend the walk with a short detour to the Royal William pub in Cranham or add on a visit to leafy Popes Wood.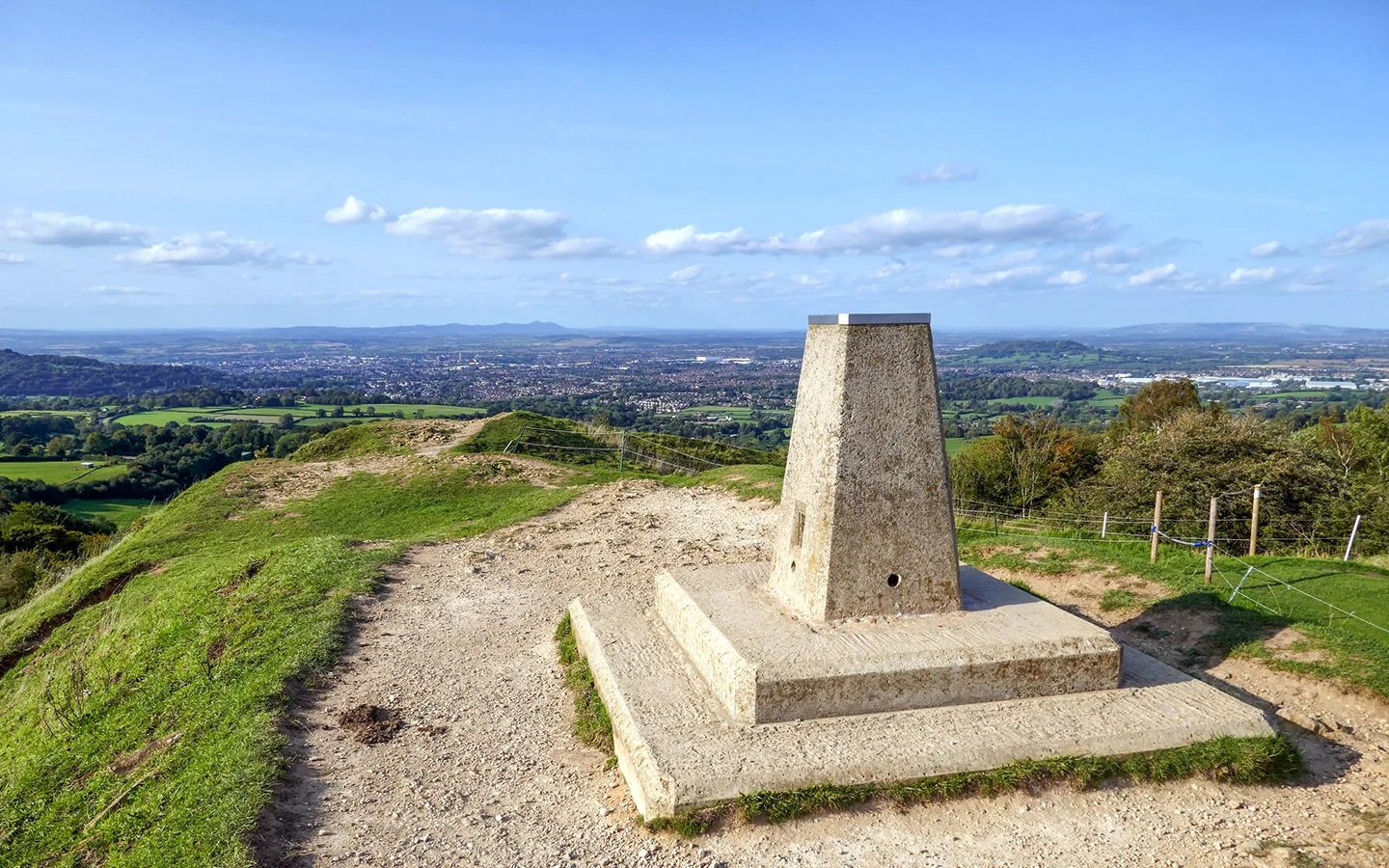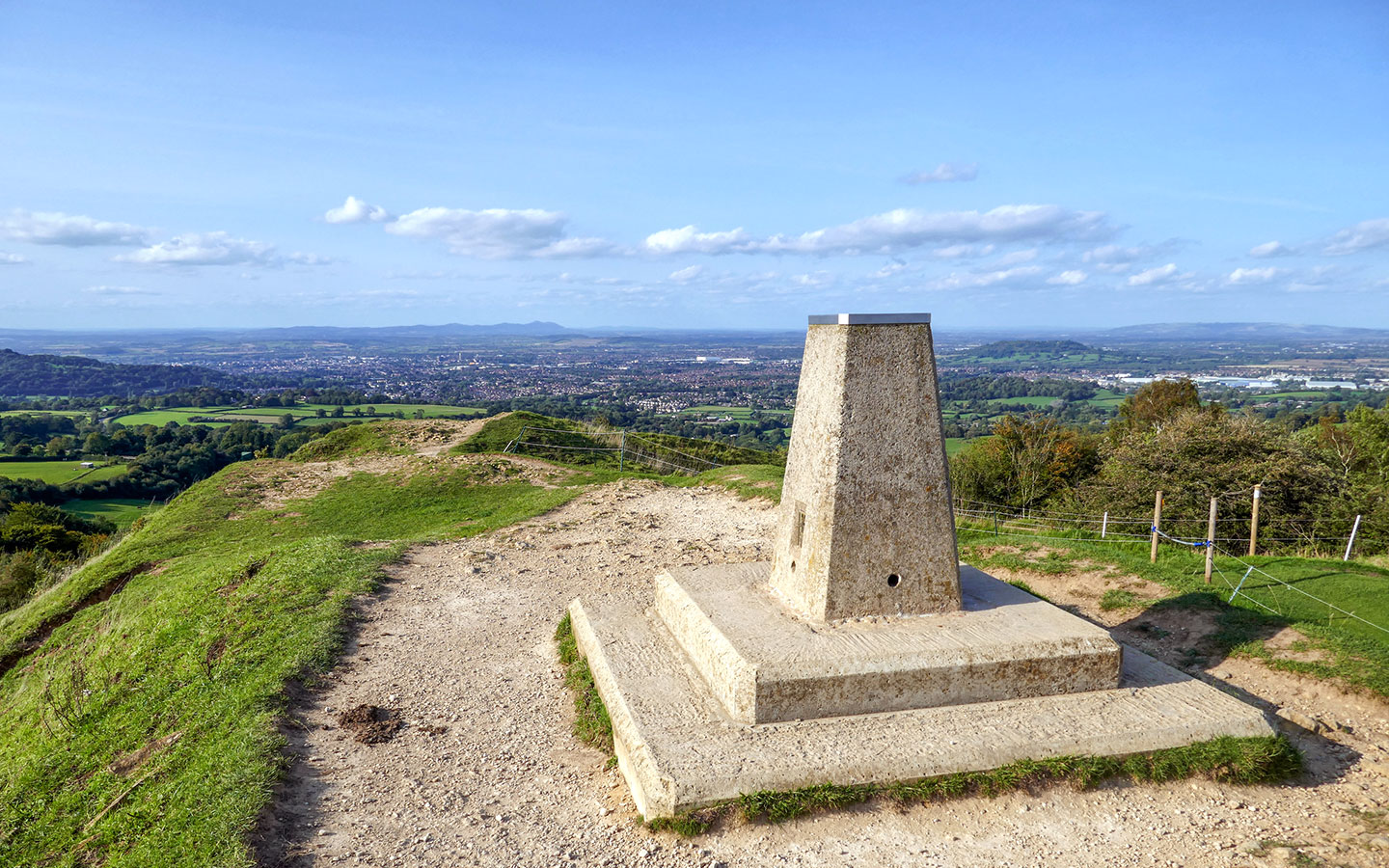 Walks from Painswick
Painswick is on the route of the Cotswold Way, the 102-mile walking route from Chipping Campden to Bath. If you don't fancy the whole distance, you can walk a shorter stretch like the 9 miles from Crickley Hill to Painswick or the 8 miles from Painswick to King's Stanley.
One of our favourite walks from Painswick is the 7.3-mile Painswick to Slad circular walk through the countryside which inspired Laurie Lee's 1959 book Cider with Rosie. Or there's a shorter 3-mile circuit along Painswick Stream with a detour to the millpond at Painswick Mill.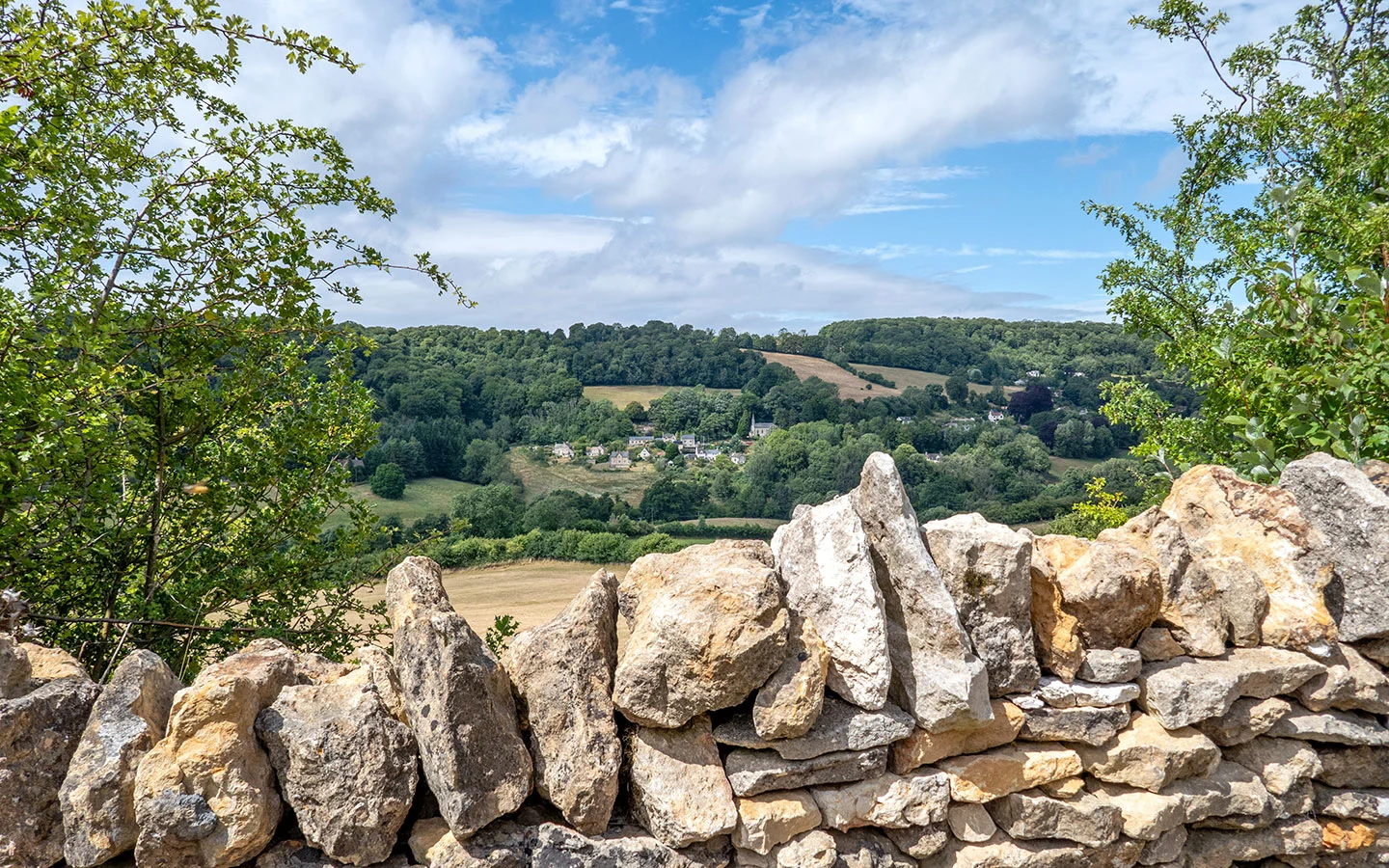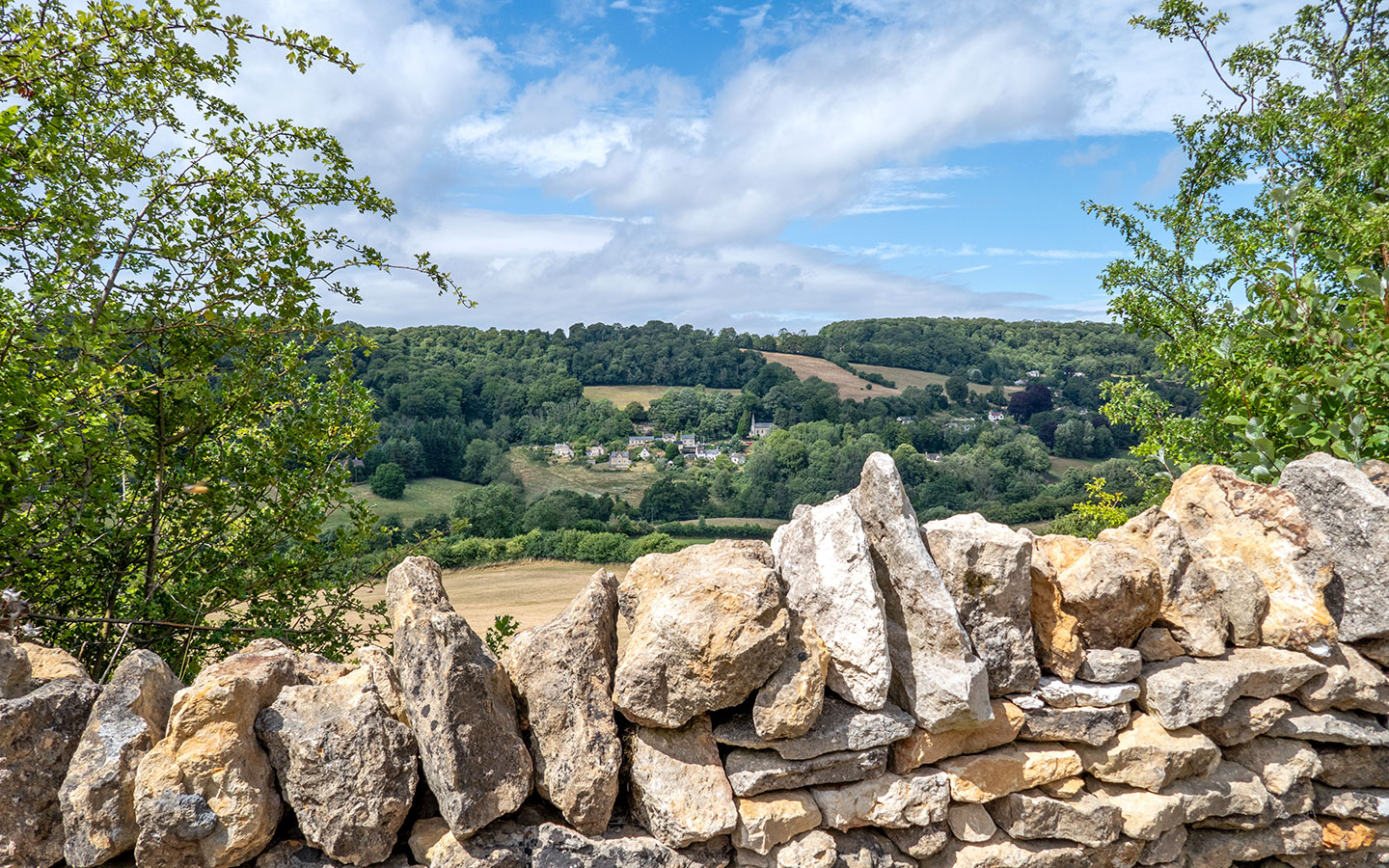 Things to do near Painswick
If you enjoyed visiting the Rococo Garden, the Garden at Miserden (5 miles east) is a peaceful 17th-century walled garden with spectacular views over a deer park and the Cotswold Hills. Or Great Witcombe Roman Villa (6 miles north) near Brockworth is one of the largest Roman villas in Britain, dating back to AD 250 when it was at the heart of a luxurious country estate.
Or head to the south to Stroud (4 miles) for walks on Selsey or Rodborough Commons and ice cream from Winstone's Ice Cream Parlour. You can also visit the award-winning Woodchester Valley Vineyard (7 miles) for a wine tasting or explore spooky Woodchester Mansion.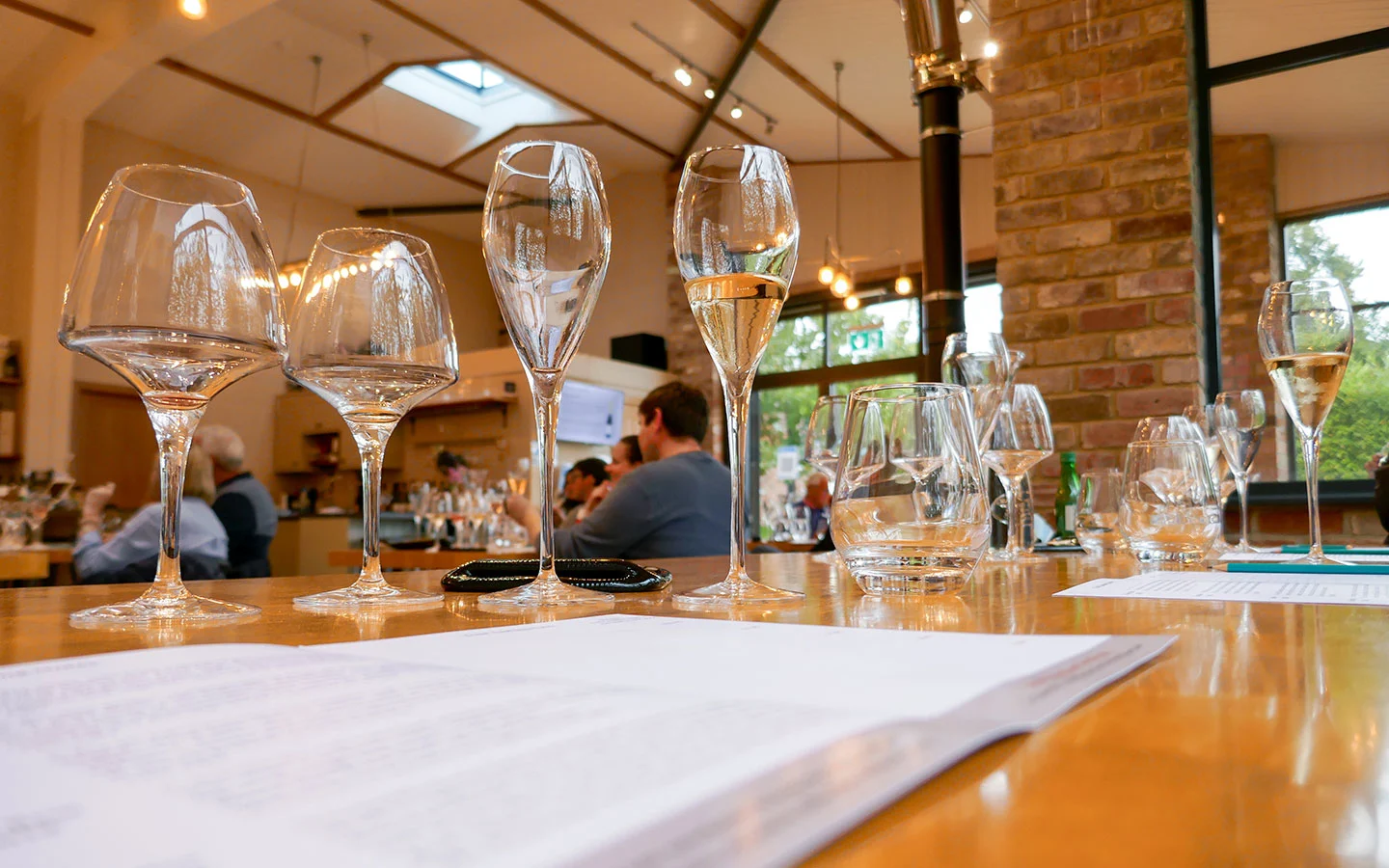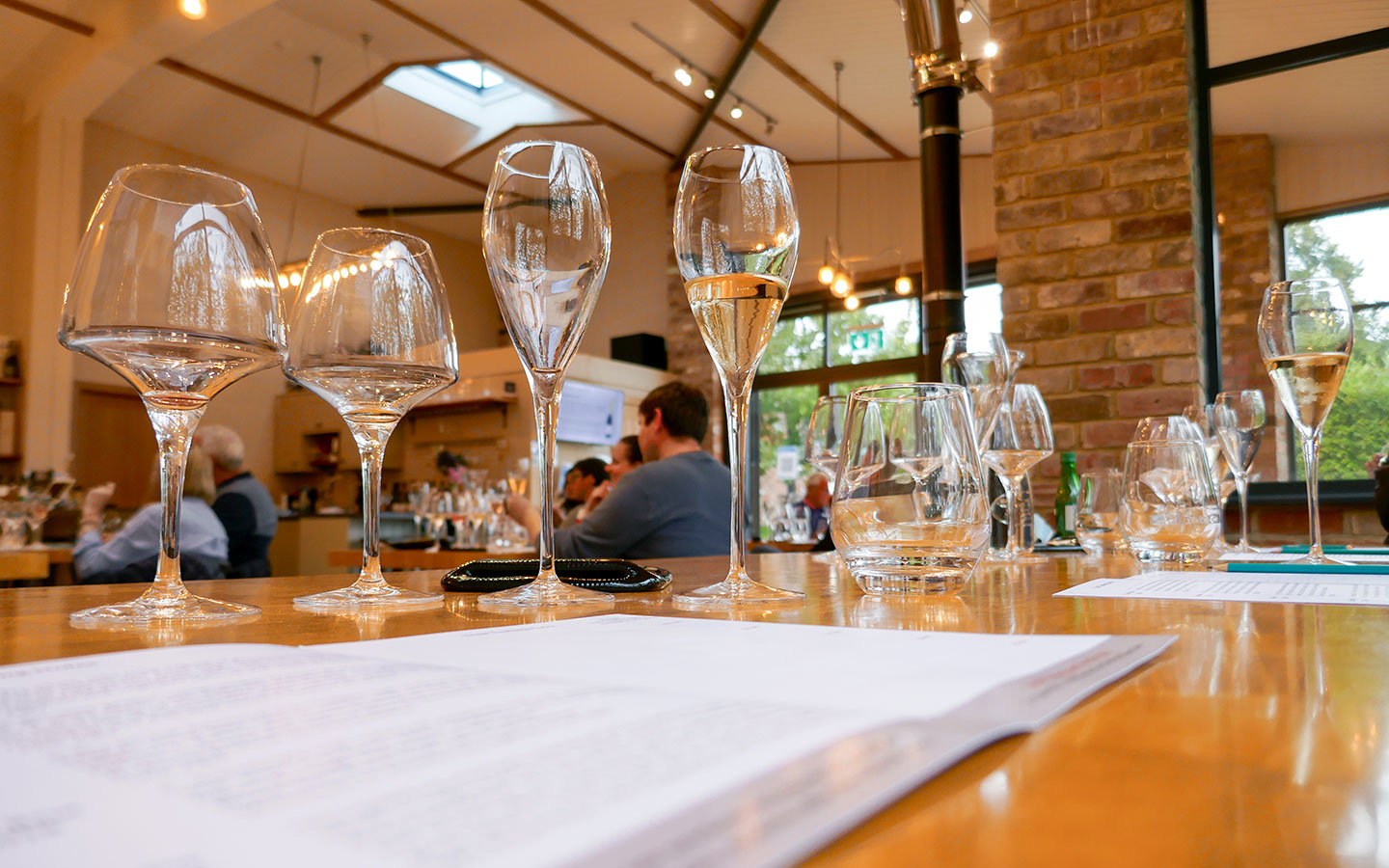 Places to eat in Painswick
Cafés
The Arts Café is a café-come-art shop at The Painswick Centre which was set up by two local artists in 2021. As well as serving barista coffee, teas and homemade cakes, you can browse items made by Painswick artists and artisans, from paintings and prints to cushions, candles, ceramics and chocolate. They also serve soups, paninis and quiches at lunchtimes.
Restaurants and pubs
If you're looking for somewhere special, don't miss The Painswick restaurant, headed up by chef Jamie McCallum. Their menu reflects a passion for finest local ingredients, with a six-course tasting menu as well as à la carte dining. They also do one of the best afternoon teas in the Cotswolds, with homemade pork pies and scotch eggs alongside the sandwiches, cakes and scones.
Set across from St Mary's Church on the High Street, The Falcon offers traditional food in a lovely setting. The menu has an emphasis on seasonal dishes, and includes a delicious Sunday lunch with all the trimmings. There's also an extensive drinks list featuring cocktails and wine from their award-winning Balfour Winery in Kent, which you can try in a wine tasting flight.
Offering a warm welcome, open fire and real ales, The Oak is a traditional Cotswold pub that's dog- and walker-friendly. It's recently been refurbished and has a sheltered courtyard for summer afternoons. They serve tasty pub grub – and save room for the homemade puddings.
The bistro at St Michael's bed and breakfast has plenty of charm, with Cotswold stone, exposed beams and a woodburner for cold winter nights. It serves up a classic menu of simple European and British dishes like beef stroganoff, baked cod loin and goats cheese parcels.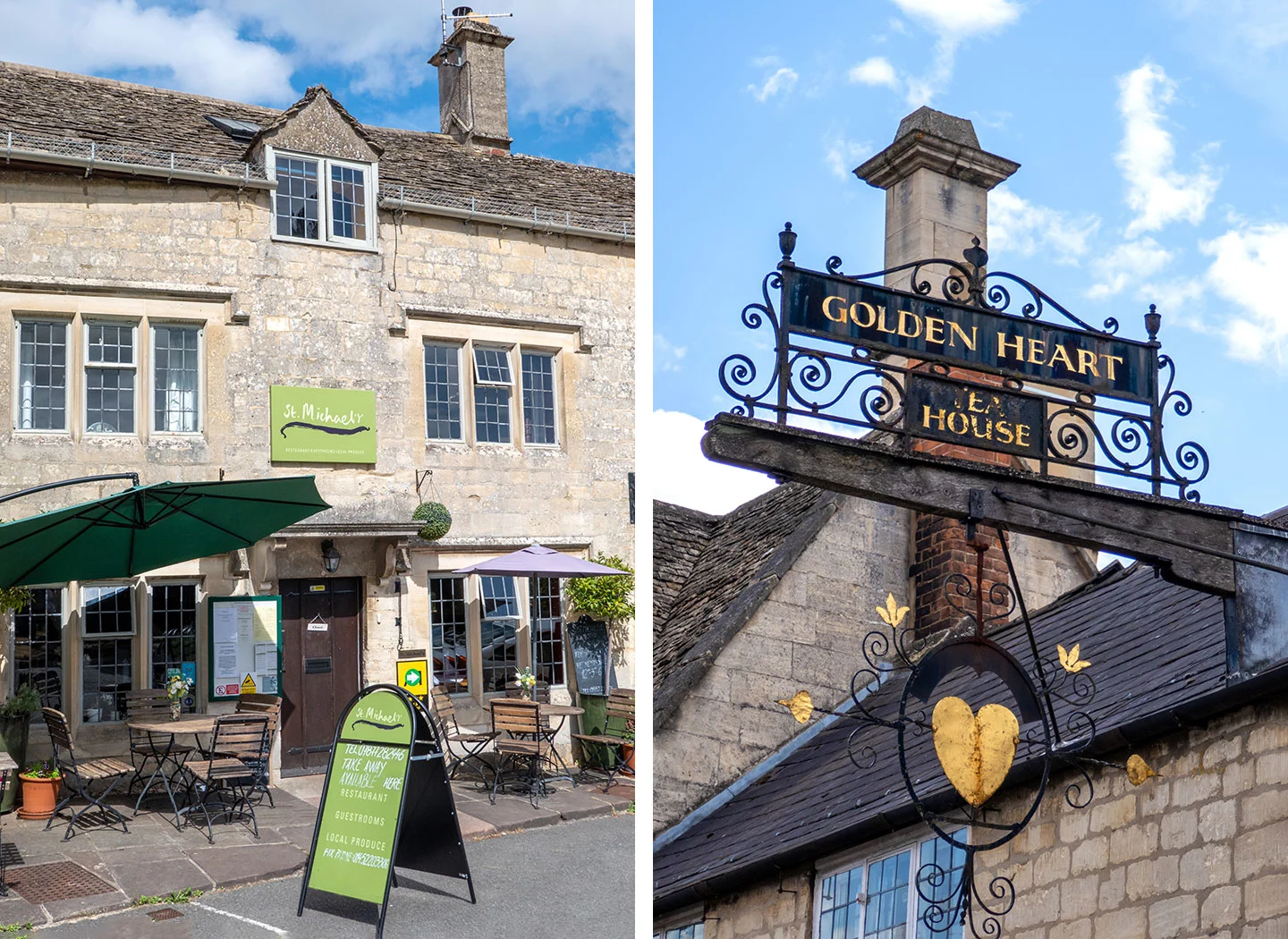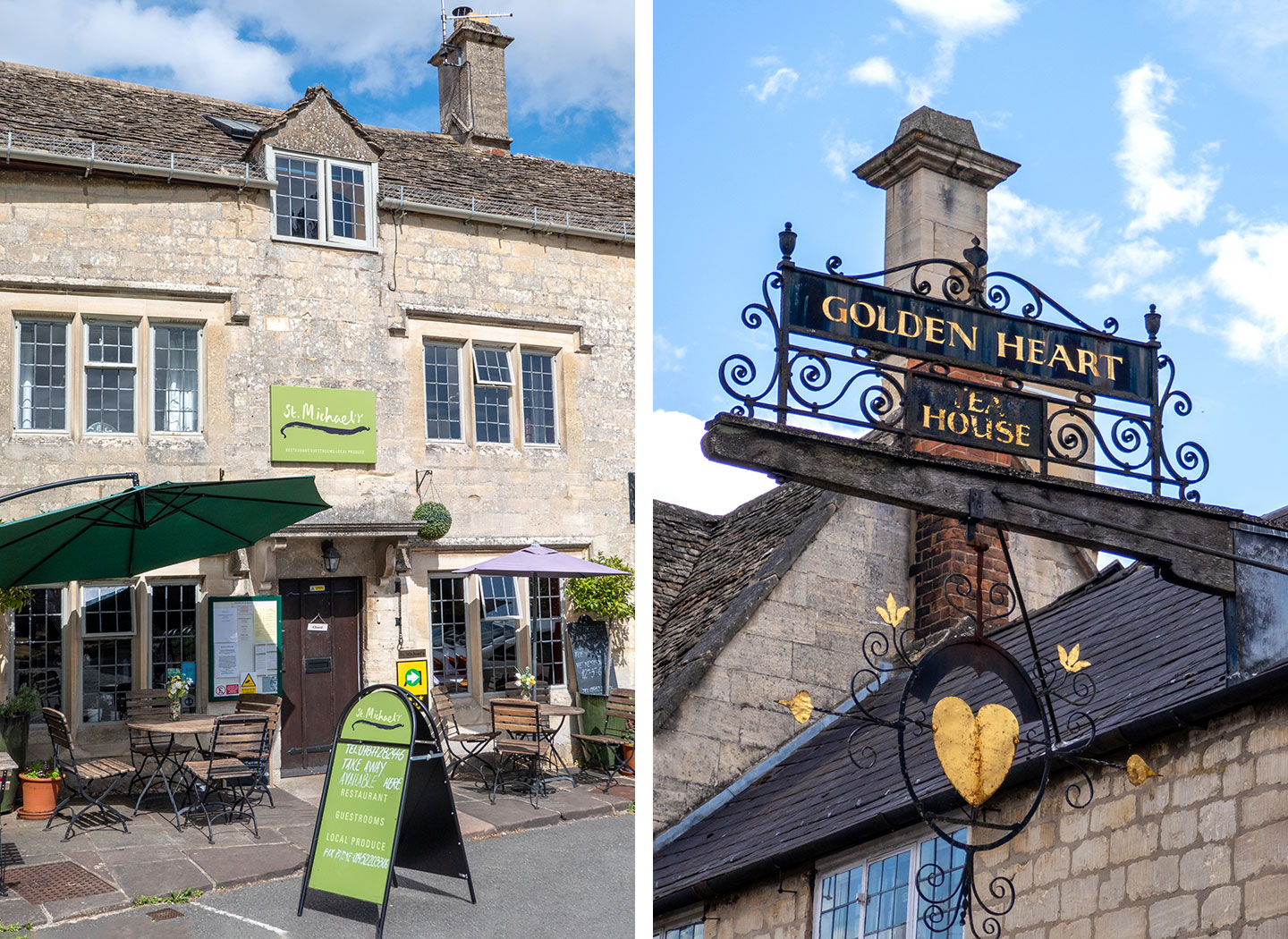 Where to stay in Painswick
The Painswick is a boutique hotel with 17 stylish, uniquely designed bedrooms with valley views in a Grade-II listed Palladian house. Rooms range from compact Cosy Rooms in the garden wing to the lavish George's Suite with four-poster bed, rolltop bath and private balcony overlooking Painswick. There's also a lounge, games room, terrace and gardens for guests to relax in.
The Falcon* has 11 beautiful, bespoke bedrooms with exposed stone walls, antique furniture and Georgian features. Whether you're staying in an intimate double or a suite, there are luxury extras like Bramley toiletries and fluffy white towels – and all rooms are dog-friendly.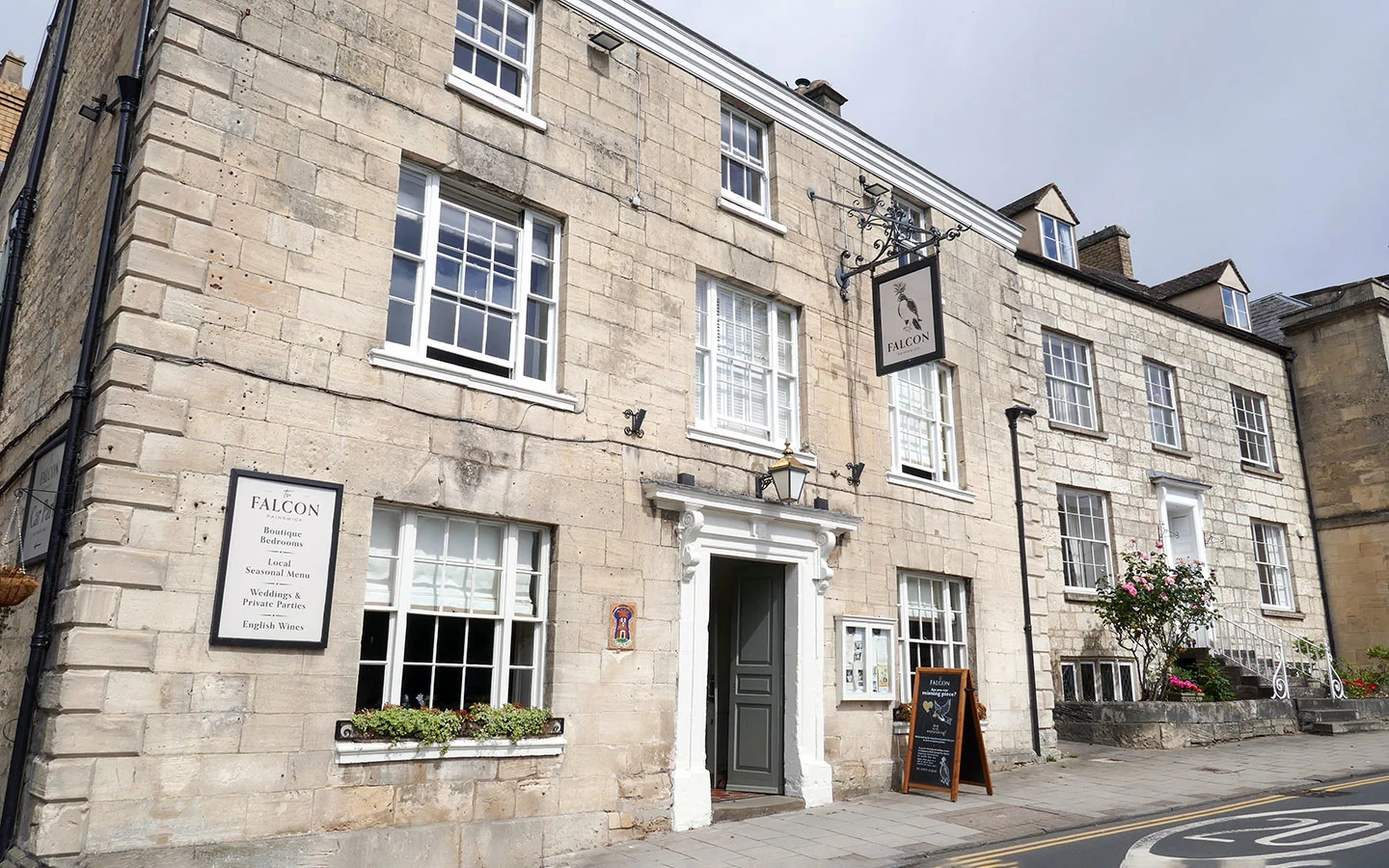 Court House Manor* is a 16th-century manor house where King Charles I once stayed, and it's said his ghost still haunts the gardens. Rooms are lavishly decorated with swags of fabric, velvet sofas and chandeliers among the period features. You can rent the whole place for up to 24 people – which gives you access to the pool and grounds – or book rooms only on a B&B basis.
If you prefer self-catering, Farm View Lodge* is a two-bedroom cottage on one level on a working farm in Painswick. Both bedrooms have en-suite bathrooms, there's an open-plan kitchen/diner, light and bright sitting room, and outdoor seating overlooking the valley.
Or Cotswold Lodge* is a self-contained one-bedroom lodge in the grounds of a 16th-century country house. It's newly converted with an open-plan living space with bifold doors onto the terrace and garden, and a luxurious mezzanine bedroom with en-suite shower room.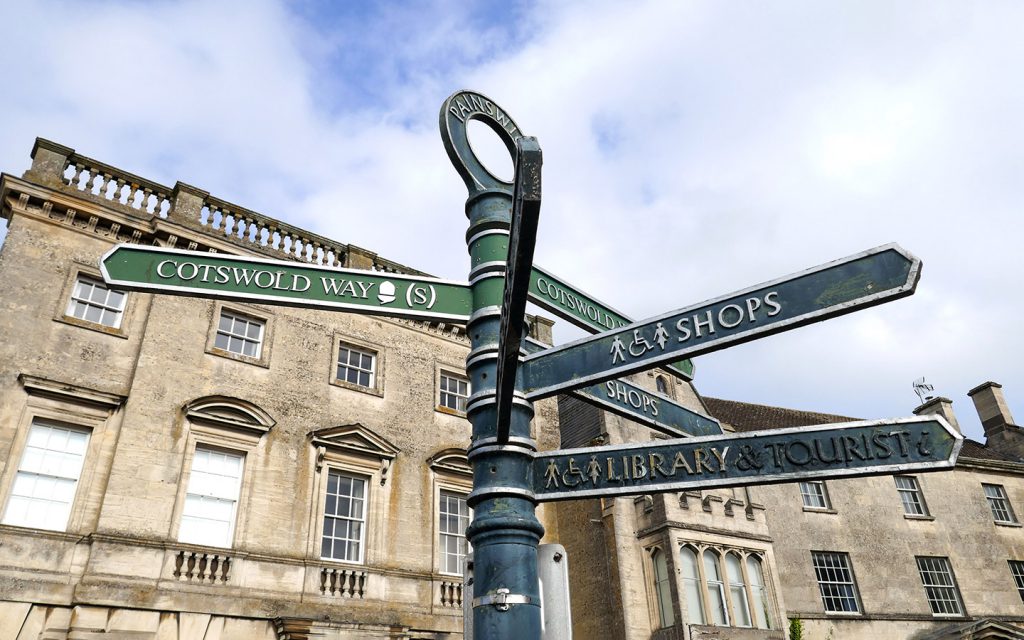 How to get to Painswick
By car
Painswick is situated on the A46, 10.5 miles south of Cheltenham and 4 miles north of Stroud. There is paid parking at the Stamages Lane car park (GL6 6UZ) and plenty of space for on-street parking around the town – but charges apply at certain times of the day/week so do double check.
By public transport
If you're visiting the Cotswolds without a car, Painswick's nearest train stations are in Cheltenham or Stroud. Both are connected to Painswick by the Stagecoach number 66 bus, which takes around 15 minutes from Stroud or 40 minutes from Cheltenham, with services running every day.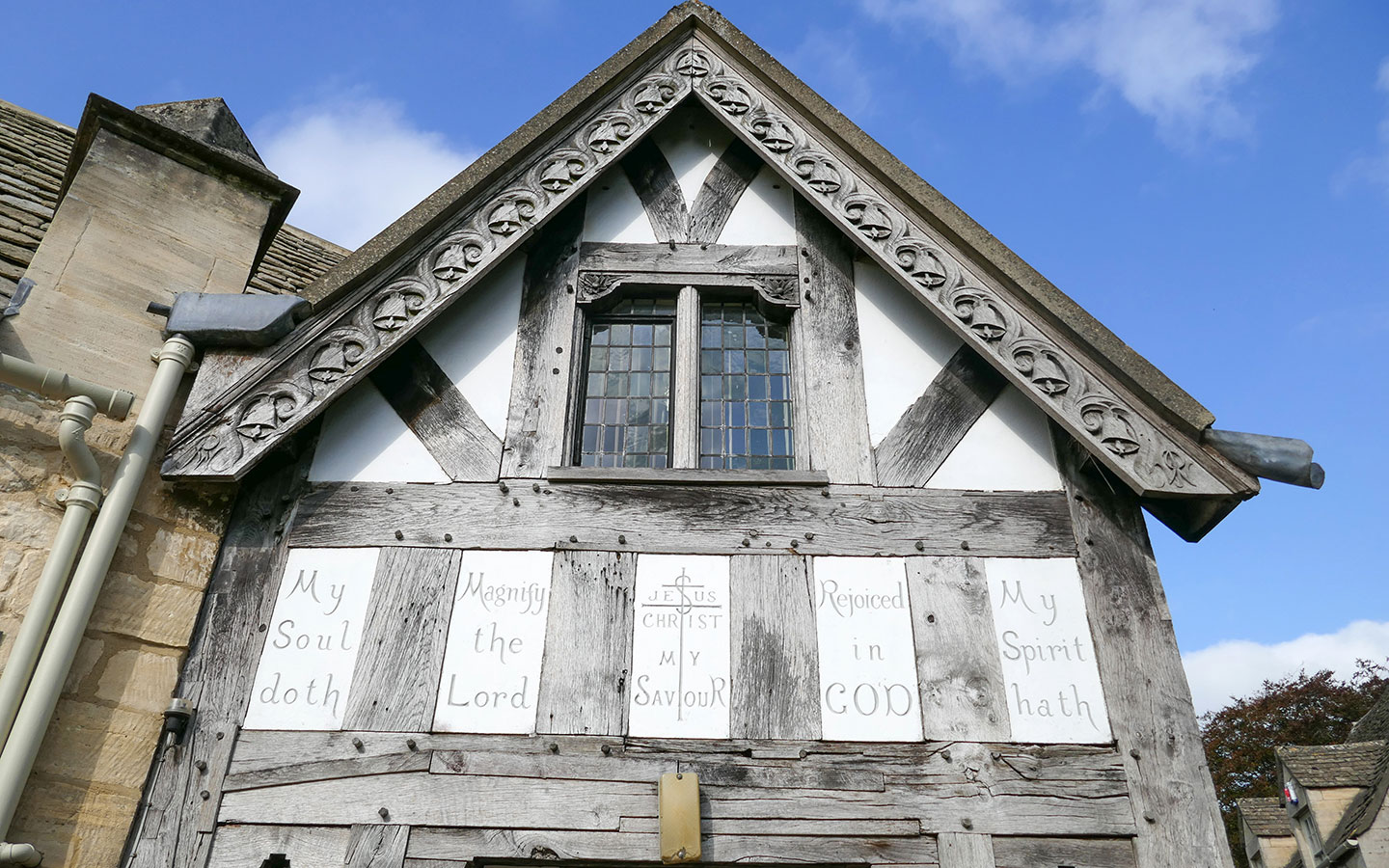 Save for later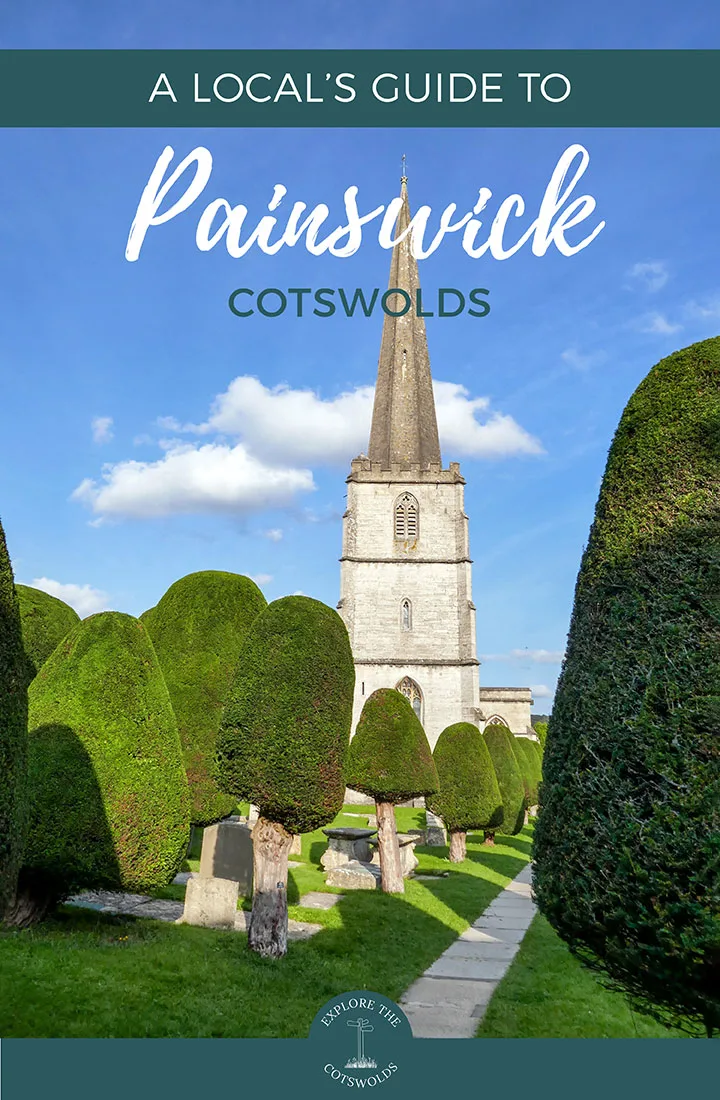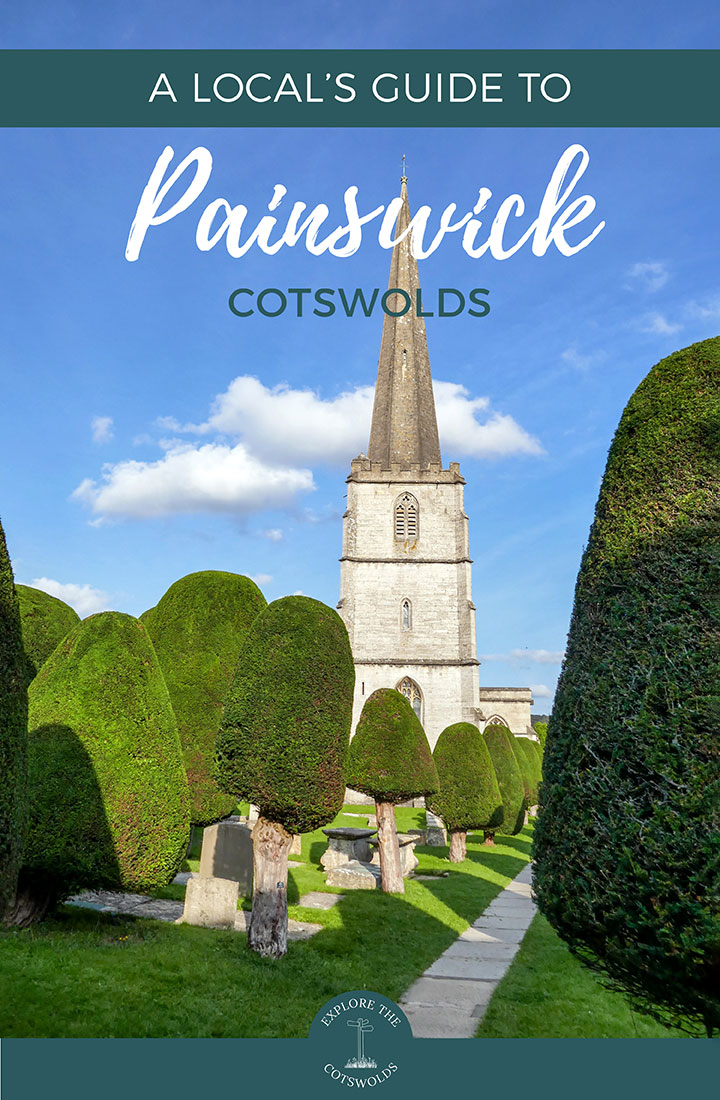 * This site contains affiliate links, where I get a small commission from purchases at no extra cost to you.