Visit a fairytale hilltop folly with panoramic views across 16 counties on this 4.4-mile/7km Broadway village to Broadway Tower walk in the Cotswolds, which is one of a series of circular walks along the 102-mile Cotswold Way walking route between Chipping Campden and Bath.
The walk starts in the picturesque Worcestershire village of Broadway, known for its boutique hotels, shops and restaurants, and heads out across fields to St Eadburgha's Church, which was once Broadway's parish church. It then climbs up through woodland towards the Broadway Tower on Beacon Hill – the second highest point in the Cotswolds at 312 metres above sea level.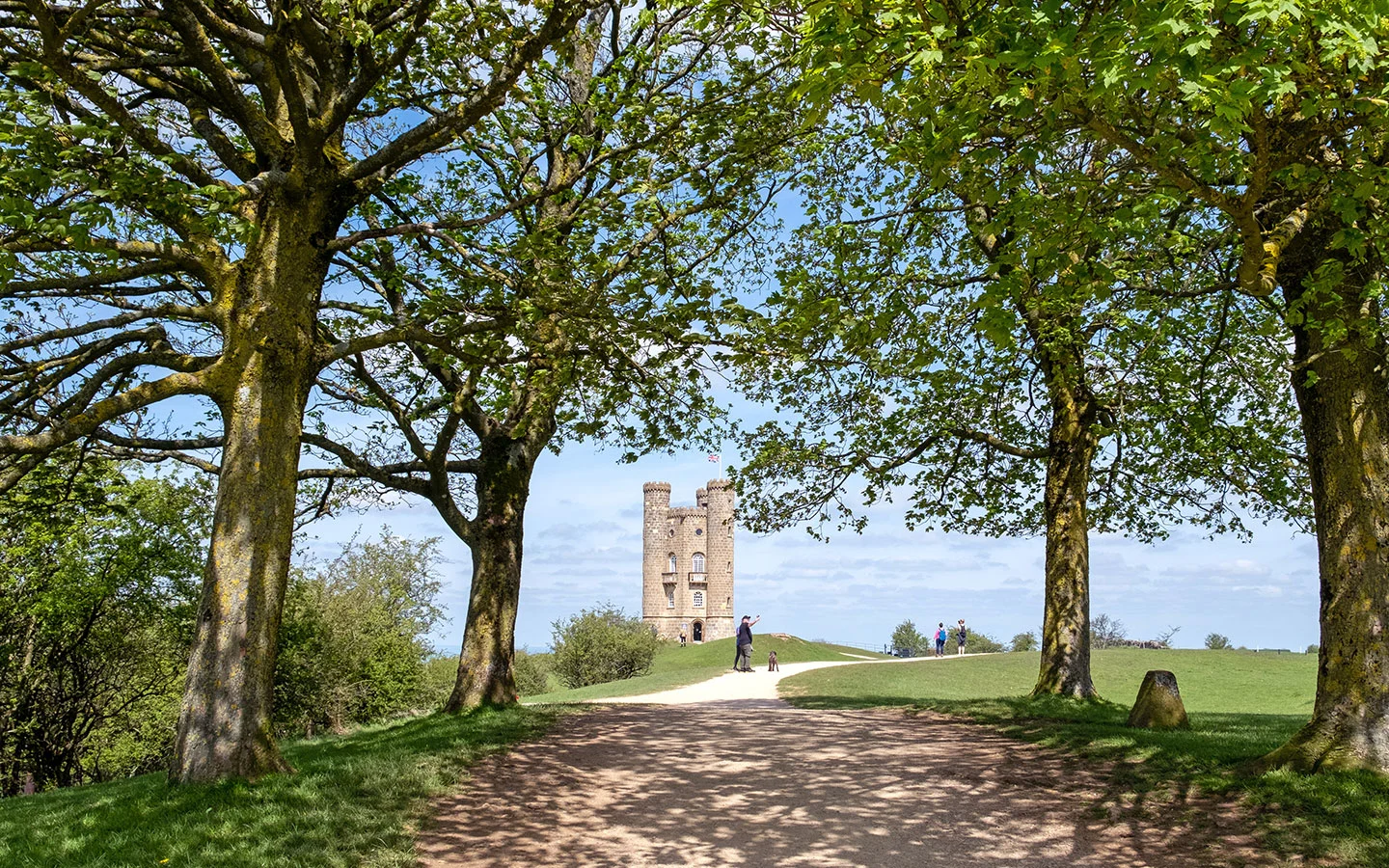 This 18th-century tower has been a printing press, artists retreat and the site of a nuclear bunker. Now it's open to the public to tour the rooms inside and admire the views from the top. From the Tower the route runs downhill along the Cotswold Way all the way back to Broadway.
The Broadway village to Broadway Tower walk takes around two hours, but allow extra time to visit the Tower. It's moderately challenging with some steep up- and downhill climbs.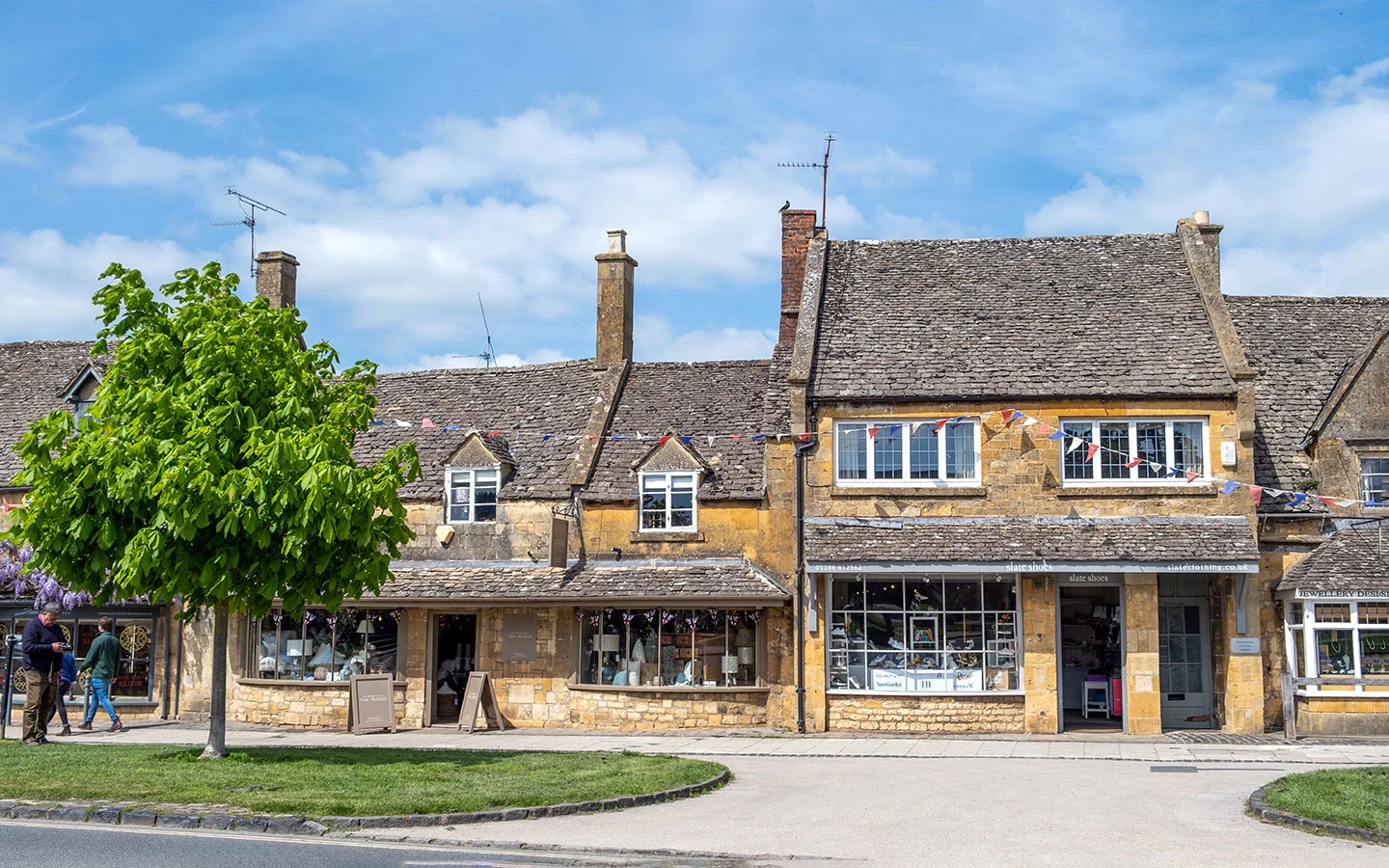 Broadway village to Broadway Tower walk details and map
Distance: 4.4 miles/7km.
Time: 2 hours (plus time to visit the Tower).
Elevation: 770 feet elevation gain.
Difficulty: Moderate.
Paths: Grass, dirt and stony paths, and pavements within Broadway village.
Accessibility: A couple of gates with barriers you need to step over, and lots of kissing gates. Some steep sections, especially on the way back to the village from the Tower.
Map: OL45 The Cotswolds*
Toilets: Public toilets in Broadway at the Church Close Car Park (WR12 7AH) and the Activity Park (WR12 7DP). Customer toilets at the Broadway Tower café.
Facilities: Morris & Brown café at the Tower selling hot and cold drinks, sandwiches and afternoon teas. Wide selection of places to eat and drink in Broadway, including Tisanes Tea Room, Leaf and Bean, Broadway Hotel and the Swan Inn near the start/finish of the walk.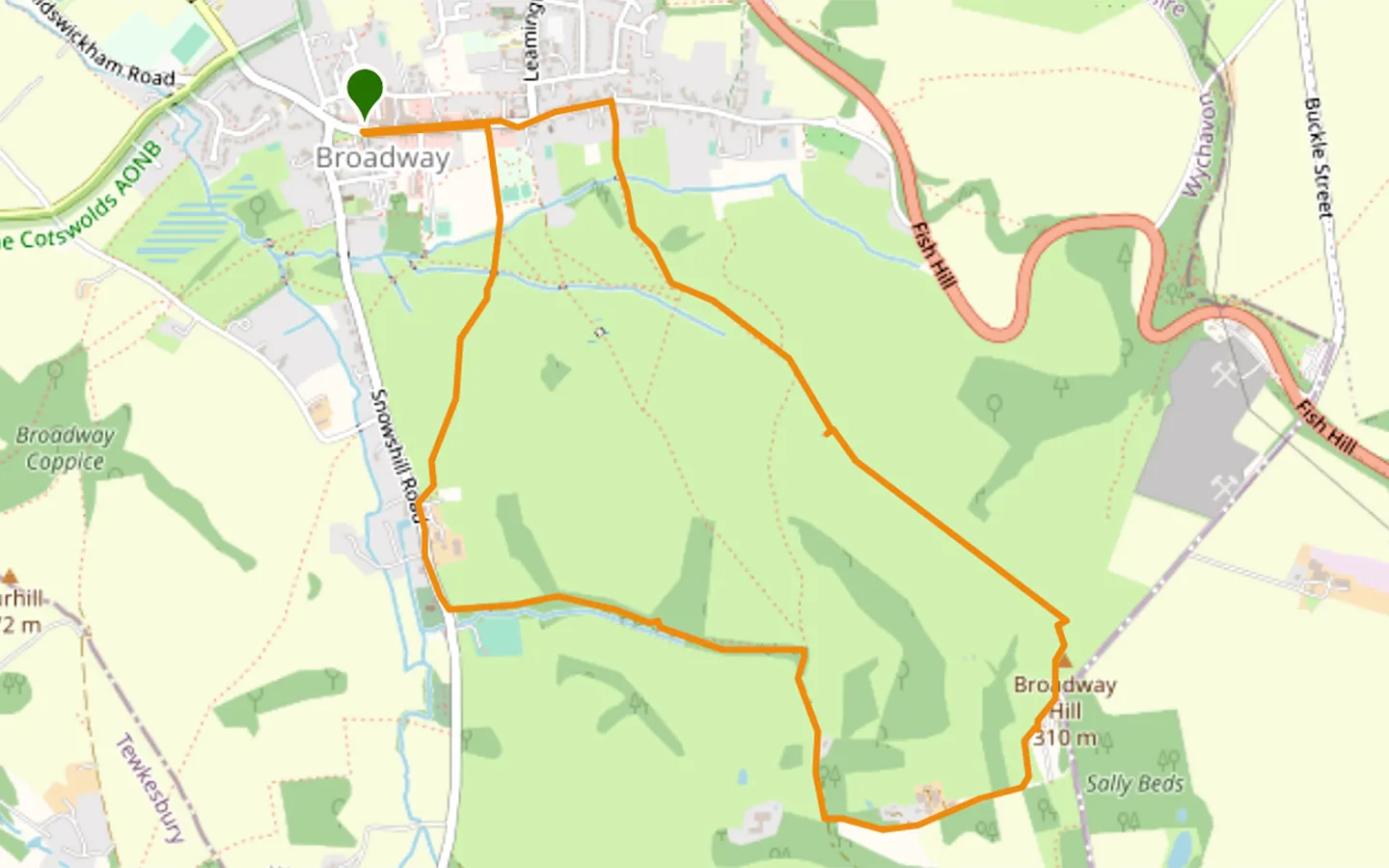 Click on the map above to be taken to Wikiloc, a free app where you can download a map and GPS directions for the Broadway village to Broadway Tower walk.
Start/finish point
The starting point for the walk is Broadway war memorial on the High Street (WR12 7DP). If you're travelling by car, there's paid parking at Church Close (WR12 7AH) and Leamington Road (WR12 7ET) car parks. Church Close is a couple of minutes' walk from the war memorial, and Leamington Road is further along the High Street so you could join the route at the Activity Park turn-off.
If you're travelling by public transport, the nearest train stations are in Moreton-in-Marsh or Evesham. The Stagecoach 1/2 bus from Moreton-in-Marsh to Broadway takes 30 minutes (Monday–Saturday). Or the NN Cresswell Rural 4 bus from Evesham takes 20 minutes (Monday–Friday). But both only have a few services each day, so check timetables in advance.
You could also travel to Broadway in style on board the Gloucestershire–Warwickshire Steam Railway from Cheltenham Racecourse – though the service only runs on certain dates. Broadway station is around a 15–minute walk along Station Road to the starting point for this walk.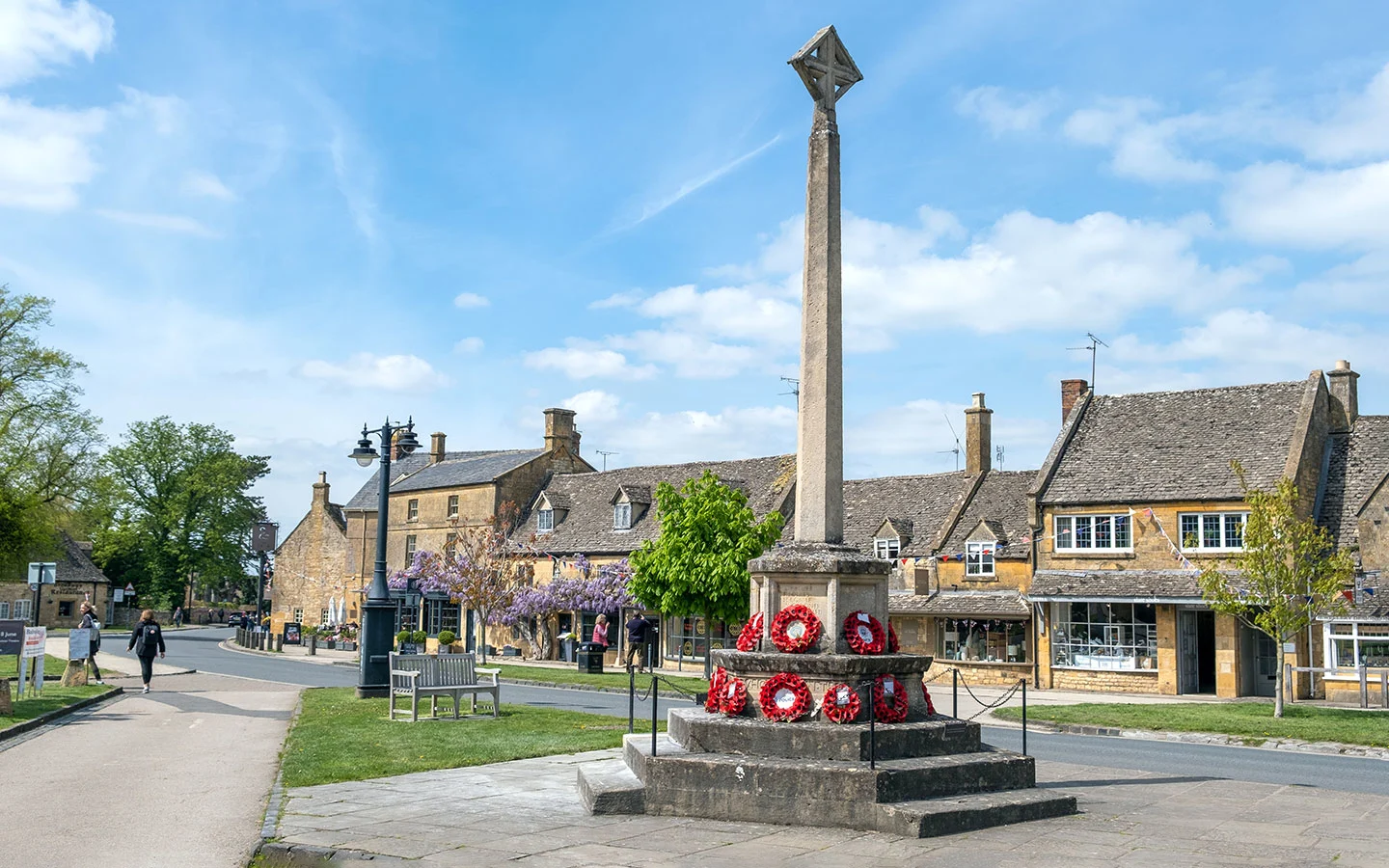 Broadway village to Broadway Tower walk route
Stage 1: Broadway village to Broadway Tower
Start your walk next to Broadway's war memorial. Walk east along the High Street, passing the luxurious Lygon Arms* hotel on your left, a 14th-century coaching inn which has hosted famous names from Oliver Cromwell and King Edward VII to Elizabeth Taylor and Richard Burton.
Continue on as far as the Broadway Museum and Art Gallery. Just before the museum a black signpost saying 'Footpath' and 'Activity Park & Picnic Area' points to the right. Follow this path, which starts quite narrow then opens out into a grassy area with a playground on your left.
Pass through a kissing gate and go straight across the field, then through another kissing gate marked with a green 'Cotswold Way Circular Walk' sign. Cross over a small bridge (watch out as it can be muddy around the stream here) and go through another gate into a field.
Continue straight on this path as it runs through another couple of kissing gates and across a field, with a wooden signpost to show you're heading in the right direction. Carry on until the end of the field – look out for a pretty thatched cottage in the distance on your right as you walk.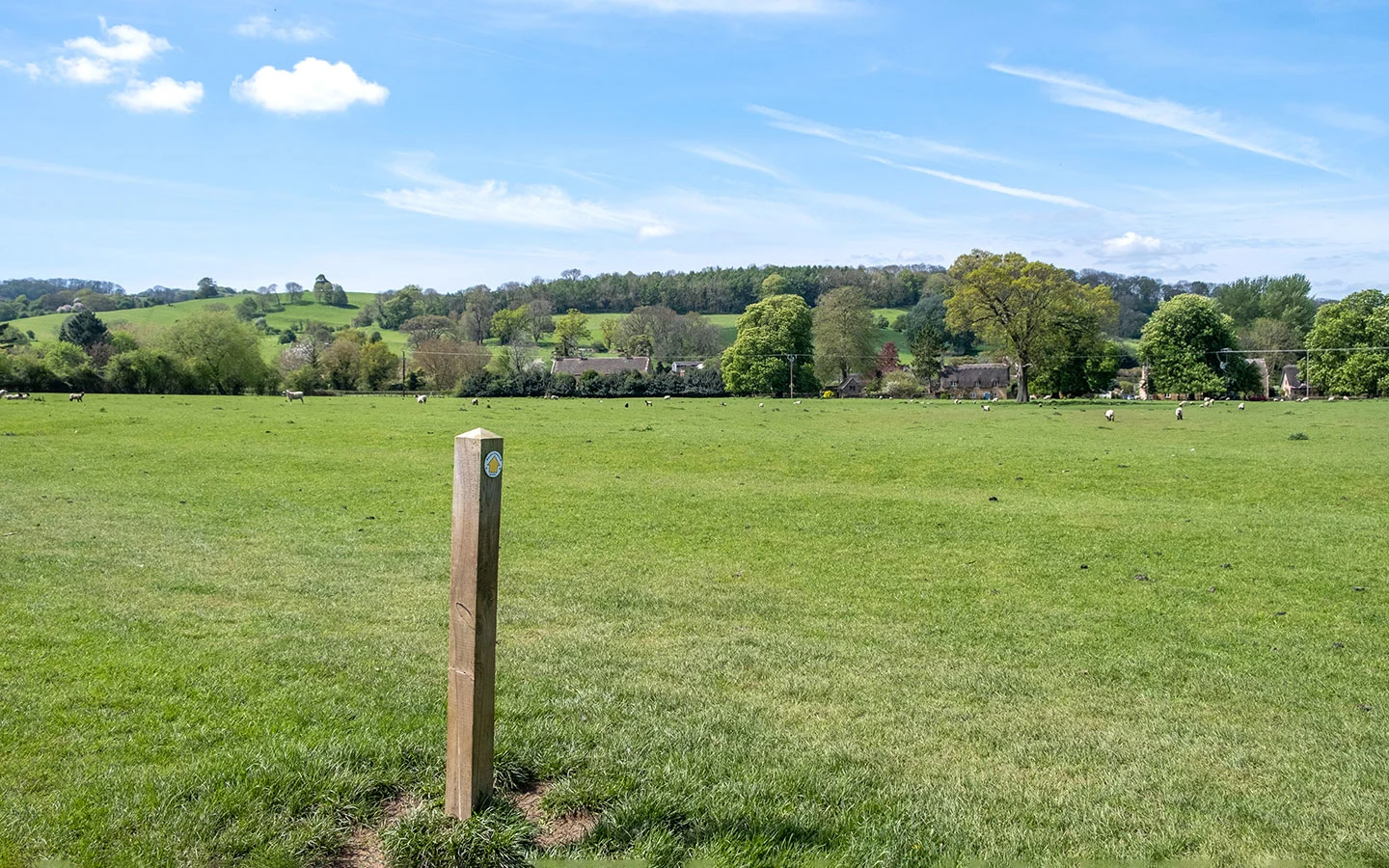 Go through a wooden gate with a public footpath sign onto Snowshill Road and turn left (watch out for traffic), walking along the road past Broadway Court and St Eadburgha's Church.
The church was the original parish church of Broadway, at a time when the village was located further south towards Snowshill – the centre of Broadway later shifted a mile away to its current position after the High Street grew up along a stagecoach route. It's dedicated to Eadburgha, granddaughter of Alfred the Great, with parts of the building dating from the 12th century.
Just past the church, turn left through an ornate set of metal gates onto a track called Coneygree Lane, with a picturesque little gatehouse on your right. Follow this track as it climbs uphill for around 800 metres, through woodland with bluebells and wild garlic in spring.
At the top of the track, turn left and go through a metal gate (this is a combination gate with a small step to climb over) and follow the path as it curves to the left across the field and runs in front of a bungalow. Carry on along this path for 200 metres. Just before you reach a gate with two stone gateposts, turn left and go through another combination gate and follow a stony track uphill.
When the path merges onto a small tarmac road, turn left and follow the road uphill past Rookery Farm. Just before you reach the top of the hill, turn off to the left though a kissing gate marked with a Cotswold Way Circular Walk sign (the main gate was broken on our last visit).
Walk across the field and go through the gate in front of the Broadway Tower's Morris & Brown café, where you can stop off for food and drinks (there are also customer toilets).
Then continue along the road with the café on your right, past the shepherds' huts and through a tall metal gate on your left into the grounds of the Tower (you're asked to buy a ticket from this point – entry costs £14 adults, £6 for children aged 11–16 or £3 for children aged 6–10). You'll see the tower in front of you – and look out for red deer in the fenced area to your left.
Broadway Tower was built for Barbara, Countess of Coventry by her husband the 6th Lord Coventry, and she could see a beacon here from her house in Worcester 22 miles away. It was the brainchild of Capability Brown, but he didn't live long enough to see it completed.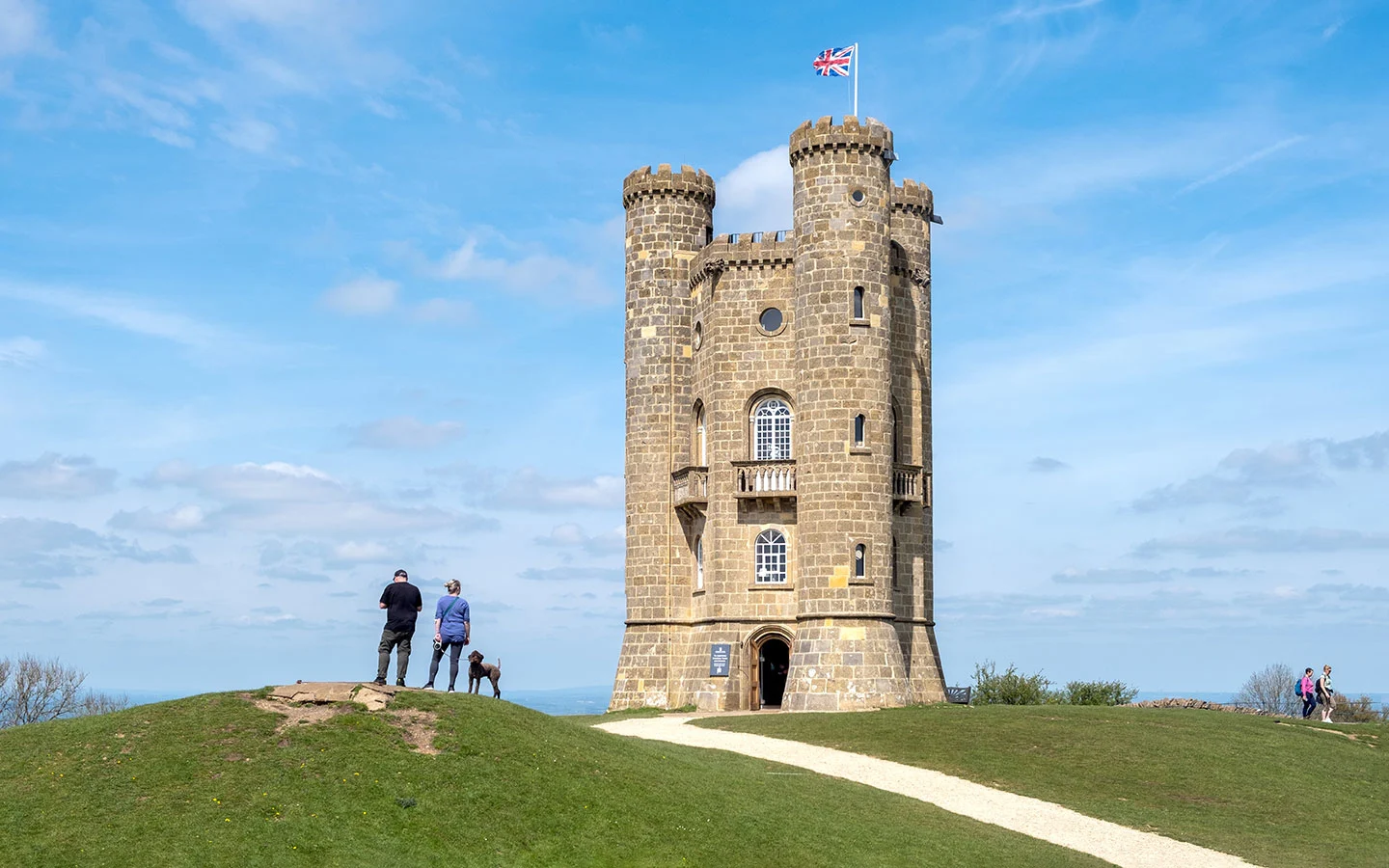 Instead it was completed by architect James Wyatt in 1798. And although it was designed as a folly, it ended up being used as a printing press, a holiday retreat for artists including William Morris and Dante Gabriel Rossetti and a farmhouse, before being opened to the public. Today you can take a tour around the recreated rooms inside and see views over 16 counties from the top.
The Tower is also the site of a Nuclear Bunker, built 15-feet below ground during the Cold War and manned by men and women of the Royal Observer Corps, who worked down there for three weeks at a time. You can take a 45-minute tour on weekends and bank holidays from April–October (book tickets in advance via their website).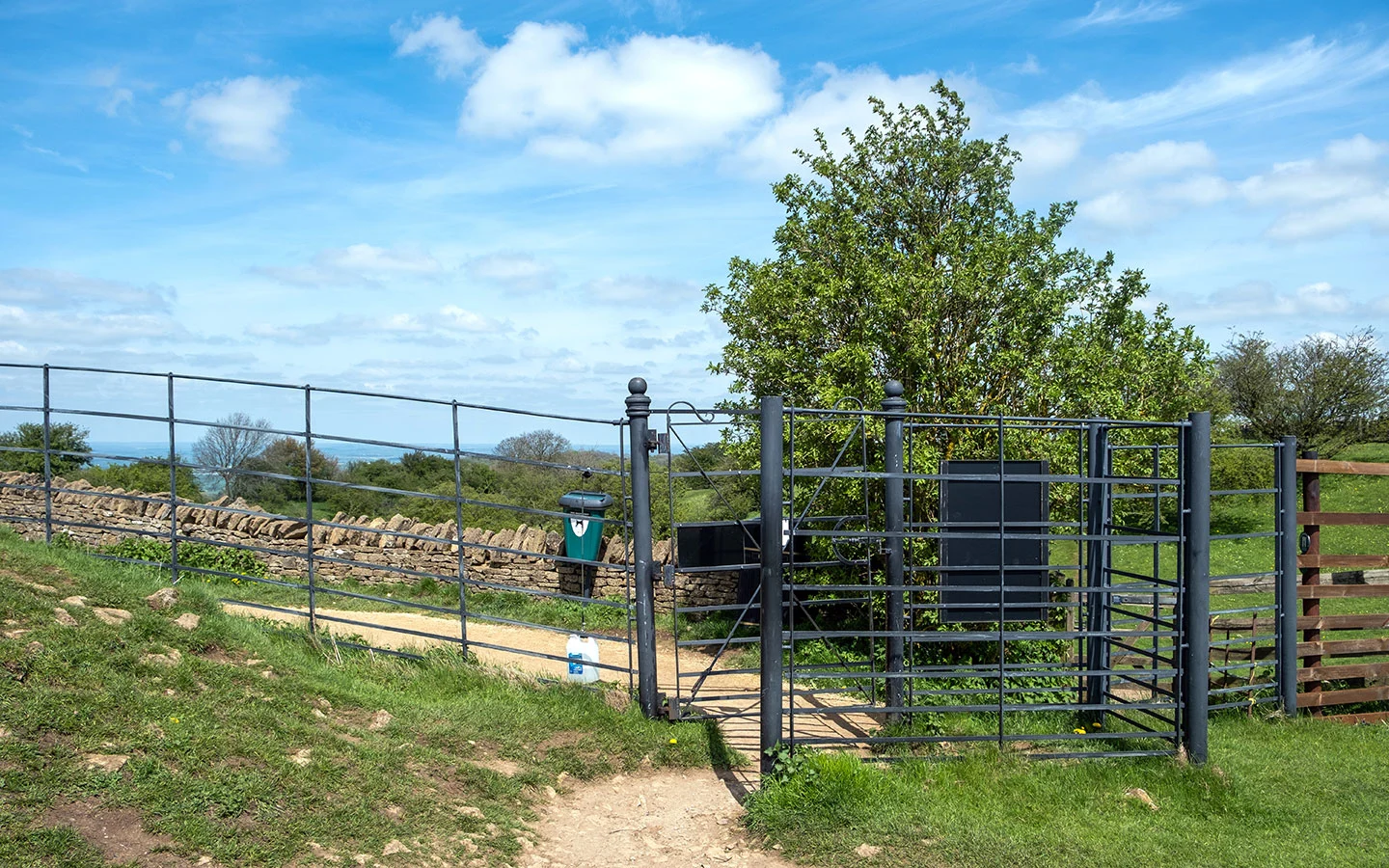 Stage 2: Broadway Tower to Broadway village via the Cotswold Way
When you're ready to carry on, there's a tall black metal kissing gate just behind the Tower. Go through this and turn left onto the Cotswold Way. Follow the path downhill, which is marked with Cotswold Way signs (ignore any signs for the Broadway Tower circular walk).
Partway down there are benches where you can stop and admire the views. Then there are a few steps to climb down followed by a steeper downhill slope. The path runs through several gates as it goes downhill, crossing a field where the route is marked with wooden posts.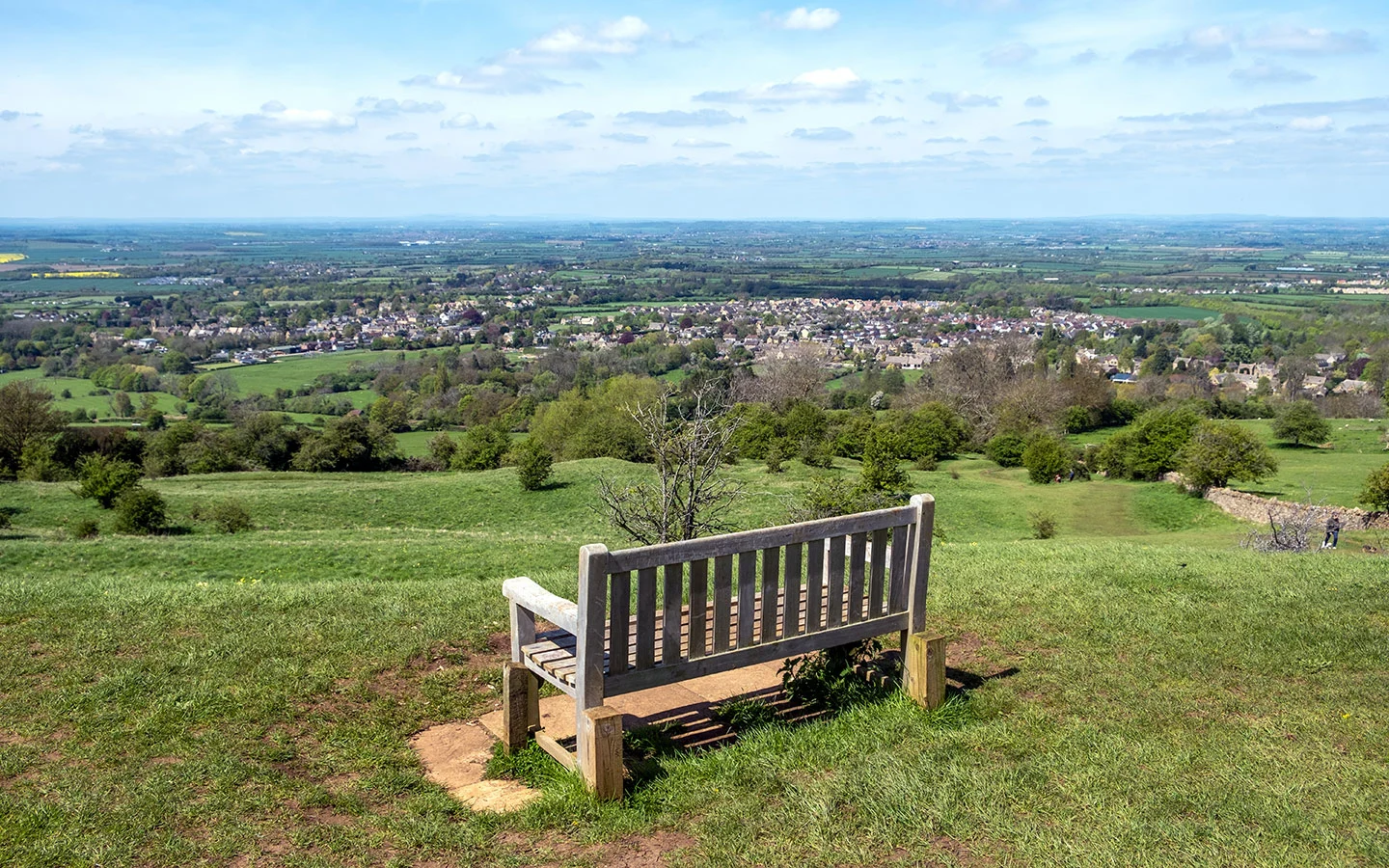 As the path flattens out, it crosses a stone bridge over a stream. Walk towards the houses in the corner of the field where you'll see a gate which leads through an alleyway between houses.
Go through the alley and then turn left when it joins onto the High Street. Follow the High Street back through the village, passing the Activity Centre turn-off, then retracing your steps to the war memorial. If you want to stop for a drink, the Broadway Hotel and Swan Inn are right next to the war memorial on either side of the road and both have summer beer gardens.
Save for later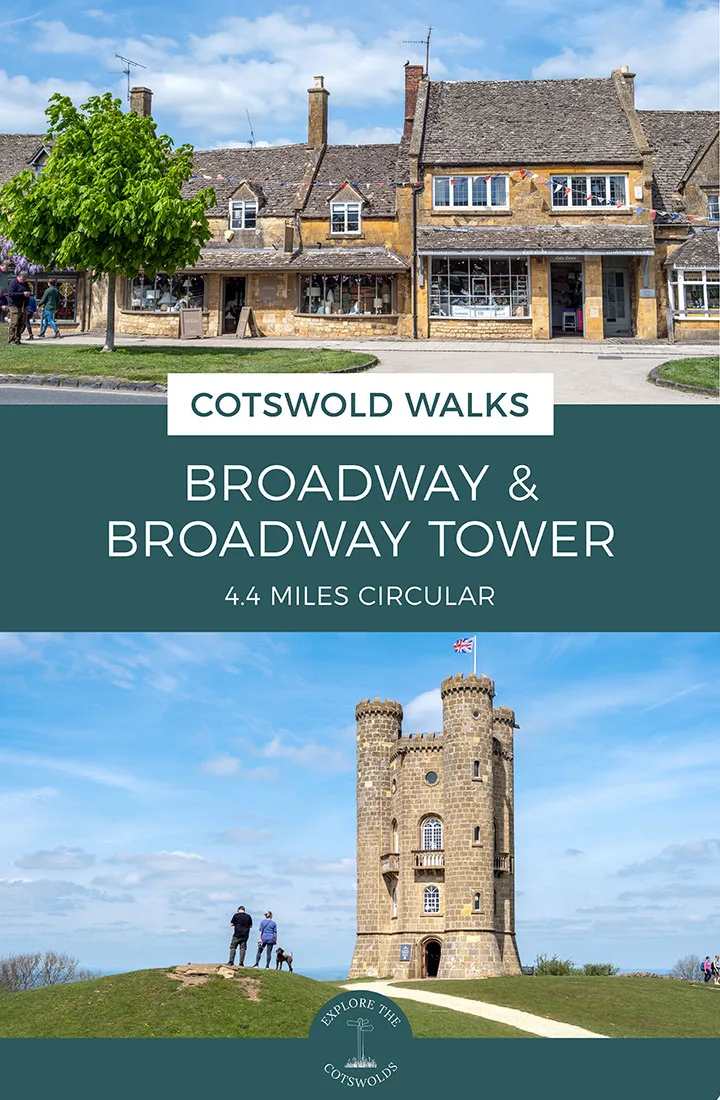 * This site contains affiliate links, where I get a small commission from purchases at no extra cost to you.