Located in the southeast of Worcestershire, Broadway is a small village that's big on charm. It's known as 'The Jewel of the Cotswolds', and Broadway's historic buildings, hilltop tower, fantastic shops and restaurants, and some of the most luxurious accommodation in the region keep visitors flocking back year-after-year. So discover the best things to do in Broadway, as well as where to stay, eat and drink, with this insider's guide to the village from our local expert Caroline.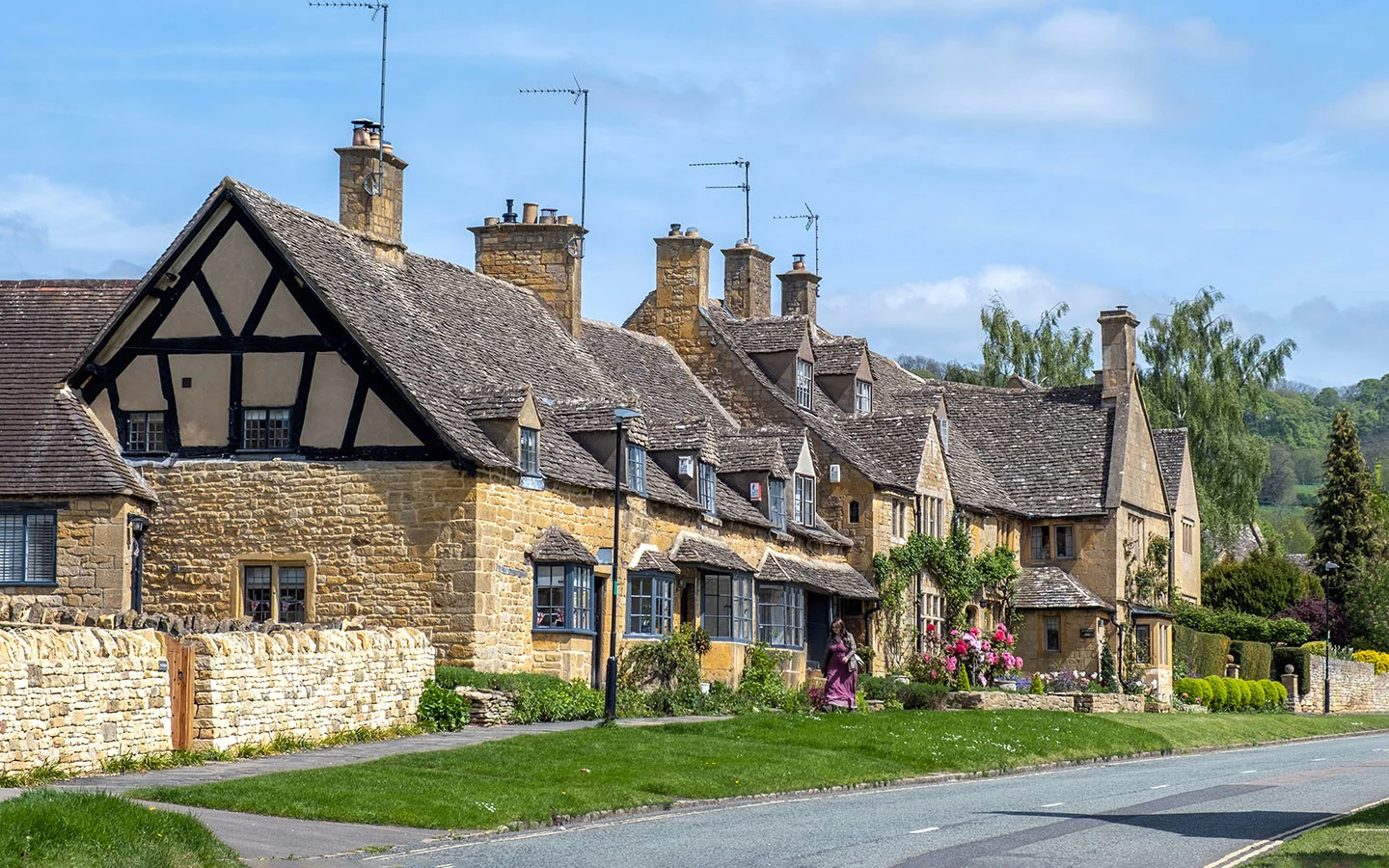 Broadway's history
Broadway's exact origins are unknown, but it's thought to be one of the first ancient partial settlements in the UK, dating back over 5000 years. In the 9th century it was known as Bradsetena Gamere (Broad Village), undergoing several name changes over the years until becoming commonly known as 'Broadway' in the 16th century – taking its name from the wide High Street.
The Lygon Arms Hotel on the High Street is steeped in history. During the Civil War, Oliver Cromwell stayed a night here before the Battle of Worcester.
In the Middle Ages, Broadway grew and prospered thanks to the wool and cloth industry, with merchants building fine houses. And when a coaching route opened up over Fish Hill in the 1500s, Broadway became an important stop on the Worcester to London stagecoach route, with coaches having to stop in the village to harness extra horses for the steep climb up the hill.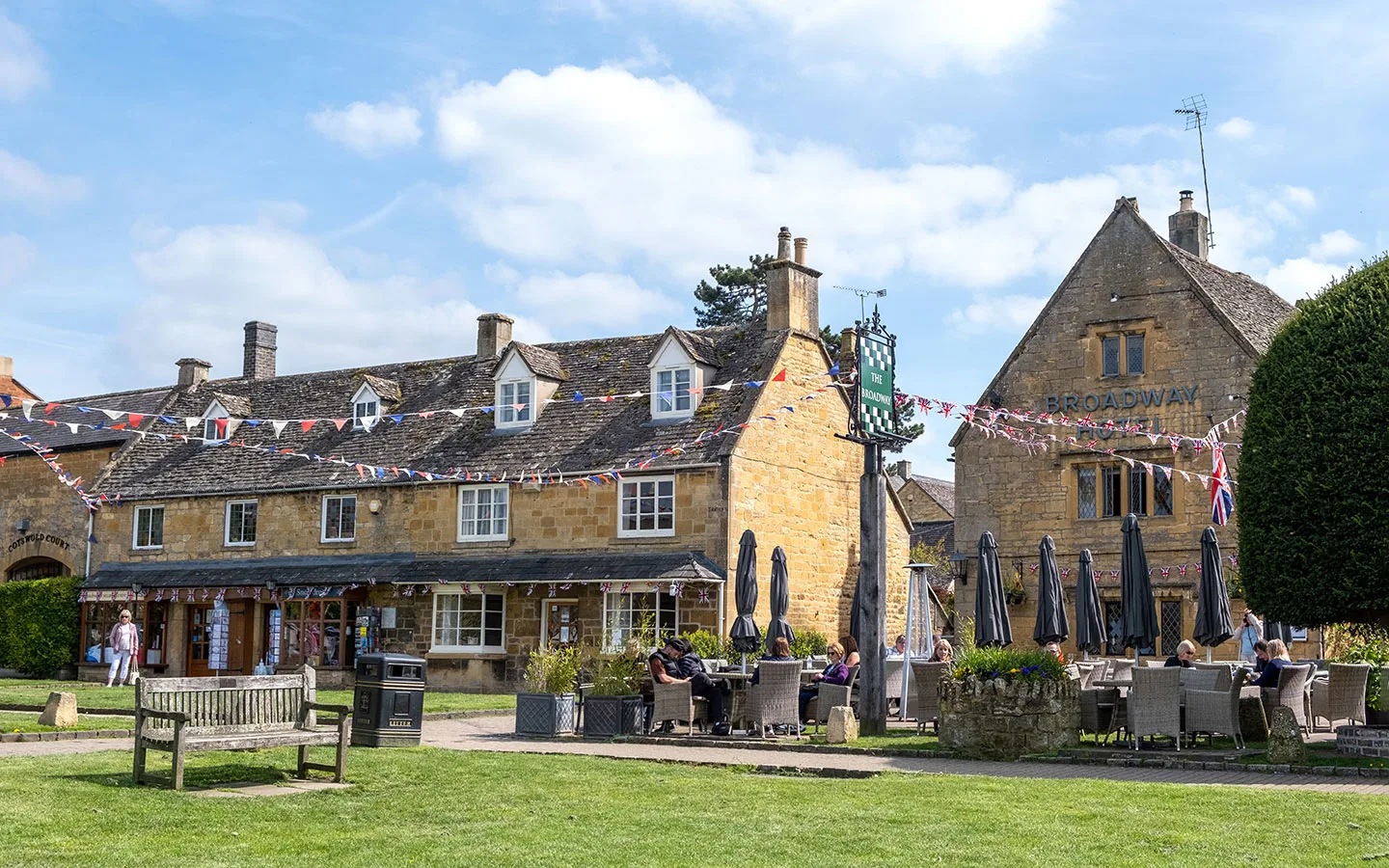 It was at this time that the centre of the village moved. Originally it was a mile further south, located around St Eadburgha's parish church. But with new inns opening along the stagecoach route the heart of the village moved north. At one point there were 33 inns in Broadway to cater for the traffic passing though. But once the railway in Evesham opened in 1852 it all stopped.
Broadway became a tranquil place, popular with Victorian artists and writers, and a centre for Arts and Crafts design. And the arrival of the motor car brought tourists to experience Broadway's charms – it's now one of the Cotswolds' most popular, and busiest, villages.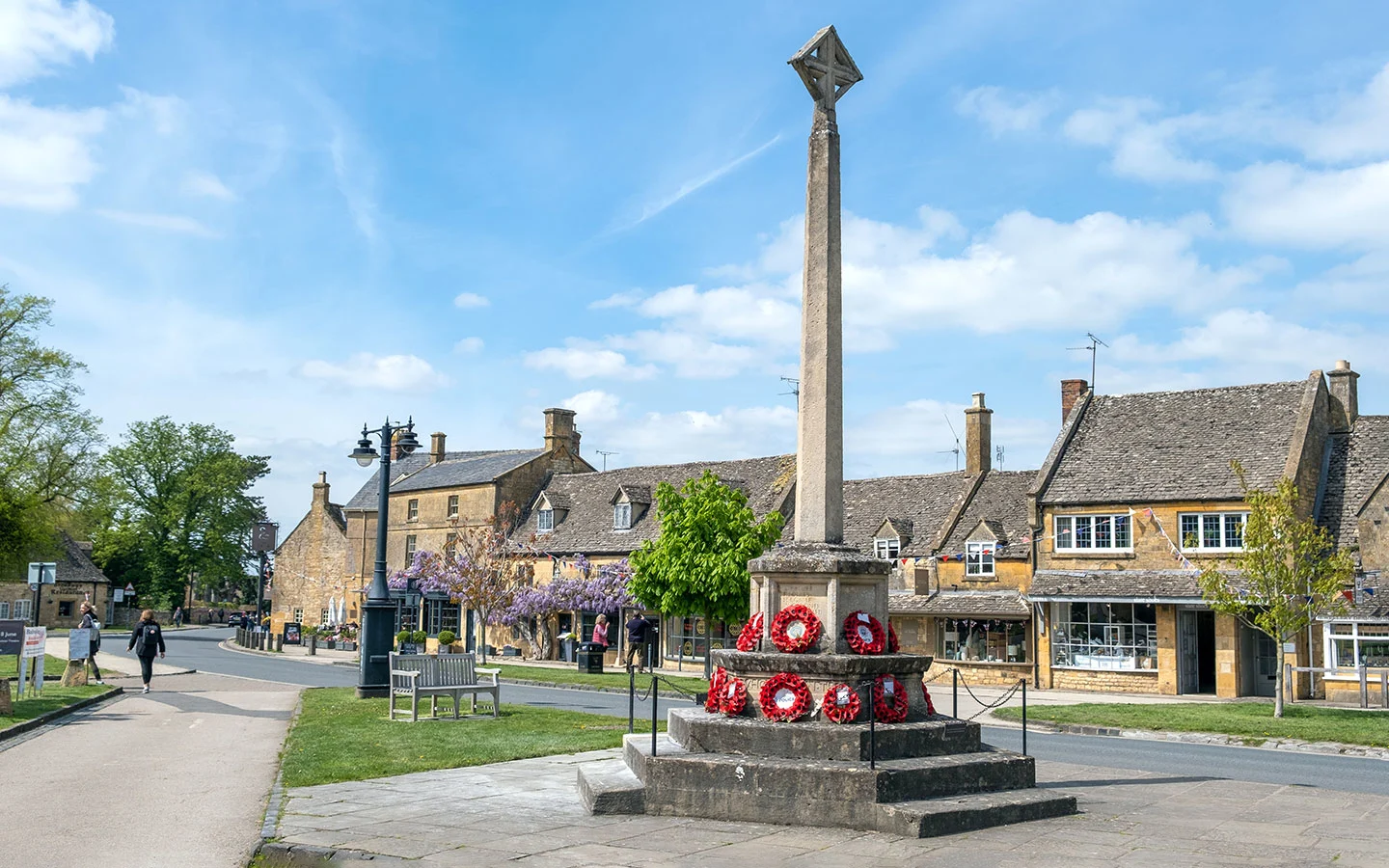 Map of Broadway, Cotswolds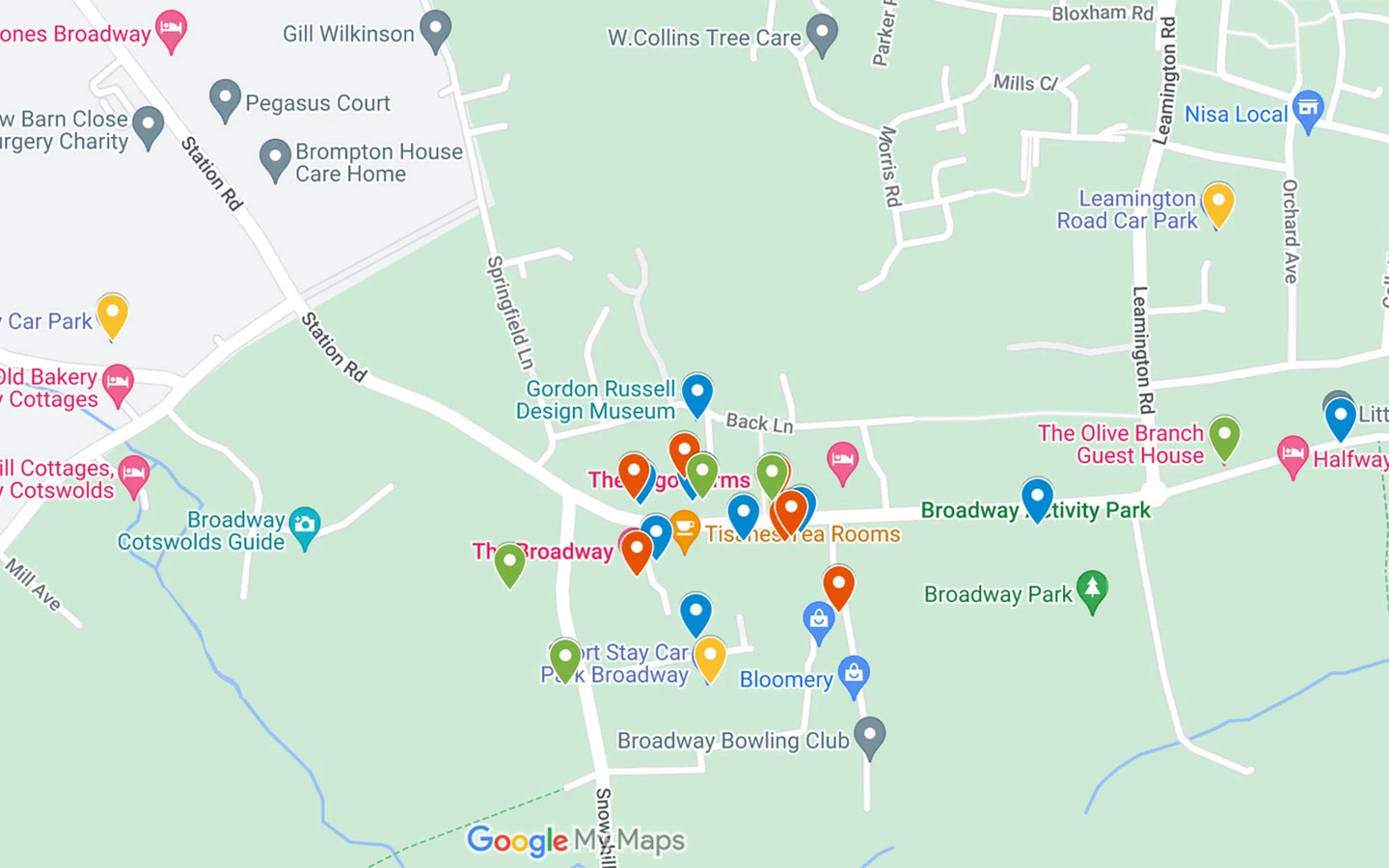 Things to do in Broadway
The High Street
One of the best things to do in Broadway is to take a stroll along the High Street and admire the beautiful golden Cotswold stone buildings. Many of them date back to the 16th and 17th centuries and were built as coaching inns. Some of the village's prettiest buildings can be found at the top end of the High Street past the roundabout, which is quieter with more residential properties.
In spring and summer, buildings are draped in flowers – wisteria season around May is extra pretty (though very busy). And look out for the Millennium Garden which is hidden away behind the Broadway Museum and Art Gallery and makes a peaceful spot to take a breather.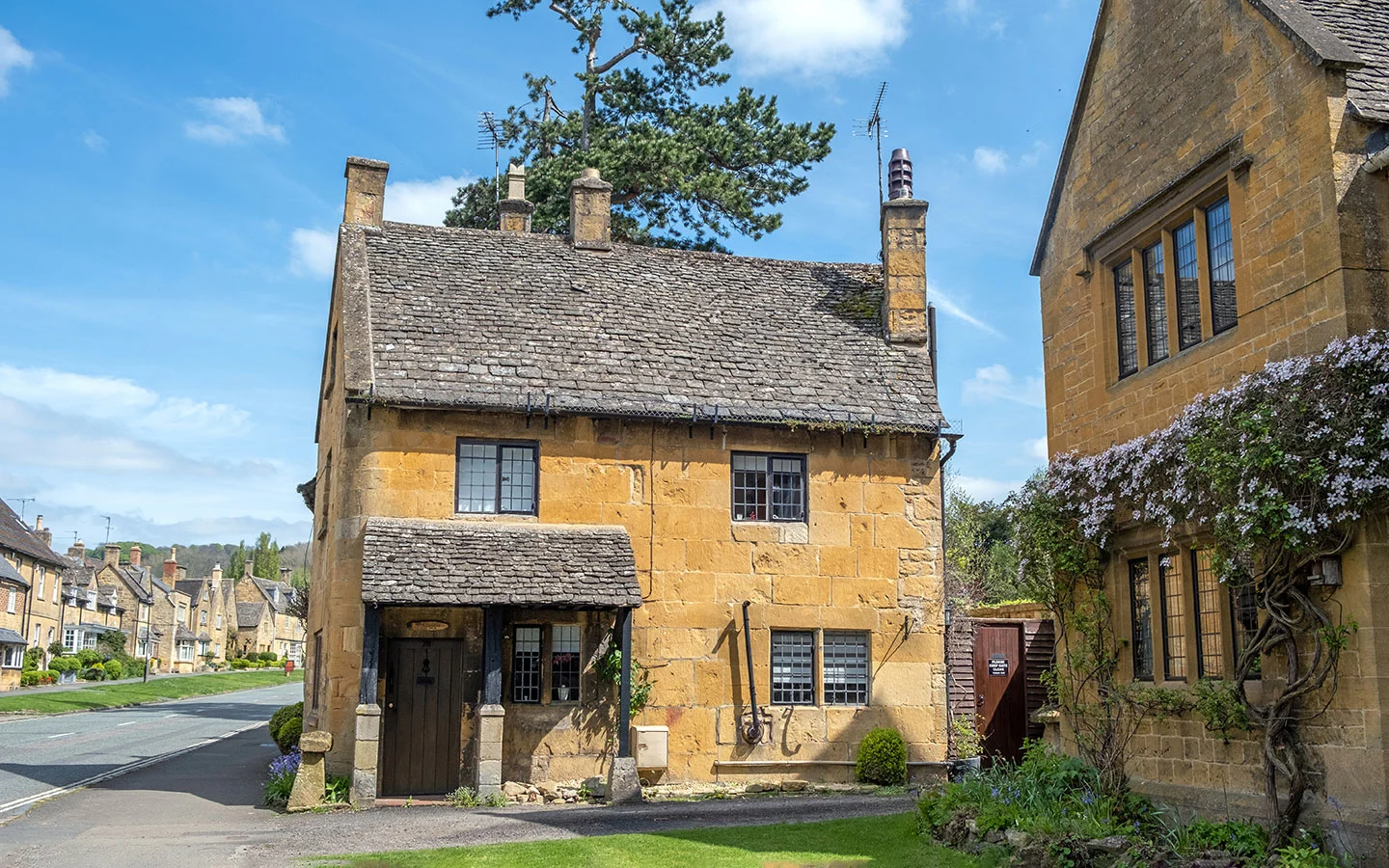 Independent shopping
Broadway has some of best shopping in the Cotswolds, with a diverse selection of independent boutiques selling fashion, food, homewares and gifts. Some of our favourite shops to browse are At Home With The Rudds for luxury interiors, Rikki Tikki for toys, The Man Cave or Wild at Heart for gifts, Scents On The Green for perfume and the Cotswold Distillery's gin shop.
If you're visiting Broadway in December, it's worth trying to catch a traditional late-night Christmas shopping evening, with mulled wine, roasted chestnuts, carols and horse chestnut trees filled with twinkling lights making a stunning backdrop on a cold, crisp winter evening.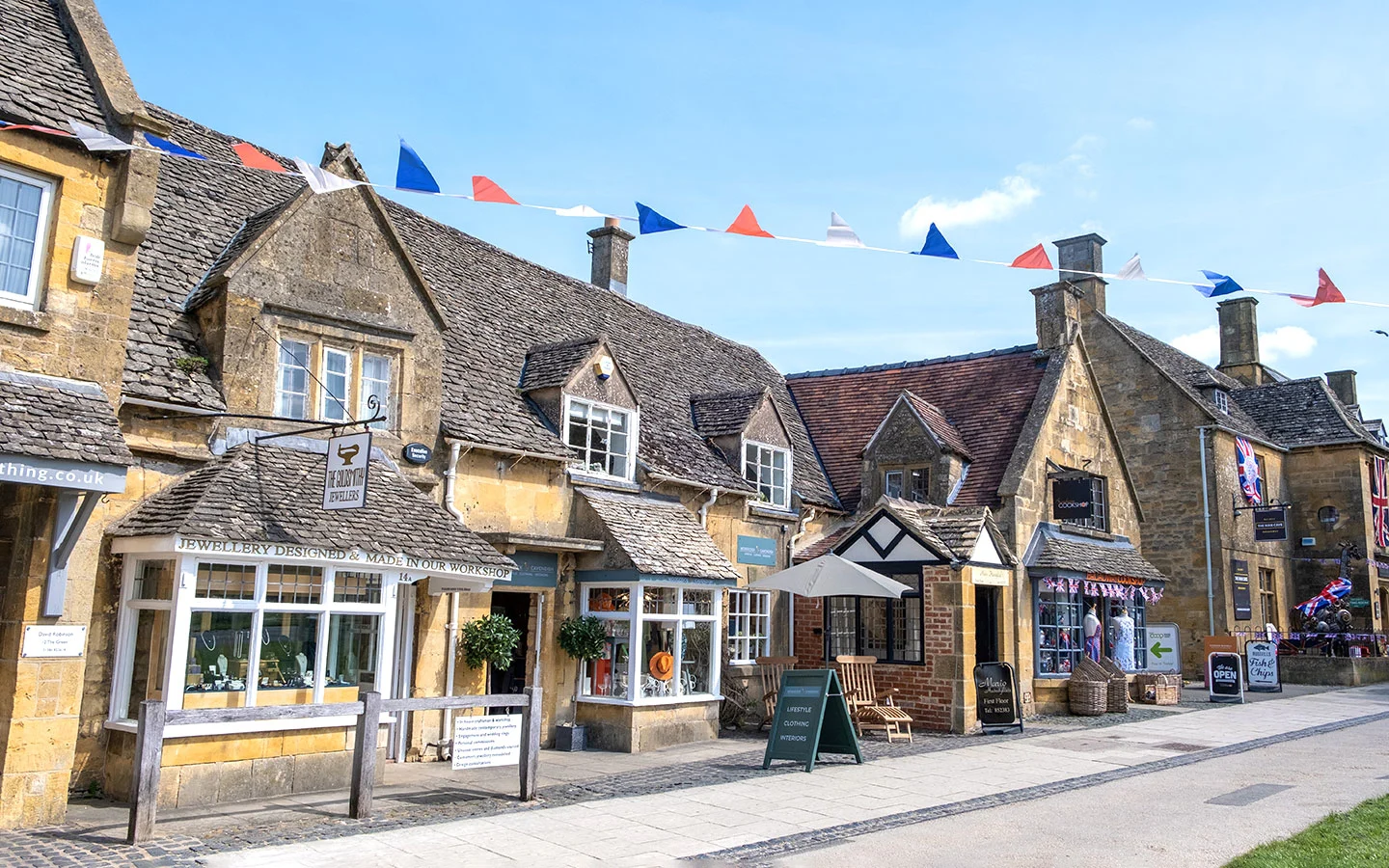 The Gordon Russell Design Museum
Furniture designer Gordon Russell moved to Broadway as a child when his father bought The Lygon Arms hotel. And the area left its mark on this pioneering designer, who was a great believer that good design could have a positive impact on people's lives. His Arts and Crafts furniture designs became famous, combining traditional techniques with new machine technology.
You can find out more about his life and work at Broadway's Gordon Russell Design Museum. The museum is open Tuesday–Sunday, 10am to 4pm (entry £7 adults, children under 16 free). His name also lives on at Russell's restaurant, which is in his former company headquarters.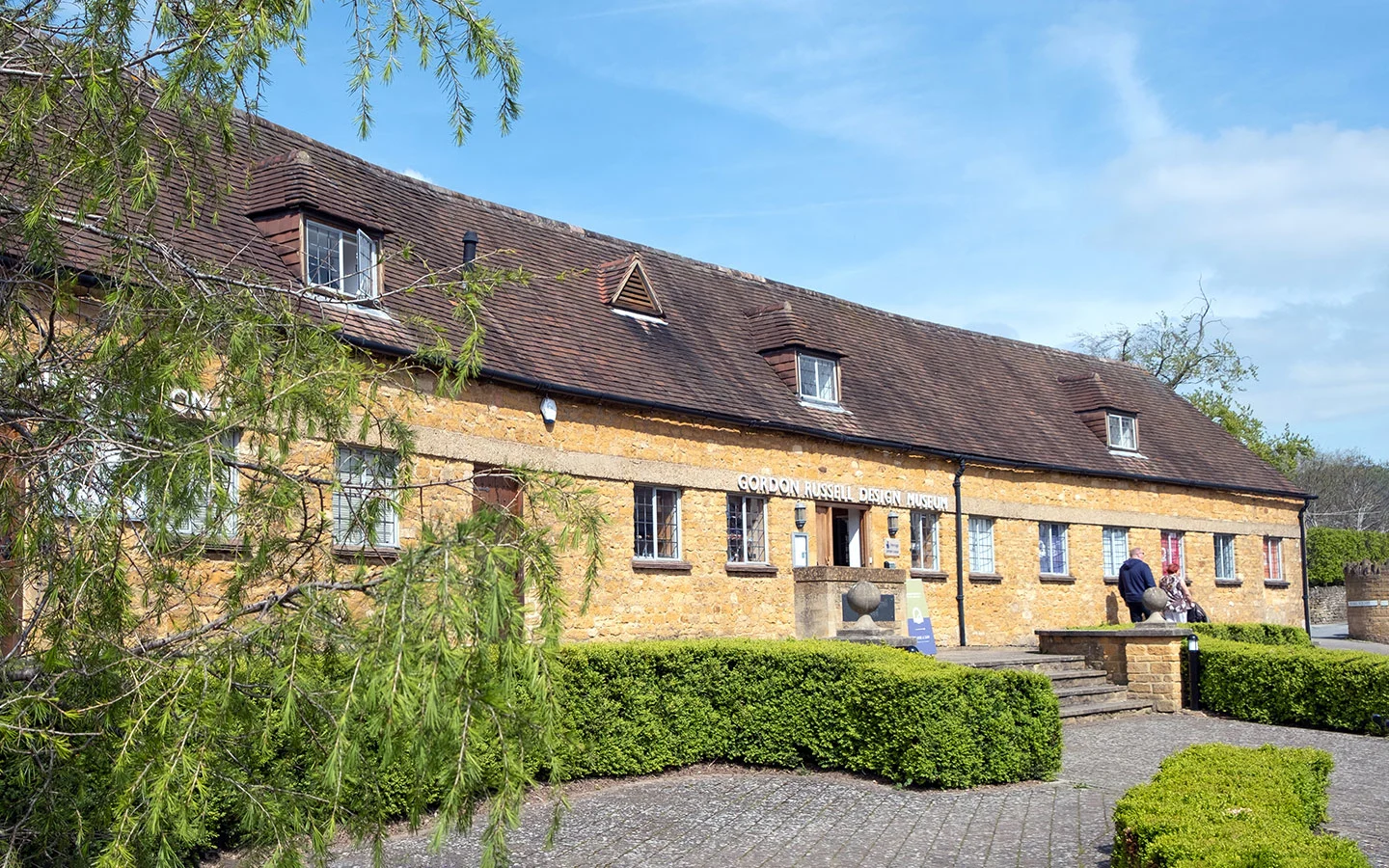 Broadway Museum and Art Gallery
For an insight into Broadway's history, pay a visit to the Broadway Museum and Art Gallery, set inside a 17th-century building which was once The Angel Inn (entry £5 adults, £2 children over 5). It takes you on a journey through Broadway's different eras, from the rise and fall of the wool industry through its days as a coaching route stop to the arrival of artists, writers and designers.
As well as the permanent collections, there are a series of temporary exhibits – currently including one on vintage postcards of Broadway and another on the history of the Gloucestershire–Warwickshire Steam Railway, featuring stories from people who worked on the line.
Broadway Tower and Deer Park
Located on a beacon hill just outside the village, Broadway Tower is the second-highest point in the Cotswolds, with panoramic views over 16 counties, out across the Cotswolds and Severn Vale towards Wales. The tower was built by architect James Wyatt in 1798 and has been used as a printing press and a retreat for artists including William Morris and Dante Gabriel Rossetti.
It's also more unexpectedly the site of a Cold War nuclear bunker. Now the tower is open to the public (entry £14 adults, £6 children 11–16, £3 children 6–10) and you can climb to the top or take a bunker tour. Look out for the herd of resident red deer in the park next to the tower too.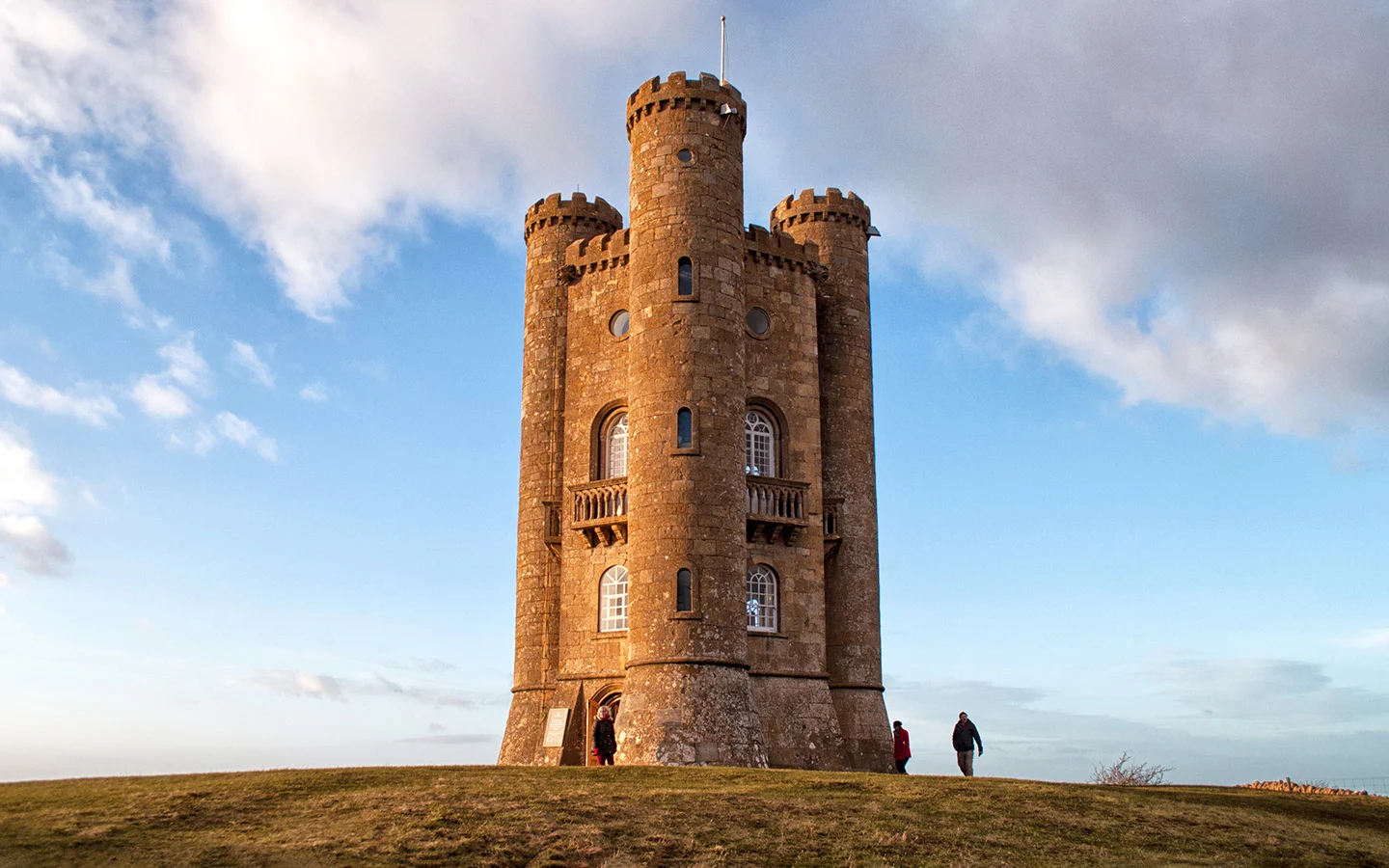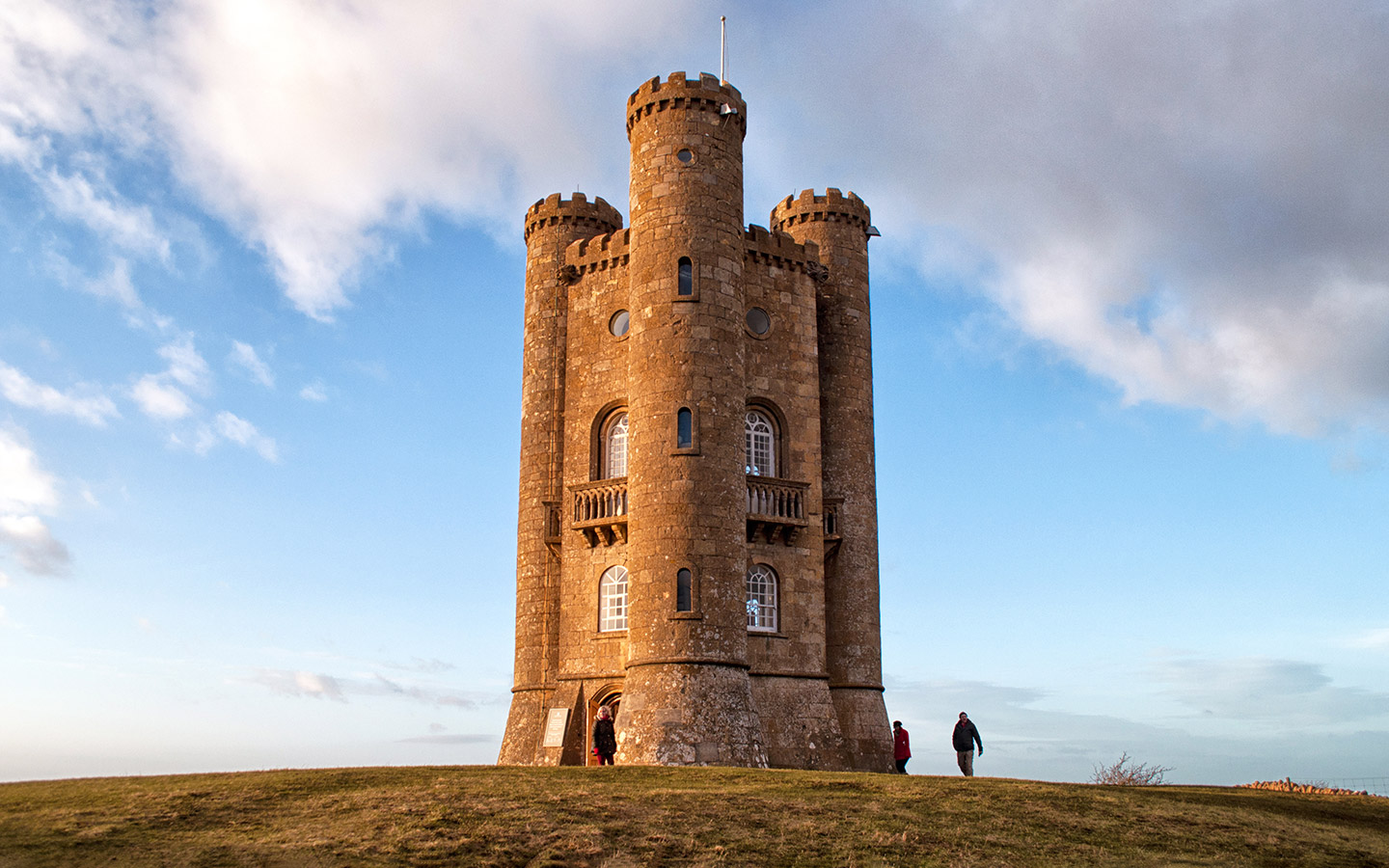 Gloucestershire–Warwickshire Steam Railway
A trip on board the Gloucestershire–Warwickshire Steam Railway is a great was to see more of the stunning Cotswold scenery around Broadway. Around 14 miles of track has been restored, which runs between Broadway and Cheltenham Racecourse, via Toddington and Winchcombe.
An army of volunteers keep things running smoothly, with a mixture of steam and heritage diesel engines and stations with plenty of vintage charm and period details, from piles of suitcases to retro posters. A £25 day ticket (£10 for children aged 5–15) lets you travel on the line all day, and there are lots of events throughout the year, including The Santa Express at Christmas.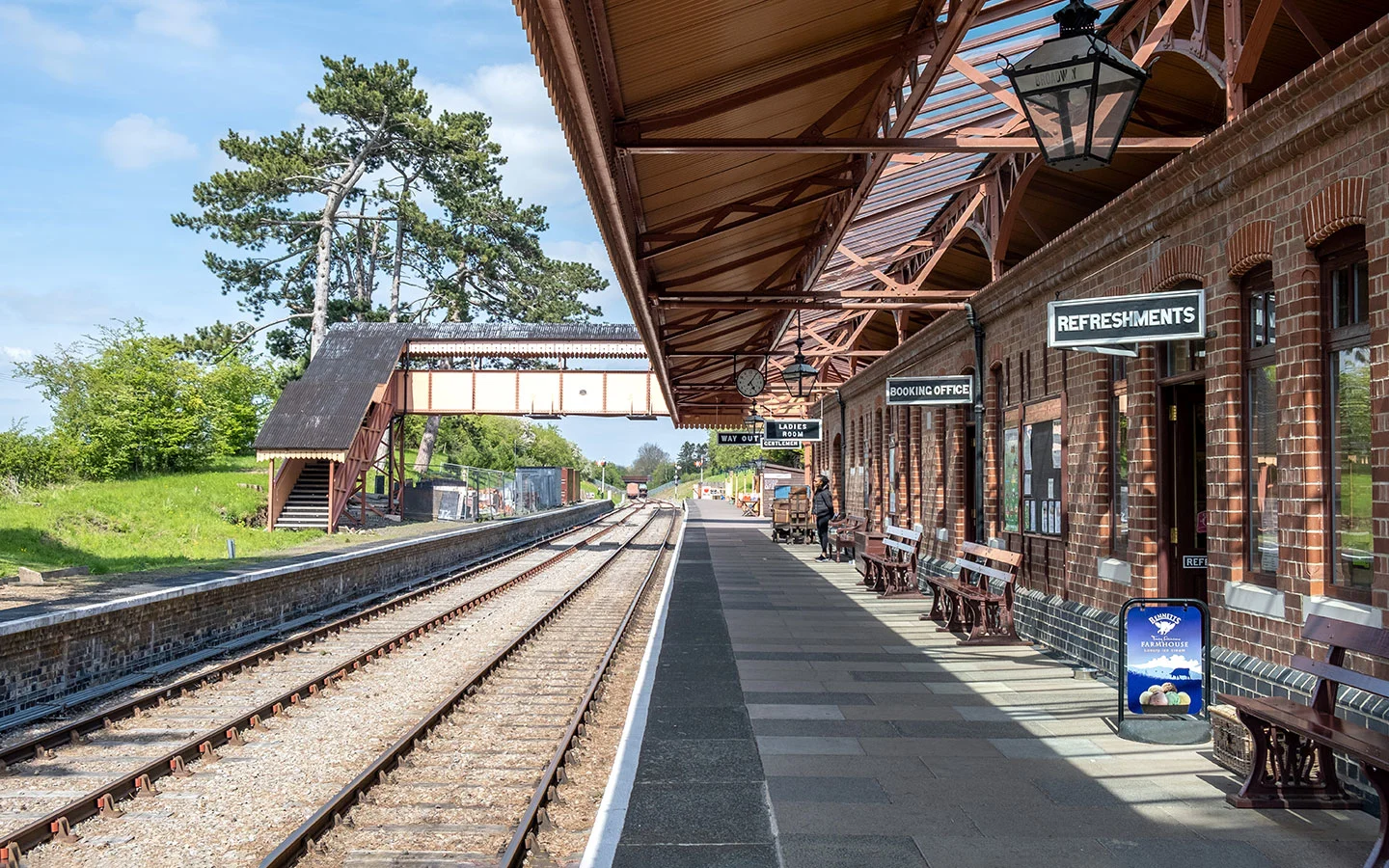 Walks from Broadway
The Broadway Tower is along the route of the Cotswold Way, a 102-mile long distance walking route from Chipping Campden to Bath. If you'd like to stretch your legs on a shorter stretch of the route, a 4.4-mile circular route links the village to the Broadway Tower, passing St Eadburgha's Church on the way. It takes around two hours to walk, plus time to visit the Tower.
You can also walk a one-way stretch of the Cotswold Way, then catch a bus or take a taxi back to Broadway – heading north it's six miles to Chipping Campden, or to the south it's four miles to Stanton or 12 miles to Winchcombe. The village is also on the route of another long-distance walking trail too, the Wychavon Way which runs for 40 miles from Droitwich Spa to Broadway.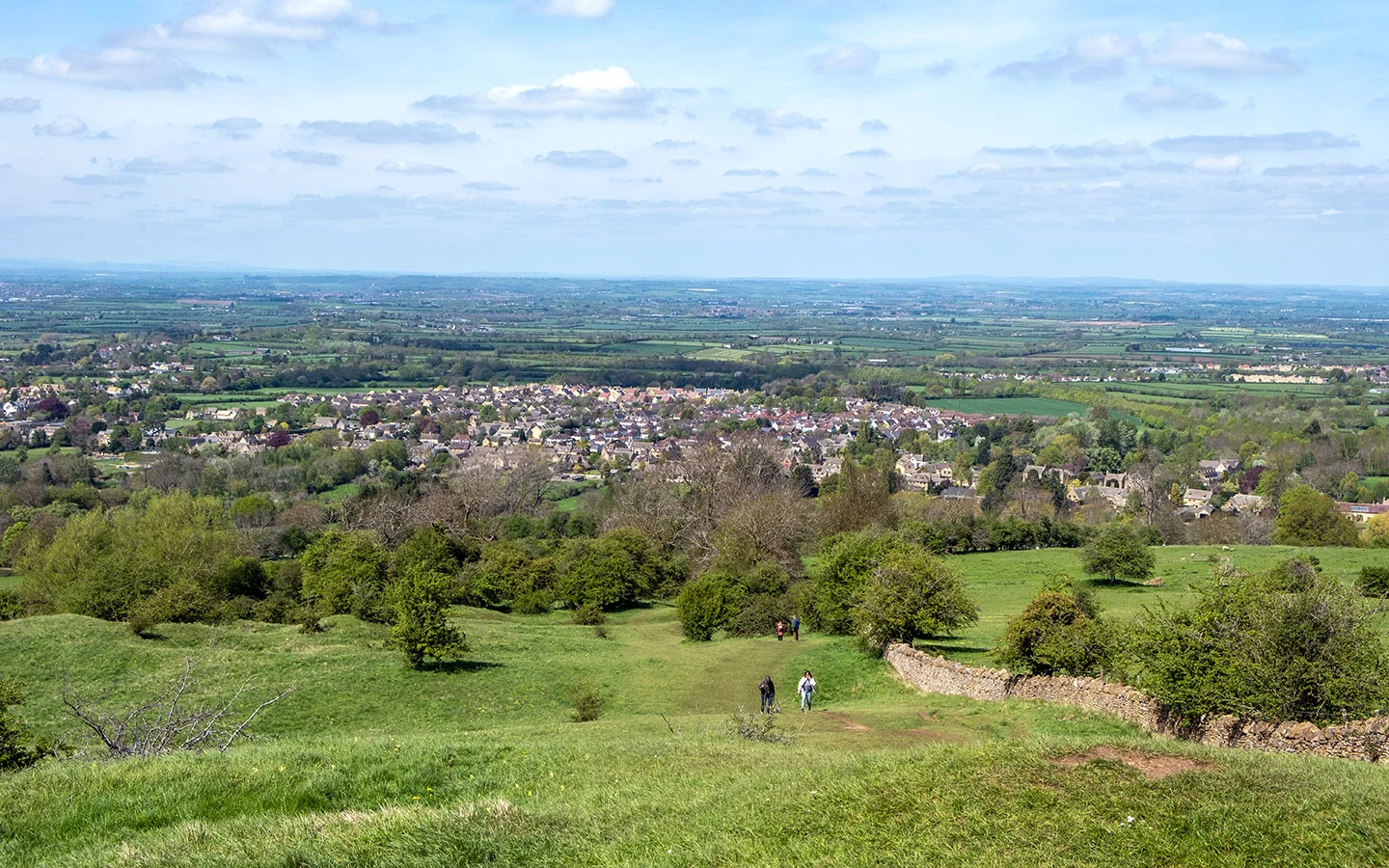 Cotswold Lavender
If you're visiting the Cotswolds in summer, don't miss a trip to Cotswold Lavender. Their fragrant flower fields are set on a hillside just two miles south of Broadway. Each year Cotswold Lavender open their display fields up to the public from mid-June until early August when the crop is harvested and distilled (entry £7 adults, £3 children aged 5–15 and free for under 5s).
Their abundant and varied crop of lavender creates a beautiful sea of purple, with different varieties on show as well as wildflowers and a woodland trail. There are also lots of lavender products on sale, from soaps and essential oils to lavender-infused chocolate or lavender tea.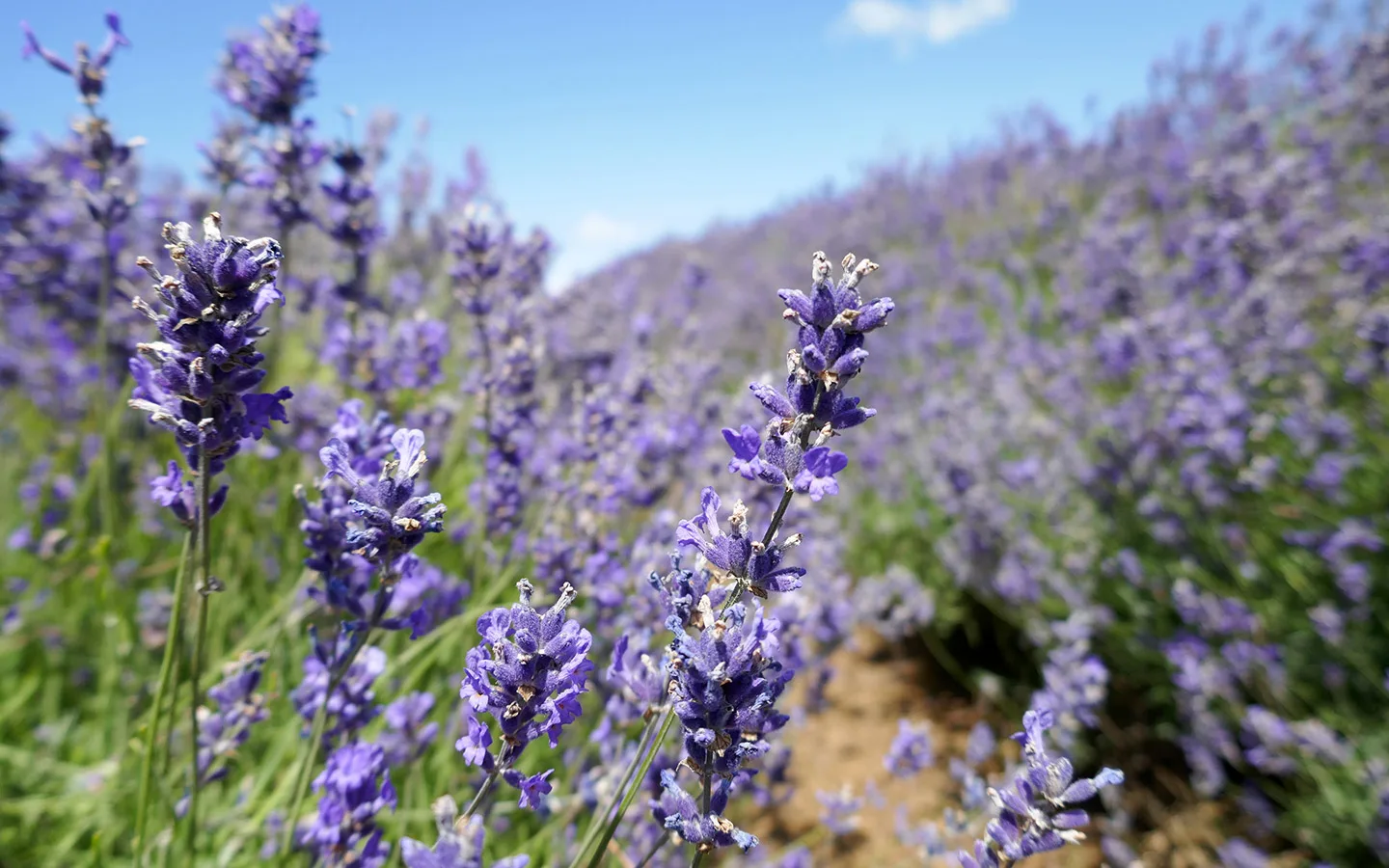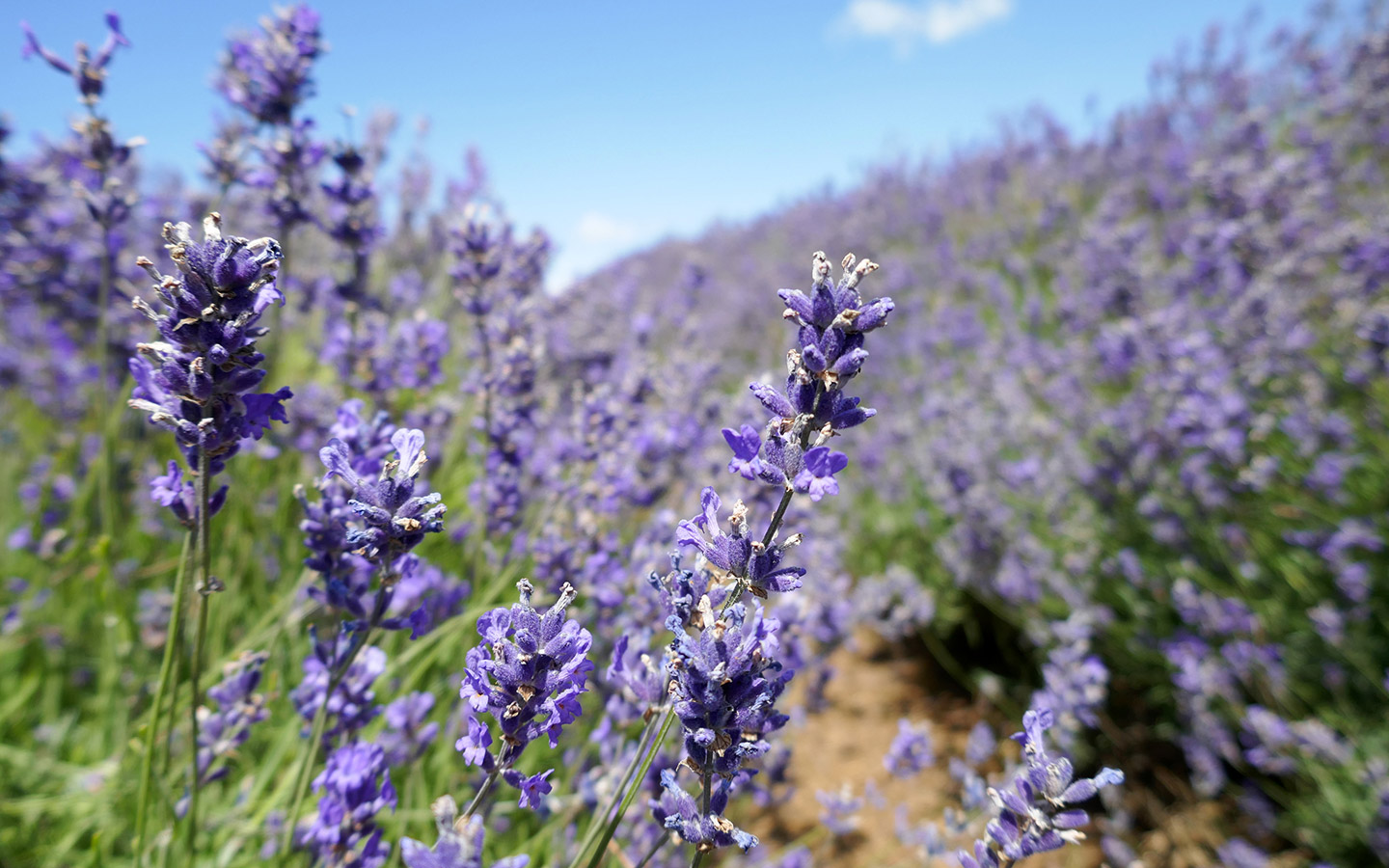 Snowshill Manor and village
The village of Snowshill is also only three miles from Broadway. This scenic spot was a filming location for Bridget Jones' Diary and is centred around a village green and Victorian St Barnabas Church. It's also home to Snowshill Manor and Garden, a National Trust property restored from a ruin by Edwardian architect, artist and poet Charles Paget Wade in the 1920s.
Wade was a collector of anything he thought showed good craftsmanship, amassing over 20,000 items, from bicycles and musical instruments to Samurai suits of armour. Many are on display in the house, which is open to the public (entry £13 adults, £6.50 children, free for National Trust members) along with the lovely gardens, complete with their own model seaside village.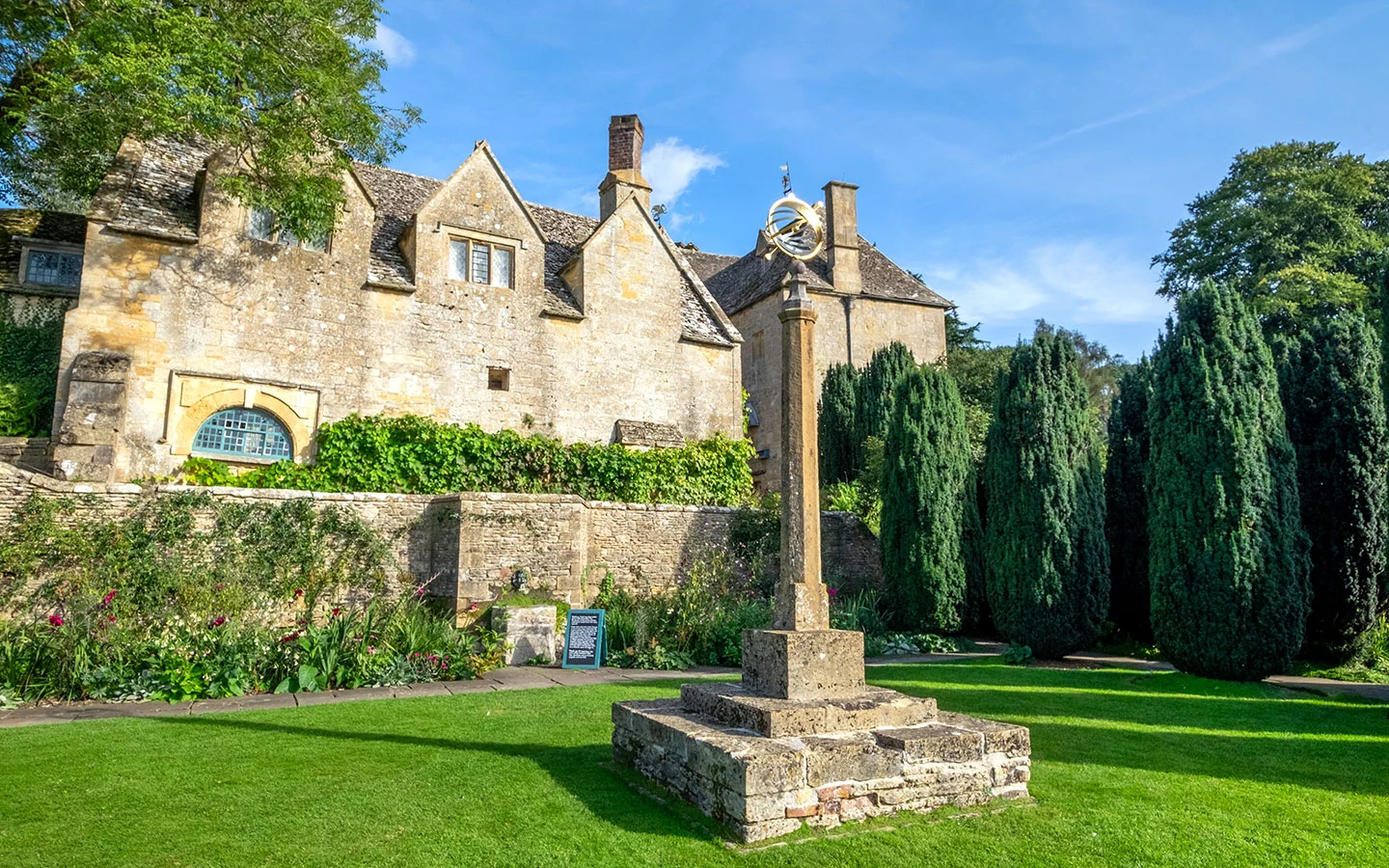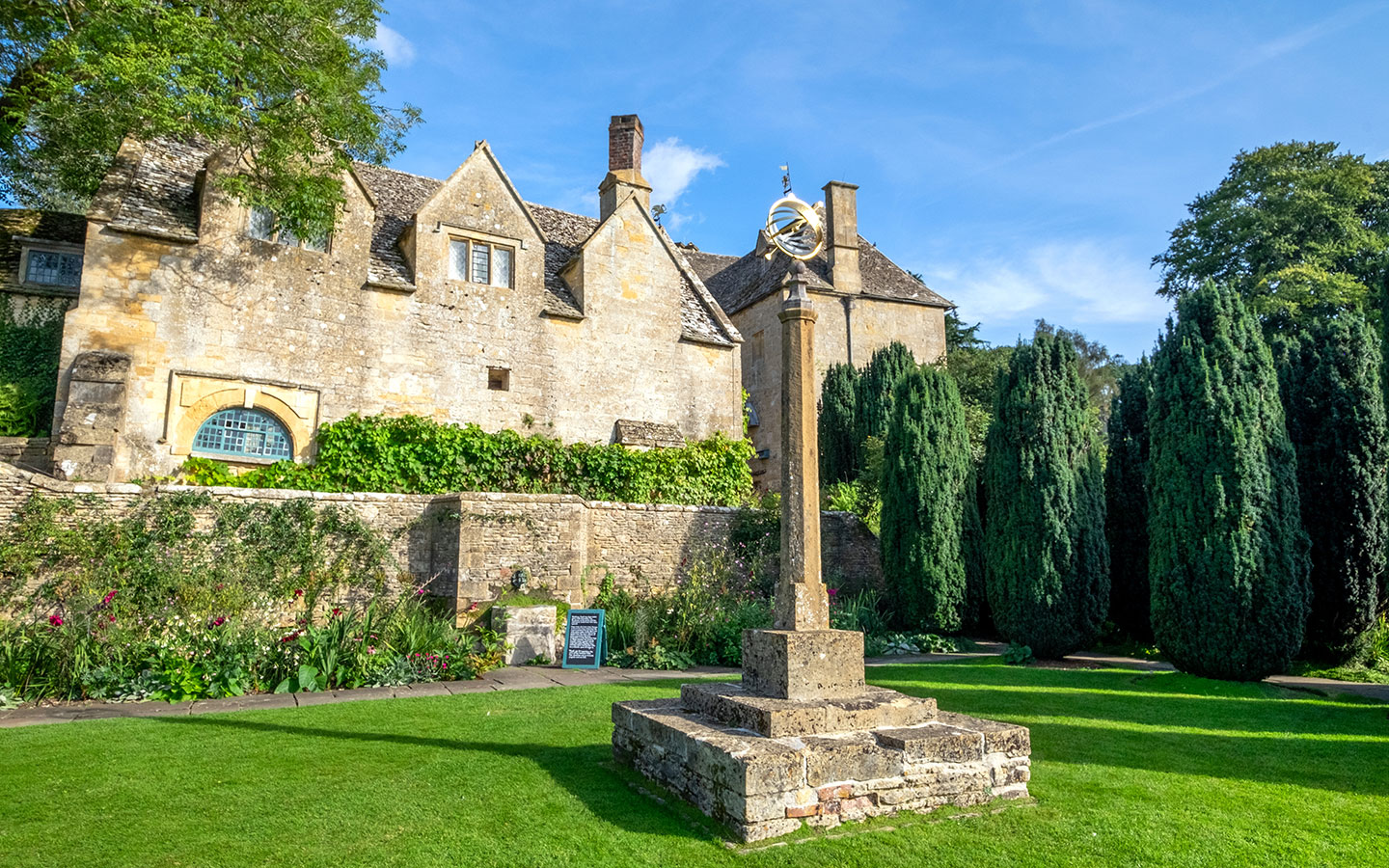 Where to eat in Broadway
Cafés and delis
The Broadway Deli has the most 'Instagrammable' shopfront in the village, with colourful piles of produce and a retro truck outside. As well as selling food to take away, there is also a café with both indoor and outdoor seating. They serve an all-day menu which includes sandwiches, soups, salads and quiches, and there's a selection of gluten-free and vegan options.
Market Pantry is a café-come-homewares store on the High Street, with a friendly welcome. Breakfast, lunch and afternoon tea are available, with everything homemade using as many locally sourced, seasonal ingredients as possible. The sausage rolls are a particular favourite.
Or if you have a sweet tooth, The Cotswold Larder Cakery is tucked away just off the High Street down Kennel Lane, with indulgent sweet treats like cakes, brownies and milkshakes.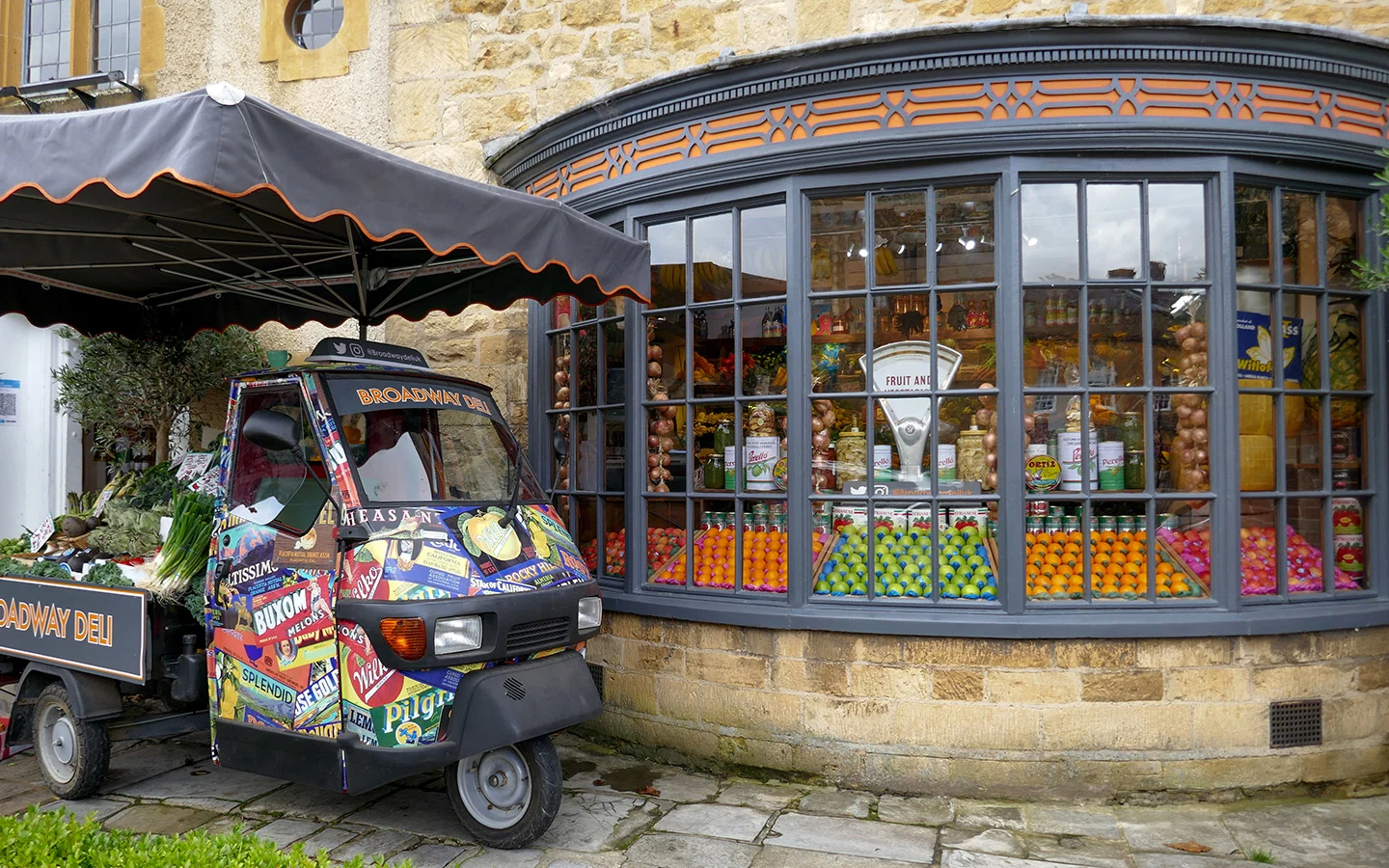 Restaurants and pubs
Tattersall's Brasserie at the Broadway Hotel has a relaxed, unstuffy feel. This two AA rosette restaurant focuses on local produce, serving lunch, afternoon tea and dinner in the light-filled atrium – as well as a good Sunday roast. There's also the more casual Jockey Bar next door, inspired by the Cheltenham Races, for drinks in the courtyard overlooking the village green.
The Grill by James Martin is a new venture for the celebrity chef at The Lygon Arms. The menu features Chateaubriand and Côte De Boeuf alongside grilled steaks and lamb shanks, all served in the grand setting of their historic dining room with its vaulted ceilings and chandeliers.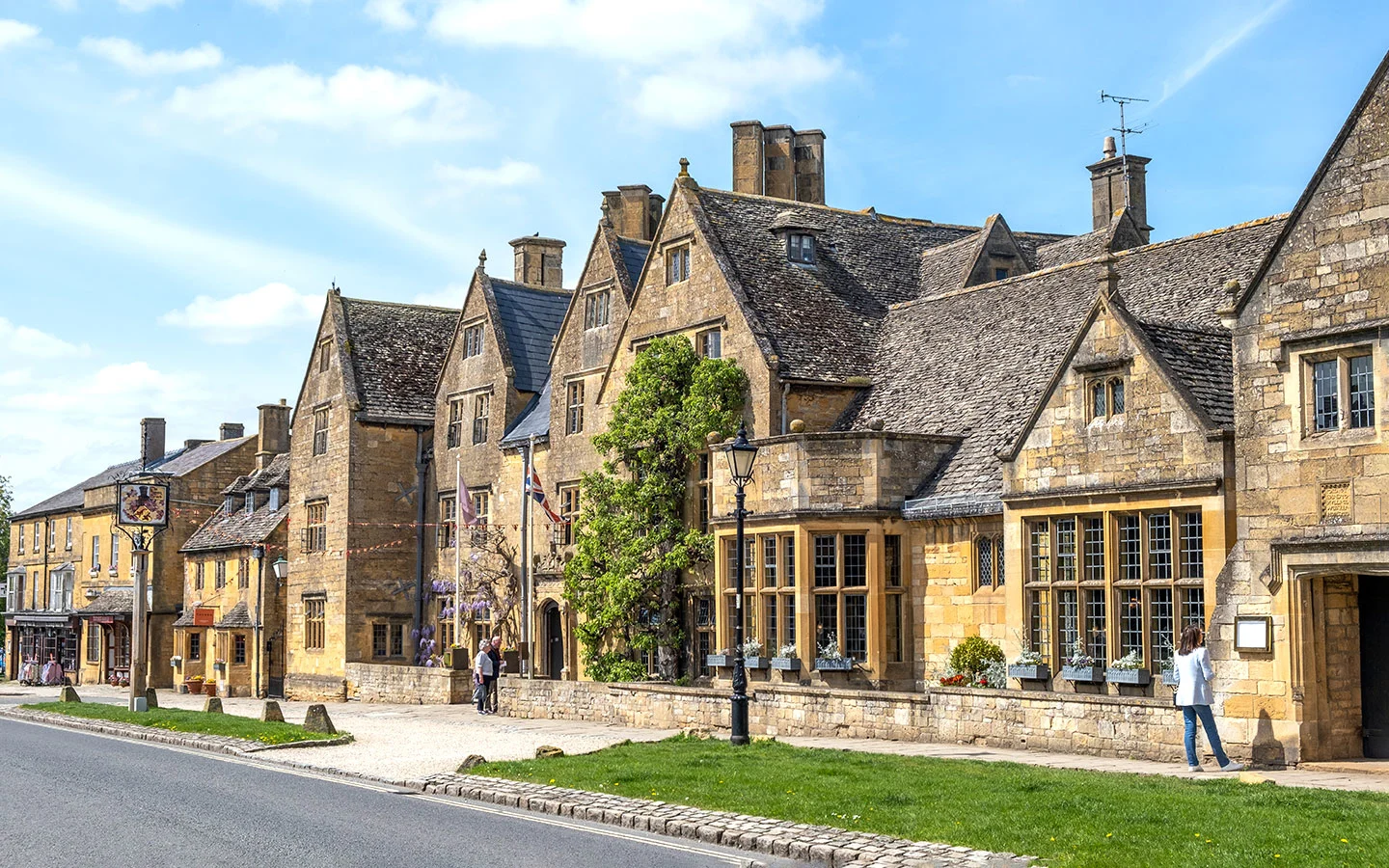 Dormy House hotel on Fish Hill is around a five-minute drive from the village, and has several dining options, including fine dining in the Back Garden and at MO – where an eight-course tasting menu is served to just 12 guests at a time. More casual are the Greenhouse and the Shed Bar.
Russell's is an award-winning restaurant, taking advantage of the delicious produce from the Cotswolds and nearby Vale of Evesham in dishes like Duck Pithivier and Cotswold White Chicken Breast. Menus change daily, with a good-value fixed-price menu of three courses for £35.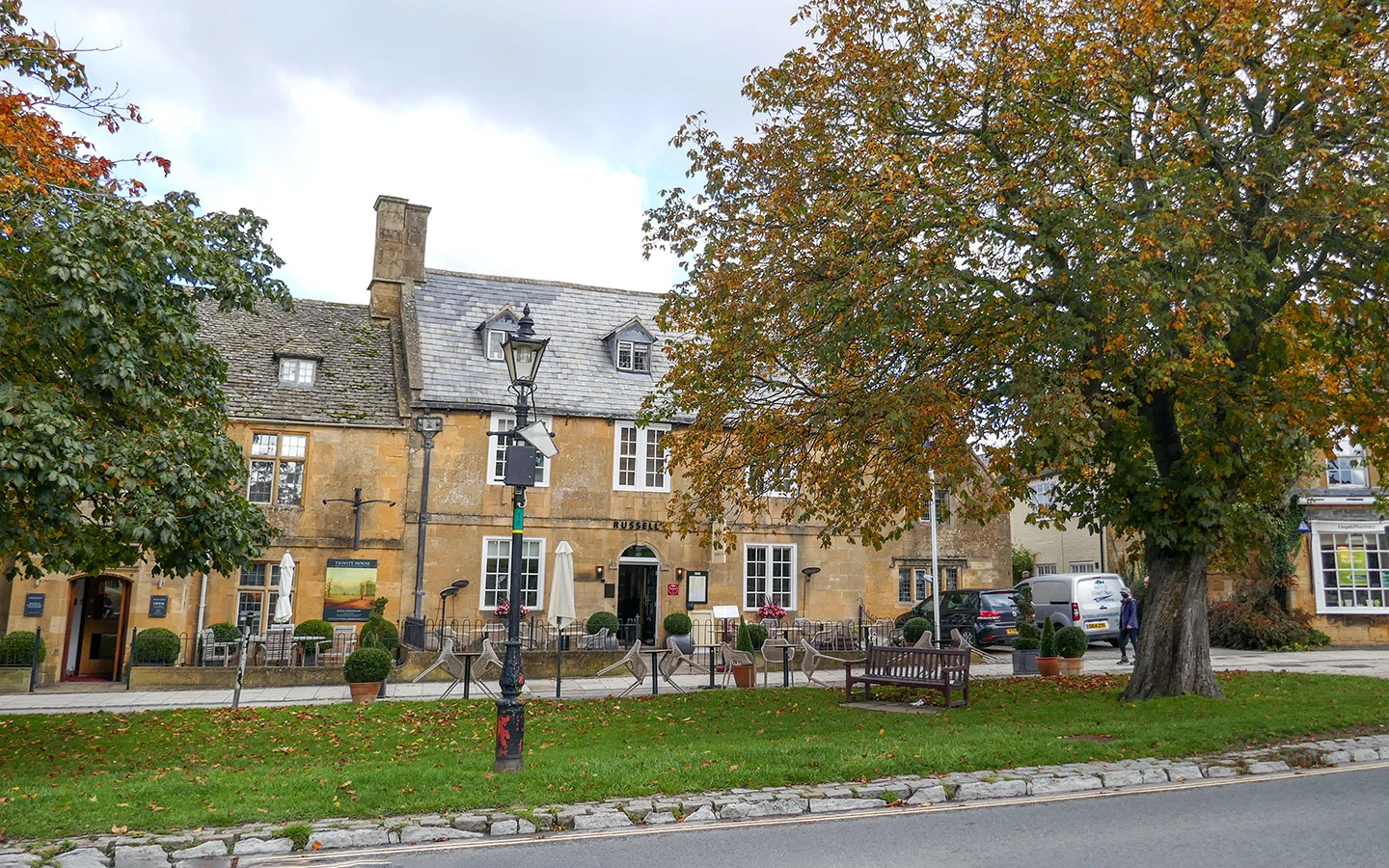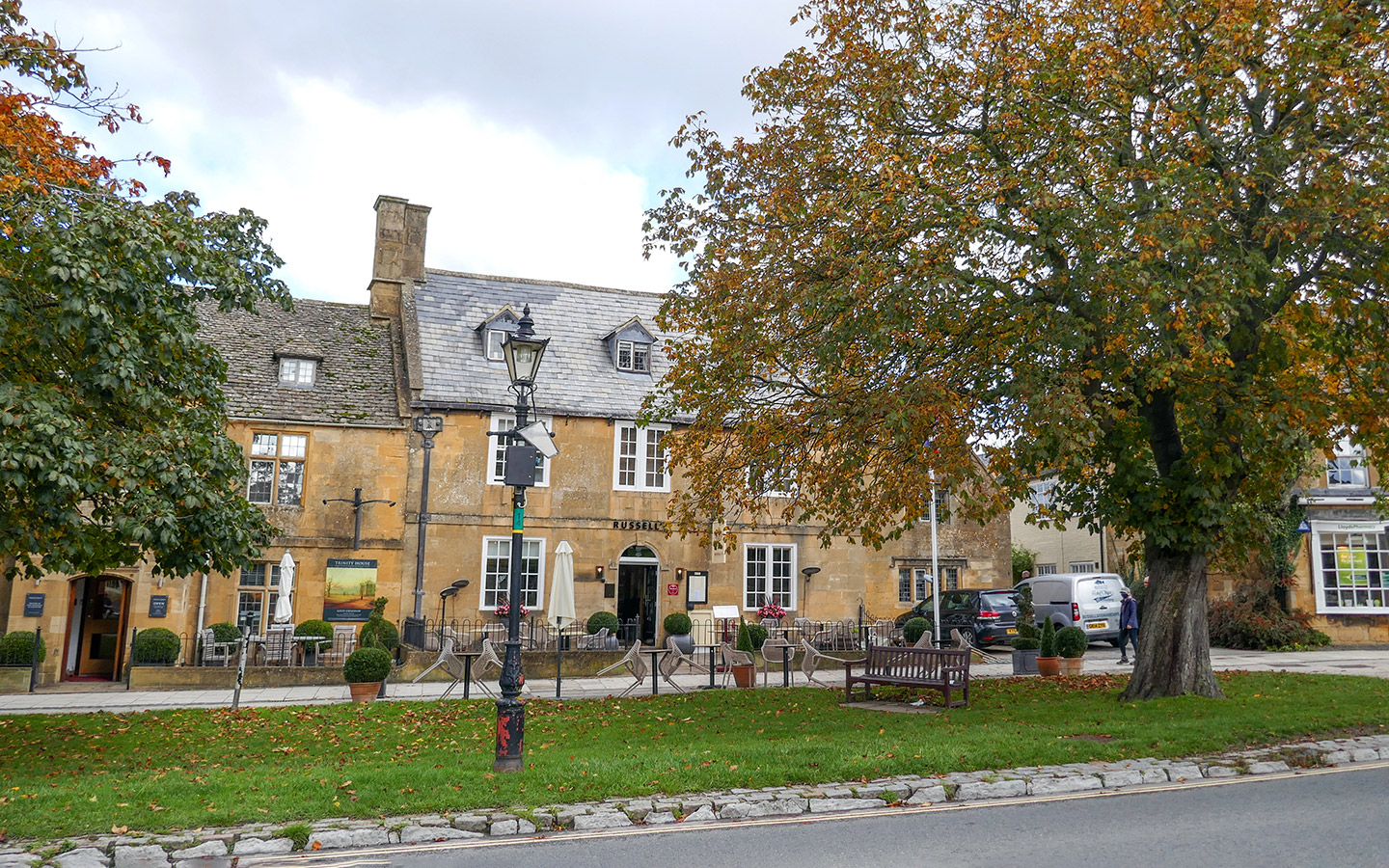 Just behind the restaurant is Russell's Fish and Chips, mentioned in Giles Coren's and Marina O'Loughlin's '100 Best Places to Eat in the UK'. This upscale take on the traditional chippy offers dine-in and takeaway options with salt and pepper squid or beer-battered halloumi alongside the usual cod and chips, served with crushed minted peas and homemade tartar sauce.
Another casual Broadway restaurant is Flipside, who serve delicious burgers (and are known for their wisteria-draped building in spring). Their succulent burgers come with a choice of chips, coleslaw or bean salad, and there are veggie, vegan and gluten-free options.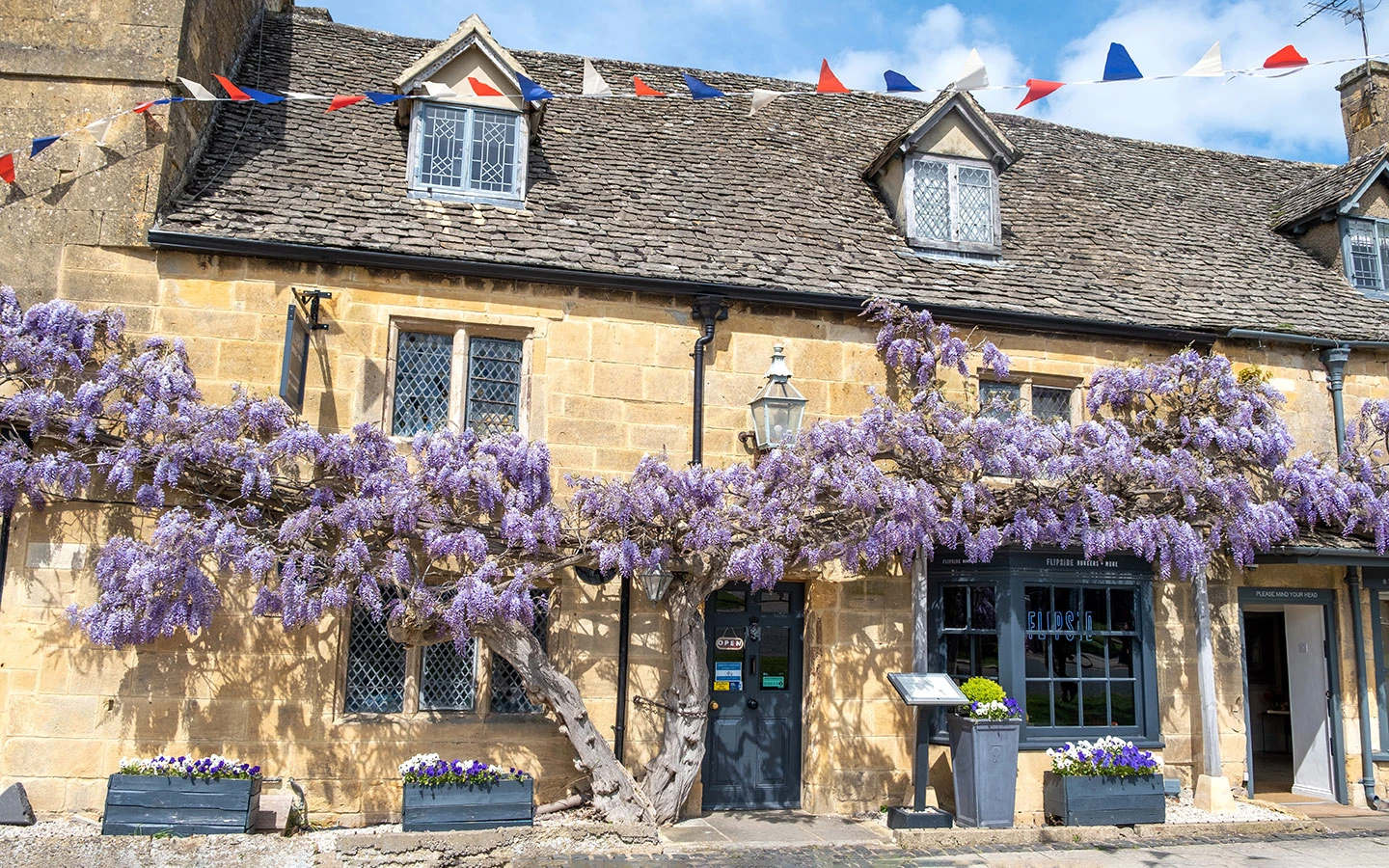 Where to stay in Broadway
Former coaching inn The Lygon Arms* dates back to the 1300s, with many famous names passing through its doors over the centuries. The hotel has a mix of rooms and suites, some with beamed ceilings and antique furniture, as well as more contemporary rooms in the annex and courtyard. It's dog-friendly and has a luxury spa with swimming pool, as well as a restaurant and bar.
Abbots Grange* is another historic Broadway hotel, this time a medieval manor house that makes a perfect romantic break. This adults-only hotel has just nine bedrooms and is surrounded by eight acres of grounds with plenty of historic charm, including a wood-panelled dining room, four-poster beds, stone fireplaces and a cocktail bar complete with a medieval pulpit.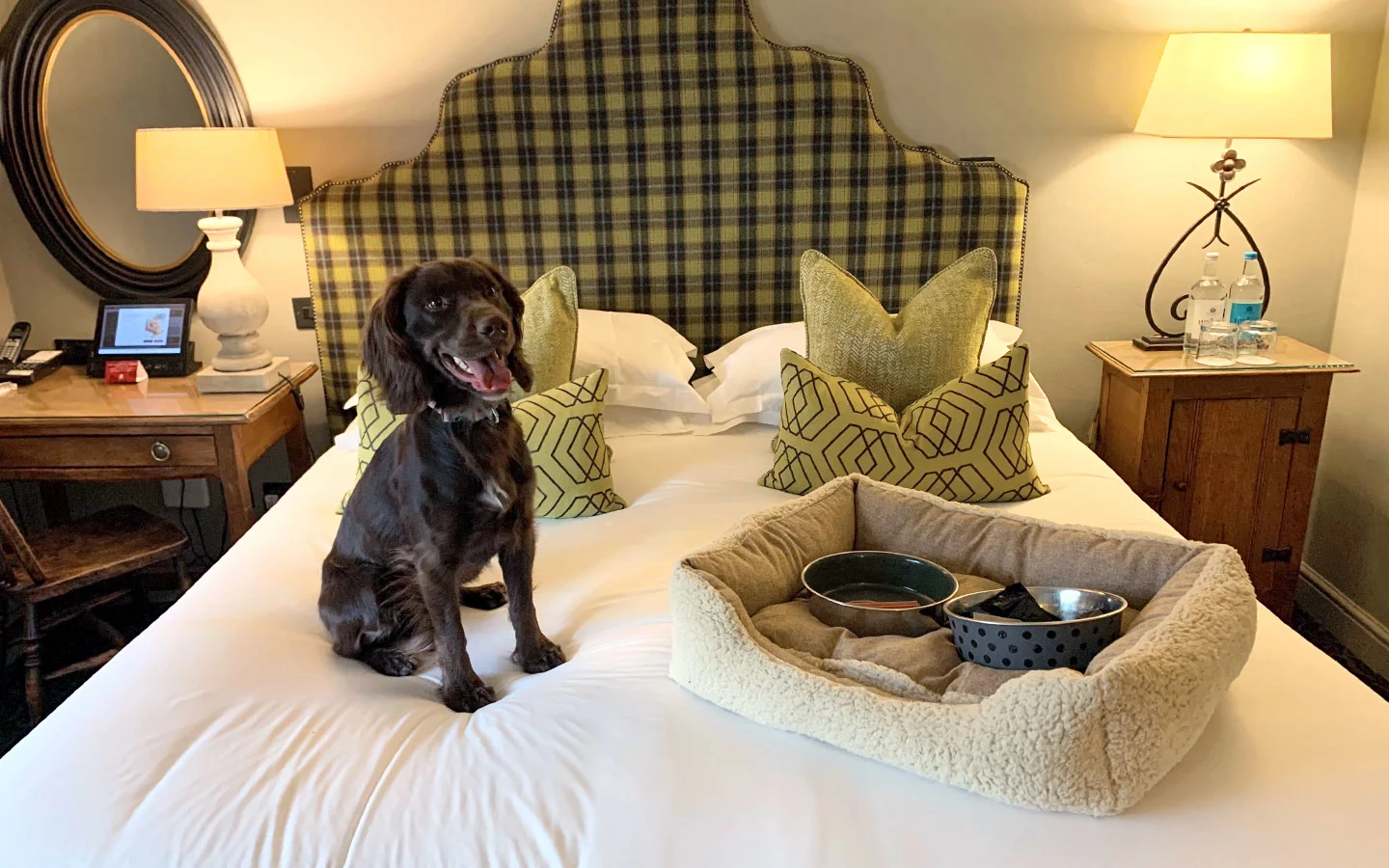 You can also stay in the former headquarters of furniture designer Gordon Russell, now Russell's* restaurant with rooms. There are seven individually designed en-suite bedrooms which mix period features with a stylish, modern décor with luxurious bed linen and toiletries.
The Olive Branch Guest House is a traditional bed and breakfast in a 400-year-old listed building on the quiet upper end of the High Street. Rooms are furnished with antiques in a pretty, country style and there's a guest lounge to relax in, and a Full English breakfast is included.
If you prefer self-catering, St Michael's Cottage* is a beautifully restored thatched cottage on the edge of the village. It sleeps six in three bedrooms, with three bathrooms, a well-equipped kitchen, garden room and lounge with open fire, and is surrounded by a country garden.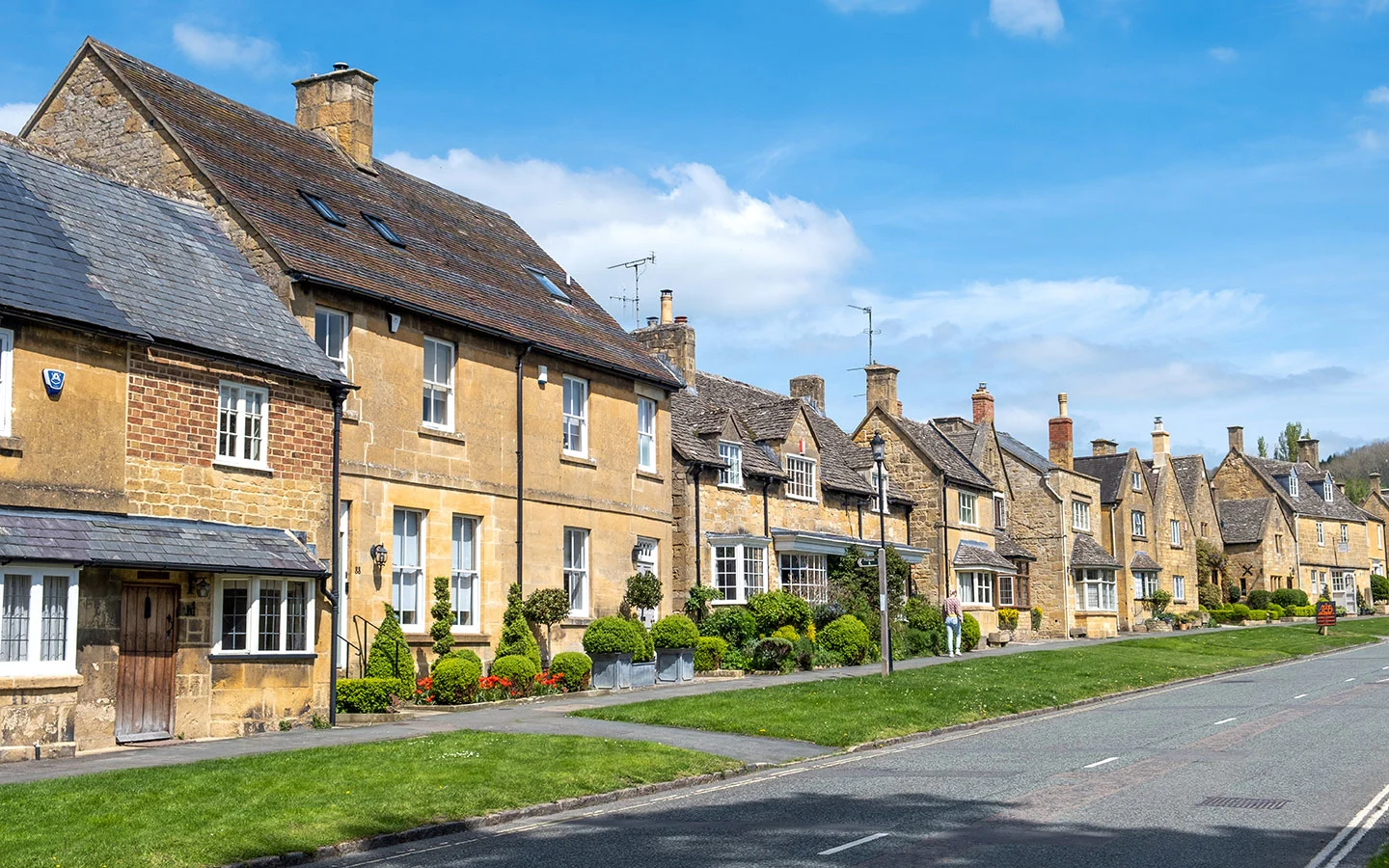 How to get to Broadway
Broadway by car
Broadway lies on the A44 around seven miles south of Evesham and 10 miles northeast of Moreton-in-Marsh. There is paid parking at Church Close (WR12 7AH), just off the High Street, and Leamington Road (WR12 7ET) car parks, both of which start at 50p for up to 30 minutes.
Broadway can get very busy in summer, so if the car parks in the centre are full there's also plenty of parking at the Milestone Ground by the football club (WR12 7HA), which is just a short walk away from the village centre. Parking fees start from £1 for one hour.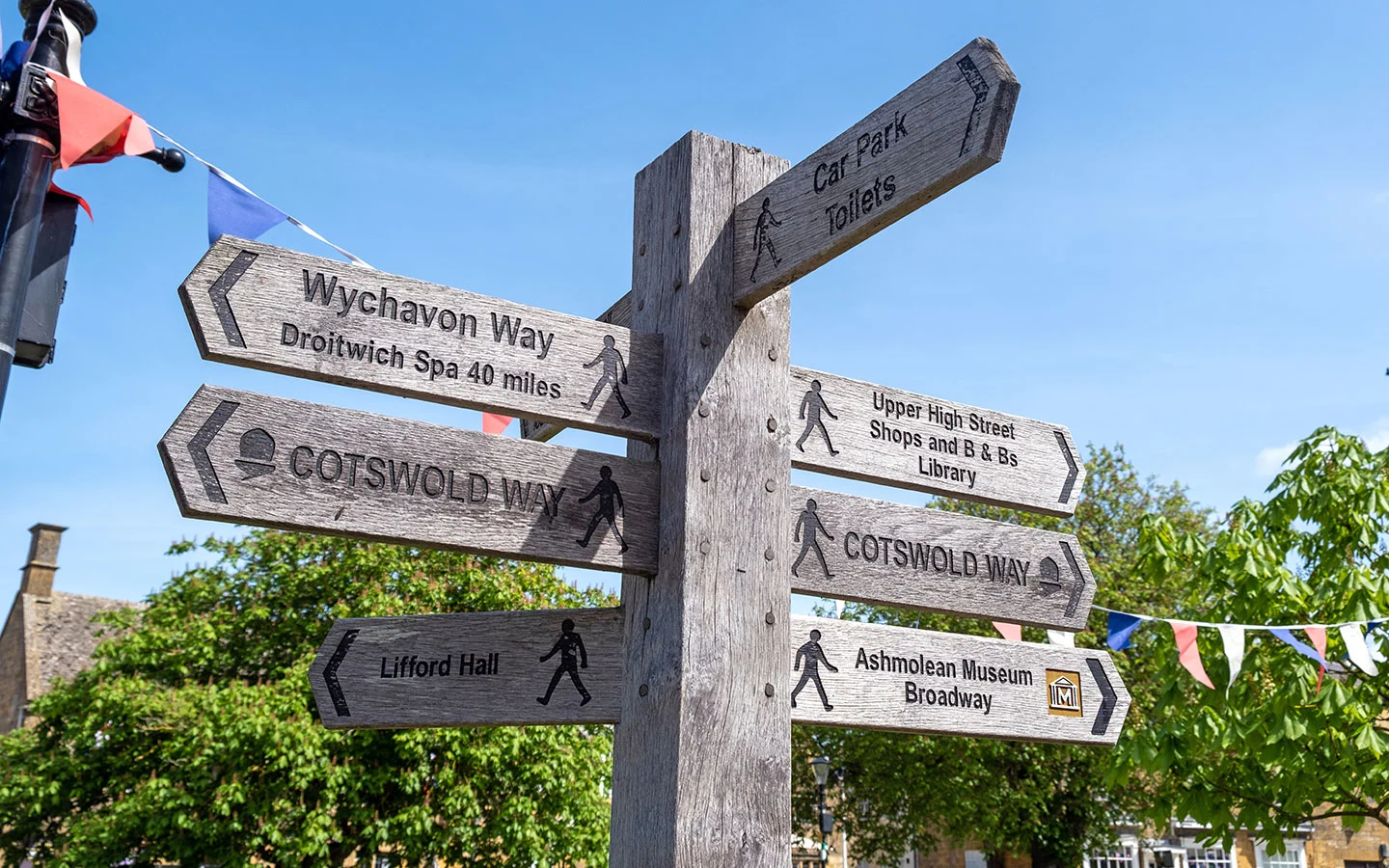 Broadway by public transport
Broadway's closest train stations are in Evesham and Moreton-in-Marsh. Both have bus connections to Broadway – the Stagecoach 1/2 bus from Moreton-in-Marsh to Broadway takes 30 minutes (except Sundays) or the NN Cresswell Rural 4 bus from Evesham takes 20 minutes (weekdays only).
You can also take a train to Cheltenham, then catch the 606 bus which also goes to Winchcombe and Chipping Campden, but it's fairly slow, taking 1 hour 40 minutes. A better option from Cheltenham is the scenic Gloucestershire–Warwickshire Steam Railway from Cheltenham Racecourse to Broadway, which takes 70 minutes (though it only runs on certain dates).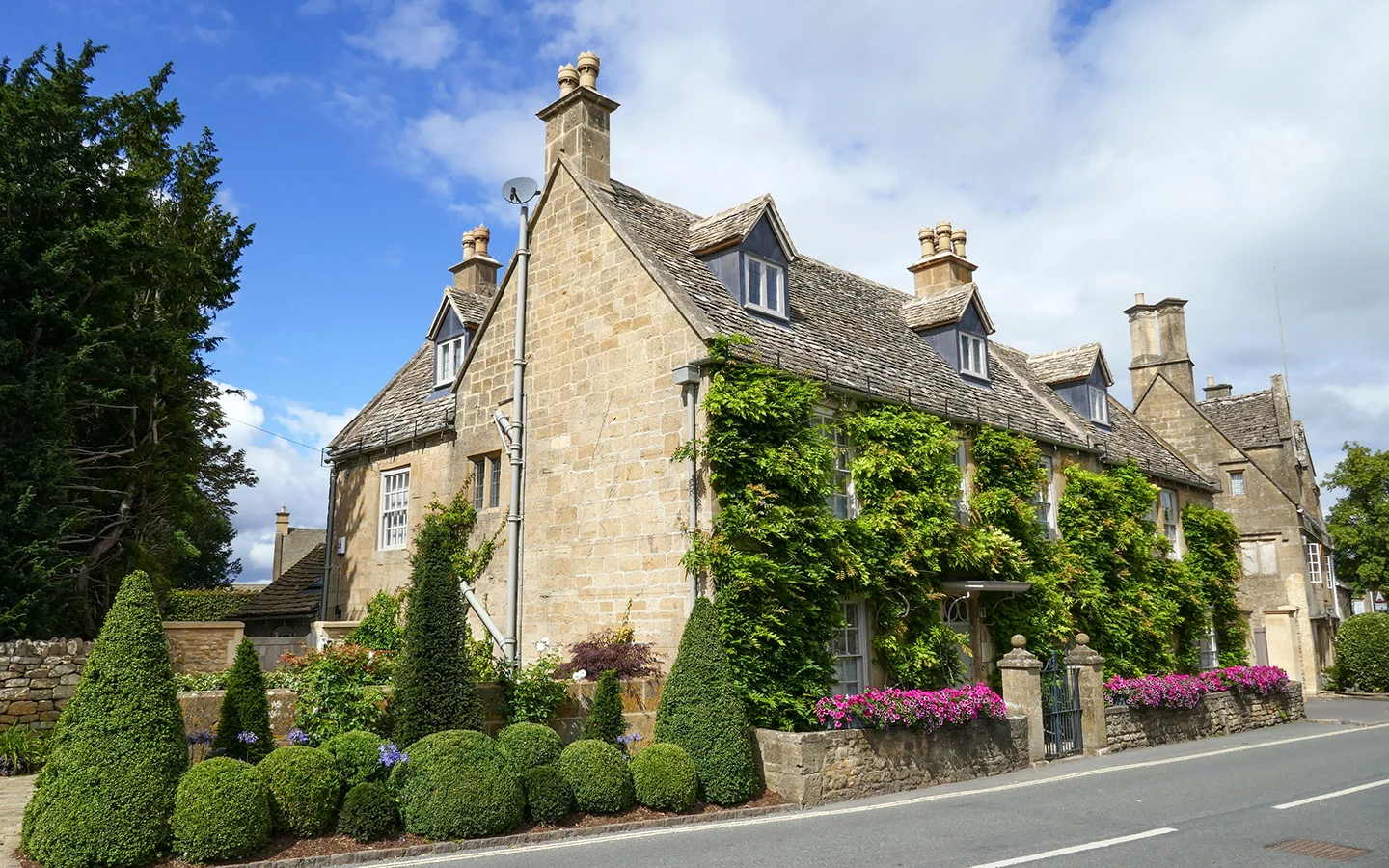 Save for later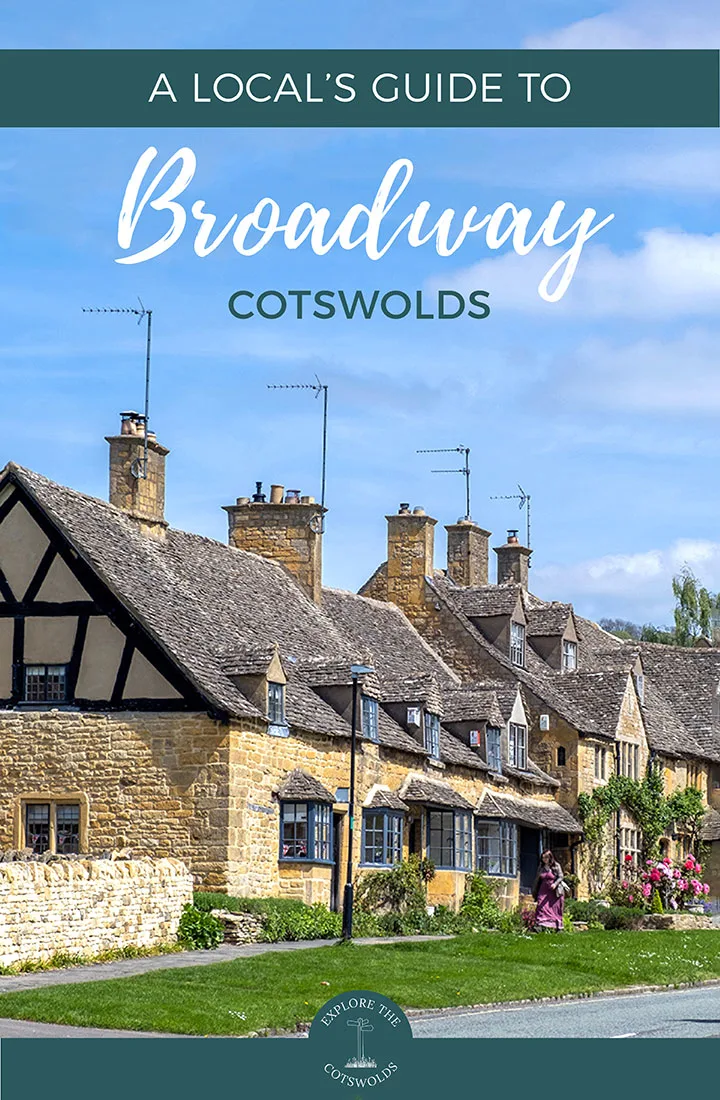 * This site contains affiliate links, where I get a small commission from purchases at no extra cost to you.