Travel across the Cotswolds in vintage style on board the Gloucestershire-Warwickshire Steam Railway, whose historic steam and diesel trains make a 28-mile round trip across the north of the region, travelling between Cheltenham and Broadway via Winchcombe and Toddington.
This Cotswold steam train is run by a team of friendly, passionate volunteers, who take care of everything from manning the ticket office to restoring the line. It's a great way to explore the Cotswolds, with tons of old-fashioned charm from the sound of the whistle to the smell of the engine.
There's also a series of special events through the year to enjoy. So if you're planning a trip on board the Gloucestershire-Warwickshire Steam Railway, here's everything you need to know.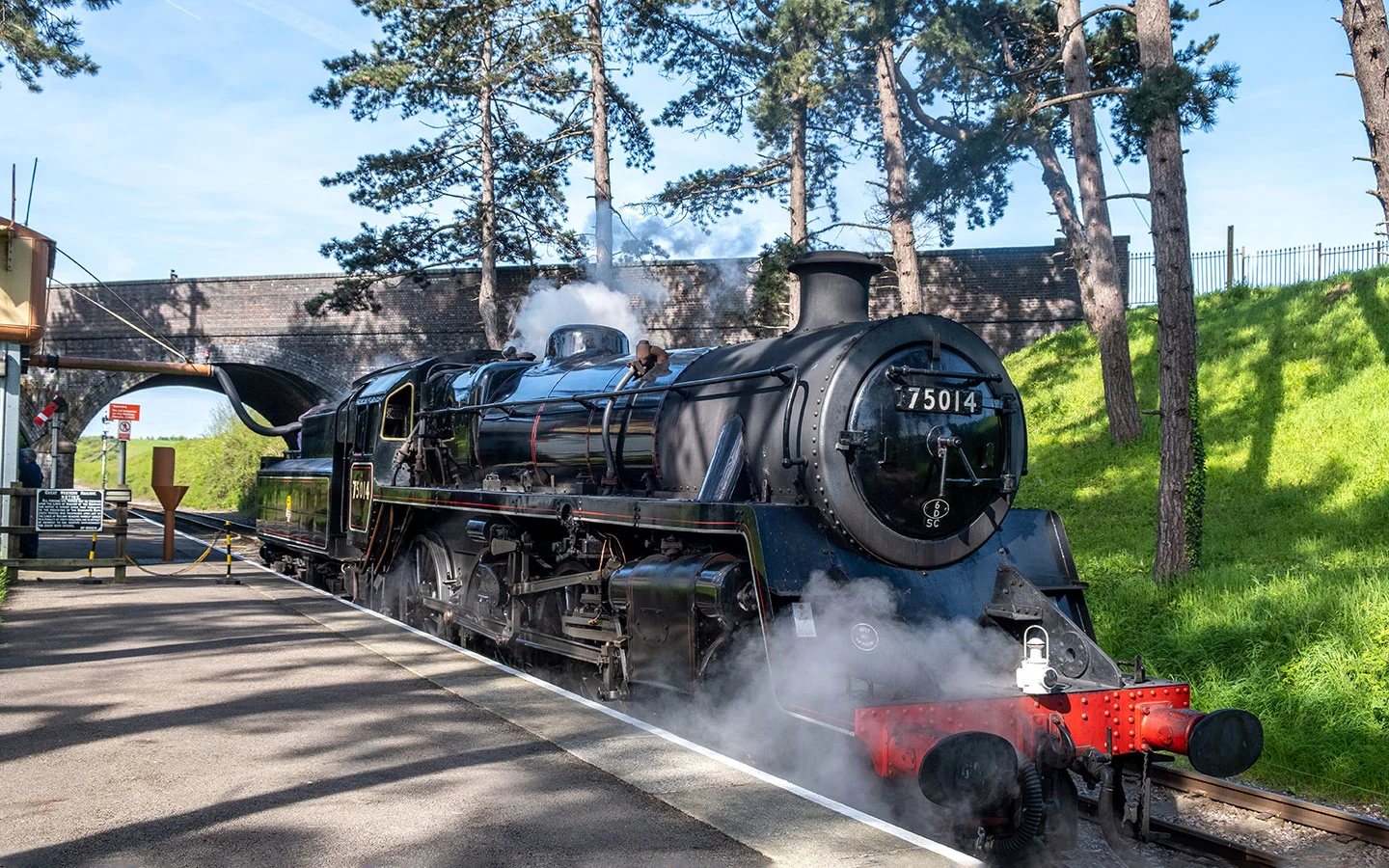 The history of the Gloucestershire-Warwickshire Steam Railway
The Gloucestershire-Warwickshire Steam Railway opened in 1984 on a short stretch of track near Toddington, and it has expanded its reach over the years, first to Winchcombe, then to Cheltenham racecourse and most recently the extended track to Broadway opened in 2018.
The train uses part of the route of the former Great Western Railway main line between Birmingham and Cheltenham via Stratford-upon-Avon, which was known as the Honeybourne Line.
The line was built in the early 1900s, but after a slow reduction in the number of stations and services during the 1960s, the route was finally closed in 1976 and the track was removed.
The Gloucestershire Warwickshire Railway Trust was formed to preserve the line and began buying up track and building or restoring signal boxes and stations – work their volunteers are still doing today. And there are plans to hopefully extend the route to Honeybourne next.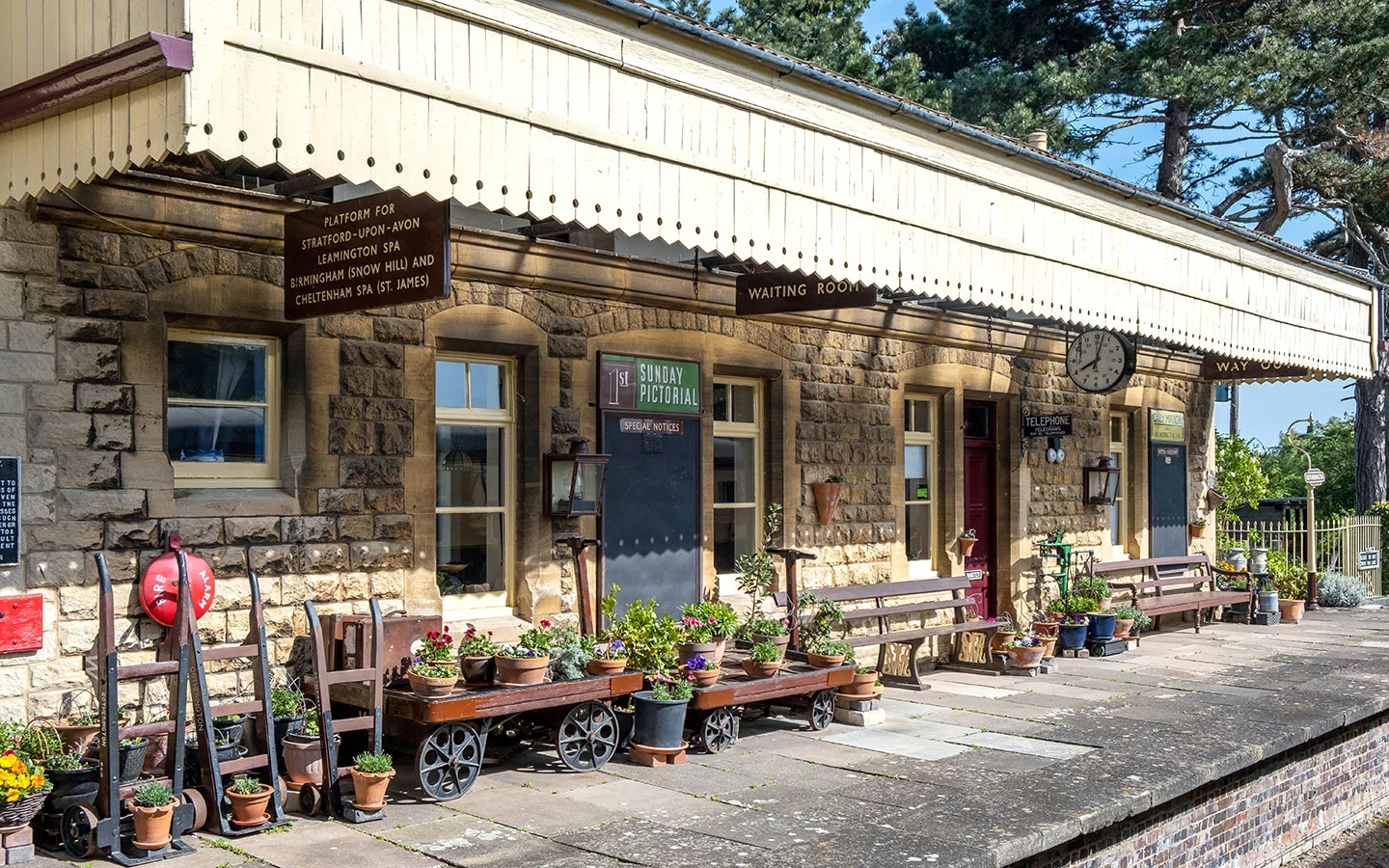 Where does the Cotswold steam train leave from and go to?
The Gloucestershire-Warwickshire Steam Railway runs from Cheltenham at one end of the line to Broadway at the other, calling at Gotherington, Winchcombe, Hayles and Toddington.
The southern terminus of the line in Cheltenham is in the grounds of Cheltenham Racecourse. It's a five-minute drive north of Cheltenham town centre with free parking at the station (GL50 4SH). Or it's a 35-minute walk from town or a short trip on the Stagecoach D bus from Clarence Street.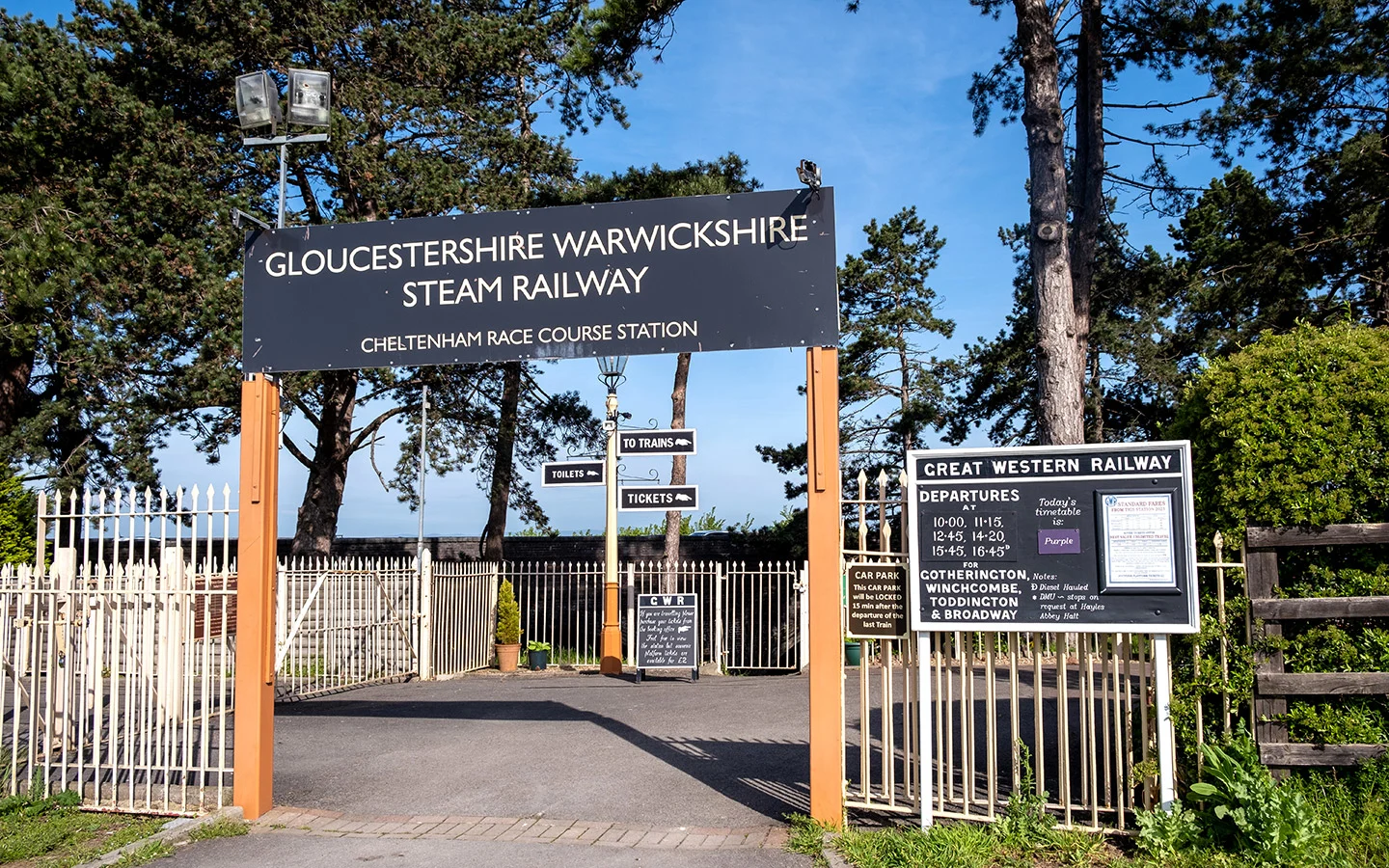 The northern terminus in Broadway is just off Evesham Road to the northwest of the town. There's no parking at the station itself but Broadway Station Road Car Park is just across the road (WR12 7DE). If you pay £5 for a day's parking you get a £3 voucher to use towards a train ticket.
Broadway station is a 15-minute walk from the centre of town or it's on the route of the NN Cresswell Rural 4 bus service between Broadway and Evesham (Monday–Friday only).
See below for suggestions of what you can see and do at each station stop.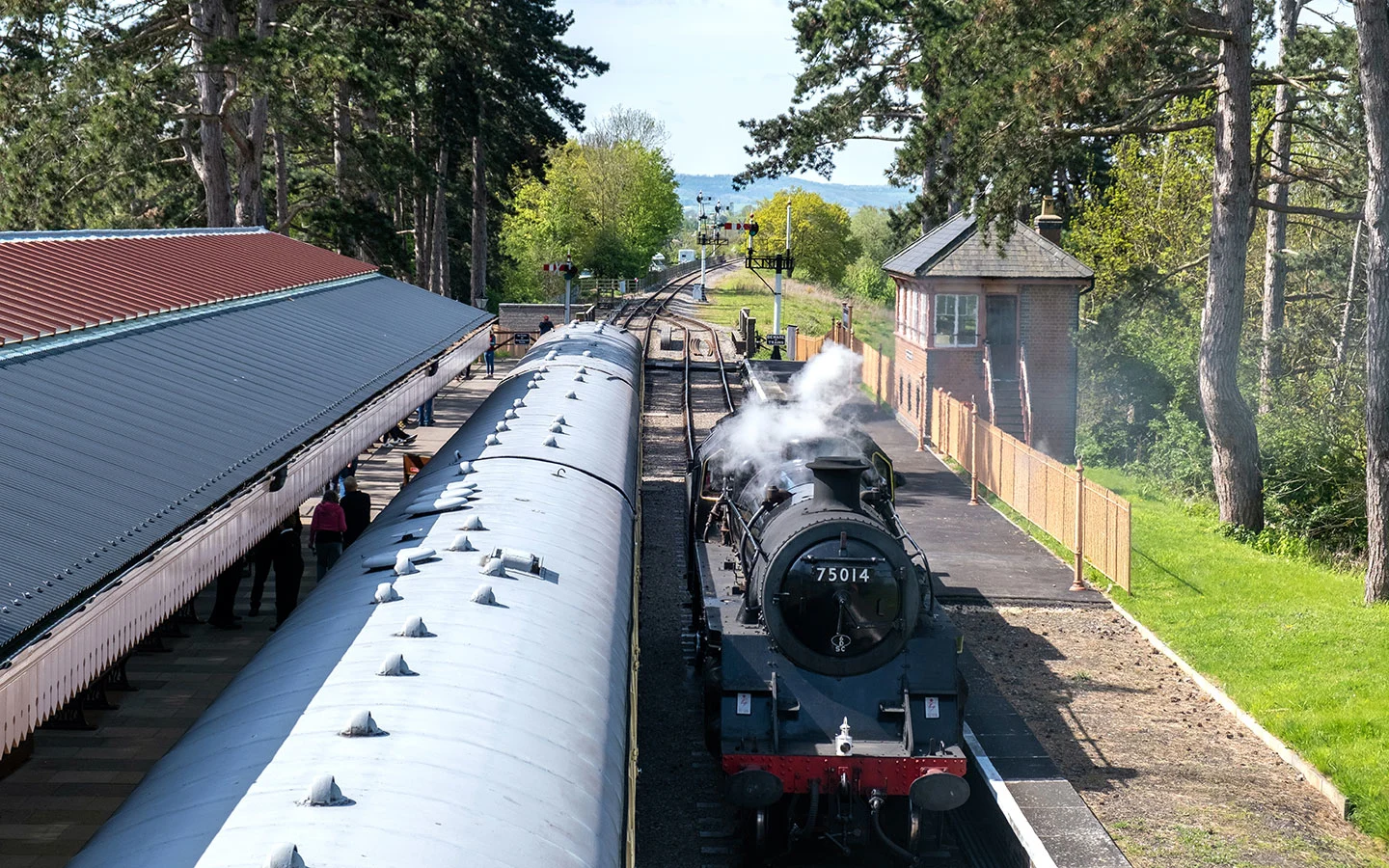 How often does the Gloucestershire-Warwickshire Steam Railway run?
The Gloucestershire-Warwickshire Steam Railway timetable varies throughout the year. There are generally no services in January and February, and only weekend services during March, November and December (excluding special events in the weeks around Christmas).
The rest of the year there are usually trains operating on Tuesdays, Wednesdays, Thursdays, Saturdays and Sundays, with occasional services/events on Mondays and Fridays.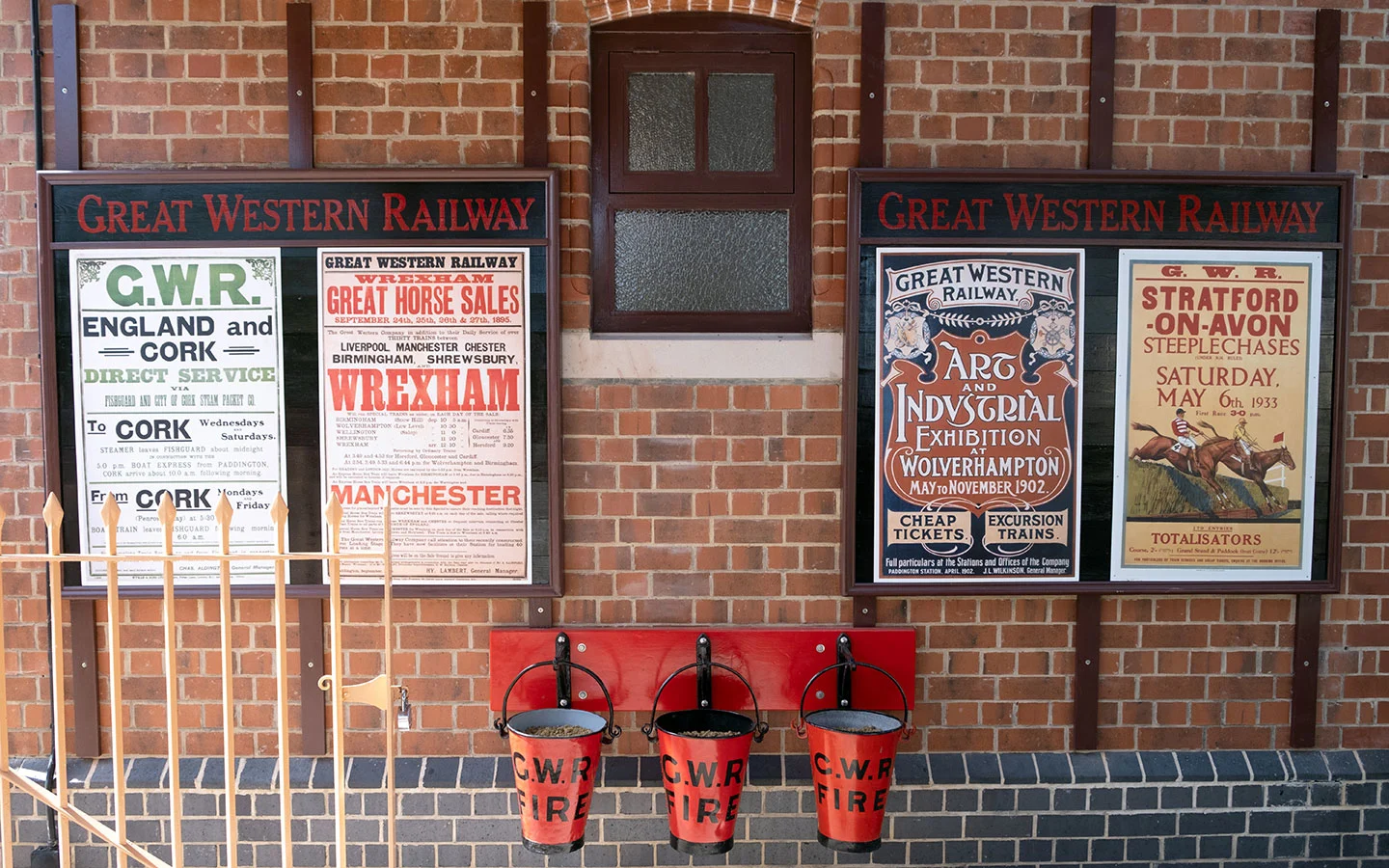 There are five different timetables – marked blue, purple, pink, green and orange – which vary in the number of services, the times and how many steam and how many diesel trains there are. If you check the GWSR website it gives details of which colour timetable operates each day.
There's also a calendar of different events taking place on the Cotswold steam train throughout the year. There are regular events like afternoon teas and fish and chips on 'The Cheltenham Fryer', plus annual events like Ale & Steam (June), the GWSR Book Festival (September) and the Santa Express and Mince Pie Specials at Christmas. See their website for the latest dates and details.
How long is the Cotswold steam train ride?
The journey from Cheltenham Race Course to Broadway takes 55 minutes each way, or it's 23 minutes from Cheltenham to Winchcombe and 32 minutes from Winchcombe to Broadway.
What are the classes of travel on GWSR trains?
The Gloucestershire-Warwickshire Steam Railway uses vintage British Railways Mark 1 train carriages from the 1950s and 1960s. There's a variety of different layouts in the carriages – some have open carriages and some have old-fashioned compartments.
There's only one class of travel and one ticket price, and there are no allocated seats so you can sit wherever you like. There are some first-class carriages and compartments which anyone is welcome to sit in for no extra cost, though they do ask you to give a donation. We travelled in a comfy padded first-class seat in one direction and had a compartment to ourselves on the way back.
There's a buffet car (see below) and toilets on board the train, as well as toilets in the stations at Cheltenham Race Course, Winchcombe, Toddington and Broadway.
You can also bring well-behaved dogs on board with you (up to a maximum of two dogs per group). They need their own ticket, which costs £4 per dog, and aren't allowed in the carpeted areas of the train, in first class or the buffet, and need to sit on the floor not on seats.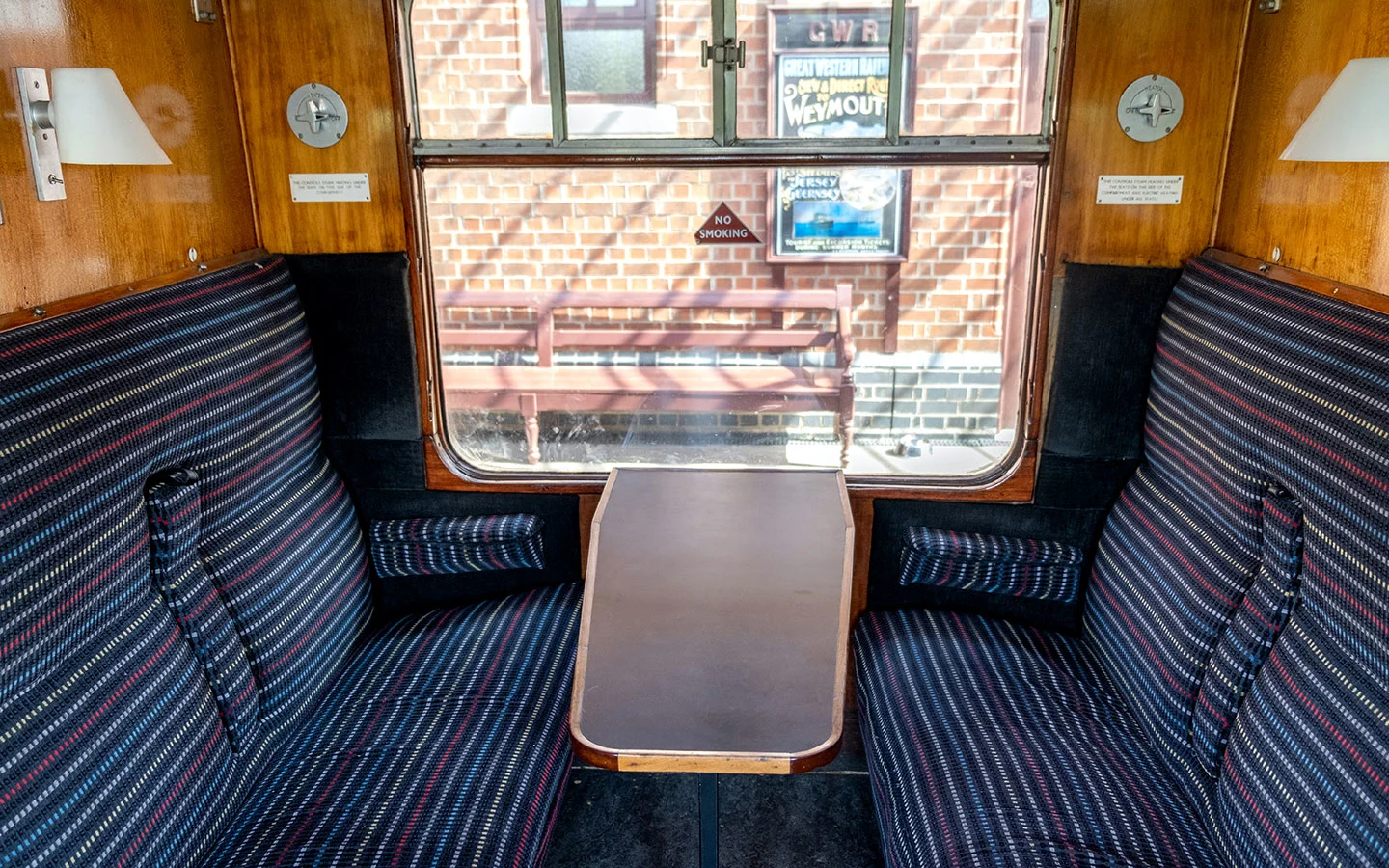 Can you get food on the Gloucestershire-Warwickshire Steam Railway?
There's an original 1950s restaurant buffet car which is normally towards the middle of the GSWR Cotswold steam train. You can buy hot and cold drinks, snacks and toasted teacakes and hot bacon rolls. They also sell alcoholic drinks including their own Donnington Brewery 'Rail Ale'.
Otherwise you can bring your own snacks or picnic, but the journey's not all that long so we just waited until we got to Broadway where there's lots of great places to eat and drink.
There are also cafés at several of the stations – the 1950s-style Coffee Pot tea room at Winchcombe, the Refreshment Room at Broadway and the Flag and Whistle serving hot and cold food at Toddington. And Cheltenham has a Snacks by Tracks kiosk for drinks, snacks and ice cream.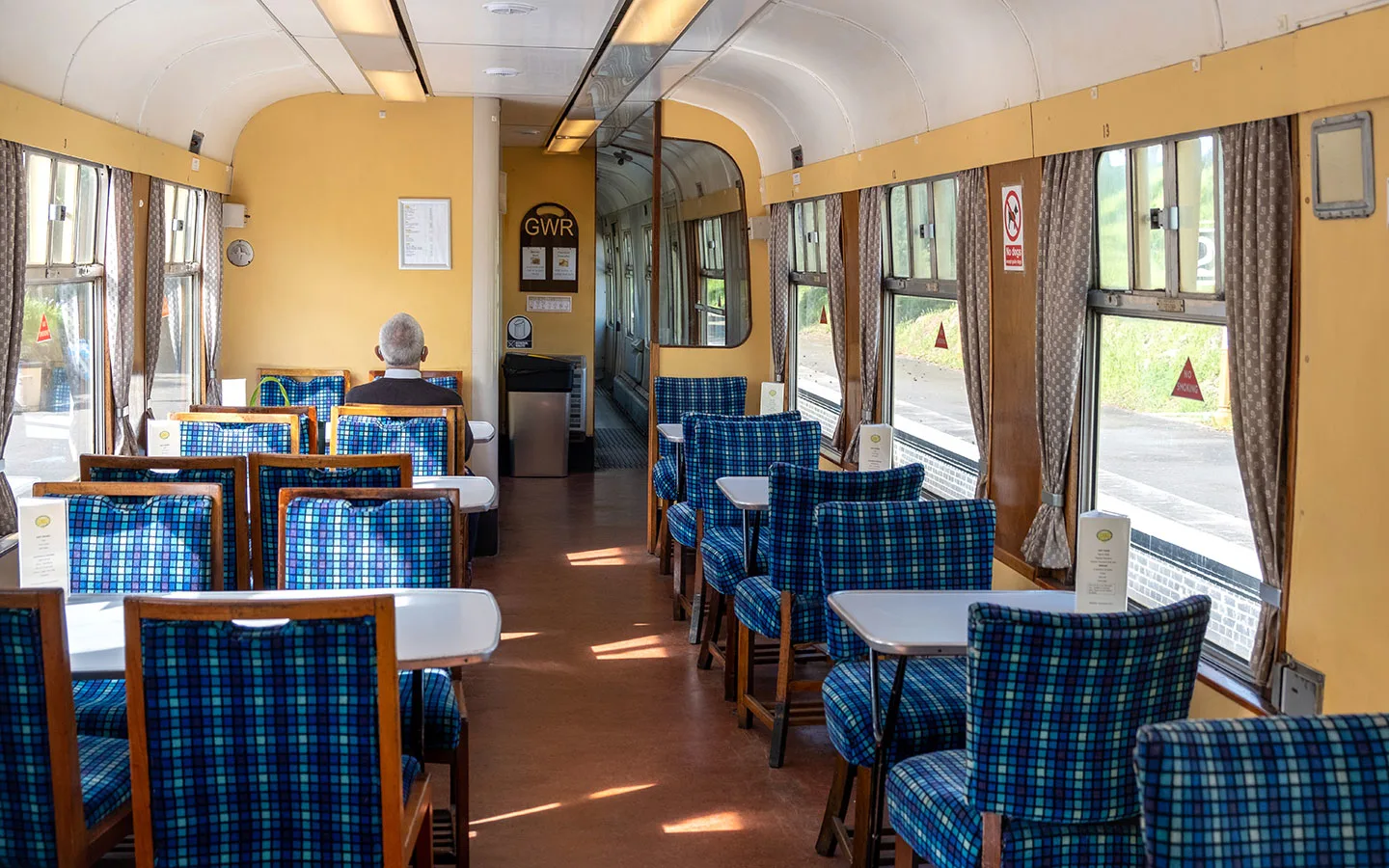 What can you see along the way?
The route of the Gloucestershire-Warwickshire Steam Railway heads north from Cheltenham racecourse, running along the edge of Bishop's Cleeve to Gotherington and then heading east to Winchcombe after which it travels north through Hayles and Toddington to Broadway.
The gentle pace of the train means you get plenty of time to soak up the views of the Cotswold countryside, Vale of Evesham and Malvern Hills. The stations have been beautifully restored and recreated, decked with colourful flowers and lots of vintage details.
What is there to do in destinations along the GWSR route?
Cheltenham Race Course
Cheltenham Race Course station is a 35-minute walk north of Cheltenham town centre, via Pittville Park where you can visit the Pittville Pump Rooms and hire a rowing boat on the lake. Or you can catch the Stagecoach D bus from the racecourse entrance into town in around eight minutes.
There's lots of beautiful Regency architecture to admire in Cheltenham, and you can learn about its history at The Wilson art gallery and museum and Holst Victorian House. Or shop the independent boutiques in Montpellier, where there are also some lovely cafés and restaurants.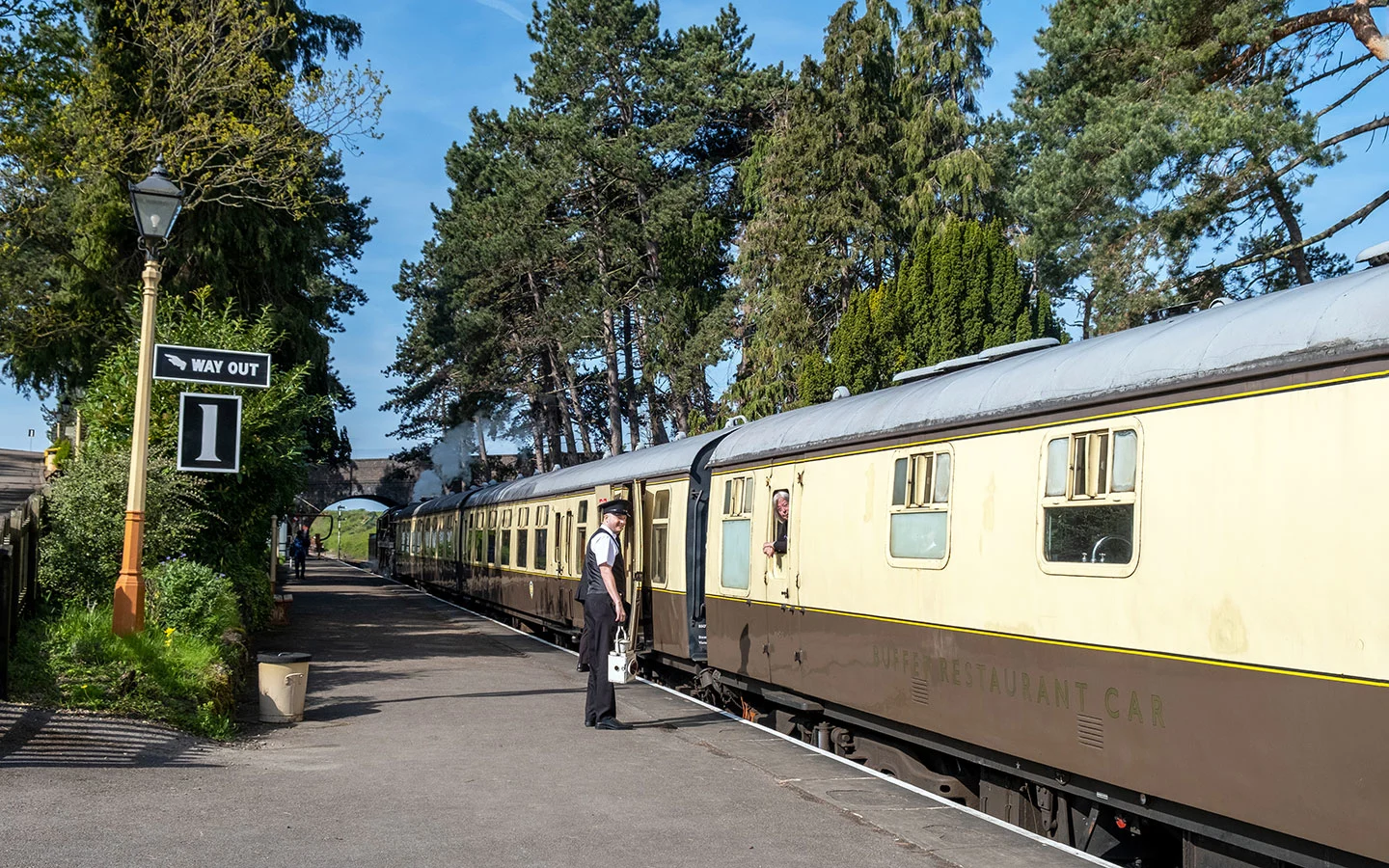 Gotherington
Gotherington is a very small village with no car parking or public transport so not many people alight there – the station is very pretty but it's a private house so not open to the public.
Winchcombe
Winchcombe station is a 20-minute walk north of Winchcombe town centre, where you'll find the Winchcombe Museum and heritage centre and lots of traditional pubs. You can also visit Sudeley Castle, which was built in 1443 and was home to Henry VIII's last wife Katherine Parr.
There's a small car park at the station and some exhibitions to explore, including a Discovery Coach where you can learn about the history of the railway and a Model Railway Coach.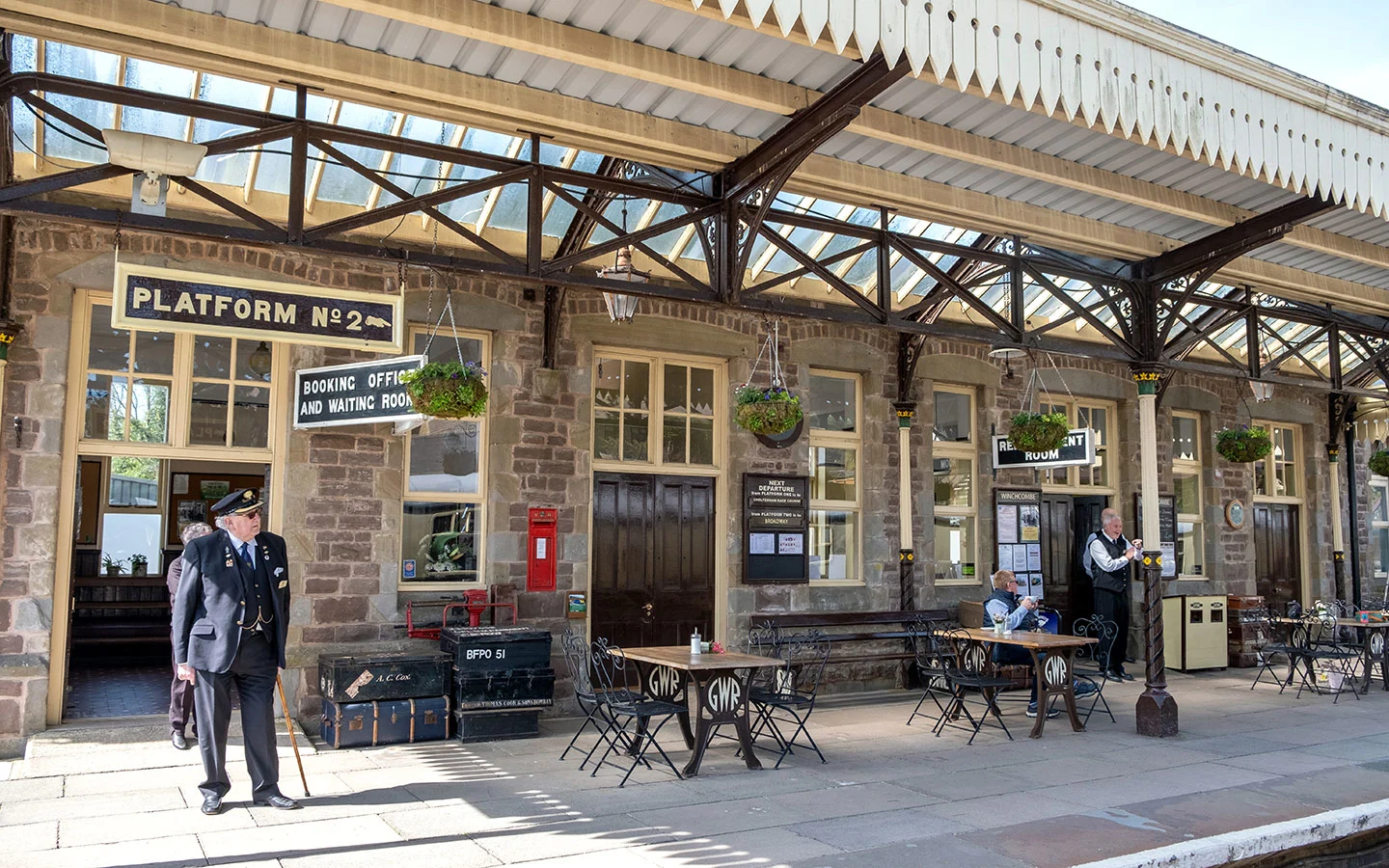 Hayles Abbey Halt
There's no car parking or public transport to Hayles Abbey Halt, but it's just off the Cotswold Way long-distance walk so you could walk one way and get the train back – to the north the route runs through Stanton to Broadway or to the south it goes through Winchcombe to Cheltenham.
You can also visit the ruins of Hailes Abbey, an English Heritage site which was one of the most renowned shrines in medieval England, or go fruit picking at Hayles Fruit Farm.
Hayles Abbey Halt is a request stop and not all services stop there so check in advance.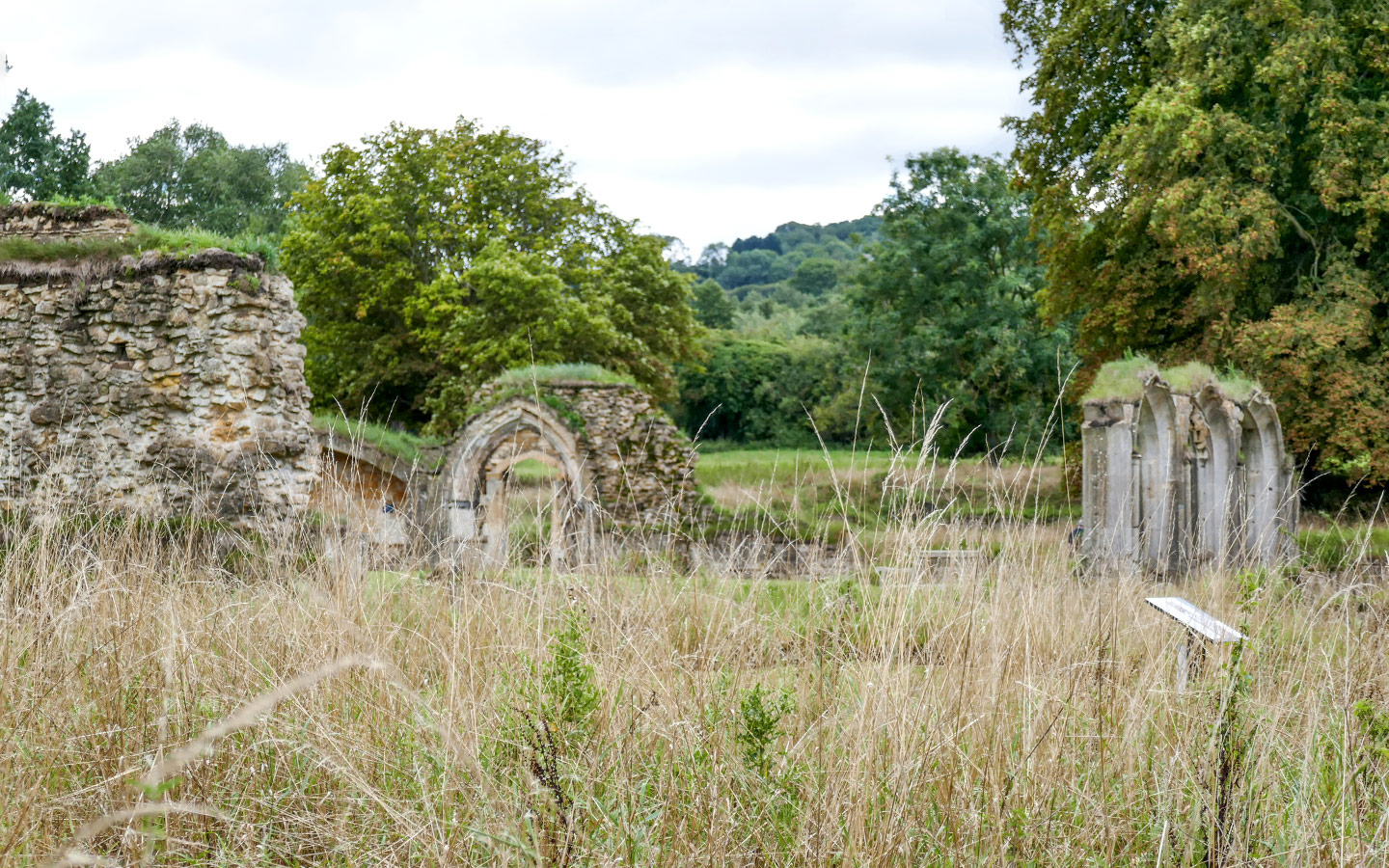 Toddington
There's lots to see at Toddington station for rail enthusiasts – you can take a guided tour of the loco sheds (Tuesdays and Sundays at 12pm, 1.30pm and 3.05pm), see locomotives in the viewing yard, visit the demonstration signal box and explore museums of memorabilia and toys.
There's plenty of car parking. There's also the Toddington Narrow Gauge Railway which runs on selected dates and a GWSR gift shop. And it's a short walk to The Pheasant Inn pub.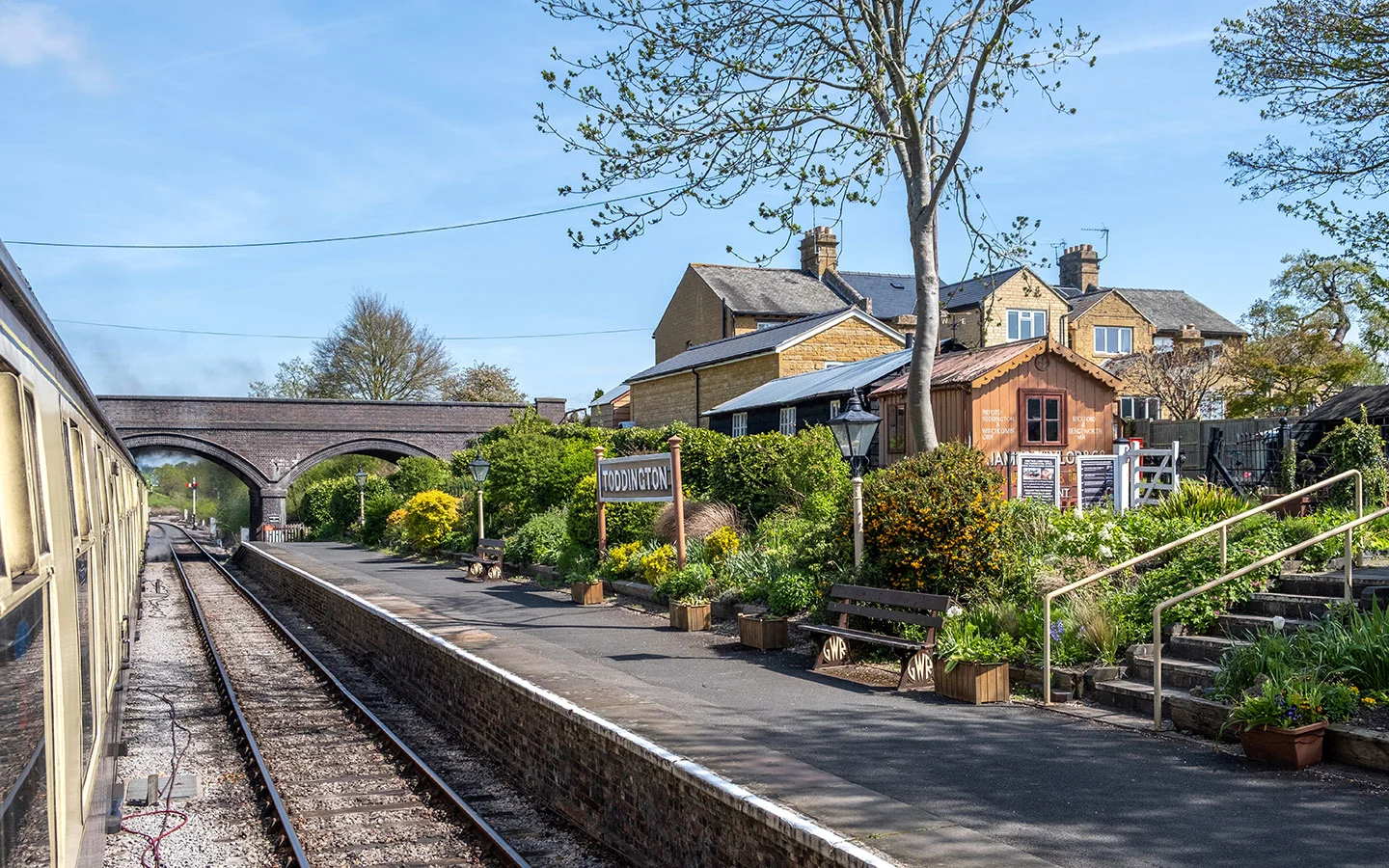 Broadway
Broadway station is a 15-minute walk north of Broadway town centre, or you can catch the NN Cresswell Rural 4 bus into town, though it only runs a few times a day, Monday–Friday.
Broadway has the Gordon Russell Design Museum and the Broadway Museum and Art Gallery to visit. Or you can do a scenic 4.4-mile circular walk to the hilltop Broadway Tower. There are also lots of boutique shops and great restaurants like Russell's and The Lygon Arms Grill.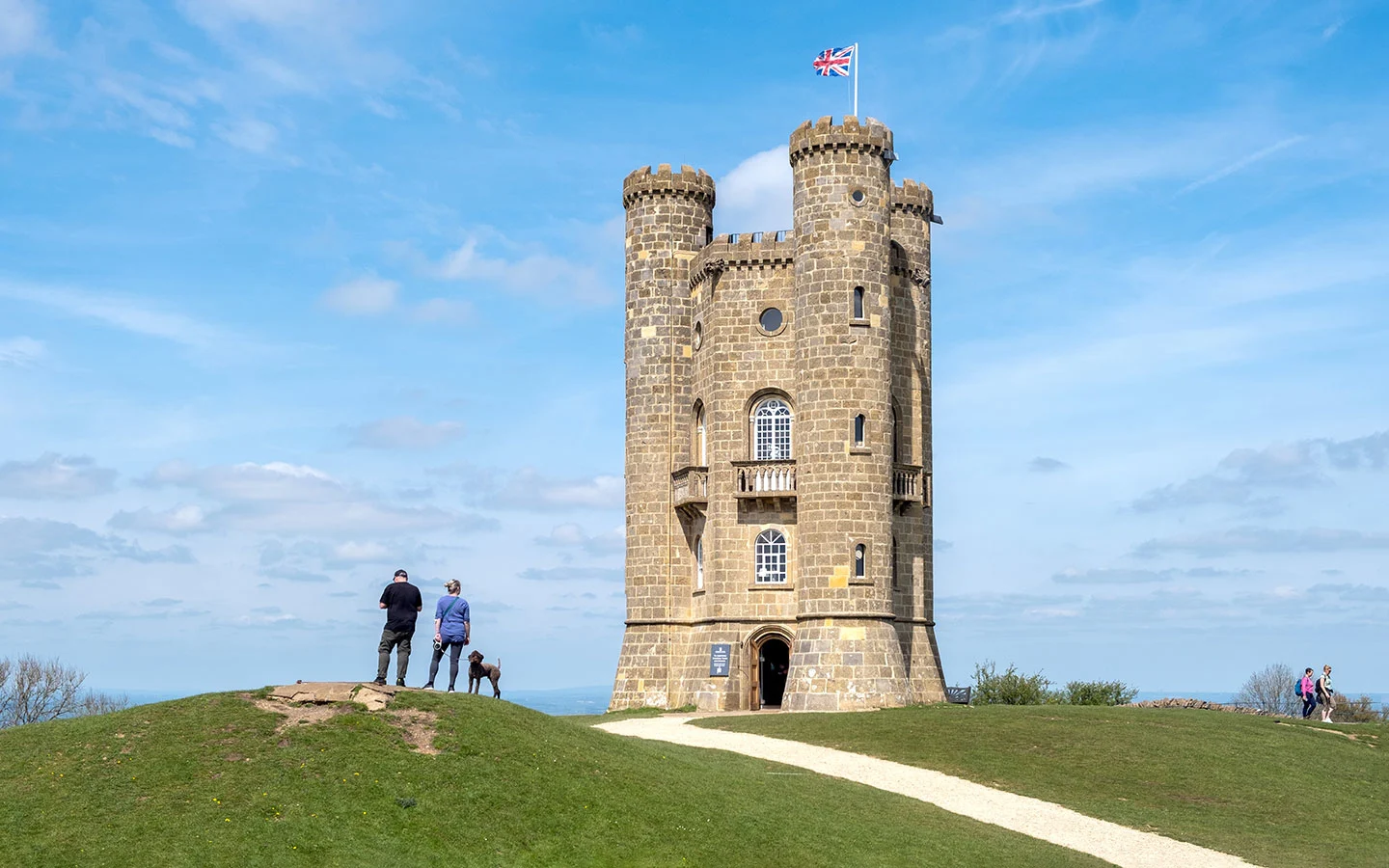 How much does the Gloucestershire-Warwickshire Steam Railway cost?
There's a range of different ticket options available for the Gloucestershire-Warwickshire Steam Railway. Prices for special events vary, but when it comes to standard rail journeys the most popular ticket is the 'All-Day Rover', which gives you unlimited travel across the route for the whole day, so you can get on and off when you want and explore the different station stops.
The All-Day Rover costs £25 for adults and £10 for children (aged 5–15). Family (two adults and up to three children) and extended family (four adults and up to three children) tickets are also available for £60/£100 which save a bit of money if you're visiting with a group.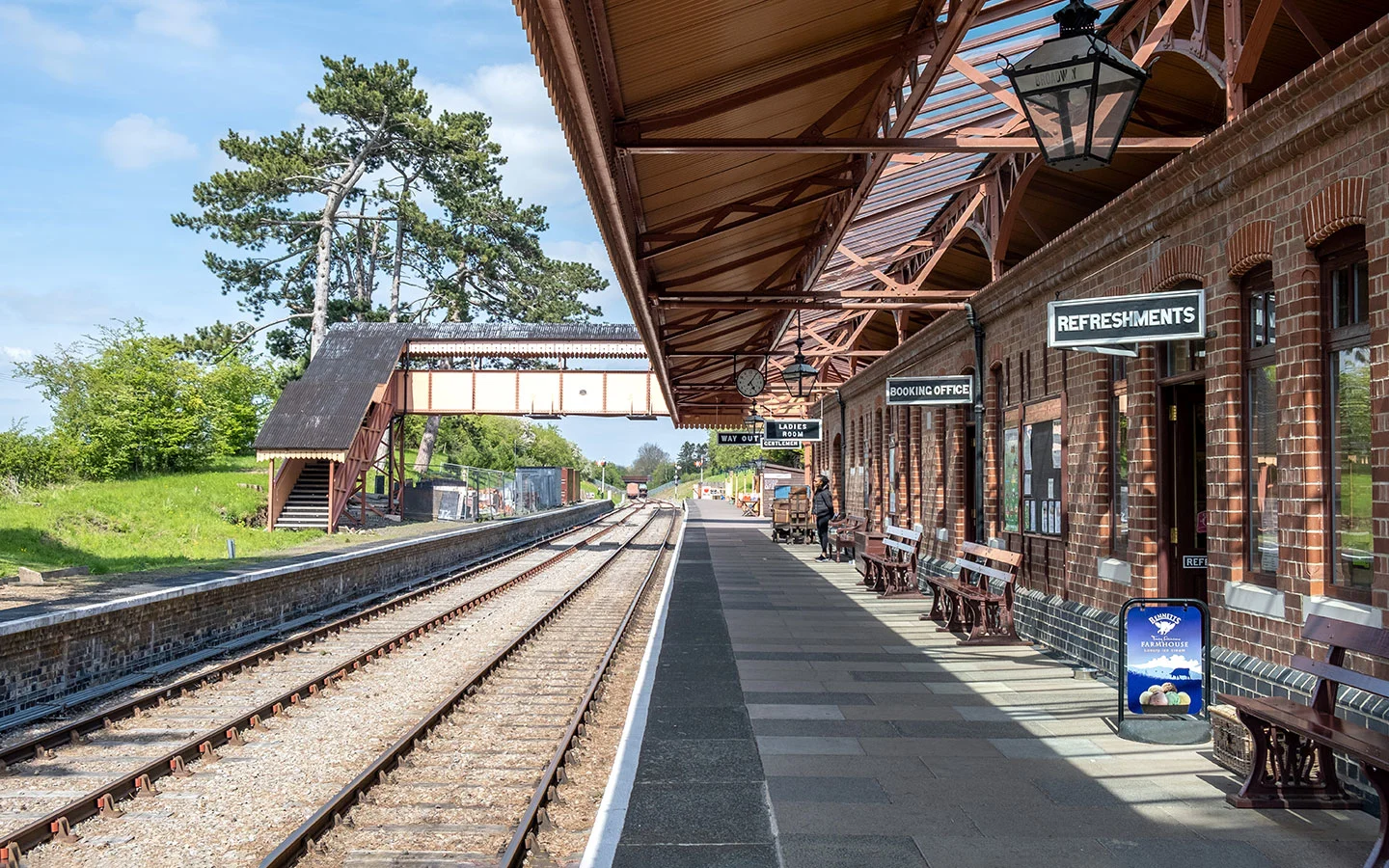 If you only want to visit a shorter stretch of the line you can get a 'Limited Explorer' ticket which gives you unlimited travel either between Cheltenham and Winchcombe (£15 adults/£8 children) or between Broadway and Winchcombe (£19 adults/£9 children).
Standard single and return tickets are also available for journeys from one station to another. And if you just want to take a look at the trains you can pay £2 for a platform ticket.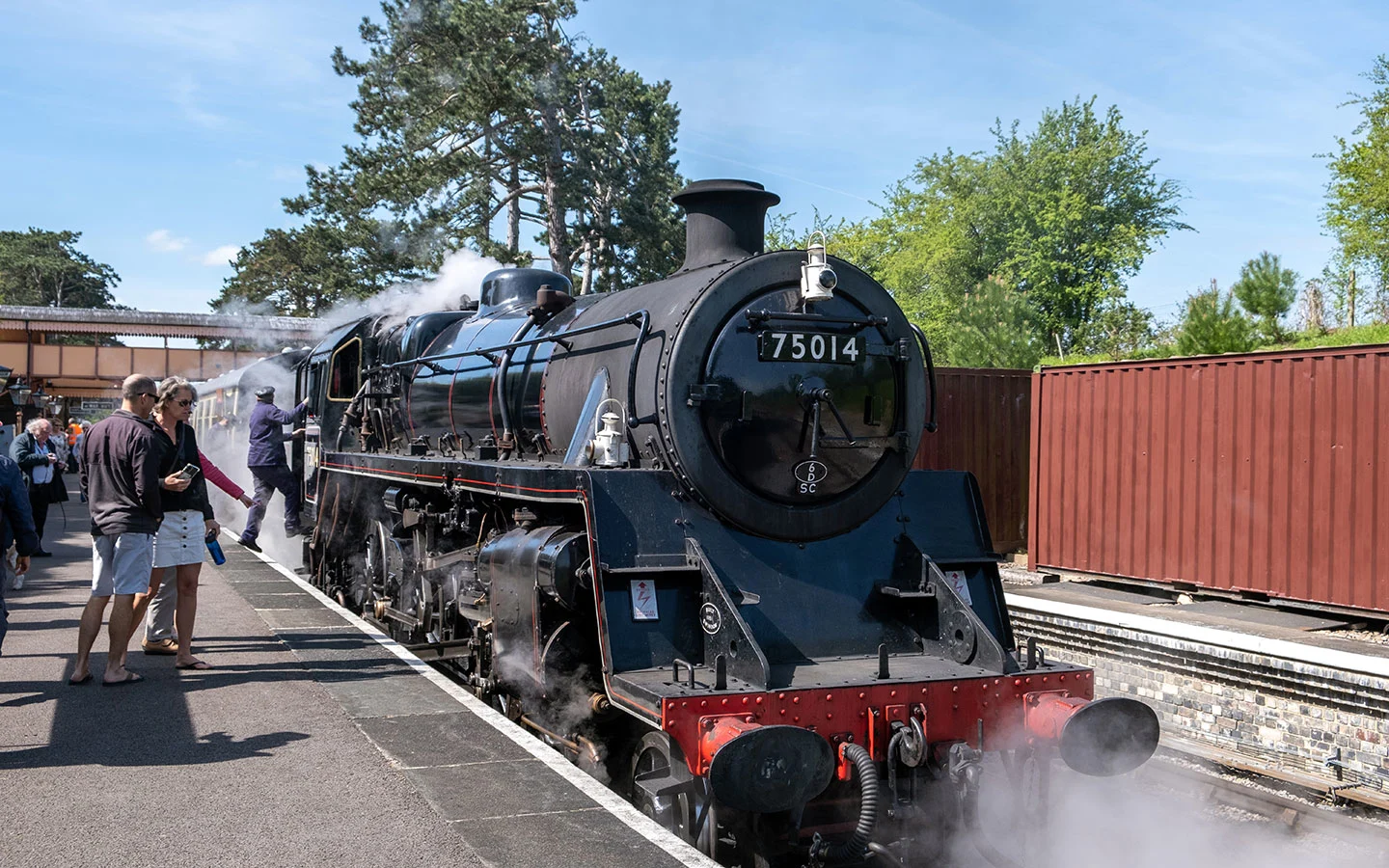 How do I book the Cotswold steam train?
You can buy tickets for the Gloucestershire-Warwickshire Steam Railway on their website – with a 5% discount for booking online in advance (anytime before 8.30am on the day of travel).
You can either show your electronic ticket on your mobile phone or print out a copy (if you want a hard copy ticket posted out to you there's a fee of £1 and you need to book at least a week in advance). You can also buy tickets on the day from the station booking offices.
Some of the special events like the Santa Express at Christmas and the Footplate Steam Driving Experience where you can have a go at driving a train sell out early, so book well in advance.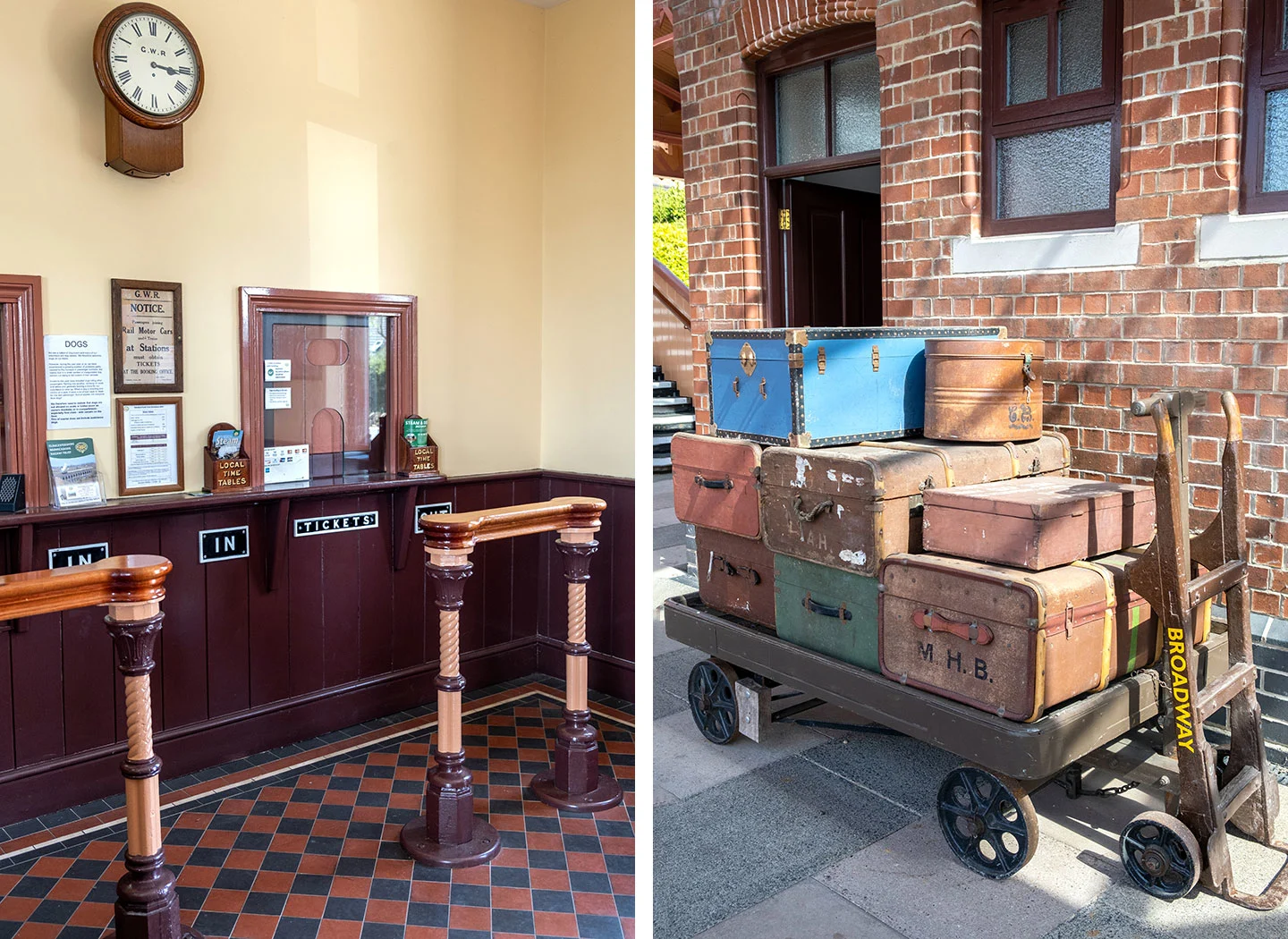 Can I volunteer with the GWSR?
The GWSR is almost entirely run by its army of volunteers, and they're always looking for more people to help out. There are lots of different volunteer roles available, from serving in the buffet and collecting tickets to clearing the line and maintaining its vintage carriages.
If you want to volunteer, you first need to fill in an application form on their website, and they also run monthly recruitment events where you can find out more about what's involved.
You can also support GWSR by becoming a member, which costs £25 for a one-year adult membership and entitles you to a voucher for a day's free travel and copies of their magazine.
Save for later