The Cotswold Way is one of the UK's best long-distance walks, covering 102 miles of beautiful Cotswold countryside, towns and villages between Chipping Campden and Bath. Experienced hikers can complete the route in 7–8 days, but this Cotswold Way itinerary spreads it over 10 days for a fairly relaxed walk with time to stop off for lunch or visit places along the route.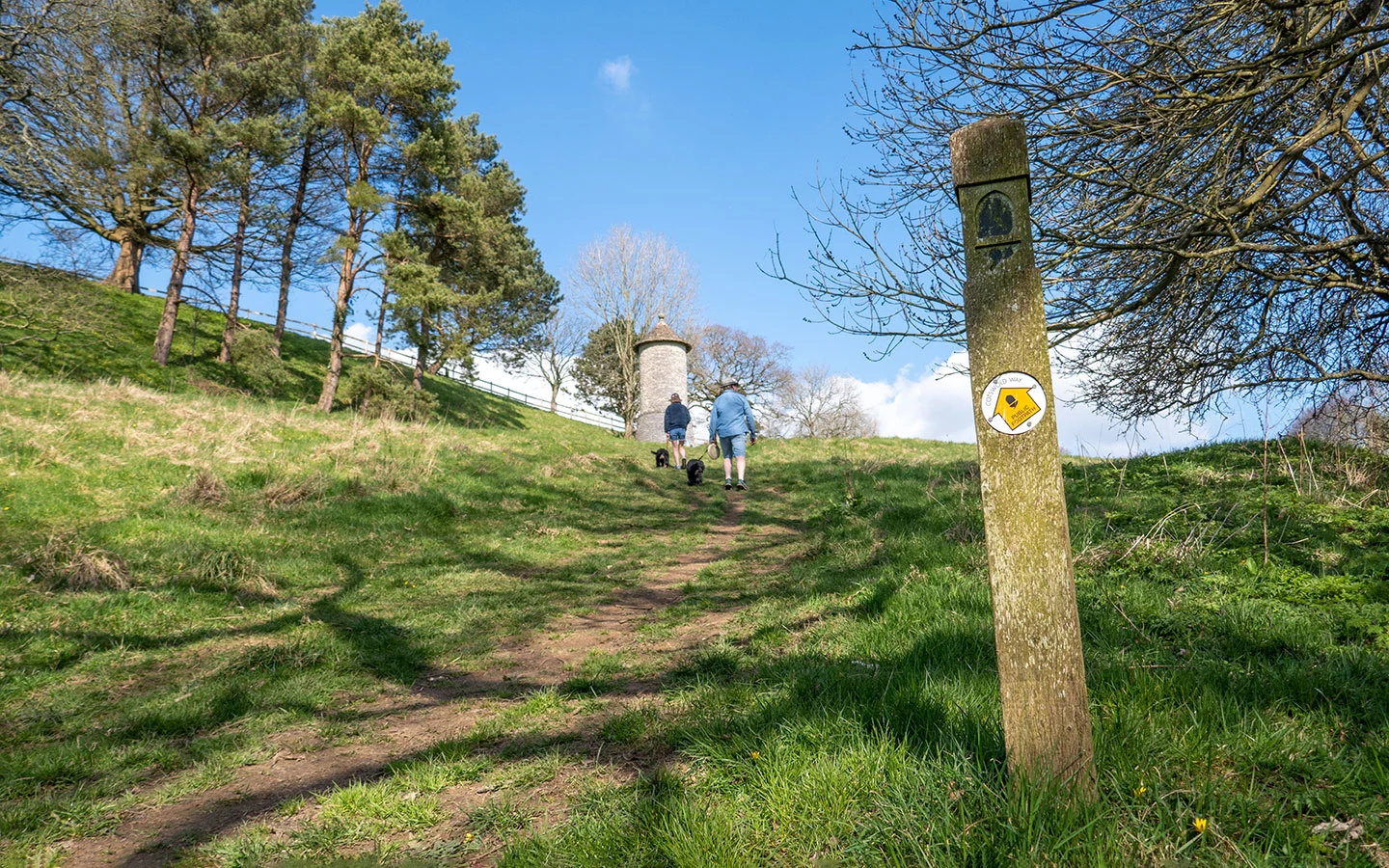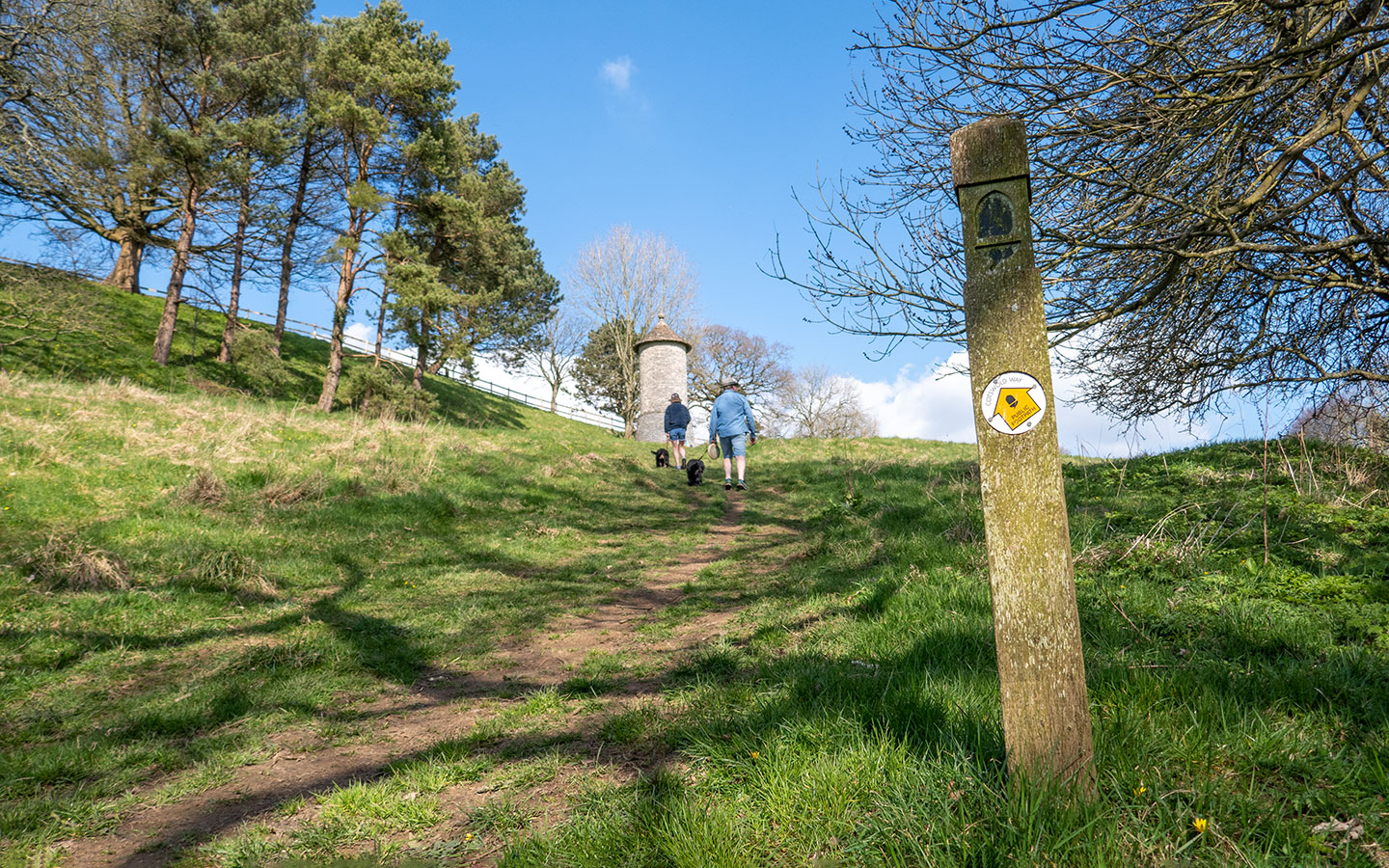 This itinerary runs from north to south, starting in Chipping Campden and ending in Bath, but you could also do the route in reverse. You can walk it straight through in one go over 10 days, or break it up into day walks and spread them out over a longer period like we did.
Each day includes an overview of the route and the highlights along the way, as well as providing details of how to get to the start point by car or public transport, and the facilities en route. If you're looking for places to stay, see our guide to accommodation on the Cotswold Way.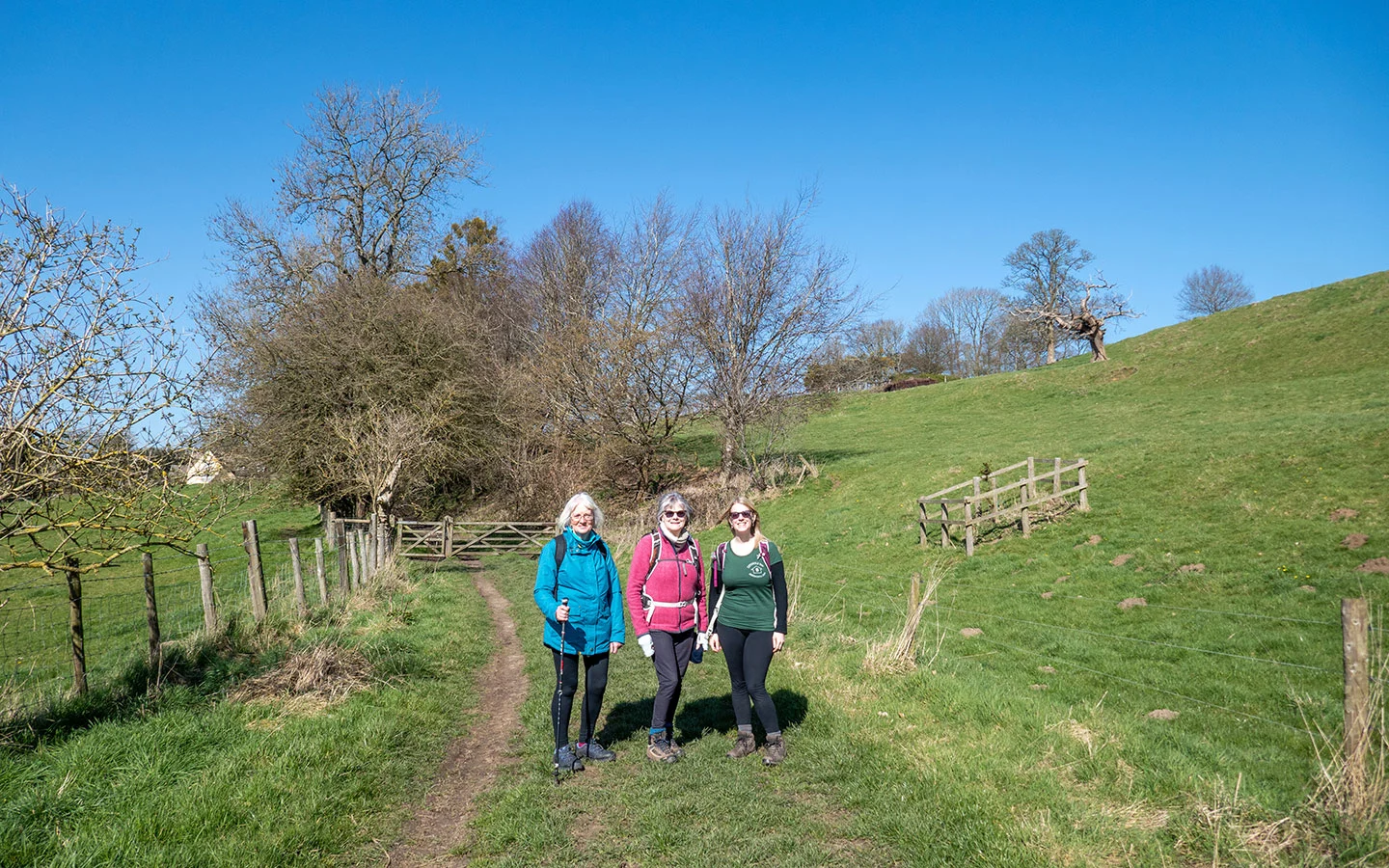 Cotswold Way map
The map below shows the route of the Cotswold Way marked in green, with the main towns and villages along the route (and a couple of larger ones just off it) highlighted.
Notes on planning
Transport: If you're walking the Cotswold Way as day walks, it's easiest if you can leave one car at the end and take another to the start and pick it up later. Otherwise you can access each day's start and end point by public transport – details below – or leave your car at the start and get public transport back (though options are limited in some areas so you may sometimes need a taxi).
Distances: The official distance for the Cotswold Way is 102 miles (164km). But the distances below are based on our daily GPS recordings so are usually a bit longer than the official guidebook numbers, adding up to 106.9 miles (172km) in total.
Timings: The timings given are for walking at a fairly gentle pace. But they don't include stops for food etc so make sure to allow an extra 1–2 hours each day to give yourself plenty of time.
More tips: There are lots more Cotswold Way tips in our guide, including the best time of year to walk it, map and guidebook recommendations, what to take with you and luggage transport.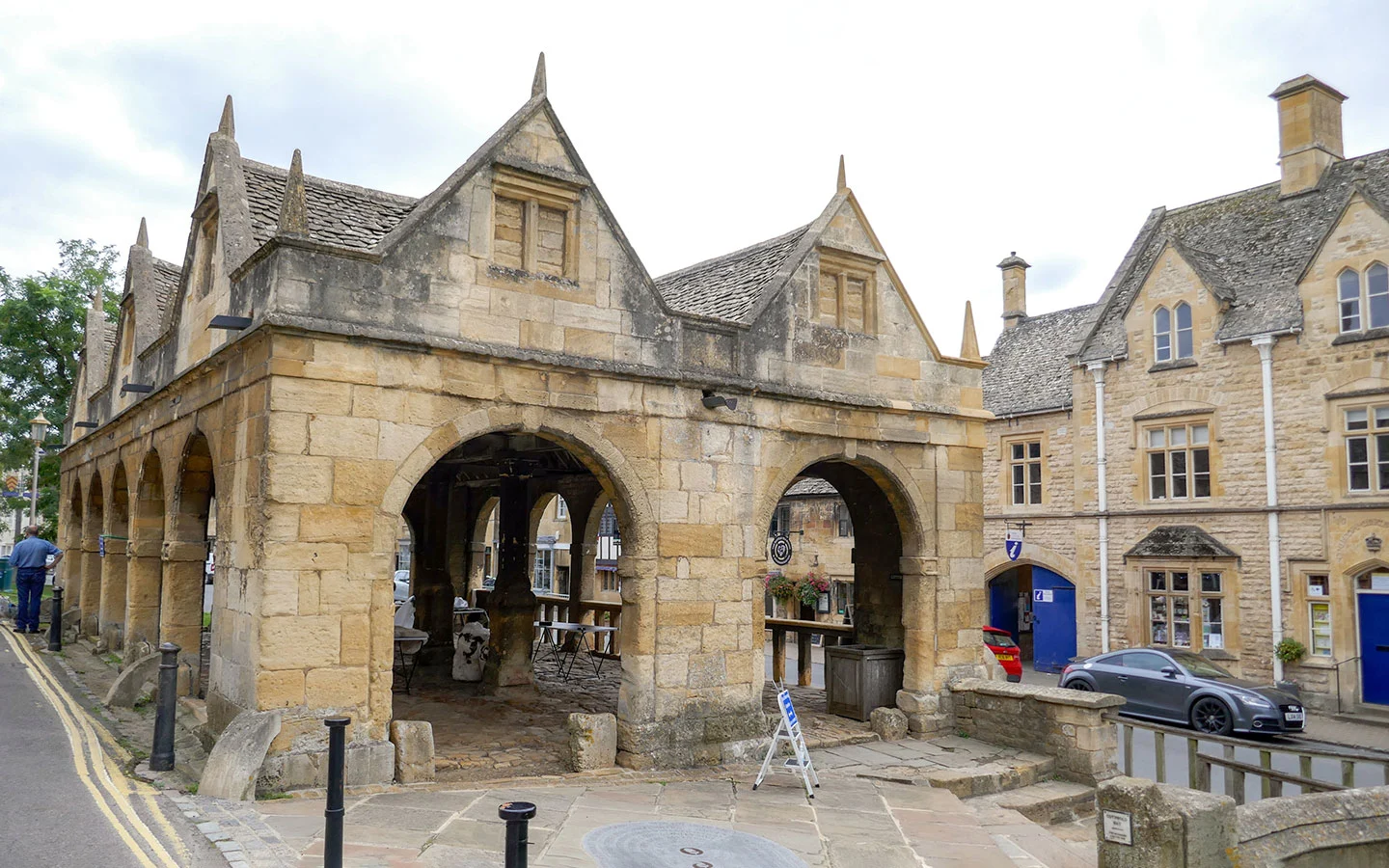 Day 1: Chipping Campden to Stanton (11 miles/18km)
Chipping Campden > Dover's Hill > Broadway > Stanton (5 hours)
The Cotswold Way starts in the historic wool town of Chipping Campden in the north Cotswolds. A signpost and stone next to the Market Hall mark start of the trail, which runs along the High Street and past St Catharine's Church before heading out into the countryside and climbing up to Dover's Hill. From there the path keeps climbing up to Fish Hill and the Broadway Tower.
Look out for deer around the tower before walking downhill to the village of Broadway – there are benches along the way to soak up the views. After passing through the village you head back into the countryside, with the tower visible in the distance, climbing up Shenberrow Hill before a final descent to the pretty village of Stanton with its thatched and half-timbered cottages.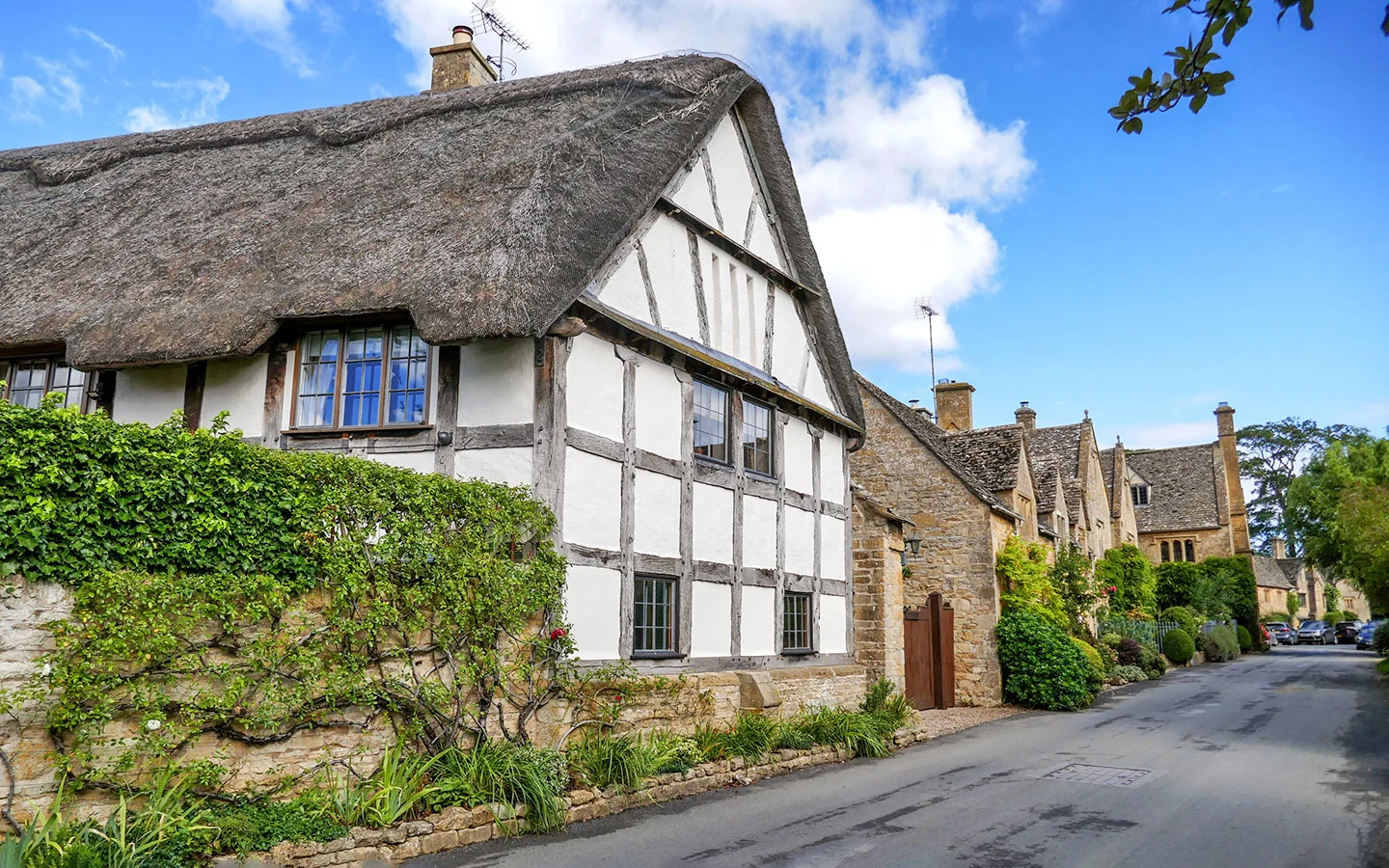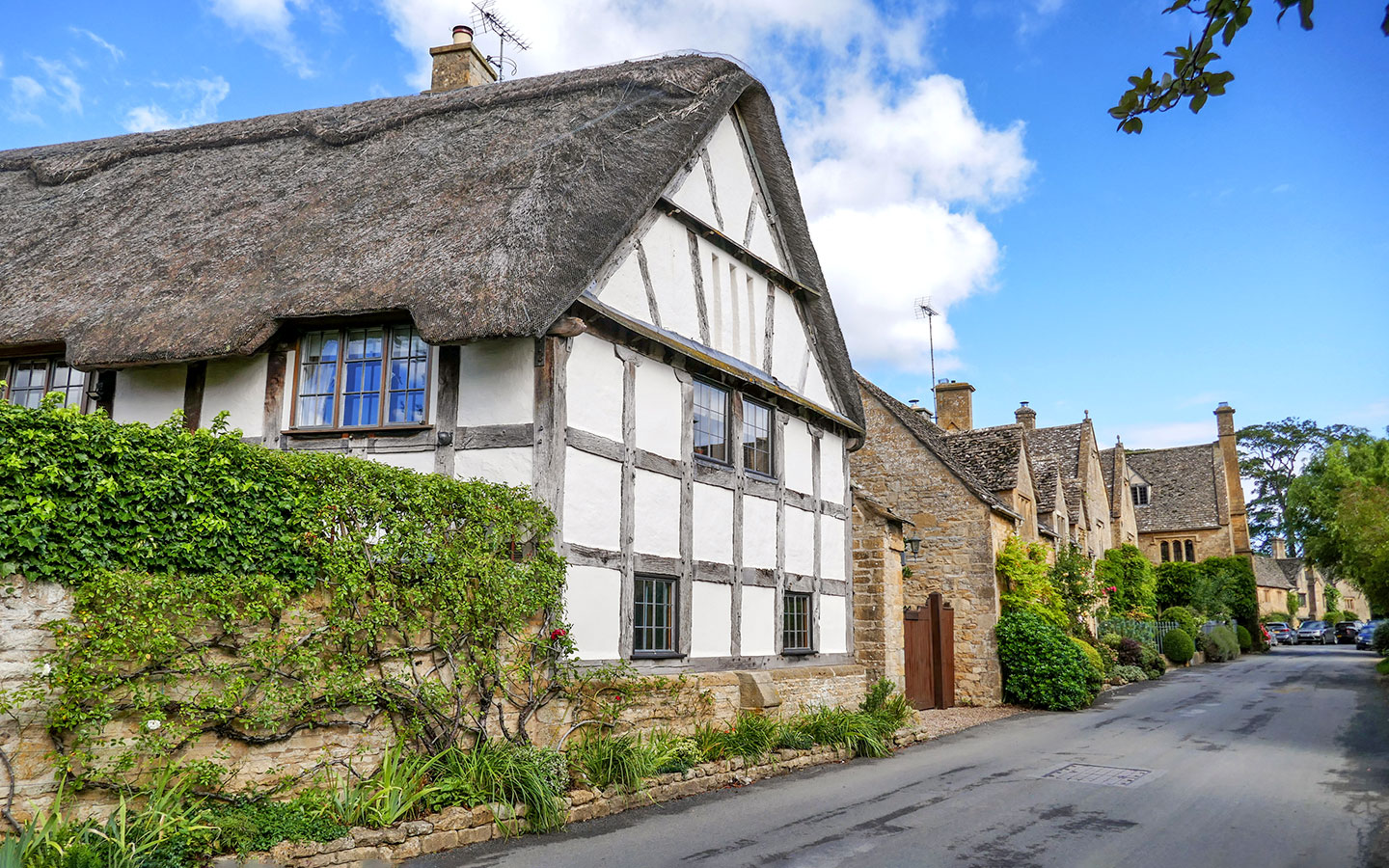 Day 1 highlights
Chipping Campden: Its High Street was once described as 'the most beautiful village street now left on the island' with golden-stone buildings housing cafés, pubs and independent shops perfect for a browse. There's also the wool church of St James and the Court Barn Museum where you can find out about Chipping Campden's days as a centre for the Arts and Crafts Movement.
Dover's Hill: The first viewpoint on the route looks out over the Vale of Evesham from 225 metres/738 feet up. The hill was the site of the original English Olympic Games which were started by Robert Dover in 1612, and now hosts the quirky Cotswold Olimpick Games.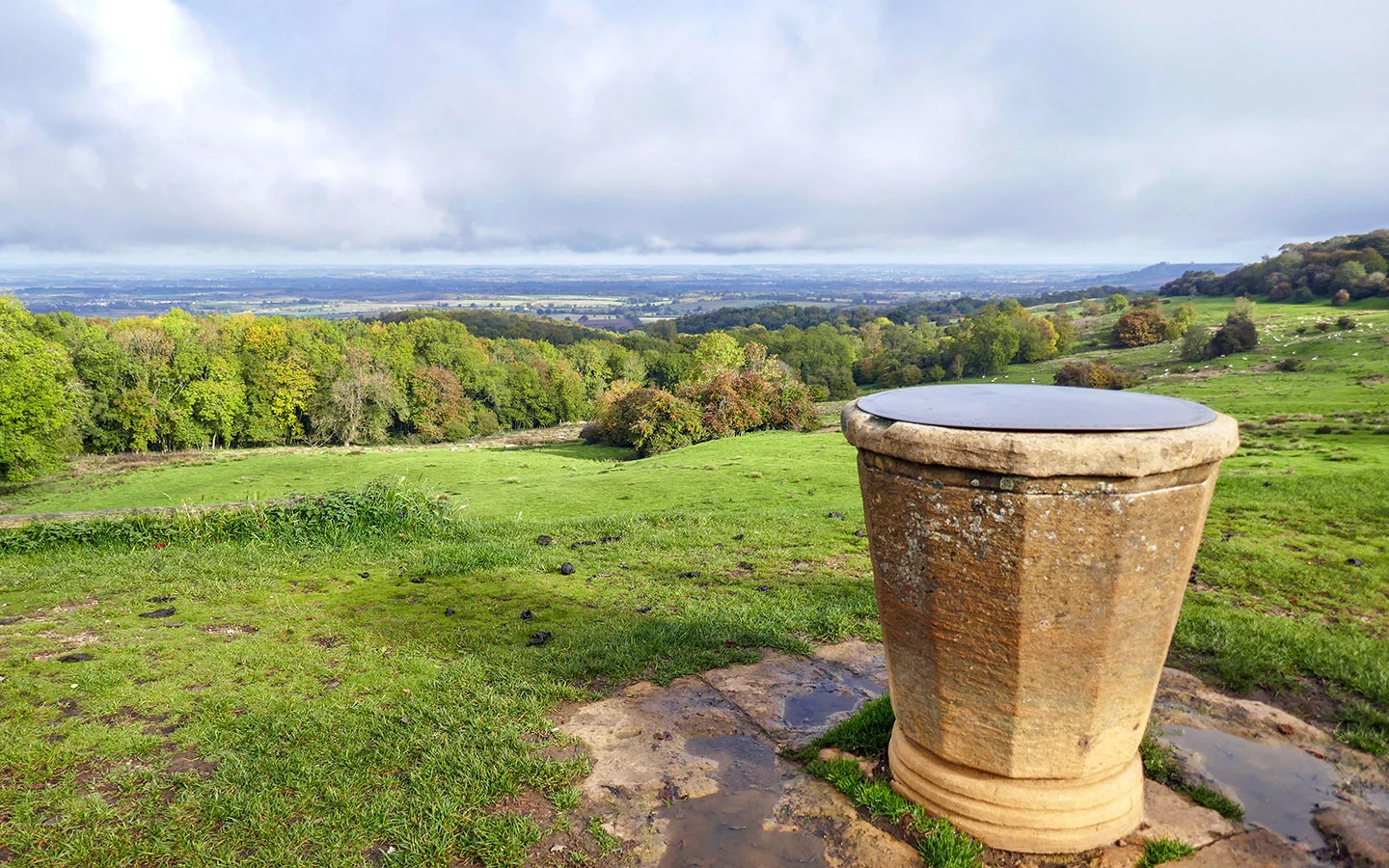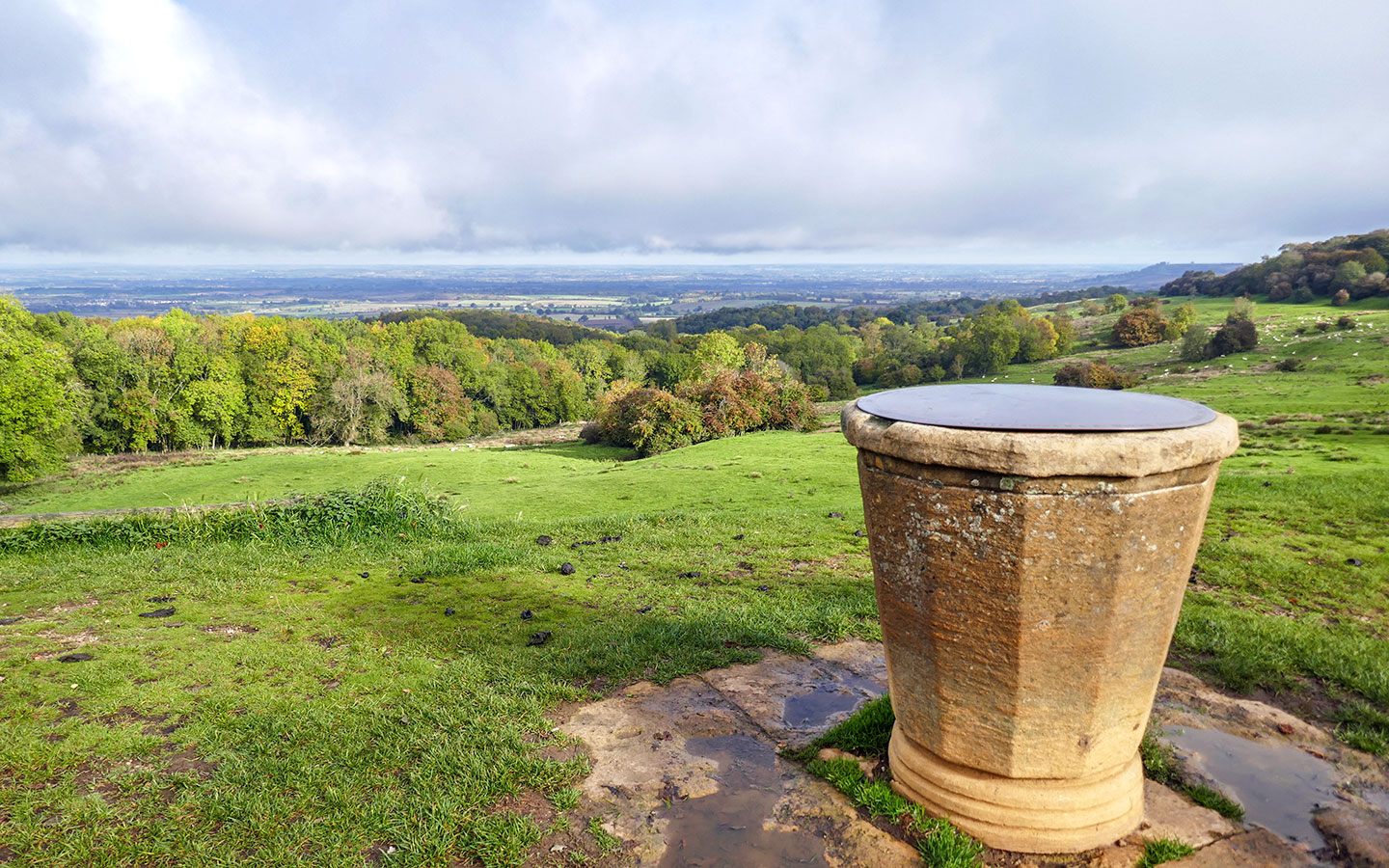 Broadway Tower: This hilltop folly was built in 1794 at the second-highest point in the Cotswolds. It's been used as a printing press and artists' retreat – and more unexpectedly is also the site of a nuclear bunker. The tower is open to the public so you can look around the interiors and climb up to the top for panoramic views. And there are deer in the parkland around the tower too.
Broadway Village: The village of Broadway is full of boutique shops, restaurants and hotels, including the Lygon Arms where Oliver Cromwell once stayed. There's also the Gordon Russell Design Museum, dedicated to a local Arts and Crafts furniture designer.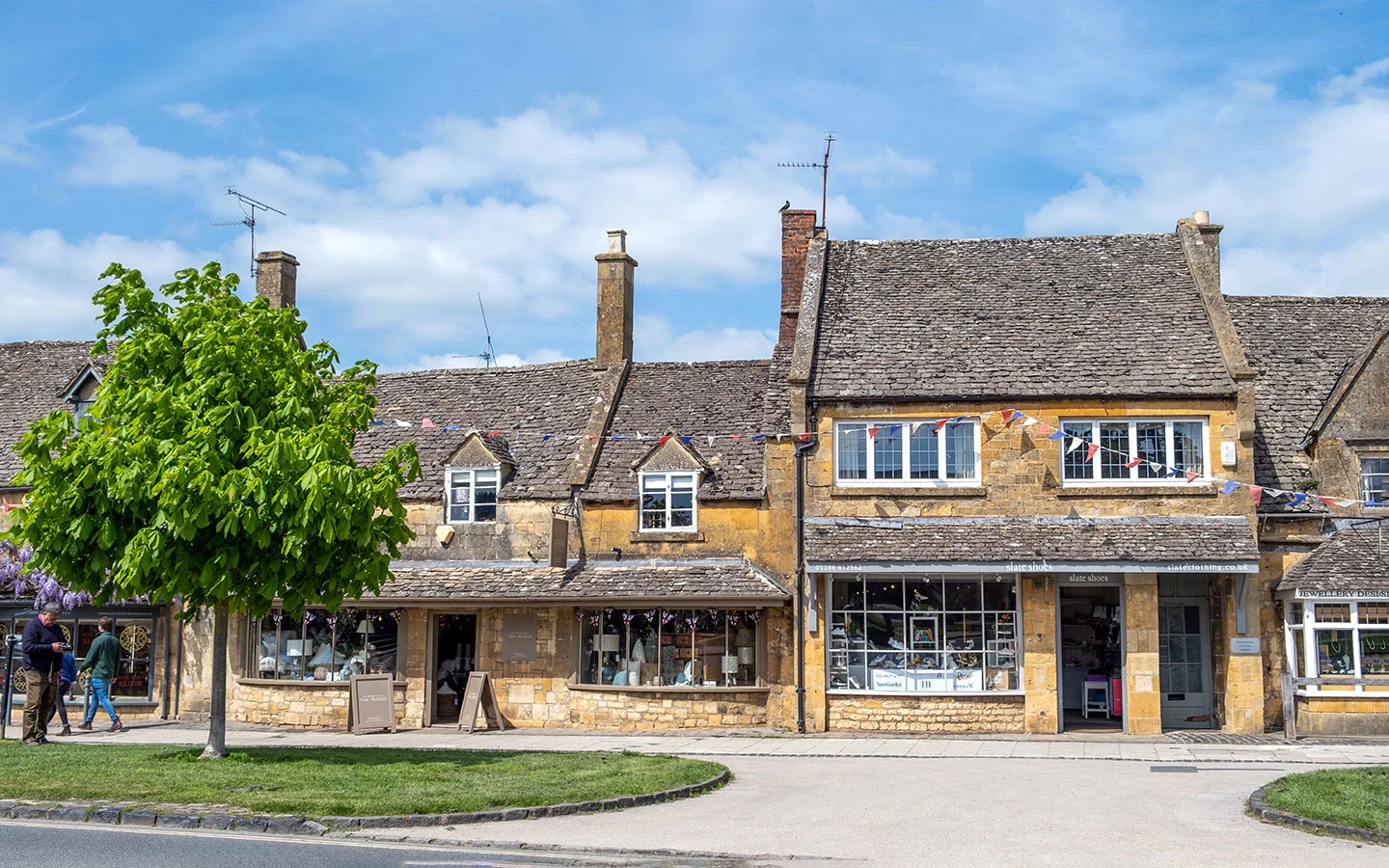 Stanton: Tiny Stanton is a picture-perfect village which was bought and restored by Sir Philip Sidney Stott in the early 20th century. There are village greens, flower-decked cottages, vintage lanterns to light the streets, and the Norman church of St Michael and All Angels.
Day 1 diversion: The village of Snowshill isn't directly on the Cotswold Way but you can do a diversion towards the end of day 1 to add in a visit to the National Trust's Snowshill Manor and Gardens and spot filming locations from Bridget Jones' Diary.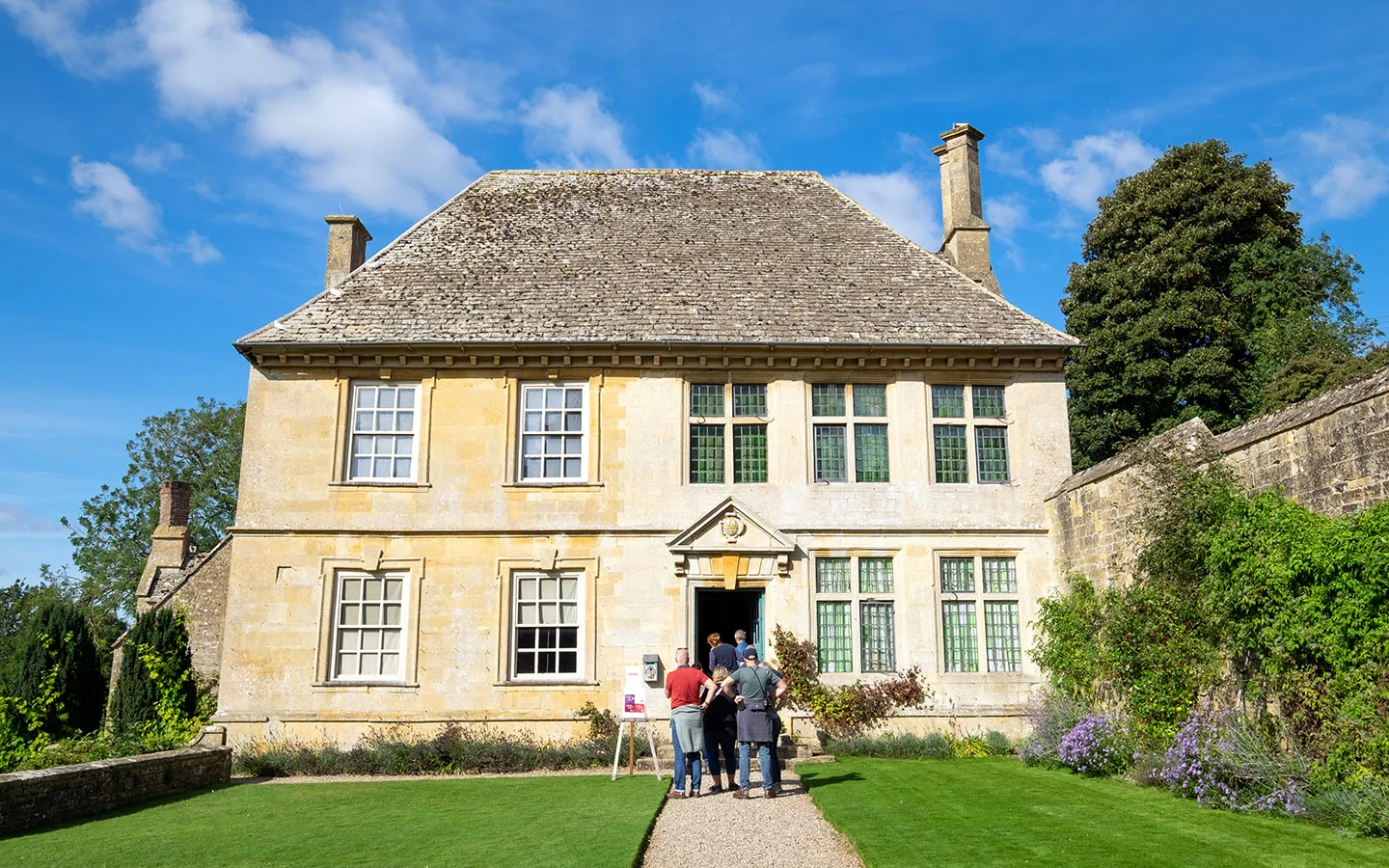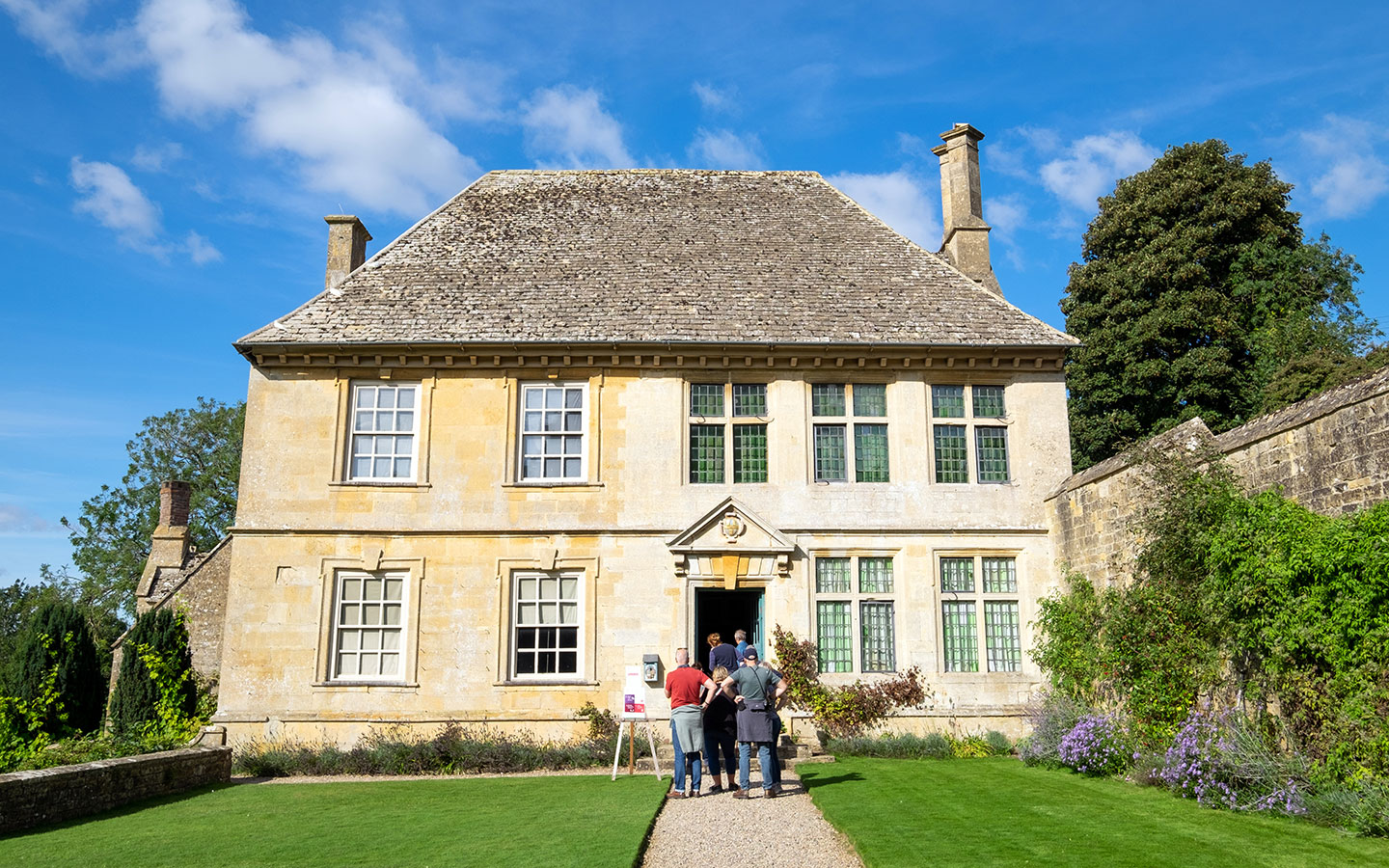 Day 1 facilities
Food and drink: Some sections of the Cotswold Way don't have many facilities but you're spoilt for choice on day 1. There's a good selection of shops and cafés in Chipping Campden and Broadway. If you want to pick up picnic supplies there are small Coop and One Stop supermarkets on the High Street in Chipping Campden or Maylam's and Toke's delis sell fresh bread and cheeses.
There's a café at the Broadway Tower and Broadway village has a Coop and plenty of places to eat out – our favourites include the Broadway Deli, Russell's Fish and Chips and the Market Pantry café. And the beer garden at the Mount Inn Stanton is a good spot to toast the day's walk.
Toilets: There are public toilets in Chipping Campden (High Street GL55 6HB and Sheep Street GL55 6DX) and along the route at the Fish Hill Picnic Area (WR12 7LD) and in Broadway (one at Broadway Park, 71 High Street WR12 7DP and another at 4 Church Close WR12 7AH).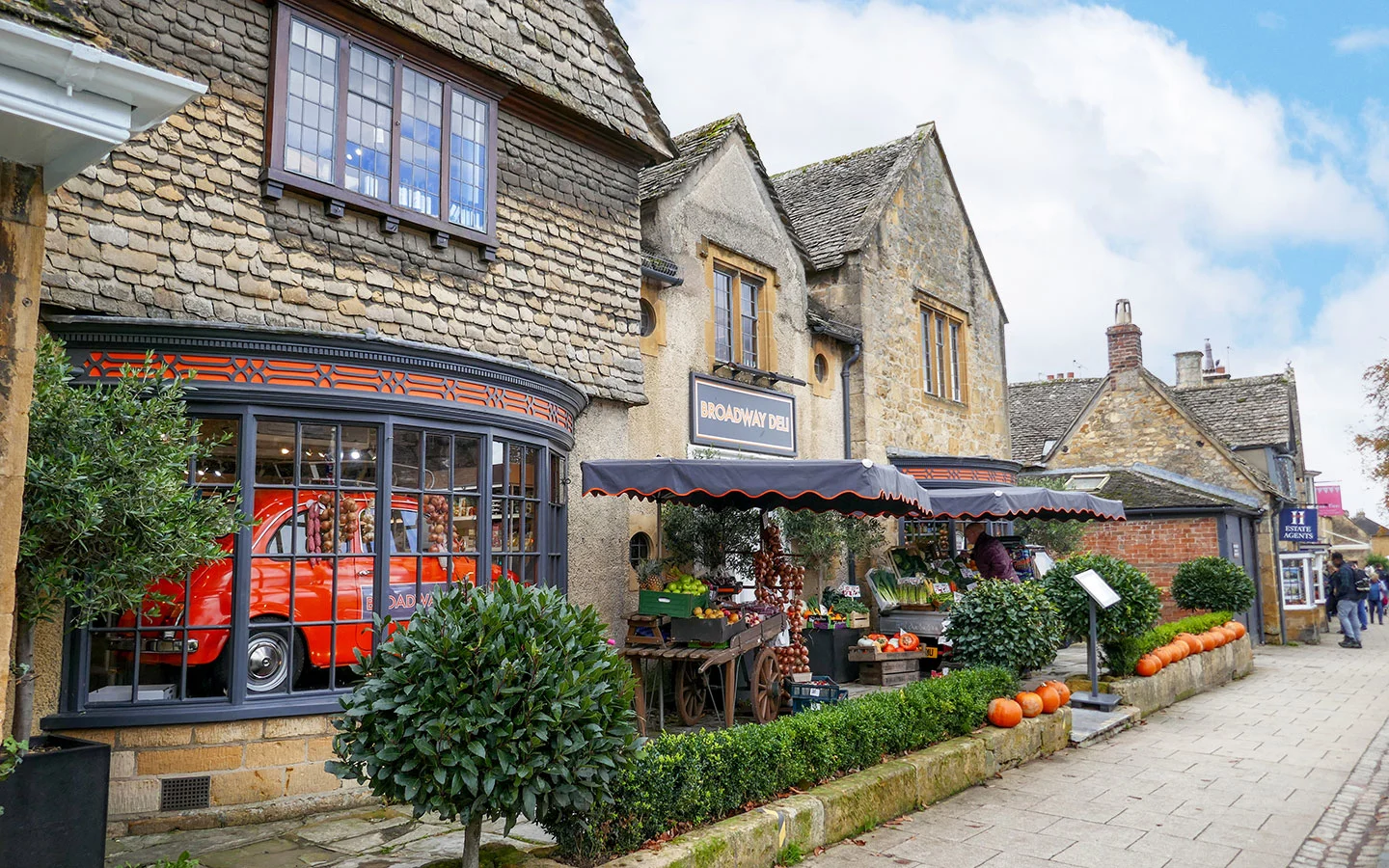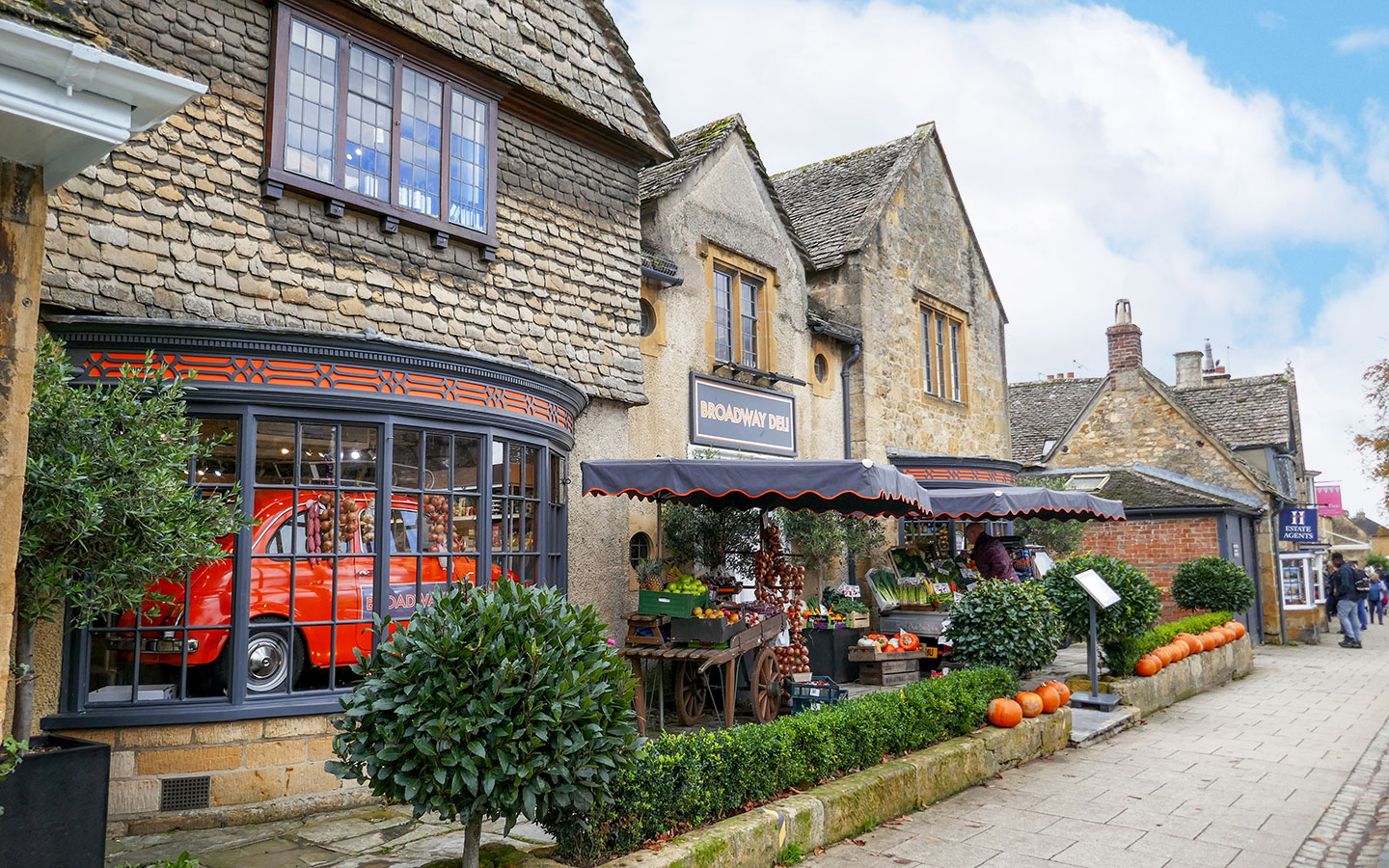 Getting to Chipping Campden
By car: Although there's a car park in Chipping Campden Market Square, the maximum stay is only two hours. There is parking available at Chipping Campden School (GL55 6HT) on weekends and in school holidays, otherwise your best bet is finding a space to park on the street.
You can get back to Chipping Campden from Stanton on the Pulhams 606 bus. It takes 35 minutes but only runs a couple of times a day, so you may need to take a taxi instead (approx £27).
By public transport: The nearest train stations to Chipping Camden are Moreton-in-Marsh and Stratford-upon-Avon, both of which you can reach on the Stagecoach no 1/2 bus in around 45 minutes. For details of public transport to and from Stanton, see day 2 below.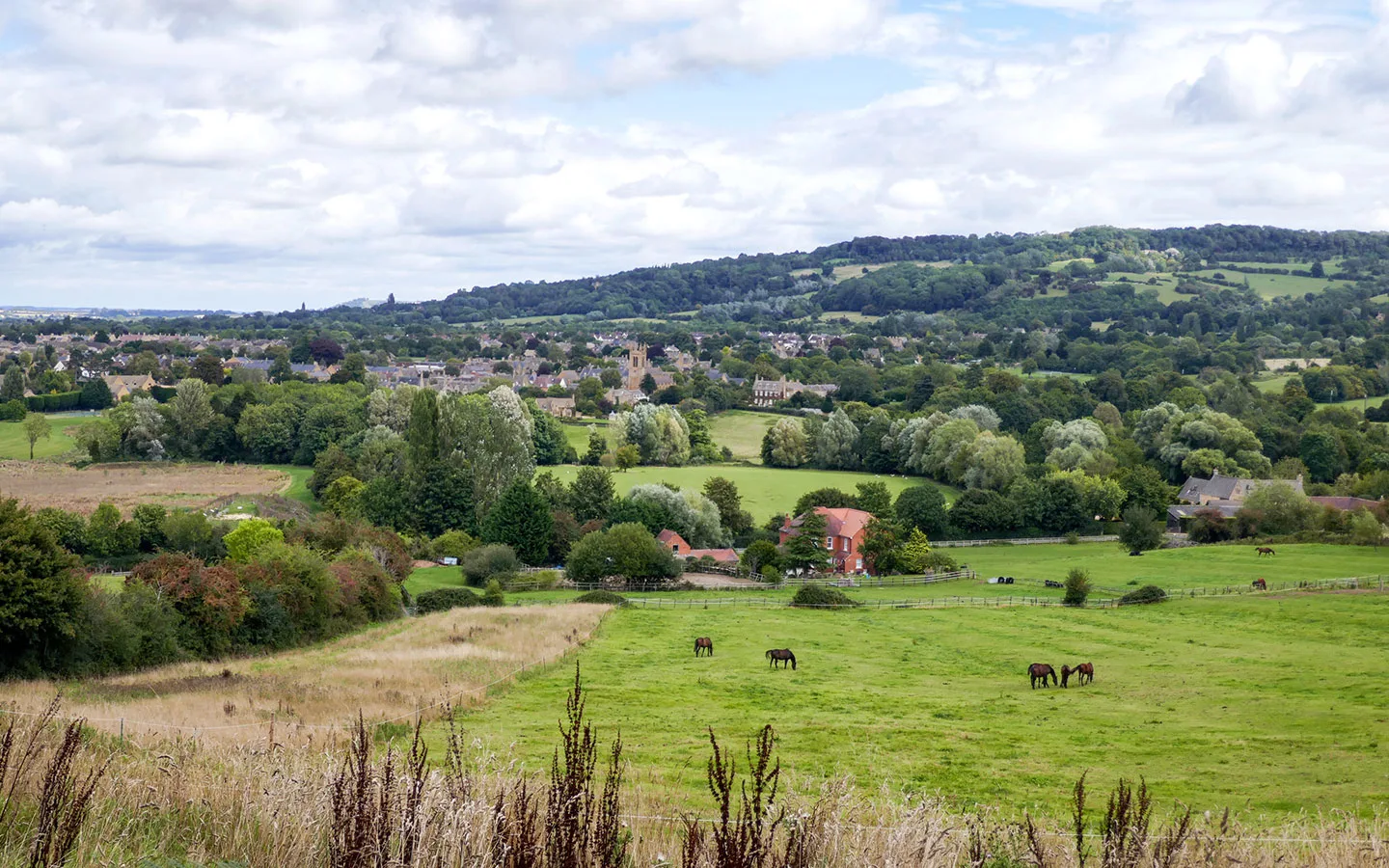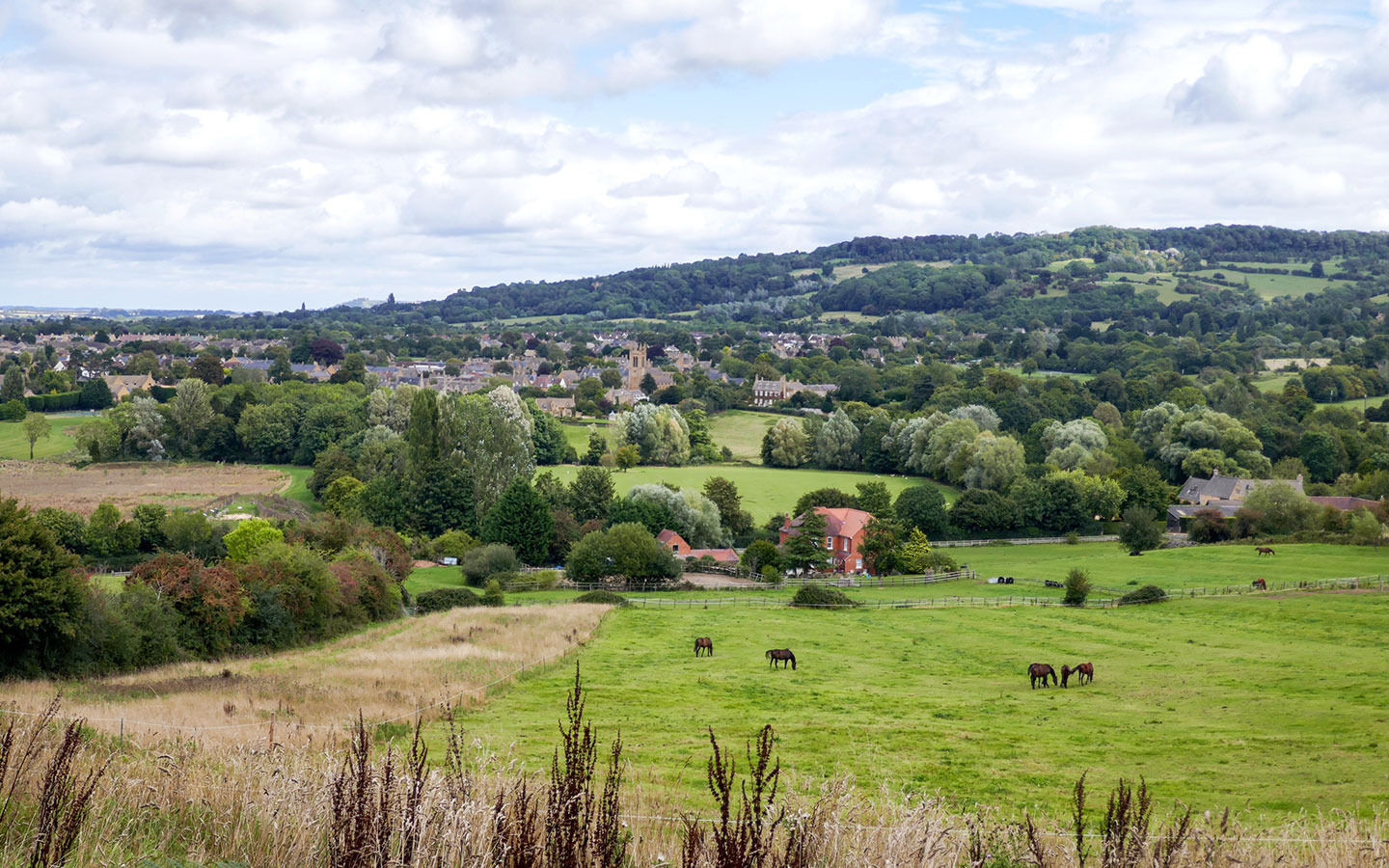 Day 2: Stanton to Winchcombe (8 miles/13km)
Stanton > Stanway > Wood Stanway > Hailes > Winchcombe (4 hours)
The walk starts in Stanton village and turns off onto farmland, walking over fields undulating with medieval ploughing ridges then into parkland, passing the spot where the Cotswold Way was inaugurated in 2007. You walk through the small village of Stanway, passing its church and the 17th-century gatehouse of Stanway House, then onto neighbouring Wood Stanway.
After that the route starts to climb, running past the remains of Iron Age Beckbury Camp then descending to Hailes with its medieval abbey before arriving into Winchcombe (where you could add on a visit to Sudeley Castle as day 2 is the shortest on this Cotswold Way itinerary).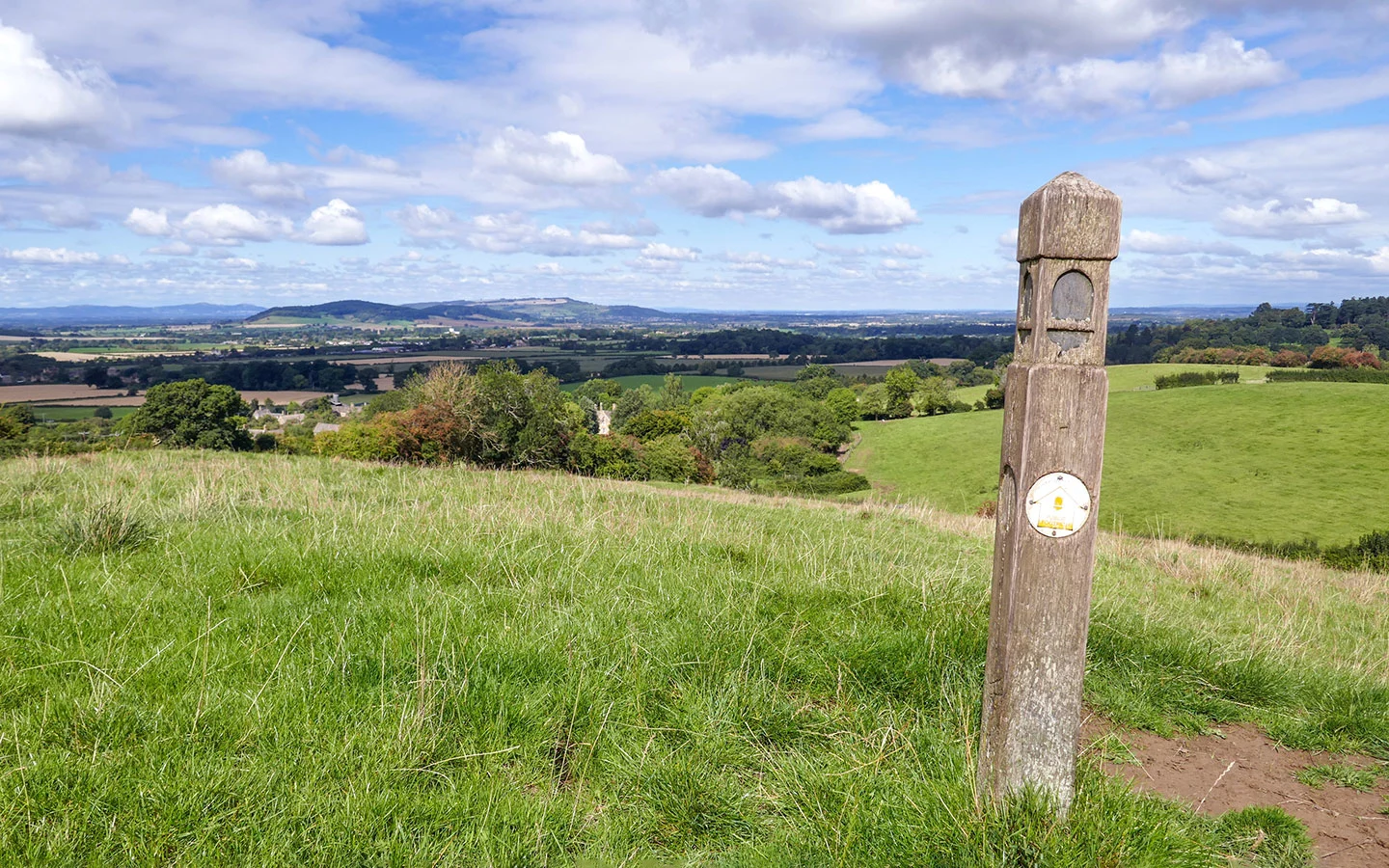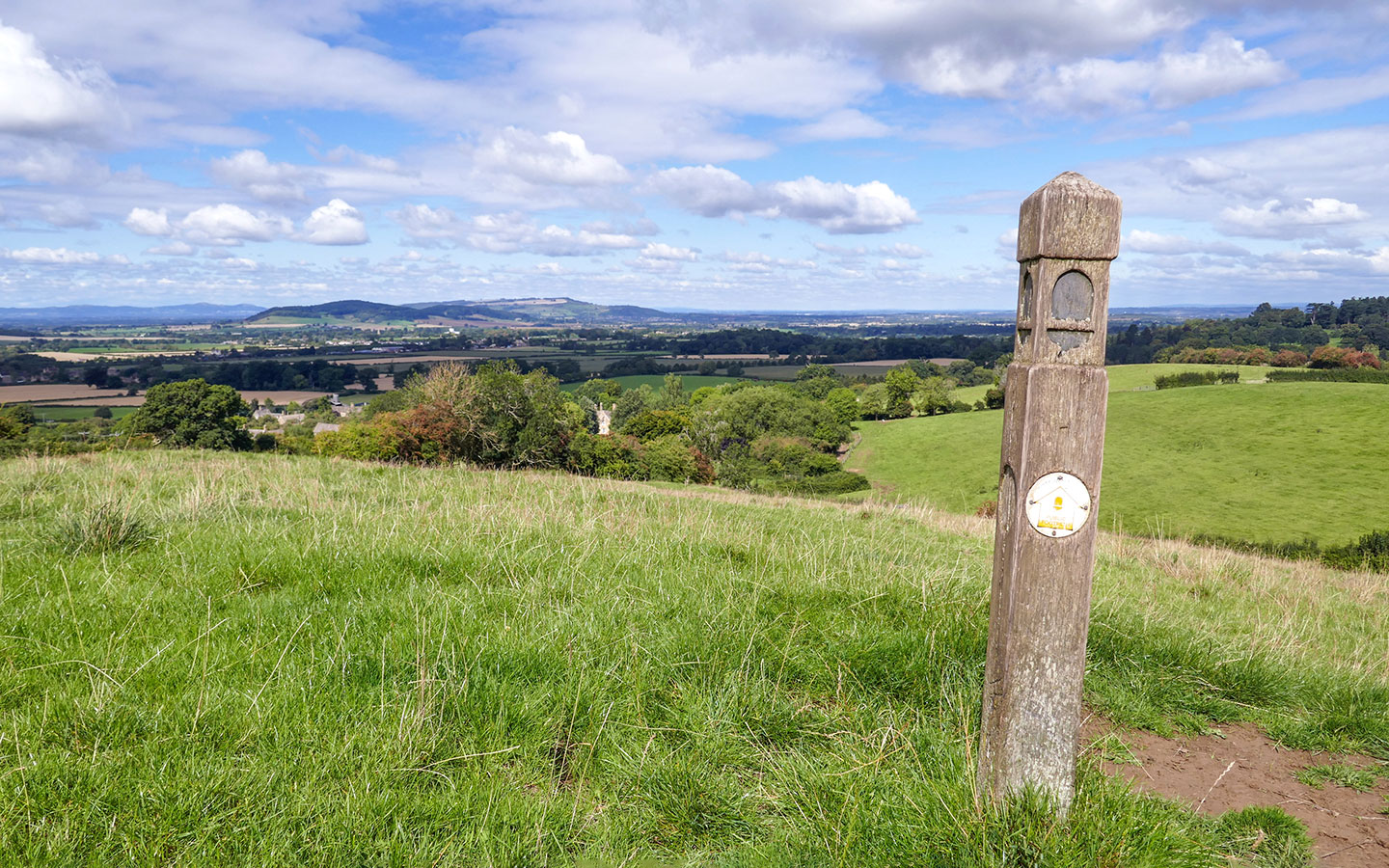 Day 2 highlights
Stanway: Jacobean manor Stanway House boasts the highest gravity fountain in the world, with a single jet shooting 300 feet into the air surrounded by water gardens. It's only open to the public during the summer on Tuesdays and Thursday afternoons unfortunately, so unless you time it well you'll only see the gatehouse, but you can call in to the village church.
Steam trains: The Gloucestershire–Warwickshire Steam Railway runs almost parallel to today's walk so you might hear the whistle of a passing train and see it chugging away in the distance.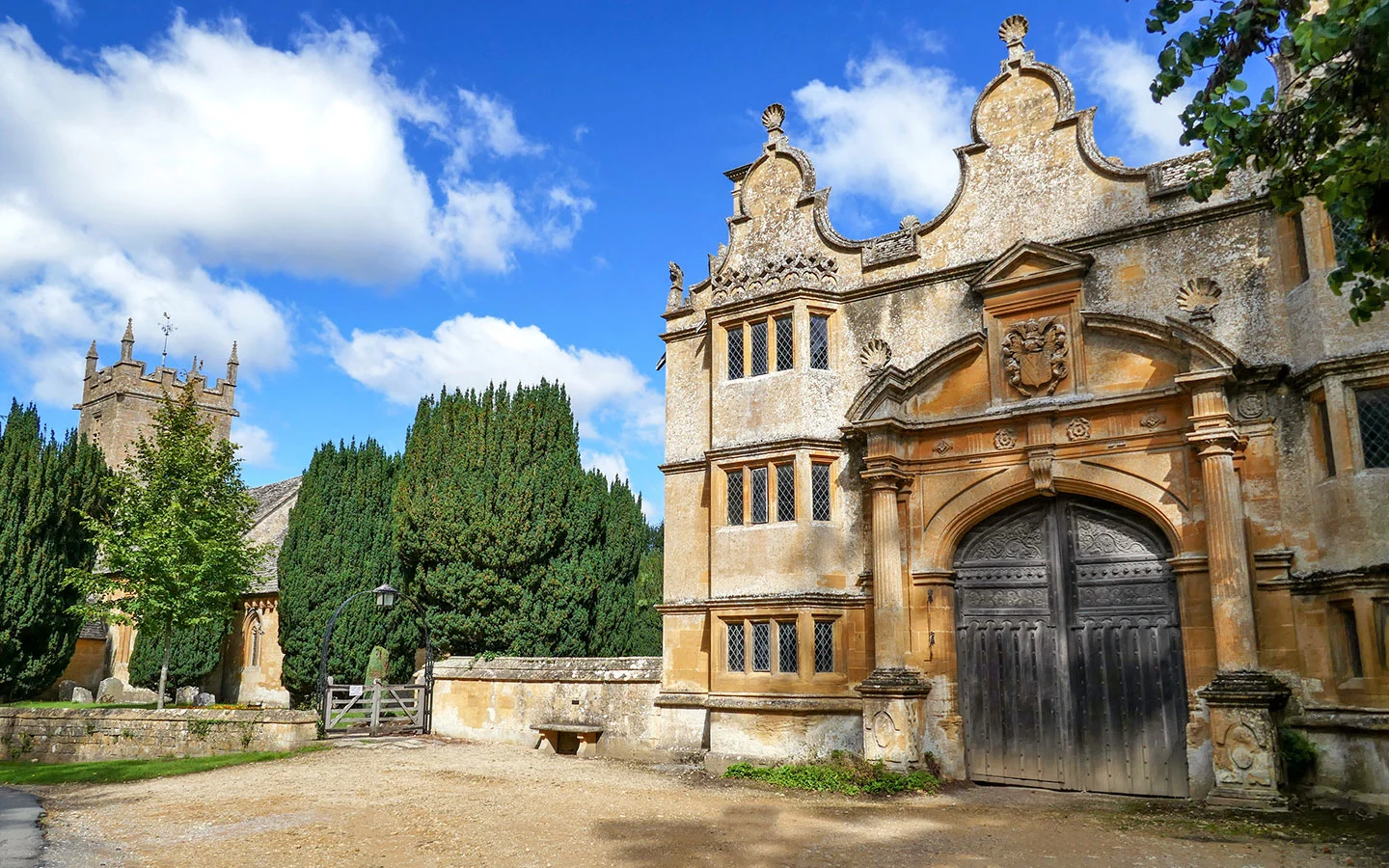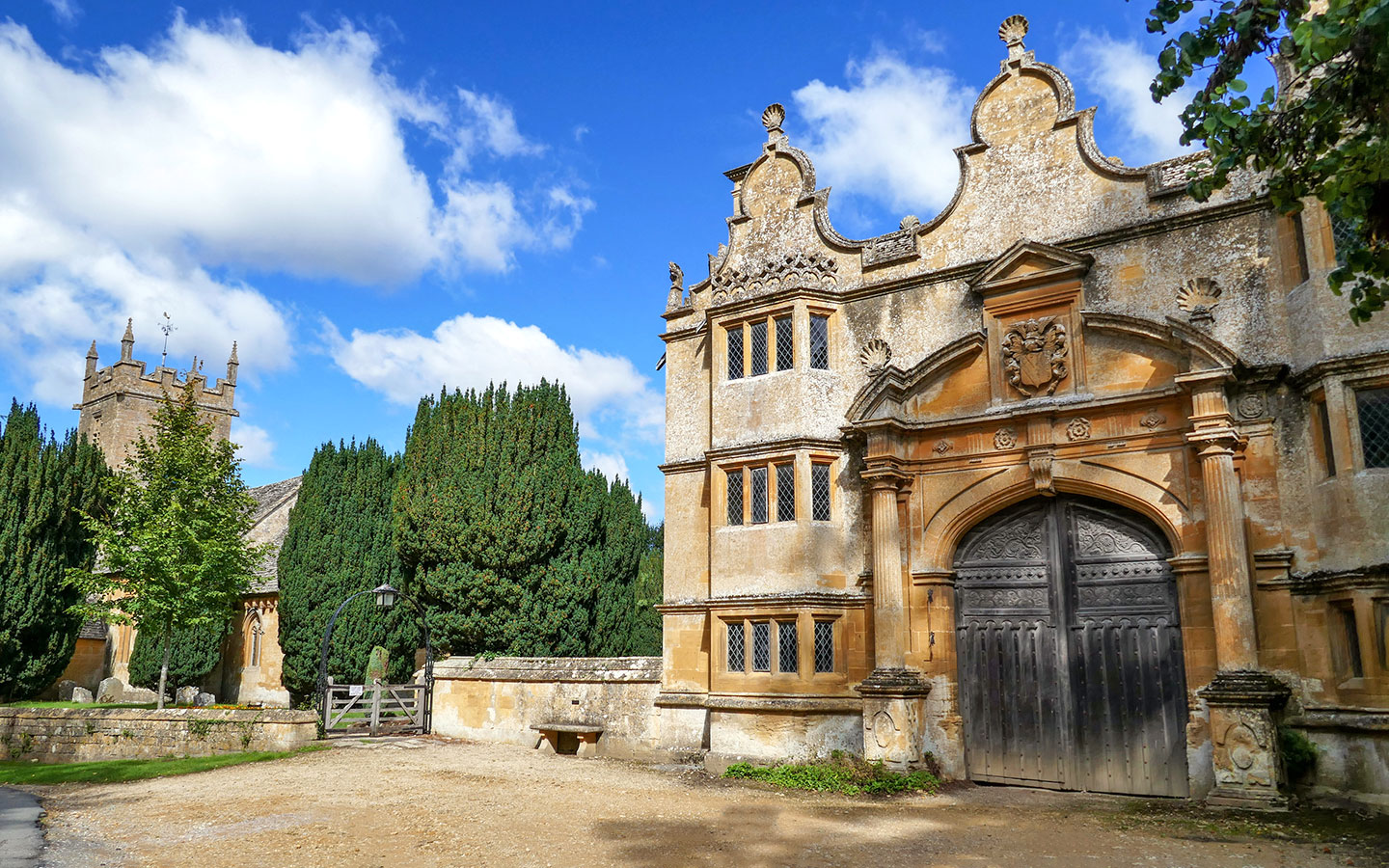 Hailes Abbey: Hailes Abbey was founded in 1246 and became one of the most renowned shrines in medieval England as pilgrims came to see the Holy Blood of Hailes – allegedly a vial of Christ's blood (though probably more likely duck's blood!). The abbey is now a ruin but you can explore what's left of it and find out about the monks who lived there in the museum.
Winchcombe: The town of Winchcombe has some interesting art galleries, interiors and antique shops to peruse, plus plenty of traditional pubs and a small local history museum.
Sudeley Castle: 15th-century Sudeley Castle in Winchcombe hosted kings and queens and was the home of Henry VIII's last wife Katherine Parr, who died there and is buried in St Mary's Chapel in the grounds. The castle is open to visitors and you can explore some of the interior rooms, see an exhibition of royal artifacts and wander around its 10 carefully manicured gardens.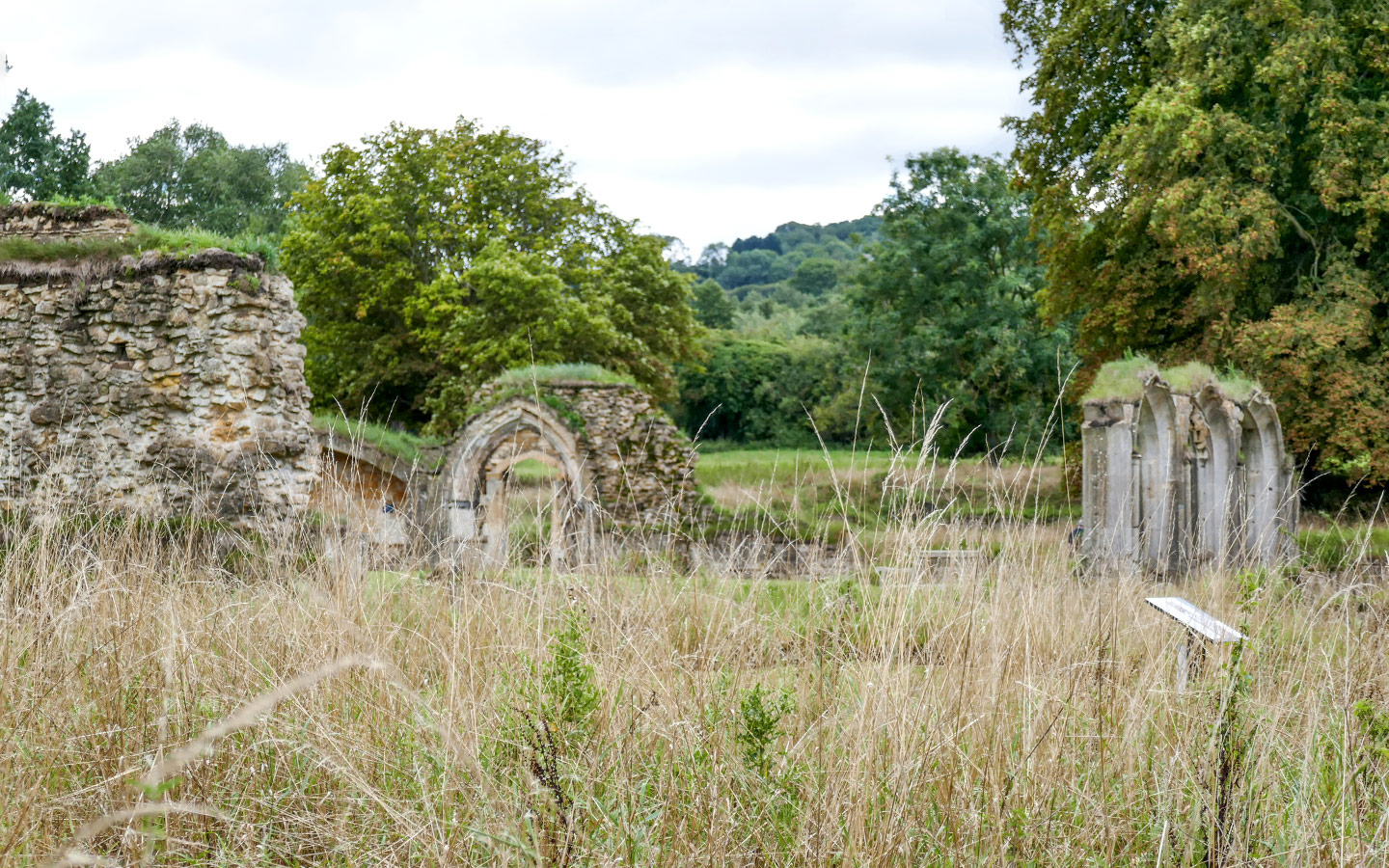 Day 2 facilities
Food and drink: There are no shops along the route but there's a tea room and farm shop at Hayles Fruit Farm where you can get paninis, salads, pies and omelettes. Winchcombe has plenty of places to eat and drink including the Lion Inn and Plaisterers Arms pubs. There's also Wesley House restaurant and wine bar for something more upscale, or Honey Bea's Café for afternoon tea.
Toilets: The only toilet facilities along the route on day 2 are customer toilets at Hayles Fruit Farm and Hailes Abbey and public toilets next to the library in Winchcombe (GL54 5PW).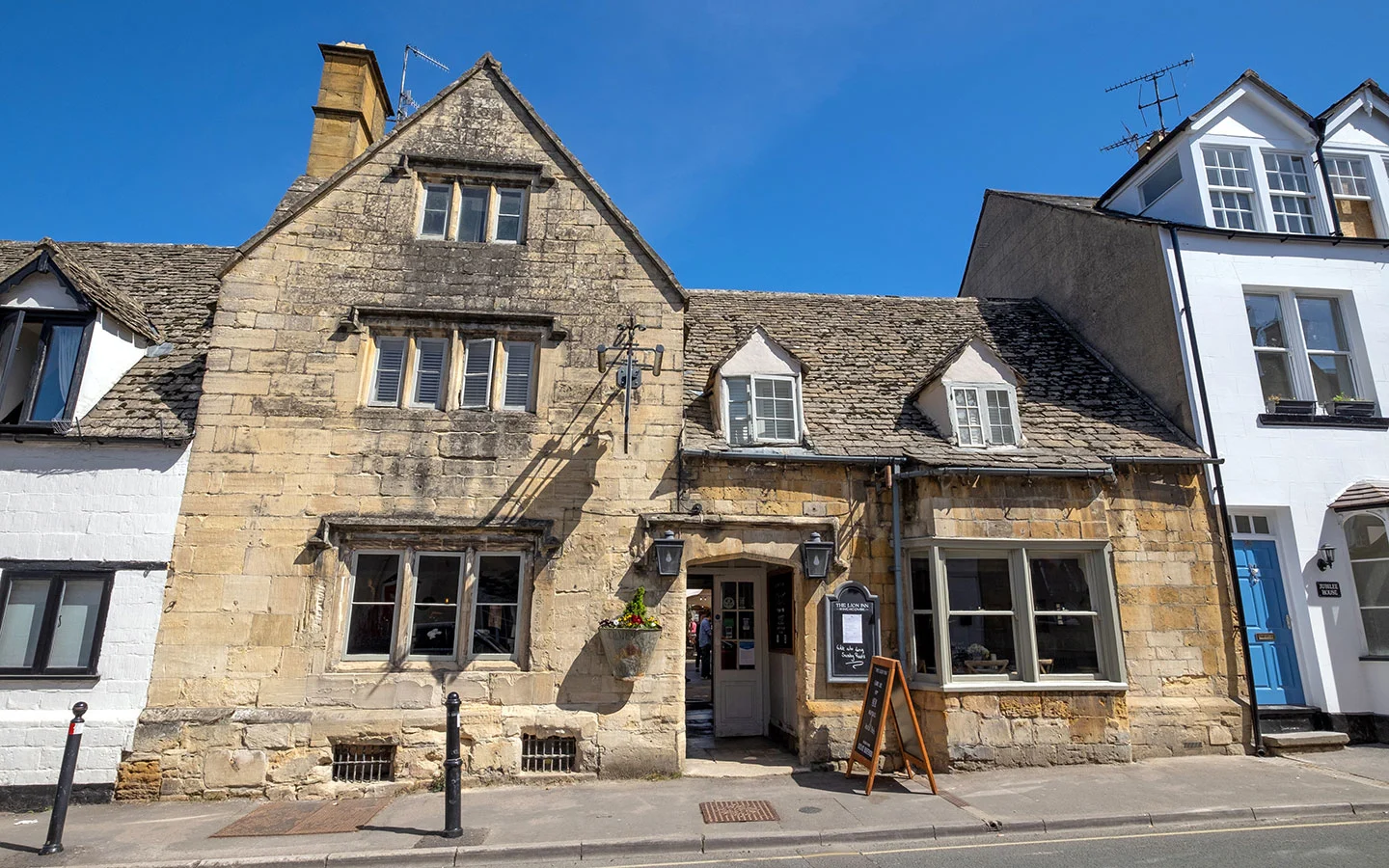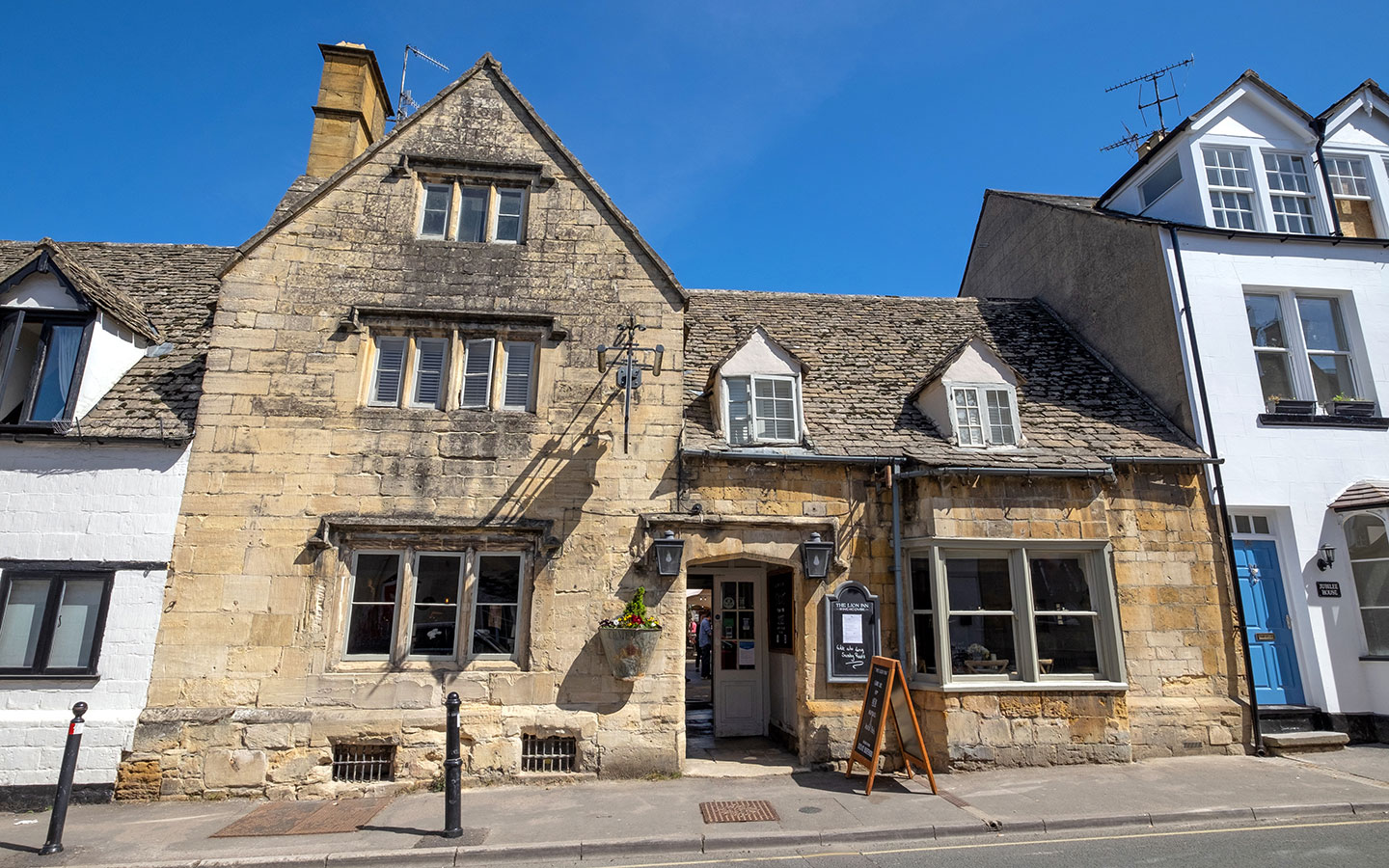 Getting to Stanton
By car: Stanton has a small car park next to the cricket ground (WR12 7NG). To get back to Stanton from Winchcombe you can catch the Pulhams 606 bus which takes around 20 minutes. But it only runs a couple of times a day, so you may need to take a taxi instead (approx £25).
By public transport: The Pulhams 606 bus also runs from Cheltenham to Stanton, but it takes almost two hours and doesn't run very frequently. So you may be better off catching a train to Moreton-in-Marsh and taking a taxi from there to Stanton (approx £35).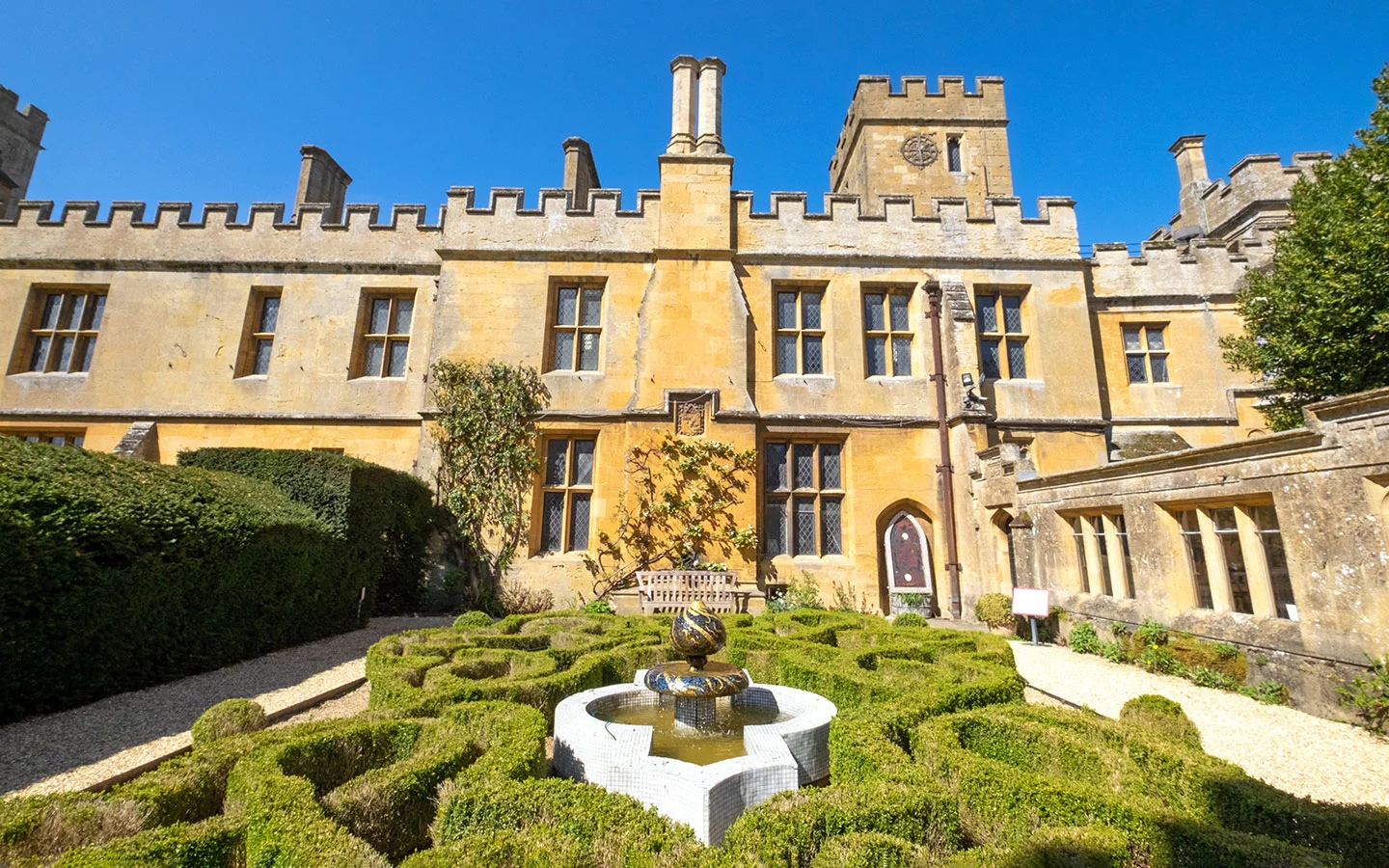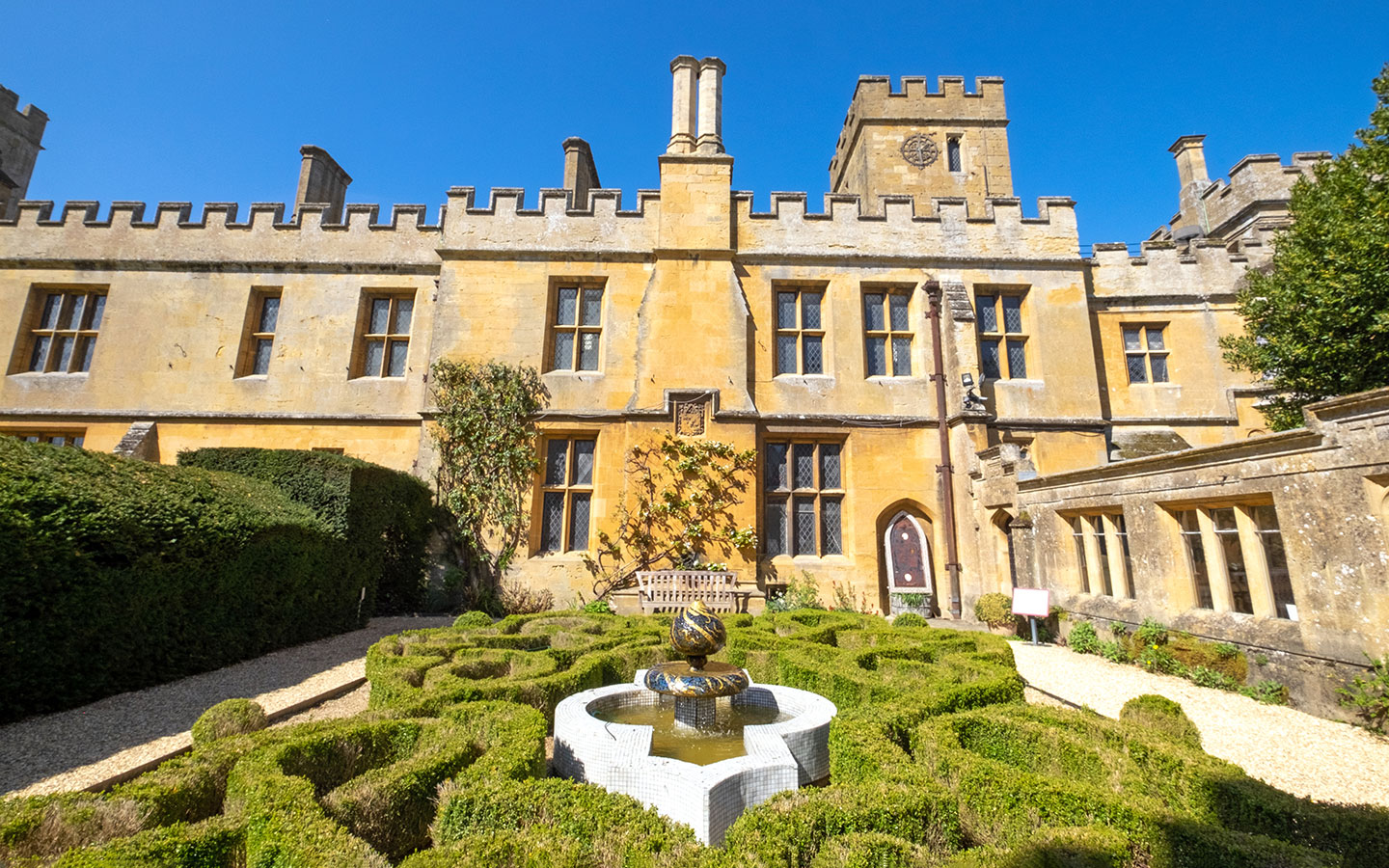 Day 3: Winchcombe to Dowdeswell (11.8 miles/18km)
Winchcombe > Belas Knap > Cleeve Hill > Dowdeswell (6 hours)
The third day involves a bit more climbing, taking you to the highest point in the Cotswolds at Cleeve Hill. After leaving Winchcombe you head uphill towards the Neolithic burial chamber at Belas Knapp. The path runs along a flat section on top of the hill before going downhill into the Breakheart Plantation woods, through a farmyard and past 17th-century Postlip Hall.
Once you reach Cleeve Common it's a fairly steady climb to the trig point at the top of Cleeve Hill with panoramic views over Cheltenham (though watch out for flying balls from the golf course). After walking along the escarpment you pass through tranquil Prestbury Hill Nature Reserve before heading downhill along the edge of Dowdeswell Woods to finish by the reservoir.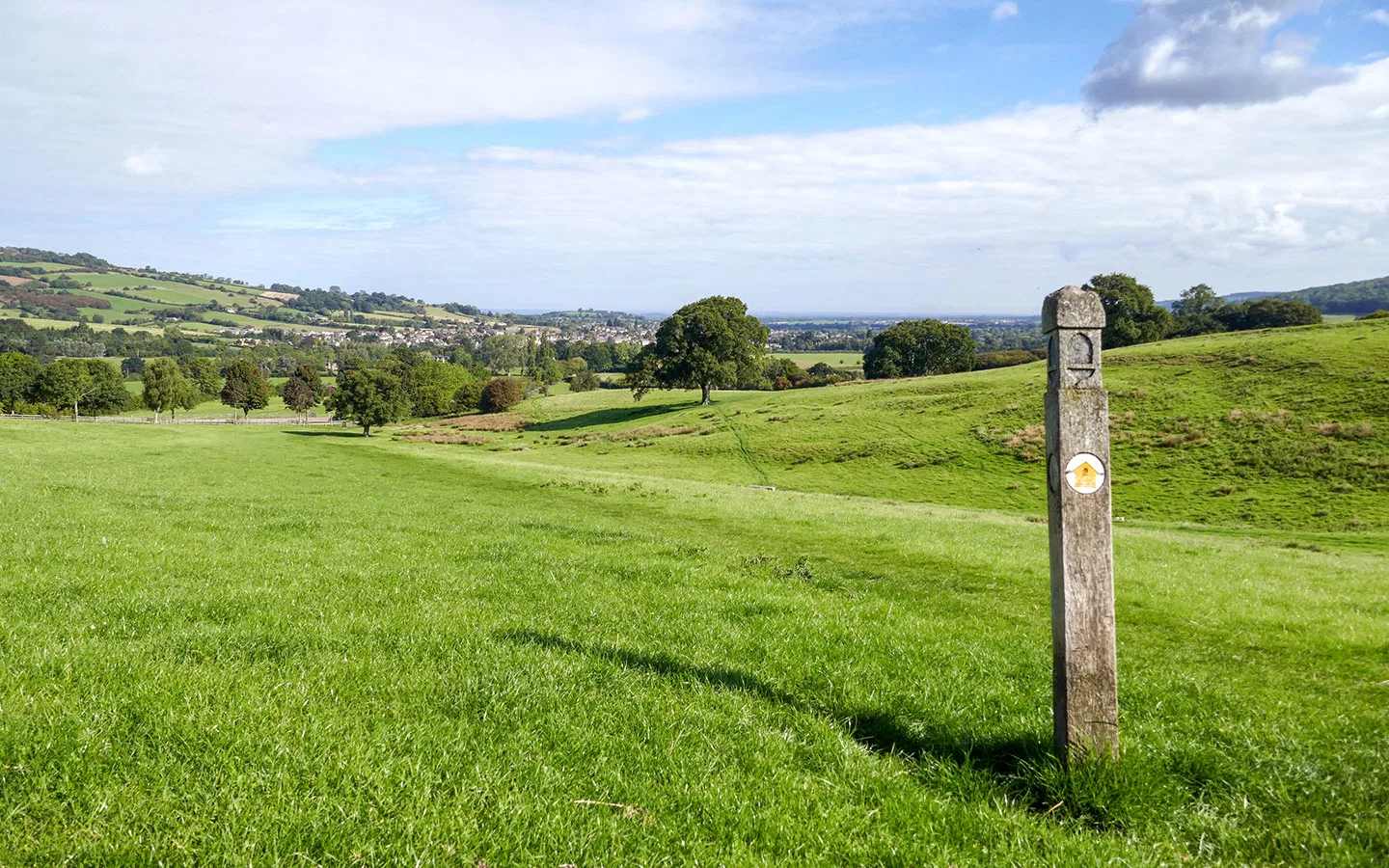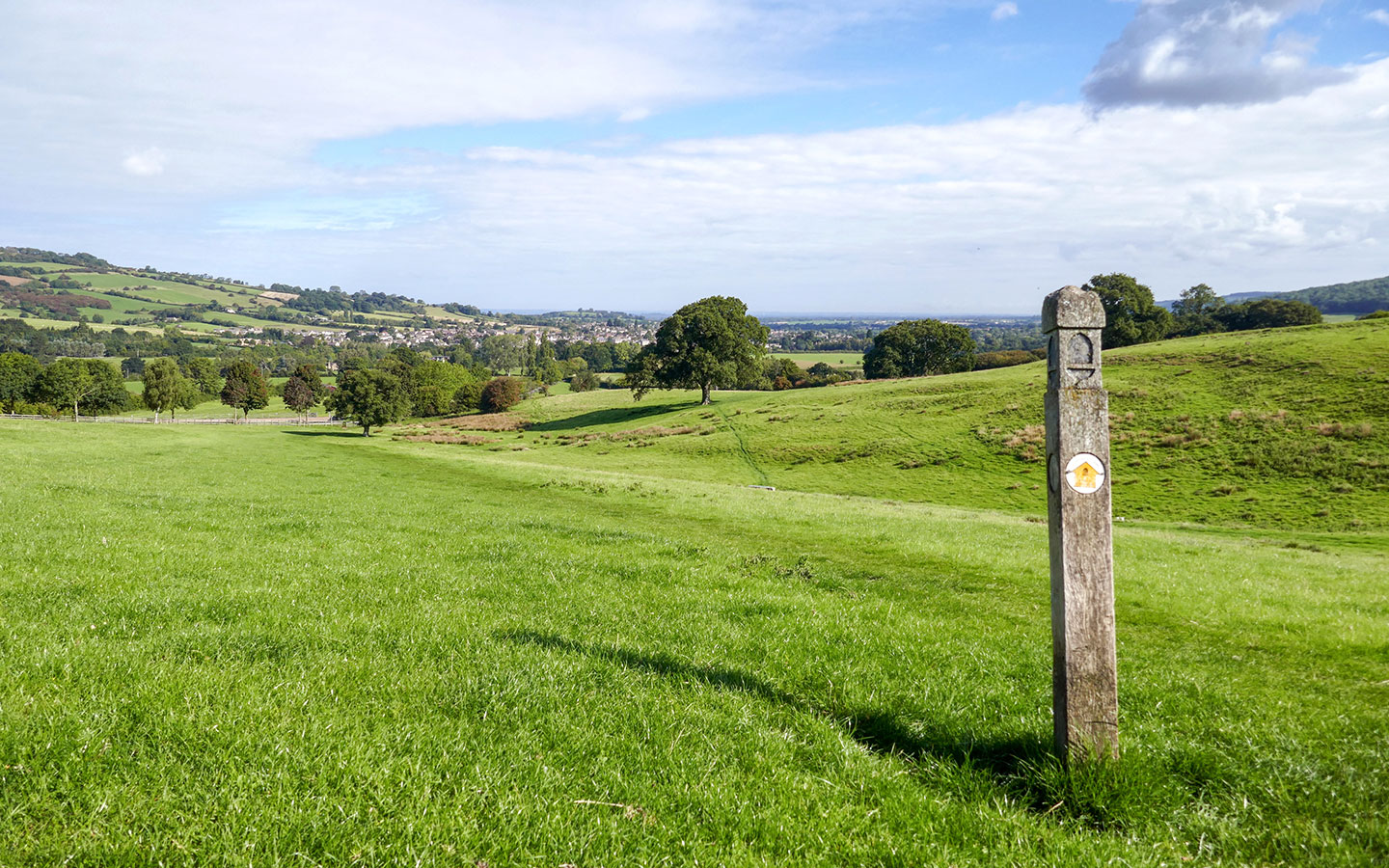 Day 3 highlights
Winchcombe views: As you climb up the hill outside Winchcombe don't forget to look behind you for some great views, first of the town and then of Sudeley Castle.
Belas Knap: This unassuming grass-covered mound on a hillside above Winchcombe is actually a Neolithic long barrow – a tomb for communal burials which dates back 5000 years. Over 30 Bronze Age skeletons were found inside when it was excavated in the 19th century and you can see a false entrance at the front built to deter grave robbers and the real entrance at the side.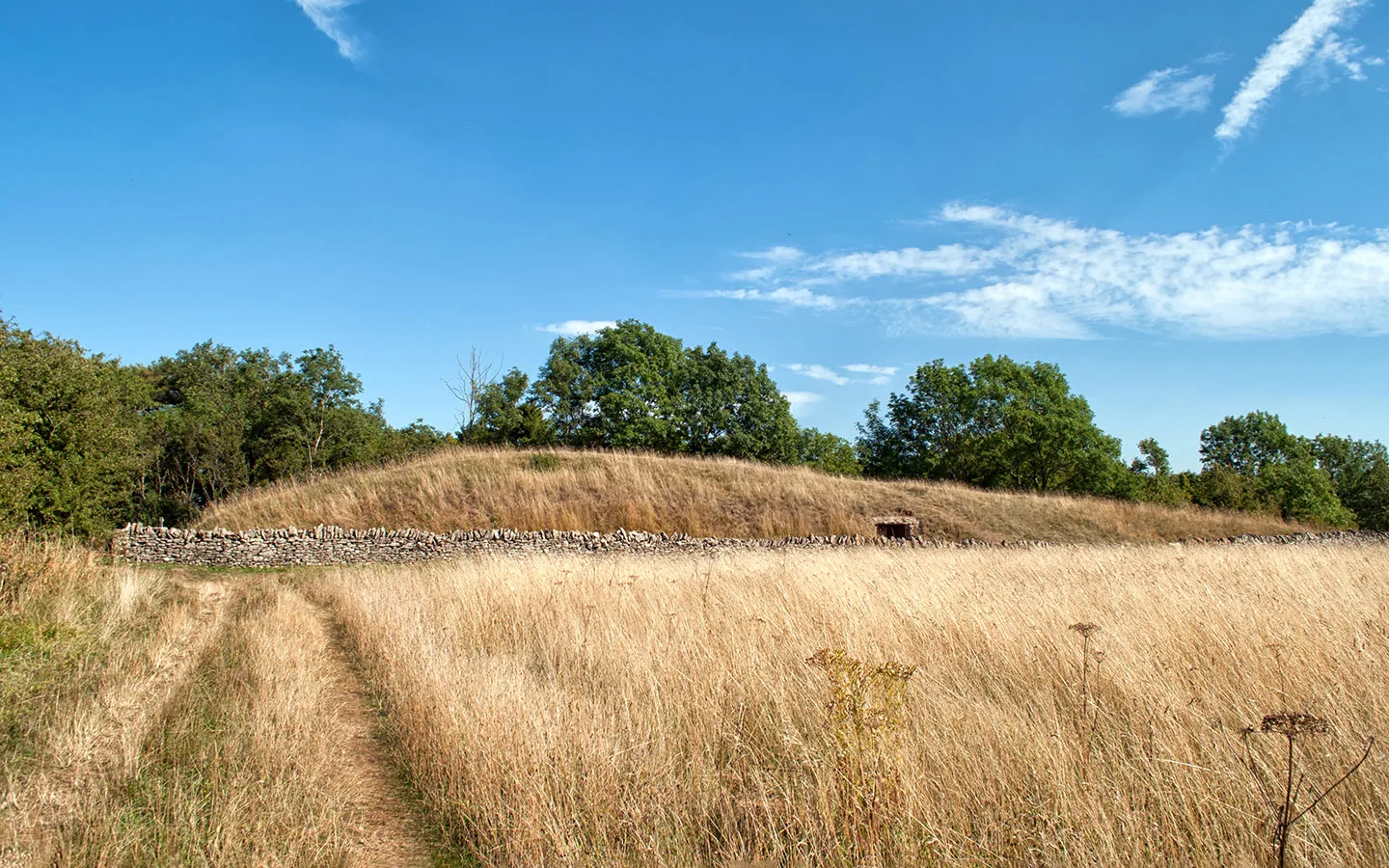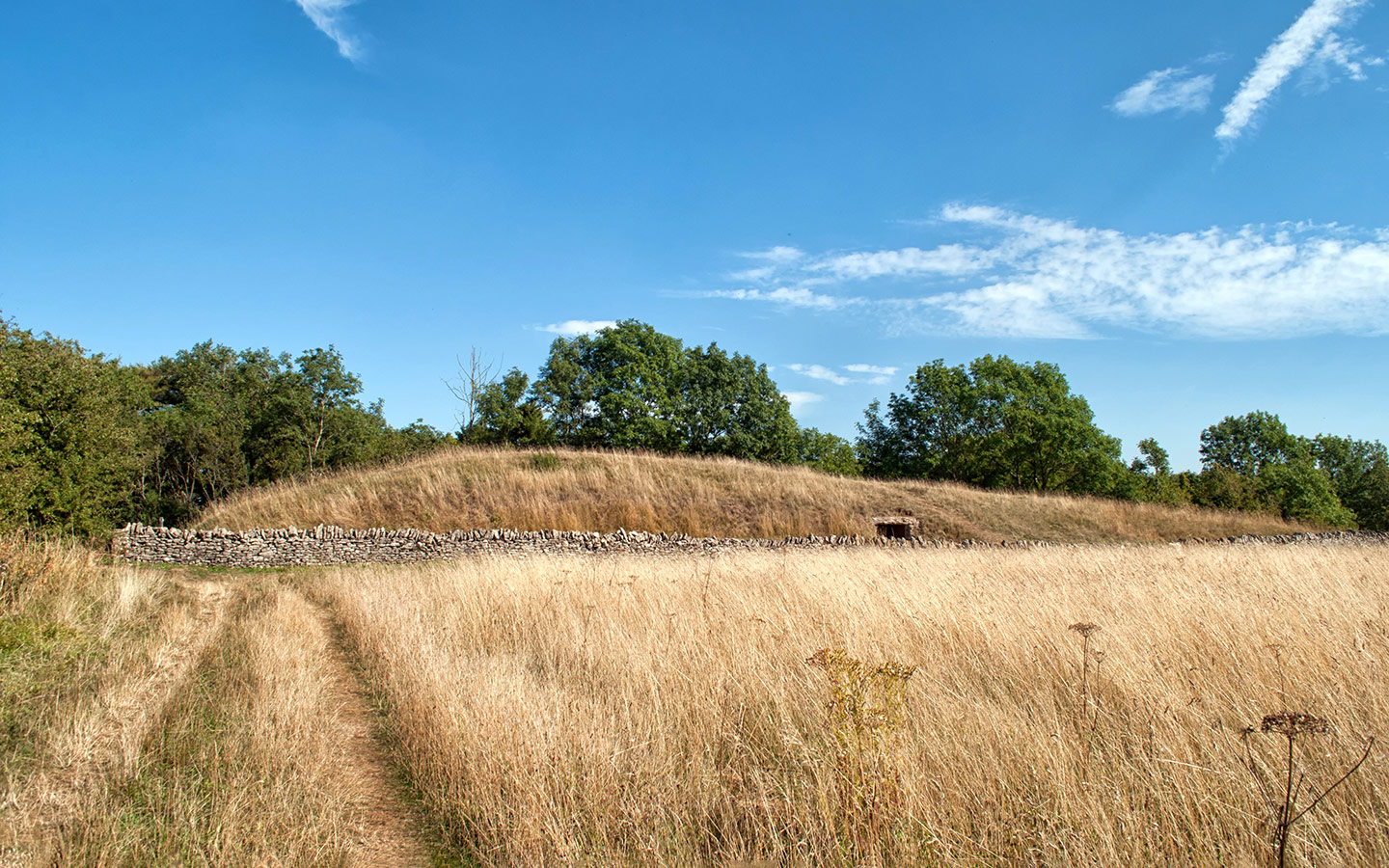 Cleeve Hill: Cleeve Hill is a Site of Special Scientific Interest and area of protected limestone grassland home to rare wildflowers, birds and mammals. It's the highest point in the Cotswolds at 325 metres/1066 feet with views for miles – look down and you'll see Cheltenham Racecourse below you. There's also a golf club and resident sheep who keep the grass neatly trimmed.
Prestbury Hill Nature Reserve: This peaceful nature reserve next to Cleeve Common is an important habitat for over 30 species of butterflies – and in spring and summer you'll also see lots of wildflowers like cowslips and orchids which are their food source.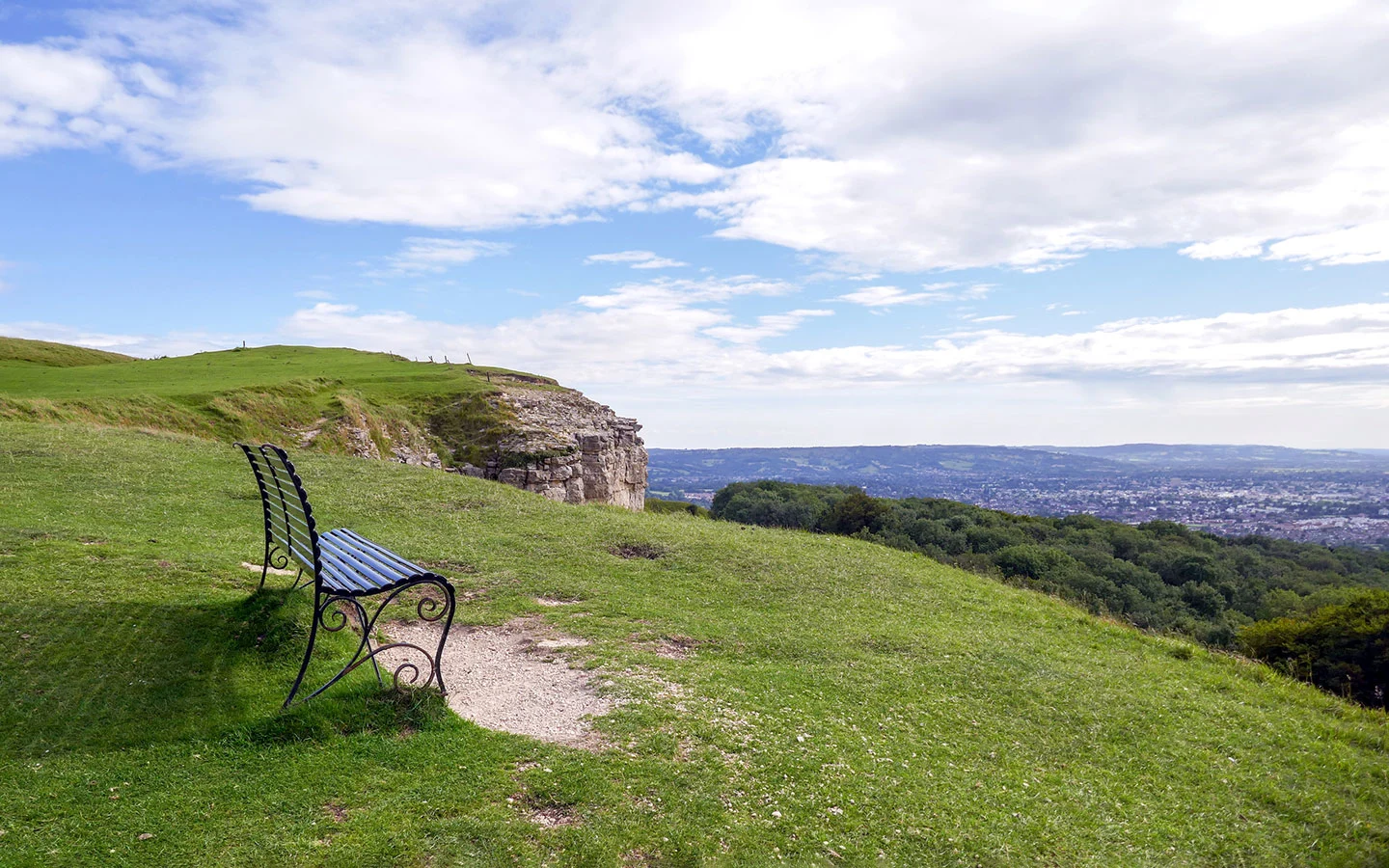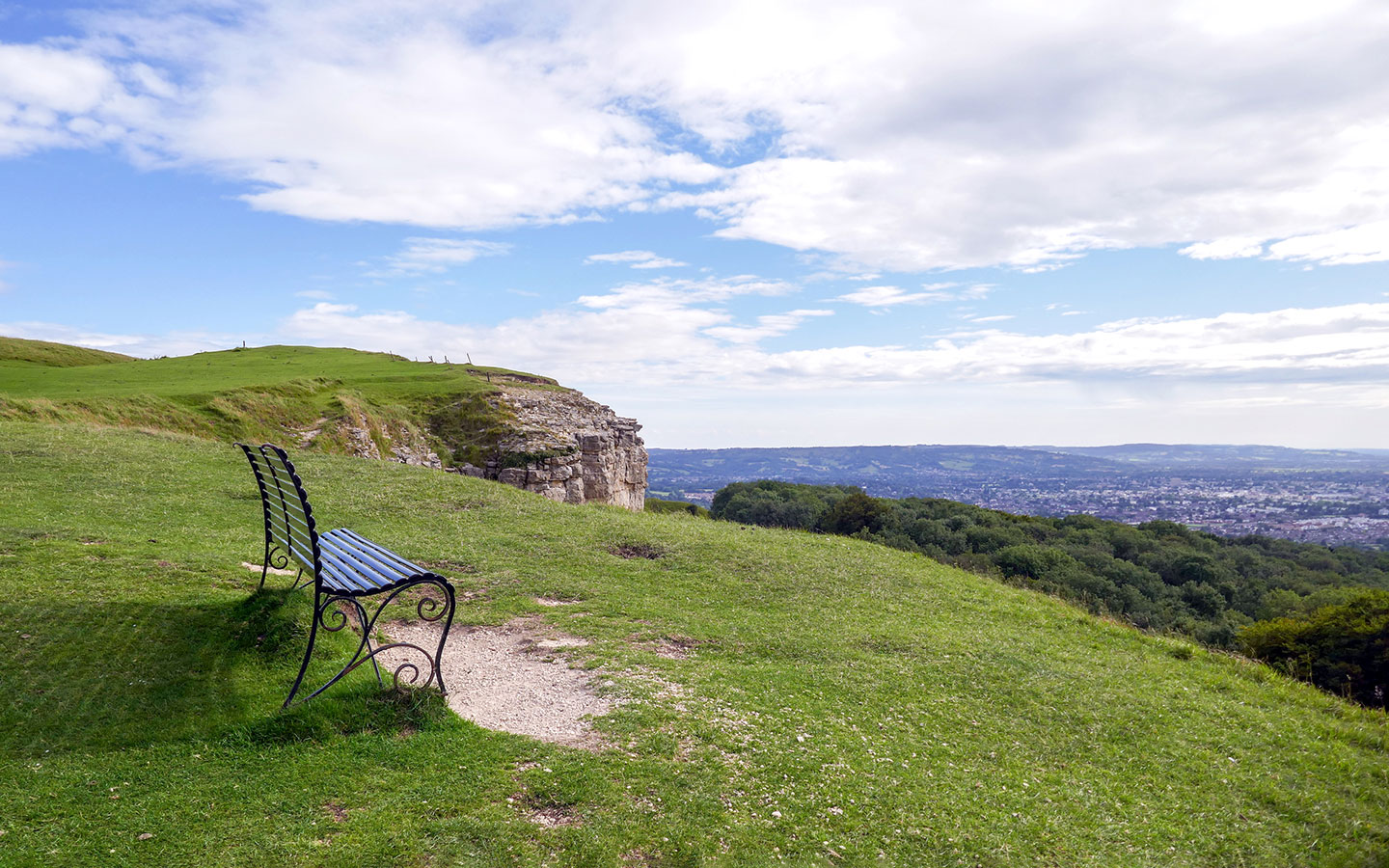 Day 3 facilities
Food and drink: There are Coop and Nisa Local grocery stores in Winchcombe as well as the Food Fanatics deli for picnic supplies, and plenty of cafés. Along the route the Cotswold Way Café at Cleeve Hill Golf Course sells pizzas, snacks and ice creams. And Dunkertons have a shop and deli a short walk from the end point, with a bar selling their cider and street food stalls.
Toilets: There are public toilets in Winchcombe next to the library (GL54 5PW) and customer toilets at Dunkertons in Dowdeswell (GL52 6UT), but none along the route.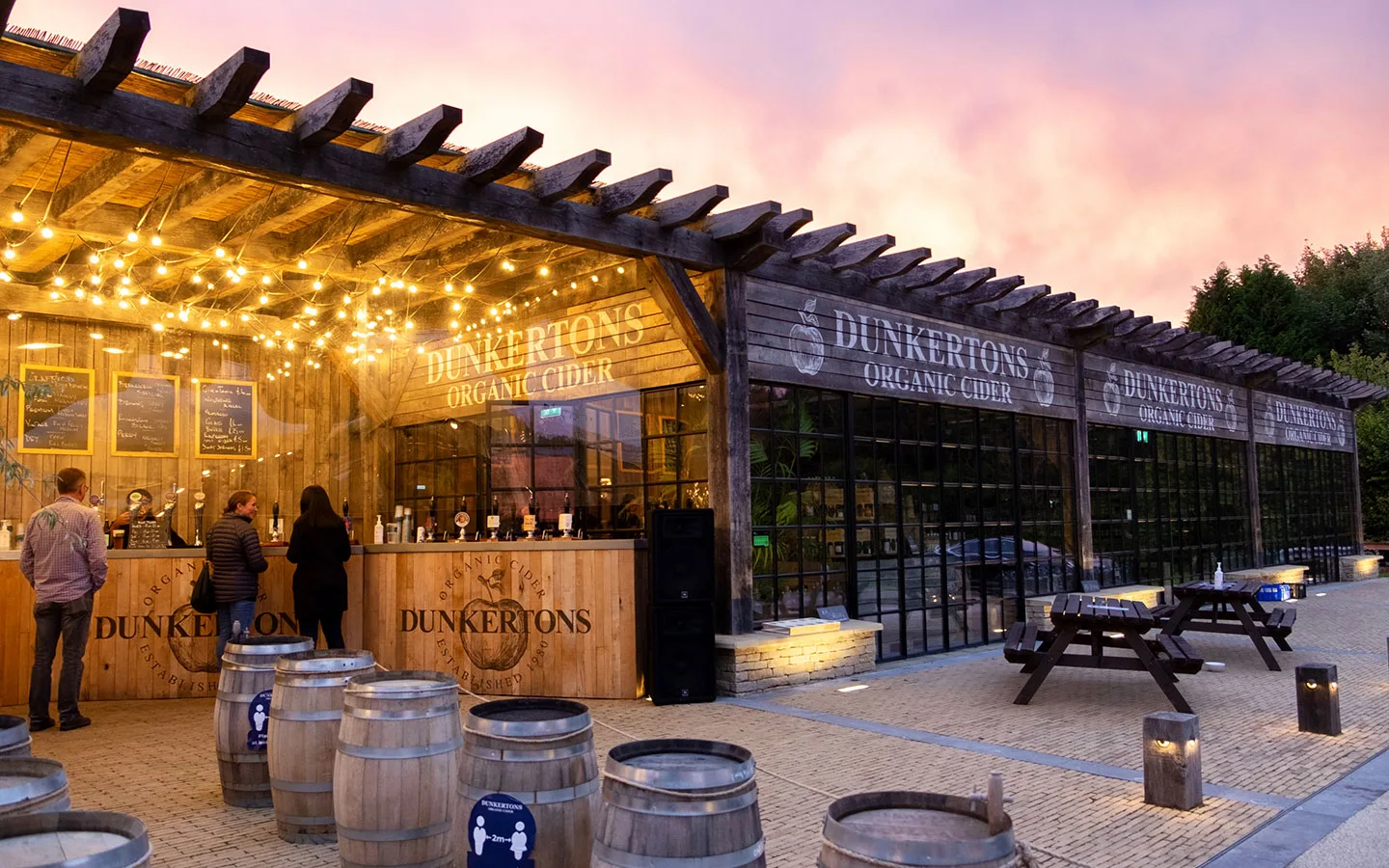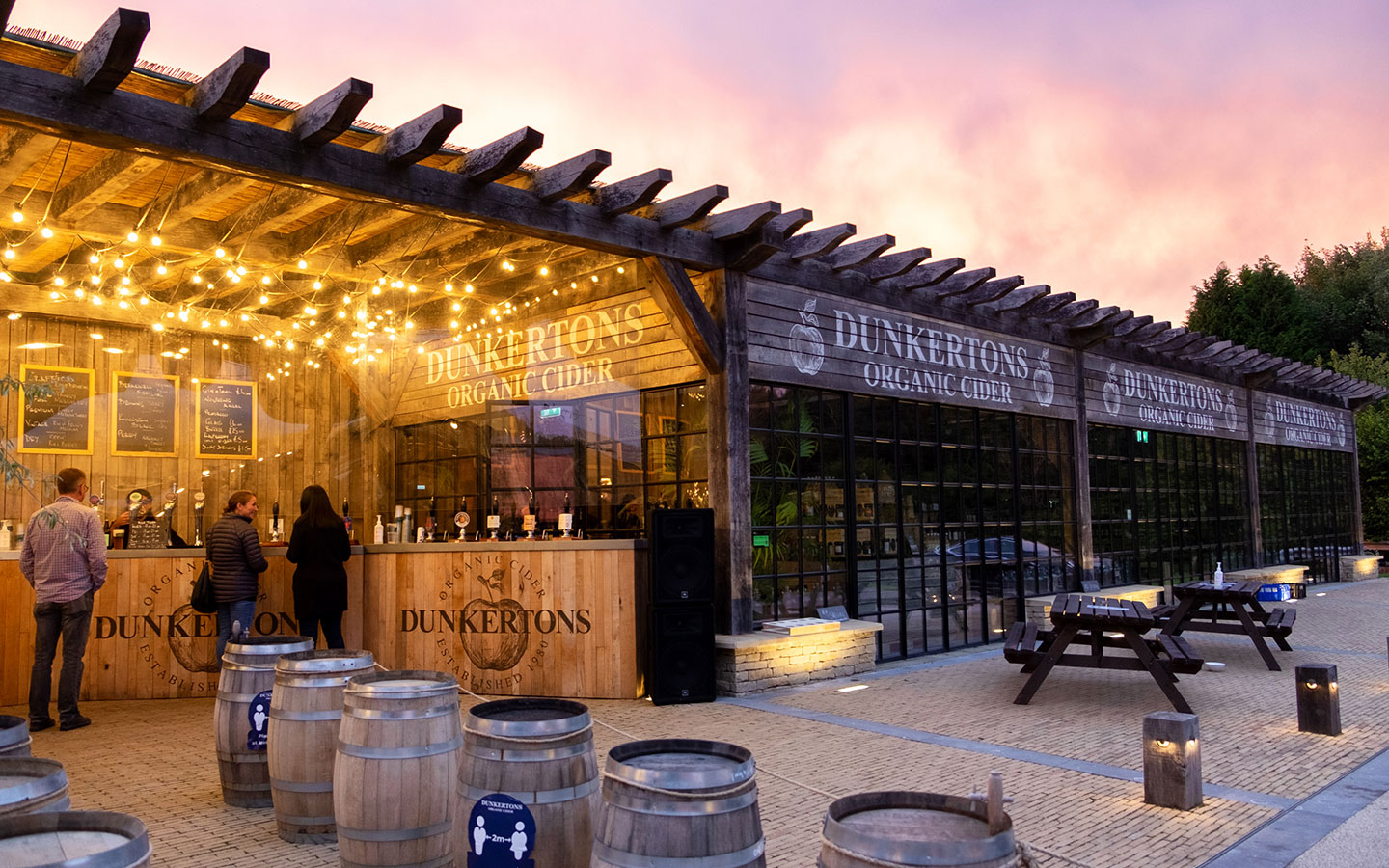 Getting to Winchcombe
By car: There's car parking in Winchcombe at the Back Lane car park (GL54 5PZ), which costs £1 all day, and the Bull Lane car park (GL54 5HX). To get back to Winchcombe you can catch the Pulhams 801 bus from Lower Dowdeswell into Cheltenham and then the W bus to Winchcombe.
By public transport: The nearest train station to Winchcombe is in Cheltenham. The Stagecoach W bus runs hourly from Cheltenham to Winchcombe and takes 25 minutes.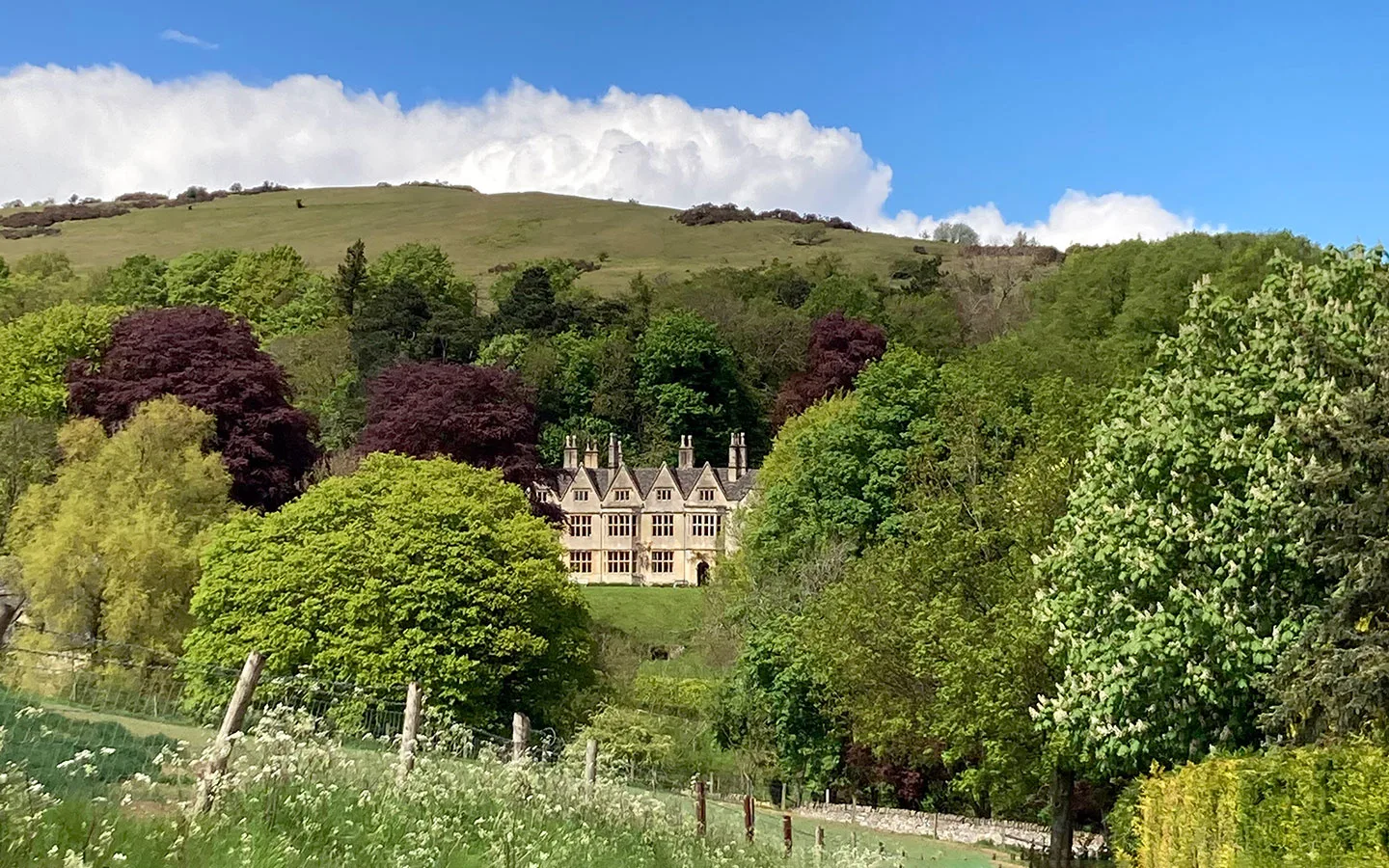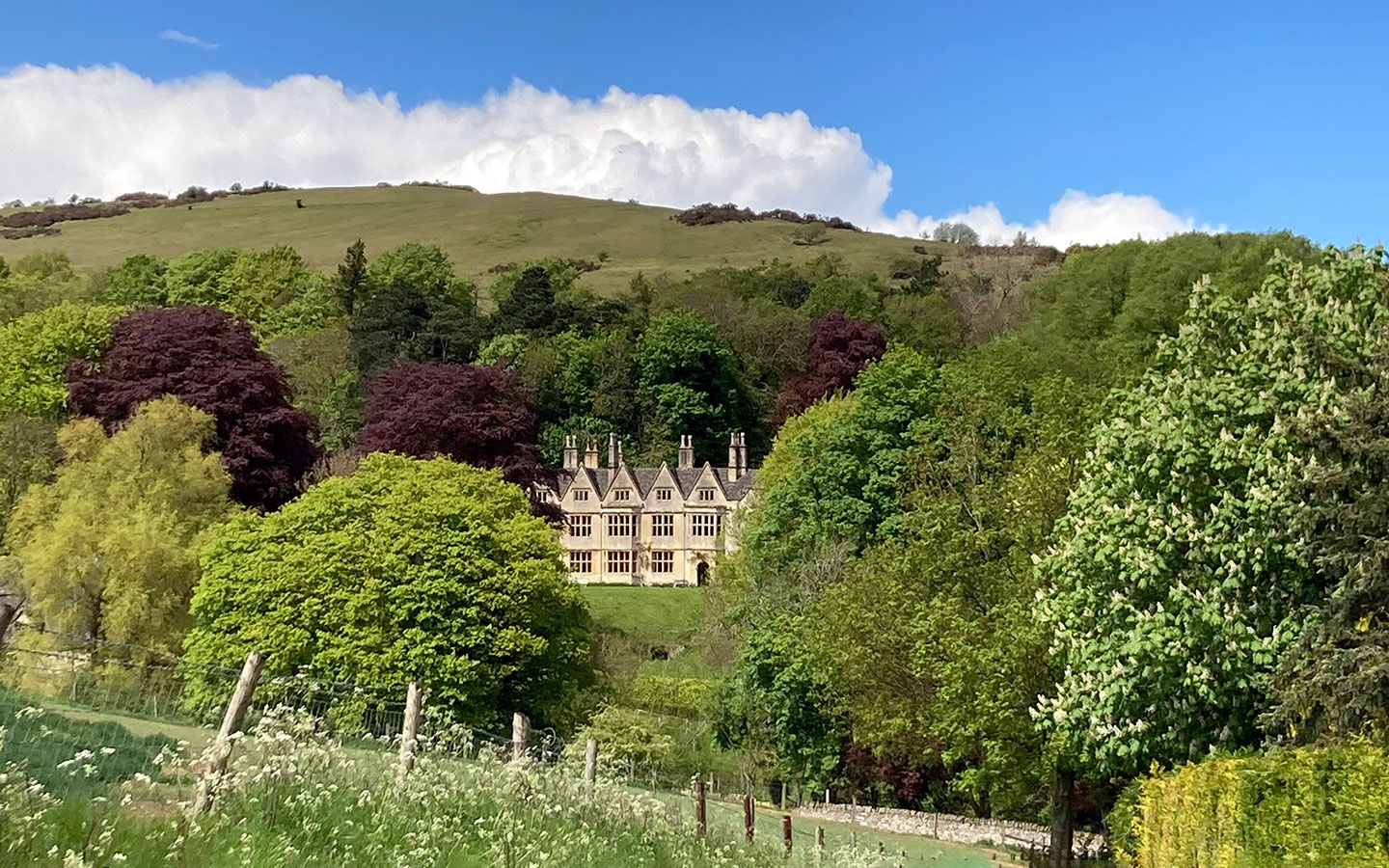 Day 4: Dowdeswell to Birdlip (9.9 miles/15.9km)
Dowdeswell > Wistley Hill > Leckhampton Hill > Crickley Hill > Birdlip (5 hours)
Day four of this Cotswold Way itinerary is a day of four hills – Wistley, Leckhampton, Crickley and Birdlip. Though after an initial climb it's not too strenuous a walk, with plenty of fantastic views along the way. After crossing the road from the reservoir the route runs uphill through Lineover Wood and then climbs up onto Wistley Hill where you get the first of the views.
You cross over the Cirencester Road at Seven Springs then zig-zag along the hilltops. First there's Charlton Kings Common and Leckhampton Hill with views across Cheltenham. Then after walking through a stretch of woodland you reach Crickley Hill Country Park. The route crosses over a busy road by the Air Balloon pub before turning off to Barrow Wake viewpoint in Birdlip.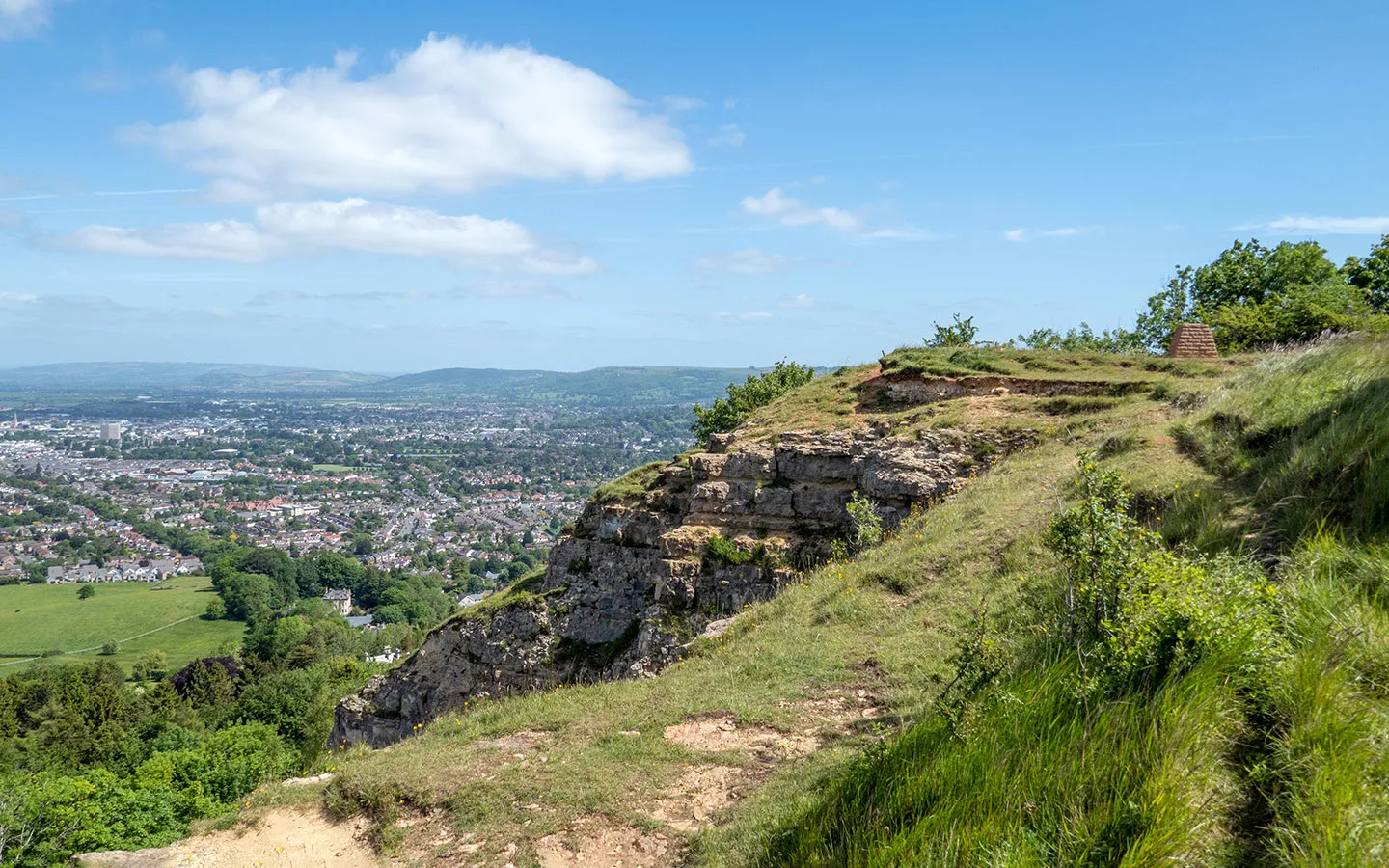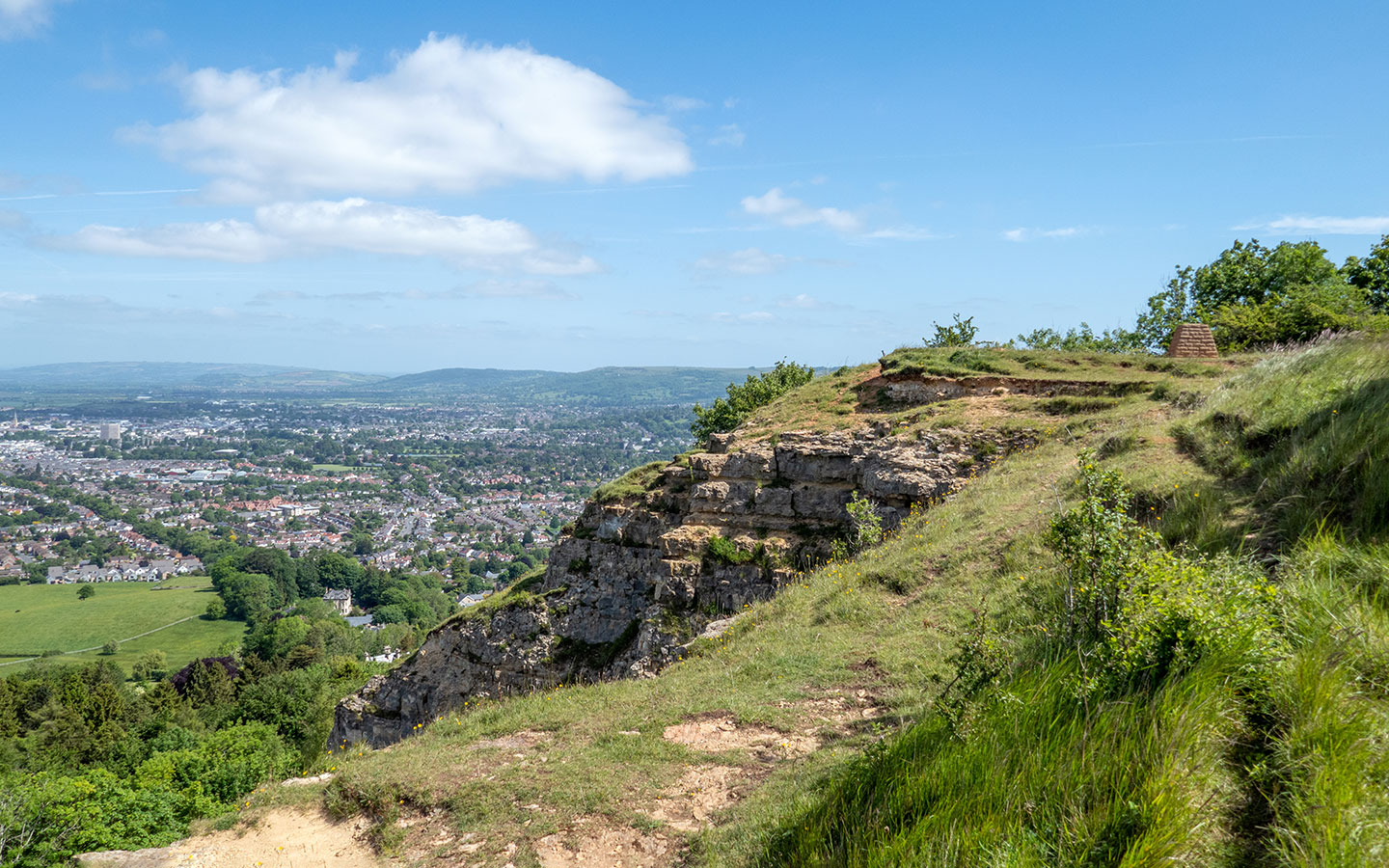 Day 4 highlights
Lineover Woods: This ancient woodland is made up of beech, oak, lime, ash and sycamore trees, and includes a 600-year-old beech tree said to be the third largest in Britain. Look out for the carpet of wildflowers on the forest floor in spring, with bluebells, orchids and lily of the valley.
Leckhampton Hill: Leckhampton Hill and neighbouring Charlton Kings Common are another stretch of the limestone grassland this part of the Cotswolds is known for. You can also see site of an Iron Age hill fort and remnants of the hill's days as a limestone quarry. And you can do a short diversion off the path to the Devil's Chimney, a rock stack jutting out of the hillside.
Crickley Hill Country Park: This country park is a popular spot for walkers from Cheltenham, with views stretching as far as the Black Mountains in Wales. There's a small visitors centre and a café, which does delicious ice cream if you're there on a sunny day.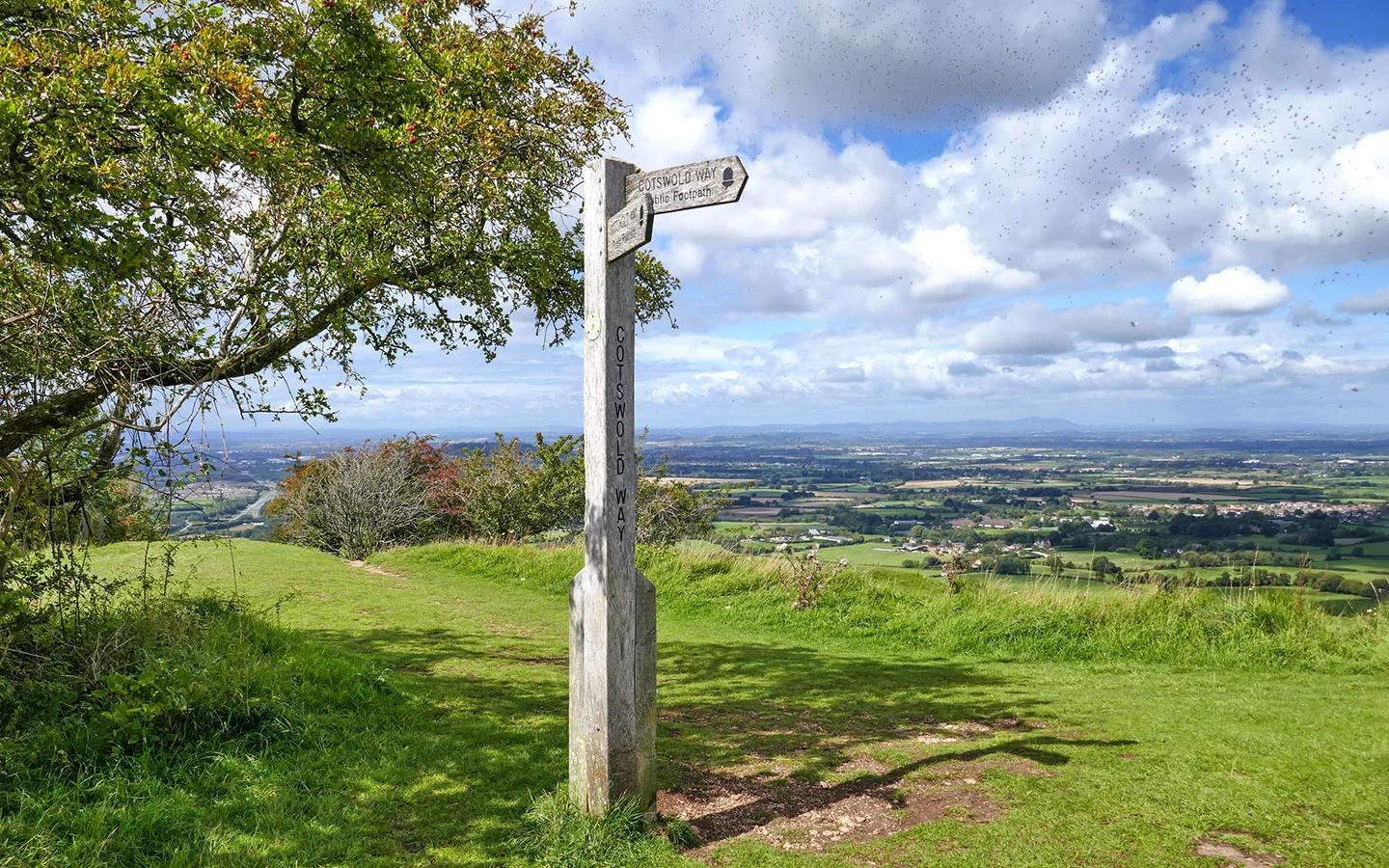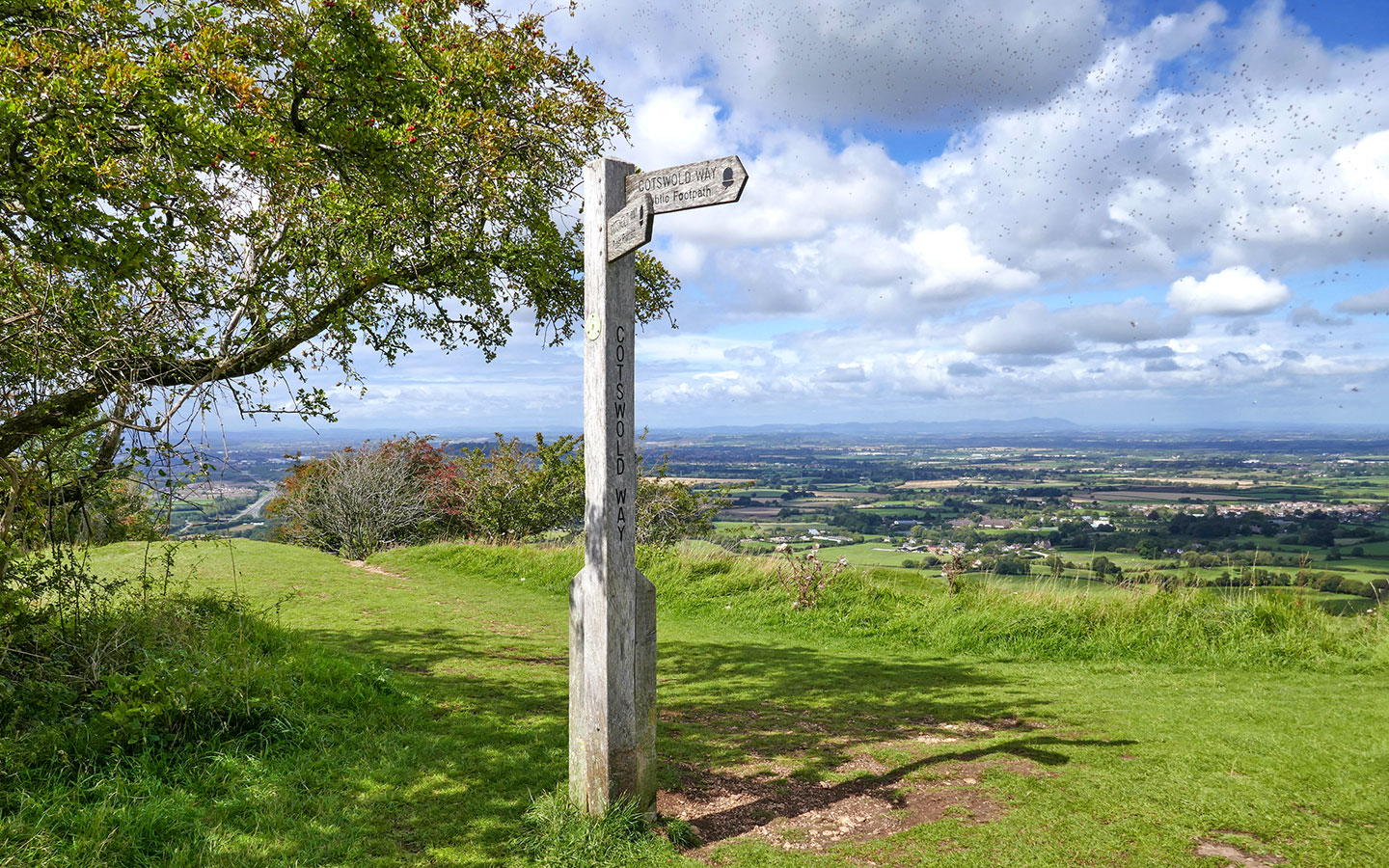 Day 4 facilities
Food and drink: Dunkertons in Dowdeswell has a deli and bakery. Star Bistro just before Crickley Hill serves breakfast, lunch and afternoon tea, and the café at Crickley Hill Country Park sells sandwiches, cakes and ice cream. There are also a couple of pubs serving food along the route – the Seven Springs near Leckhampton Hill and the Air Balloon on the A417 at Birdlip.
Toilets: There are customer toilets at Dunkertons in Dowdeswell (GL52 6UT) and free public toilets at Crickley Hill Country Park (GL4 8JY).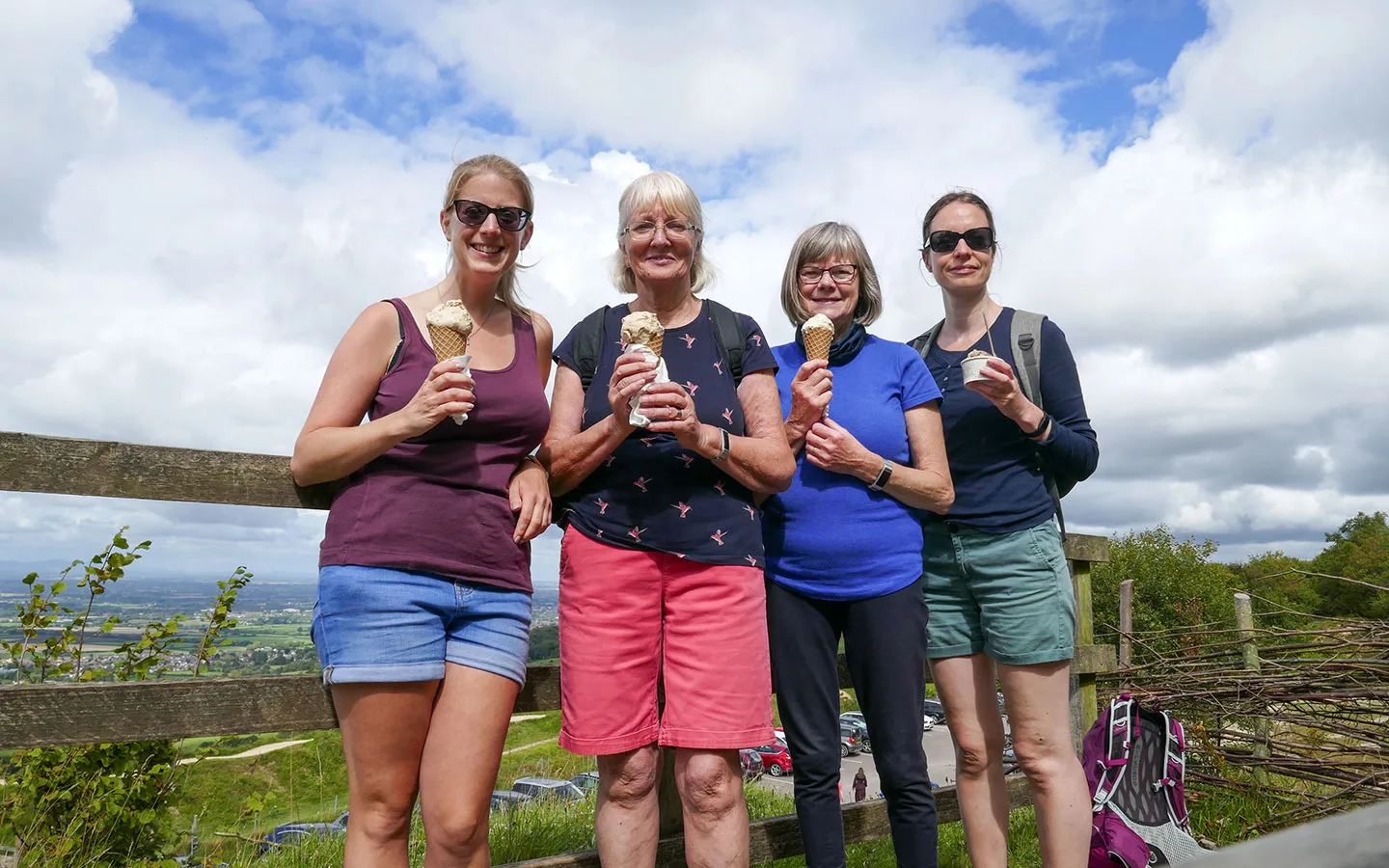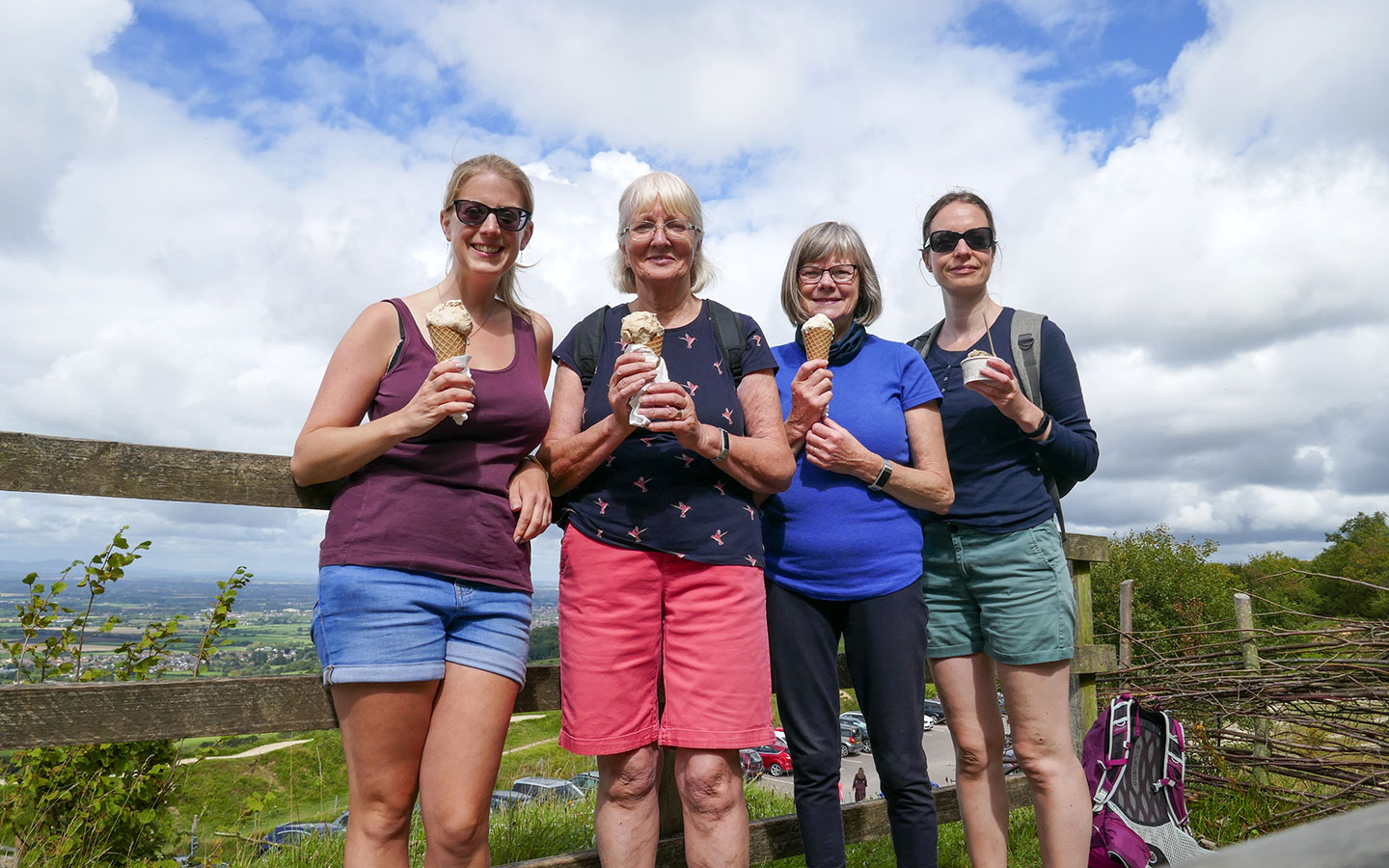 Getting to Dowdeswell
By car: There is a small car park at Lineover Woods (GL54 4HG), which is across the other side of the A40 from Dowdeswell Reservoir. But there's no easy way to get back from Birdlip to Dowdeswell at the end of the day other than by taking a taxi (approx £20).
By public transport: You can reach Dowdeswell from Cheltenham on the Pulhams 801 bus in under 20 minutes (the nearest bus stop to the walk's starting point is called 'Lower Dowdeswell, opposite Reservoir Inn', though the pub's now an Indian restaurant called Koloshi).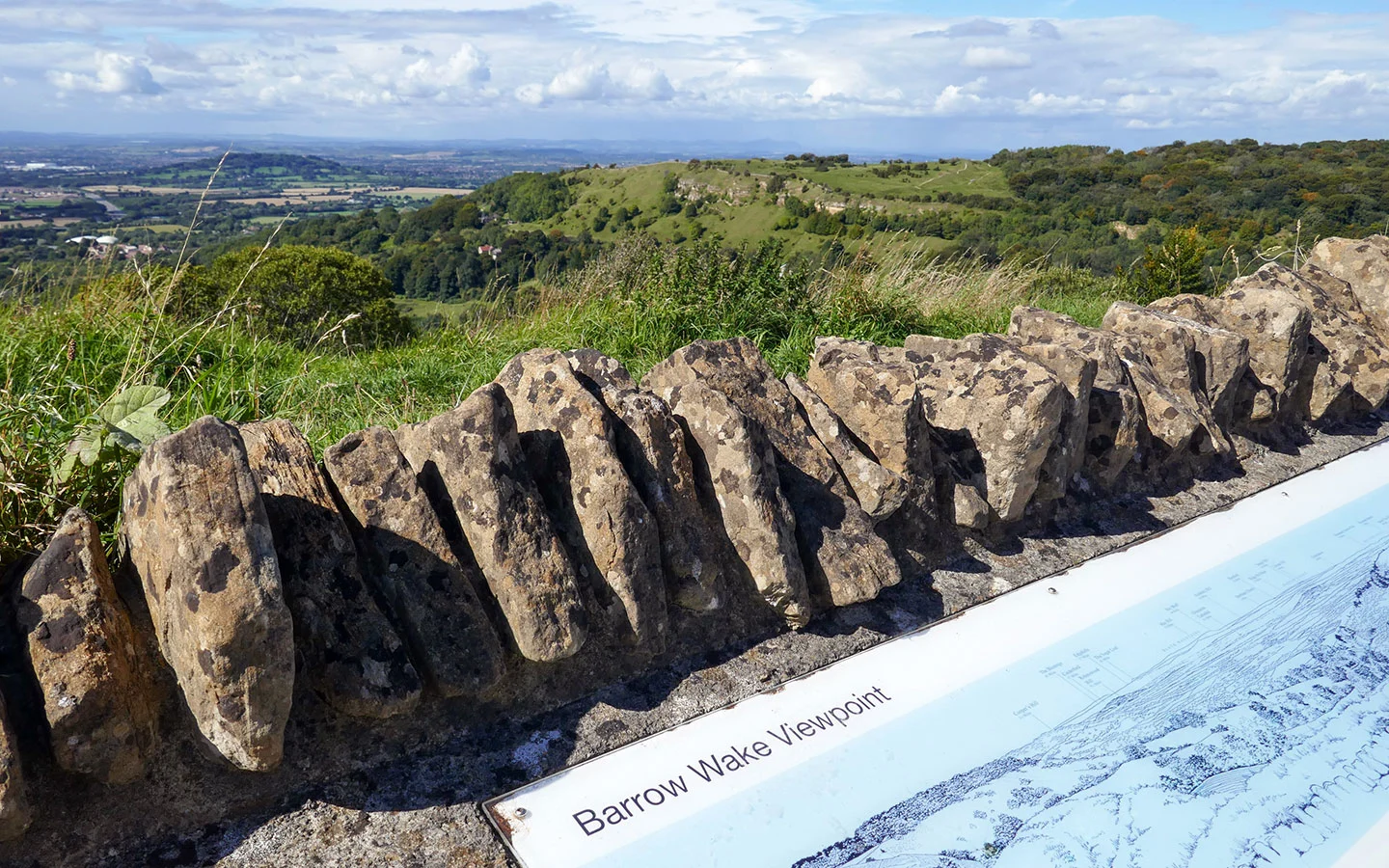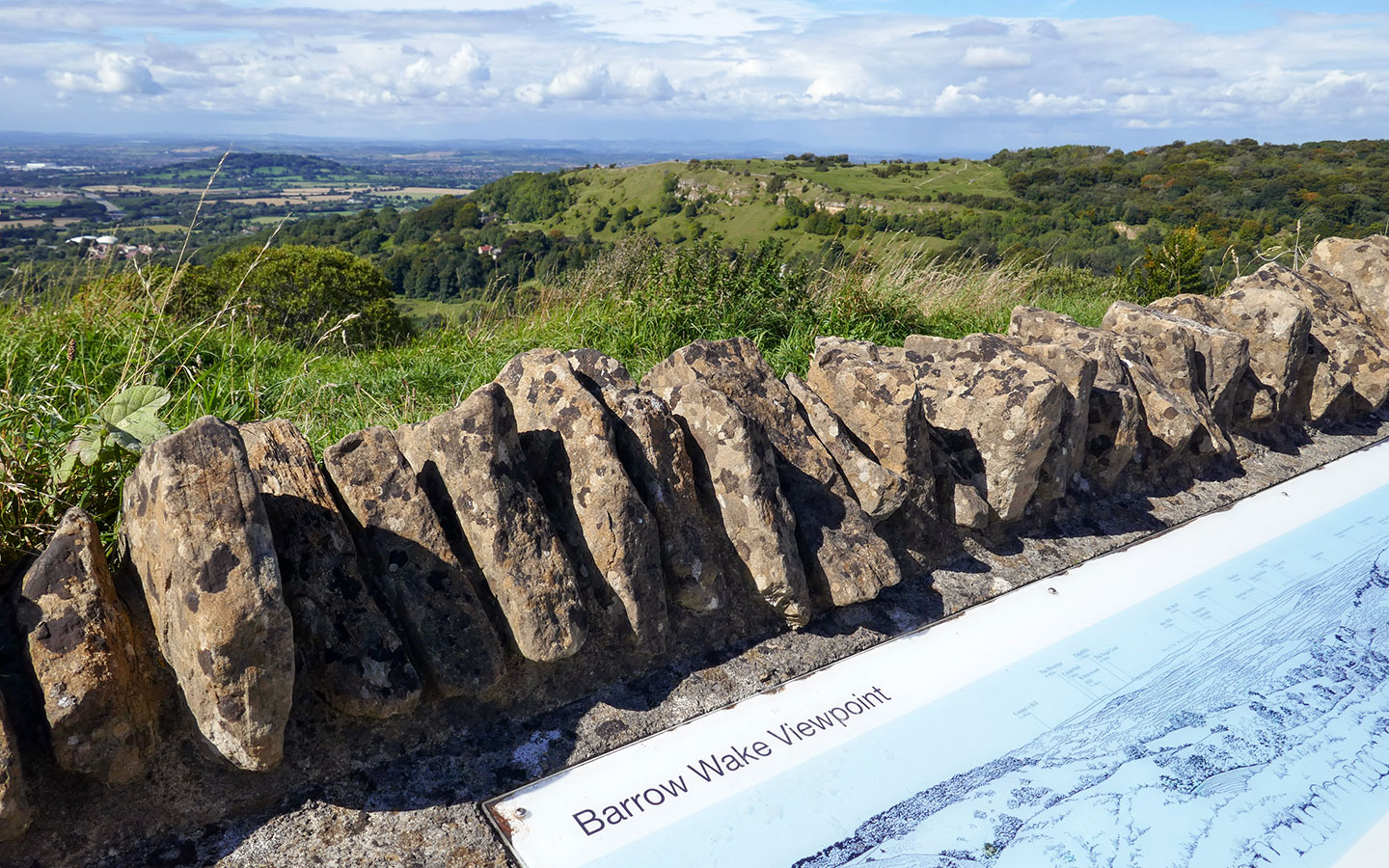 Day 5: Birdlip to Painswick (9.3 miles/15km)
Birdlip > Coopers' Hill > Painswick Beacon > Painswick (4.5 hours)
Much of day five's walk takes you through shady woodland. After starting at Barrow Wake viewpoint, the route skirts the village of Birdlip before heading into the trees. On your right are occasional views out towards the Malvern Hills. You can also see the remains of Great Witcombe Roman Villa below you – it's just a short diversion off the track if you want to take a closer look.
The route climbs up Cooper's Hill – where the famous cheese-rolling takes place – and then crosses a nature reserve before going back into woodland. You pass through Painswick golf course on your way up to the hilltop Painswick Beacon, before walking downhill to Painswick village.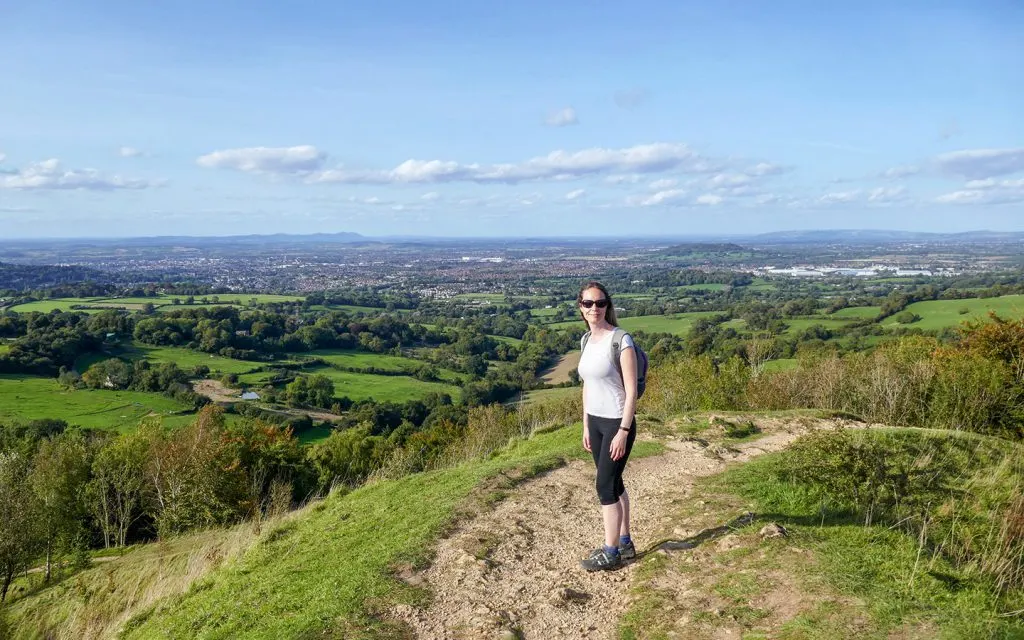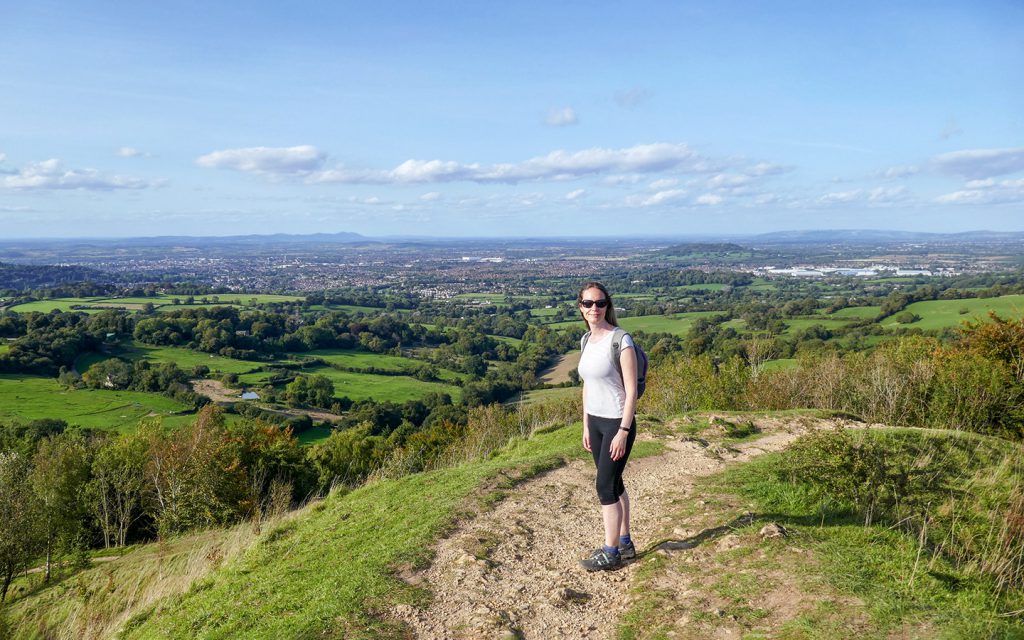 Day 5 highlights
Coopers Hill: On the Spring Bank Holiday each year, daredevil participants from all around the world chase a round of Double Gloucester cheese down this steep hill, risking injury to be crowned champion and take the cheese home. Despite the risks this quirky event has become a local tradition, but if you visit any other time of the year the hill is a much more peaceful spot.
Buckholt Wood: Part of the Beechwoods National Nature Reserve, Buckholt Wood is an area of beechwood forest that's a habitat for birds and insects, and you might even see a deer.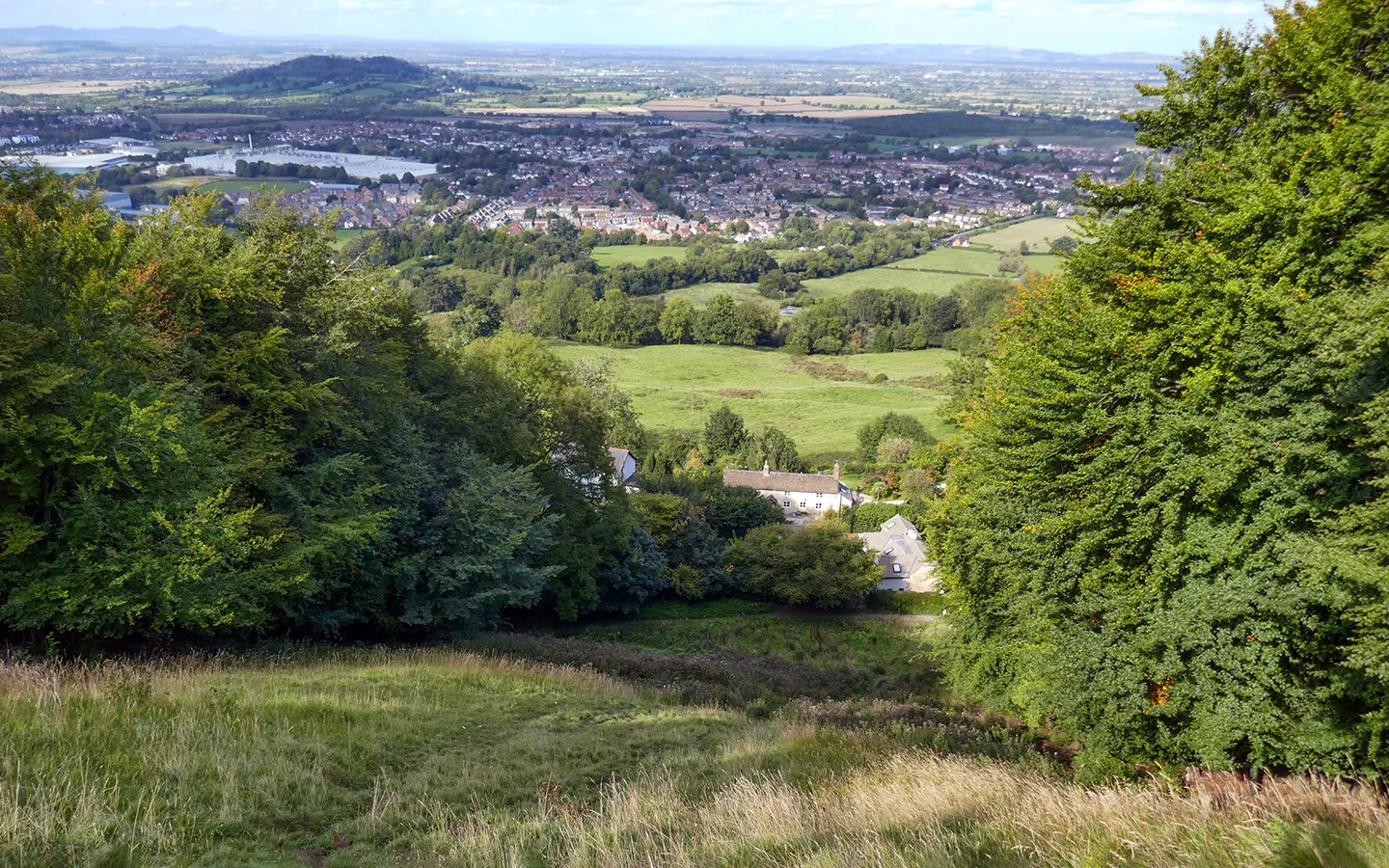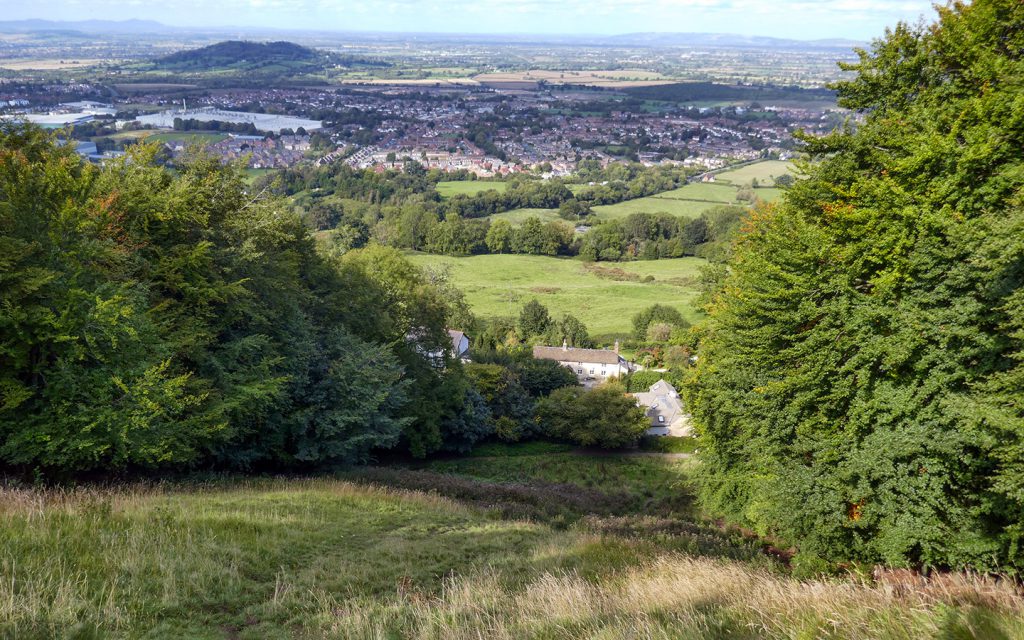 Painswick Beacon: This viewpoint lies on the site of an impressive Iron Age hill fort, with the highest point at 280 metres/920 feet marked with an obelisk and 360º views.
Painswick: The historic wool town of Painswick is one of the most charming towns on the Cotswold Way itinerary. As well as shops, cafés and restaurants, there's St Mary's Church with its medieval tombs and neatly trimmed yew trees. And Painswick Rococo Gardens on the edge of the village are England's only complete Rococo garden, built in the 1740s with follies, archways and a maze.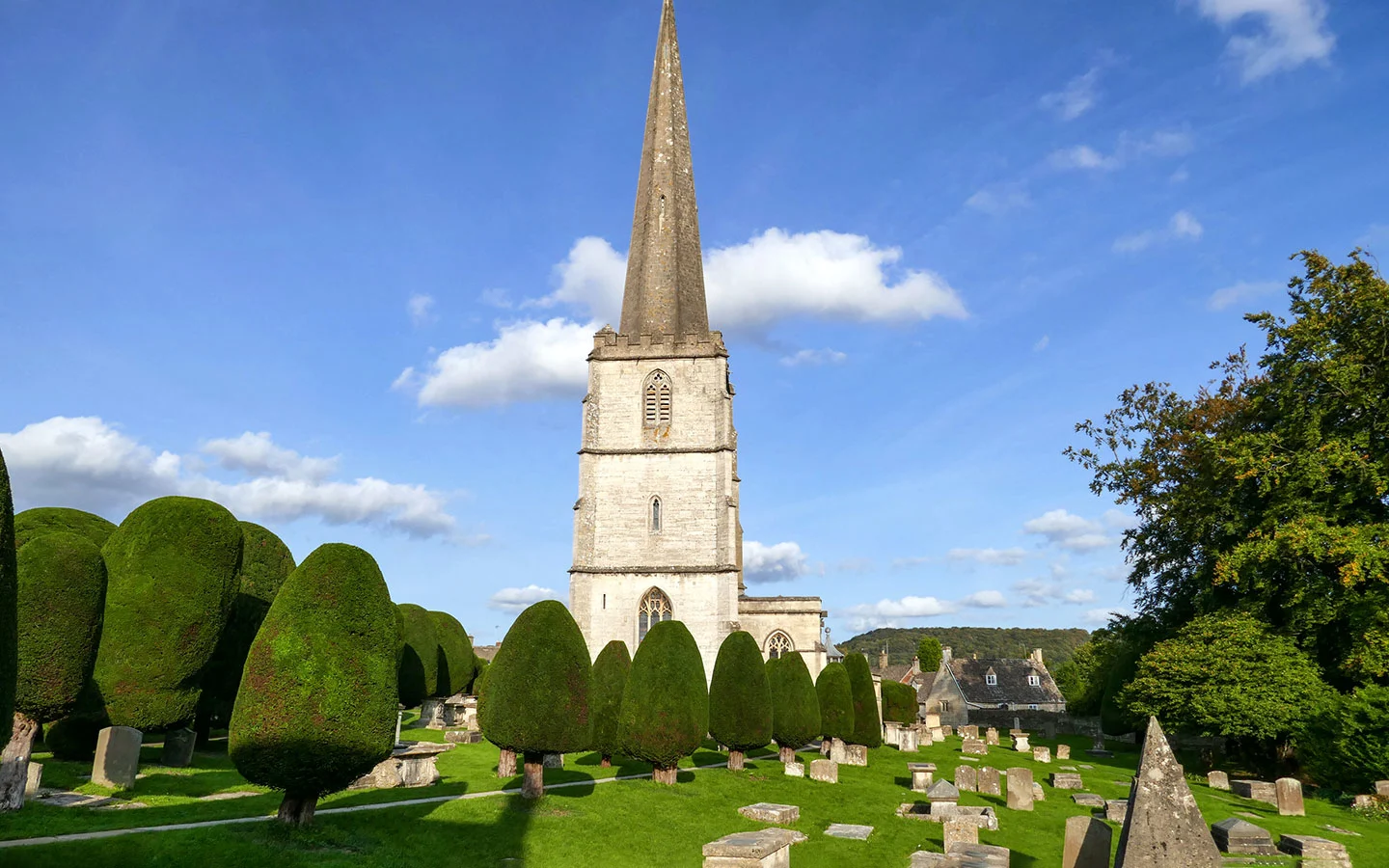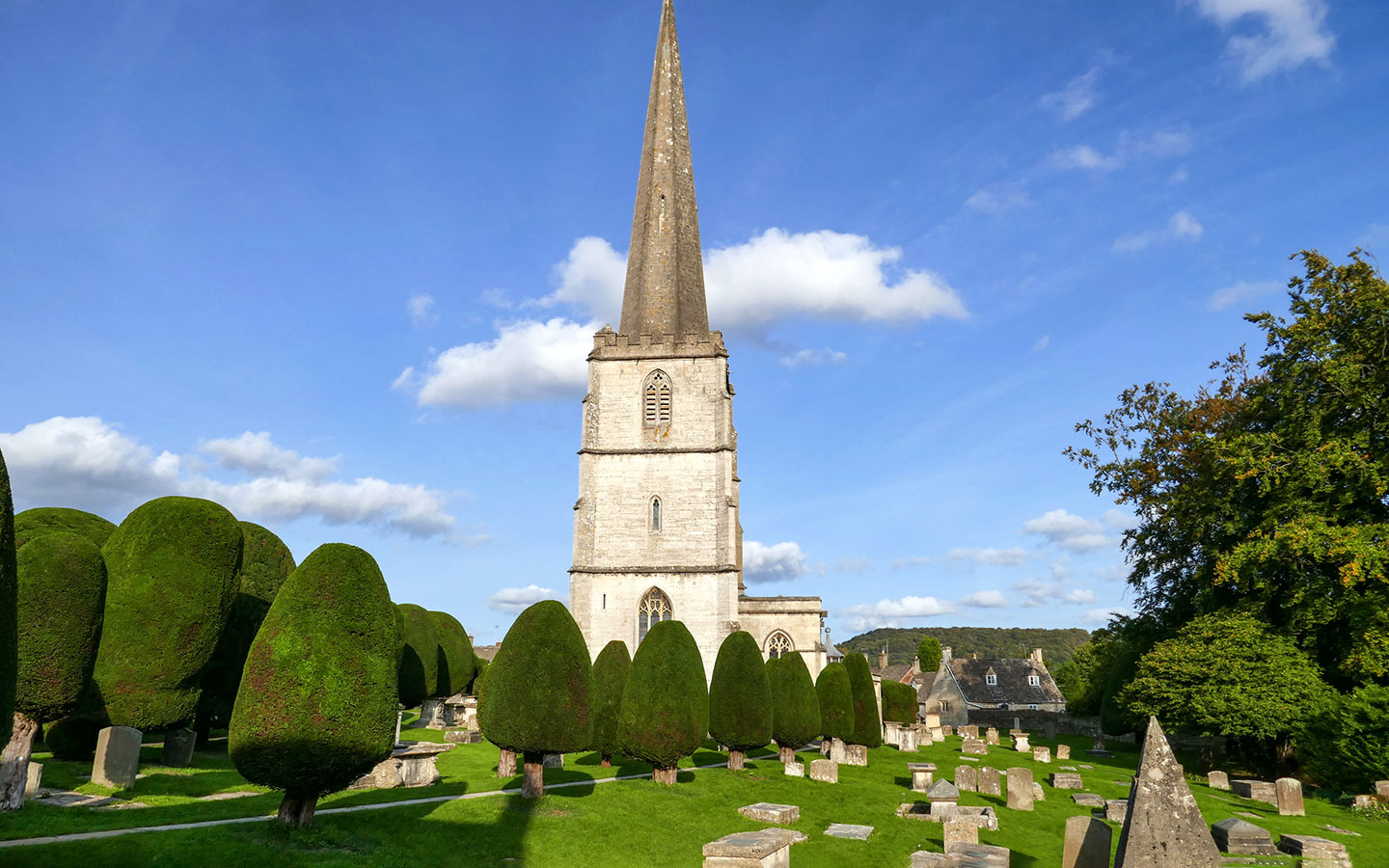 Day 5 facilities
Food and drink: There isn't much at the start of the route other than the Royal George pub in Birdlip village. You can take a short diversion near Cranham just before halfway for lunch at the Royal William pub. There's a café at Painswick Rococo Gardens and plenty of places to eat in Painswick, including the Falcon Inn, The Oak pub and Handmade in Painswick Arts Café.
Toilets: There are free public toilets when you reach Painswick in the Stamages Lane car park (GL6 6UZ), but none along the route.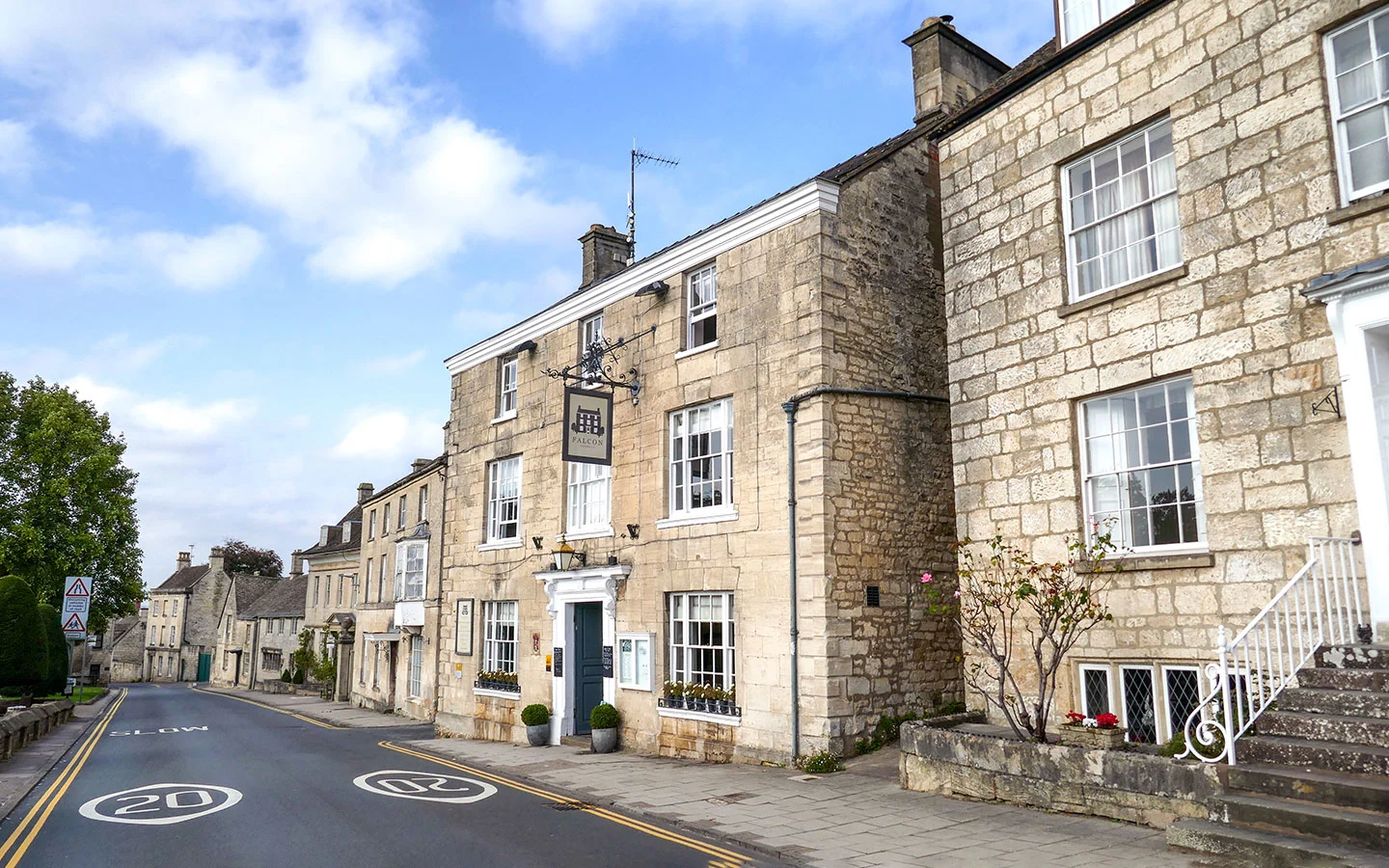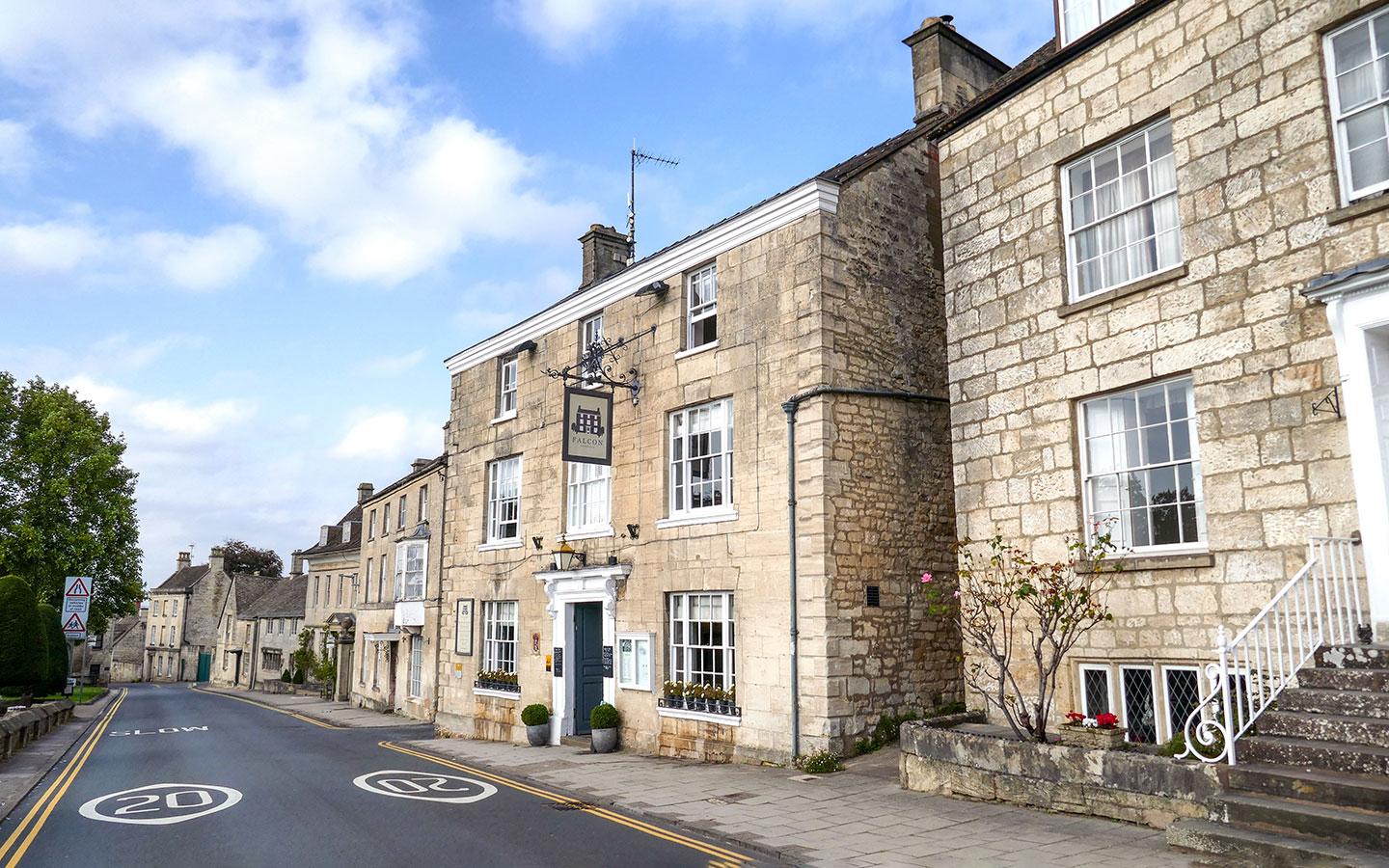 Getting to Birdlip
By car: There is free parking at Barrow Wake viewpoint (GL4 8JX) in Birdlip. But the only way to get back from Painswick to Birdlip at the end of the day is by taking a taxi (approx £16).
By public transport: The Pulhams 882 bus from Gloucester takes 20 minutes to reach Birdlip village, but it only stops there a couple of times a day.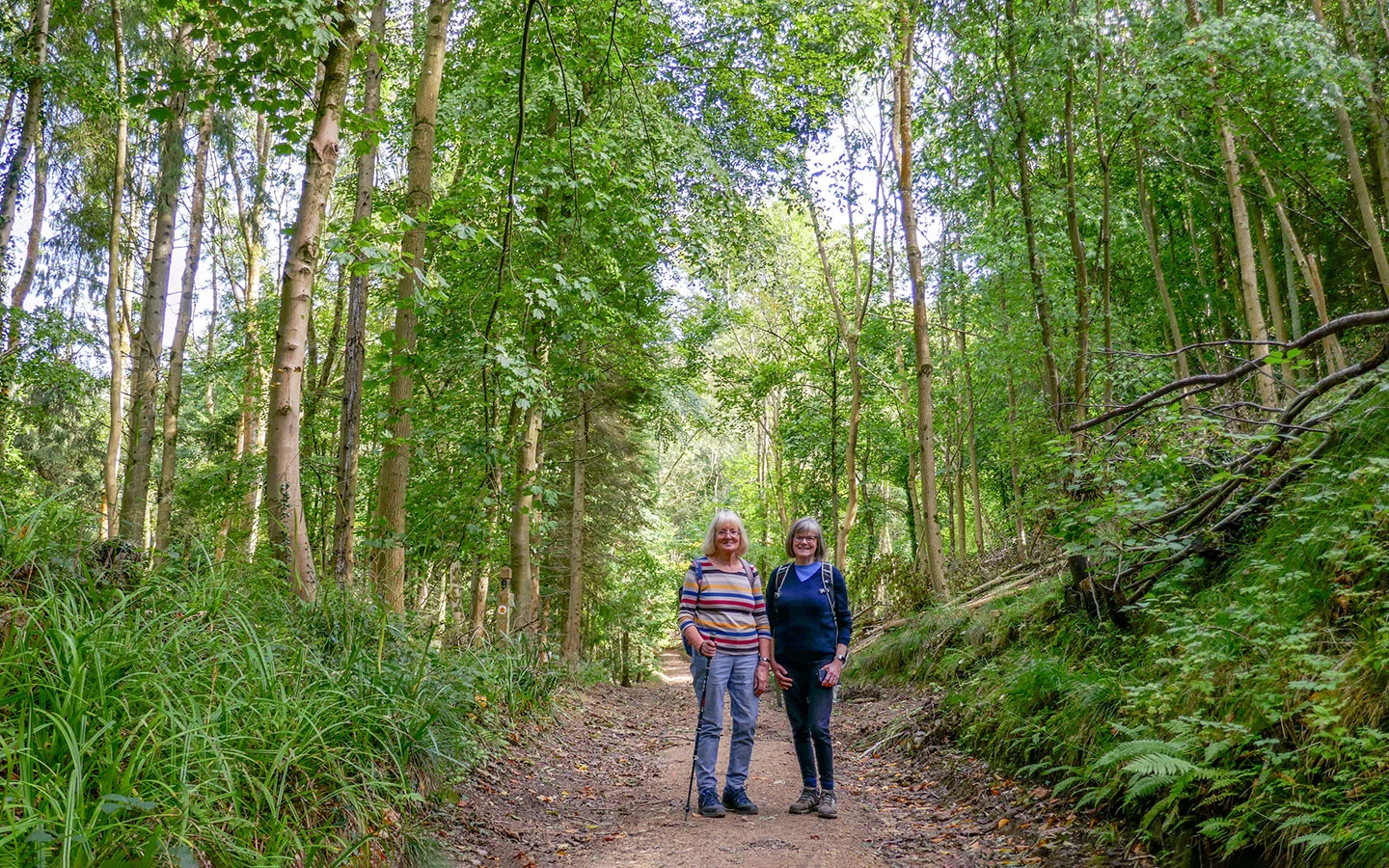 Day 6: Painswick to Coaley Peak (13 miles/21km or 14.5 miles/23km)
Painswick > Haresfield Beacon > Stonehouse > King's Stanley/Selsey Common > Coaley Peak (6.5 hours/7 hours)
Day six is the longest walk and passes the halfway point of this Cotswold Way itinerary, leaving Painswick and heading across fields past a marker stone showing 55 miles to Bath. The path climbs up then twists and turns along the escarpment to the viewpoint at Haresfield Beacon.
From there it runs through Standish Wood before descending through fields, woodland and more unexpectedly past some of Woodchester Valley Vineyard's vines. The Cotswold Way cuts across the edge of Stonehouse, going over the railway line and Stroudwater Navigation canal.
Then you have a choice of routes – a shorter 1.5-mile one through King's Stanley or a more scenic 3-mile one along the River Frome and across Selsley Common. The two routes meet in Penn Wood and continue on to the Neolithic burial site Nympsfield Long Barrow at Coaley Peak.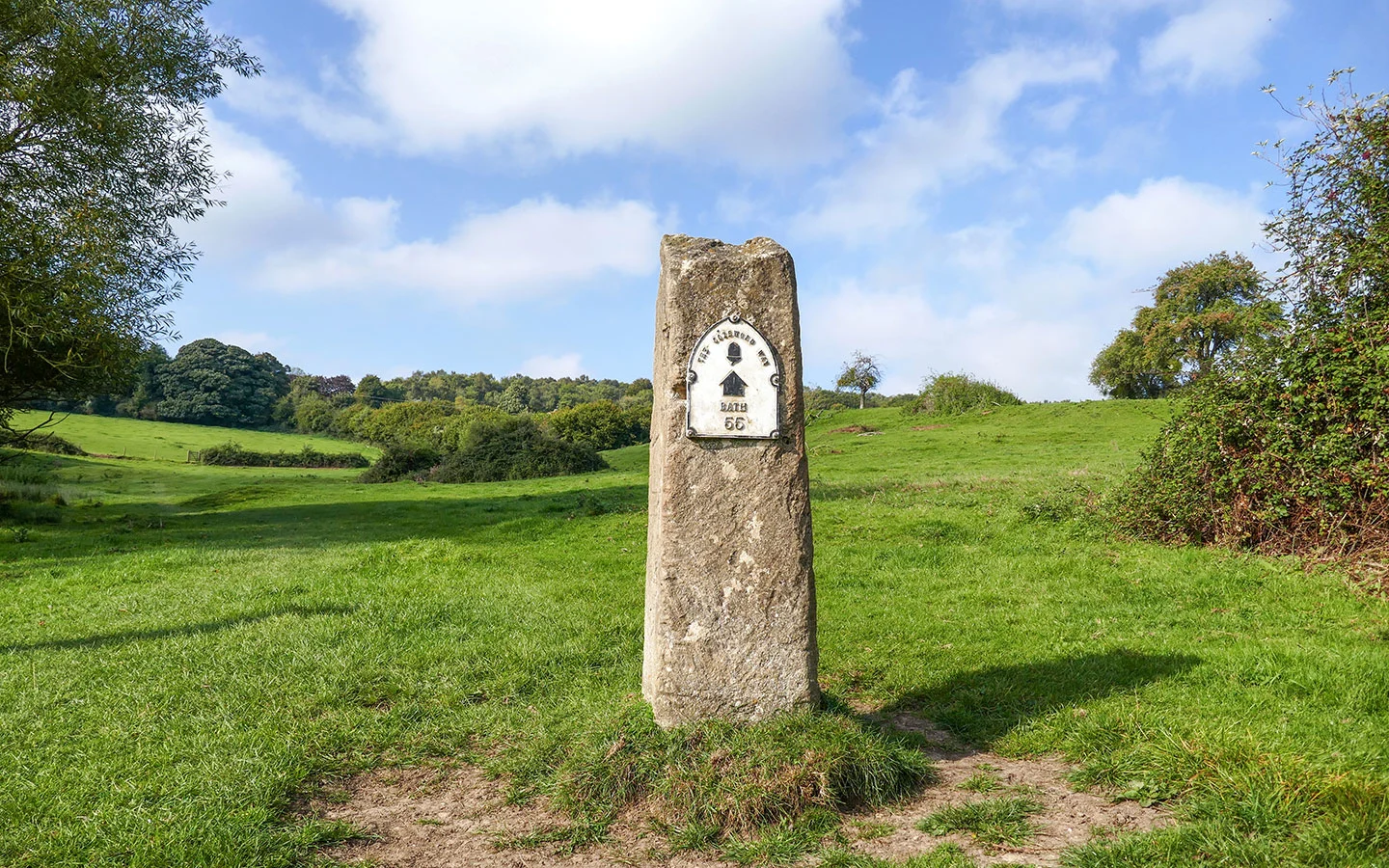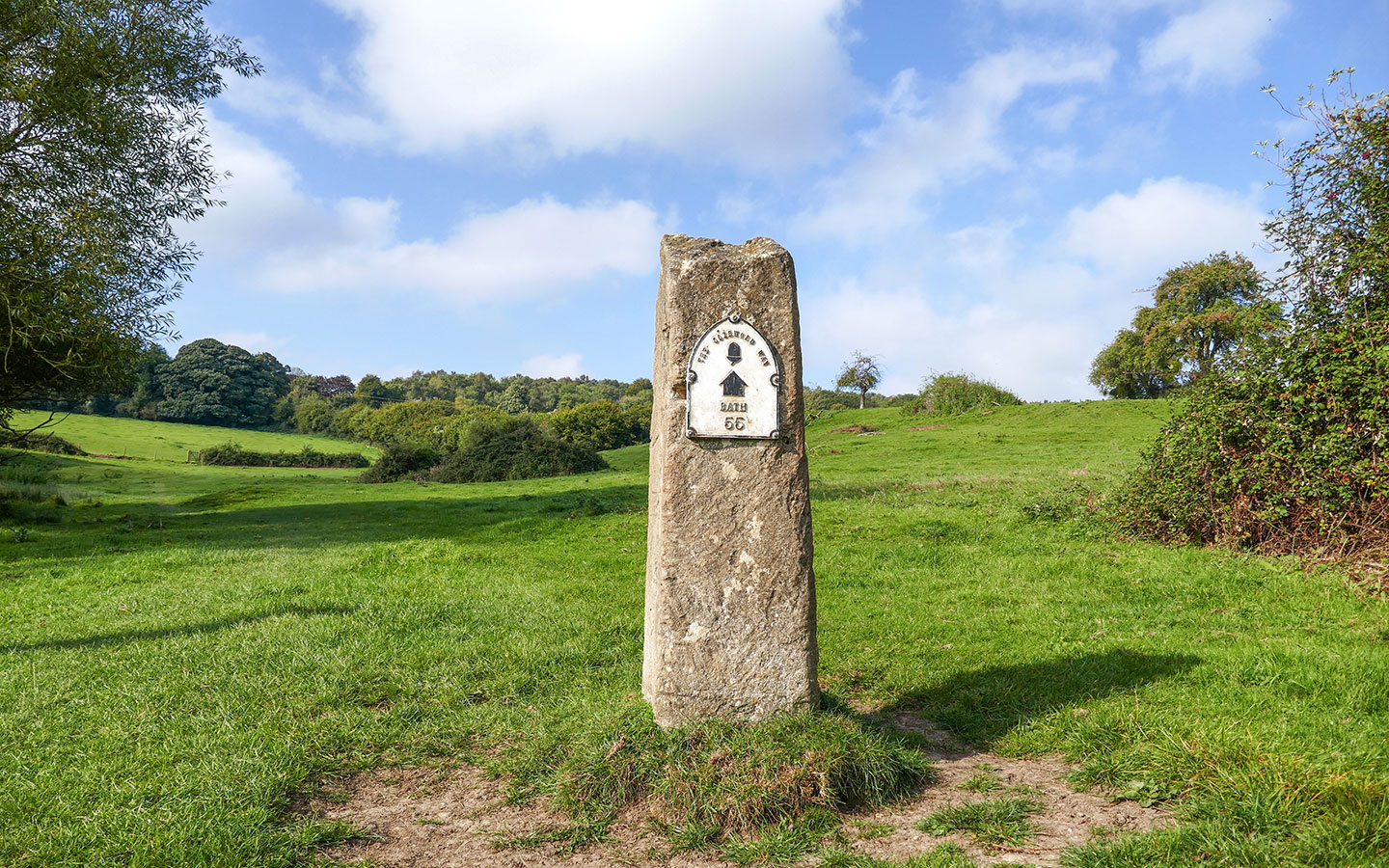 Day 6 highlights
Haresfield Beacon: This beacon is another sweeping viewpoint, surrounded by the beech trees of Standish Woods. With views for miles it's no surprise it was the site of a Romano-British hillfort.
Stroudwater Navigation: The canal was built in 1776 to transport goods between Stroud and the River Severn. Now it's used as a walking and boating route, with the old textile mill buildings forming a contrast with the countryside and woodland along most of the Cotswold Way.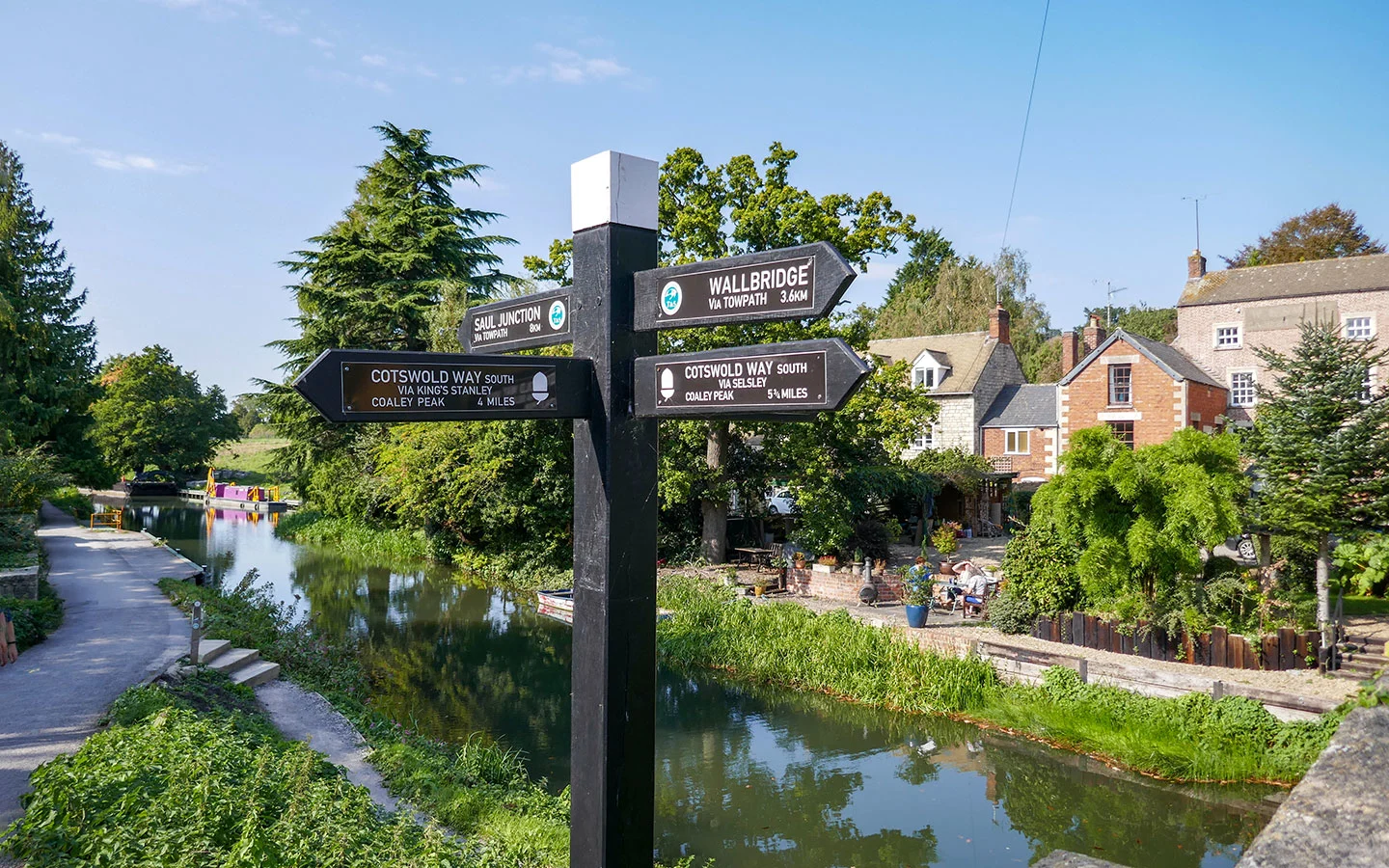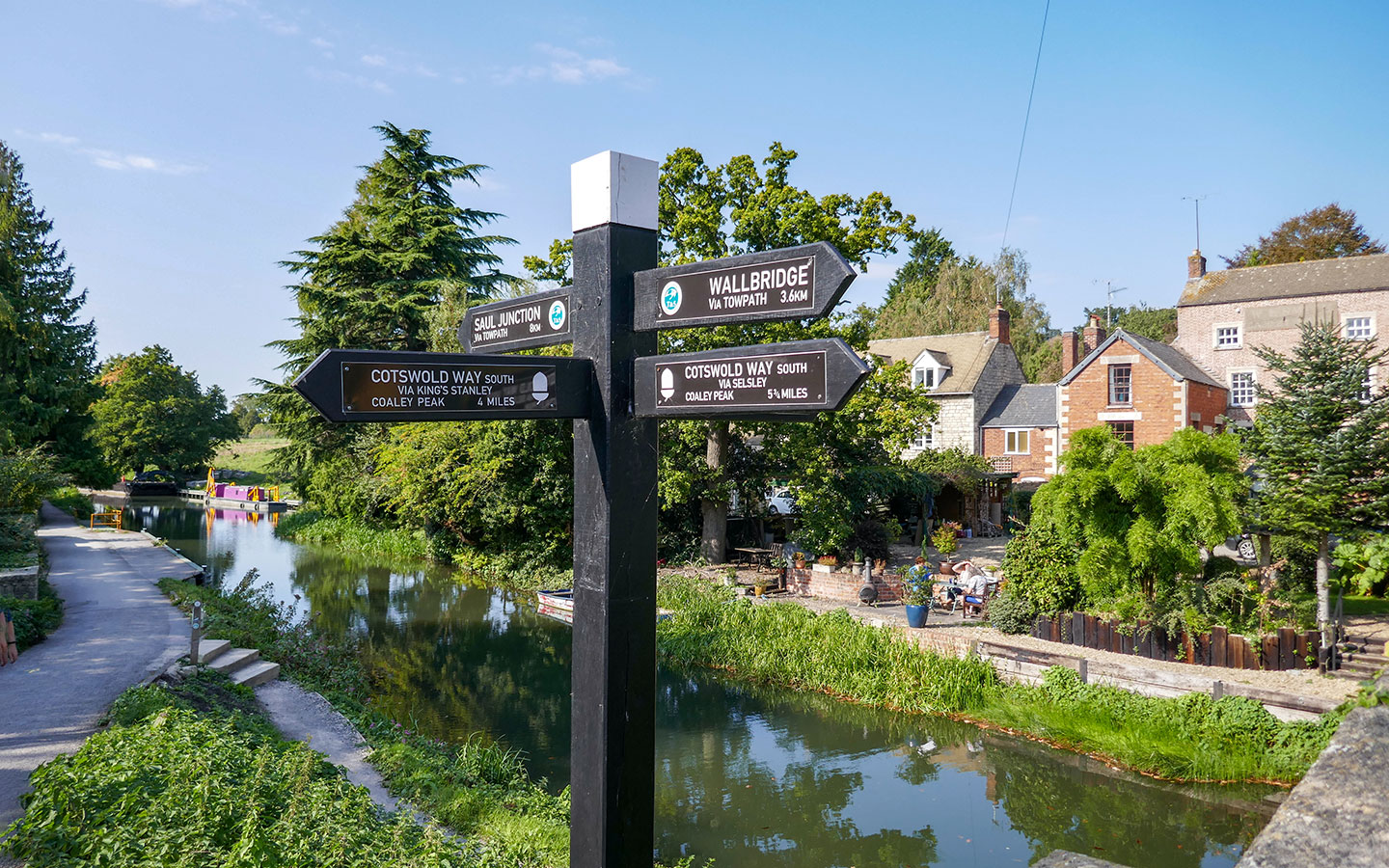 Selsley Common: This area of protected limestone grassland has stunning views over the Severn Vale and Wales. There's also an Iron Age burial mound known as the Toots and All Saint's Church Church in the village with its 19th-century Arts and Crafts design stained-glass windows.
Nympsfield Long Barrow: Neolithic pottery and 13 skeletons were uncovered in this burial chamber which was built around 2800 BC. Unlike Belas Knap, the mound covering the barrow has been removed so you can see the shape of the chambers inside.
Day 6/7 diversion: The National Trust site Woodchester Park is a short diversion off the end of day 6/start of day 7 if you have extra time. This wooded valley is home to the spooky Victorian Gothic-style Woodchester Mansion which was abandoned partway through construction. Now it's open for tours between April and October.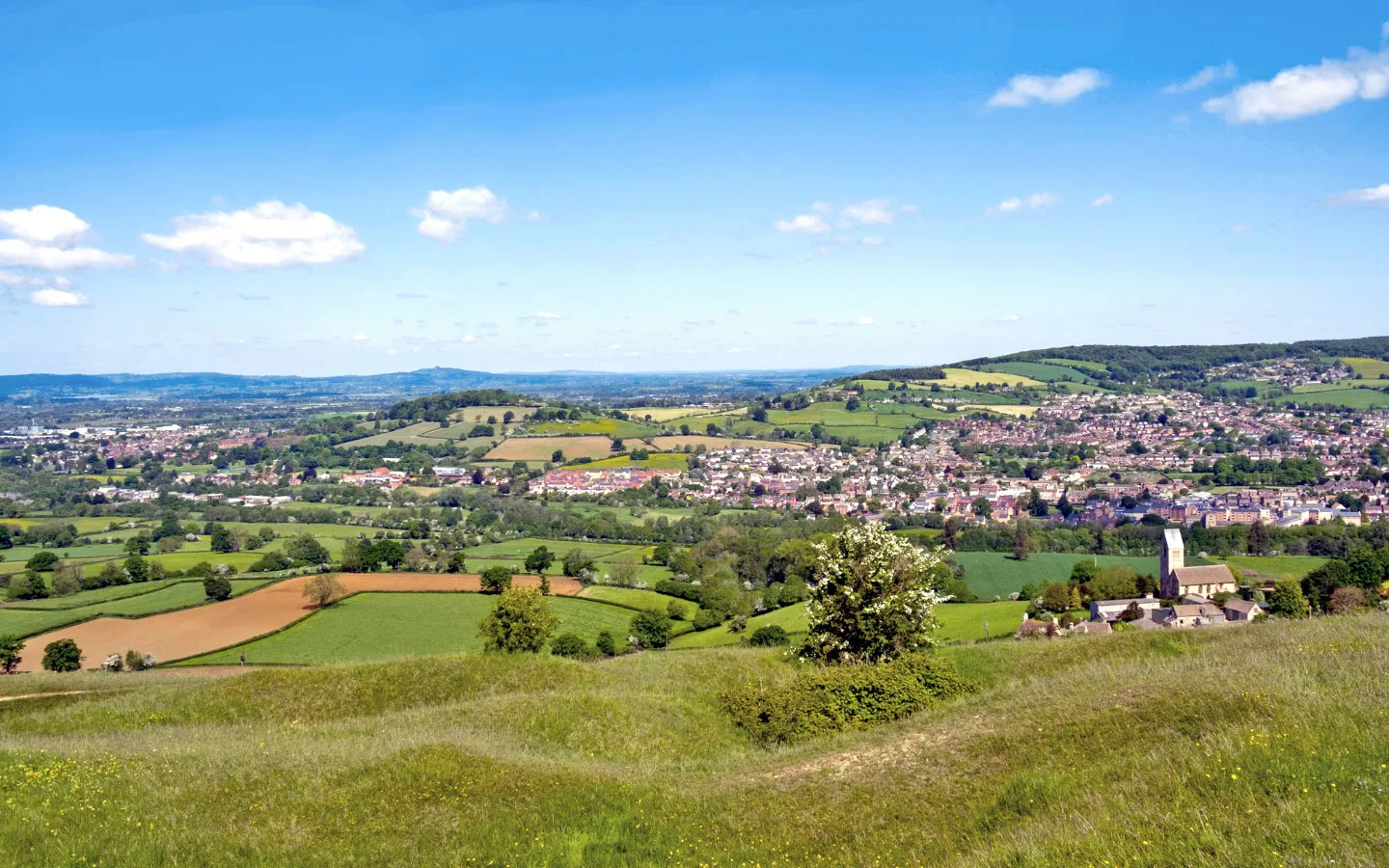 Day 6 facilities
Food and drink: In Painswick there's a Premier Express grocery store on St Mary's Street and the Handmade in Painswick Arts Café where you can pick up picnic supplies. And just before reaching Stonehouse there are a couple of pubs which are both a short diversion off the route – the Vine Tree Inn in Randwick and the Carpenter's Arms in Westrip.
If you're taking the shorter route there are bakeries, a Coop supermarket and the Kings Head pub in King's Stanley. The Bell pub in Selsey is under a mile off the long route. And there's also the Rose & Crown Farmhouse Kitchen pub in Nympsfield village, 0.8 miles from the finish point.
Toilets: There are are free public toilets in the Stamages Lane car park (GL6 6UZ) in Painswick, but none along the route other than customer toilets in the pubs.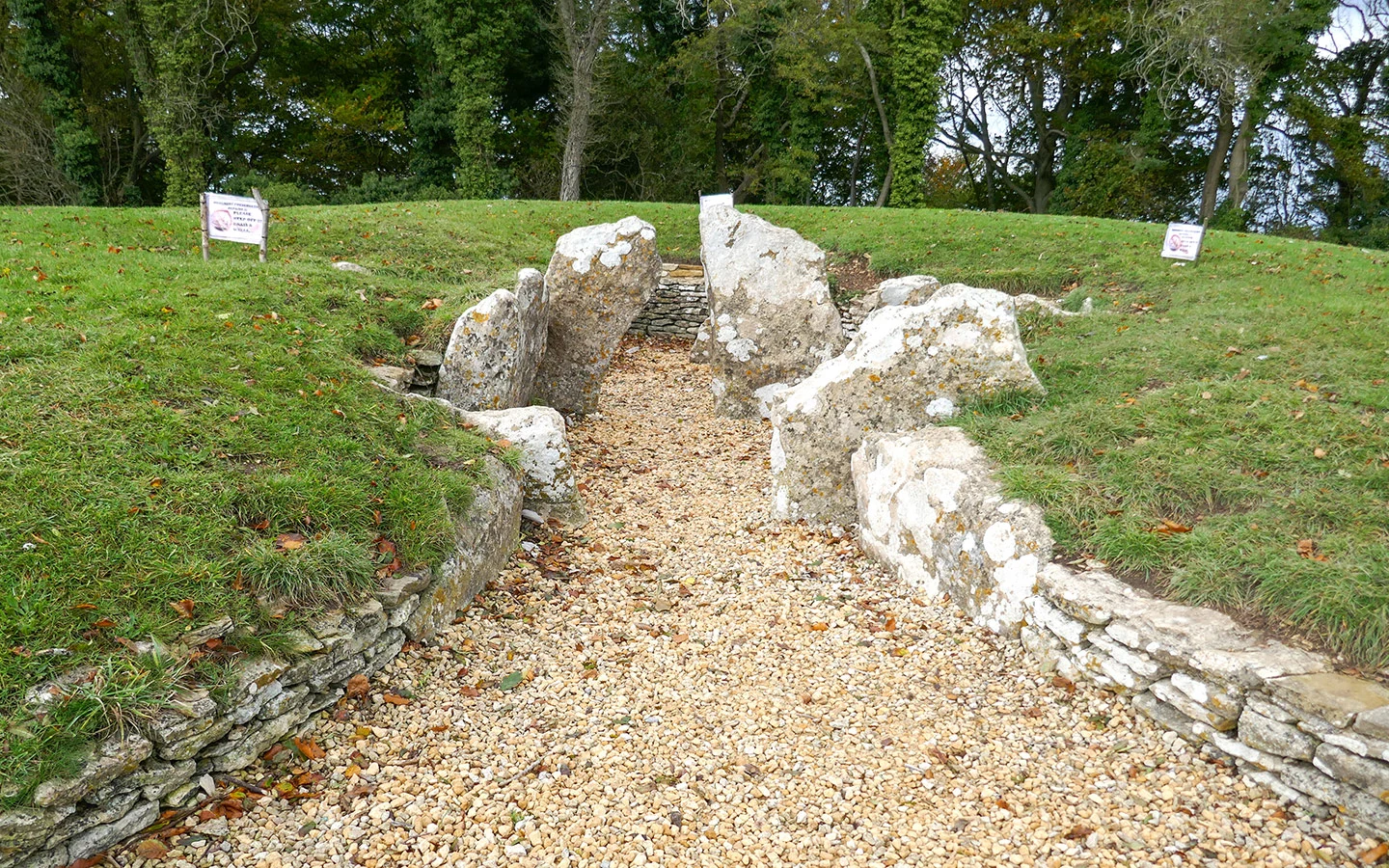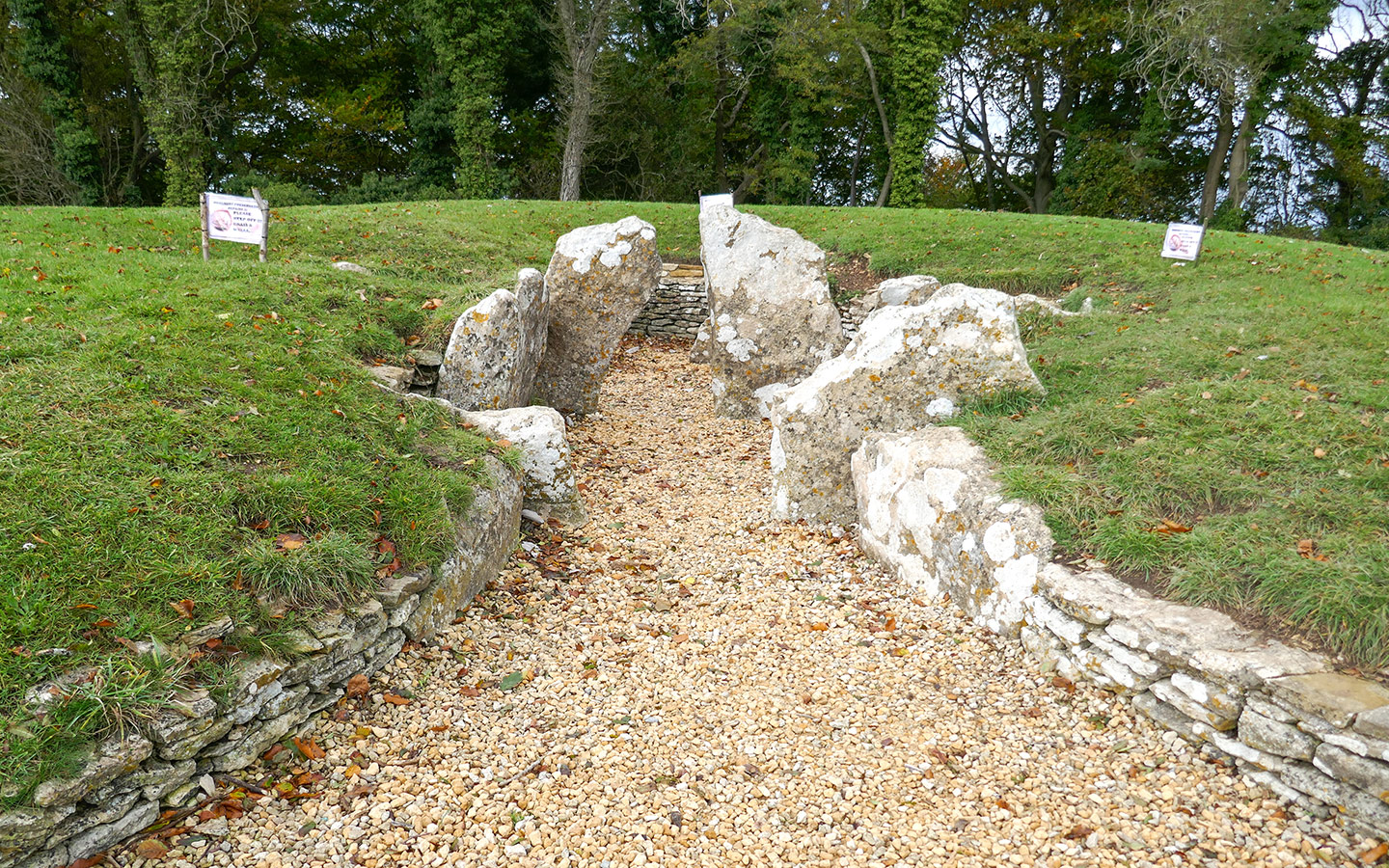 Getting to Painswick
By car: There is paid parking at Stamages Lane car park (GL6 6UZ) in Painswick. To get back there you could take a taxi to Stroud (approx £16) then the Stagecoach 66 bus to Painswick.
By public transport: The nearest train station to Painswick is in Stroud, which is 15 minutes away on the Stagecoach 66 bus (which also runs to Cheltenham in 35 minutes). Buses run around once an hour on weekdays and Saturdays and once every two hours on Sundays.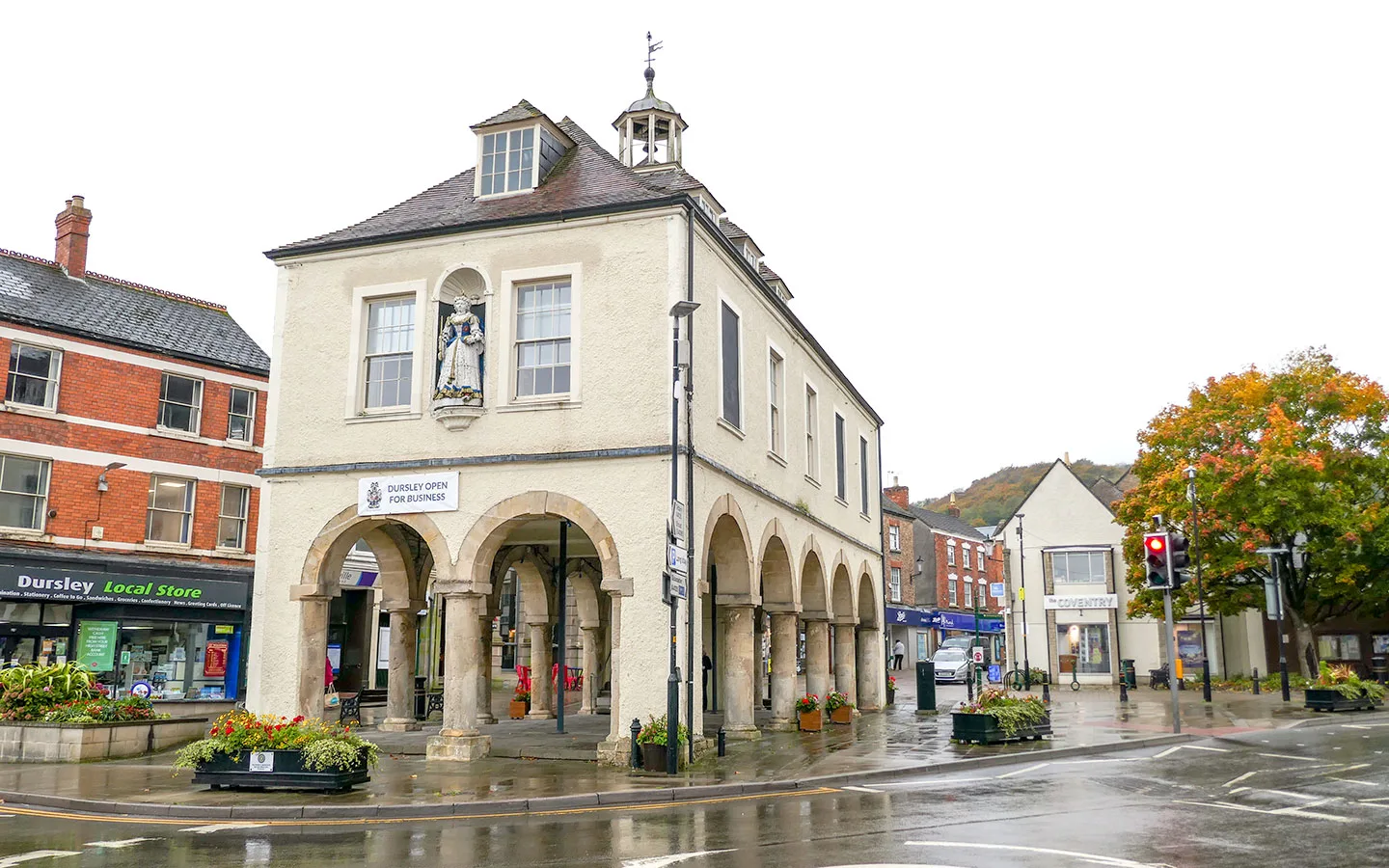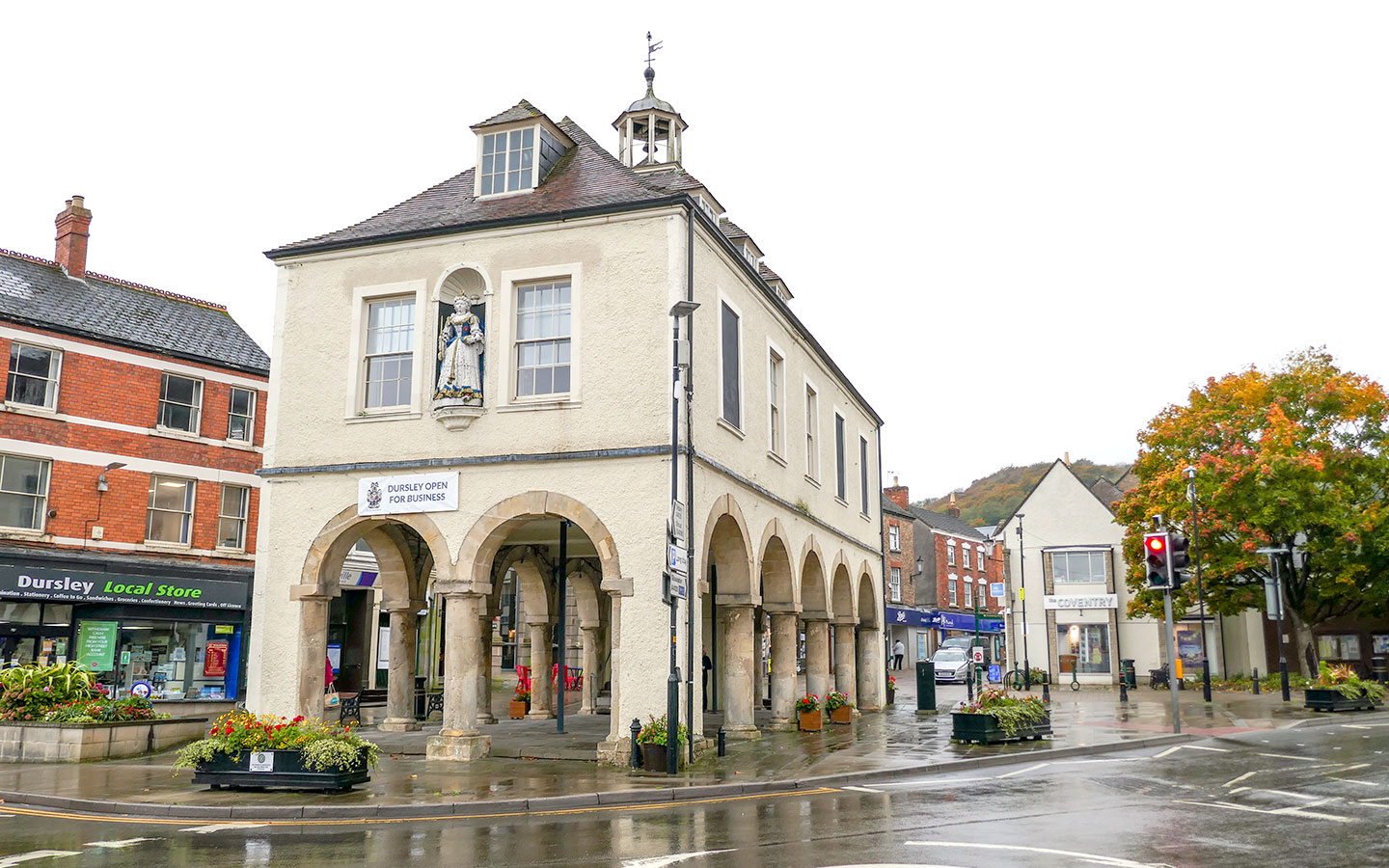 Day 7: Coaley Peak to Wotton-under-Edge (12.1 miles/19.5km)
Coaley Peak > Dursley > North Nibley > Wotton-under-Edge (6 hours)
Day 7 starts at the Coaley Peak viewpoint and runs past another long barrow at Uley, also known as Hetty Peglar's Tump. Then there are more great views from Cam Long Down before the route heads downhill into the town of Dursley, which was once a centre for the wool trade.
From Dursley the Cotswold Way climbs up to Stinchcombe Hill where it runs in a loop around the edge of the golf course (there's a short cut here where you can cut 4.5km off if you want to make the day shorter). You then head south to the village of North Nibley, climbing up to the Tynedale Monument before walking through woodland to reach Wotton-under-Edge.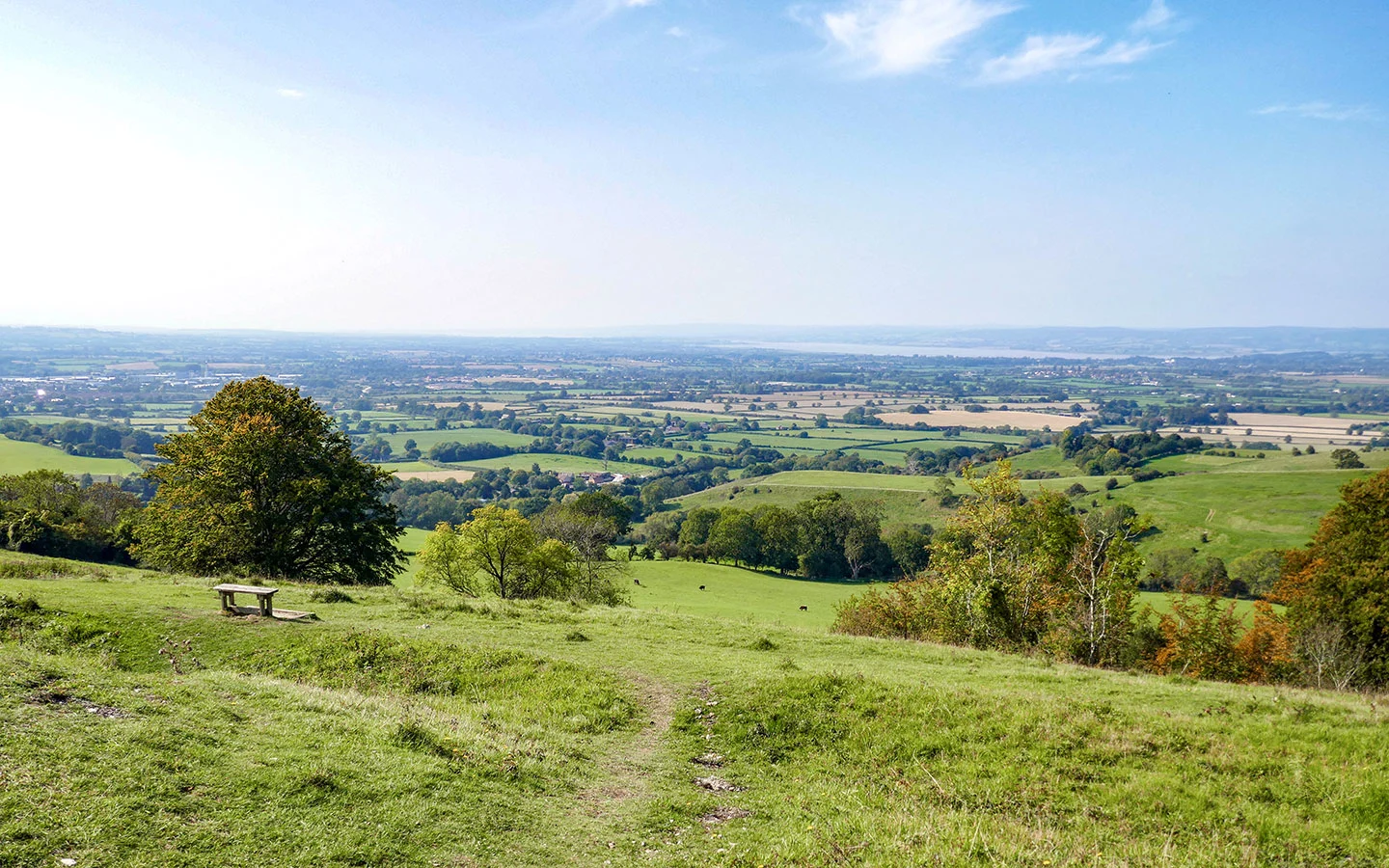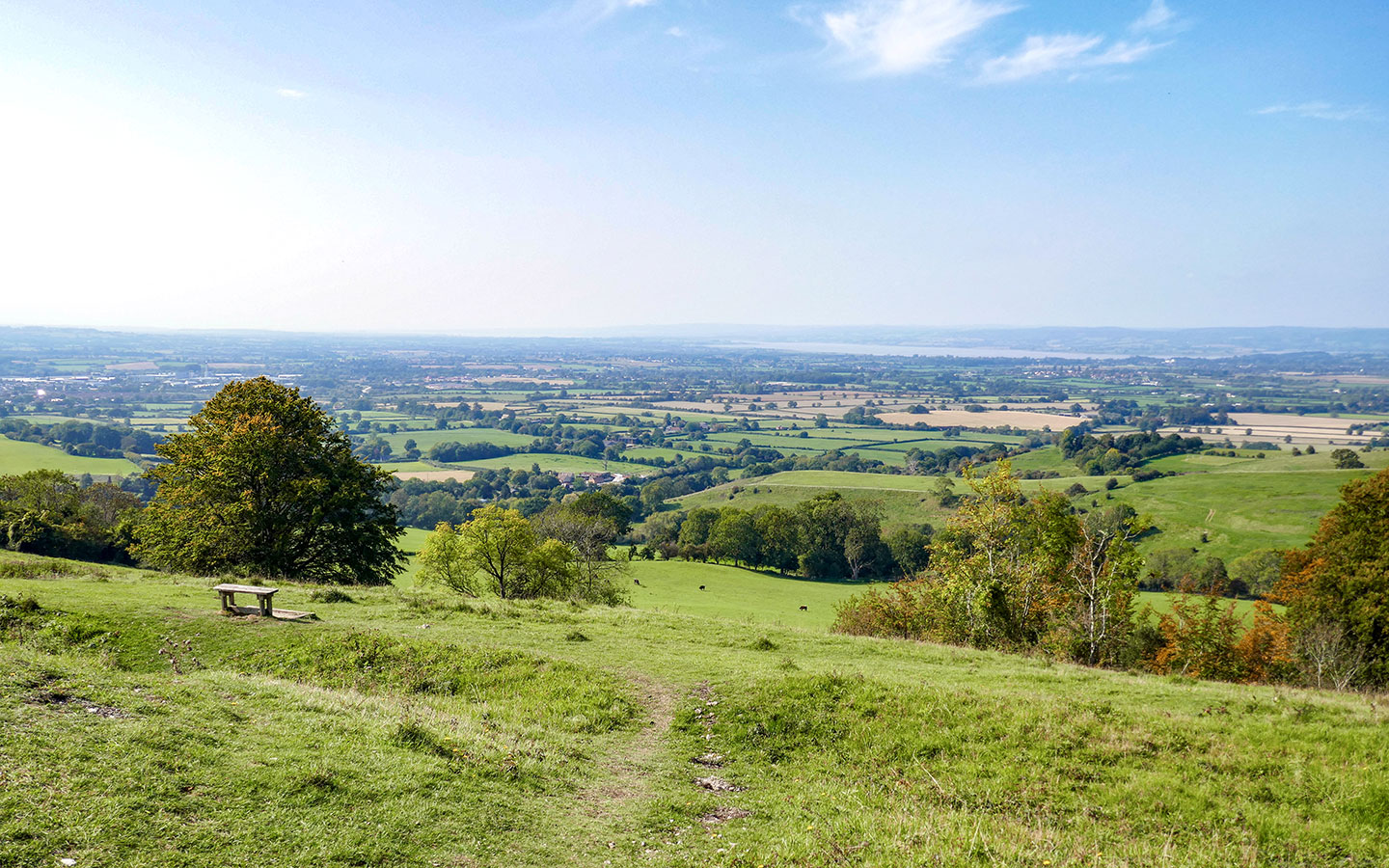 Day 7 highlights
Stinchcombe Hill: This 200-acre reserve is both a Site of Special Scientific Interest and Area of Outstanding Natural Beauty. It has more of the Cotswolds' Jurassic limestone grassland so look out for roe and muntjac deer, woodpeckers, buzzards, kestrels and butterflies.
Tyndale Monument: This 111-foot-tall hilltop monument was built in honour of William Tyndale, who was born nearby and translated the first New Testament into English. It can be seen from as far away as Bristol and you can climb the 120 steps to the top if you want to get even higher.
Wotton-under-Edge: A historic market town with a high street lined with interesting independent shops. There's also the 13th-century church of St Mary the Virgin, the Perry and Dawes Almshouses and a Heritage Centre where you can find out about the town's history.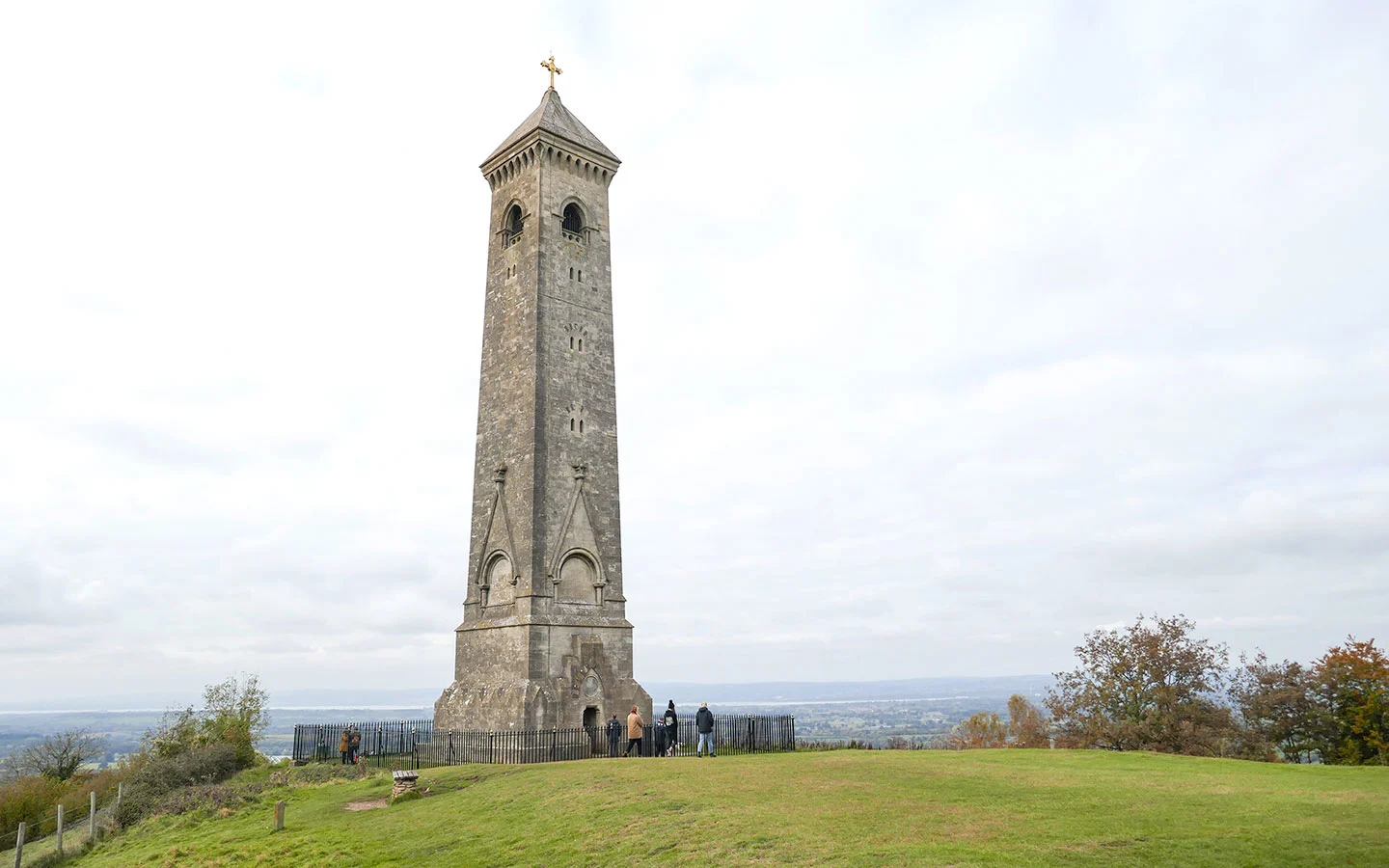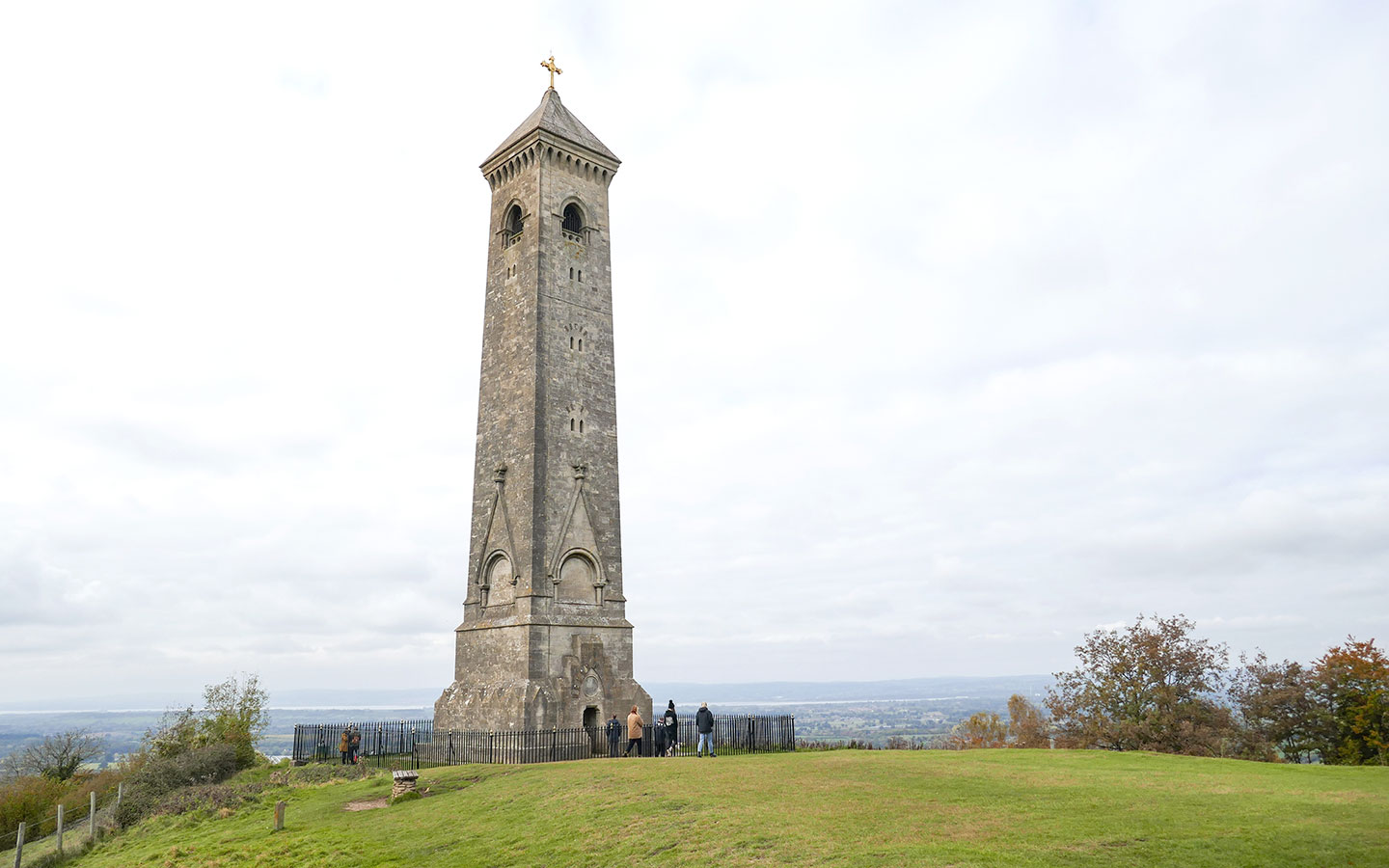 Day 7 facilities
Food and drink: In Dursley there are several supermarkets, a bakery, fish and chip shop and the Old Spot and Kings Head pubs which serve food. There's also a village shop and the Black Horse Inn in North Nibley, and a selection of cafés, pubs and restaurants in Wotton-under-Edge.
Toilets: There are public toilets at the May Lane car park in Dursley (GL11 4JQ) and on the Rope Walk in Wotton-under-Edge (GL12 7AA).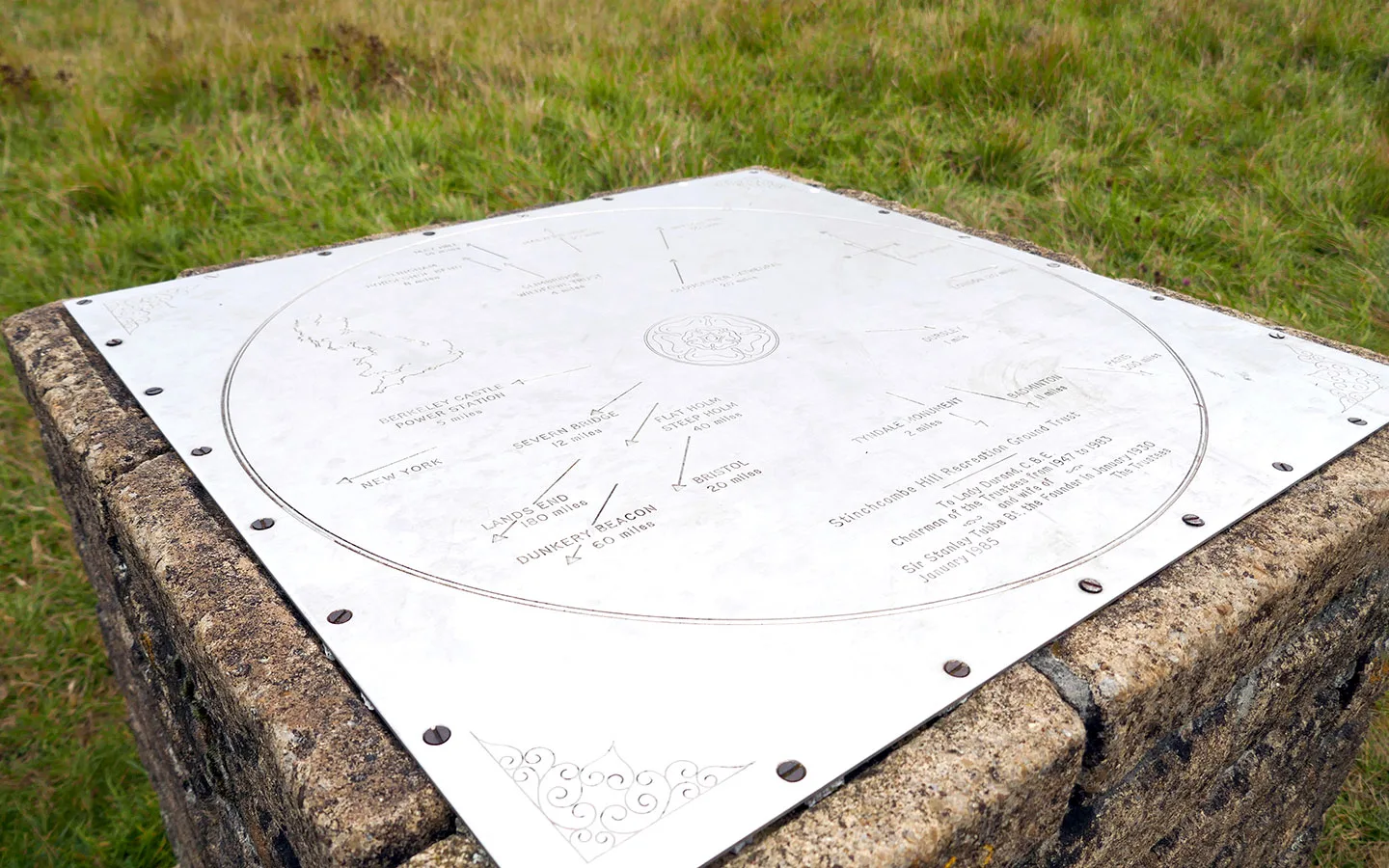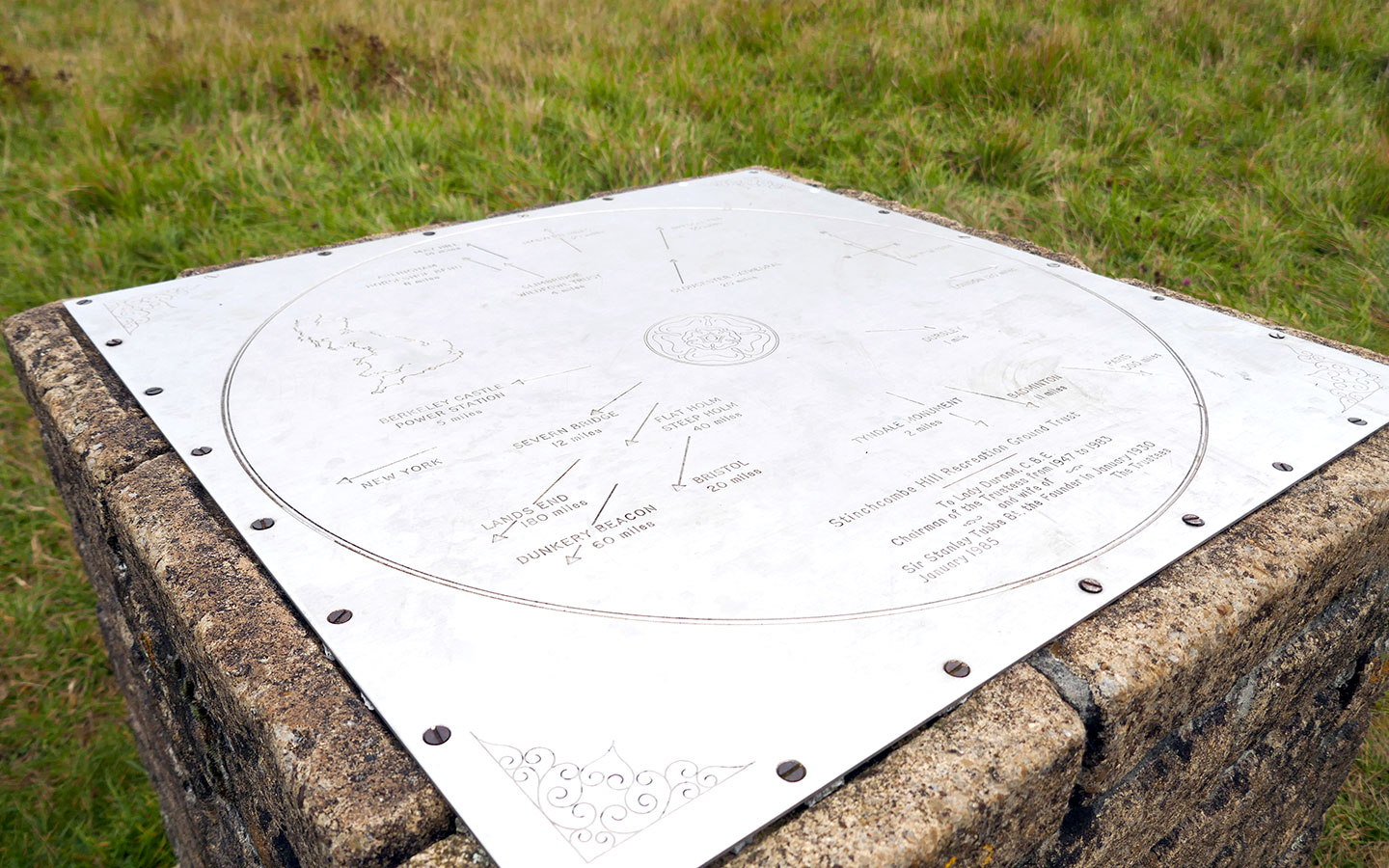 Getting to Coaley Peak
By car: There is a free car park at Coaley Peak picnic area (GL11 5AU). To get back there at the end of the day you'd need to take two buses – the Stagecoach 60 bus from Wotton to Dursley which takes 20 minutes, then the Stagecoach 65 bus to Nympsfield (see below) taking 18 minutes.
By public transport: You can't get all the way to Coaley Peak by public transport but the Stagecoach 65 bus stops in either Nympsfield village (0.7 miles away) or opposite the Bristol & Gloucestershire Gliding Club, which is just off the end of day 6's route. The 65 connects to Stroud (20 minutes), Stonehouse (50 minutes) and Gloucester (80 minutes).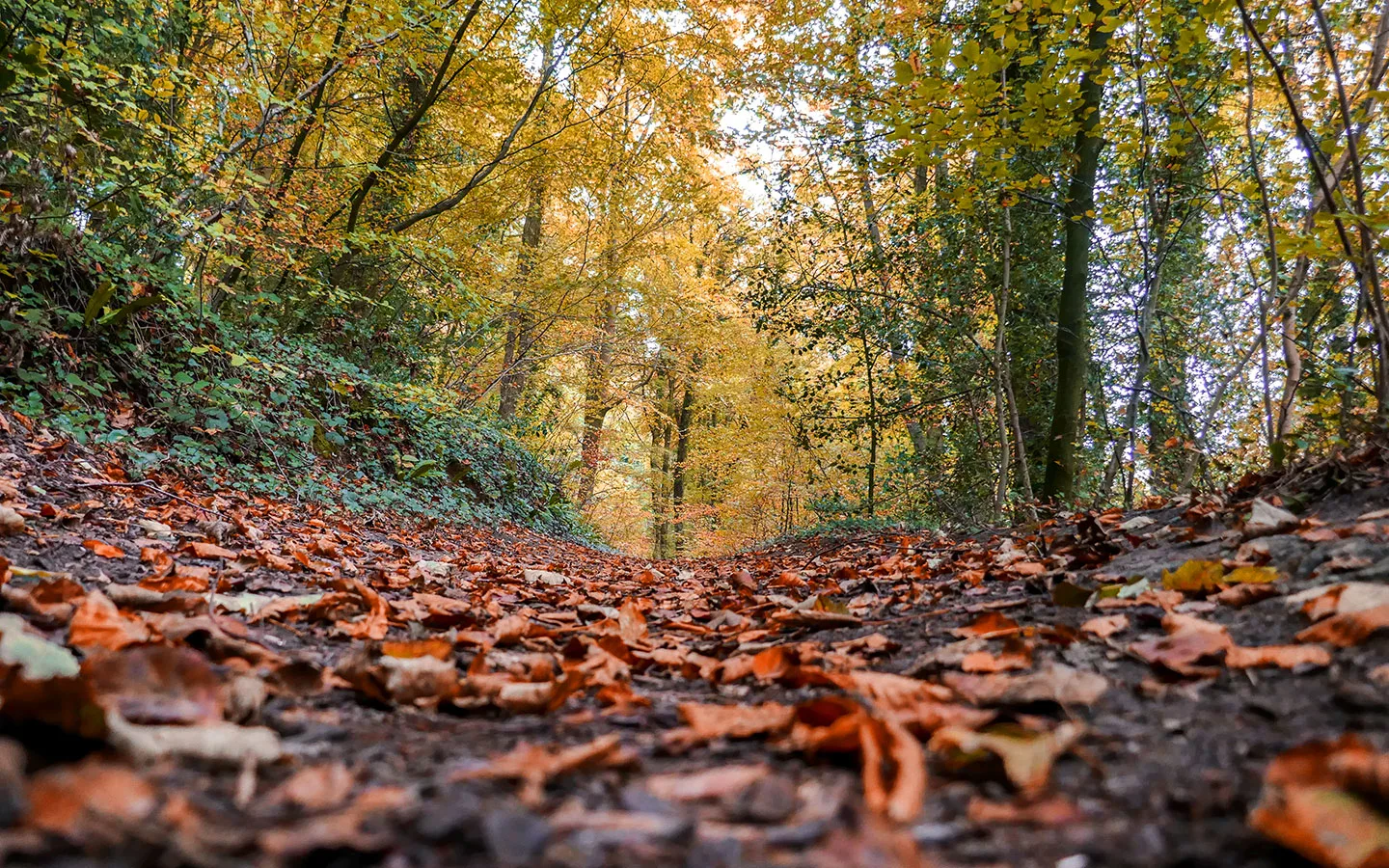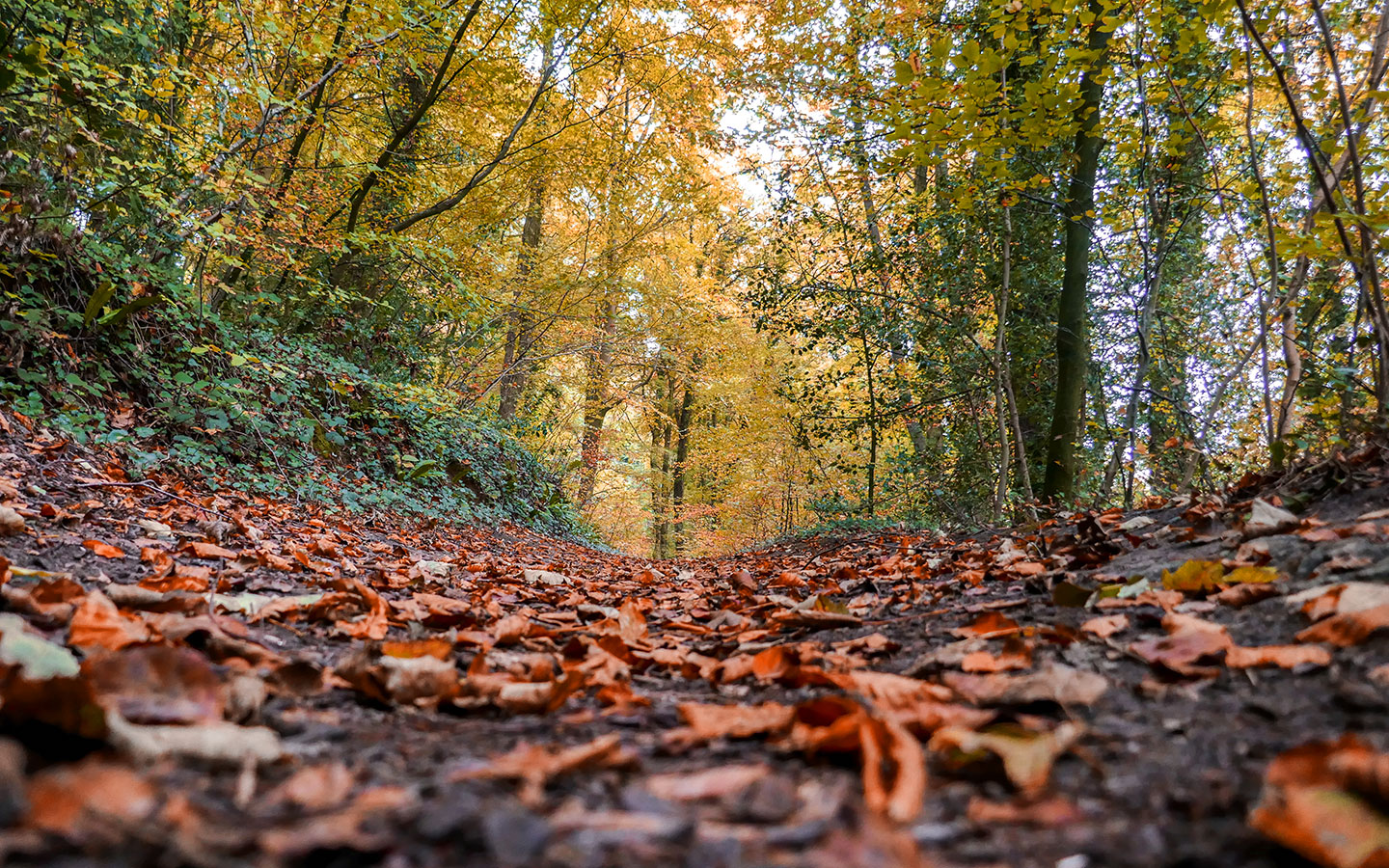 Day 8: Wotton-under-Edge to Old Sodbury (12.4 miles/20km)
Wotton-under-Edge > Wortley > Alderley > Lower Kilcott > Hawkesbury Upton > Horton > Little Sodbury > Old Sodbury (6 hours)
Day eight's route takes you south of Wotton-under-Edge, passing the entrance to National Trust Tudor hunting lodge Newark Park, and then running through the villages of Wortley and Alderley. The Cotswold Way joins up with the Monarch's Way for a while, then you turn off into woodland at Lower Kilcott and walk across fields towards the towering Somerset Monument.
The route then skirts the edge of Hawkesbury Upton, passing an old drover's pool and following the drovers' road towards Horton – where you get a glimpse Horton Court and its 12th-century church through the trees. You then pass through Little Sodbury, crossing the remains of Sodbury Camp Iron Age hill fort, before reaching Old Sodbury and finishing next to the church.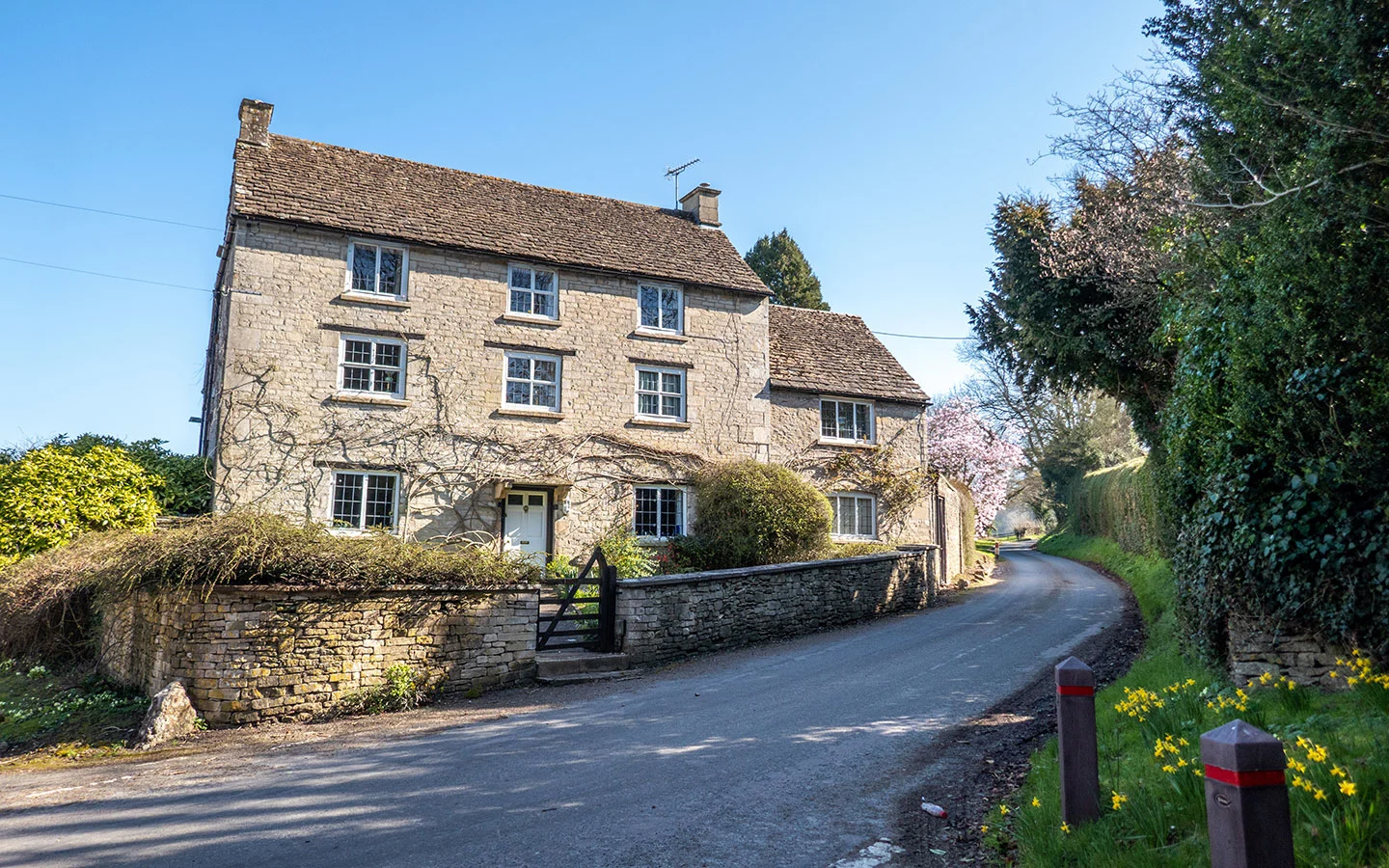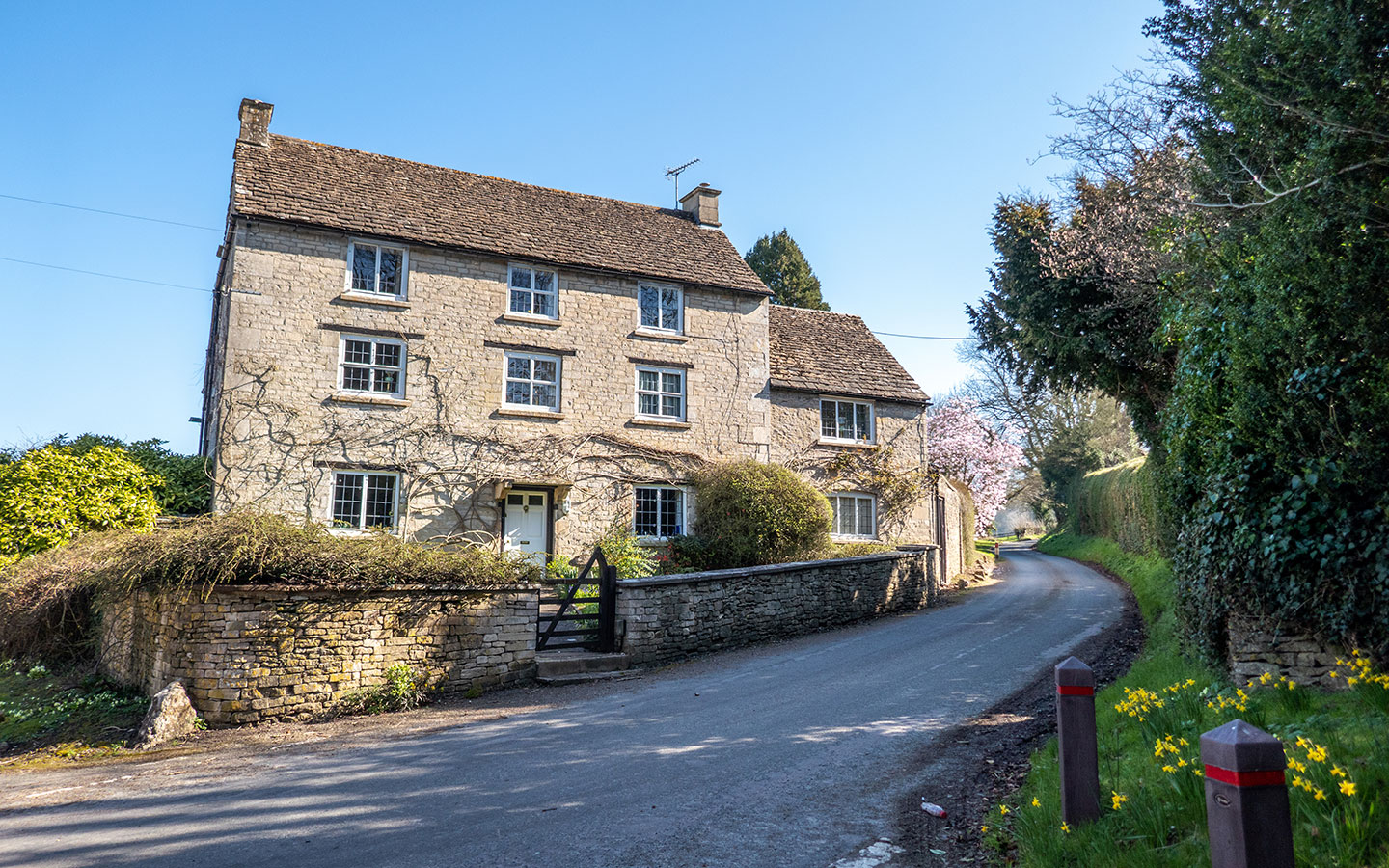 Day 8 highlights
Alderley: The pretty village of Alderley has Cotswold stone cottages, an Elizabethan manor house and St Kenelm's Church, which was rebuilt in 1802 with an original 15th-century tower.
Somerset Monument: This 100-foot-tall stone tower was built in 1846 to commemorates Lord Robert Somerset, son of the Duke of Beaufort (owner of nearby Badminton House) and a soldier and local politician. There's a viewing platform at the top but unfortunately it's not open to the public, but it's a good stop for a break with a bench on the roadside by the monument.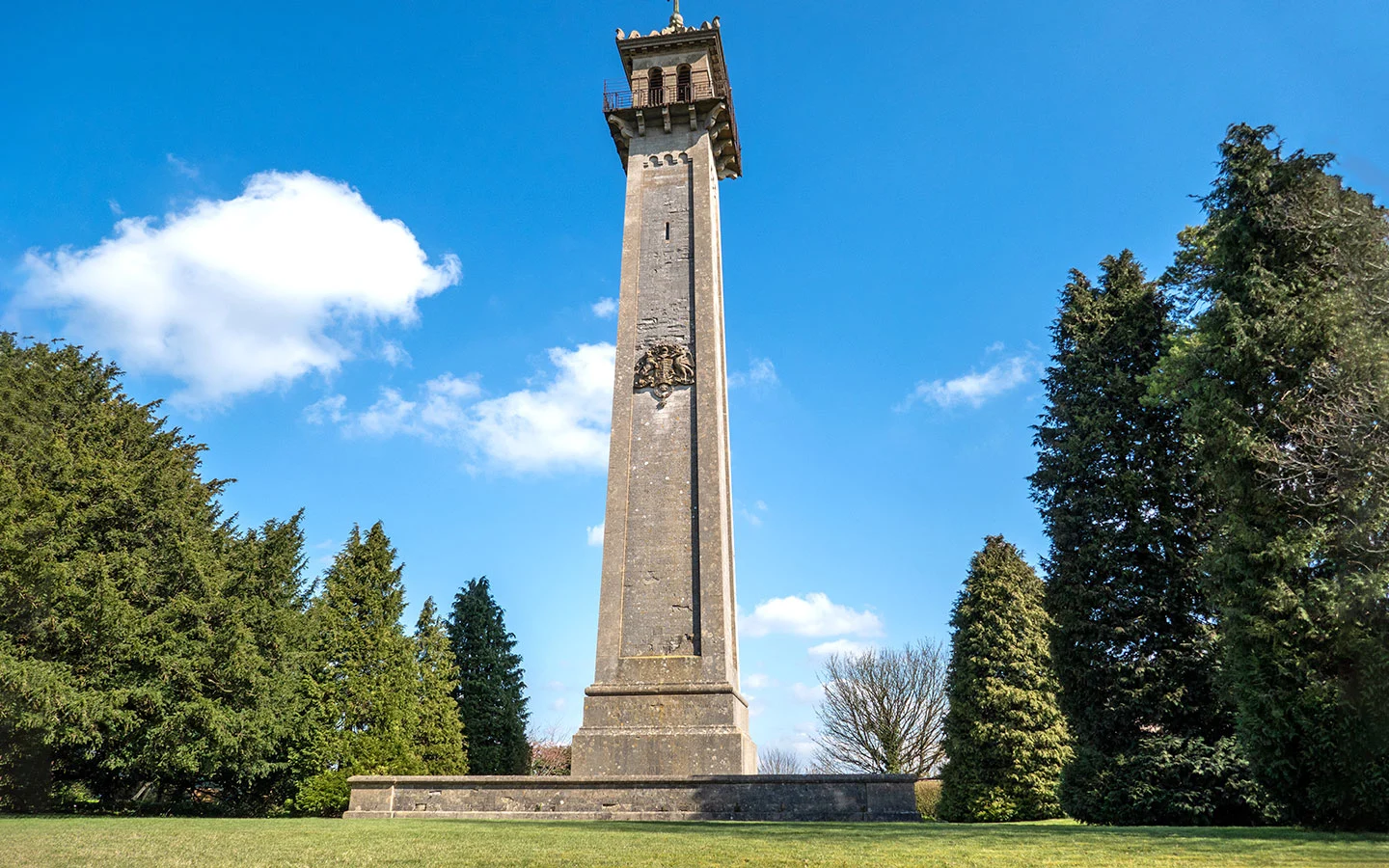 Horton Court: This National Trust property is just off the Cotswold Way but you might be able to see it as you walk. It was built in the 16th century and has been used as a filming location for Wolf Hall and Poldark, but is now available to rent, sleeping 10 people in five bedrooms.
Owlery: Look out for a quirky little tower just before you reach the village of Horton. It's not a folly or a dovecote but actually a rather grand house for owls, built as a safe place for them to nest.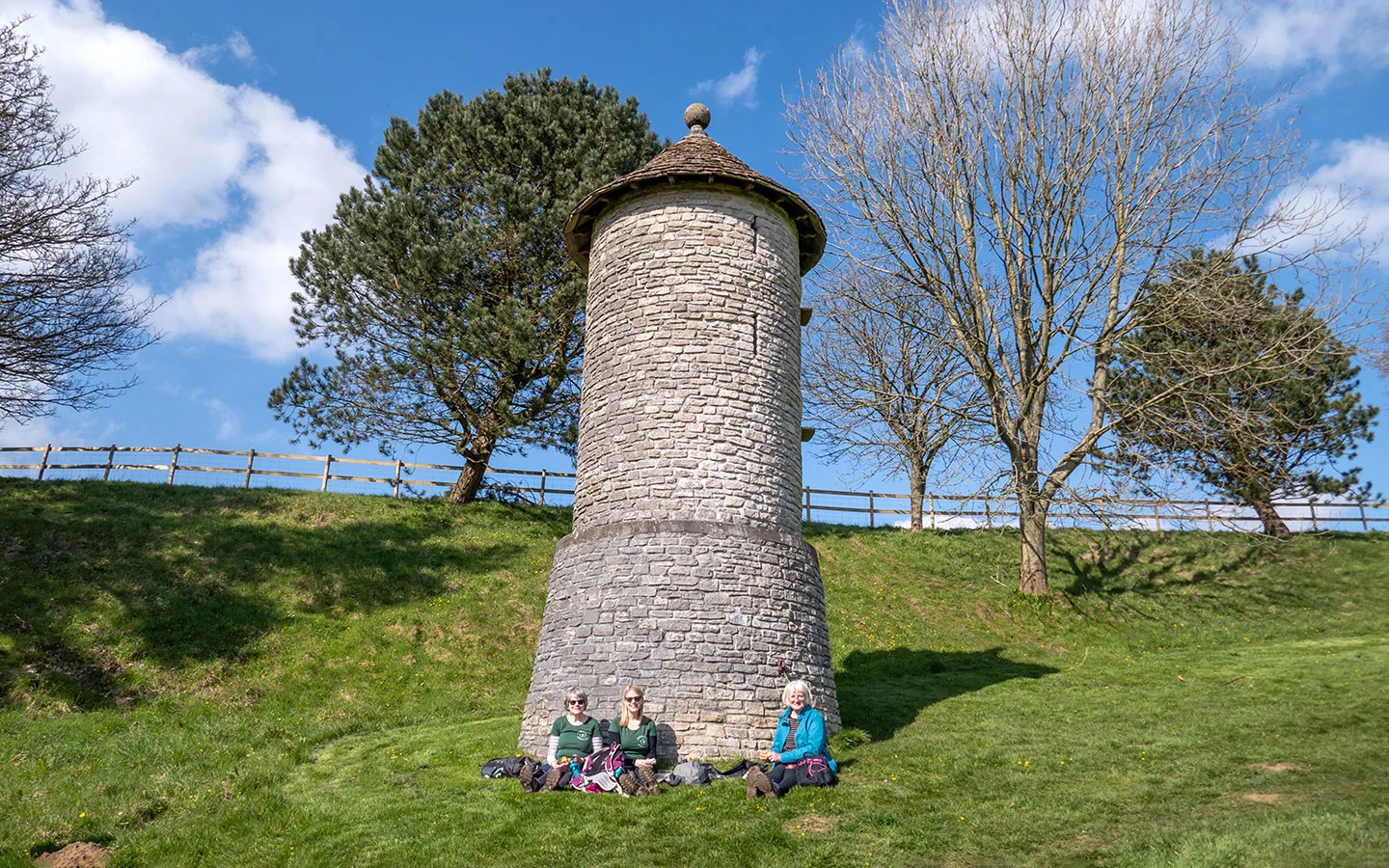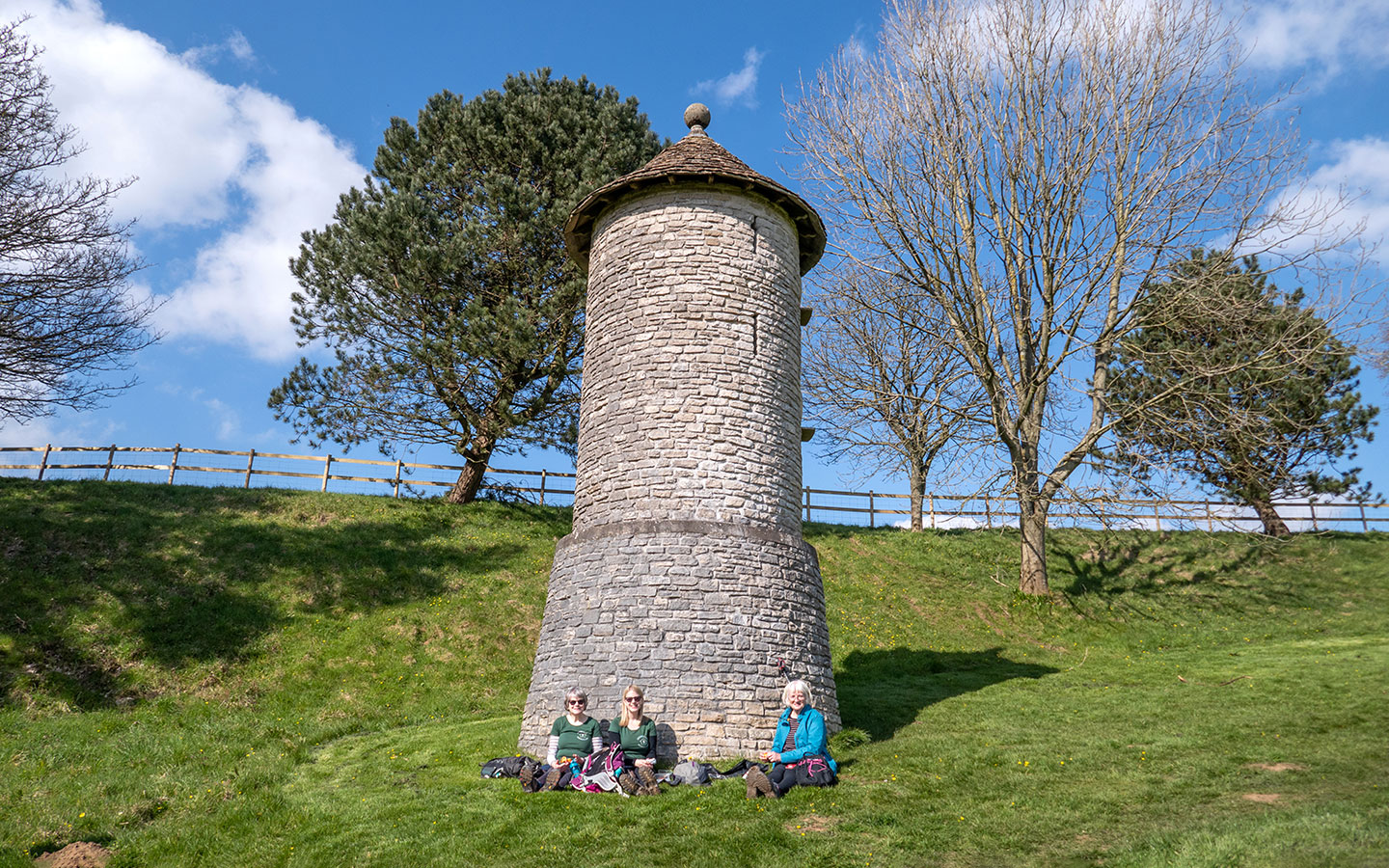 Day 8 facilities
Food and drink: There are several supermarkets, the Relish deli, a bakery and cafés in Wotton-under-Edge. You can take a short diversion off the trail into Hawkesbury Upton where there are two pubs – The Fox Inn and Beaufort Arms – and the Hawkesbury Stores village shop which sells bread, cakes and groceries. And the Dog Inn pub in Old Sodbury is just downhill from the church.
Toilets: There are public toilets in Wotton-under-Edge (GL12 7AA), but none along the route other than customer toilets in the pubs.
Getting to Wotton-under-Edge
By car: There's free long-stay parking at Wotton-under-Edge Civic Centre (GL12 7DF) and Potter's Pond (GL12 7HF), and a few long-stay spaces in the Chipping Car Park (GL12 7BD). To get back to Wotton from Old Sodbury you can take the Stagecoach 84/85 bus, but it only stops at Old Sodbury once a day so you'd have to catch it from Chipping Sodbury instead, 1.5 miles away.
By public transport: The closest train station to Wotton-under-Edge is Cam and Dursley. This is connected to Wotton by the Stagecoach 60 bus in 40 minutes. You could also take the train to Yate and catch the Stagecoach 84/85 bus to Wotton, which takes an hour.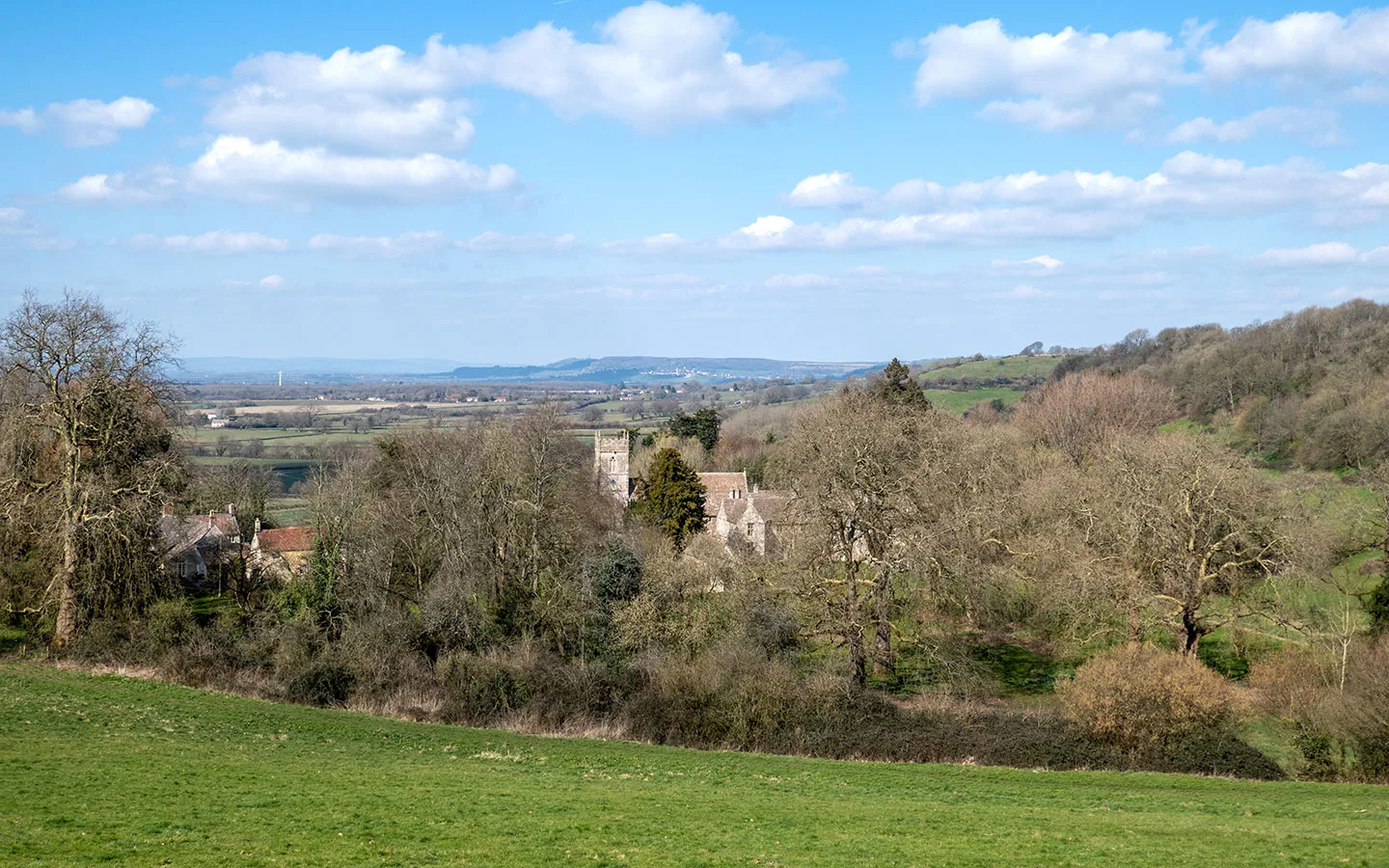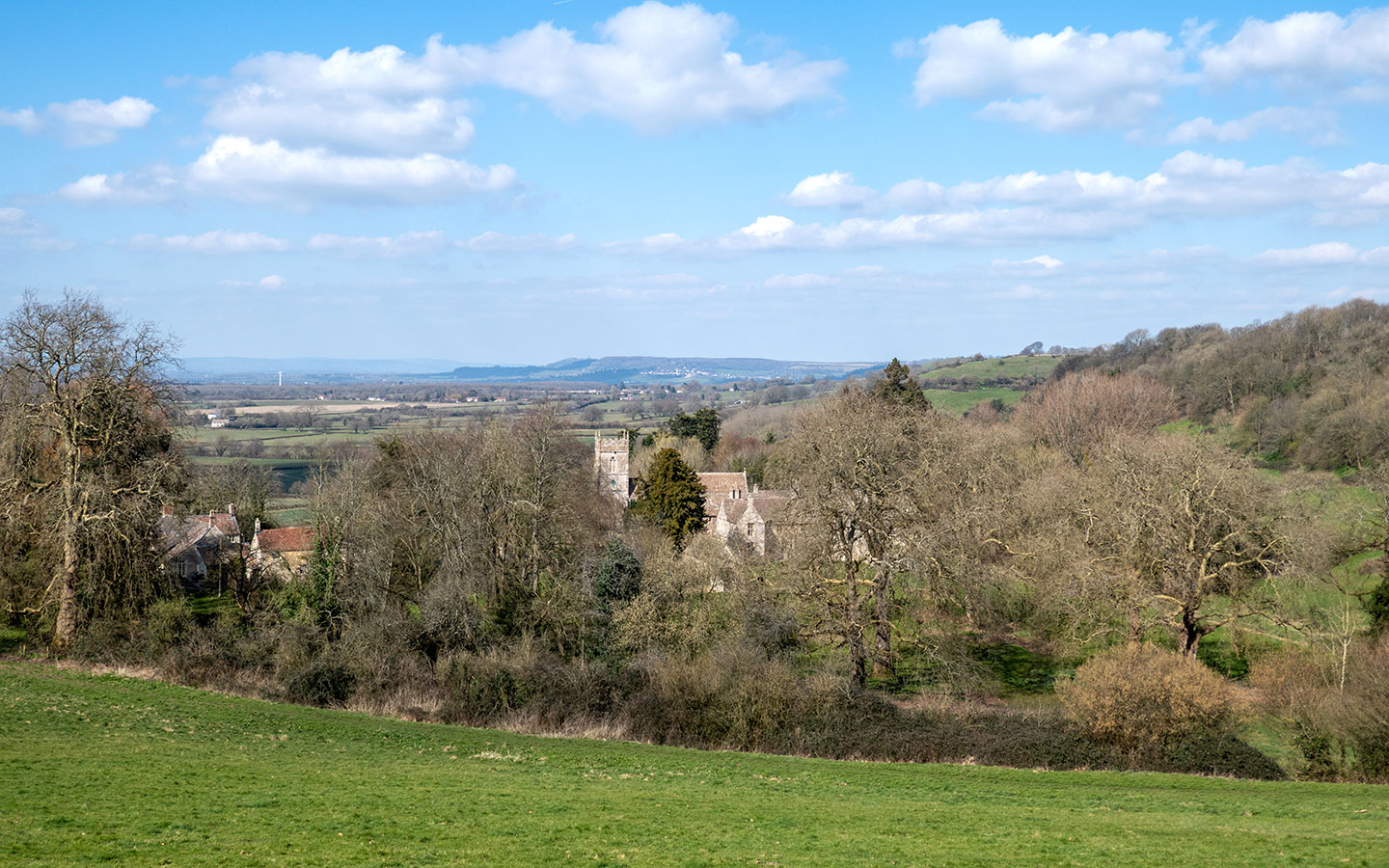 Day 9: Old Sodbury to Cold Ashton (9 miles/14.5km)
Old Sodbury > Tormarton > Dyrham > Pennsylvania > Cold Ashton (4.5 hours)
The penultimate day's walk starts at the Church of St John the Baptist in Old Sodbury and heads down through the village. You pass through the parkland-style grounds of Dodington Park estate then through the village of Tormarton, whose pretty duckpond is a good spot to stop at.
There are a few busy roads on this stretch – with a bridge over the M4 motorway and a couple of roads to cross. The Cotswold Way then runs across fields until it reaches the village of Dyrham, skirting the edge of the National Trust Dyrham Park house and gardens. You then walk through shady ancient woodland and the village of Pennsylvania before ending in Cold Ashton.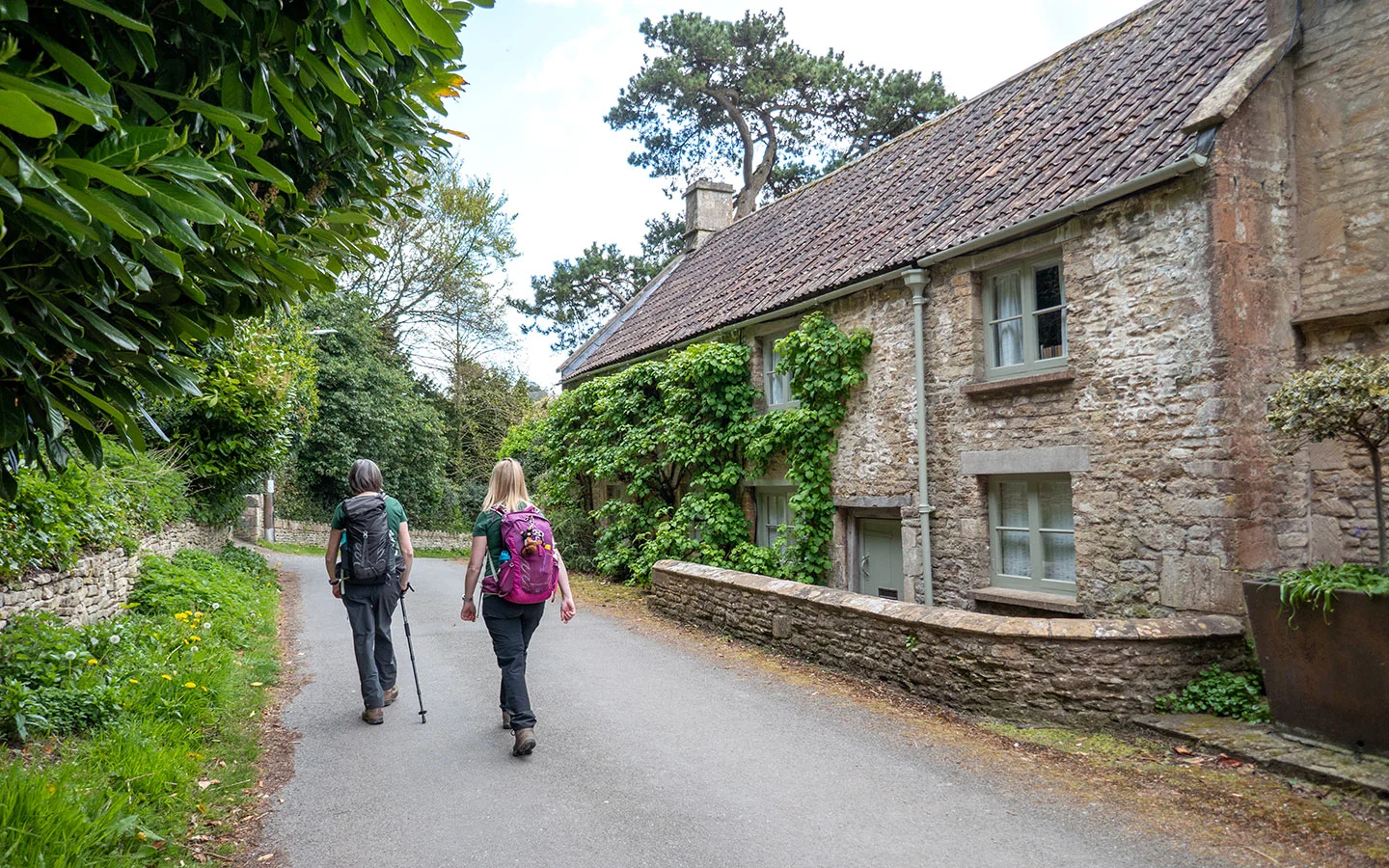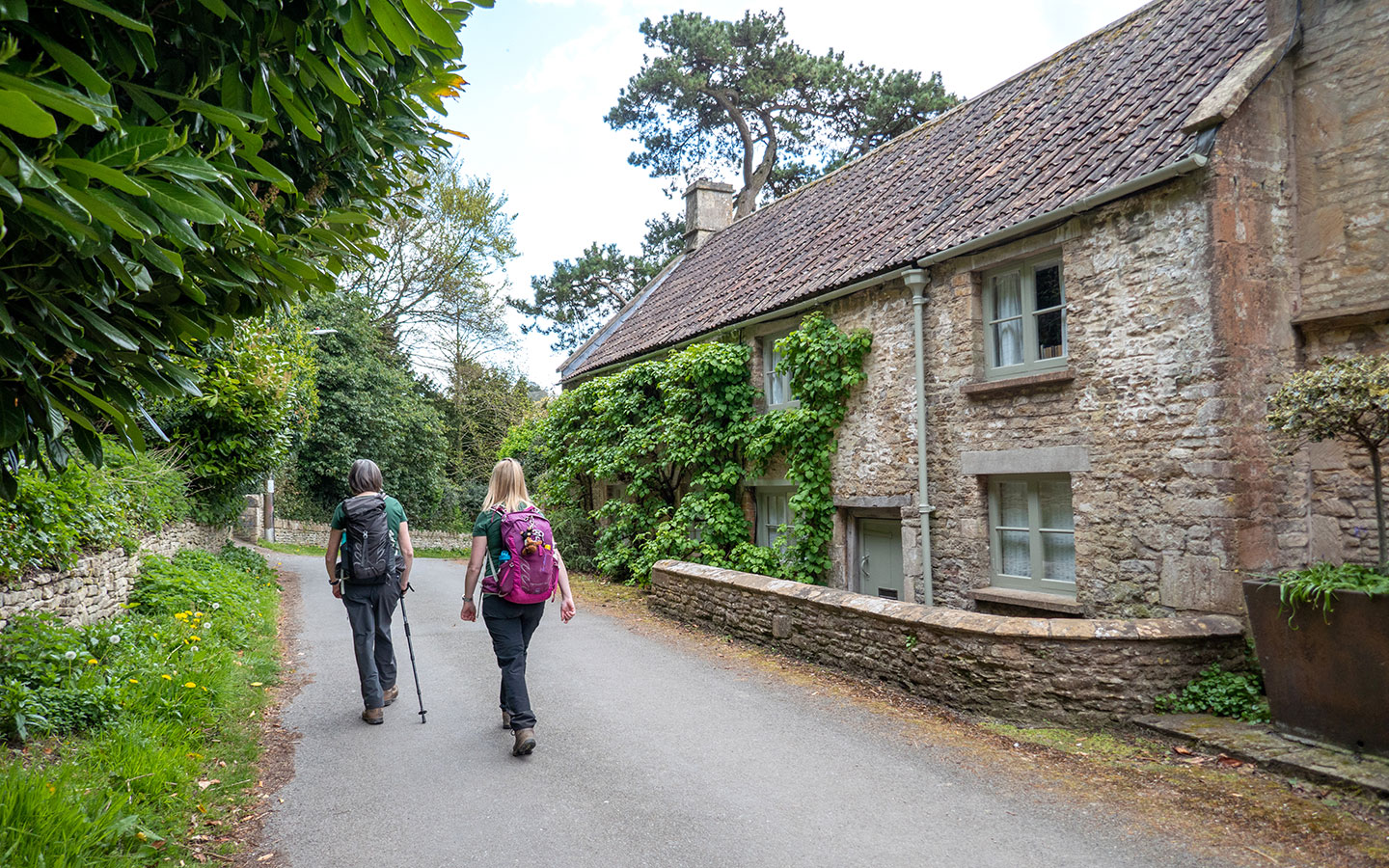 Day 9 highlights
Dodington Park: The route runs through some of the 300 acres of well-manicured grounds that belong to Dodington Park, an 18th-century country house now owned by billionaire inventor James Dyson. The Grade I-listed manor is hidden away – with lots of stern notices telling you to stay on the path – but there are rolling hills, grazing sheep and a pretty stone bridge over a stream.
Tormarton: In this small village you'll find the 12th-century St Mary Magdalene church, a pub and the village pond – a memorial to Lady Altrincham who lived at Tormarton Court.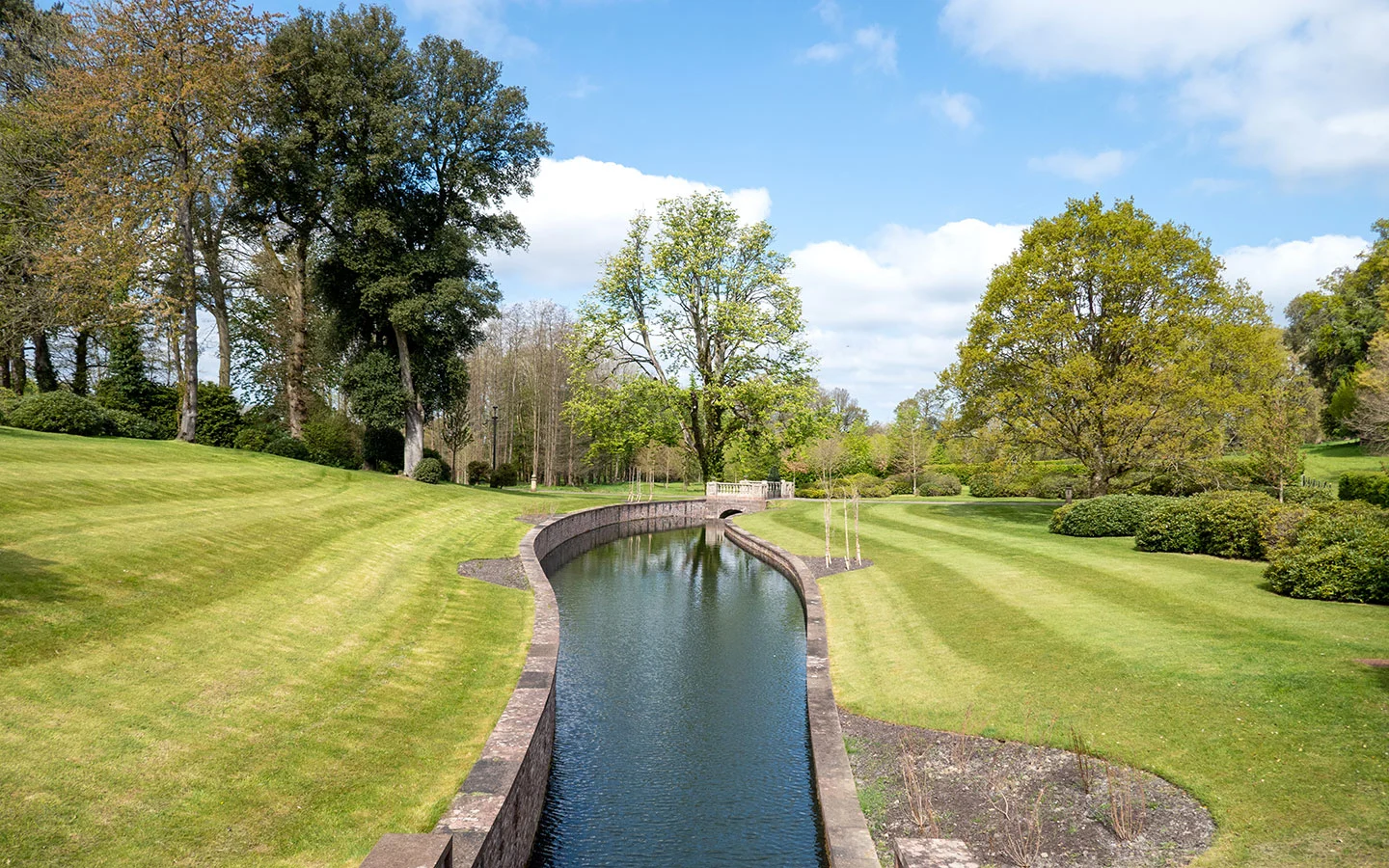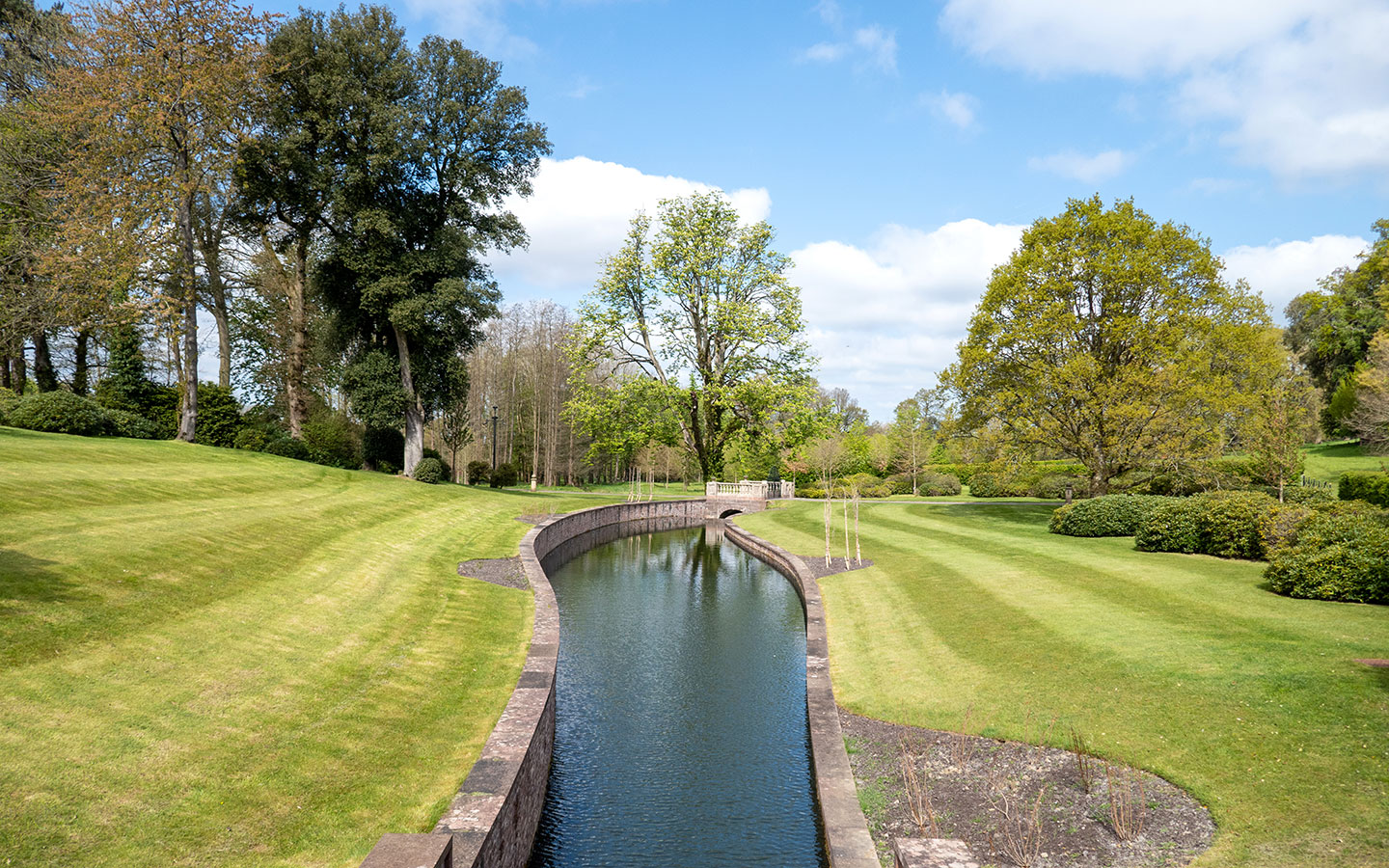 Dyrham Park: The entrance to this National Trust property is just off the route but it's worth a stop. It was built in the 17th-century for diplomat William Blathwayt and contains artwork and collectibles from his travels and is surrounded by formal gardens and acres of parkland.
Dyrham Wood: This ancient woodland is a peaceful oasis, carpeted with bluebells and wild garlic when we visited. Look out for the wood's resident deer – and the wooden post box containing a notebook and pen where Cotswold Way walkers can record their visit for posterity.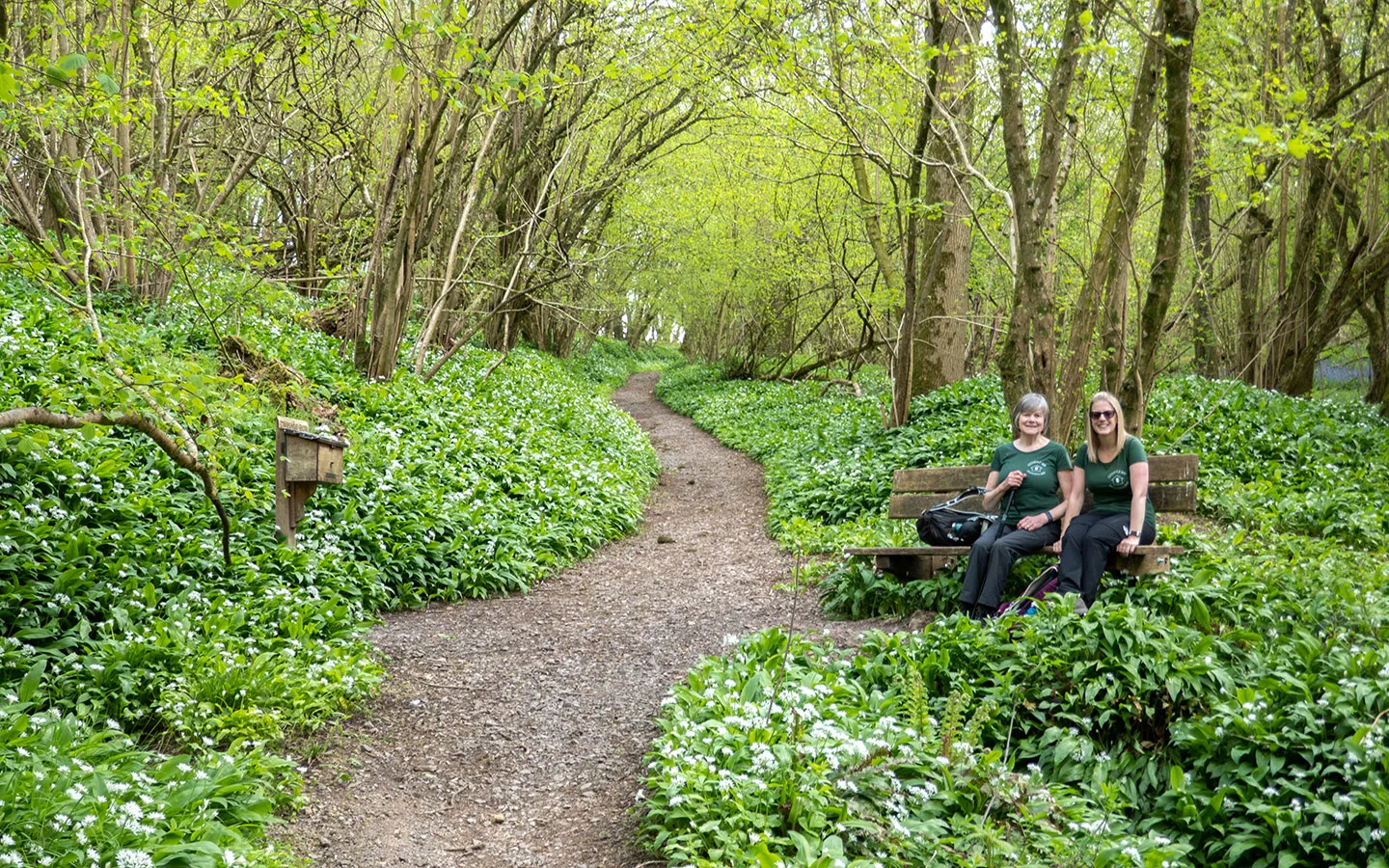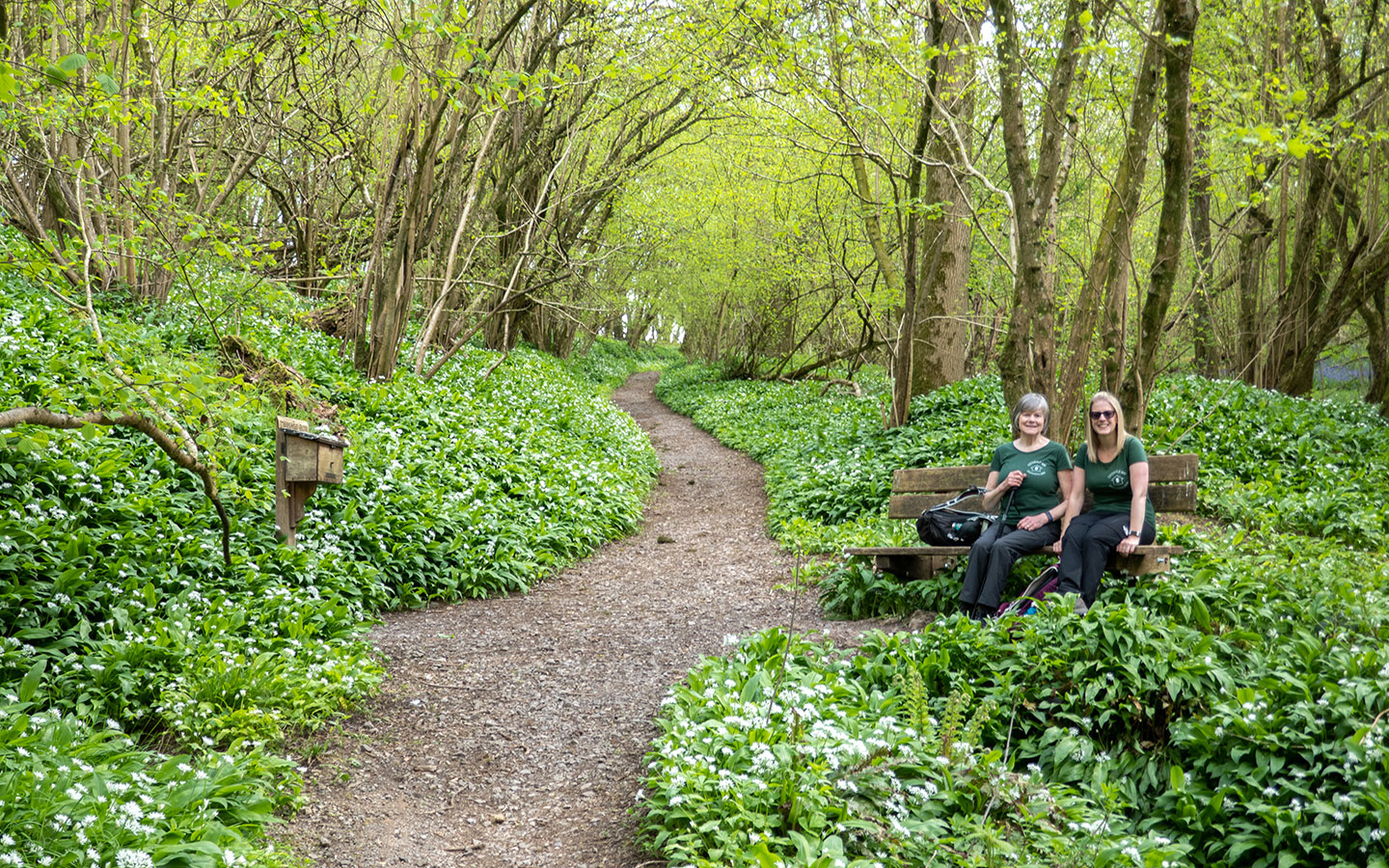 Day 9 facilities
Food and drink: There are service stations selling basic snacks and drinks in Old Sodbury and Pennsylvania. There's also the Compass Inn pub in Tormarton which is just off the route on the edge of the village. It's also a short diversion to The Crown pub and Fine Cheese Co in Tolldown.
Toilets: There are no toilets along the route other for customers at the pubs and Dyrham Park.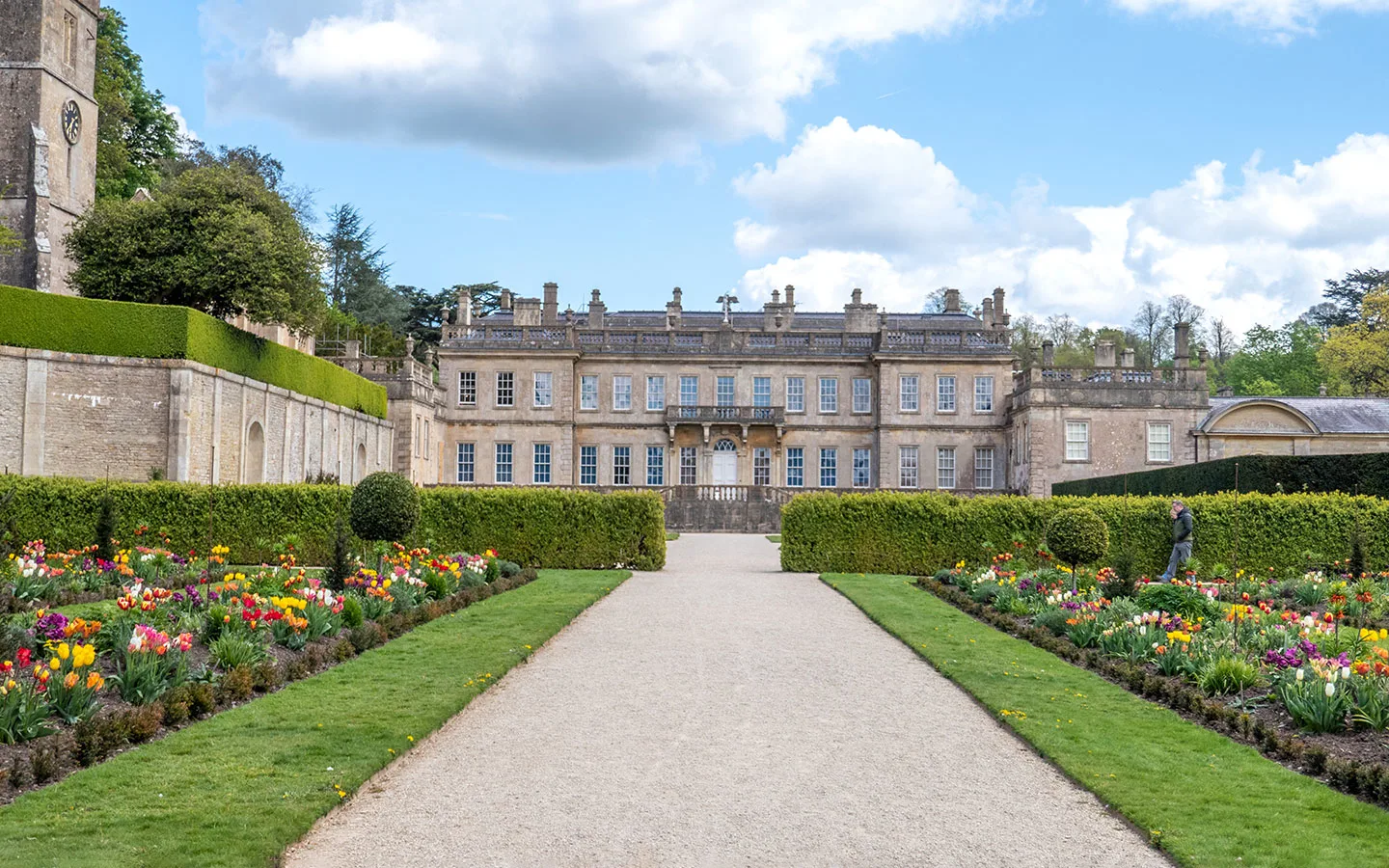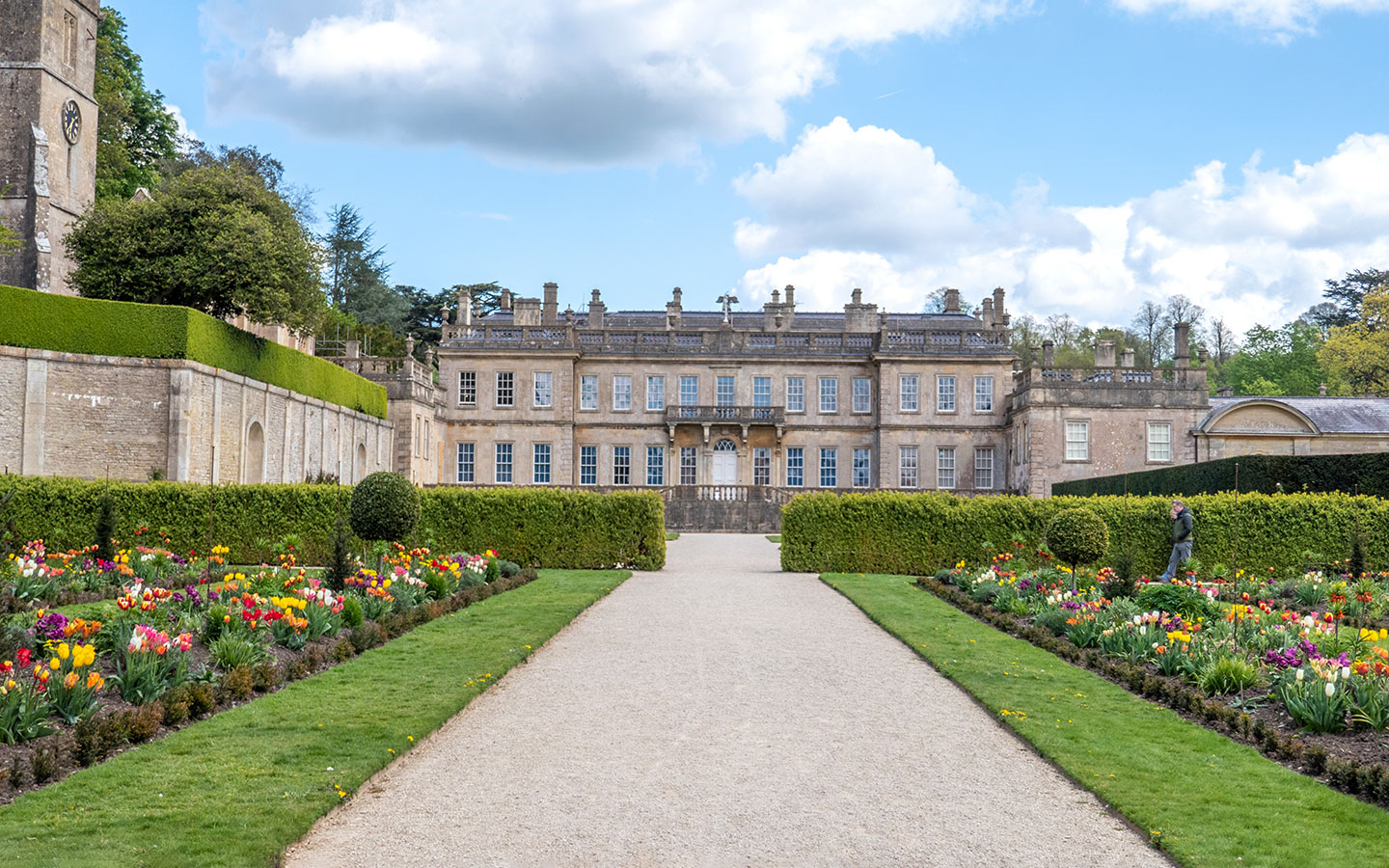 Getting to Old Sodbury
By car: There is unrestricted parking in Old Sodbury on the road up to the church (BS37 6NF). You can get back to Old Sodbury from Cold Ashton by taking the First Bristol 35 bus from Cold Ashton to Wick (5 minutes) then the Stagecoach 620 bus from Wick to Old Sodbury (45 minutes).
By public transport: There is a train station in Yate, which is only 2.7 miles from Old Sodbury and is connected by the both the Stagecoach 620 and Coachstyle 41 buses. You can also reach Bath by bus on the 620 or Stroud on the number 69, both of which take around 70 minutes.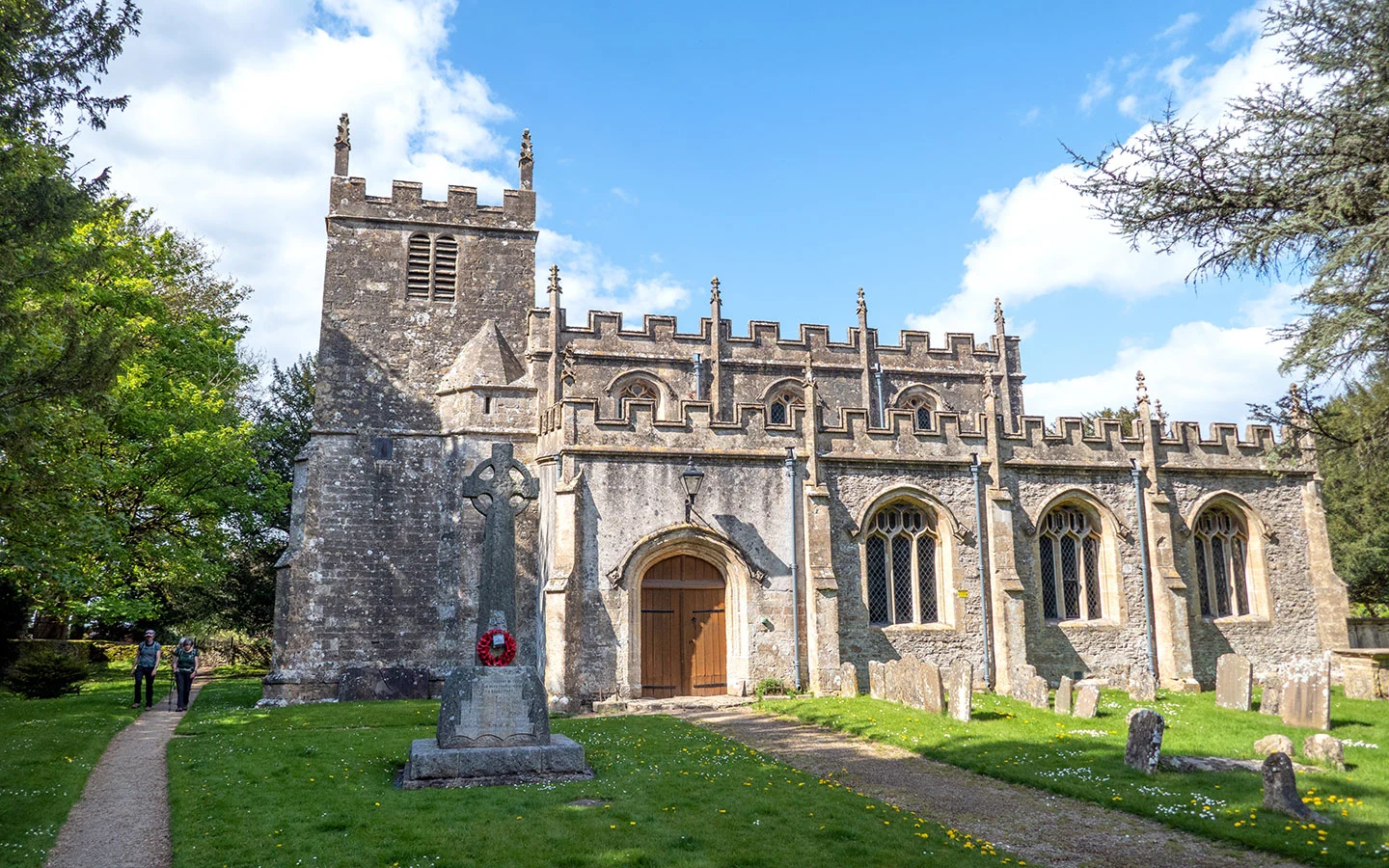 Day 10: Cold Ashton to Bath (10.4 miles/16.7km)
Cold Ashton > Lansdown Hill > Weston > Bath (5.5 hours)
The final day of this Cotswold Way itinerary takes you from Cold Ashton to the historic city of Bath. It runs through rolling hills before gradually climbing up Lansdown Hill, where there are memorials to the English Civil War Battle of Lansdown. You carry on along the hilltop past a golf course and Bath Racecourse, with views of Bristol, Bath and the Avon Valley from Prospect Stile.
Then the path starts to descend, running past Kelston Round Hill on the way into the Bath suburb of Weston. There are a few final climbs to tackle before reaching the centre of Bath, passing landmarks like the Royal Crescent and Roman Baths on your way to the finish at Bath Abbey.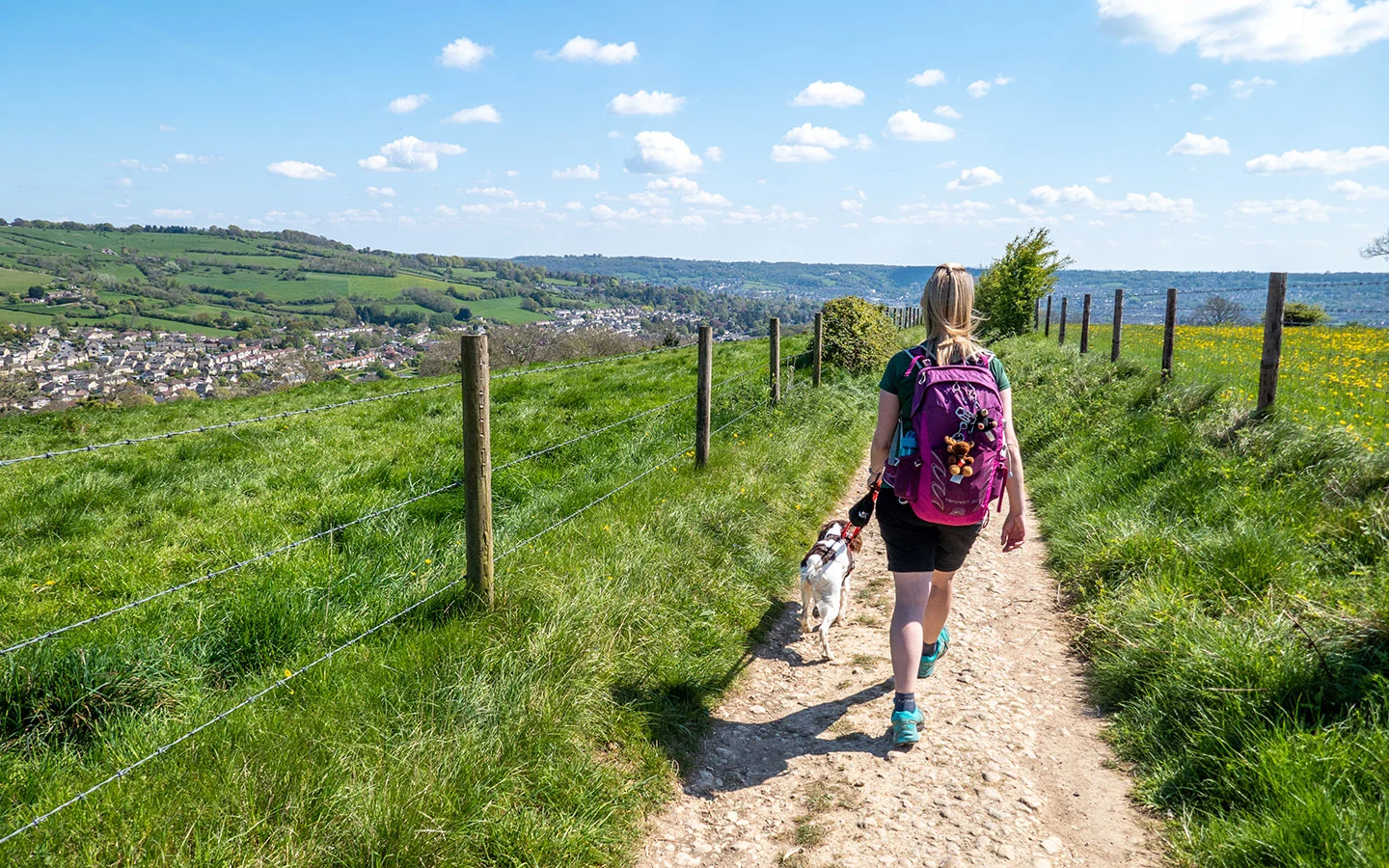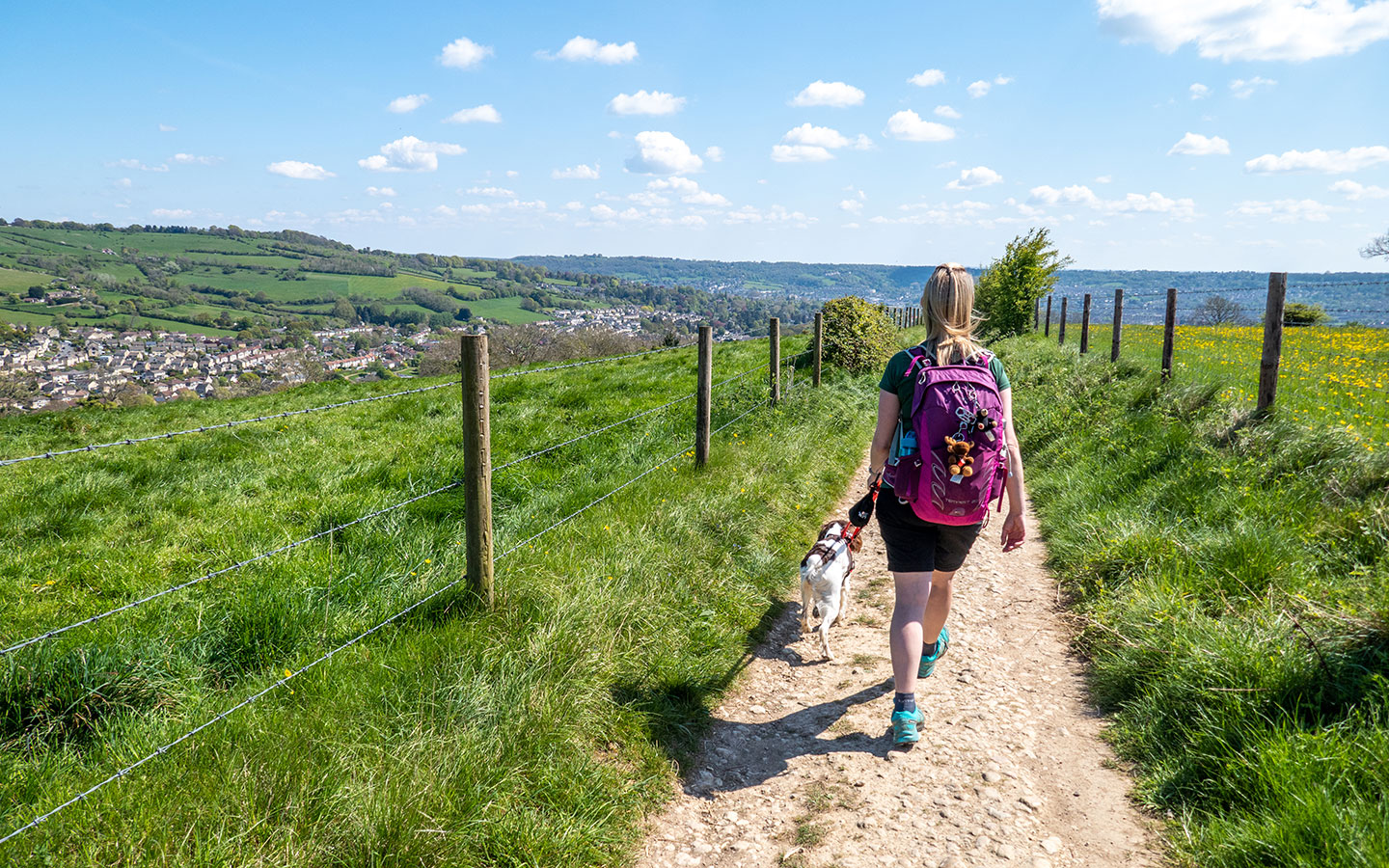 Day 10 highlights
Battle sites: The Battle of Lansdown took place on Lansdown Hill on 5 July 1643 when the Royalists took on the Parliamentarians in a bloody fight during the English Civil War. The battlefield is marked with flag-post markers and information boards at key points, and the route passes Sir Bevil Grenville's Monument, dedicated to a Royalist commander killed in the battle.
Prospect Stile: This kissing gate is a good place for a stop, with a bench where you can soak up the panoramic views over Bristol and Bath and out as far as the Black Mountains.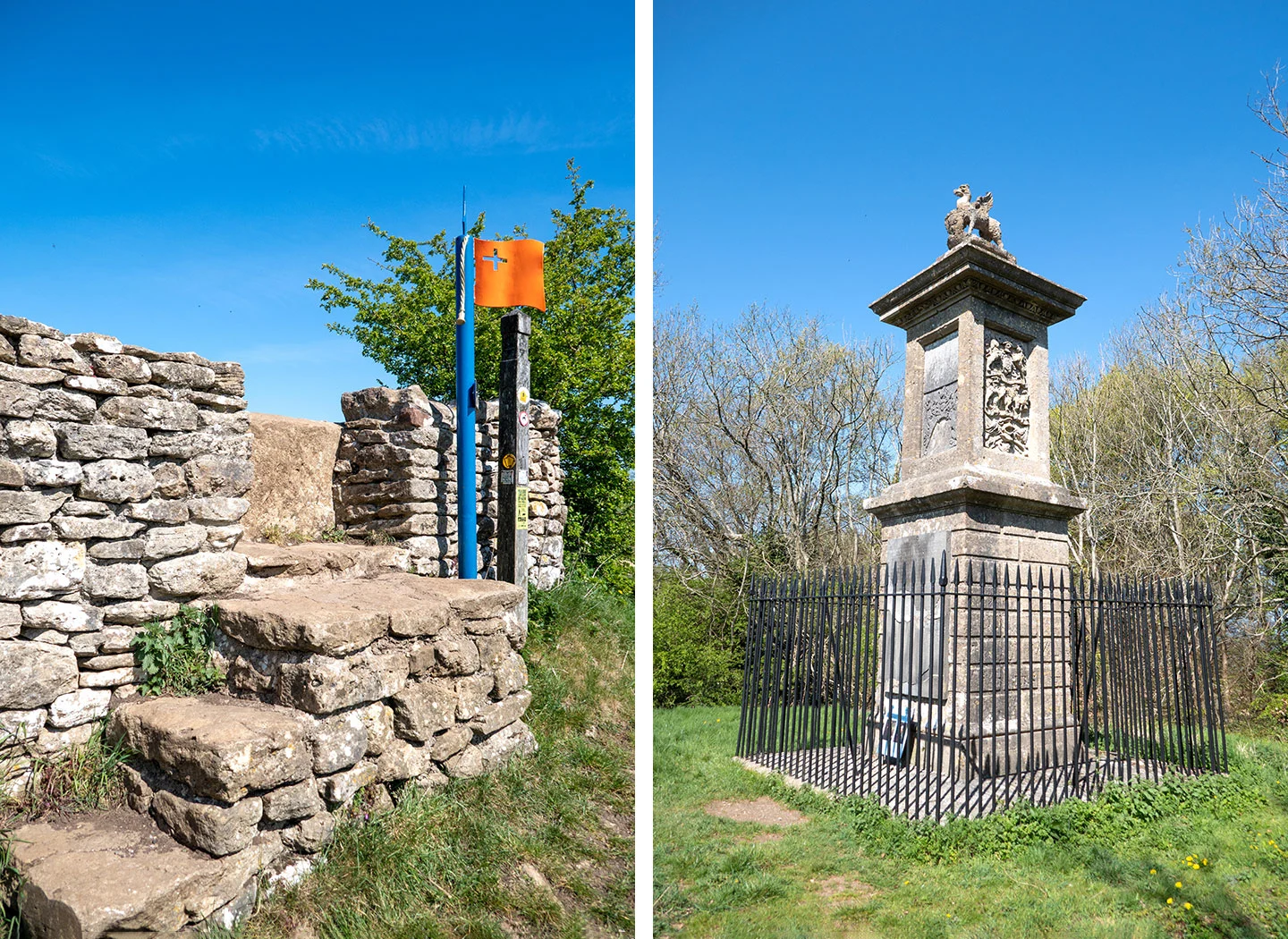 Arriving into Bath: With its golden Georgian buildings, Bath is one of England's most spectacular cities. And the Cotswold Way runs right past some of its highlights – from the curving buildings of the Royal Crescent and The Circus to the Pump Room and Roman Baths.
Bath Abbey: The finish point for the Cotswold Way is the west front of Bath Abbey, with a stone marker on the ground and carved stone angels climbing Jacob's Ladder to heaven as a backdrop. The abbey dates back to 1499 and it's worth heading inside to see its fan-vaulted ceilings and stained-glass windows – you can also climb to the top of the tower if you have the energy left!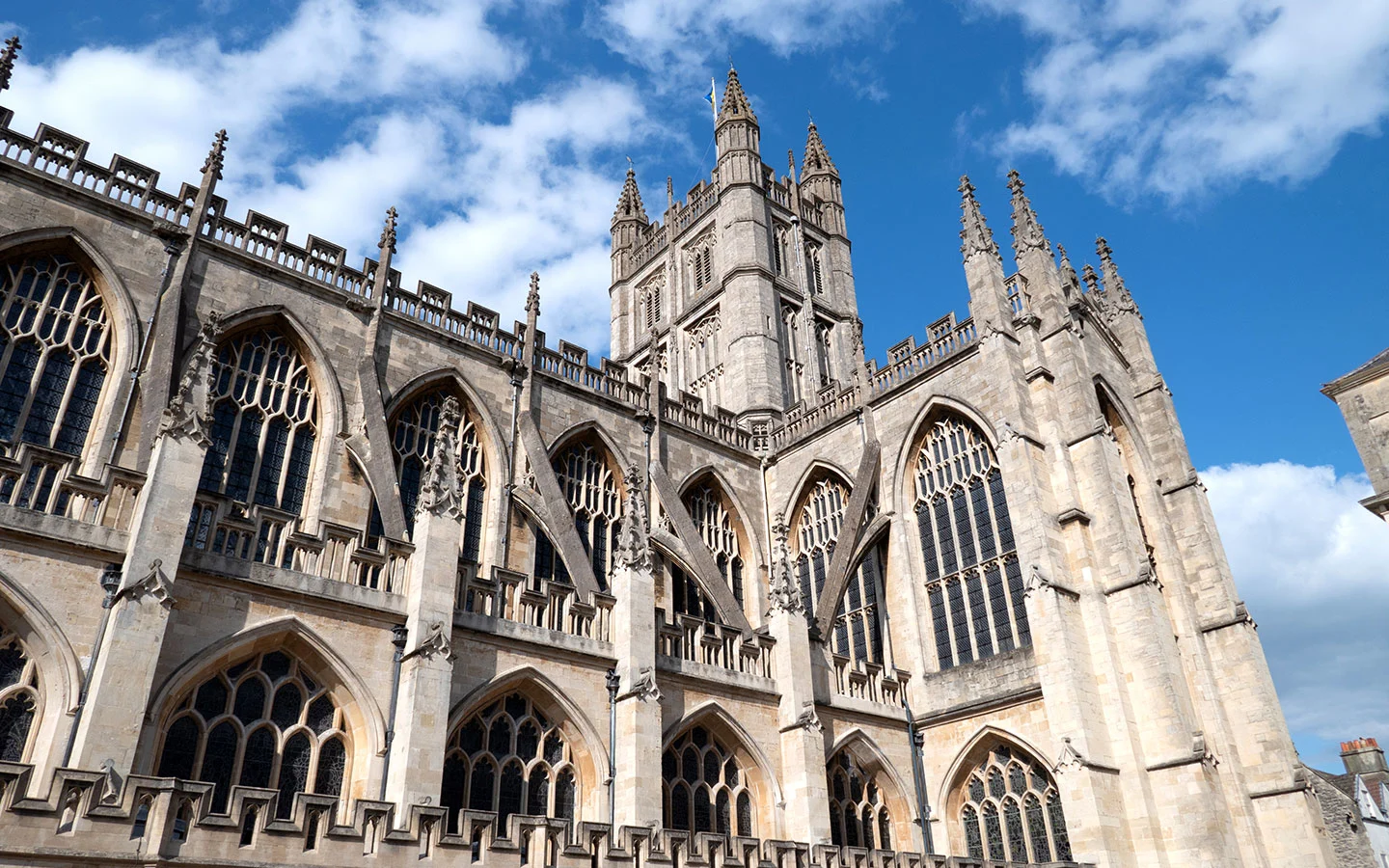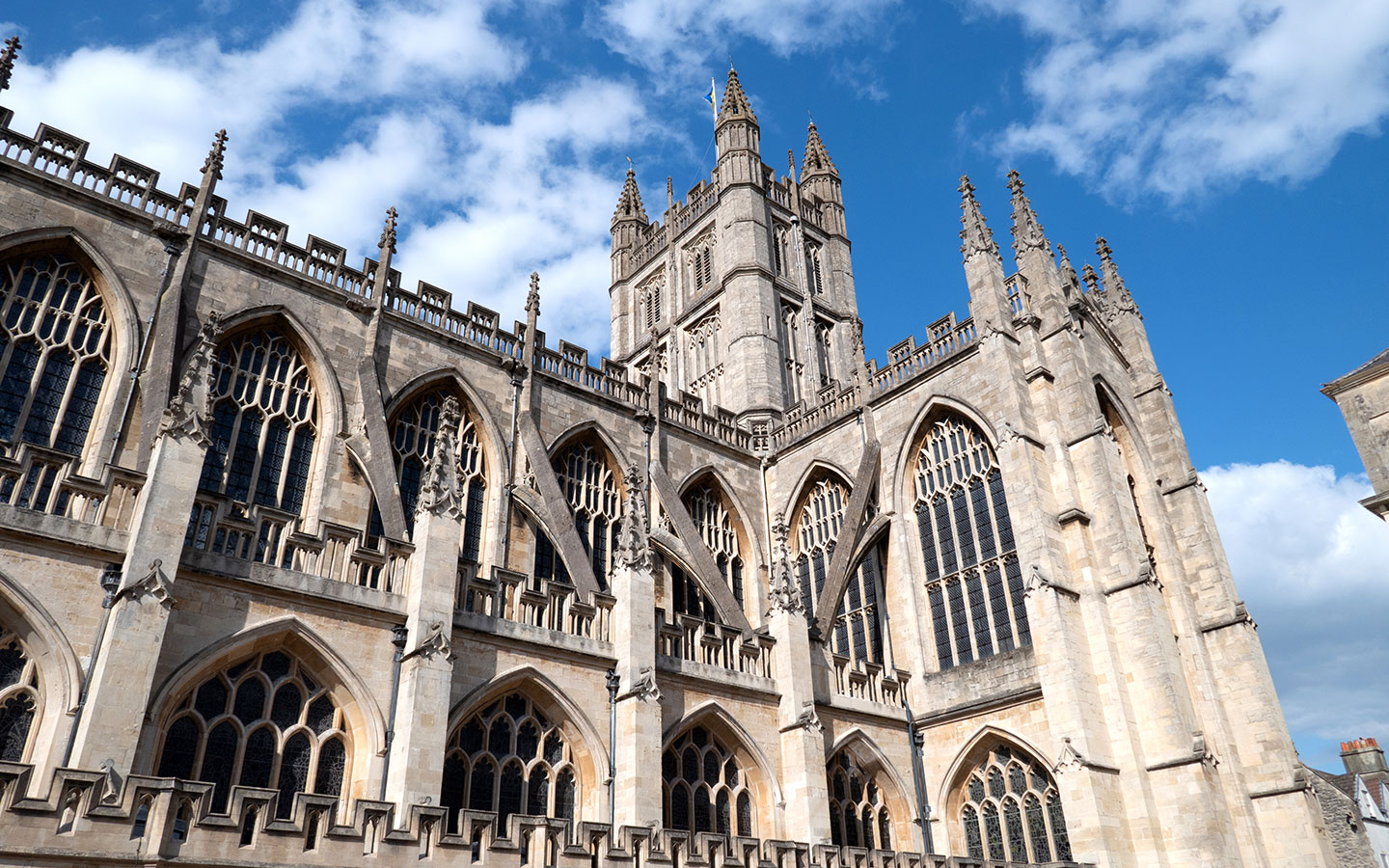 Day 10 facilities
Food and drink: There are no facilities in Cold Ashton and nothing on the route until Weston, where you'll find a Tesco supermarket, Parsons Bakery and The Western Café on Crown Street. And there's a huge selection of places to eat, drink and celebrate once you reach Bath.
Toilets: There are public toilets in Bath in Victoria Park (BA1 2LZ), Charlotte Street Car Park (BA1 2NE) and Monmouth Street (BA1 2AN), all of which charge 20p, but none along the rest of route.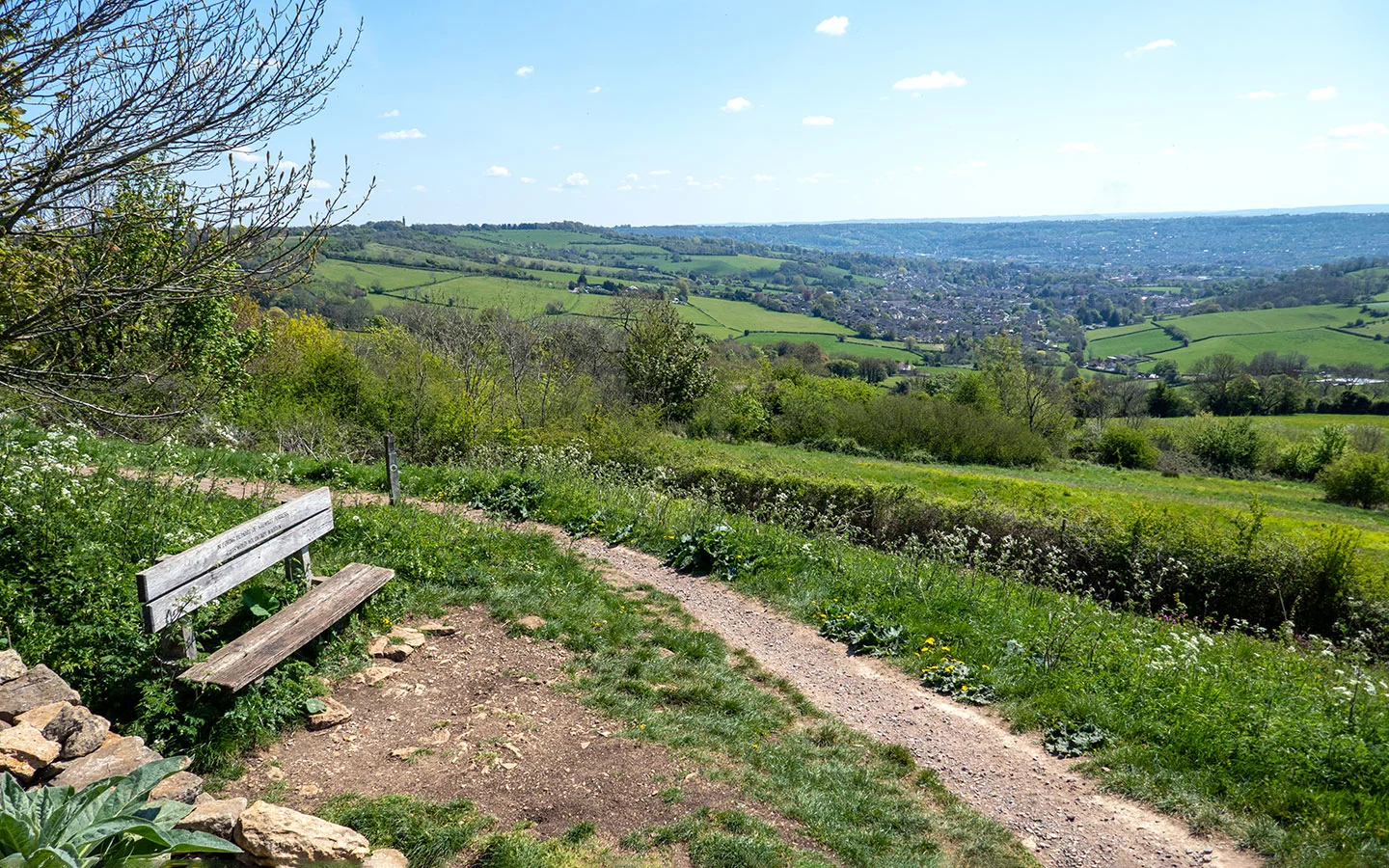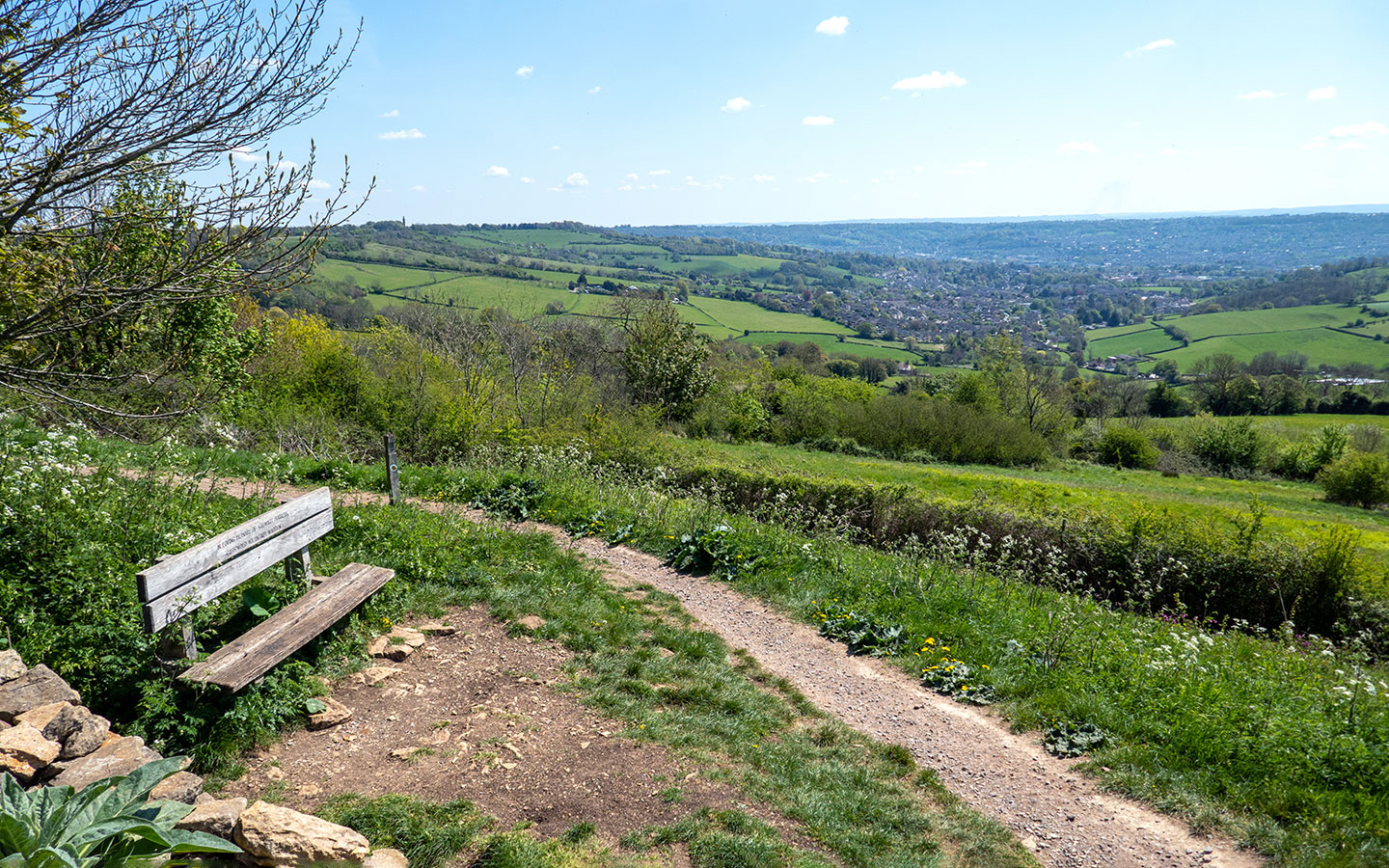 Getting to Cold Ashton
By car: There is free parking at Cold Ashton village hall (SN14 8JT), which is open until 11pm. To get back to Cold Ashton from Bath you can take the Faresaver 79 bus from Bath bus station. It takes about 20 minutes but there is only one service a day at around 5.30pm.
By public transport: The First 35 bus runs from Bristol bus station to Cold Ashton in around 50 minutes but there are only a couple of services a day. There are no useful bus services from Bath to Cold Ashton but you could take a taxi between the two (approx £20).
See our Cotswold Way guide for details of transport and parking options in Bath.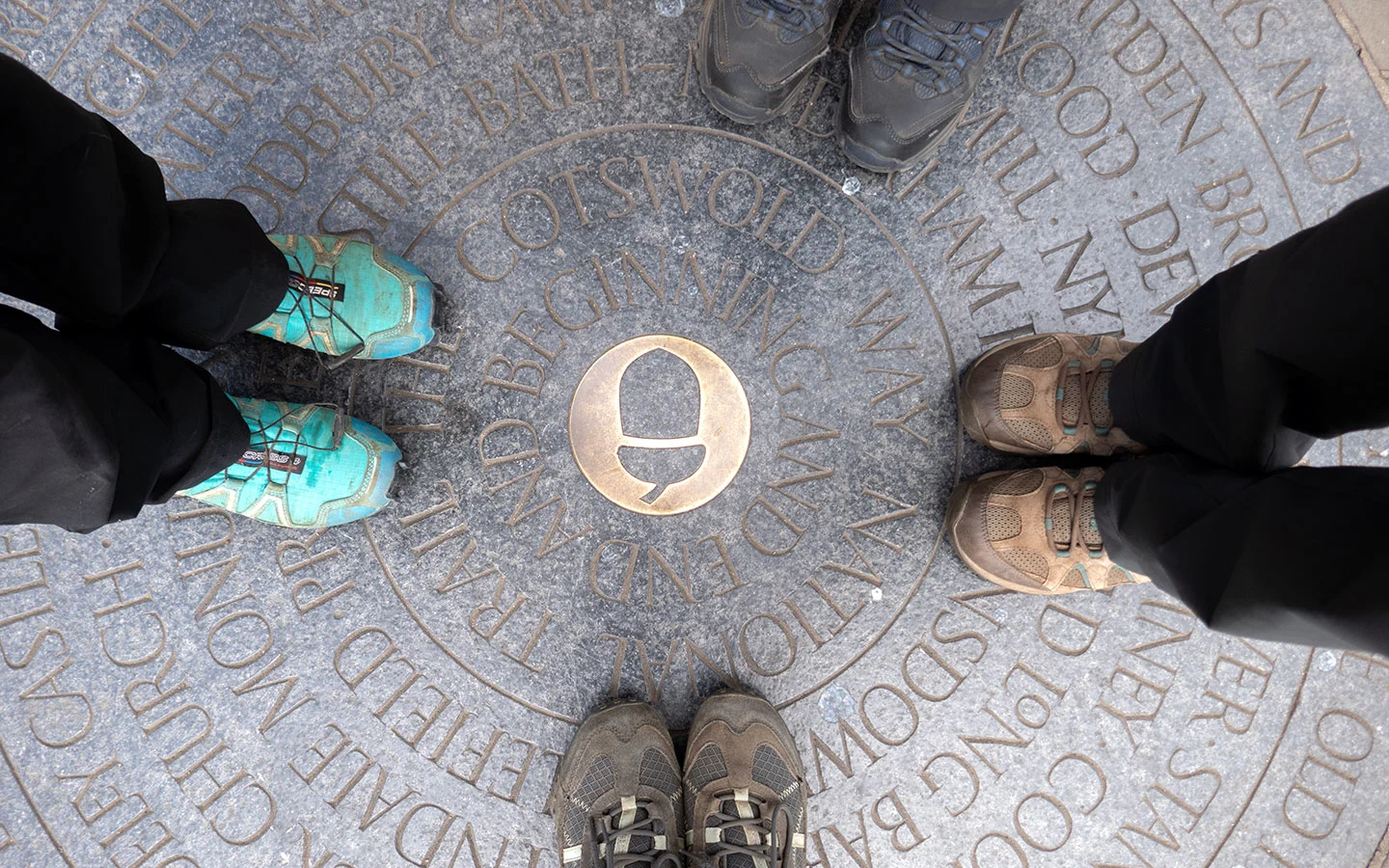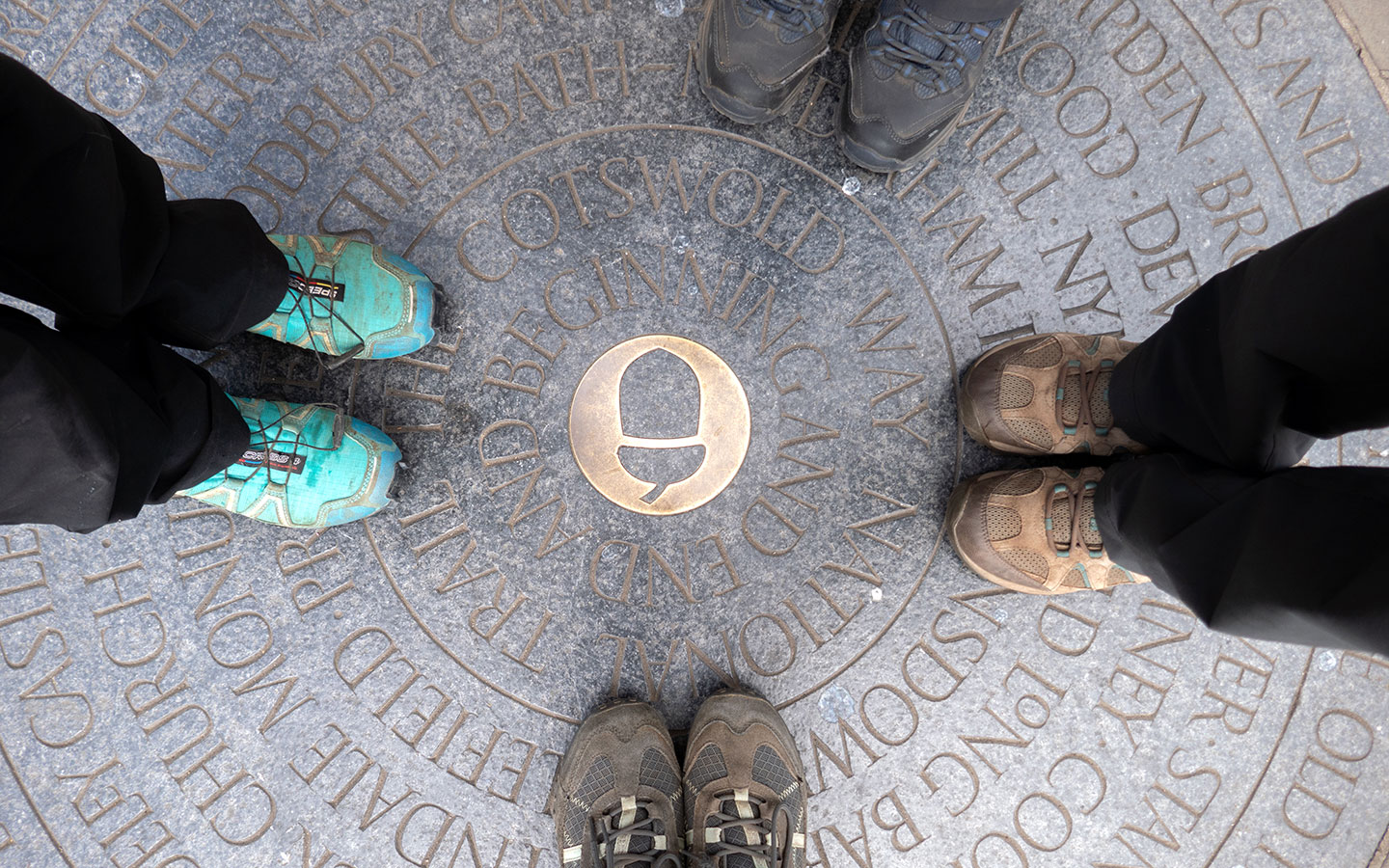 Save for later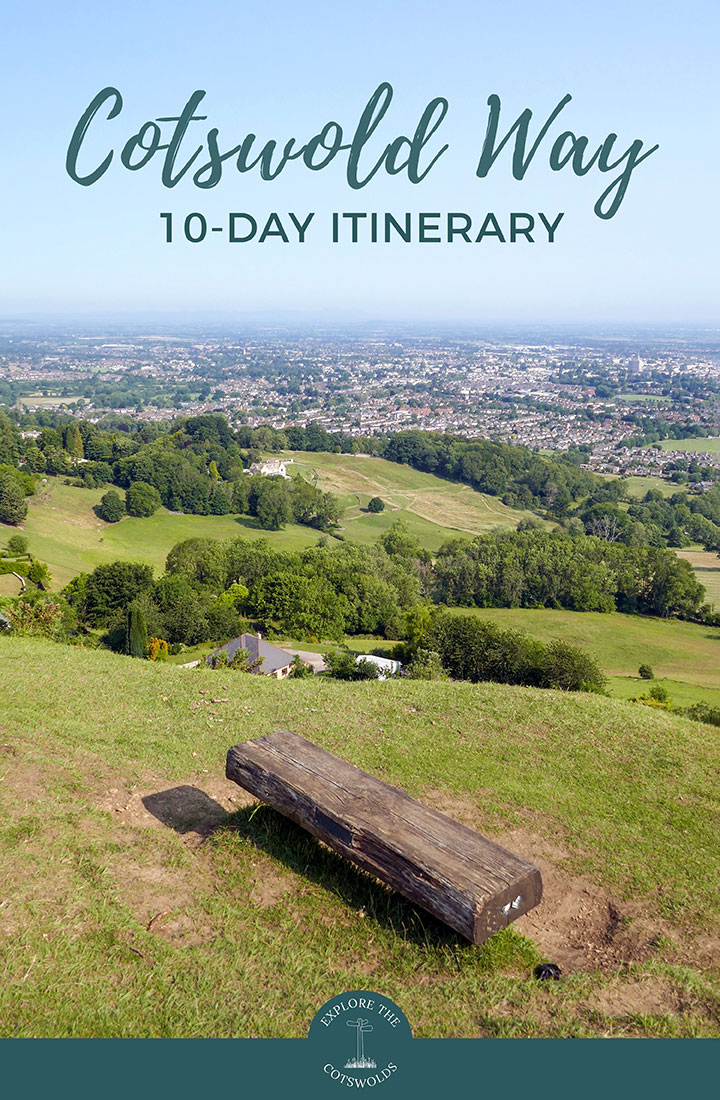 * This site contains affiliate links, where I get a small commission from purchases at no extra cost to you.