Once described as 'the most beautiful village street now left on the island' by historian GM Trevelyan, the North Cotswolds town of Chipping Campden is home to one of England's most charming High Streets. But there's plenty more to experience too, from Arts and Crafts design to elaborate gardens. So discover the best things to do in Chipping Campden with our guide from local expert Chloe, who shares her insider tips on what to see and where to eat, drink and stay.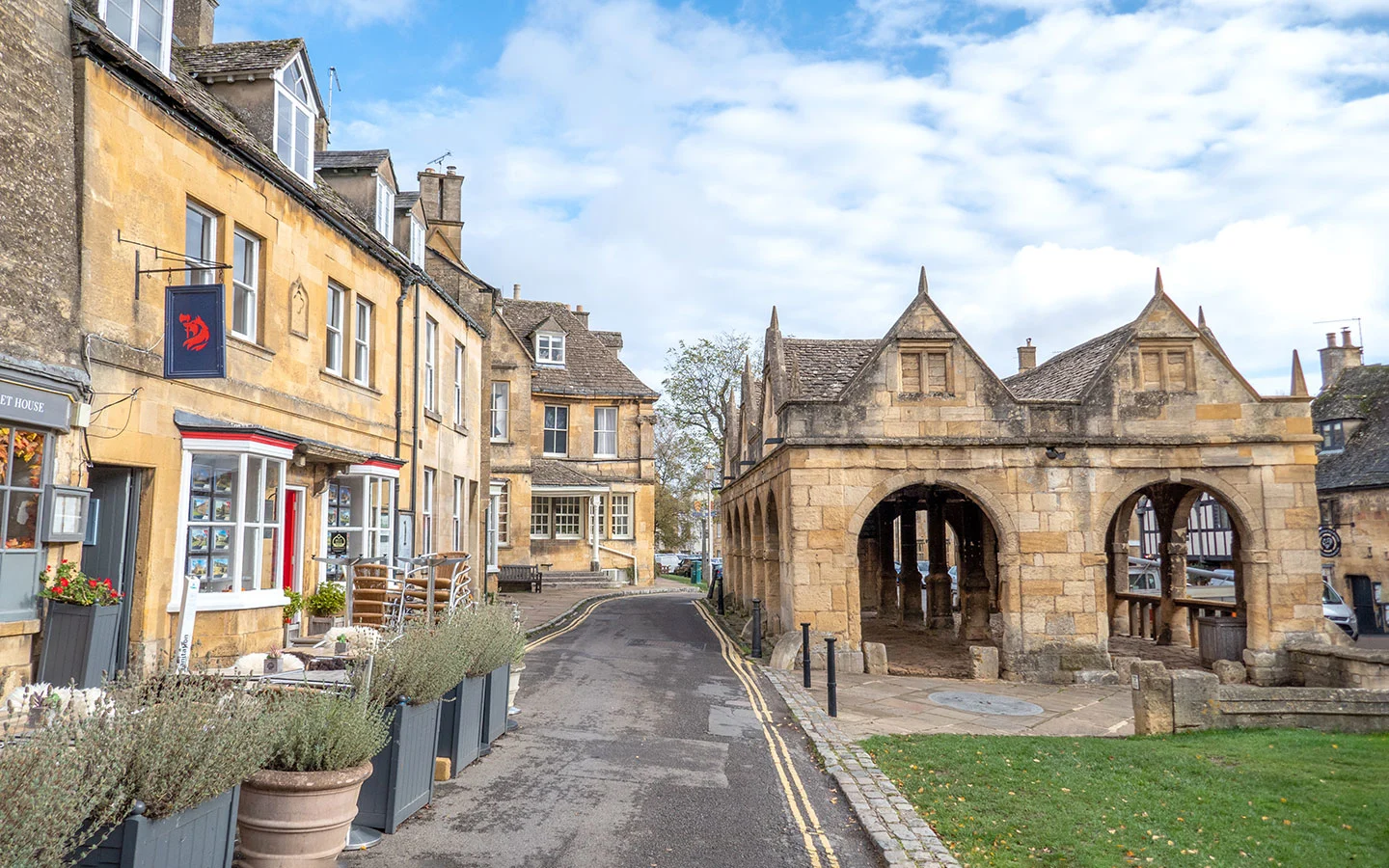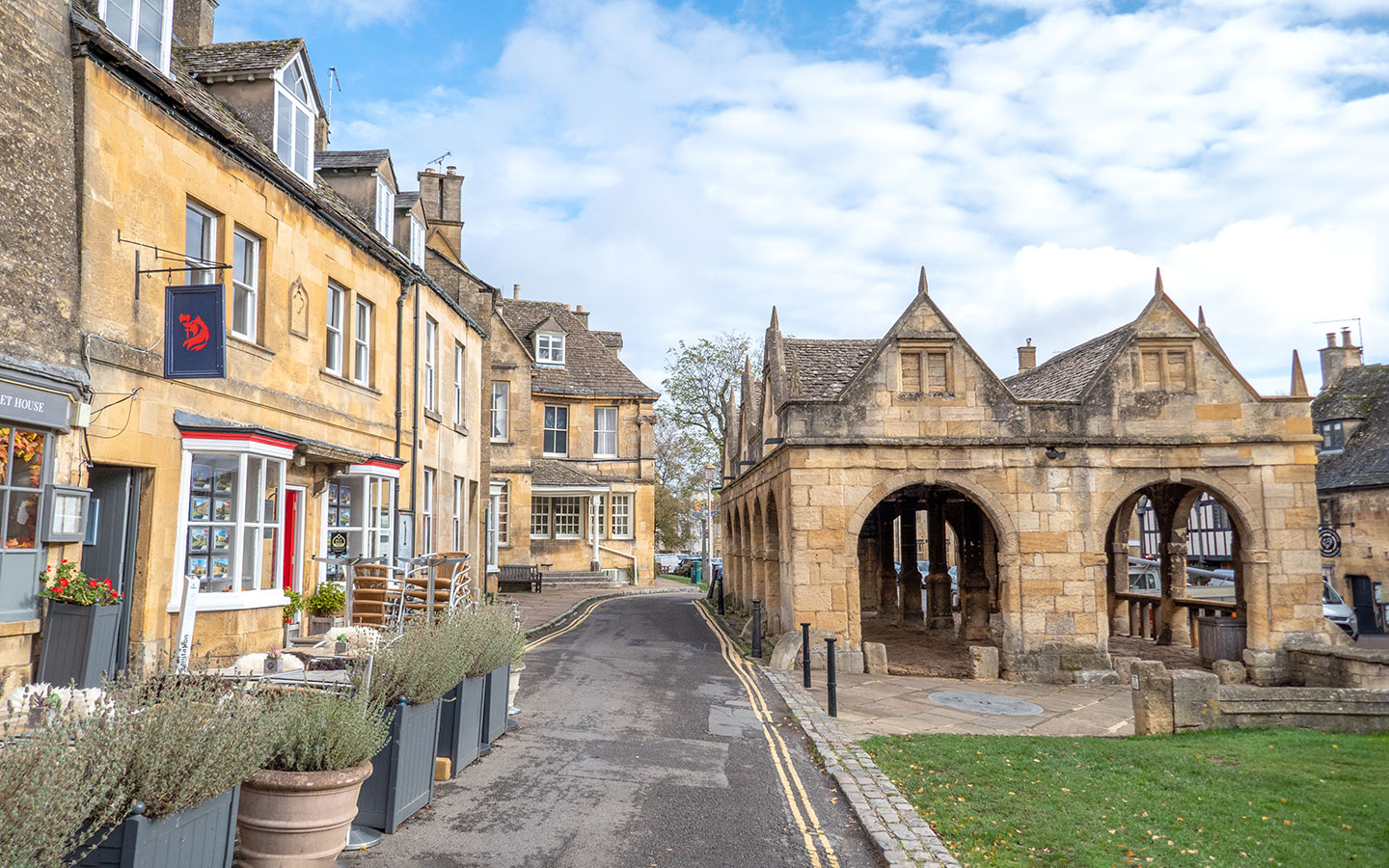 Chipping Campden's history
The manor of Campden was established in the 7th century and gets its name from the Saxon word 'Caumpadene', which meant enclosure or camp in the valley. By the time of the Domesday Book in 1086, it was home to around 300 people and two mills, and was valued at £20.
King Henry II gave the town a charter in 1175 which meant it could hold the market which gave it the rest of its name – 'Chepping' was Saxon for market.
The High Street was built and the town grew. From the late 1300s it became an important wool town – merchants would come to buy fleece from the highly prized 'Cotswold Lion' sheep. St James' Church was built with money from the wool trade and merchants built grand houses.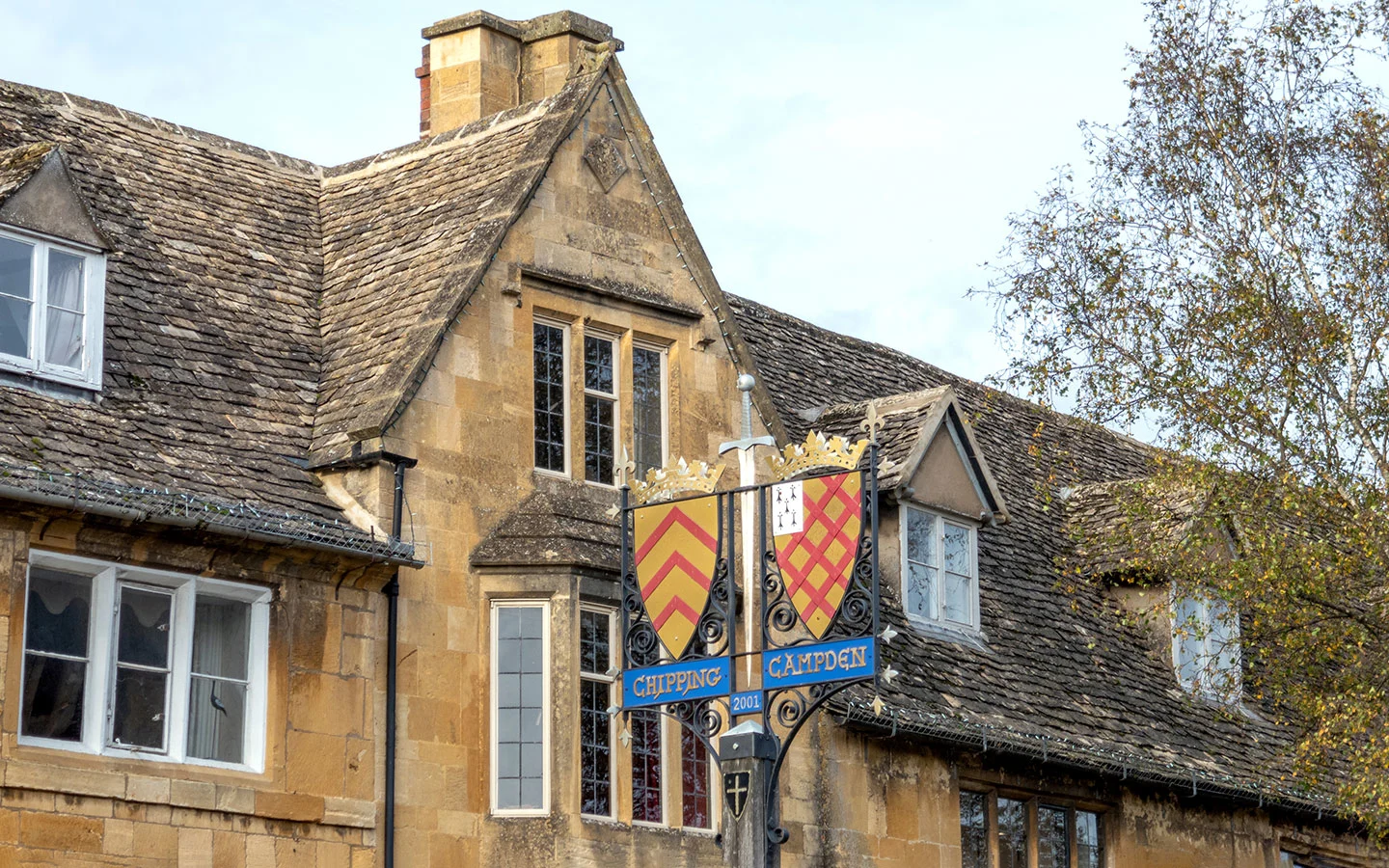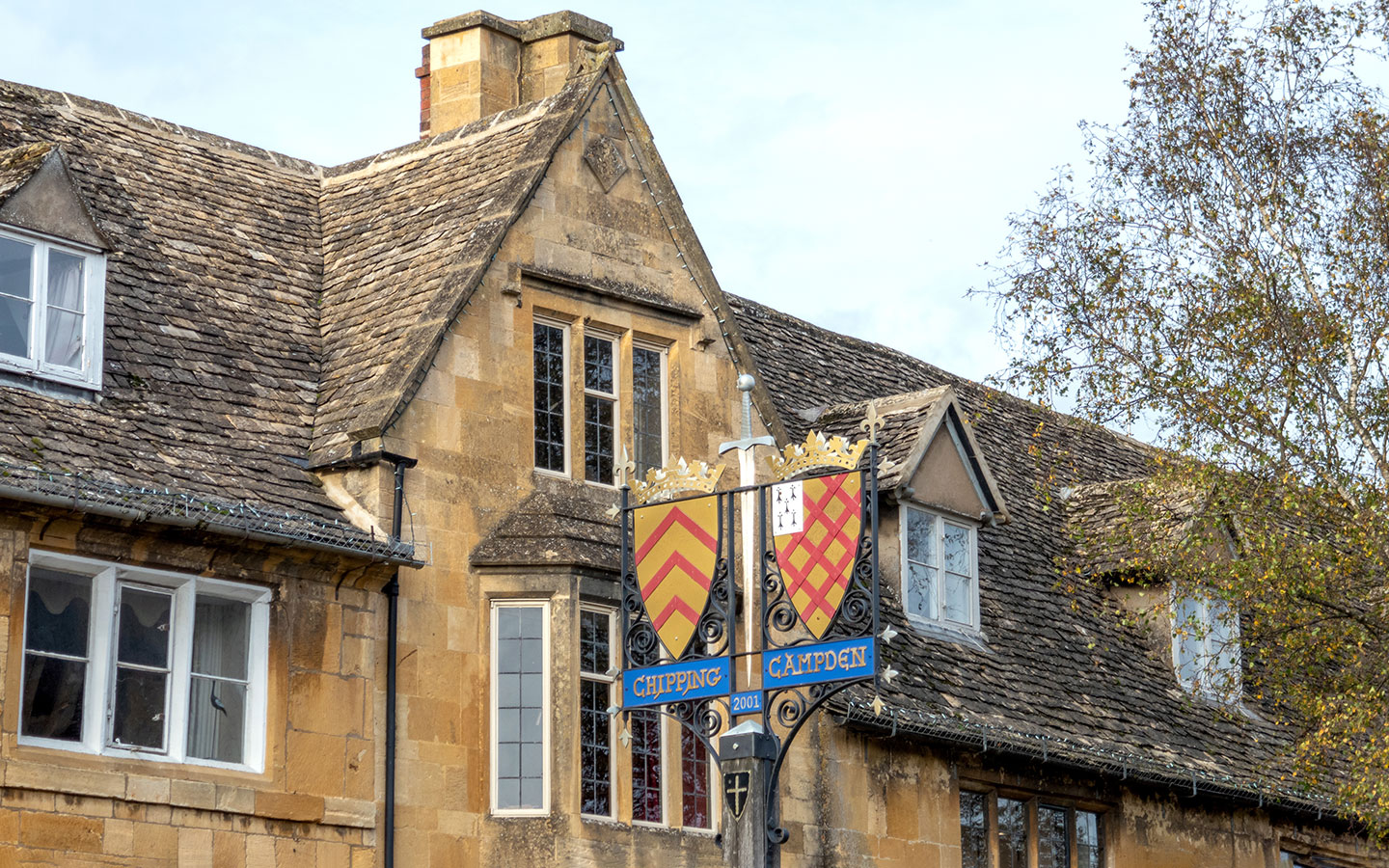 After the wool industry declined, Chipping Campden turned to silk and farming, but by the late 1800s it was struggling. The town was revitalised in 1902 though when Arts and Crafts designer CR Ashbee moved his guild of craftsmen and their families from London to Chipping Campden.
Although the Guild didn't last long, one of its members, illustrator and etcher FL Griggs, stayed in the area and helped protect nearby Dover's Hill from development. He started the Campden Trust which has been working to preserve the town's original character ever since.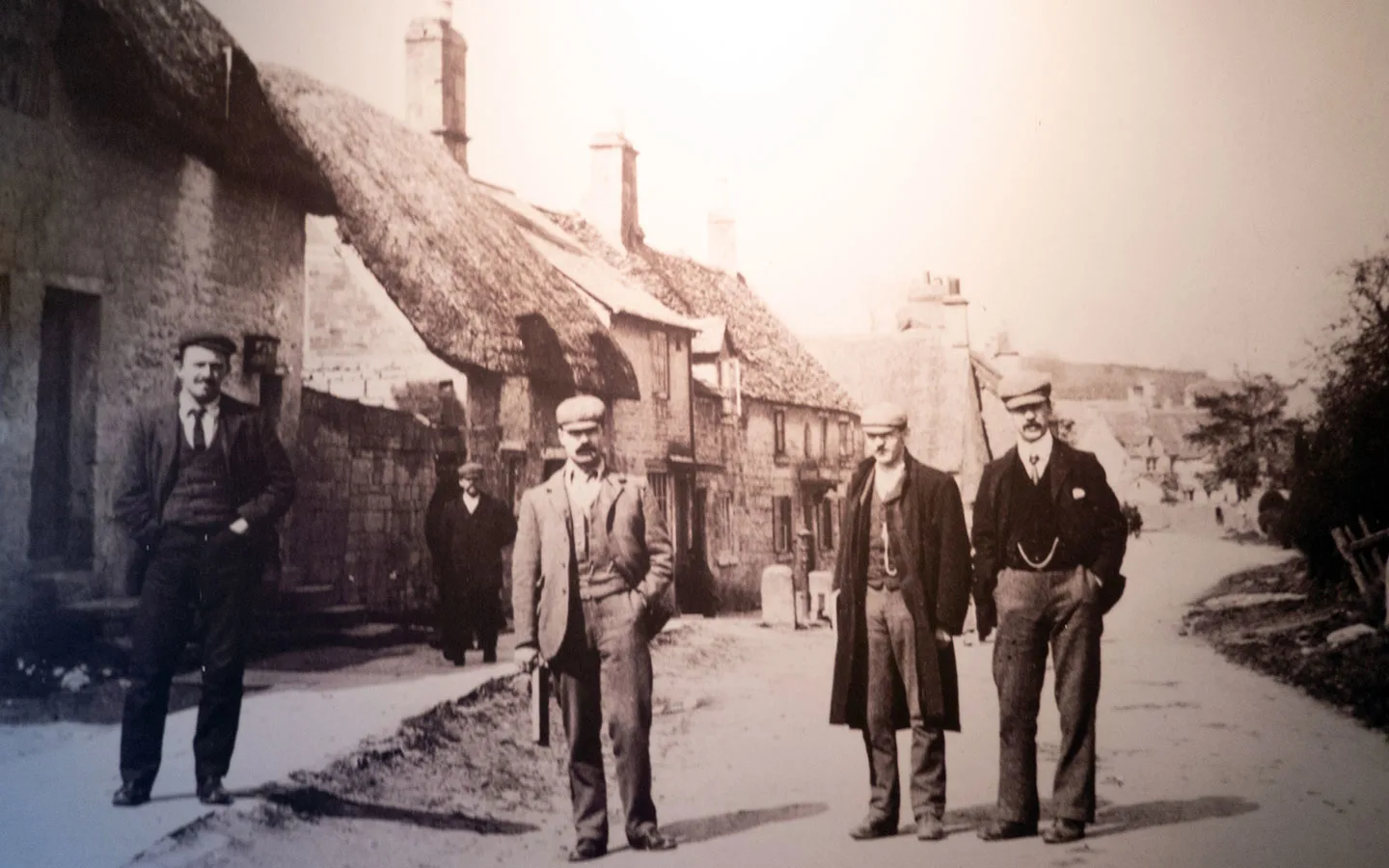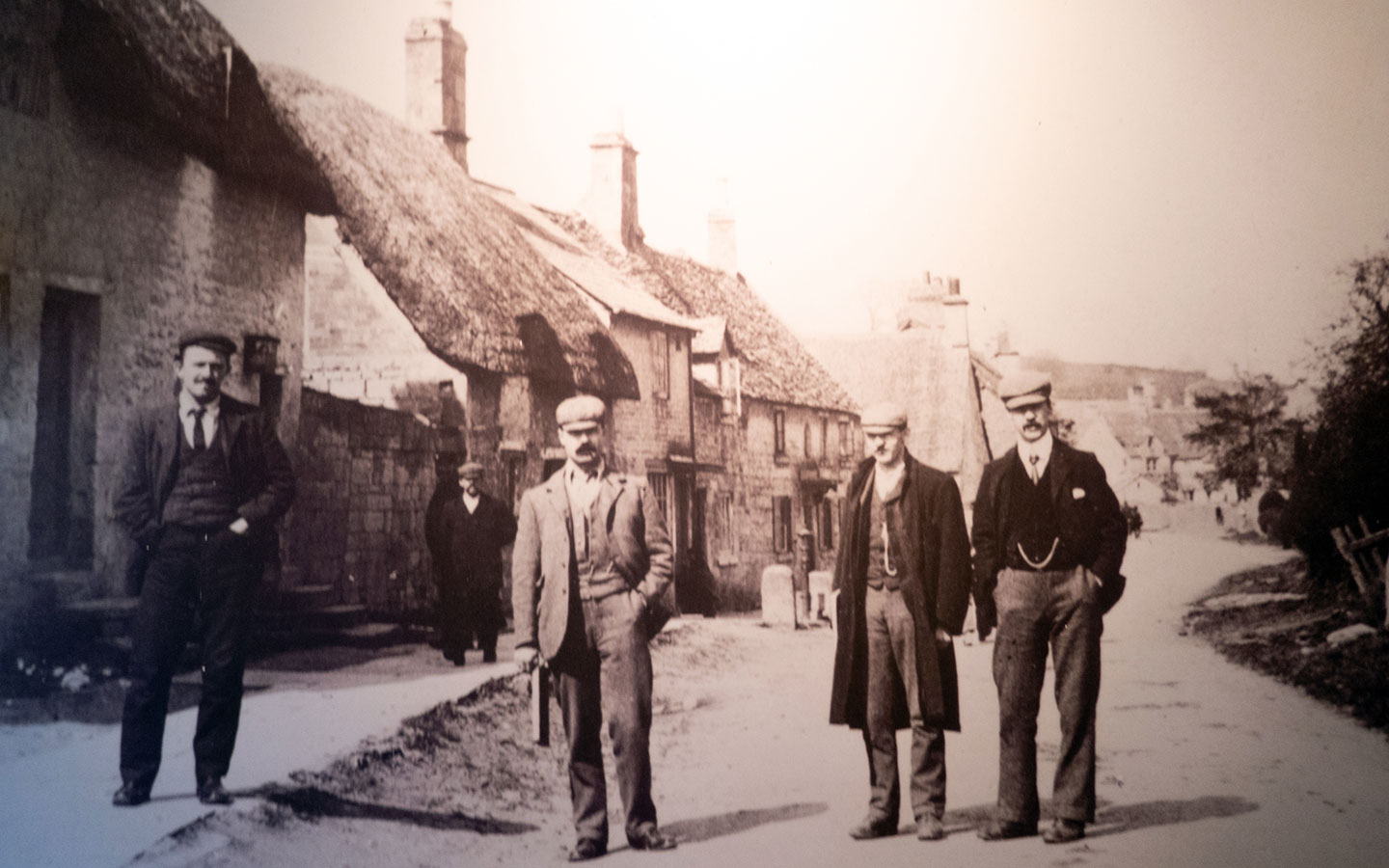 Map of Chipping Campden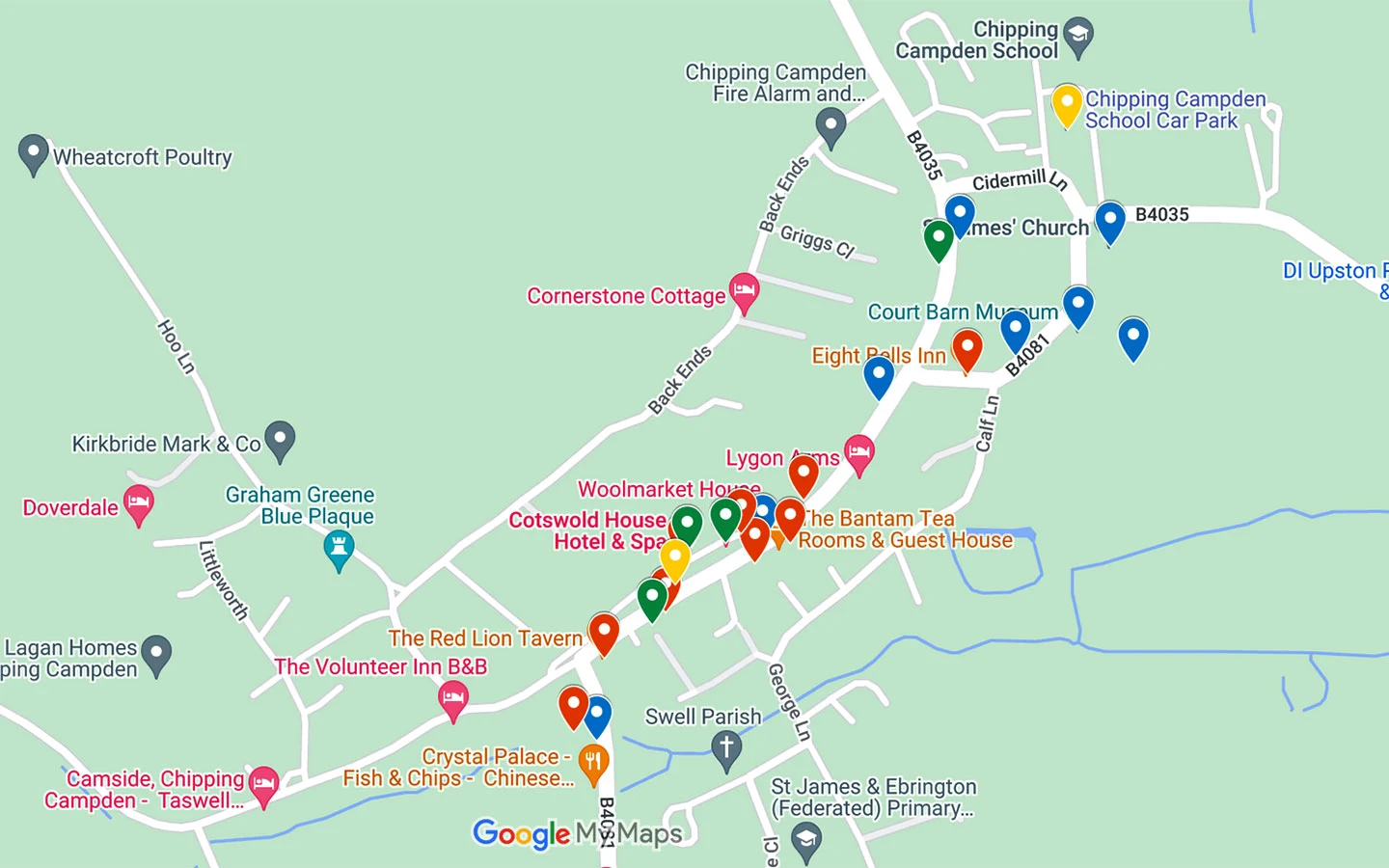 Things to do in Chipping Campden
The High Street
With over 270 listed buildings, Chipping Campden is bursting with history. A wander down the curving High Street to admire its honey-stone buildings is one of our favourite things to do in Chipping Campden. The street was laid out by Hugh De Gondeville, a close friend of Henry II, after the town got its charter. And many of its historic buildings have interesting stories to tell.
Look out for Grevel House, thought to be the town's oldest property. This Grade I listed building dates from around 1380 when it was the home of successful wool trader William Grevel. It's been remodelled over the centuries but has some original stonework – and quirky gargoyles.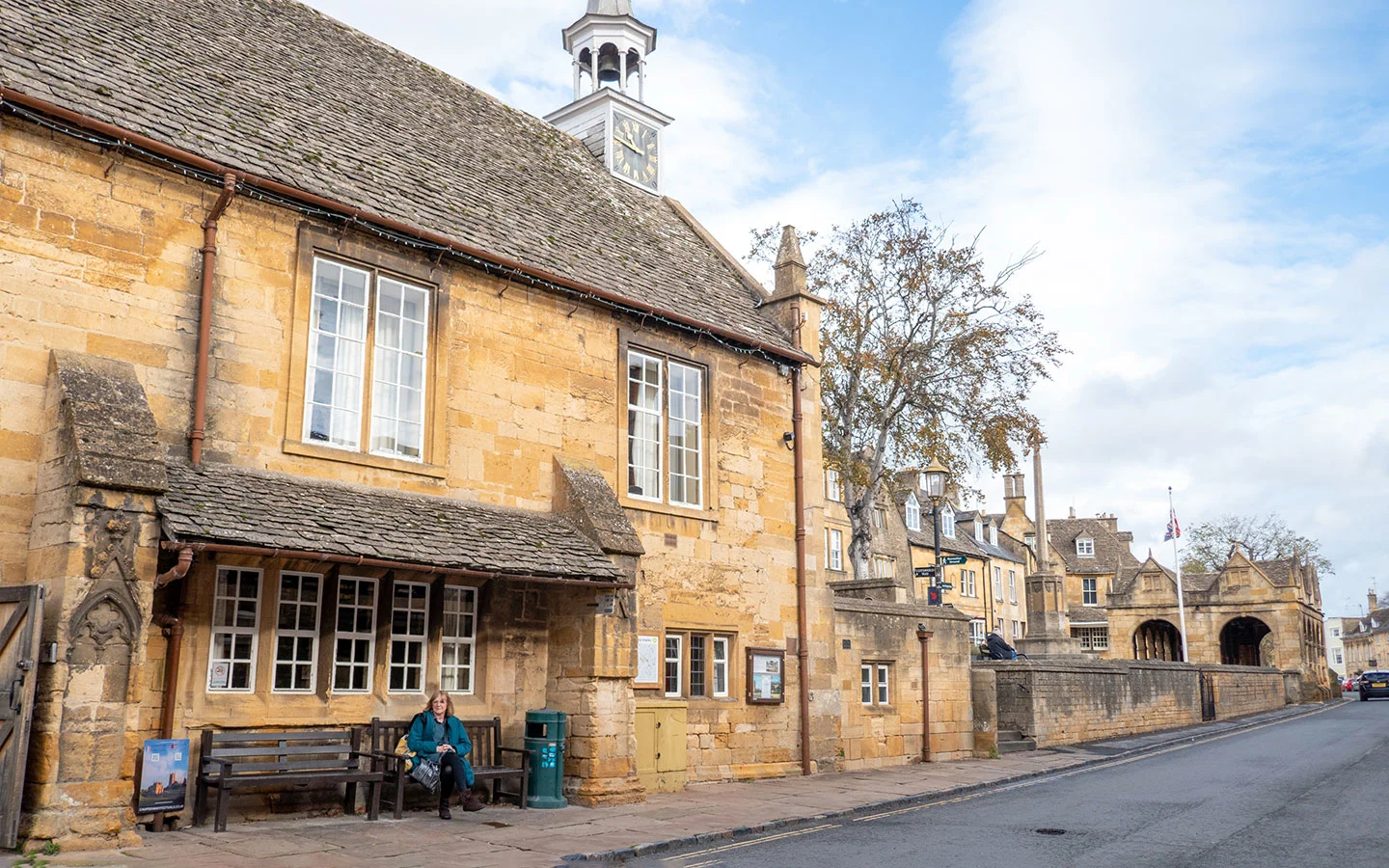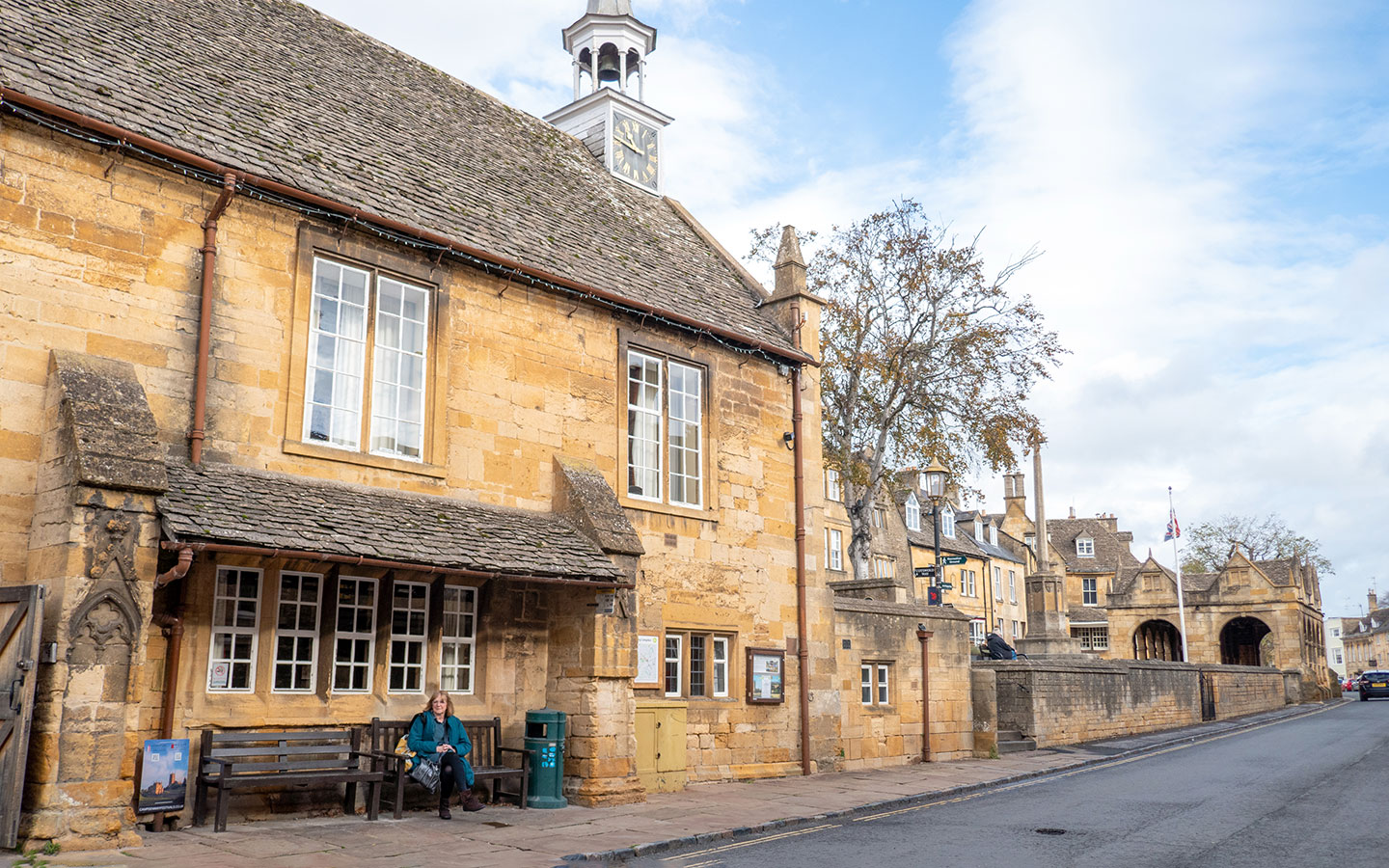 The Woolstaplers Hall was built in 1340 as a wool exchange where merchants from as far away as Florence would come to buy fleece. It was later restored by CR Ashbee who lived there.
There's also the Town Hall and a pretty row of almshouses built in 1612, one of several buildings around town funded by wealthy cloth merchant and local benefactor Sir Baptist Hicks. And at the end of the High Street is a tucked-away garden dedicated to local naturalist Ernest Wilson, who brought over 1200 different plant species back from his explorations around Asia.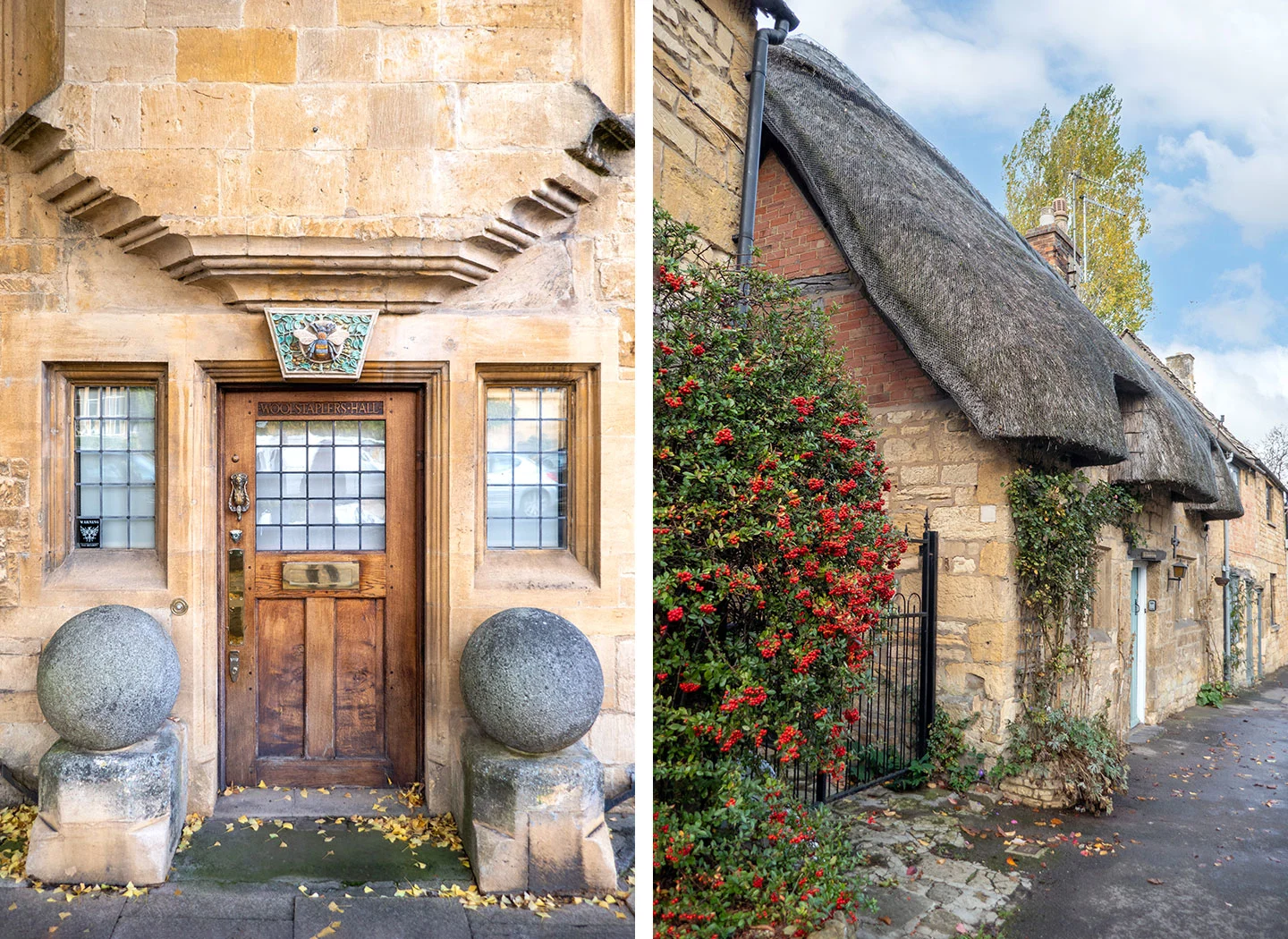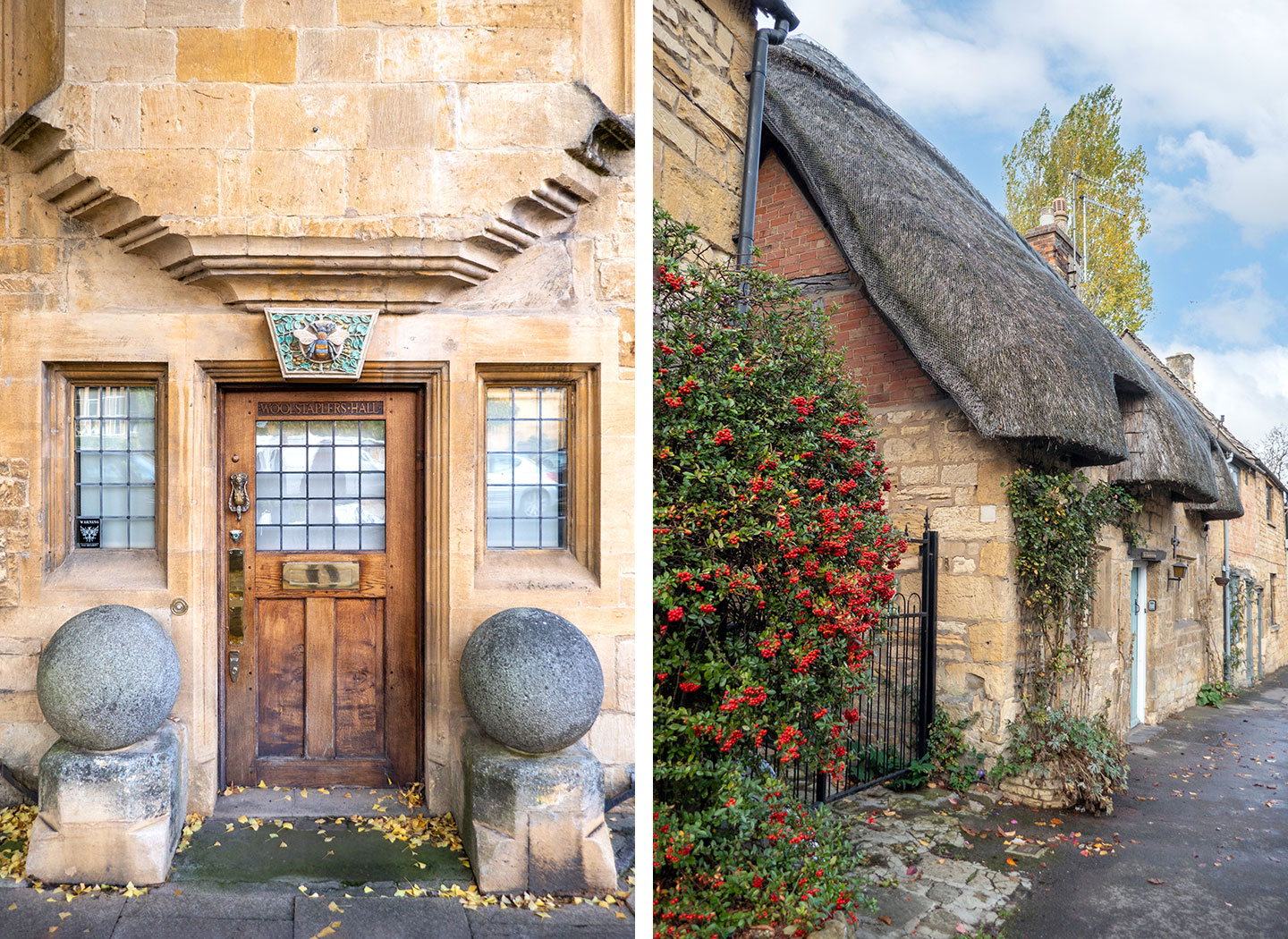 The Market Hall
At the heart of Chipping Campden is the Market Hall, which was built by Sir Baptist Hicks in 1627 to provide shelter from the elements for market traders who would come to the town to sell butter, eggs and poultry. Look down and you can see how the original cobbled stone flooring has been worn smooth by all the people who've walked over it across with years.
Shockingly the Market Hall was almost sold, dismantled and moved to America in the 1940s. But local residents raised enough money to outbid the buyer and passed ownership to the National Trust. It's still used by traders, with its stonework draped with sheepskin rugs.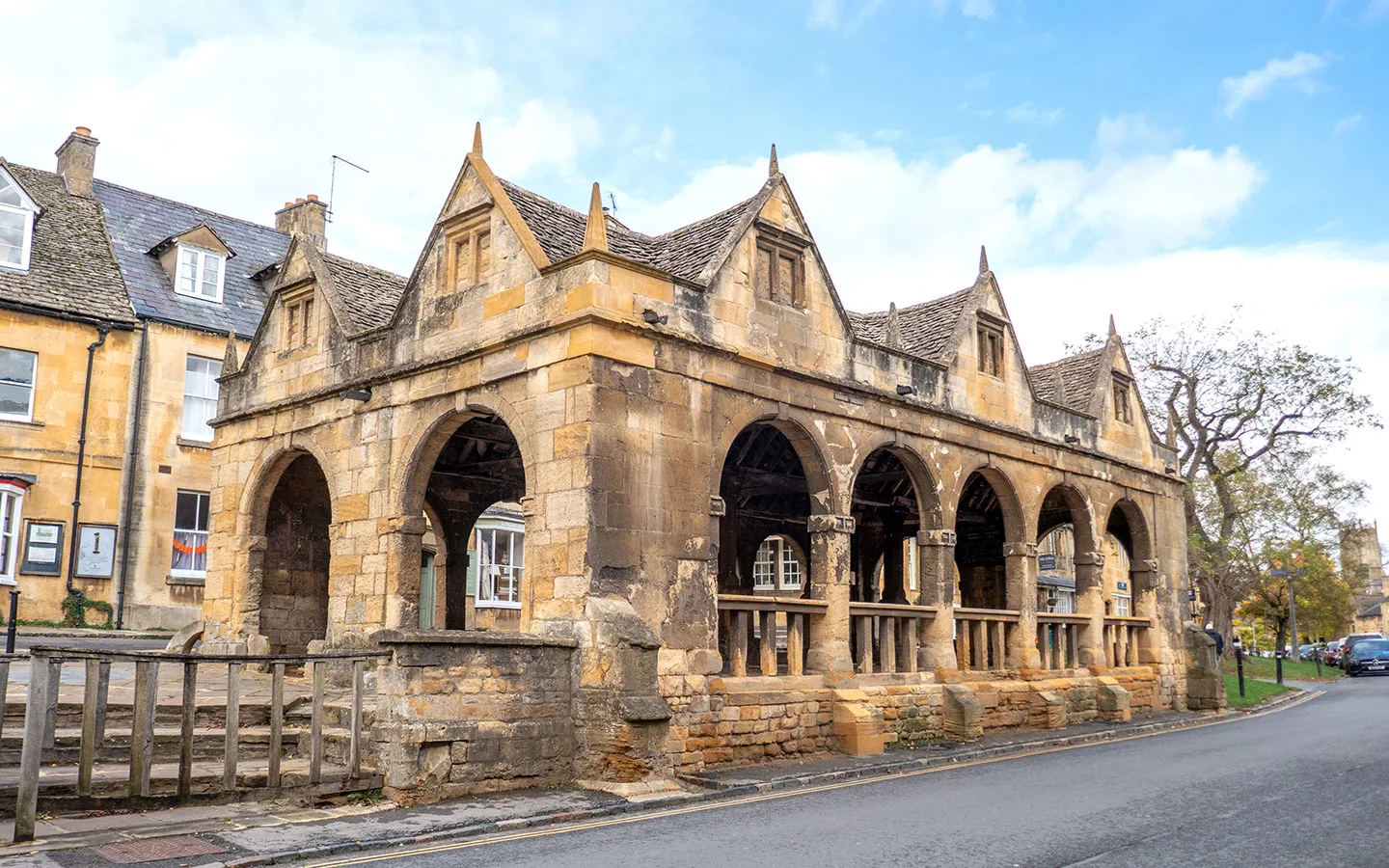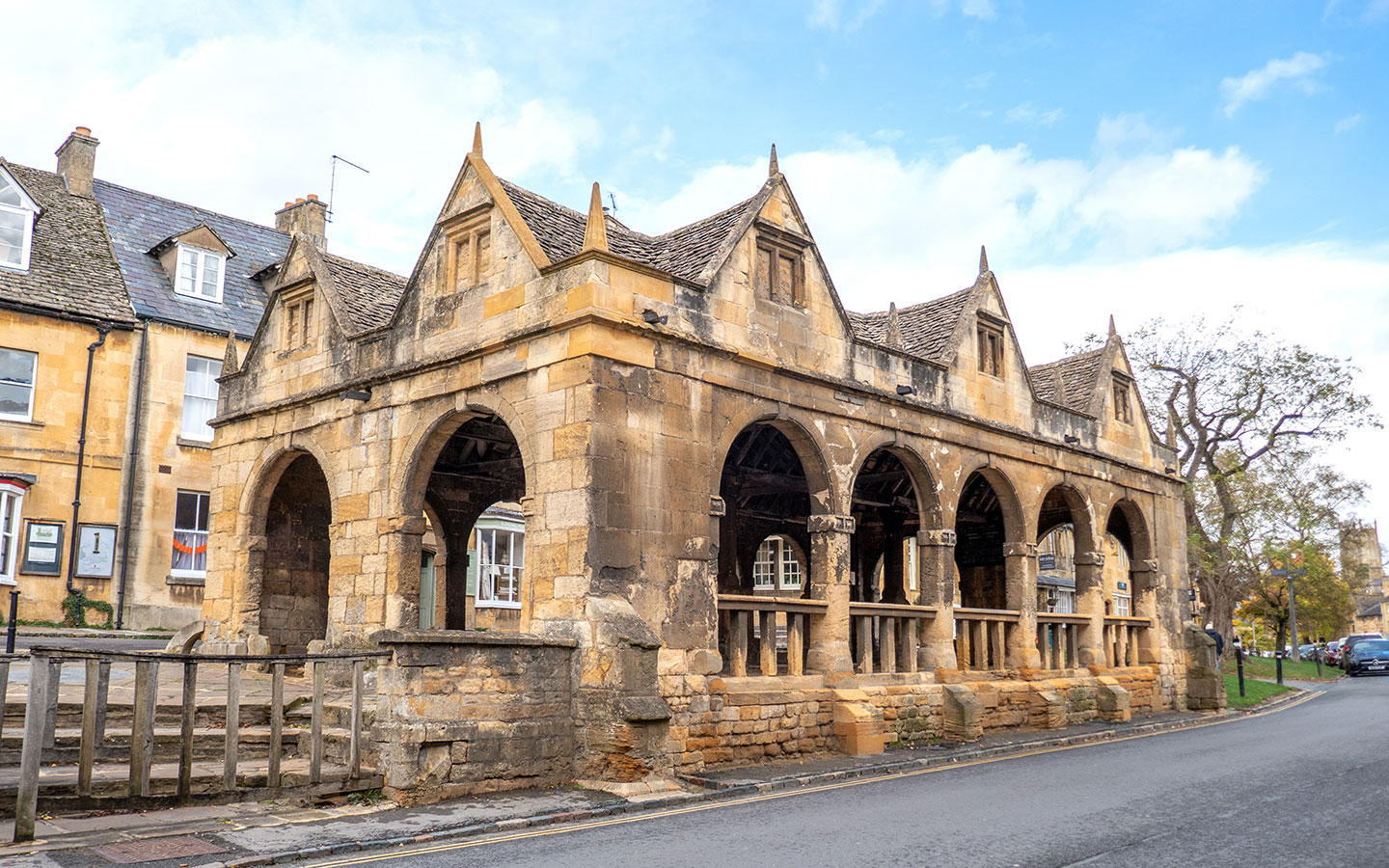 St James' Church
St James' Church sits at the top of the High Street, but is visible from across town. It's one of the best examples of wool churches in the country, and was built thanks to the donations of wealthy wool merchants in the 15th century, incorporating parts of an old Norman church from 1180.
Inside you can see monuments to Sir Baptist Hicks and William Grevel, as well as medieval altar hangings and a cope (a type of cloak worn by a priest) from c.1400. And each May the church hosts the Chipping Campden Music Festival, featuring musicians from around the world.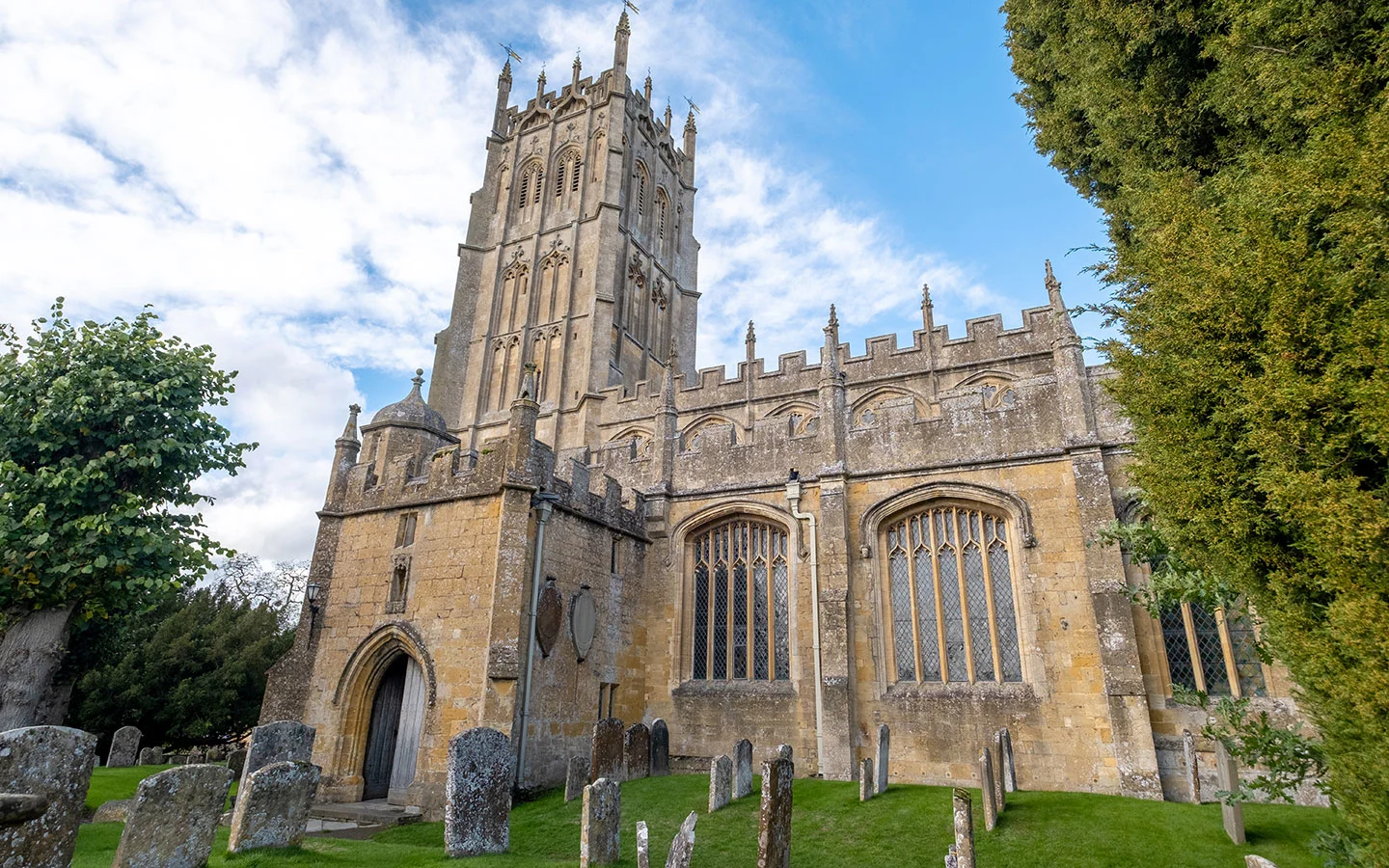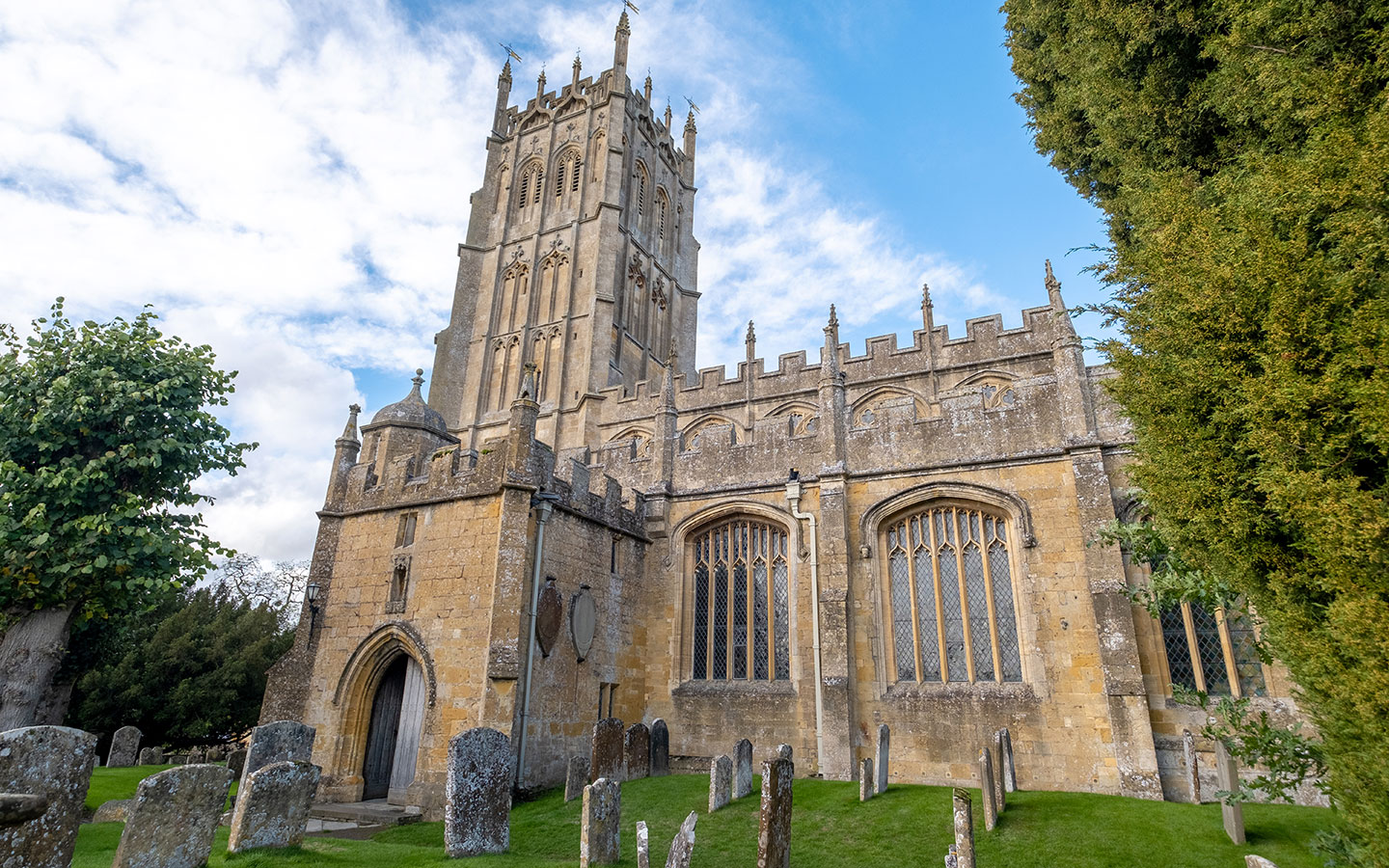 The Court Barn Museum
Architect and designer Charles Robert Ashbee founded the Guild of Handicrafts in 1888 to help young men develop their craft skills to make a living. He wanted it to be a return to old-fashioned, hands-on ways of making things as opposed to industrialisation. In search of a simpler life, he moved the guild and all its members from East London to Chipping Campden in 1902.
You can find out more about the Arts and Crafts Movement at the Court Barn Museum (entry £7 adults, free for students and under 25s). This small museum celebrates Ashbee's work as well as that of eight other craftspeople who came to Chipping Campden with him. And there are often displays and talks by contemporary artists from Chipping Campden and surrounding areas too.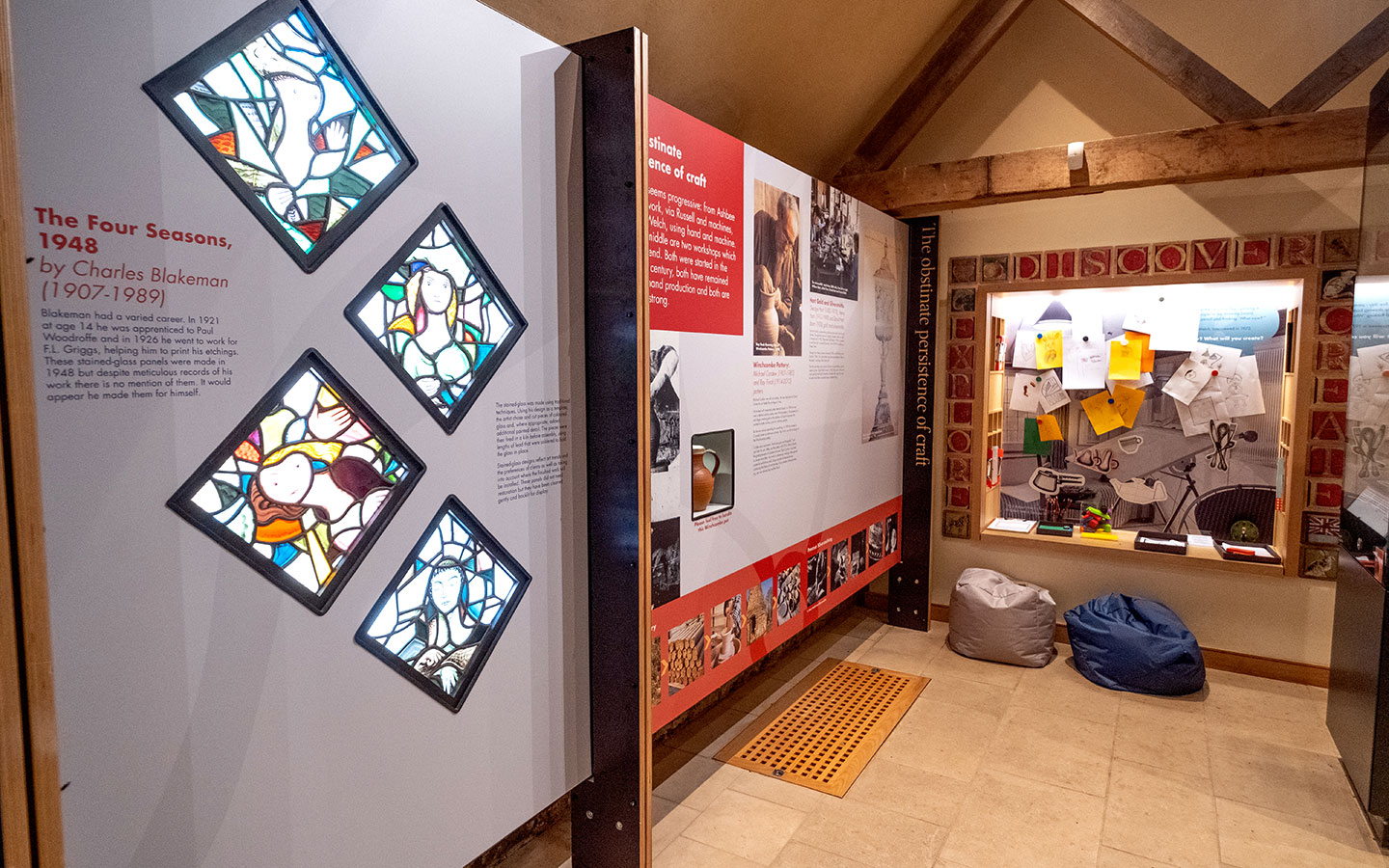 The Old Silk Mill
When CR Asbeee moved to Chipping Campden, he set up his workshop in an old silk mill on Sheep Street. Metalworkers, stonemasons, woodworkers and artists all worked in the mill, and although the Guild was dissolved in 1907 the mill is still used by local craftspeople today.
The descendants of one of the original businesses still run Harts Silversmith's, and you can look around their workshop which is like taking a step back in time. And don't miss the Gallery at the Guild shop, which sells locally made jewellery, paintings and sculptures.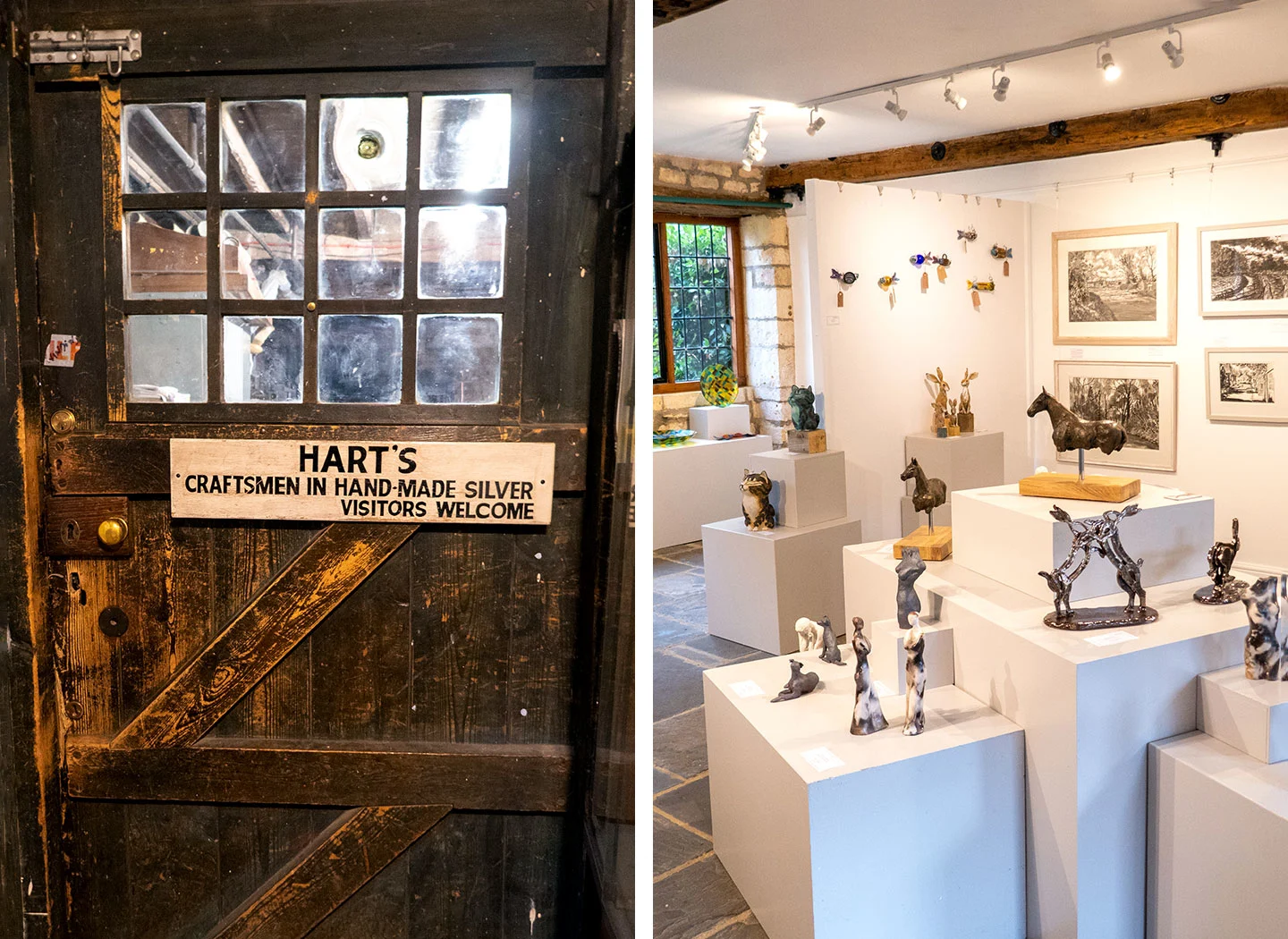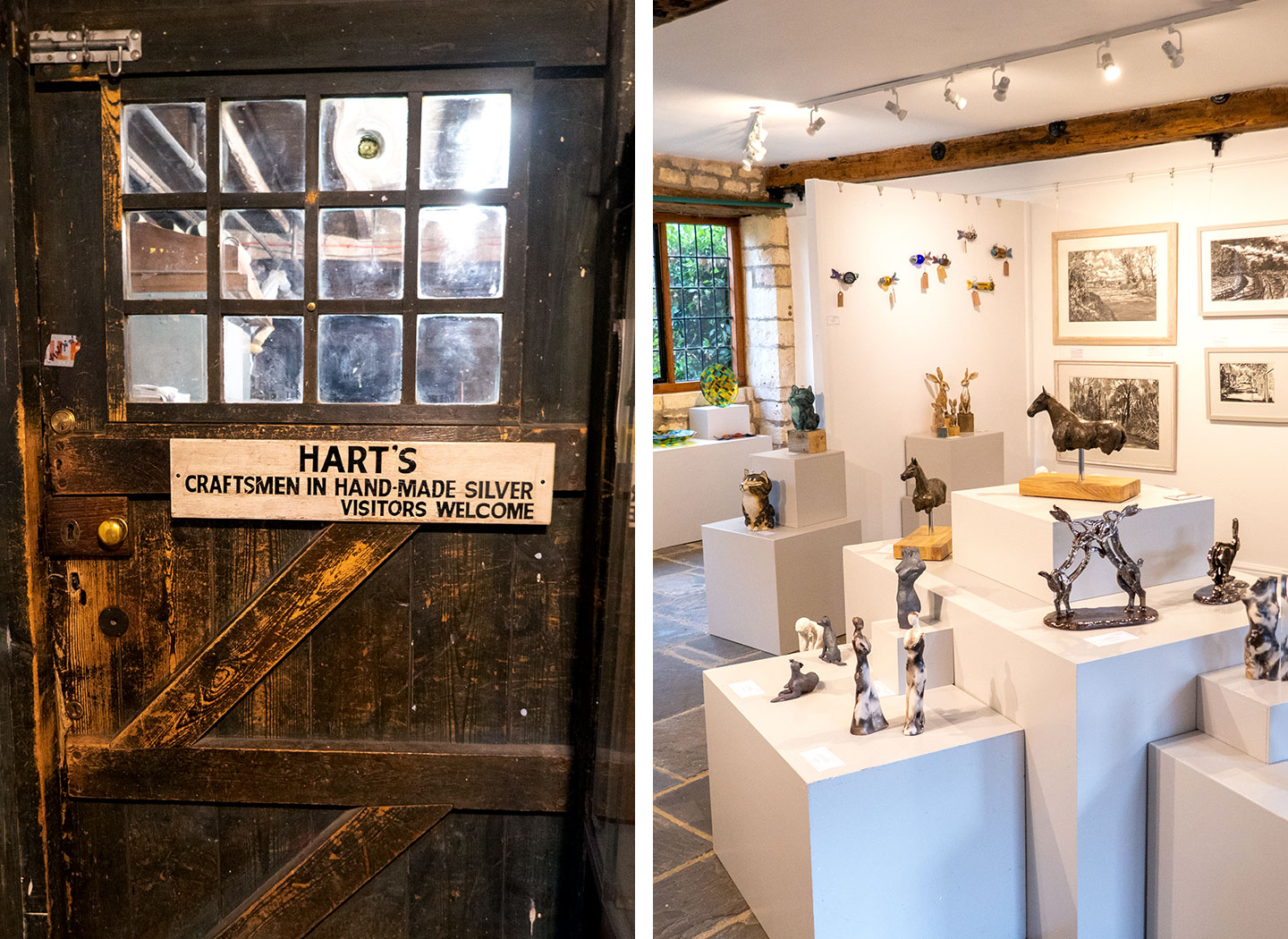 Old Campden House
Old Campden House is one of the more unusual things to do in Chipping Campden being as it burnt down in 1613! A grand mansion and formal gardens were built for Sir Baptist Hicks to show off his wealth. But it was burnt to the ground by retreating Royalist soldiers 30 years later.
Only a small section of the house's wall is left but you can still see its impressive gatehouse as well as two small Jacobean banqueting houses, a building called the Almonry (which no one knows the original purpose of) and the outline of the gardens. And if you're looking for somewhere unusual to stay in Chipping Campden, you can rent the banqueting houses through the Landmark Trust.
One of the banqueting houses was home to William Harrison, who mysteriously vanished in 1660, leaving just a bloodstained hat. His servants confessed and were hanged for murder, but Harrison reappeared two years later saying he'd been kidnapped, captured by pirates and sold as a slave!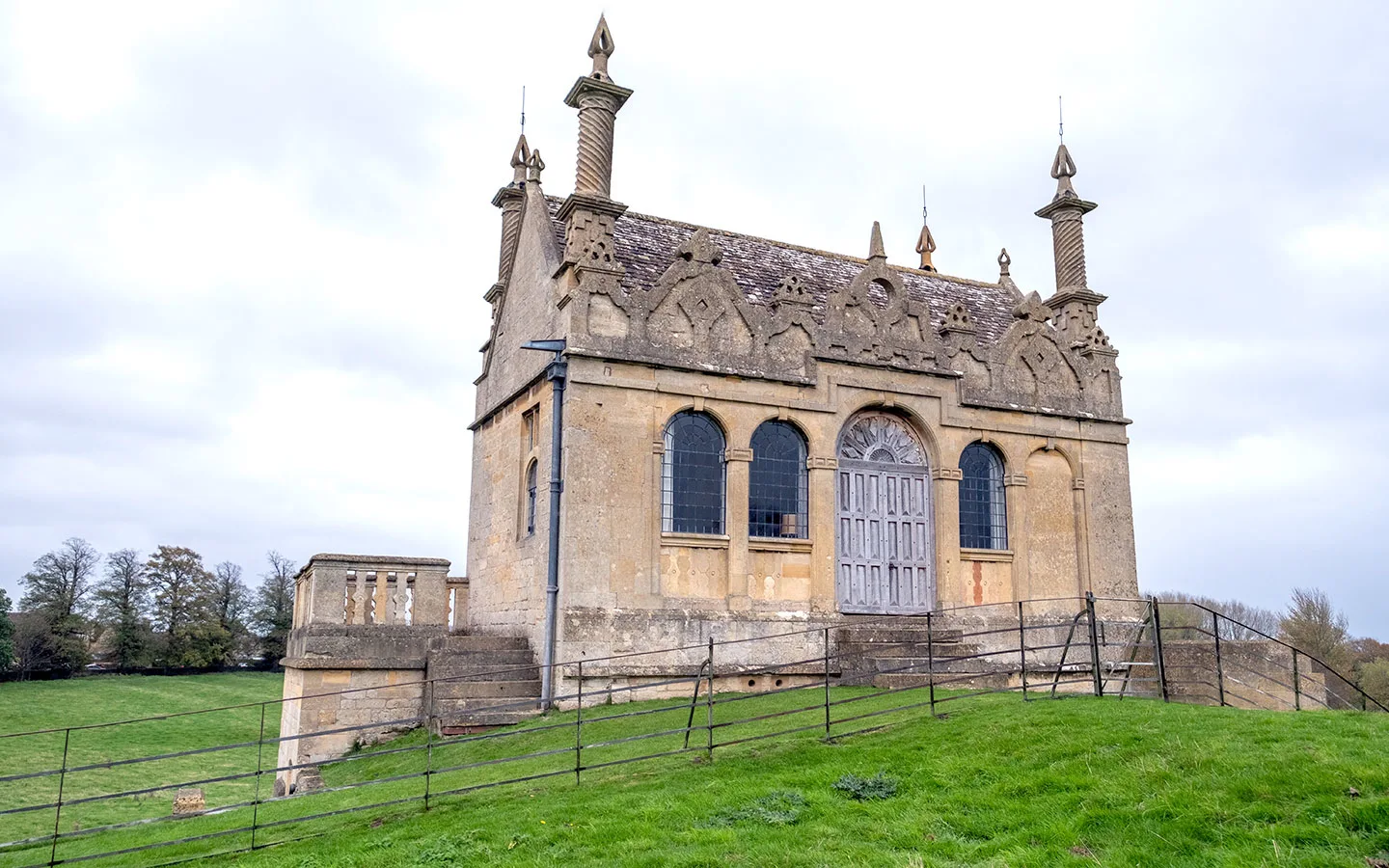 Hidcote Manor Garden
Four miles northeast of Chipping Campden are two beautiful gardens, located next to each other but with different stories. First is Hidcote Manor Garden (entry £16 adults, £8 children), a National Trust property which was heavily inspired by the Arts and Crafts Movement.
The garden was designed by American horticulturist Major Lawrence Johnston in the 1910s after his mother bought the manor house. He wanted to create a feeling of 'outdoor rooms' with different areas separated by walls and hedges each having their own theme and plantings. It features rare plants he'd collected on his travels as well as topiary, sculptures, ponds and fountains.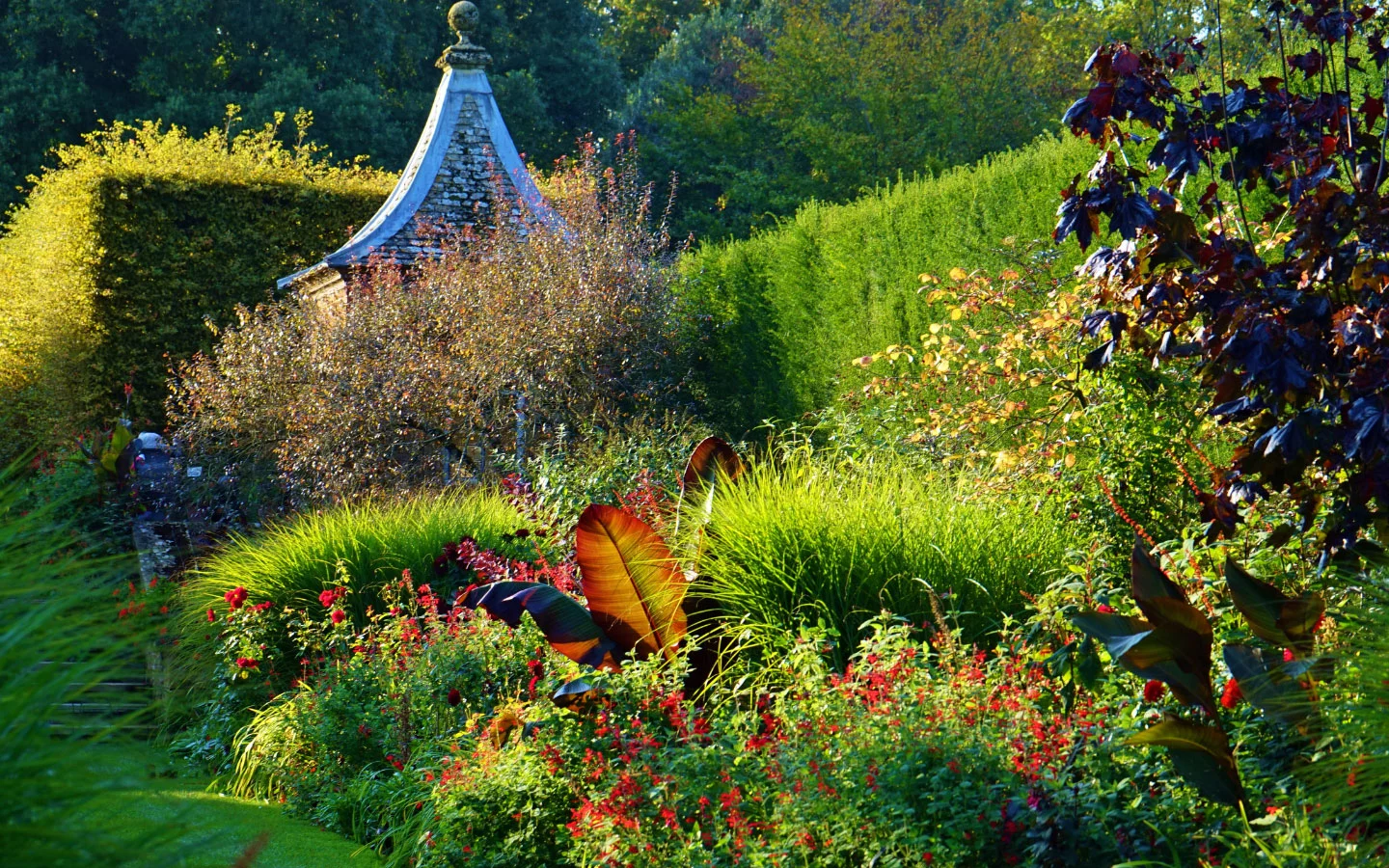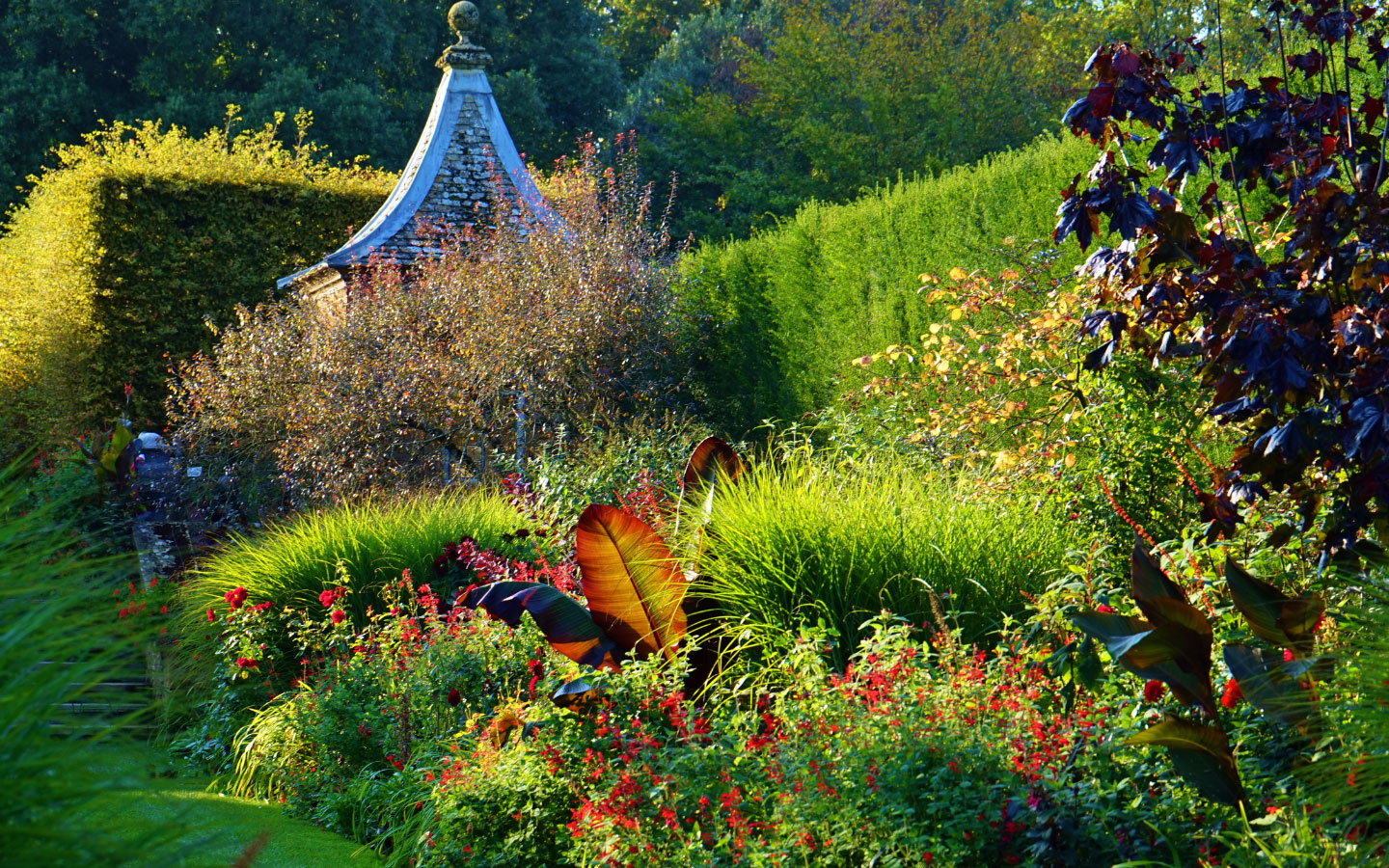 Kiftsgate Court Gardens
Almost next door to Hidcote is Kiftsgate Court Gardens (entry £11 adults, £3.50 children under 16, only open from April–September). The gardens were created by three generations of women gardeners, starting with Heather Muir, a friend of Lawrence Johnston. Kiftsgate uses a less formal style than Hidcote, and features water gardens, an orchard and wild garden.
It's also the home of the Kiftsgate Rose, a scented climbing rose. You can take a piece of the gardens home with you too as they have their plants for sale in the garden shop.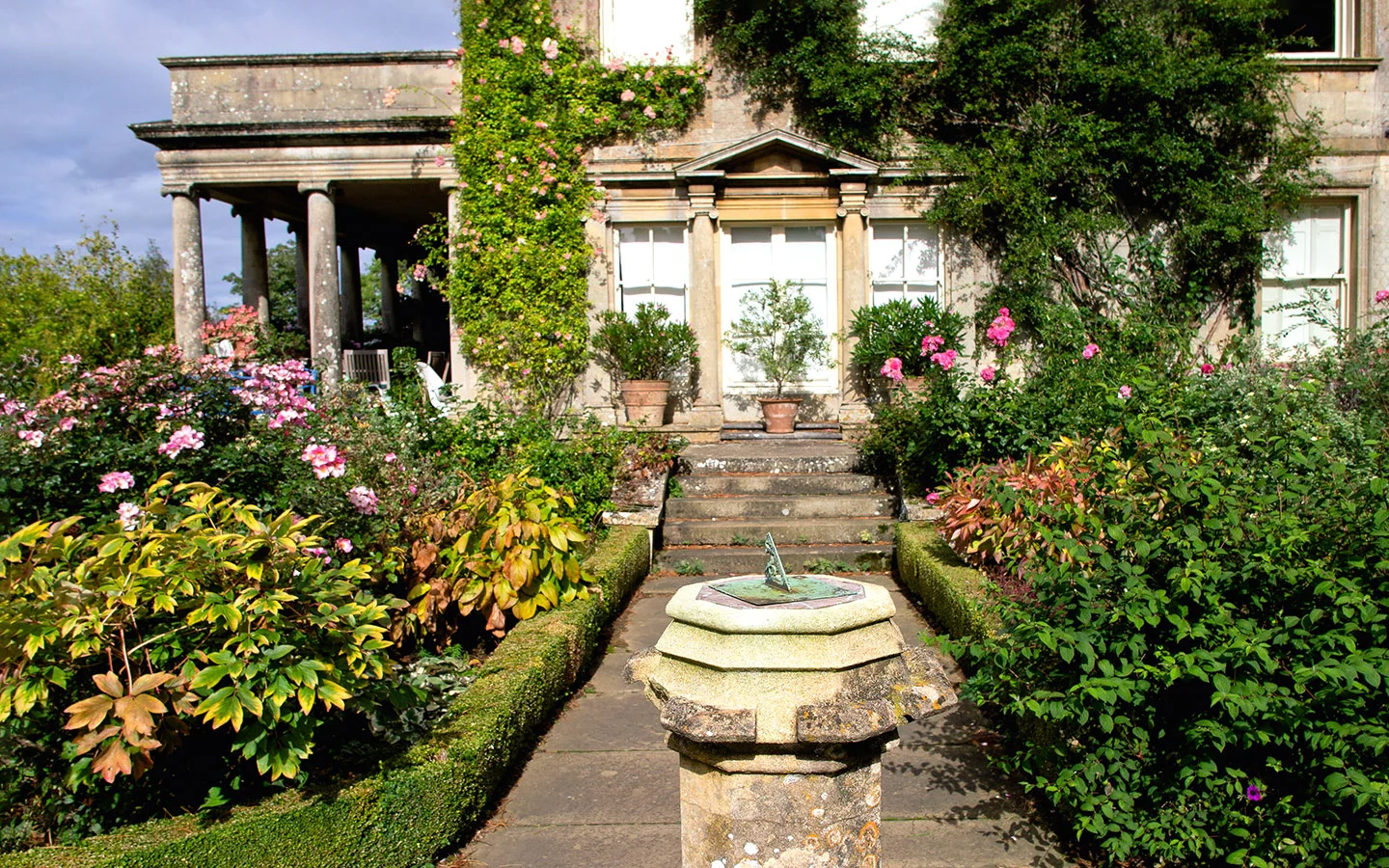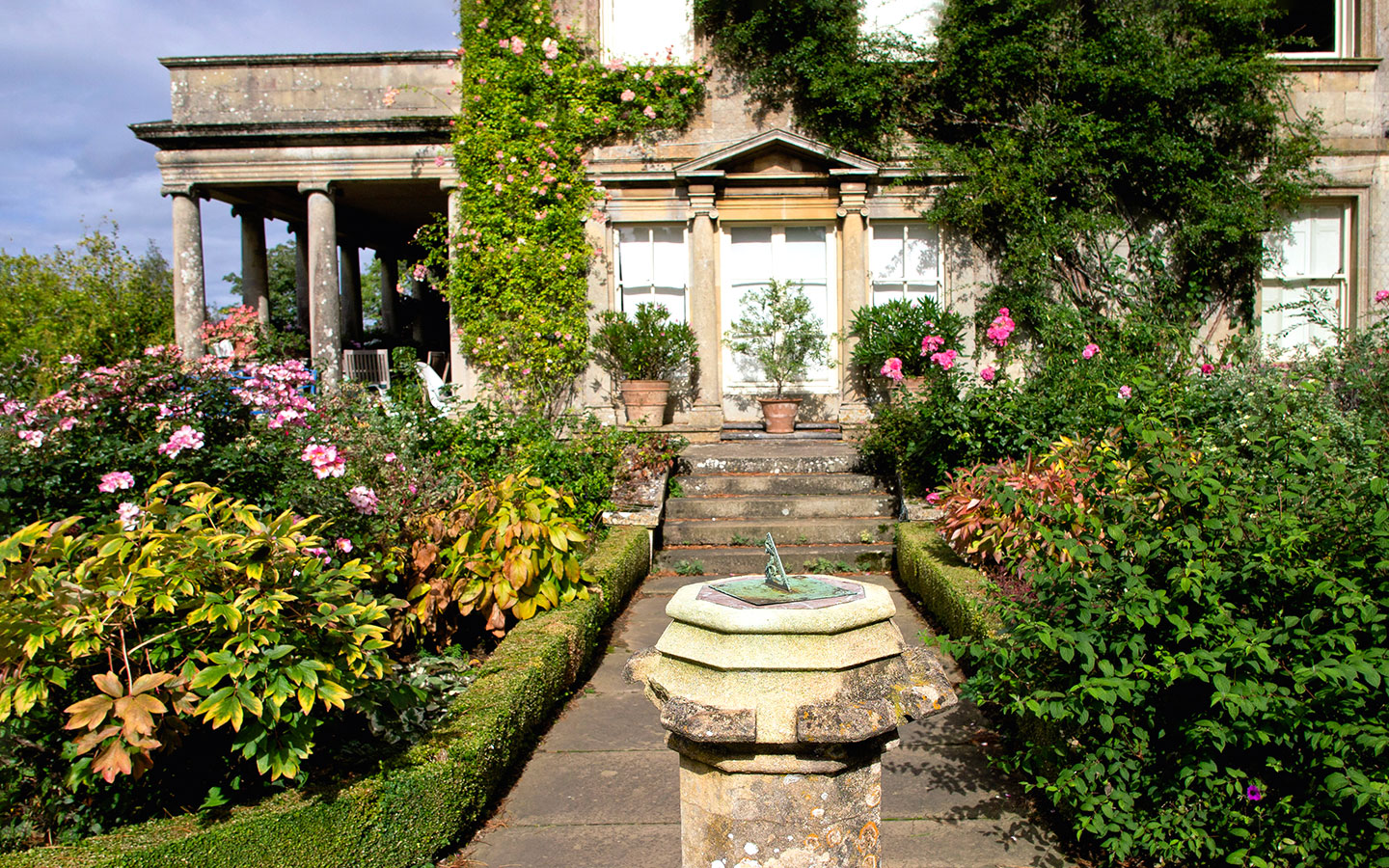 Walks from Chipping Campden
Chipping Campden is on the route of several long-distance walking routes, including the Heart of England Way, Diamond Way and Monarch's Way. Near the Market Hall you'll find the marker stone showing the start (or finish) point of the Cotswold Way walk, which runs for 102 miles to Bath through some of the Cotswold's prettiest scenery, towns and villages.
If you don't have time to walk the full Cotswold Way, you can follow a stretch of it on the 4.1-mile circular walk to Dover's Hill, with panoramic views across the Vale of Evesham. Or continue on to Broadway and the Broadway Tower on a circular route of around 10.5 miles.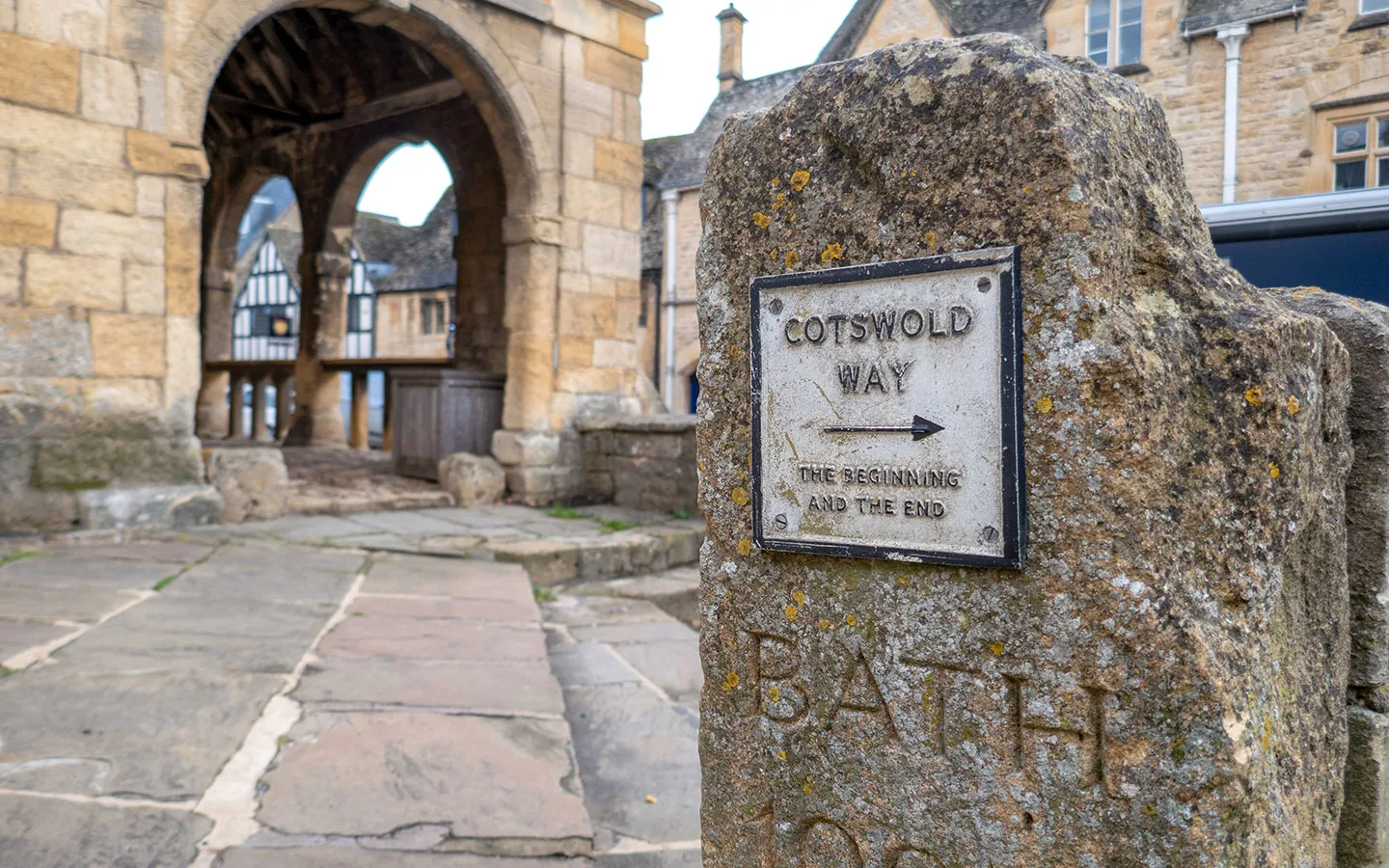 Dover's Hill is also the venue for Robert Dover's Cotswold Olimpick Games, held on the Friday following the Spring Bank Holiday. The event started in 1612 and many of the events will take you back in time, from the tug of war to the shin-kicking! After dusk the bonfire is lit and a torchlit procession leads back to the square where many of the locals party into the night.
You can also head south of Chipping Campden on a circular route to neighbouring Broad Campden (2.7 miles) or continue the route on to the picturesque village of Blockley (9 miles).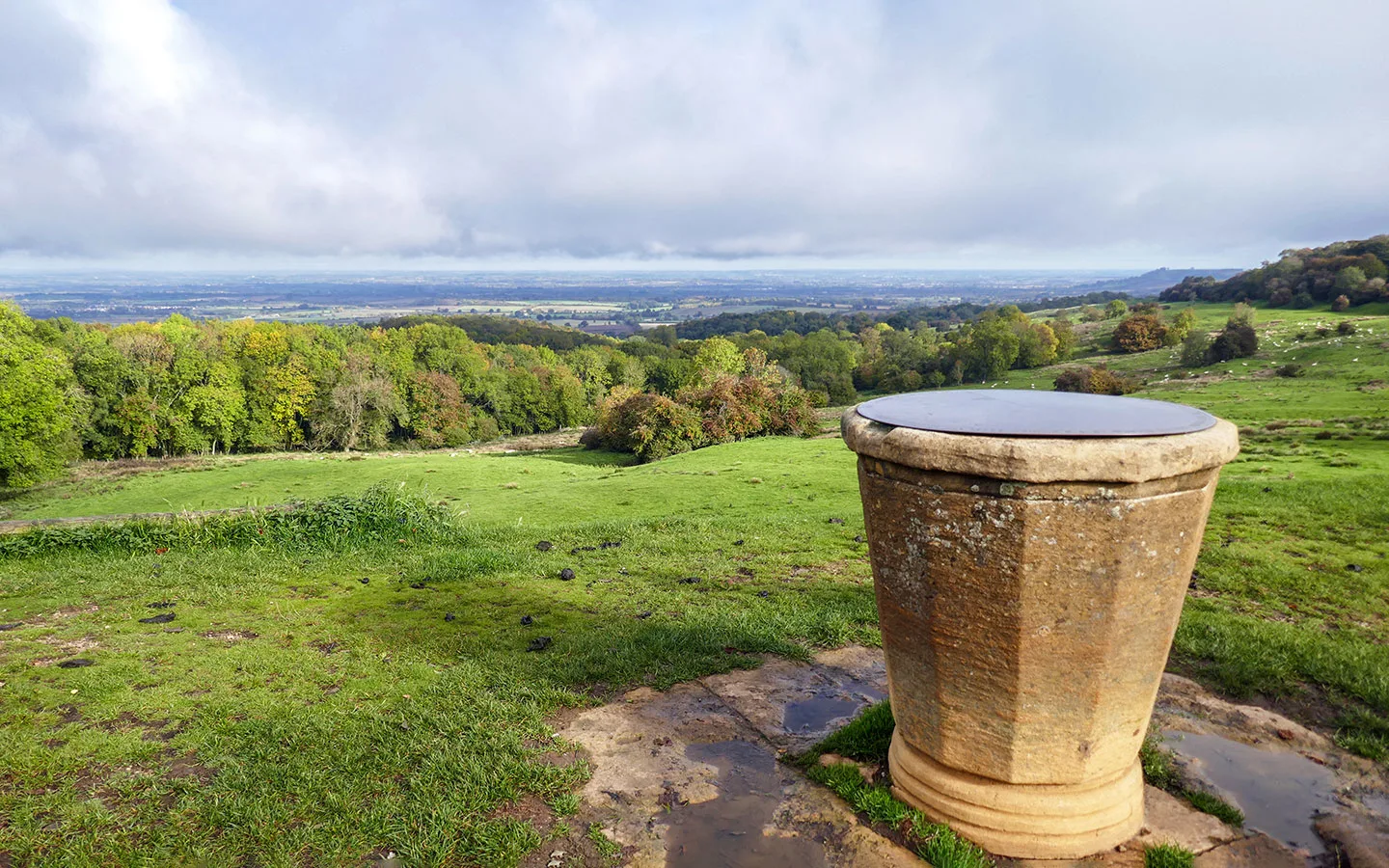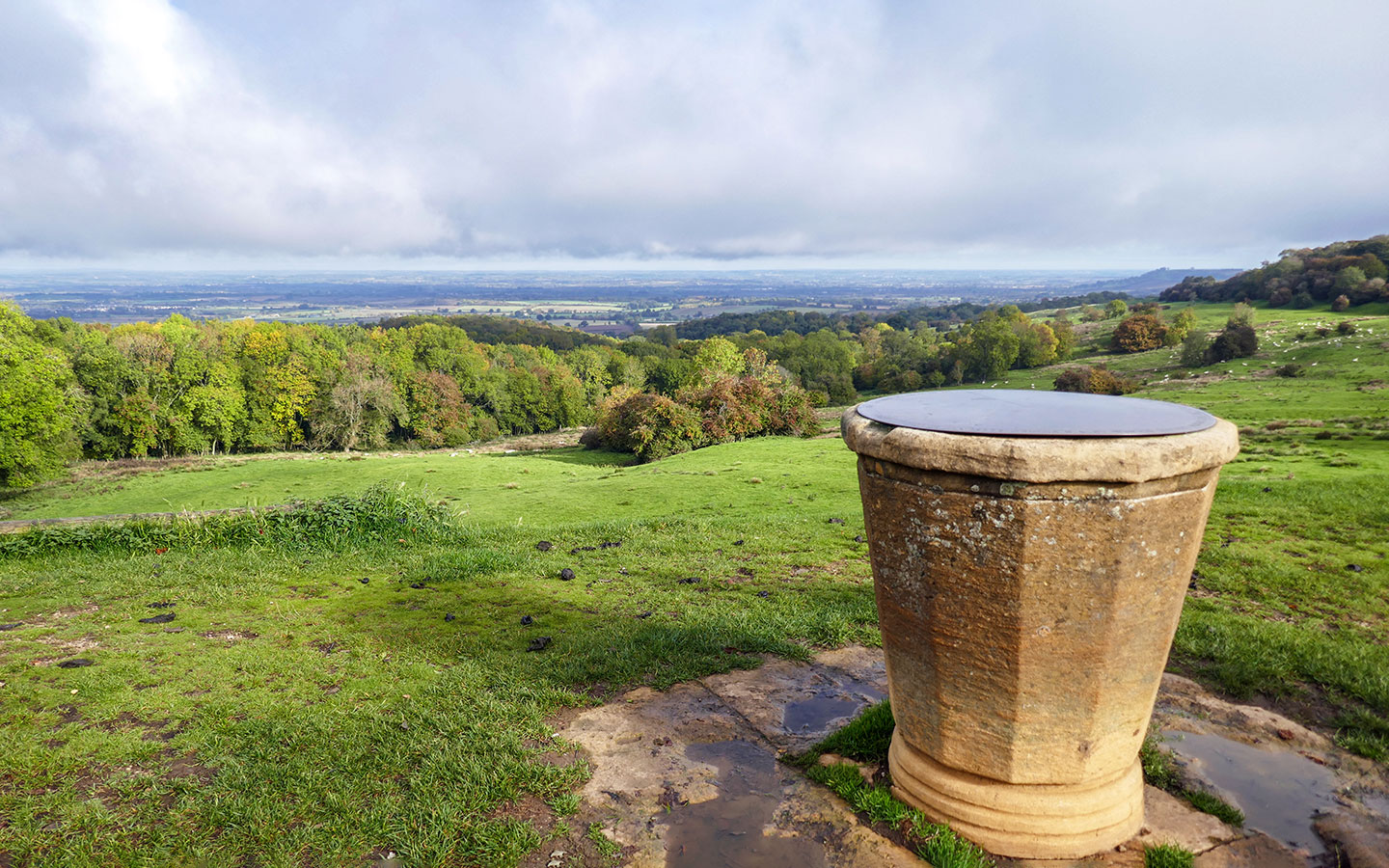 Things to do near Chipping Campden
There are also plenty of things to see and do in the area around Chipping Campden. It's only 6.5 miles to Broadway where you can visit the Gordon Russell Design Museum for more examples of Arts and Crafts design, climb up to the hilltop Broadway Tower, or take a trip on board the vintage Gloucestershire–Warwickshire Steam Railway to Winchcombe or Cheltenham.
You can also admire the thatched cottages in Broad Campden (1 mile) or see filming locations from TV series Father Brown in Blockley (3 miles). And it's easy to reach Batsford Arboretum (6 miles) and the gardens at Sezincote (8 miles) and Bourton House (6 miles).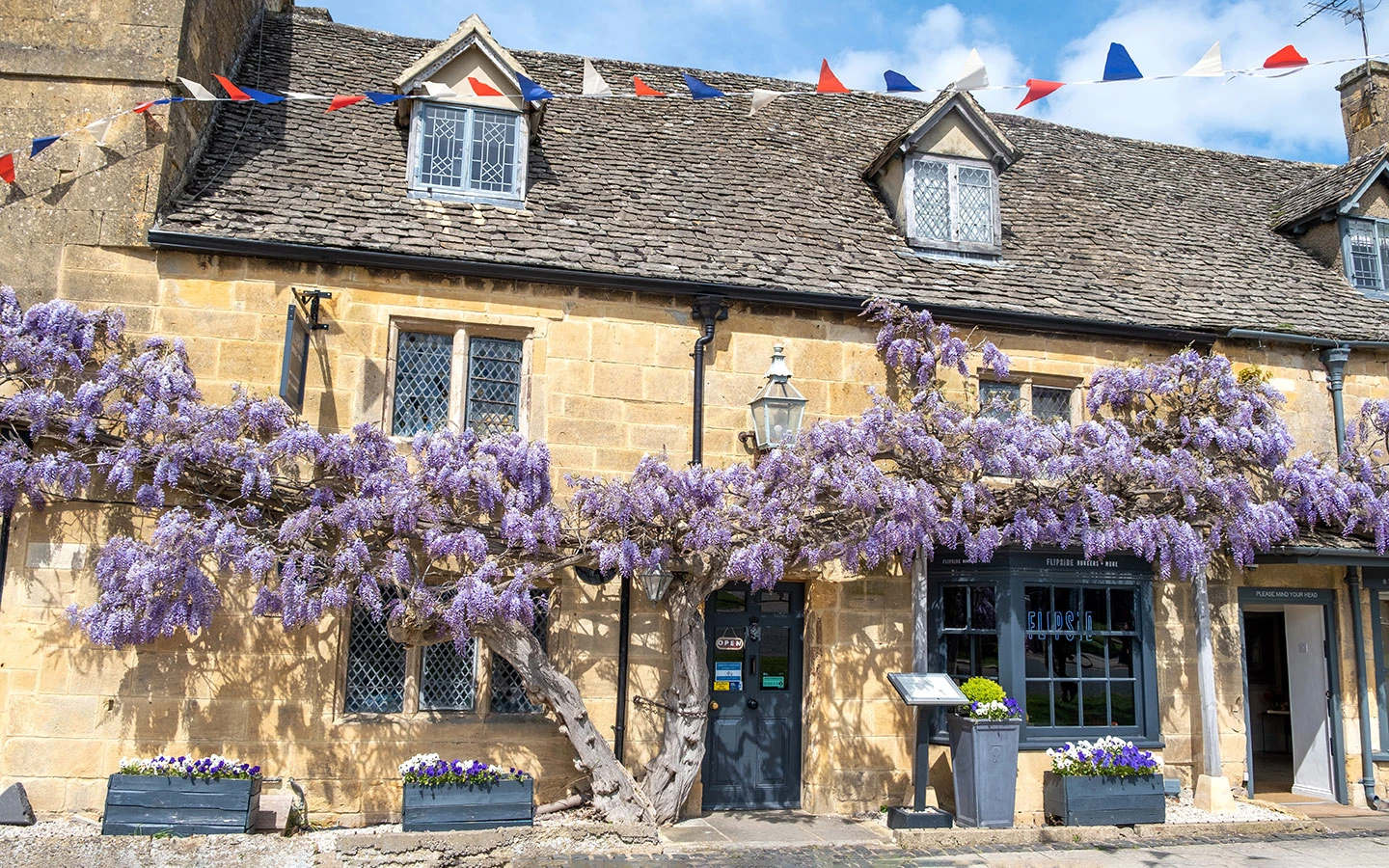 Where to eat in Chipping Campden
Cafés and delis
Badgers Hall Team Room has been owned by Paul and Karen since 1996, but the building dates back to the 15th century and has plenty of character from its exposed beams and mullioned windows. Enjoy homemade cakes, a cream tea with scones freshly baked in the AGA or a full afternoon tea with optional glass of fizz. They also do a selection of savoury sandwiches and soups.
Or if you're in need of a caffeine fix, the Campden Coffee & Crystals is an award-winning coffee house, tucked away inside the Old Silk Mill on Sheep Street. It's a relaxing spot to enjoy a coffee or hot chocolate and a slice of cake while you browse their crystal collection.
Chipping Campden also has a good selection of delis where you can pick up fresh local produce. Tokes sells a selection of wines and cheeses – including the locally produced Rollright. And Fillet and Bone has high-quality (if pricey) artisan meat, eggs, dairy, bread and vegetables.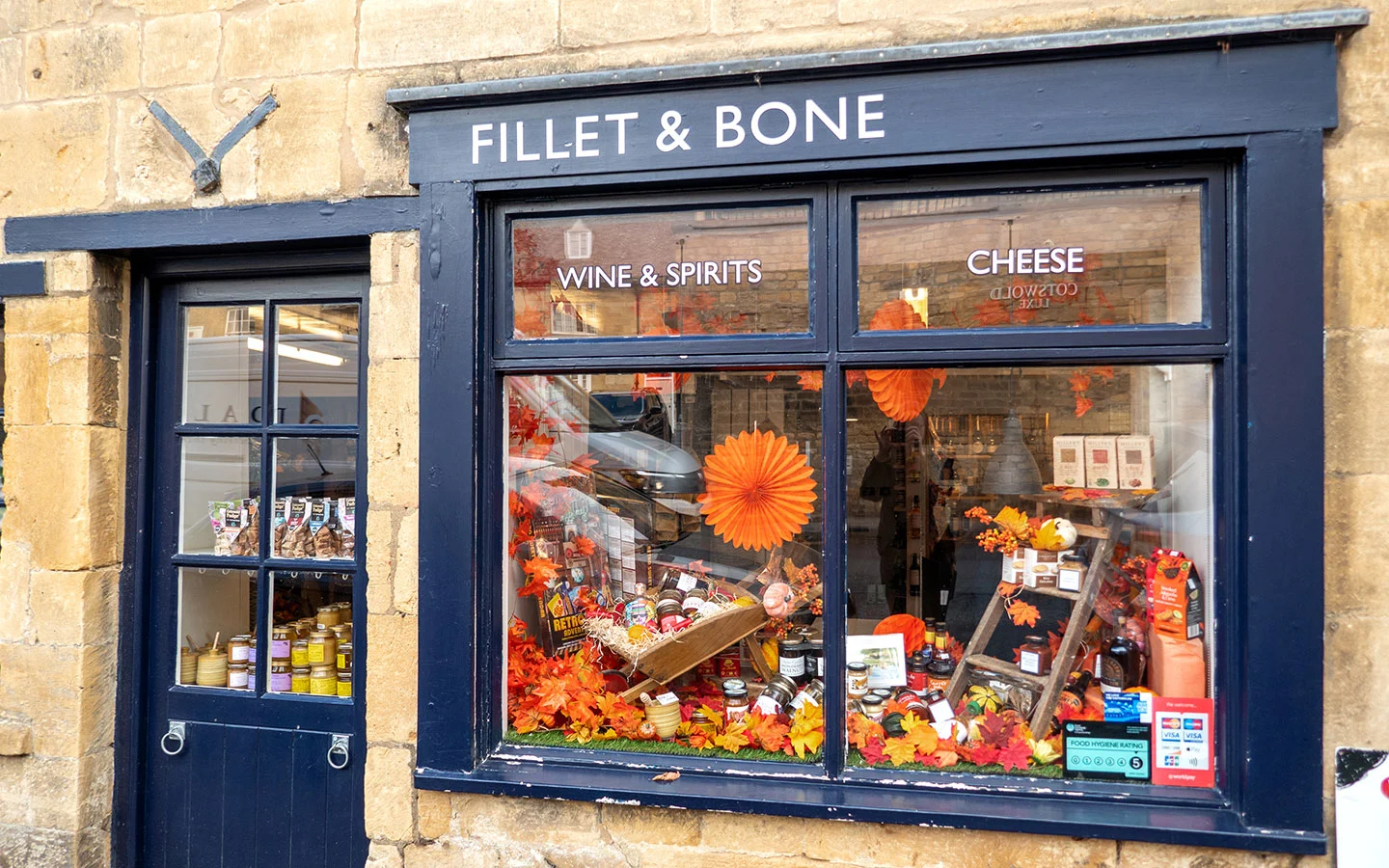 Restaurants
Set up by chef Michael Alexious in 1986, Michael's Mediterranean is a firm favourite with Chipping Campden locals. The menu features a mix of traditional Greek and modern Mediterranean dishes. Try the Filletto Marathona (fillet steak on a board with mushrooms, tomato and fries) if you're hungry, or pick and mix mezze dishes. But book in advance as it's very popular.
Da Luigi is another taste of the Mediterranean in the Cotswolds, this time featuring Italian food. This family-run bistro does antipasti boards, pizza, pasta, meat and seafood dishes – and a fab tiramisu. It's good value and they also do takeaways if you don't want to eat in.
Or The Fig at the Cotswold House Hotel is an elegant spot, with a dining room overlooking the gardens. On the menu are locally sourced dishes like rosemary-glazed duck and pan-roasted lamb. They also serve a beautifully presented afternoon tea, with three tiers of sandwiches, cakes and scones (with gluten-free and vegan versions available) along with a range of teas.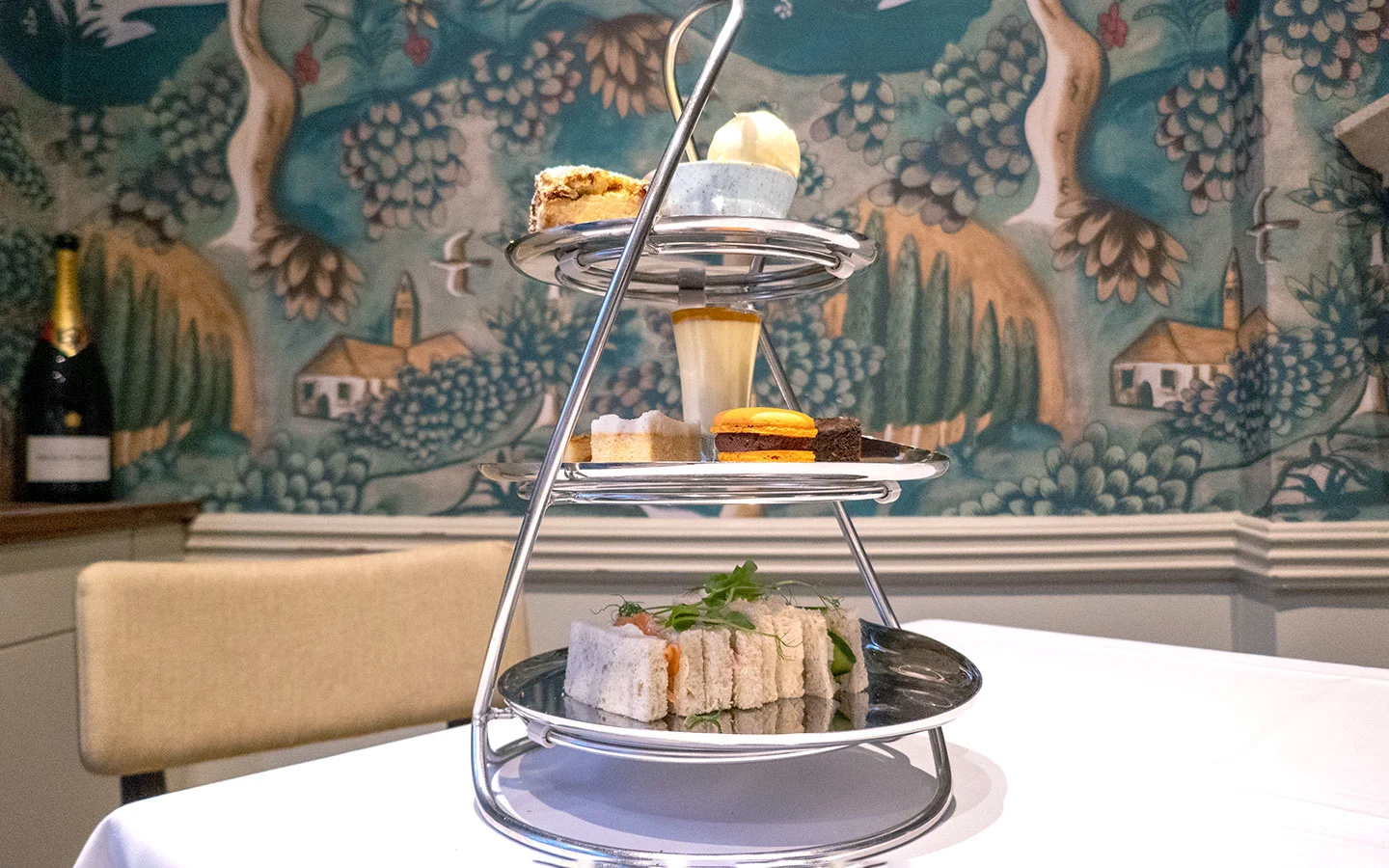 Pubs
The Eight Bells Inn is a traditional pub with hearty meals, real ales and roaring fires. The 14th-century building was built to house stonemasons working on St James' Church, and is named after the church's eight bells. They don't like to call themselves a gastropub but their food is freshly cooked and tasty, with pub classics like fish and chips, pies and Sunday roasts.
The Red Lion Tavern is another historic pub, with lots of cosy nooks and a beer garden for summer. Their Scoff Kitchen serves beer snacks (including dirty fries with beef dripping) and big portions of dishes like sausage and mash, burgers and lunchtime paninis.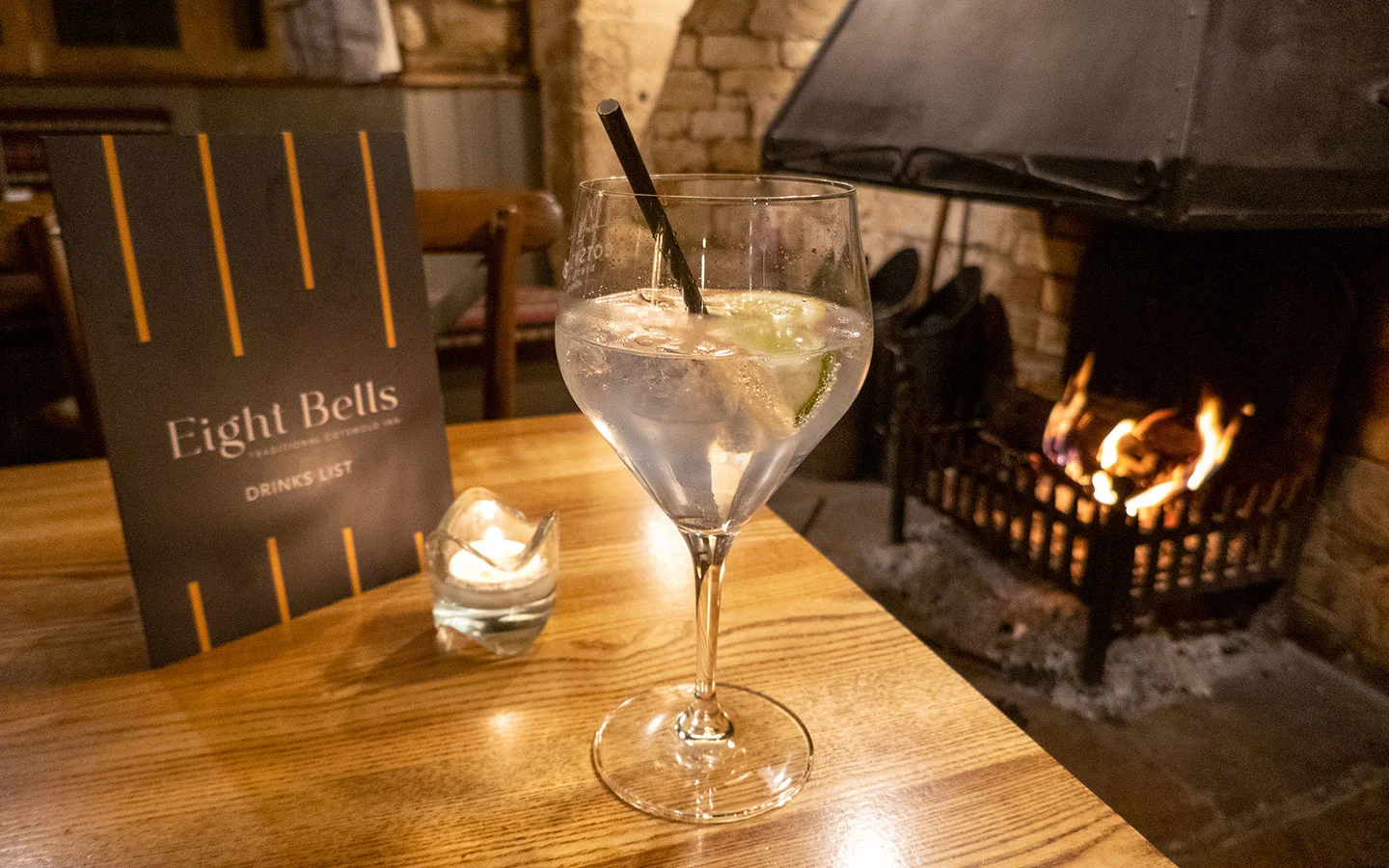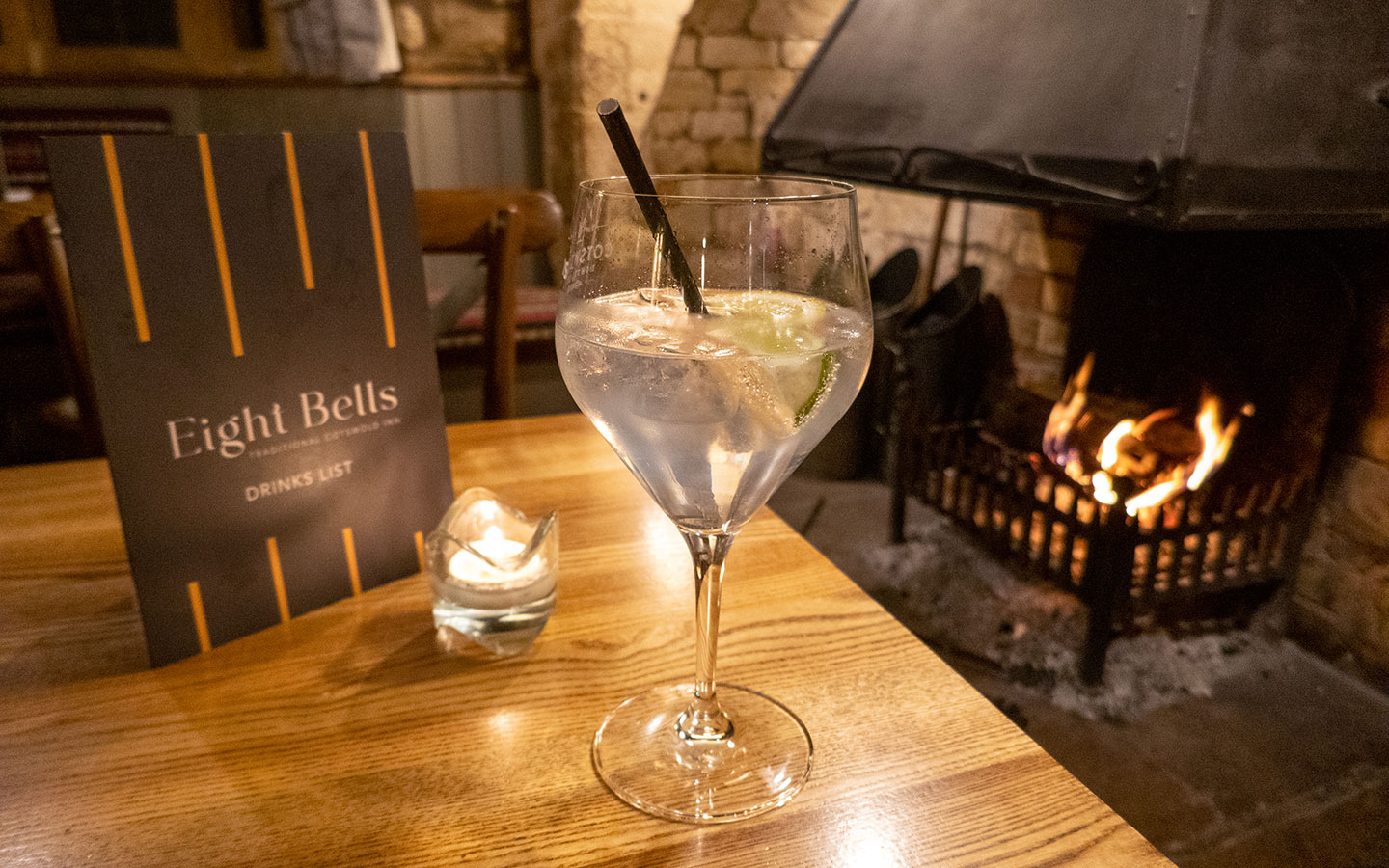 Where to stay in Chipping Campden
The Cotswold House Hotel and Spa has the feel of a country house hotel right in the centre of Chipping Campden. Rooms are spread across three historic buildings, with a 28 individual country-chic rooms and suites – some have their own hot tub and some are dog-friendly. There's also a luxurious spa with relaxing treatments, steam room, hydrotherapy pool, and lovely gardens.
The owners of Michael's Mediterranean also run Woolmarket House B&B*, with six boutique en-suite bedrooms inspired by local gardens. Rooms come with antique furniture, designer fabrics and eco-friendly toiletries – and you can have restaurant food served in your room.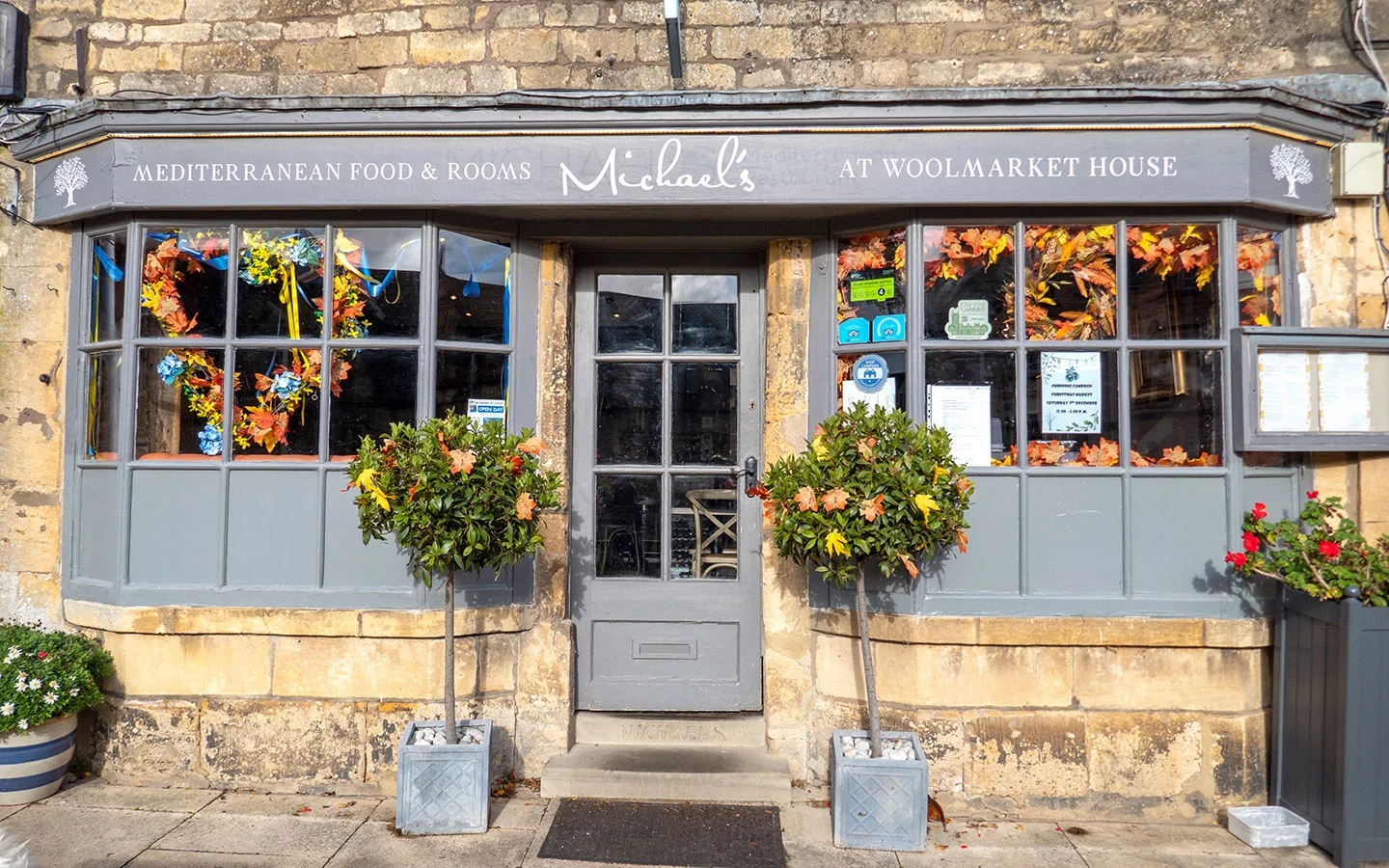 If you prefer self-catering, there are plenty of traditional cottages to rent. Cotstone Cottage* is a Cotswold stone cottage with a combination of period features and contemporary décor. The lounge comes with a woodburning stove and there are two bedrooms, a bathroom with a rolltop bath, a spacious kitchen-diner and a split-level garden with decking area.
Or Singer House* is a chic Grade II-listed, two-story townhouse. It sleeps up to six people in three bedrooms and has two bathrooms, a smart lounge with grand open fireplace and a modern kitchen with bifold doors opening out onto the pretty suntrap courtyard garden.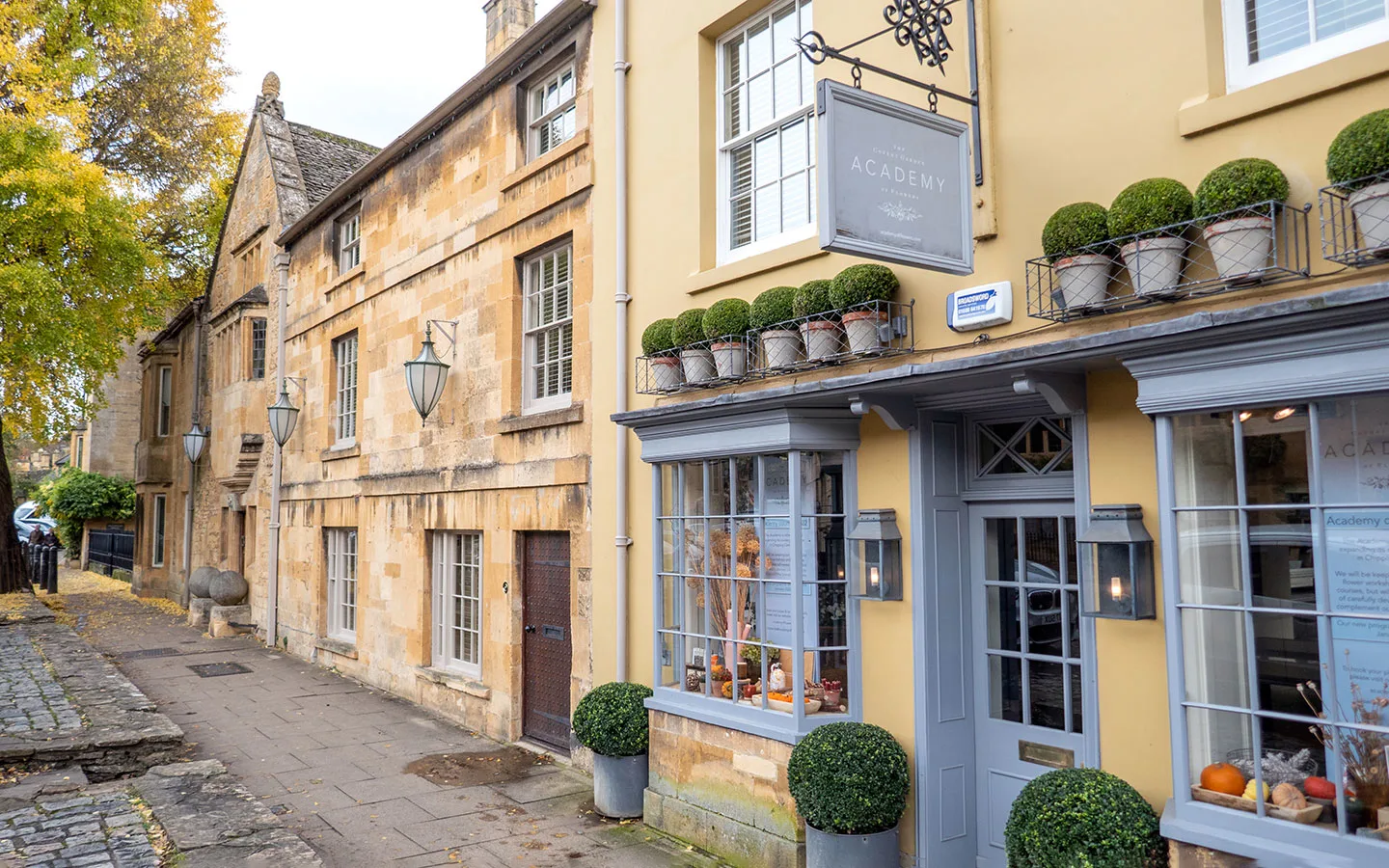 How to get to Chipping Campden
Chipping Campden by car
Chipping Campden is 12 miles south of Evesham and 8 miles north of Moreton-in-Marsh, both of which are accessed via the A44. There's limited paid parking in the Market Square but it fills up quickly. Otherwise you can park on the street if you can find a space. And there's free parking at Chipping Campden School (GL55 6HT) at weekends and in school holidays.
Chipping Campden by public transport
Unfortunately there hasn't been a railway station in Chipping Campden since 1966! The closest train station is in Honeybourne, but you would need to take a taxi from there (around £16). Otherwise you can catch the train to either Moreton-in-Marsh or Stratford-upon-Avon, both of which are connected to Chipping Campden by the Stagecoach 1/2 bus (except Sundays) in around 45 minutes.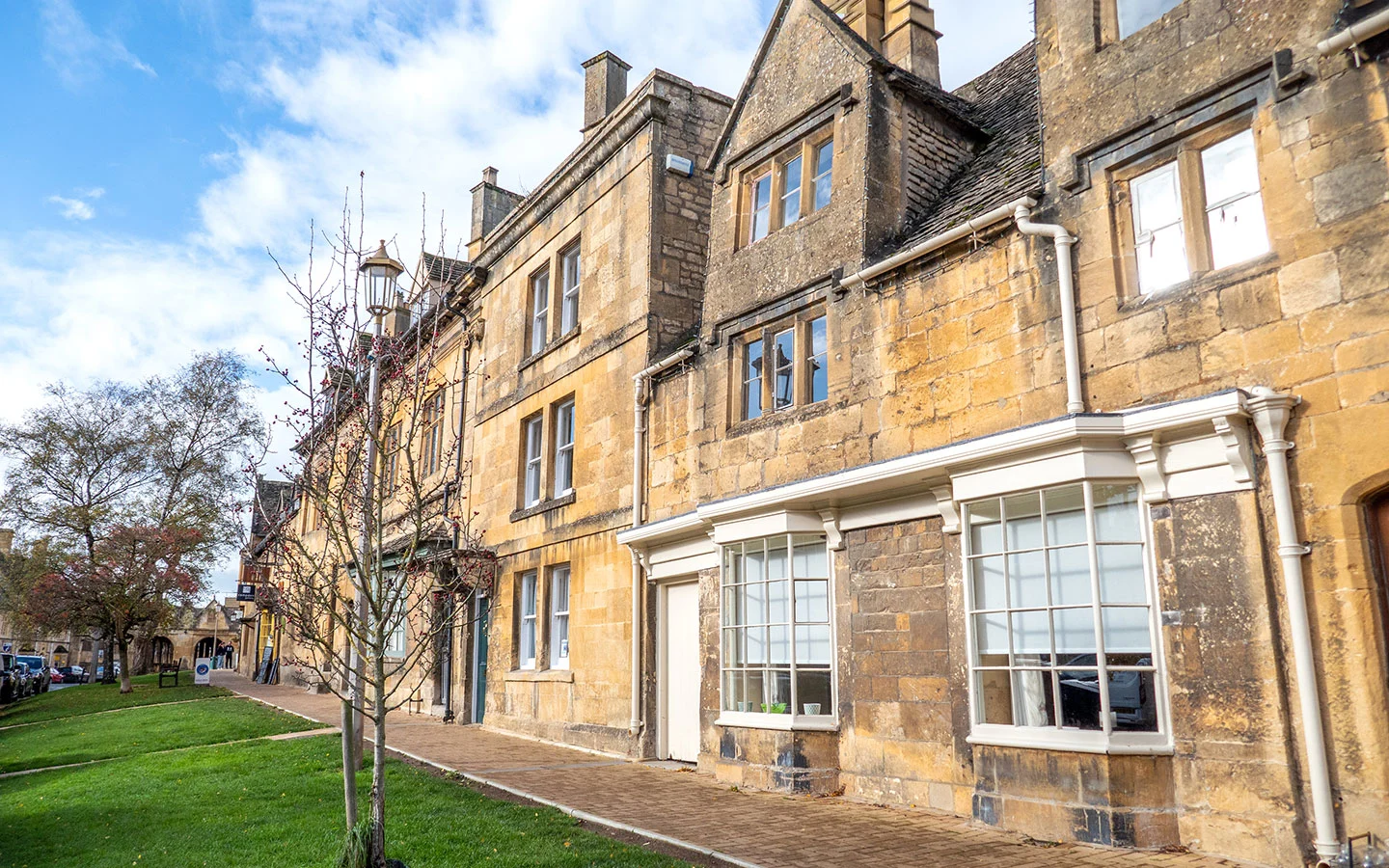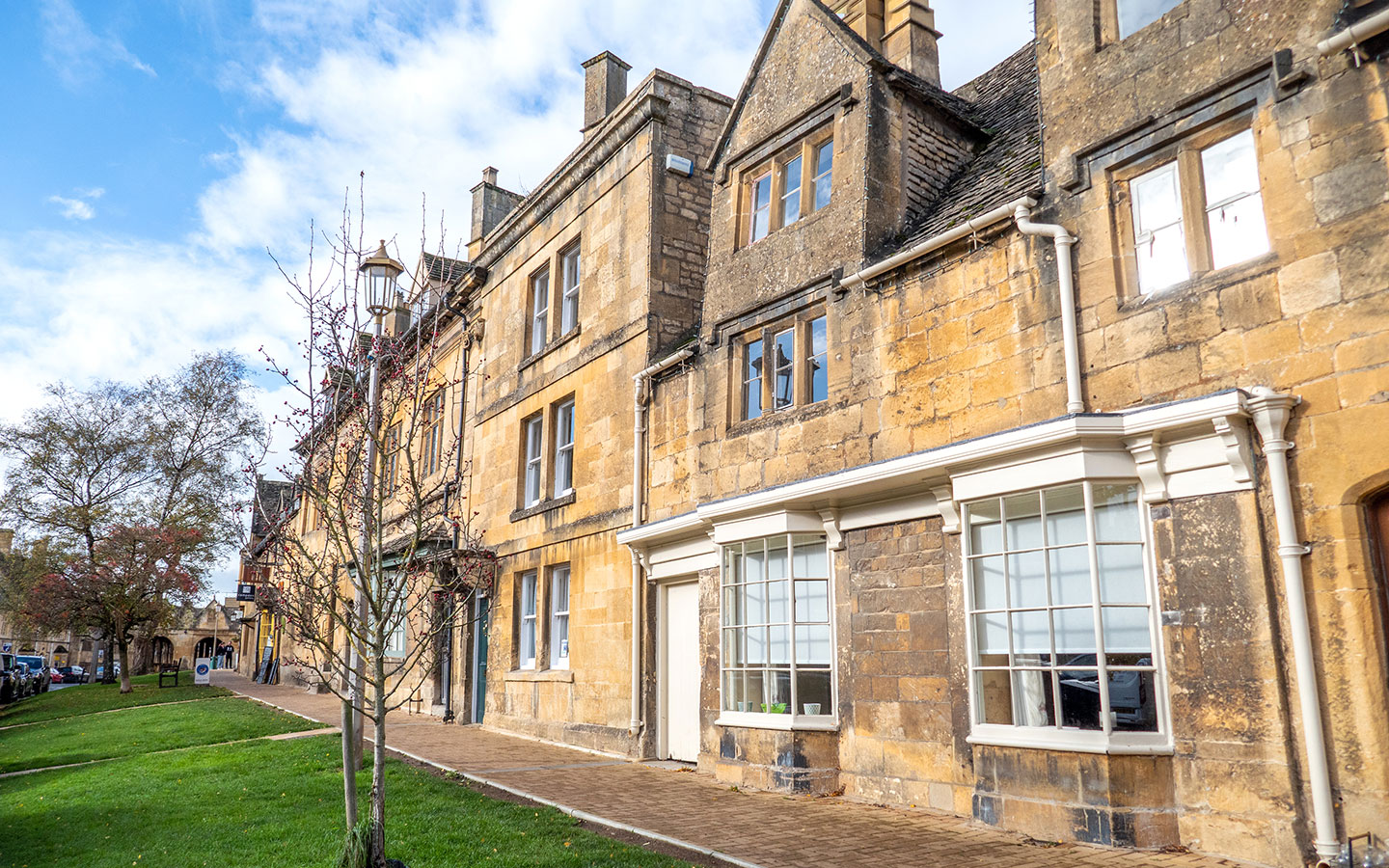 Save for later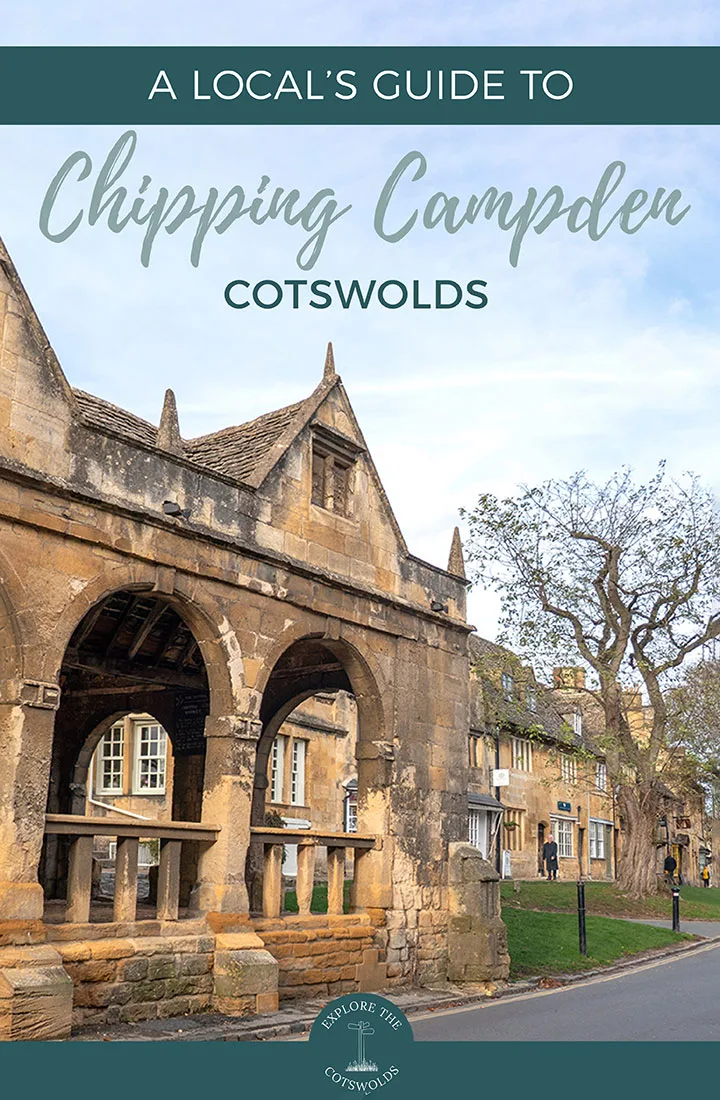 * This site contains affiliate links, where I get a small commission from purchases at no extra cost to you.