Whatever the occasion – Christmas, birthdays or just to show you're thinking of someone – buying a gift made in the Cotswolds is a great way to champion the region's creative, passionate small companies. Whether you live in the Cotswolds and are looking to support a local business or want to bring a taste of the Cotswolds to you wherever in the world you live, here's our ultimate Cotswold gift guide featuring our favourite present ideas – all of which you can buy online.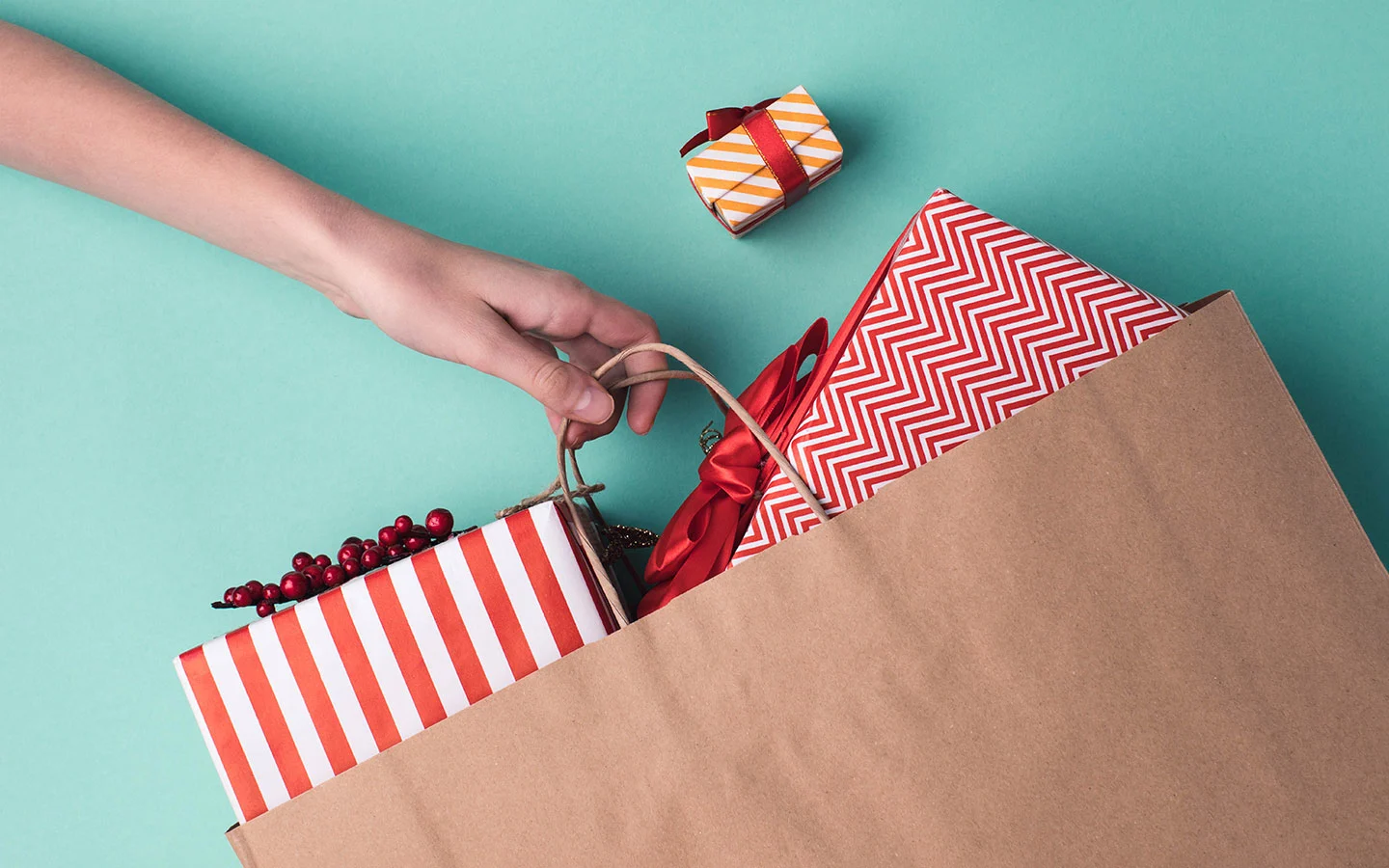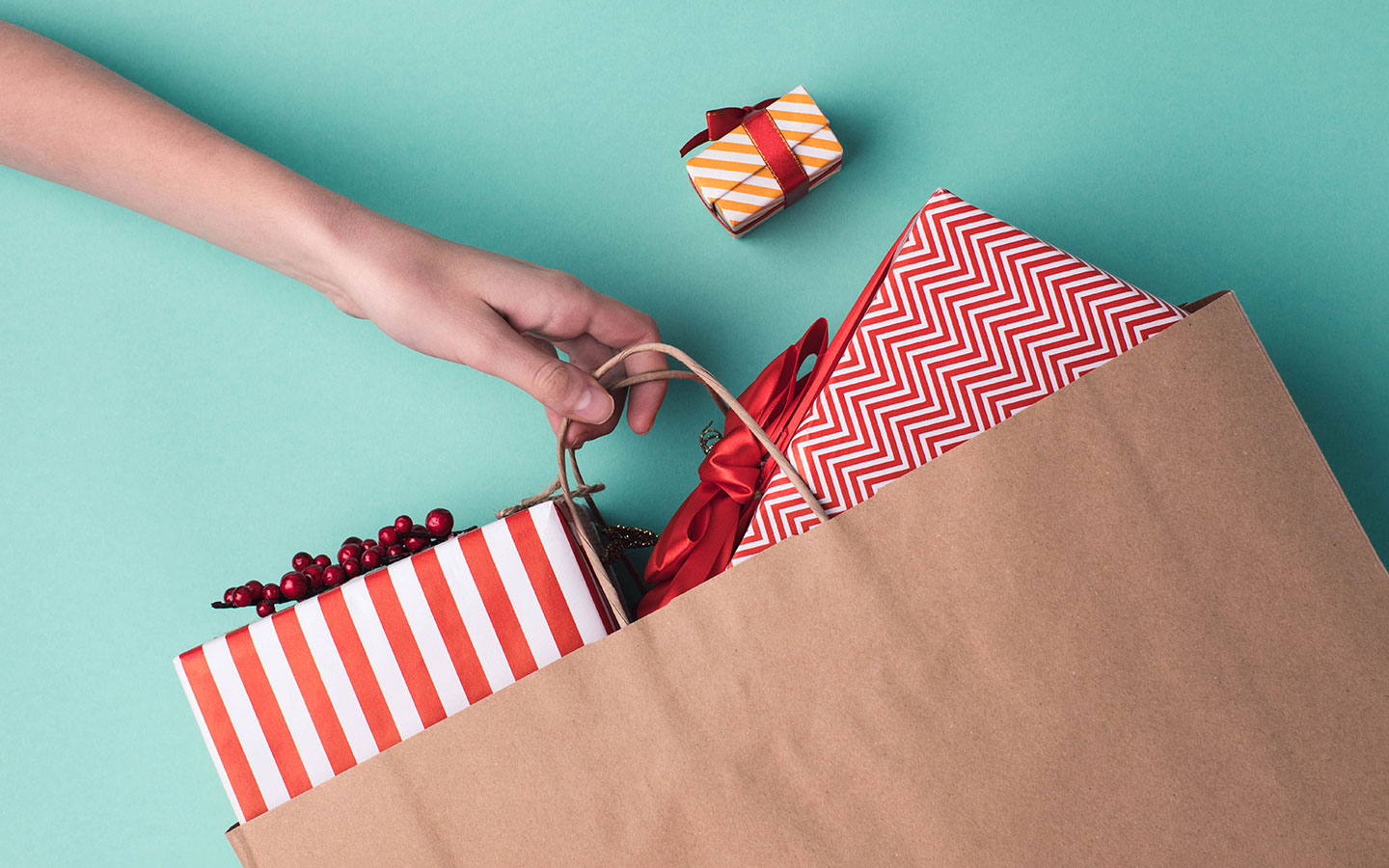 Cotswold food & drink gifts
Costello + Hellerstein's silky chocolate truffles are a major upgrade on the usual box of Milk Tray. Handmade in the Cotswolds by pastry chef Ori Hellerstein, they've won multiple Great Taste Awards. Their Noel Selection (£19.95) features four of their favourite flavours – sea salt caramel, ruby chocolate ganache, rhubarb and milk chocolate, and dark chocolate orange.
A bottle of Baileys is a festive favourite, but the Cotswolds Distillery have developed their own take on it with the Cotswolds Cream Liqueur* (£24.99), which combines their unaged whisky with fresh Irish cream. It's rich, creamy and packed with malt, vanilla and butterscotch flavours – serve it over ice, pour it over ice cream or use it to add a kick to a hot chocolate.
Ross & Ross create Cotswold gift boxes for foodies, using produce from local suppliers. They're best known for their bacon and salmon DIY curing kits, but they also do a fantastic British roast dinner kit* (£23) to upgrade a Sunday roast, featuring roast potato oil, roast chicken rub, roast dinner dust and pigs in blankets dust, and there's also a veggie version available.
Whittal's was set up by chef Beccy Whittal, who makes melt-in-the-middle brownie bombs and creamy fudge using local ingredients, including Gloucestershire butter and Herefordshire cream. There is a range of different seasonal flavours which you can use to create a bespoke pick and mix box (£15.95) or their single-flavour fudge bags (£3.50) make great mini gifts.
Family-owned Sibling Gin Distillery in Cheltenham distill their own spirits and infuse them with modern botanical flavours. They've created four limited edition gins to match the seasons, with the Winter Edition Gin* (£39.90) infused with fresh cranberries and clementine peel. Or you can also get a Four Seasons Gift Set (£25) with mini bottles of each seasonal gin in a gift box.
You can't beat a good cheese board – and the Cotswold Cheese Co stock over 120 artisan cheeses, including Cotswold varieties like the Mini Rollright, Moreton and Windrush Valley Goat's Cheese. You can buy a cheese hamper or why not treat someone to a cheese subscription box (£125 for three months), where they're sent a monthly selection of cheeses, crackers and chutneys.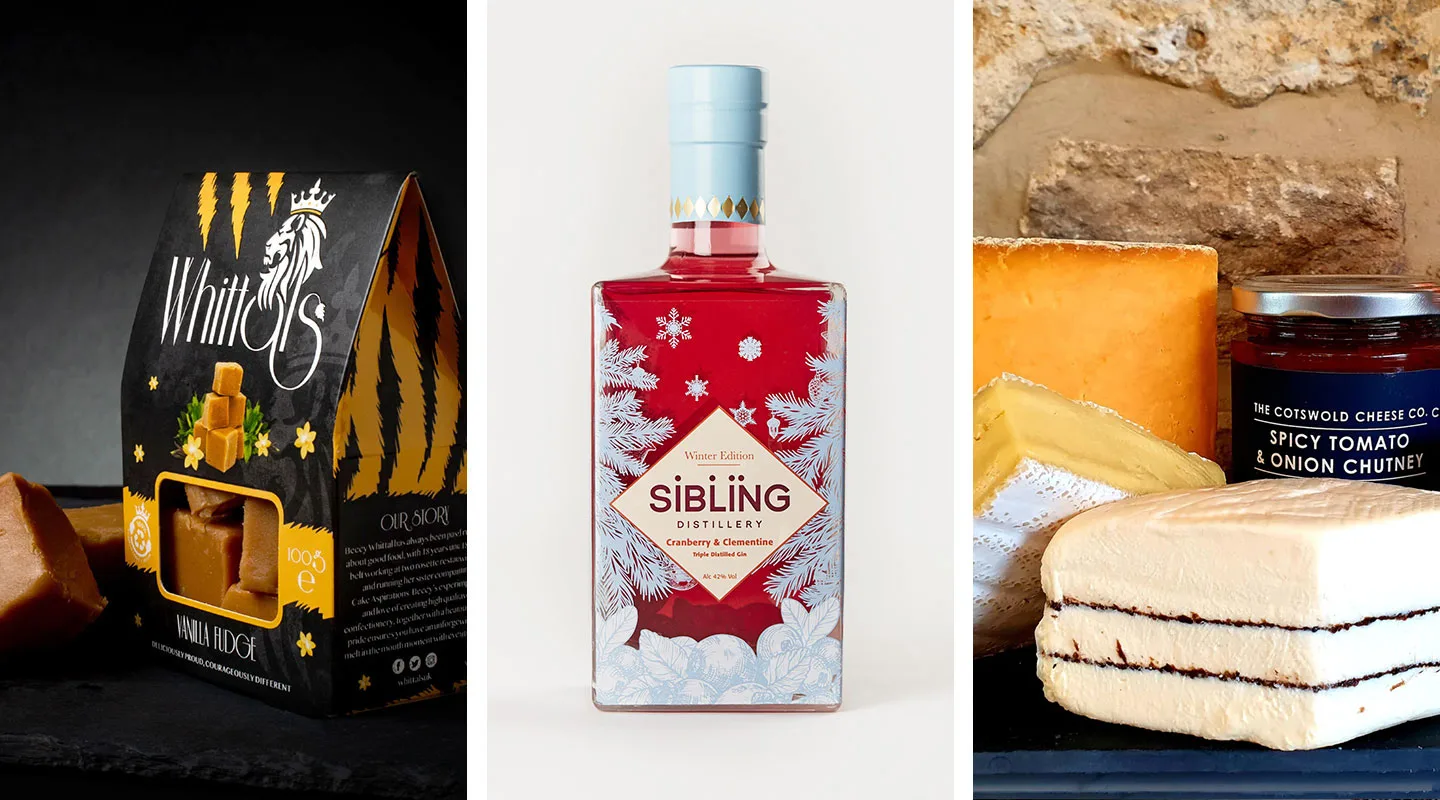 Cotswold home gifts
Cotswold Candle Company is inspired by the scents of the Cotswolds countryside, handmade using lower carbon emission soy and mineral waxes. Light their Christmas tree candle (£24) and breathe in and you'll feel like you're taking a wintery walk through a pine forest. They also have a range of classic scent candles as well as reed diffusers and room sprays.
Thea's Room in Cheltenham creates colourful block print lampshades, cushions and other fabric gifts with an eco-friendly ethos, using fair trade cotton or reclaimed fabrics which would normally go to landfill. Their printed bread bags (£16), aprons and cushions make great gifts.
For a low-impact gift, Eco Able sell sustainable products made by small businesses, and donate a portion of their profits to the Gloucestershire Wildlife Trust. They have everything you need for an eco-friendly lifestyle, with a selection of products for the home and garden as well as a range of baby gifts including organic muslins with Scandi-style prints (£18) and cotton wipes.
Honeybourne Pottery in the North Cotswolds is a family-run business who create a range of stylish handmade stoneware – including a simple but elegant monochrome pourer (£26). Or if you know someone who's always wanted to take a turn behind the potter's wheel, they also run pottery classes, from 90-minute taster sessions for beginners (£56) to longer courses.
Cotswold clothes & accessories gifts
Wild Like Her in Tetbury was founded by Cathryn, who wanted to produce fun, colourful and ethically produced clothing that celebrates women's awesomeness. There's a mix of t-shirts, jumper and hoodies – including this pink and leopard print 'Love' design (£52). Or you can 'make it your way' and create something unique by combining your choice of colour and design.
Craftsman Kingsley Leather makes beautiful handmade leather gifts from his studio in Cheltenham which are built to last. His online shop has a range of belts, wallets, cardholders, keychains and personalised initial cufflinks (£50), made using antique leather.
Silver Nutshell founder Anna creates pieces of jewellery inspired by nature and using real shells, leaves, fossils and seedpods. Every piece is unique and handmade, like her signature Silver Leaf Necklace (£39) which is cast from individual leaves and uses sustainable products, eco-friendly packaging and part of the profits are donated to Whale and Dolphin Conservation.
Anna at Cotswold Knit has taken the skills she developed working for luxury brands like Missoni and Alexander McQueen to create her own range of accessories. Her small-batch designs include scarves, snoods, hats and gloves in colourful jacquard patterns named after different Cotswold towns, including the super-coy yak yarn Hook Norton collection (from £43).
Cotswold book and print gifts
The Cotswold Poster Co create vintage-style travel posters based on different towns and villages around the region. You can buy each design as an A4 or A3 poster, card or fridge magnet, and there's also an Around the Cotswolds calendar (£18). All posters are printed on recycled paper and use plastic-free packing, with 2% of their income going to two local wildlife trusts.
Stephanie Cole Design is run by a Stroud-based illustrator, who makes colourful cards, prints and embroidered artworks. Her designs are often inspired by wildlife and nature, and include an illustrated Cotswold map (£28) featuring icons like the Broadway Tower and Blenheim Palace.
Local adventure-lover Claire has designed a series of Word Search books inspired by the outdoors and featuring nearby counties – including one on Gloucestershire* (£8.99). The book contains 100 puzzles with a Gloucestershire theme, including the county's landmarks, buildings, activities and natural features, and would make a great gift for a geography- or puzzle-lover.
The Cotswold Way Association's Cotswold Way Companion (£15.90) is an insider look at this fantastic National Trail, written by the voluntary wardens who know it best. Rather than a traditional day-by-day Cotswold Way itinerary, it's an inspiring journey though the history, archaeology and landscapes along the route – and sales help raise money to maintain the trail.
Cotswold gifts for kids
Very Posh Bunting is made in Cheltenham by Jill, using gorgeous fabrics with embellishments hand-sewn on to make them extra special. Her range of bunting for kids includes favourite characters like Peter Rabbit, Winnie the Pooh and Harry Potter. All bunting is double-sided and most comes in three-metre lengths (£15.95), packed flat so it's perfect for posting.
Daphne & Margot founder Jo designs and makes children's clothes using mainly organic fabrics in a range of designs that aren't the usual pink or blue. Everything is handmade, with dresses, rompers, legging and jumpers – including this colourful jungle print t-shirt (£14).
If you're looking for a present that's educational as well as fun, The Curiosity Box in Oxford specialise in science kits for families. You can choose from different themes in chemistry, biology, geology and engineering – from dinosaurs to code-breaking. There are subscriptions or one-off boxes designed for 4–6 year olds or 7–11 year olds (£13.80 small/£24.95 large).
Or for a touch of extra magic for kids at Christmas, the Polar Post send out beautiful letters (£22.99), written by Father Christmas himself on his official notepaper with tales of his adventures, hand-addressed by one of his team of elves and postmarked from the North Pole.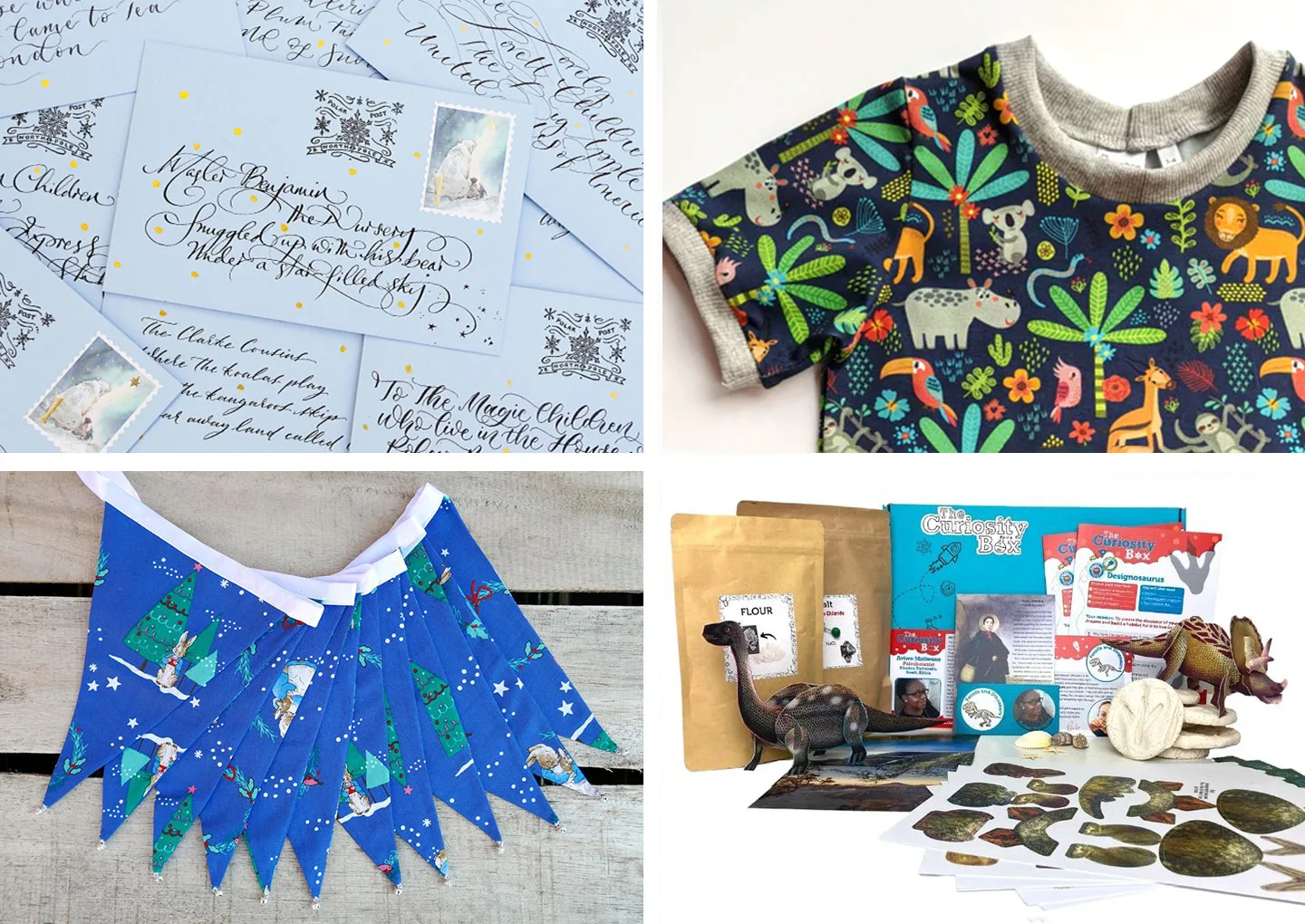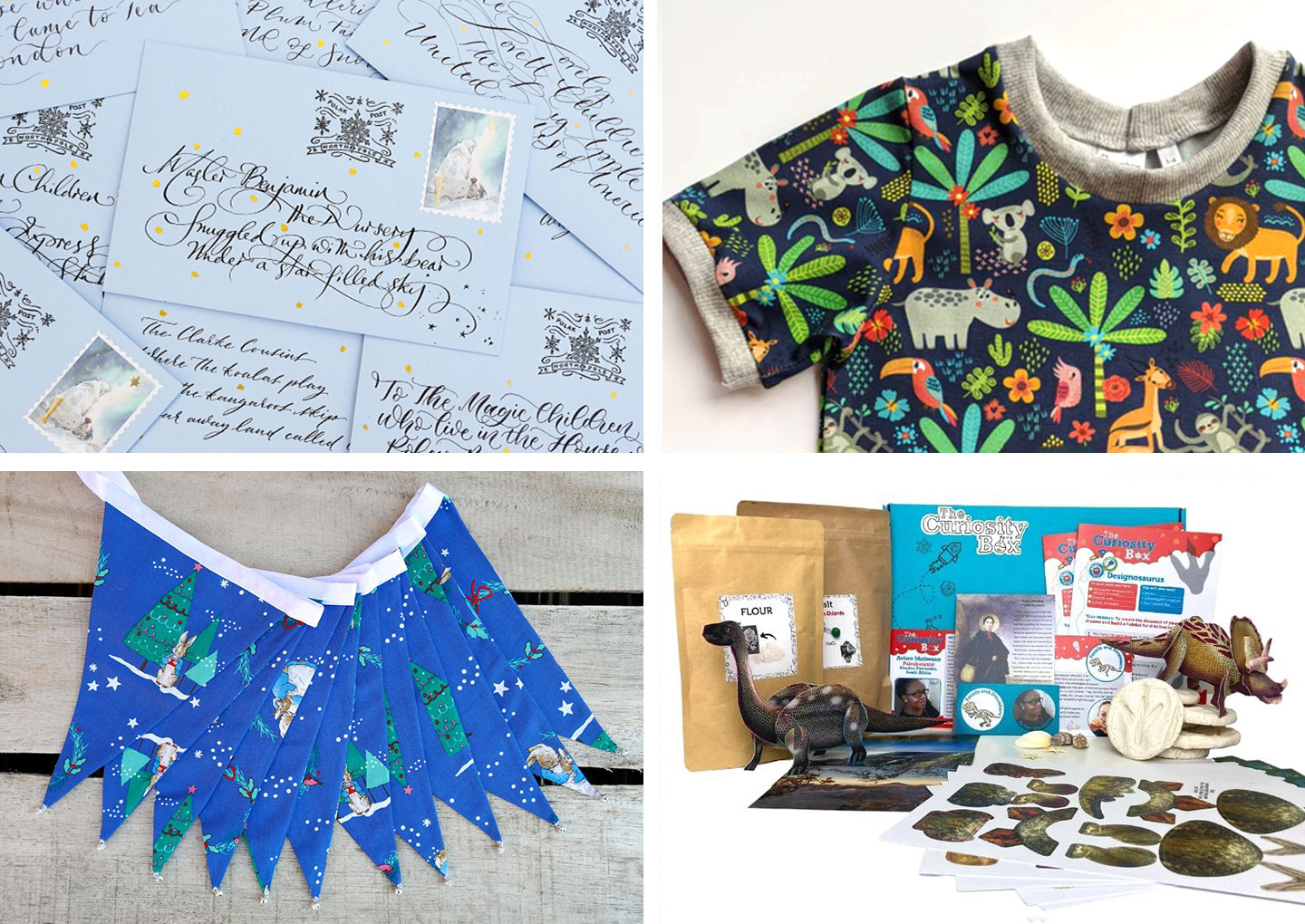 Cotswold experience gifts
Rather than buying a physical gift, why not buy a unique Cotswold experience? Rob Gould, Cotswold Forager runs guided walks around the Cotswolds, helping people to reconnect with nature and discover the edible delights around us. Gift vouchers can be used towards public or private walks, and there are also Forage and Feast events where you cook what you find.
If you're looking for a gift for a foodie friend, how about a baking class? Danielle at Severn Bites is a French-trained bread expert who runs online and in-person classes. Gift vouchers can be used towards any course, from an introduction to sourdough-making to advanced baking skills.
You can also give the gift of gin at the Piston Distillery's Gin School in Cheltenham (£115 for one person or £150 for two). After starting with an introduction to gin-making, you choose from over 40 different botanicals to create your own perfect gin blend, which is then distilled in a mini copper still while you try some gin cocktails, before your gin is bottled ready for you to take home.
Or for something a bit different, explore the skies above the Cotswolds with a stargazing night from Dark Sky Telescopes. Participants join an experienced astronomer on Cleeve Hill for an hour-long session (£150) with a large telescope which lets you see star systems, planets and galaxies.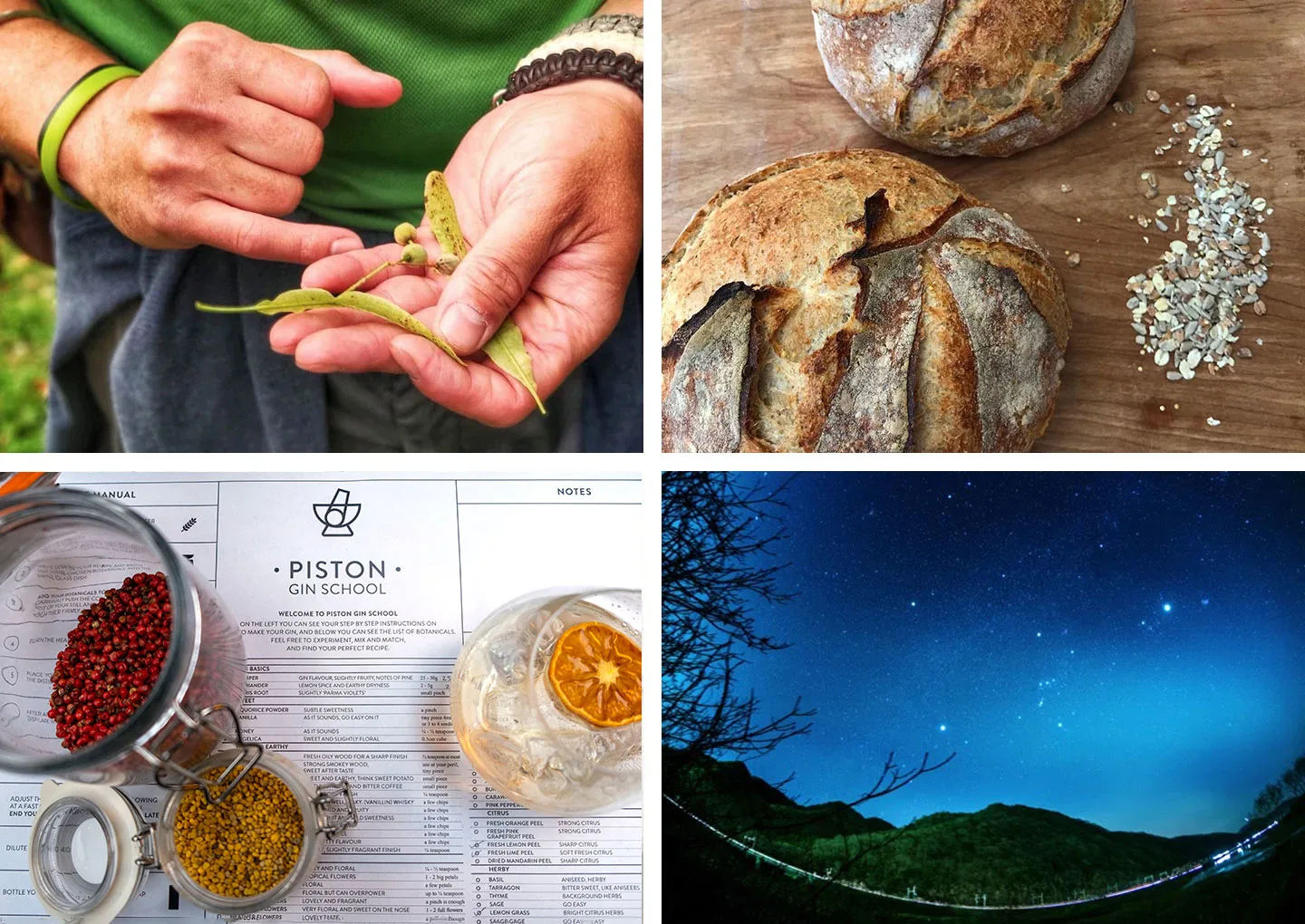 Save for later