Local coronavirus restrictions may cause temporary closures, reduced opening hours or require advance booking – please check attraction websites for most up-to-date information.
Perfectly positioned between Cheltenham and Oxford, Bibury is one of the most visited places in the Cotswolds. Described by poet William Morris as 'the most beautiful village in England', it attracts thousands of tourists a year. Famed for its trout farm and picturesque row of cottages known as Arlington Row, this tiny village is not to be missed on your tour of the Cotswolds, says local expert Jessica, who shares her tips on what to see and do when visiting Bibury.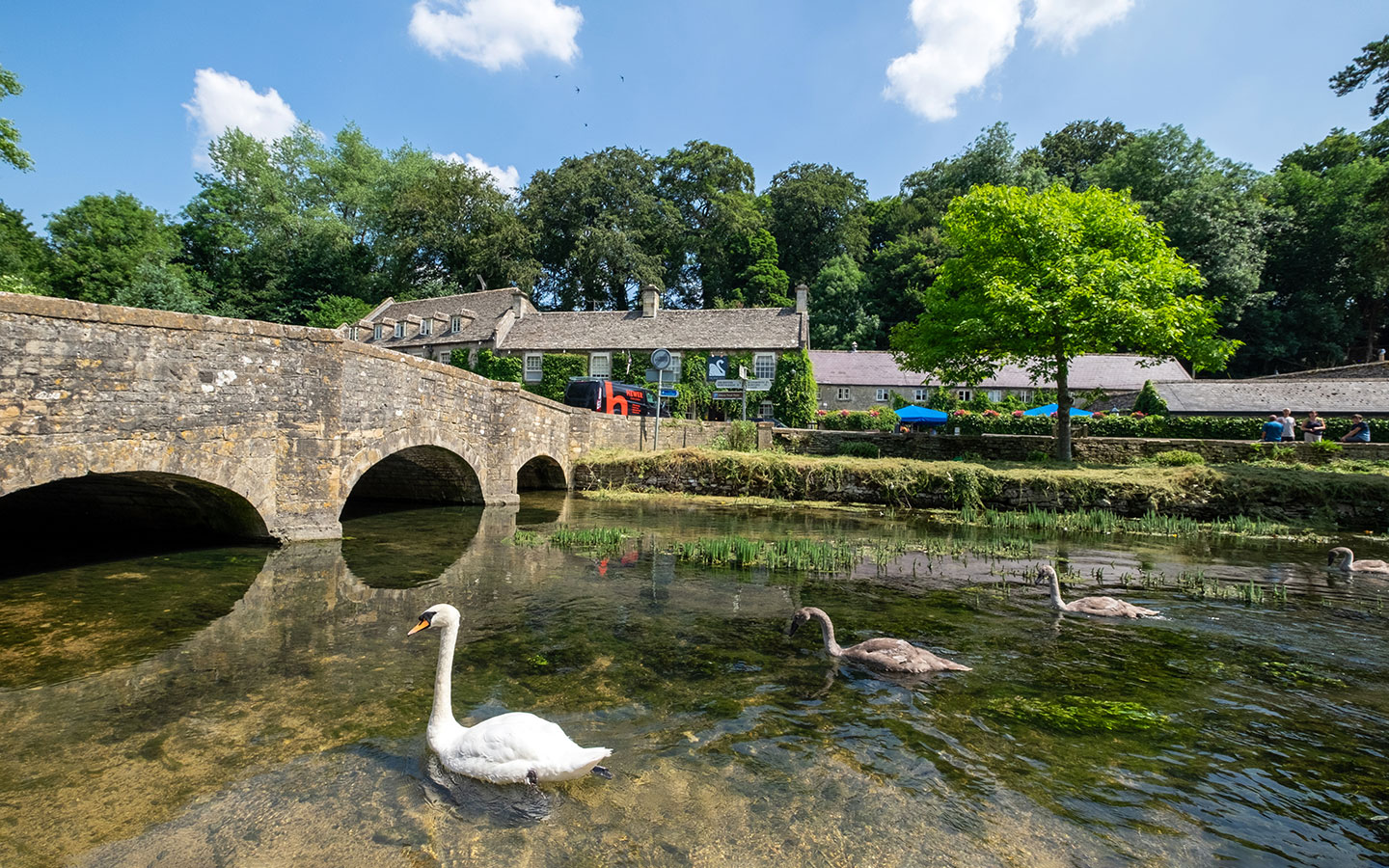 Bibury's history
With history dating back to the Iron Age and the remains of a hill fort still standing above the village, Bibury has long been admired by locals and tourists alike. In the 8th century the estates in the village were given to Earl Leppas and his daughter, who was named Beaga. Known back then as 'Beagan-byring', the name of the village evolved over time to become Bibury.
There were originally two parishes named Bibury and Arlington, with the two villages were separated by the River Coln, but they're now simply known just as Bibury. St Mary's Church in Bibury was built in the 11th century and belonged to Osney Abbey in nearby Oxford. The ancient cottages on Arlington Row were also first used as wool stores by monks from the abbey.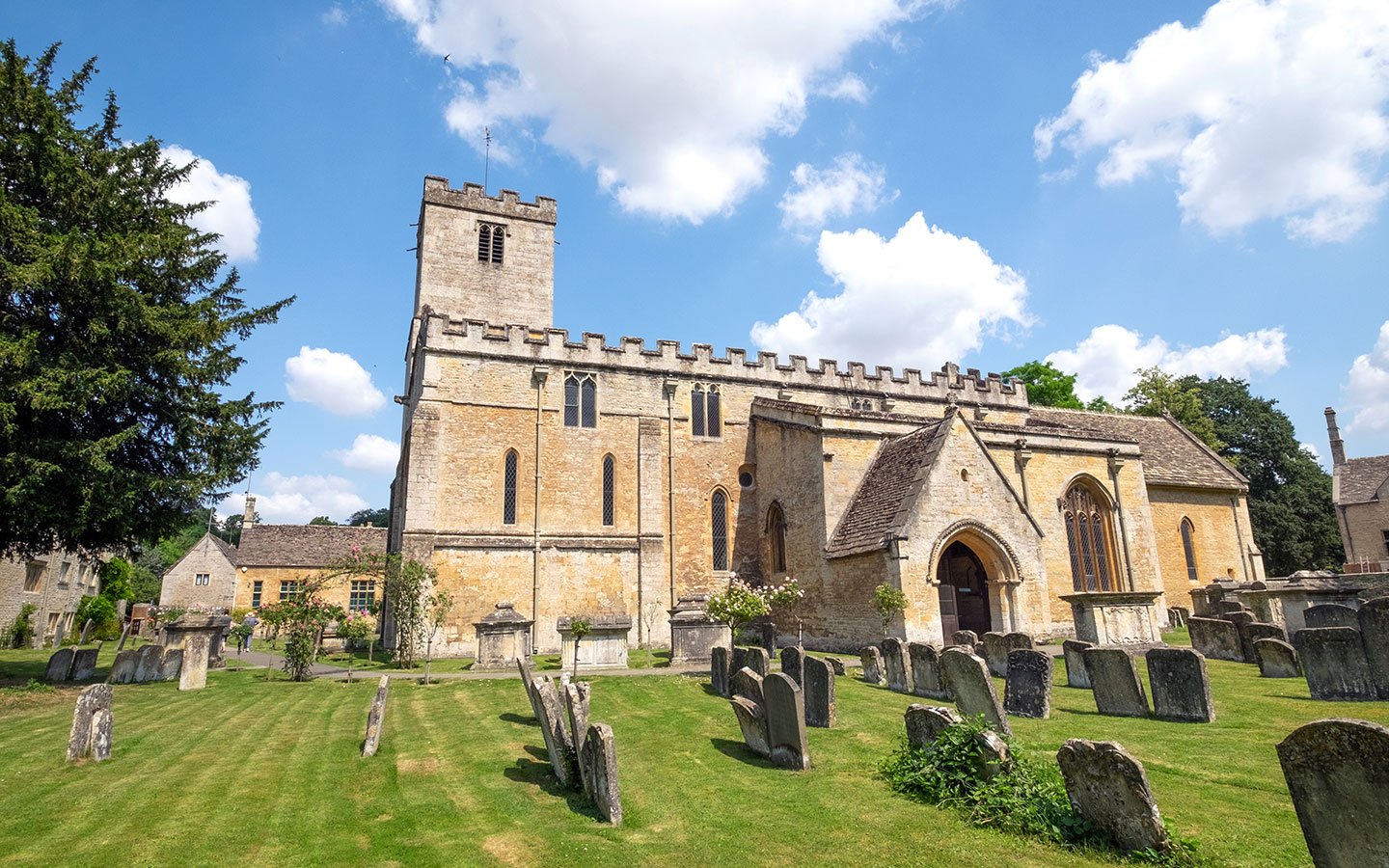 Things to do in Bibury
One of the most popular things to do in Bibury is visit the Trout Farm. Founded in 1902, the farm is the oldest working trout farm in England and is positioned right next to the River Coln. It has its own hatchery, spawning 10 million rainbow trout each year, as well as a smokery which uses a traditional combination of salt and hardwood chips to smoke their fish.
The farm runs a fishery where try your hand at fishing, catching and then BBQing your very own trout for lunch or dinner. All equipment is supplied and trout caught is charged at £10.50 per kilo. Adults and children are welcome and a demonstration is given before you start. If you don't fancy catching your own, the farm also has a café and shop where you can buy its products.
Another must-see attraction in Bibury is St Mary's Church. It was built in the 12th century, but a Saxon graveyard shows it has a longer history. This Grade I listed church contains intricate carved doorways, medieval stained glass and a unique 13th-century square font.
No visit to Bibury is complete without fully exploring Arlington Row, one of the most picture-perfect places in the Cotswolds. Arlington Row is owned by the National Trust and was built in 1380 as a monastic wool store before being converted into weavers' cottages in the 17th century. It's perhaps the most photographed row of houses in England – even featuring on the inside cover of British passports – and can see up to 6000 visitors a day in the summer months.
You'll definitely want to get your photos of Arlington Row when visiting Bibury, but there are lots of other things to see in the village too. The nearby Rack Isle water meadows were once where wool was hung out to dry on racks after it had been washed on Arlington Row. They're now a tranquil refuge for wildlife, including wildfowl and rare water voles.
As well as being the backdrop for countless postcards, calendars and photos of the Cotswolds, Bibury was also one of the filming locations for blockbuster 2007 movie Stardust.
Although the main village of 'Wall' in the film was filmed 30 miles away in Castle Combe, Arlington Row features prominently in Stardust as it's the home of Sienna Miller's character, Victoria, and can be seen on screen several times throughout the movie.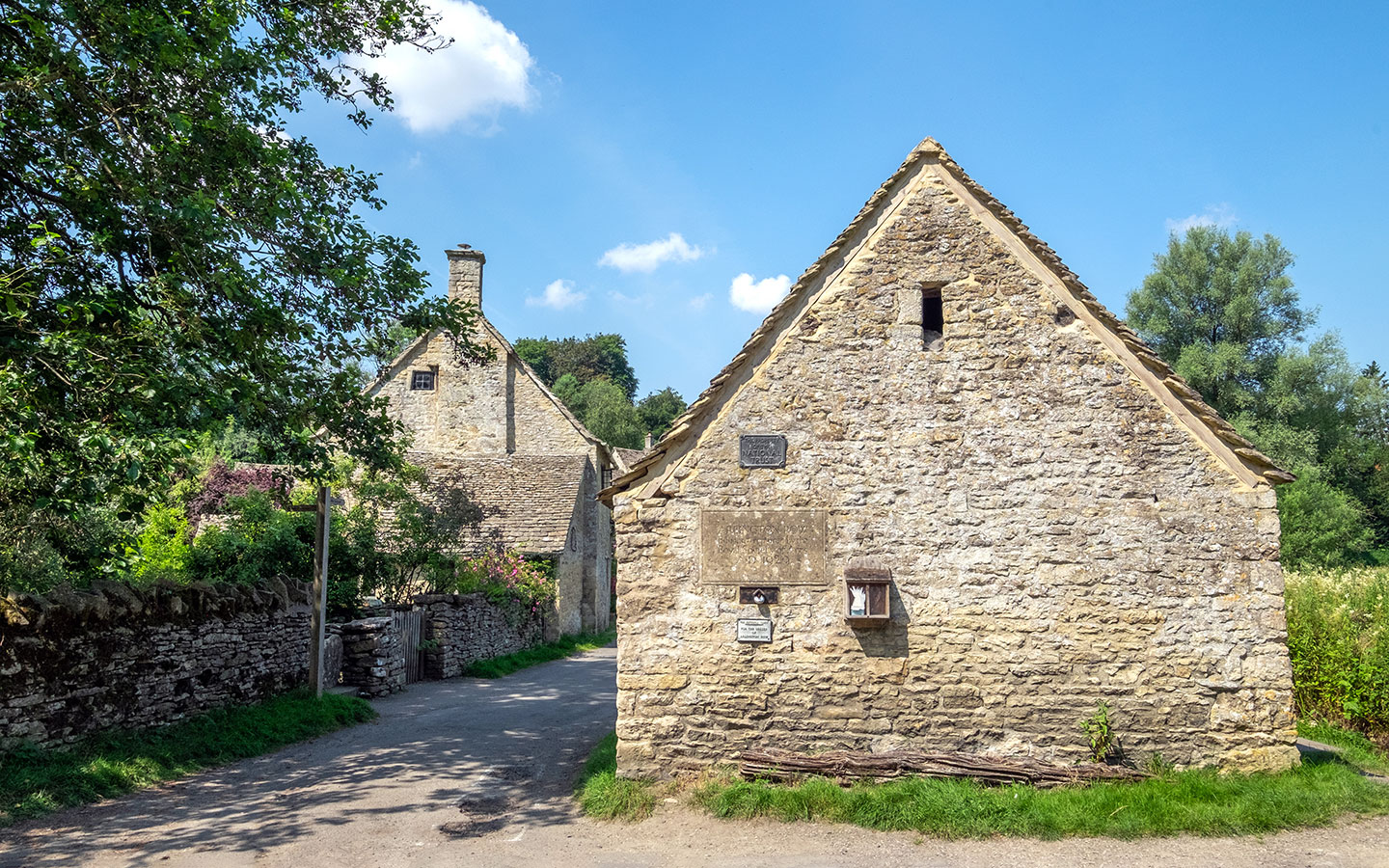 If you fancy a classic Cotswolds walk during your visit to Bibury, there are plenty of hikes and nature trails to enjoy in the area. One of the most popular routes is the circular walk from Coln St Aldwyn to Bibury and back again. Starting in the tiny village of Coln St Aldwyn, the route runs alongside the River Coln all the way to Bibury where can stop for lunch and look around.
On the way back, the route takes you across high fields with stunning countryside views as you return to Coln St Aldwyn. This 6-mile loop takes approximately three and a half hours to complete and is a fantastic way to explore the area around Bibury.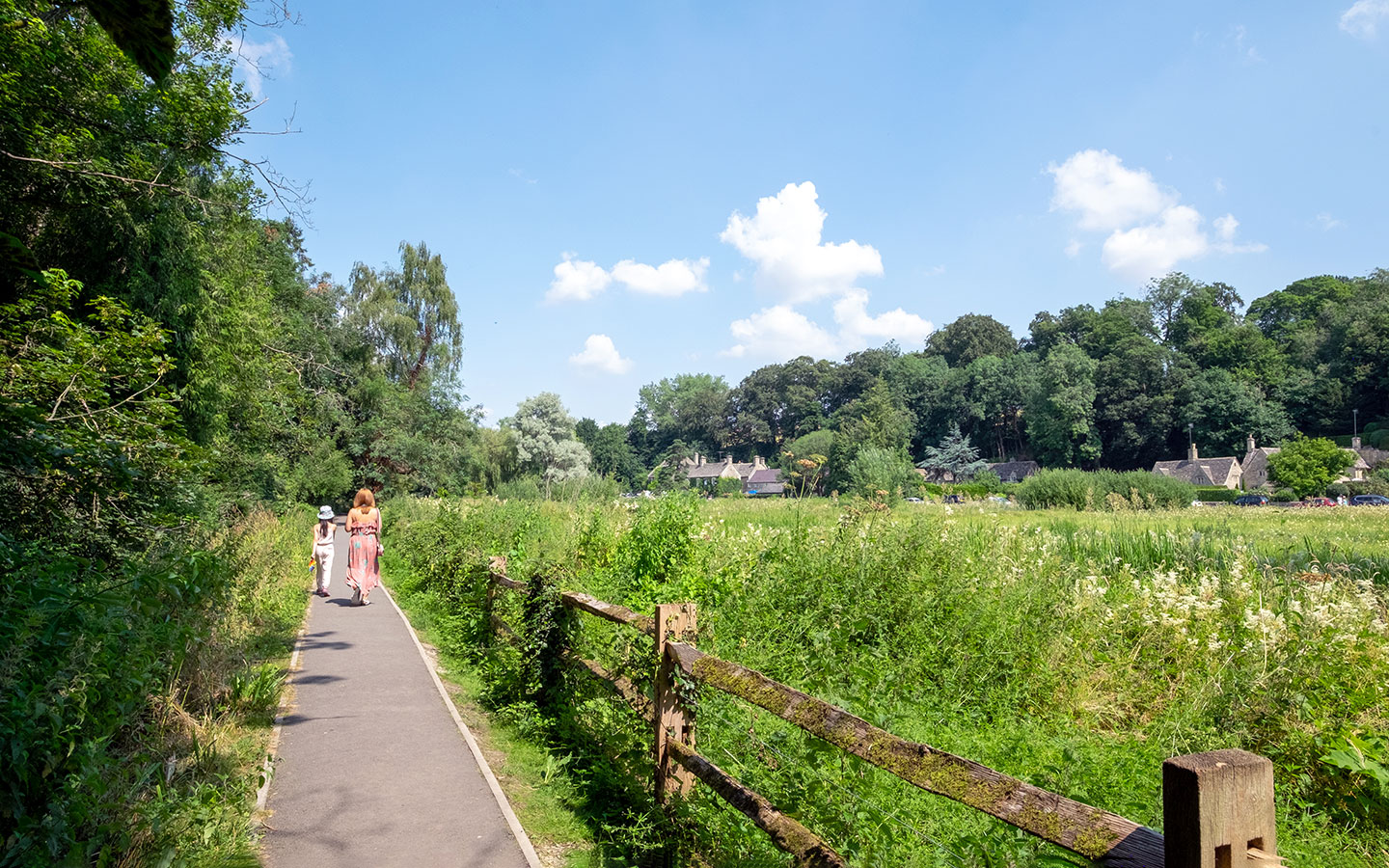 Places to eat & drink in Bibury
Bibury is so small that there are really only a couple of options for eating in the village. The Trout Farm operates a shop and cafe serving trout dishes, takeaway light bites, cakes and drinks. Whilst the village shop sells a range of groceries and hot sausage rolls and pasties.
The Catherine Wheel is a 15th-century pub in the centre of Bibury with a separate bar and restaurant area. Serving delicious dishes for lunch and dinner – from fish and chips and sausage and mash to pizzas and a traditional Sunday Roast – using locally sourced ingredients, The Catherine Wheel has a gorgeous garden to enjoy on a sunny day and a cosy fire in winter.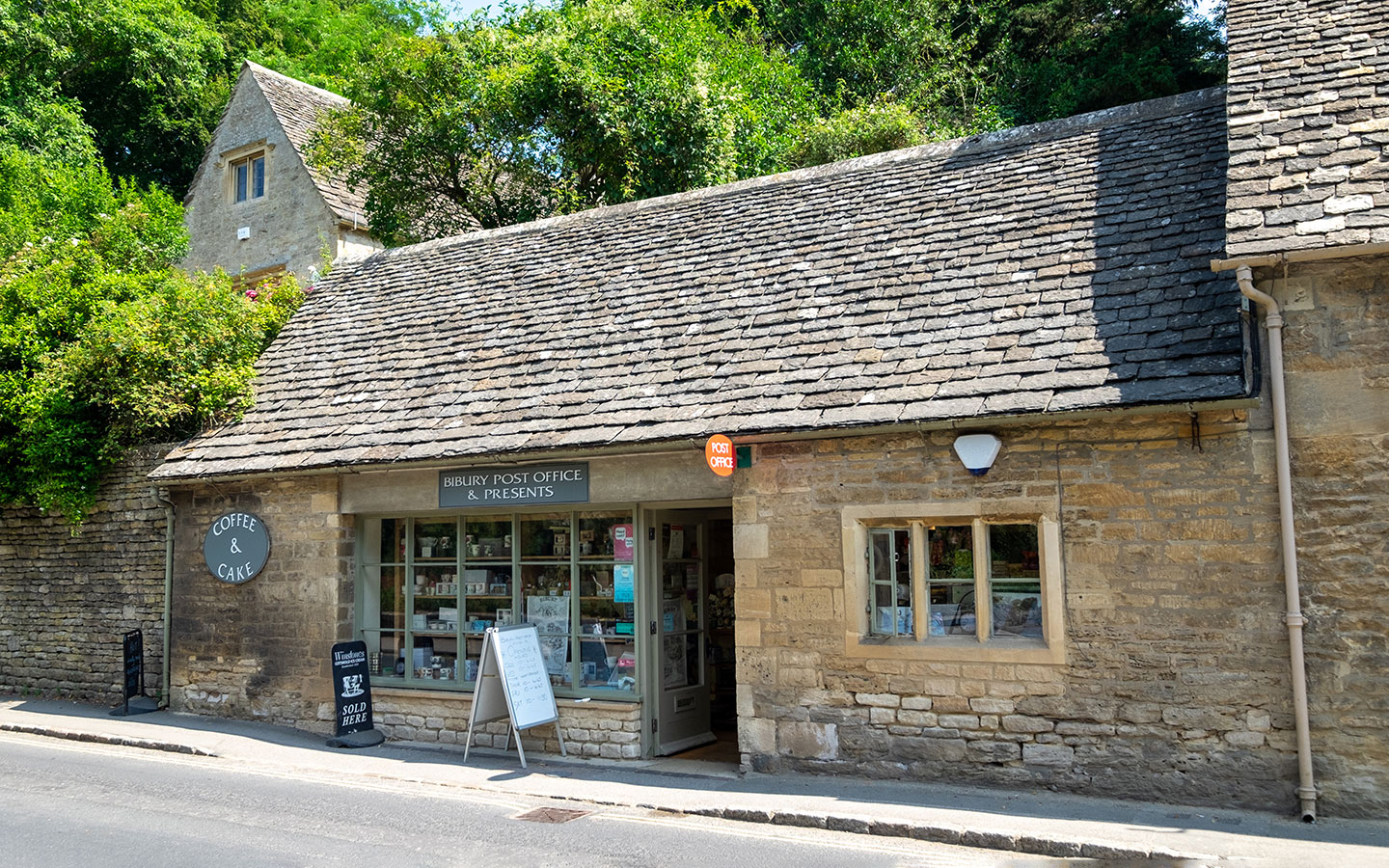 For something a little more upmarket, try the Swan Brasserie restaurant, located at the The Swan Hotel*. Offering traditional British dishes with European twists for lunch and dinner, the restaurant also boasts an impressive afternoon tea menu. You can also get more casual bar snacks from their Swan Bar. The ivy-clad hotel is beautifully decorated both inside and out, and the courtyard is a lovely place to sit and watch the River Coln gently flowing by.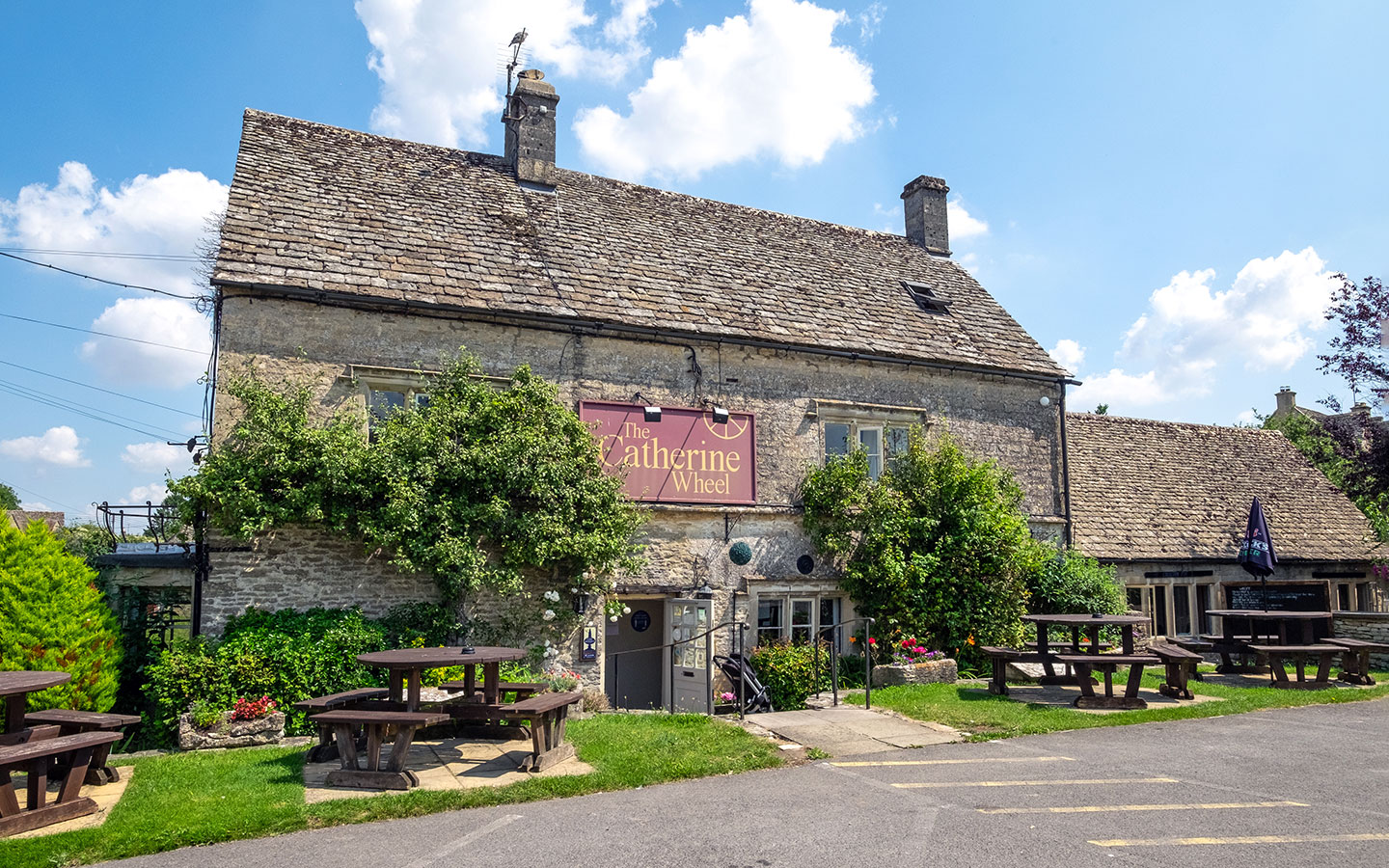 Where to stay in Bibury
The Catherine Wheel and The Swan are the two main accommodation options in Bibury, both offering excellent bases for your visit. The Catherine Wheel has four cosy en-suite rooms: two standard and two larger doubles which have room for a cot or child's bed. As well as the bar and restaurant on site there's free parking and free wifi included in your stay.
The four-star Swan Inn*, also located right in the middle of the village, oozes classic Cotswolds charm. Choose from 22 en-suite rooms – 18 in the main hotel and four garden cottage suites in the glorious grounds. Each room is individually designed with a mix of antique furnishings and contemporary fabrics, and some come with four-poster beds, hot tubs or log burners.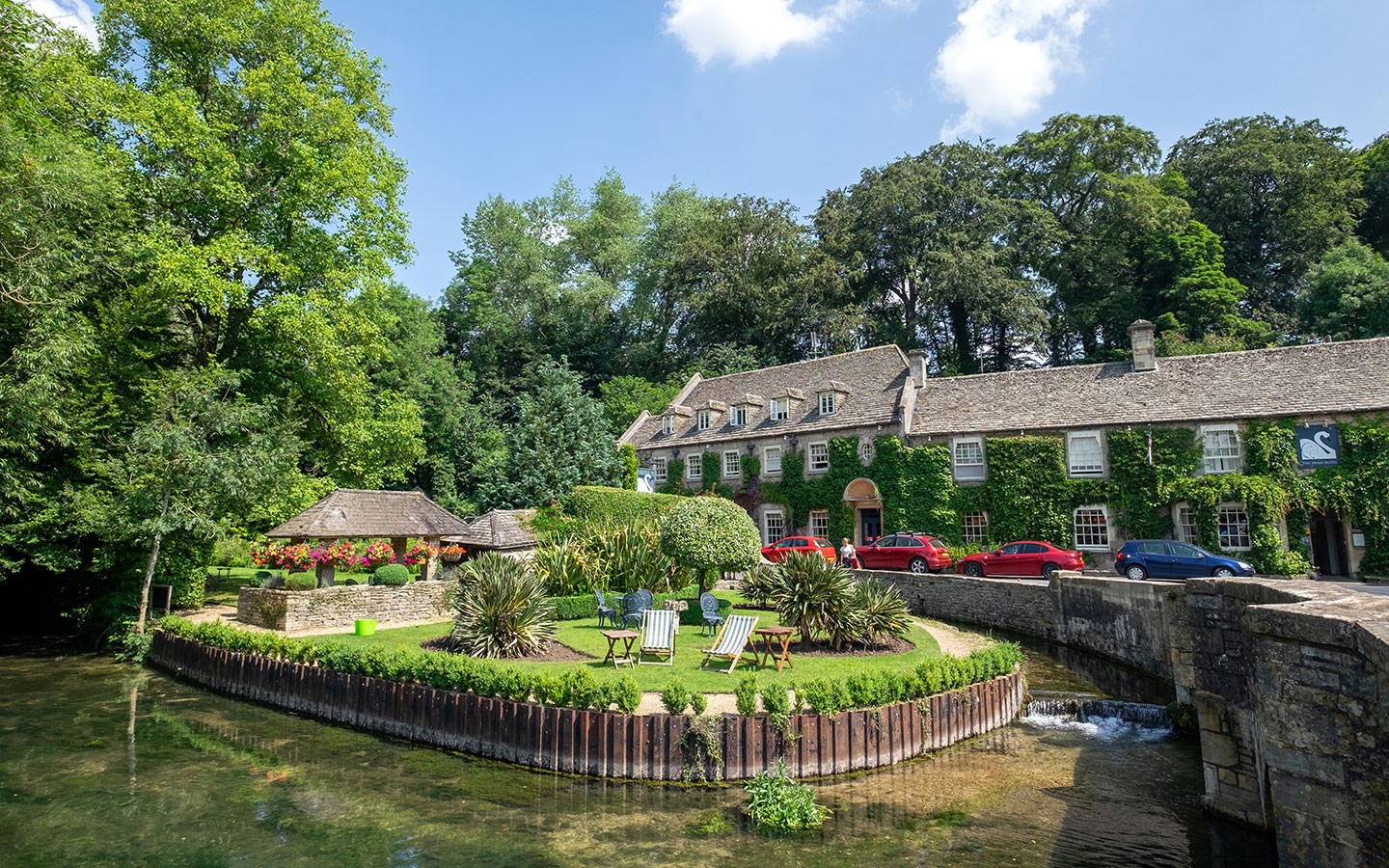 Historically a working mill and later a museum, Arlington Mill has since been converted into fantastic holiday accommodation in the centre of Bibury. There are two large living rooms and five comfortable en-suite bedrooms set across four floors offering self catering accommodation for up to 13 guests. With its original wheels and ancient machinery still intact and carefully preserved, a stay at Arlington Mill will make you feel like you've taken a step back in time.
Or if you want to stay at Bibury's most iconic address, you can rent number 9 Arlington Row through the National Trust. This cottage is bursting with historic character and comes with two bedrooms (one double and one single), a shower room, kitchen and sitting/dining room which has a wood-burning stove. There's also a private garden to hide away from the crowds.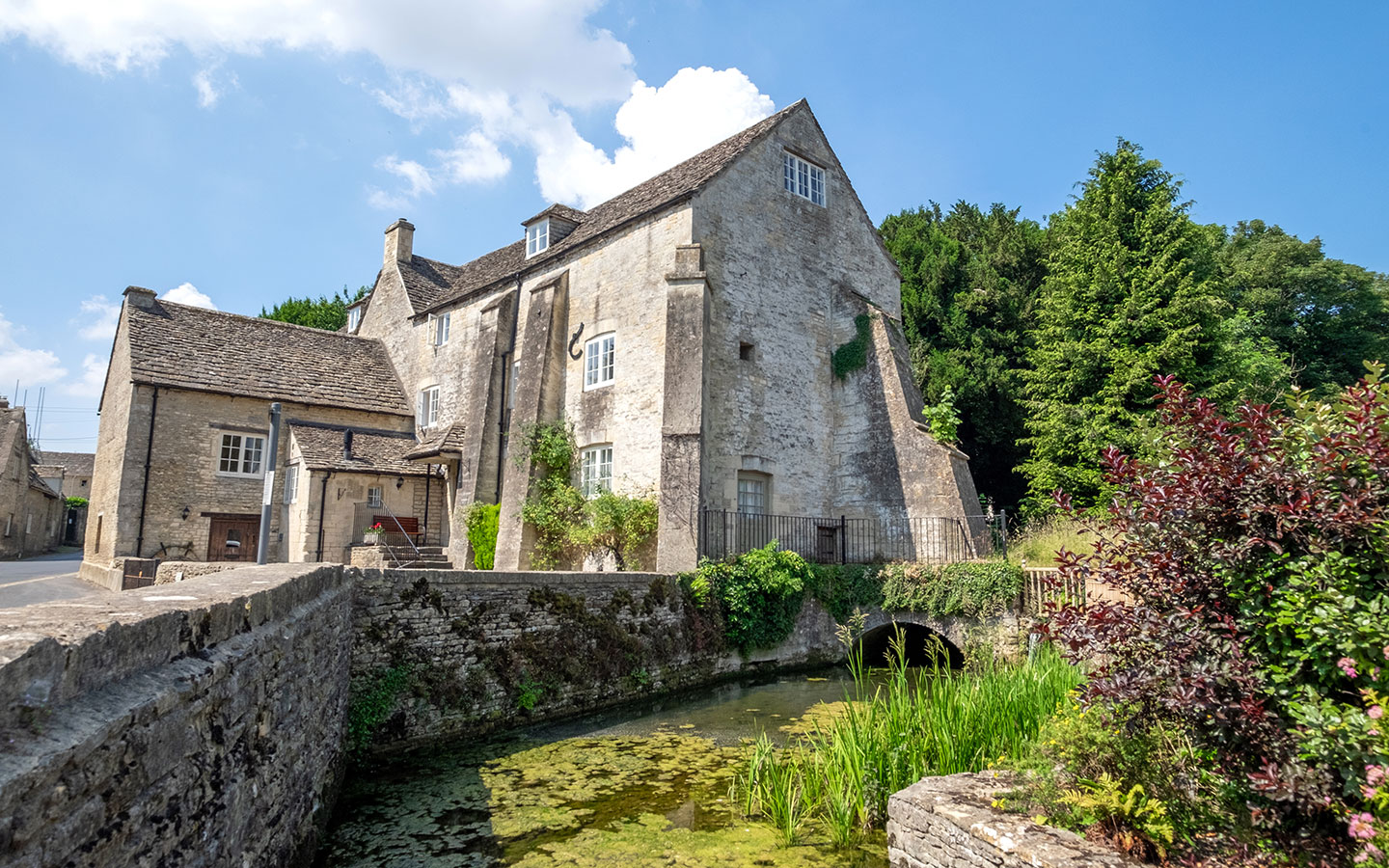 How to get to Bibury
By car: Located on the B2425 between Aldsworth and Barnsley, Bibury is around 30–35 minutes from both Oxford and Cheltenham. The village can be reached from one of the small roads leading off the A40 and is clearly signposted from the main road. In the village centre there's free off-road parking between Church Road and The Swan Hotel, and opposite the Trout Farm there's a chargeable car park, but spaces are extremely limited during peak season.
By public transport: The 855 Pulhams bus connects Bibury to Cirencester, Northleach and Bourton-on-the-Water. The nearest train station is Kemble, just a few miles from Cirencester and 14 miles from Bibury. No buses connect Kemble to Bibury, so a pre-booked taxi is essential.
* This post contains affiliate links – find out more.
Save for later