Described by poet and designer William Morris as 'the most beautiful village in England', Bibury is one of the Cotswolds' most popular and picturesque spots. Famed for its trout farm and the row of pretty stone cottages known as Arlington Row, this tiny village on the banks of the River Coln is one not to miss when visiting the Cotswolds, says local expert Jessica, who shares her tips on the best things to do in Bibury as well as where to eat, drink and stay in the village.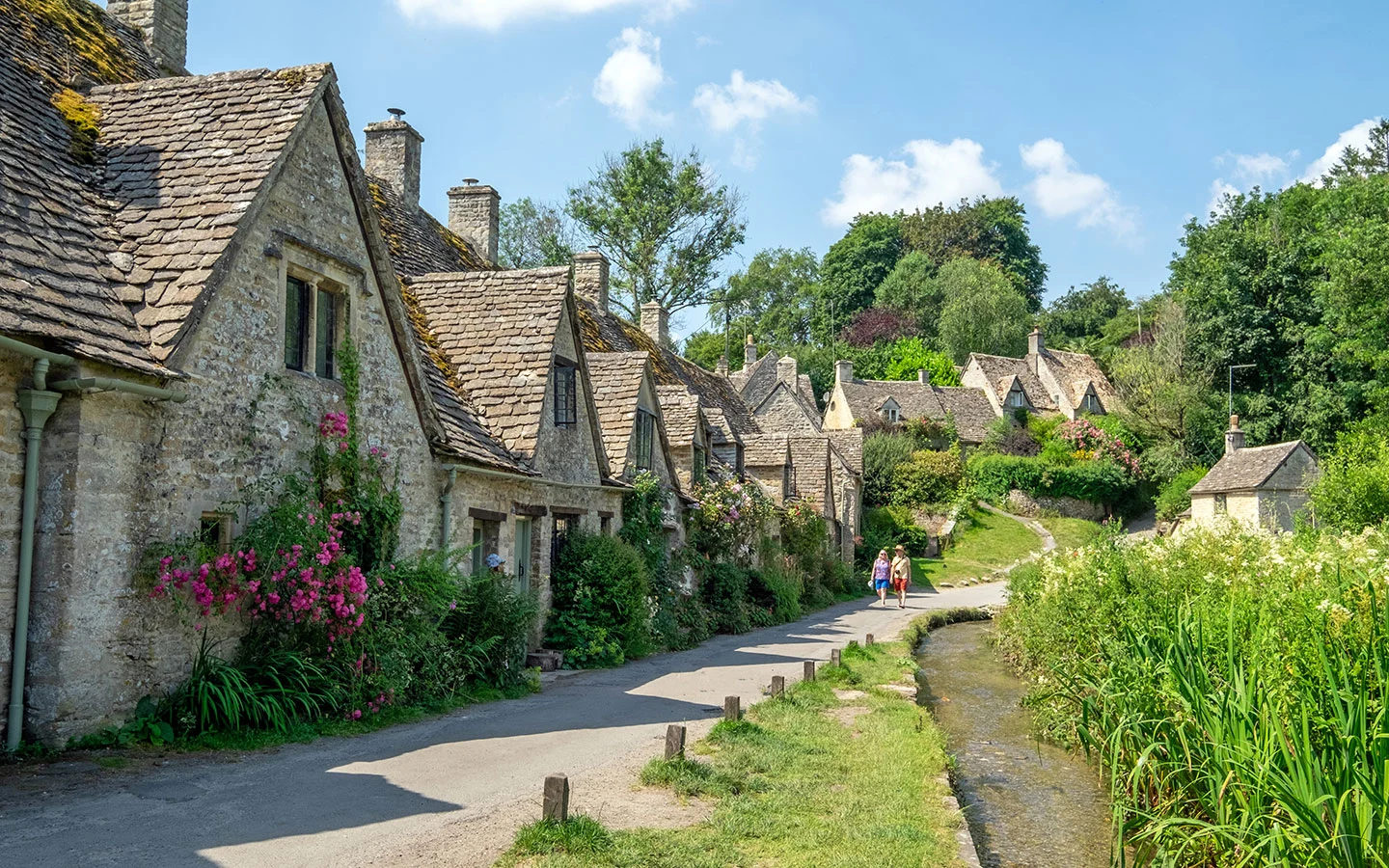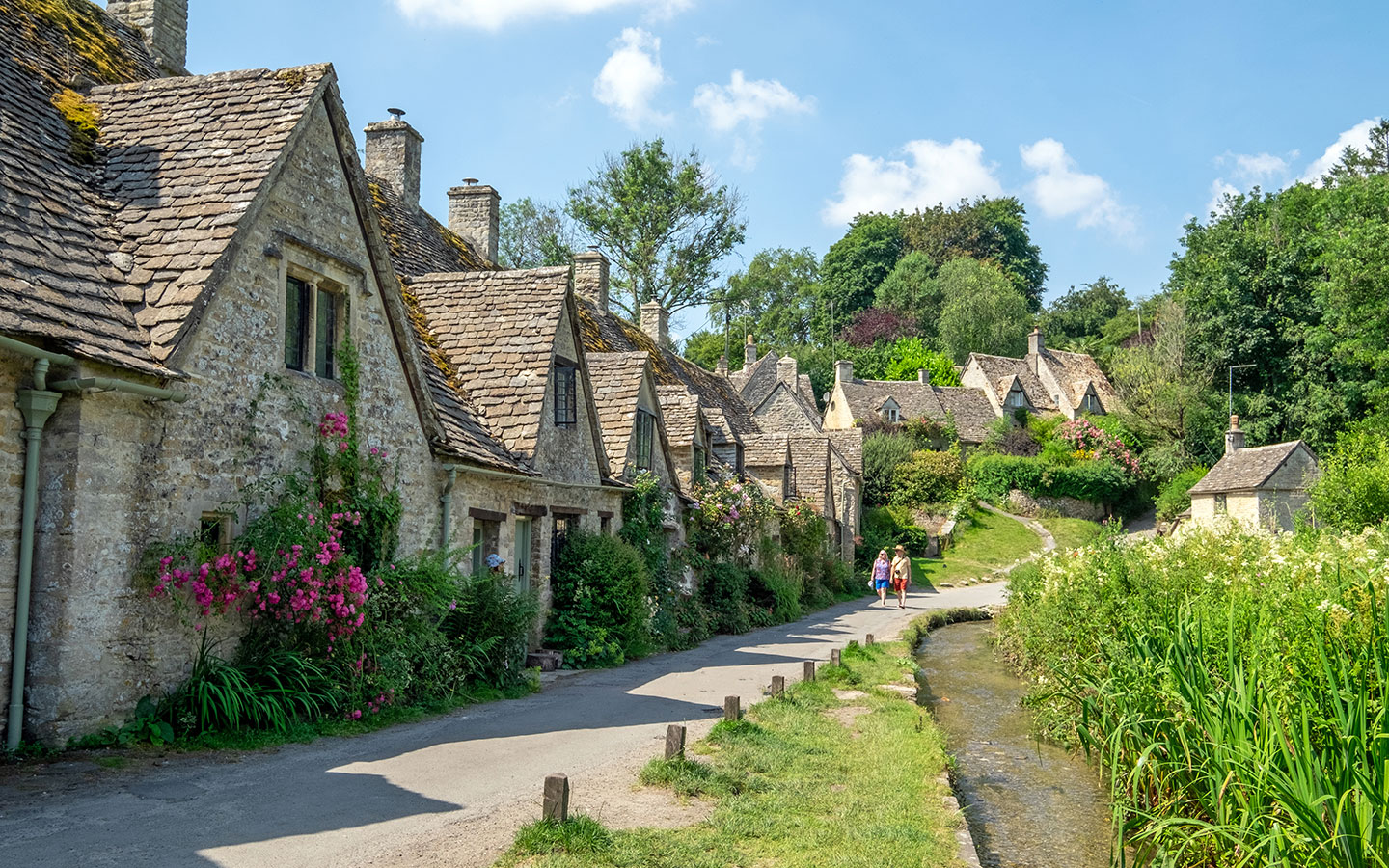 Bibury's history
Bibury has a history dating back to the Iron Age, with the remains of a hill fort and Roman villa discovered near the village. In the 8th century the estates in the village were given to Earl Leppas and his daughter, who was named Beaga. It was known back then as 'Beagan-byring', and by the time of the Domesday Book of 1086 it had become 'Becheberie', before evolving to Bibury.
The land around Bibury was owned by nearby abbeys – firstly St Mary's Priory in Worcester and then ownership passed to Osney Abbey in Oxford in 1130. The historic cottages on Arlington Row were built in 1380 and were first used as wool stores by monks from the abbey.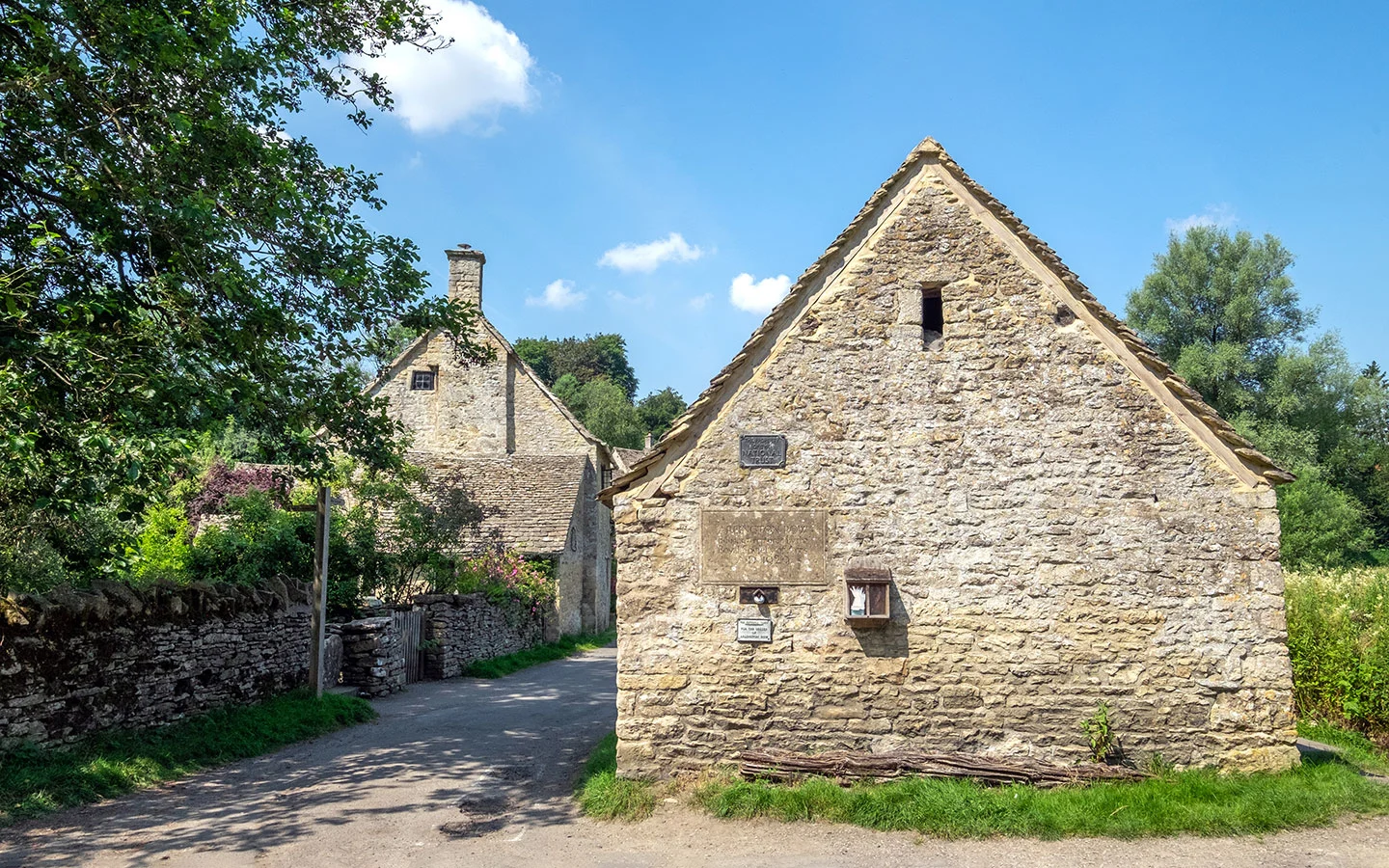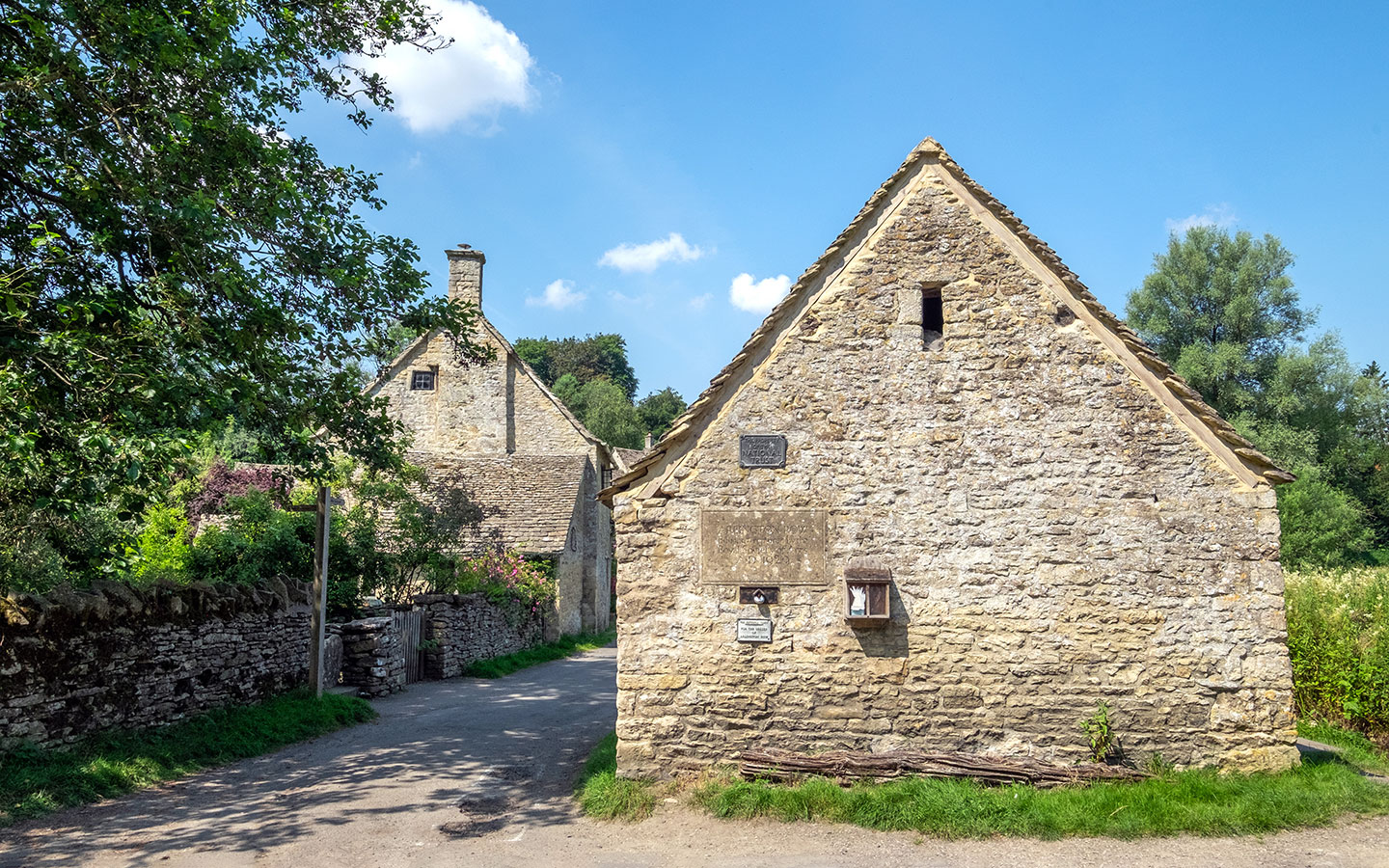 There were originally two villages named Bibury and Arlington, separated by the River Coln, but they're now simply known as Bibury.
The River Coln's reputation as a trout stream brought renown – and visitors – to the area. Bibury became a famous beauty spot, enthralling not only William Morris but also the poet and satirist Alexander Pope, who described it as having a 'pleasing prospect' in 1726.
Tourism grew up around the village, which had two tea rooms and a boarding house by 1939. It's grown a bit more since then and now sees thousands of visitors a year, and is particularly popular with Japanese visitors after Emperor Hirohito stayed in Bibury on his 1921 European tour.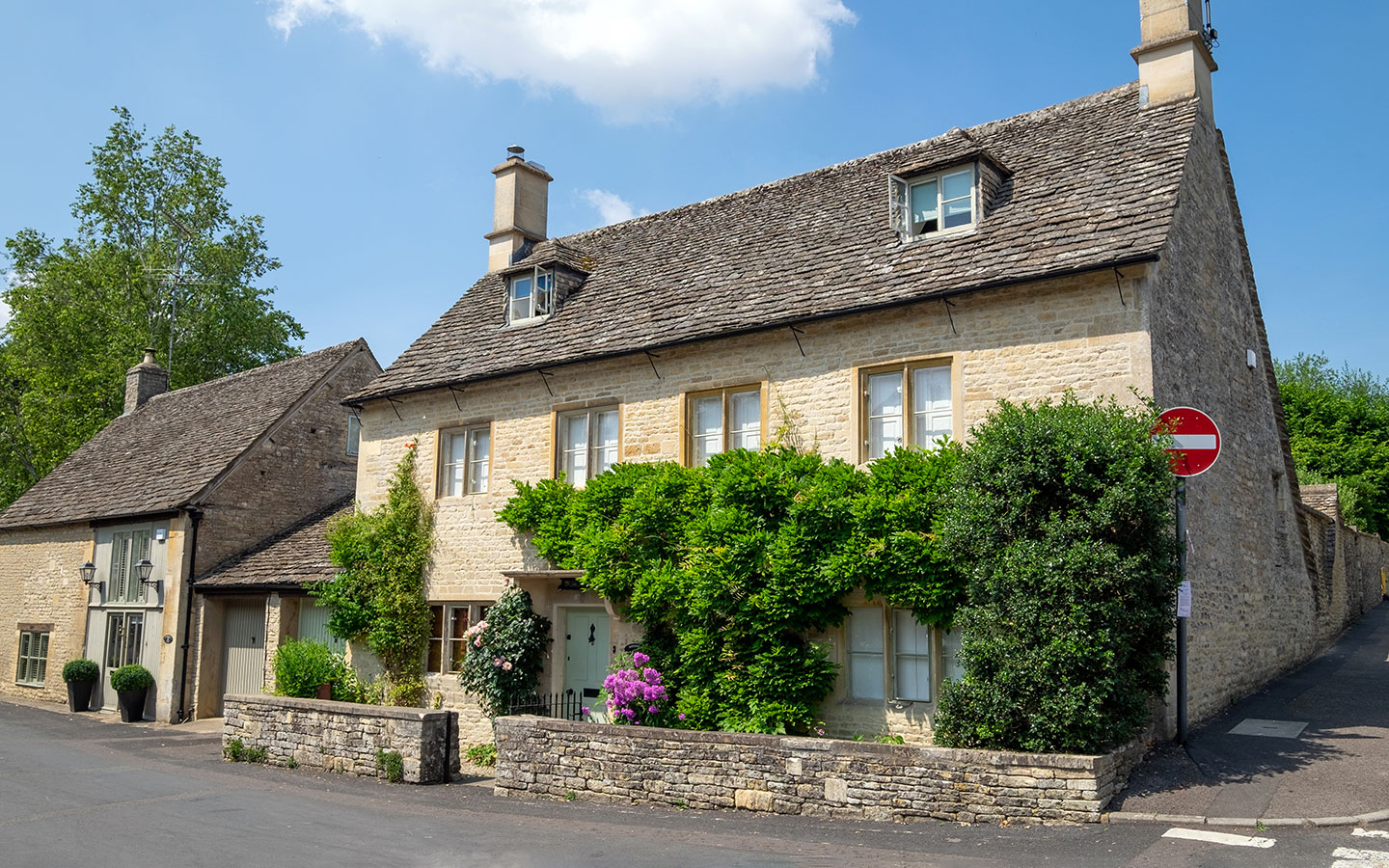 Map of Bibury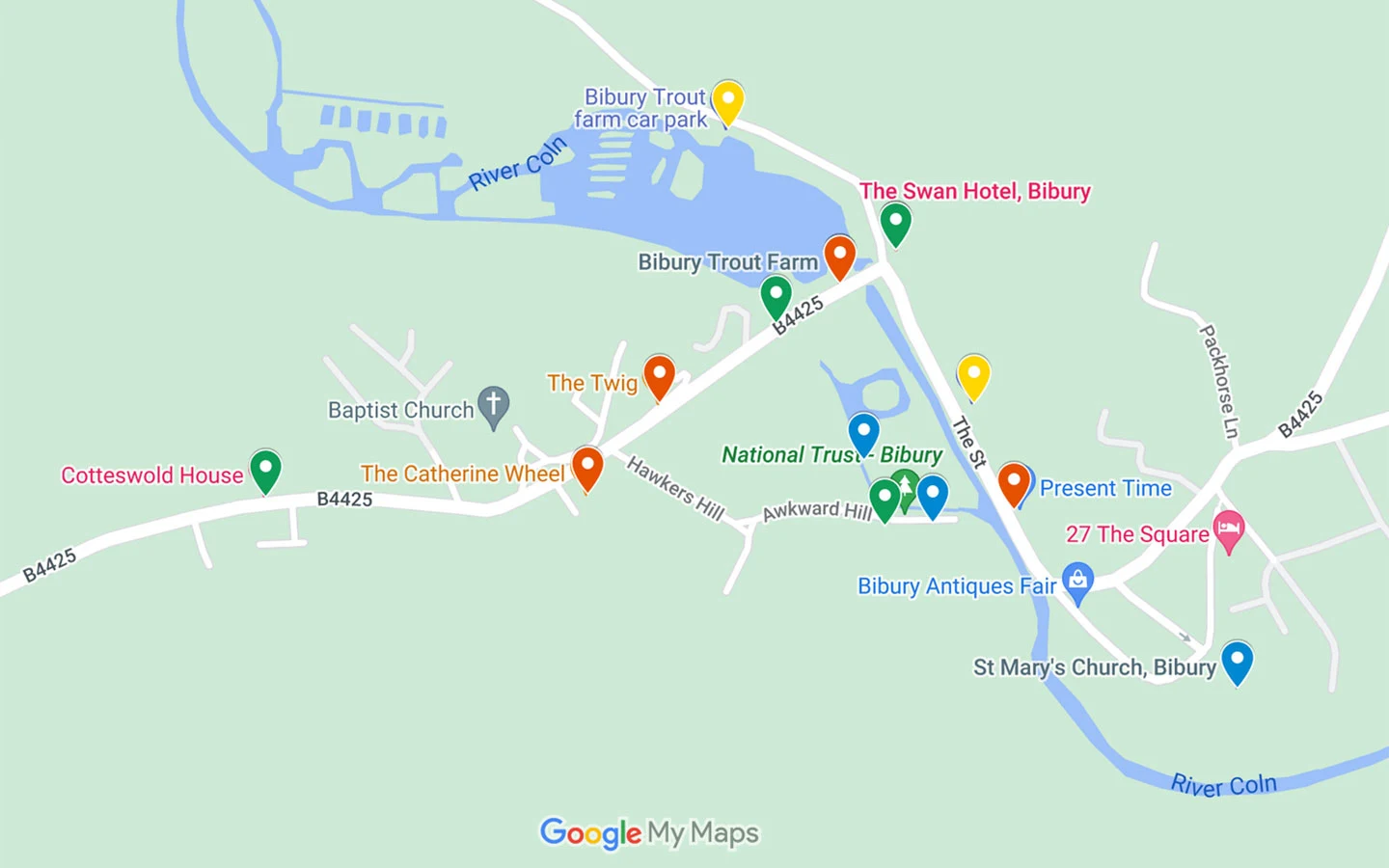 Things to do in Bibury
Arlington Row
One of the most photographed streets in England – it even featured on the inside cover of British passports – Arlington Row was originally built as a monastic wool store. It was converted into weavers' cottages in the 17th century, with the cloth produced sent to nearby Arlington Mill.
This row of stone cottages draped with flowers lies on a gentle hill alongside a stream. Today it's owned by the National Trust and the cottages are leased to private tenants – though one is available as a holiday let (see below). Admiring the views from all angles is one of the top things to do in Bibury, but if you want it all to yourself you'll have to get there early or off-season.
Arlington Row was also a filming location for 2007 movie Stardust, starring Michelle Pfeiffer and Robert de Niro. Although the village of 'Wall' in the film was mainly filmed 30 miles away in Castle Combe, Arlington Row features as the home of Sienna Miller's character, Victoria.
Rack Isle water meadows
Arlington Row overlooks the Rack Isle water meadows, which get their name from the days when wool was hung out to dry on racks after being washed by the monks on Arlington Row. It's now a wildfowl reserve and a refuge for wildlife like kingfishers, dragonflies and water voles.
Although the water meadows are a protected area, there is a pathway along the edge which connects Arlington Row to the centre of Bibury. Along the way you can see colourful flowers like the pink ragged robin and yellow flag iris. You might also see Belted Galloway cattle at the end of summer too, who help with conservation by grazing the land so wildflowers can grow.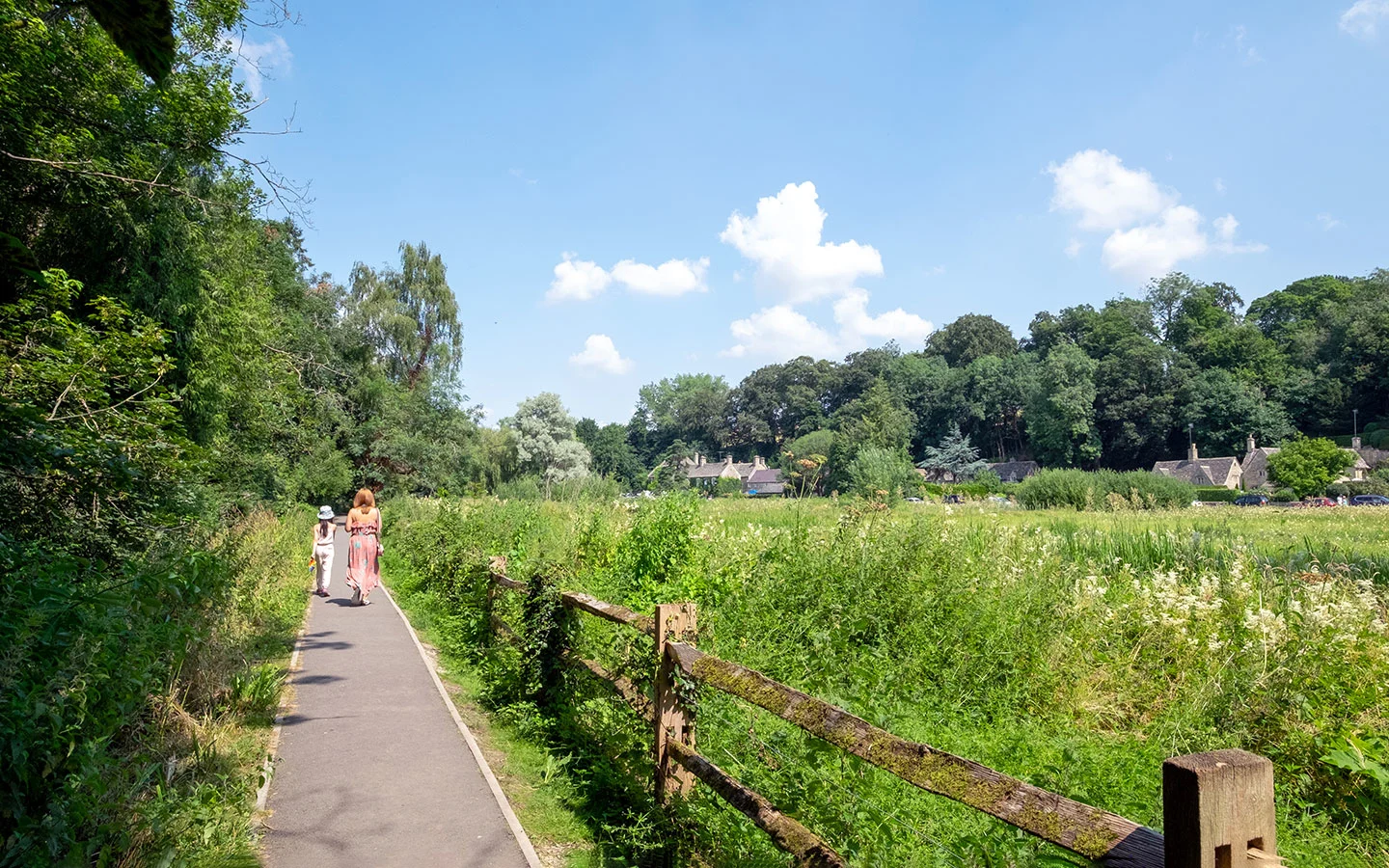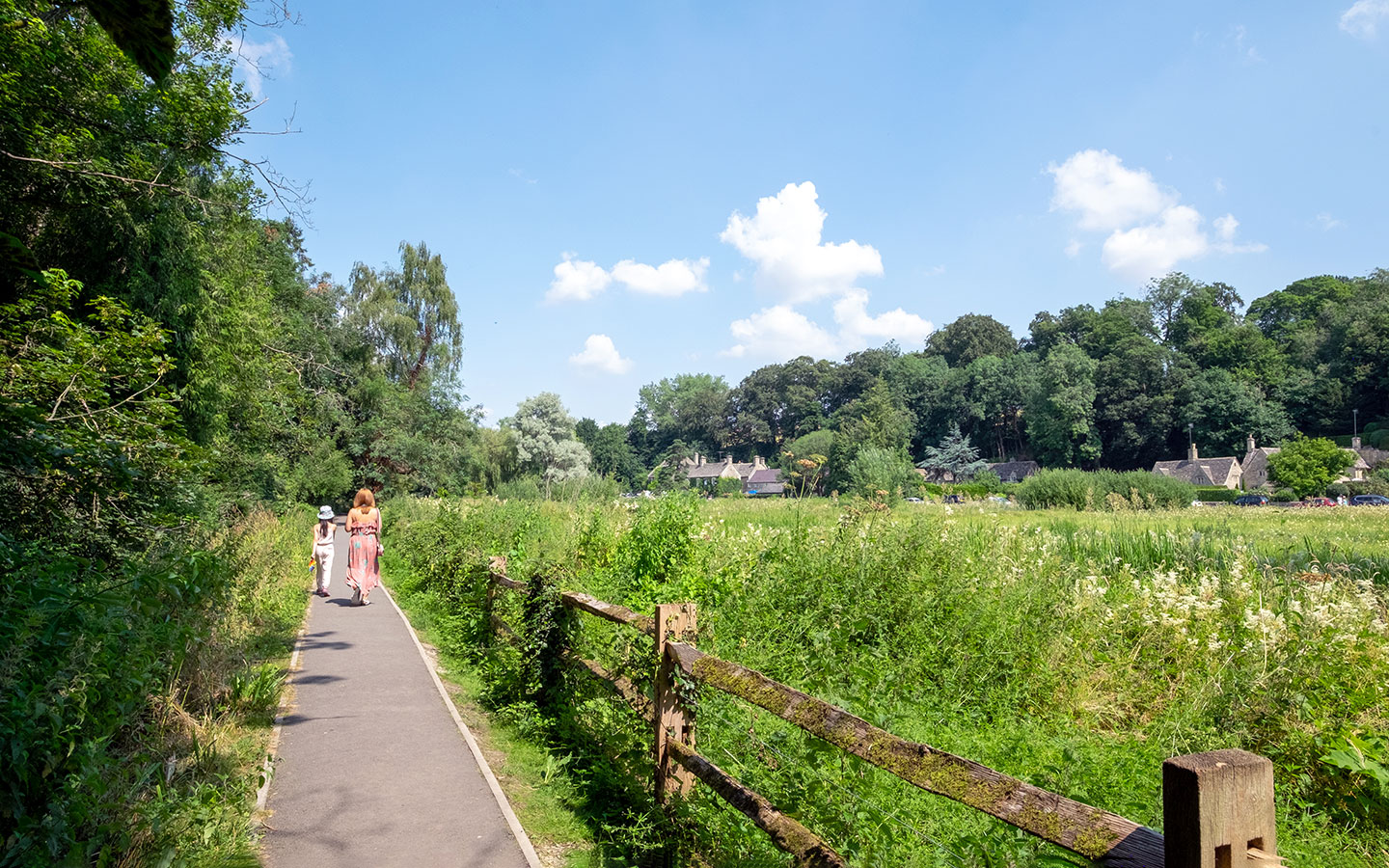 The Trout Farm
Founded in 1902, Bibury Trout Farm is the oldest working trout farm in England, in beautiful surroundings which are home to ducks, swans, kingfishers, geese, herons and otters.
It's a working farm with its own hatchery fed by the Bibury Spring, which stays at a constant 10°C all year. Up to 10 million rainbow trout are spawned on the farm each year. There's also a smokery which uses a traditional combination of salt and hardwood chips to smoke their fish.
The Trout Farm is also open to visitors (entry £7.50 adults, £6.75 seniors, £5 under 15s), where you can watch the fish being fed and try your hand at fishing. All equipment is supplied and you're given a quick lesson, then can BBQ any trout you catch (charged at £10.50 per kilo). Or if you don't fancy catching your own, there's also a café and shop where you can buy their trout.
St Mary's Church
St Mary's Church is tucked away in a quiet location just outside the village centre. The church dates back to the late 11th century and was built of local golden limestone with a slate roof. You can see a Saxon stone slab incorporated into the North Wall as well as some Saxon gravestones.
St Mary's was extended and adapted over the years, and you can see traces of its different periods of history in the intricate carved Norman doorway, medieval stained glass and unusual 13th-century square font. There's also a pretty garden of fruit and rose trees in the grounds outside.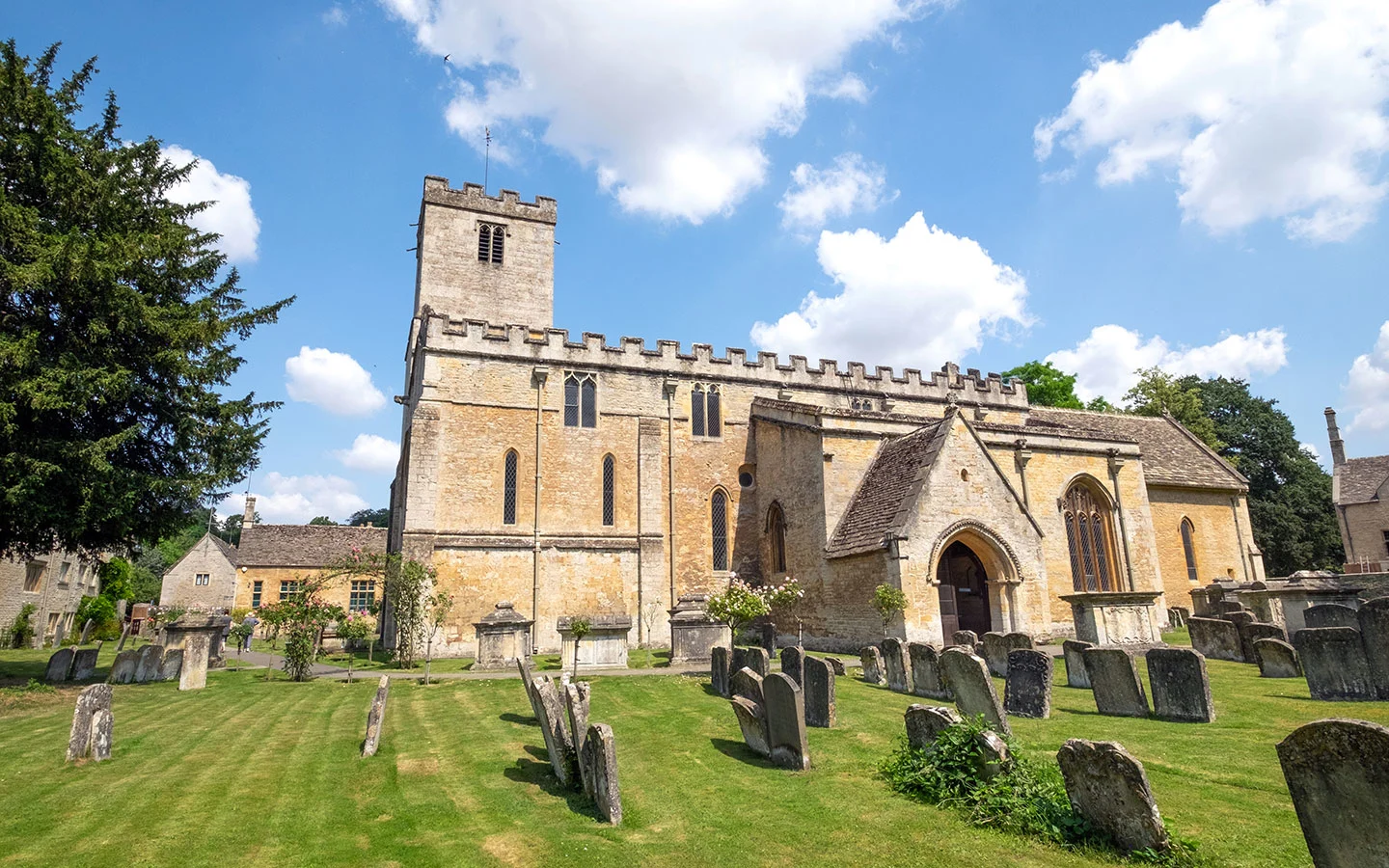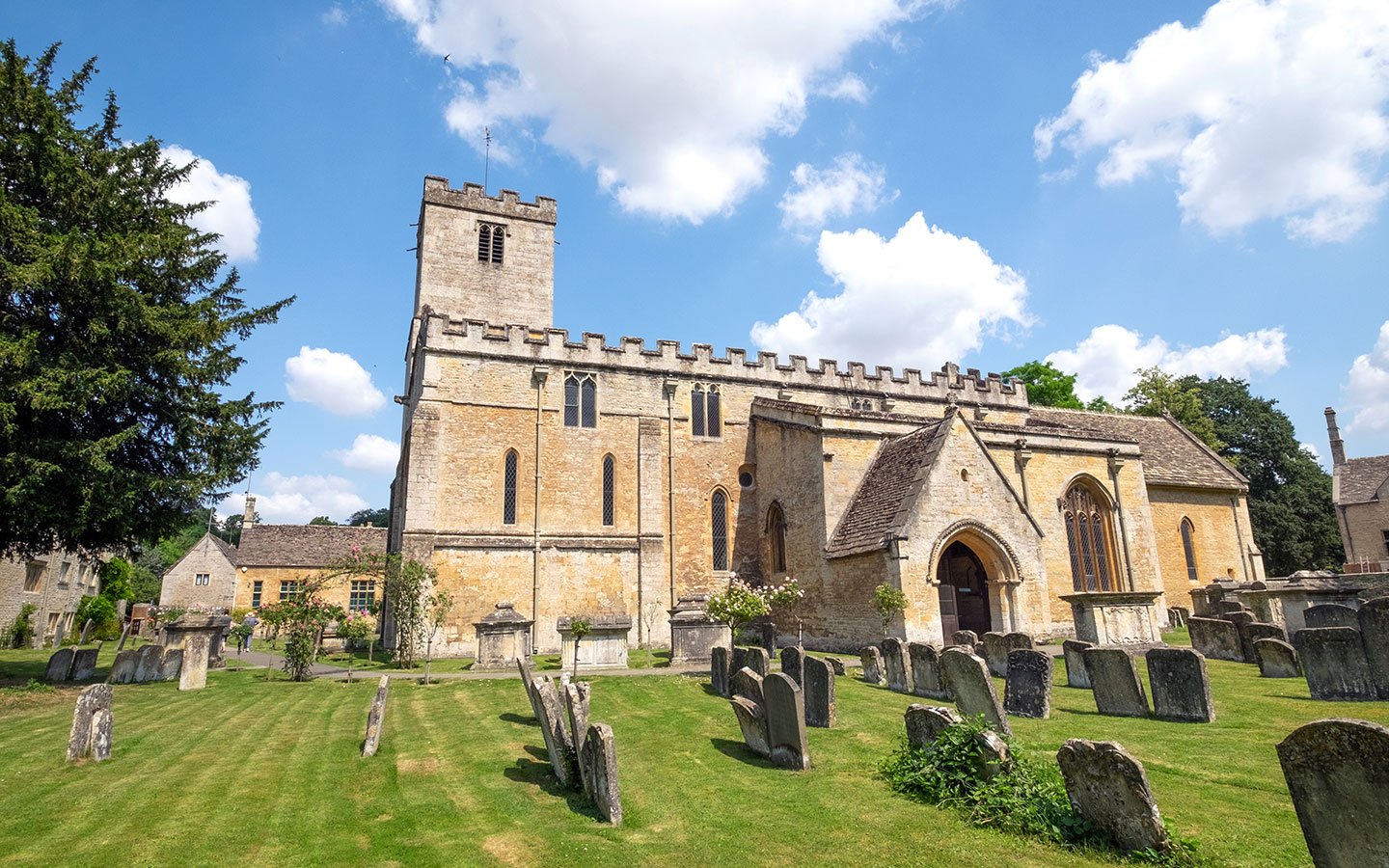 Walks from Bibury
Escape the crowds in Bibury by heading out into the surrounding countryside on a Cotswold walk. One of the most popular routes is the 6.7-mile circular walk from the small village of Coln St Aldwyns to Bibury and back. It takes you across high fields with stunning countryside views on the way to Bibury then runs through the Coln River Valley on its way back to Coln St Aldwyns.
The walk takes around 3 hours – and has the bonus of avoiding parking issues in Bibury by getting there on foot. Or there's also a shorter 4-mile circular loop through Bibury Court Estate.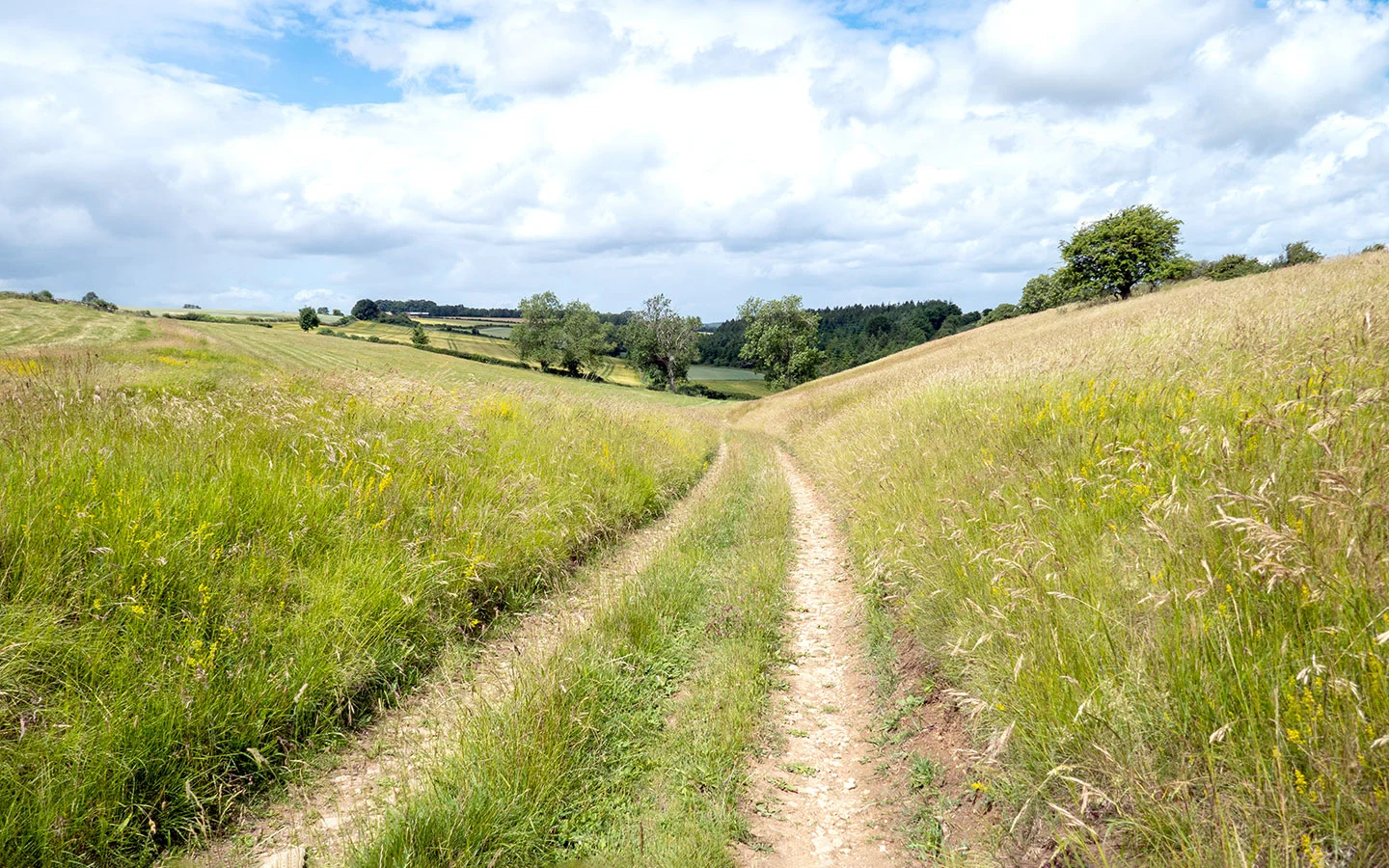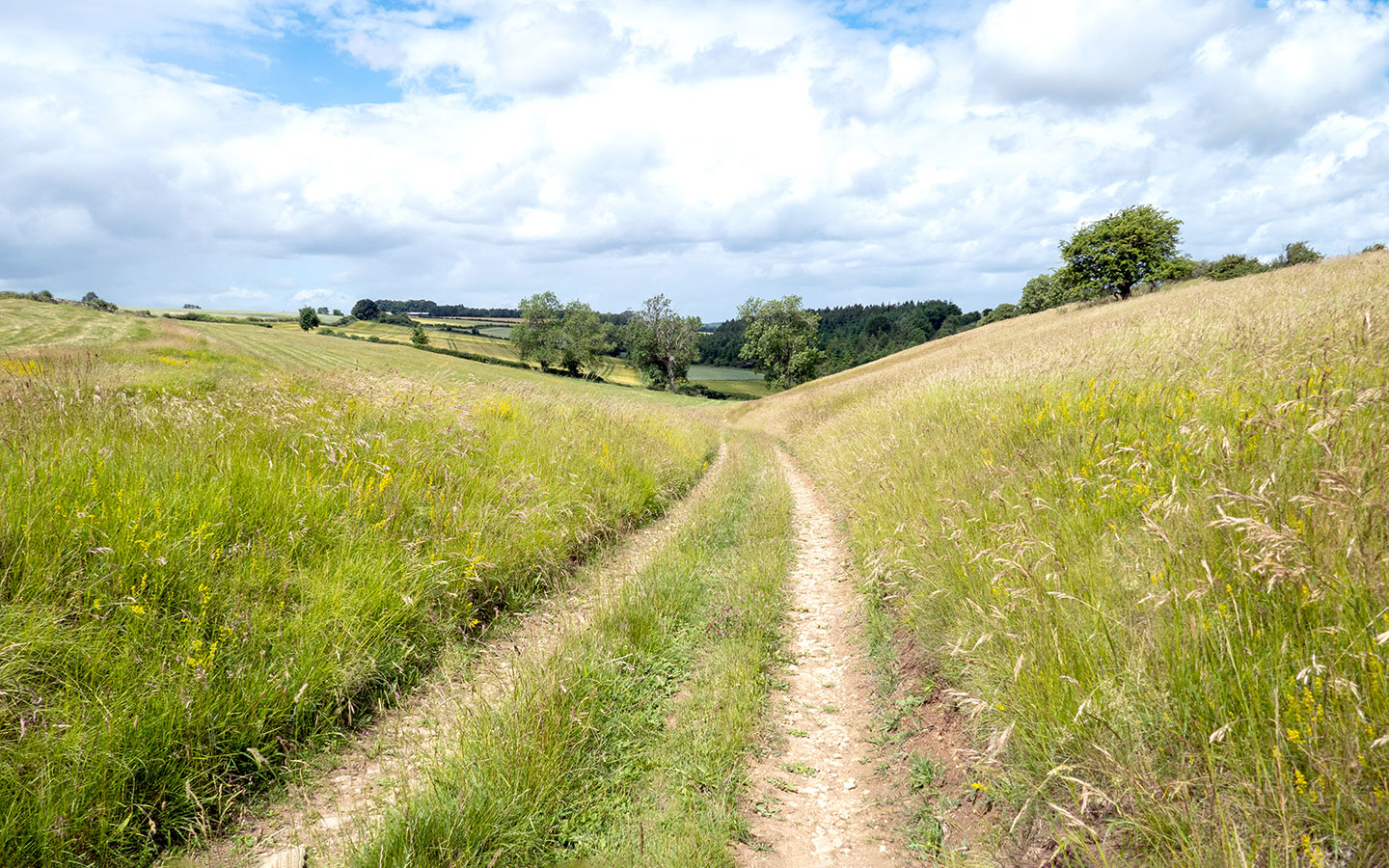 Things to do near Bibury
The remains of a Roman villa were unearthed outside Bibury in the 19th century, but it's on private land. If you want to find out more about the Romans in the Cotswolds, it's only 8.5 miles from Bibury to the National Trust's Chedworth Roman Villa, one of the largest Roman villas in Britain which dates back to the 4th century and has impressive mosaics, bathhouses and shrines.
Also within easy reach of Bibury is Cirencester (7.5 miles) with more Roman artefacts at the Corinium Museum as well as shops, restaurants and cafés. Or there's Cerney House Gardens (7.8 miles), a romantic Victorian walled garden, and the village of Barnsley (3.3 miles), which is home to the luxurious Barnsley House spa hotel with gardens designed by Rosemary Verey.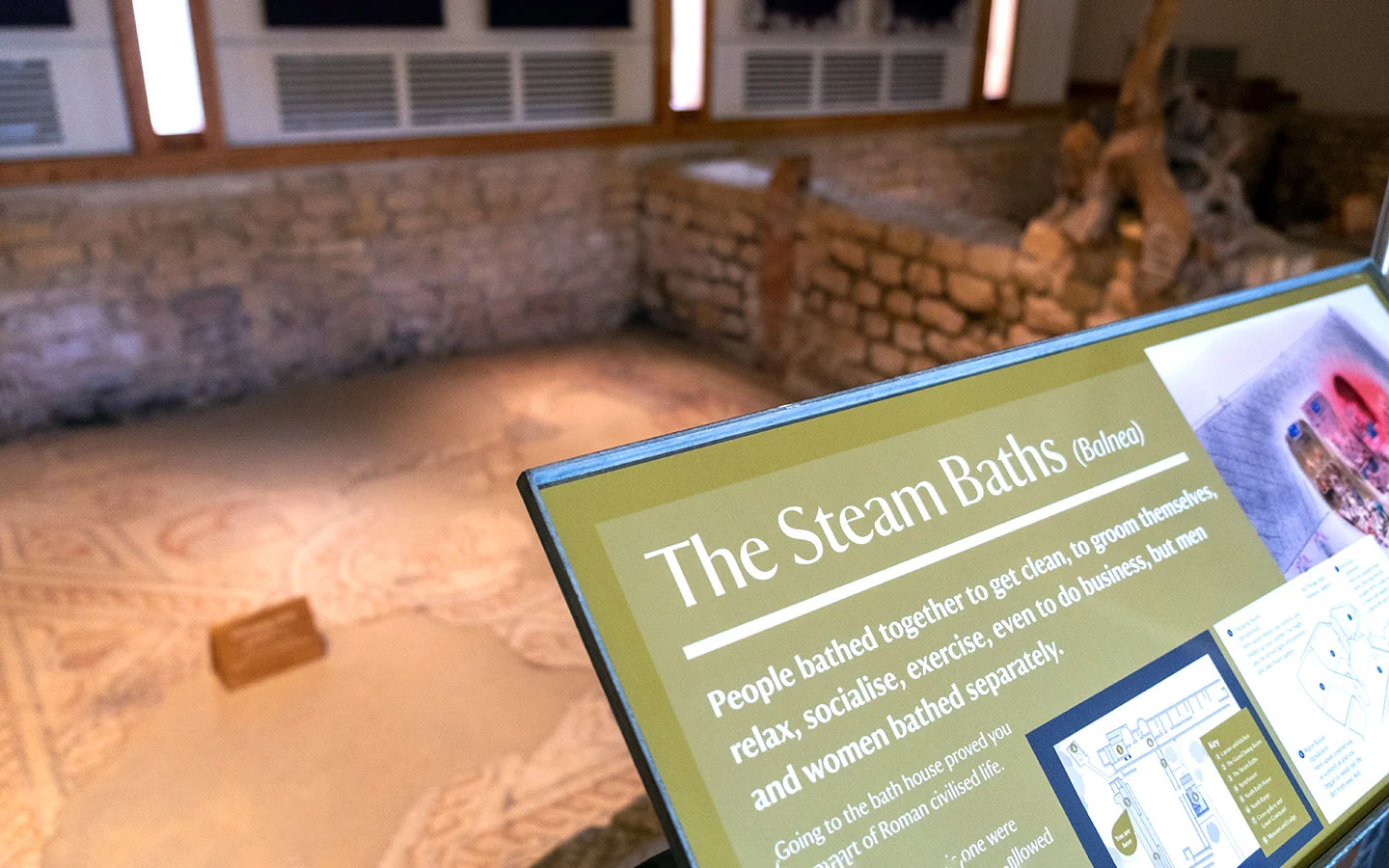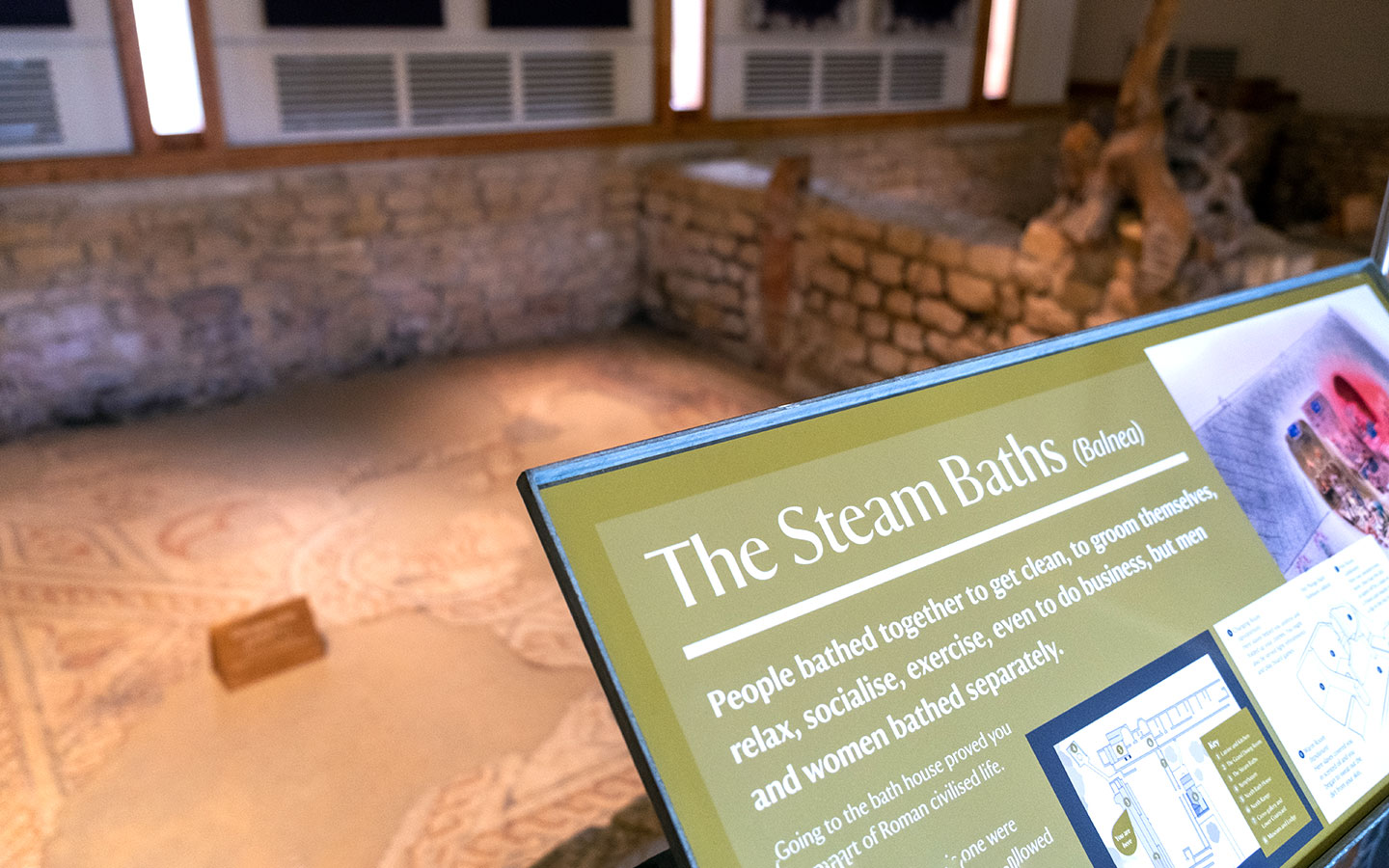 Places to eat & drink in Bibury
Cafés and delis
The café at the Trout Farm is open 10am–4pm (3pm in winter) even if you're not visiting the farm. They serve dishes made with their trout – like a smoked trout quiche or Asian trout salad – as well as light bites like sandwiches and paninis, sausage rolls, homemade cakes and ice creams.
The Twig is a new deli and café, run by the same team as the nearby Stump and New Inn Cotswold pubs. They focus on high-quality coffee as well as snacks and sandwiches, including sourdough toasties and filled foccacia. Or you can buy local produce from their deli counter for a picnic.
You can also pick up drinks, ice creams, cakes and snacks like hot sausage rolls as well as souvenirs at the Bibury Post Office, which is just across the road from Arlington Row.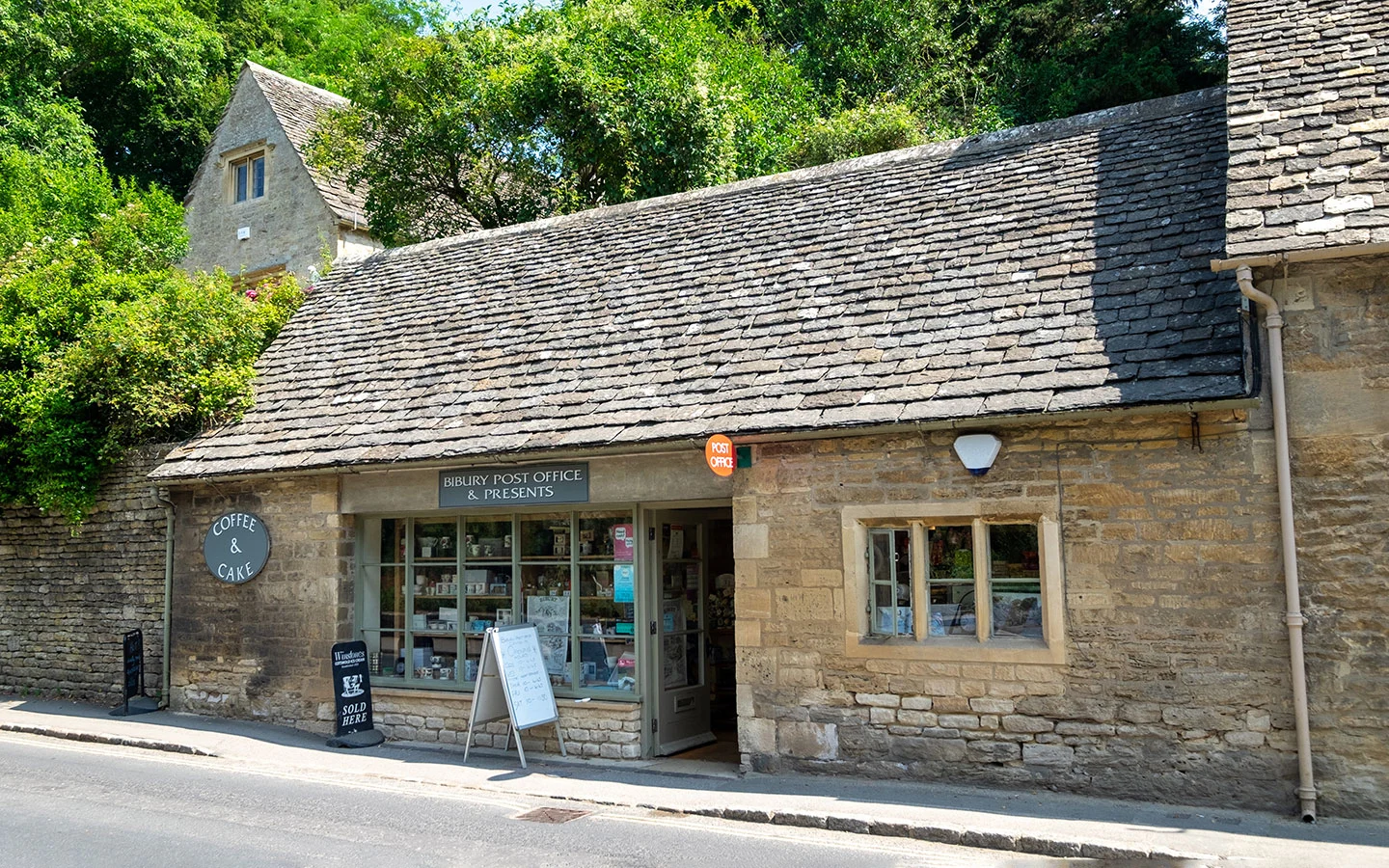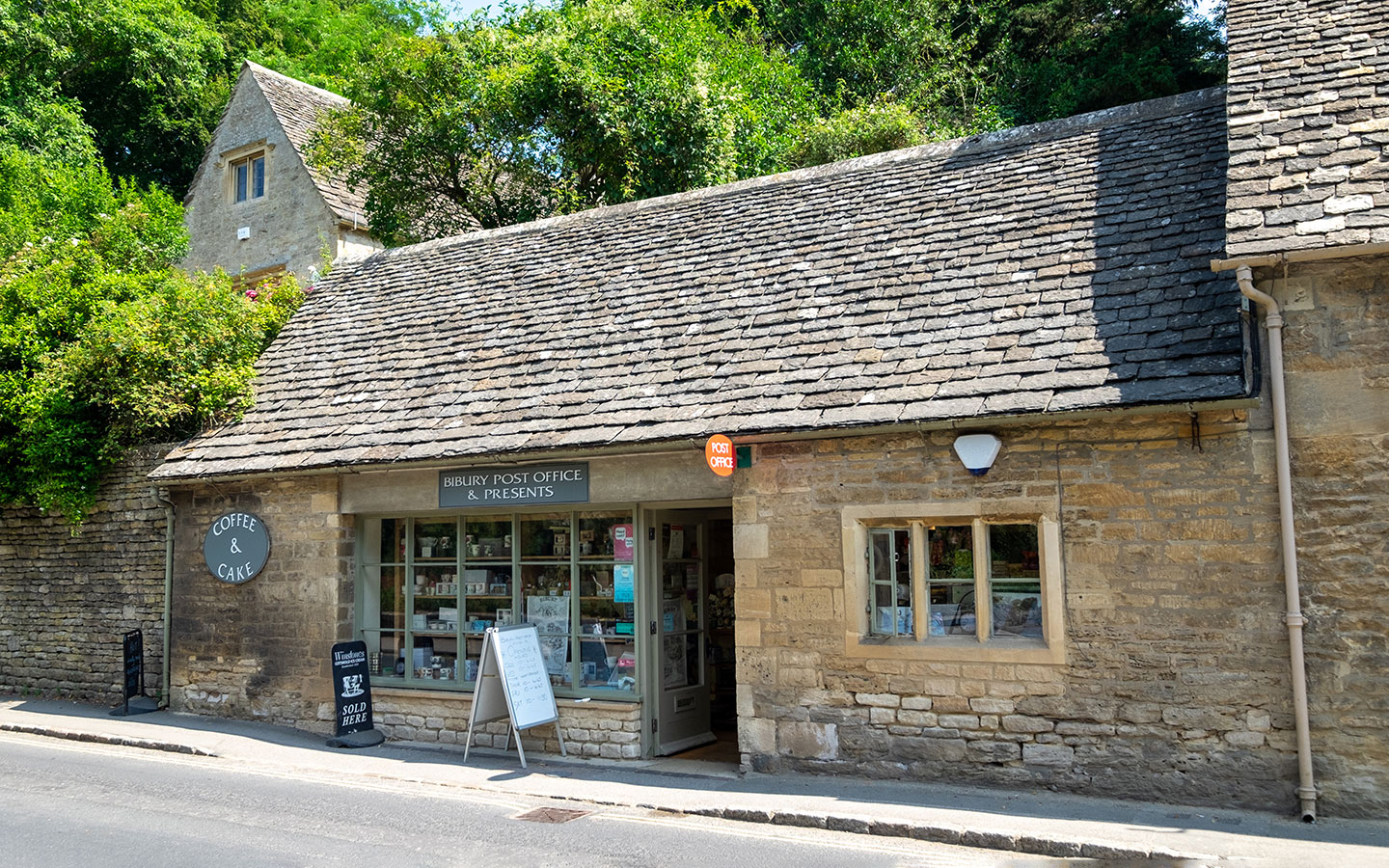 Pubs and restaurants
The Catherine Wheel is a family-run 15th-century pub in the centre of Bibury with a separate bar and restaurant area. They serve tasty traditional dishes using locally sourced ingredients for lunch and dinner – from fish and chips and sausage and mash to pizza and a full Sunday roast. And there's a gorgeous garden to enjoy on a sunny day and a cosy fire in winter.
For something more upmarket, the Swan Brasserie use British ingredients in dishes with a European twist, like Devonshire crab lasagne or Isle of Wight pea risotto. They also do a decadent afternoon tea or you can get drinks and bar snacks in the Swan Bar. The ivy-clad hotel is beautifully decorated, and the terrace is a lovely place to sit and watch the River Coln flowing by.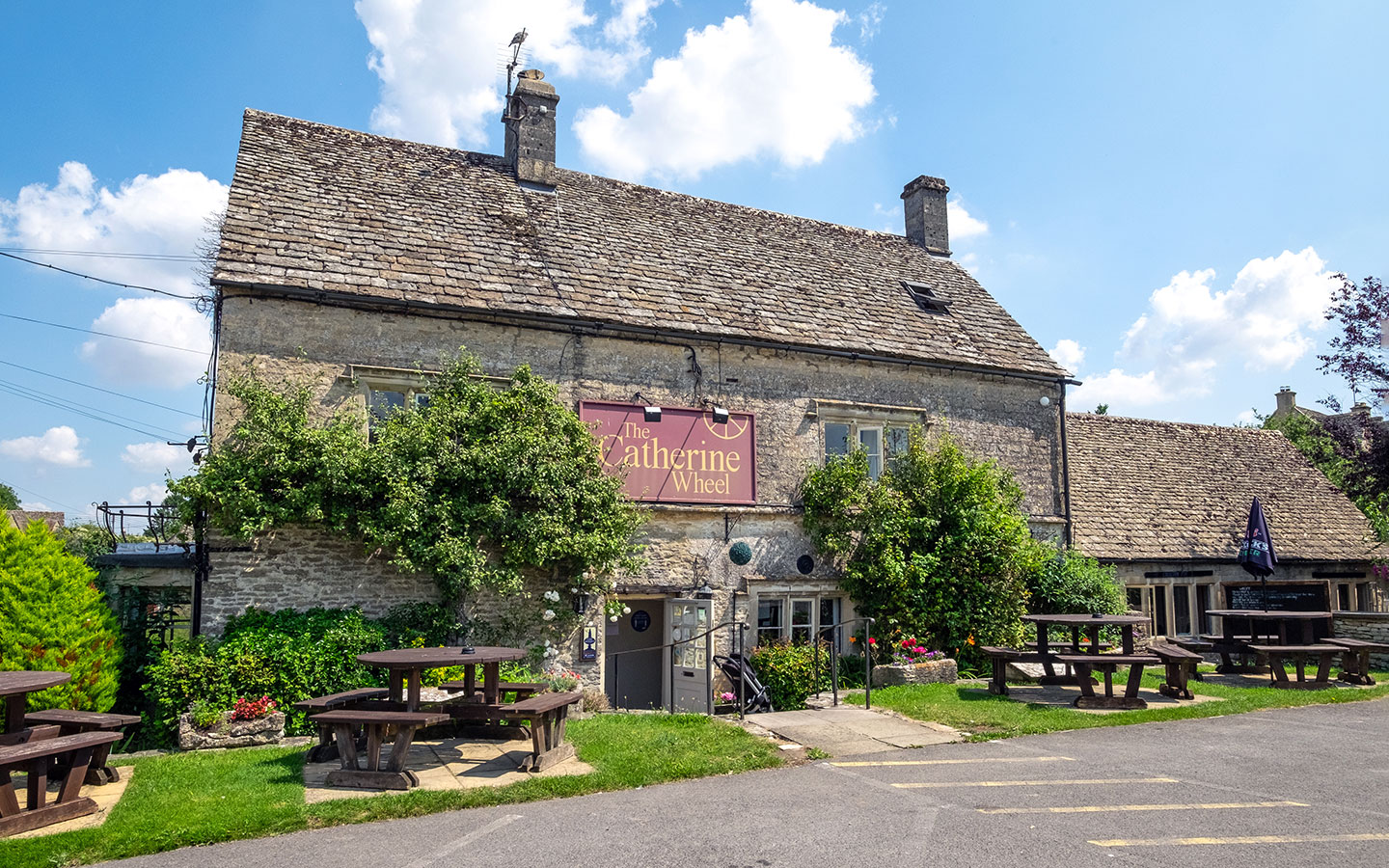 Where to stay in Bibury
Bibury's only hotel is the four-star Swan Hotel*, a riverside coaching inn oozing classic Cotswolds charm. There are 22 en-suite rooms – 18 in the main hotel and four dog-friendly garden cottage suites in the hotel grounds. Each room is individually designed with a mix of antique furnishings and contemporary fabrics, and some come with four-poster beds or a private hot tub.
Cotteswold House is a smart stone building on the quieter outskirts of the village which combines bed and breakfast and self-catering accommodation. There are three en-suite rooms in the B&B as well as a cosy guest lounge. Or the Courtyard and Gable self-catering cottages each have two bedrooms. All are beautifully decorated and come with a warm welcome from the friendly owners.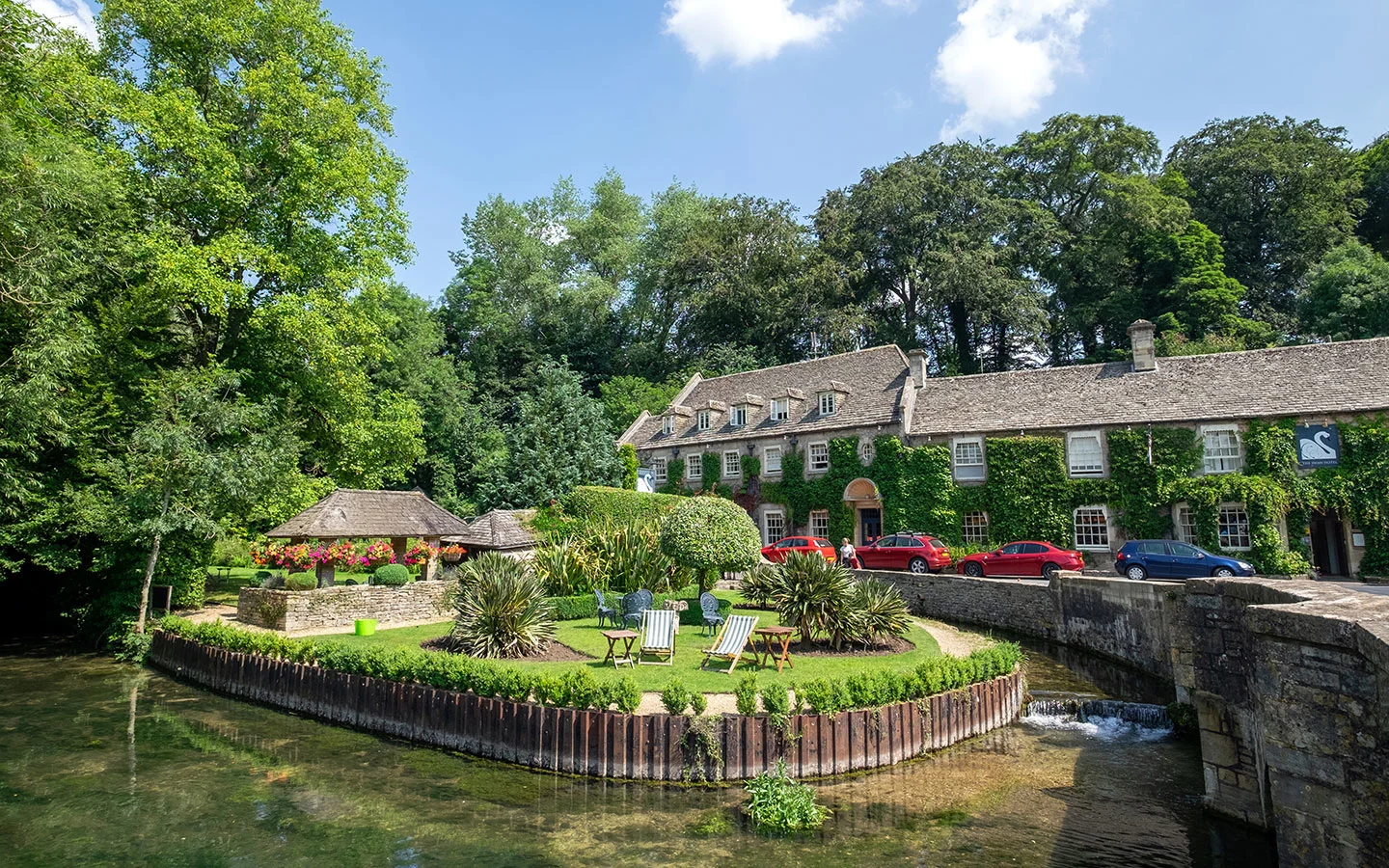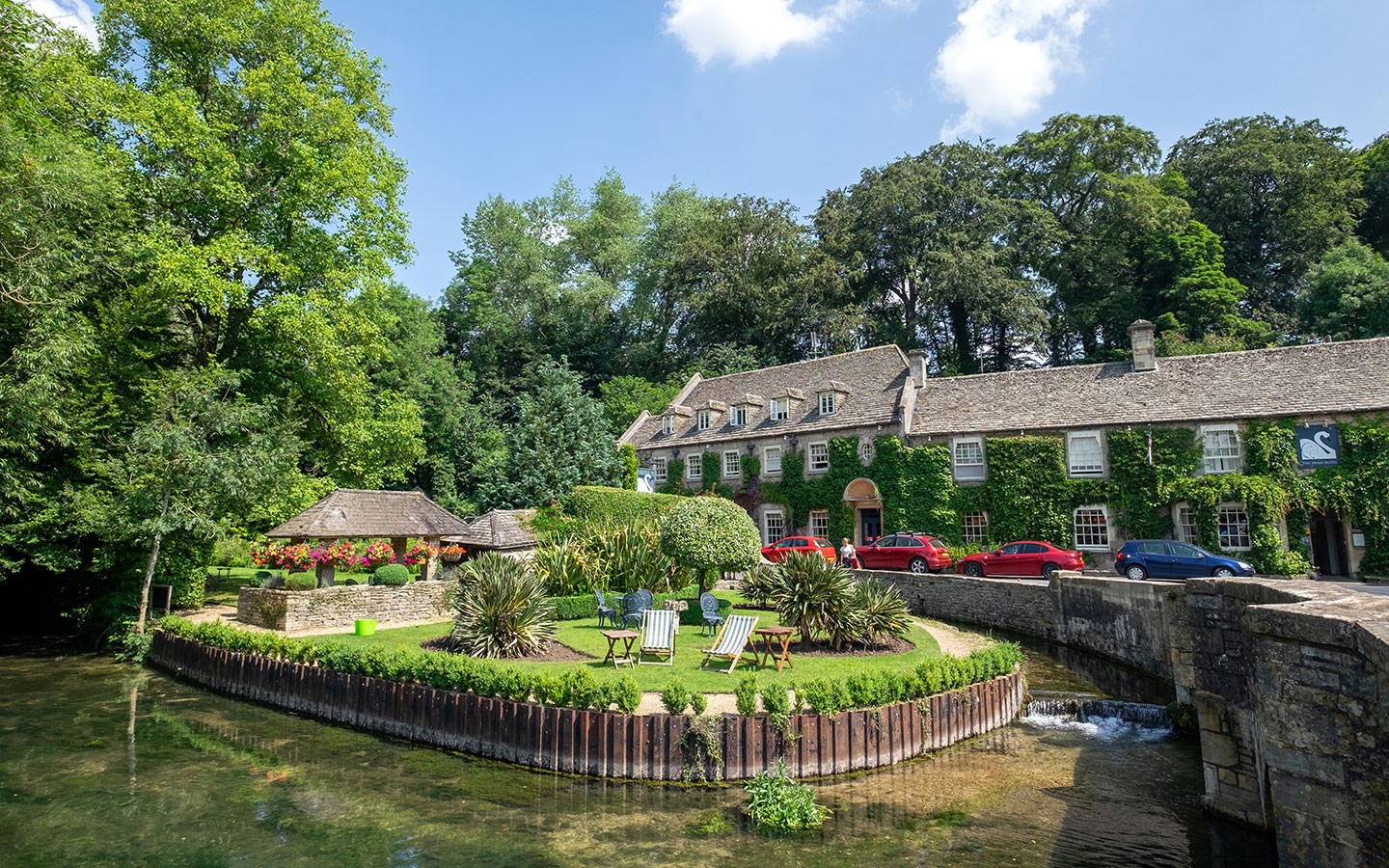 Historically a working mill which was mentioned in the Doomsday Book, Arlington Mill* has been converted into self-catering holiday accommodation for up to 12 guests. The mill's original wheels and machinery add character, and it's been stylishly converted with two large living rooms, one with woodburner and piano, and five comfortable en-suite bedrooms set across four floors.
Or if you want to stay at Bibury's most iconic address, you can rent number 9 Arlington Row through the National Trust. This cottage is bursting with historic features and comes with two bedrooms (one double and one single), a shower room, kitchen and sitting/dining room which has a wood-burning stove. There's also a private garden to hide from the crowds.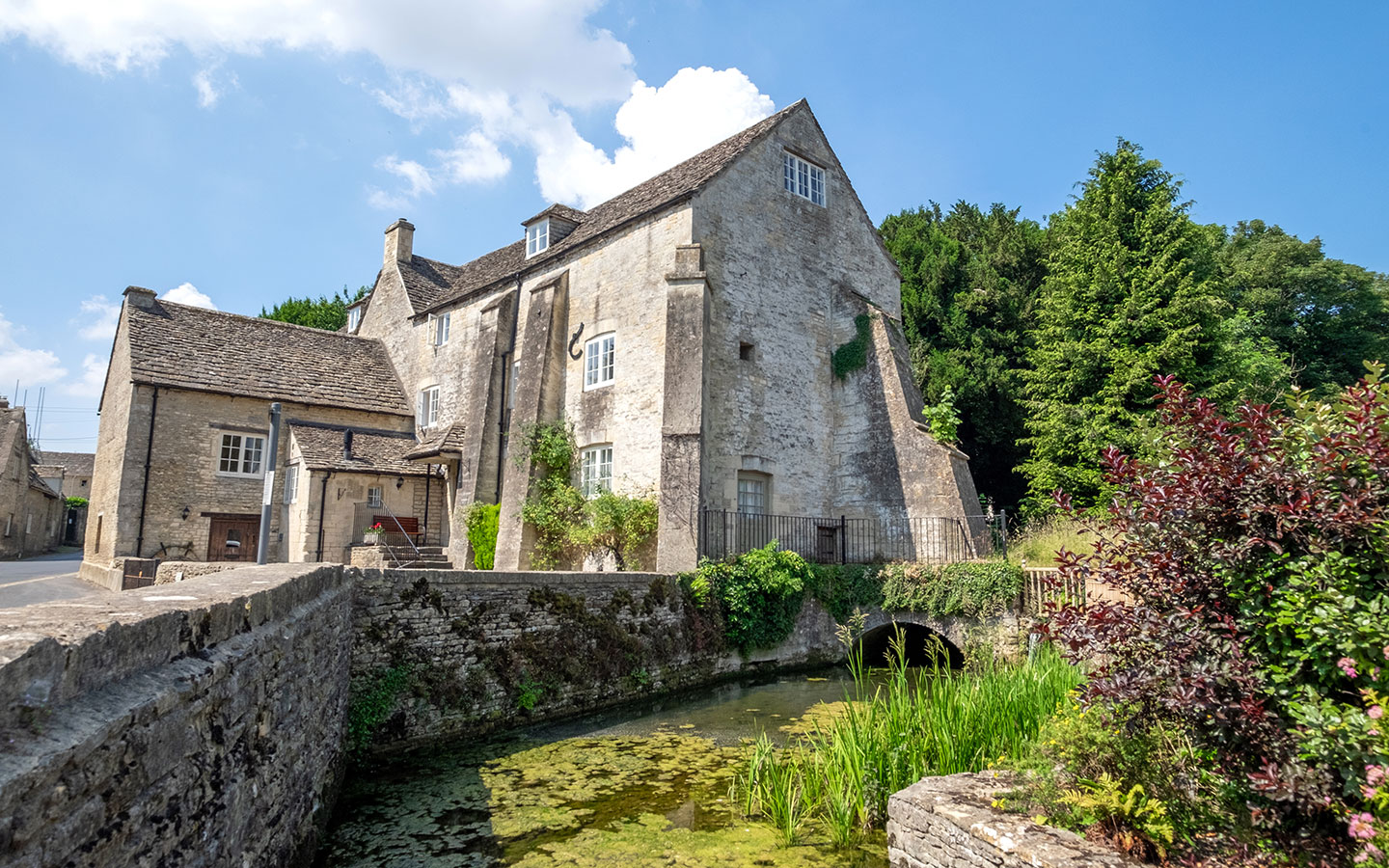 How to get to Bibury
By car
Bibury is located on the B4425 between Aldsworth and Barnsley, around 7.5 miles/15 minutes' drive northeast of Cirencester. Parking in Bibury is limited, so you may have to wait for a space in the summer and at weekends. There's free off-road parking on The Street, and a small chargeable car park opposite the Trout Farm (GL7 5NF), which is free for Trout Farm visitors.
By public transport
The Stagecoach 855 bus connects Bibury to Cirencester, Northleach and Bourton-on-the-Water (except on Sundays). The nearest train station is in Kemble. There is no direct bus from Kemble to Bibury, but you can take the 882 service to Cirencester and change there for the 855. Or it's around 25 minutes from Kemble to Bibury by taxi, though you will need to book one in advance.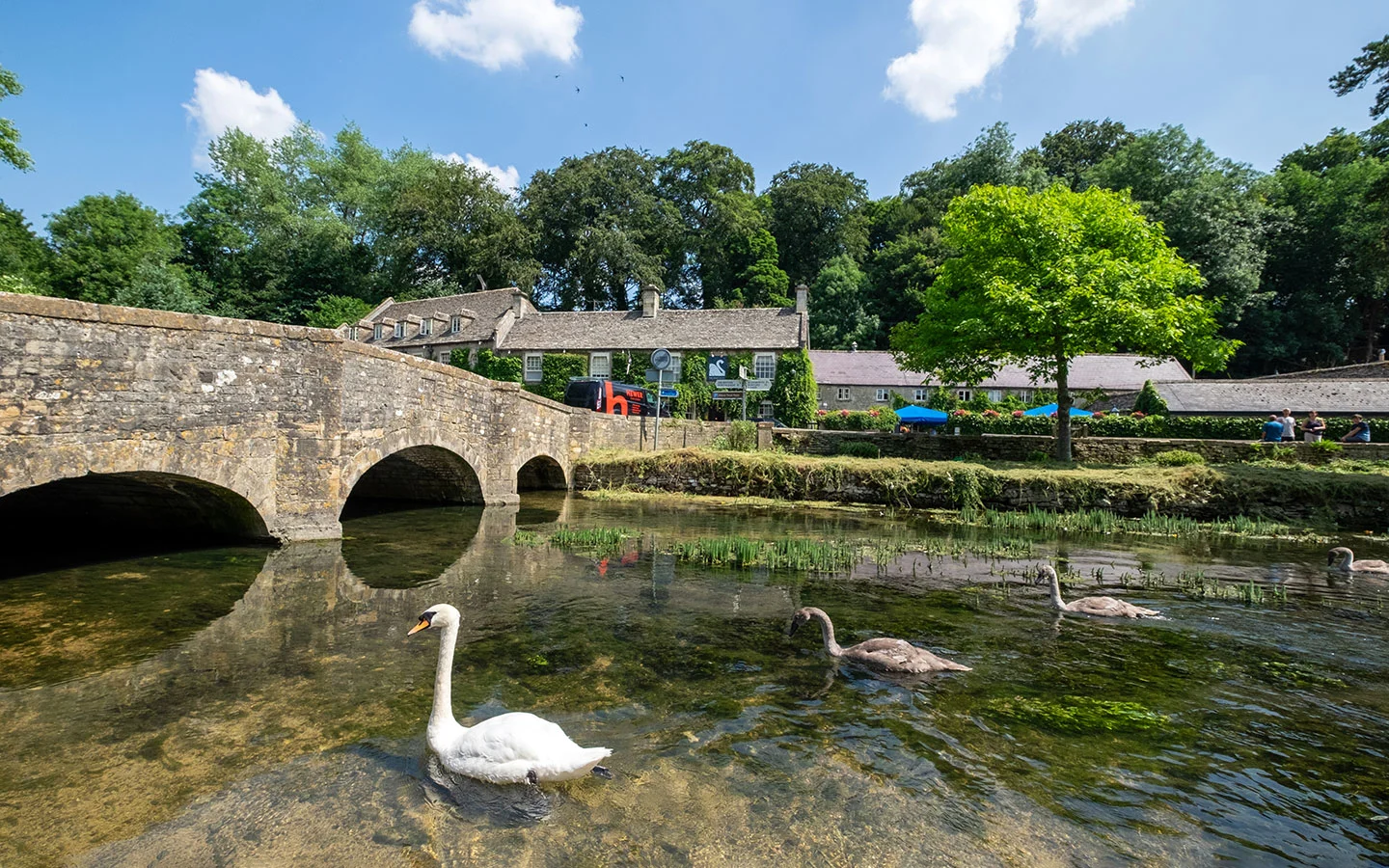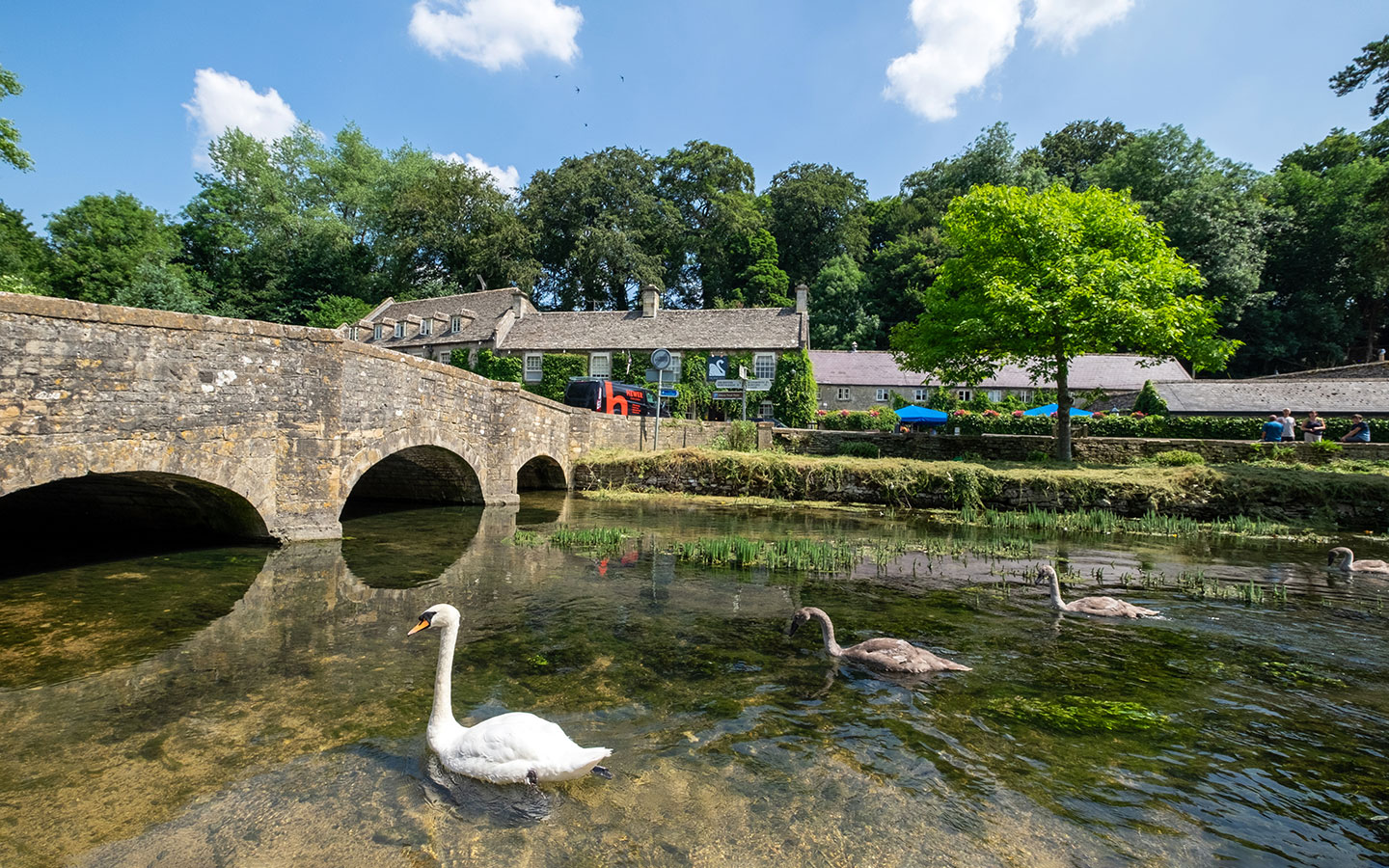 Save for later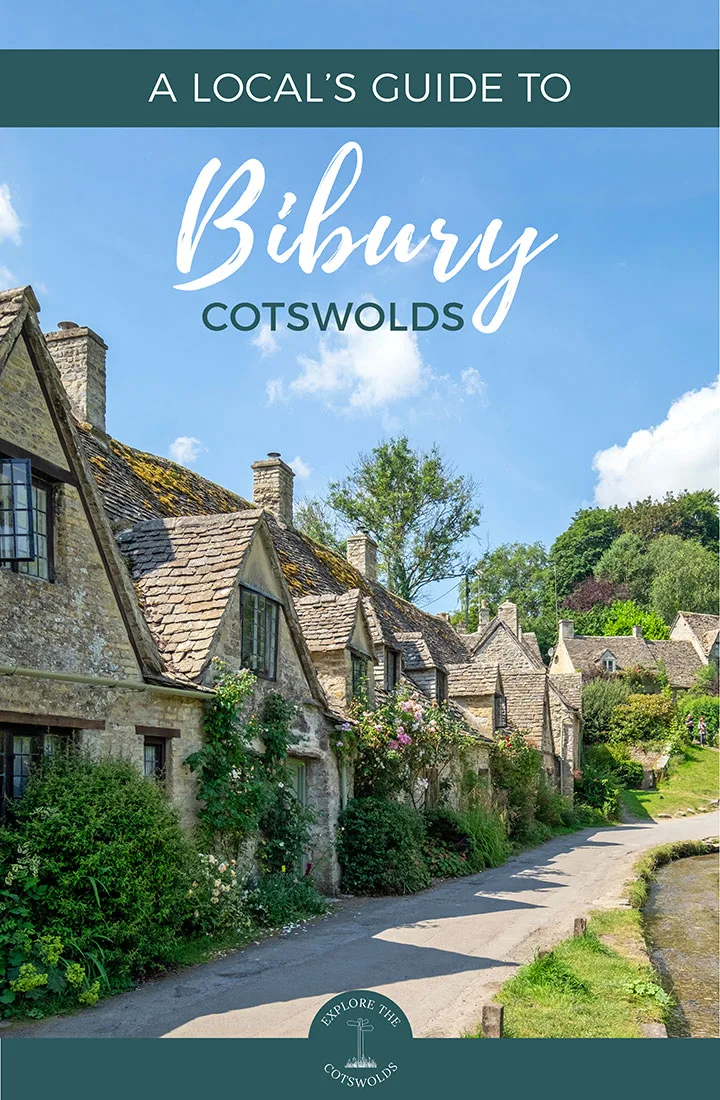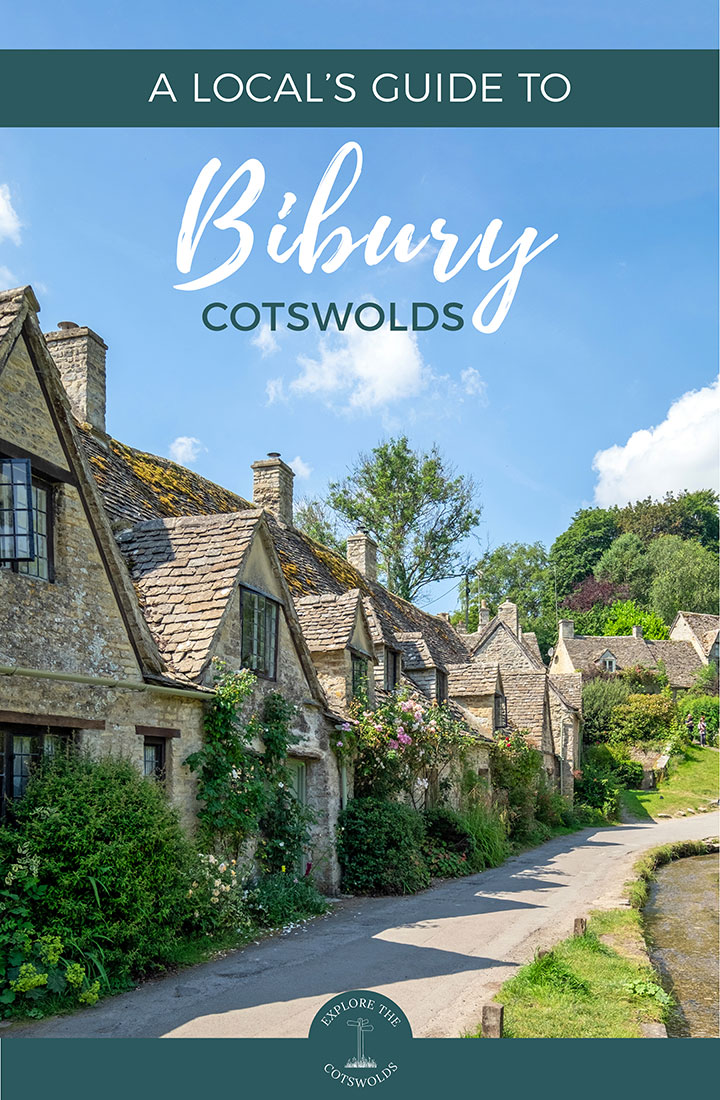 * This site contains affiliate links, where I get a small commission from purchases at no extra cost to you.