Often rated the 'prettiest village in England', Castle Combe lies in the south of the Cotswolds. With a picturesque setting in a wooded valley, the Bybrook flowing by, a distinctive Market Cross and buildings which haven't changed since the 15th century, it ticks all the boxes of the perfect English village and is a favourite with visitors – and film-makers. Our local expert Michelle shares her tips on the best things to do in Castle Combe as well as where to eat, drink and stay.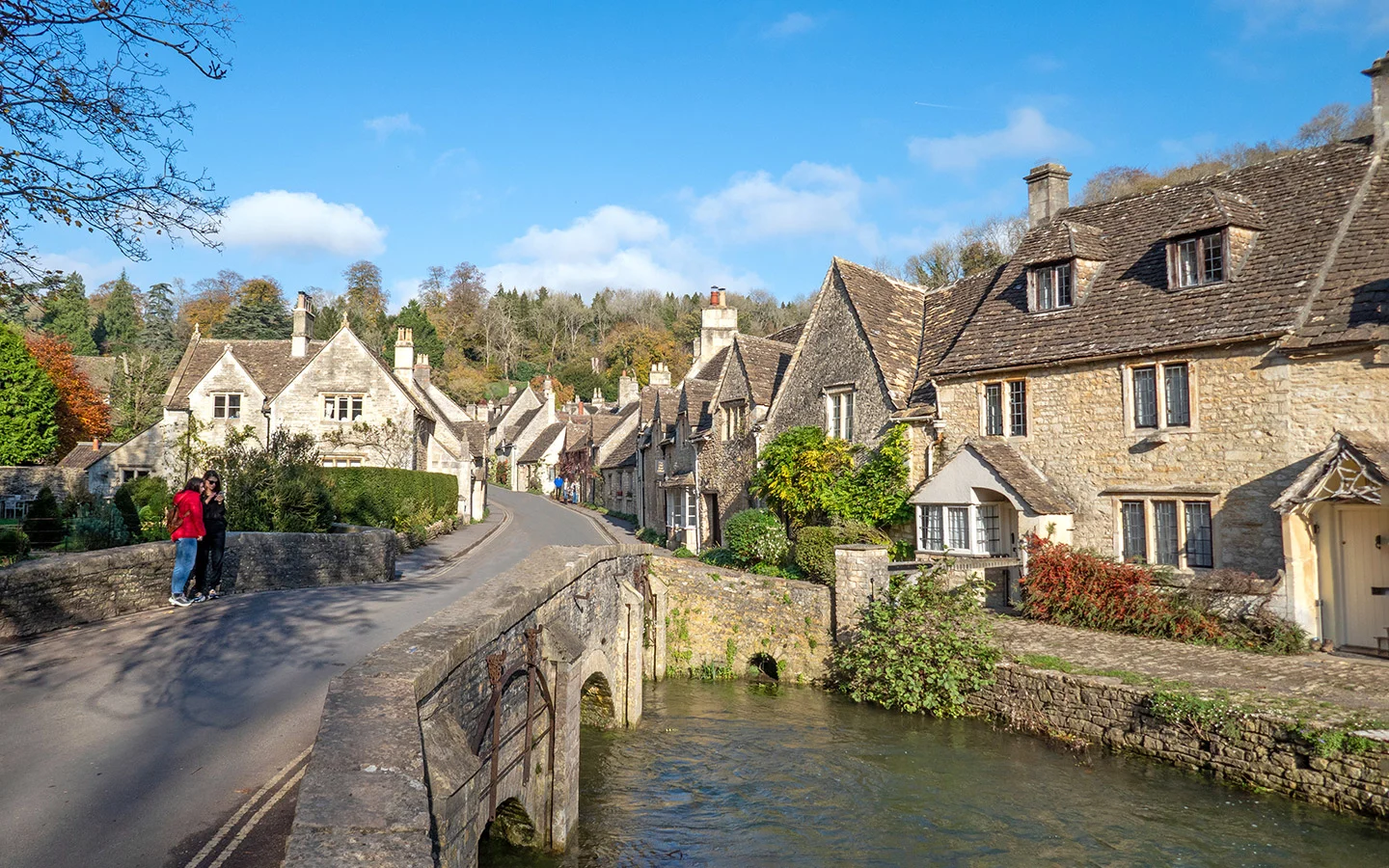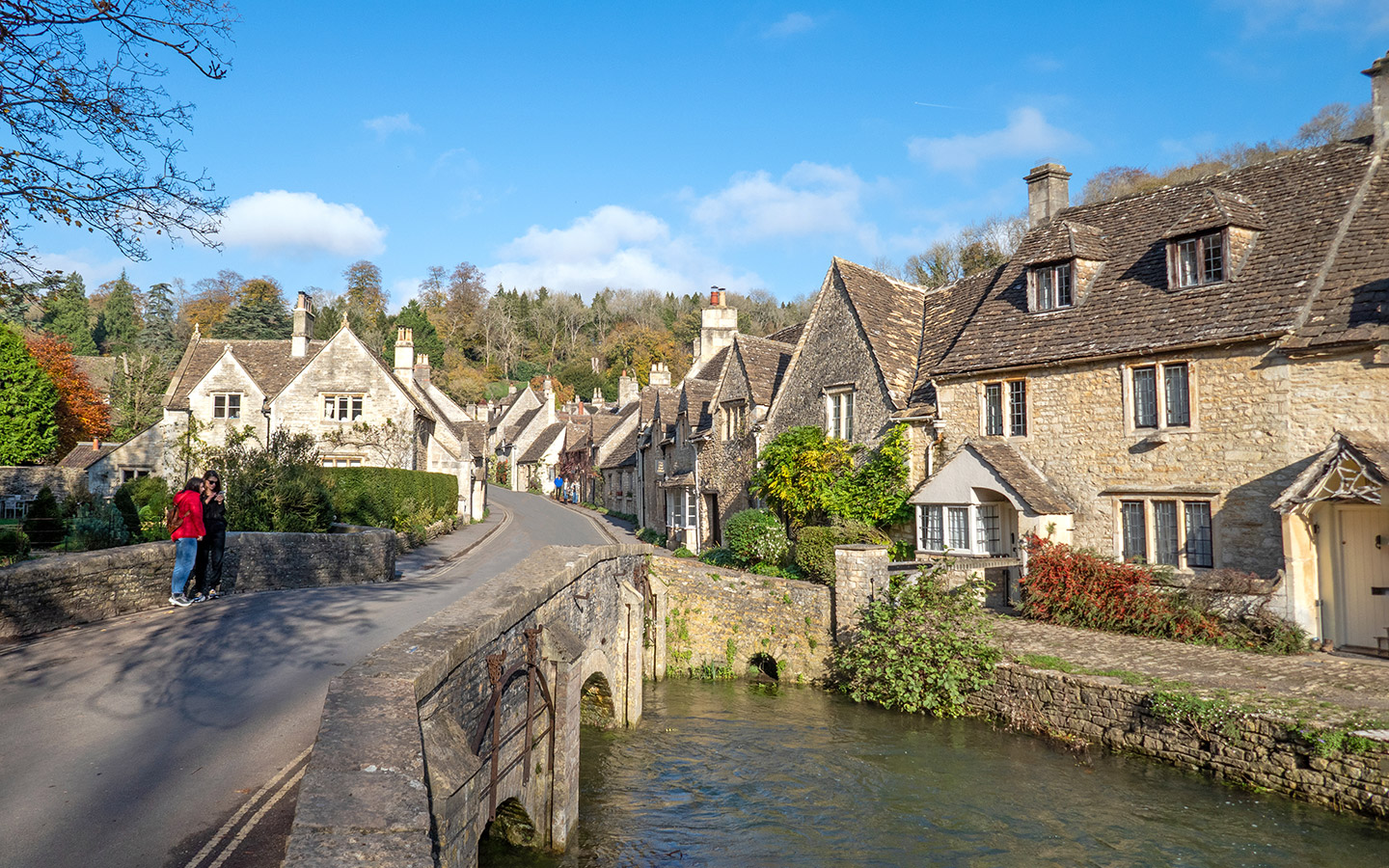 Castle Combe's history
The name Castle Combe comes in part from a 12th-century Norman castle which once stood 600 metres to the north of the village. It was built on the site of an old Roman Villa by Reginald de Dunstanville – illegitimate son of King Henry I – during the 1135–1154 Civil War. And the other part of the name comes from the valley the village sits in, known as a 'combe' in Old English.
The castle was abandoned by the 14th century and its buildings are long gone, though you can still see some earth and stoneworks. Instead a manor house was built in the valley below – its now the Manor House Hotel, though it was heavily upgraded and remodeled by the Victorians.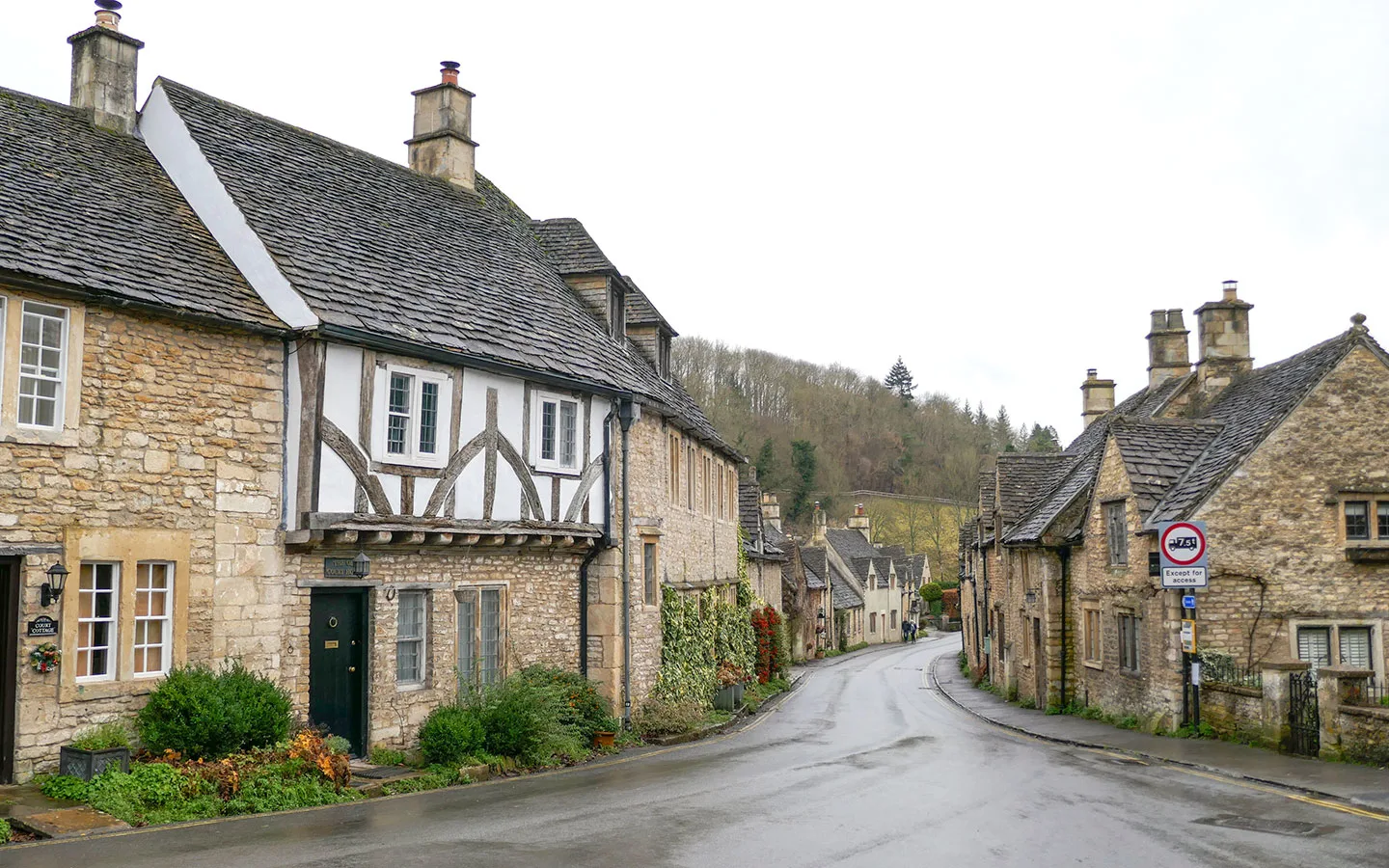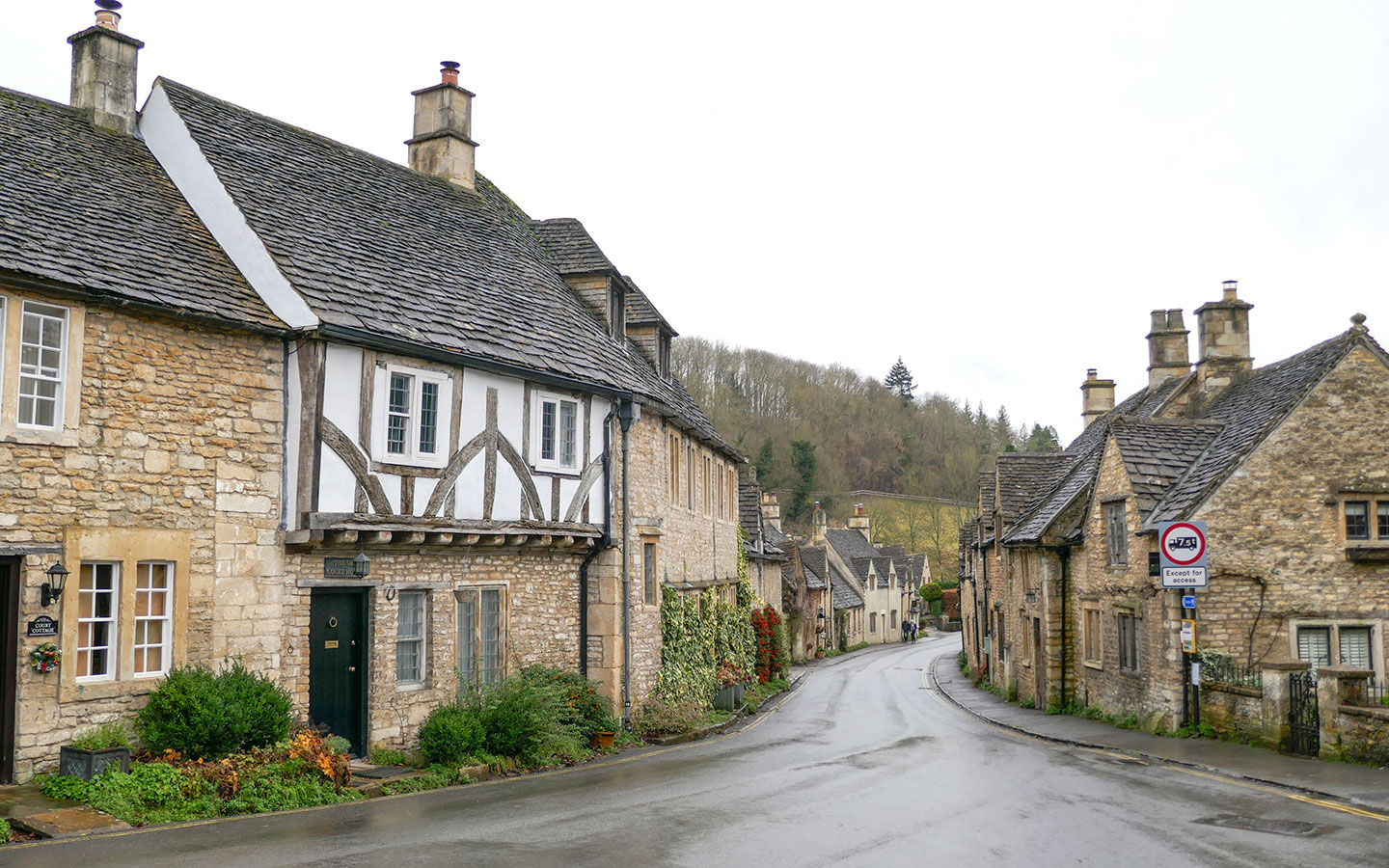 Castle Combe flourished in the 15th century as it became an important centre of the wool industry. It was particularly known for making a red and white fabric known as 'Castlecombe', which was sold in London and beyond. The waters of the By Brook were used to power a fulling mill and wash fleeces. And many of the cottages you see today were built to house spinners and weavers.
The level of the By Brook dropped in the late 16th century, so it couldn't power the mills and the cloth industry moved away. Since then no new buildings have been built, giving Castle Combe its unspoilt feel. It's now a conservation area with over 100 Grade II-listed buildings.
If you want to learn more about the history of Castle Combe, you can take a 40- or 60-minute Step Back in Time village tour with costumed guide and local history expert Carly Batten.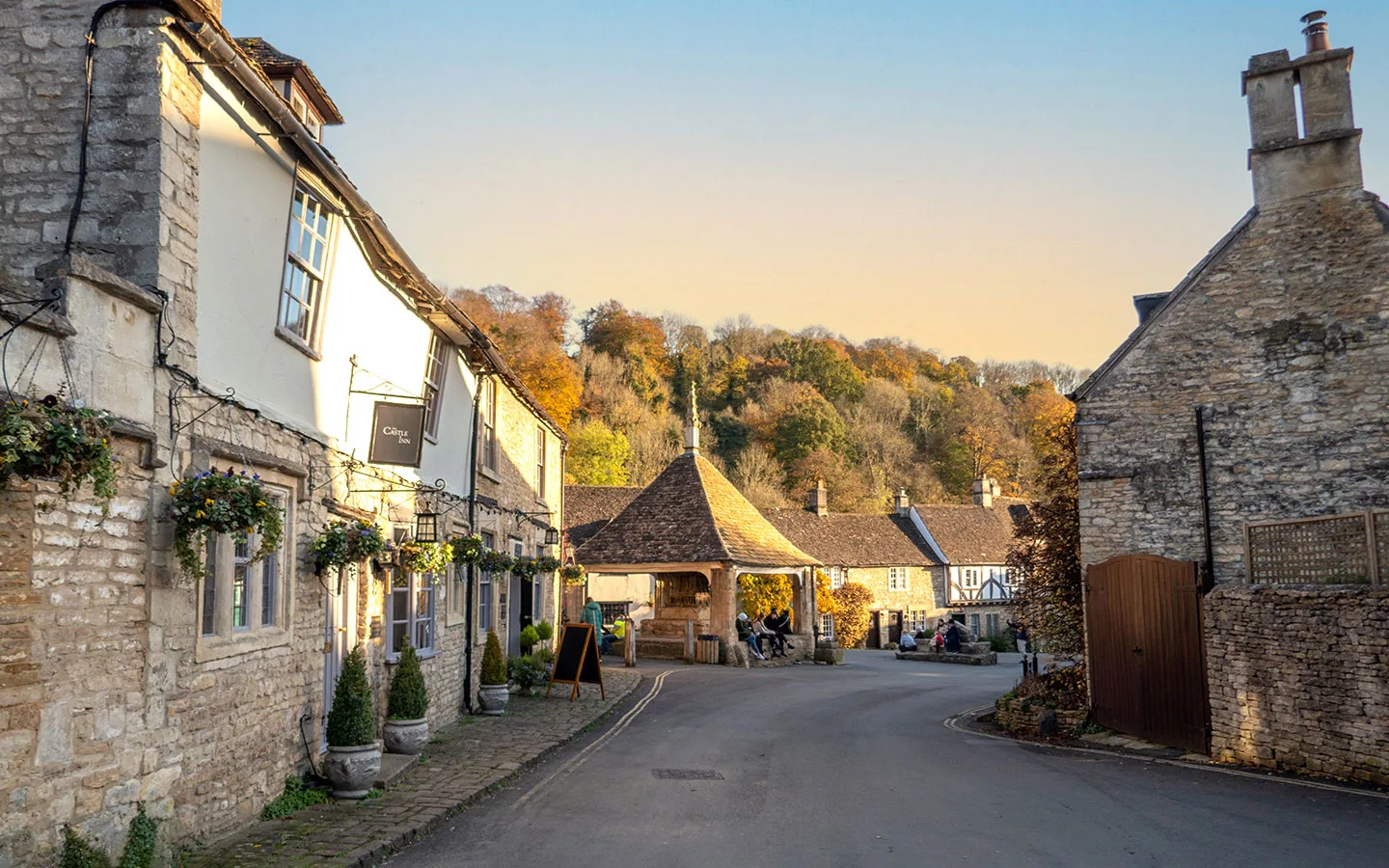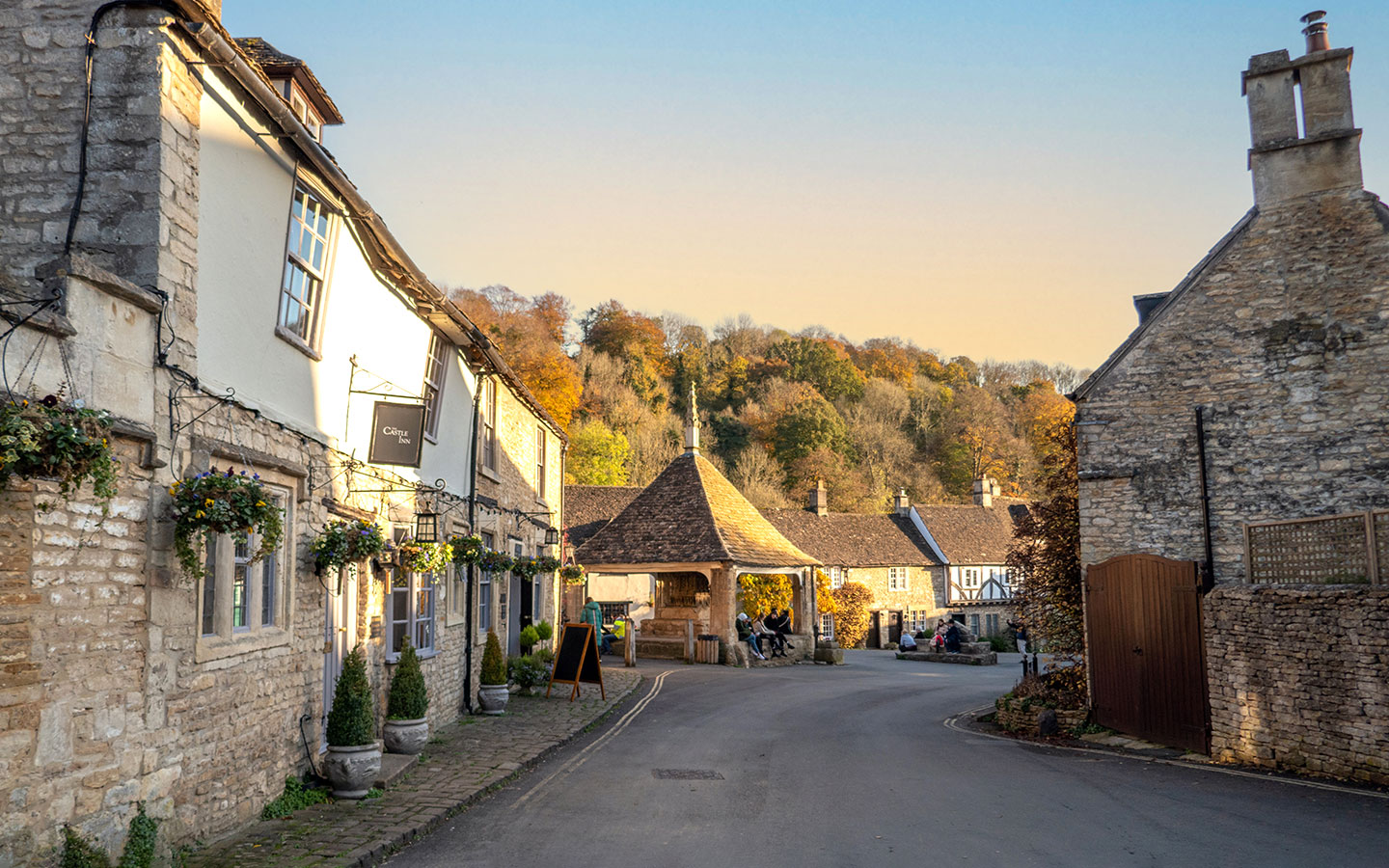 Map of Castle Combe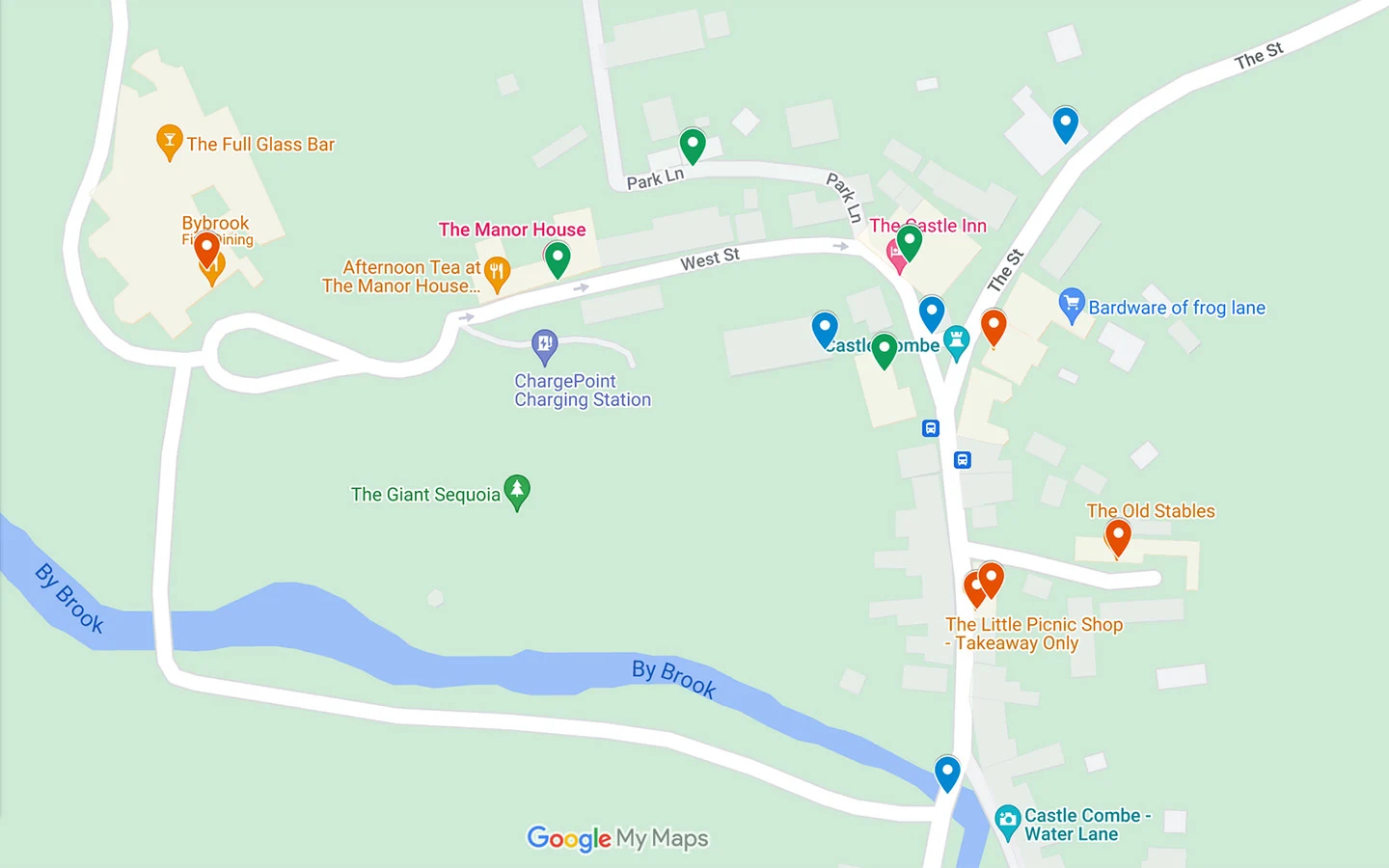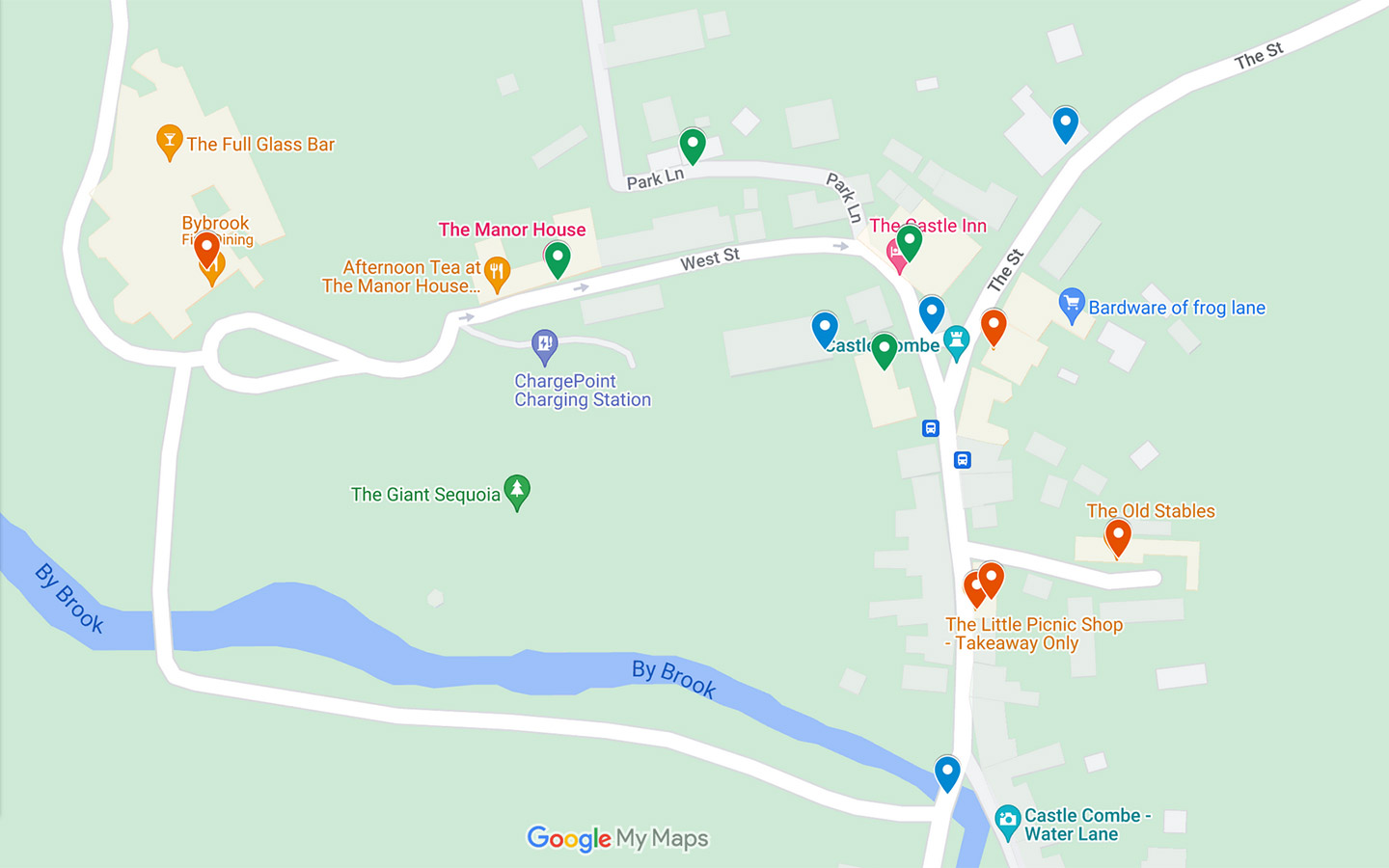 Things to do in Castle Combe
The Market Cross
The medieval Market Cross sits at the heart of Castle Combe where its three main streets meet. It's a reminder of when Castle Combe was granted the right to hold a weekly market by King Henry VI in 1440, an important landmark in the village's history which helped it prosper.
Castle Combe's Market Cross is unusual in that it's got a roof above it, and it has shields and roses carved into the columns. There would also have originally been a Buttercross too, where shoppers would come to buy butter, milk and eggs, but it was dismantled in the 19th century. You can see the old village water pump though and a mounting block for getting onto horses.
Castle Combe still has a market today, but it now takes place in the village hall several times a month, with pies, jams, sweets, crafts, candles, jewellery and knits for sale.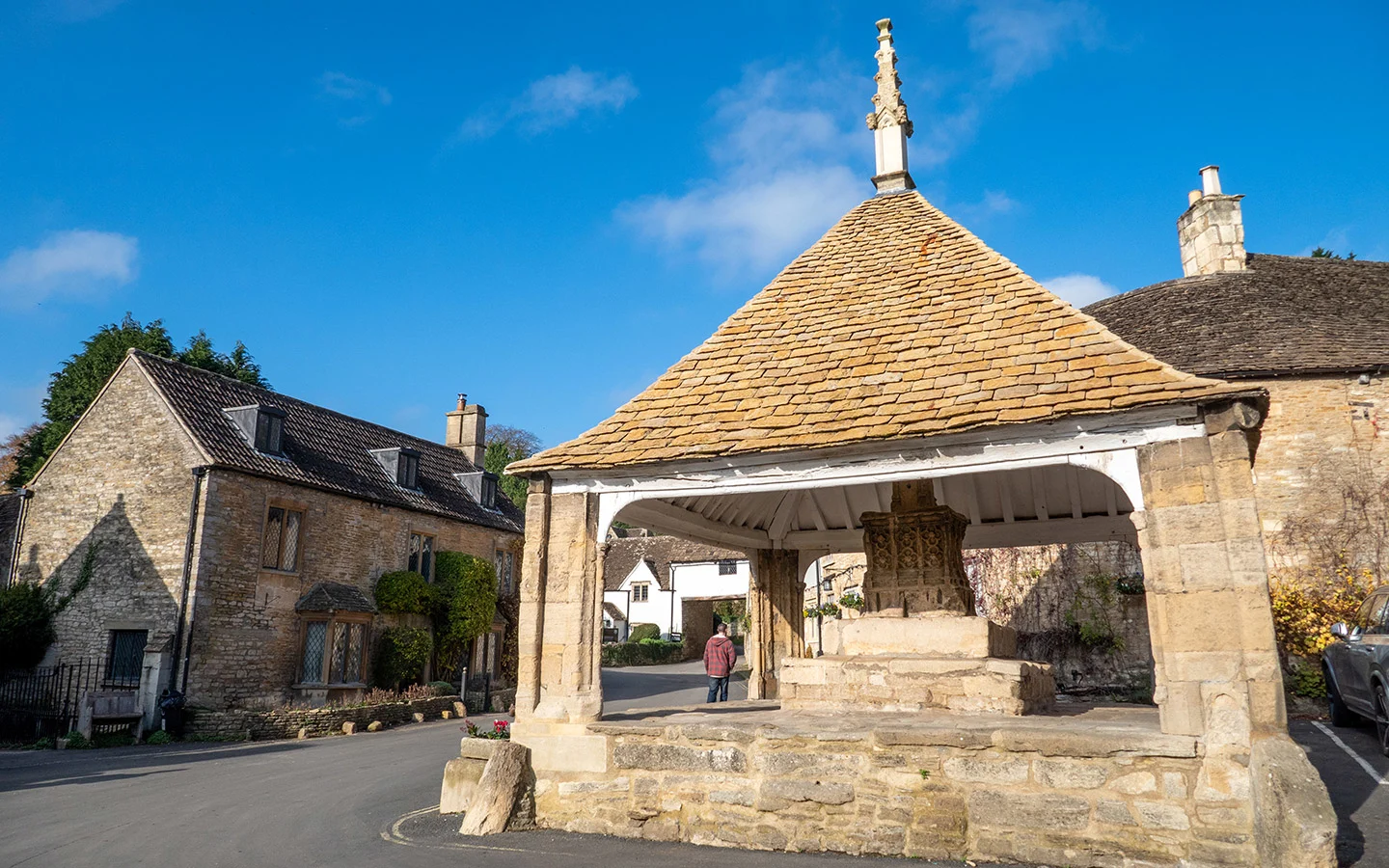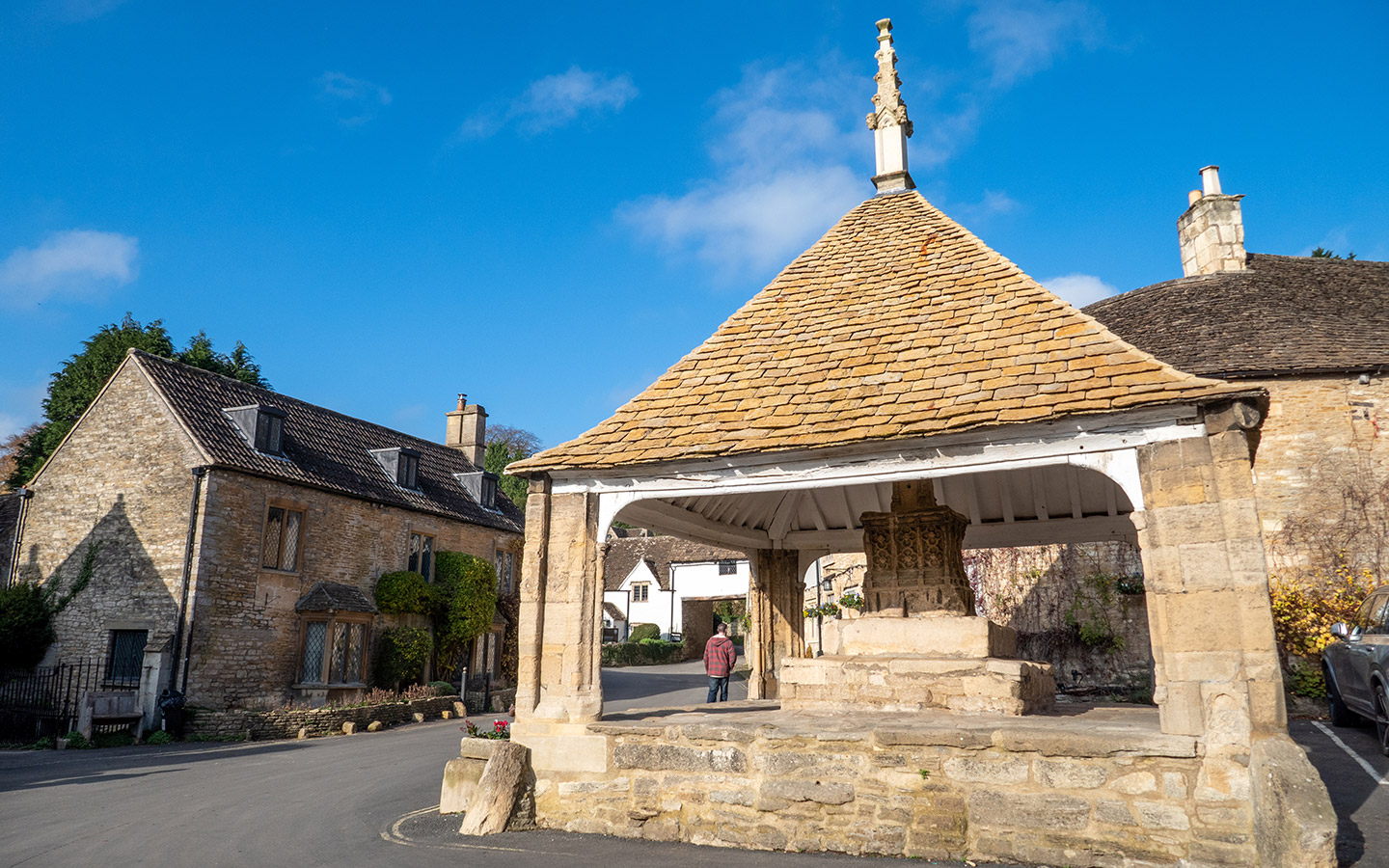 The By Brook
The By Brook (also known as the Bybrook) trickles through Castle Combe before joining the River Avon just before Bath. Walk down The Street and cross over the stone bridge, then look behind you and you'll see Castle Combe's postcard shot – with the packhorse bridge and Water Lane weavers' cottages in the foreground and the village stretching uphill behind them.
A photoshoot on the bridge is one of the most popular things to do in Castle Combe. But it's a real Instagram hotspot so you'll need to get there early or late in the day outside of the busy summer months if you want to get the bridge to yourself. And keep an eye out for passing cars – although you don't usually see them in the photos they do often drive over the bridge.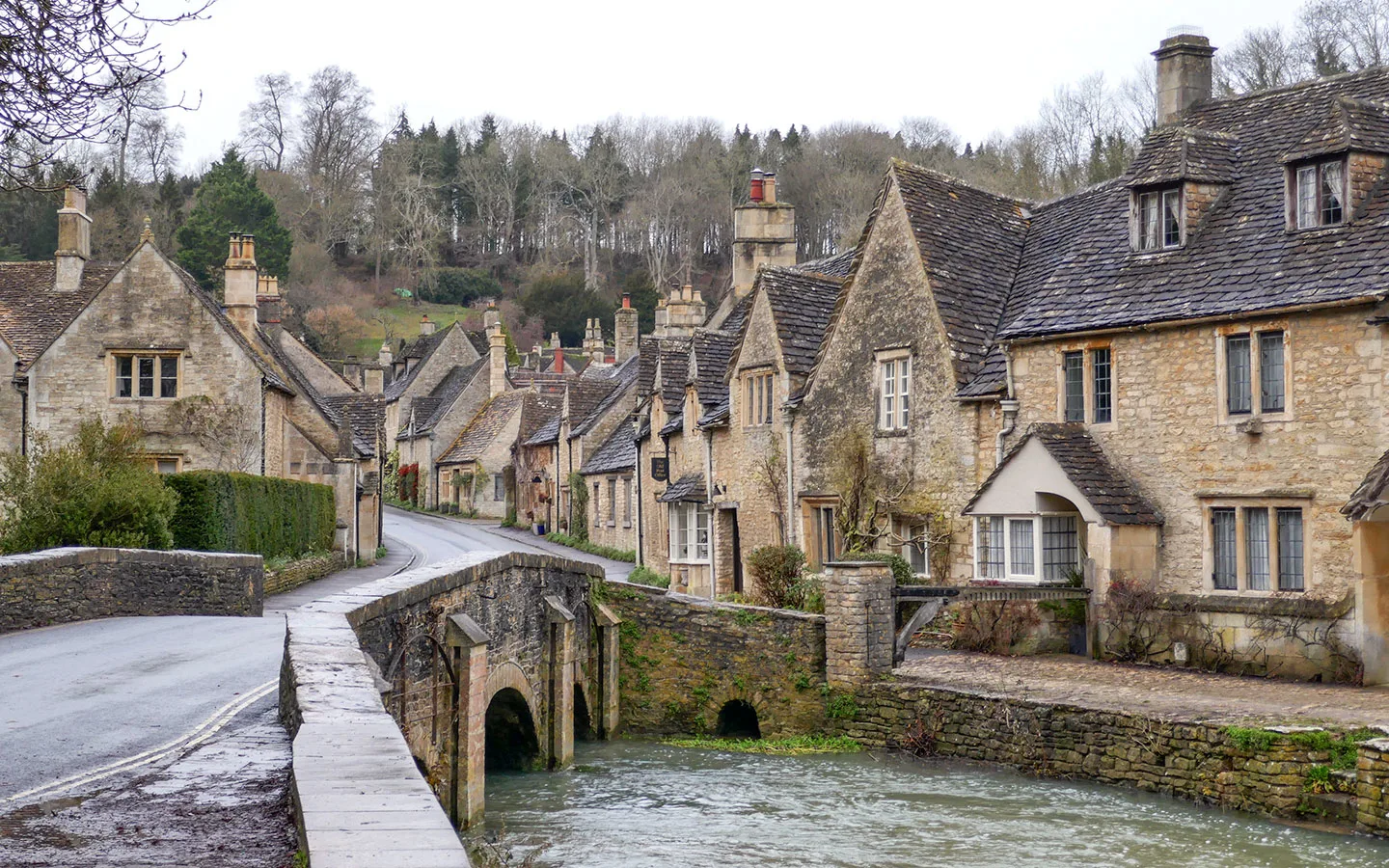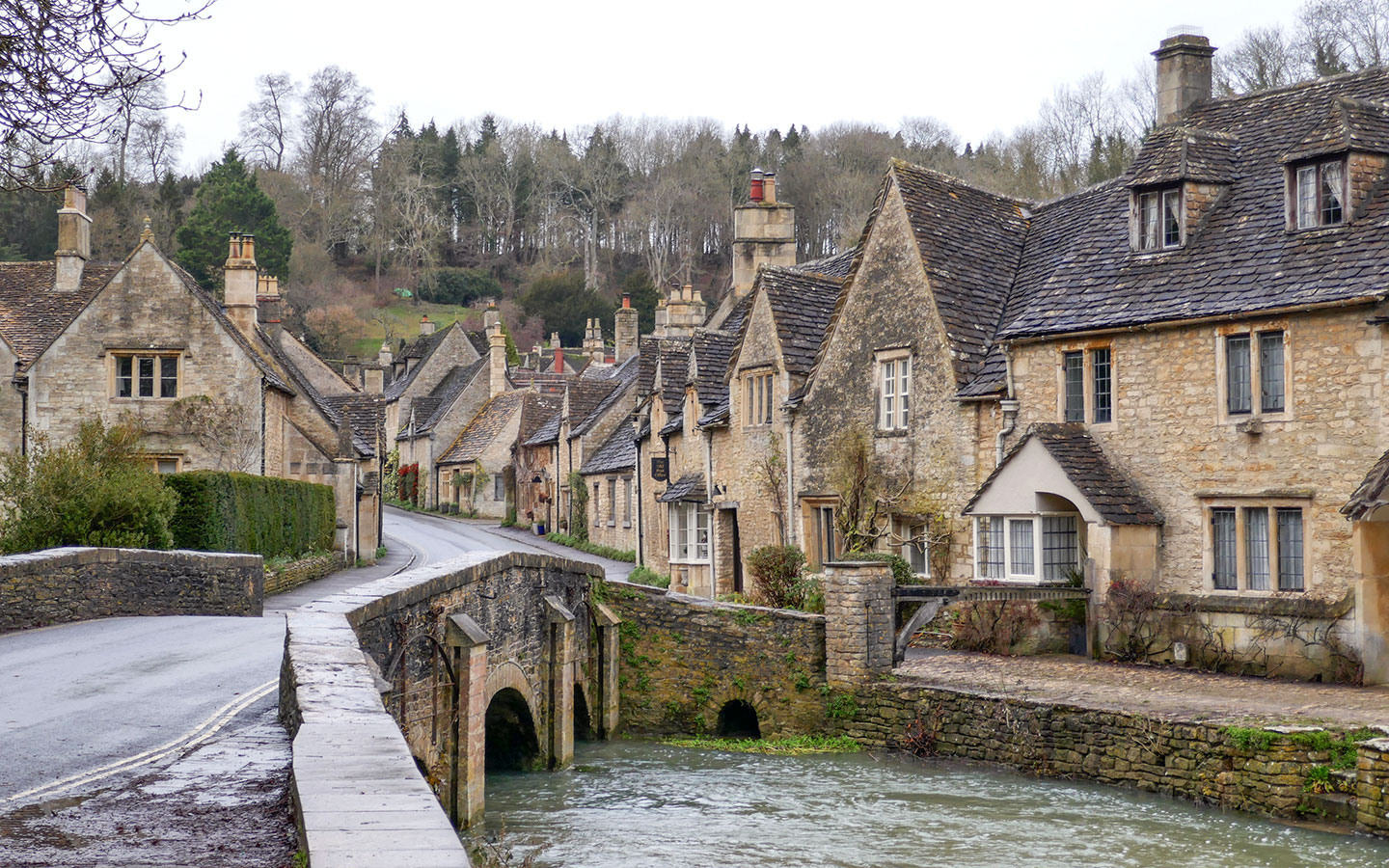 Film locations
With no modern buildings, no telegraph poles and no TV aerials (all wiring is underground), it's no surprise that Castle Combe has become popular with film studios making period dramas. It got its first taste of film stardom as the seaside town of Puddleby-on-the Marsh in the 1967 musical film Dr Dolittle starring Rex Harrison – despite not being anywhere near the sea.
Instead the By Brook was turned into a busy seafront. But both the grey English summer weather and the opposition of local residents made things difficult for the film crew, who eventually gave up and recreated the village on a production stage in Hollywood instead.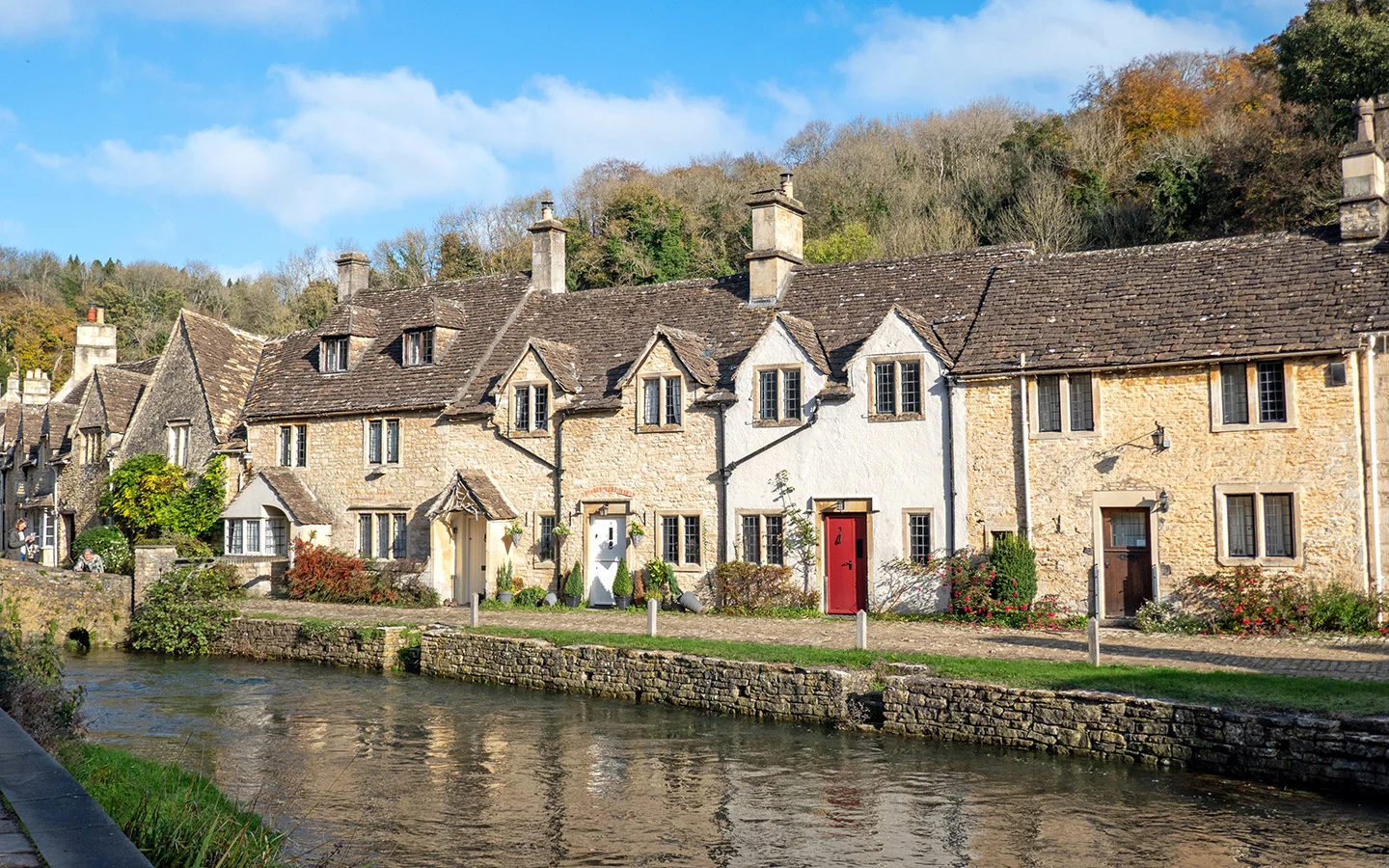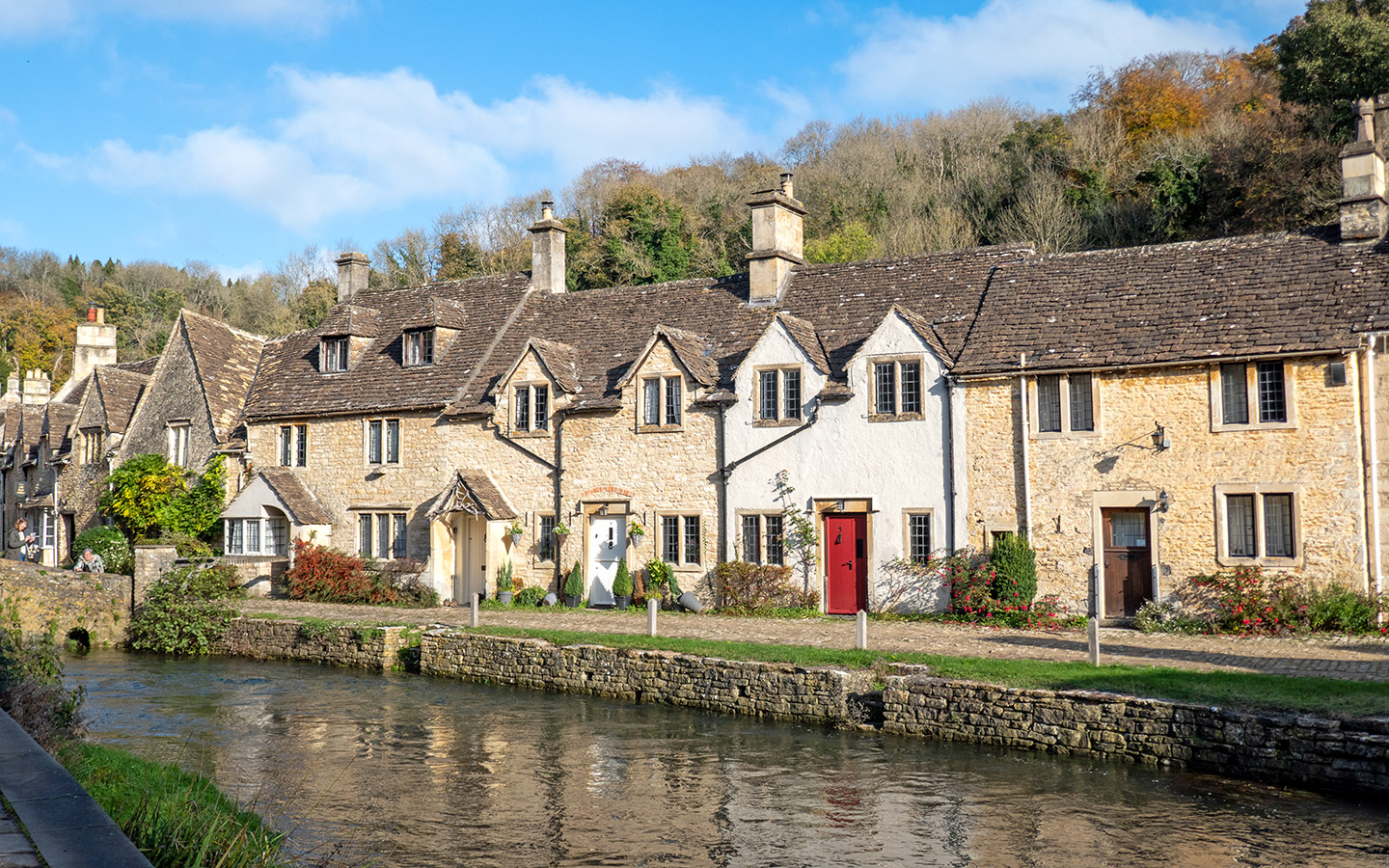 Explorer Sir Ranulph Fiennes narrowly avoided jail for trying to blow up a 20-foot concrete dam on the By Brook built by 20th Century Fox after disgruntled villagers were concerned it would spoil their beautiful village.
You can still see several Dr Dolittle filming locations, including the Dower House, an eye-catching yellow house on the road between Upper and Lower Castle Combe which was used as the Doctor's House. The village also featured in Stardust (2007), horror film The Wolfman (2010) and a horse fair was held around the Market Cross in Steven Spielberg's War Horse (2011).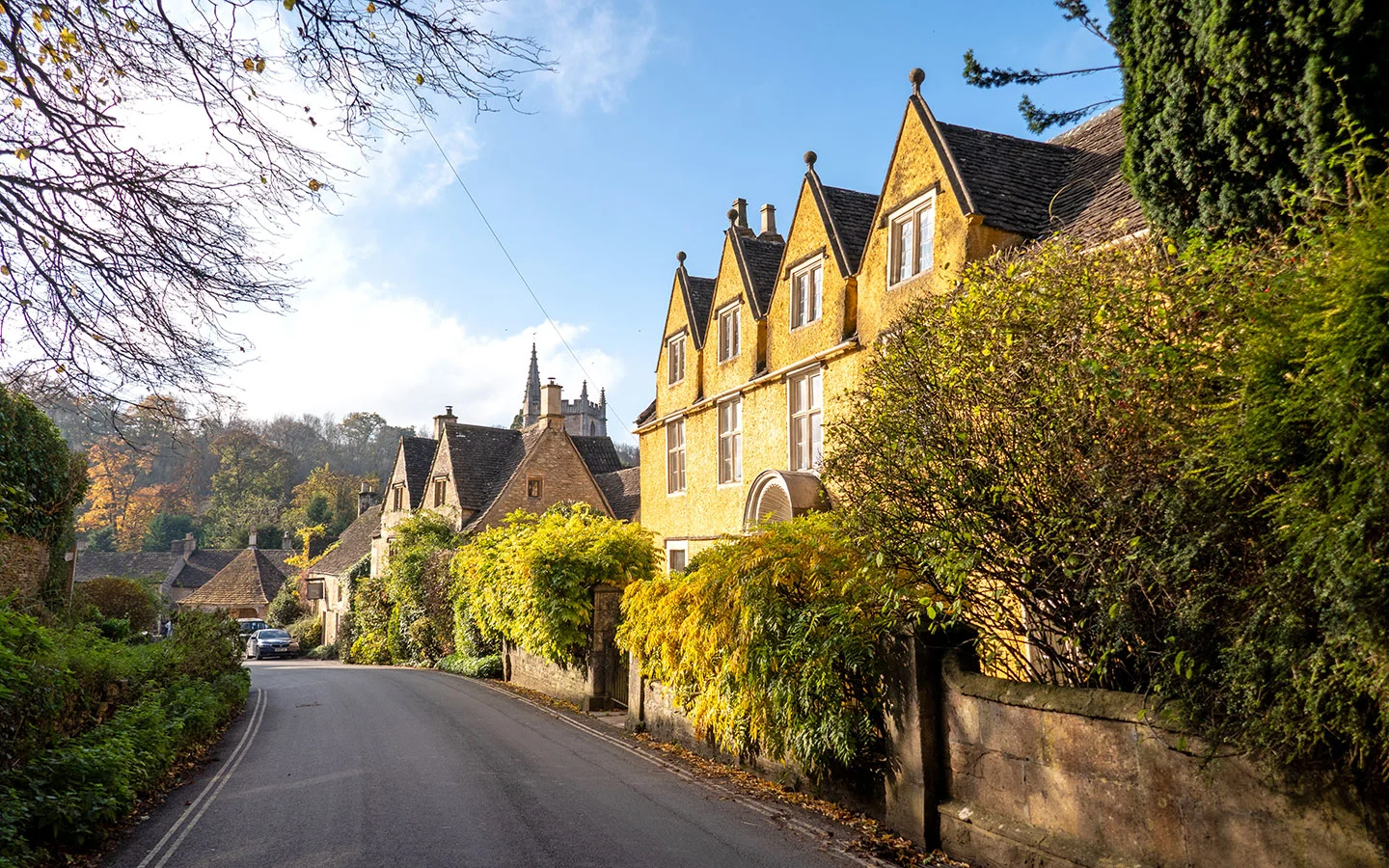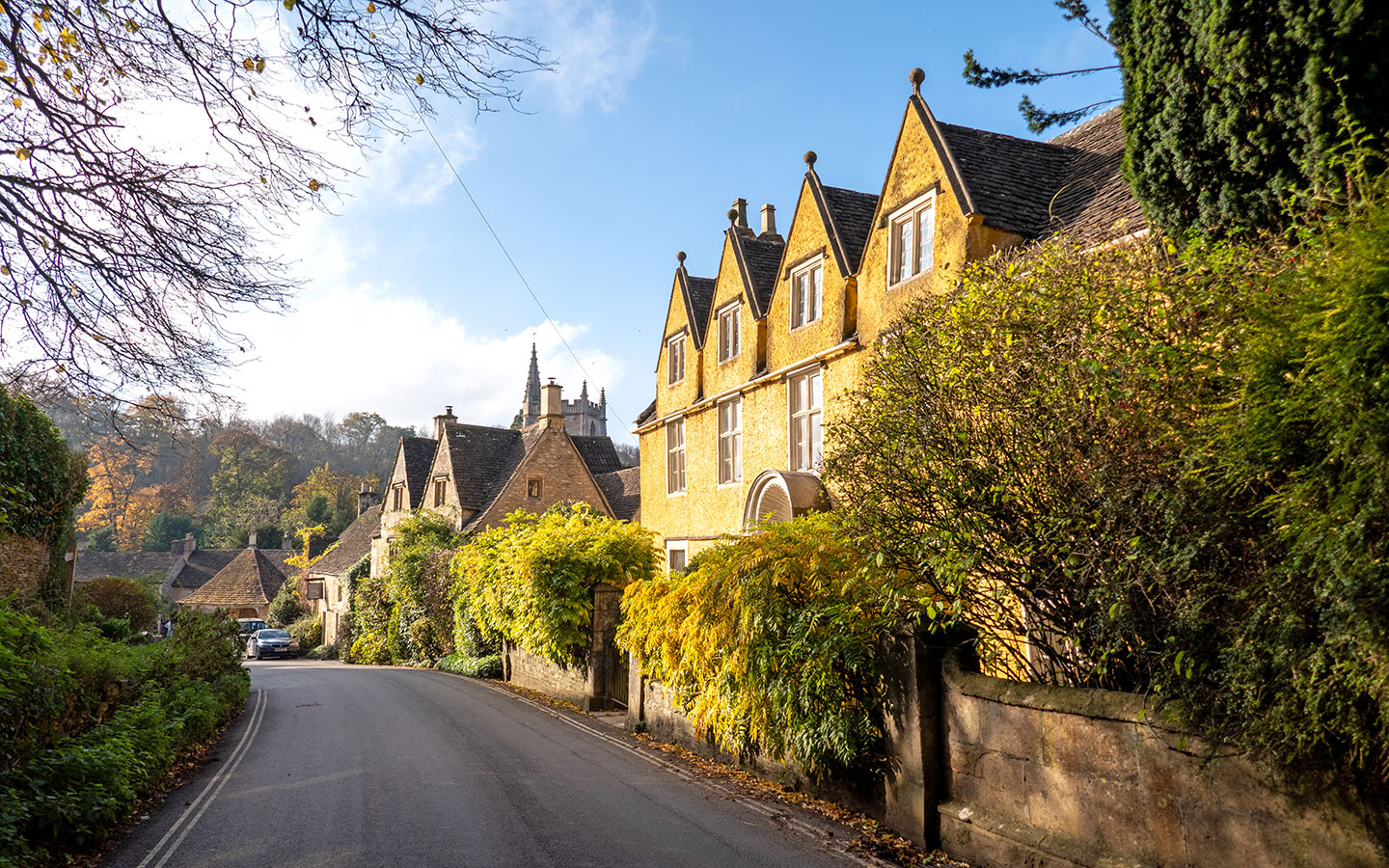 St Andrew's Church
St Andrew's Church was originally built in the 13th century, but the nave and tower were added later when Castle Combe became a prosperous wool town in the 15th century. The tower was funded by successful wool traders who made donations to the church, and the will of local landowner Sir John Fastolf – who's rumoured to be the inspiration for Shakespeare's Falstaff.
The church was remodelled in the 1850s after it fell into disrepair. But there are still original features, like the tower's fan-vaulted ceiling and a stone monument to Norman Knight Sir Walter de Dunstanville. He's shown with his legs crossed to signify that he went on two crusades.
There's also a faceless clock – an early medieval timepiece – which was built by a local blacksmith and is thought to be one of the oldest working clocks in the country.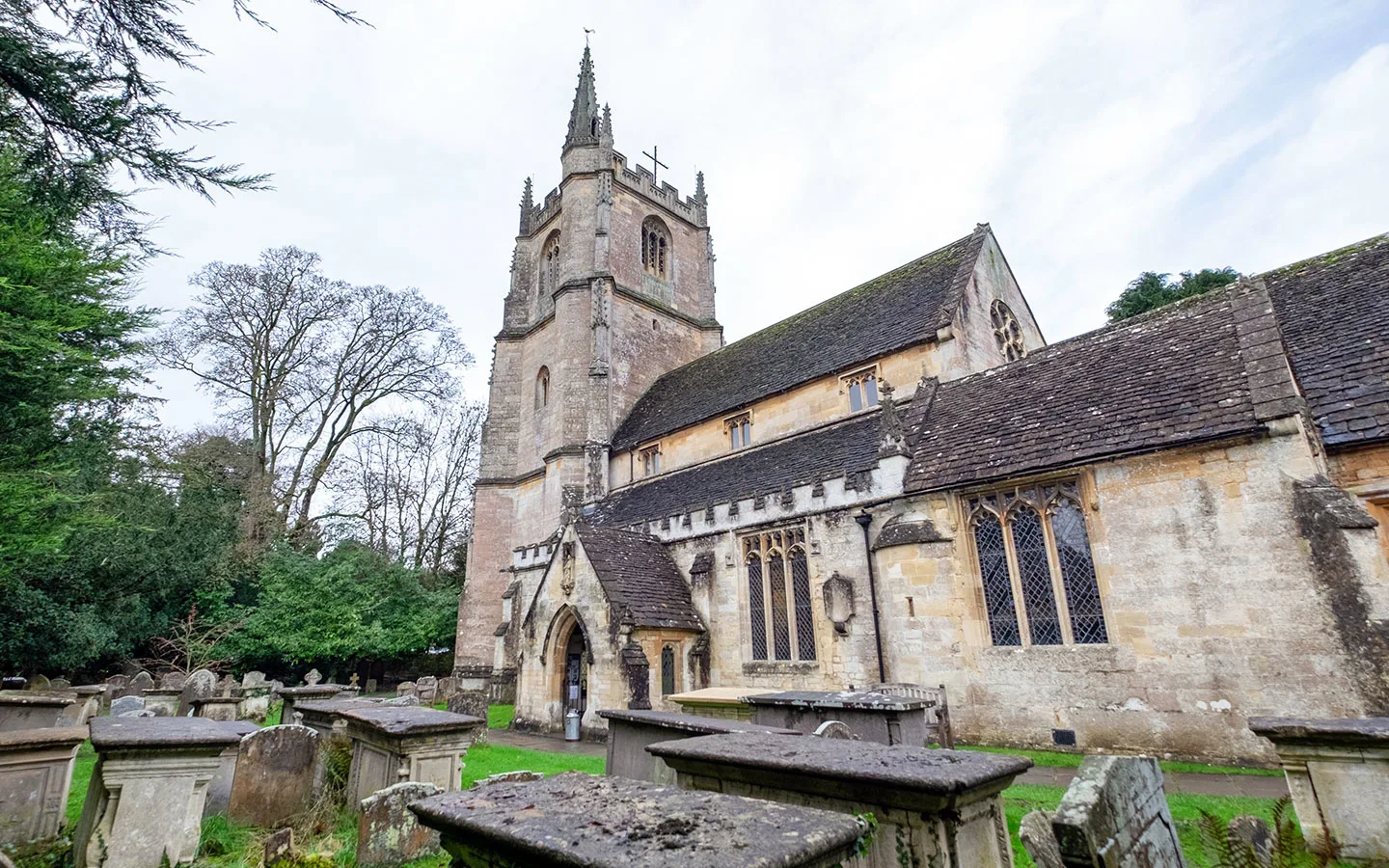 Castle Combe Race Circuit
Castle Combe is split into two sections, with the main part of the village in Lower Castle Combe, and the Castle Combe Race Circuit on the edge of the upper village. This 3km-long circuit started life as an airfield and was used for pilot training in the Second World War before opening as a racing circuit in 1950, when one of the first race winners was a young Stirling Moss.
In the past it's hosted Formula Three and British GT Championship but noise complaints meant it's only used for club-level car and motorbike races now. But there are a series of special events through the year, including the Autumn Classic vintage races and an annual steam rally in May.
You can also put your own car or bike through its paces at one of their track days. Or motorcycle skills, 4×4 off-road, skid pan and karting tuition is available from Drive-Tech.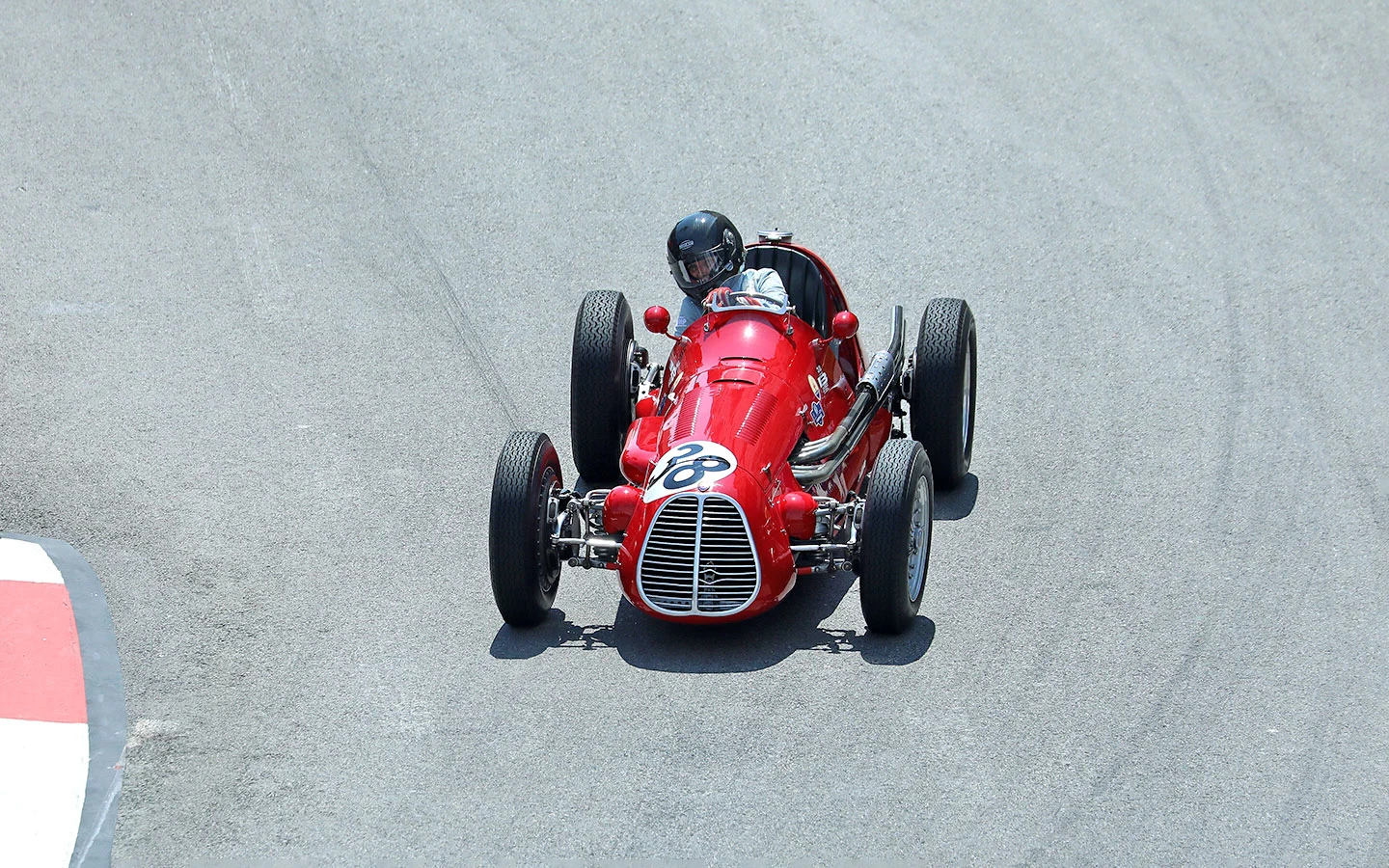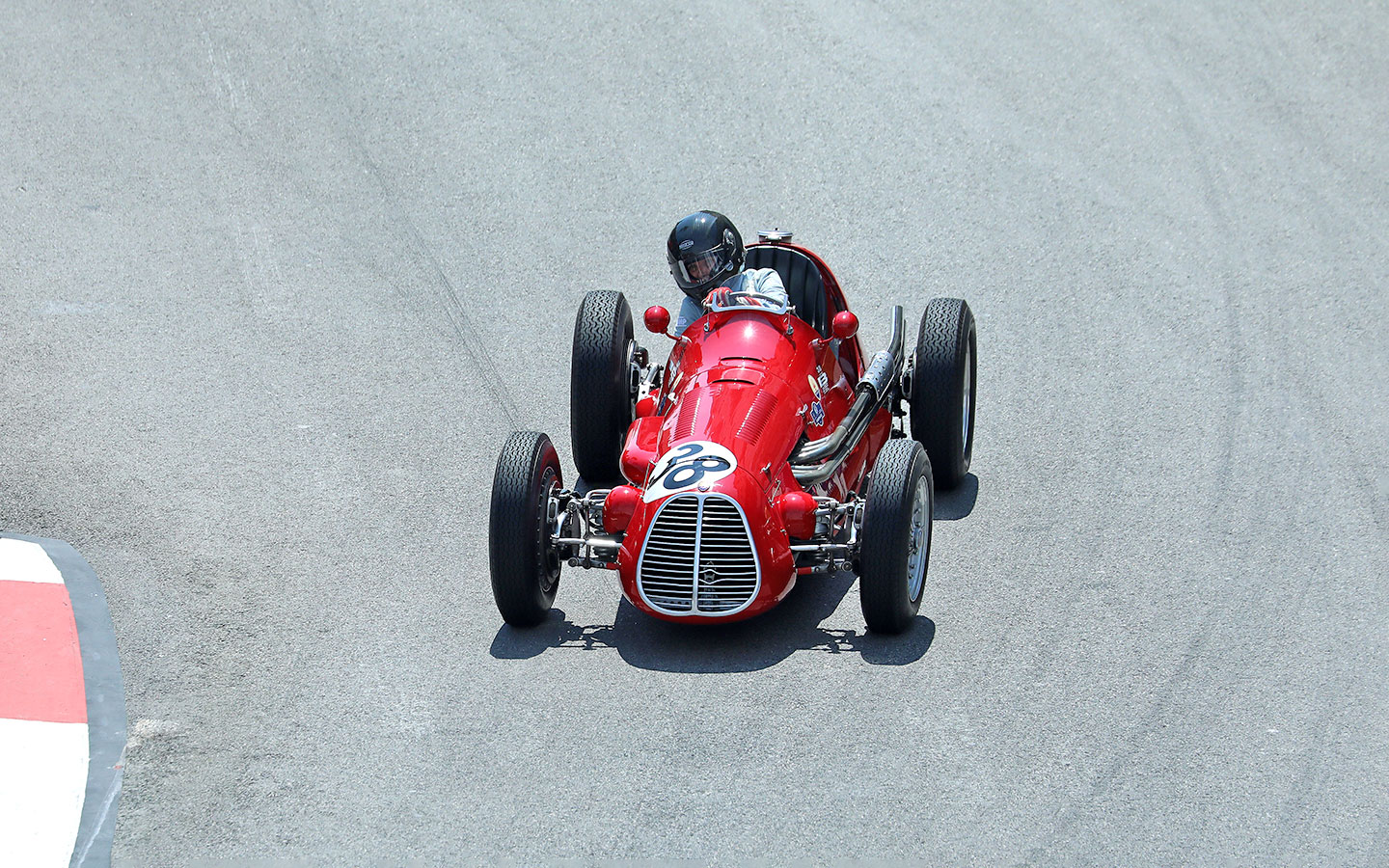 Walks from Castle Combe
If Castle Combe's crowds get a bit much, you don't have to walk far to get out in the peaceful Cotswold countryside. Some of the nearby meadows are botanically rich limestone grassland, one of Britain's rarest native habitats, laden with wildflowers and insects in spring and summer.
There's a 6.2-mile circular walk which starts at the car park in Upper Castle Combe and takes you south through Lower Castle Combe then follows the By Brook to the neighbouring village of Ford before looping back through woodland and around the Manor House Hotel golf course. There's also a shorter 4.5-mile version which cuts back along The Street from Ford.
If you fancy a bigger challenge, Castle Combe is on the Macmillan and Palladian Way long-distance walking trails. The Macmillan Way covers 287 miles from Boston in Lincolnshire to Abbotsbury in Dorset. Or the Palladian Way runs for 117 miles from Bath to Buckingham.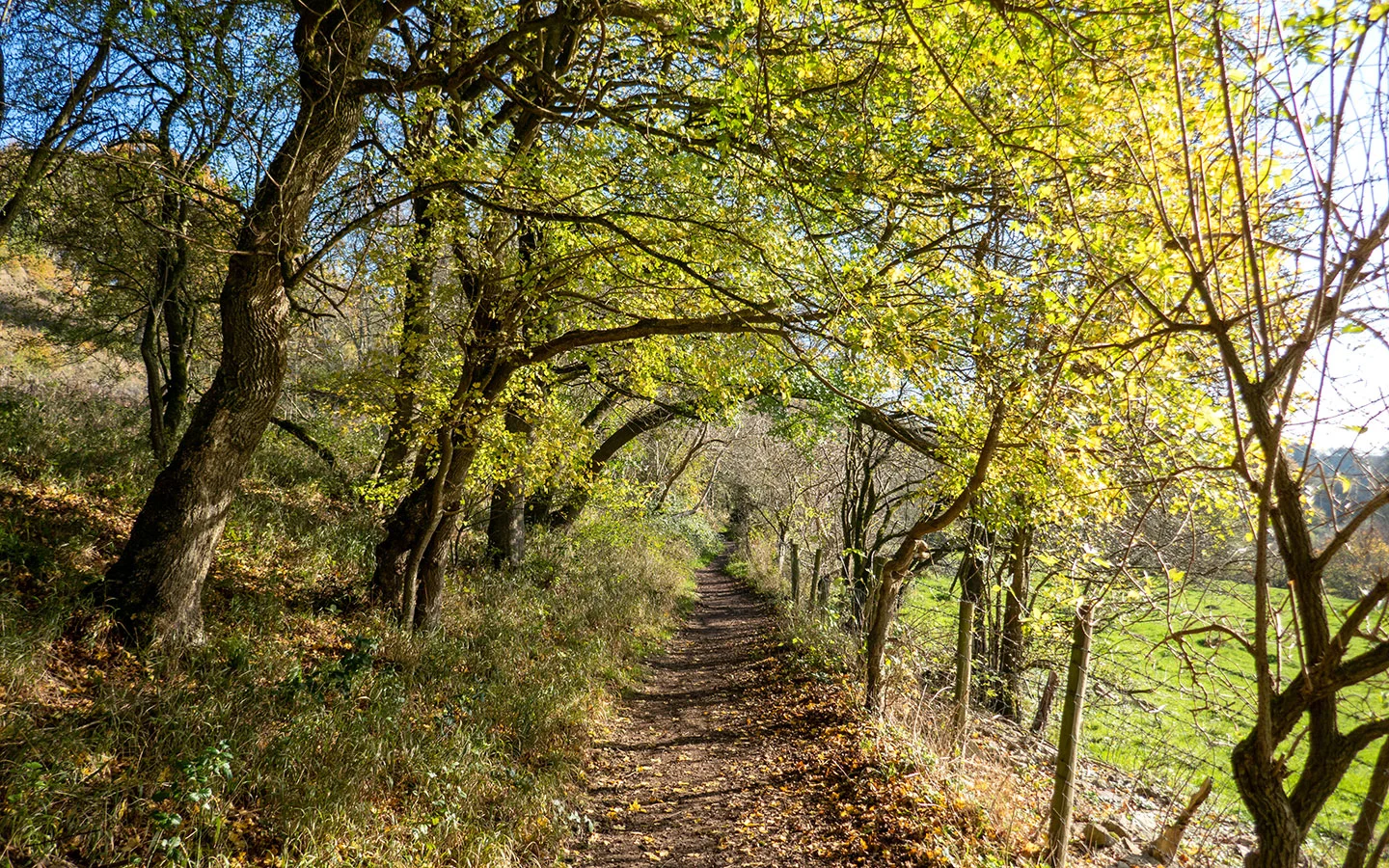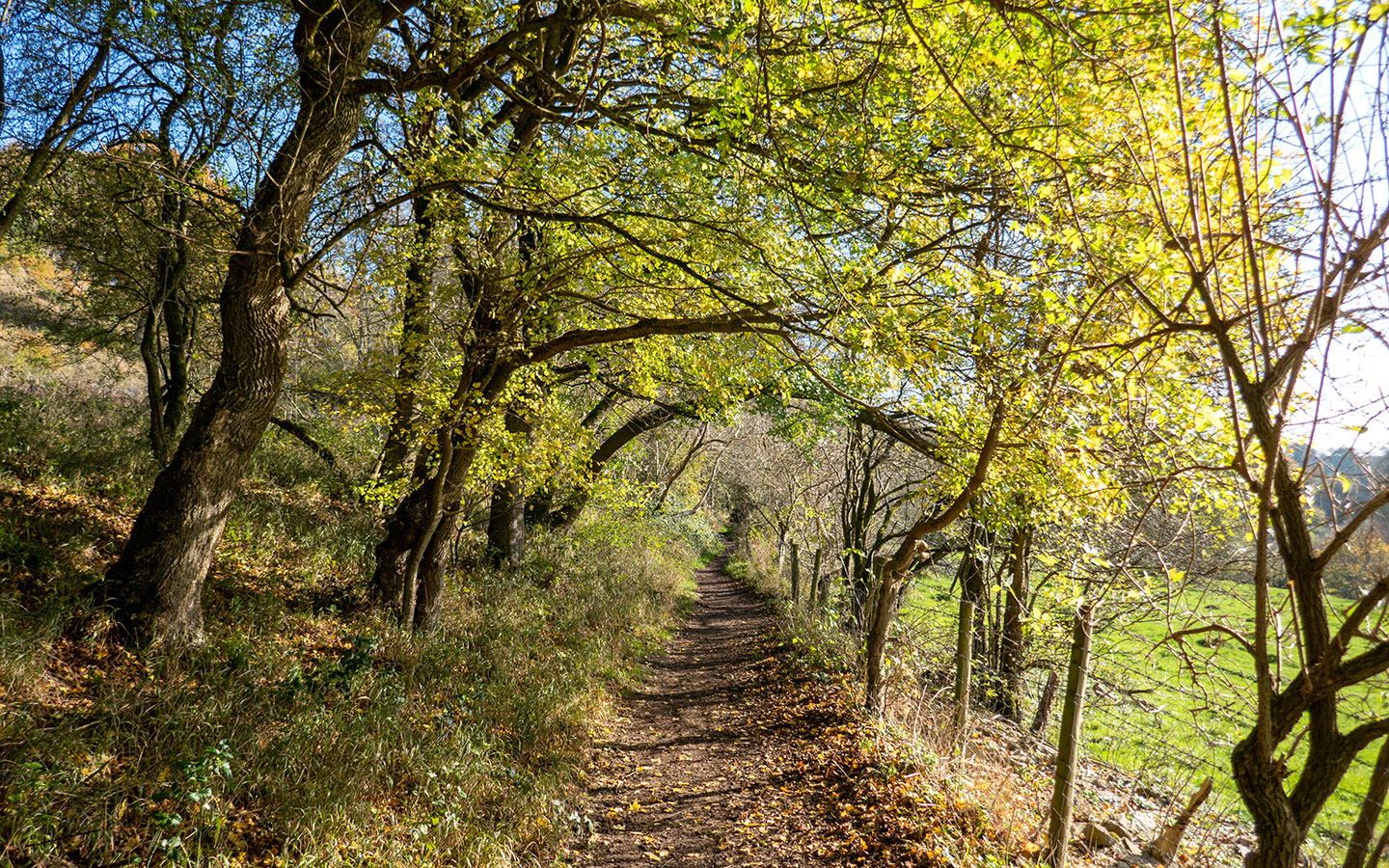 Things to do near Castle Combe
Castle Combe's compact size means you can easily fit nearby stops into a day trip. There are a couple of National Trust sites within 10 miles of Castle Combe – Dyrham Park is a 17th-century stately home filled with treasures and surrounded by parkland. Or you can visit the birthplace of photography at Lacock, with its abbey and Fox Talbot Museum of Photography.
The Badminton Horse Trials are held five miles away each May, and the Badminton Estate is also open to the public for occasional events and garden open days. And you're also within easy reach of the Georgian city of Bath (12 miles) and historic market town of Malmesbury (13 miles).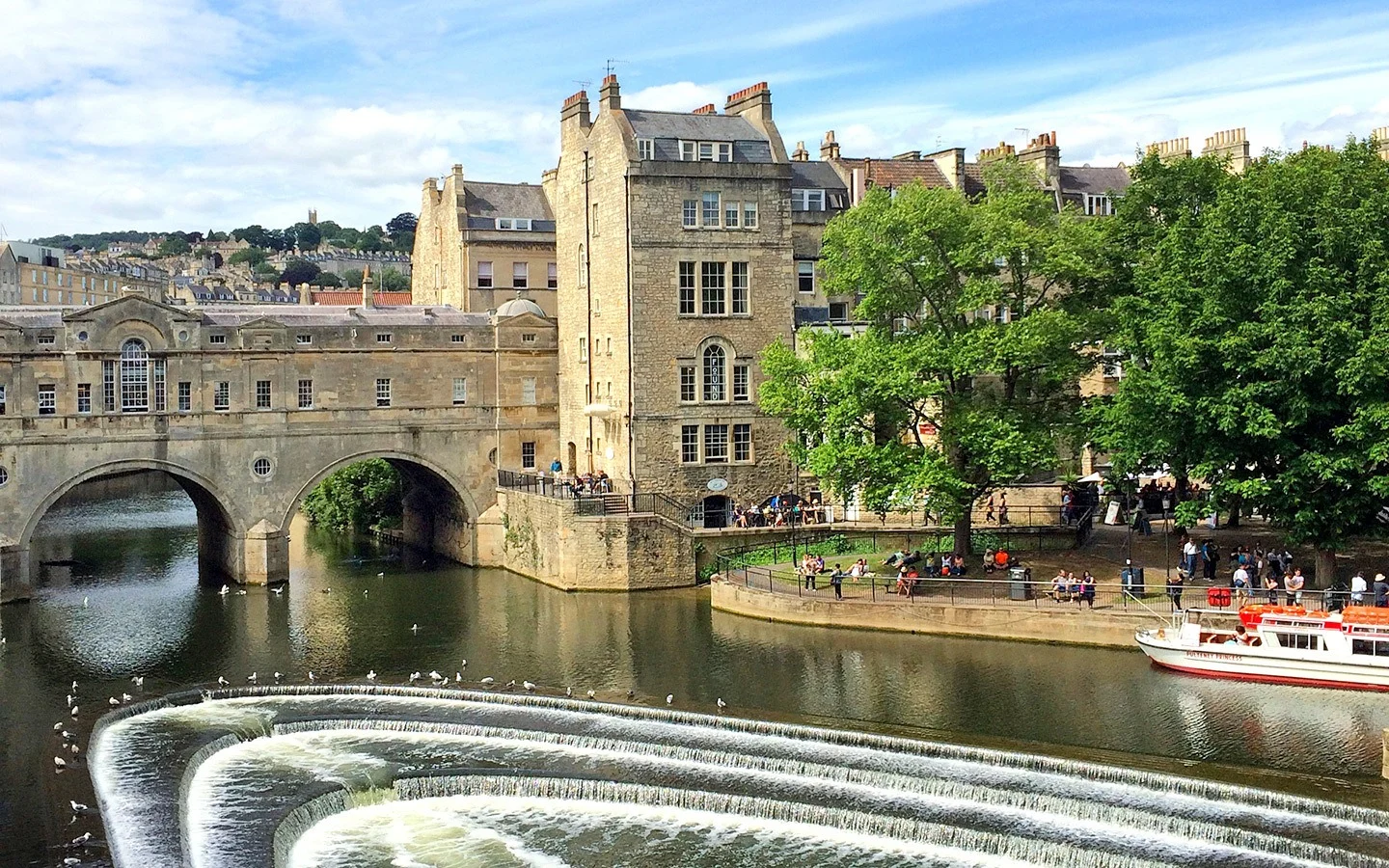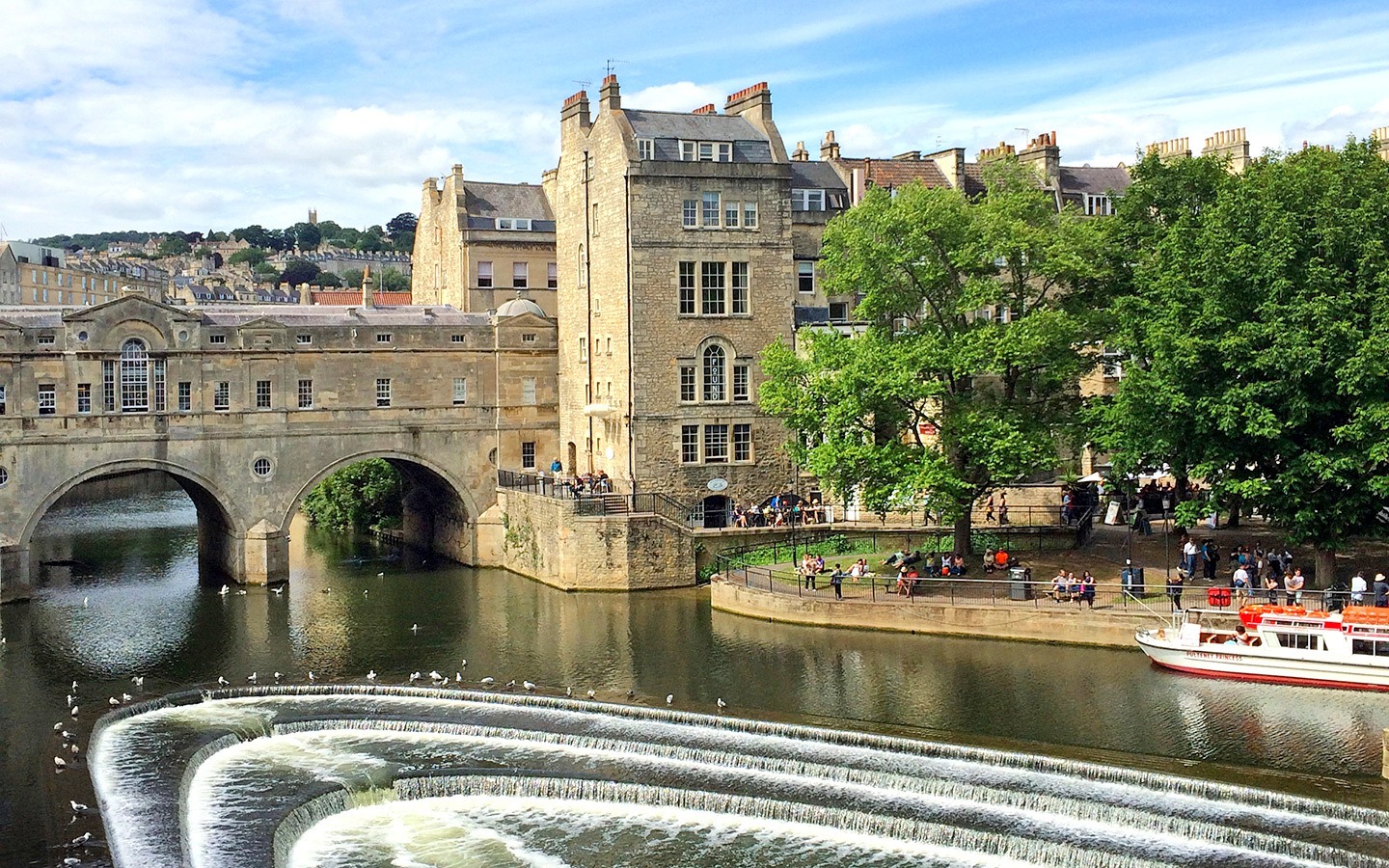 Places to eat & drink in Castle Combe
Cafés and tea rooms
The Old Stables Coffee Shop is a welcoming spot to cosy up by the wood-burner with a coffee and a slice of cake on a chilly afternoon. It's cheerfully decorated with bunting and local artworks and they serve breakfast, lunch and afternoon tea – the homemade scones and sausage rolls from a local butcher are a favourite. And dogs, walkers and even horses are welcome.
You can also pick up a takeaway picnic from the Little Picnic Shop. Their picnic boxes are available to preorder and are filled with tasty sandwiches, cakes, sweets and savouries. Or groups of six of more can book a private afternoon tea at their Old Rectory Pop-Up Tearoom.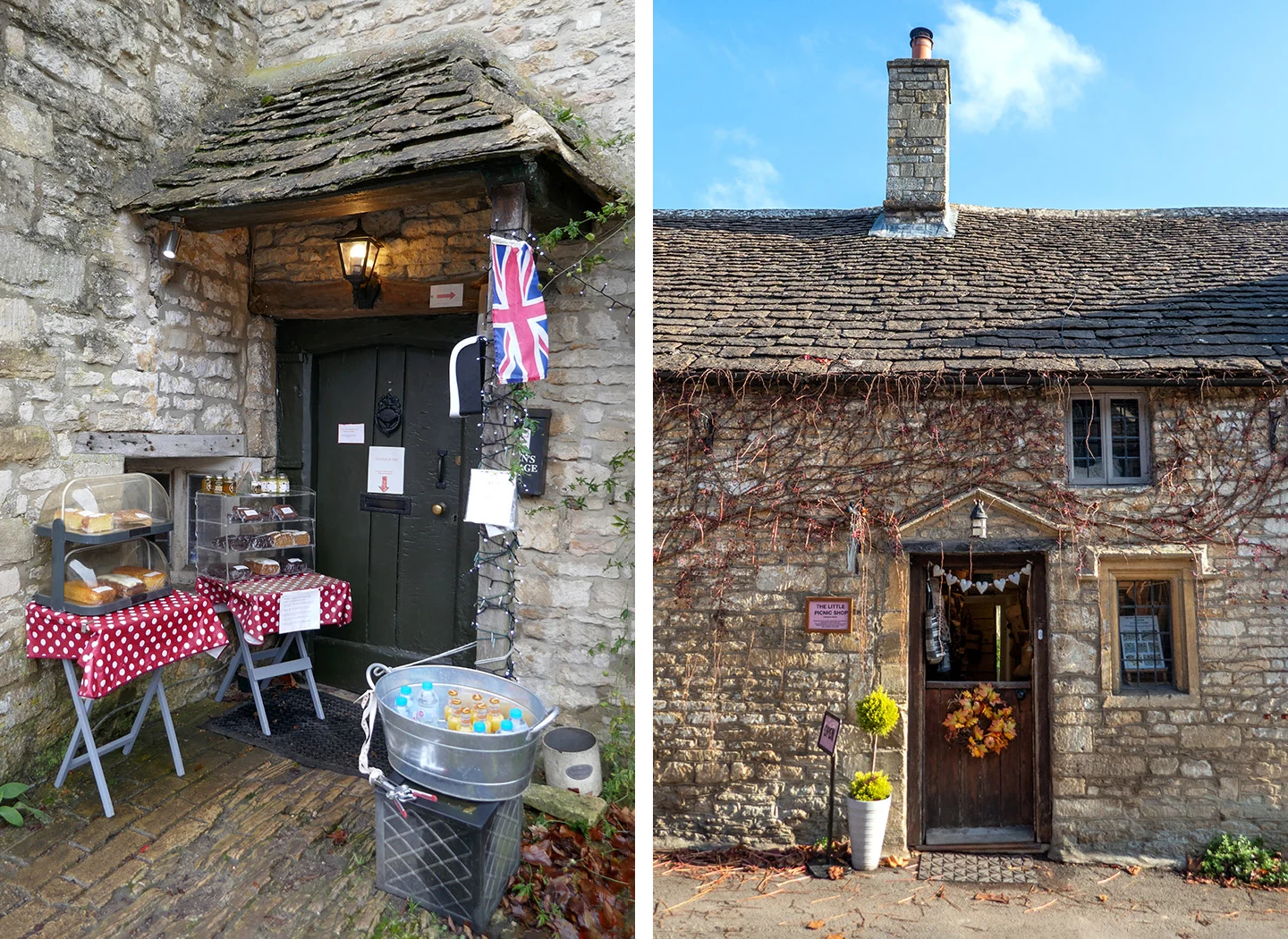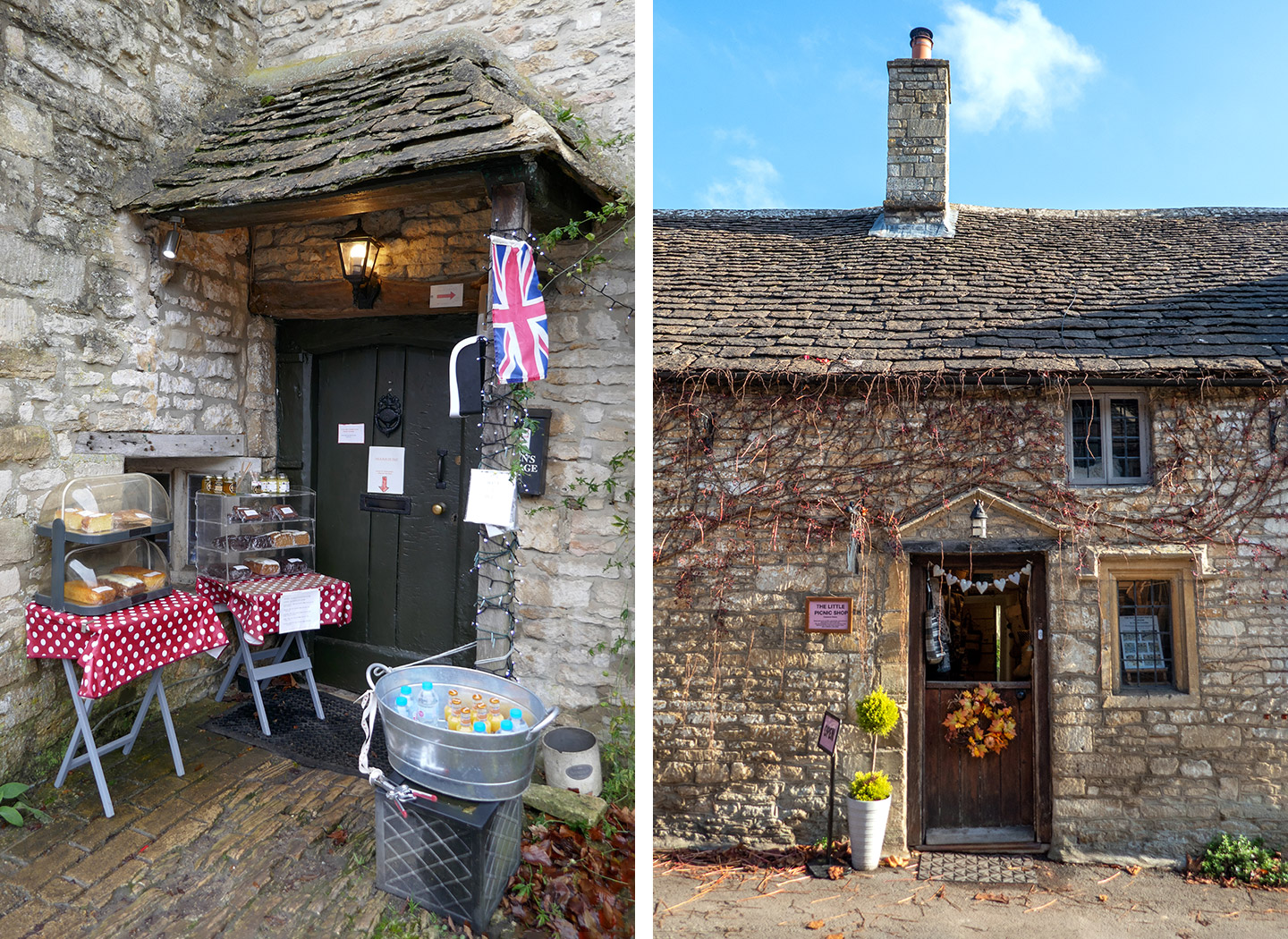 One of Castle Combe's most charming traditions are the honesty boxes outside people's houses, where you can help yourself to cakes, jam, eggs or plants and just leave the money. Some houses also open their doors as mini shops or cafés selling coffee or local Marshfield Farm ice cream.
And you might want to try a Wiltshire Lardy Cake, which is reputed to originate from Castle Combe. It's made with lard, dough, sugar and currants – and tastes better than it sounds!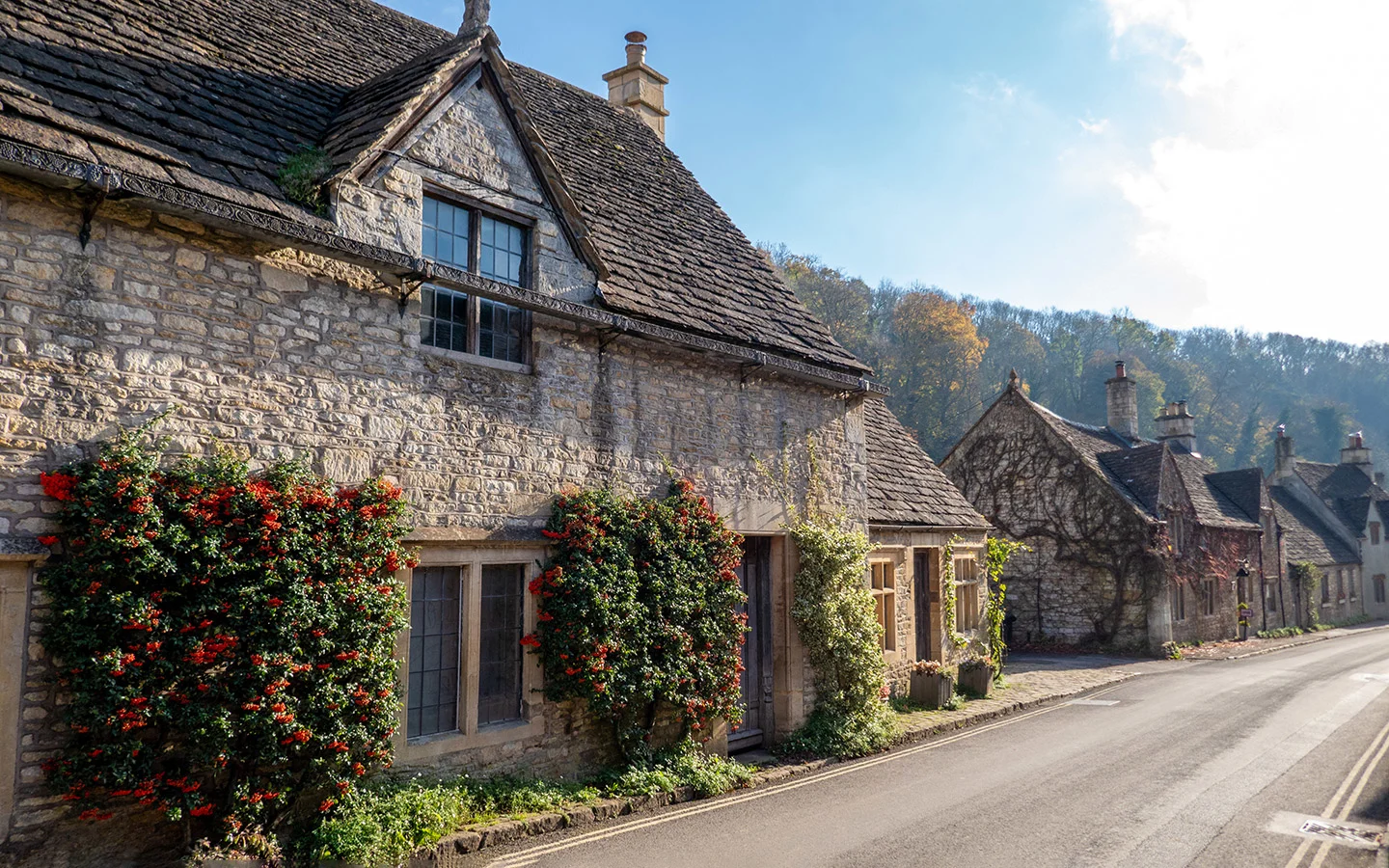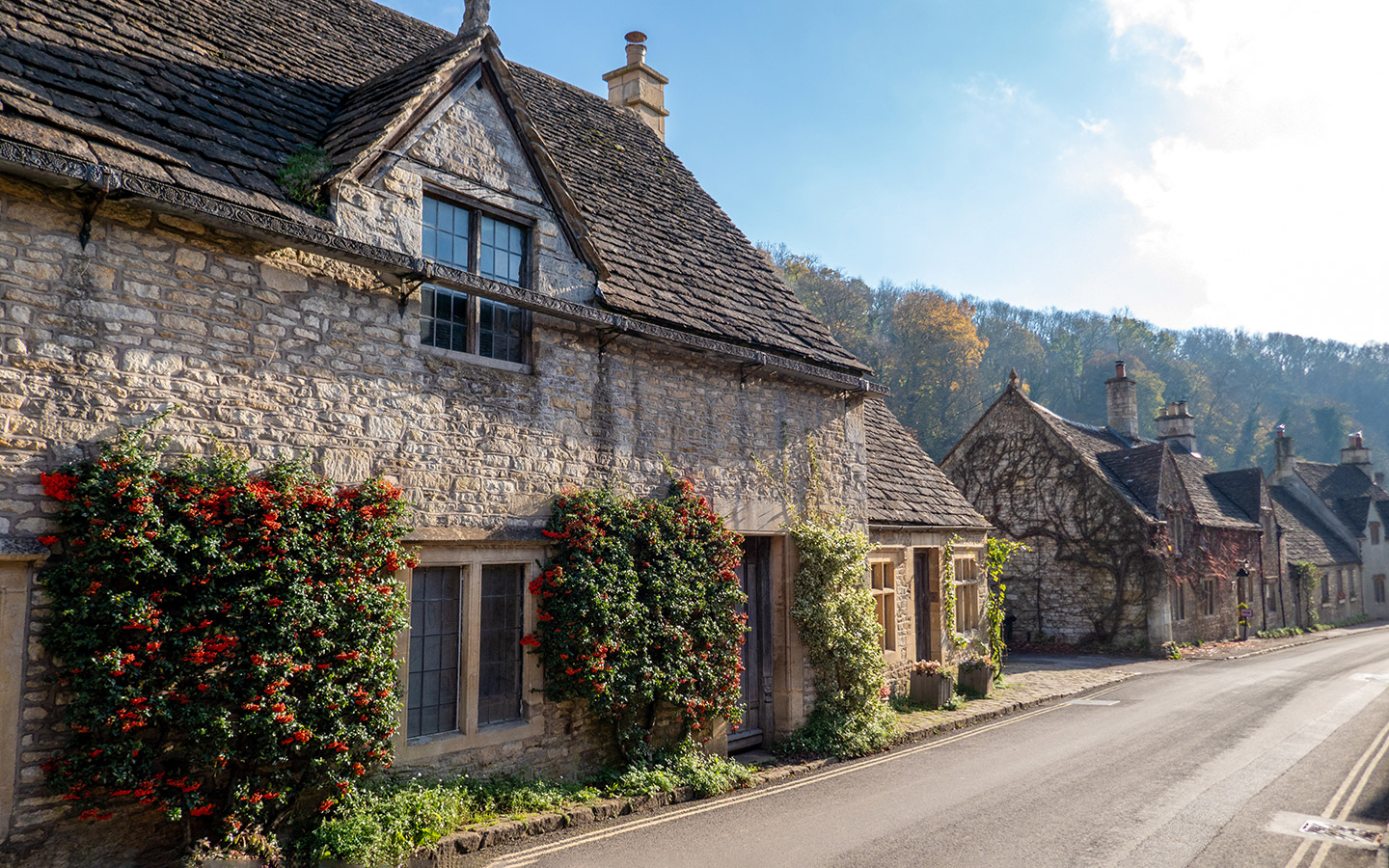 Restaurants and pubs
The Bybrook Restaurant at the Manor House Hotel is a Michelin-starred fine-dining restaurant in a beautiful setting, headed up by chef Rob Potter. Six-course tasting menus use locally sourced, seasonal ingredients and are matched with wines by their sommelier. There's also more informal dining with sandwiches and small plates, or they do a luxurious afternoon tea.
In the village, the Castle Inn next to the Market Cross was rated as one of the UK's top 50 gastropubs and has been awarded 2 AA Rosettes. They serve local beers and have a range of high-end pub dishes on the menu, like slow-cooked venison or lager-battered fish and chips (and their Scotch eggs are fantastic). You can eat by the fire or on the terrace patio.
Just opposite, the White Hart (not to be confused with the White Hart two miles away in Ford) is the oldest pub in the village. It's more of a traditional-style pub, with beers from the Wadworth Brewery in nearby Devizes, hearty pub grub and a courtyard garden for summer.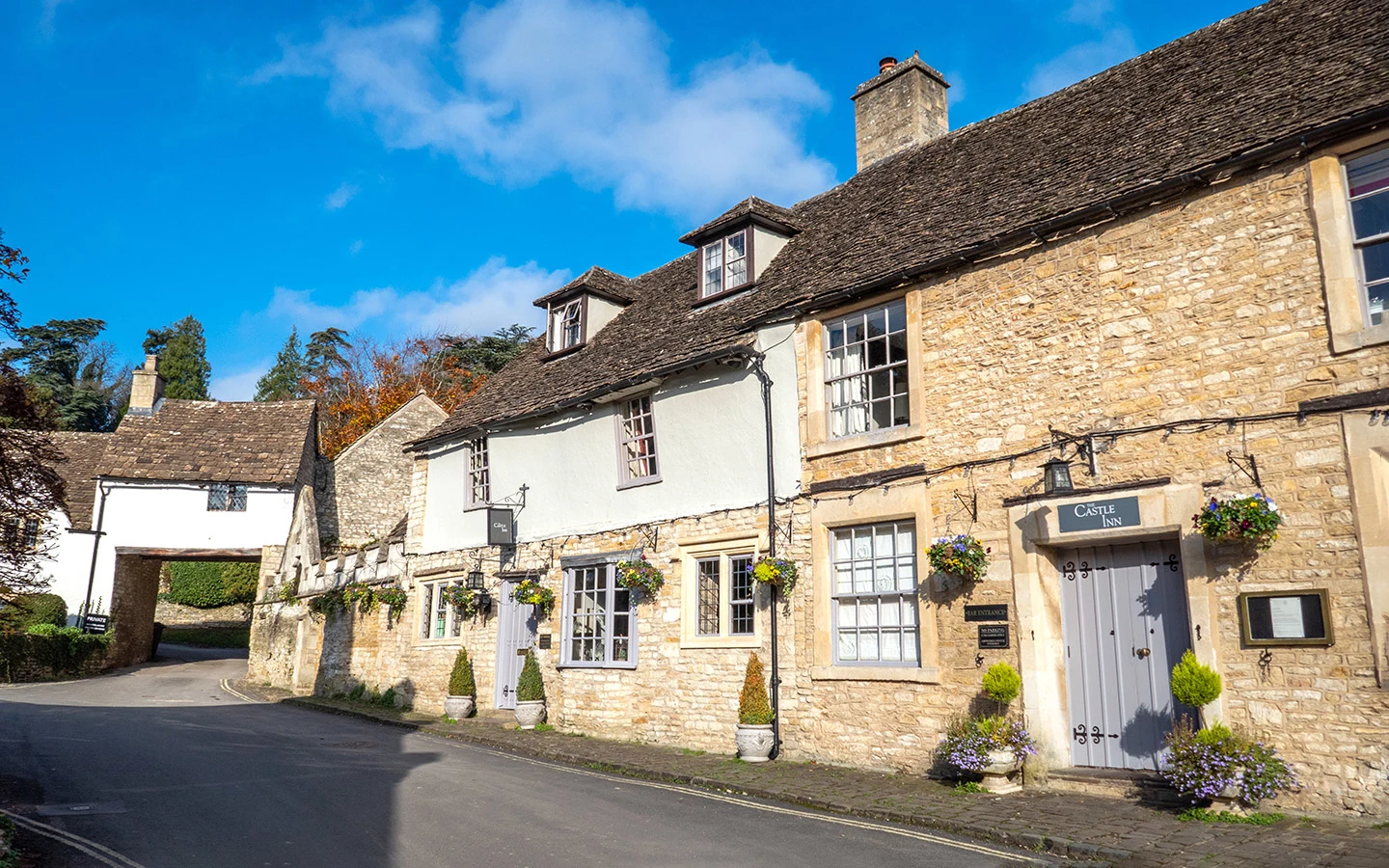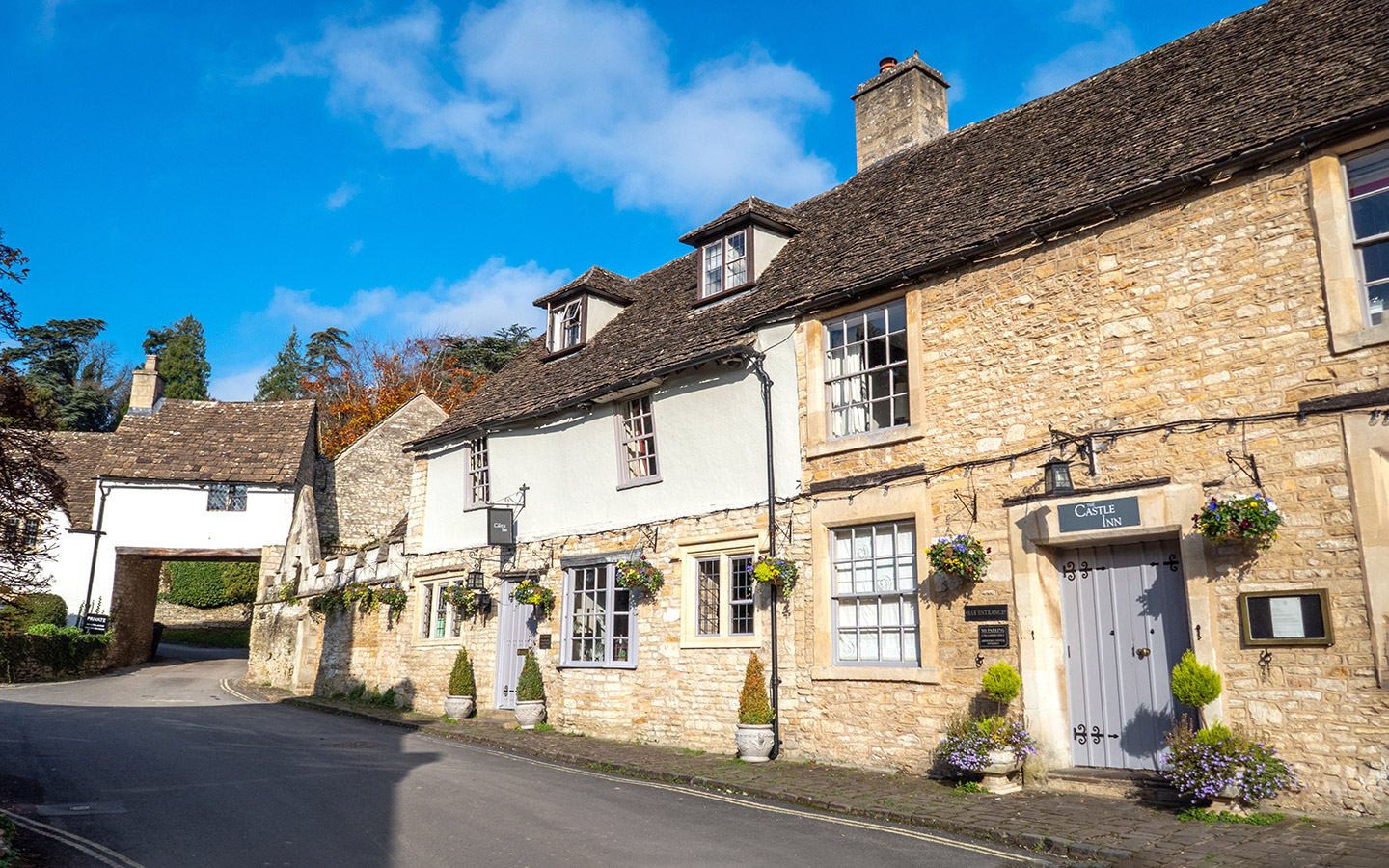 Where to stay in Castle Combe
The five-star Manor House Hotel* has a luxury country club feel. The building was built in the 14th century and is surrounded by 365 acres of grounds, including an Italian garden, kitchen garden and golf course. The 50 individually designed bedrooms are spread across the main building and the dog-friendly mews cottages, and there's a restaurant, comfortable lounges and a gin bar.
The Castle Inn* is a more affordable option in a classic Cotswolds pub and B&B which is part of Exclusive Collection hotel group alongside the Manor House. The building which houses it was built in the 12th century and was once used as a retreat by Oliver Cromwell. It has 12 bedrooms and plenty of character from its exposed beams, log fires and antique furniture.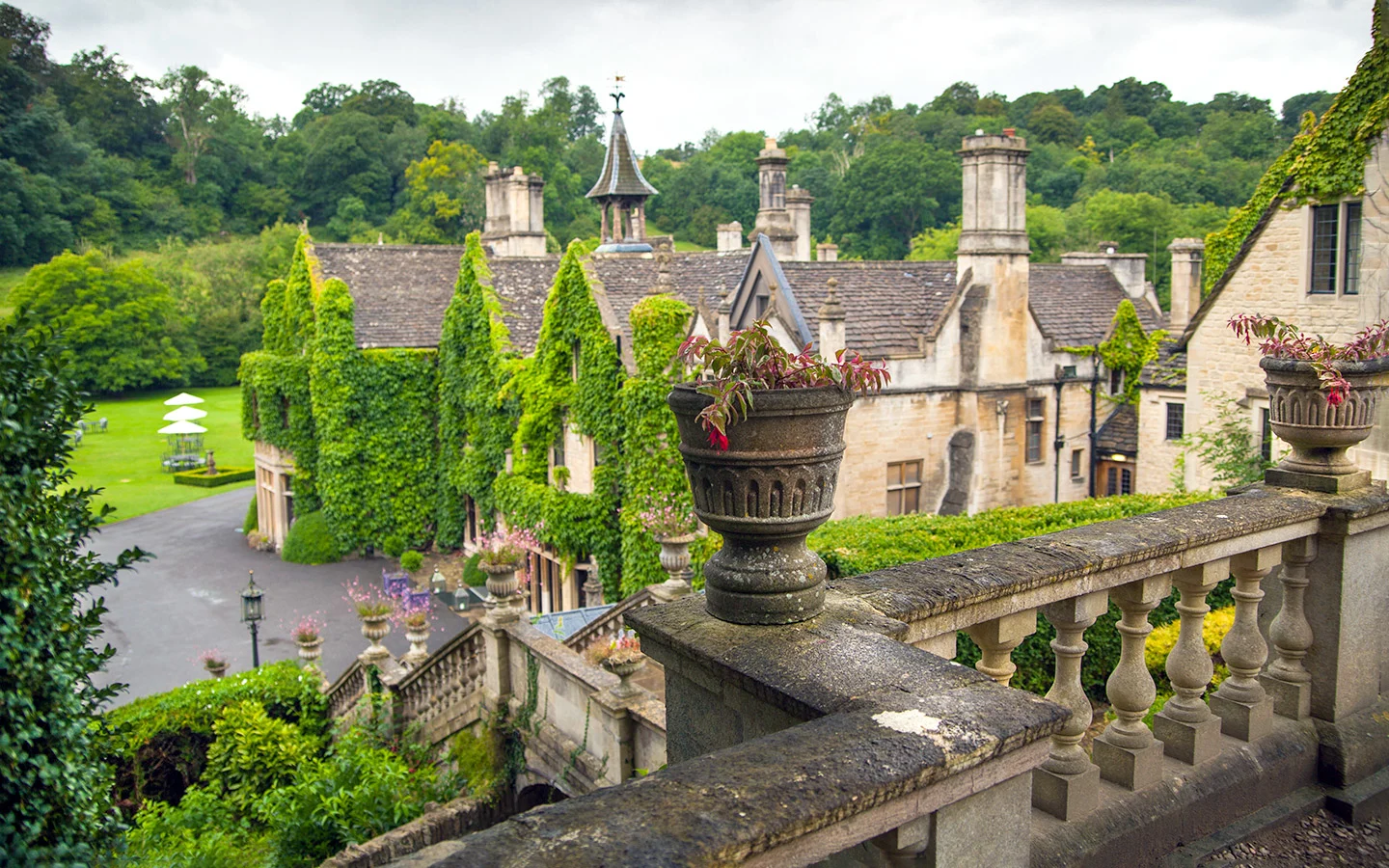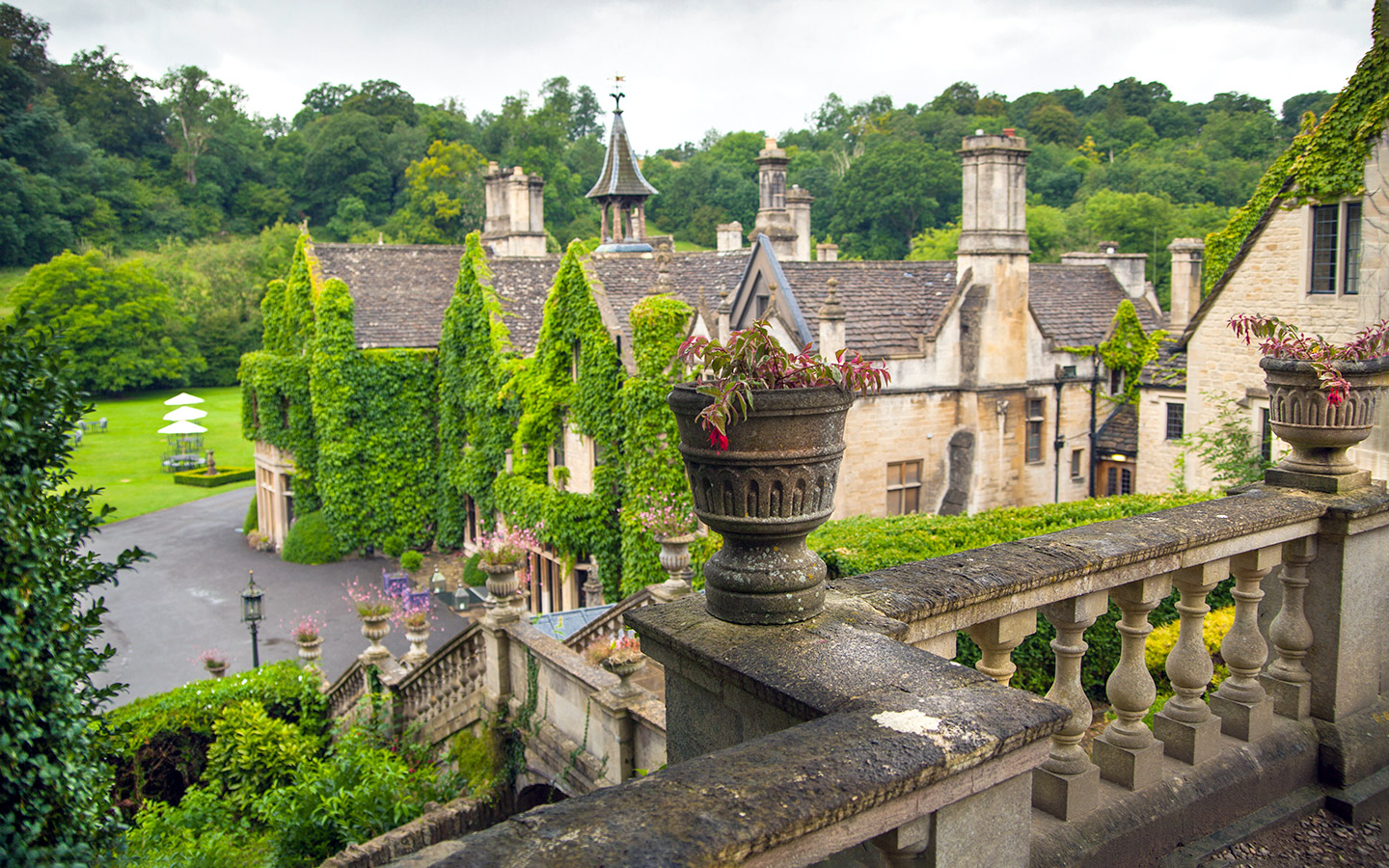 The Gates* is opposite the Market Cross in the heart of the village. Some parts of the building date back to medieval times, but it's been restored and modernised while keeping its original character. It sleeps six in three bedrooms, one of which comes with a freestanding bath and stained-glass window. There's also a well-equipped kitchen-diner and a lounge with woodburner.
Or Stable Cottage* is a converted 17th-century stable with vaulted ceiling and thick stone walls, in a quiet lane close to the village centre with off-road parking. It's all on one level, with one bedroom, an open-plan living space, kitchen and small outdoor area, and is good value for the area.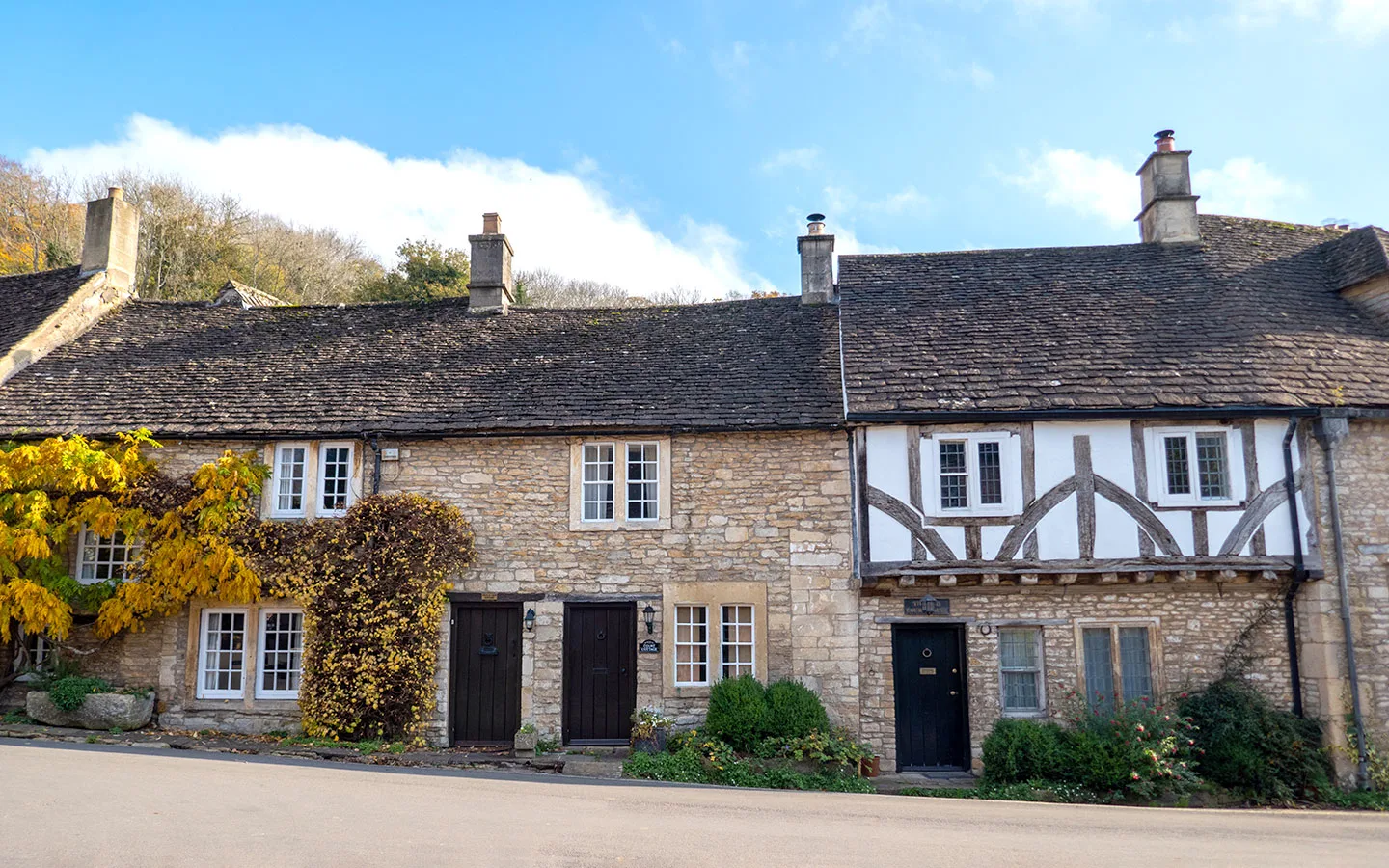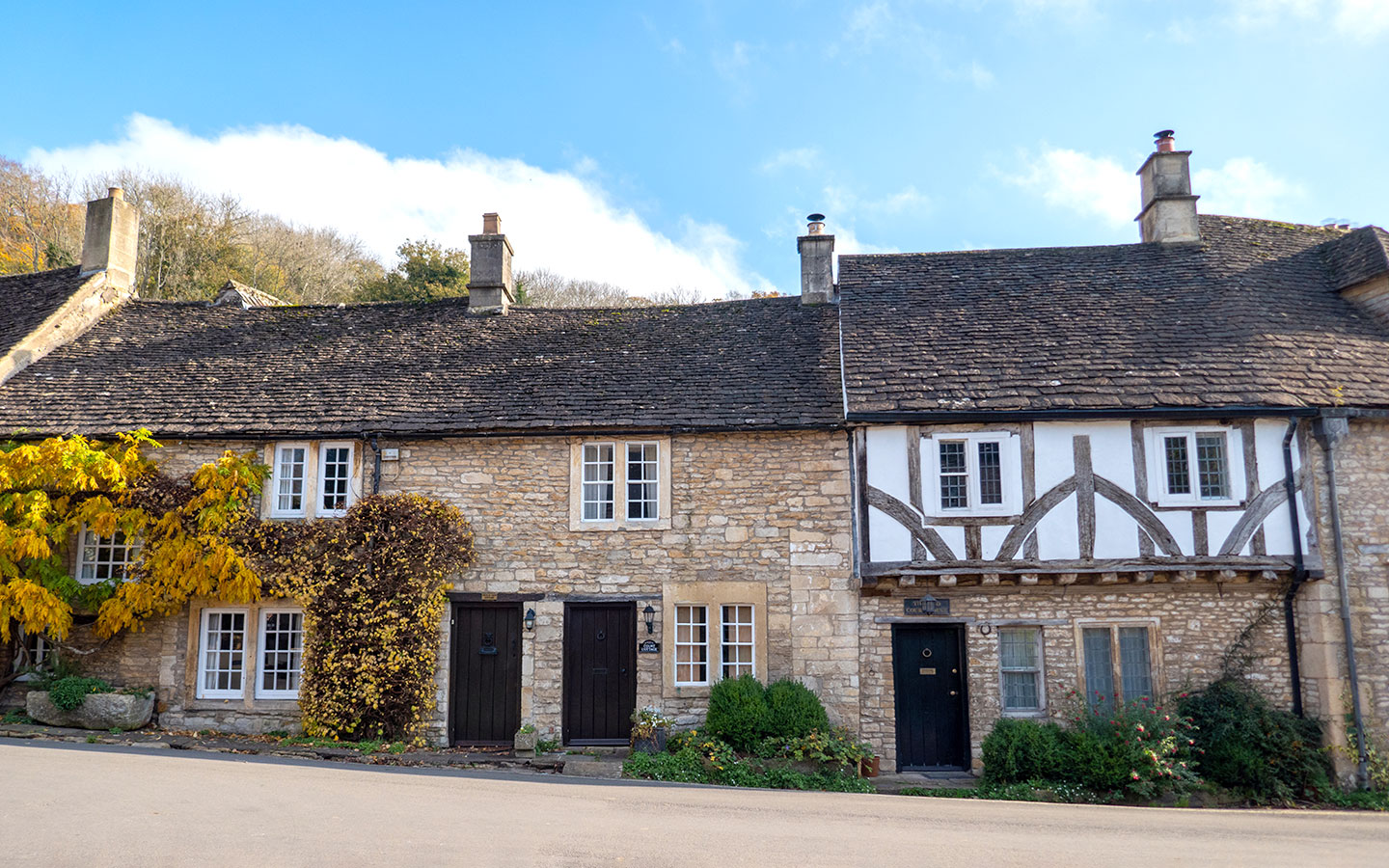 How to get to Castle Combe
By car
Castle Combe is six miles west of Chippenham and easily accessed from the M4 motorway. There's a pay and display car park on Dunns Lane in Upper Castle Combe (SN14 7HH), a 10-minute walk from the lower village. And there's roadside limited parking on the hill between the two (though watch out for double yellow lines if you park on the road – these are actively enforced).
By public transport
The nearest train station is in Chippenham, with frequent connections to Bristol and London. The Faresaver 95/95A bus runs from Chippenham to Castle Combe in around 20 minutes (though there are only a few services a day and none on Sundays). You can also take a taxi from outside Chippenham train station or from the taxi rank close to the coach stop on the High Street.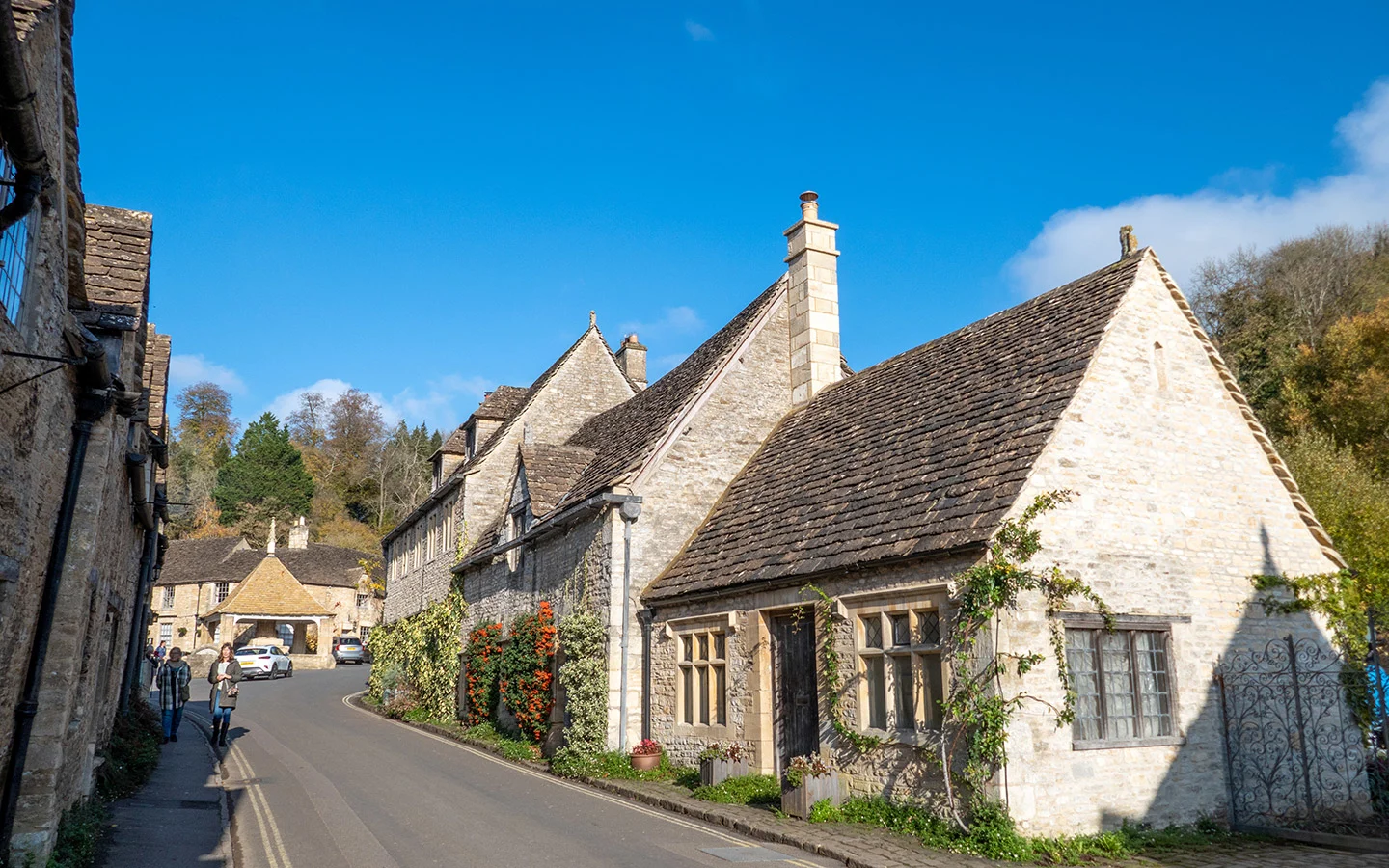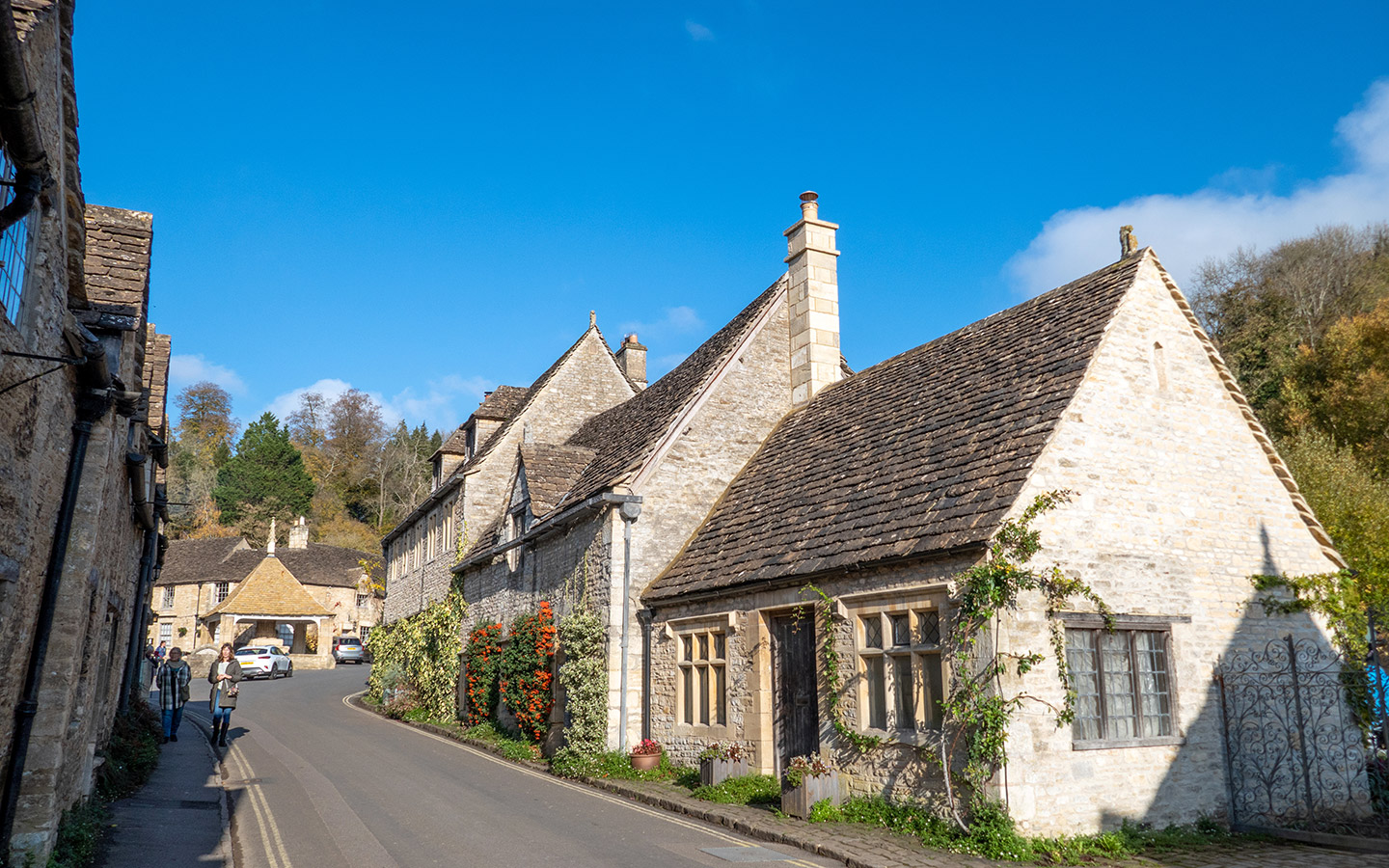 Save for later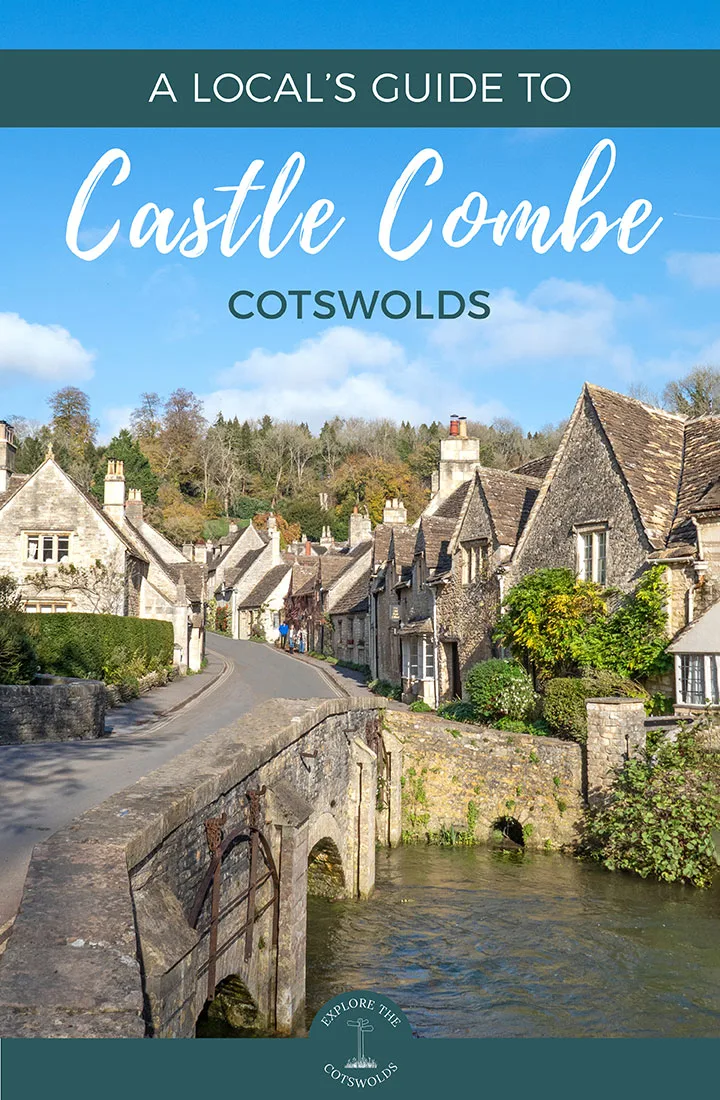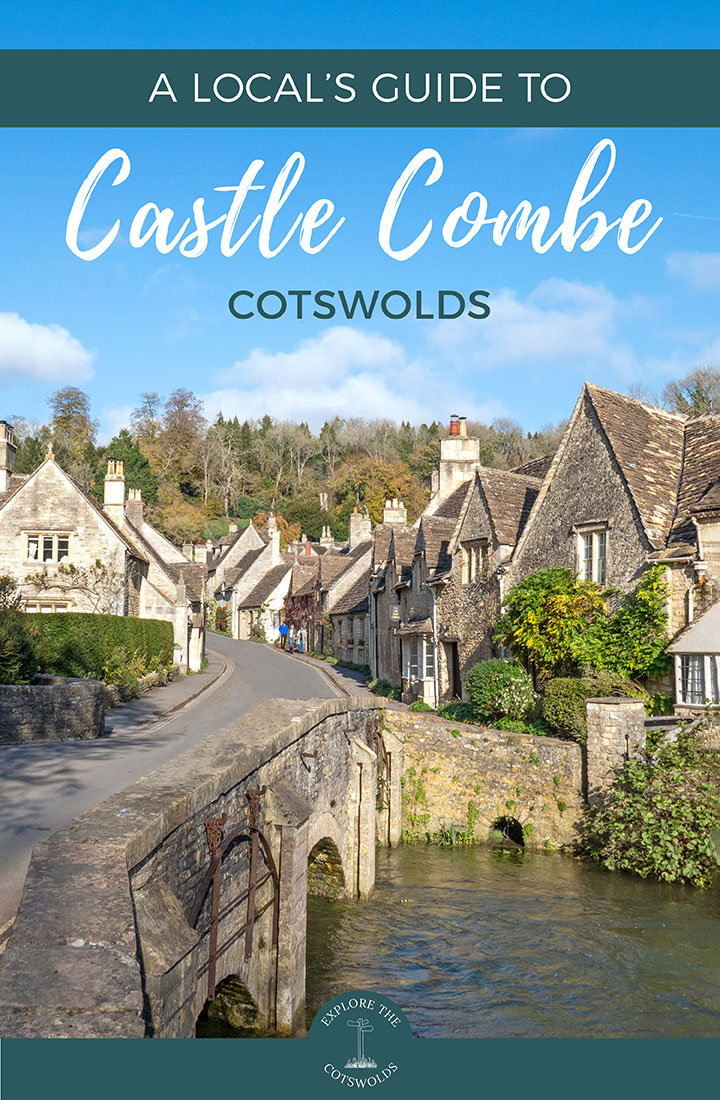 * This site contains affiliate links, where I get a small commission from purchases at no extra cost to you.