Picture a Scandinavian log cabin by a perfectly still lake, wild birds outside your window, a rowing boat and steaming hot tub by the water's edge. Sounds like something you'd find in Canada or Finland, but these are lakeside hot tub lodges in the Cotswolds. Log House Holidays lies on the edge of the Cotswold Water Park just south of Cirencester – and is one of our favourite spots for a relaxing break, with the Cotswolds' villages, country walks and cosy pubs in easy reach.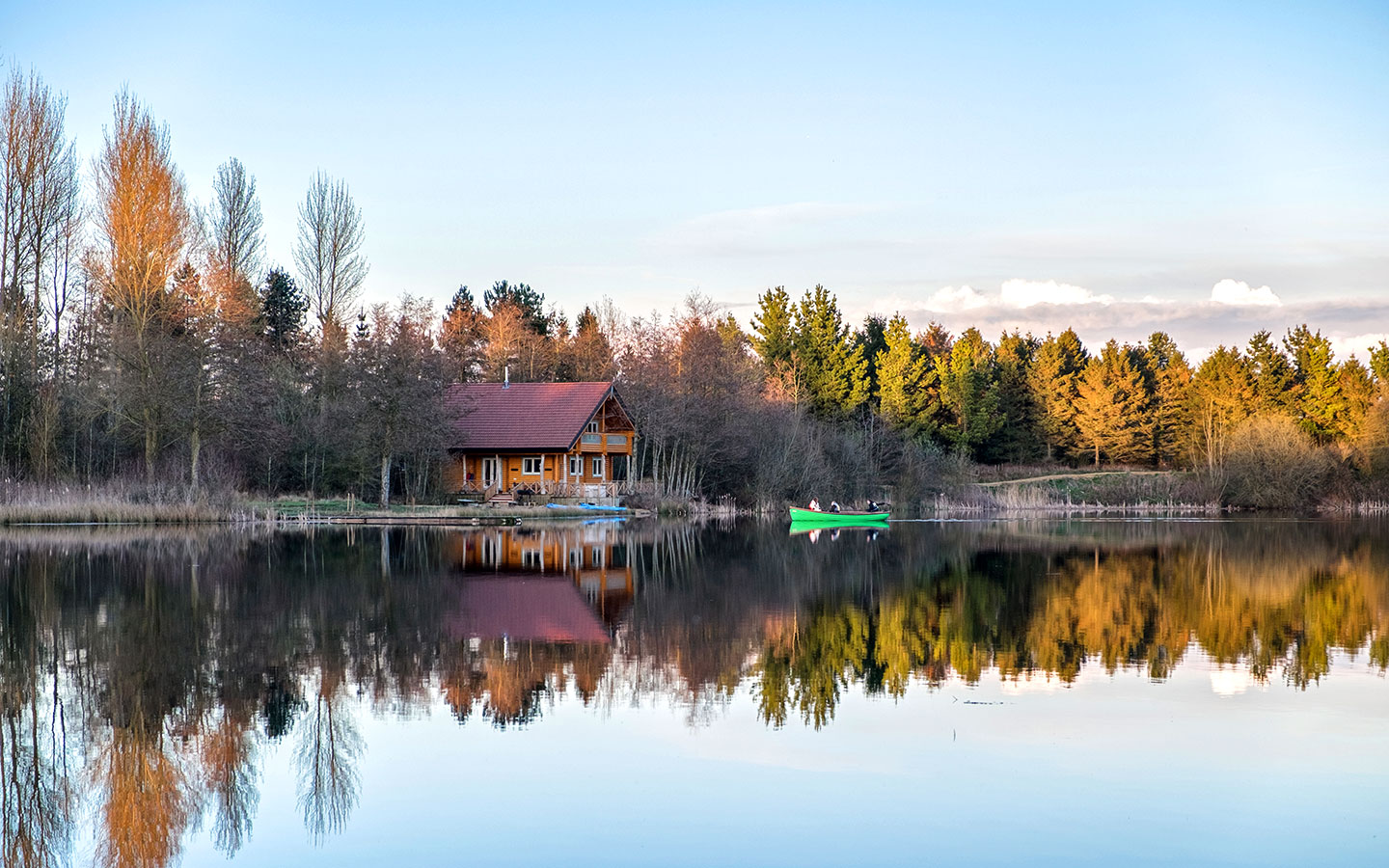 About Log House Holidays
Log House Holidays is a family business started by Anthony Edmondson, who bought a 130-acre disused gravel pit in 1980 using money he'd saved working in a silver mine in Canada's remote Yukon province. Since then he and his family have transformed the site into a nature reserve, planting 50,000 trees and bringing life back into an abandoned industrial site.
Now the lake and its reed beds and banks are full of wildflowers, birds like kingfishers, nightingales and great crested grebe, 17 varieties of dragonfly and a family of otters. The project's been so successful that the site was designated a Site of Special Scientific Interest in 1993.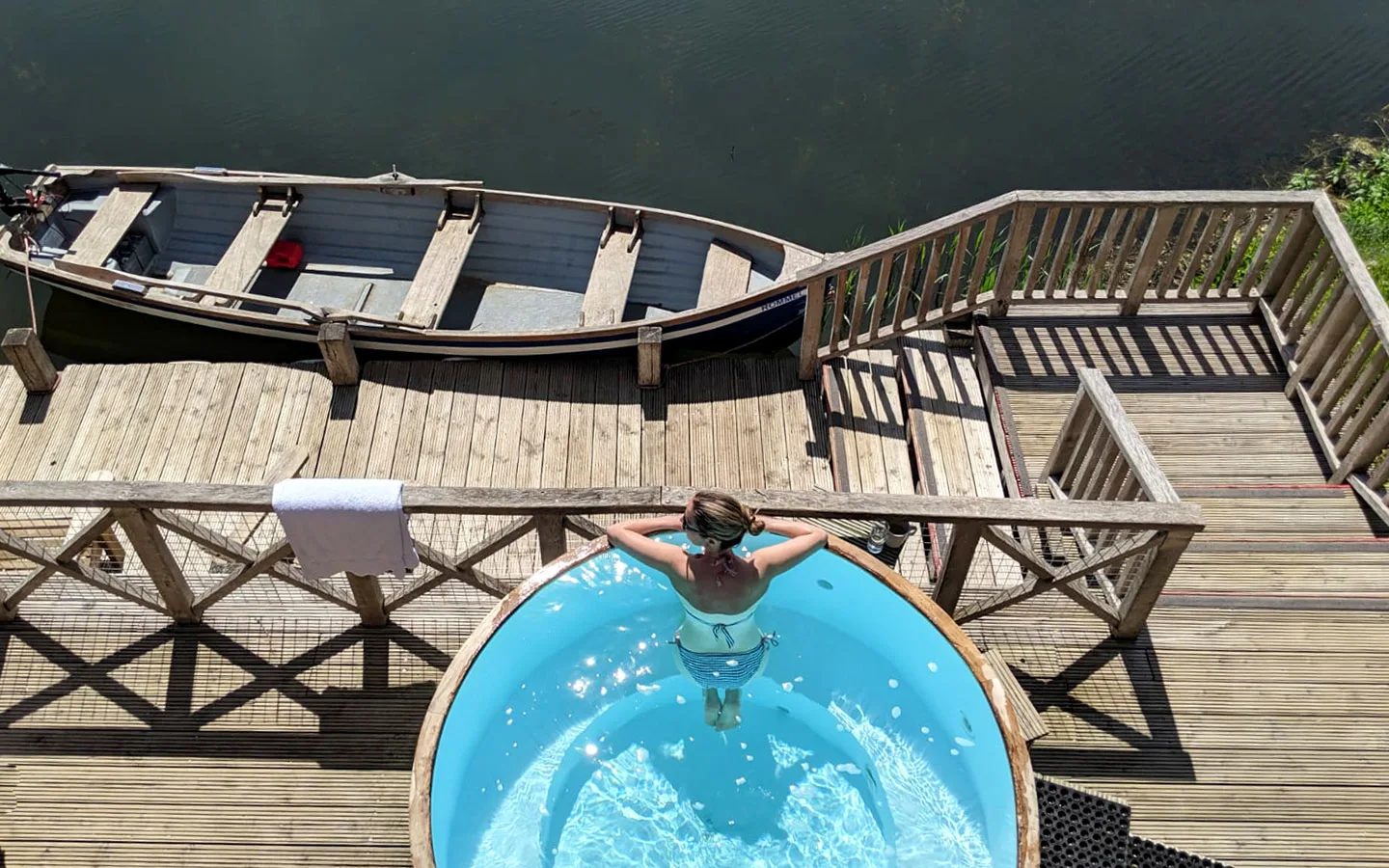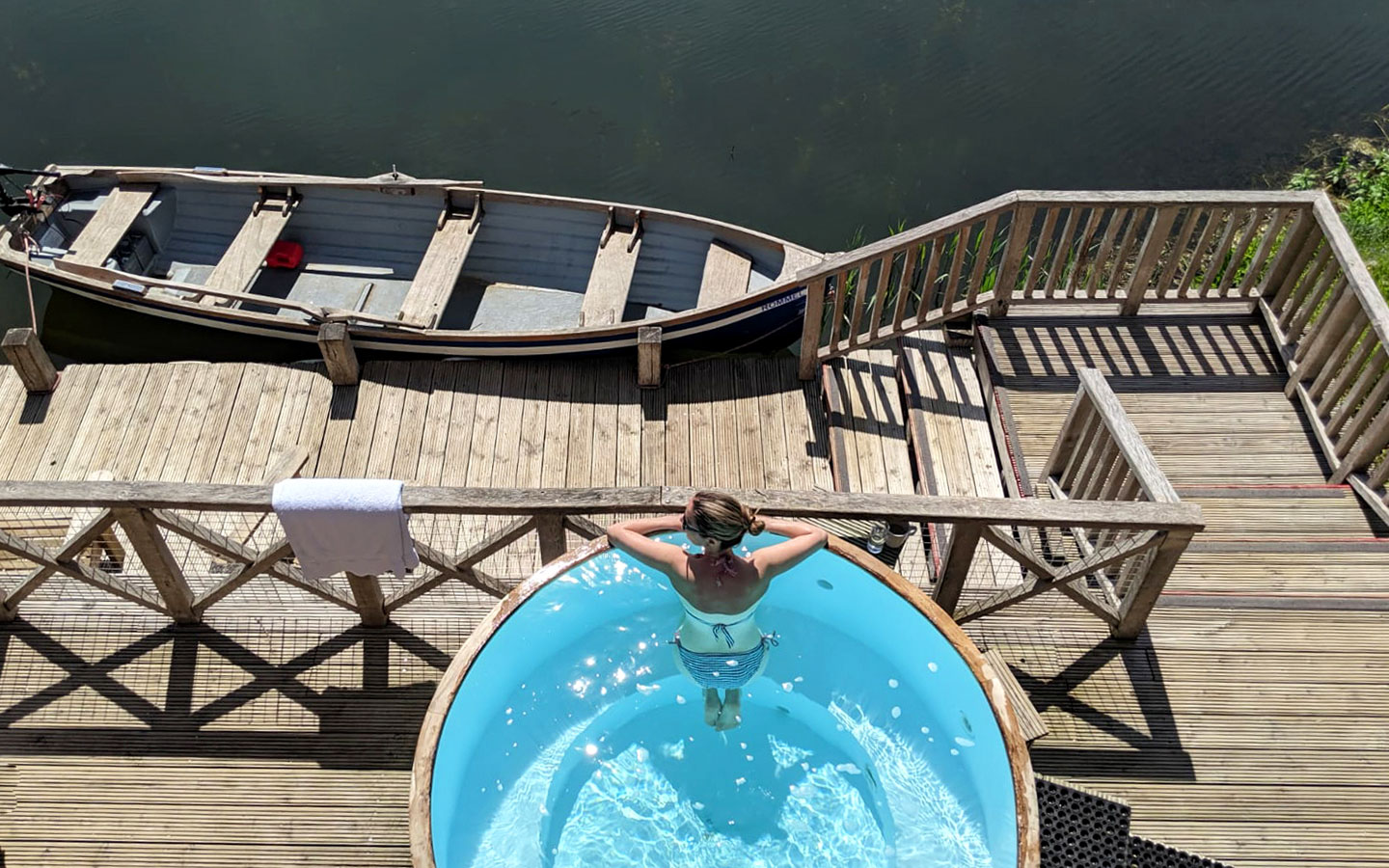 But it's not all about the wild visitors, part of the idea of Log House Holidays was always about making it a countryside retreat where visitors can escape the real world, switch off, relax, unwind and get back to nature. So there are eight cabins spread around the lake, ranging in size from cosy four-person properties to 11-person Mayo Landing on its own private island.
All development has been done with one eye on the environmental impact, with heavily insulated cabins built with slow-growing Baltic pine from Finland, heating and hot water from lake heat pumps, electricity from their solar tracking station and firewood from coppiced timber.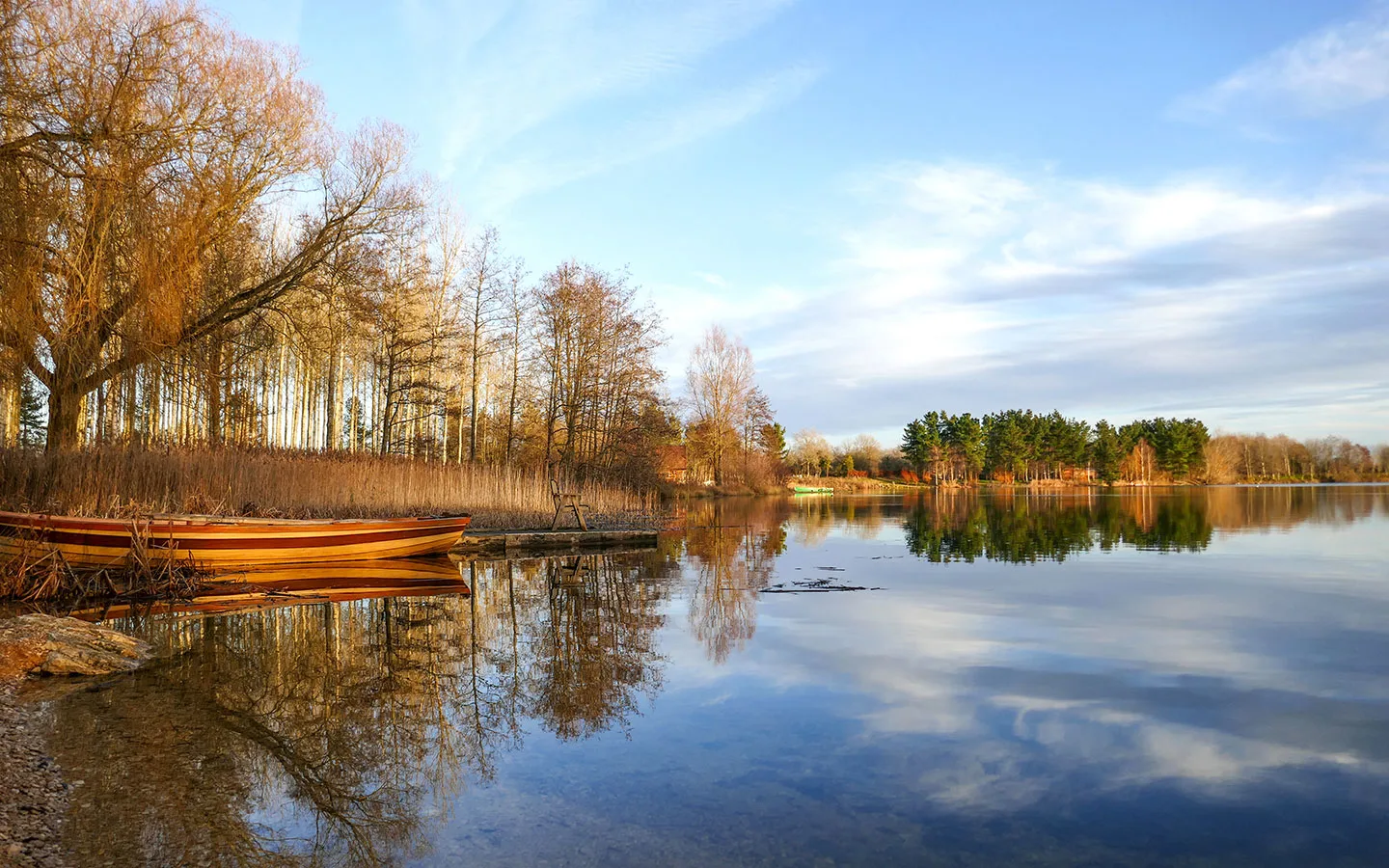 Staying at Log House Holidays
Log House Holidays lies on the edge of the village of Poole Keynes, at the western end of the Cotswold Water Park. It's only six miles south of Cirencester, but the rural views and the narrow country roads you have to drive to get there make it feel a lot more remote.
The first thing you notice when you arrive is the quiet, and the space. The owners have resisted the temptation to squeeze too many cabins around the lake, so you have acres of room – most of the time you can only see a couple of other cabins in the distance and only spot any other guests walking around the lake path. It all adds to the feeling of really getting away from everything.
So what's it like staying in these hot tub lodges in the Cotswolds? I first visited Log House Holidays in 2017 and loved it so much I've been back three times, staying in different cabins. All of them share the same rustic luxury Scandinavian style, but their different sizes and configurations mean they're good for everything from a romantic couple's trip to groups of friends or family.
Each cabin comes with its own private hot tub, which is heated to a toasty 39 degrees, a fully-equipped kitchen, TV, DVD player and digital radio, and has a log burner inside and fire pit outside, with a supply of logs, firelighters and the all-important marshmallows included.
The smallest cabins – Monty's Retreat, Lake Springs House, Island Lodge and Elsa – sleep four, with two double bedrooms and an open-plan combined kitchen, lounge and diner. Kaiser's Kabin and Keno Lodge both sleep six and are spread over two floors, with a balcony overlooking the lake. And Moondara is larger, sleeping eight and with its own beach and fire pit island.
Biggest and most impressive is Mayo Landing, on a private island connected to the rest of the site by a bridge. As well as a hot tub, it also has its own swimming pool and sauna. Mayo Landing sleeps 11, with a huge en-suite master bedroom with lounge and balcony on the first floor, along with two doubles (both with balconies), a single and a bathroom. Downstairs there are two smaller doubles, a shower room, utility and a kitchen with open-plan lounge and dining room.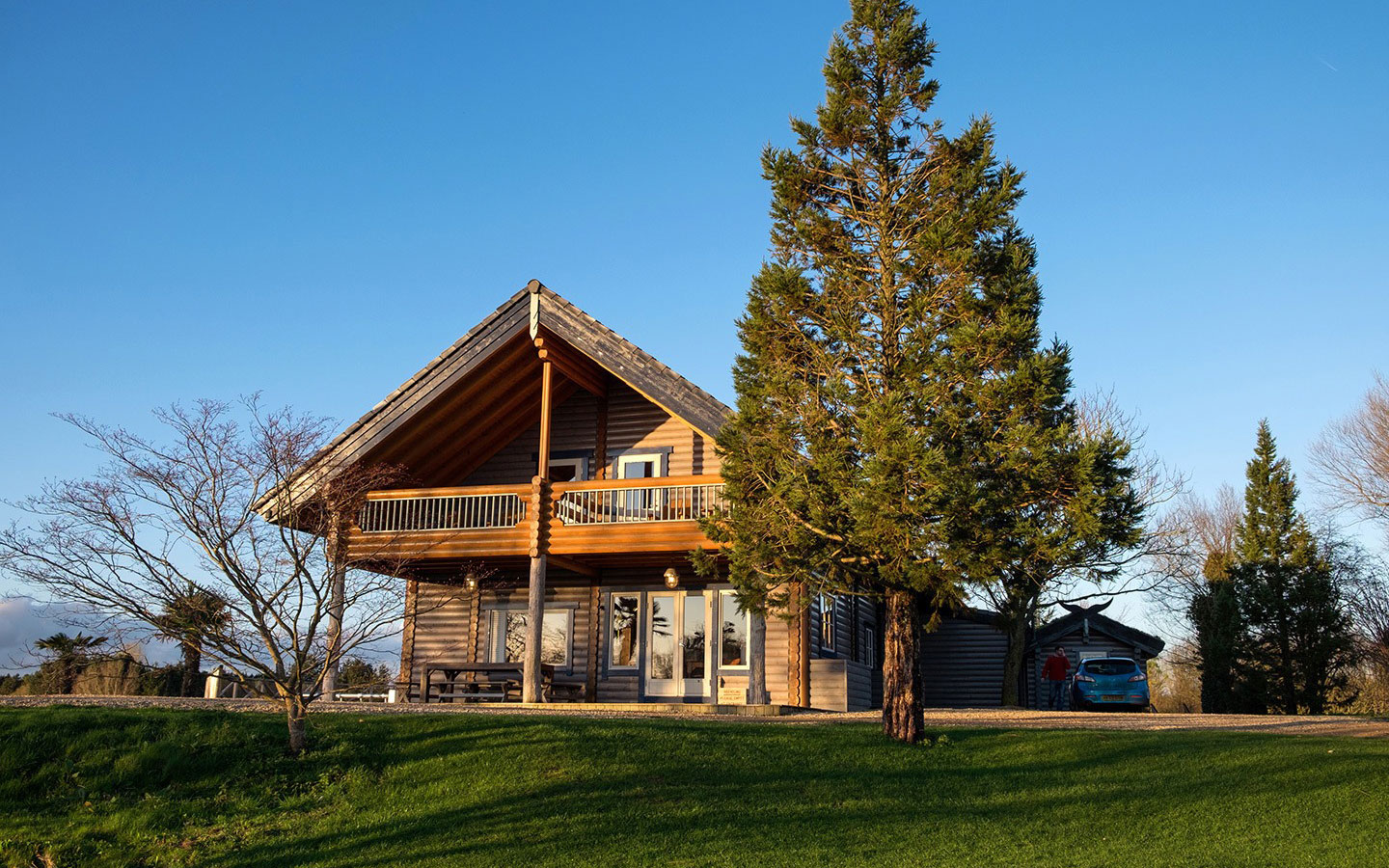 The appliances are modern but the furniture includes antique wooden wardrobes and chunky cottage tables, as well as comfy sofas, leather armchairs and a few quirky curios (like a Victorian bath chair in Mayo Landing's master bedroom). Each of these Cotswold log cabins has a real cosy feel, with lots of spots to curl up with a book inside, or soak up the views outside.
You can have a totally different holiday at the lake at different times of year – warm up with the fire or hot tub after a chilly walk in winter, or picnic and swim in the lake in summer. It's an easy place to unwind, slow right down and escape the pressures of the real world for a few days.
Things to do at Log House Holidays
So what can you do at Log House Holidays (other than soaking up the views from the hot tub)? All cabins come with their own rowing boat so you can head out on the water to spot wildlife. Each log cabin also comes with a set of binoculars for bird-watching – we saw a kingfisher fishing from the chair at the end of our deck and robins and watched blue tits on the bird feeder.
You can also take a dip in the lake if you're there in summer (or have brought a wetsuit). And there are also lots of extras you can add on to your stay, from kayaks, paddleboards, bikes and fishing permits to spa treatments and baking classes – though they do come at an extra cost.
It's also a great place for a walk. There's a 2.5-mile path running around the edge of the lake which passes through trees and patches of wildflowers, with hanging swing chairs and a new 'ant hill' viewpoint. Or if you want to go further you can follow a stretch of the Thames Path, which goes from the source near Kemble all the way to the Thames Estuary in London, 184 miles away.
All good country walks should involve a pub, so if you head north along the Thames Path you'll reach the village of Ewen in around 2 miles, which is home to the Wild Duck Inn (currently closed for refurbishment) that dates back to 1563. Or head south along the Thames Path for 3 miles through the Cotswold Water Park to Ashton Keynes and call in to the White Hart Inn.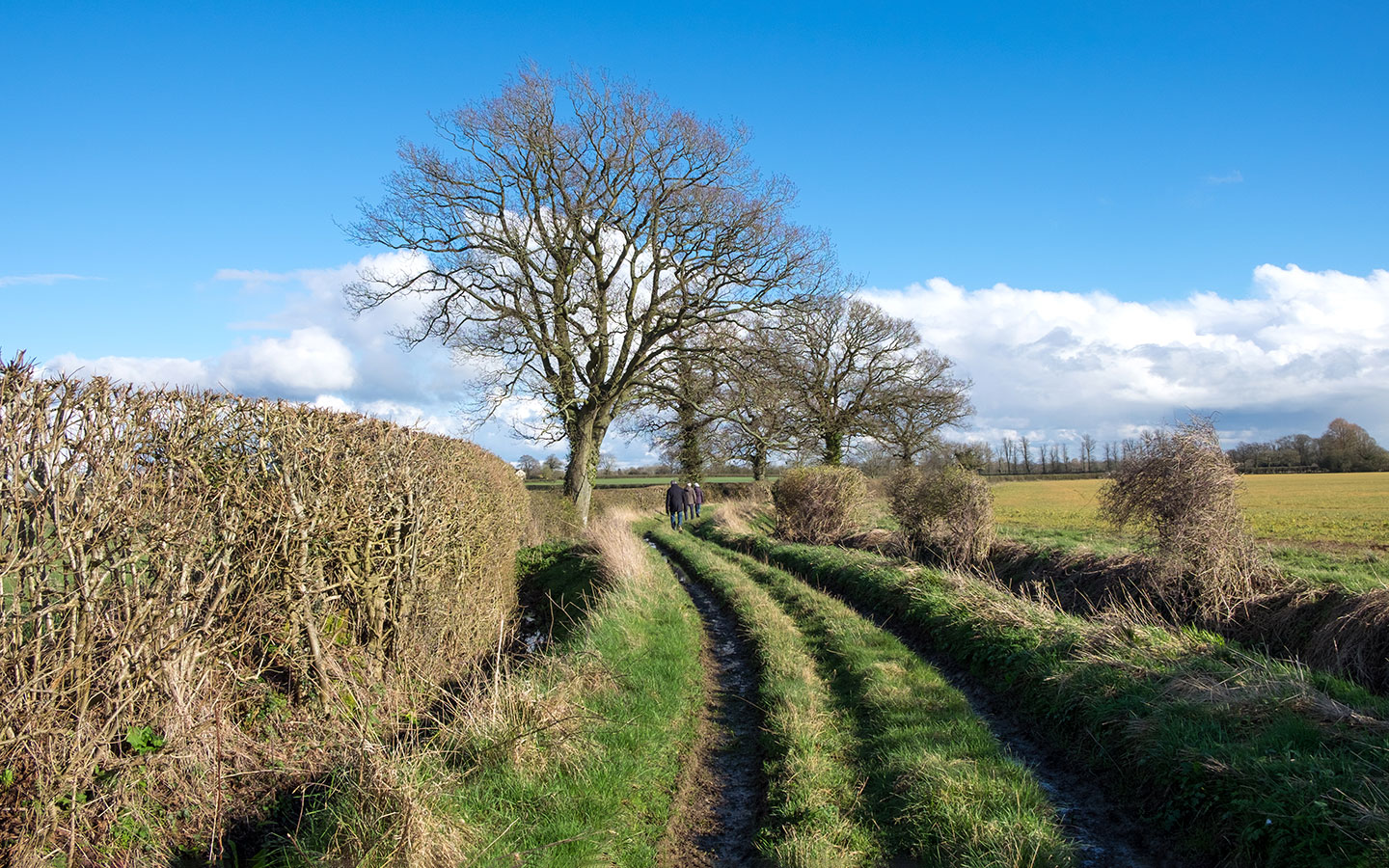 If you need to stock up on provisions during your trip, Cirencester is only 6 miles away and has a good selection of supermarkets, or there's a small Coop in South Cerney. Or if you want to eat out there are some great pubs within a short drive, including The Potting Shed in Crudwell (5 miles), The Crown in Ampney Crucis (8 miles) and The Village Pub in Barnsley (11 miles).
You've also got lots of Cotswolds sights to explore nearby (if you can drag yourself away from the lake). Closest are Cirencester (6 miles) with its Roman amphitheatre and museum, and Tetbury (10 miles) with its historic buildings and antique shop. There's also pretty Malmesbury (10 miles), Bibury (15 miles) with its famous Arlington Row houses, and Westonbirt Arboretum (14 miles).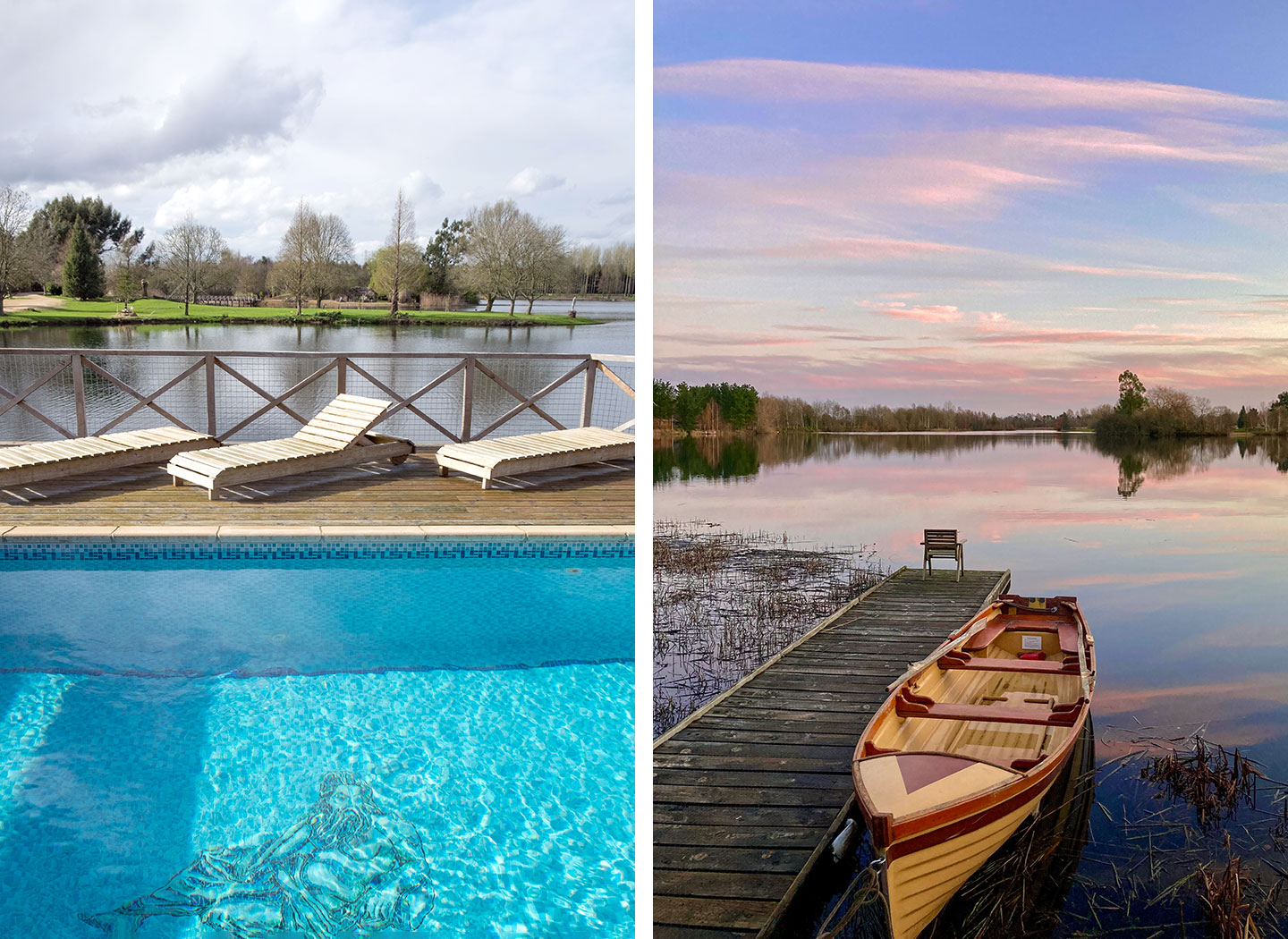 The details
Getting to Log House Holidays
Log House Holidays is 6 miles south of Cirencester, via the village of Ewen. It's easiest to reach with a car, though you can catch the train to Kemble, 2.5 miles away, and take a taxi from there to the lake. You will need a car though if you want to explore the wider Cotswolds, but there's easily enough walks and things to do at the lake to fill a few days if you don't have one.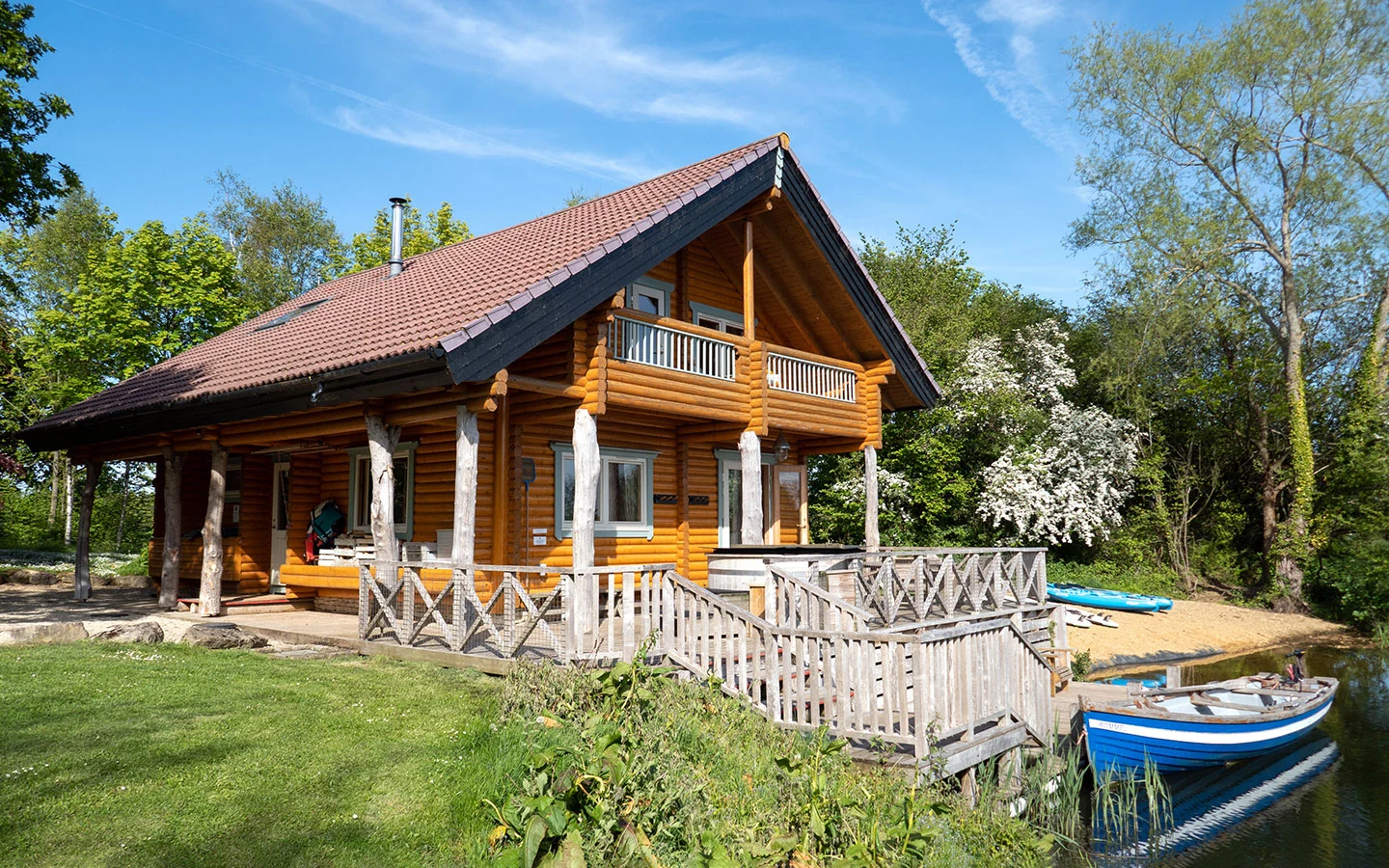 Prices and booking details
Log House Holidays' Cotswold log cabins can be rented for three-night weekend stays (Friday–Monday), four-night stays during the week (Monday–Friday) or full weeks (Friday–Friday). A four-night weekday stay starts from £770 for the smallest cabins to £1550 for Mayo Landing.
You do unfortunately have to pay extra for the hot tub (£100–£150, depending on cabin size) and there's also pick and mix menu of other extras like spa robes, kayaks and bikes, so you can choose what you want. Dogs are also welcome at an extra cost of £40 a week.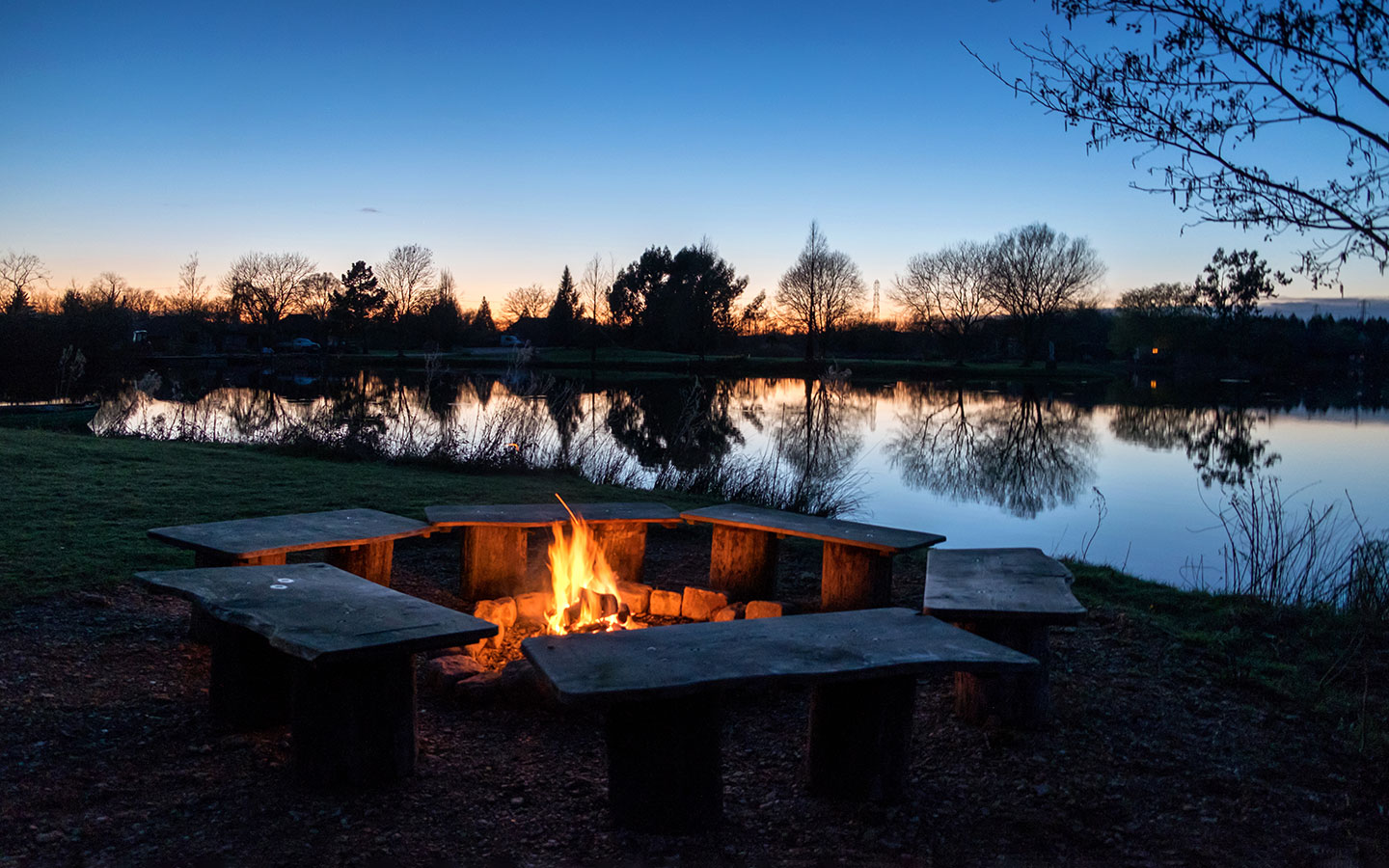 Booking can be made through the online booking system on their website. As there are only eight cabins they do get very booked up – the next free date is six months away at the moment! – especially in high season, so you need to get in there early. There are occasionally last-minute cancellations though, which you can find out about by signing up to their mailing list.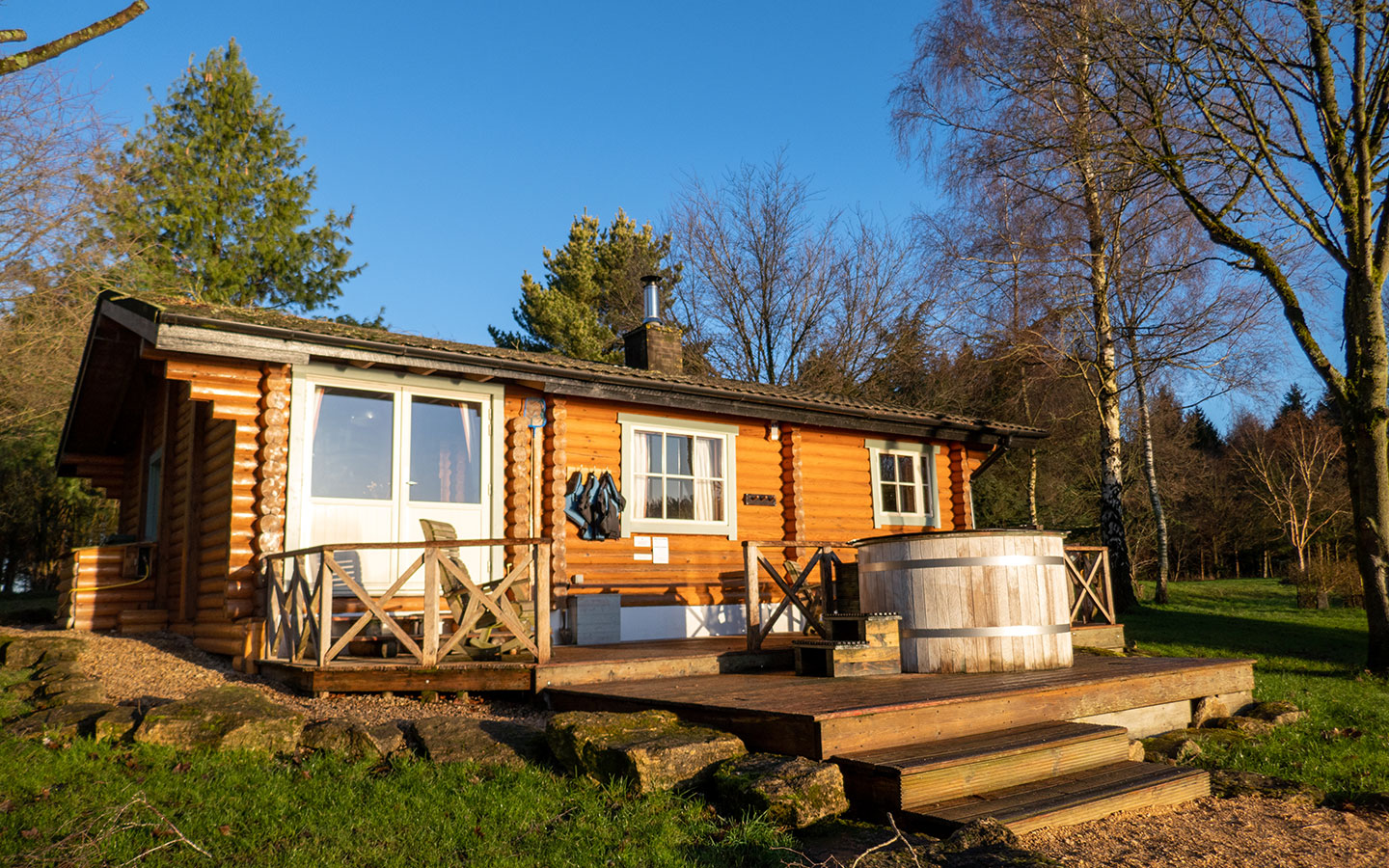 Save for later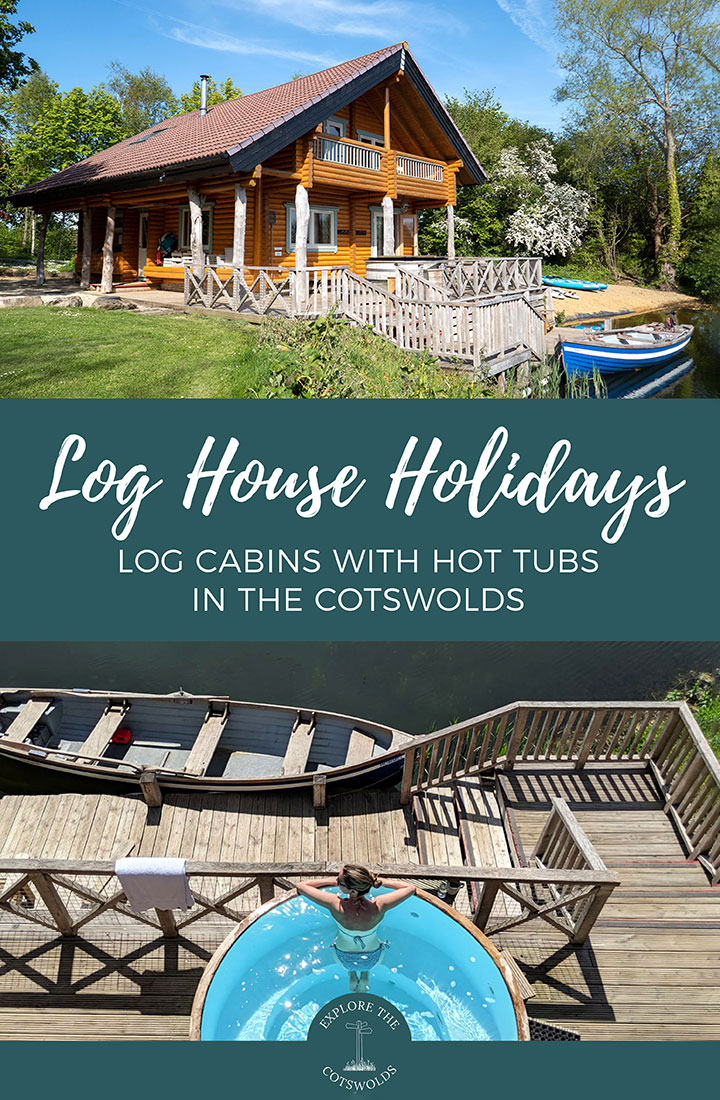 * This site contains affiliate links, where I get a small commission from purchases at no extra cost to you.