After dark, cold days and the post-Christmas lull, the first snowdrops peeking out from the ground are a sign that spring is on its way. With blooms normally peaking in late January and February, these pretty winter flowers add a bit of brightness to a winter day. So if you want to see snowdrops in the Cotswolds, here are our pick of seven of the region's top snowdrop gardens.
Where to see snowdrops in the Cotswolds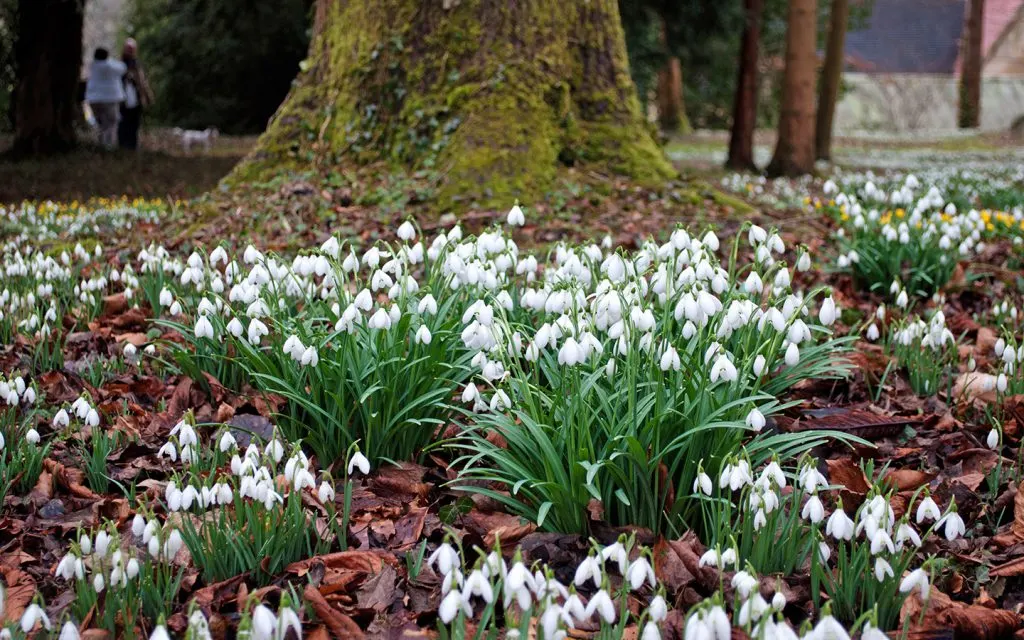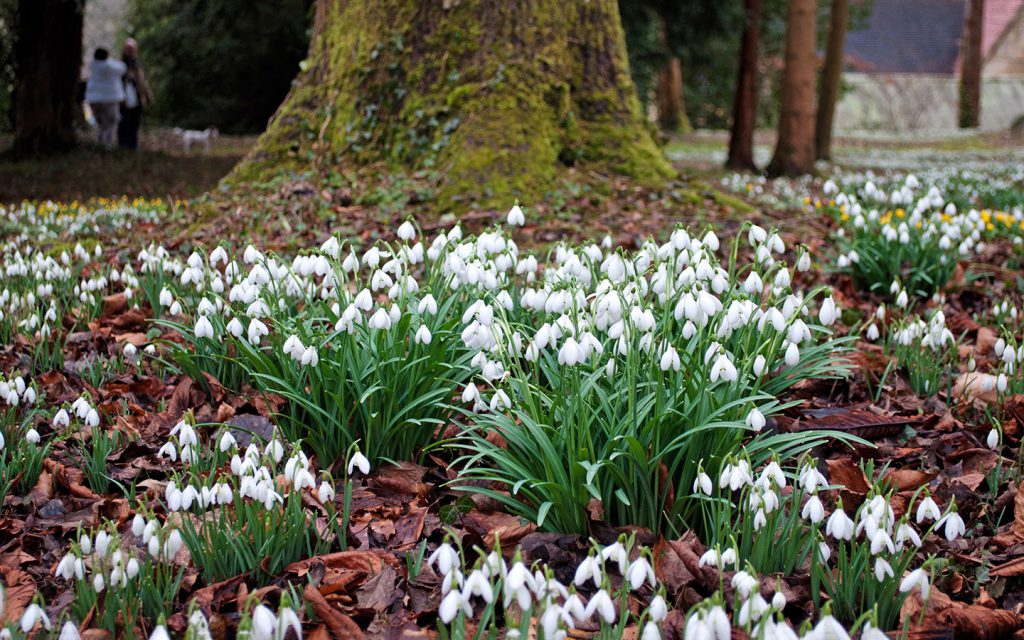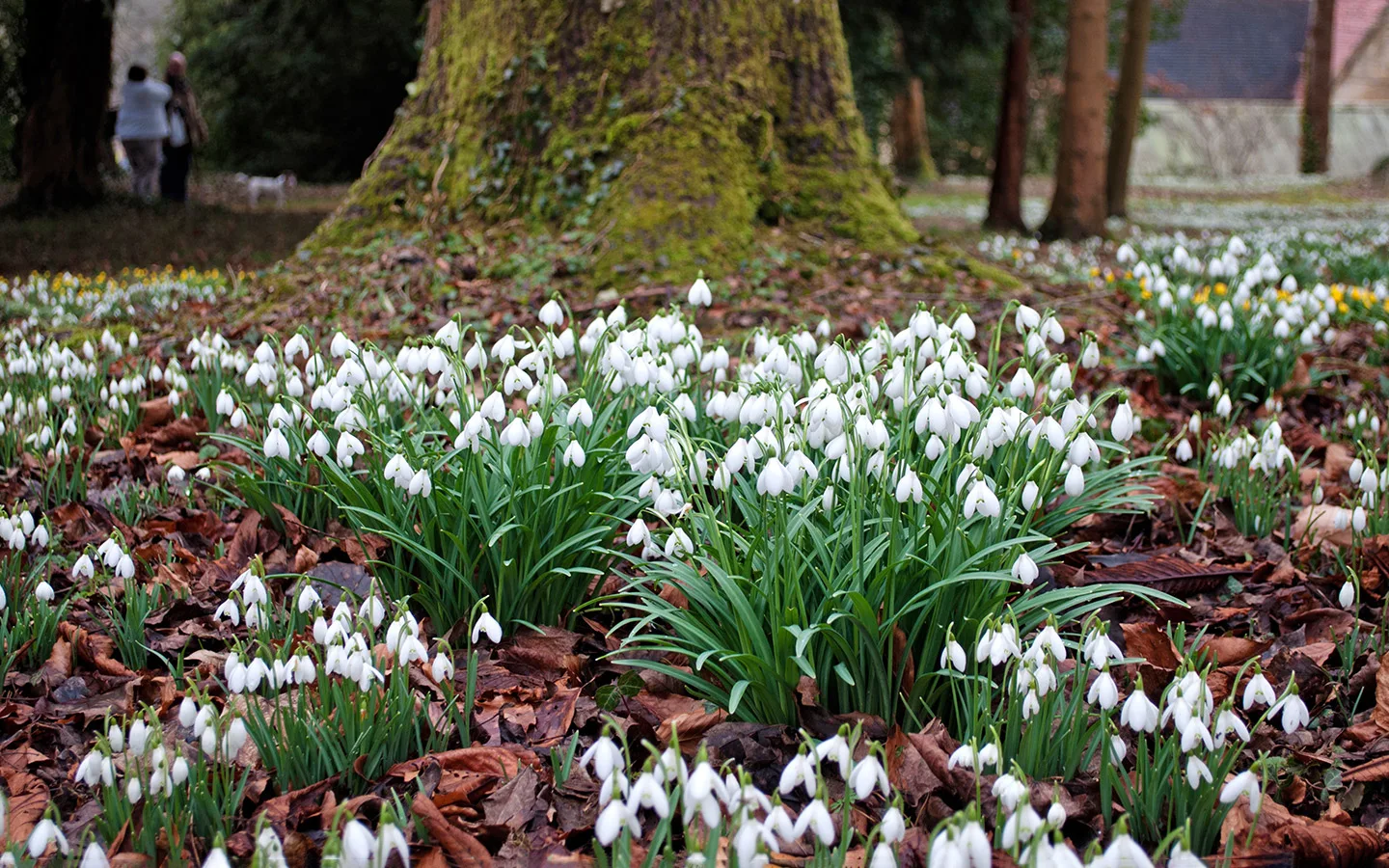 Colesbourne Park
Located halfway between Cheltenham and Cirencester, Colesbourne Park has been described as 'England's greatest snowdrop garden' and is one of the best-known places to see snowdrops in the Cotswolds. The estate boasts over 350 varieties of snowdrop which are spread over ten acres of traditional country garden, and are opened up to the public each January/February.
Colesbourne Park has been home to the Elwes family for centuries, and Henry John Elwes started the snowdrop collection when he discovered a new species – christened Galanthus Elwesii – in Turkey in 1874. Since then the family have kept adding to the collection and have created their own hybrid snowdrop species, meaning a real mix of shapes, sizes and colours on display.
Colesbourne's snowdrops are spread through the different sections of the gardens, with a formal garden, ice house and wood all scattered with white blooms. You can also visit St James' church in the estate grounds and buy snowdrops bulbs and plants from their plant stall.
Colesbourne Park is open to the public from 1pm–4.30pm on 28–29 January, 4–5, 11–12, 18–19 and 25–26 February 2023. Entry costs £10 per adult or is free for children under 16.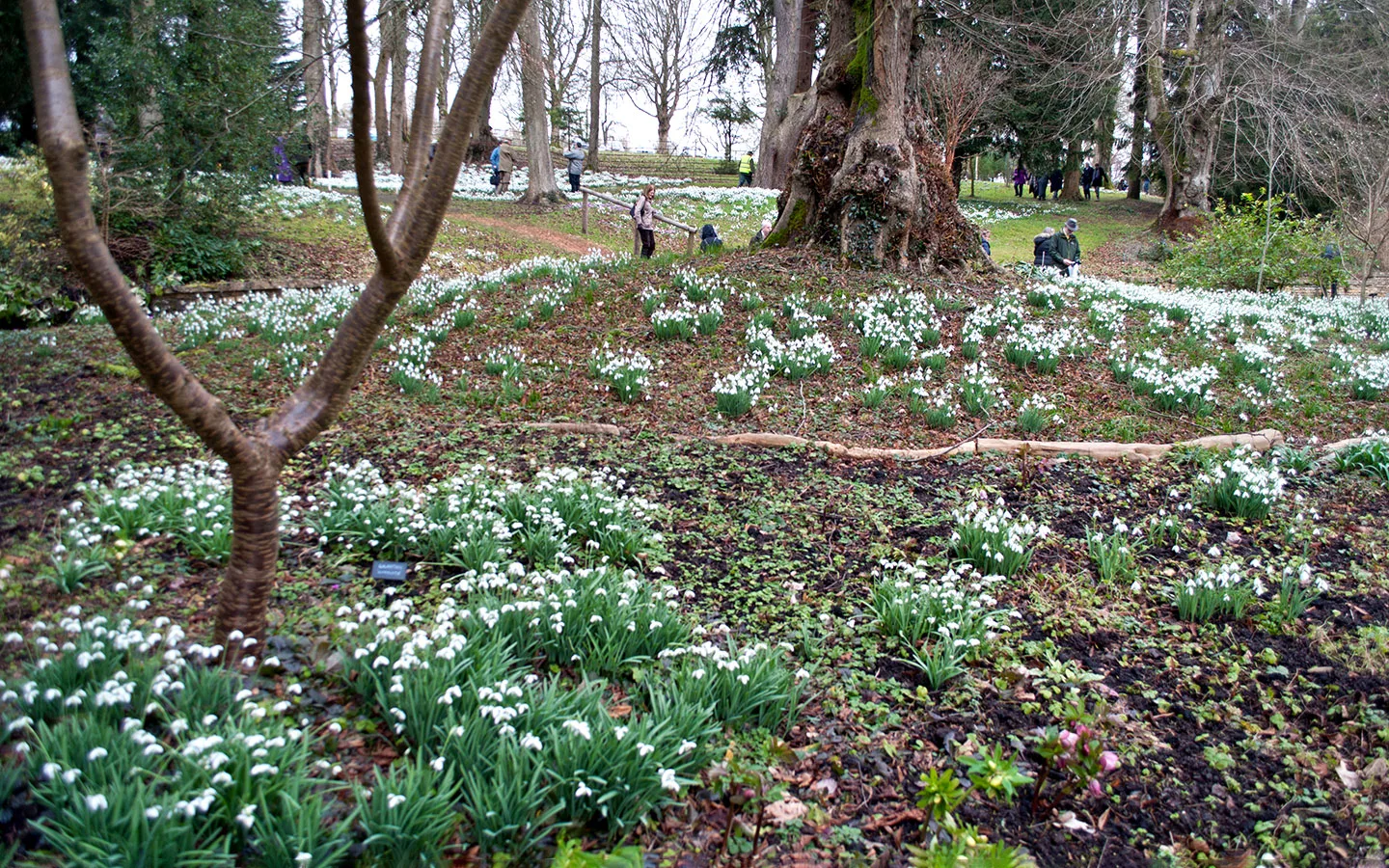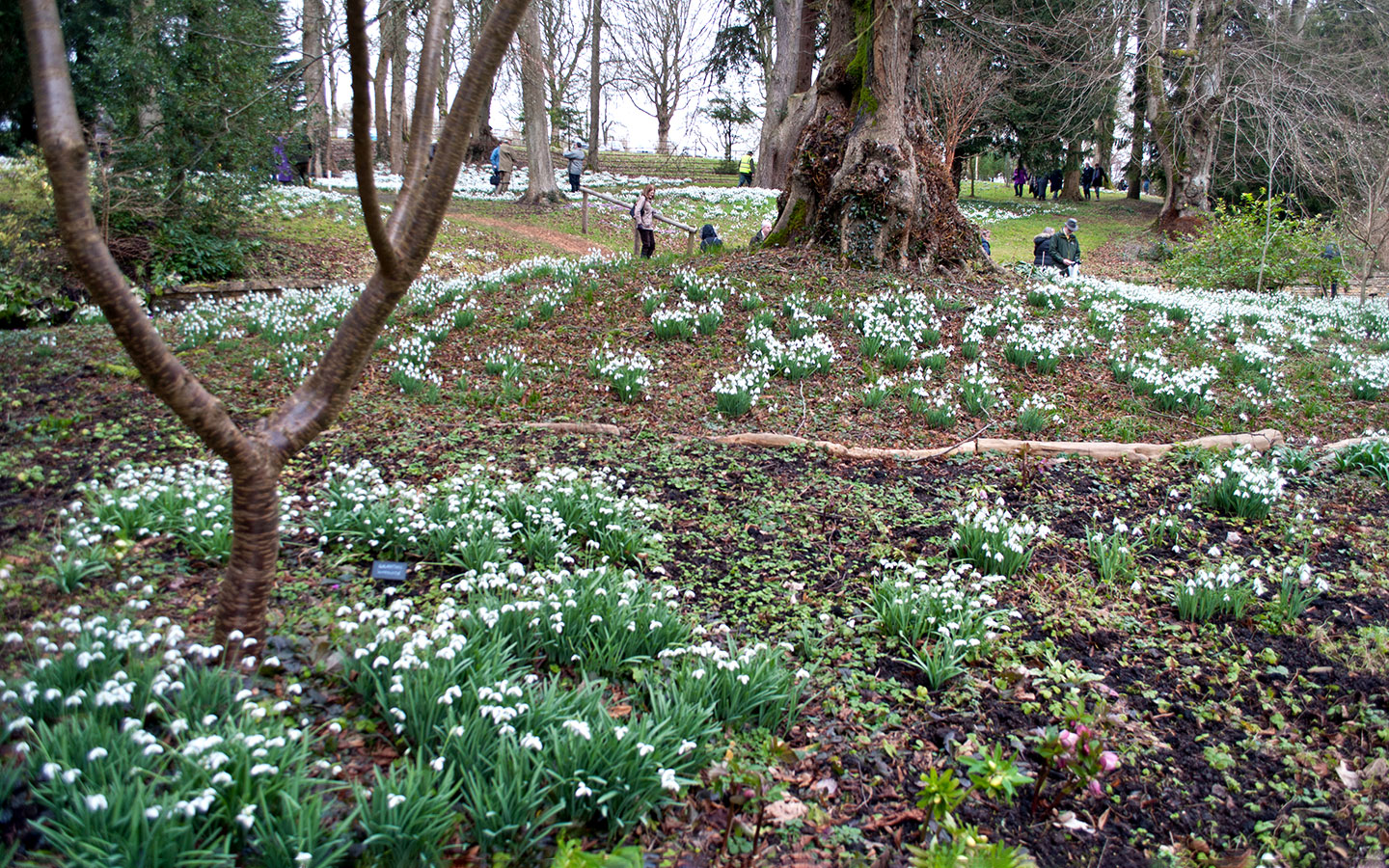 Painswick Rococo Garden
Tucked away in a hidden valley on the outskirts of Painswick you'll find the Painswick Rococo Garden. It was created in the 1740s as pleasure garden to entertain guests, with follies and a maze built among the greenery. Later fashions changed but it was restored to its former glory using a painting by a local artist and is now the only complete Rococo garden in England.
The Rococo Garden has over five million snowdrops, creating a swathe of white flowers running through the Snowdrop Grove. Among them are some more unusual varieties like Galanthus Atkinsii, which was discovered here in the 1800s by James Atkins who lived on the estate.
The snowdrops are normally on display from late January to March, but you can check their website and social media for updates on the latest snowdrop status.
Painswick Rococo Garden is open daily from 10am–5pm from Saturday 21 January 2023. Entry costs £9.60 adults/£8.40 over 60s/£6 students/£4.40 children under 16.
Cerney House Gardens
The gardens of Cerney House north of Cirencester are one of the Cotswolds' hidden gems. This romantic Victorian walled garden was raved about by Country Living magazine as being 'what most people aspire to in their gardens – and few achieve'. The garden is attached to a manor house owned by the Angus family and surrounded by 40 acres of parkland and woodland trails.
The gardens are open to visitors throughout the year. In February you can see snowdrops scattered through the gardens and carpeting the woods. And later in spring daffodils and bluebells start to appear. There are plants for sale and self-service refreshments available.
Cerney House Gardens are open daily 10am–7pm. Entry costs £6 adults/£1 children under 15.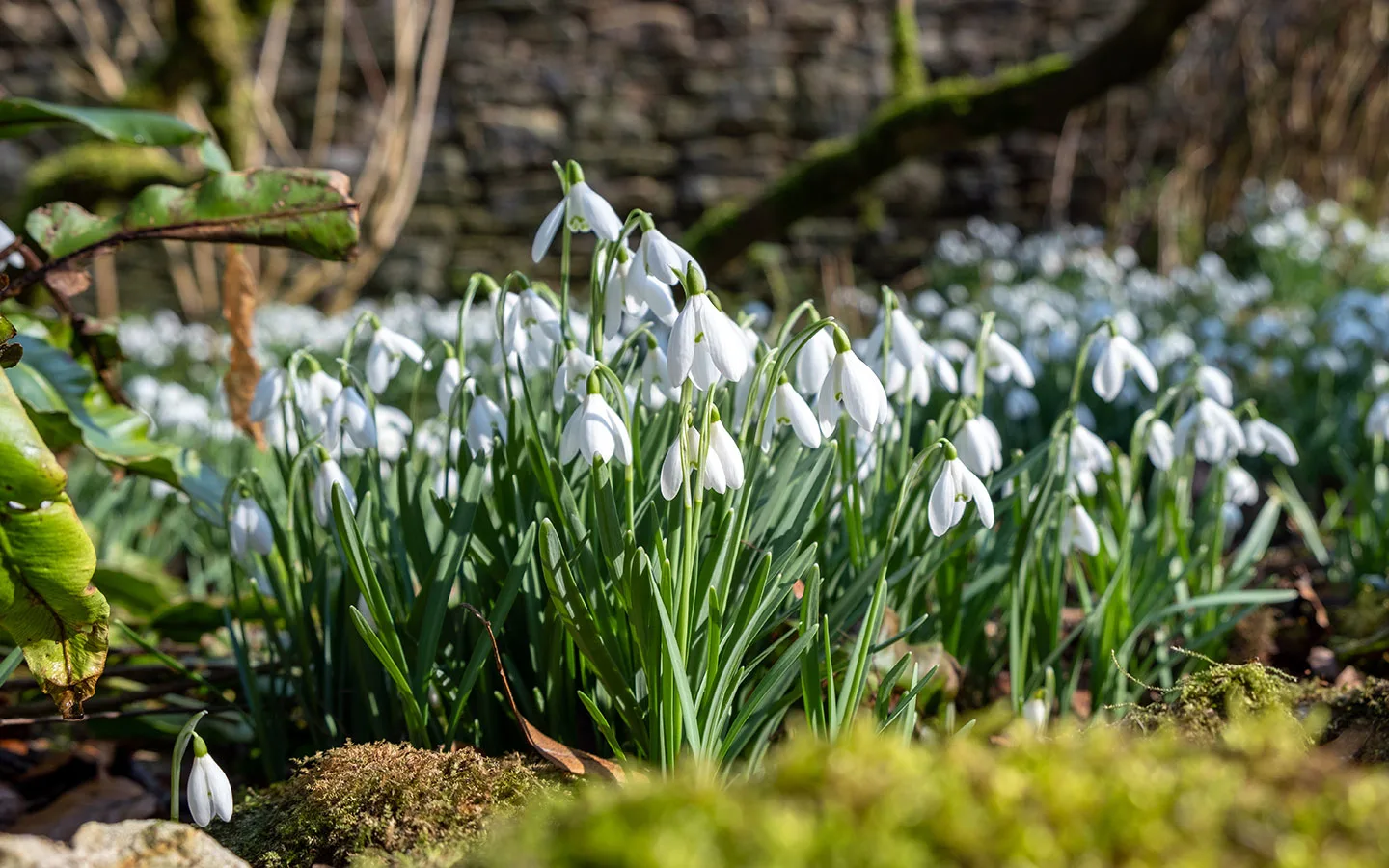 Batsford Arboretum
With the country's largest private collection of trees and shrubs from all over the world, Batsford Arboretum near Moreton-in-Marsh might be most famous for its gorgeous spring blossoms and autumn leaves, but it puts on a fantastic display of snowdrops in winter too.
The arboretum covers 56 acres, with a sea of snowdrops running along the banks of a stream and beneath the trees. You can also see other colourful winter plants like aconites, crocuses and hellibores. And there's a winter trail to follow for younger visitors. There's also a garden centre and shop, and the refurbished Garden Terrace Café serves locally sourced food and drinks.
Batsford Arboretum is open 9.30am–5pm daily (10am–5pm on Sundays). Entry costs £8.95 adults/£7.95 concessions/£3.50 children under 16, or annual membership is £35 per person.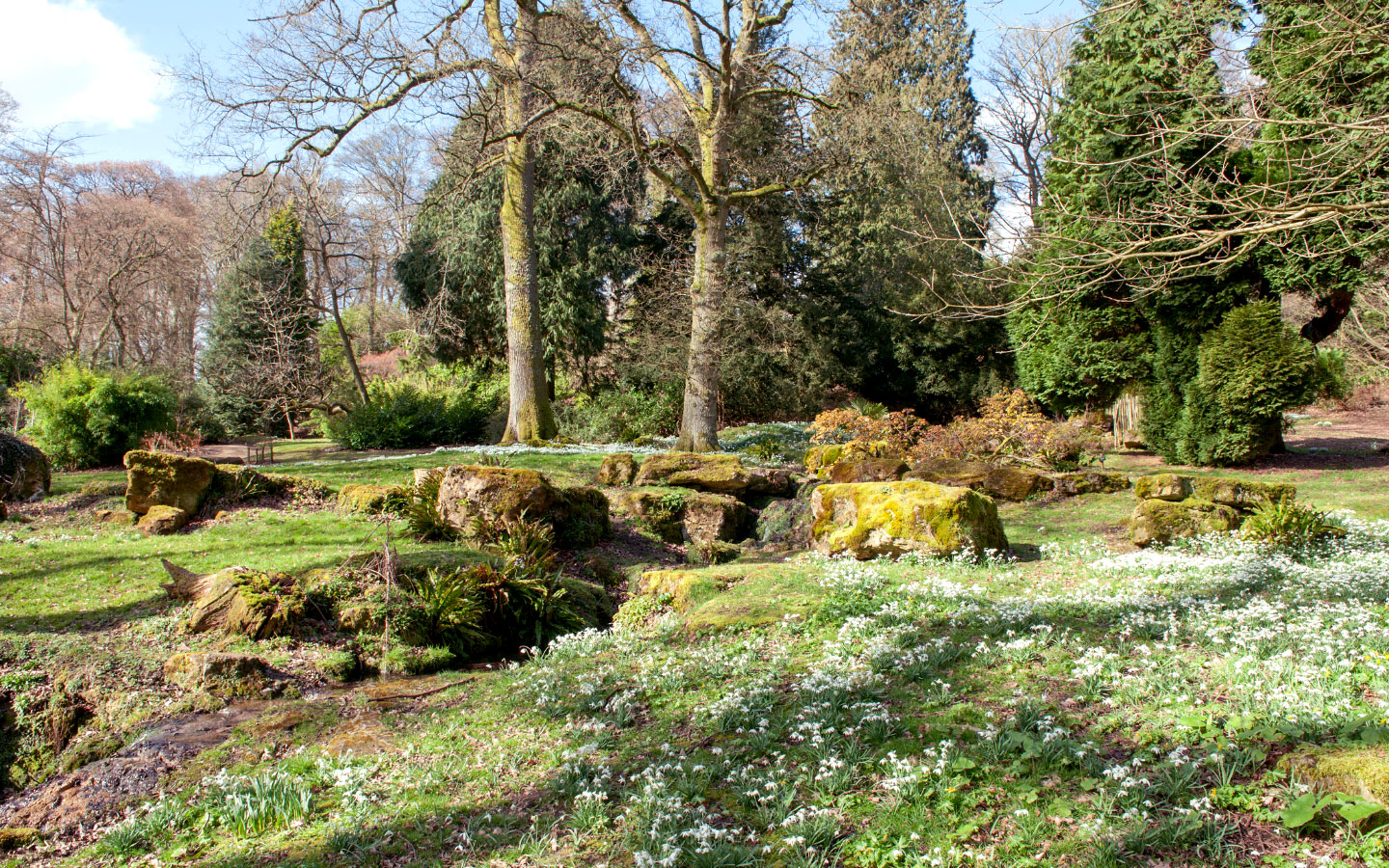 Rodmarton Manor
In between Cirencester and Tetbury, Grade I-listed Rodmarton Manor is a grand manor house, designed in the Arts and Crafts Manor House style by one of the movement's masters, Ernest Barnsley. The house was built for the Biddulph family whose descendants still live there today.
The Manor's eight acres of gardens were also designed by Ernest Barnsley as a series of outdoor rooms which each has a different character. And in the early spring there are over 150 varieties of snowdrop spread around the gardens. Look out for some of the different styles of snowdrop on display, including yellow and green varieties as well as the usual white.
Rodmarton Manor gardens are open to view the snowdrops on 1, 4, 8, 11, 15 and 18 February 2023 from 1.30pm–5pm. Entry costs £9 adults/£1 children under 15. Dogs not allowed.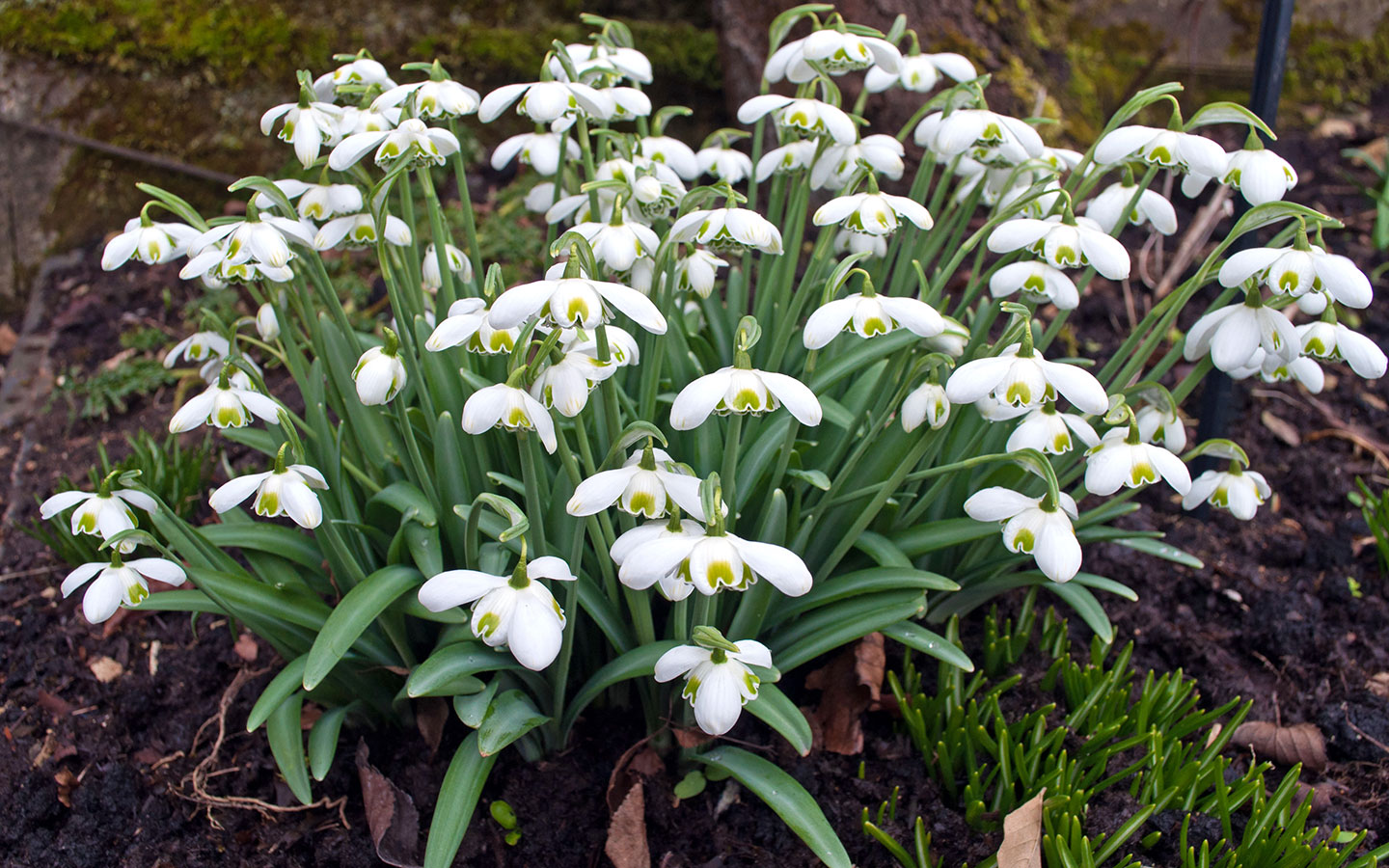 Dyrham Park
17th-century Dyrham Park is a stately home and gardens just north of Bath, surrounded by 270 hectares of ancient parkland home to fallow deer. The house was built for diplomat William Blathwayt and is now run by the National Trust, who have recently been restoring its lavish interiors.
Visitors can explore both the house and gardens. The first snowdrops normally appear in January. You can see them in front of the house, around the terraces and in the gardens, with six different varieties which have grown there naturally. The park has plenty of space to explore and the imposing frontage of the house and herds of deer make a spectacular backdrop.
Dyrham Park is open from 10am to 4pm daily (the house is closed on 16–20 and 23–27 January 2023). Entry costs £15 for adults/£7.50 for children (excluding parking). Dogs not allowed.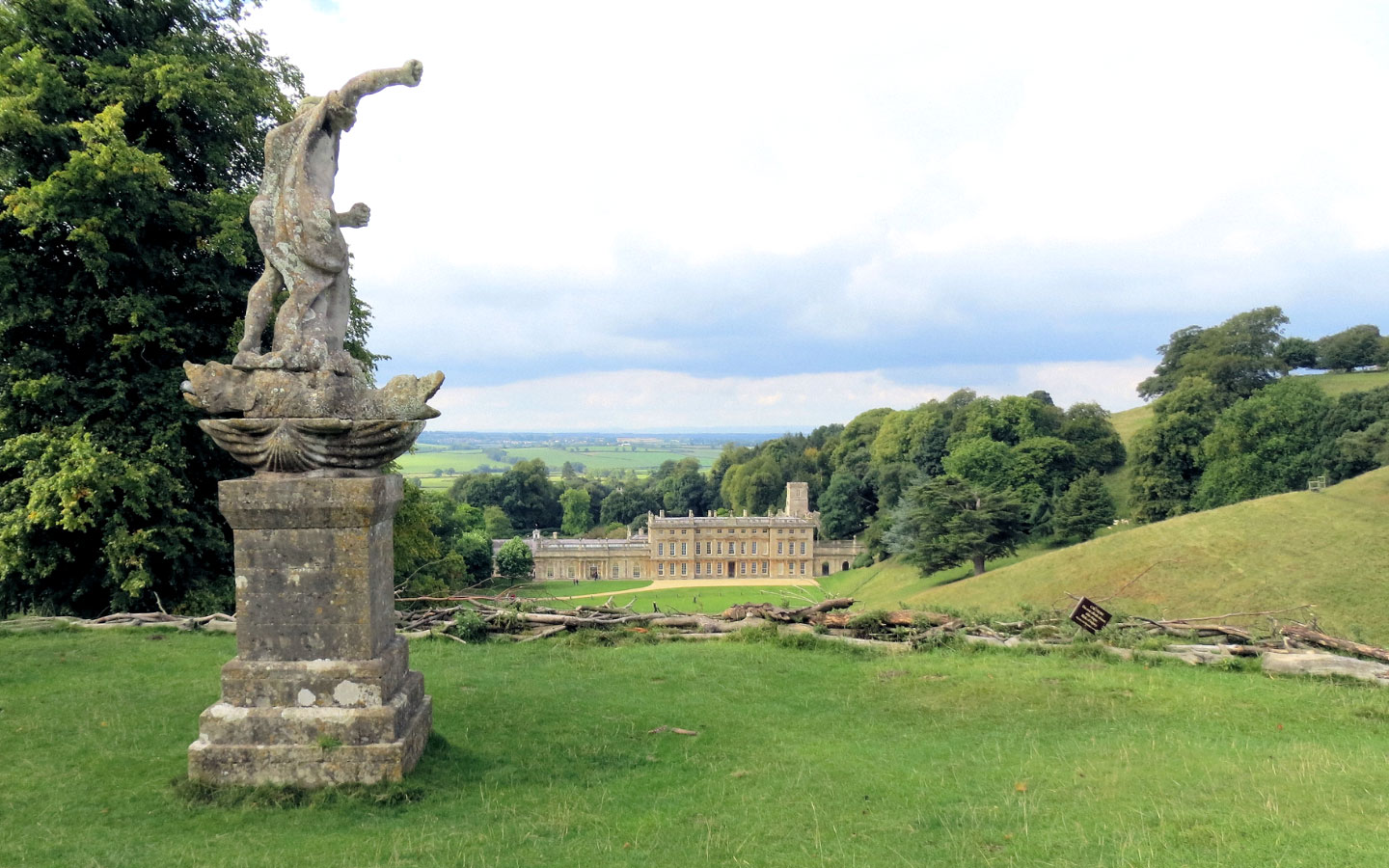 Newark Park
Newark Park is another National Trust property where you can see snowdrops in the Cotswolds, this time a Tudor hunting lodge near to Wotton-under-Edge which was upgraded into a grand country house with formal gardens in the 18th century. Newark Park's position on top of the Cotswold escarpment mean you get great views of the Severn Valley and Mendip hills.
The garden is spread over three levels, with lakes, terraces and rockeries, as well a range of different walking routes running through the 700-acre estate grounds. The house reopens in February just in time for snowdrop season, with drifts of flowers decorating the garden's banks and lawns.
Newark Park gardens are open from 10am–4pm at weekends in January and daily from 4 February 2023. Entry costs £8 for adults/£4 for children (excluding car parking).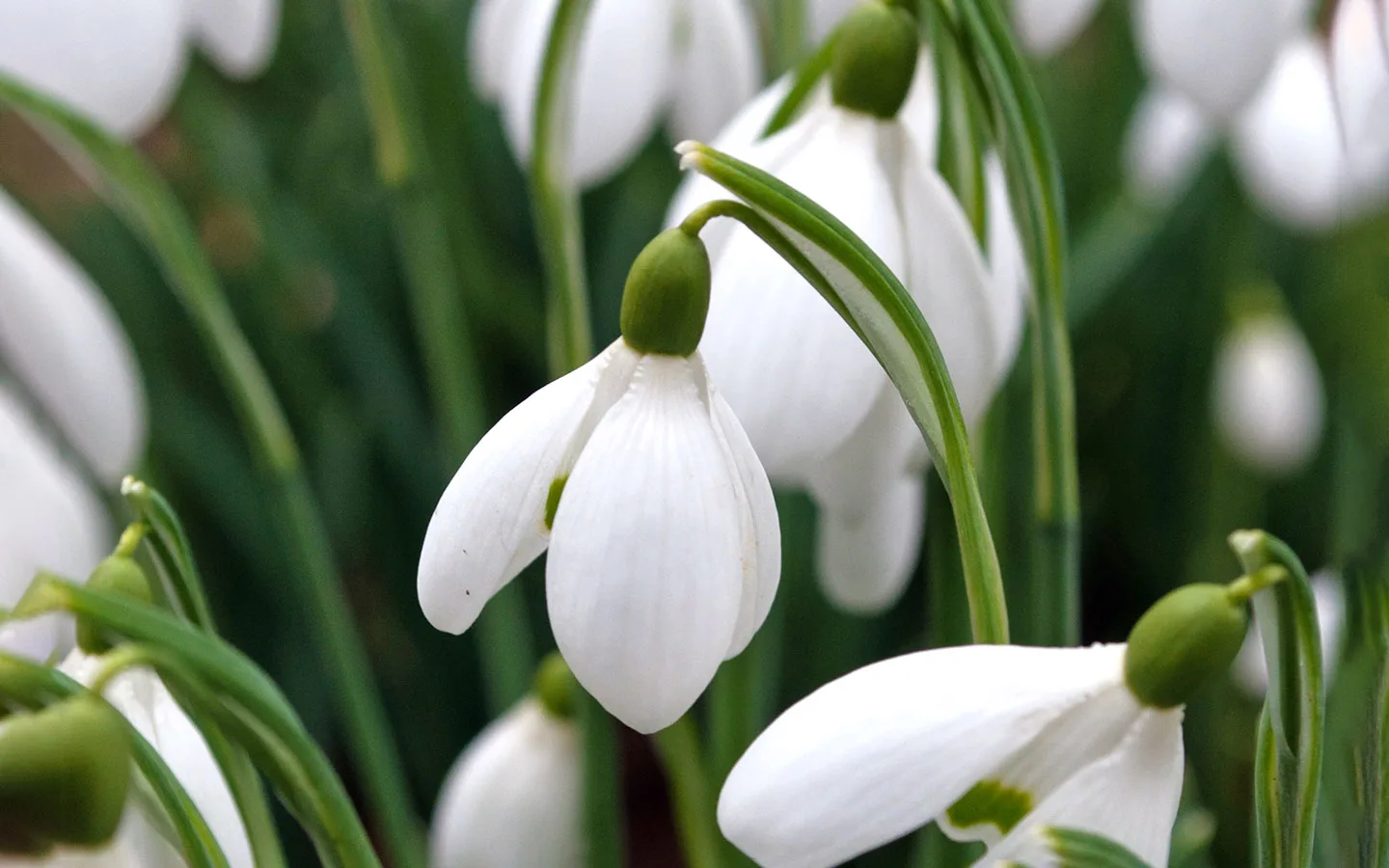 Save for later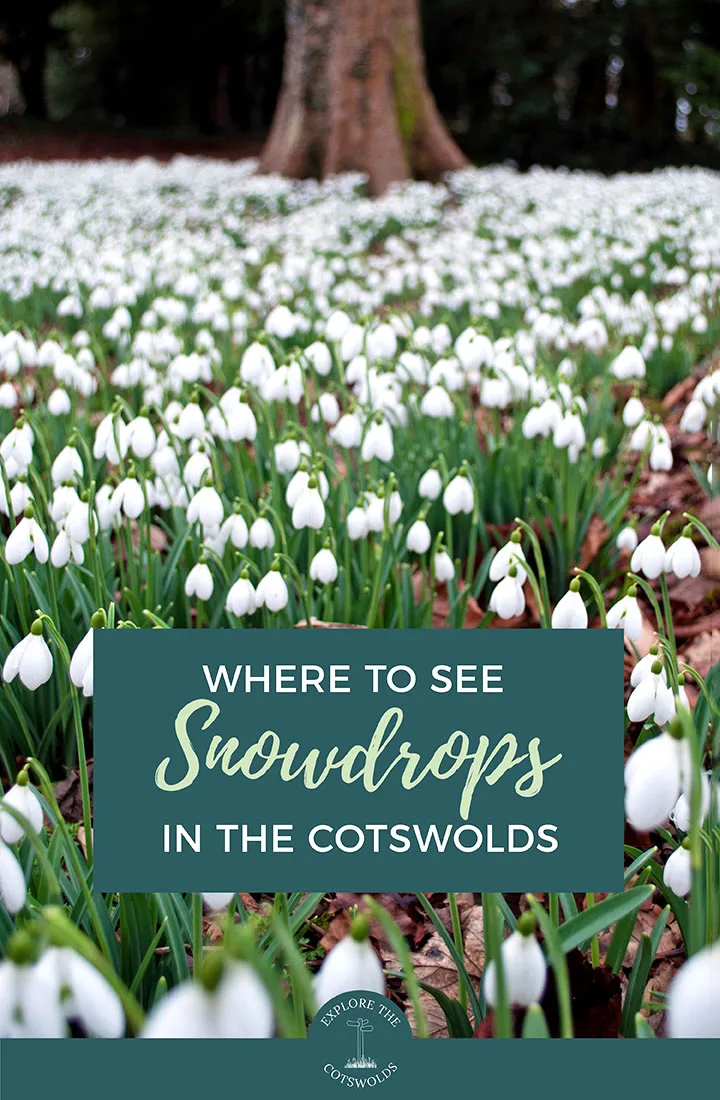 * This site contains affiliate links, where I get a small commission from purchases at no extra cost to you.