Known as the Gateway to the Cotswolds, Burford is one of the most picturesque towns in Oxfordshire, famous for its steep high street which sweeps downhill towards the River Windrush past Cotswold stone cottages, Georgian townhouses, a medieval church, shops, tearooms and historic pubs. Explore this charming Cotswold town with our insider's guide from local expert Jessica, who takes us through the best things to do in Burford in the Cotswolds.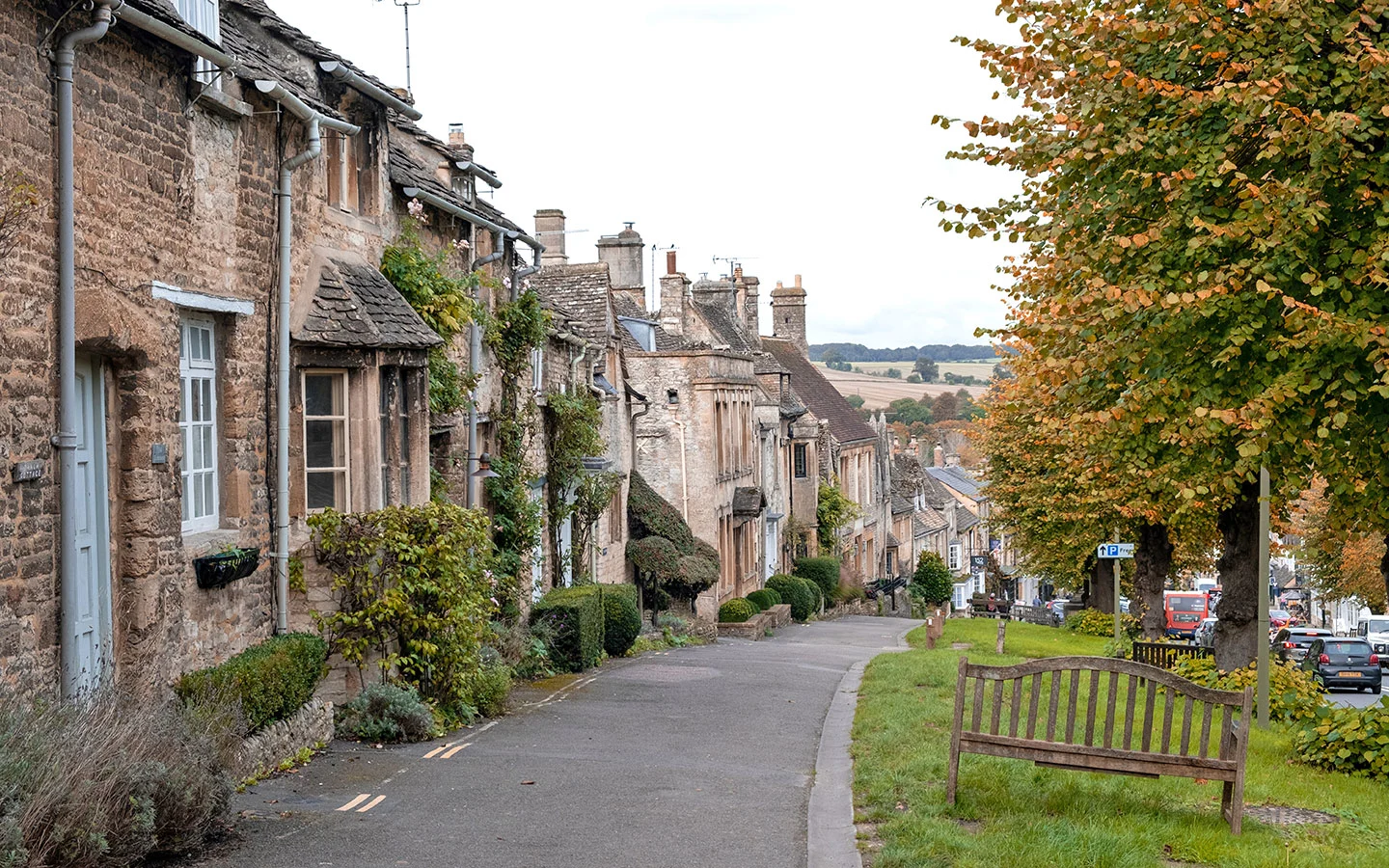 Burford's history
As you head down Burford's High Street towards Fulbrook or Stow-on-the-Wold, you'll find a three-arched medieval bridge across the River Windrush. It's this river crossing that gave Burford its name, taken from the Old English 'burh' (fortified town) and 'ford' (river crossing).
It isn't known exactly when settlers first came to Burford, but the Domesday Book of 1086 records 200 people living in the town at that time. In the early 11th century, Burford was granted a charter by Robert Fitzhamon – this was one of the earliest charters given in the country.
The charter mean Burford could hold a market, which encouraged traders from all over the country to visit. Inns were built so they had somewhere to stay, some of which are still standing.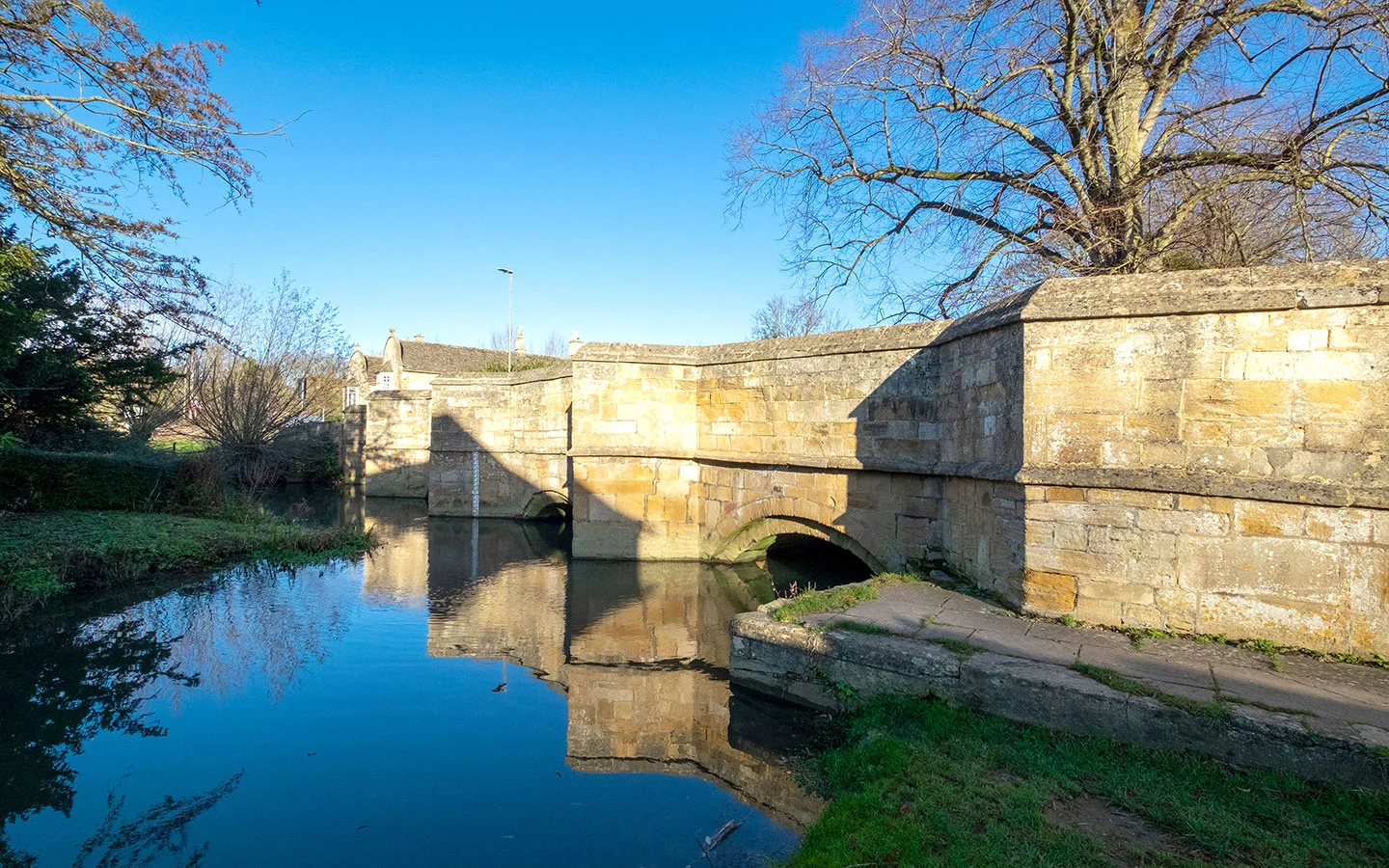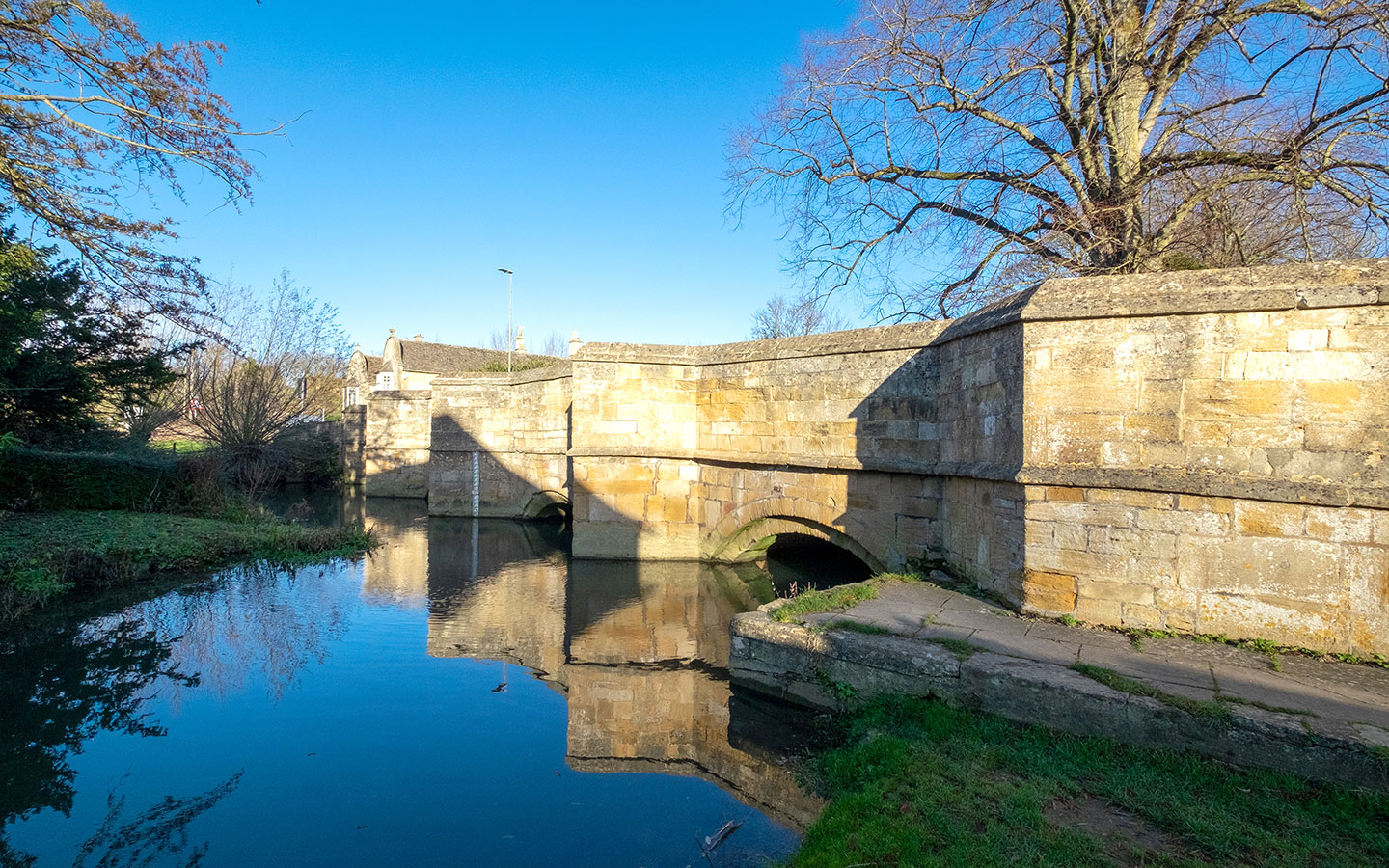 On 13 May 1649, Burford was the site of a grisly day during the English Civil War when over 340 'Levellers' – a radical political movement – were captured by government troops and held in the Church of St John the Baptist.
Three of their leaders were executed several days later on the orders of Cromwell, and the bullet holes can still be seen in the church walls. There are also carvings from captured prisoners, including one in the lead on the font and a 'nine men's morris' game board carved onto a tomb.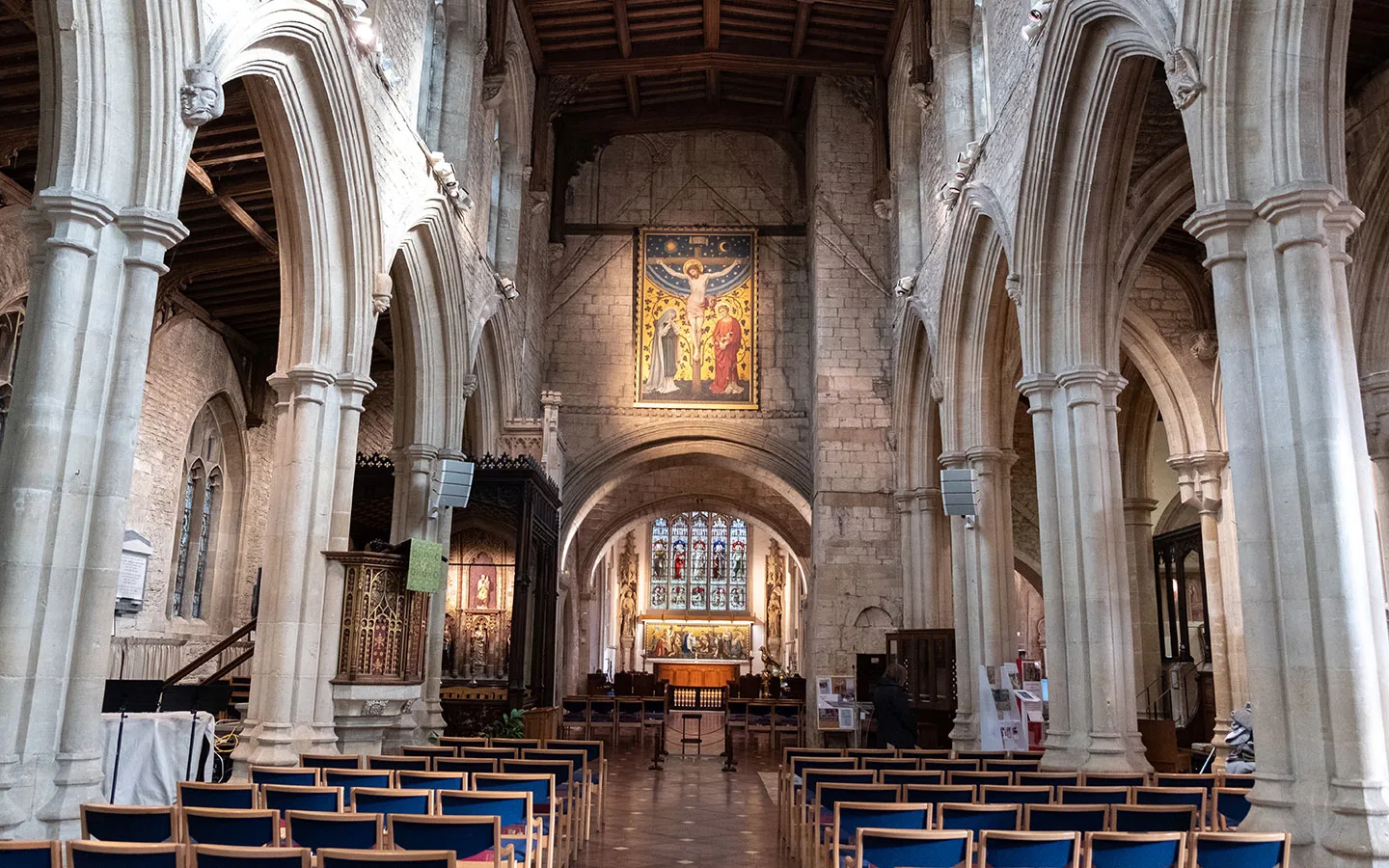 The event is commemorated by the annual 'Levellers Day' to celebrate their ideals of democracy, equality and religious freedom. It's been taking place in Burford each May for over 40 years, with a mix of political debates, music and dancing, guest speakers and a street parade.
During the 1800s and 1900s, Burford prospered from the many local industries it supported over the centuries, including farming, agriculture and building. It has been a town for over 900 years, and its excellent position on one of the country's major crossroads has ensured frequent visitors and remarkable trade throughout its entire history, right through to the modern day.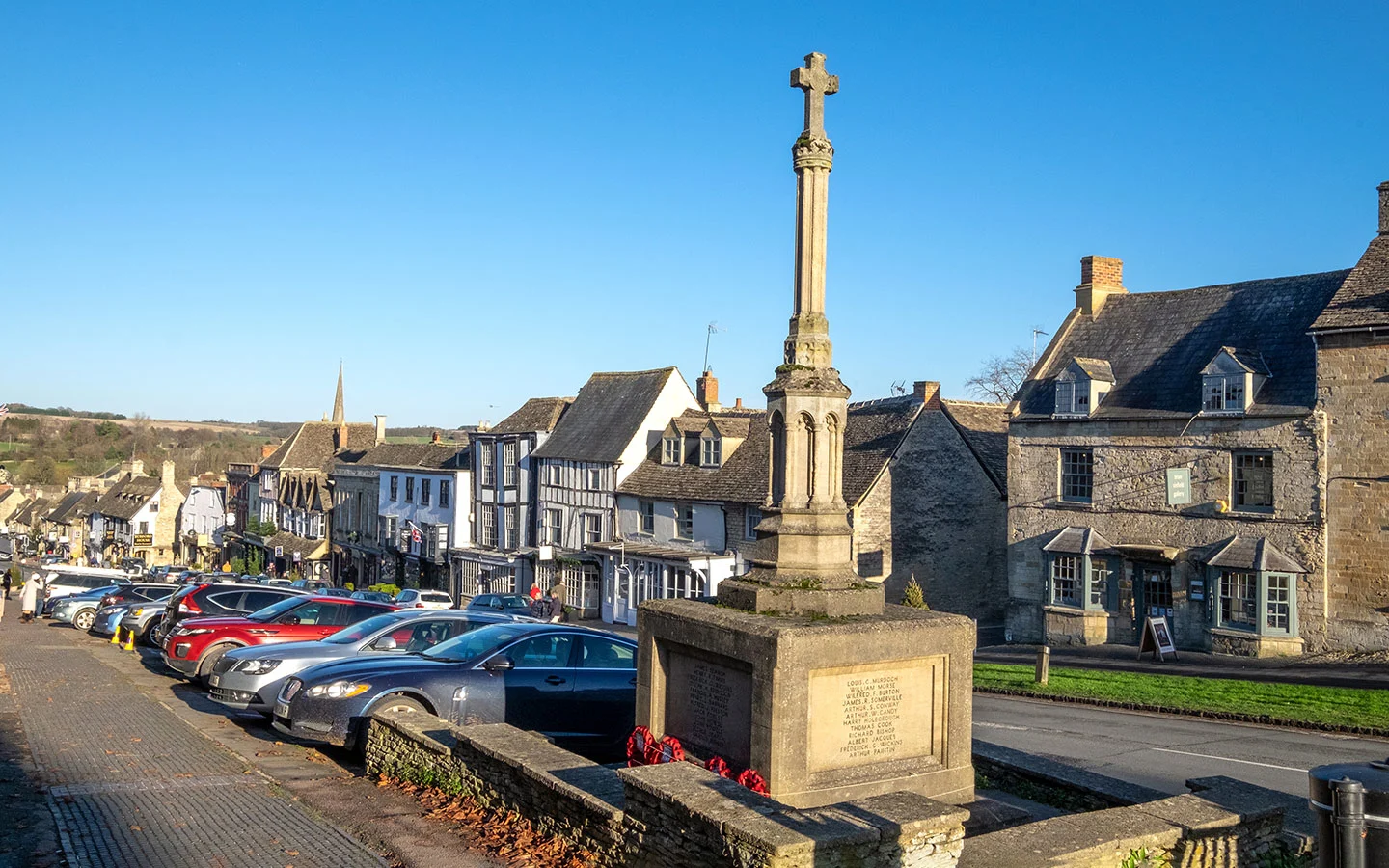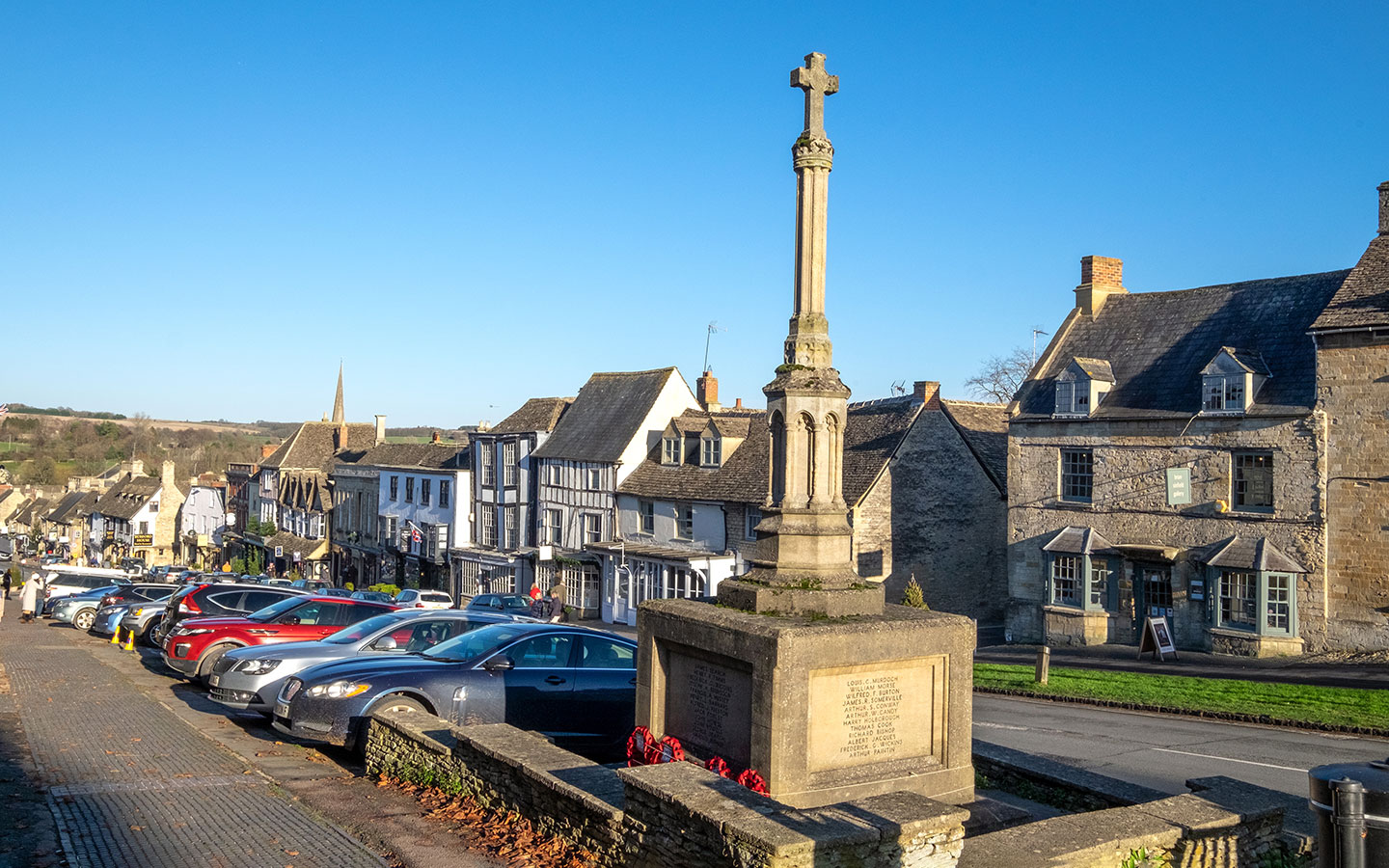 Map of Burford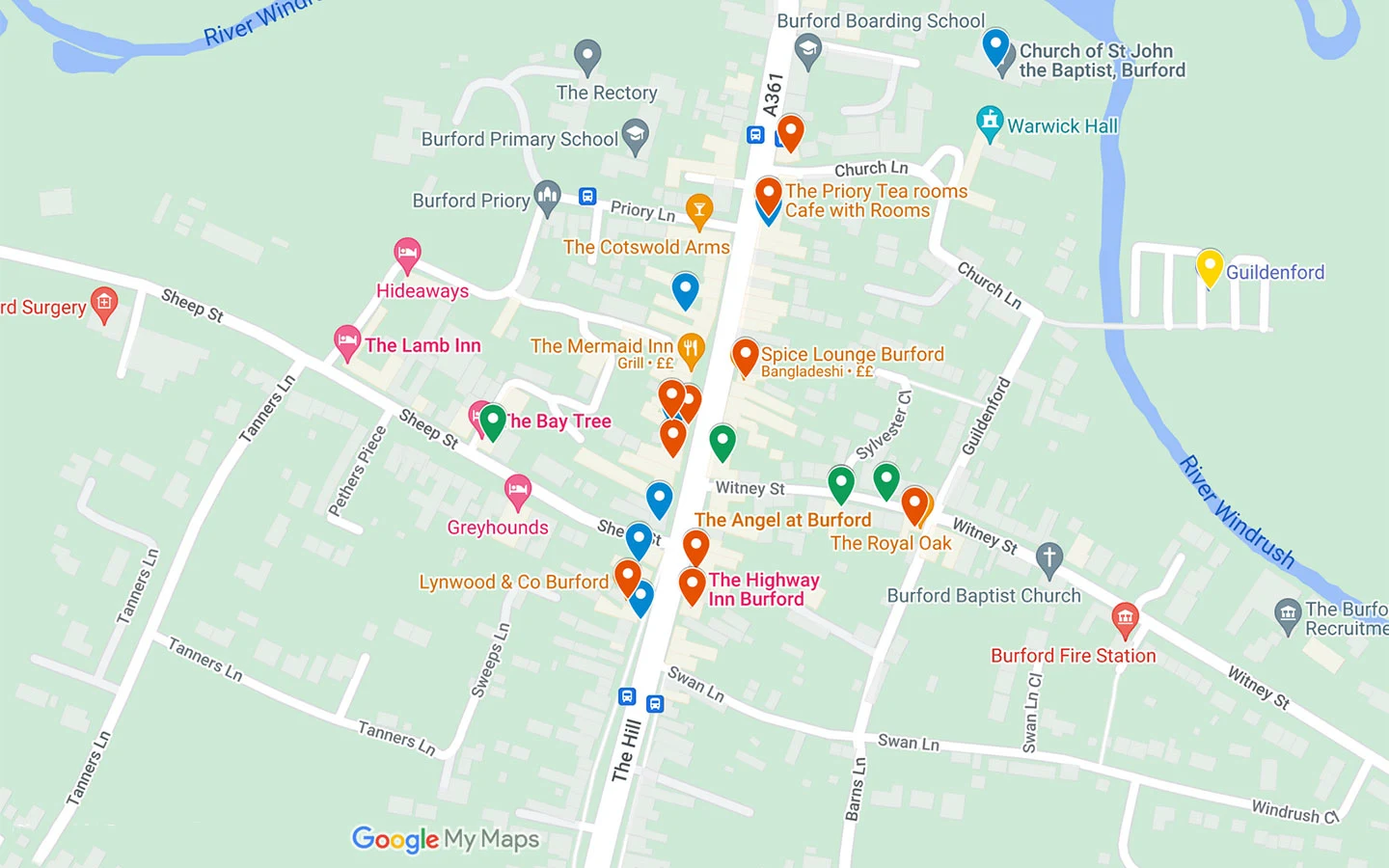 Things to do in Burford
Burford Hill
Take a walk up Burford Hill for some of the town's most beautiful scenery. In contrast with the other end of the High Street which is full of shops, pubs and cafés, the hill is quieter, made up of residential properties (so be mindful of people who live there and don't get too close).
It's lined with historic Cotswold stone cottages, with benches where you can stop and take in the view over the town and the surrounding countryside. It's a hugely photogenic area – though if you want to get the best shots, get there early in the day as it's in shadow by the afternoon.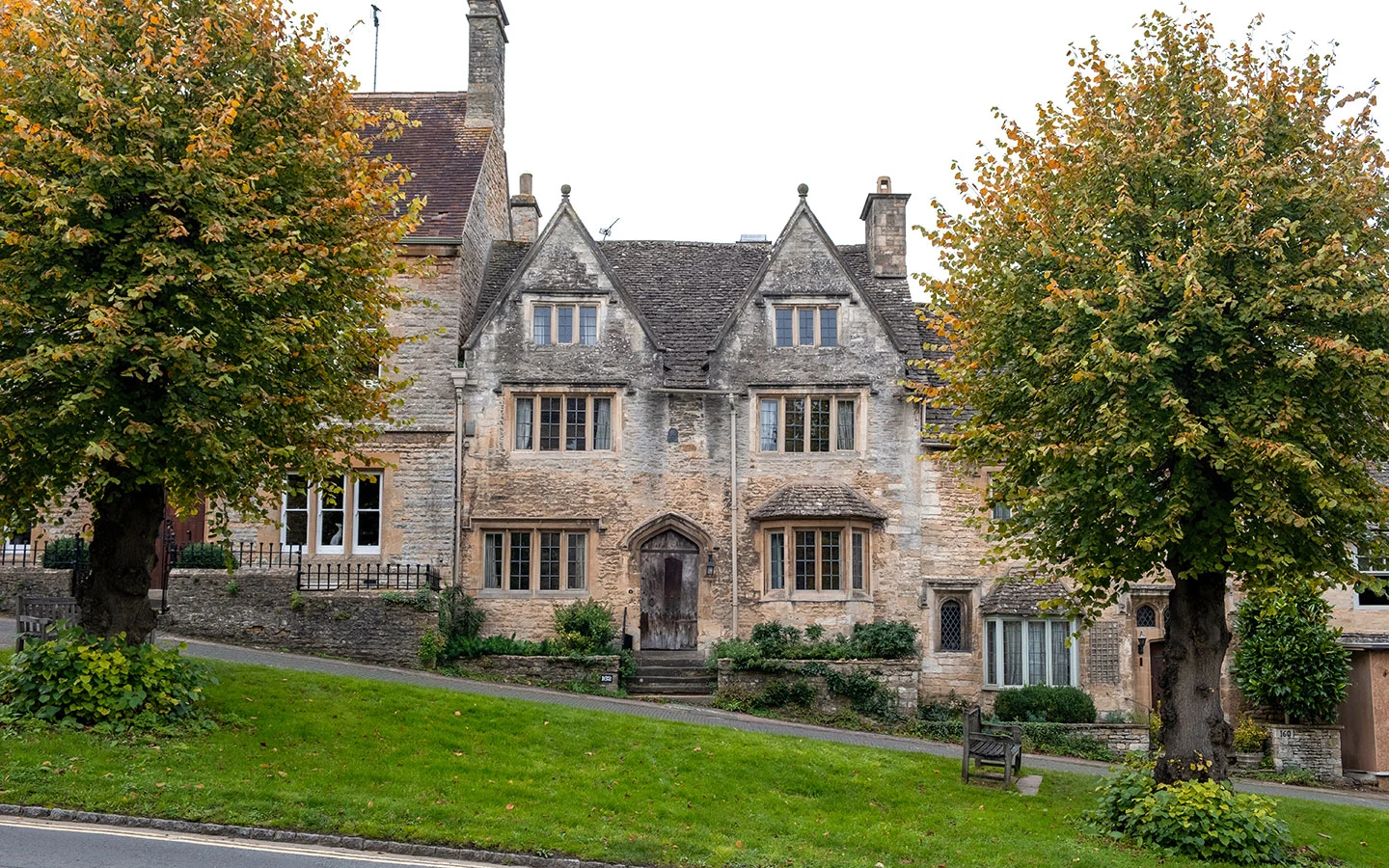 The Tolsey Museum
On the corner of the High Street and Sheep Street you'll see the black and white half-timbered building housing the Tolsey Museum. This was originally the Burford Corporation's 'Toll House', built in the early 1500s. It was where the market traders came to pay tolls and where the Borough Court met – there was also a lock-up around the back where prisoners were held.
Today the building is used for a small, free museum, with exhibits on local history, culture and industry. There's everything from the Keble Mortar – a leaded bronze mortar cast in 1659 by Edward Neale of Burford – to a doll's house modelled on the Great House in Witney Street.
The museum also has a downloadable self-guided walking tour of Burford (£4.99), which takes you on a one-mile circuit of the town pointing out it's most interesting historic buildings.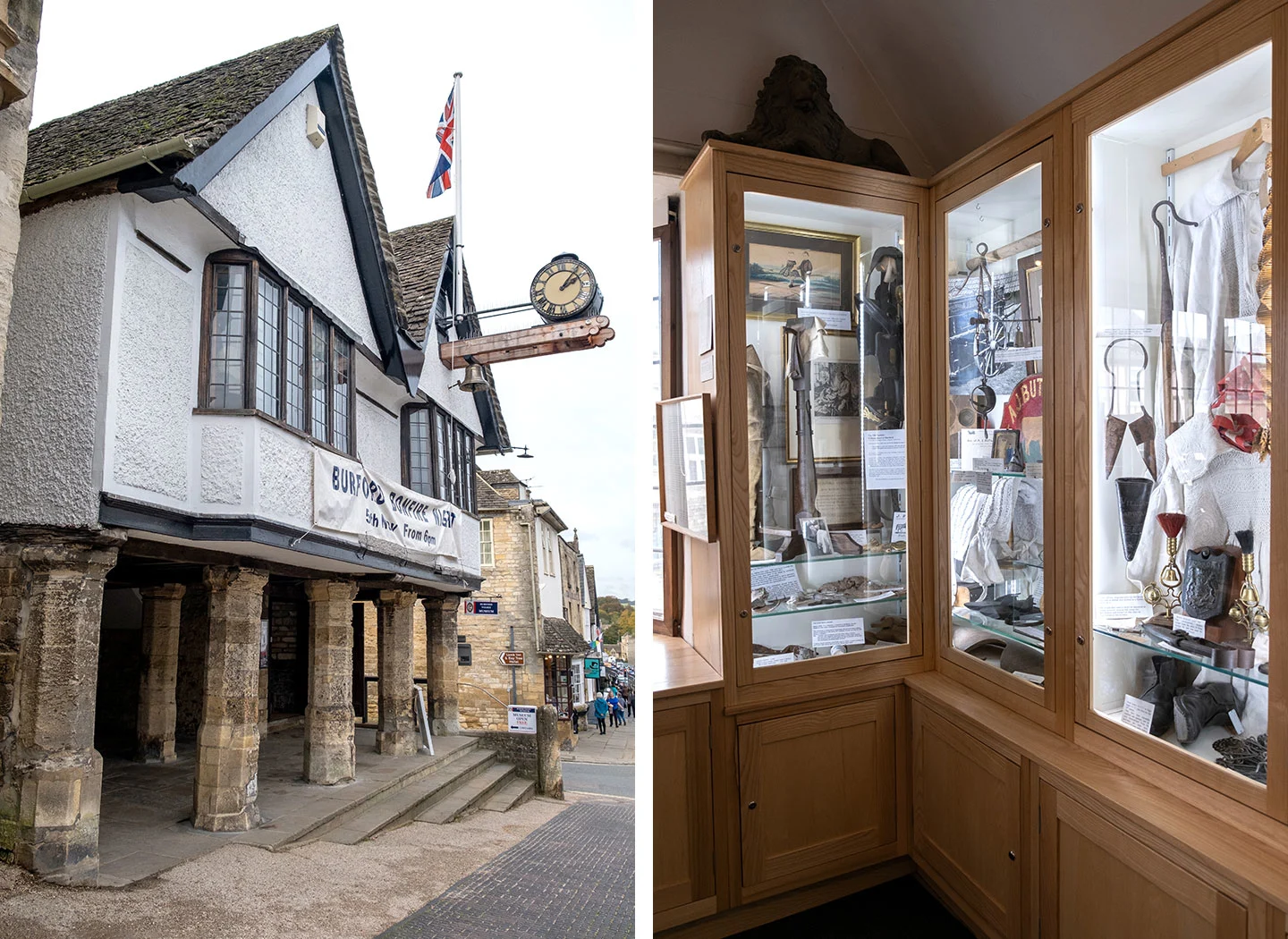 Church of St John the Baptist
The Grade I listed Church of St John the Baptist towers over the centre of Burford. It was founded in 1175 and was developed and enlarged over the next 400 years as money from the wool trade flooded into the town. The spire was added on top of an earlier tower in the 15th century – though not that successfully as it started to move. It was later shored up and is still carefully monitored.
The church is one of top 10 most visited churches in the country and one of the most popular things to do in Burford. Highlights include its beautiful stained-glass windows, medieval wall paintings and ornate tomb monuments, including 'bale tombs' with their unusual curved tops.
There's a 1569 memorial to Henry VIII's barber-surgeon Edward Harman, which has one of the earliest depictions of Amazon Indians anywhere in Britain. And in the north chapel there is a grand, Italian-style 17th-century canopied tomb built for Sir Lawrence and Lady Tanfield.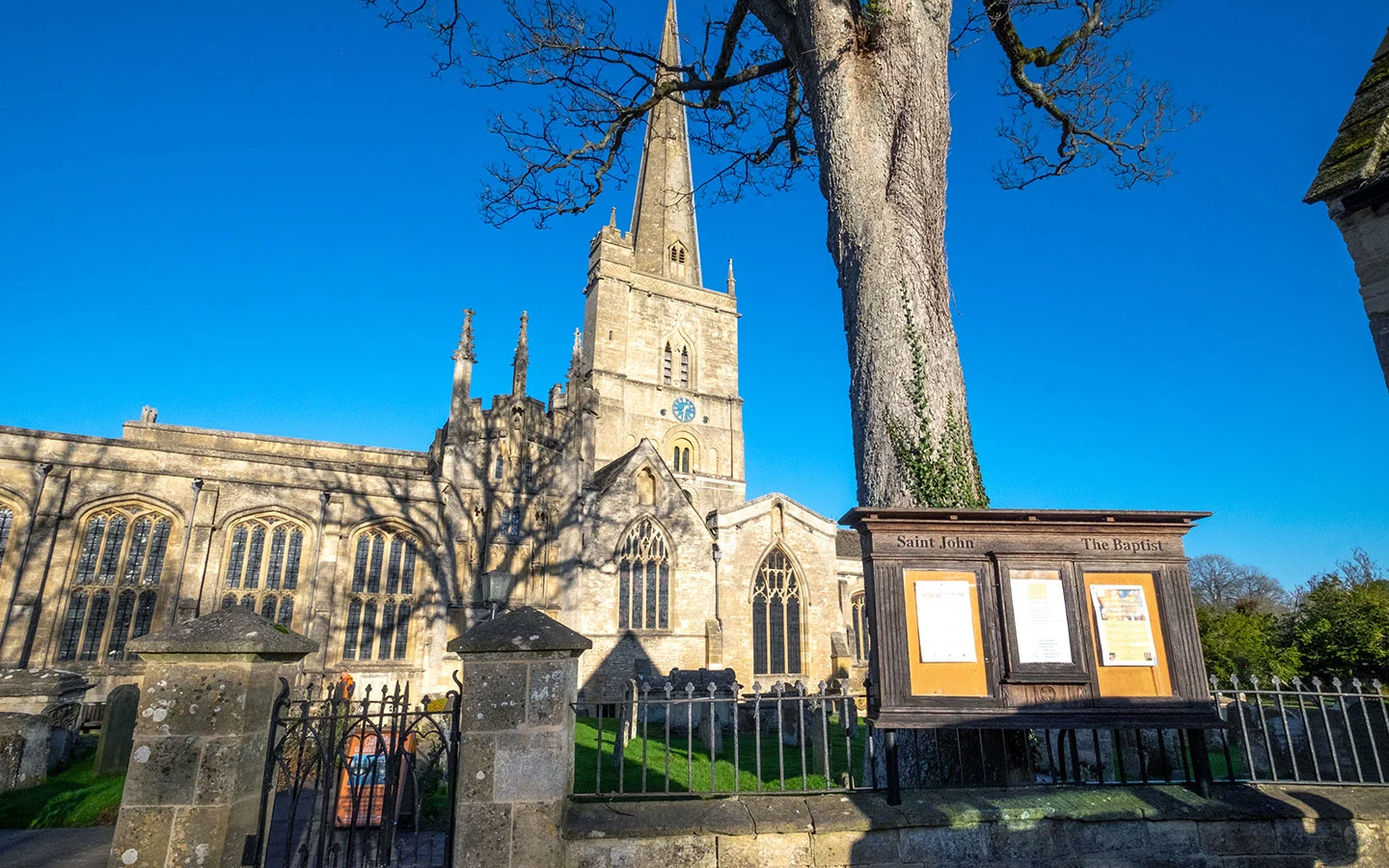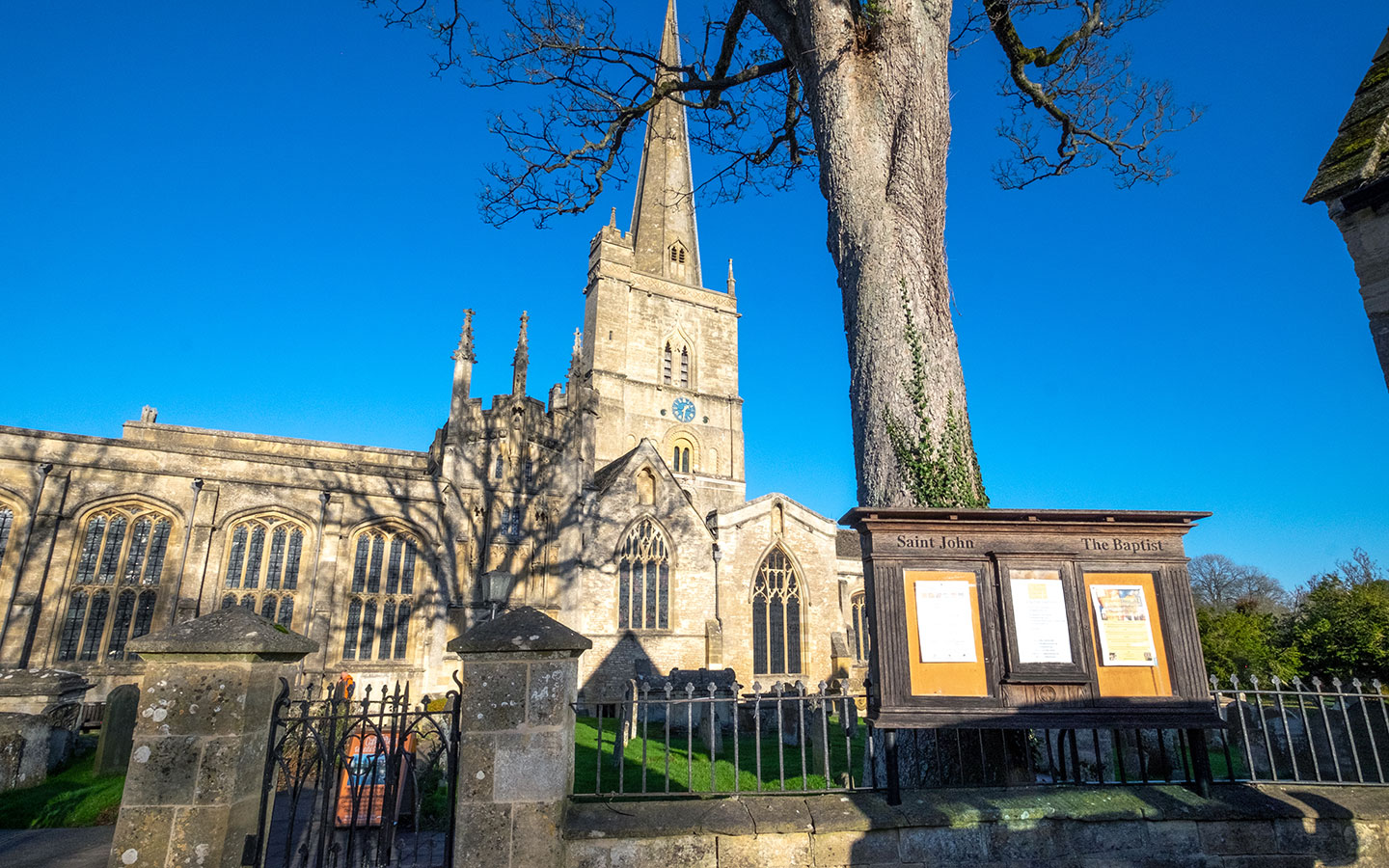 Shop the High Street
Burford is a great place to shop for antiques. Gateway Antiques specialises in 17th- to early 20th-century English and Continental furniture and decorative items, and nearby Burford Antiques & Interiors stocks a range of vintage and contemporary furniture, mirrors and lights.
There are also lots of cute interiors, home and gift shops along the High Street. Some of our favourites are Three French Hens for cards, homewares and gifts, Bramble & Gooseberry for hand-poured soy wax candles, Burford Woodcraft for beautifully crafted wooden items, and the Oxford Brush Company for plastic-free, sustainable brushes for every possible occasion!
You can also find England's oldest chemist at 124 High Street. Reavley Chemist opened in 1734 on the site of an old public house, and has been dispensing pills, pots and potions to Burford residents ever since. You can still buy their traditional remedies alongside modern medicines.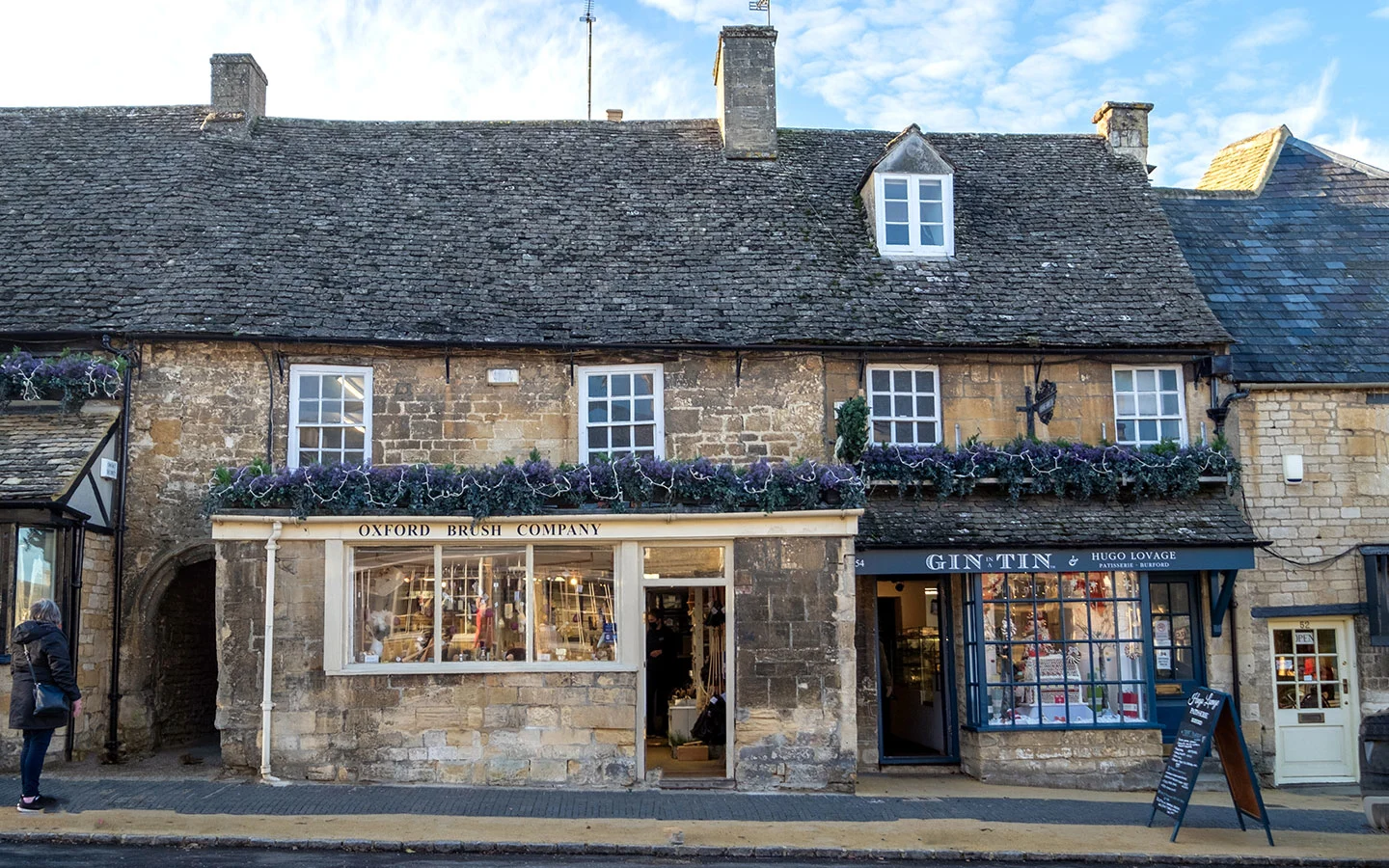 Burford Garden Centre
Founded in 1976, Burford Garden Company is a popular destination for garden enthusiasts, located just outside the town centre. The store covers a huge 15 acres and sells a wide range of flowers and plants as well as indoor and outdoor furniture, homewares, clothing, food and drink. It's particularly worth visiting around Christmas when the store is beautifully decorated for the festive season.
The 'Little Burford' section features kids' toys, clothes and furniture, and there's an outdoor play area. And the light and bright glasshouse café is a popular spot for lunch or afternoon tea indoors or on the terraces, with their in-house chefs and bakers making everything from scratch.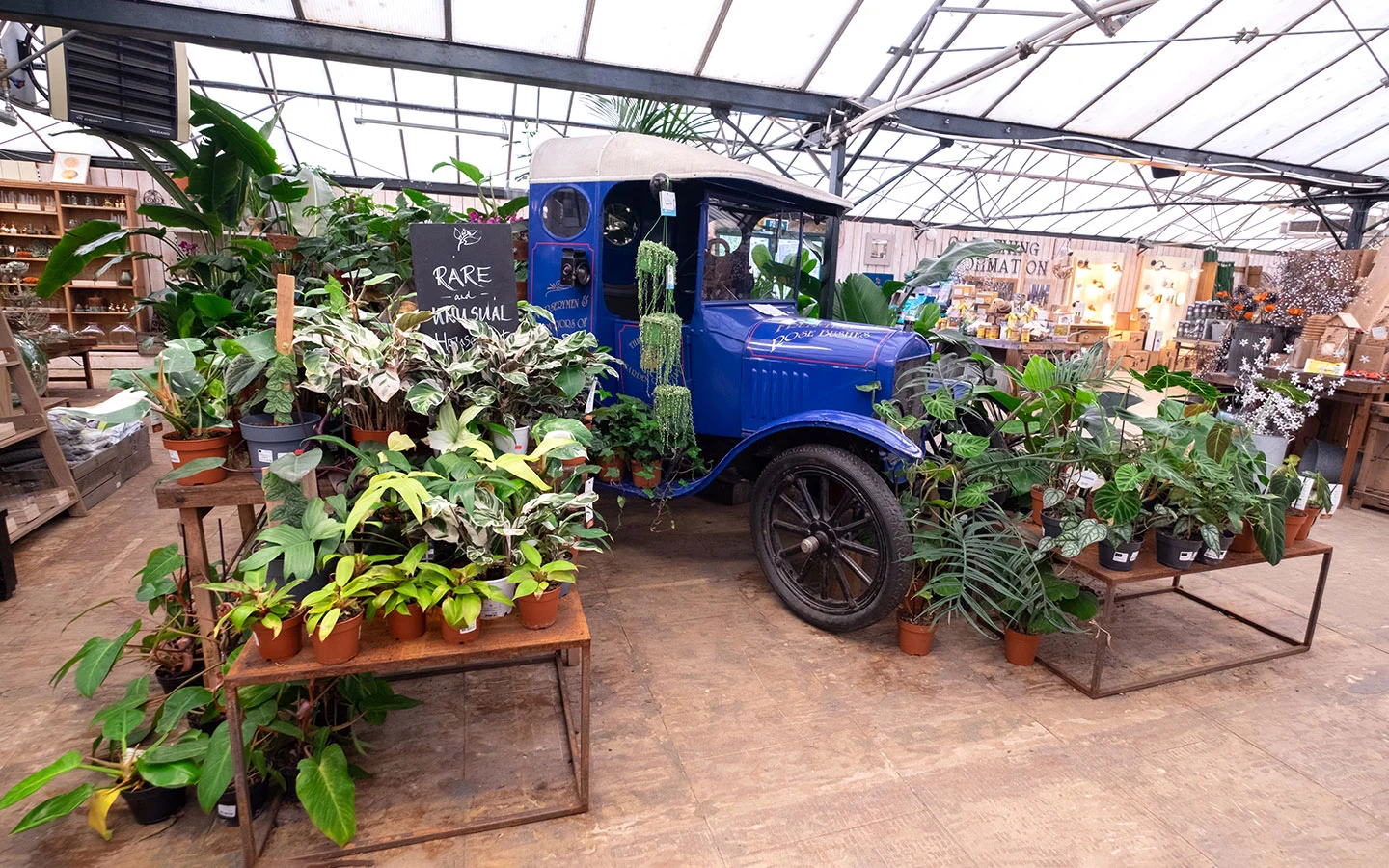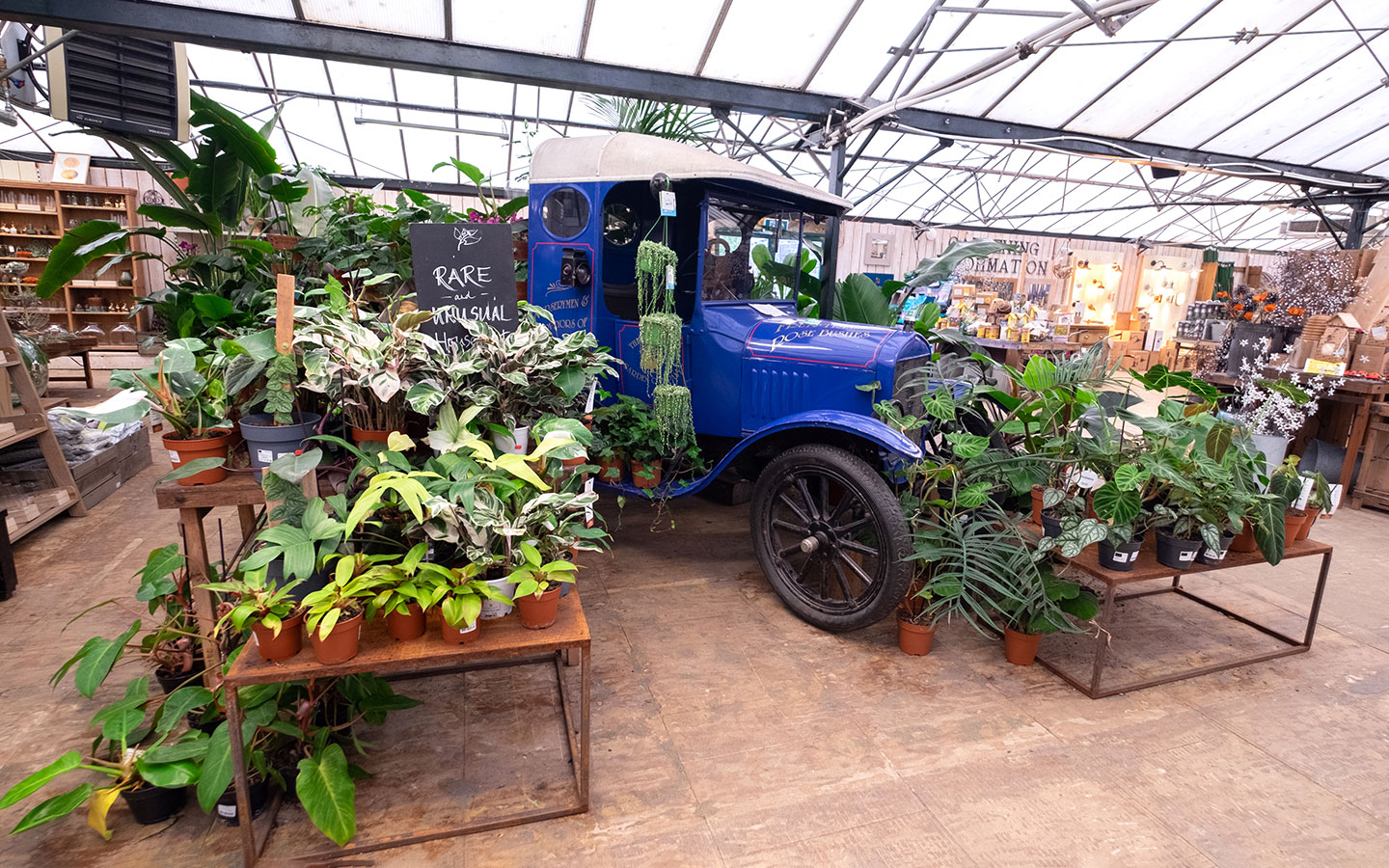 Coswold Wildlife Park and Gardens
Cotswold Wildlife Park and Gardens is a couple of miles south of Burford on the A361. Set in 160 acres of beautifully landscaped gardens, the park is home to over 250 different species of animals including rhinos, giraffes, wolves, lemurs, leopards and lions, as well as one of the largest reptile collections in the country. There's also a children's playground, gift shop and café.
One of the most popular areas of the park is 'Madagascar', a walk-through lemur exhibit where visitors can get up close and personal with free-roaming lemurs and native birds. You can also book an animal encounter or a 'keeper for the day' experience to see behind the scenes.
Crocodiles of the World
If that's not enough animals for you, Burford is also only 3.5 miles from Crocodiles of the World, the UK's only crocodile zoo where you can get face-to-face with these giant predators. They have over 100 crocodiles from around the world, including some rare and endangered species.
You can see dangerous predators like Nile crocodiles and American alligators, with underwater viewings, talks and feeding sessions. Or get even closer and help feed the crocs on a keeper experience. There are also other species like Komodo dragons, Galapagos tortoises and meerkats.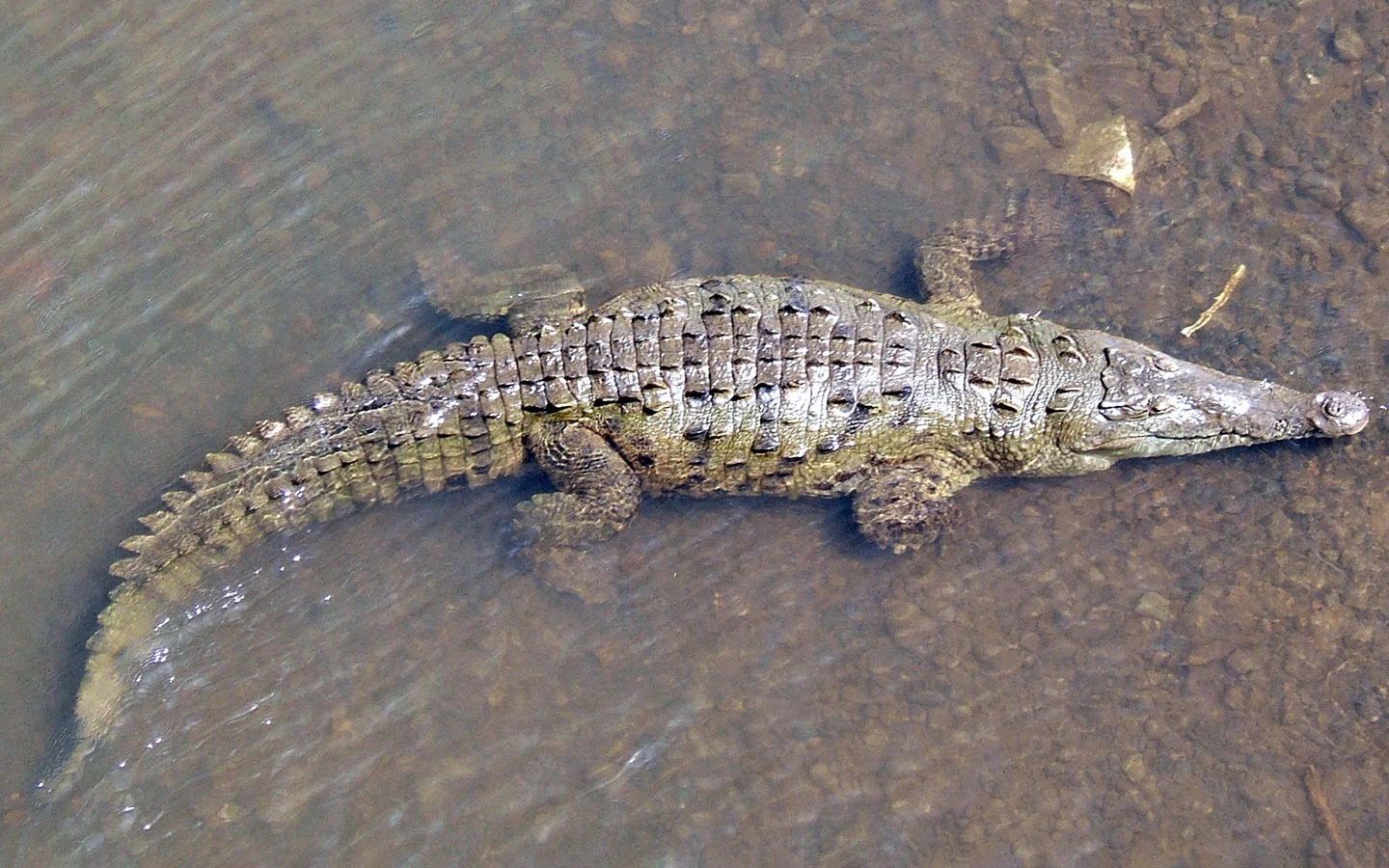 Walks from Burford
There are some lovely countryside walks from Burford along the Windrush Valley. To the east are the villages of Swinbrook and Asthall, once home to the Mitford sisters. You can do a 6.3-mile circular route along the River Windrush to Widford and Swinbrook – where you can stop off at the Swan Inn, once owned by Deborah Mitford – before looping back to Burford via Fulbrook.
Or continue east along along the Windrush through Asthall to Minster Lovell (6 miles one way), where you can catch the Stagecoach 233 bus back to Burford. There's also a 7.5-mile circular route to the west of Burford via the villages of Little Barrington, Great Barrington and Taynton.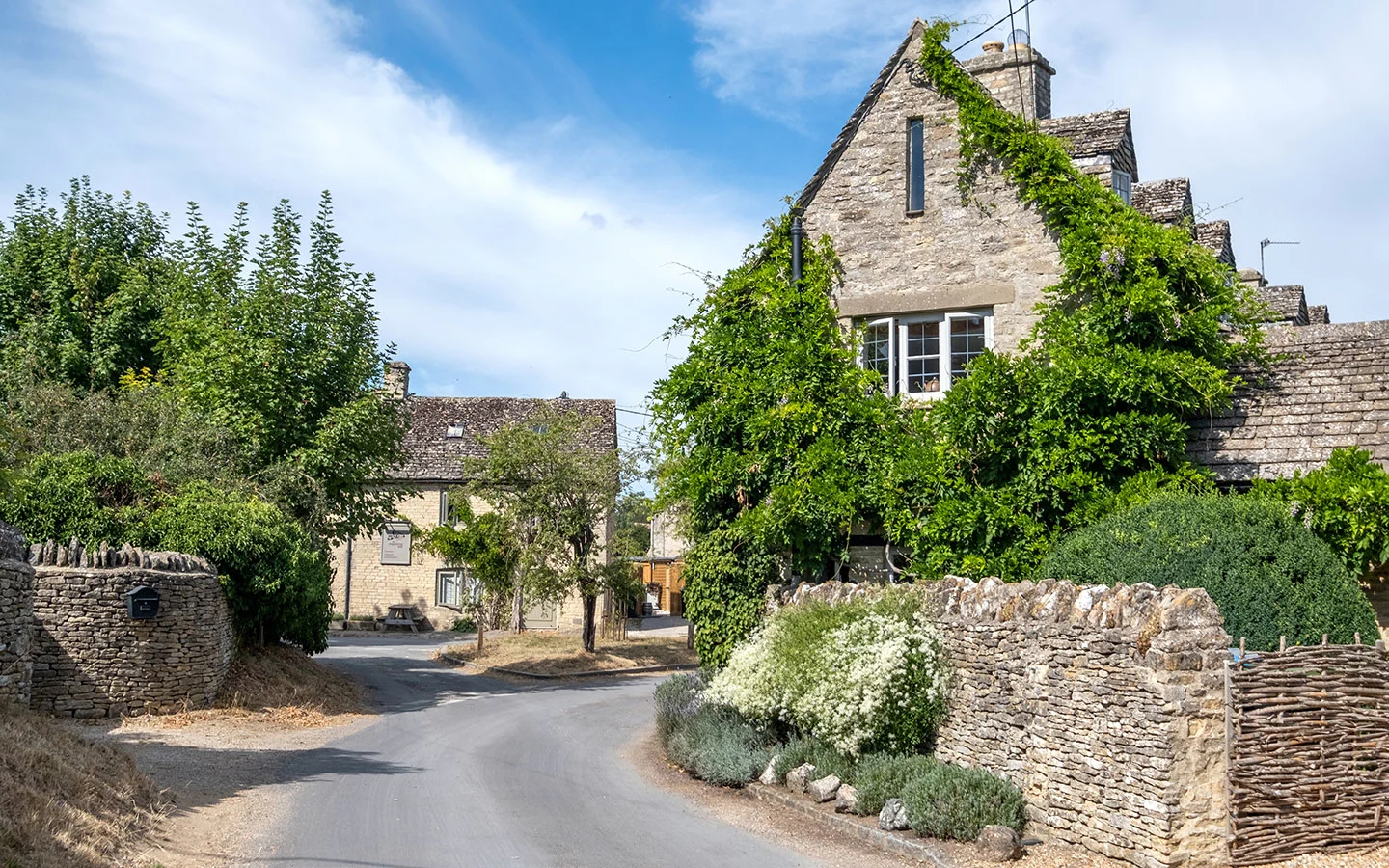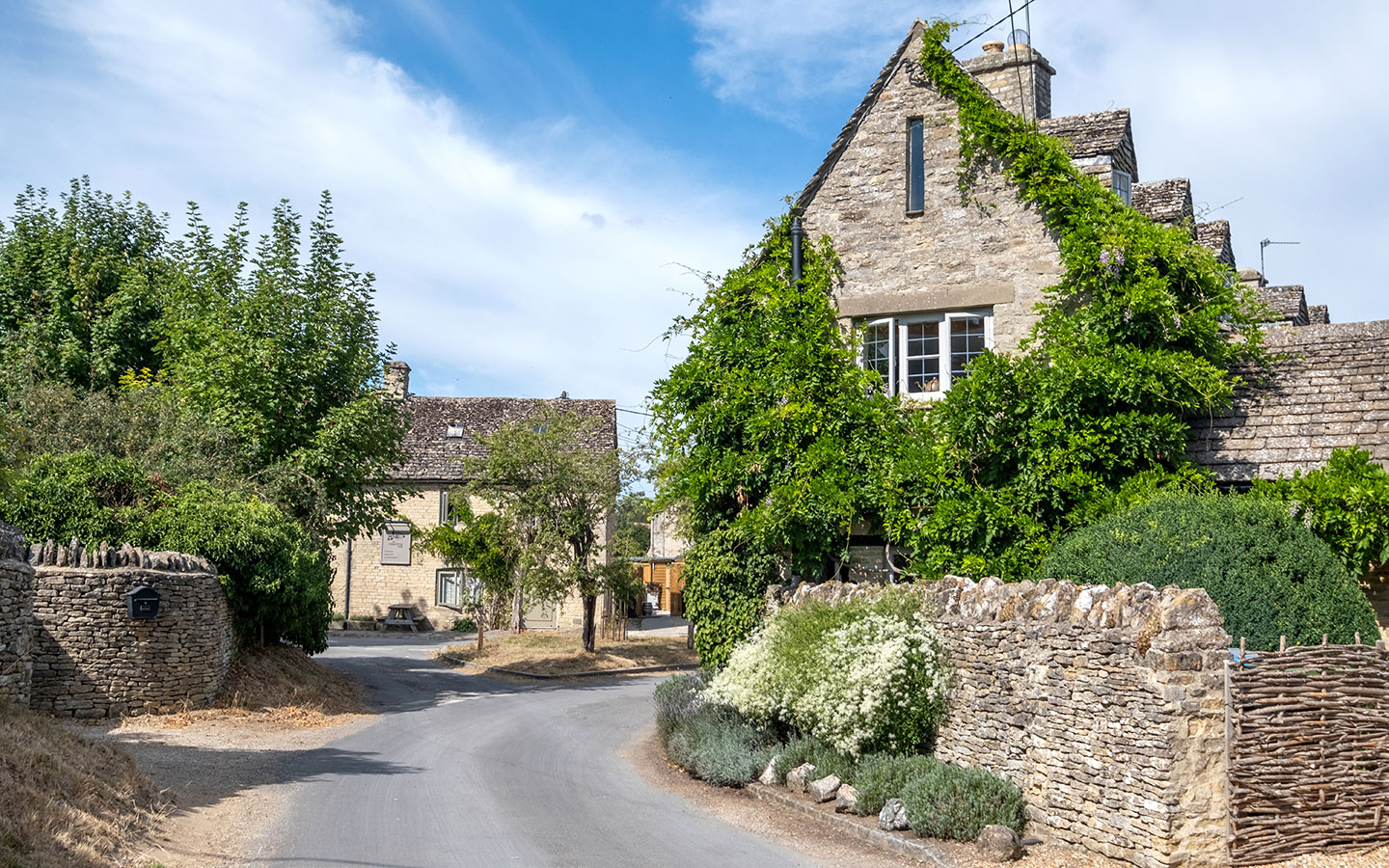 Things to do near Burford
The ruins of English Heritage site Minster Lovell Hall and Dovecote are 6 miles east of Burford, with the picturesque remnants of a 1430s manor house on the banks of the River Windrush. Or 7 miles to the west is the National Trust's Lodge Park and Sherbourne Estate, a rare 17th-century grandstand built for deer coursing surrounded by grounds and water meadows.
You're also within easy reach of pretty Bibury (10 miles), home to the famous houses of Arlington Row and Bibury Trout Farm, the wool town of Northleach (9 miles) with its church known as the 'Cathedral of the Cotswolds', and riverside Bourton-on-the-Water (10 miles).
Or 8 miles to the south is the Oxfordshire village of Bampton – better known to fans of Downton Abbey as the village of Downton after it was a filming location for the TV series and films.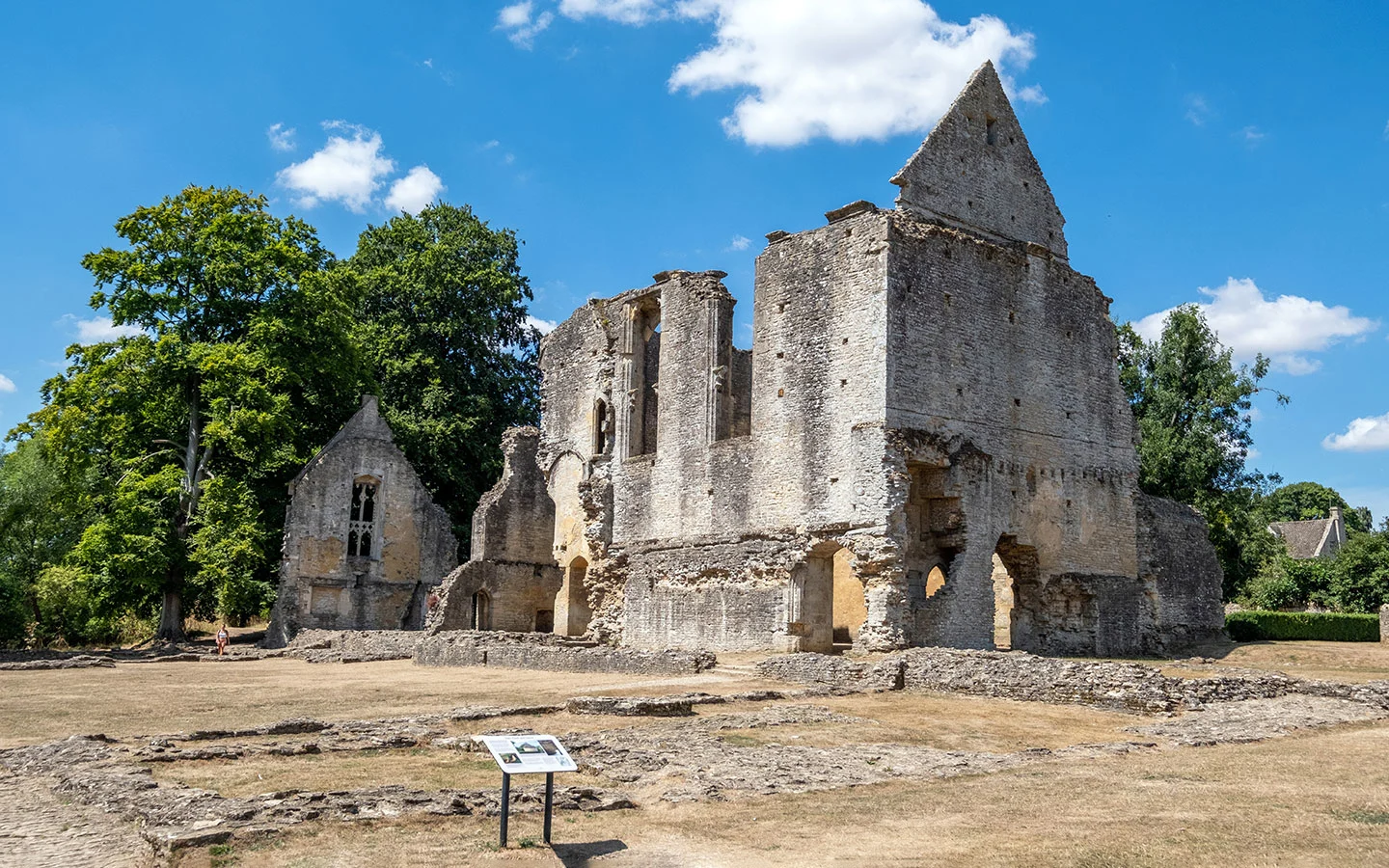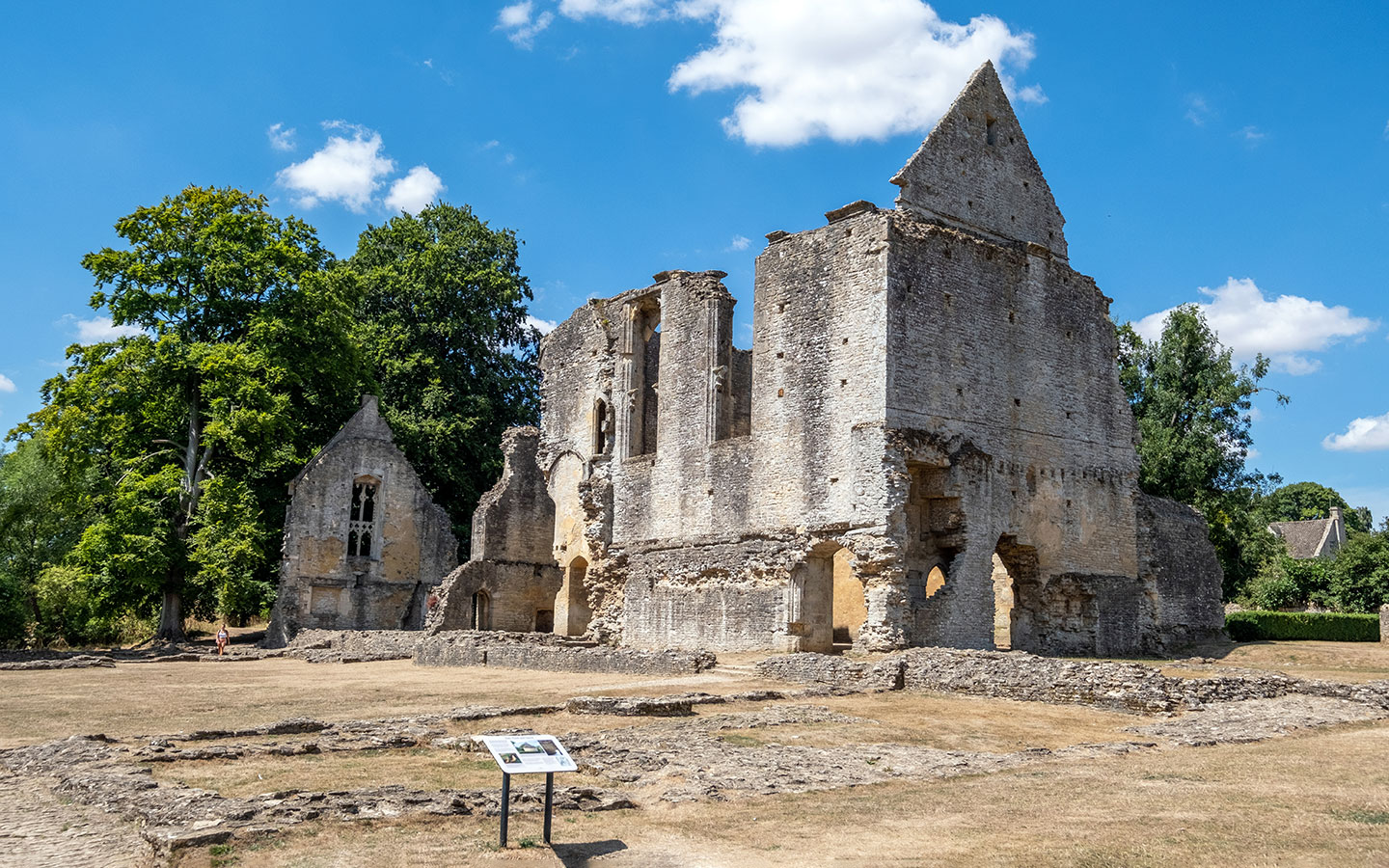 Places to eat in Burford
Cafés and delis
Burford is known for its delicious lardy cakes. Similar to Chelsea buns without the icing, lardy cakes are made with sugar, spices, currants and sultanas. The best place to try them in Burford is Huffkins, a family-run bakery founded in 1890, which now has eight branches. As well as takeaway bread and cakes, they also have a tea room for sandwiches, jacket potatoes and afternoon teas.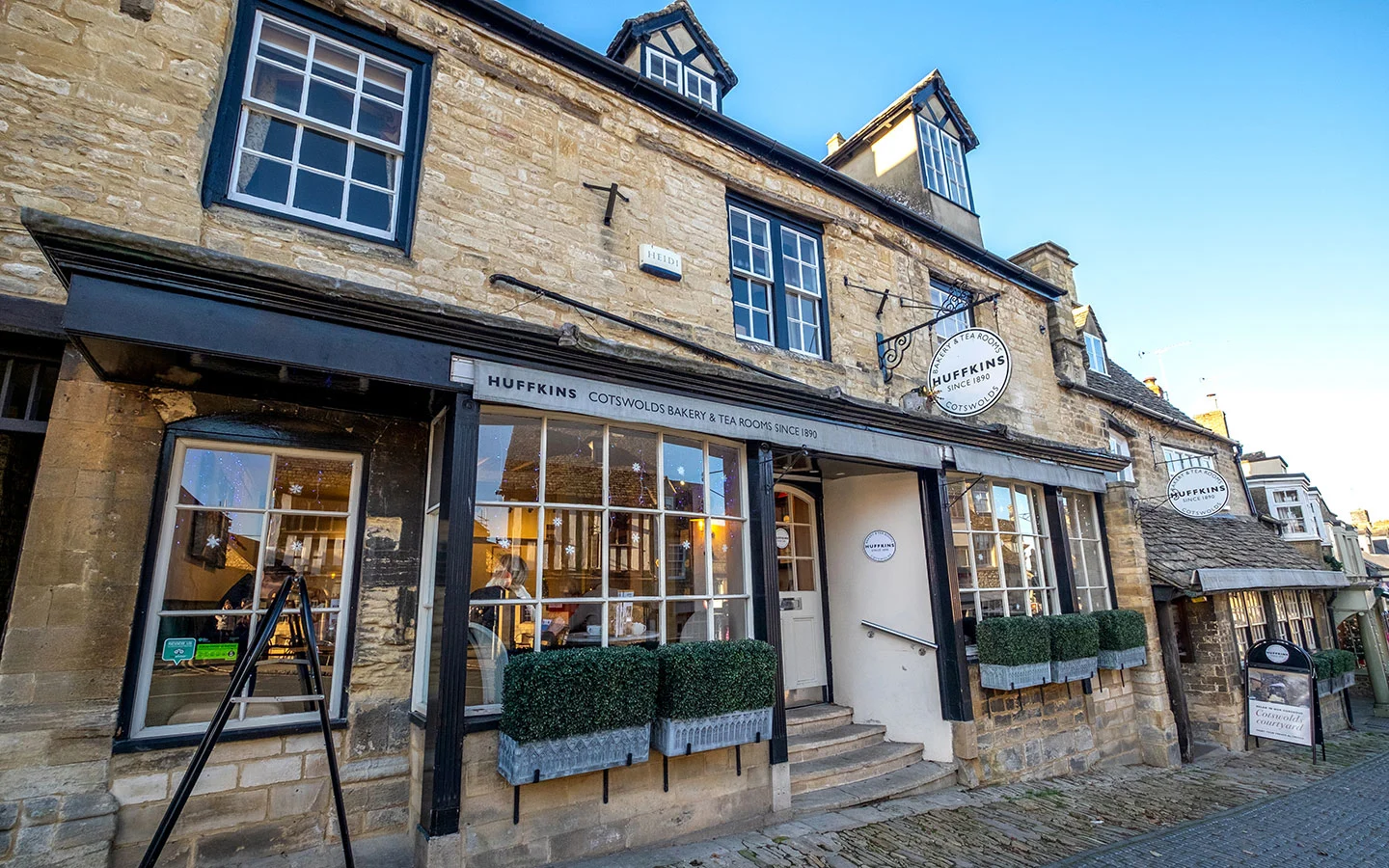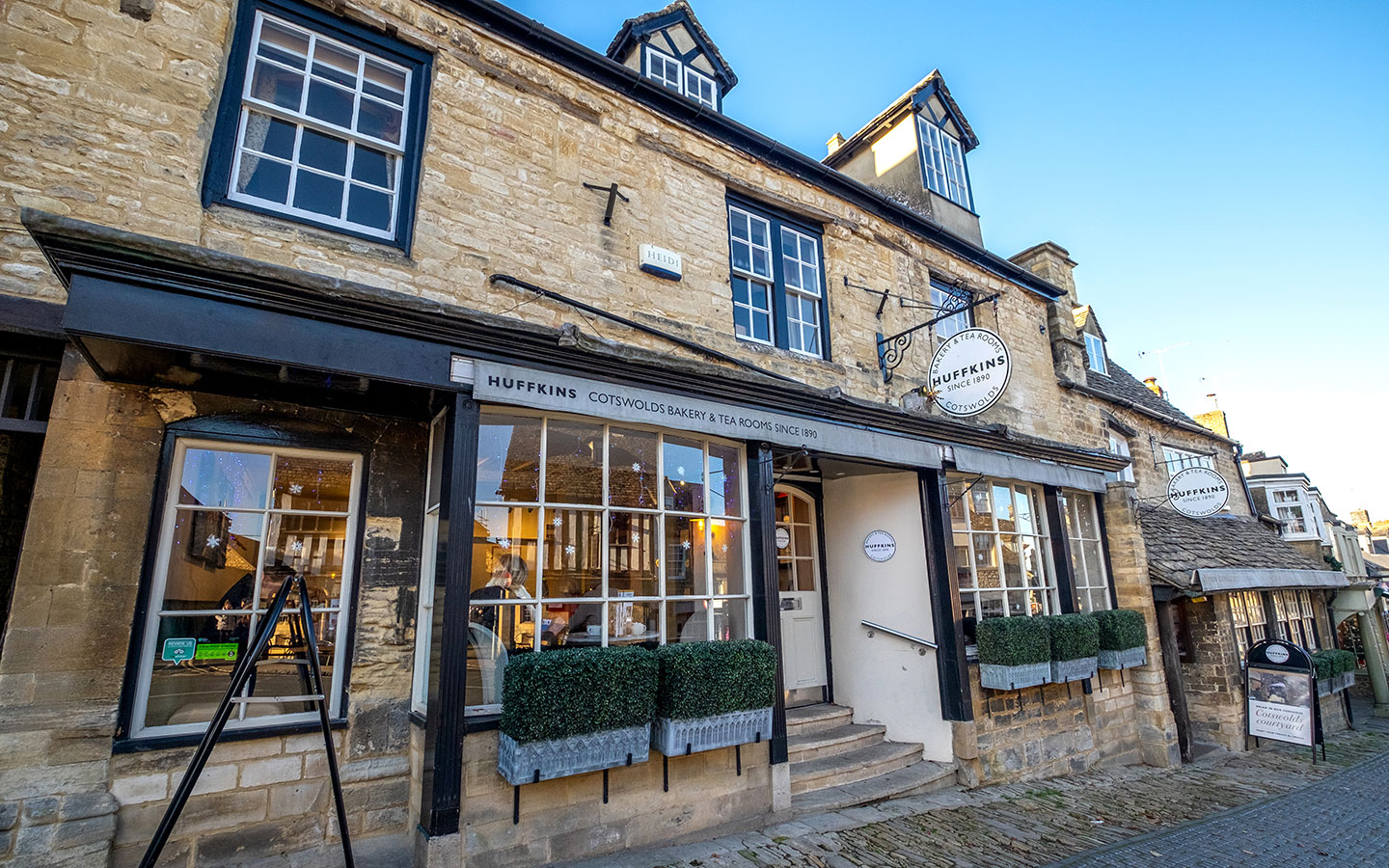 Other local cafés perfect for a stop-off when you're exploring Burford include Lynwood & Co, part of a small chain starting in Lechlade. These Australian-style cafés are known for their great coffee and sourdough bread, which is combined with locally sourced produce with a menu of breakfast dishes like mushrooms and feta on toast alongside sausage rolls, toasties and tarts.
The Priory tea rooms do a delicious cream tea, with plain or fruit scones, jam and clotted cream, as well as homemade cakes and well-stuffed sandwiches. And vegan or gluten-free diners don't have to miss out at Nutmeg and Thyme. This plant-based café and deli in Christmas Court makes vegan and gluten-free bread, cakes and main dishes, and sells ethically sourced products.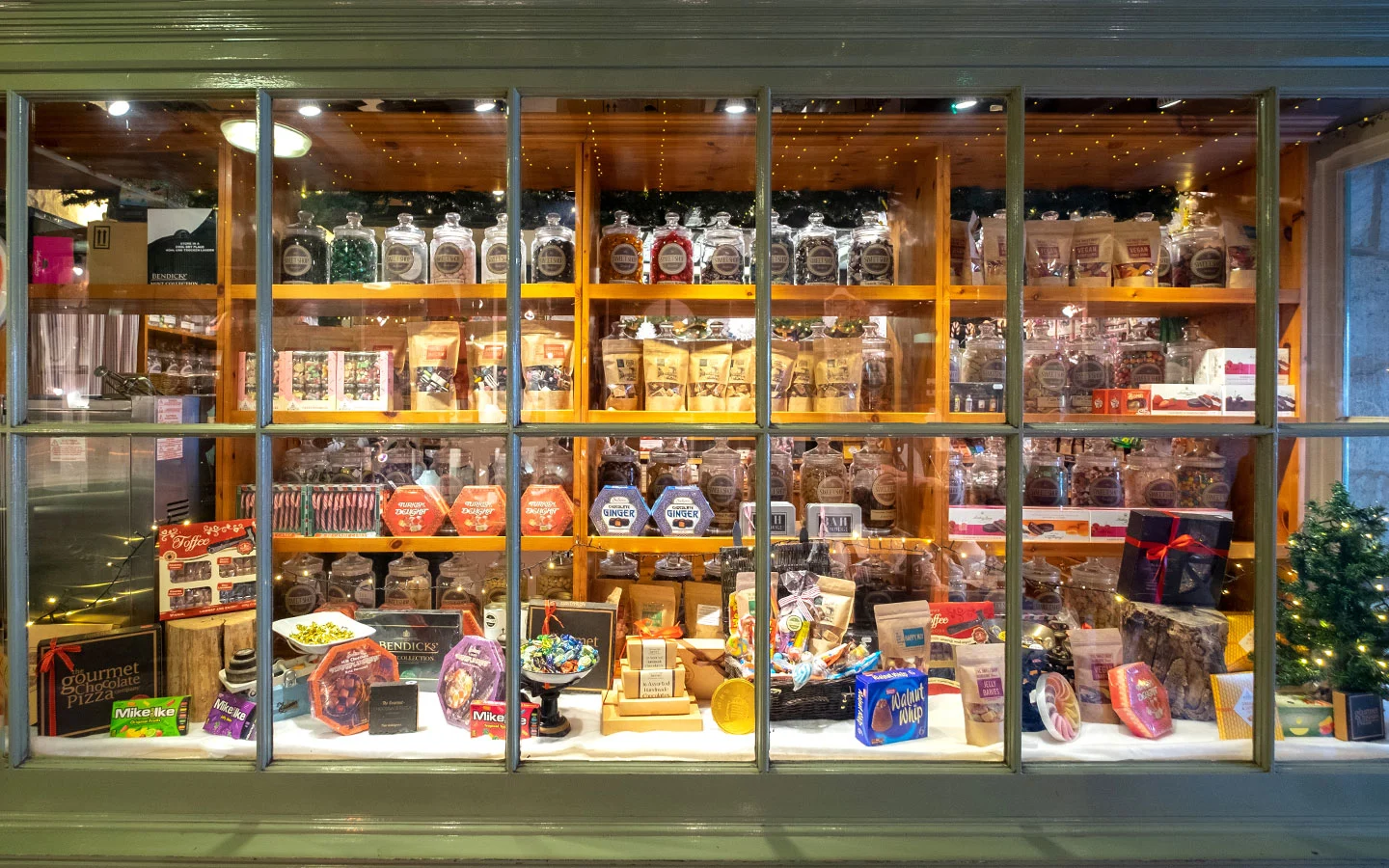 Burford has an array of brilliant delis and food producers. Check out Mrs Bumbles for meats, pies, savouries and some of the best sausage rolls in the Cotswolds. The Cotswold Cheese Company stocks many locally produced cheeses, including their own Oxford Blue Cheese. Burford also has an old-fashioned Sweet Shop which is a step back in time with all its retro classics.
And a few miles outside town you'll find Upton Smokery, who smoke their own meats and fish, from traditional smoked salmon to delicious smoked duck breasts. Their farm shop also sells other local produce and there's both a gin and vodka distillery and a brewery on site.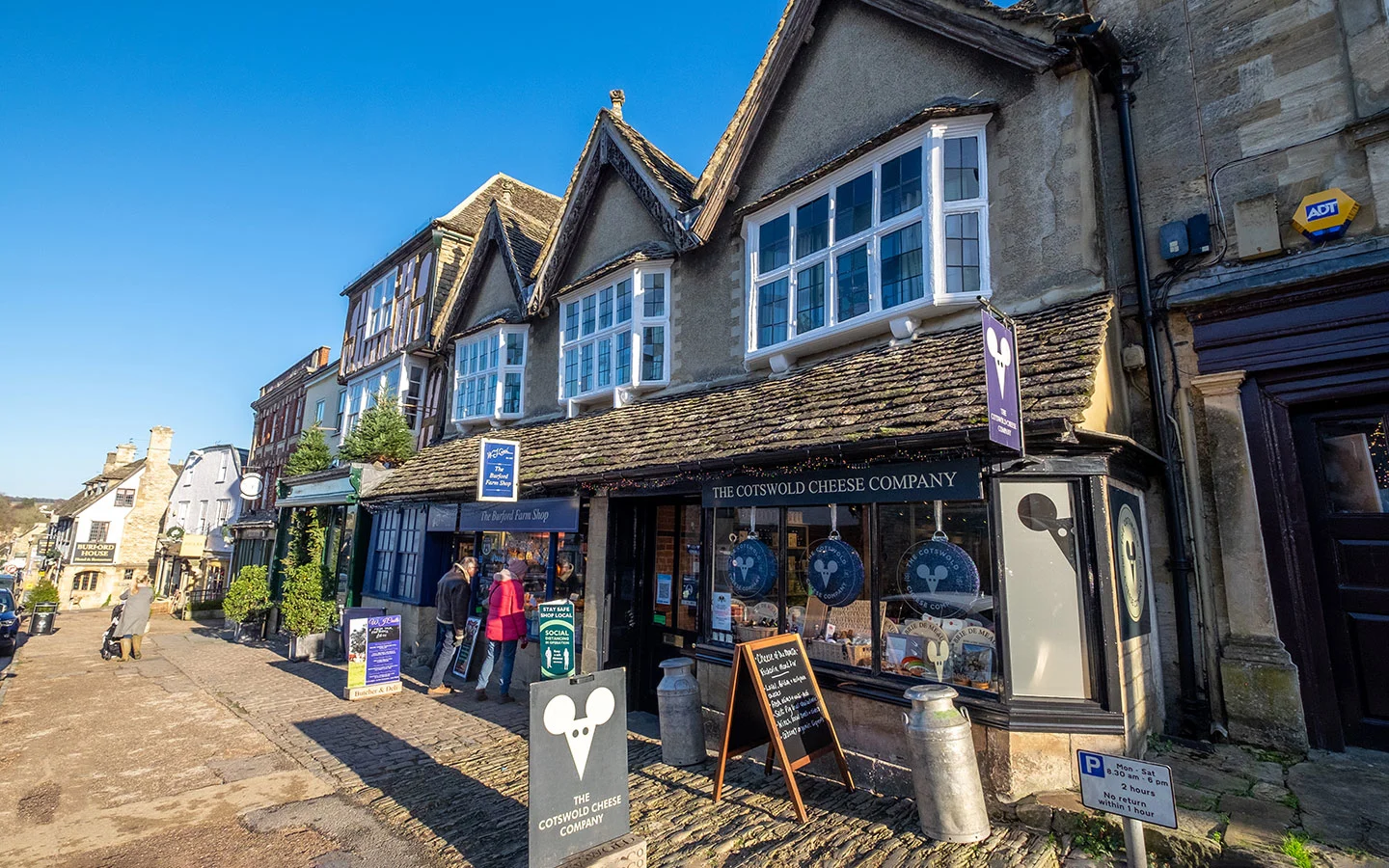 Pubs and restaurants
Burford has a fantastic selection of historic pubs with lots of character. The Angel at Burford is a multiple winner of the 'Cotswold Pub of the Year' award. The menu changes with the seasons and includes gastropub dishes like slow-braised pork belly or butternut squash and sage ravioli. They serve Hook Norton Brewery beers and have been awarded a Casque Mark for their ales.
The Royal Oak is well-known for its homemade shortcrust pies, which are served with lashings of gravy. The traditional steak and ale or local game and red wine pies are ideal for a winter's day by the log fire. Or there's a sun-trap beer garden for summer G&Ts, with dogs welcome.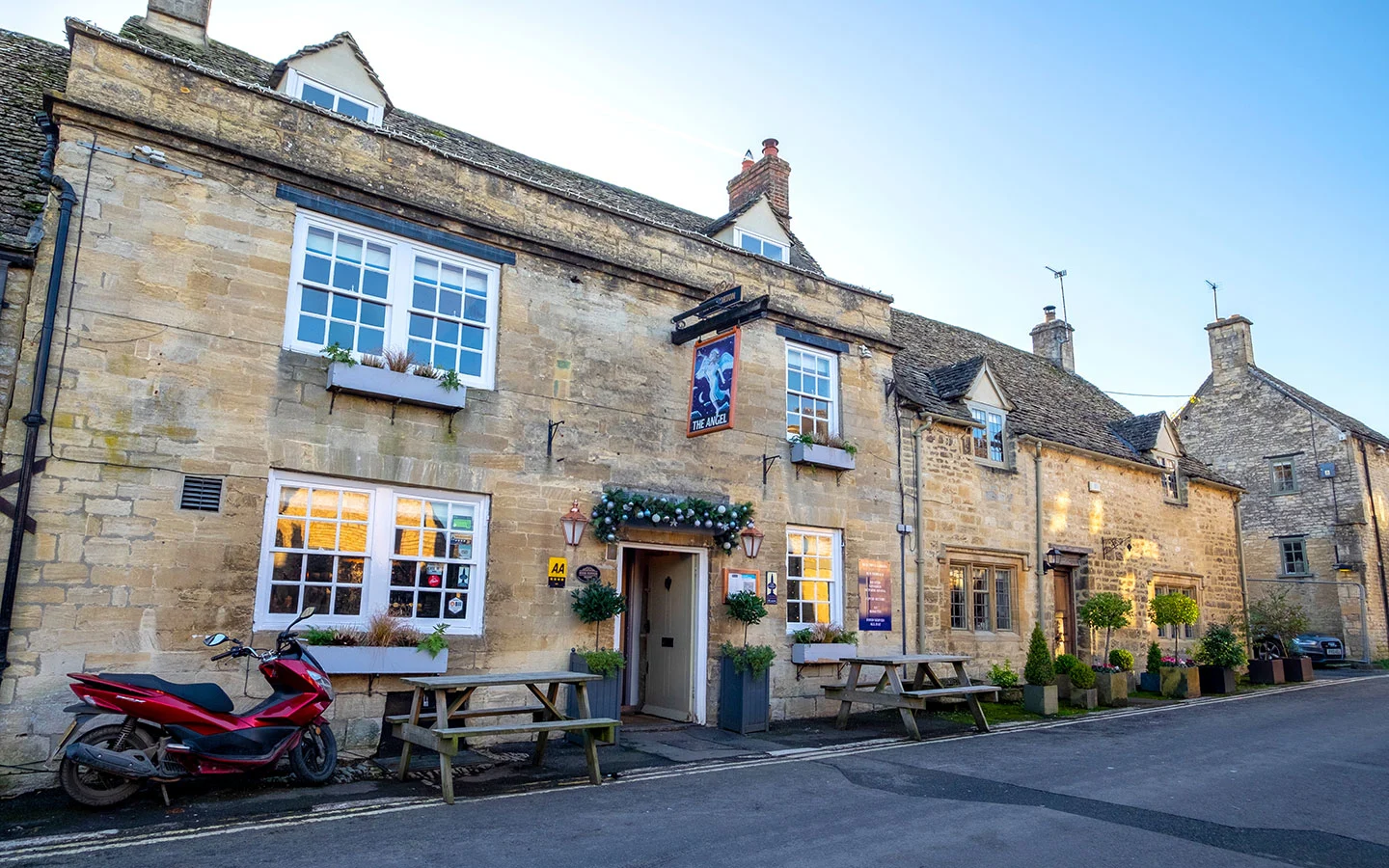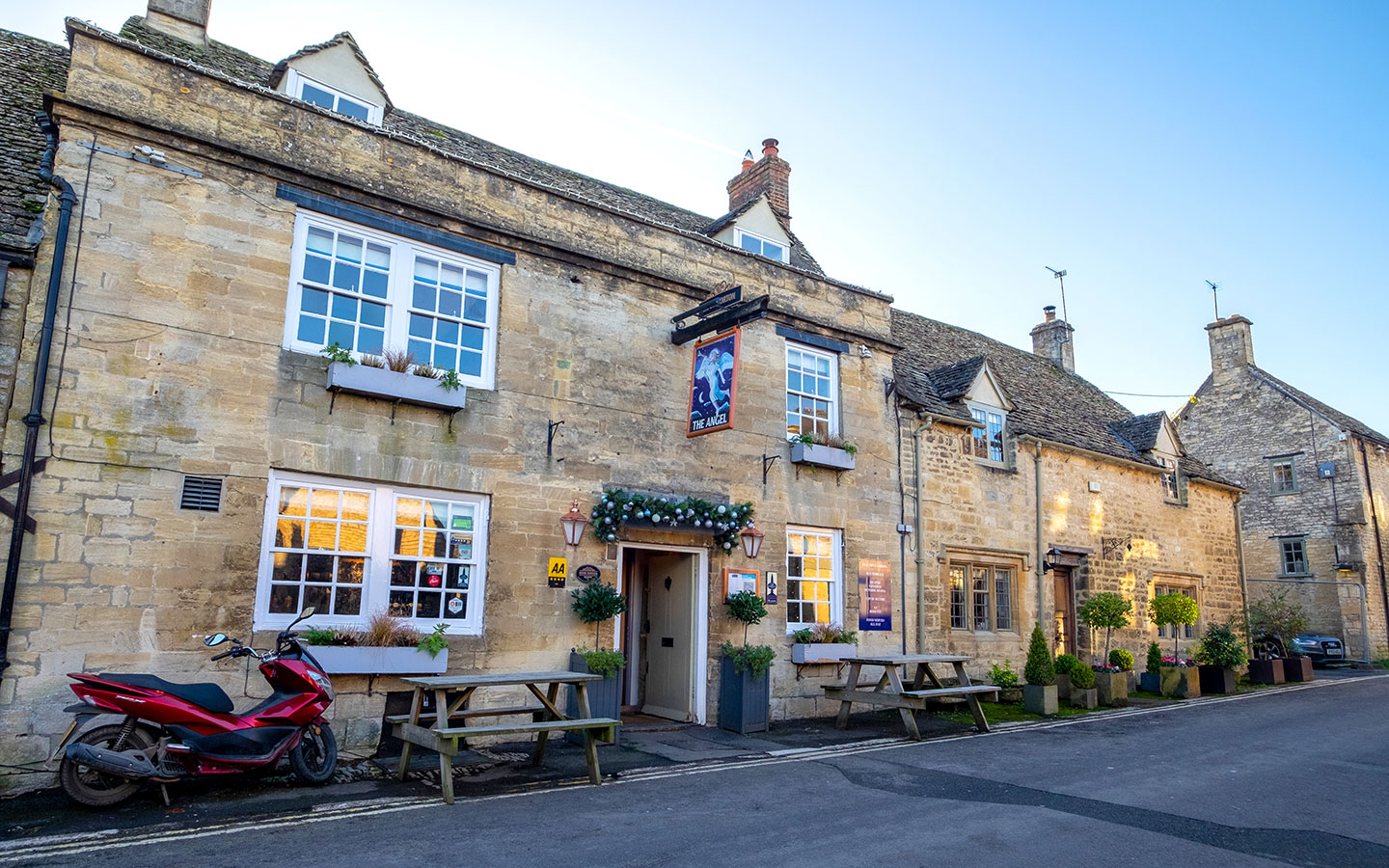 The Highway Inn dates back to 1480 and has been an inn for over 500 years., with timber beams, stone fireplaces and a medieval courtyard garden. They stock beers from local brewers Hook Norton Brewery and the Cotswold Brewing Company, alongside a good range of wines and spirits, and a menu of locally sourced British dishes like fish and chips or Cotswold lamb shank pie.
Or for something different, Spice Lounge is an award-winning Indian restaurant on the High Street. Their inventive dishes use organic ingredients and healthy recipes which aren't too rich, including marinated lamb baked in the tandoori oven and an aromatic prawn biryani.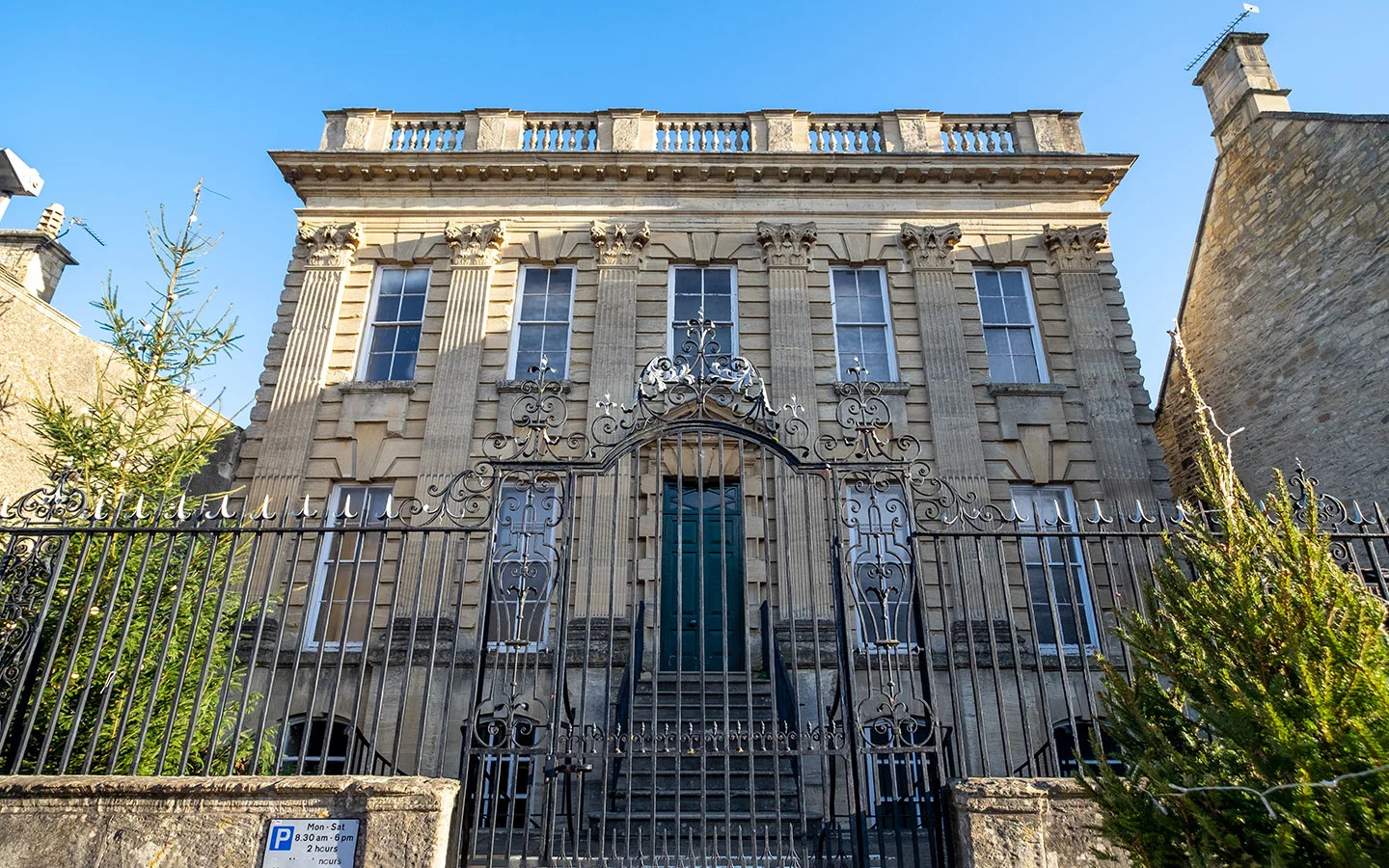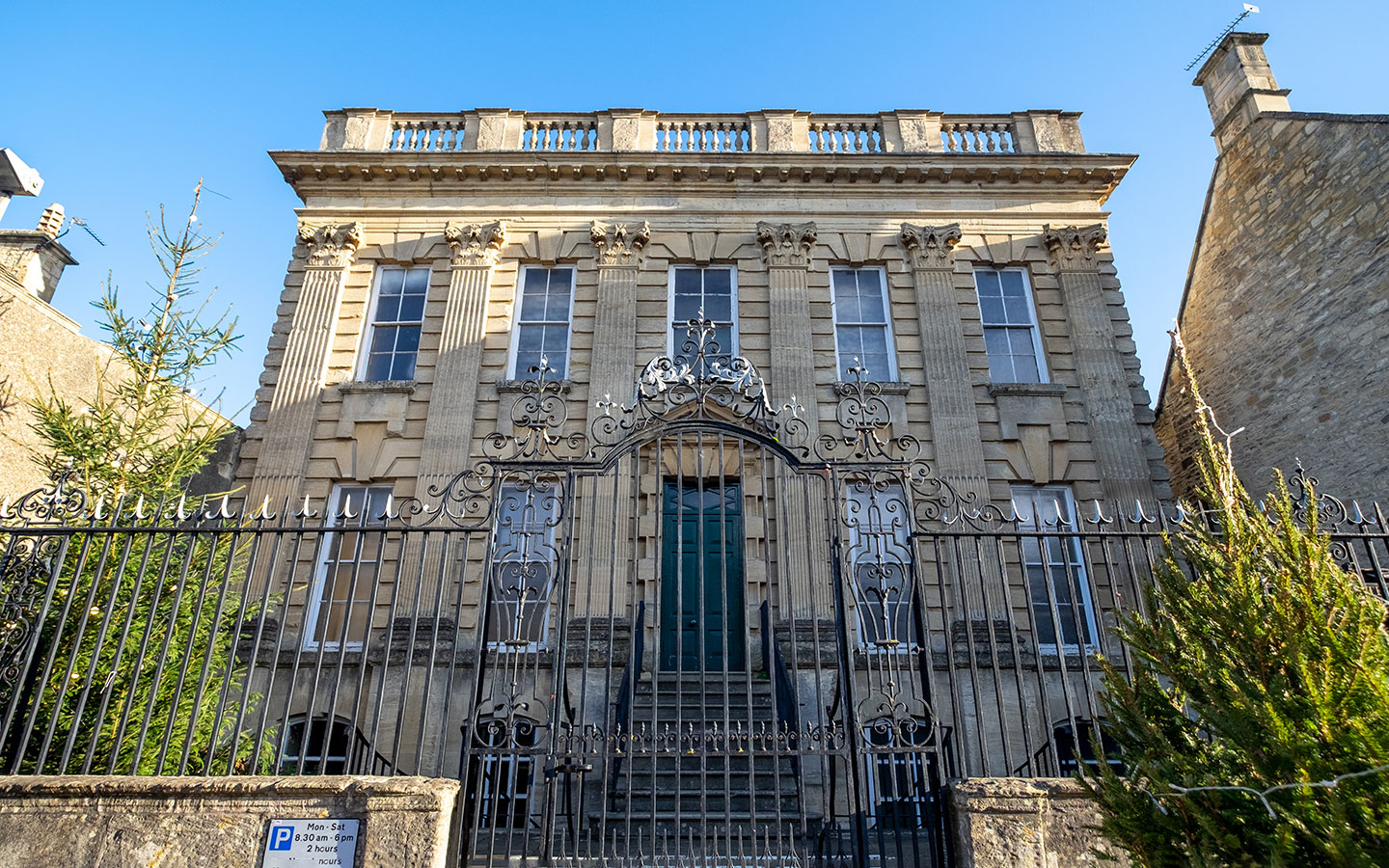 Where to stay in Burford
Many of Burford's pubs also offer accommodation. The Angel at Burford* has been stylishly renovated but has kept its original charm with wooden beams, crooked ceilings and stone fireplaces. There are three bedrooms – two with king-sized beds and one which can be set up as a super-king or twin. Each en-suite bathrooms has a shower and bath, and some rooms have window seats.
Burford House* is a 17th-century, half-timbered inn midway down the High Street, with exposed beams and leaded windows. They have six en-suite bedrooms, including four-poster rooms perfect for a romantic break, plus the separate self-catering Bumble Cottage which sleeps two.
The Bay Tree* is a Grade II listed honey-stone building on Sheep Street draped in wisteria. Its 21 bedrooms – split between the main building and the cottage annex – have been given a contemporary makeover and some have roll-top or spa baths, fires or lounges. Dog-friendly rooms are available too. As well as a bar and restaurant, the hotel has a library and walled garden.
Or Bull Cottage* is one of Burford's oldest cottages, dating from 1390. It has medieval stone arches, timber beams and flagstone floors, giving it plenty of character. But it's also well-equipped with modern comforts including a wood-burning stove, fitted kitchen and wifi. The cottage sleeps up to six in three comfortable bedrooms – two doubles and a twin – and has two bathrooms.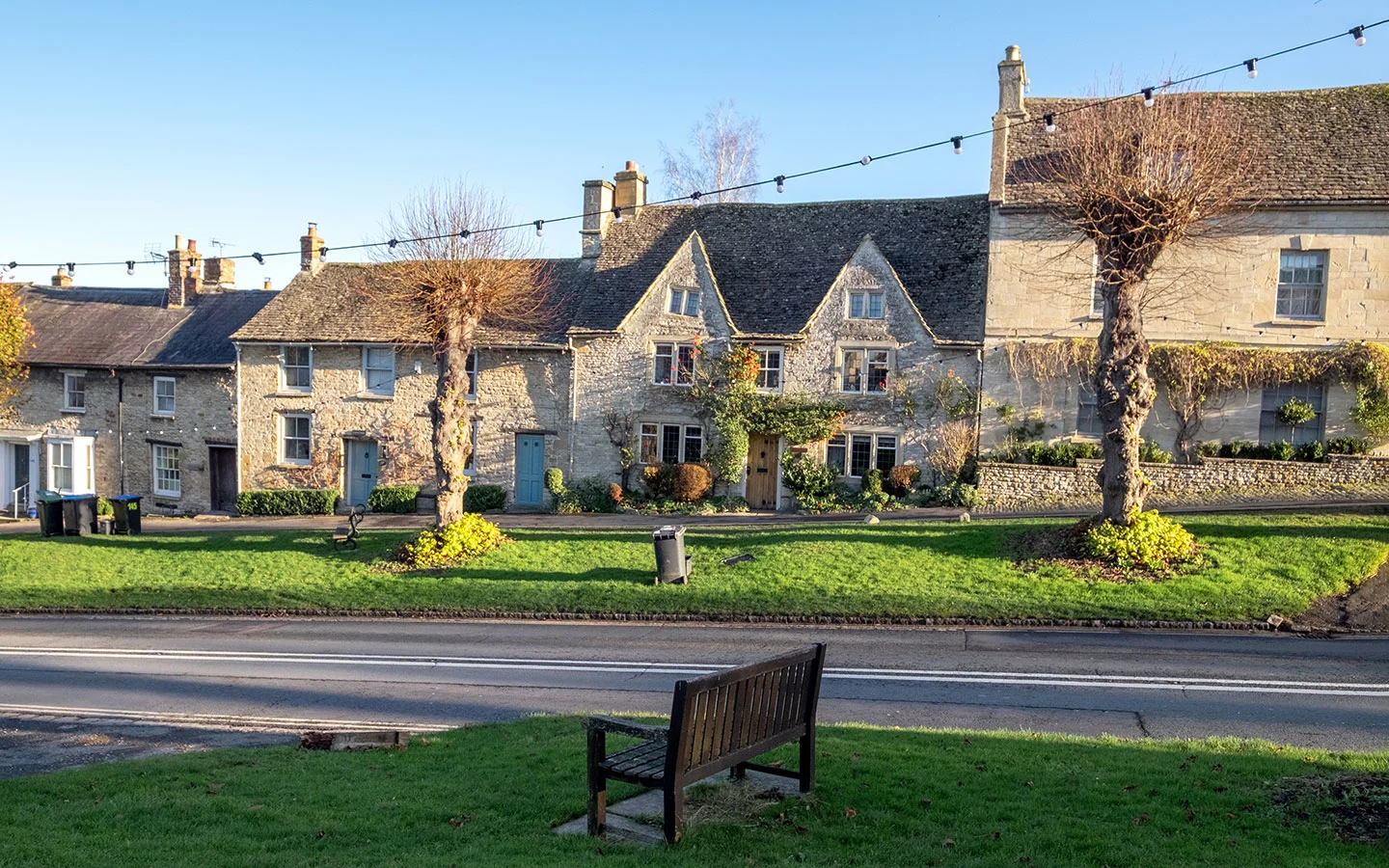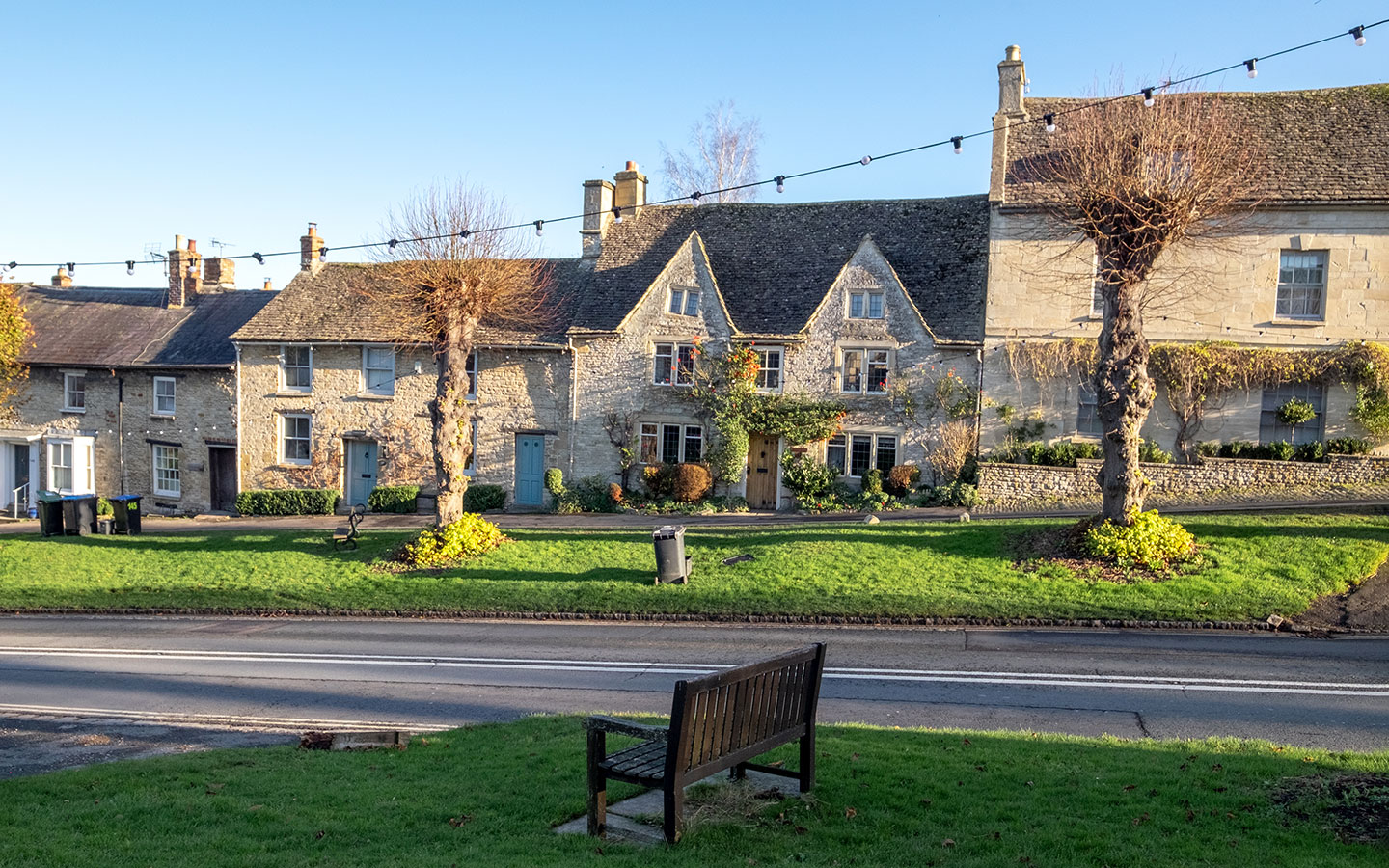 How to get to Burford
Burford by car
Burford's location where the A40 meets the A361 makes it easy to reach from Oxford (20 miles), Cheltenham (22 miles) and Swindon (22 miles). Burford is accessed either by the top or bottom of the High Street (Burford Hill) from surrounding villages as well as the A40.
There's free parking in Burford for up to 12 hours at the Guildenford car park (OX18 4SE) near the church, but it gets very busy in summer. There's also free on-street parking on each side of the High Street, but this is limited to two hours if you're on the east side (no limit on the west side).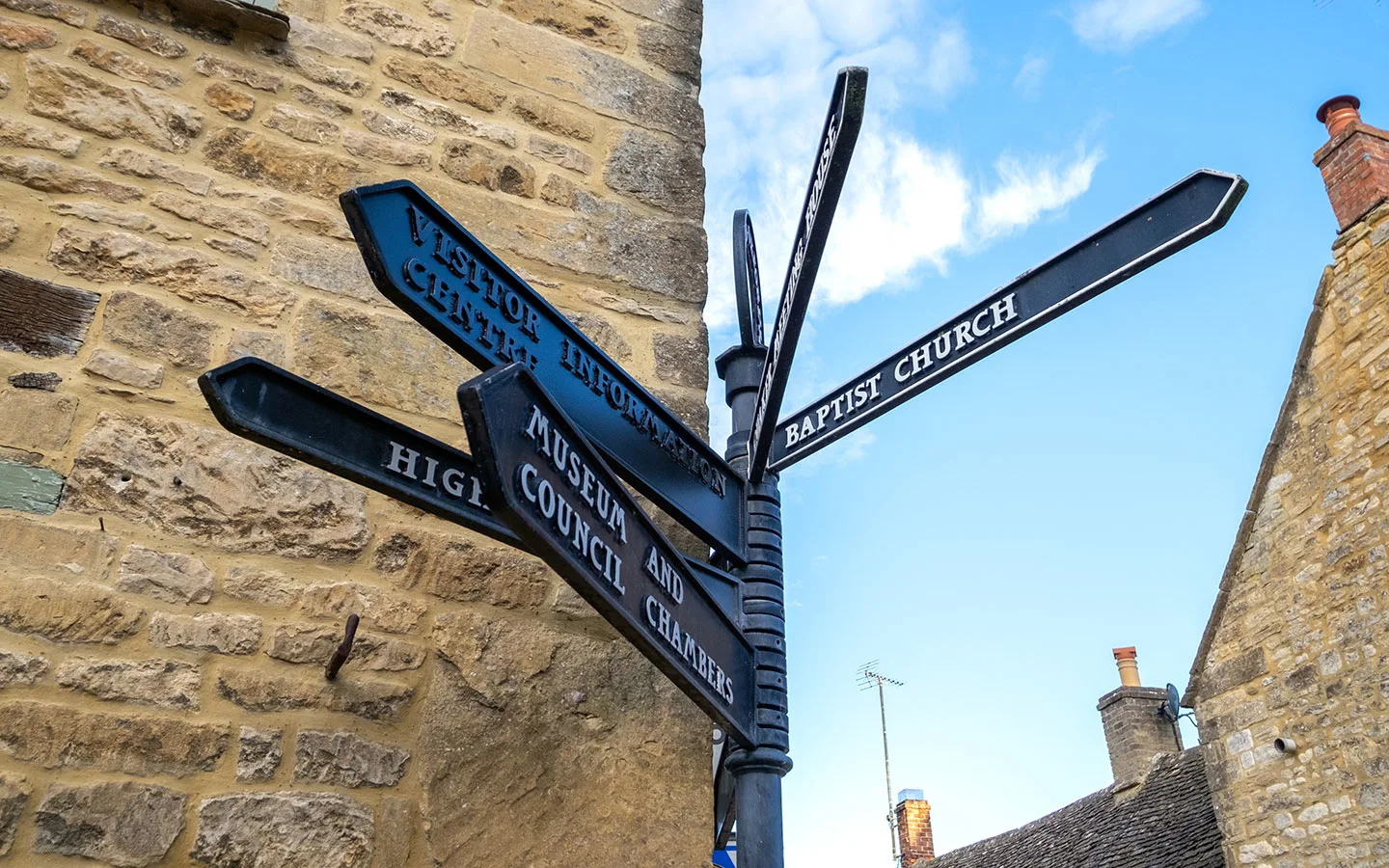 Burford by public transport
Burford's nearest train stations are in Charlbury and Shipton, but neither have bus connections to Burford so you would need to pre-book a taxi. It may be easier to take a train to Oxford or Cheltenham instead, which are further away but have direct buses running to Burford.
You can reach Burford using the Stagecoach S2 bus from Oxford (1 hour) or Cheltenham (50 minutes), which also calls at Northleach. The bus stops at the Oxford Road Layby, at the top of Burford Hill by the A40 roundabout. It runs every day, but there are only three services on Sundays.
The Stagecoach 233 bus also connects Burford with Witney, Minster Lovell and Asthall.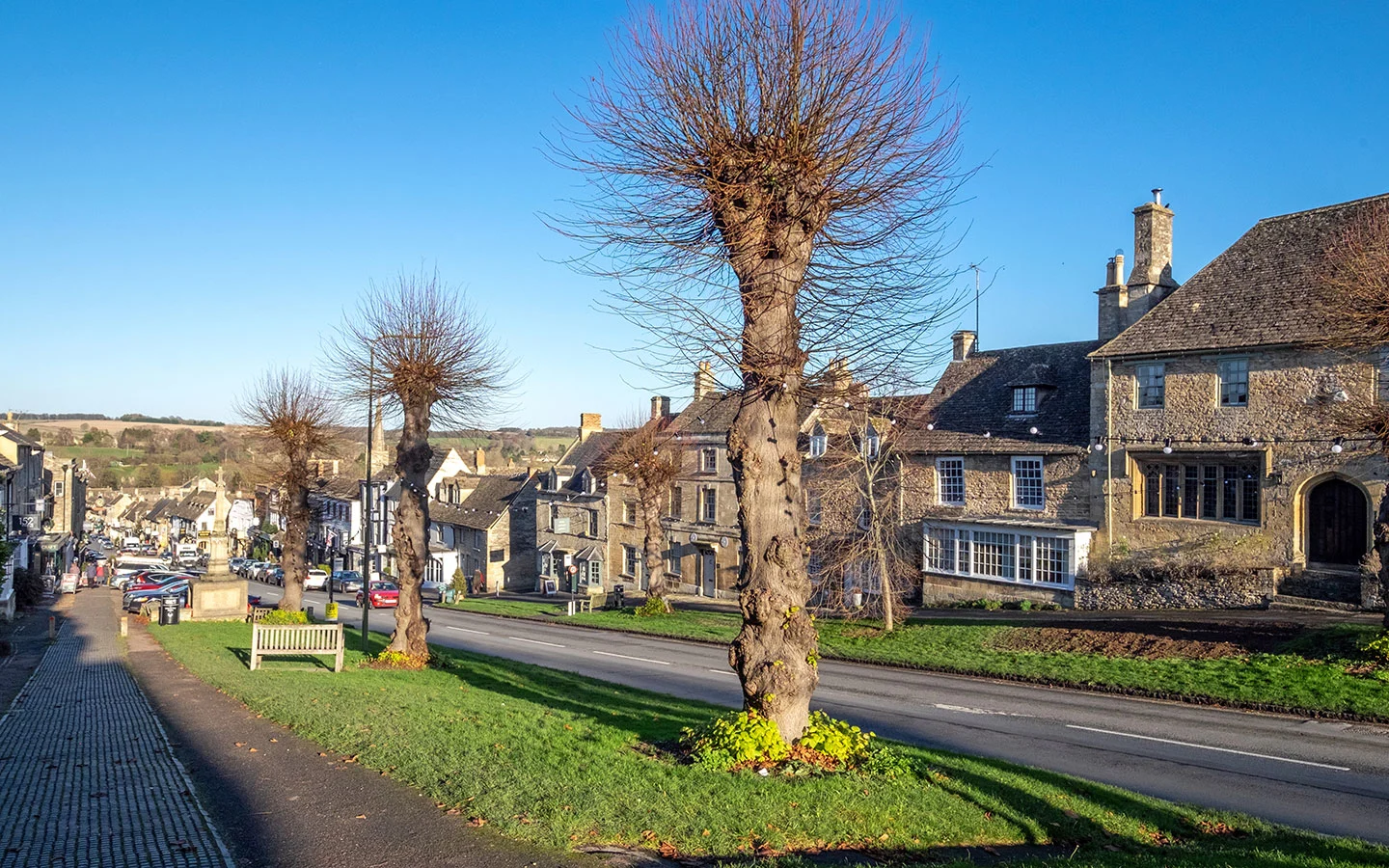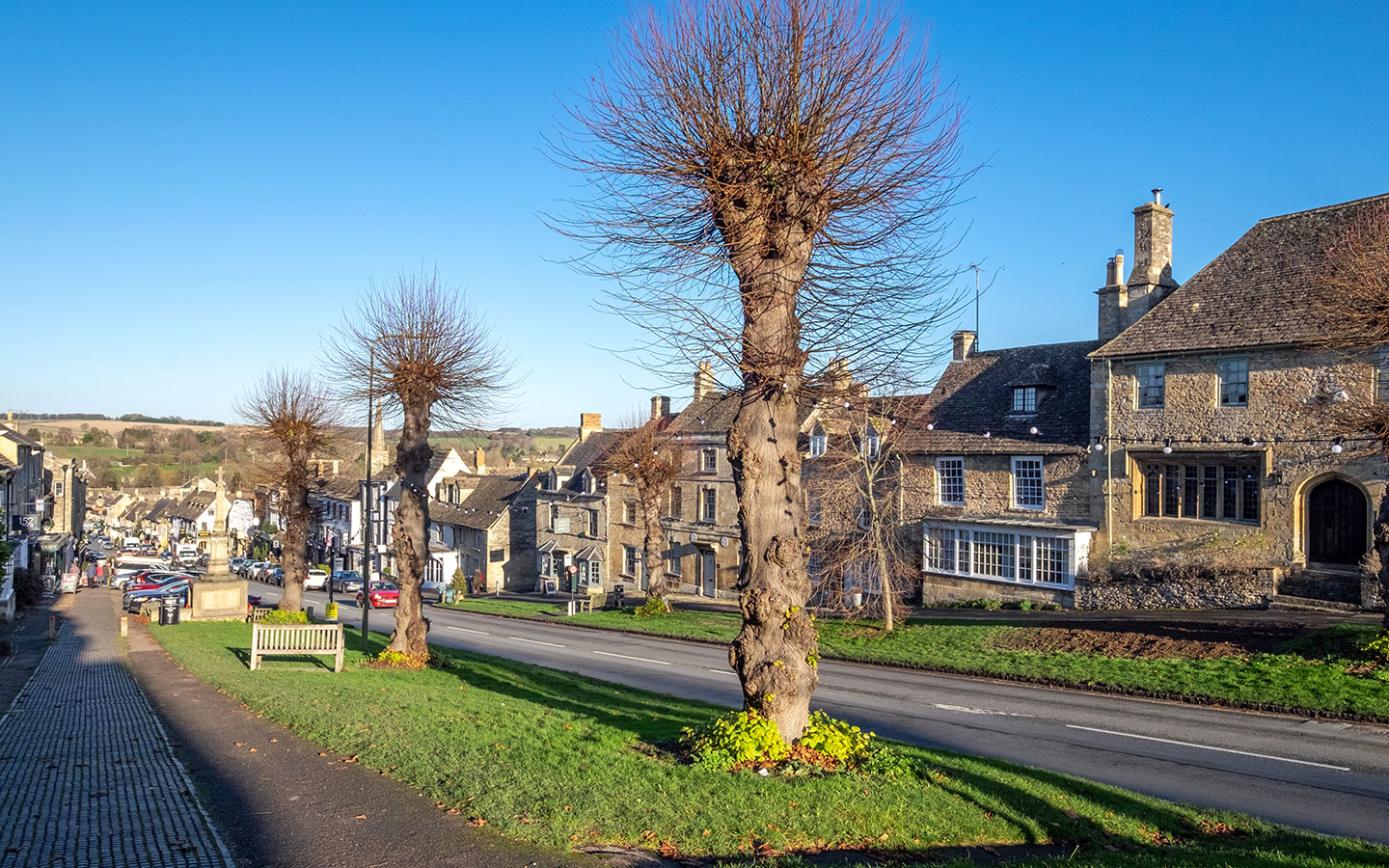 Save for later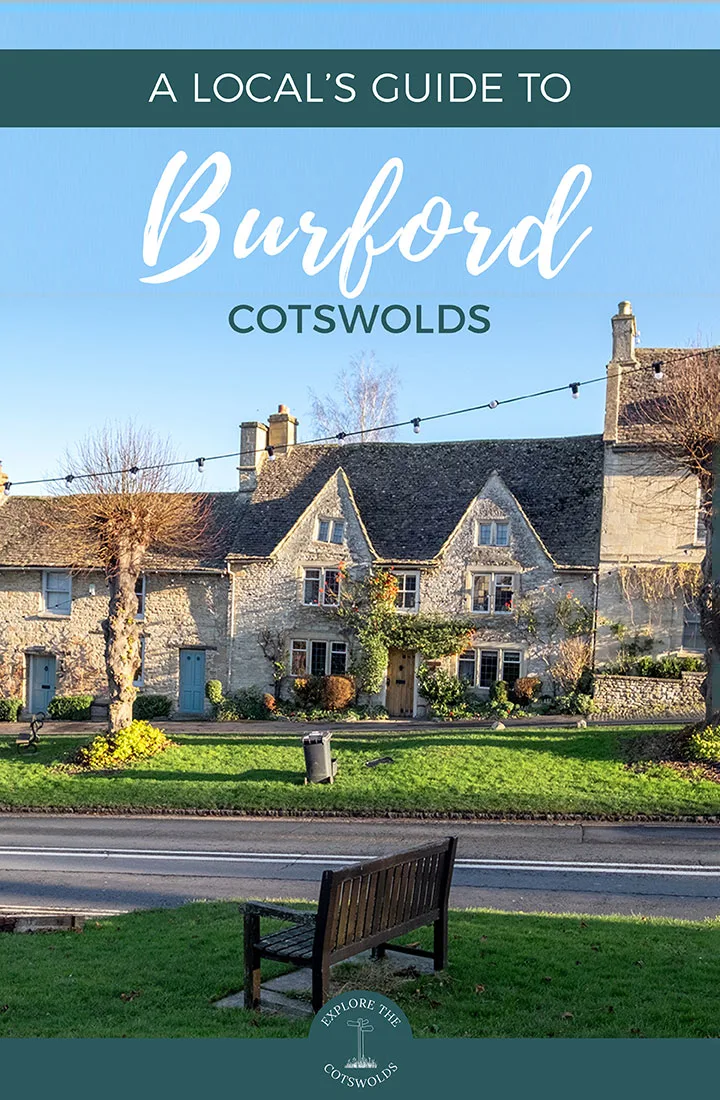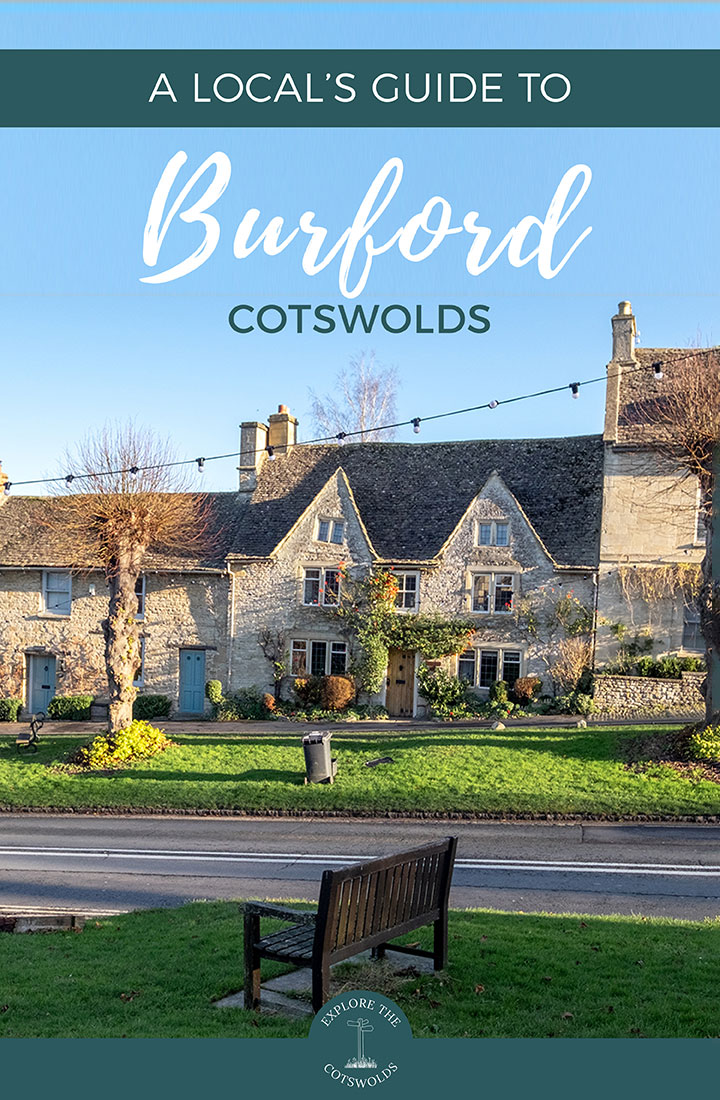 * This site contains affiliate links, where I get a small commission from purchases at no extra cost to you.