A treasure trove of artefacts from around the world, Snowshill Manor isn't your usual Cotswold country house. This 16th-century manor is packed to the rafters with quirky collectables and surrounded by beautiful Arts and Crafts gardens. Discover more about the house and its eccentric owner Charles Paget Wade with our guide to visiting Snowshill Manor in the Cotswolds.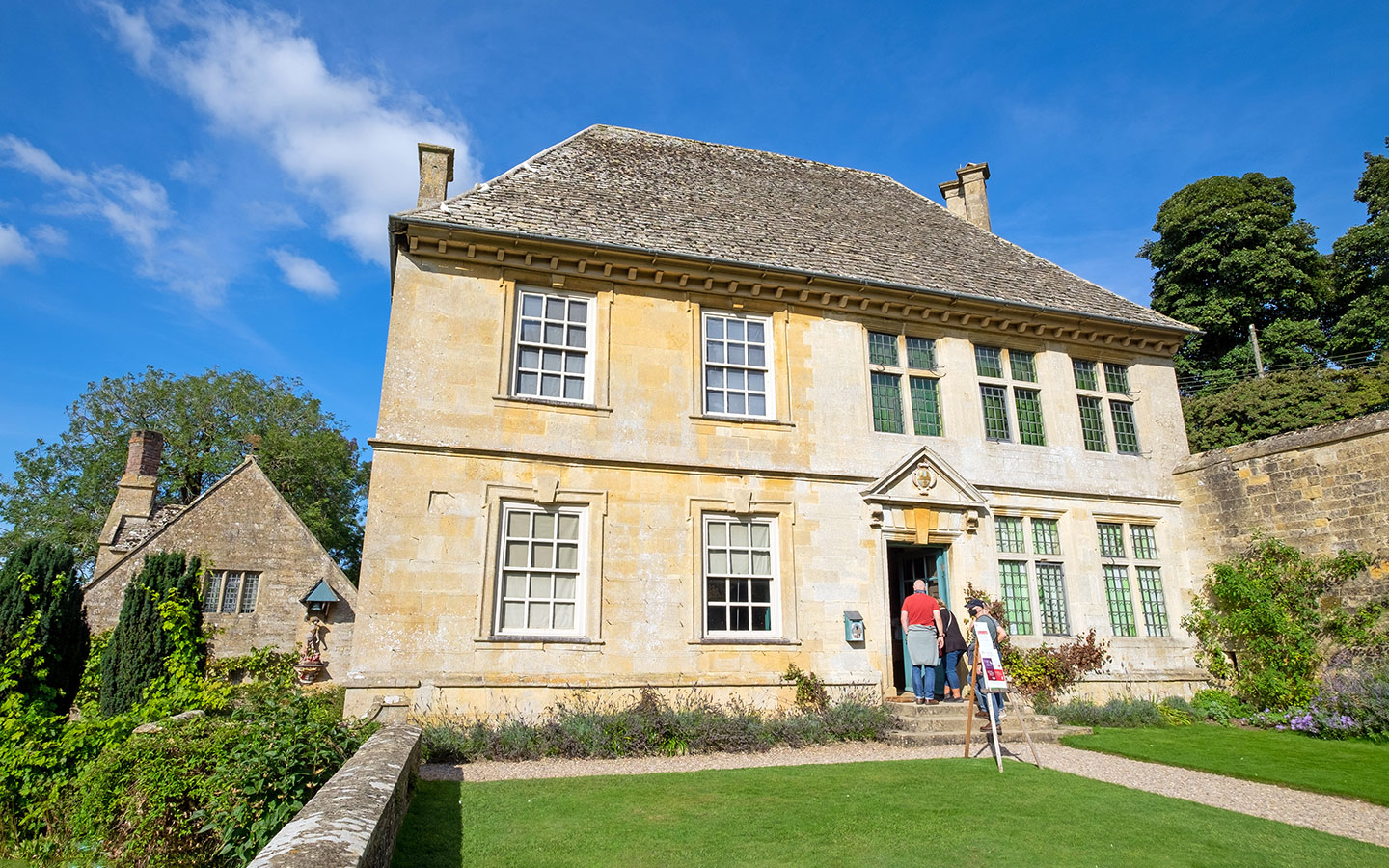 The history of Snowshill Manor
Snowshill Manor is an imposing honey-stone manor house on the edge of Snowshill village near Broadway. Its history goes back to the Domesday Book in 1086 when it was the property of Winchcombe Abbey. But the oldest parts of the manor you see today are from the 1550s. It was added to and adapted over the years before absentee landlords let it fall into disrepair.
But Edwardian architect, artist, poet and collector Charles Paget Wade saw its potential. He first spotted Snowshill Manor in a copy of Country Life magazine when he was serving in the First World War. And when made it home he discovered it was still for sale.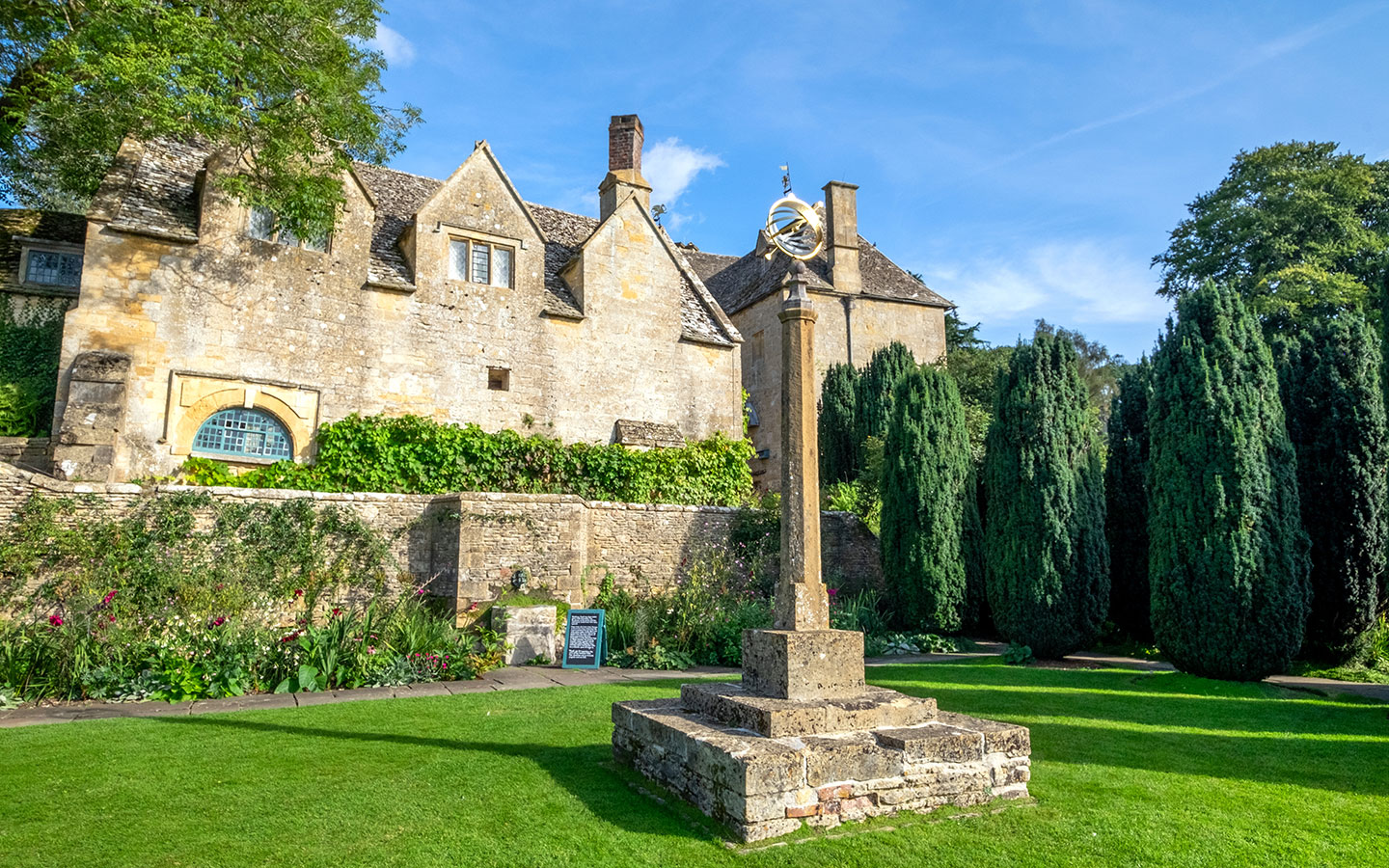 Despite it being a neglected ruin at the time, Wade bought Snowshill Manor and set about restoring it. He saw it as a place to combine all his creative interests – and a home for his collections. Wade had inherited a fortune from his family's sugar estates in St Kitts and was a prolific collector of anything which he thought showed great craftsmanship.
What a joy these old things are to live with – each piece made by the hand of a craftsman, each has feeling and individuality that no machine could ever attain"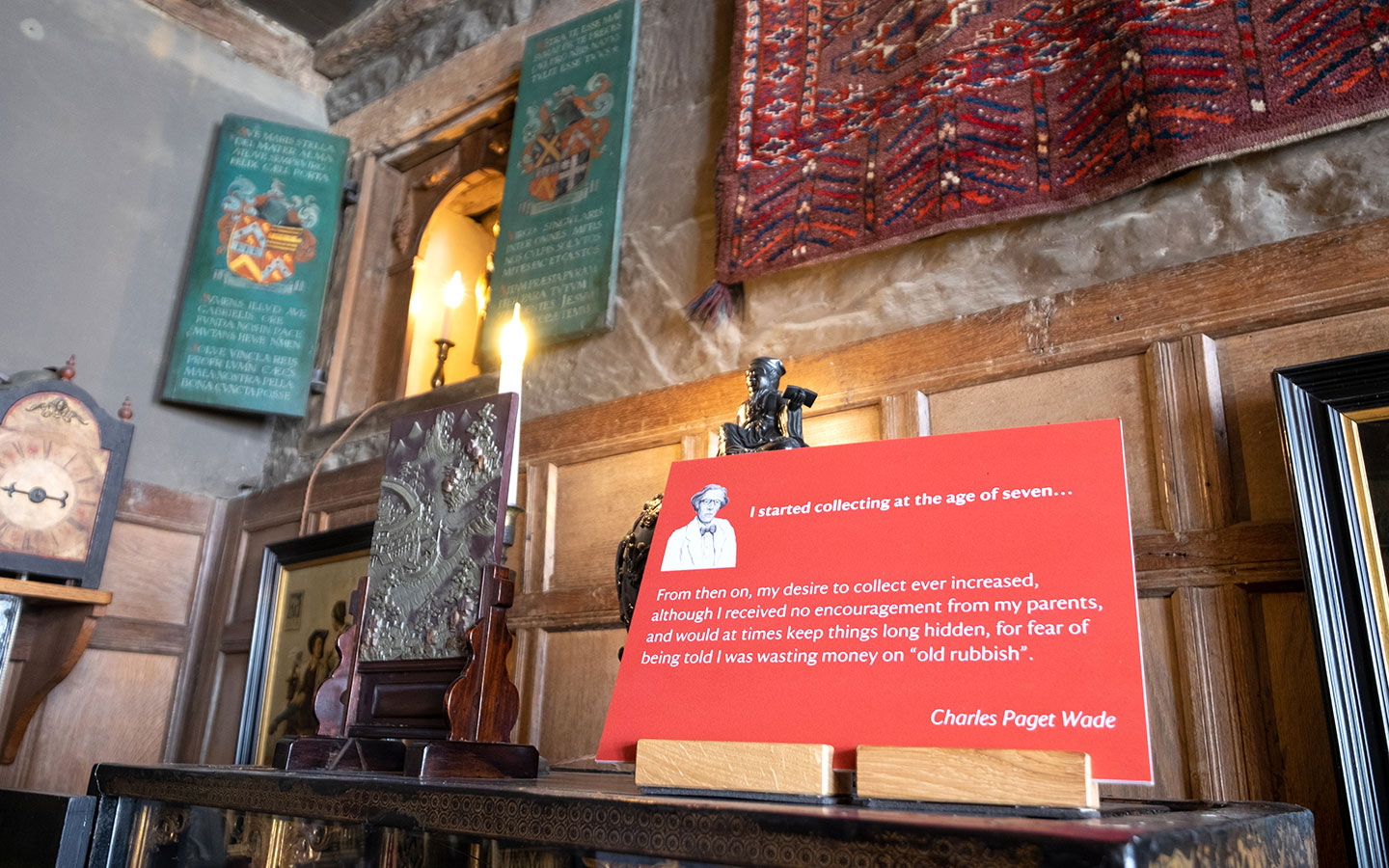 He wasn't just interested in grand pieces but championed everything from the everyday to the extraordinary, with a family motto of 'Let nothing perish'. By the time he donated the house to the National Trust in 1951, his collection numbered over 22,000 objects – from Samurai suits to model ships, musical instruments to bicycles, and children's toys to crossbows.
Wade used his skills in art and architecture to transform Snowshill Manor. But he never planned to live in it – instead he set up home in the small Priest's House next door which was his home-come-workshop, and saw the manor more as a stage to present his collections.
And his influence didn't stop with the manor house. The gardens weren't much more than a muddy farmland when Wade bought Snowshill Manor. But along with his friend and prominent Arts and Crafts architect Mackay Hugh Baillie Scott, he set about creating a series of themed outdoor rooms to go with the rooms inside, including a whole model village.
When Wade donated Snowshill Manor to the National Trust, part of the condition was that it would be open to the public to visit. And today it welcomes thousands of visitors to admire the house and gardens, and explore his weird, wonderful and never-boring collections.
Visiting Snowshill Manor
If you'd like to visit Snowshill Manor itself, then you need to pre-book a timed entry slot in advance, but if you just want to visit the gardens then there's no need to book in advance. You're given a half-hour slot for the manor and can arrive at any time during that time period.
The manor and gardens lie around a 10-minute walk from the car park, with the path running through apple orchards. On the way in there's a café and tea room where you can stop off for tea, cakes and snacks, with hot food served from 12–2pm. There's also a plant stall and a secondhand bookshop piled high with a mix of vintage and new books.
The manor house is dedicated to Charles Paget Wade's collections. Rather than displaying them museum-style with labels and spotlights, they're laid out as he intended them, with rooms having different themes to match their content. It's an atmospheric place with its moody lighting and every surface covered with a dizzylingly diverse range of different objects.
Everywhere you turn there's something interesting to look at – furniture, sculptures, paintings and ornaments. Volunteer guides are available if you want to find out more about something which catches your eye. Though only the manor's ground floor is open at present (plus the middle floor if there are enough volunteers available), as the top floor is closed to visitors.
As well as the manor you can also visit the Priest's House where Charles Padget Wade lived. He gave it its name as a nod to its days belonging to Winchcombe Abbey, but it was really an old bakehouse and brewhouse. Like the manor it's piled high with objects, but this time they're his tools and personal items, giving a glimpse into what life would've been like for him.
The Arts and Crafts garden is one of the highlights of visiting Snowshill Manor. It was designed as an extension to the house, with a series of different outdoor rooms and terraces, walkways and topiary hedges connecting them. Old farm buildings were turned into outdoor dining rooms and a pond has become a whole model seaside village known as Wolf's Cove.
There's also a kitchen garden – overflowing with organic produce when we visited in autumn – a listed dovecote and a sundial painted Wade's favourite shade of blue. Like the house, so much thought has gone into the design of the gardens, making Snowshill Manor a joy to explore.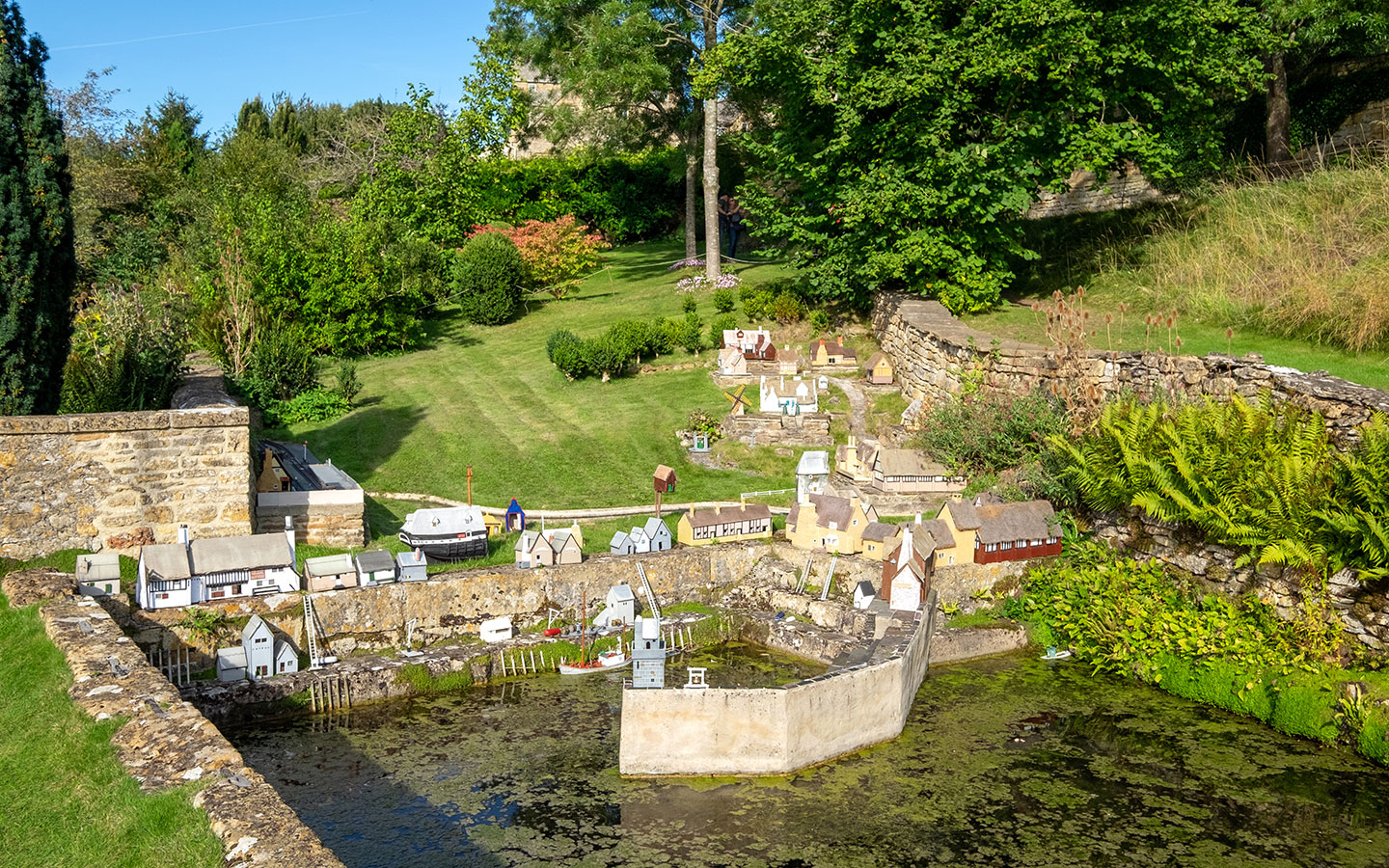 What else to see near Snowshill Manor
Snowshill Manor is only a few minutes' walk from the pretty village of Snowshill, where you can visit St Barnabas Church and walk along historic Buckle Street. Although the manor has a tea room, if you want something more substantial the Snowshill Arms serves traditional pub food and Donnington Brewery real ales, with a cosy lounge and summer beer garden.
If you're visiting Snowshill Manor during the summer, you can also add on a visit to the nearby Cotswold Lavender fields, one of the Cotswolds' most popular photo spots. Cotswold Lavender is normally open mid-June to early August, and is less than a mile from Snowshill village.
Snowshill Manor is just under a mile off the Cotswold Way long-distance walking route. Or it's also on the 6-mile Stanton, Snowshill and the Edge Cotswold Way circular walk which runs through beautiful countryside with panoramic views across the Severn Vale. And it's only a 10-minute drive to Broadway with its shops, restaurants, design museum and fairytale tower.
Where to stay near Snowshill Manor
The National Trust has four historic stone cottages to rent right opposite Snowshill Manor and Garden, with period features like inglenook fireplaces, exposed beams and wood burners. Diston's Cottage and Spring Cottage are both one-bedroom cottages, Snowshill Honor's Cottage sleeps three in two bedrooms and Snowshill Manor Farmhouse sleeps nine in five bedrooms.
On the edge of the village, Sheepscombe Byre* is a two-bedroom, two-bathroom holiday cottage in a light and spacious barn conversion with a wood-burning stove and patio with views across the Vale of Evesham. Or 13th-century Buckland Manor* is a luxurious Relais & Chateaux Hotel two miles away with four-poster beds, formal gardens and an award-winning restaurant.
There's also a good selection of places to stay in nearby Broadway. Two of our favourites are the Lygon Arms Broadway*, a historic coaching inn from the 1300s packed with period features and a relaxing pool, spa and gardens, and Russell's*, a renowned restaurant with comfortable, stylish rooms located in the former headquarters of furniture designer Gordon Russell.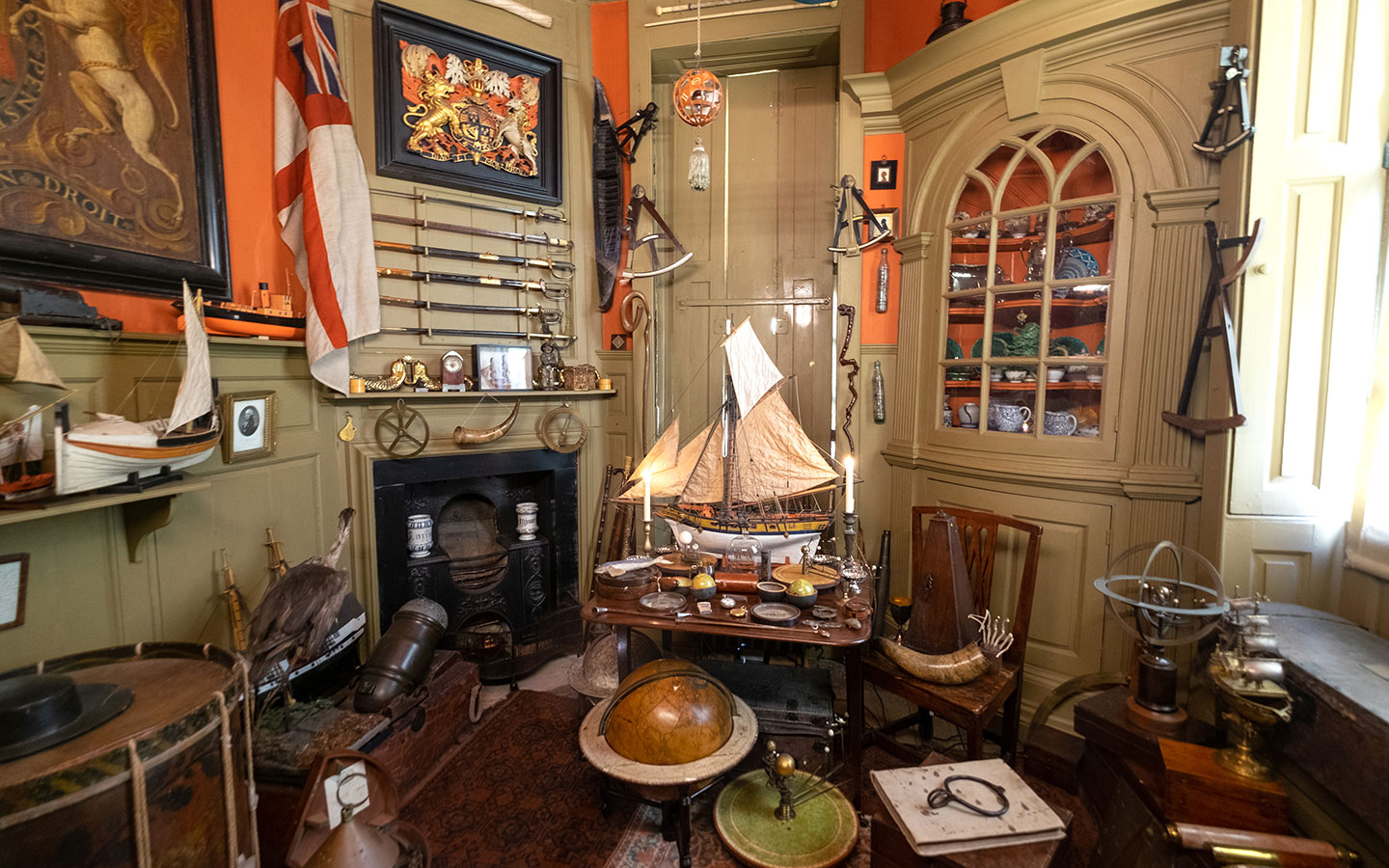 The details
How to get to Snowshill Manor
Snowshill Manor is located on the edge of the village of Snowshill, around two miles south of Broadway. If you're travelling by car, the address is Snowshill, Gloucestershire WR12 7JU – sat navs will take you to the centre of the village where there are signposts to the car park.
If you're travelling by public transport, the nearest bus stop is in Broadway, which you can reach from the train stations at Cheltenham via the 606 bus or Evesham via the number 4 bus. From Broadway it's a 2.5-mile walk to Snowshill or you can take a taxi (local taxi services are limited though so it's advisable to book in advance, especially for your return trip).
Snowshill Manor opening times and prices
Snowshill Manor and Gardens are normally open 11am–5.30pm (11.30am–4.30pm for the manor house) from March until October, and on weekends only until 3.30pm in November. The site is closed from December to February. Entry costs £12 adults and £6 for children – or is free for National Trust members. You must pre-book a timed entry slot if you'd like to visit the manor.
Save for later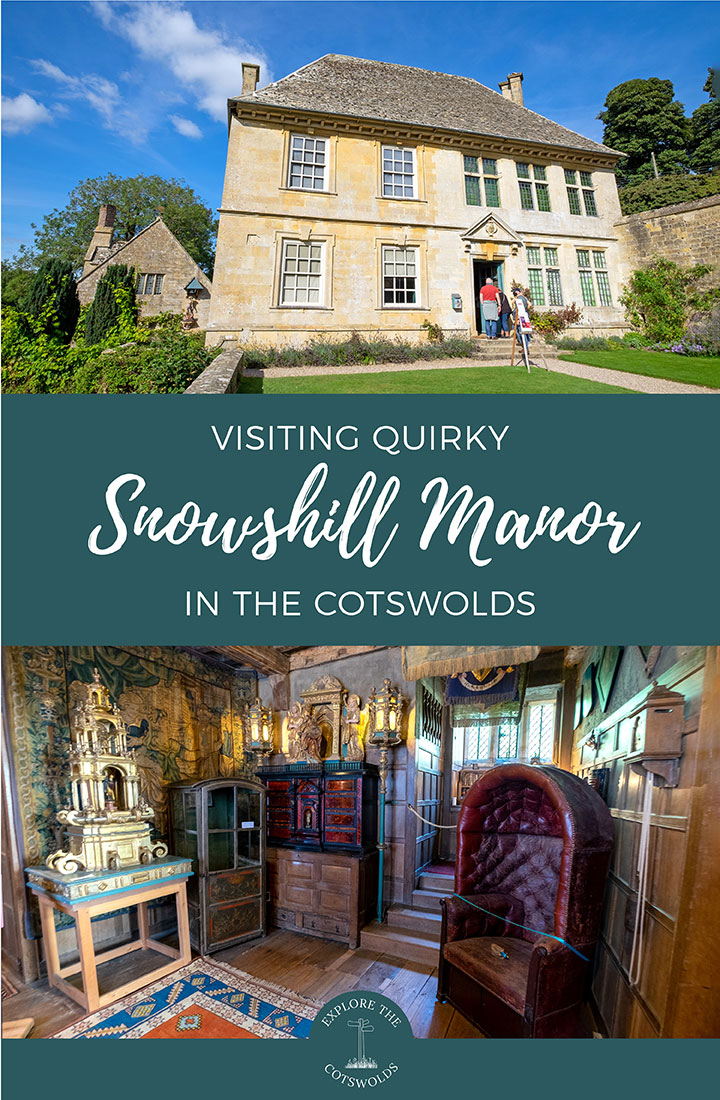 * This site contains affiliate links, where I get a small commission from purchases at no extra cost to you.